Are Douyin and TikTok the Same?
China's popular "Douyin" app is known as "TikTok" in markets outside of China. But is it really one app?
TikTok, known as the international version of the Chinese successful short video app Douyin, is a global hit. Despite Bytedance's efforts to present Douyin and TikTok as being the same product, they are actually two separate entities.
Douyin, (抖音, literally "shaking sound" in Chinese) is a short video media app owned by China's young tech giant Bytedance (字节跳动). The app allows users to create, edit, and share short videos as well as livestreams, often featuring music in the background.
Douyin's international name is TikTok, an app that looks the same as Douyin, while in fact, the two are not one and the same, despite Bytedance's efforts to brand it as such.
This is not the first time a Chinese tech company presents one app as being the same everywhere, while it actually is not. Tencent's super app Weixin (微信), also known as WeChat, runs two different systems for its Chinese and international version, as explained here.
When downloading either WeChat or Weixin, both being the same app, the app determines what features you can use and what information you can see based on the telephone number you register your account with.
In practice, this means that when you are a non-Chinese resident, you will be using the 'international version,' meaning you will have access to (international-specific) content that a user registered with a Chinese telephone number will not be able to see. The overseas version also does not have the same Wallet functions the Chinese version has.
Two apps, two systems
The difference between WeChat vs Weixin and TikTok vs Douyin, however, is not the same. Whereas the first is basically one app with two different modes, Douyin and TikTok are two completely separate entities.
Depending on the app store you use, you will either be able to download Douyin or TikTok. Users of Chinese app stores can only find Douyin, whereas users of the overseas Apple store or Google Play will only find TikTok available for download.
That the apps are actually separate systems becomes clear when running the same search words in both apps. As shown below, both apps provide different content for the same search words.
For example, one of TikTok's most popular channels of this moment is called 'LisaandLena,' a verified account by two German twins which has over 32 million fans. However, when you enter 'LisaandLena' in Douyin, the only result is an unverfied account which only has 102 fans and shows seven videos.
Results are the same the other way around. One of Douyin's most popular accounts is that of Chinese actor Chen He (陈赫), who has over 52 million fans features 62 videos at this week. However, when running the same name search in TikTok, several unverified accounts come up, all showing some similar videos like those on Chen He's Douyin account.
This suggests that, although Tiktok and Douyin have the same functions, layout, and logos, its users in China and overseas are kept completely separate and are not able to interact with eachother, something that a recent Chinese blog also discusses in detail.
The Rise of Douyin and TikTok
Ever since its launch in September 2016, Douyin has grown immensely popular. Just one year after its release, Douyin had more than 100 million users and became the second most downloaded app in the Chinese Apple store.
In September 2017, ByteDance took its app overseas; branding Douyin as TikTok for the international market, while keeping the app's original name, Douyin, for its Chinese market.
Similar to Douyin, TikTok appeared to strike the right chord among internet users right away. In the first quarter of 2018 (note: within half a year after release), TikTok was the 6th most downloaded non-game app in the Apple app store and Google play store combined. In the Apple app store, it was even the most downloaded app. With its 45,8 downloads in the first quarter, TikTok beat apps such as Facebook, Youtube, or Instagram in the popularity rankings.
But that is not where TikTok's short-video craze halted. In August 2018, TikTok merged with short video app Musical.ly (founded in 2014), that had over 100 million monthly active users at the time. In October last year, after receiving several investments, ByteDance Ltd. officially became the worlds most valuable private start-up, valued at 75 billion dollars.
By summer, ByteDance announced that TikTok, (meaning both apps combined) had more than 500 million monthly active users worldwide. About 300 million of these 500 million monthly active users are China's domestic users.
Why does ByteDance separate Douyin and TikTok?
Why would Bytedance go through the effort to create two apps running on different systems? The answer partly lies in China's strictly controlled online environment, where (social) media companies have to adhere to local policies on what is and what is not allowed to be published on their (user-generated) platforms.
In 2018, Bytedance was already criticized by authorities for hosting 'inappropriate content' on its news platform Jinri Toutiao. The joke app Neihan Duanzi, also run by Bytedance, was forced to shut down. Afterward, the company vowed to hire 4,000 additional censors, clearly not taking any risks in getting more warnings from authorities.
Tik Tok doesn't allow Chinese users to download the international version, as this blogger found out. Strict firewall separating the two apps (Douyin and Tik Tok). Obviously, it has to be done this way to comply with censorship. https://t.co/bCFfTd0Ukm

— Rui Ma (@ruima) 7 januari 2019
By separating Tiktok from Douyin, ByteDance can closely regulate the contents uploaded to Douyin, as they will be disseminated within China, while leaving overseas TikTok and its users relatively free to share whatever content they want to share (do note that the app also set up a team of 20 censors in Indonesia to monitor and 'sanitize' content from the platform there, after receiving complaints from Indonesian authorities).

New regulations for online video content

In light of tighter control on online video platforms, it seems that Bytedance's monitoring team will have to work around the clock. On January 9, China's Netcasting Services Association (中国网络视听节目服务协会), an association directly managed by the Ministry of Civil Affairs, issued new regulations that online short video platforms in China should adhere to. One of the new guidelines requires all online video service providers to carefully examine content before it is published.
Tech Sina reports that the new stipulations require that all online video content, from titles to comments and even the use of emoticons, has to be in accordance with regulations, which prohibit any content that is 'vulgar,' is offending to the Chinese political system, puts revolutionary leaders in a negative light, or undermines social stability in any way.
On Weibo, the newest regulations became a topic of discussion, with many netizens wondering how short video apps such as Douyin are going to comply, and how its users will be affected.
Although Douyin has not responded to how and if its platform will change in light of the latest regulations, we can expect that TikTok will not be affected – it will be marching to the beat of his own app.
By Gabi Verberg, with contributions by Manya Koetse
Interested to know more about Bytedance and TikTok? We recommend listening to this podcast by Techbuzz China.
Spotted a mistake or want to add something? Please let us know in comments below or email us.
©2019 Whatsonweibo. All rights reserved. Do not reproduce our content without permission – you can contact us at info@whatsonweibo.com
In China's "Kua Kua" Chat Groups, People Pay to Be Praised [Updated]
Money can't buy you love, but in these 'kua kua' groups, they can buy you praise.
First published
Social media is often called a battlefield, but in these Chinese WeChat 'Kua kua' groups (夸夸群), people will praise you no matter what you do or say.
A new phenomenon has become a hot topic on Chinese social media these days. 'Kua kua' groups (夸夸群) are chat groups where people share some things about themselves – even if they are negative things – and where other people will always tell them how great they are, no matter what.
Kua kua groups (夸 'kuā' literally means 'praise') have become all the rage in China. People seem to love them for the mere fact that it makes them feel good about themselves.
The format is clear. Person A tells about something that is on their minds, and asks people for positive feedback. Person B, C, and D will then come forward and tell them how good or pretty they are, sometimes based on their profile photo.
One could say: "Hi everyone, I've just turned down a job offer, but now my future is full of uncertainty, please compliment me." Then people in the chat group will respond and say things such as: "You look like the type of person who knows exactly what they want."
The Kua kua praise group phenomenon allegedly began within the online community of Xi'an Jiaotong University – although some claim it was Shanghai's Fudan University – when one person asked others in a chat group to compliment them. The idea started to compliment and praise others, and so a trend was born; first, in university (BBS) chat groups, and now on WeChat and beyond the realm of universities.
The phenomenon has been around for at least six years, but only recently started gaining widespread attention on Chinese social media. According to China's Toutiao News, virtually every college now has its own 'praise group.'
But the praise does not always come for free. Although many (college-based) chat groups are free to join, people who want to be complimented and are not yet a member of an existing group can join Kua kua groups when they pay for it. On Chinese e-commerce platform Taobao, there are various online shops that sell a 'Praise group' membership starting from 50 yuan ($7,5) per person, going up to 188 yuan ($28).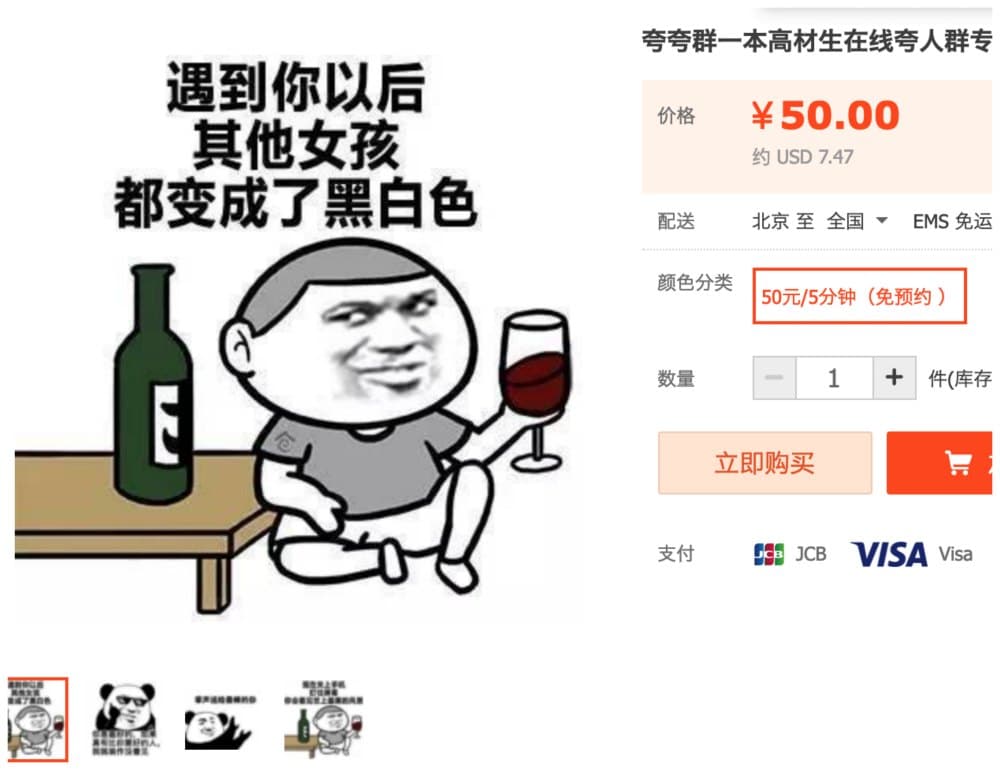 The time of praise is limited to five minutes unless you pay more. The quality of the compliments you'll be getting also depends on how much you pay. Some groups allegedly consist of "students of great talent," and the number of people complimenting one person could reach up to 500 people.
The contents of the praise could literally be anything. A simple "I want to be praised" comment could get a variety of reactions from "your hat looks nice" to "the fact that you're so honest and straightforward about what you want is something that is hard to come across in this day and age," to "you used a period mark [at the end of your sentence], you must be someone who is very persistent in reaching your goals."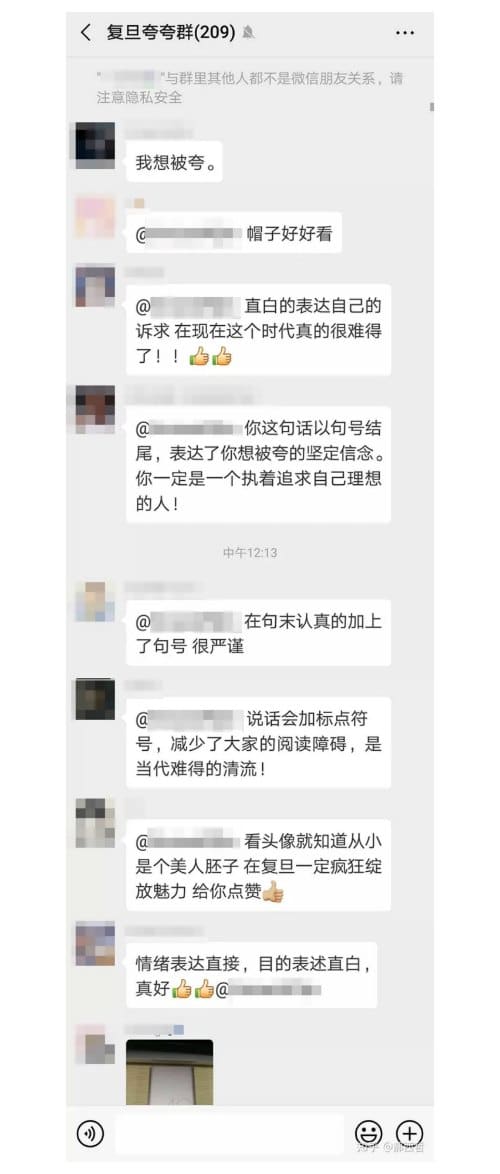 The fact that the "Kua kua" phenomenon is such a success in China might relate to its culture, where humility and modesty are considered ideal in day-to-day communications. When given a compliment, it is common in China to deny it or to suggest that the person giving the compliment is much better than they are (also see Cheng 2003, 30).
These chat groups, however, break away from the dominant cultural interactions: people don't have to be polite in responding to the compliments and can wallow in the praise they paid for.
Although not as big as the "Kua Kua" group phenomenon, these kinds of groups also exist in the English-language social media sphere. On Reddit's "Toast Me" page, for example, there are some 92,000 subscribers participating in asking and giving positive feedback to others, albeit unpaid.
The people giving compliments in the Chinese Kua kua groups are random people, some students, some staff of Taobao stores, who get hongbao, red envelopes with digital money gifts, for contributing to the group. According to some reports, some 'customers' end up staying the group and become a part of the team themselves.
We will follow up on this later: we booked a 'five-minute praise session' ourselves, but are still awaiting admission to the group…
Update: Our Kua Kua Experience
So what is the Kua kua experience like? We decided to try out for ourselves and purchased a 5-minute praise session through Taobao for 50 yuan ($7,5) from a seller that had a good rating.
After the purchase is completed, the seller will contact you with details asking for your WeChat ID. After adding, they will ask you what your 'problem' or issue is, and you will be put in a virtual queue until your turn comes up to be praised.
You'll then be added to a WeChat group that has your name in the headline (ours was something like "Manya you can do it") and that has around 200 participants.
The message posted by us was:
"Hello, I'm Manya (Dutch). I've been studying Chinese for more than ten years. In fact, I'm afraid to say it may even be more than 13 years, but I still often don't understand what Beijing taxi drivers are saying. Even studying every day won't help. I've been learning for so many years, yet I often still don't understand what the old people in Beijing are saying. It's a bit embarrassing. I think my Chinese is still not good enough. I can't understand the 'crosstalk' [comedy sketches] during the Spring Festival Gala at all. It makes me feel a little dispirited."
Within a matter of seconds, the screen then just fills up with positive feedback and emoji. There are dozens of comments, and they almost go too fast to read them all.
Some of the responses:
"You're great, and even I don't understand Beijing taxi drivers."
"Stay confident in yourself!"
"You're so cool."
"You can type so many Chinese characters, who'd say your Chinese is not good enough?!"
"Manya, you're so fantastic."
"None of us understand what old people in Beijing are saying."
"Chinese is just not easy to study, the fact that you've been doing it for so long already shows how great you are."
"It's incredible that you've already come this far."
"A woman who is so motivated about studying really moves me, you're my role model, you make me want to study more English."
During the praise session, the group leader will occasionally post a hongbao [envelope with money] for the participants to receive in return for their compliments.
After five minutes, the session ends, and the people will send out some last words of encouragement. The group leader will personally thank you for being part of the group, and later, you'll be removed from the group as the people will move on to the next person who is waiting in line to be praised.
How does it feel to be praised by some 200 people, receiving hundreds of compliments? It's overwhelming, and even though you know it's all just an online mechanism, and that it doesn't matter who you are or what you say, it still makes you glow a little bit inside.
Although some experts quoted by Chinese state media warn people not to rely on these praise groups too much, there does not seem to be much harm in allowing yourself to be complimented for some minutes from time to time.
Other people reviewing the same Kua kua group apparently feel the same: "I'm super satisfied, the result is amazing."
By Manya Koetse  and Miranda Barnes
Featured image via hexun.com.
References
Cheng, Winnie. 2003. Intercultural Communication. Amsterdam, John Benjamins Publishing.
Spotted a mistake or want to add something? Please email us.
©2019 Whatsonweibo. All rights reserved. Do not reproduce our content without permission – you can contact us at info@whatsonweibo.com.
China Youth Federation: Ban Minors from Live Streaming Platforms
If implemented, this would mean a big blow to China's live streaming market.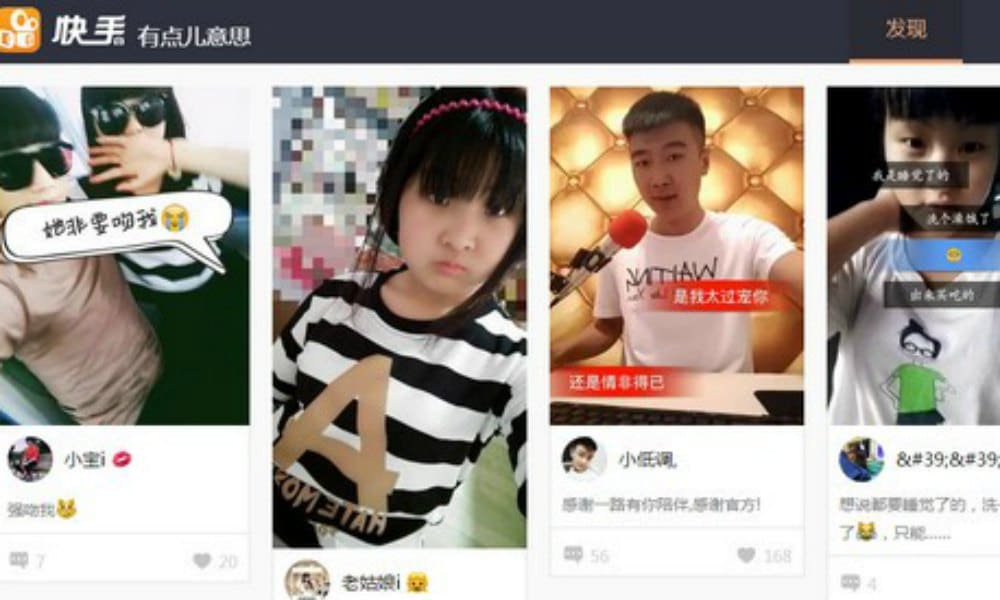 First published
More than 45% of Chinese live stream users are minors. A new proposal by the China Youth Federation wants to ban those under the age of 18 from broadcasting in China's booming live streaming environment.
Chinese minors will no longer be able to do live streaming if it is up to the All-China Youth Federation (ACYF, 中国青联). The China Youth Federation submitted the proposal during the Two Sessions (Lianghui), China's largest annual legislative meetings.
The China Youth Federation is an organization to represent China's youth groups founded in 1949, that has the Communist Youth League of China as its core.
China's live streaming market is booming. Sina News reports that some 425 million netizens used live streaming platforms in 2018. According to the Online Information Center of the Communist Youth League, Chinese minors are particularly active live streamers: 6.4% of live stream users are primary school students, 18.3% of them are junior high school students and 20.3% are senior high schoolers.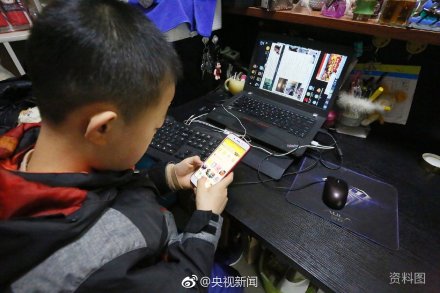 There are dozens of live streaming platforms in China, with this list of apps, including the short video & live stream platforms Douyin and Kuaishou, being among the most popular ones. If the law would be implemented, China's thriving live streaming market would certainly suffer a big blow.
Earlier this week, Sixth Tone already reported that "protecting minors online" would be among one of the important themes discussed by tech leaders at the Two Sessions.
On Saturday, March 9, the hashtag "Proposal to Ban Minors from Engaging in Livestreaming" (#建议禁止未成年人担任网络主播#) [basically meaning "prohibiting minors from being online hosts"] became top trending on Weibo, attracting more than 180 million views. Various Chinese state media sources state that the live streaming industry is in "a state of chaos" and needs stricter control to protect minors, who could easily come into contact with "vulgar" and "inappropriate" content through live streaming platforms.
The ban could be realized by implementing stricter controls on the registration process of China's various live-streaming networks. This could suggest that the measures would go beyond minors just being banned from live streaming themselves.
"I support this proposal, live streaming platforms are not appropriate for minors," a popular comment said, with many Weibo users agreeing: "Young people should focus on their schoolwork instead."
But not everyone agrees with stricter controls on China's online platforms. One commenter wrote: "Officials can have multiple wives, rich people have multiple women, yet if common people watch live streams where some vulgar language or sensitive content occasionally pops up, then it's not allowed."
"What should be banned is vulgar content, not minor users," others write.
Earlier this week, Beijing News reported that Yan Xiaohong (阎晓宏), director of the Chinese Copyright Association, also submitted a proposal relating to minors using the internet. Yan's proposal goes much further than that of the ACYF: he suggests that special online platforms should be developed for minors, and argues that it is not good for China's youth to be able to access the same online content as adults.
By Manya Koetse 
Spotted a mistake or want to add something? Please email us.
©2019 Whatsonweibo. All rights reserved. Do not reproduce our content without permission – you can contact us at info@whatsonweibo.com.