Are Douyin and TikTok the Same?
China's popular "Douyin" app is known as "TikTok" in markets outside of China. But is it really one app?
TikTok, known as the international version of the Chinese successful short video app Douyin, is a global hit. Despite Bytedance's efforts to present Douyin and TikTok as being the same product, they are actually two separate entities.
Douyin, (抖音, literally "shaking sound" in Chinese) is a short video media app owned by China's young tech giant Bytedance (字节跳动). The app allows users to create, edit, and share short videos as well as livestreams, often featuring music in the background.
Douyin's international name is TikTok, an app that looks the same as Douyin, while in fact, the two are not one and the same, despite Bytedance's efforts to brand it as such.
This is not the first time a Chinese tech company presents one app as being the same everywhere, while it actually is not. Tencent's super app Weixin (微信), also known as WeChat, runs two different systems for its Chinese and international version, as explained here.
When downloading either WeChat or Weixin, both being the same app, the app determines what features you can use and what information you can see based on the telephone number you register your account with.
In practice, this means that when you are a non-Chinese resident, you will be using the 'international version,' meaning you will have access to (international-specific) content that a user registered with a Chinese telephone number will not be able to see. The overseas version also does not have the same Wallet functions the Chinese version has.
Two apps, two systems
The difference between WeChat vs Weixin and TikTok vs Douyin, however, is not the same. Whereas the first is basically one app with two different modes, Douyin and TikTok are two completely separate entities.
Depending on the app store you use, you will either be able to download Douyin or TikTok. Users of Chinese app stores can only find Douyin, whereas users of the overseas Apple store or Google Play will only find TikTok available for download.
That the apps are actually separate systems becomes clear when running the same search words in both apps. As shown below, both apps provide different content for the same search words.
For example, one of TikTok's most popular channels of this moment is called 'LisaandLena,' a verified account by two German twins which has over 32 million fans. However, when you enter 'LisaandLena' in Douyin, the only result is an unverfied account which only has 102 fans and shows seven videos.
Results are the same the other way around. One of Douyin's most popular accounts is that of Chinese actor Chen He (陈赫), who has over 52 million fans features 62 videos at this week. However, when running the same name search in TikTok, several unverified accounts come up, all showing some similar videos like those on Chen He's Douyin account.
This suggests that, although Tiktok and Douyin have the same functions, layout, and logos, its users in China and overseas are kept completely separate and are not able to interact with eachother, something that a recent Chinese blog also discusses in detail.
The Rise of Douyin and TikTok
Ever since its launch in September 2016, Douyin has grown immensely popular. Just one year after its release, Douyin had more than 100 million users and became the second most downloaded app in the Chinese Apple store.
In September 2017, ByteDance took its app overseas; branding Douyin as TikTok for the international market, while keeping the app's original name, Douyin, for its Chinese market.
Similar to Douyin, TikTok appeared to strike the right chord among internet users right away. In the first quarter of 2018 (note: within half a year after release), TikTok was the 6th most downloaded non-game app in the Apple app store and Google play store combined. In the Apple app store, it was even the most downloaded app. With its 45,8 downloads in the first quarter, TikTok beat apps such as Facebook, Youtube, or Instagram in the popularity rankings.
But that is not where TikTok's short-video craze halted. In August 2018, TikTok merged with short video app Musical.ly (founded in 2014), that had over 100 million monthly active users at the time. In October last year, after receiving several investments, ByteDance Ltd. officially became the worlds most valuable private start-up, valued at 75 billion dollars.
By summer, ByteDance announced that TikTok, (meaning both apps combined) had more than 500 million monthly active users worldwide. About 300 million of these 500 million monthly active users are China's domestic users.
Why does ByteDance separate Douyin and TikTok?
Why would Bytedance go through the effort to create two apps running on different systems? The answer partly lies in China's strictly controlled online environment, where (social) media companies have to adhere to local policies on what is and what is not allowed to be published on their (user-generated) platforms.
In 2018, Bytedance was already criticized by authorities for hosting 'inappropriate content' on its news platform Jinri Toutiao. The joke app Neihan Duanzi, also run by Bytedance, was forced to shut down. Afterward, the company vowed to hire 4,000 additional censors, clearly not taking any risks in getting more warnings from authorities.
Tik Tok doesn't allow Chinese users to download the international version, as this blogger found out. Strict firewall separating the two apps (Douyin and Tik Tok). Obviously, it has to be done this way to comply with censorship. https://t.co/bCFfTd0Ukm

— Rui Ma (@ruima) 7 januari 2019
By separating Tiktok from Douyin, ByteDance can closely regulate the contents uploaded to Douyin, as they will be disseminated within China, while leaving overseas TikTok and its users relatively free to share whatever content they want to share (do note that the app also set up a team of 20 censors in Indonesia to monitor and 'sanitize' content from the platform there, after receiving complaints from Indonesian authorities).

New regulations for online video content

In light of tighter control on online video platforms, it seems that Bytedance's monitoring team will have to work around the clock. On January 9, China's Netcasting Services Association (中国网络视听节目服务协会), an association directly managed by the Ministry of Civil Affairs, issued new regulations that online short video platforms in China should adhere to. One of the new guidelines requires all online video service providers to carefully examine content before it is published.
Tech Sina reports that the new stipulations require that all online video content, from titles to comments and even the use of emoticons, has to be in accordance with regulations, which prohibit any content that is 'vulgar,' is offending to the Chinese political system, puts revolutionary leaders in a negative light, or undermines social stability in any way.
On Weibo, the newest regulations became a topic of discussion, with many netizens wondering how short video apps such as Douyin are going to comply, and how its users will be affected.
Although Douyin has not responded to how and if its platform will change in light of the latest regulations, we can expect that TikTok will not be affected – it will be marching to the beat of his own app.
By Gabi Verberg, with contributions by Manya Koetse
Interested to know more about Bytedance and TikTok? We recommend listening to this podcast by Techbuzz China.
Spotted a mistake or want to add something? Please let us know in comments below or email us.
©2019 Whatsonweibo. All rights reserved. Do not reproduce our content without permission – you can contact us at info@whatsonweibo.com
From Red Packet to Virtual Hongbao: Lucky Envelopes in China's Digital Era
Raising virtual cows, shaking with phones – this is the Chinese New Year tradition of giving red envelopes in the digital era.
The custom of giving out red paper envelopes has evolved into a world of virtual lucky money and online games. This is the transformation of a Chinese New Year's tradition, reported by Koen van der Lijn and Xiaojun Zhang.

When objects meet social media, two websites meet as well. This is a collaboration between What's on Weibo and Things That Talk (follow on Insta @thingsthattalk).

Ever wanted to raise a digital cow? This year, you can raise your own lucky cow (福牛) for Chinese New Year on Weibo. Through maintaining and raising their virtual cow (or ox), users can participate in this online game to win red envelopes, a well-known and beloved tradition linked to Chinese New Year.
The hashtag "Lucky Cow's New Year's Travelogue" (#福牛新春旅行记#) is linked to Weibo's celebration of Chinese Spring Festival and the Year of the Ox. Users are expected to be active on Weibo daily to raise their cow/ox, similar to the once so popular Tamagotchi. Whilst leveling up their cow, users get the possibility to earn digital red envelopes.
The online game is another development in the story of the red envelopes, known in China as hongbao (红包). Often given during Chinese New Year, the envelopes can also be given at other joyous occasions like weddings. These red envelopes are given to each other by friends and family members to wish each other a happy new year and are always filled with an amount of money.
The practice of giving money during Chinese New Year goes far back in Chinese history. The earliest form of the red envelope is said to be yasuiqian (压祟钱). In order to keep evil spirits away, called sui (祟), people put money underneath children's pillow since the evil spirits were said to be warded off by coins.1 These coins were woven together using a string.
As time went by and paper money and envelopes became more widespread, string and coins were replaced and the red envelope was created.
Red envelopes are used by Chinese all over the world nowadays. The amount of money inside depends on many factors. Recently, the tradition has left behind its tangible form and entered the digital era.
"Adding the thrill of gambling to the practice of giving away red envelopes"
In 2014, the popular Chinese messaging app WeChat (微信) launched a new function that allowed users to send virtual red envelopes. Users could send an amount of money directly to another user, or an amount of red envelopes could be sent into a groupchat. When the function launched, users worldwide could shake their phones in order to receive free red envelopes. The amount of money that was given to users surpassed 500 million yuan ($77.5 million).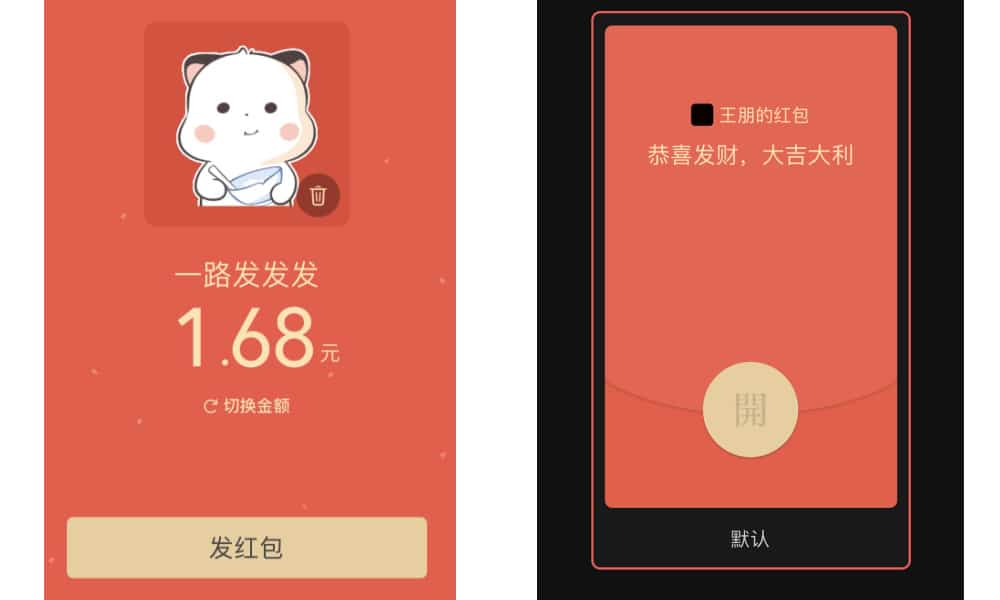 WeChat's inventive idea put digital red envelopes on the map in China. During the peak of the event, 800 million shakes were recorded per minute. There were two types of envelopes introduced in 2014 by Tencent, the company that owns WeChat:
1. A regular red envelope that could be sent directly from one user to another.
2. A 'group' red envelope, with a limited number to be grabbed and a limited sum of money which can be grabbed by all users in a group if they are fast enough. The sum inside this envelope is randomized, adding the thrill of gambling to the practice of giving away red envelopes.
Other companies also wanted a piece of the digital red envelope cake: Weibo and AliPay combined their strengths a year after WeChat introduced its digital hongbao in order to promote their version of the digital red envelope.
A 'war' then broke out between the two companies. AliPay handed out 600 million renminbi ($93 million) worth of red envelopes as a response to WeChat's 120 million envelopes sent out during the televised celebration of Chinese New Year.2
"Digital red envelopes can cross time and place, but cannot replace the method of face-to-face contact"
In the years after, the digital red envelope became more and more popular. Weibo and Alipay also came with their version of sending red envelopes online. The companies organized large-scale actions to make users make use of their form of digital red envelopes.
WeChat, for instance, gives users the option to make the red envelopes very personal through adding stickers and personal messages, making the digital red envelope an even more enjoyable experience.
Does this new development of the traditional red envelope make the tangible envelope obsolete?
When asked by the digital newspaper The Paper (澎湃新闻) about whether the digital red envelope might replace its tangible brother, scholar Tian Zhaoyuan (田兆元) of East China Normal University said that the digital red envelope can cross time and place, but cannot replace the method of face-to-face contact. Though friends and family may send one another digital red envelopes, it does not mean that it replaces the tangible red envelopes.3
The tradition of sending red envelopes is and will be inherently linked to Chinese New Year. Though both the paper and digital forms of the tradition remain incredibly popular, the virtual hongbao will definitely win territory once more this year as travel is restricted due to COVID-19. Especially in these times, the digital red envelope is the best digital way of wishing family and friends a happy new year.
Why are 'lucky envelopes' not just red, but sometimes also green or purple? Read more via Things That Talk here.

By Koen van der Lijn and Xiaojun Zhang
Follow @WhatsOnWeibo
Koen van der Lijn (China Studies, BA) is a ResMa student Asian Studies at Leiden University focused on Chinese history and its international relations. He is a student ambassador at Things That Talk.
Xiaojun Zhang (China Studies, BA) is an MA student Asian Studies at Leiden University focused on contemporary Chinese culture, symbolism and food. For Things That Talk, she currently works on a project about Chinese-Indonesian restaurants in the Netherlands.
This story was made in collaboration with ThingsThatTalk.net – exploring humanities through the life of objects. Things That Talk is an educational digital project where staff and students produce narratives and metadata about objects in Leiden collections and beyond. Check out the story "Hongbao: from paper envelope to digital gift" on Things That Talk here!

Footnotes (other sources hyperlinked within the article)
1 Kin Wai Michael Siu. 2001. "Red Packet: a Traditional Object in the Modern World." Journal of Popular Culture 35 (3), 103.
2 Chen, Liyan. 2015. "Red Envelope War: How Alibaba and Tencent Fight Over Chinese New Year." Forbes, Feb 19 https://www.forbes.com/sites/liyanchen/2015/02/19/red-envelope-war-how-alibaba-and-tencent-fight-over-chinese-new-year/?sh=1b88bccccddd.
3 The Paper, Zuowei yi zhong "xinnian su", weixin hongbao hui qudai zhizhi hongbao ma? 作为一种"新年俗",微信红包会取代纸质红包吗?, https://cul.qq.com/a/20160208/012888.htm.
Spotted a mistake or want to add something? Please let us know in comments below or email us. First-time commenters, please be patient – we will have to manually approve your comment before it appears.
©2021 Whatsonweibo. All rights reserved. Do not reproduce our content without permission – you can contact us at info@whatsonweibo.com.
Conversations Behind the Wall: Clubhouse App Now Blocked in China
While the Clubhouse app is no longer accessible from within the PRC, conversations continue behind the wall.
The Clubhouse app became a hot topic among web users in mainland China this weekend. On Monday, the platform was no longer accessible from within the PRC.
On Saturday, we posted an article about the surge in popularity of American 'drop-in audio chat' social media platform Clubhouse in mainland China.
As conversations about the popular app continued throughout the weekend, the app was no longer accessible from within mainland China on Monday.
Clubhouse describes itself as "a space for casual, drop-in audio conversations—with friends and other interesting people around the world" where you can "go online anytime to chat with the people you follow, or hop in as a listener and hear what others are talking about."
The app has virtual rooms and events themed around various topics – anything from politics to music – and lets hundreds of members join conversations as moderators, speakers, or listeners.
The Clubhouse app was developed by Silicon Valley entrepreneur Paul Davison and ex-Google employee Rohan Seth. It was first launched in April 2020 on iOS only, and is still only accessible through iPhone for users who have an invite.
Before Monday, the Clubhouse app was freely accessible from within China for those people who had an invite, but only if they had access to the non-Chinese Apple store to download the app.
The app was a hot topic on various Chinese social media platforms this weekend. On Weibo, the civilized and open character of the Clubhouse conversations were praised, allowing a broader understanding of issues that otherwise remain untouched or are limited within the Chinese social media sphere.
One Chinese-language virtual room about the Xinjiang camps was joined by hundreds of people on Saturday. But besides the room focused on Xinjiang, there were also other rooms where discussions took place about the status of Hong Kong and about issues such as whether or not (overseas) Chinese are willing to return to the mainland and why.
"It is like a small crack in a window," one person on Weibo said about Clubhouse, while others already predicted the app would become unavailable from within mainland China soon.
When it finally happened on Monday, the responses on Weibo were mainly those of disappointment. "Bye bye Clubhouse," some Weibo users wrote, with others expressing their surprise: "What?! It was just popular for two days and it's already blocked? They move so fast it's scary."
"I was active on Clubhouse for two days. I didn't expect it to be shut down so soon already."
Although many commenters previously expressed that they expected the app to become unavailable within the PRC, the fact that it was shutdown while it was just exploding online comes as a surprise to some, as various commenters write.
The term 'Clubhouse' was also temporarily blocked on Weibo by Monday night Beijing time; over the weekend various hashtags relating to the app made their rounds on Chinese social media, but the hashtag pages were no longer online by Monday evening.
Meanwhile, various Chinese-language rooms on Clubhouse discussed the topic of its disappearance in China.
A room titled "Clubhouse is blocked, and now?" was joined by over a hundred people on Monday night. The room "Clubhouse is blocked" attracted over 3000 participants. These conversations are likely to continue for the time to come, but now they must continue behind the Great Firewall of China.
By Manya Koetse
Follow @whatsonweibo
Spotted a mistake or want to add something? Please let us know in comments below or email us. First-time commenters, please be patient – we will have to manually approve your comment before it appears.
©2021 Whatsonweibo. All rights reserved. Do not reproduce our content without permission – you can contact us at info@whatsonweibo.com.