Too Short to Become a Teacher: Chinese Woman Disqualified from Getting her Teaching Certificate Because of Her Height
A remarkable conundrum has got Chinese social media users talking. A woman who studied for four years to become a teacher was denied her certification – she allegedly is 10 centimeters "too short" to become a teacher, according to height requirements established by the Shaanxi Ministry of Education.
News of a Chinese university student being barred from receiving her teaching certificate because of her height has become a topic of discussion on Chinese social media.
A female student named Li was recently disqualified from receiving her teaching certificate after a medical examination measured her height as 140cm (4.6ft), 10cm shorter the height requirement of 150cm (4.9ft), Shaanxi media outlet CNWest (西部网) reports.
The student studies at Shaanxi Normal University. "Not getting a teaching certification would mean the end of my career," she told local reporters: "It would also go against the free education agreement I received when I entered the university."
Li is given exemption on her tuition fees under the so-called 'Future Teacher Scheme' by the Chinese Ministry of Education – a special programme designed to cover the tuition costs of selected university students who commit to teach at local schools upon graduation.
If Li fails to acquire her teaching certificate, however, it would kill her future job prospects. According to the 'Future Teacher Scheme' agreement, students are required to pay back the costs of their university education if they do not become a teacher.
"If there is such a [height] requirement, why would they have accepted me as a student in the first place? My four-year-long efforts now turn into nothing," Li said.
Since the issue made the news, Shaanxi Normal University responded to the issue, CNWest news reports. In a statement, the university said they were simply enforcing a 2009 provincial policy which stipulates that female applicants need to be taller than 150cm to qualify as a teacher.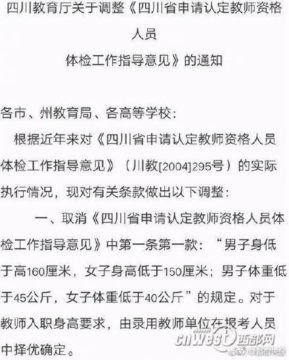 The national Chinese laws on teaching, however, do not set any height requirements for teachers.
"This is discrimination. If this happened in the United States, she could get 300 million US Dollars' worth of compensation," some commenters responded on Weibo.
"If Deng Xiaoping were alive, he would fire the entire Shaanxi Bureau of Education."
Local authorities told CNWest that exceptions on the height requirement policy are occasionally made; in 2012, for example, a student who did not meet the height requirement did obtain the teaching qualification.
Thanks to the heightened media attention on the issue, Shaanxi officials have since decided to make an exception for Li. They reportedly plan to remove the height restriction starting from next year.
The sudden change in policy, however, has not made commenters on social media less annoyed. "If Deng Xiaoping were alive, he would fire the entire Shaanxi Bureau of Education," one user said. (Former Chinese communist leader Deng Xiaoping's height is listed as 150cm/4.9ft).
There are many Weibo users who question the relation between a person's height and their job a teacher: "If she is short, she can wear high heels. Does height really matter to become a teacher?"
It is not the first time that height discrimination in China makes the news. A 2015 Foreign Affairs report suggests that, despite being discriminatory, many employers in China insist on setting height requirements as a condition to employment.
The majority of netizens sympathize with Li: "This is hurtful. It is not easy to be short, why would this society make it more difficult for her?"
Other people wonder why appearances would be more important than one's psyche: "They never have requirements when it comes to people's morals and their mental health. It is disgusting to have these requirements for a person's height."
By Chauncey Jung
Follow @whatsonweibo
Spotted a mistake or want to add something? Please let us know in comments below or email us.
©2018 Whatsonweibo. All rights reserved. Do not reproduce our content without permission – you can contact us at info@whatsonweibo.com.
The 'Blank White Paper Protest' in Beijing and Online Discussions on "Outside Forces"
As people in Beijing, Shanghai, and other places take to the streets holding up white papers, some have dubbed this the "A4 Revolution."
A majority of social media commenters support those who have recently taken to the streets, using blank sheets as a sign of protest against censorship and stringent Covid measures. But there are also online voices warning Chinese young people not to be influenced by 'external forces.'
Over the past few days, there have been scenes of unrest and protest movements in various places across China.
While there were protests in Shanghai for the second night in a row, Beijing also saw crowds gathering around the Liangmahe area in the city's Chaoyang District on Sunday night.
Some videos showed crowds softly singing the song "Farewell" (送别) in commemoration of those who lost their lives during the deadly inferno in Urumqi.
Later, people protested against stringent Covid measures.
Scenes from Beijing's Liangmahe where people sang 'Farewell' song (送别) to commemorate those who died in the Urumqi fire on Thursday. pic.twitter.com/raivvbOibp

— Manya Koetse (@manyapan) November 27, 2022
"The crowds at Liangmahe are amazing," some people on Weibo commented.
Photos and videos coming from the area showed how people were holding up blank sheets of white paper.
Earlier this weekend, students in Nanjing and Xi'an also held up blank paper sheets in protest of censorship and as the only 'safe' way to say what could otherwise not be said. This form of protest also popped up during the Hong Kong protests, as also described in the recent book by Louisa Lim (Indelible City: Dispossession and Defiance in Hong Kong).
The recurring use of blank paper sheets led to some dubbing the protests an "A4 Revolution."
"When can we have freedom of speech? Maybe it can start at Beijng's Liangmahe," one person on Weibo wrote on Sunday night.
Another Beijing-based netizen wrote: "Before going to sleep I saw what was happening in Liangmahe on my WeChat Moments and then I looked at Weibo and saw that the Xicheng area had added 279 new Covid cases. I started thinking about my own everyday life and the things I am doing. I can't help but feel a sense of isolation, because I can't fight and do not dare to raise my voice."
"I didn't dare to believe this is happening in 2022. I didn't dare to believe this is happening in Beijing. I do not dare to believe that again it will all have been useless tomorrow morning," one Weibo user commented.
During the night, various people at the scene shouted out things such as "we want to go out and work," and other hopes they have. One person yelled: "I want to go out and see a movie!"
The phrase "I wanna go watch a movie" ("我要看电影") was also picked up on social media, with some people commenting : "I am not interested in political regimes, I just want to be able to freely see a movie." "I want to see a movie! I want to sit in a cinema and watch a movie! I want to watch a movie that is uncensored!"
Despite social media users showing a lot of support for students and locals standing up and making their voices heard, not everyone was supportive of this gathering in Beijing. Some suggested that since Liangmahe is near Beijing's foreign embassy district, there must be some evil "foreign forces" meddling and creating unrest.
Others expressed that people were starting to demand too many different things instead of solely focusing on China's zero Covid policies, losing the momentum of the original intention of the protest.
Political commentator Hu Xijin (胡锡进) also posted about the recent unrest on his Weibo account on Sunday night:
"The people have the right to express their opinions, and you may have good and honest aspirations and have the intention to express legitimate demands. But I want to remind you that many things have their own rules, and when everyone participates in the movement, its direction might become very difficult for ordinary participants to continue to control, and it can easily to be used or even hijacked by separate forces, which may eventually turn into a flood that destroys all of our lives."
Hu also called on people to keep striving to solve existing problems, but to stay clear-headed, suggesting that it is important for the people and the government to maintain unity in this challenging time.
The term "outside forces" or "external forces" (外部势力) increasingly popped up in social media discussions on late Sunday night.
"I worry a lot of meddling by external forces. Let's be vigilant of a color revolution. I just hope things will get better," one netizen from Hubei wrote.
"Young people should not be incited by a few phrases and blindly follow. Everyone will approve of people rationally defending their rights, but stay far away from color revolutions."
The idea that foreign forces meddle in Chinese affairs for their own agenda has come up various times over the past years, during the Hong Kong protests but also during small-scale protests, such as a local student protest in Chengdu in 2021.
The term "color revolution" is recurring in these kind of discussions, with some netizens suggesting that foreign forces, such as the CIA, are trying to get local people to cause unrest through riots or demonstrations to undermine the stability of the government.
"It's not always external forces, it can also just be opposition," one person on Weibo replied: "In every country you'll have different opinions."
"What outside forces?" another commenter said: "I'm not an external force! I am just completely fed up with the Covid measures!"
Read more about the "11.24" unrest in China here.
By Manya Koetse , with contributions by Miranda Barnes
If you appreciate what we do, please subscribe here or support us by donating.
Get the story behind the hashtag. Subscribe to What's on Weibo here to receive our newsletter and get access to our latest articles:
Spotted a mistake or want to add something? Please let us know in comments below or email us. First-time commenters, please be patient – we will have to manually approve your comment before it appears.
©2022 Whatsonweibo. All rights reserved. Do not reproduce our content without permission – you can contact us at info@whatsonweibo.com.
The 11.24 Urumqi Fire: Mourning and Anger at Lives Lost in Apartment Building Inferno
As people mourned the victims of the Urumqi fire, they also expressed anger over how the last 100 days of their lives were spent in lockdown.
A fire that occurred in Urumqi city, Xinjiang, on the evening of November 24 has triggered waves of mourning and anger on Chinese social media. Ten people lost their lives in the fire, and nine people sustained injuries.
According to Chinese media reports, the fire broke out at 19:54 at the 15th floor of a high-rise residential building in the Jixiangyuan community (吉祥苑小区) in the city's Tianshan district. The fire further spread up to the 17th floor, with the smoke going up to the 21st floor. It was not until 22:35 on Thursday night before the fire was extinguished.
There have been various reports circulating online suggesting that there was a delay in fire trucks arriving at the scene of the emergency. Obstructions on the road allegedly prevented firefighters from moving forward and the road obstructions (possibly also including pillars and parked cars) had to be removed first. Local authorities are currently investigating the incident.
A preliminary investigation into the cause of the fire indicates that it was of electrical origin, and was caused by a multi-plug power board located in an apartment bedroom. A hashtag related to this received over 220 million views on Weibo on Friday (#乌鲁木齐住宅楼火灾疑因插线板着火引发#).
On Weibo, there are many questions and rumors surrounding the incident. Was there indeed a delay in the rescue operation? What prevented the fire trucks from coming to the scene, and why? Was the building in lockdown or not? Did the building management adhere to all fire safety guidelines, or could a potential lockdown have prevented a quick evacuation?
And why were several images of the incident censored on Weibo, where one hashtag about the case received 1.5 billion views (#新疆一高层住宅楼火灾致10人死亡#) (yet did not show up in the top 20 of most popular topics)?
"Over 1.5 billion views, nowhere to be seen in the hot lists.." one commenter remarked.
The fire led to more public attention to the Covid lockdown situation in Urumqi. Urumqi has been in (semi-)lockdown for most of the time since August 10 of this year. The Tianshan District of the city is among one of the areas that have been especially affected by local outbreaks. Last month, locals turned to social media for help and to vent about Covid symptoms, high food prices, boredom and depression, the living conditions in their fangcang (makeshift hospital for Covid-positive isolation), and difficult access to medical care.
As Chinese netizens mourned the victims of the fire, they also expressed anger over how these people spent the last 106 days of their lives in (partial) lockdown. Some posted protest images saying "NO" to excessive epidemic measures.
At the time of the fire, the Jixiangyuan community was officially designated a 'low risk' area according to Chinese official media reports, meaning residents should have been able to move around their residential building.
But many netizens pointed out that the community was still labeled as a 'high-risk' area according to local epidemic data. At the time of writing, the community is no longer listed among the 66 'high-risk' communities/areas in Tianshan District.
A screenshot that circulated online shows a WeChat notification of local community staff on November 21, telling residents that positive cases had been detected in the latest nucleic acid samples and that they were required to stay home for three days and that the unit doors would be sealed. This screenshot has not been officially verified or confirmed.
The famous actress and dancer Tong Liya (佟丽娅), who is of Xibe ethnicity and was born in Xinjiang, also posted about the incident. She published an image mourning the victims of the fire, saying she hopes they can rest in peace (#佟丽娅发文悼念乌鲁木齐火灾逝者#).
Besides all the mourning and confusion, there is anger, especially because it has not yet been clarified if the residents who passed away were blocked from leaving their units.
While waiting for official investigation reports to come out, some are calling out for letting other provinces or regions do the investigation because they are scared the truth might not come out if local officials are in charge of the investigation themselves.
"Last time it was the Guizhou bus, now it is the Urumqi apartment building fire," multiple commenters wrote. "History keeps repeating itself and it's the common poor people who pay the price."
In September of this year, a bus transporting Guizhou residents to a Covid-19 quarantine facility crashed, killing 27 of those on board.
One popular post received over 200,000 likes on Friday, with the blogger writing:
"The Guizhou transfer bus incident killed 27; a Chongqing pregnant woman miscarried; a child in Lanzhou died prematurely [link]; those going downstairs during Chengdu earthquake found emergency exits sealed; in Xi'an a pregnant women about to give birth bleeds outside the hospital waiting for nucleic acid results [link]; an Inner Mongolian girl did not get to spend the last moments with her mother who jumped off a building [link]. And here we go again today, with residents burning to death in Xinjiang (…)."
On Friday, the Public Security Bureau issued a statement saying a 24-year-old woman had been detained for spreading rumors on Weibo about the Urumqi fire. The woman will be detained for ten days (#女子造谣乌鲁木齐火灾死亡人数被拘#). The woman allegedly spread rumors about the death toll of the incident.
We will post an update to this story once the official report regarding the Urumqi fire comes out. 
UPDATE:
On Friday night, around midnight, local officials held a press conference regarding the fire (#乌鲁木齐1124火灾事故发布会#). During the press conference, officials refuted any rumors of the doors in the building being locked. They also confirmed that the building had been designated as 'low risk' and that residents were able to go downstairs since November 20.
One comment by an official in the press conference regarding how some residents lacked the knowledge or capability to timely rescue themselves ("部分居民自防自救能力弱") triggered anger on social media. One commenter sarcastically wrote: "We're sorry, lacking the knowledge to rescue ourselves, sorry to inconvenience you."
Private cars parked on road sides, narrow streets, and safety pillars allegedly made it more difficult for fire trucks to reach the scene of the fire.
Within thirty minutes after the press conference starting, a designated hashtag on Weibo had received over 160 million views.
The contents of the stream of comments on Chinese social media directly following the press conference indicated that online anger had not been subdued at all.
"I thought they would come to apologize, instead they came to hold [residents] accountable," some wrote: "It's all the people's fault."
Read more about the "11.24" unrest in China here.
For more articles on the Covid situation in China, check here. If you appreciate what we do, please support us by subscribing for just a small annual fee.
By Manya Koetse , with contributions by Miranda Barnes
Get the story behind the hashtag. Subscribe to What's on Weibo here to receive our newsletter and get access to our latest articles:
Spotted a mistake or want to add something? Please let us know in comments below or email us. First-time commenters, please be patient – we will have to manually approve your comment before it appears.
©2022 Whatsonweibo. All rights reserved. Do not reproduce our content without permission – you can contact us at info@whatsonweibo.com.