Too Short to Become a Teacher: Chinese Woman Disqualified from Getting her Teaching Certificate Because of Her Height
A remarkable conundrum has got Chinese social media users talking. A woman who studied for four years to become a teacher was denied her certification – she allegedly is 10 centimeters "too short" to become a teacher, according to height requirements established by the Shaanxi Ministry of Education.
News of a Chinese university student being barred from receiving her teaching certificate because of her height has become a topic of discussion on Chinese social media.
A female student named Li was recently disqualified from receiving her teaching certificate after a medical examination measured her height as 140cm (4.6ft), 10cm shorter the height requirement of 150cm (4.9ft), Shaanxi media outlet CNWest (西部网) reports.
The student studies at Shaanxi Normal University. "Not getting a teaching certification would mean the end of my career," she told local reporters: "It would also go against the free education agreement I received when I entered the university."
Li is given exemption on her tuition fees under the so-called 'Future Teacher Scheme' by the Chinese Ministry of Education – a special programme designed to cover the tuition costs of selected university students who commit to teach at local schools upon graduation.
If Li fails to acquire her teaching certificate, however, it would kill her future job prospects. According to the 'Future Teacher Scheme' agreement, students are required to pay back the costs of their university education if they do not become a teacher.
"If there is such a [height] requirement, why would they have accepted me as a student in the first place? My four-year-long efforts now turn into nothing," Li said.
Since the issue made the news, Shaanxi Normal University responded to the issue, CNWest news reports. In a statement, the university said they were simply enforcing a 2009 provincial policy which stipulates that female applicants need to be taller than 150cm to qualify as a teacher.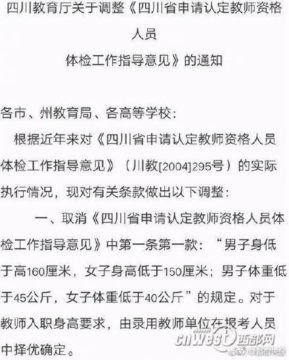 The national Chinese laws on teaching, however, do not set any height requirements for teachers.
"This is discrimination. If this happened in the United States, she could get 300 million US Dollars' worth of compensation," some commenters responded on Weibo.
"If Deng Xiaoping were alive, he would fire the entire Shaanxi Bureau of Education."
Local authorities told CNWest that exceptions on the height requirement policy are occasionally made; in 2012, for example, a student who did not meet the height requirement did obtain the teaching qualification.
Thanks to the heightened media attention on the issue, Shaanxi officials have since decided to make an exception for Li. They reportedly plan to remove the height restriction starting from next year.
The sudden change in policy, however, has not made commenters on social media less annoyed. "If Deng Xiaoping were alive, he would fire the entire Shaanxi Bureau of Education," one user said. (Former Chinese communist leader Deng Xiaoping's height is listed as 150cm/4.9ft).
There are many Weibo users who question the relation between a person's height and their job a teacher: "If she is short, she can wear high heels. Does height really matter to become a teacher?"
It is not the first time that height discrimination in China makes the news. A 2015 Foreign Affairs report suggests that, despite being discriminatory, many employers in China insist on setting height requirements as a condition to employment.
The majority of netizens sympathize with Li: "This is hurtful. It is not easy to be short, why would this society make it more difficult for her?"
Other people wonder why appearances would be more important than one's psyche: "They never have requirements when it comes to people's morals and their mental health. It is disgusting to have these requirements for a person's height."
By Chauncey Jung
Follow @whatsonweibo
Spotted a mistake or want to add something? Please let us know in comments below or email us.
©2018 Whatsonweibo. All rights reserved. Do not reproduce our content without permission – you can contact us at info@whatsonweibo.com.
Living the Dream: Chinese Architect Designs Stunning Six-Story Communal Living Space
This architect from Guangzhou turned her dream of living together with friends in a creative workspace into reality. The building is a hit on Chinese social media.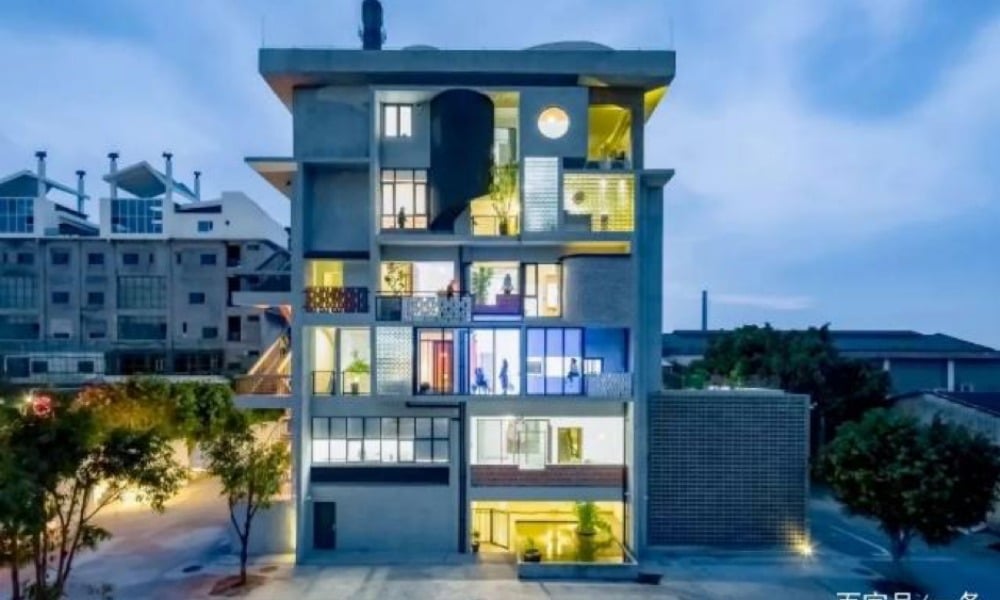 While living together with your best friends in one big house might be a dream of many people, this Chinese architect turned the idea into reality by transforming an old factory into a modern museum-like work- and living space. Through her work, the architect aims to change views on China's urban living spaces.
Guangzhou architect "Michelle" (米歇尔 or Mi Xiao 米笑) and most of her friends work in creative industries. A few years ago, they found that their work and lifestyle required a more flexible and multi-purpose living space; a place where they could live and work together as a small community while also showcasing what they do.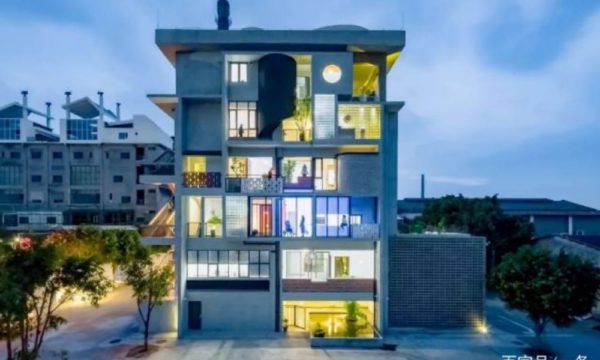 In 2012, the six friends found a workshop in an old abandoned sugar factory, built in the 1950s, located in Guangzhou's Panyu district. More than five years later, they had succeeded in transforming it into a modern six-story work- and living space.
A news story and a video of the building are now attracting major attention on Chinese social media. On Weibo, the hashtag "Six Friends Transform a Building" (#6个好友改造一栋楼#) has been viewed more than 250 million times.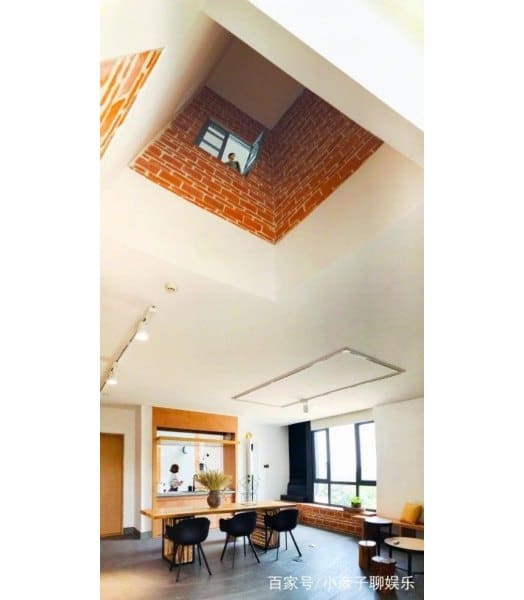 The communal living space, that has been named Boundless Community (无界社区), covers about 1500 square meter and has six completely separate rooms. Originally, the building was made up of only three stories, each with a ceiling height of six to nine meters high.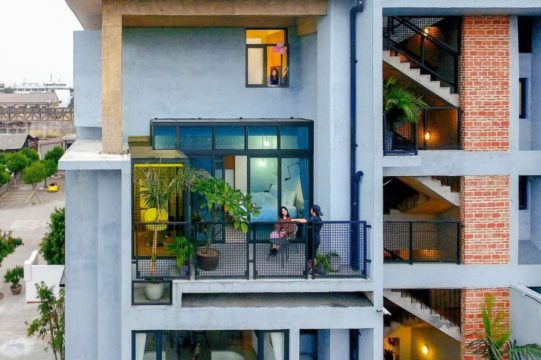 With the reconstruction of the building, the architect reportedly "wanted to break with the traditional urban types of dwellings," where many people live behind locked doors in small spaces. Michelle intended to design the space as a small "village," where people share their living space.
At the same time, the space also allows people to be creative and share their work with the outside world. All of these ideas resulted in a transparent "museum building."
The building itself is almost like a museum by allowing people from outside to look into the various studios.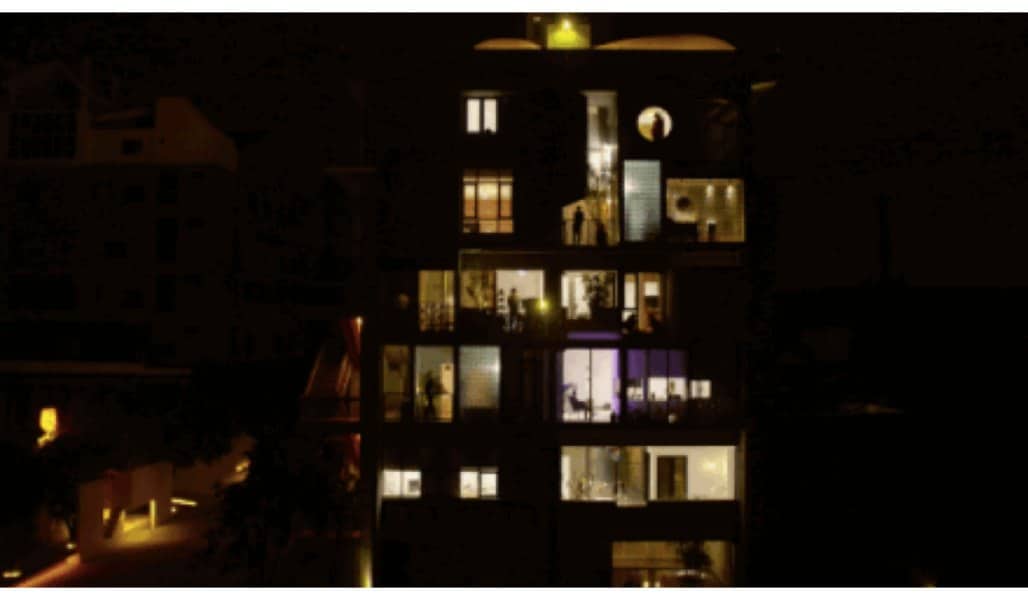 The popular architect is not the only one who is in favor of sharing a living space with her friends. A recent poll on Weibo shows that more than 90% of respondents would also like to live together with their friends; only 10% of the people prefer privacy over a communal living space with good friends.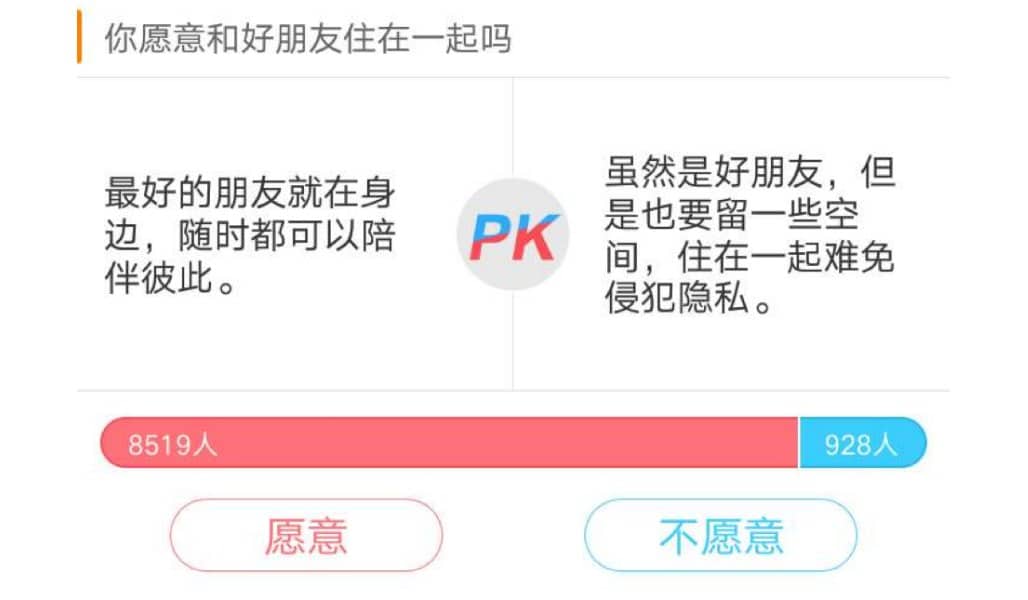 "This is my dream!", many commenters say, with others calling it "simply magical."
To read more about changing attitudes on home and living in China, also check out this article by What's on Weibo. 
By Gabi Verberg
Images via https://sjz.news.fang.com/open/31234746.html.
Spotted a mistake or want to add something? Please let us know in comments below or email us.
©2019 Whatsonweibo. All rights reserved. Do not reproduce our content without permission – you can contact us at info@whatsonweibo.com
Weibo Mourns Passing of Forbidden City's "Most Beloved" Cat Little Zai'er
The "royal" stray cats of the Forbidden City have never been more popular than in 2018. This week, news of the death of Palace Museum cat Zai'er received over 300 million views on social media.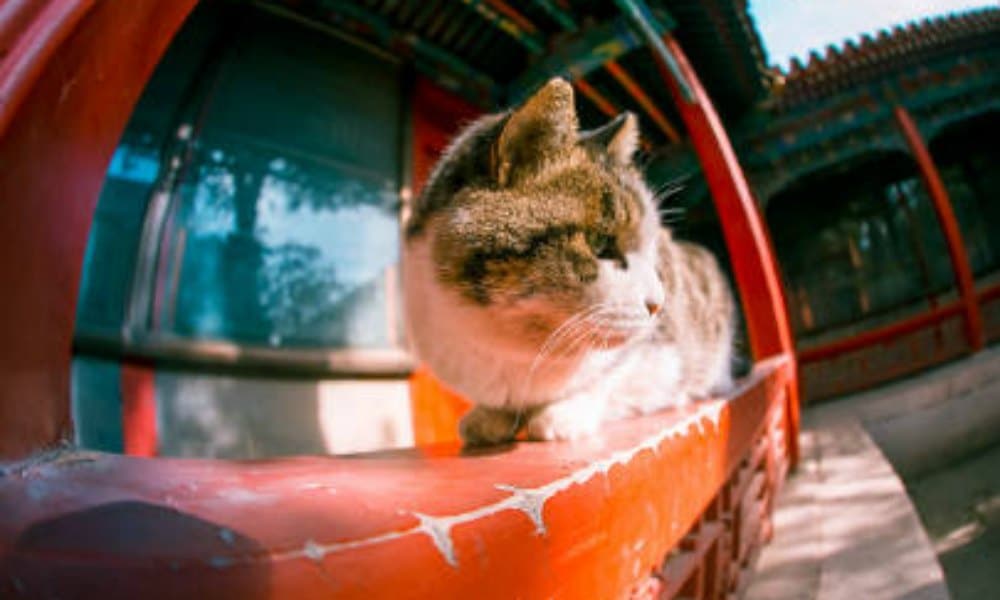 After the death of Forbidden City celebrity cat Baidian earlier this year, Palace Museum staff and millions of netizens are again mourning over the death of another cat, China's most beloved "royal cat" Little Zai'er (小崽儿).
The massive outpouring of grief over the recent death of the popular Palace Museum cat Little Zai'er shows that Weibo's "animal craze" is reaching new heights.
Staff from the Palace Museum, housed in the Forbidden City, run a Weibo account where they frequently share updates on the adventures and wellbeing of some of the cats living within the walls of the Museum.
Earlier this month, the staff of the Palace Museum first noted that the beloved 'Little Zai'er' was missing. On Sunday the 16th of December, they wrote that the remains of the cat were found in a remote corner somewhere in the Forbidden City. According to sources, the ten-year-old Little Zai'er died of natural causes.
The death of Little Zai'er received great attention on Chinese social media. The hashtag "Forbidden City little Zai'er passed away" (#故宫小崽儿走了#) received over 300 million views, with thousands of people commenting on the sad news, posting photos or stories of their encounters with the cat.
One Weibo blogger, @花花与三猫CatLive, who had the opportunity to shoot photo's with Xia'er, wrote: "I wanted to tell you, If I'd had the chance I would come and see you and bring you a snack. I wish you have a good time in kitty heaven"
Another Weibo user going by the name 'Catbrother' commented: "Every time I went to the Forbidden City I specially went to the Treasure Hall to see this Cat. He was always so good, surrounded by people taking his picture, calmly sunbathing. The news of his passing makes me so sad."
Yet another girl posted a photo of herself on Weibo with a young Little Zai'er. Above the picture, it reads: "Farewell Little Zai'er."
Many say this particular cat has become popular to his approachability and cuteness. Little Zai'er lived in the Forbidden City for nearly a decade, and throughout the years, has been photographed by many. The cat even made an appearance in the television show The New Palace Museum (上新了故宫), that is currently airing on Beijing Satellite TV.
Many stray cats live in and around the Palace Museum, and they even have some historical significance; cats have lived there ever since the complex was built in the 15th century. They also serve a practical purpose: the cats have played an important role in protecting the museum's precious antiques and relics from damage done by rats and mice.
For more about this topic and another super popular Palace Museum cat, check out our previous article Paws at the Palace Museum.
The tremendous attention for the death of Little Zai'er on social media makes is one of the hottest hashtags on Weibo in 2018. For a list of the other most trending topics on social media in China in 2018, check our Trends of 2018 article here.
By Gabi Verberg
Follow @whatsonweibo
Spotted a mistake or want to add something? Please let us know in comments below or email us.
©2018 Whatsonweibo. All rights reserved. Do not reproduce our content without permission – you can contact us at info@whatsonweibo.com