Too Short to Become a Teacher: Chinese Woman Disqualified from Getting her Teaching Certificate Because of Her Height
A remarkable conundrum has got Chinese social media users talking. A woman who studied for four years to become a teacher was denied her certification – she allegedly is 10 centimeters "too short" to become a teacher, according to height requirements established by the Shaanxi Ministry of Education.
News of a Chinese university student being barred from receiving her teaching certificate because of her height has become a topic of discussion on Chinese social media.
A female student named Li was recently disqualified from receiving her teaching certificate after a medical examination measured her height as 140cm (4.6ft), 10cm shorter the height requirement of 150cm (4.9ft), Shaanxi media outlet CNWest (西部网) reports.
The student studies at Shaanxi Normal University. "Not getting a teaching certification would mean the end of my career," she told local reporters: "It would also go against the free education agreement I received when I entered the university."
Li is given exemption on her tuition fees under the so-called 'Future Teacher Scheme' by the Chinese Ministry of Education – a special programme designed to cover the tuition costs of selected university students who commit to teach at local schools upon graduation.
If Li fails to acquire her teaching certificate, however, it would kill her future job prospects. According to the 'Future Teacher Scheme' agreement, students are required to pay back the costs of their university education if they do not become a teacher.
"If there is such a [height] requirement, why would they have accepted me as a student in the first place? My four-year-long efforts now turn into nothing," Li said.
Since the issue made the news, Shaanxi Normal University responded to the issue, CNWest news reports. In a statement, the university said they were simply enforcing a 2009 provincial policy which stipulates that female applicants need to be taller than 150cm to qualify as a teacher.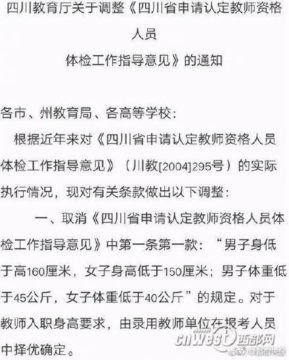 The national Chinese laws on teaching, however, do not set any height requirements for teachers.
"This is discrimination. If this happened in the United States, she could get 300 million US Dollars' worth of compensation," some commenters responded on Weibo.
"If Deng Xiaoping were alive, he would fire the entire Shaanxi Bureau of Education."
Local authorities told CNWest that exceptions on the height requirement policy are occasionally made; in 2012, for example, a student who did not meet the height requirement did obtain the teaching qualification.
Thanks to the heightened media attention on the issue, Shaanxi officials have since decided to make an exception for Li. They reportedly plan to remove the height restriction starting from next year.
The sudden change in policy, however, has not made commenters on social media less annoyed. "If Deng Xiaoping were alive, he would fire the entire Shaanxi Bureau of Education," one user said. (Former Chinese communist leader Deng Xiaoping's height is listed as 150cm/4.9ft).
There are many Weibo users who question the relation between a person's height and their job a teacher: "If she is short, she can wear high heels. Does height really matter to become a teacher?"
It is not the first time that height discrimination in China makes the news. A 2015 Foreign Affairs report suggests that, despite being discriminatory, many employers in China insist on setting height requirements as a condition to employment.
The majority of netizens sympathize with Li: "This is hurtful. It is not easy to be short, why would this society make it more difficult for her?"
Other people wonder why appearances would be more important than one's psyche: "They never have requirements when it comes to people's morals and their mental health. It is disgusting to have these requirements for a person's height."
By Chauncey Jung
Follow @whatsonweibo
Spotted a mistake or want to add something? Please let us know in comments below or email us.
©2018 Whatsonweibo. All rights reserved. Do not reproduce our content without permission – you can contact us at info@whatsonweibo.com.
"The End of an Era"? – Beijing Bookworm Closes Its Doors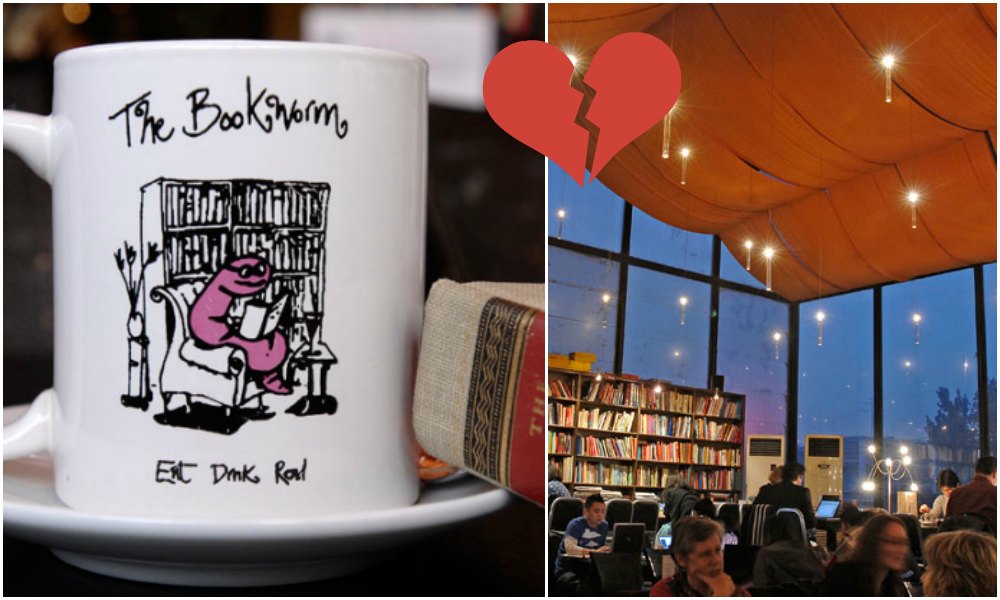 As news of The Bookworm's closing makes its rounds on social media, Beijingers have responded in shock, mourning the loss of an iconic and meaningful meeting place for book(worm) lovers around the city.
The Bookworm Beijing, at Nansanlitun Road, is a bookshop, library, bar, restaurant and events space that has become a center of cultural exchange for Beijing's foreign community since 2005.
The location is a beating heart of Beijing's literary world; a place where writers, journalists, students, diplomats, academics, and all kinds of people – both foreign and Chinese – come together to exchange knowledge, read, and sit down for a glass of wine.
Today, the Bookworm announced its sudden closure via WeChat, writing:
"It is with heavy hearts that we are forced to announce the impending closure of The Bookworm Beijing after 14 wonderful years in Courtyard No. 4 off SouthSanlitun Road. Despite our best efforts, we appear to have fallen prey to the ongoing cleanup of "illegal structures", and we have not been able to secure an extension of our lease."
The announcement further says that the location will be forced to suspend operations "most probably" as of Monday, November 11, and that the Bookworm will attempt to reorganize and find a new location.
News of the Bookworm's closing has been becoming a topic of conversation on various social media sites from WeChat to Twitter and Weibo.
Famous Chinese journalist and author Luo Changping (罗昌平) writes on Weibo: "The Bookworm is forced to close! It used to be next door to my former office, and it was once like my living room. Sigh."
Shanghai comedian Storm Xu called the closure of the Beijing Bookworm "the end of an era," saying he looks back on many good memories there.
"They had many events, good food, special books; I used to go there a few times per year," one person writes. "This really is so sad," other Weibo users respond.
There are also various Weibo commenters who also mention that news of Bookworm's closing comes just a day after the news that publisher of magazine-books and online bookseller Duku Books (读库) is forced to close its Beijing warehouse for the sixth time.
Over the past decade, many popular venues in Beijing have been forced to close their doors or relocate. Beijing hangouts such as Bed Bar, Salud, Vineyard Cafe, 2 Kolegas, Jiangjinjiuba, Mao Livehouse, Hercules, Aperativo, The Bridge Cafe, Great Leap Brewery Sanlitun, Jing-A Taproom 1949, and many others have all been closed over the past years.
Nightlife hotspot Sanlitun bar street was demolished and bricked up in 2017 as part of the mission of the city management to gentrify the area.
The demolishment of "illegal structures" in the city has been an ongoing effort of the local government for years. These efforts became especially visible in late 2017 when people in Beijing's Daxing area faced a large-scale evacuation campaign after a big fire broke out there on November 18, killing 19 people.
The large-scale evacuation campaign was also expanded to other areas of Beijing in a campaign by the municipal authorities aimed at unlicensed developments to target "illegal structures" and "buildings with potential fire hazards."
But many people on Weibo and WeChat questioned if the campaign was actually more about politics than about safety concerns – something that was strongly refuted by state media outlets at the time.
These questions will remain unanswered, also for the Bookworm. Is its closure really about closing down an "illegal structure," or are there more politically-motivated considerations playing a role here? On Weibo, some commenters say the location is closed down for being a home of free discussions and "free thinking," while others say that no matter what the place is, the building's safety and legal status is what matters here.
Perhaps the future will tell. We surely hope the Bookworm will soon pop up and open its doors in another location very soon.
Those who are interested can support the Bookworm by coming by and buying books, which will be heavily discounted, until November 11.
By Manya Koetse
Images: Bookworm images by The Bookworm, edited by What's on Weibo.
Sanlitun Image: Might have been taken by Manya in Beijing 2017, but we're not 100% sure so let us know if we're mistaken.
Spotted a mistake or want to add something? Please let us know in comments below or email us. First time commenters, please be patient – we will have to manually approve your comment before it appears.
©2019 Whatsonweibo. All rights reserved. Do not reproduce our content without permission – you can contact us at info@whatsonweibo.com.
Online Anger over Inappropriate Toast by Dutch Watch Brand Executive at Chinese Dinner Party
This is how NOT to do a toast in Dutch!
Instead of teaching guests at a Chinese dinner party how to say "cheers" in Dutch, this viral video shows how the Chinese are told to join in saying "dikke lul," the Dutch expression for "big d*ck."
UPDATE: FYI – the videos relating to this incident have been taken offline after the publication of this article. There are no active video links in this article.
The Amsterdam-based watch & jewelry brand Rosefield has recently come under fire within the Chinese community in the Netherlands after a video went viral showing Rosefield's CEO and its Head of Sourcing proposing an unusual toast at a Chinese dinner party.
The video, that was viewed over 173,000 times on Dutch site Dumpert.nl, shows a woman in a white blouse bringing out a toast, saying:
"In Dutch, we say 'ganbei' or 'cheers' in this way, and it would be nice if you all can say the same, we say: 'dikke lul.'"
The people at the table then proceed to toast saying "Dikke lul" – which, in fact, is not the Dutch word for 'cheers' but for 'big dick,' something that the Chinese people at the table are seemingly not aware of.
On WeChat, Chinese-language newspaper Asian News (华侨新天地) reported about the video and identified the Dutch woman and man at the table as the CPO and CEO of Rosefield Watches, a fast-growing luxury brand that is active in various countries.
Asian News describes the incident as a way of "ridiculing Chinese friends," and writes it has triggered anger online.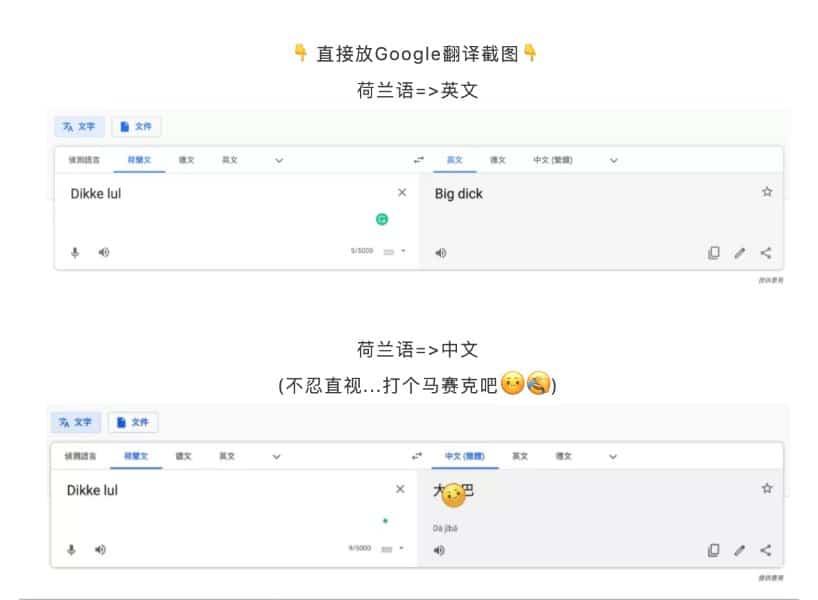 Asian News (华侨新天地) is a Chinese language newspaper founded in 1992. It is mainly distributed in the Netherlands, Belgium, and Germany. Its WeChat account has some 120,200 followers, and the post on the 'cheers' video was among its most-well read on WeChat this week.
The blog post noted that ever since the 'dikke lul' video has gone viral in the Netherlands, it has become one of the first results showing up when searching for the vulgar expression 'dikke lul' on Google.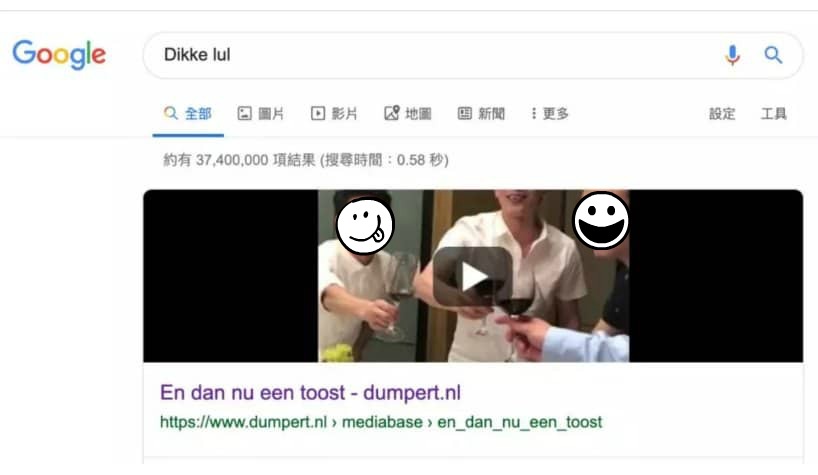 Although it is not clear where the video was filmed and how it ended up on short video site Dumpert, it is rumored in WeChat groups that it was recorded during the Hong Kong Watch and Clock Fair earlier this month, and that the Chinese guests are business relations of the Dutch brand (unconfirmed).
The comment section on the Dumpert site shows that although some Dutch commenters think the video is funny, there are many who find it "vulgar," "rude," and "distasteful."
Although many (overseas) Chinese expressed anger in various WeChat groups – some expressing regret over a Rosefield watch they recently purchased – the Asia News blog does remind readers that we do not know the context of the video, and whether or not there was a certain pretext or common understanding to the joke.
Nevertheless, the blog states, this kind of behavior is not professional and if a company such as Rosefield wants to earn money in China, "it should also respect Chinese culture and people."
Although there have been ample discussions about the controversial video on Wechat, there are no online discussions about this issue on Weibo at the time of writing.
Over the past year, many foreign brands became a focus for controversy in China.
In November of 2018, Italian fashion house D&G faced consumer outrage and backlash on Chinese social media for a video that was deemed 'racist' to China and for insulting remarks about Chinese people allegedly made by designer Stefano Gabbana.
Swiss investment bank UBS sparked controversy in June for a column which mentioned "Chinese pigs."
Over this summer, various foreign companies apologized to China for listing 'Hong Kong' as a separate country or region on its websites and/or t-shirts.
Still curious about how to actually say 'cheers' in Dutch? It's 'proost' and this is how you pronounce it correctly.
By Manya Koetse
Follow @whatsonweibo
Spotted a mistake or want to add something? Please let us know in comments below or email us. Please note that your comment below will need to be manually approved if you're a first-time poster here.
©2019 Whatsonweibo. All rights reserved. Do not reproduce our content without permission – you can contact us at info@whatsonweibo.com