Top 5 of China's Most Popular Short Video and Live Streaming Apps
An overview of the most-watched apps in China of this moment.
The live streaming and short video app market is (still) absolutely booming in China. What's on Weibo lists China's most popular apps within this category for you: these are the top Chinese apps to watch.
China is the world's largest smartphone market, and the mobile app business is booming. In August of last year, it was reported that approximately 800 million people are actively using the internet in China, about 58 percent of the country's population. What is especially noteworthy is that some 788 million people are accessing the internet via mobile – a total of 98 percent of the China's total online population.
To attract business from this immense number of mobile internet users, who on average spend some 4.2 hours per day on their phone, thousands of news apps are launched every year. In 2018, Chinese internet users could download 7.3 million different apps – 900.000 more than the year before.
To provide more insight into China's mobile app market, What's on Weibo has listed some of the most popular and noteworthy apps in China today. For this selection, we chose to avoid the most obvious popular apps, such as Weibo or WeChat, that are already frequently covered in English-language media.
Instead, we chose to feature those apps that are arguably not as well-known outside of mainland China, within five popular categories, namely: education, health, news, games, and short video & live streaming.
We made our selection based on the data from the Android app stores Tencent, Baidu, Huawei, and Zhushou360. We tried our best to give you a representative overview of various apps that are currently most used in China, but want to remind you that these lists are by no means absolute nor official "top 5" charts.
We will start with our top short video & live streaming list, stay tuned for the other categories that will follow shortly and will be listed below this article!
#1 Douyin Short Video 抖音短视频

Douyin, which literally means "trembling sound" (抖音), is a short video social networking app. The app is part of the ByteDance Inc. empire and was first launched in September 2016.
If the logo looks familiar, that may be because you know the popular international version of the app named 'TikTok,' which was the fourth most downloaded non-game app worldwide in 2018.
Douyin allows its users to live stream and to upload and view 15-second videos. The app provides several tools to finetune videos by adding various kinds of music, fast forwarding, or adding filters and stickers.
More than just a video and broadcasting app, Douyin is very much interactive, which inherently makes it a social media platform. Videos can be liked, shared and commented on, and people can follow each other. Through its broadcasting feature, users can also send each other money or virtual gifts.
The major 'magic' formula behind Douyin is its use of the AI algorithm of its parent company Bytedance Inc (the same company that runs the super popular news app Toutiao). This means the app constantly provides users with suggested content based on user profile and preferences. Adding to this, Douyin is the only app in this selection that automatically plays the next video if the current video you are watching has ended, increasing user engagement with the app.
Douyin's approach is highly successful. In 2018, Douyin ranked as the tenth most popular app in China, and its popularity continues to grow. From September to December 2018, Douyin's daily active users increased from 118.7 to 138.5 million.
Douyin currently is the most popular short video app in the Chinese Apple store, and in both the Huawei and Zhushou360 app stores, Douyin ranks second most popular app overall.
Also see our previous article exploring the difference between Douyin and its international version TikTok.
#2 Kuaishou 快手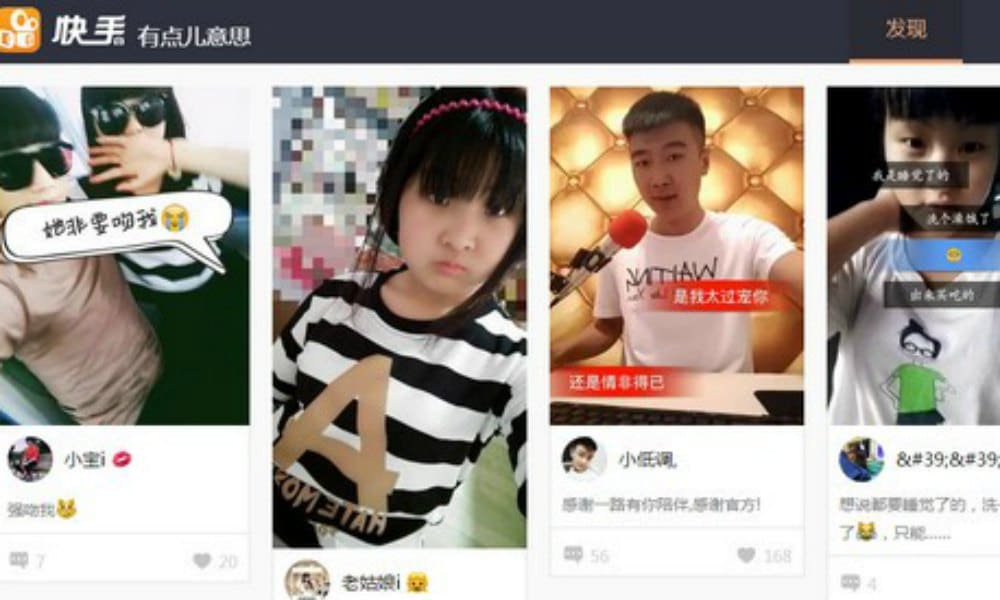 Kuaishou, literally meaning "fast hand," is also known as 'Kwai' and was first launched in 2011 as GIF Kuaishou (GIF快手) and changed its name and function to the current one in 2014.
In 2018, Kuaishou received various investments from Chinese tech giants Tencent, Alibaba, and Baidu, that also sought to profit from China's growing market of short-video and live stream apps. As with Douyin, Kuaishou has also been successful outside of mainland China. In 2018, the app briefly ranked first in several Apple stores including those in Russia, Turkey, South Korea, Taiwan, and Indonesia.
With Kuaishou, just like Douyin, users can live stream and upload short videos. There are, however, some small differences between the apps. In Kuaishou, videos can be as long as 57 seconds, and the next video will not play automatically; meaning that users have to manually pick the next video they want to watch. Also in the video editing, its functions are different. In the Kuaishou app, users can specifically add filters to faces, and there is also a karaoke function.
In the fourth quarter of 2018, Kuaishou reached the miracle barrier of 100 million monthly active users, showing a modest 2,45 percent growth compared to the third quarter. Currently, Kuaishou is ranking second most popular video app in the Chinese Apple Store, and fifth in the Zhushou360 app store.
#3 Xigua Video 西瓜视频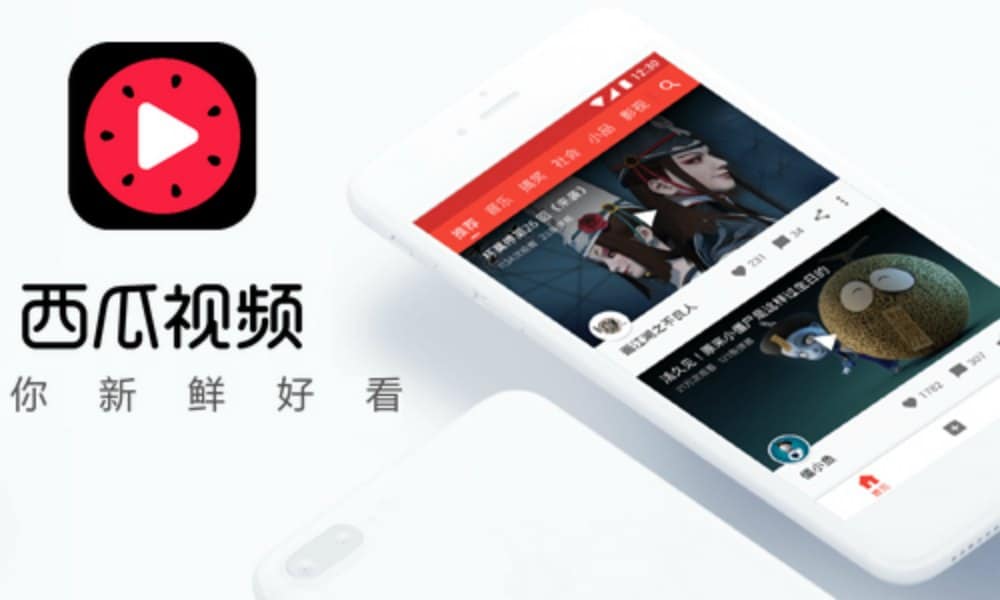 Xigua, which means 'watermelon,' is the second-most popular short video app by Bytedance. 'Eating watermelons' or 'the watermelon-eating masses' (吃瓜群众) is a Chinese idiom that is frequently used by Chinese netizens, meaning that onlookers are interested in watching an (online) spectacle or discussion unfold without intervening.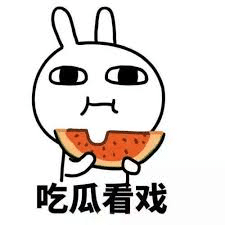 Being a Bytedance product, Xigua also uses artificial intelligence and machine learning algorithms to recommend videos to its users. What is different from Douyin, is that Xigua categorizes its videos based on their contents. There are, for example, the categories handicraft, culture, square dancing, cuisine, and fashion. Adding to this, Xigua also offers a live streaming service and a wide variety of television programs and games.
Despite a small decrease in daily active viewers in the last quarter of 2018 from 41.2 million to 38.7 million, Xigua was still the third most popular video app in the Chinese Apple store, closely followed by another app by Bytedance called Huoshan (火山), a short video platform for people to share their stories and showcase their talent.
#4 MOMO 陌陌

MOMO is a location-based social networking app where users can show themselves through video, text, voice, and pictures, and discover nearby people based on their geographic location. Despite the company calling the app a social networking platform, for many Chinese netizens, MOMO is simply known as a dating app.
Different from apps such as Douyin and Xigua, MOMO does not show content based on user preference but based on its geographic location. The main page of MOMO shows profiles of people around you, featured with picture and videos. If you see a person that you like, you can add the person or leave a 'like' or comment. In addition, the app also provides other functions such as a swipe function, a chat room and a place where you can play games with other users.
MOMO which is part of the Beijing MOMO Technology company, that first launched their app in 2011. Little than a year later, people all over the globe were introduced to MOMO's international version. But in 2014, when the Chinese version started to gain a significant market share, the company decided to cancel its international edition and focus on its domestic business instead.
In 2018, MOMO acquired the Tinder-like dating app Tantan (探探), which had 6.3 million daily active users in the fourth quarter of 2018.
In the meantime, MOMO has also been growing in popularity, registering 16 million daily active users in 2018, making it the most popular app in the category live streaming and the 88th the most popular app overall – that may not sound too impressive, but within China's booming app market, it actually is.
#5 DouYu Livestream 斗鱼直播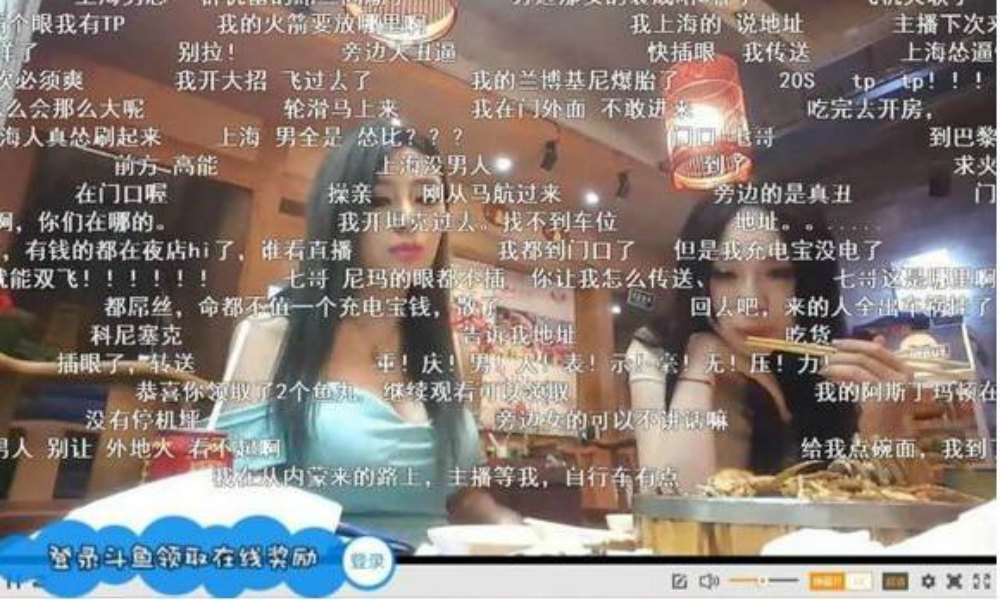 DouYu is an app by DouYu TV and was first launched in 2014. In 2016, DouYu received investments from both Tencent and Phoenix Media.
What mainly sets DouYu apart from other live stream apps, is that it provides its users with live streaming games such as Honor of Kings, Player Unknown's Battlefield, DOTA and League of Legend. In addition, it also features practical videos such as cooking lessons or camping tutorials.
In 2018, DouYu was the second most popular live streaming app of China, right behind MOMO, with 7.2 daily active users at the end of the year. Currently, the app ranks among the most popular video apps in the Tencent Appstore.
Also see: Top 5 of Popular News Apps
By Gabi Verberg
Spotted a mistake or want to add something? Please let us know in comments below or email us.
©2019 Whatsonweibo. All rights reserved. Do not reproduce our content without permission – you can contact us at info@whatsonweibo.com
The 'Fake Rich' of Shanghai: Peeking Inside a Wannabe Socialite WeChat Group
A Shanghai fake 'rich girl WeChat group' has become the talk of the day after a Chinese blogger went undercover in their bizarre social media circle.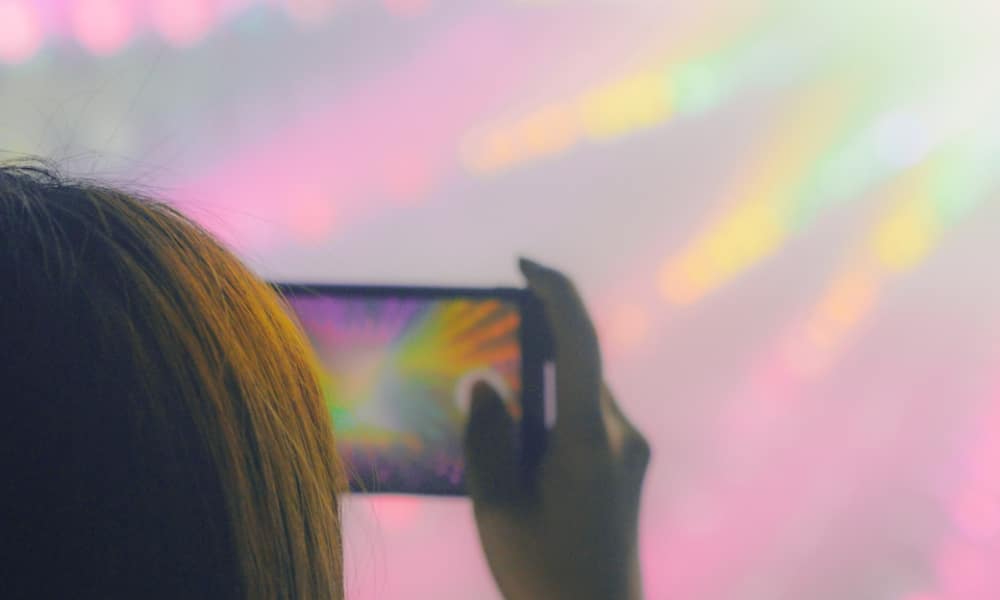 A Shanghai Lady Socialite WeChat Group has become top trending on Chinese social media after a blogger exposed its workings. From splitting the costs for an afternoon high tea at The Ritz to sharing a Gucci pantyhose, these girls are taking the phrase 'fake it 'til you make it' a bit too literally.

By Manya Koetse, with contributions from Miranda Barnes

How to become part of Shanghai's super-rich social circles? Some people think joining a WeChat group is the way to go.
A Shanghai 'Female Socialite WeChat Group' has gone mega trending on Chinese social media today after a blogger went undercover in the group for two weeks, giving netizens a peek inside a world that's all about faking it. The topic reached over 1.2 billion views on Weibo on Monday.
The Chinese blogger Lizhonger (李中二) invested 500 yuan ($75) and pretended to be a girl in order to become a member of the WeChat group after one of his readers tipped him off about its existence.
The group profiles itself as the 'Shanghai Female Socialite' group that is all about "Young / Fashion / Money". The profile poster states that the WeChat group is a place to share information about (Hermes, Dior, etc) luxury products, to have afternoon tea together, to get to know social media influencers and to share updates on wealthy and eligible bachelors.
Besides a 500 yuan membership fee, new members are required to provide proof of having at least 100,000 yuan ($15,000) in their savings account.
Faking such proof is probably not too difficult; most of the active members of the 'Shanghai Ladies' WeChat group appear to be anything but nouveau riche – nor old rich, for that matter.
Lizhonger discovered that instead of being an actual WeChat group for rich girls to talk about their latest Louis Vuitton bags, the group is in fact all about finding ways to appear rich. Part of it is sharing resources and splitting the costs of experiences where these luxury-loving girls can post photos of themselves.
"It turned out to be a high-end version of Pinduoduo," Lizhonger writes. Pinduoduo, sometimes referred to as 'the Groupon of China,' is an interactive group-buying shopping platform that offers quality goods at extremely low prices.
As exposed by Lizhonger, the members of the WeChat group would do things such as sharing the cost for an afternoon high tea at the Ritz-Carlton. The high tea, which is meant for two people, was split among six people, with each person paying 85 yuan ($12.5). The girls then took turns to attend the high tea, with the first girls promising not to touch any of the food so the other girls could still take pictures of it once it was their turn to show up at the Ritz.
Likewise, the booking costs for a 3000 yuan hotel room at the Ritz was shared among 15 members of the WeChat group, with each person paying 200 yuan ($30).
The price for a room at the glamorous and expensive Bvlgari Hotel Shanghai was shared with no less than 40 people, each person paying 125 yuan ($18) just to go up, take a pic, and share their location on social media.
The madness does not stop there. Lizhonger also exposed how the group members would rent one designer bag with four persons, passing them on to each other to wear on a date with a prospective boyfriend.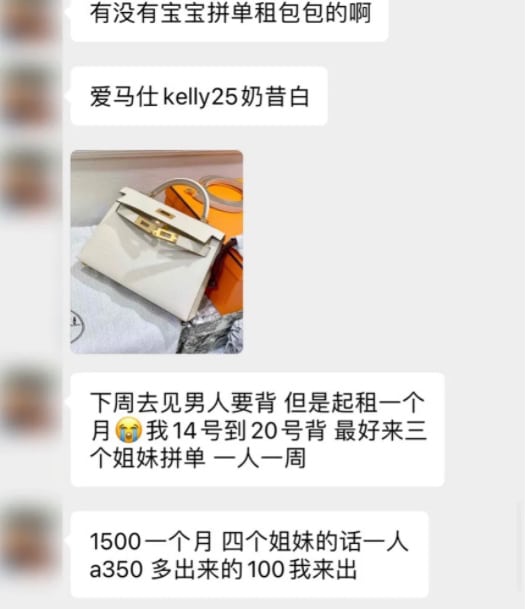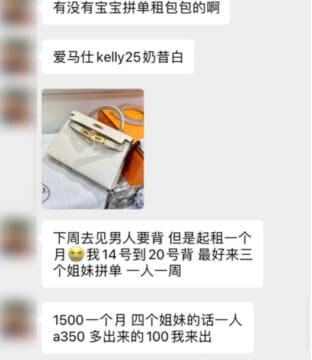 Or how about renting a white Ferrari for one day with 60 people? For 100 yuan ($15) per person, each lady got to take a picture to post on social media.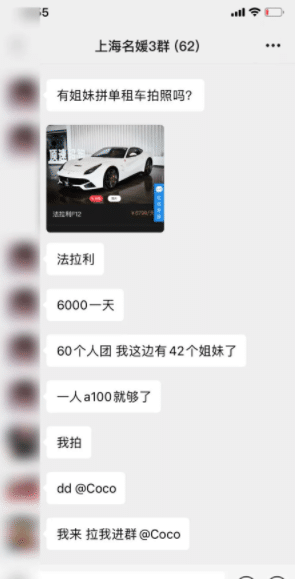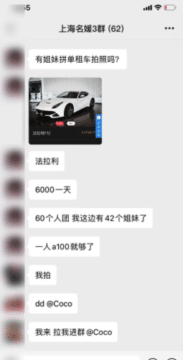 The girls even went as far as sharing the costs for a second-hand Gucci pantyhose, while also discussing how guys driving a BMW or Benz are just not good enough.
One WeChat group can hold a maximum of 500 people. Groups that are popular, such as the one described here, are sometimes split up in multiple groups (A, B, and C) so that more than 500 people can participate.
Since Lizhonger posted his article on WeChat on Sunday, it's become all the talk on Chinese social media. One post about the topic on Weibo reached over 1,4 million likes.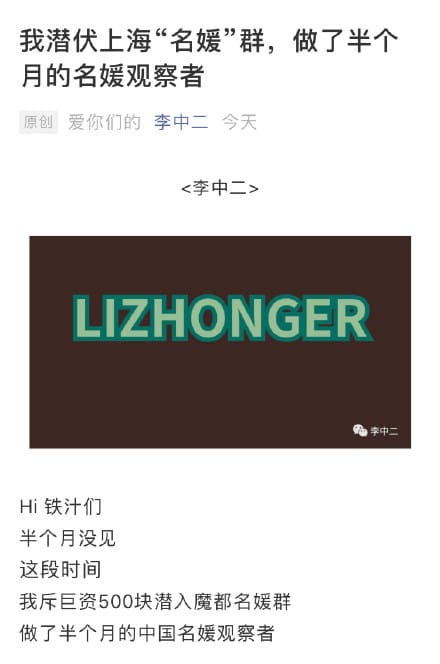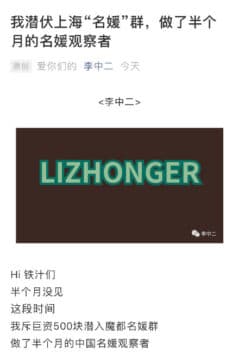 Although many people laugh about the matter, there are also many who criticize these Shanghai women for pretending to be rich and chasing after money in order to increase their social status in order to find a wealthy husband.
"They are faking their appearances, but actually they are just faking themselves," some commented.
Others are not surprised that these kinds of groups are popular. "Did you think this was rare? There are so many of these groups!"
Although this group goes to extremes, the fake socialite life is not just a Shanghai thing. Since some years ago, it was reported that influencers in Russia were booking grounded jets for photoshoots. More recently, some influencers in the US were exposed for renting a photo studio made to look like a private plane for their Instagram photos.
By Manya Koetse, with contributions from Miranda Barnes
Follow @WhatsOnWeibo
Featured image by Yuan Zhe Ma
Spotted a mistake or want to add something? Please let us know in comments below or email us. First-time commenters, please be patient – we will have to manually approve your comment before it appears.
©2020 Whatsonweibo. All rights reserved. Do not reproduce our content without permission – you can contact us at info@whatsonweibo.com.
Tuber App That Promised Access to Blocked Sites in China Gone Within a Day
It seems that the Tuber App, which promised access to blocked sites in China, is now blocked itself.
The Tuber app promised registered users access to websites otherwise blocked in China. But a day after the app became a much-discussed topic on social media, it already disappeared.
"This can't be real, can it?" For a moment there was some consternation on Weibo this week, when news made it rounds that a new browser app would allow Chinese web users to visit websites that are otherwise blocked in mainland China, from Google to Instagram.
The Android browser app, called 'Tuber', soon became a much-discussed topic, with Weibo users saying it was available from the Huawei app store. Users needed to do complete a real-name registration in order to use the app.
"You can use YouTube via this app," one popular Weibo blogger wrote: "And the app has a built-in translation function which can automatically translate English interfaces and provides videos with Chinese subtitles (automated). Videos can also be downloaded."
The Weibo blogger known as 'Sudashui' (over 1 million fans) also commented that Pinterest could be normally used from within the browser. "This is a major event for the Chinese Internet," ("这都是中国互联网的一件大事"), Sudashui wrote, suggesting the app had been approved by the Chinese authorities.
TechCrunch reported that the app came with a veil of censorship, with YouTube queries for politically sensitive keywords such as "Tiananmen" or "Xi Jinping" returned no results on the app.
South China Morning Post also wrote that Tuber granted users some access to innocuous overseas content like entertainment news, while still blocking any politically sensitive content.
But on Saturday (10/10), a day after news about the app made its rounds, all content relating to the app was removed from social media site Weibo, including the post by blogger Sudashui. Searches for the app also showed no results in various Chinese app stores, including the Huawei app store.
"It's already gone from the Huawei app store," a disappointed Weibo user wrote, with another person commenting that it had also disappeared from the Xiaomi app store.
"Quite a few of these kinds of apps have come out. They are seemingly tacitly approved by the government," another person wrote.
Some social media users also joke about the app going down so fast: "It really had a short life."
For others, the app's existence is already forgotten. One Weibo commenter writes: "What is this browser app that everyone keeps talking about?!"
By Manya Koetse , with contributions by Bobby Fung
Follow @WhatsOnWeibo
Spotted a mistake or want to add something? Please let us know in comments below or email us. First-time commenters, please be patient – we will have to manually approve your comment before it appears.
©2020 Whatsonweibo. All rights reserved. Do not reproduce our content without permission – you can contact us at info@whatsonweibo.com.