Top 5 of China's Most Popular Short Video and Live Streaming Apps
An overview of the most-watched apps in China of this moment.
The live streaming and short video app market is (still) absolutely booming in China. What's on Weibo lists China's most popular apps within this category for you: these are the top Chinese apps to watch.
China is the world's largest smartphone market, and the mobile app business is booming. In August of last year, it was reported that approximately 800 million people are actively using the internet in China, about 58 percent of the country's population. What is especially noteworthy is that some 788 million people are accessing the internet via mobile – a total of 98 percent of the China's total online population.
To attract business from this immense number of mobile internet users, who on average spend some 4.2 hours per day on their phone, thousands of news apps are launched every year. In 2018, Chinese internet users could download 7.3 million different apps – 900.000 more than the year before.
To provide more insight into China's mobile app market, What's on Weibo has listed some of the most popular and noteworthy apps in China today. For this selection, we chose to avoid the most obvious popular apps, such as Weibo or WeChat, that are already frequently covered in English-language media.
Instead, we chose to feature those apps that are arguably not as well-known outside of mainland China, within five popular categories, namely: education, health, news, games, and short video & live streaming.
We made our selection based on the data from the Android app stores Tencent, Baidu, Huawei, and Zhushou360. We tried our best to give you a representative overview of various apps that are currently most used in China, but want to remind you that these lists are by no means absolute nor official "top 5" charts.
We will start with our top short video & live streaming list, stay tuned for the other categories that will follow shortly and will be listed below this article!
#1 Douyin Short Video 抖音短视频

Douyin, which literally means "trembling sound" (抖音), is a short video social networking app. The app is part of the ByteDance Inc. empire and was first launched in September 2016.
If the logo looks familiar, that may be because you know the popular international version of the app named 'TikTok,' which was the fourth most downloaded non-game app worldwide in 2018.
Douyin allows its users to live stream and to upload and view 15-second videos. The app provides several tools to finetune videos by adding various kinds of music, fast forwarding, or adding filters and stickers.
More than just a video and broadcasting app, Douyin is very much interactive, which inherently makes it a social media platform. Videos can be liked, shared and commented on, and people can follow each other. Through its broadcasting feature, users can also send each other money or virtual gifts.
The major 'magic' formula behind Douyin is its use of the AI algorithm of its parent company Bytedance Inc (the same company that runs the super popular news app Toutiao). This means the app constantly provides users with suggested content based on user profile and preferences. Adding to this, Douyin is the only app in this selection that automatically plays the next video if the current video you are watching has ended, increasing user engagement with the app.
Douyin's approach is highly successful. In 2018, Douyin ranked as the tenth most popular app in China, and its popularity continues to grow. From September to December 2018, Douyin's daily active users increased from 118.7 to 138.5 million.
Douyin currently is the most popular short video app in the Chinese Apple store, and in both the Huawei and Zhushou360 app stores, Douyin ranks second most popular app overall.
Also see our previous article exploring the difference between Douyin and its international version TikTok.
#2 Kuaishou 快手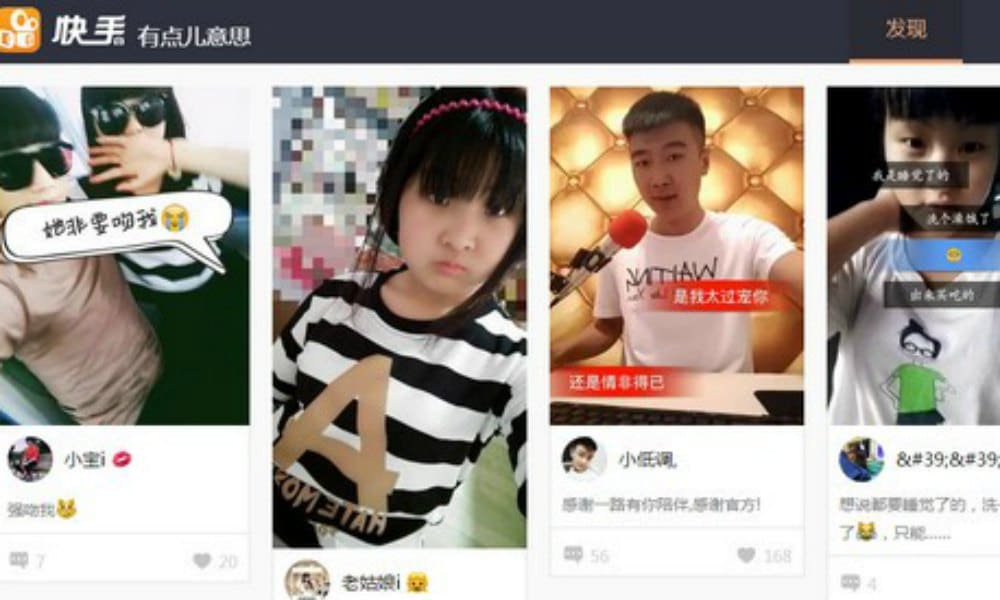 Kuaishou, literally meaning "fast hand," is also known as 'Kwai' and was first launched in 2011 as GIF Kuaishou (GIF快手) and changed its name and function to the current one in 2014.
In 2018, Kuaishou received various investments from Chinese tech giants Tencent, Alibaba, and Baidu, that also sought to profit from China's growing market of short-video and live stream apps. As with Douyin, Kuaishou has also been successful outside of mainland China. In 2018, the app briefly ranked first in several Apple stores including those in Russia, Turkey, South Korea, Taiwan, and Indonesia.
With Kuaishou, just like Douyin, users can live stream and upload short videos. There are, however, some small differences between the apps. In Kuaishou, videos can be as long as 57 seconds, and the next video will not play automatically; meaning that users have to manually pick the next video they want to watch. Also in the video editing, its functions are different. In the Kuaishou app, users can specifically add filters to faces, and there is also a karaoke function.
In the fourth quarter of 2018, Kuaishou reached the miracle barrier of 100 million monthly active users, showing a modest 2,45 percent growth compared to the third quarter. Currently, Kuaishou is ranking second most popular video app in the Chinese Apple Store, and fifth in the Zhushou360 app store.
#3 Xigua Video 西瓜视频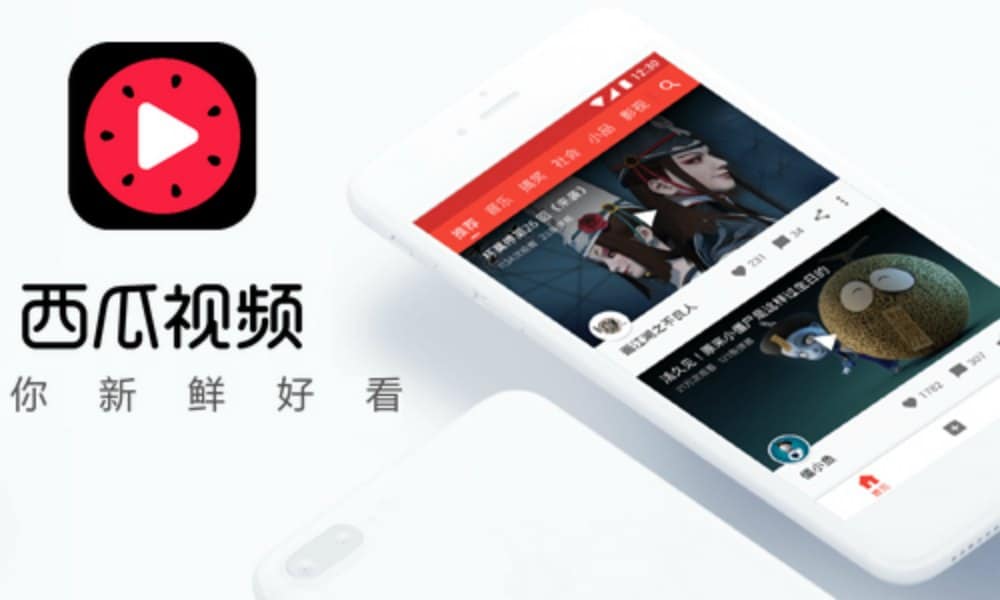 Xigua, which means 'watermelon,' is the second-most popular short video app by Bytedance. 'Eating watermelons' or 'the watermelon-eating masses' (吃瓜群众) is a Chinese idiom that is frequently used by Chinese netizens, meaning that onlookers are interested in watching an (online) spectacle or discussion unfold without intervening.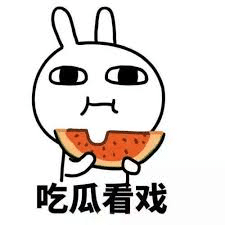 Being a Bytedance product, Xigua also uses artificial intelligence and machine learning algorithms to recommend videos to its users. What is different from Douyin, is that Xigua categorizes its videos based on their contents. There are, for example, the categories handicraft, culture, square dancing, cuisine, and fashion. Adding to this, Xigua also offers a live streaming service and a wide variety of television programs and games.
Despite a small decrease in daily active viewers in the last quarter of 2018 from 41.2 million to 38.7 million, Xigua was still the third most popular video app in the Chinese Apple store, closely followed by another app by Bytedance called Huoshan (火山), a short video platform for people to share their stories and showcase their talent.
#4 MOMO 陌陌

MOMO is a location-based social networking app where users can show themselves through video, text, voice, and pictures, and discover nearby people based on their geographic location. Despite the company calling the app a social networking platform, for many Chinese netizens, MOMO is simply known as a dating app.
Different from apps such as Douyin and Xigua, MOMO does not show content based on user preference but based on its geographic location. The main page of MOMO shows profiles of people around you, featured with picture and videos. If you see a person that you like, you can add the person or leave a 'like' or comment. In addition, the app also provides other functions such as a swipe function, a chat room and a place where you can play games with other users.
MOMO which is part of the Beijing MOMO Technology company, that first launched their app in 2011. Little than a year later, people all over the globe were introduced to MOMO's international version. But in 2014, when the Chinese version started to gain a significant market share, the company decided to cancel its international edition and focus on its domestic business instead.
In 2018, MOMO acquired the Tinder-like dating app Tantan (探探), which had 6.3 million daily active users in the fourth quarter of 2018.
In the meantime, MOMO has also been growing in popularity, registering 16 million daily active users in 2018, making it the most popular app in the category live streaming and the 88th the most popular app overall – that may not sound too impressive, but within China's booming app market, it actually is.
#5 DouYu Livestream 斗鱼直播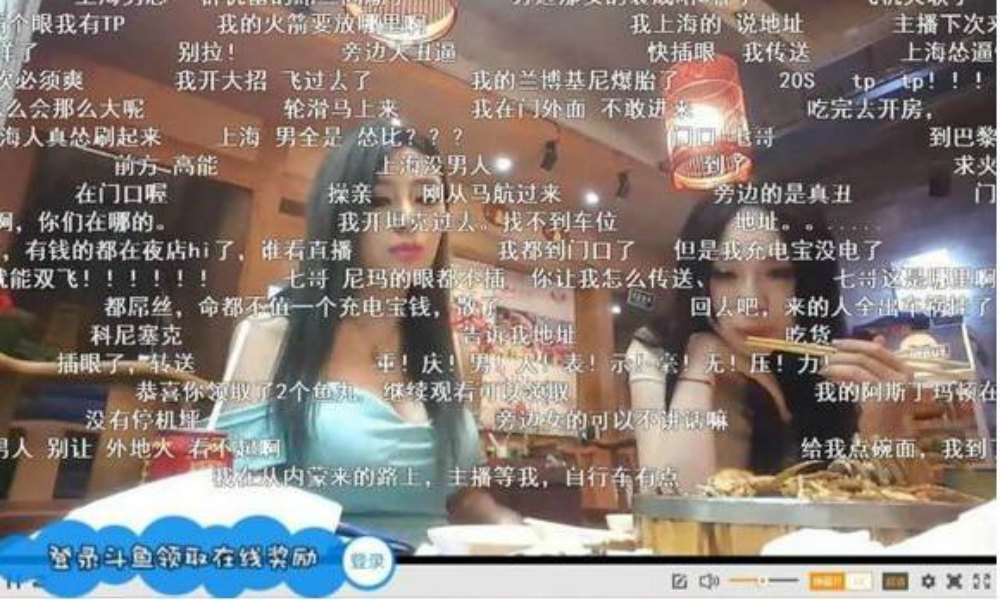 DouYu is an app by DouYu TV and was first launched in 2014. In 2016, DouYu received investments from both Tencent and Phoenix Media.
What mainly sets DouYu apart from other live stream apps, is that it provides its users with live streaming games such as Honor of Kings, Player Unknown's Battlefield, DOTA and League of Legend. In addition, it also features practical videos such as cooking lessons or camping tutorials.
In 2018, DouYu was the second most popular live streaming app of China, right behind MOMO, with 7.2 daily active users at the end of the year. Currently, the app ranks among the most popular video apps in the Tencent Appstore.
Also see: Top 5 of Popular News Apps
By Gabi Verberg
Spotted a mistake or want to add something? Please let us know in comments below or email us.
©2019 Whatsonweibo. All rights reserved. Do not reproduce our content without permission – you can contact us at info@whatsonweibo.com
From Tea Farmer to Online Influencer: Uncle Huang and China's Rural Live Streamers
'Cunbo' aka 'rural livestreaming' is all the rage. A win-win situation for farmers, viewers, and Alibaba.
This is the "WE…WEI…WHAT?" column by Manya Koetse, originally published in German by Goethe Institut China on Goethe.de: "VOM TEEBAUERN ZUM INFLUENCER: ONKEL HUANG UND CHINAS LÄNDLICHE LIVESTREAMER." 
The past year has been super tumultuous when it comes to the topics that have been dominating Chinese social media. The Coronavirus crisis was preceded by other big issues that were all the talk online, from the US-China trade war to the protests in Hong-Kong, the swine flu, and heightened censorship and surveillance.
Despite the darker side to China's online environment, however, there were also positive developments. One of the online trends that became popular this year comes with a term of its own, namely cūnbō (村播): rural livestreaming.  Chinese farmers using livestreaming as a way to sell their products and promote their business have become a more common occurrence on China's e-commerce and social media platforms. 

The social media + e-commerce mix, also called 'social shopping,' is booming in the PRC. Online platforms where the lines between social media and e-commerce have disappeared are now more popular than ever. There's the thriving Xiaohongshu (小红书Little Red Book) platform, for example, but apps such as TikTok (known as Douyin in China) also integrate shopping in the social media experience.
Over recent years, China's e-commerce giant Alibaba has contributed to the rising popularity of 'social shopping.' Its Taobao Live unit (also a separate app), which falls under the umbrella of China's biggest online marketplace Taobao, is solely dedicated to shopping + social media, mainly mobile-centered. It's a recipe for success: Chinese mobile users spend over six hours online per day, approximately 72% of them shop online, and nearly 65% of mobile internet users watch livestreaming.
Every minute of every day, thousands of online shoppers tune in to dozens of different channels where sellers promote anything from food products to makeup or pet accessories. The sellers, also called 'hosts' or 'presenters,' make their channels attractive by incorporating makeup tutorials, cooking classes, giving tips and tricks, chatting away and joking, and promising their buyers the best deal or extra presents when purchasing their products.                
Sometimes thousands of viewers tune in to one channel at the same. They can 'follow' their favorite hosts and can interact with them directly by leaving comments on the livestreams. They can compliment the hosts ("You're so funny!"), ask questions about products ("Does this also come in red?"), or leave practical advice ("You should zoom in when demonstrating this product!"). The product promoted in the livestreams can be directly purchased through the Taobao system.
Over the past year, Alibaba has increased its focus on rural sellers within the livestreaming e-commerce business. Countryside sellers even have their own category highlighted on the Taobao Live app. Chinese tech giant Alibaba launched its 'cūnbō project' in the spring of 2019 to promote the use of its Taobao Live app amongst farmers. The most influential livestreaming farmers get signed by Alibaba to elevate Taobao Live's rural business to a higher level.
One of these influential Chinese farmers who has made a name for himself through livestreaming is Huang Wensheng, a tea farmer from the mountainous Lichuan area in Hunan Province.
Huang, who is nicknamed 'Uncle Farmer,' sells tea through his channel, where he shows viewers his work and shares stories and songs from his village. He is also known to talk about what he learned throughout his life and will say things such as: "It is important to work hard; not necessarily so much to change the world , but to make sure the world does not change you."
With just three to five livestreaming sessions per week, 'Uncle' Huang reaches up to twenty million viewers per month, and, according to Chinese media reports, has seen a significant increase in his income, earning some 10,000 yuan (€1300) per week.
Huang is not the only farmer from his hometown using Taobao Live to increase their income; there are some hundred rural livestreamers in Lichuan doing the same.
The rural livestreaming category is significantly different from the urban fashionistas selling brand makeup and the latest must-haves: these hosts do not have the polished look, glamorous clothes, or stylish backgrounds. They usually film outside while doing their work or offer a glimpse into their often humble rooms or kitchens.
Viewers get to see the source of the products sold by these rural sellers; they often literally go to the fields to show where their agricultural products grow, or film themselves getting the eggs from their chickens or the oranges from the trees. From fruits to potatoes and flowers, and from fresh tea to home-made chili sauce – a wide range of products is promoted and sold through Taobao Live these days.
Some rural livestreamers are trying to stay ahead of their competition by coming up with novel concepts. A young farmer from Sichuan, for example, recently offered viewers the opportunity to "adopt" a rooster from his farm, allowing them to interact with 'their' rooster through social media and even throwing the occasional birthday party for some lucky roosters.
Examples such as these show that although the countryside livestreamers usually lack glitter and glam, they can be just as entertaining – or perhaps even more so – than their urban counterparts.
Who benefits from the recent 'cūnbō' boom? One could argue that the rising popularity of livestreaming farmers is a win-win situation from which all participants can profit in some way. The commercial interests are big for Alibaba. The company has been targeting China's countryside for years, as it's where China's biggest consumption growth will happen while mobile internet penetration is still on the rise. Alibaba earns profits from an increasing number of rural e-commerce buyers, as well as e-commerce sellers.
Alibaba's early focus on the countryside as a new home for e-commerce has previously also led to the phenomenon of so-called 'Taobao Villages,' where a certain percentage of rural residents are selling local specialties, farm products or other things via the Taobao platform with relatively little transaction costs.
Many Chinese villages and farmers are profiting from the further spread of Taobao in the countryside. Not only does Alibaba invest in logistics and e-commerce trainings in rural areas, these e-commerce channels are also a way to directly boost sales and income for struggling farmers.
Chinese media predict that the rural livestreaming trend will only become more popular in the years to come, bringing forth many more influential farmers like Huang.
But besides the commercial and financial gains that come from the rising popularity of rural livestreamers, there is also a significant and noteworthy social impact.  At  a time in which China's rapidly changing society sees a widening gap between urban and rural areas, these rural channels serve as a digital bridge between countryside sellers and urban consumers, offering netizens a real and unpolished look into the lives of farmers in others parts of the country, and gives online buyers more insight and understanding of where their online products came from.
Taobao Live is actually like a traditional "farmers' market," but now it is digital, open 24/7, and accessible to anyone with a mobile phone. It's the Chinese farmers' market of the 21st century.
By Manya Koetse
Follow @whatsonweibo
Spotted a mistake or want to add something? Please let us know in comments below or email us. First-time commenters, please be patient – we will have to manually approve your comment before it appears.
This text was first published by Goethe-Institut China under a CC-BY-NC-ND-4.0-DE license (Creative Commons) as part of a monthly column in collaboration with What's On Weibo.
WeChat's New Emoji Are Here (Including a Watermelon-Eating and Doge One)
WeChat's new emoji are based on popular memes.
On January 14, Tencent's Wechat introduced new emoji to its existing emoji set. The new emoji include, among others, a watermelon-eating emoji and a smiling Shiba Inu.
On Weibo, the new emoji have become a topic of discussion under the hashtags "WeChat's New Emoji" (#微信上线新表情#), "WeChat's Watermelon Eating Emoji" (#微信上线吃瓜表情#), and "WeChat's Dog Emoji" (#微信上线狗头表情#).
Different from the Unicode emoji (see Emojipedia), WeChat and Weibo have their own sets of emoji, although there is overlap.
The reason why especially the watermelon-eating and dog emoji are being discussed on social media, is because these emoji are based on popular internet memes.
"Eating watermelon" (吃瓜 chī guā) is an online expression that comes from "watermelon-eating masses" (吃瓜群众 chī guā qúnzhòng), which describes a common mentality of Internet users who have no idea what is actually going on but are still commenting or following online stories for their enjoyment – perhaps comparable to the "popcorn memes" that are ubiquitous on Western social media platforms.
The smiling dog has been around since 2013 and is known as the doge meme, based on a photo of a Shiba inu. The meme was originally spread on social media platforms such as Reddit, but then also became hugely popular in China, where it became a symbol of sarcasm (also read this Abacus article on this topic).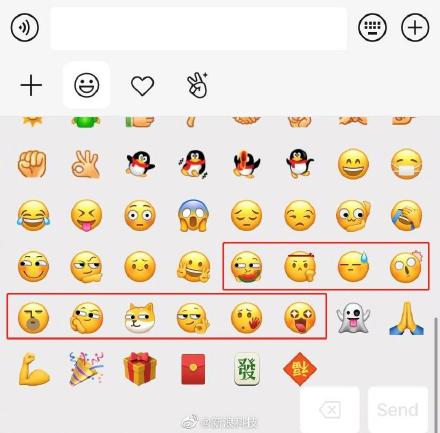 Other new emoji are the "wow" emoji, and others to express "ok," "add oil," "emm," "oh!"
There's also a "shehui shehui" (社会社会, lit. "society society") emoji, which also comes from online culture and is a way among friends to (self-mockingly) talk about being 'gangsters,' 'brothers.' or 'scoundrels.'
As the new emoji are still in their testing phase, not all WeChat users can use the new emoji yet, so you might have to wait a bit before being able to try them out.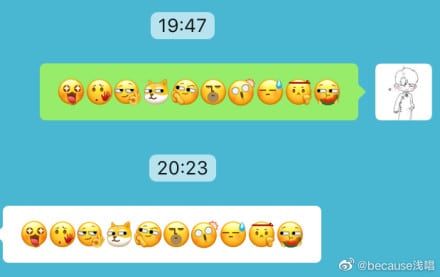 By Manya Koetse, with thanks to @caaatchina
Follow @whatsonweibo
Spotted a mistake or want to add something? Please let us know in comments below or email us. First-time commenters, please be patient – we will have to manually approve your comment before it appears.
©2020 Whatsonweibo. All rights reserved. Do not reproduce our content without permission – you can contact us at info@whatsonweibo.com.