Top 6 of China's Popular News Apps
In an online environment with hundreds of news apps, these are some must-know apps Chinese netizens use to stay updated on the news.
In China's dynamic online media environment, where hundreds of news apps are competing over clicks, these are five different news apps that are currently popular among Chinese netizens.
China is the world's largest smartphone market, and the mobile app business is booming. Chinese netizens, of which some 98% access the internet via mobile phone, have thousands of app to choose from across dozens of app stores.
To provide some insights into this huge market, What's on Weibo has listed some of the most popular and noteworthy apps in China today in various categories, namely news, education, health, games, and short video & live streaming. Check our top 5 of most popular short video apps here. This article will focus on some of China's most popular news apps. Stay tuned for the other categories, that will follow shortly and will be listed below this article.
We made our selection based on the data from the Android app stores Tencent, Baidu, Huawei, and Zhushou360. We tried our best to give you a representative overview of a variety of apps that are currently most used in China, but want to remind you that these lists are by no official "top 5" charts.
When it comes to news apps, we see there's a clear preference for the more commercial media outlets rather than traditional Chinese state media newspaper titles, and that besides gaming, live streaming, shopping, and music, news gathering is still very much a popular online activity among Chinese netizens.
#1 Jinri Toutiao 今日头条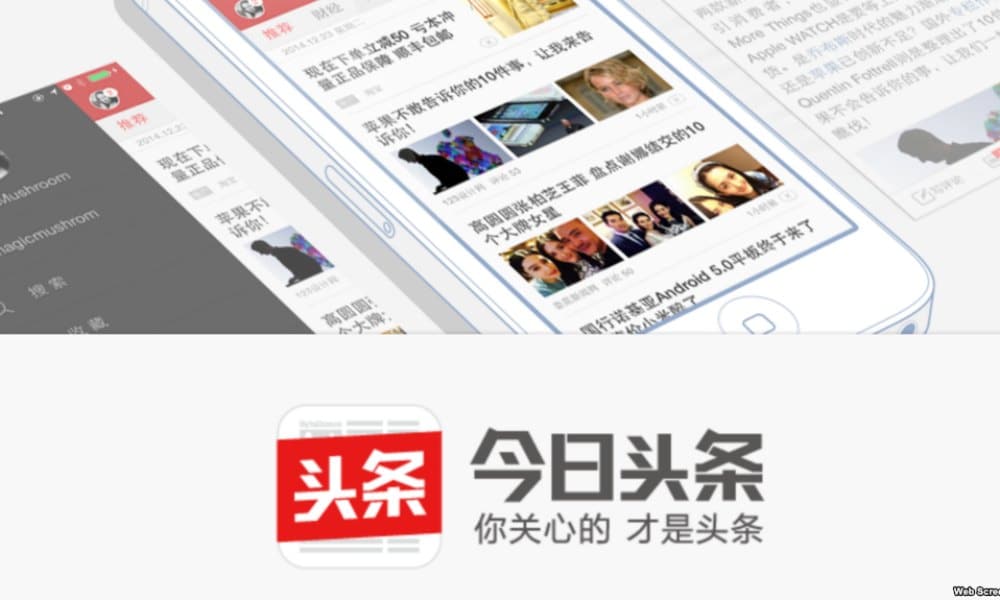 Jinri Toutiao, which translates as 'Today's Headlines', currently ranks as the most popular app in the Chinese Apple store, together with its 'speed version' (今日头条极速版) version, which offers a different interface.
The Jinri Toutiao app is a core product of China's tech giant Bytedance Inc., which has also developed popular apps such as TikTok, Douyin (抖音), Xigua (西瓜) and Huoshan (火山).
The main difference between the normal and speed version app is that the Jinri Toutiao has some extended features; its layout can be adjusted according to user's preferences and its installment takes up more space on the device.
Toutiao's success is mainly due to its artificial intelligence functions that sources news and other articles for its users. Through the app's machine-learning algorithm, Jinri Toutiao can understand its user's preferences and personalizes the selected content its shows on the main page. In doing so, Toutiao is a so-called news aggregator that has some 4000 news providing partners and is comparable to American apps such as Flipboard.
In 2018, Jinri Toutiao had 700 million registered users, with 120 million daily readers, spending approximately 76 minutes on the app, viewing a total of 4.2 billion(!) articles.
#2 Ifeng News 凤凰新闻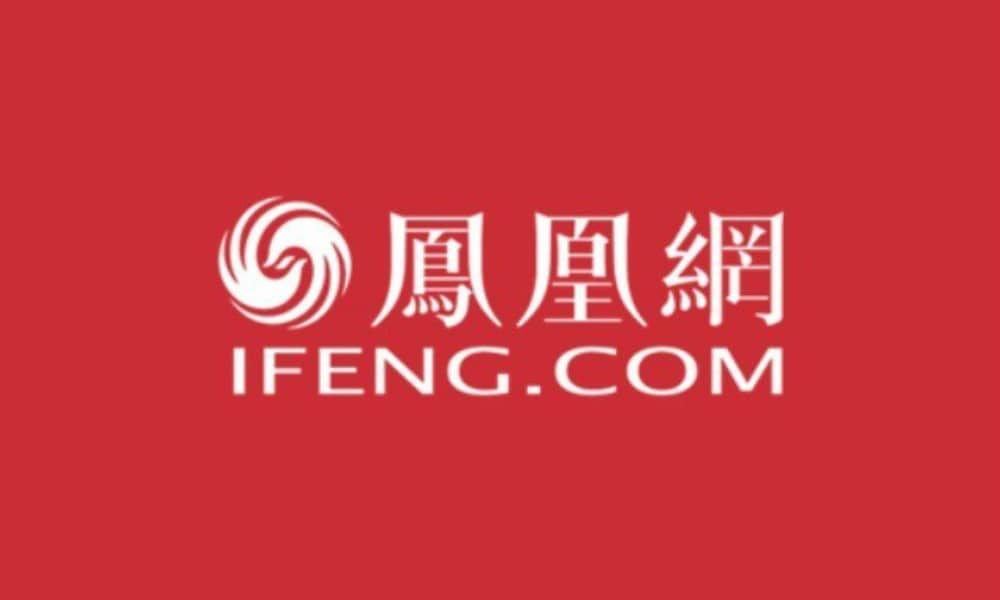 Ifeng News or Phoenix News is part of Phoenix TV, a broadcasting company established in 1996. The media company, that is headquartered in Hong Kong, is active in traditional media as well as in new media.
According to Phoenix TV, users of the Ifeng News app approximately spend more than 37 minutes on the app daily.
Like Toutiao, the Ifeng News app also offers personalized content for users based on AI algorithms. Different from Toutiao, Ifeng is not just a news aggregator but also produces its own content.
Ifeng News is the app to consult when you want to get somewhat more in-depth insights into the main headlines from around globe. In addition, Ifeng also offers 24/7 live news broadcasts from mainland China, Hong Kong, and Taiwan.
#3 Caijing Toutiao 财经头条
Caijing Toutiao is an app developed by Caijing Magazine, an independent financial magazine based in Beijing that, in addition to economic issues, also focuses on social and public affairs and civil rights. It has long been known for its progressive and critical content, which is why we list it here, although some other commercial news apps, such as Tencent News, Sohu News, Netease, and The Paper, might be more popular in terms of the total number of downloads.
Caijing Magazine was established in 1998 by Hu Shuli (胡舒立) as part of the Media Group Limited. Especially in the first ten years of the magazine's existence, it enjoyed relative freedom regarding press restrictions. But the 'golden era' of Caijing came to an end in 2009, when Hu Shili resigned after facing more control over news by the authorities.
Nevertheless, Caijing is still known as an authoritative news platform for business and financial issues in China.
The Caijing app, in addition to its live stream and headlines, offers rich financial content organized in various categories. The app is not only among the most popular news apps, but it was also ranked the most downloaded financial app in the first half of 2018.
#4 People's Daily 人民日报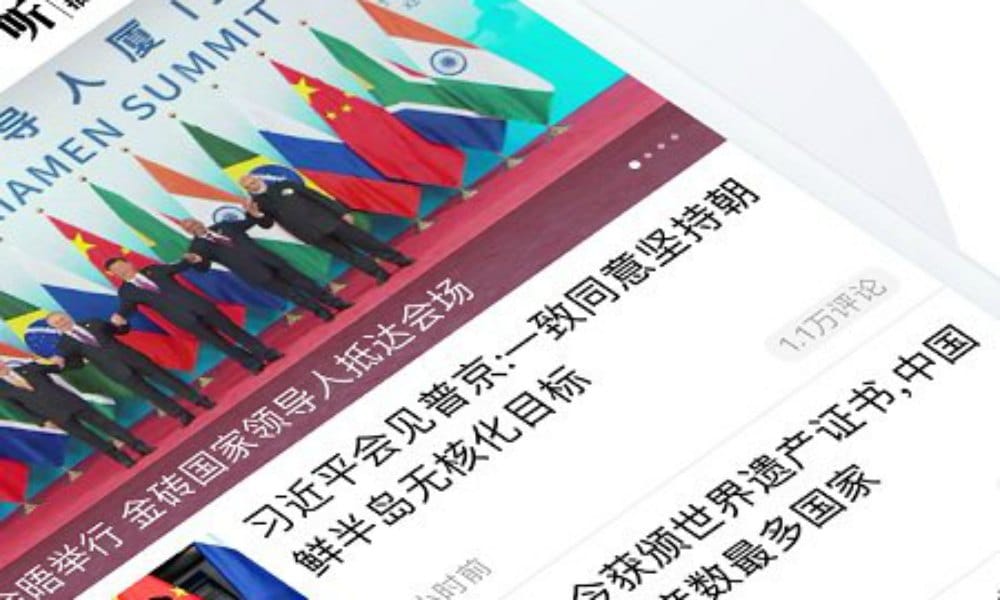 People's Daily, one of the leading news outlets of China, is the official newspaper of the Central Committee of the Communist Party of China. The news office was established in 1948 and is headquartered in Beijing.
Despite being seventy years old, People's Daily has adopted various strategies over the past years to reach Chinese younger audiences in the digital era. The news app, launched in 2014, is part of its digital strategy, and now ranks amongst the most popular news apps of China across different app app stores.
A large number of People's Daily's news articles focus on political matters. Users of the app can choose whether they want to see the standardized content showed to all users, or opt-in to recommended articles based on monitored personal preferences.
#5 Tencent News 腾讯新闻
Tencent News, which is part of the Shenzhen-based Tencent Group, is one of the leading news-apps of China. In addition to the app, the company also has its online portal QQ.com, where they release the same content as the app, complemented with other services.
In 2017, Tencent brought the two apps together when it added a news feed and search function to its super app WeChat. This means that, regardless if you have the Tencent News app installed on your device, you will be directed to Tencent News when you enter certain search words in WeChat. With WeChat's 1.08 billion monthly active users globally, this sets off a tremendous user flow from WeChat to Tencent News.
The majority of the news articles on the app come from third-party platforms. In addition to the news, the app features other Tencent products such as Tencent Video and their live streaming service.
In the final quarter of 2018, Tencent News users grew from 94 million to 97.6 million daily active users, making it the second most popular news app of China.
#6 Zhihu 知乎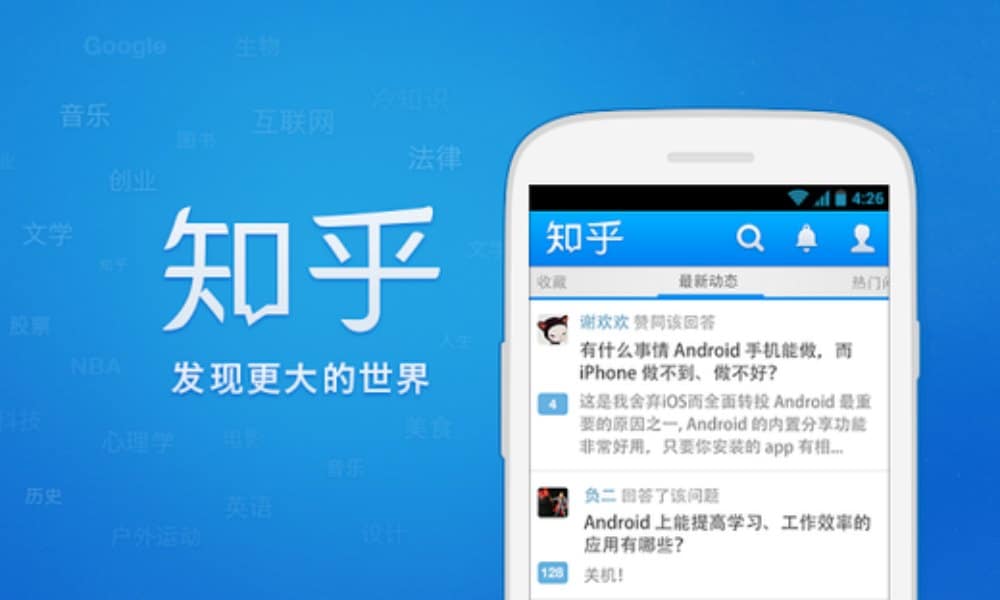 Zhihu is no typical news app: it actually is China's biggest Q&A platform, comparable to Quora.
In 2018, Zhihu had 160 million registered users, of which 26 million visited the app daily. Despite the fact that Zhihu is not a traditional news content app, it plays an important role in China's online news media landscape, as it provides an open space where users get (news) information and can get answers to their questions relating to the news and other things.
What sets it apart from other social media platforms is that users do not need to be 'connected' or 'follow' each other in order to see each other's questions and comments. Zhihu's algorithm pushes up the most popular content, driving engagement.
How does Zhihu exactly work? All Zhihu users can create topics or questions, and reply to those of others. By voting on the best response of other users, the app automatically features the most appreciated comments on the top of the page.
To guarantee the reliability of the information provided by users, Zhihu has rolled out a 'point system' that credits users for their content, profile, and behavior on the platform. By giving every user a personal score, Zhihu allegedly hopes to promote more "trustworthy" content.
Apart from the Q&A feature, Zhihu also offers electronic books and paid live streaming. Zhihu also launched the so-called 'Zhihu University' that offers paid online courses in business, science, and humanities.
Also see:
By Gabi Verberg, edited by Manya Koetse
Spotted a mistake or want to add something? Please let us know in comments below or email us.
©2019 Whatsonweibo. All rights reserved. Do not reproduce our content without permission – you can contact us at info@whatsonweibo.com
Iran "Unintentionally" Shot Down Ukrainian Airlines Flight 752
Despite the overall condemnation of Iran, there are also many pointing the fingers at the US, writing: "It's all because of America."
First published
Shortly after Iran's military announced on Saturday that it shot down Ukrainian Airlines flight 752 on Wednesday, killing all 176 passengers on board, the topic has become the number one trending hashtag on Chinese social media platform Weibo.
In a statement by the military, Iran admitted that the Boeing 737 was flying "close to a sensitive military site" when it was "mistaken for a threat" and taken down with two missiles.
Among the passengers were 82 Iranians, 63 Canadians, 11 Ukrainians, 10 Swedes, four Afghans, three Germans, and three British nationals.
Earlier this week, Iranian authorities denied that the crash of the Ukrainian jetliner in Tehran was caused by an Iranian missile.
The conflict between US and Iran has been a much-discussed topic on Chinese social media, also because the embassies of both countries have been openly fighting about the issue on Weibo.
Although many Chinese netizens seemed to enjoy the political spectacle on Weibo over the past few days, with anti-American sentiments flaring up and memes making their rounds, today's news about the Iranian role in the Ukrainian passenger plane crash is condemned by thousands of commenters.
"Iran is shameless!", one popular comment says. "This is the outcome of a battle between two terrorists!"
"Regular people are paying the price for these political games," others write: "So many lives lost, this is the terror of war."
The Iranian Embassy in China also posted a translated statement by President Hassan Rouhani on its Weibo account, saying the missiles were fired "due to human error."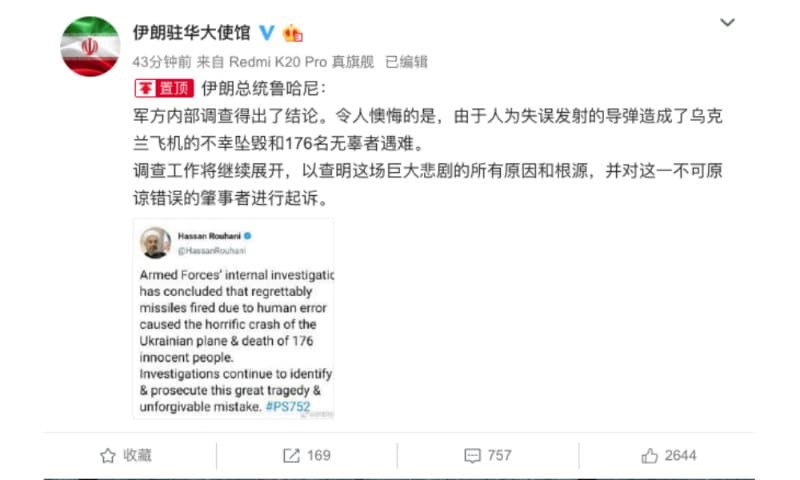 Despite the overall condemnation, there are also many commenters pointing the fingers at the US, writing: "It's all because of America."
Meanwhile, the American Embassy has not published anything about the issue on its Weibo account at time of writing.
The hashtag "Iran Admits to Unintentionally Shooting Down Ukrainian Plane" (#伊朗承认意外击落乌克兰客机#) gathered over 420 million views on Weibo by Saturday afternoon, Beijing time.
Chinese state media outlet CCTV has shared an infographic about the US-Iran conflict and the passenger jet news, writing they hope that these "flames of war" will never happen again.
By Manya Koetse
Follow @whatsonweibo
Spotted a mistake or want to add something? Please let us know in comments below or email us. First-time commenters, please be patient – we will have to manually approve your comment before it appears.
©2020 Whatsonweibo. All rights reserved. Do not reproduce our content without permission – you can contact us at info@whatsonweibo.com.
The Weibo Battlefield in the US-Iran Conflict: Iranian and American Embassies 'Argue' on Chinese Social Media
The US-Iran conflict has extended to Weibo, where Chinese netizens watch the online 'battle' unfold.
"Don't know if you all have discovered it yet, but the Iranian Embassy in China and the American Embassy in China have started to fight on Weibo," prominent Chinese media outlet 21st Century Business Herald (21世纪经济报道) writes on Weibo on January 10th.
The Iranian and American embassies have been all the talk on Chinese social media this week. While US-Iran tensions are dominating international media headlines, the embassies of Iran and US have been taking their conflict to the Chinese social media platform.
Ever since January 3rd, when the head of Iran's Quds Force Qasem Soleimani was killed by a US airstrike in Iraq, the Beijing embassies of both the USA and Iran have engaged in an online argument over the conflict between their two countries.
The Iranian Embassy (@伊朗驻华大使馆), that has 254670 followers on its Weibo account, condemned the assassination of Soleimani on January 3rd by reposting and translating a Twitter post by Iranian Foreign Minister Javad Zarif, calling it a "dangerous and foolish" act of "international terrorism."
That post received over 23,000 likes and thousands of comments, with many of them showing support for Iran.
The US Embassy Weibo account (@美国驻华大使馆), that has over 2,5 million followers, also posted a response to the attack on January 4 by translating several quotes by US Secretary of State Mike Pompeo asserting that the decision to kill Soleimani was the right one and that it made the world a safer place.
Although many of the thousands of netizens responding to the American Embassy's post praised the attack, there was also a lot of criticism.
"The terrorist group 'USA' has claimed responsibility for this act of terrorism," one popular comment said, with others also pointing the finger at the American government for behaving as 'terrorists.'
With the deepening of the US-Iran crisis after the Iranian military launched missiles against US bases in Iraq earlier this week, the Weibo posts and comments just keep coming in.
On January 8, the Iranian Embassy wrote that the "end of malign US presence in West Asia has begun," a sentence also posted on Twitter by Foreign Minister Javad Zarif.
In between some light-footed Weibo posts about the Golden Globes, the American Embassy published various Weibo posts explaining its stance on the situation. One post of January 7 detailed the "bloody history" of Qassem Soleimani, writing about him as a terrorist and evil man who killed hundreds of people.
The online 'battle' between Iran and the US has led to various hashtags, such as "The Weibo Fight of the Iranian and US Embassy of China" (#美伊驻华大使馆微博互斗#), a topic that is receiving a lot of attention on Chinese social media.
The official accounts of two foreign powers' embassies, discussing their conflict on a Chinese social media platform, in Chinese; it's not common, and Chinese netizens talk about it while Chinese media write about it.
One sentence* has been reposted dozens of times by Weibo users over the past days: "Here's the world's largest imperialist country and the world's largest theocratic republic, on a social media platform of the world's largest socialist nation, using Standard Chinese to engage in a fierce diplomatic fight."
"And we're all watching and eating popcorn," one commenter added [literal expression used is "Chī guā qúnzhòng" (吃瓜群众), online expression for "watermelon eating masses," meaning clueless bystanders watching the situation unfold].
The Weibo battleground has seemingly also turned into a way for the embassies to win the favor of the Chinese public; the Iranian Embassy, for example, published a post on its Weibo account that invites Chinese tourists to visit Iran during the Spring Festival and pinned it to its main page to attract the attention of readers amidst the recent online upheaval.
The online presence of the US-Iran conflict shows the importance of 'Weibo diplomacy,' also known as 'Weiplomacy.' A large number of foreign embassies in China have a presence on Sina Weibo to engage with local audiences. It is a low-cost, convenient, and seemingly effective tool to promote their countries, political goals, and inform people about their latest activities.
Over the past week, it seems that the majority of Chinese netizens have sided with Iran and condemned the US. This public sentiment, however, might have more to do with the prevailing anti-American sentiments over the past year than a general pro-Iranian stance.
In a 2016 overview of most popular foreign embassies on Weibo, the US embassy scored a number three position with its 1+ million followers, while the Iranian account only came in at number 39 with a mere 6000+ fans on its account.
Although it is unusual for foreign embassies to use Weibo as an online battleground for their offline conflicts, it is not the first time it has happened. In 2014, What's on Weibo reported how the Beijing embassies of Russia and Poland also argued on Weibo during the aftermath of MH17 crash.
This time around, some netizens conclude that the only one to really 'win' in online conflicts such as these is the Weibo platform itself. As the Weibo posts keep going, the 'melon eating masses' keep coming. "The Sina Weibo company must be secretly laughing at this ordeal," one person writes.
By Manya Koetse, with contributions from Miranda Barnes
Follow @whatsonweibo
* Chinese sentence: "世界上最大的帝国主义国家,跟世界上最大的政教合一的神权共和国,在世界上最大的社会主义国家的网络平台上,使用标准的汉语进行激烈的外交缠斗"
Spotted a mistake or want to add something? Please let us know in comments below or email us. First-time commenters, please be patient – we will have to manually approve your comment before it appears.
©2020 Whatsonweibo. All rights reserved. Do not reproduce our content without permission – you can contact us at info@whatsonweibo.com.