Top 6 of China's Popular News Apps
In an online environment with hundreds of news apps, these are some must-know apps Chinese netizens use to stay updated on the news.
In China's dynamic online media environment, where hundreds of news apps are competing over clicks, these are five different news apps that are currently popular among Chinese netizens.
China is the world's largest smartphone market, and the mobile app business is booming. Chinese netizens, of which some 98% access the internet via mobile phone, have thousands of app to choose from across dozens of app stores.
To provide some insights into this huge market, What's on Weibo has listed some of the most popular and noteworthy apps in China today in various categories, namely news, education, health, games, and short video & live streaming. Check our top 5 of most popular short video apps here. This article will focus on some of China's most popular news apps. Stay tuned for the other categories, that will follow shortly and will be listed below this article.
We made our selection based on the data from the Android app stores Tencent, Baidu, Huawei, and Zhushou360. We tried our best to give you a representative overview of a variety of apps that are currently most used in China, but want to remind you that these lists are by no official "top 5" charts.
When it comes to news apps, we see there's a clear preference for the more commercial media outlets rather than traditional Chinese state media newspaper titles, and that besides gaming, live streaming, shopping, and music, news gathering is still very much a popular online activity among Chinese netizens.
#1 Jinri Toutiao 今日头条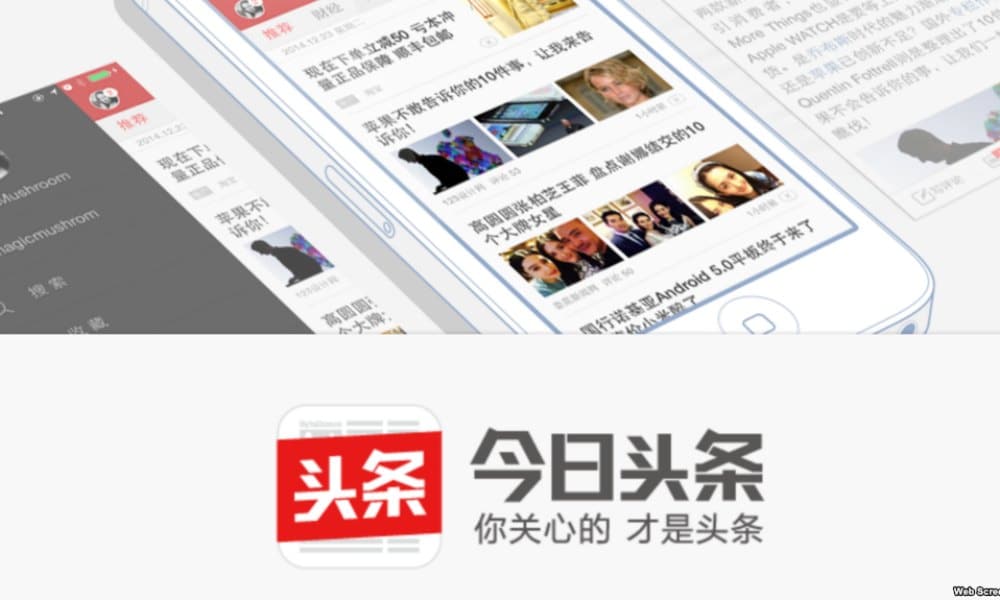 Jinri Toutiao, which translates as 'Today's Headlines', currently ranks as the most popular app in the Chinese Apple store, together with its 'speed version' (今日头条极速版) version, which offers a different interface.
The Jinri Toutiao app is a core product of China's tech giant Bytedance Inc., which has also developed popular apps such as TikTok, Douyin (抖音), Xigua (西瓜) and Huoshan (火山).
The main difference between the normal and speed version app is that the Jinri Toutiao has some extended features; its layout can be adjusted according to user's preferences and its installment takes up more space on the device.
Toutiao's success is mainly due to its artificial intelligence functions that sources news and other articles for its users. Through the app's machine-learning algorithm, Jinri Toutiao can understand its user's preferences and personalizes the selected content its shows on the main page. In doing so, Toutiao is a so-called news aggregator that has some 4000 news providing partners and is comparable to American apps such as Flipboard.
In 2018, Jinri Toutiao had 700 million registered users, with 120 million daily readers, spending approximately 76 minutes on the app, viewing a total of 4.2 billion(!) articles.
#2 Ifeng News 凤凰新闻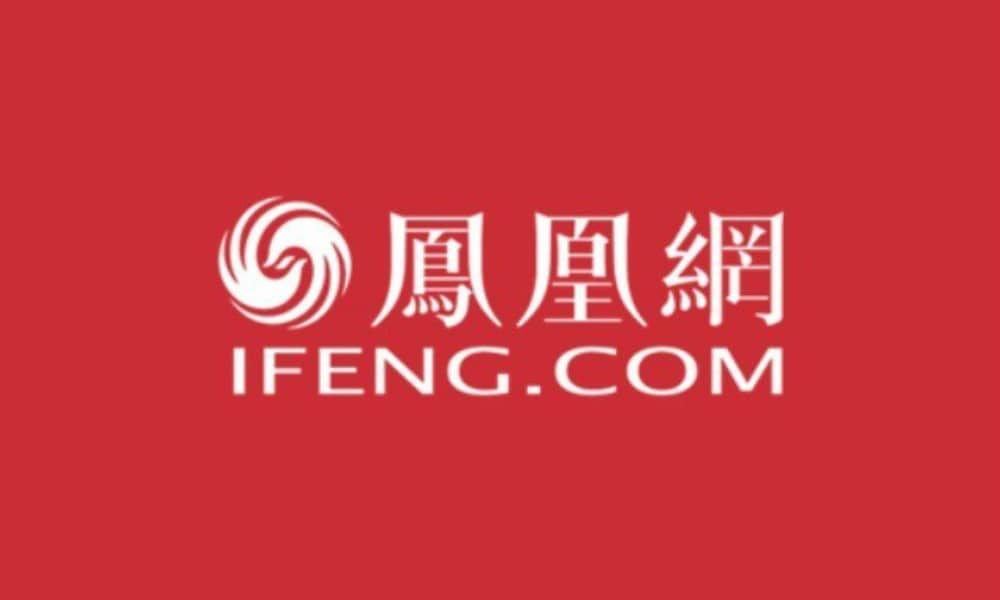 Ifeng News or Phoenix News is part of Phoenix TV, a broadcasting company established in 1996. The media company, that is headquartered in Hong Kong, is active in traditional media as well as in new media.
According to Phoenix TV, users of the Ifeng News app approximately spend more than 37 minutes on the app daily.
Like Toutiao, the Ifeng News app also offers personalized content for users based on AI algorithms. Different from Toutiao, Ifeng is not just a news aggregator but also produces its own content.
Ifeng News is the app to consult when you want to get somewhat more in-depth insights into the main headlines from around globe. In addition, Ifeng also offers 24/7 live news broadcasts from mainland China, Hong Kong, and Taiwan.
#3 Caijing Toutiao 财经头条
Caijing Toutiao is an app developed by Caijing Magazine, an independent financial magazine based in Beijing that, in addition to economic issues, also focuses on social and public affairs and civil rights. It has long been known for its progressive and critical content, which is why we list it here, although some other commercial news apps, such as Tencent News, Sohu News, Netease, and The Paper, might be more popular in terms of the total number of downloads.
Caijing Magazine was established in 1998 by Hu Shuli (胡舒立) as part of the Media Group Limited. Especially in the first ten years of the magazine's existence, it enjoyed relative freedom regarding press restrictions. But the 'golden era' of Caijing came to an end in 2009, when Hu Shili resigned after facing more control over news by the authorities.
Nevertheless, Caijing is still known as an authoritative news platform for business and financial issues in China.
The Caijing app, in addition to its live stream and headlines, offers rich financial content organized in various categories. The app is not only among the most popular news apps, but it was also ranked the most downloaded financial app in the first half of 2018.
#4 People's Daily 人民日报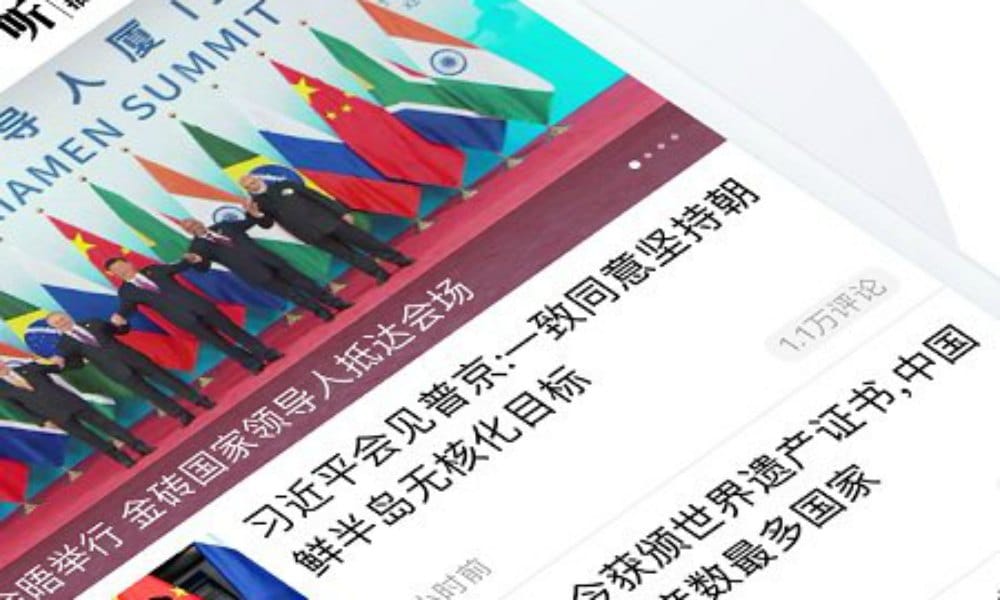 People's Daily, one of the leading news outlets of China, is the official newspaper of the Central Committee of the Communist Party of China. The news office was established in 1948 and is headquartered in Beijing.
Despite being seventy years old, People's Daily has adopted various strategies over the past years to reach Chinese younger audiences in the digital era. The news app, launched in 2014, is part of its digital strategy, and now ranks amongst the most popular news apps of China across different app app stores.
A large number of People's Daily's news articles focus on political matters. Users of the app can choose whether they want to see the standardized content showed to all users, or opt-in to recommended articles based on monitored personal preferences.
#5 Tencent News 腾讯新闻
Tencent News, which is part of the Shenzhen-based Tencent Group, is one of the leading news-apps of China. In addition to the app, the company also has its online portal QQ.com, where they release the same content as the app, complemented with other services.
In 2017, Tencent brought the two apps together when it added a news feed and search function to its super app WeChat. This means that, regardless if you have the Tencent News app installed on your device, you will be directed to Tencent News when you enter certain search words in WeChat. With WeChat's 1.08 billion monthly active users globally, this sets off a tremendous user flow from WeChat to Tencent News.
The majority of the news articles on the app come from third-party platforms. In addition to the news, the app features other Tencent products such as Tencent Video and their live streaming service.
In the final quarter of 2018, Tencent News users grew from 94 million to 97.6 million daily active users, making it the second most popular news app of China.
#6 Zhihu 知乎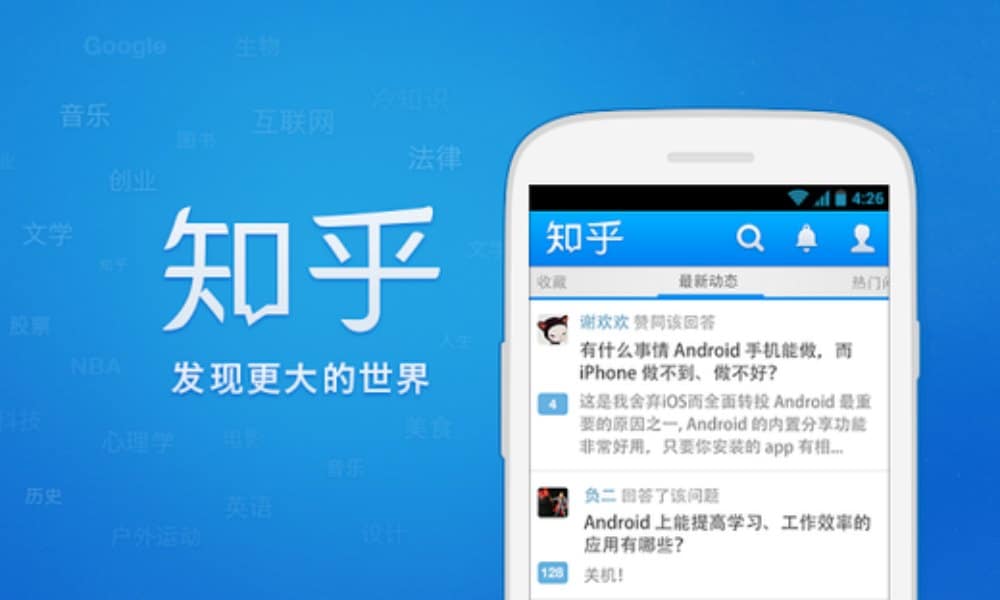 Zhihu is no typical news app: it actually is China's biggest Q&A platform, comparable to Quora.
In 2018, Zhihu had 160 million registered users, of which 26 million visited the app daily. Despite the fact that Zhihu is not a traditional news content app, it plays an important role in China's online news media landscape, as it provides an open space where users get (news) information and can get answers to their questions relating to the news and other things.
What sets it apart from other social media platforms is that users do not need to be 'connected' or 'follow' each other in order to see each other's questions and comments. Zhihu's algorithm pushes up the most popular content, driving engagement.
How does Zhihu exactly work? All Zhihu users can create topics or questions, and reply to those of others. By voting on the best response of other users, the app automatically features the most appreciated comments on the top of the page.
To guarantee the reliability of the information provided by users, Zhihu has rolled out a 'point system' that credits users for their content, profile, and behavior on the platform. By giving every user a personal score, Zhihu allegedly hopes to promote more "trustworthy" content.
Apart from the Q&A feature, Zhihu also offers electronic books and paid live streaming. Zhihu also launched the so-called 'Zhihu University' that offers paid online courses in business, science, and humanities.
Also see:
By Gabi Verberg, edited by Manya Koetse
Spotted a mistake or want to add something? Please let us know in comments below or email us.
©2019 Whatsonweibo. All rights reserved. Do not reproduce our content without permission – you can contact us at info@whatsonweibo.com
Pelosi in Taiwan: "1.4 Billion People Do Not Agree with Interference in China's Sovereignty Issues"
"The Old Witch has landed!", many commenters wrote on Weibo when Pelosi arrived in Taiwan.
August 2nd was a tumultuous day on Chinese social media, with millions of netizens closely following how Pelosi's plane landed in Taiwan. Chinese state media propagate the message that not only Chinese authorities condemn the move, but that the Chinese people denounce it just as much.
Pelosi's visit to Taiwan is all the talk on Weibo, where netizens are closely following the latest developments and what they might mean for the near future of Taiwan and Sino-American relations.
"Today is a sensitive time, as it is said that Pelosi will fly into Taiwan tonight, challenging the one-China principle," Global Times political commentator Hu Xijin wrote on Weibo on Tuesday afternoon, while Pelosi's plane was still en route:
"At this time I'd like to tell everyone, that I firmly believe the Chinese government will definitely take a series of countermeasures, which include military actions. The Ministry of National Defense and the Ministry of National Defense have repeatedly said they are "on the alert and combat-ready" and will not "sit and watch." This is the country's prestige, how could they not hit back? So let's wait and see what will happen next."
Tuesday was an extremely tumultuous day on Chinese social media as Taiwan- and Pelosi-related hashtags popped up one after the other, and news and videos kept flooding the platform, sometimes leading to a temporary overload of Weibo's servers.
Around 20.30, an hour before Pelosi was expected to land in Taiwan at that time, more than half of all the trending search topics on Weibo related to Pelosi and Taiwan as virtually everyone was following the plane's route and when it would land.
Not long before the expected landing of Pelosi's plane, footage circulated on Weibo showing the iconic Taipei 101 building with a display of greetings to Pelosi, welcoming her to Taiwan and thanking her for her support.
This video of this building in Taiwan projecting messages welcoming Pelosi and thanking her for support is circulating online right now (they say it's Taipei 101 but not sure if it really is). pic.twitter.com/Vid02Orkp1

— Manya Koetse (@manyapan) August 2, 2022
By Tuesday night, Chinese official channels promoted the hashtags "The United States Plays With Fire & Will Burn Itself by Taiwan Involvement Provocation" (#美台勾连挑衅玩火必自焚#) along with the hashtag "1.4 Billion People Do Not Agree with Interference in China's Sovereignty Issues" (​​#干涉中国主权问题14亿人不答应#).
Millions of Chinese netizens followed flight radar livestreams, with one livestream by China.org receiving over 70 million viewers at one point.
On Tuesday night at 22:44 local time, after taking a detour, Pelosi's plane finally landed in Taipei. About eight minutes later, Nancy Pelosi, wearing a pink suit, stepped out of the plane together with her delegation.
"The Old Witch has landed!", many commenters wrote on Weibo, where Nancy Pelosi has been nicknamed 'Old Witch' recently.
Not long after, Hu Xijin posted on both on Twitter (in English) and on Weibo (in Chinese), writing that Pelosi's landing in Taiwan opened an "era of high-intensity competition between China and US over Taiwan Strait." Hu wrote that the PLA is announcing a series of actions, including military drill operations and live-fire exercises in zones surrounding Taiwan from August 4 to 7.
Foreign Ministry spokesperson Hua Chunying (华春莹) also posted a series of tweets condemning the "wrong and dangerous path" the U.S. is allegedly heading down, reiterating the same '1.4 billion people do not agree' narrative that was previously propagated on Weibo by official channels: "Making themselves an enemy of the 1.4 billion Chinese people will not end up well. Acting like a bully in front of the whole world will only make everyone see that the US is the biggest danger to world peace."
Many netizens expressed frustrations over how seemingly easy it was for Pelosi to land in Taiwan despite repeated warnings. "It's not like I want us to go to war," one person wrote on Weibo: "But they are getting off too easy. For days we shouted about countermeasures, what kind of countermeasure is this?"
"Even our community guard who makes 1500 a month [$220] does a better job; if he says you can't come in, you can't come in," another blogger wrote.
The majority of commenters do express their dissatisfaction and anger about Pelosi coming to Taiwan, some even writing: "I hope that Taiwan is liberated when I wake up" or "We must unify again, once the Old Witch is gone, we can do so."
Passed midnight the hashtag "There Is But One China" (#只有一个中国#), initiated by CCTV, picked up on Weibo and received over 320 million views. The post by CCTV that only said "there is but one China" was forwarded on Weibo over 1,3 million times.
"Taiwan is China's Taiwan," many people commented.
"I don't think I can sleep tonight," some wrote.
Meanwhile, on FreeWeibo, a website monitoring censored posts on Chinese social media platform Weibo, there are some posts casting another light on the Taiwan issue.
"Regarding 'Taiwan is China's Taiwan.' Every person can vote, there's multi-party rule, and there can be democratic elections. Only then can we talk about a reunification," one comment said. It was censored shortly after.
For our other articles relating to Pelosi and her Taiwan visit, click here.
By Manya Koetse
With contributions by Miranda Barnes
Get the story behind the hashtag. Subscribe to What's on Weibo here to receive our weekly newsletter and get access to our latest articles:
Spotted a mistake or want to add something? Please let us know in comments below or email us. First-time commenters, please be patient – we will have to manually approve your comment before it appears.
©2022 Whatsonweibo. All rights reserved. Do not reproduce our content without permission – you can contact us at info@whatsonweibo.com.
Chinese Internet Company Sina Abruptly Shuts Down 'Sina Taiwan' Platform
Sina Taiwan is longer available and has suddenly suspended its operations in Taiwan.
WEIBO SHORT | Weibo Shorts are concise articles on topics that are trending. This article was first published
On August 2nd, Taiwanese media sources reported that the online Sina Taiwan platform was longer available and had suddenly suspended its operations in Taiwan without prior notification.
Sina (新浪) is the company that also owns (Sina) Weibo. Founded in 1998, it is a leading Chinese Internet company and media platform that operates various localized websites, including Sina Taiwan (sina.com.tw) which was established in November 1998.
Multiple sources, including Taiwanese news site ETToday , reported news of the closure of Sina Taiwan today. According to ETToday, Sina Taiwan's parent company confirmed the company has suspended its services in the Taiwan market and ceased operations on August 1st due to the company's "operational strategy."
Weibo also set up a localized version in traditional characters for the Taiwan market. Earlier today, the Weibo Taiwan site (tw.weibo.com) also seemed to be inaccessible for a while but was accessible again at the time of writing.
On Weibo, the official 'Sina Taiwan' Weibo account (@新浪台湾爆头条) posted its last update on July 14.
News of Sina Taiwan's abrupt closure comes at a time of heightened tensions over Taiwan between China and the U.S. in light of reports of a potential Taiwan visit by U.S. House Speaker Nancy Pelosi (more here).
However, although the timing is noteworthy and Weibo users wonder what it means, it is unsure if Sina's decision is related to this issue. The English-language Sina portal (english.sina.com) stopped updating its homepage earlier this year.
By Manya Koetse and Miranda Barnes
Get the story behind the hashtag. Subscribe to What's on Weibo here to receive our weekly newsletter and get access to our latest articles:
Spotted a mistake or want to add something? Please let us know in comments below or email us. First-time commenters, please be patient – we will have to manually approve your comment before it appears.
©2022 Whatsonweibo. All rights reserved. Do not reproduce our content without permission – you can contact us at info@whatsonweibo.com.