Top 6 of China's Popular News Apps
In an online environment with hundreds of news apps, these are some must-know apps Chinese netizens use to stay updated on the news.
In China's dynamic online media environment, where hundreds of news apps are competing over clicks, these are five different news apps that are currently popular among Chinese netizens.
China is the world's largest smartphone market, and the mobile app business is booming. Chinese netizens, of which some 98% access the internet via mobile phone, have thousands of app to choose from across dozens of app stores.
To provide some insights into this huge market, What's on Weibo has listed some of the most popular and noteworthy apps in China today in various categories, namely news, education, health, games, and short video & live streaming. Check our top 5 of most popular short video apps here. This article will focus on some of China's most popular news apps. Stay tuned for the other categories, that will follow shortly and will be listed below this article.
We made our selection based on the data from the Android app stores Tencent, Baidu, Huawei, and Zhushou360. We tried our best to give you a representative overview of a variety of apps that are currently most used in China, but want to remind you that these lists are by no official "top 5" charts.
When it comes to news apps, we see there's a clear preference for the more commercial media outlets rather than traditional Chinese state media newspaper titles, and that besides gaming, live streaming, shopping, and music, news gathering is still very much a popular online activity among Chinese netizens.
#1 Jinri Toutiao 今日头条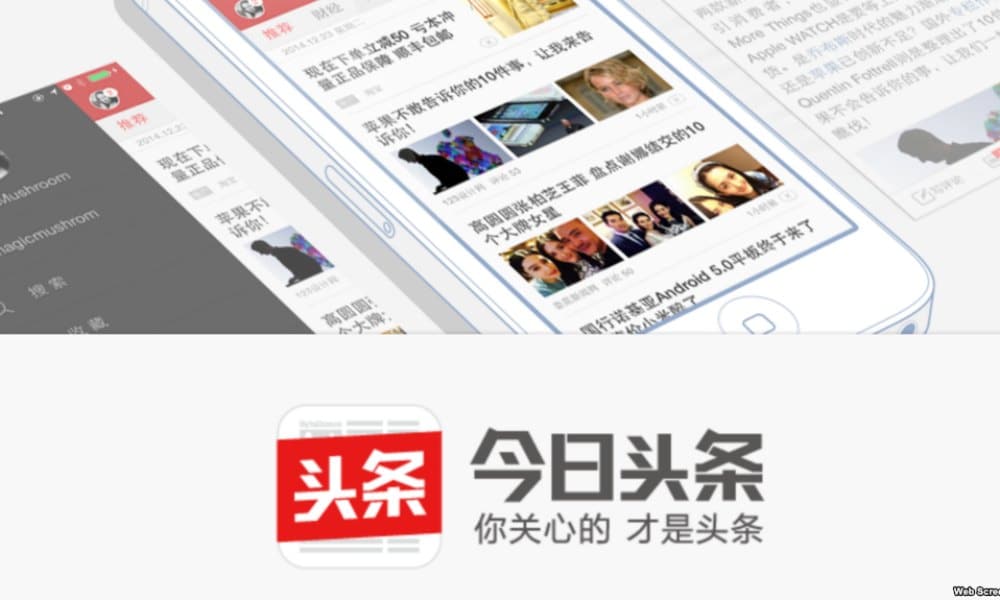 Jinri Toutiao, which translates as 'Today's Headlines', currently ranks as the most popular app in the Chinese Apple store, together with its 'speed version' (今日头条极速版) version, which offers a different interface.
The Jinri Toutiao app is a core product of China's tech giant Bytedance Inc., which has also developed popular apps such as TikTok, Douyin (抖音), Xigua (西瓜) and Huoshan (火山).
The main difference between the normal and speed version app is that the Jinri Toutiao has some extended features; its layout can be adjusted according to user's preferences and its installment takes up more space on the device.
Toutiao's success is mainly due to its artificial intelligence functions that sources news and other articles for its users. Through the app's machine-learning algorithm, Jinri Toutiao can understand its user's preferences and personalizes the selected content its shows on the main page. In doing so, Toutiao is a so-called news aggregator that has some 4000 news providing partners and is comparable to American apps such as Flipboard.
In 2018, Jinri Toutiao had 700 million registered users, with 120 million daily readers, spending approximately 76 minutes on the app, viewing a total of 4.2 billion(!) articles.
#2 Ifeng News 凤凰新闻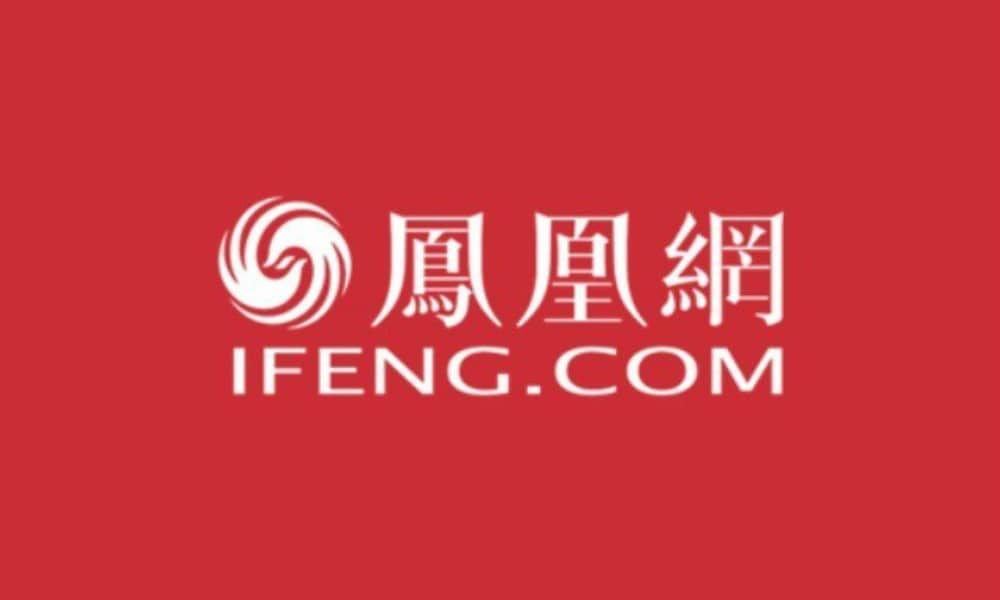 Ifeng News or Phoenix News is part of Phoenix TV, a broadcasting company established in 1996. The media company, that is headquartered in Hong Kong, is active in traditional media as well as in new media.
According to Phoenix TV, users of the Ifeng News app approximately spend more than 37 minutes on the app daily.
Like Toutiao, the Ifeng News app also offers personalized content for users based on AI algorithms. Different from Toutiao, Ifeng is not just a news aggregator but also produces its own content.
Ifeng News is the app to consult when you want to get somewhat more in-depth insights into the main headlines from around globe. In addition, Ifeng also offers 24/7 live news broadcasts from mainland China, Hong Kong, and Taiwan.
#3 Caijing Toutiao 财经头条
Caijing Toutiao is an app developed by Caijing Magazine, an independent financial magazine based in Beijing that, in addition to economic issues, also focuses on social and public affairs and civil rights. It has long been known for its progressive and critical content, which is why we list it here, although some other commercial news apps, such as Tencent News, Sohu News, Netease, and The Paper, might be more popular in terms of the total number of downloads.
Caijing Magazine was established in 1998 by Hu Shuli (胡舒立) as part of the Media Group Limited. Especially in the first ten years of the magazine's existence, it enjoyed relative freedom regarding press restrictions. But the 'golden era' of Caijing came to an end in 2009, when Hu Shili resigned after facing more control over news by the authorities.
Nevertheless, Caijing is still known as an authoritative news platform for business and financial issues in China.
The Caijing app, in addition to its live stream and headlines, offers rich financial content organized in various categories. The app is not only among the most popular news apps, but it was also ranked the most downloaded financial app in the first half of 2018.
#4 People's Daily 人民日报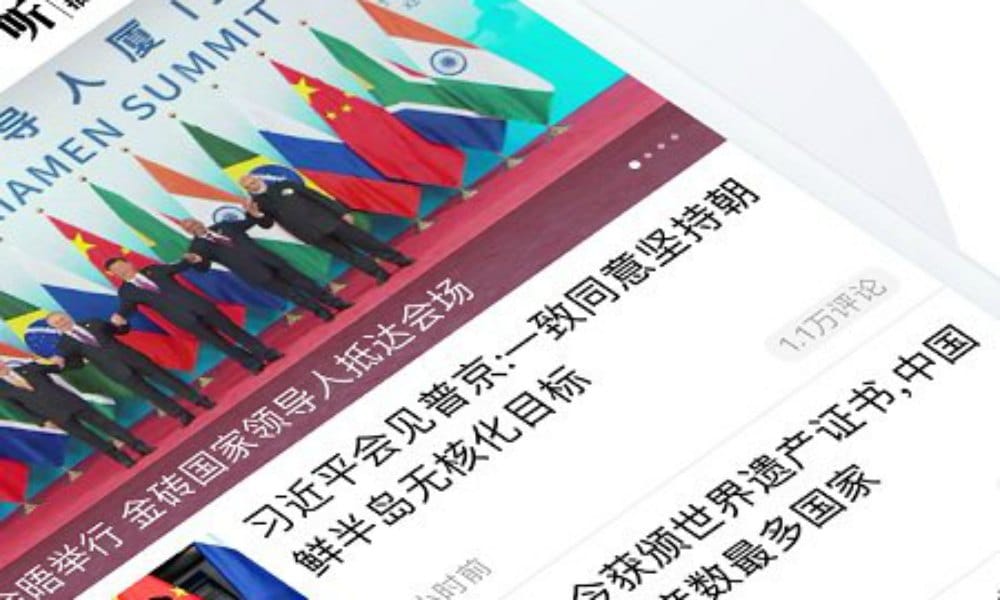 People's Daily, one of the leading news outlets of China, is the official newspaper of the Central Committee of the Communist Party of China. The news office was established in 1948 and is headquartered in Beijing.
Despite being seventy years old, People's Daily has adopted various strategies over the past years to reach Chinese younger audiences in the digital era. The news app, launched in 2014, is part of its digital strategy, and now ranks amongst the most popular news apps of China across different app app stores.
A large number of People's Daily's news articles focus on political matters. Users of the app can choose whether they want to see the standardized content showed to all users, or opt-in to recommended articles based on monitored personal preferences.
#5 Tencent News 腾讯新闻
Tencent News, which is part of the Shenzhen-based Tencent Group, is one of the leading news-apps of China. In addition to the app, the company also has its online portal QQ.com, where they release the same content as the app, complemented with other services.
In 2017, Tencent brought the two apps together when it added a news feed and search function to its super app WeChat. This means that, regardless if you have the Tencent News app installed on your device, you will be directed to Tencent News when you enter certain search words in WeChat. With WeChat's 1.08 billion monthly active users globally, this sets off a tremendous user flow from WeChat to Tencent News.
The majority of the news articles on the app come from third-party platforms. In addition to the news, the app features other Tencent products such as Tencent Video and their live streaming service.
In the final quarter of 2018, Tencent News users grew from 94 million to 97.6 million daily active users, making it the second most popular news app of China.
#6 Zhihu 知乎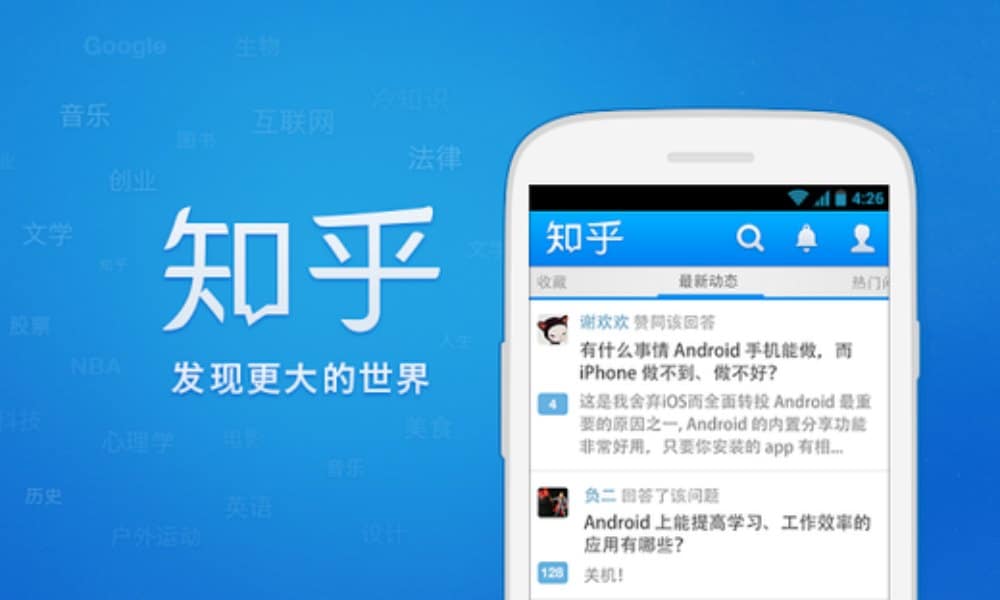 Zhihu is no typical news app: it actually is China's biggest Q&A platform, comparable to Quora.
In 2018, Zhihu had 160 million registered users, of which 26 million visited the app daily. Despite the fact that Zhihu is not a traditional news content app, it plays an important role in China's online news media landscape, as it provides an open space where users get (news) information and can get answers to their questions relating to the news and other things.
What sets it apart from other social media platforms is that users do not need to be 'connected' or 'follow' each other in order to see each other's questions and comments. Zhihu's algorithm pushes up the most popular content, driving engagement.
How does Zhihu exactly work? All Zhihu users can create topics or questions, and reply to those of others. By voting on the best response of other users, the app automatically features the most appreciated comments on the top of the page.
To guarantee the reliability of the information provided by users, Zhihu has rolled out a 'point system' that credits users for their content, profile, and behavior on the platform. By giving every user a personal score, Zhihu allegedly hopes to promote more "trustworthy" content.
Apart from the Q&A feature, Zhihu also offers electronic books and paid live streaming. Zhihu also launched the so-called 'Zhihu University' that offers paid online courses in business, science, and humanities.
Also see:
By Gabi Verberg, edited by Manya Koetse
Spotted a mistake or want to add something? Please let us know in comments below or email us.
©2019 Whatsonweibo. All rights reserved. Do not reproduce our content without permission – you can contact us at info@whatsonweibo.com
Slip of the Tongue: Biden Accidentally Says He "Applauds China"
On Weibo, people joke that Biden's gaffe was a Freudian slip: "He finally said how he really feels about China."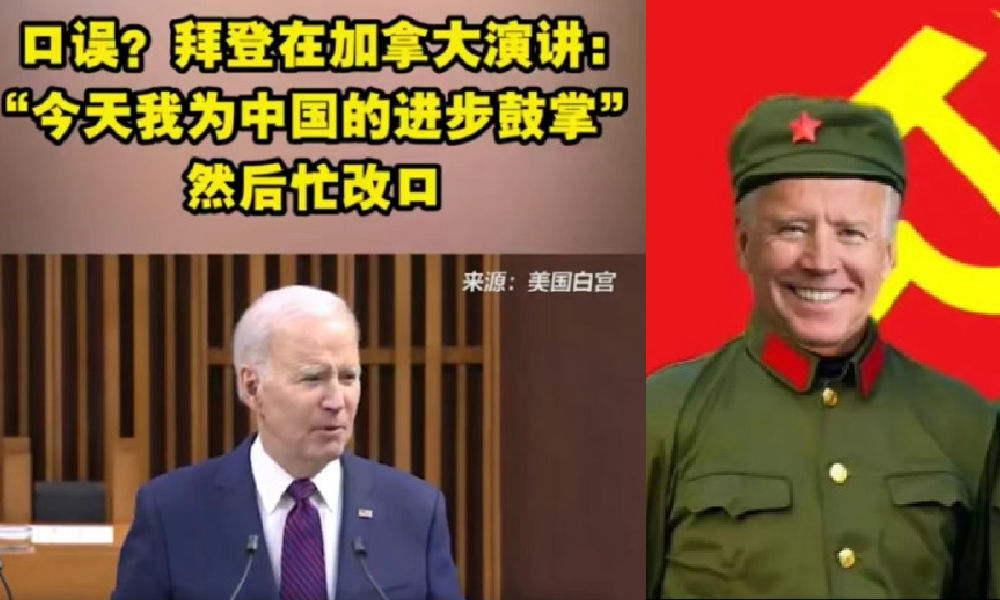 It was a top headline on Baidu News on Saturday, March 25: while delivering a speech to the Canadian parliament on Friday, U.S. President Biden said he "applauded China for stepping up," quickly correcting himself and saying he meant to say 'Canada' instead of 'China.'
Biden was giving the speech in Ottowa during a state visit to Canada, during which the U.S. President and Canadian Prime Minister Trudeau held bilateral talks discussing various security issues.
In the speech, Biden reaffirmed the strong relations between Canada and the United States.
At the moment of Biden's gaffe, he said: "So today I applaud China for stepping up," before correcting himself and making a quick joke: "Excuse me, I applaud Canada. You can tell what I'm thinking…about China. We won't get into that yet."
Ahead of the state visit, Trudeau spoke to CNN about U.S.-Canada relations and China, stating that there are areas in which they will "going to have to directly challenge China" on issues such as human rights and security. He said: "We're going to have to continue to be wide-eyed and clear about the threat that China poses and wants to pose to the stability of our democracies."
Regarding Biden's gaffe, Chinese media were quick to jump on it and soon the incident spread on Weibo using various hashtags ("Biden Corrects Himself after Saying He Applauds China" #拜登称为中国鼓掌后改口#; "Biden Accidentally Says He Applauds China" #拜登口误为中国鼓掌#).
Chinese state media outlet Global Times (环球网) posted one of the most popular posts on the matter, which included a video of the moment, receiving over 82,000 likes.
But other big accounts, such as the Communist Youth League, also posted about the moment.
"Even if he dreams, he still thinks of China," one top comment said, with others replying things such as: "He just can't keep China out of his mouth."
Some people also suggested it was a Freudian slip, and that Biden actually said what he was thinking: "Finally he said what he feels!" and "he loves China."
China's Communist Youth League also posted a meme about Biden allegedly also saying "US-China relations" instead of "US-Canada relations" during a bilateral meeting in 2021.
At one time in 2022, Biden apparently also mixed up "Ukraine" and "China" during a speech.
By now, Biden's mix-ups and mistakes have become a regular occurrence, something that was already covered by The New York Times as early as 2019.
One meme on Chinese social media featured Joe Biden and Donald Trump side by side wearing a 1960s PLA uniform, the flag of the Communist Party in the background.
Trump was previously also jokingly called "Comrade Trump" on Chinese social media, saying he was the man "making China great again," suggesting that his policies and actions inadvertently contributed to China's rise. For this reason, he was also nicknamed "Build the Country Trump" (川建国) and 'Comrade Jianguo' (建国同志 [Comrade Build-Country]).
For a similar reason, Biden is now also nicknamed "Boosting China Biden" (拜振华). Both 'Build the Country Trump' and 'Boosting China Biden' are written in such ways that they could pass as Chinese names, which is part of the joke.
Some netizens playfully warned Biden and Trump about being careful not to give themselves away: "Please, comrades, be careful about hiding your true identity!"
"Comrade Boost China Biden, thanks for your hard work," another jokingly wrote.
By Manya Koetse 
Get the story behind the hashtag. Subscribe to What's on Weibo here to receive our newsletter and get access to our latest articles:
Spotted a mistake or want to add something? Please let us know in comments below or email us. First-time commenters, please be patient – we will have to manually approve your comment before it appears.
©2023 Whatsonweibo. All rights reserved. Do not reproduce our content without permission – you can contact us at info@whatsonweibo.com.
By Manya Koetse 
With contributions by Miranda Barnes
Get the story behind the hashtag. Subscribe to What's on Weibo here to receive our newsletter and get access to our latest articles:
Spotted a mistake or want to add something? Please let us know in comments below or email us. First-time commenters, please be patient – we will have to manually approve your comment before it appears.
©2023 Whatsonweibo. All rights reserved. Do not reproduce our content without permission – you can contact us at info@whatsonweibo.com.
"New Chapter of Sino-Russian Friendship": Putin Publishes Op-Ed in China's People's Daily, Xi in Rossiiskaya Gazeta
In Xi's piece, the word "China" was the most recurring one. In Putin's article, the word "Russia" was repeated the most.
Op-eds authored by Chinese leader Xi Jinping and Russian President Vladimir Putin were published in the other countries' government newspapers ahead of Xi's three-day state visit to Russia. Both articles emphasized the importance of partnership, mutual trust, and friendship between the two nations.
Chinese leader Xi Jinping arrived in Moscow on Monday, March 20, for his scheduled state visit to Russia.
During his three-day Moscow visit, Xi will have one-on-one talks with Russian President Vladimir Putin. This is the first time Xi visits Russia since the Russian invasion of Ukraine.
On the first day of the top-level meeting, the Chinese state media outlet People's Daily headlined that Xi Jinping published an article in the Russian government newspaper Rossiiskaya Gazeta on the occasion of his state visit, while also featuring the news about Putin's signed article on the front page (the actual article was published on page three).
Meanwhile, the Rossiiskaya Gazeta did the same: they also featured Xi's publication on the front page of their digital newspaper, while also turning Putin's contribution to the People's Daily into one of the main headlines. The newspaper also published a special section dedicated to Sino-Russian friendship.
Xi's article, in Russian here and in Chinese here, was also translated to English and published by China's Ministry of Foreign Affairs on their website here.
The article, titled "Forging Ahead to Open a New Chapter of China-Russia Friendship, Cooperation and Common Development" ("踔厉前行,开启中俄友好合作、共同发展新篇章") mainly stresses the strong bond and mutual trust between China and Russia and the future of Sino-Russian relations, with the word "cooperation" being used 22 times and the word "friendship" used 8 times in the text. The most-mentioned word in the text is "China" (24 times); "Russia" was mentioned 22 times.
"Ukraine" was mentioned three times in one paragraph about the 'Ukraine crisis,' which emphasized China's "impartial position" and its active promotion of peace talks.
The article by Putin is titled "Russia and China – A Future-Bound Partnership" ("俄罗斯和中国——面向未来的伙伴关系") (link in Chinese, link in English) and it is similar to Xi's op-ed in multiple ways, and also focused on stressing the special friendship between both countries and how similar they allegedly are in their culture, tradition, and foreign policy.
The article was actually also very similar to an earlier article titled "Russia and China: A Future-Oriented Strategic Partnership" published by Vladimir Putin for Chinese state media outlet Xinhua just before the Winter Olympics and Putin's visit to China in 2022 (link in English).
The current article condemns America's role in the international community and thanks China for its approach to the Ukrainian issue. The word that comes up most often in the text is "Russia" (20 times); "China" is mentioned 18 times. Words such as "cooperation" and "partnership" also come up a lot (7 and 5 times respectively).
The hashtag "Xi Jinping Published Signed Article in Russian Media" (#习近平在俄罗斯媒体发表署名文章#) was posted on social media site Weibo by Xinhua.
China Daily posted images featuring several quotes from Xi's signed article in Chinese and English.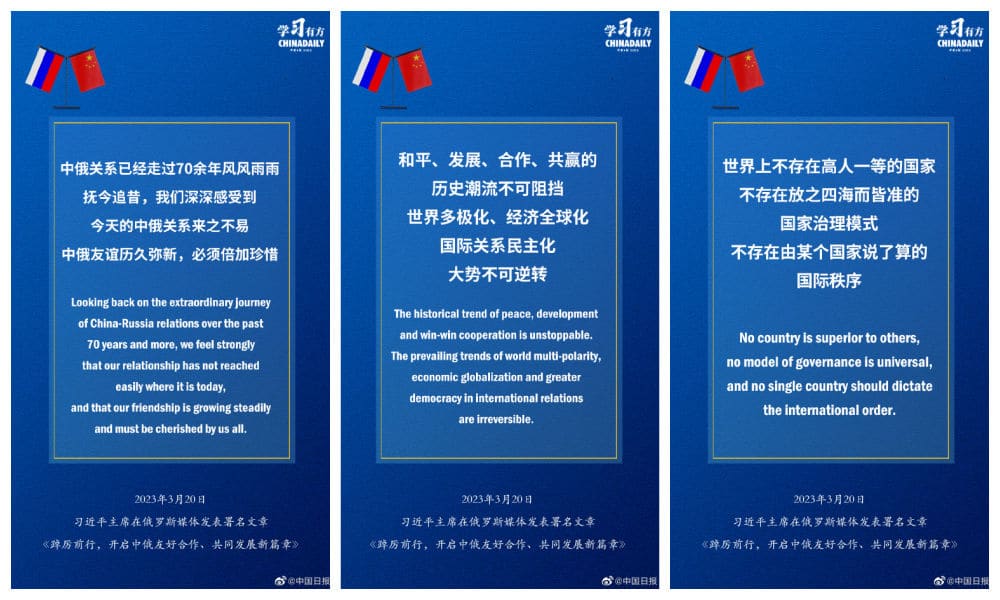 While it was not the first time for Putin to post an op-ed in a Chinese state media newspaper, it was also not the first time for Xi Jinping to publish a signed article in a Russian government newspaper. He also posted one in 2015 (link in Chinese).
Xi previously also published letters or bylined articles in the media of other countries.
Ahead of his state visit to Finland in 2017, the Finnish newspaper Helsinki Times featured Xi's article titled "Our Enduring Friendship" ("穿越历史的友谊"). Xi also stressed bilateral relations in letters to the foreign media of countries such as Myanmar, Greece, Nepal, North Korea, and others.
The term used by Xi in the article, "starting a new chapter" ("开启时代新篇章") was repeated by many commenters replying to the topic on Weibo, where Xi's Russia visit is covered by many media accounts in videos, text, and images.
In a recent post, political commentator Hu Xijin (@胡锡进) noted how Xi's Russia visit made international headlines, underlining the major significance of the meeting. Hu wrote that no third party could hinder the "steady development of Sino-Russian relations." At time of writing, only three out of more than a hundred replies to Hu's post were displayed – the three replies consisted of hearts and thumbs up emoji only – with the other comments being filtered.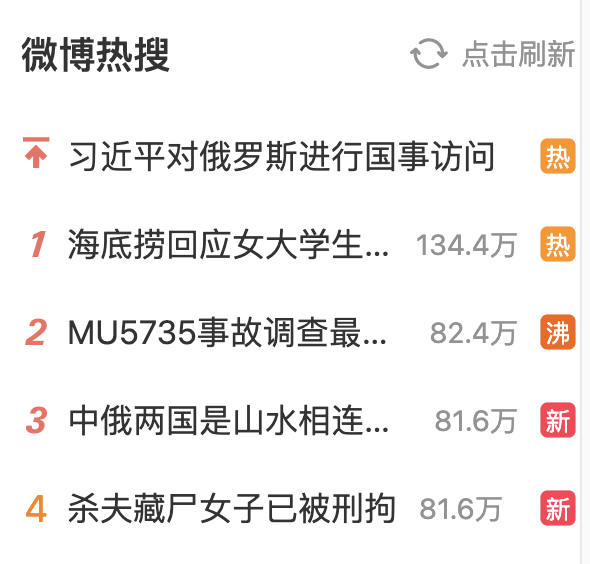 Although the meeting between Xi and Putin was promoted in the Weibo trending lists, most posts about the state visit only allowed some selected replies in the threads below, or simply closed the comment sections. This was also the case went Putin's annual address in Moscow was featured by various accounts on Weibo.
For more articles on China-Russian relations and related Weibo discussions, check our archives here.
By Manya Koetse 
With contributions by Miranda Barnes
Get the story behind the hashtag. Subscribe to What's on Weibo here to receive our newsletter and get access to our latest articles:
Spotted a mistake or want to add something? Please let us know in comments below or email us. First-time commenters, please be patient – we will have to manually approve your comment before it appears.
©2023 Whatsonweibo. All rights reserved. Do not reproduce our content without permission – you can contact us at info@whatsonweibo.com.