Top 6 of China's Popular News Apps
In an online environment with hundreds of news apps, these are some must-know apps Chinese netizens use to stay updated on the news.
In China's dynamic online media environment, where hundreds of news apps are competing over clicks, these are five different news apps that are currently popular among Chinese netizens.
China is the world's largest smartphone market, and the mobile app business is booming. Chinese netizens, of which some 98% access the internet via mobile phone, have thousands of app to choose from across dozens of app stores.
To provide some insights into this huge market, What's on Weibo has listed some of the most popular and noteworthy apps in China today in various categories, namely news, education, health, games, and short video & live streaming. Check our top 5 of most popular short video apps here. This article will focus on some of China's most popular news apps. Stay tuned for the other categories, that will follow shortly and will be listed below this article.
We made our selection based on the data from the Android app stores Tencent, Baidu, Huawei, and Zhushou360. We tried our best to give you a representative overview of a variety of apps that are currently most used in China, but want to remind you that these lists are by no official "top 5" charts.
When it comes to news apps, we see there's a clear preference for the more commercial media outlets rather than traditional Chinese state media newspaper titles, and that besides gaming, live streaming, shopping, and music, news gathering is still very much a popular online activity among Chinese netizens.
#1 Jinri Toutiao 今日头条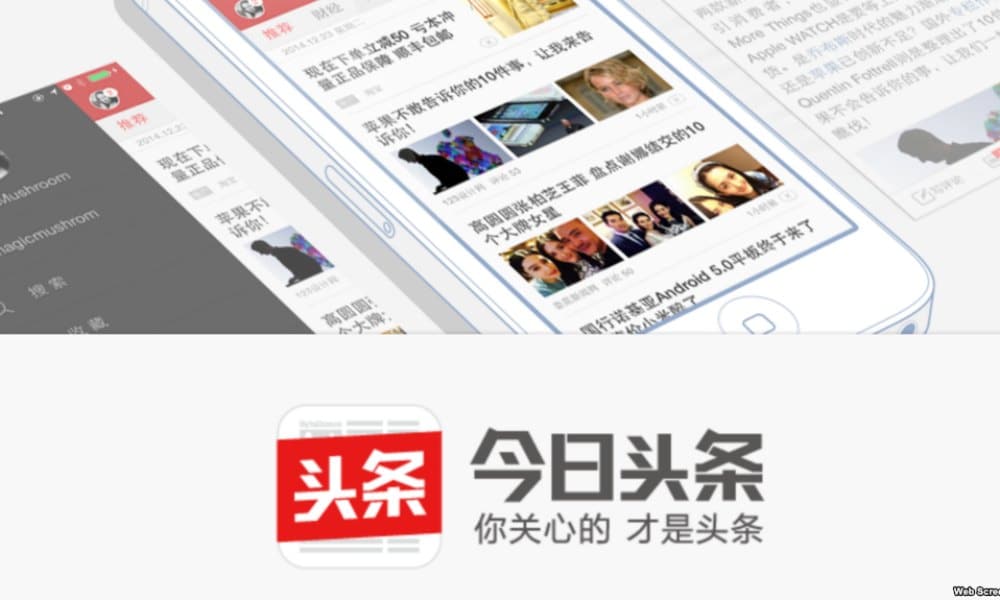 Jinri Toutiao, which translates as 'Today's Headlines', currently ranks as the most popular app in the Chinese Apple store, together with its 'speed version' (今日头条极速版) version, which offers a different interface.
The Jinri Toutiao app is a core product of China's tech giant Bytedance Inc., which has also developed popular apps such as TikTok, Douyin (抖音), Xigua (西瓜) and Huoshan (火山).
The main difference between the normal and speed version app is that the Jinri Toutiao has some extended features; its layout can be adjusted according to user's preferences and its installment takes up more space on the device.
Toutiao's success is mainly due to its artificial intelligence functions that sources news and other articles for its users. Through the app's machine-learning algorithm, Jinri Toutiao can understand its user's preferences and personalizes the selected content its shows on the main page. In doing so, Toutiao is a so-called news aggregator that has some 4000 news providing partners and is comparable to American apps such as Flipboard.
In 2018, Jinri Toutiao had 700 million registered users, with 120 million daily readers, spending approximately 76 minutes on the app, viewing a total of 4.2 billion(!) articles.
#2 Ifeng News 凤凰新闻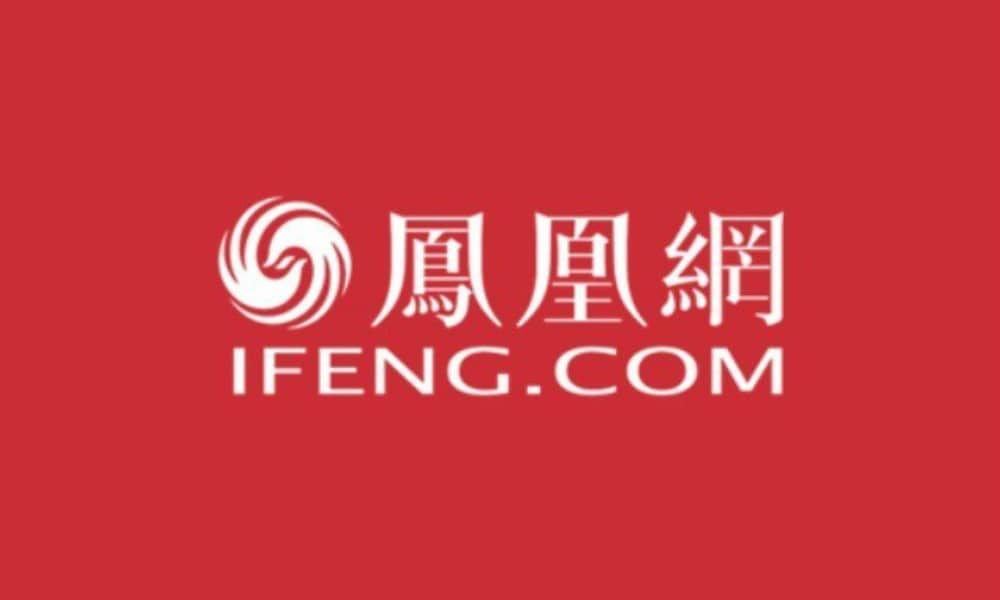 Ifeng News or Phoenix News is part of Phoenix TV, a broadcasting company established in 1996. The media company, that is headquartered in Hong Kong, is active in traditional media as well as in new media.
According to Phoenix TV, users of the Ifeng News app approximately spend more than 37 minutes on the app daily.
Like Toutiao, the Ifeng News app also offers personalized content for users based on AI algorithms. Different from Toutiao, Ifeng is not just a news aggregator but also produces its own content.
Ifeng News is the app to consult when you want to get somewhat more in-depth insights into the main headlines from around globe. In addition, Ifeng also offers 24/7 live news broadcasts from mainland China, Hong Kong, and Taiwan.
#3 Caijing Toutiao 财经头条
Caijing Toutiao is an app developed by Caijing Magazine, an independent financial magazine based in Beijing that, in addition to economic issues, also focuses on social and public affairs and civil rights. It has long been known for its progressive and critical content, which is why we list it here, although some other commercial news apps, such as Tencent News, Sohu News, Netease, and The Paper, might be more popular in terms of the total number of downloads.
Caijing Magazine was established in 1998 by Hu Shuli (胡舒立) as part of the Media Group Limited. Especially in the first ten years of the magazine's existence, it enjoyed relative freedom regarding press restrictions. But the 'golden era' of Caijing came to an end in 2009, when Hu Shili resigned after facing more control over news by the authorities.
Nevertheless, Caijing is still known as an authoritative news platform for business and financial issues in China.
The Caijing app, in addition to its live stream and headlines, offers rich financial content organized in various categories. The app is not only among the most popular news apps, but it was also ranked the most downloaded financial app in the first half of 2018.
#4 People's Daily 人民日报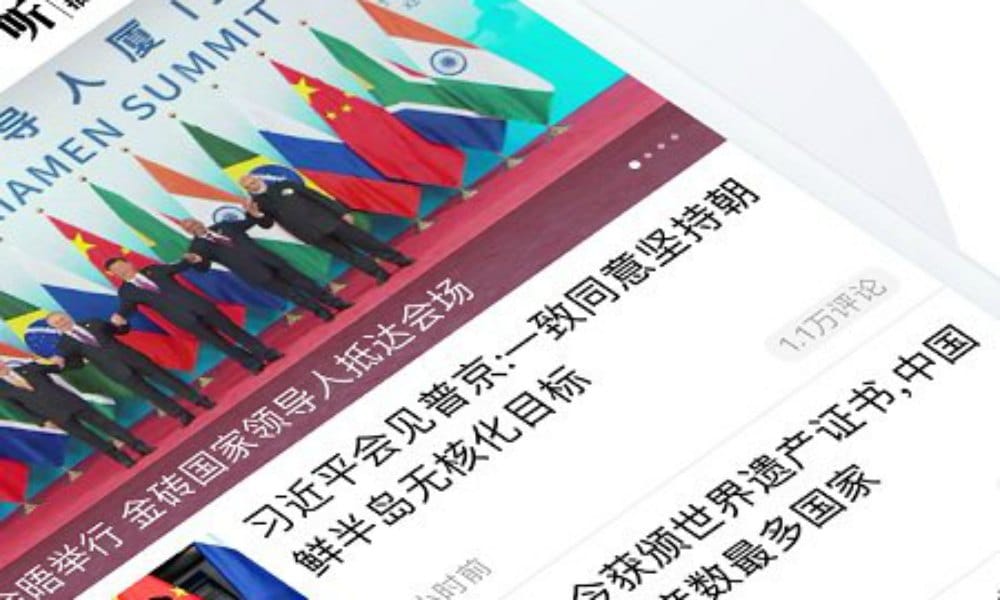 People's Daily, one of the leading news outlets of China, is the official newspaper of the Central Committee of the Communist Party of China. The news office was established in 1948 and is headquartered in Beijing.
Despite being seventy years old, People's Daily has adopted various strategies over the past years to reach Chinese younger audiences in the digital era. The news app, launched in 2014, is part of its digital strategy, and now ranks amongst the most popular news apps of China across different app app stores.
A large number of People's Daily's news articles focus on political matters. Users of the app can choose whether they want to see the standardized content showed to all users, or opt-in to recommended articles based on monitored personal preferences.
#5 Tencent News 腾讯新闻
Tencent News, which is part of the Shenzhen-based Tencent Group, is one of the leading news-apps of China. In addition to the app, the company also has its online portal QQ.com, where they release the same content as the app, complemented with other services.
In 2017, Tencent brought the two apps together when it added a news feed and search function to its super app WeChat. This means that, regardless if you have the Tencent News app installed on your device, you will be directed to Tencent News when you enter certain search words in WeChat. With WeChat's 1.08 billion monthly active users globally, this sets off a tremendous user flow from WeChat to Tencent News.
The majority of the news articles on the app come from third-party platforms. In addition to the news, the app features other Tencent products such as Tencent Video and their live streaming service.
In the final quarter of 2018, Tencent News users grew from 94 million to 97.6 million daily active users, making it the second most popular news app of China.
#6 Zhihu 知乎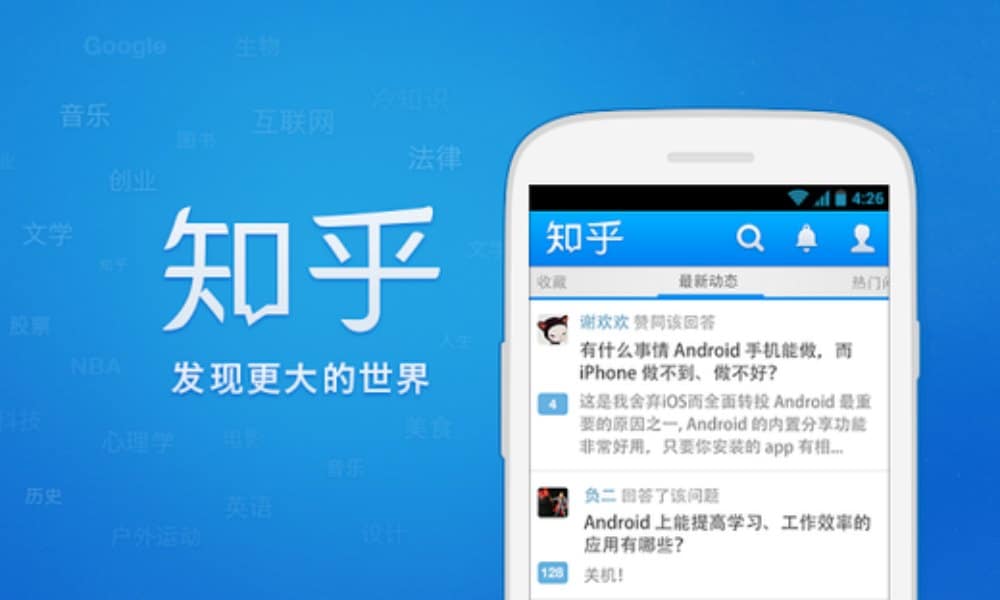 Zhihu is no typical news app: it actually is China's biggest Q&A platform, comparable to Quora.
In 2018, Zhihu had 160 million registered users, of which 26 million visited the app daily. Despite the fact that Zhihu is not a traditional news content app, it plays an important role in China's online news media landscape, as it provides an open space where users get (news) information and can get answers to their questions relating to the news and other things.
What sets it apart from other social media platforms is that users do not need to be 'connected' or 'follow' each other in order to see each other's questions and comments. Zhihu's algorithm pushes up the most popular content, driving engagement.
How does Zhihu exactly work? All Zhihu users can create topics or questions, and reply to those of others. By voting on the best response of other users, the app automatically features the most appreciated comments on the top of the page.
To guarantee the reliability of the information provided by users, Zhihu has rolled out a 'point system' that credits users for their content, profile, and behavior on the platform. By giving every user a personal score, Zhihu allegedly hopes to promote more "trustworthy" content.
Apart from the Q&A feature, Zhihu also offers electronic books and paid live streaming. Zhihu also launched the so-called 'Zhihu University' that offers paid online courses in business, science, and humanities.
Also see:
By Gabi Verberg, edited by Manya Koetse
Spotted a mistake or want to add something? Please let us know in comments below or email us.
©2019 Whatsonweibo. All rights reserved. Do not reproduce our content without permission – you can contact us at info@whatsonweibo.com
Goodbye 996? Weibo Discussions on Changes in Overtime Work Culture
Beijing made it clear that working overtime is illegal, but netizens are concerned about the realities of changing working schedules.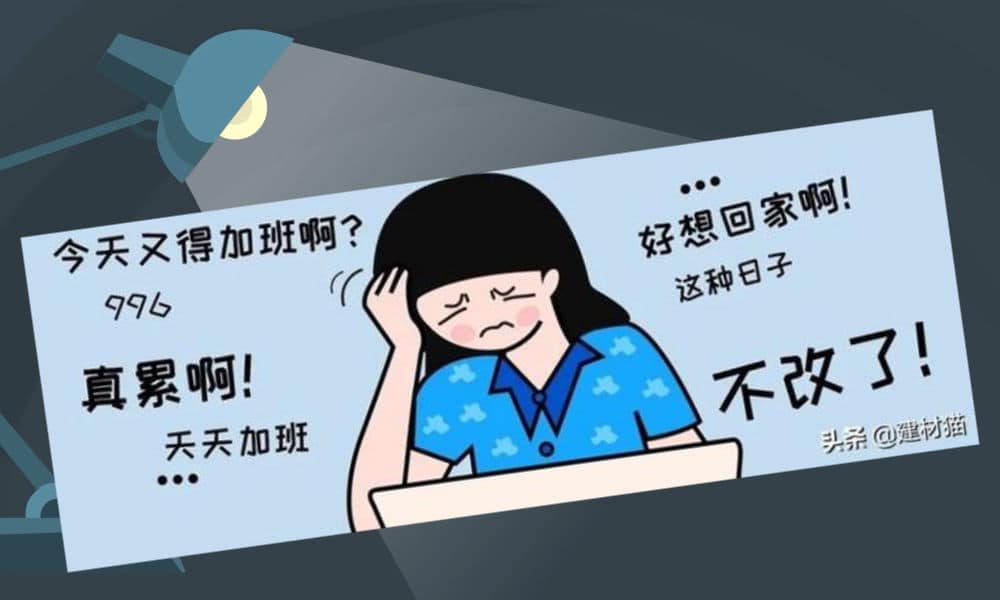 Many people are tired of being forced to log long hours, but are also worried about how a national crackdown on '996' working culture could impact their workload and income.
In late August of 2021, China's Ministry of Human Resources & Social Security (人社部) and the Supreme People's Court issued a joint clarification on the country's legal standards of working hours and overtime pay.
Their message was clear: the practices of '996' (working 9am-9pm, six days per week) and '007' (working 24 hours seven days per week, referring to a flexible working system worse than 996) are illegal, and employers are obliged to obey the national working-time regime.
On Weibo, China's state broadcaster CCTV published a 10-minute long video illustrating the 10 typical cases of overtime work laid out by the ministry and the top court. The moment was marked as the first time for the state-owned broadcaster to publicly comment on overtime work practices.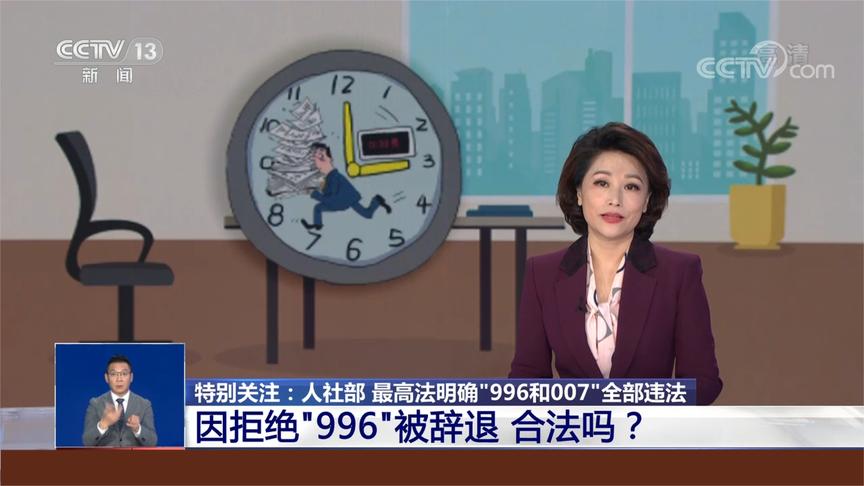 The Weibo post pointed out that "striving for success is not a shield companies can use to evade legal responsibilities," and made it clear that employees have the right to "say no to forced overtime."
The topics of overtime work and China's 996 work culture generated many discussions on Weibo, with the hashtag "Ministry of Human Resources & Social Security and the Supreme Court Clarify 996 and 007 Are Illegal" (#人社部最高法明确996和007都违法#) generating over 420 million views on the social media platform.

"Without implementation and enforcement, the law is useless"

The current labor law in China bars employees from working more than 44 hours a week, and any overtime work must be paid.
Although the 996 practice is technically prohibited by law, many companies still enforce the hours informally.
Many employees revealed online that, although the 996 practice is legally prohibited, they were nevertheless being assigned job tasks that exceeded the prescribed working hours.
"I wonder if the workload will decrease after all. If it doesn't change, it means people will now have to work voluntarily," one Weibo user commented.
People also indicated that, since the start of the pandemic, remote work has become a new norm. Many companies have moved from office to working at home, making it harder to draw the line between regular working hours and overtime hours.
"What really matters is whether working from home includes overtime hours," one Weibo user wrote. Many netizens complained that their companies wouldn't explicitly stipulate a 996 schedule; instead, most of them disguise the overtime hours as 'voluntary' work.
"These regulations are good, but they are basically impossible to implement. Even if they ban '996' and '007' there is no way to regulate the so-called 'voluntary work,'" one Weibo user wrote.
Some people said that their companies have various performance assessments and that they feared that refusing to work more hours would make them lose their competitive advantage: "The burn-out (内卷 nèijuǎn, 'involution') is severe. It is too difficult for us. I have only one day off during the week and I'm so tired," one person commented.

"We don't need those who comfortably work 8 hours"

China's 996 work culture has been championed by tech leaders and denounced by workers for years, and it has become an unwritten standard – not just in the tech sector but also in other industries.
While working long hours has been ingrained in Chinese workplace culture since the early days of the country's internet boom, it later also started to represent 'a road to success' for Chinese tech entrepreneurs.
Many Chinese netizens blame Alibaba's Jack Ma for praising the '996' work system. In 2019, Ma called the 12-hour working day a "huge blessing," causing much controversy online. During his talk at Kyiv International Economic Forum, Ma said: "(..) '996 is the spirit that I encourage Alibaba people to follow. If you want to have a bright future, (..) if you want to be successful, you have to work hard."
On another occasion, the tech mogul reportedly said: "If you join Alibaba, you should get ready to work 12 hours a day, otherwise why do you come to Alibaba? We don't need those who comfortably work 8 hours."
However, after the shocking death of one Chinese delivery man working for food delivery platform Ele.me and the widespread discussions about the '996 ICU' project – which called on tech workers to add names and evidence of excessive hours to a 'blacklist,' – the 996 work culture has come under increased scrutiny.
Some people argue that the overtime culture is draining employees and creating an unhealthy work-life balance; others argue that they work for themselves and believe that putting in extra hours will eventually translate to individual success.
While economic growth has slowed down during the pandemic, most companies are persisting with long working hours because they are under pressure to achieve results.
According to an online survey conducted by an influential tech blogging account (@IT观察猿), more than one-third of participants claimed to have one day off per week, and more than one quarter claimed they didn't have any weekend days off.

"The workload is the same, but the income has reduced"

Starting from August 1st, ByteDance, the Chinese company behind the popular short-form video app TikTok, dropped its 'big and small week' (大小周) – a schedule that previously required employees to work six days in a row every other week.
ByteDance is not the only Chinese tech company that has begun to cut back on its long working hours. More and more companies have decided to drop grueling work schedules.
Kuaishou, another Chinese short-form video app company, stopped scheduling weekend work in July. Since early June, Tencent – China's largest game publisher – has encouraged people to clock out at 6 pm every Wednesday.
Although these changes seem to signal a positive development, there are also many people who do not support the new measures. When Bytedance announced the changes to its working schedule, news came out that one-third of the employees did not support the decision (#字节跳动1/3员工不支持取消周末加班#).
Those relying on overtime pay said abolishing overtime work will cut their take-home pay by around 20%. Indeed, the first pay-out after the new implementation at Bytedance showed an overall drop of 17% in employees' wages.
"The workload is the same, but the income has reduced," one Weibo commenter complained.
One trending discussion on Weibo focused on the question "Do companies need to make up for employees' financial loss after the abolition of weekend work?" Many comments revealed the situation faced by thousands of struggling workers who value free time but value their income more.
Many on Weibo still wonder whether a company that abolishes '996' will come up with an alternative to compensate those employees who will otherwise inevitably lose vital income.
By Yunyi Wang
Follow @whatsonweibo
Spotted a mistake or want to add something? Please let us know in comments below or email us. First-time commenters, please be patient – we will have to manually approve your comment before it appears.
©2021 Whatsonweibo. All rights reserved. Do not reproduce our content without permission – you can contact us at info@whatsonweibo.com.
'Call Me By Fire' All-Male Variety Show Becomes Social Media Hit
'Call Me By Fire' is the male version of 'Sister Who Make Waves' and it's an instant hit.
A Chinese reality show starring 33 male celebrities titled Call Me By Fire (披荆斩棘的哥哥) has become an instant hit after its premiere on Mango TV last week.
The show is considered the male version of the hit variety show Sisters Who Make Waves (乘风破浪的姐姐, read more here) but with different rules. The contestants, ranging from age 27 to 57, are all in the entertainment industry; the group includes pianists, singers, dancers, actors, hosts, and rappers.
They are required to perform individually and in a team for the first episode's performances. Chinese viewers were surprised to see some of the high-quality performances, which then went viral on social media.
Li Chengxuan (@李承铉 a.k.a. Nathan Lee), who was previously mostly known for being the husband of Chinese actress Qi Wei (戚薇), rapped in a low voice and wowed the audience. The hashtag about his first stage performance on the show garnered more than 120 million views ( #李承铉天上飞舞台#). A video of his performance can be found here.
Li is a former member of the South Korean boy band TAKE. In 2014, the Korean-American pop star married Qi, who later gave birth to their first daughter Lucky. When Qi went back to focusing on her career, Li decided to be a stay-at-home dad.
Just like some of the other show contestants, Li also appeared on the talk show Definition (定义), where he spoke to the female journalist Yi Lijing about his life as a full-time father. In that show, he expressed how he used to think being a full-time parent would be easy. "It takes a lot of time and energy to take care of the baby and the family, but as a result, it always looks like you haven't done anything all day."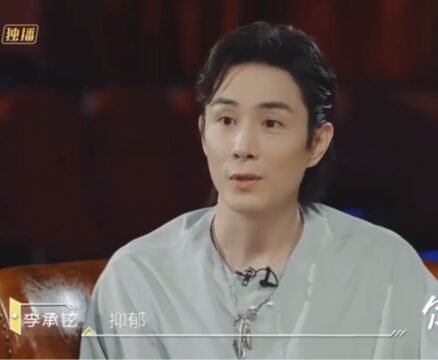 He describes how he experienced a time of depression during which he tried his best to be a good parent but sometimes just could not control his temper. Li explains how he would regret these moments of anger and then would cry at night when his daughter was asleep.  (Interview video here.)
Li's experiences as a full-time parent struck a chord among Chinese netizens, especially among stay-at-home moms. The hashtag "Li Chengxuan Was Depressed for Over a Year As a Full-Time Dad" (#李承铉当全职爸爸抑郁了一年多#) received more than 600 million views on Weibo. Under the hashtag, commenters shared their experiences and struggles in being full-time parents.
One netizen wrote: "This is so true. We do so much when taking care of our children, but other people often feel like it's nothing. When you lose your temper in front of the kid, you feel terrible inside and start to question yourself about why you failed to control yourself, and then you make another promise not to lose your temper anymore."

Another Weibo user wrote: "See, when a mom looking after her kids feels depressed, it is not because she is weak and sensitive! It is because the job itself will make any human being depressed."
Li later responded on his Weibo account, saying he just did his part as a parent, and this is what any new mom or new dad will face. That post also received thousands of comments and over 285,000 likes.
So far, the hashtag of the Call me By Fire TV show has received a staggering 4.4 billion views on Weibo (#披荆斩棘的哥哥#).
The show's performances and Li sharing his struggles as a stay-at-home dad are not the only reasons for the show's massive success on Chinese social media. Some other related issues also made the show gain more attention.
Even before Call Me By Fire aired, the show already made headlines when the 55-year-old Taiwanese singer Terry Lin Zhixuan (林志炫) reportedly fell off the stage while filming.
Later, one of the contestants left the show after some social media drama. Chinese singer Huo Zun (霍尊) announced his withdrawal from the show after his ex-girlfriend accused him of being a cheater and leaking some WeChat conversation screenshots to prove that he actually disliked the show.
The remaining 32 contestants will enter the real 'elimination stages' in the following episodes. The show and highlight clips can be viewed on the Mango TV official site here.
By Wendy Huang
Follow @whatsonweibo
Spotted a mistake or want to add something? Please let us know in comments below or email us. Please note that your comment below will need to be manually approved if you're a first-time poster here.
©2021 Whatsonweibo. All rights reserved. Do not reproduce our content without permission – you can contact us at info@whatsonweibo.com