Look Who's Talking: China's CCTV Consumer Day Show Accused of Misinformation
Is the pot calling the kettle black?
The 27th edition of China's consumer day show 'CCTV 315 Night' (315晚会) caused controversy on Chinese social media when it exposed the malpractices in various companies, from Muji stores to Nike shoes. Now that it appears the show itself is negligent with its facts and sources, it is again the talk of the day on Chinese social media. Is the pot calling the kettle black?
World Consumer Rights Day took place earlier this week, and became a trending topic on Sina Weibo (#微博315#) with the release of an annual consumer rights report and a special CCTV program dedicated to protecting consumer rights and uncovering malpractices by companies, called '3.15 Night' (#315晚会#).
The CCTV '315 Night' or 'consumer day show' is an annual TV show aired on March 15, focused on naming and shaming various brands and companies.
This year marked the show's 27th anniversary. As the show featured somewhat more controversial items than it did in previous years, it became the most-discussed topic on Chinese social media on Wednesday and Thursday.
The program revealed several product-related issues that had China's netizens both worried and skeptical, triggering thousands of shares and reactions across Weibo.
Products from the area of Japan's Fukushima disaster
One of the program's items focused on products from those regions in Japan affected by the nuclear crisis of 2011. After the Fukushima Daiichi nuclear disaster, the Chinese government introduced various laws to ensure consumer safety and prohibited the import of Japanese products from those areas in Japan affected by nuclear pollution.
But the Chinese TV show now revealed how, six years after the crisis, Japanese food products from the banned areas are allegedly sold in China by several large e-commerce platforms and stores, including Japanese chain store Muji.
According to the show, retailers hid the origin of the product by using different or vague new labels stating "made in Japan" rather than the specific area from which China has banned the imports of food.
The products included snacks, baby formula, rice, health food, and others, by brands such as Calbee.
News about the imported products led to much anger and commotion on Chinese social media. "Chinese people deceiving Chinese people! The Japanese people won't eat it so you import it, you do anything for money!", some angry commenters said.
China's 'Wiki': Selling lies for money
Another scandal revealed by the 315 show concerns Hudong.com (互动百科), China's homegrown wiki encyclopedia. The platform was accused of false advertising; the mere payment of 4800 RMB (±700$) allows the verification of any product on the site without any other requirements.
The show reported how a patient with liver cancer found a "magic" medicine on Hudong.com as a "verified product", allegedly able to cure cancer within seven days. Through this kind of false advertising, especially vulnerable people are susceptible to getting fooled into purchasing fake medicine.
Afterward, Chinese media called Hudong "a trash website with the most misleading advertisement" ("互动百科成最大虚假广告垃圾站").
The negative effects for companies after being featured on the annual consumer rights show cannot be underestimated; in 2015, Forbes called the show a "public relations nightmares for its victims."
Air Cushion Nikes without the air cushion
The consumer day show also criticized the brand Nike, alleging that the U.S. company's shoes advertisements are misleading consumers.
The Nike Hyperdunk shoes were promoted to contain the patented zoom air cushions, but were found to actually contain no 'air cushion' at all – despite their high price of 1499 RMB (US$220) per pair.
According to Shanghai Daily, over 60 disappointed buyers complained to Nike. The company has since offered them a full refund.
Pot calling kettle black?
The CCTV show's Nike item again became a point of discussion on Chinese social media today when sport news platform Fastpass (快传体育) complained that the information and images used by CCTV were completely taken from their website, violating their copyright.
In a new article on the Fastpass website, the author says: "CCTV cited its main evidence from our report of November 26 2016 on inspecting the Hyperdunk 08. Not only did CCTV not mention Fastpass as the source, they even used our images without our authorization and took out our watermark."
Many netizens were confused that the 315 show itself apparently had some malpractices, while its main purpose is to expose the malpractices of others.
"The show is not about 'protecting consumer rights' at all it is about knocking out companies in one punch."
The copyright infringement was not the only point of critique on the show on Chinese social media. Various Chinese media also reported today that the show's accusations on imported products from Japan's "banned areas" were ungrounded, as the product package address highlighted during the show is only the place where companies are registered – not where their products are produced.
Furthermore, some netizens wondered why certain controversial products were left out this year: "The Samsung phones have batteries exploding one after the other, why did they not focus on that? Where is their integrity and credibility?", one commenter wrote.
The fact that 'Chinese wiki site' hudong.com was harshly criticized by CCTV while Baidu Baike, its biggest competitor, was not, also annoyed netizens. In 2016, Baidu caused huge controversy for offering advertisement space to fraudulent doctors. These practices came to light when the 21-year-old cancer patient Wei Zexi paid 200,000 RMB (31,000US$) for a treatment promoted through Baidu, which later turned out to be ineffective and highly contested. He died shortly after and received much attention on social media, yet the controversy was not named by the CCTV consumer day show.
One Chinese journalist addressed the TV show on Weibo, writing:
"Some people have asked me what's up with that 315 Muji report. I did not see the show last night as I was on the train. But even if I had seen it, I would have nothing positive to say about the show. Being a journalist for so many years, I can't stand this show. It is not about 'protecting consumer rights' at all. It is about knocking out companies in one punch. Don't ask me how I know this."
"Perhaps it is not a smart move to throw stones while living in a glass house."
Other commenters also said the show was "fishy", with many wondering about the selection of the companies it targets, while others are left out. "If they already knew this," one person said about the alleged imported goods from radiation-polluted areas, "then why would they wait until the night of the show to tell us about it?"
"The show always targets foreign goods, preferably from USA, Japan, and Korea – it not about the product, it is about ideology," another person (@上善若水之山高) said.
It is not the first time the show has been critized, particularly for bashing foreign brands and products. In 2015, the South China Morning Post also wrote about 315: "(..) the show also had its own "quality problem" – former CCTV financial news channel director Guo Zhenxi, who oversaw 315 Gala, was detained (..) for allegedly taking bribes."
Overall, many people on Chinese social media simply do not take the show seriously anymore. "Haha, I've been hearing all these reports about CCTV 315 on Japanese products these days," one Weibo user wrote: "You can bash Japanese products all you want, the only thing is that Japanese products undergo very strict supervision and that it's virtually impossible to bash them!"
It seems that the CCTV show, after running for 27 years, has lost its credibility among the people. Perhaps it is not a smart move to throw stones while living in a glass house; the more critical netizens of today's online environment can see right through it.
– By Manya Koetse
Follow @WhatsOnWeibo
©2017 Whatsonweibo. All rights reserved. Do not reproduce our content without permission – you can contact us at info@whatsonweibo.com.
China's Bubble Tea Boom: Top 10 of Popular Milk Tea Shops in the PRC
China's bubble tea (aka pearl milk tea) market is booming: these are the top 10 popular milk tea shops in the PRC.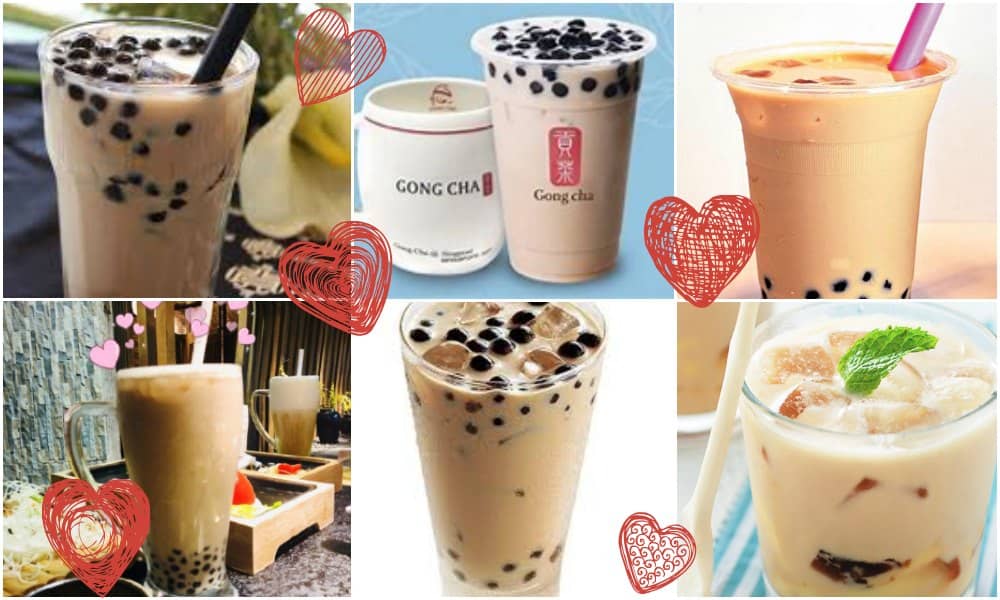 With an ancient historical tradition of drinking tea, Chinese consumers are now turning to a different cup of tea; the iced and creamy bubble tea is a national favorite that's also crossing borders and becoming more popular outside of Taiwan and mainland China. What's on Weibo provides an introduction to the bubble tea craze and a top 10 of milk tea shops in mainland China.
April 30 has recently been named National Bubble Tea Day by the US-based milk tea chain Kung Fu Tea, which aims to introduce bubble tea and its culture to consumers all around the world.
The launch of this brand-new 'National Bubble Tea Day' and the general growing presence of milk tea shops in various countries shows the attraction of bubble tea – both in and outside China.
More Milk Tea than Coffee
Pearl milk tea or bubble tea, also known as 'boba' (bōbà nǎichá 波霸奶茶/ zhēnzhū nǎichá 珍珠奶茶), was first invented in Taiwan in 1988 – and has since become an important part of Taiwanese food culture. Over the past decade, the bubble tea craze has also blown over to mainland China.
For those unfamiliar with the drink; most pearl milk tea products contain an iced tea base and milk, with chewy tapioca pearls and sugar. Although this is a standard recipe, China's many bubble milk tea shops and chains now have a growing selection of fruit flavored bubble tea or chocolate flavored bubble tea beside their original flavored bubble tea.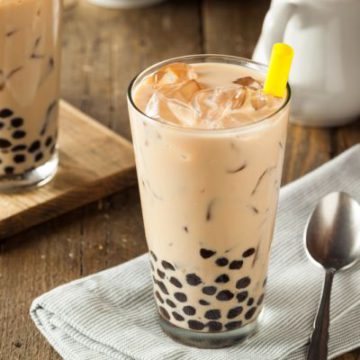 Since milk tea came to the mainland market in 1996, it has beaten coffee as a drink in terms of popularity. According to China marketing platform lbzuo.com (鹿豹座), Chinese now consume five times more milk tea than coffee. After the arrival of pearl milk tea to mainland China, coffee has taken a backseat, meaning that milk tea, in 15 years, beat what coffee in China did in 130 years. Bubble tea consumption continues to rise at a high rate each year.
Early on, pearl milk tea products were primarily targeted at young, female students between the ages of 15 and 25. Over recent years, however, the demographics have expanded as more men and working professionals are joining the craze.
The alternative to Starbucks
What makes pearl milk tea such a tantalizing drink to so many? Some say it is the combinations of having a drink and chewy snack in one, others claim the flavors are unrivaled, especially when compared to coffee; while western countries are immersed in the coffee lifestyle, China is more invested in milk tea. 
This also has to do with China's ancient tea culture. Although coffee has gradually become more popular in mainland China since the arrival of large chains such as Starbucks, some experts, such as tea entrepreneur Jiang Jiadao, say it is not about the coffee itself, but about new realities of modern life, where people want to pick up a quick drink or sit down somewhere with a friend in between meetings.
"It's not because they love the coffee," Jiang told SCMP: "The popularity of Starbucks doesn't have anything to do with changing tastes for coffee instead of tea, or more love of Western culture. I think we love the lifestyle it stands for. If we can offer a similar lifestyle and experience over tea, this would work."
And it seems to be working. People do not just love the drink's taste and texture, bubble tea has also become more popular in China – especially amongst the younger generations – because they love the style and image of China's new trendy tea house brands.
As reported by Caixin Global, Chinese bubble tea makers recently have been further building on their cool bubble tea image by merging with bookstores, popular clothing brands, or restaurant chains.
Mango Cheese Milk Tea
To attract more customers in a growingly competitive industry, milk tea brands now also add popular new flavors, snacks, and sweets to their menu. Recently, the so-called 'dirty [chocolate] bread' or 'zang zang bao' went viral as it was placed on the menu of various milk tea shops, conquering the hearts of Beijing's milk tea lovers.
Some milk tea stores are also staying ahead of their competition by releasing products that grab people's attention. The chain Happy Tea, for example, released their 'Mango Cheese Tea' after they found that many Chinese social media users search for both 'mangos' and 'cheese'.
On Chinese social media, the bubble tea trend is clear from the many photos posted of the drink every single minute. "After a long day of work, all I need is my bubble tea," are among the things written along with colorful and appealing pearl milk tea pics.
Some netizens express the sheer joy pearl milk tea can bring to people, with various celebrity idols now also endorsing China's major milk tea shops, such as Yi Dian Dian (1點點).
Netizen @CLSD writes: "Tonight on my way home from work I made a detour at Yi Dian Dian. As I waited in line a while, I could see everyone's smiles as they walked out with their milk tea. People who enjoy milk tea are so lovely. It's indescribable. My favorite singer is also a milk tea enthusiast…"
Others express their new-found love for the drink, writing: "I'm done for. I just started liking milk tea…"
Recently, long queues outside of milk tea shops have become a daily occurrence in major cities throughout China.* The craze for milk tea has been aided by strategic placement of stores nearby schools and office buildings. More often you can see milk tea brought into restaurants, schools, and offices. In contrast to coffee, milk tea is consumed virtually any time of the day.
The Most Popular Milk Tea Shops in China
Here is a top 10 of the most popular milk tea brands in China, of which many already have or will expand outside of Taiwan or mainland China. This list is compiled based on various sources, including Chinese online marketing magazines and Chinese food bloggers (e.g. 91yinpin.com, mroyal.cn, sina.com, sohu.com):
● #1 Yi Dian Dian (1點點 or 一点点奶茶)
Yi Dian Dian started in Taipei in 2010. The chain specializes in Taiwanese style milk tea, fruit tea, as well as desserts. Currently, Yi Dian Dian has over 600 stores in China and the Philippines. The company is expanding operations into countries such as England, Thailand, and Japan. Their main clientele is young students and professionals.
● #2 HEYTEA(喜茶)
HEYTEA, formerly called Royal Tea (皇茶), was founded in 2012 by the Guangdong-born Yunchen Nie (聂云宸), who aspired to launch a Starbucks-style brand in the tea market. It has worked; the company now has 80 outlets in 13 cities. HEYTEA is the innovator behind "cheese tea" (奶盖茶, sweet creamy tea). Since this creation, they have concentrated on finding and incorporating high quality tea into their line of products. In 2016, they received a 100 million yuan outside investment.
● #3 Coco (coco都可奶茶)
Coco first opened in Taipei in 1997. Over the last 20 years, they have opened over 2000 stores worldwide with locations in the US, UK, Thailand, and Korea among others. Coco offers customers a variety of beverages that meet a wide range of taste preferences. They also perform regular health and safety checks as well as fresh ingredients to put consumer worries at ease.
● #4 Gong Cha(薡御贡茶)
The milk tea shop with the most international exposure, Gong Cha started in Taiwan. Since 2006, this premium milk tea shop has become one of the largest in the world with more than 1,500 locations from Hong Kong to South Korea, New Zealand, Australia, USA, Singapore, and other countries.
● #5 Yunyang Royal (云仰皇茶)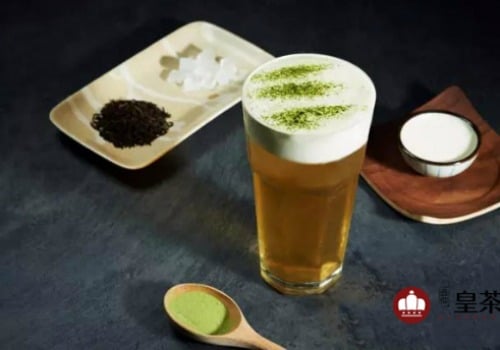 This brand has also been dubbed the "Hermes of the milk tea industry" because of its exquisite quality and higher price. It is a relatively new player in the milk tea market, only founded in 2016 in Dongguan, and has introduced a range of interesting flavors, including cheese rose Oolong, cheese cream cocoa, or milk salt mountain green tea.
● #6 China Fruit Time(鲜果时间)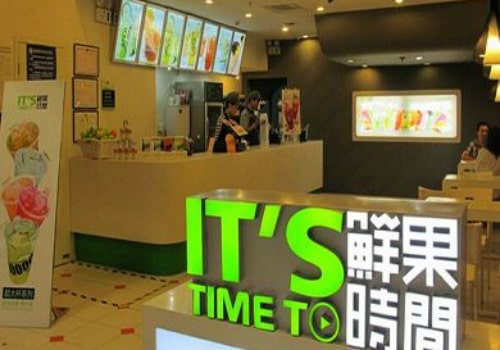 This shop was founded in Beijing in 2007, mainly focused on the take-out beverage market. It was an immediate success, with the franchise chain opening 40 new stores within a year after its founding. The brand mainly focuses on being "fresh, stylish, and healthy" and now has shops all over mainland China.
● #7 Utepia(乌茶邦)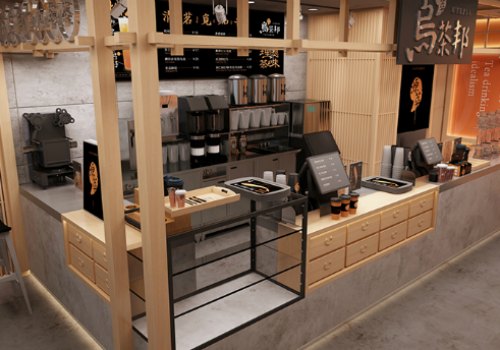 Utepia, Wu Cha Bang in Chinese, is a stylish milk tea franchise that is very new and based on the idea of being the "celebrity milk tea" – a very strong brand identity that is all about targeting young generations with a love for classy, traditional products. Although the company is new, some media predict 2018 will be the breakthrough year for this brand.
● #8 Happy Lemon(快乐柠檬)
Happy Lemon was founded in Shanghai in 2006, although its owner (Albert Wu) has been active in the tea business since the early 1990s in Taipei. The main company behind this brand, Yummy Town Holdings Corporation, also owns RBT Tea Cafe (仙踪林) and other brands, which have stores in many countries including mainland South Korea, Japan, Britain, the United States, Australia and Canada.
● #9 Dakasi(大卡司)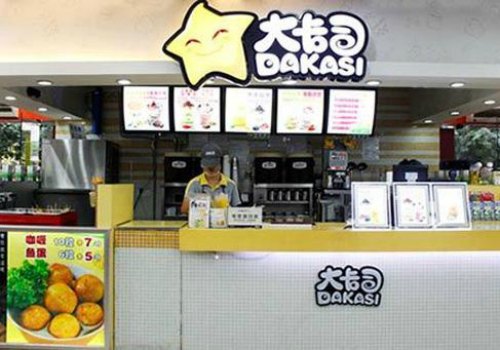 Dakasi is another milk tea shop with Taiwanese roots since 1990, which arrived in mainland China in 1999, where it set up its headquarters in Guangdong. It is a somewhat simple and classic milk tea brand that is especially loved by younger generations.
● #10 Attakai Kokoro Tea Shop(恋暖の初茶)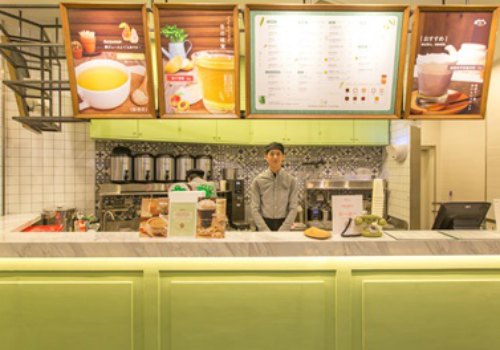 Although it has a Japanese name, this franchise tea shop is actually Chinese and just focuses on the fashionable Japanese style and quality ingredients, which the brand claims all come from Japan, Taiwan, and the US. It distinguishes itself from other brands by offering high-quality products at a relatively low price.
By Ryan Gandolfo and Manya Koetse
Follow @whatsonweibo
Spotted a mistake or want to add something? Please let us know in comments below or email us.
©2018 Whatsonweibo. All rights reserved. Do not reproduce our content without permission – you can contact us at info@whatsonweibo.com.
The World of Weibo Verification: Options to Verify Accounts on Sina Weibo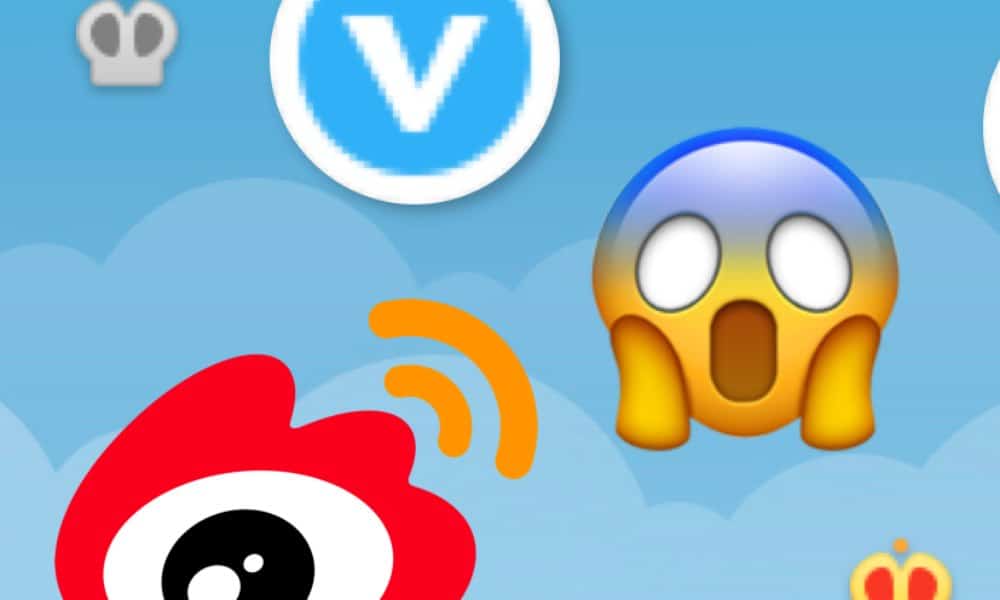 What's on Weibo often receives emails from readers asking how to get verified on Sina Weibo. While we're keeping up with the trending stories, our friends at KAWO know all about the tech & marketing side of Chinese social media. KAWO's Tianyi Han explains the verification process on Weibo for our What's on Weibo resources page.
In an online world of 'fake news' and online scams, it is sometimes hard to know what and who is real on social media. This is especially true in China, which has an online population of over 770 million, of which more than 350 million people are active monthly users of Sina Weibo.
As the user base of China's social media has seen a staggering growth, it has become more important for businesses, brands, celebrities, or other accounts of public interest, to get verified to show netizens they are authentic. This adds credibility and trust to an account – generally increasing the number of followers and influence.
Weibo has a somewhat complicated variety of options to verify accounts, all leading to that one goal of authentication: a 'V' on the account page. All of Weibo's celebrities, Key Opinion Leaders or 'KOLs', and a myriad of companies and micro-bloggers, now have that desirable 'V' on their account.
That little 'V' is of great importance; it even led to the widespread popularization of the term "Big Vs" (大V), referring to those verified and influential accounts on Chinese social media.
Since Weibo's online support for verification processes are rather chaotic and scattered around, we've created this guide for you. (Click here to enlarge.)

Some Things to Know about Weibo Verification:

Individual verification is free.
All users need to bind their phone number and upload a clear profile photo.
'Golden verification' is only awarded to most popular accounts on Weibo.
A contract grass root media account gets more privileges on media content, which include:
Paid Articles: allowing readers to pay to read your articles;
Article Notifications: followers will get notified via PM when a new article is published;
Allow users to follow an account from inside a video;
"Original work" option (similar to "original content" on WeChat in which a special tag clarifies that content is verified as being unique and not infringing on copyright);
Drive users to continue reading an article.
It's important to remember that Weibo only charges organizations for verification so there are a lot more options, which we have listed below.

Organization verification

For a so-called 'Blue V' verification, which is awarded to verified businesses, there are three levels and it includes benefits in 6 different categories:
Basic Services
Promotion
Events
Coupons
Private Messages
Data Analysis & Social Listening

1. Basic Services

A purchase of the Blue verification will give you a banner image slider on the homepage, on the top of your post feeds. You can insert up to 5 images and 1 video.

2. Promotion

Weibo's promotion tools are essential for any brand looking to boost engagement and grow their account.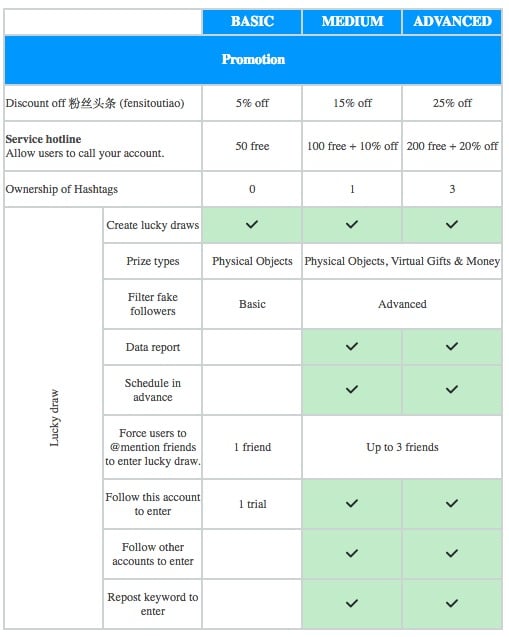 Basic plan users will experience some restrictions in utilizing the campaign and promotion tools. If you would like to run campaigns on Weibo, we recommend you buy a medium plan and ideally splash out for the 9,800 RMB Advanced plan if you're a heavy user of fensi toutiao (粉丝头条, 'fan headlines': option to push post to top of newsfeed of followers).

3. Event Platform

Weibo offers 6 types of event promotions:
Wheel of Fortune: spin to win a prize or red packet.
Flash Sales: limited time offers inside Weibo.
Repost to enter a lucky draw.
UGC: reward users who post your campaign on their Weibo with a prize.
Pre-order: similar to how Apple lets people pre-order iPhones.
Request a Sample: users fill out a form to get a free sample.

4. Coupons

Coupons are a great way to entice users to follow your account and give a little nudge to those with demonstrated intent to purchase.

5. Private Messages

Private messages are almost a direct copy of WeChat's articles. The basic plan – bizarrely enough – only lets you send them to a random 10% of your follower base and has other restrictions on menus and auto-replies.

6. Data Analysis & Social Listening

This is not to be confused with Weibo's "data helper" (数据助手), which costs an additional 6,800 RMB/year, although medium and advanced plans can get a discount on it.
Overseas brands need to pay $1000 to apply for organization verification. Detailed information can be found at Weibo's Support Page. If you do not want to worry about all of these details, KAWO's team can help you get a better reporting experience.

Lastly..

Some final remarks about Weibo verification. There are also many organizations that just get individual verification status, and those that do not even bother getting verified at all.
While it is true that 'Blue V' gives an organization instant authority and credibility as an official account, trust and authenticity can also be built up through consistent posting, a formal tone of writing, and professional quality content. One good example is Penguin Market, an online import food and lifestyle seller with 50k+ followers. Their account has remained 'unverified', yet they have succeeded in becoming and staying popular. Before spending time and money on a Blue V-status, it is, therefore, worthwhile to consider if a free verification may be sufficient to meet your needs.
Adding to that; non-Blue V accounts actually can also purchase the RMB 5000 and 9800 packages. It took us wuite some research of all the Weibo documentation to find out that non-verified users can also purchase the same service pack. It does, however, carry a different name: "Super Fans Package" (超级粉丝包) – sounds just as good.
KAWO connects teams across the globe providing data insights, greater transparency, and increased efficiency. We help international brands in China be more authentic and consistent on social media.
Interested to learn more? Schedule a free demo.