Look Who's Talking: China's CCTV Consumer Day Show Accused of Misinformation
Is the pot calling the kettle black?
The 27th edition of China's consumer day show 'CCTV 315 Night' (315晚会) caused controversy on Chinese social media when it exposed the malpractices in various companies, from Muji stores to Nike shoes. Now that it appears the show itself is negligent with its facts and sources, it is again the talk of the day on Chinese social media. Is the pot calling the kettle black?
World Consumer Rights Day took place earlier this week, and became a trending topic on Sina Weibo (#微博315#) with the release of an annual consumer rights report and a special CCTV program dedicated to protecting consumer rights and uncovering malpractices by companies, called '3.15 Night' (#315晚会#).
The CCTV '315 Night' or 'consumer day show' is an annual TV show aired on March 15, focused on naming and shaming various brands and companies.
This year marked the show's 27th anniversary. As the show featured somewhat more controversial items than it did in previous years, it became the most-discussed topic on Chinese social media on Wednesday and Thursday.
The program revealed several product-related issues that had China's netizens both worried and skeptical, triggering thousands of shares and reactions across Weibo.
Products from the area of Japan's Fukushima disaster
One of the program's items focused on products from those regions in Japan affected by the nuclear crisis of 2011. After the Fukushima Daiichi nuclear disaster, the Chinese government introduced various laws to ensure consumer safety and prohibited the import of Japanese products from those areas in Japan affected by nuclear pollution.
But the Chinese TV show now revealed how, six years after the crisis, Japanese food products from the banned areas are allegedly sold in China by several large e-commerce platforms and stores, including Japanese chain store Muji.
According to the show, retailers hid the origin of the product by using different or vague new labels stating "made in Japan" rather than the specific area from which China has banned the imports of food.
The products included snacks, baby formula, rice, health food, and others, by brands such as Calbee.
News about the imported products led to much anger and commotion on Chinese social media. "Chinese people deceiving Chinese people! The Japanese people won't eat it so you import it, you do anything for money!", some angry commenters said.
China's 'Wiki': Selling lies for money
Another scandal revealed by the 315 show concerns Hudong.com (互动百科), China's homegrown wiki encyclopedia. The platform was accused of false advertising; the mere payment of 4800 RMB (±700$) allows the verification of any product on the site without any other requirements.
The show reported how a patient with liver cancer found a "magic" medicine on Hudong.com as a "verified product", allegedly able to cure cancer within seven days. Through this kind of false advertising, especially vulnerable people are susceptible to getting fooled into purchasing fake medicine.
Afterward, Chinese media called Hudong "a trash website with the most misleading advertisement" ("互动百科成最大虚假广告垃圾站").
The negative effects for companies after being featured on the annual consumer rights show cannot be underestimated; in 2015, Forbes called the show a "public relations nightmares for its victims."
Air Cushion Nikes without the air cushion
The consumer day show also criticized the brand Nike, alleging that the U.S. company's shoes advertisements are misleading consumers.
The Nike Hyperdunk shoes were promoted to contain the patented zoom air cushions, but were found to actually contain no 'air cushion' at all – despite their high price of 1499 RMB (US$220) per pair.
According to Shanghai Daily, over 60 disappointed buyers complained to Nike. The company has since offered them a full refund.
Pot calling kettle black?
The CCTV show's Nike item again became a point of discussion on Chinese social media today when sport news platform Fastpass (快传体育) complained that the information and images used by CCTV were completely taken from their website, violating their copyright.
In a new article on the Fastpass website, the author says: "CCTV cited its main evidence from our report of November 26 2016 on inspecting the Hyperdunk 08. Not only did CCTV not mention Fastpass as the source, they even used our images without our authorization and took out our watermark."
Many netizens were confused that the 315 show itself apparently had some malpractices, while its main purpose is to expose the malpractices of others.
"The show is not about 'protecting consumer rights' at all it is about knocking out companies in one punch."
The copyright infringement was not the only point of critique on the show on Chinese social media. Various Chinese media also reported today that the show's accusations on imported products from Japan's "banned areas" were ungrounded, as the product package address highlighted during the show is only the place where companies are registered – not where their products are produced.
Furthermore, some netizens wondered why certain controversial products were left out this year: "The Samsung phones have batteries exploding one after the other, why did they not focus on that? Where is their integrity and credibility?", one commenter wrote.
The fact that 'Chinese wiki site' hudong.com was harshly criticized by CCTV while Baidu Baike, its biggest competitor, was not, also annoyed netizens. In 2016, Baidu caused huge controversy for offering advertisement space to fraudulent doctors. These practices came to light when the 21-year-old cancer patient Wei Zexi paid 200,000 RMB (31,000US$) for a treatment promoted through Baidu, which later turned out to be ineffective and highly contested. He died shortly after and received much attention on social media, yet the controversy was not named by the CCTV consumer day show.
One Chinese journalist addressed the TV show on Weibo, writing:
"Some people have asked me what's up with that 315 Muji report. I did not see the show last night as I was on the train. But even if I had seen it, I would have nothing positive to say about the show. Being a journalist for so many years, I can't stand this show. It is not about 'protecting consumer rights' at all. It is about knocking out companies in one punch. Don't ask me how I know this."
"Perhaps it is not a smart move to throw stones while living in a glass house."
Other commenters also said the show was "fishy", with many wondering about the selection of the companies it targets, while others are left out. "If they already knew this," one person said about the alleged imported goods from radiation-polluted areas, "then why would they wait until the night of the show to tell us about it?"
"The show always targets foreign goods, preferably from USA, Japan, and Korea – it not about the product, it is about ideology," another person (@上善若水之山高) said.
It is not the first time the show has been critized, particularly for bashing foreign brands and products. In 2015, the South China Morning Post also wrote about 315: "(..) the show also had its own "quality problem" – former CCTV financial news channel director Guo Zhenxi, who oversaw 315 Gala, was detained (..) for allegedly taking bribes."
Overall, many people on Chinese social media simply do not take the show seriously anymore. "Haha, I've been hearing all these reports about CCTV 315 on Japanese products these days," one Weibo user wrote: "You can bash Japanese products all you want, the only thing is that Japanese products undergo very strict supervision and that it's virtually impossible to bash them!"
It seems that the CCTV show, after running for 27 years, has lost its credibility among the people. Perhaps it is not a smart move to throw stones while living in a glass house; the more critical netizens of today's online environment can see right through it.
– By Manya Koetse
Follow @WhatsOnWeibo
©2017 Whatsonweibo. All rights reserved. Do not reproduce our content without permission – you can contact us at info@whatsonweibo.com.
15 Chinese Ad Campaigns That Make Abortion Procedures Look Glamorous
With pink flowers and dreamlike imageries, these prevalent advertisements promise Chinese women a fast and 'glamorous' abortion.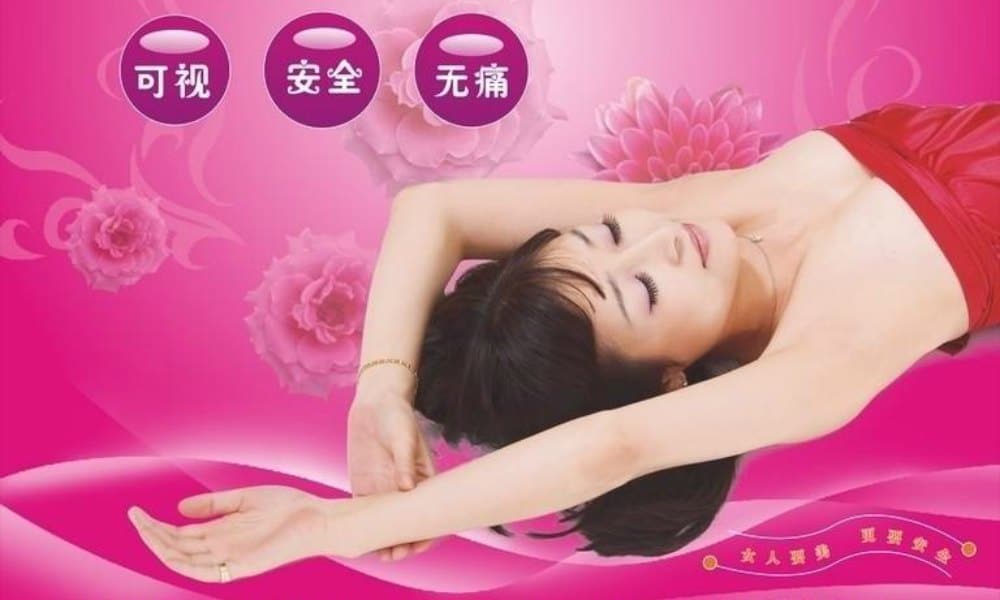 From bus stops to magazines, advertisements of clinics promising women a 'fast' and 'painless' abortion are commonplace in China, sending out the message that terminating a pregnancy is as easy as getting your nails done.
When it is rush hour in Beijing, street marketers often pass out flyers to people around busy subway stations. Most of the time, these pamphlets promote a new neighborhood restaurant or an upcoming real estate project.
Often, however, they promote abortion procedures at a local clinic. The pink and shiny ad campaigns advertise their abortion procedures in similar ways as beauty parlors or nail salons would market their services – a phenomenon which would be unimaginable in many western countries.
China's "Abortion Culture"
The legal and moral obstacles to abortion that are ubiquitous in the US or elsewhere are much less pervasive in China, a country that has one of the highest abortion rates in the world. According to the National Health and Family Planning Commission, approximately 13 million abortions are carried out in China every year (Yang 2015).
The actual number, however, is probably much higher. The official figures do not include the abortion statistics from private clinics, nor the estimated 10 million induced abortions per year through medicine (Xinhua 2014), let alone the numbers of sex-selective abortions– a practice that has officially been illegal since 2004.
There are various reasons why China's abortion rates are so high. In "Women's Health and Abortion Culture in China: Policy, Perception, and Practice," author Naomi Bouchard describes how the "visible abortion culture" in China today is an (indirect) consequence of the 1979 Family Planning Policy (better known as the One-Child Policy), family pressure, traditional values, and insufficient sexual education (2014, 2).
Especially the last dimension leads to unplanned pregnancies, notably in young women. According to official data, 4% of China's unmarried female teenagers experience an unplanned pregnancy, with 90% of them ending in abortion (Pan 2013). According to a doctor quoted in Bouchard's study, it is both lack of knowledge as well as embarrassment about buying condoms or other contraceptives that contributes to unplanned pregnancies in young women (2014, 17).
Thriving Abortion Industry
Besides the social factors that play an important role in China's "abortion culture," there is also the legal aspect that makes abortion procedures relatively common in the PRC. Unlike many other countries, China allows abortion for any reason (Theodorou & Sandstrom 2015).
The upper limit for legal abortions depends on circumstances. According to Hemmenki et al (2005), China's 1979 abortion law sets 28 weeks of gestation as the upper limit for pregnancy termination, although some provinces "have made their own laws stipulating the place and performer of the abortion." Other literature suggests that there is no limit fixed by statue (Jackson 2013, 423), and that abortions can take place up to the ninth month if the pregnancy is affected by severe anomalies (Deng et al 2015, 312).
All the aforementioned components have led to the existence of a thriving medical industry focused on abortion procedures in China, which comes with a strong commercial marketing of these procedures – advertised anywhere from bus stops to magazines and through flyers.
Scroll through the slider below (move arrows below) to see a selection of 15 advertisements for abortion procedures. The majority of these ads use the color pink and show young women either by themselves or with their partner. Besides addressing the women, their slogans also often speak to their partners ("If you love her, give her the best").
This ad by Jinzhong Friendship Hospital offers the service of "Korea JRS's dream abortions," persuading people to choose for their services with the underline: "You love her, give her the best." The main slogan says: "Bye bye pain, hello happiness."
Huawei Phone with Built-In Muslim Prayer Function Stirs Controversy
Huawei's response to criticism over its Mate 10 Pro's special alarm function for Muslim prayers has spiraled into a 'PR crisis.'
The built-in Muslim prayer reminder function on one of Huawei's latest smartphone models has stirred controversy online. But Huawei's response to the issue has now become a bigger controversy than the function itself.
A commercial for Huawei's popular smartphone model the 'Mate 10 Pro' has been met with harsh criticism earlier this week.
Chinese English-language media outlet Sixth Tone reports on Friday that controversy around the Huawei phone started when a Chinese poster for the new model showed the Mate 10 Pro's prayer reminder for Muslims alongside a function to locate nearby mosques. Author Lin Qiqing notes that "Chinese Islamophobes take issue with Huawei's new smartphone" and that its prayer alarm feature "irks the irreligious and intolerant." (The article has since been removed from the Sixth Tone website.)
Huawei, however, believed that netizens' "vicious attack" on the company was the result of a targeted campaign by people who deliberately "distorted the facts." They described the angry commenters as an "Internet water army" (shuijun 水军): a group of online ghostwriters paid to post comments to manipulate a company's public relations. They also threatened to take legal actions against these commenters.
The company issued the statement on November 16, saying that the model with the alarm function would not be available on the Chinese market and that the alarm function is specifically designed for customers in overseas regions. They later removed the commercial from their website and from all other online platforms.
"Don't discredit netizens by labeling us as a 'water army.'"
Online commenters denied the criticism on Huawei was part of a larger conspiracy against the brand. "Don't discredit netizens by labeling us as a 'water army,'" one popular comment on Weibo by microblogger @Zhuzhou (@煮肘) says. The netizen, who received much backing, also writes that "companies should not contribute to spreading religion."
Huawei is one of China's most popular smartphone brands. Its model Huawei Mate 10, the follow-up to last year's Mate 9 along with the Huawei Mate 10 Pro, became a trending topic on Weibo in October, with the hashtag #华为Mate10# receiving over 480 million views in some days time.
On Weibo, many commenters say that they feel that brands such as Huawei should maintain a neutral image.
One blogger wrote: "That Huawei has added a smartphone function to remind Muslims to pray is actually a small thing, causing a big wave [of controversy] online. Technology companies should indeed take a neutral position in their design, and should not build in this kind of special religious (..) functions. It is really easy to design an app for prayer reminder; Huawei is doing more than it should."
"A recurring keyword in these online discussions is 'halalification.'"
The latest Huawei controversy follows consecutive online controversies in China over the past years concerning companies or institutions adapting to the diet or lifestyle of Muslim communities.
Earlier this year, delivery app Meituan sparked online anger when it introduced separate boxes for its halal food deliveries. Many netizens said the measure discriminated against non-Muslims, or said that if there are special boxes for food for Muslims, there should also be special boxes for food for Buddhists, Daoists, atheists, etc.
In September last year, the introduction of special "Muslim-only" shower cabins at a Chinese university also provoked anger about alleged "Muslim privilege."
A recurring keyword in these kinds of online discussions is "qīngzhēn fànhuà" (清真泛化). It basically means 'halal-ification' or 'halal generalization,' but because qīngzhēn also means 'Islamic,' it can also imply 'Islamization.'
Those who oppose the spread of halal food or special services for Muslims in the PRC connect the normalization of Islamic dietary laws and lifestyle to an alleged greater societal shift towards Islam.
In response to heated discussions and growing online anti-Islamic sentiment, Chinese authorities blocked various online words that are considered demeaning to Muslims in September of this year for "undermining ethnic unity."
"I do not understand why a customized service for Saudi Arabia would appear on the official Chinese Huawei website."
On Weibo, the 'Huawei incident' or 'Mate 10 Incident' (mate10事件) has become a much-discussed topic, especially after Huawei issued its statement that the phone with the built-in prayer and mosque locator function was designed for overseas usage.
Many netizens are angry about Huawei's response to the issue, not just because they took the criticism as an organized attempt to smear the brand's image, but also because they did not explain why a function meant for overseas markets would be advertised within China.
Netizen @GoogleMuqin (@google木沁) writes:
"This is my attitude about the mate10 incident:
1. I do understand that Huawei releases customized products for Muslim countries such as Saudi Arabia, and I support that.
2. I do not understand why a customized service for Saudi Arabia would appear on the official Chinese Huawei website.
3. And I loathe the patronizing attitude of Huawei in responding to this issue."
The 'alarm clock incident' is triggering so much criticism online, that many people consider it a 'PR crisis' for Huawei.
"I think that people are not so much upset about whether or not the phone has this function or not, but they are more upset about Huawei's reaction to this issue," one commenter says: "If this function is not available in China, why did Huawei advertise it on so many platforms in China, is this not misleading conduct?"
There are also people who do not understand what all the fuss is about in the first place: "As a Huawei user, I am not offended at all by this function. I have many Muslim friends, and they respect my preferences and I respect their religion."
It's all just business, many also say: "There are 1.6 to 2.1 billion Muslims in this world. China also has some twenty million. As a commercial company, it is understandable that Huawei does this."
One netizen (@夜光边) writes: "This is not a sign of Huawei's friendly relations with Muslims (..), it is just a sign that they are targeting Muslims as their customers. If you're not Muslim, then just don't use this function. It won't affect you at all."
By Manya Koetse
@manyapan
Follow @whatsonweibo
Spotted a mistake or want to add something? Please let us know in comments below or email us.
©2017 Whatsonweibo. All rights reserved. Do not reproduce our content without permission – you can contact us at info@whatsonweibo.com.