"Watermelons Will Not Respond to Your Knocking" Sign Goes Viral on Chinese Social Media
A sign asking customers 'not to tap the watermelons' in an Italian supermarket has recently caused much upheaval on Chinese social media, where many people think the no "watermelon tapping" policy is specifically directed at Chinese customers.
A sign asking customers 'not to knock on watermelons' in an Italian supermarket has recently caused much upheaval on Chinese social media, where many people think the no "watermelon knocking" policy is specifically directed at Chinese customers.
"Please stop knocking on the watermelons; they will not respond to it!!!" – this is the Italian supermarket sign that has recently caused much amused discussion amongst Chinese netizens. Over the past few days, the Italian notice has become the topic of conversation on Chinese social media as it was shared by netizens thousands of times.
The "watermelon knocking" notice can be seen sticking out of a cart of watermelons in what allegedy is an Italian supermarket. The picture has especially created much discussion since multiple Chinese media reported it was a notice specifically aimed at Chinese customers.
Many netizens, however, do not believe it and suggest that "watermelon-knocking" is a global practice.
The picture has been posted on Chinese social media by many different Chinese news media with the additional tag "Italian supermarket's note to the Chinese". Chengdu Commercial Paper (@成都商报) and Sina Tianjin (@新浪天津), for example, both posted the following blog:
"Italian supermarkets set up a sign for Chinese customers: "Dear customer, please do not tap the watermelons again. They really will not respond!!!" If you are there, what do you want to say to the Italian supermarket?"
The Chengdu Commercial Newspaper post alone already was shared 7700 times within a day, and the watermelon discussion continues on many different Weibo accounts. Many netizens find the picture amusing and stress the importance of "melon-knocking" to pick a good melon.
"We have been communicating with watermelons for thousands of years. We can hear their life story with a simple knock", joked one netizen.
"I just want to say hello. If it does want to not respond, it's their own business. At least I can show my passion", another netizen remarked.
Some netizens believe that "watermelon-knocking" is an exclusive practice of the Chinese, and find the supermarket advice unreasonable: "Knocking before eating is the basic respect we show watermelons. Respect, do you understand? No, you don't understand. Only we from the land of politeness can understand", writes one netizen.
While some netizens seem to have much fun by participating in the "melon communication" discussion, many other netizens simply want to know the truth behind the news reports, asking: "Excuse me, but which word actually means 'Chinese'?"
A few netizens are angry at the media for spreading rumors. One netizen writes under the Chengdu Commercial News post: "This is mainstream media talking negatively about its fellow countrymen. I suppose you don't even understand what is written on the board? (..) Aren't you ashamed of yourself, using such tricks to attract attention?"
There are also people who are angered that Chinese abroad are often associated with negative things: "When people see anything negative in foreign countries, they immediately associate them with things at home. So deplorable!"
[rp4wp]
In the meantime, there has been some clarification about the picture. Chinese media channel iRead (@壹读) stated that the notice targets customers in general, and provided evidence of how knocking is a global practice of melon testing in the form of an American chef explaining that a good melon should "feel heavier than it looks" and should have a "nice hollow sound when you hit it".
That watermelon-knocking is a serious issue became clear in 2013, when Chinese students developed a special 'pick a good watermelon app'. The Chinese app, simply titled 'Listen to the Watermelon' (听西瓜), determines whether or not a watermelon is ripe based on its tapping sound (SCMP 2013).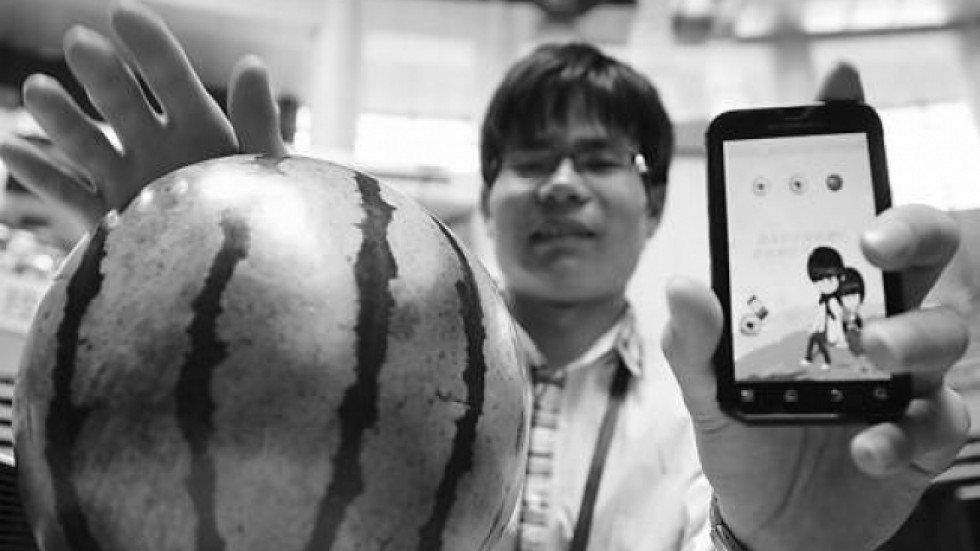 Despite the different online reactions, discussion of the Italian watermelon sign shows that many Chinese are sensitive to how they are perceived abroad. The recent news hoax on Chinese people selling human meat in Africa, or the 2015 news about Switzerland introducing special trains for loud Chinese tourists all became big topics on Chinese social media. Many Chinese netizens have stressed that they are aware of the negative stories surrounding their overseas tourists, and often speak about improving their global image.
In this case, however, Chinese netizens can be rest assured that the watermelon knocking sign is not specifically directed at them. Watermelon knocking is something everybody apparently does – whether or not the melon will respond does not seem to be an issue.
– By Diandian Guo 
Follow @WhatsOnWeibo
©2016 Whatsonweibo. All rights reserved. Do not reproduce our content without permission – you can contact us at info@whatsonweibo.com.
BBC: Extreme Eating Trends and the Rise of Eating Disorders in China
The Food Chain by the BBC investigates the rise of eating disorders in China.
The Food Chain by the BBC investigates the rise of eating disorders in China. What's on Weibo editor Manya Koetse talks about some of China's disturbing internet food trends in this recent episode.
The rise of eating disorders in China is the topic of a recent BBC online radio documentary episode (27 min) within the Food Chain series.
The Food Chain investigates the rise of eating disorders in China: is this an inevitable consequence of economic development? And if so, why are eating disorders still all too often seen as a rich white woman's problem?
In the first of two episodes to explore the rising prevalence of eating disorders outside of the western world, Emily Thomas speaks to women with the illness in China and Hong Kong, who explain how hard it is to access support for binge-eating disorder, bulimia and anorexia, because of attitudes to food and weight, taboos around mental health, and a lack of treatment options. They describe the pressure on women to be 'small' and 'diminutive', but still take part in the country's deeply entrenched eating culture.
A psychiatrist working in China's only closed ward for eating disorders blames an abundance of food in the country, parental attitudes and the competitiveness of Chinese society. She also warns of the dangers of the uncontrolled diet pill industry. From there BBC delves into the sinister world of 'vomit bars' with Manya Koetse.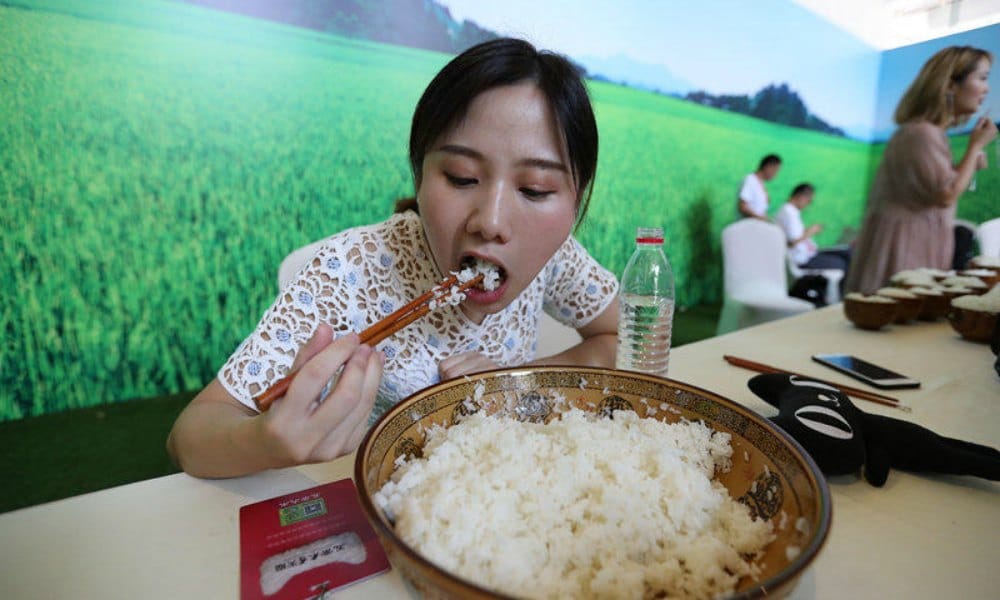 She tells Emily Thomas about the recent craze for live binge-eating among young Chinese women and how some of this is disturbingly followed by 'purging'. Why do they call themselves 'rabbits'? And why does no one use the term 'eating disorder' when talking about these trends?
BBC also explores the link between the rise of eating disorders and economic development. Does there need to be an abundance of food in a society before these problems develop?
To listen to a short fragment on China's binge-eating rabbits by Manya Koetse, click here: https://www.bbc.co.uk/radio/play/p06mw03b .
To listen to the full documentary, please click here: https://www.bbc.co.uk/radio/play/p06mw03b.
Also read: Anorexia in China, and our article on Extreme Eating Trends.
Spotted a mistake or want to add something? Please let us know in comments below or email us.
©2018 Whatsonweibo. All rights reserved. Do not reproduce our content without permission – you can contact us at info@whatsonweibo.com
Binging and Purging as Online Trend: From China's "Big Stomach Stars" to "Vomit Bars"
China's 'Big Stomach Stars' are all the rage – but is it really just harmless entertainment?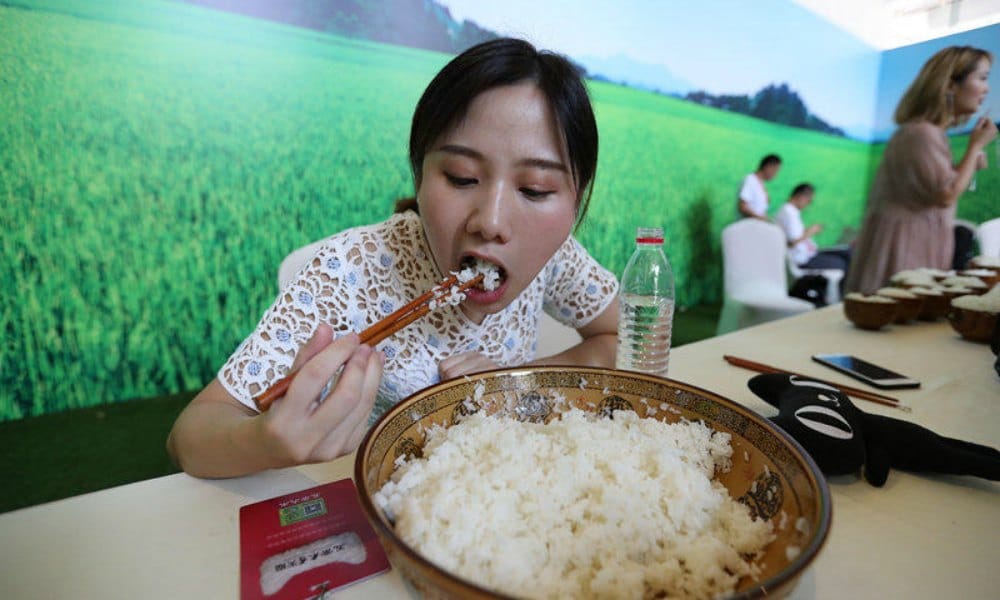 Skinny girls that eat a week's worth of food in one sitting: Chinese binge-eating vloggers are all the rage recently. But behind their cute image and happy fans, there are darker online discussions tying them to self-induced vomiting – something that is promoted in China's so-called 'vomit bars.' How innocuous is this social media extreme-eating trend?
Mimi Zhang (aka Mizi Jun 密子君) has over seven million fans on her Weibo page. She regularly hits the top trending lists on Chinese social media, and even has her own online fanclubs.
Unlike previous rising Chinese social media stars such as Papi Jiang, the 26-year-old Mimi from Chongqing did not become an online celebrity because of her comic skills or acting talent, nor for her singing voice or dance moves. Mimi Zhang became famous for eating 8 lb (4 kg) of rice in one sitting, during an eating challenge in 2016.
By now, Mimi is one of China's most successful 'Eating Broadcasting' hosts. Also called 'Big Stomach Star Eating Livestream' (大胃王吃播) or 'Livestream Eating Vlogging' (吃播女博主) in China, it is an online video genre in which hosts will consume extremely large amounts of food.
In South Korea, it is known as the 'mukbang' phenomenon, and the craze started there some years earlier, peaking in 2016. 'Eating Broadcasting' stars such as Kinoshita Yuka (video) and BJ The Diva (video) already had their moments of fame on the internet in South Korea, Japan, and beyond, but the genre only recently has become a real hype on Chinese social media.
Binging on Camera
Looking at the number of views and subscribers from YouTube to Twitch, or on platforms such as Kuaishou or Douyin, the 'Eating Broadcasting' genre obviously has millions of fans worldwide.
This online movement is innocuous in many ways. According to experts, people enjoy watching others eat because they feel a social connection, or want to stimulate their own appetite – it is one of the reasons why the craze is also dubbed 'social eating.'
For many, the genre is simply entertaining; hosts often eat unconventional dishes, they are descriptive with taste, play around with their expressions, take on challenges, talk, and make funny sounds while eating.
But what if 'social eating' becomes 'binge eating'? How harmless is the genre if it shows skinny women eating excessive amounts of food, inadvertently promoting unhealthy eating habits and unrealistic standards?
Along with Mimi Zhang, 'Big Stomach Mini'(@大胃mini) is one other among many Chinese livestreamers that has achieved online stardom by eating large amounts of food. The 24-year-old reportedly is 1,70 m. tall and only weights 47 kilograms (103lbs), yet recently managed to eat a staggering 17 kg (35 pounds) of meat (video).
More and more, netizens are starting to connect these live-streamers to a habit of purging. Ongoing rumors suggest a supposed connection between binge streaming and vomiting.
Recently, various accounts claimed that Mimi Zhang used to have an account (using the name 'Little Mi 360' 小密360) on an online forum where people, mainly women, encourage each other to binge and purge.
China's "Vomit Bar" (催吐吧) Community
China's so-called "Vomit Bars" (催吐吧), online forums focused on binging and purging, have formed a hidden community on Chinese internet for years.
The phenomenon already came to light in 2012, and started to receive news media attention within China in 2015 and 2016. Most of the bigger online forums got shut down in 2017, however, after rumors circulated that a member of a 'Vomit Bar' had reached such a low weight that her organs failed and she passed away.
Nevertheless, the online community consists of thousands of people, mainly women aged 14-40. A previously well-known forum on Baidu (now shutdown) had around 50,000 members called 'rabbits' (兔子) and over 5,5 million posts.
Since then, there are still some scattered forums, and a special Android app called 'Meet Like Rabbits' (相识于吐), where users can share their experiences and tips on message boards. On WeChat's group chats, members of the community have more freedom to talk in private with less risk of being shut down.
Members of the online 'purging community' are called 'rabbits' since the Chinese word for rabbit, tuzi (兔子), sounds similar to the word for 'purging' (tu 吐), and also because they eat all day, just like rabbits.
The main goal of these online forums is to share tips and tricks on how to lose weight by purging, while still binging on food. People also post photos of their binges or body, and share their hopes and fears in losing weight. "The way it is now, I could maintain a weight of around 46 kilograms," one 'rabbit' writes: "I think it's fat. My heart is filled with panic. I can only vomit."
Newcomers ask others about best ways to vomit, and some people who say they've been binging and purging for years share experiences about their painful stomach and tooth decay.
Doctor Ma Yongchun (马永春) from Zhejiang Tongde Hospital since long has been warning people that these kind of online forums are harmful. She told iFeng news that the so-called 'rabbits' get caught up in a vicious cycle of binging and purging, and in doing so are developing serious eating disorders that can become life-threatening.
Eating Disorders in China
The Chinese 'rabbit' community could perhaps be compared to the Western 'pro-ana' phenomenon, an online movement where people promote the behavior related to the eating disorder anorexia nervosa.
But there is one major difference; the 'pro-ana' community is connected to the term 'anorexia', suggesting that users of such forums are somewhat aware their behaviors are a sign of an actual eating disorder.
In these Chinese online communities, however, there seems to be a lesser acknowledgment that the cycle of binging and purging is one that belongs in the realm of a psychological disorder. Although people do complain that they feel they can no longer stop their irregular eating pattern, they talk more about their stomach aches and ulcers than they actually talk about suffering from an eating disorder.
This perhaps relates to the fact that there is little general awareness about eating disorders (ED) in China. Although there are no official statistics on the occurrence of bulimia, anorexia, or other ED in China, previous studies have found levels similar to Western countries (Tong et al 2014).
What various studies over the past years have also established is that there are major differences between Western countries and China in how eating disorders manifest themselves, suggesting they are not culture-bound but culture-reactive (Getz 2014, 749; Pike & Dunne 2015).
Because EDs are (1) traditionally conceptualized as a "Western mental health issue," because (2) there is a social stigma attached to mental health issues in general in Chinese society, because (3) there is little general awareness on EDs, because (4) there is a lack in Chinese healthcare facilities specialized in EDs, and because of (5) various cultural factors (e.g. a very strong food culture), Chinese patients are more prone to talk about their problems in the form of somatic symptoms such as an extreme (dis)taste for food or abdominal problems, than in the form of a psychological problem (Getz 2014, 746-750).
Growing Awareness?
Recently, Chinese media slowly seem to be promoting more awareness on eating disorders. The American video "I became Anorexic for Instagram" has gone viral on Chinese social media over the past month, as it was posted by various state media channels on Weibo.
Among thousands of reactions, many said: "It seems that this kind of disease doesn't occur much in China – we have too many tasty food!" Others said: "I want to lose weight too – I want an eating disorder like this!"
But there are also more and more people who are tying the rise of China's online unhealthy eating trends to more serious issues. "These girls who eat so much [on camera] do not just have big stomachs, they actually puke in order to eat so much. I don't find it entertaining to watch them anymore," one netizen (@有兔劳劳) says.
"I now find it sad to watch these 'big stomach stars' (大胃王)," another person says: "They definitely vomit – it's impossible for one person's stomach to hold so much food."
"What's up with all these 'big stomach stars' recently? It's not something they were born with, or something they were trained in doing; they are like those 'rabbits' and it is a disease, it's bulimic. I don't want to support them anymore by watching how they harm themselves," another commenter writes.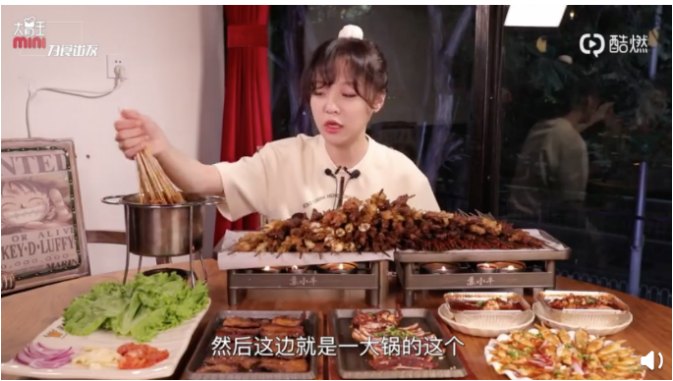 Meanwhile, China's binge-eating online stars seem to be unaffected by the online rumors that connect them to unhealthy trends and eating disorders.
This week, Mimi Zhang has posted her latest video in which she finishes a total of 15 desserts, while 'Big Stomach Mini' has posted a new video in which she eats, amongst others, 250 skewers of meat.
For some commenters, there is no issue at all: "She just has a great appetite."
Are you suffering from an eating disorder and need help? For information on eating disorders and how to help if you are worried about someone, Beat (UK) or ANAD (US) has advice for sufferers, friends and family.
By Manya Koetse
Follow @whatsonweibo
References (online references linked to in text)
Getz, M.J. 2014. "The Myth of Chinese Barbies: Eating Disorders in China including Hong Kong." Journal of Psychiatric and Mental Health Nursing 21: 746-754.
Pike, Kathleen M., and Patricia E. Dunne. 2015. "The Rise of Eating Disorders in Asia: a Review." Journal of Eating Disorders 3:33. Available online https://jeatdisord.biomedcentral.com/articles/10.1186/s40337-015-0070-2 [17.1.18].
Tong, J., Miao, S., Wang, J. et al. 2014. "A Two-stage Epidemiologic Study on Prevalence of Eating Disorders in Female University Students in Wuhan, China." Social Psychiatry and Psychiatric Epidemiology 49(3): 499-505.
Directly support Manya Koetse. By supporting this author you make future articles possible and help the maintenance and independence of this site. Donate directly through Paypal here. Also check out the What's on Weibo donations page for donations through creditcard & WeChat and for more information.
Spotted a mistake or want to add something? Please let us know in comments below or email us.
©2018 Whatsonweibo. All rights reserved. Do not reproduce our content without permission – you can contact us at info@whatsonweibo.com.