"Watermelons Will Not Respond to Your Knocking" Sign Goes Viral on Chinese Social Media
A sign asking customers 'not to tap the watermelons' in an Italian supermarket has recently caused much upheaval on Chinese social media, where many people think the no "watermelon tapping" policy is specifically directed at Chinese customers.
A sign asking customers 'not to knock on watermelons' in an Italian supermarket has recently caused much upheaval on Chinese social media, where many people think the no "watermelon knocking" policy is specifically directed at Chinese customers.
"Please stop knocking on the watermelons; they will not respond to it!!!" – this is the Italian supermarket sign that has recently caused much amused discussion amongst Chinese netizens. Over the past few days, the Italian notice has become the topic of conversation on Chinese social media as it was shared by netizens thousands of times.
The "watermelon knocking" notice can be seen sticking out of a cart of watermelons in what allegedy is an Italian supermarket. The picture has especially created much discussion since multiple Chinese media reported it was a notice specifically aimed at Chinese customers.
Many netizens, however, do not believe it and suggest that "watermelon-knocking" is a global practice.
The picture has been posted on Chinese social media by many different Chinese news media with the additional tag "Italian supermarket's note to the Chinese". Chengdu Commercial Paper (@成都商报) and Sina Tianjin (@新浪天津), for example, both posted the following blog:
"Italian supermarkets set up a sign for Chinese customers: "Dear customer, please do not tap the watermelons again. They really will not respond!!!" If you are there, what do you want to say to the Italian supermarket?"
The Chengdu Commercial Newspaper post alone already was shared 7700 times within a day, and the watermelon discussion continues on many different Weibo accounts. Many netizens find the picture amusing and stress the importance of "melon-knocking" to pick a good melon.
"We have been communicating with watermelons for thousands of years. We can hear their life story with a simple knock", joked one netizen.
"I just want to say hello. If it does want to not respond, it's their own business. At least I can show my passion", another netizen remarked.
Some netizens believe that "watermelon-knocking" is an exclusive practice of the Chinese, and find the supermarket advice unreasonable: "Knocking before eating is the basic respect we show watermelons. Respect, do you understand? No, you don't understand. Only we from the land of politeness can understand", writes one netizen.
While some netizens seem to have much fun by participating in the "melon communication" discussion, many other netizens simply want to know the truth behind the news reports, asking: "Excuse me, but which word actually means 'Chinese'?"
A few netizens are angry at the media for spreading rumors. One netizen writes under the Chengdu Commercial News post: "This is mainstream media talking negatively about its fellow countrymen. I suppose you don't even understand what is written on the board? (..) Aren't you ashamed of yourself, using such tricks to attract attention?"
There are also people who are angered that Chinese abroad are often associated with negative things: "When people see anything negative in foreign countries, they immediately associate them with things at home. So deplorable!"
[rp4wp]
In the meantime, there has been some clarification about the picture. Chinese media channel iRead (@壹读) stated that the notice targets customers in general, and provided evidence of how knocking is a global practice of melon testing in the form of an American chef explaining that a good melon should "feel heavier than it looks" and should have a "nice hollow sound when you hit it".
That watermelon-knocking is a serious issue became clear in 2013, when Chinese students developed a special 'pick a good watermelon app'. The Chinese app, simply titled 'Listen to the Watermelon' (听西瓜), determines whether or not a watermelon is ripe based on its tapping sound (SCMP 2013).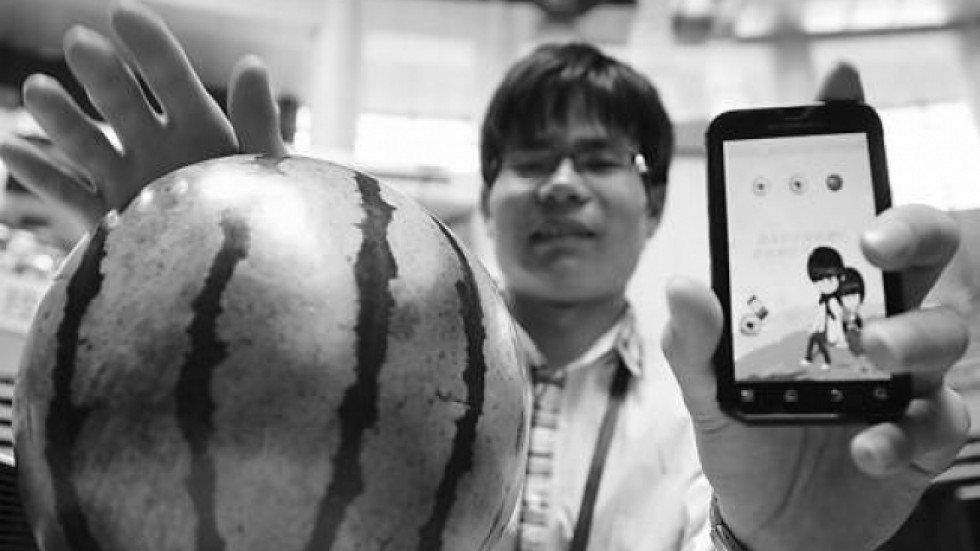 Despite the different online reactions, discussion of the Italian watermelon sign shows that many Chinese are sensitive to how they are perceived abroad. The recent news hoax on Chinese people selling human meat in Africa, or the 2015 news about Switzerland introducing special trains for loud Chinese tourists all became big topics on Chinese social media. Many Chinese netizens have stressed that they are aware of the negative stories surrounding their overseas tourists, and often speak about improving their global image.
In this case, however, Chinese netizens can be rest assured that the watermelon knocking sign is not specifically directed at them. Watermelon knocking is something everybody apparently does – whether or not the melon will respond does not seem to be an issue.
– By Diandian Guo 
Follow @WhatsOnWeibo
©2016 Whatsonweibo. All rights reserved. Do not reproduce our content without permission – you can contact us at info@whatsonweibo.com.
These Chinese School Are Awarding Excellent Students with Pork Meat Gifts
Awarding excellent students with raw meat or even fresh fish seems to be a new trend in Chinese schools.
First published
A number of schools in China have recently introduced a new gift for outstanding students at the end of term ceremony: no books, no pens, but a chunk of meat that can be shared with the entire family.
A remarkable award ceremony at a middle school in Fuyang, Anhui province, has attracted the attention of Chinese netizens this week for the meat gifts the school offered to its outstanding students.
The award ceremony was held on January 26 at the Anhui Fuyang No. 1 Middle School. The five best students of every class were each rewarded with 2,5 kilogram (5.5 pounds) of pork meat.
At the end of the ceremony, a total of 600 students took home a staggering 1500 kilogram (3306 pounds) of pork meat in total.
Chinese media outlets Pear Video and We Video posted video reports of the noteworthy event on their channels (link and link) on January 28.
Although the initiative of this particular school came as a surprise to many netizens, more schools across China are introducing these kinds of food gifts to their students lately.
"Nowadays, every household has enough stationery. So we came up with the idea to award our students with pork meat instead."
The director of the Anhui school, Mister Sun (孙), told reporters: "In the past, the school always awarded its best students with pencils and notebooks. But nowadays, every household has enough stationery. So we came up with the idea to award our students with pork meat instead."
The pork meat, gifted in a bag with a pig on it, was given just in time for the upcoming Chinese Spring Festival, which celebrates the start of the Year of the Pig this year.
Sun further added: "The students' hard work is rewarded with something they can take home and share with their family members and other people they love. In this way, they can also experience the gratefulness of others."
The Fuyang middle school is not the first school that awards its students by offering them fresh meat products. Recently, several stories of Chinese schools awarding their students with meat gifts made their rounds on Chinese social media.
A primary school in Liuzhou, in a mountainous and impoverished area of Guangxi province, received the praise of many netizens when they awarded their 71 most outstanding students with 1,5 kilogram of unwrapped pork meat on a string. It is the second year in a row that the school chose to present its students with a meat gift.
At another school in Dongguan, Guangdong province, the 90 most outstanding students were each rewarded with a fresh fish earlier this month. The fish were caught from the Humen Wharton School's own pond, The Paper reports.
In a recent interview, director Wu (吴) of the Dongguan Humen Wharton School told The Paper that the fish are usually fed with the leftovers from the school canteen. By rewarding the students with these fish, Wu said, the school not only hopes to make the pupils happy, but also hopes to increase their awareness on the ecological environment.
"This is the reality. When you work hard, you'll have meat to eat."
Last year, a school in Fujian's Nan'an awarded 30 of its highest-scoring students with a pork leg, something that also attracted the attention online at the time. More schools, including one in Shanwei, then followed their example.
On Weibo, various hashtags relating to the new 'trend' are making their rounds. "Middle School Awards Its Students with 1500 Kilogram of Pork Meat" (#中学用3000斤猪肉表彰学生#) received over 5.5 million views this week. "School in Mountainous Area Awards Students with Pork at the End of the Year" (#山区小学期末发猪肉奖状#) had over 3 million views on Weibo.
Chinese netizens applaud the schools for giving these food products to reward students, mainly seeing it as a way to boost the children's confidence.
"This is great!" one commenter wrote: "The students can really experience how it feels to earn something and what it feels like to contribute. And at the same time, they can share and enjoy their achievements with their family."
"What a great award," others say: "They'll feel so proud to bring this back home."
"This is the reality. When you work hard, you'll have meat to eat. Why weren't there such good schools around when I was a kid?", a Weibo user says.
It is a tradition in China to hold an award ceremony at the end of the semester. During the ceremony, that is attended by the school's students, teachers, and sometimes (grand)parents, the best students are praised for their accomplishments. The purpose of the award ceremony and the public praise is to let the excellent students set an example for their fellow classmates, and to motivate the students.
But not everyone is equally positive about the initiative. "The intention is good, but how attractive is it for a child to receive a pork leg nowadays?" one man from Guangdong wonders: "Isn't it more and more uncommon for people to perceive meat as something that's rare to eat?"
"It's not about the meat itself," others argue: "It's about bringing home something and making them feel accomplished."
Among the few voices criticizing the idea, there are also those who advocate vegetarianism and think it would be more valuable to teach children the value of living creatures rather than to give them pork.
Others argue that the pork meat gift is not 'halal.'
But the vast majority of commenters still praise the initiative, saying it is honest, nutritious, and lets the whole family benefit from their child's accomplishments. For some, the idea is simple and straightforward: "Those who study hard get to eat meat."
By Gabi Verberg and Manya Koetse
Spotted a mistake or want to add something? Please let us know in comments below or email us.
©2019 Whatsonweibo. All rights reserved. Do not reproduce our content without permission – you can contact us at info@whatsonweibo.com
Another Hotpot Controversy: Famous Food Critic Wants Hotpot Gone
Hotpot discussions are getting heated.
One of China's most famous food critics would rather see hotpot disappear, but hundreds of Chinese netizens do not agree at all.
After a hotpot restaurant became top trending on Weibo yesterday for recruiting 'Ivy League' graduates as waiters, another hotpot controversy has hit Chinese social media.
This time, the renowned Hong Kong food critic and cookbook writer Chua Lam (蔡瀾, Cai Lan) has stirred discussions among Chinese netizens over comments he made during an appearance on the Hunan TV talk show Day Day Up (天天向上/Tiantian Shangtian), SupChina and The Guardian reported on January 3rd.
When asked by one of the hosts of the show what dishes he would love to see disappear from the world, Chua answered: hotpot.
"Hotpot is the cooking style that lacks culture the most," the food critic added: "You just throw the ingredients in there, there's nothing tasty about it." Because the hotpot allegedly has no cultural significance and because the cooking style is so easy, the critic suggested it might as well disappear altogether.
Chua Lam is a popular personality on social media. On his Weibo account, he has more than ten million fans.
Read the full story at Hotpot Ambassador here.
By Manya Koetse
Follow @whatsonweibo
Spotted a mistake or want to add something? Please let us know in comments below or email us.
©2019 Whatsonweibo. All rights reserved. Do not reproduce our content without permission – you can contact us at info@whatsonweibo.com