"Too Loud, Too Rude": Switzerland Introduces Separate Trains for Chinese Tourists
"They're loud and rude, and spit on the floor."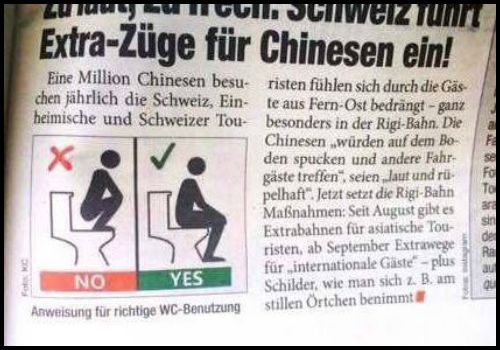 Switzerland has introduced special coaches for Chinese tourists, as locals consider them to be 'loud' and 'rude'. The news has triggered mixed reactions amongst Weibo's netizens.
According to China's National Tourism Administration (中国国家旅游管理局), China now sends more tourists abroad than any other country in the world. The number of Chinese outbound tourists exceeded 100 million in 2014, spending $155 billion.
Although destination countries welcome the money spent by Chinese travelers, locals often can't stand the chaos and hassle some Chinese tourists bring to their countries. They consider them to be loud, rude, pushy, and all over the place.
"They're loud and rude, and spit on the floor."

Such is the case in Switzerland, visited by one million Chinese tourists every year. Locals and Swiss tourists often feel harassed by the Chinese, Heute reports, especially on the famous Rigi Railways. Chinese tourists are said to be "loud and rude", and they "spit on the floor". Their misbehavior has lead Rigi Railways to take special measures: since August there are extra trains for 'Asian tourists', and from September extra ones for 'international guests'. There are also special signs on the toilet explaining tourists how (not) to use the toilet, according to Heute.
Although Rigi Railways officially has opened extra train carriages for 'Asian guests', a local Swiss newspaper clearly stated they were especially meant for Chinese, its headline being: "Zu laut, zu frech – Schweiz führt Extra-Züge für Chinesen ein" ("Too Loud, Too Rude: Switzerland Introduces Extra Trains for Chinese Tourists").
The newspaper also published one of the train's illustrations that instruct tourists to sit on toilet seats rather than to squat on them. The railway company assumes that Chinese tourists often stand on the toilet, and don't clean their footprints afterwards.
"Some Chinese have bad manners, but we're not all like that."

Once the news was posted on Sina Weibo on August 25th, it gained nearly 2000 comments in one day. The reactions were mixed.
Many users consider it to be discrimination against Chinese tourists. User "Shiya" doubts Europeans can tell the differences between Asians: "They can't distinguish the different Asians from different countries. Chinese, Japanese and Koreans probably look the same to them. Why are they so sure that the footprints are left by Chinese? The news says that the extra coaches are meant for Asians. However, it tried to draw the public's attention by emphasizing it is for Chinese in the title. This is discrimination."
User "Luoluo" follows: "I thought people from western countries advocate freedom and equality, and that they oppose to discrimination. But to me, this [the news] is pure and simple discrimination. I admit that some Chinese don't really have good manners, but it doesn't mean we are all like that. I'm fed up that we are blamed for all the uncivilized behavior by Asians. Of course we need to stand up against misbehaviour, but we can't endure the discrimination."
"If you're used to squatting, you just can't poo by sitting on the toilet."

Some users try to explain the culture of squatting on the toilet in China. Although 'western-style' toilets are popular in China's bigger cities and airports, there are still lots of squatting toilets, especially in rural areas. Weibo user "JaneyPan" says that from a physiological standpoint, squatting is the best toilet position. "If you are used to squatting, you just can't poo by sitting on the toilet. But I agree that we need to clean the footprints afterwards." She then adds: "Maybe the Switzerland railway should consider building squatting toilets on the carriages meant for Chinese tourists."
"They think they can do anything they want because they have money."

A large number of netizens also self-reflect, saying it is high time to promote civilized behaviour amongst Chinese travelers, and restore the country's image. User "Beer Happiness" comments: "Many Chinese now want to travel abroad to see the world as we are getting wealthy. Yet, a small amount of Chinese tourists with low quality have damaged our nation's image. Most foreigners haven't been to China. They know things about China through the news. That's why they think all Chinese people are rude."
The Switzerland railway issue is not the first case where Chinese tourists are treated differently. Earlier this year, Mainland Chinese tourists were temporarily banned from entering the Wat Rong Khun temple, one of the top tourist destinations in Chiang Rai, Thailand, because of inappropriate toilet usage. The temple was reopened to Chinese tourists on the condition that their tour guides would be held responsible for cleaning the toilets. As user "Xj" suggests: "The tour guide should give etiquette lessons to its clients, especially to the middle-aged tourists. They think can do anything they want because they have money. This is wrong."
The Chinese government has taken actions to stop the uncivilized behaviour of Chinese tourists abroad. The National Tourism Administration has started to track the actions of Chinese citizens abroad since last year April. Provincial and national authorities will be in touch with unruly citizens upon their return to China. This measurement came into effect after a group of Chinese travelers scalded a flight attendant with hot water and threatened to blow up a plane from Bangkok to Nanjing.
"The saddest thing when traveling abroad is to witness the bad behaviour of our people. They really harm China's reputation," says user "FPA": "I understand the intention of these foreign countries who treat Chinese tourists differently. I mean, who wants to travel with Chinese tourists who are loud, rude and fight over small things?" In the end, like a lot of other netizens, user "FPA" calls on Chinese travelers to respect the locals and their culture: "We are making progress on this. I just hope foreign countries won't discriminate against us."
Fangcang Forever: China's Temporary Covid19 Makeshift Hospitals To Become Permanent
China's temporary 'Fangcang' shelter hospitals are here to stay.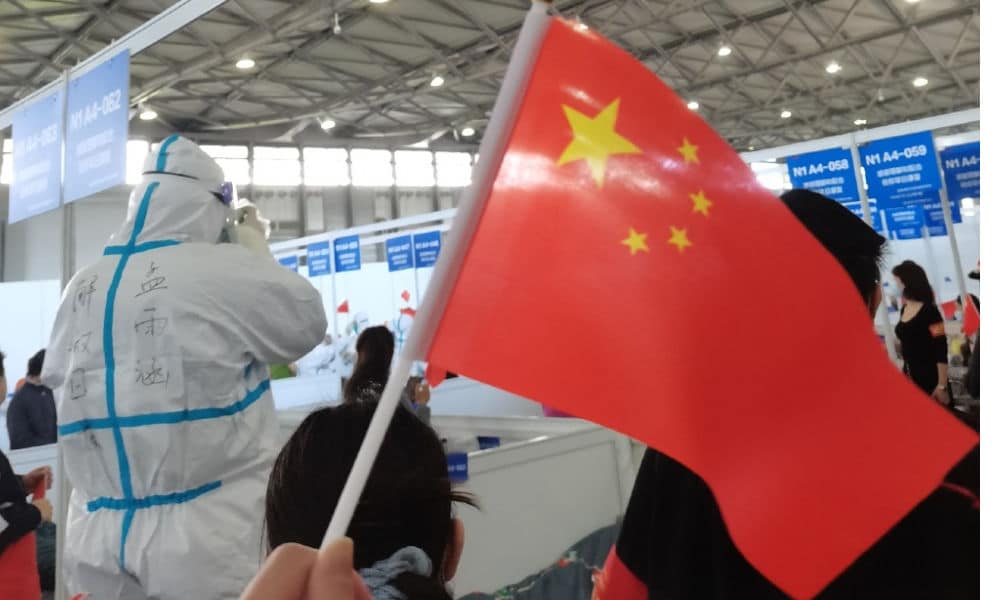 A new term has been added to China's pandemic lexicon today: Permanent Fangcang Hospital. Although China's 'Fangcang' shelter hospitals are, by definition, temporary, these healthcare facilities to isolate and treat Covid patients are now becoming a permanent feature of China's Zero-Covid approach.
Over the past few days, Chinese authorities have emphasized the need for China's bigger cities to build or renovate existing makeshift Covid hospitals, and turn them into permanent sites.
So-called 'Fangcang hospitals' (方舱医院, square cabin hospitals) are large, temporary makeshift shelter hospitals to isolate and treat Covid-19 patients. Fangcang shelter hospitals were first established in China during the Wuhan outbreak as a countermeasure to stop the spread of the virus.
They have since become an important part of China's management of the pandemic and the country's Zero-Covid policy as a place to isolate and treat people who have tested positive for Covid-19, both asymptomatic and mild-to-moderate symptomatic cases. In this way, the Fangcang hospitals alleviate the pressure on (designated) hospitals, so that they have more beds for patients with serious or severe symptoms.
On May 5th, Chinese state media reported about an important top leadership meeting regarding China's Covid-19 situation. In this meeting, the Politburo Standing Committee stressed that China would "unswervingly adhere to the general Zero-Covid policy" and that victory over the virus would come with persistence. At the meeting, chaired by Xi Jinping, the seven-member Politburo Standing Committee also declared that China would fight against any words or acts that "distort, doubt, or deny" the country's dynamic Zero-Covid policy.
Following the meeting, there have been multiple official reports and statements that provide a peek into China's 'zero Covid' future.
On May 13, China's National Health Commission called on all provinces to build or renovate city-level Fangcang hospitals, and to make sure they are equipped with electricity, ventilation systems, medical appliances, toilets, and washing facilities (Weibo hashtag ##以地级市为单位建设或者改造方舱医院#).
On May 16, the term 'Permanent Fangcang Hospital' (Weibo hashtag #永久性方舱医院) became a trending topic on Weibo after Ma Xiaowei (马晓伟), Minister of China's National Health Commission, introduced the term in Qiushi (求是), the leading official theoretical journal of the Chinese Communist Party.
The term is new and is somewhat contradictory as a concept, since 'Fangcang hospitals' are actually defined by their temporary nature.
Ma Xiaowei stressed the need for Chinese bigger cities to be ready for the next stage of China's Covid control. This also includes the need for some central 'Fangcang' makeshift hospitals to become permanent ones.
In order to 'normalize' the control and monitoring that comes with living in Zero-Covid society, Chinese provincial capitals and bigger cities (more than ten million inhabitants) should do more to improve Covid testing capacities and procedures. Ma proposes that there should be nucleic acid sample collection points across the city within a 15-minute walking distance radius, and testing frequency should be increased to maximize efficient control and prevention.
Cities should be prepared to take in patients for isolation and/or treatment at designated hospitals, centralized isolation sites, and the permanent Fangcang hospitals. The recent Covid outbreak in Shanghai showed that local authorities were unprepared to deal with the outbreak, and sites that were used as Fangcang hospitals often lacked proper facilities, leading to chaotic scenes.
The hashtag "Permanent Fangcang Hospitals" received over 140 million views on Weibo on Monday.
One of the Weibo threads by state media reporting on the Permanent Fangcang hospitals and the publication by Ma Xiaowei received nearly 2000 comments, yet the comment section only displayed three comments praising the newly announced measures, leaving out the other 1987 comments.
Elsewhere on Weibo, people shared their views on the Permanent Fangcang Hospitals, and most were not very positive – most commenters shared their worries about China's Covid situation about the stringent measures being a never-ending story.
"We're normalizing nucleic acid test, we're introducing permanent fangcang hospitals, [but] why isn't the third Covid vaccination coming through?" one person wondered.
"If there was still a little bit of passion inside me, it was just killed by reading these words 'Permanent Fangcang Hospital,'" another commenter writes, with one Weibo user adding: "I feel desperate hearing the words 'Permanent Fangcang Hospital.'"
"Building permanent Fangcang? Why? Why don't you use the resources you're now spending on normalizing testing to create more hospital beds, more medical staff and more medications?"
Another commenter wrote: "China itself is one giant permanent Fangcang hospital."
"The forever Fangcang are being built," one Weibo user from Guangdong writes: "This will never end. We'll be locked up like birds in a cage for our entire life."
For more articles on the Covid-19 topics on Chinese social media, check here.
By Manya Koetse, with contributions by Miranda Barnes
Get the story behind the hashtag. Subscribe to What's on Weibo here to receive our weekly newsletter and get access to our latest articles:
Featured image via user tongtong [nickname] Weibo.com.
Spotted a mistake or want to add something? Please let us know in comments below or email us. First-time commenters, please be patient – we will have to manually approve your comment before it appears.
©2022 Whatsonweibo. All rights reserved. Do not reproduce our content without permission – you can contact us at info@whatsonweibo.com.
'Hard Isolation' is Shanghai's New Word of the Day
In line with a new 'hard isolation' measure, the entrances of some Shanghai residential buildings were fenced up.
While some Shanghai households have already endured weeks of isolation, a new word was added to their epidemic vocabulary today: 'hard isolation' or 'strong quarantine' (yìng gélí 硬隔离)
The word popped up on Chinese social media on April 23rd after some Shanghai netizens posted photos of fences being set up around their community building to keep residents from walking out.
"New word: hard isolation. Shanghai is rotten to the core," one commenter wrote.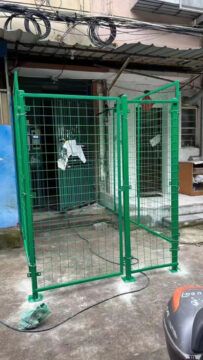 The word soon turned into a hashtag page where people started commenting on the issue of fences being placed around residential buildings, voicing concerns on what a fence around buildings would mean for fire safety, especially after online rumors suggested that there had been a fire at one community in Pudong on Saturday night.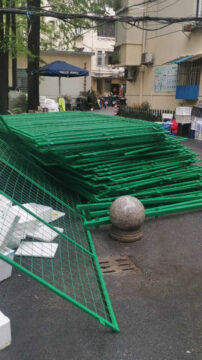 An official document regarding the 'hard isolation' measure was also shared online on Saturday. It is dated April 23, 2022, and its source is the Pudong New Area Office for Epidemic Control.
The document states that in line with the guidelines for the city's epidemic prevention and control, the division between areas or zones that are in certain risk categories should be 'optimized,' with those in the high-risk category requiring a 'hard isolation.' Security guards should also be on duty 24 hours a day at the entrance of the buildings.
Earlier this month, Shanghai adopted "3-level control measures" after its initial phased lockdown. It means that local areas will be classified as "locked-down," "controlled" or "precautionary," based on their Covid19 risk.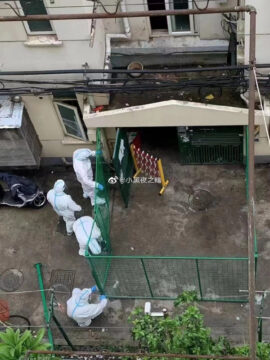 "Could we also put fences around the homes of Shanghai leaders?", one person suggested, while others posted images from the Walking Dead to mock the situation.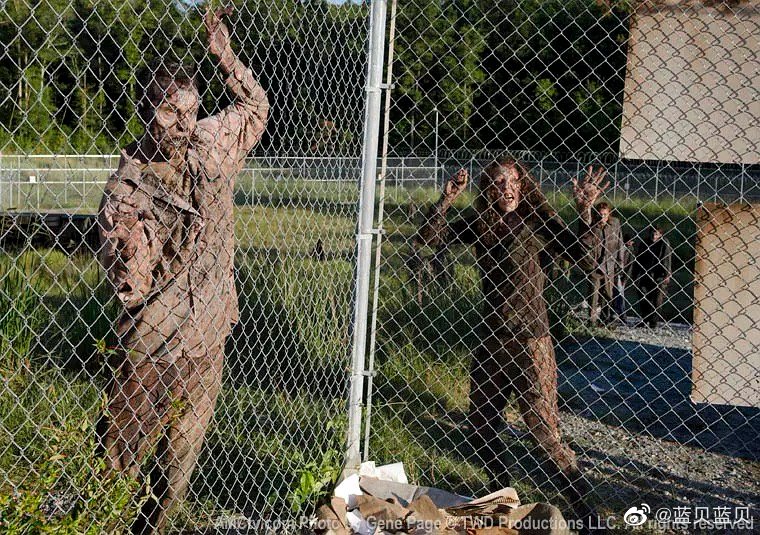 In the hope of Shanghai soon tackling the Covid situation, not everybody disagreed with the decision to fence some buildings or communities in the Pudong area: "I don't disagree with it, as long as there is always someone there to open the fence in case of fire," one person stated.
Although having a fence around their building is currently not a reality for most in Shanghai, the online photos of some communities seeing their buildings being fenced up is a reason to worry for some: "It's been 40 days, and now they start hard isolation? This actually scares me. Before we know it, it's June."
One Weibo user asked: "Why is it possible to implement this hard isolation now? Was this created by the same persons who also implemented the rule to separate children from parents at isolation sites?"
"I truly can't imagine why some people thought this is a good idea," others wrote.
For more articles on the Covid-19 topics on Chinese social media, check here.
By Manya Koetse
Get the story behind the hashtag. Subscribe to What's on Weibo here to receive our weekly newsletter and get access to our latest articles:
Spotted a mistake or want to add something? Please let us know in comments below or email us. First-time commenters, please be patient – we will have to manually approve your comment before it appears.
©2022 Whatsonweibo. All rights reserved. Do not reproduce our content without permission – you can contact us at info@whatsonweibo.com.