Why Russia Is Nicknamed the "Weak Goose" on Chinese Social Media
Multiple Chinese (military) bloggers started using 'weak goose' (菜鹅) term in light of Russia's fading victory.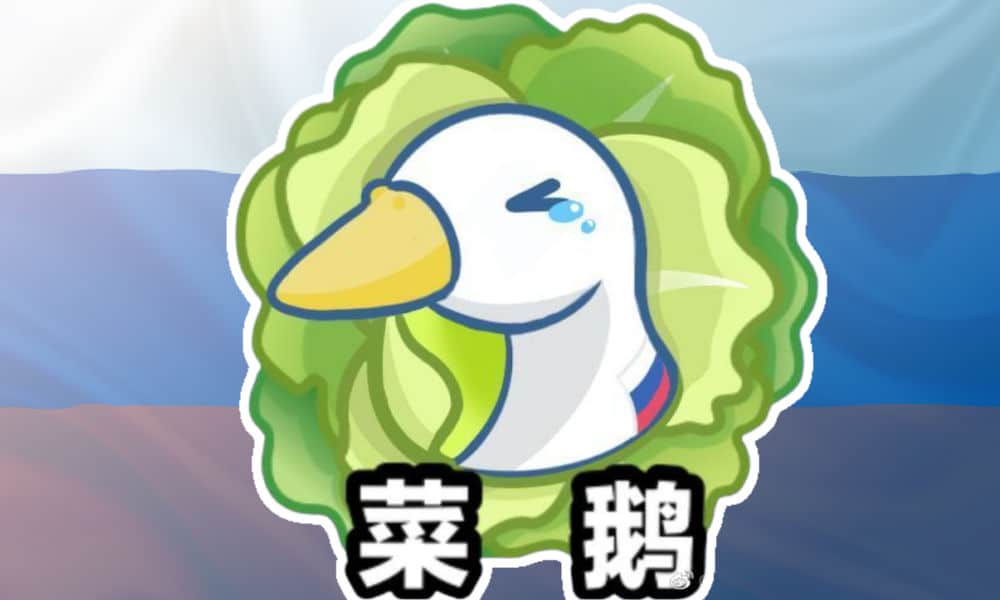 While the latest developments in the Russia-Ukraine war are closely watched by millions of Chinese social media users, the 'Weak Goose' meme is becoming more popular among military bloggers and Weibo users, signaling a shift in online sentiments regarding Russia's position and its military competence.
Since the beginning of the Russian invasion of Ukraine, the latest developments regarding the war in Ukraine are a big topic on Chinese social media, where military bloggers, academics, political commentators, and ordinary netizens have been sharing their views on the conflict over the past seven months.
Back in February of 2022, many Weibo commenters expressed anti-war sentiments and worries about the situation of the Ukrainian people and Ukraine-based Chinese compatriots.
At the same time, there was also a growing group of Chinese netizens who said they supported Russia. One top commenter at the time wrote: "I resolutely support the Russian military action! This is the evil result of Ukraine following the Yankees (美国佬). We should seize the opportunity to liberate Taiwan and to recover the Diaoyu Islands."
Those speaking out in favor of Putin and the Russian military mainly focused on anti-Western sentiments, and this online discourse was only strengthened by media narratives that also framed the Russia-Ukraine war – commonly referred to as Russia's "special military operation" – within a Chinese context that stressed the humiliation and injustice suffered by China at the hands of the very same Western powers that were now condemning Russia and were trying to get China on their side (read more in this article).
Others also saw the Russian military invasion of Ukraine as a warning to Taiwan, semi-jokingly writing that Chinese troops could arrive in the morning, that unification would be completed by noon, and that they would all be raising the flag and singing the national anthem together the next day.
But now, seven months and nine days later, it is clear that Russia's "special military operation" in Ukraine is anything but a quick 'victory.'

"We're Witnessing History"

This week, after Russia proclaimed the annexation of four territories in Ukraine, the Russia-Ukraine war has reached a pivotal phase and this is receiving a lot of attention on Chinese social media.
After a series of so-called "referendums" which supposedly showed it was the "will of the millions of people," Putin claimed that Luhansk, areas of Donetsk, Kherson, and Zaporizhzhia were now part of the Russian Federation. Using increasingly threatening rhetoric, Putin said in his September 30 speech that Russia would defend these areas with "all the means at our disposal." On Weibo, the topic received over 220 million views (#普京签署顿涅茨克等四地入俄条约#).
That very same day, Ukraine applied for fast-track NATO accession, and Ukrainian President Zelensky said that they are ready for peace talks with Russia, but only with a different Russian president. The topic of Ukraine's application to join NATO became a trending topic on Weibo, receiving over 190 million views on Saturday (#泽连斯基签署乌克兰加入北约申请#).
When Jake Sullivan, the U.S. President's National Security Advisor, stated that it was "not the right time" for Ukraine's admission to the alliance, China Daily initiated the hashtag "Ukraine's Application to Join NATO Is Met with a Cold Shoulder by the U.S." (#乌克兰申请加入北约遭美国冷遇#).
On Sunday, news of President Zelensky declaring the key eastern Ukrainian town of Lyman "fully cleared of Russian forces" also became trending. A Weibo hashtag dedicated to the topic of Russian forces retreating from Lyman (#俄军从红利曼撤退#) received over 150 million views.
"We're witnessing history," some Chinese netizens commented, with others replying: "We've been witnessing history for the past two years already."

Shifting Online Sentiments

But the online sentiments regarding the war in Ukraine have shifted over the past months, and there is now more emphasis on the weakness of the Russian military strategy. There are also more voices criticizing those who cheer for Putin.
Qu Weiguo (@曲卫国), a professor at Shanghai's Fudan College of Foreign Languages and Literatures, denounced fellow Chinese who seemed "happy and excited" about Putin signing the decree annexing four regions of eastern Ukraine and who called it a "checkmate move" that put the West in a difficult position.
According to Qu Weiguo, these "patriotic" fellow Chinese – "I am not sure whether they actually love China or Russia," he wrote – were overseeing the fact that it is not just the West that is being affected by the annexation, of which the legality is more than questionable. Qu mentioned the 2013 PRC-Ukraine Treaty of Friendship & Cooperation, which conveys Chinese support for Ukraine's "sovereignty, security, and territorial integrity." Qu suggests that in this context, China could not possibly recognize the four annexed territories as being part of Russia; and Beijng would also be obliged to support Ukraine in case it would be attacked by Russian nuclear weapons.
Author Du Zijian (@杜子建) also spoke out on Weibo, saying the referendum regarding the four regions claimed by Russia cannot be recognized: "It's Ukrainian territory, it can't be stolen by anyone."
Military blogger 'Littlepigpig' (@用户littlepigpig1), who focuses on the war in Ukraine, provided another perspective on the recent developments, suggesting that Putin's nuclear rhetoric is just bluff and likely stems from despair over Russia's inability to defeat Ukraine: "What would be the point of sending hundreds of thousands of Russians to Ukraine to be brutally slaughtered before launching a nuclear strike!?"

The 'Weak Goose' Meme

There are more people who now express that they see little chance of Russia winning this war. One regular Weibo user wrote: "The soldiers have no morale, the country has no money, and their equipment technology lags behind NATO." "They're so disappointing," others wrote.
One term that recurringly comes up in these discussions, from Weibo to Zhihu, is that of 'Weak Goose' (菜鹅 cài'é).
The term, that has been surfacing for a few months, is a wordplay on 菜俄 (also cài'é), which means 'Weak Russia' and is short for "the weak Russian army" ("俄军很菜").
Although '菜' (cài) actually means 'vegetable,' it is also slang for 'poor' or 'weak' when used as an adjective (see this video for explanation.)
According to Jikipedia, 'Weak Goose' started to be used by Chinese political and military bloggers after they found that the Russian army advanced much slower than they had expected. They came up with the word to make fun of Russia struggling with basic military mistakes and low military capabilities.
Recently, instead of 'weak goose,' the term 'weak Russia' has also been used more often (so 菜俄 rather than 菜鹅; just for clarity, we'll translate them both as 'Weak Goose' here). Russia is usually also nicknamed 'big goose' in China (大鹅) since the words for 'goose' and 'Russia' sound the same.
The past week, multiple Chinese (military) bloggers have started using this term again in light of Putin's fading victory and the retreat from Lyman. Reports about Russian recruits allegedly being instructed to use tampons and pads on war wounds in light of a shortage of military supplies further strengthen the Weak Goose meme: "Who thought the 'Weak Goose' was so weak?"
Those using the 'Weak Goose' term are definitely not necessarily anti-Russian and also not pro-Ukrainian – they are just using the word as a joke and comic relief in a military conflict that has been dragging on for much longer than Chinese netizens had anticipated.

"The Russia-Ukraine conflict is not entertainment"

But not everyone on Weibo appreciates these kinds of jokes. "The Russia-Ukraine conflict is not some entertainment variety show," one blogger (@Aglaia柒y) with over 220,000 fans wrote, criticizing those who are using the war as a source of drama and entertainment with Putin starring as the main "idol."
Others also reminded people that the 'Weak Goose' is actually very resilient. Well-known finance blogger Liu Zhongling (刘忠岭), known under the alias of @笑看红绿, noted that there were many Chinese people cheering for the latest victory of the Ukrainian army recently. But according to Liu, it is not necessarily something to cheer about: "All the progress that the Ukrainian army is making now, comes at the cost of many injuries and military casualties. Considering that this war is going to take a long time, soldiers are far more important than weaponry."
He added: "The 'weak goose' army is getting worn out (..) but by pulling back they are also preserving strength and that is not a bad choice. People who know their history already anticipated the Russians would get pulled down, but they also know the 'Weak Goose' is actually tough."
Although the 'Weak Goose' meme is one that is just alive within particular online circles, it is telling of a shift in sentiments on Chinese social media regarding a conflict in which many initially believed Russia was like a strong brown bear fiercely attacking Ukraine, rather than a worn out goose nibbling on its neighboring country (reference post).
Chinese well-known political commentator Hu Xijin stirred away from any jokes. In his recent post on Weibo, he warned that "the world must be prepared for a further escalation of the war in Ukraine, even beyond Ukraine."
By Manya Koetse 
With contributions by Miranda Barnes.
Get the story behind the hashtag. Subscribe to What's on Weibo here to receive our weekly newsletter and get access to our latest articles:
Spotted a mistake or want to add something? Please let us know in comments below or email us. First-time commenters, please be patient – we will have to manually approve your comment before it appears.
©2022 Whatsonweibo. All rights reserved. Do not reproduce our content without permission – you can contact us at info@whatsonweibo.com.
Announced Changes in Nucleic Acid Testing and Further Easing of Covid Measures Across China
Bus and subway operators in Beijing will no longer refuse entry to passengers without a 48-hour negative nucleic acid certificate.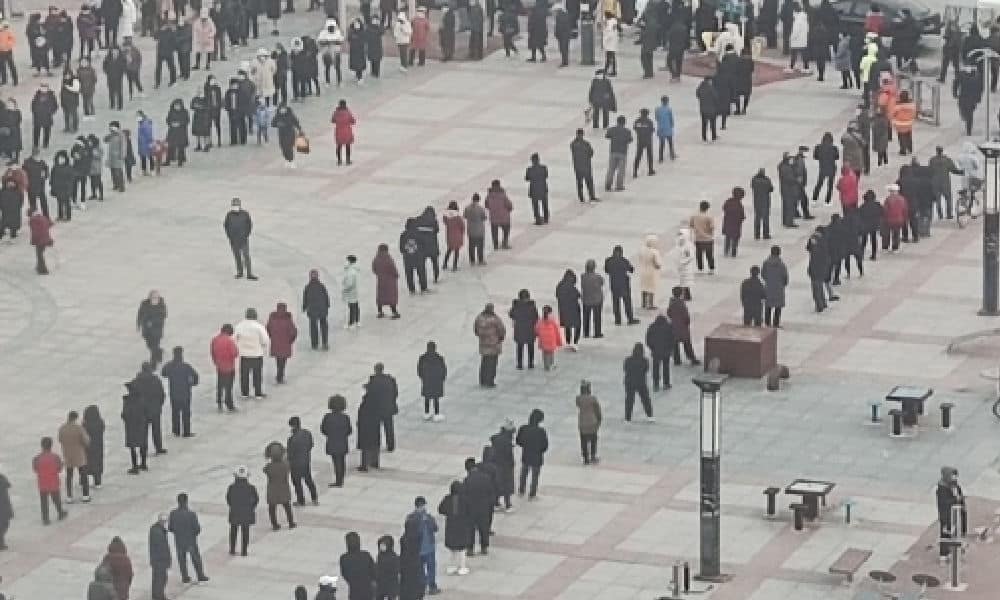 On Monday, directly after that noteworthy unrest-filled weekend, the hashtag "Multiple Locations Announce Nucleic Acid Testing Changes" (#多地核酸检测通知发生变化#) went trending on Chinese social media, receiving over 660 million clicks by Monday evening.
Immediately following demonstrations in Beijing and a second night of protests in Shanghai and elsewhere, various Chinese media reported how different areas across the country are introducing changes to their current Covid19 testing measures.
On Wednesday, November 30, China's vice-premier Sun Chunlan made remarks at a meeting on epidemic prevention, underlining the importance of "constantly optimizing" China's Covid-19 response and talking about a "new stage and mission" – without ever mentioning "zero Covid."
This is what we know about easing Covid measures thus far:
▶ Strict lockdowns have been lifted in Guangzhou, Zhengzhou, and Chongqing.
▶ On November 28, Guangzhou announced that people who do not actively participate in social life will no longer need to participate in continuous nucleic acid screening. This includes elderly people who stay indoors for long periods of time, students who take online classes, and those who work from home. The change will apply to residents in seven districts, including Haizhu, Panyu, Tianhe, and Baiyun (#广州7区无社会面活动者可不参加全员核酸#).
▶ Guangzhou, according to Reuters, also scrapped a rule that only people with a negative COVID test can buy fever medication over the counter.
▶ Harbin will follow the example of Guangzhou, and will also allow people who are mostly based at home to skip nucleic acid test screenings.
▶ Same goes for Shenyang, and Taiyuan.
▶ In Chongqing, various districts have done widespread Covid testing campaigns, but the local authorities announced that those communities that have not had a positive Covid case over the past five days do not need to participate in nucleic acid screening anymore. This means an end to district-wide testing.
▶ On November 30, Beijing also announced that it will start exempting some people from frequent Covid testing, including those elderly residents who are bound to home and other people who do not go out and have social interactions. This also includes younger students who are following classes online.
▶ Starting from December 5, bus and subway operators in Beijing will no longer refuse entry to passengers without a 48-hour negative nucleic acid certificate (announced on December 2nd).
▶ Although not officially announced, there have been various social media posts and reports about Covid-positive people in Beijing being allowed to quarantine at home if they meet conditions.
▶ Chengdu Metro announced on December 2nd that it will no longer check passengers' nucleic acid test reports. Passengers still need to scan their travel code and those with a green code can enter. Other public places will reportedly also start to accept the 'green code' only without a time limit on nucleic acid testing.
▶ Tianjin metro announced that the 72-hour nucleic acid certificate check will be also be canceled for passengers on the Tianjin metro lines. As in other places, people will still need to wear proper face masks and undergo temperature checks.
▶ In Hangzhou, except for at special places such as nursing homes, orphanages, primary and secondary schools, people's nucleic acid tests will no longer be checked in public transportation and other public places. They will also stop checking people's Venue Codes (场所码).
By Manya Koetse , with contributions by Miranda Barnes
Get the story behind the hashtag. Subscribe to What's on Weibo here to receive our newsletter and get access to our latest articles:
Spotted a mistake or want to add something? Please let us know in comments below or email us. First-time commenters, please be patient – we will have to manually approve your comment before it appears.
©2022 Whatsonweibo. All rights reserved. Do not reproduce our content without permission – you can contact us at info@whatsonweibo.com.
Mourning Jiang Zemin, Weibo Turns Black and White
Since the rise of Chinese social media, Jiang Zemin became a recurring part of Chinese memes.
Following the announcement that Jiang Zemin (江泽民), the former president of the PRC, has passed away, various Chinese online platforms have turned into 'grey' mode as a sign of mourning. Jiang Zemin died due to leukemia and organ failure. He was 96 years old.
Besides Weibo, the home page of major Chinese websites such as Baidu, Sogou, Taobao, Alipay, Xinhua, People's Daily, The Paper, and many others all turned into black-and-white mourning mode on Wednesday.
On Weibo, one post about Jiang Zemin's passing received a staggering one million reposts and over two million 'likes.' The hashtag "Comrade Jiang Zemin Passed Away at the Age of 96 in Shanghai" (#江泽民同志在上海逝世享年96岁#) had received over 2,5 billion clicks by Wednesday night.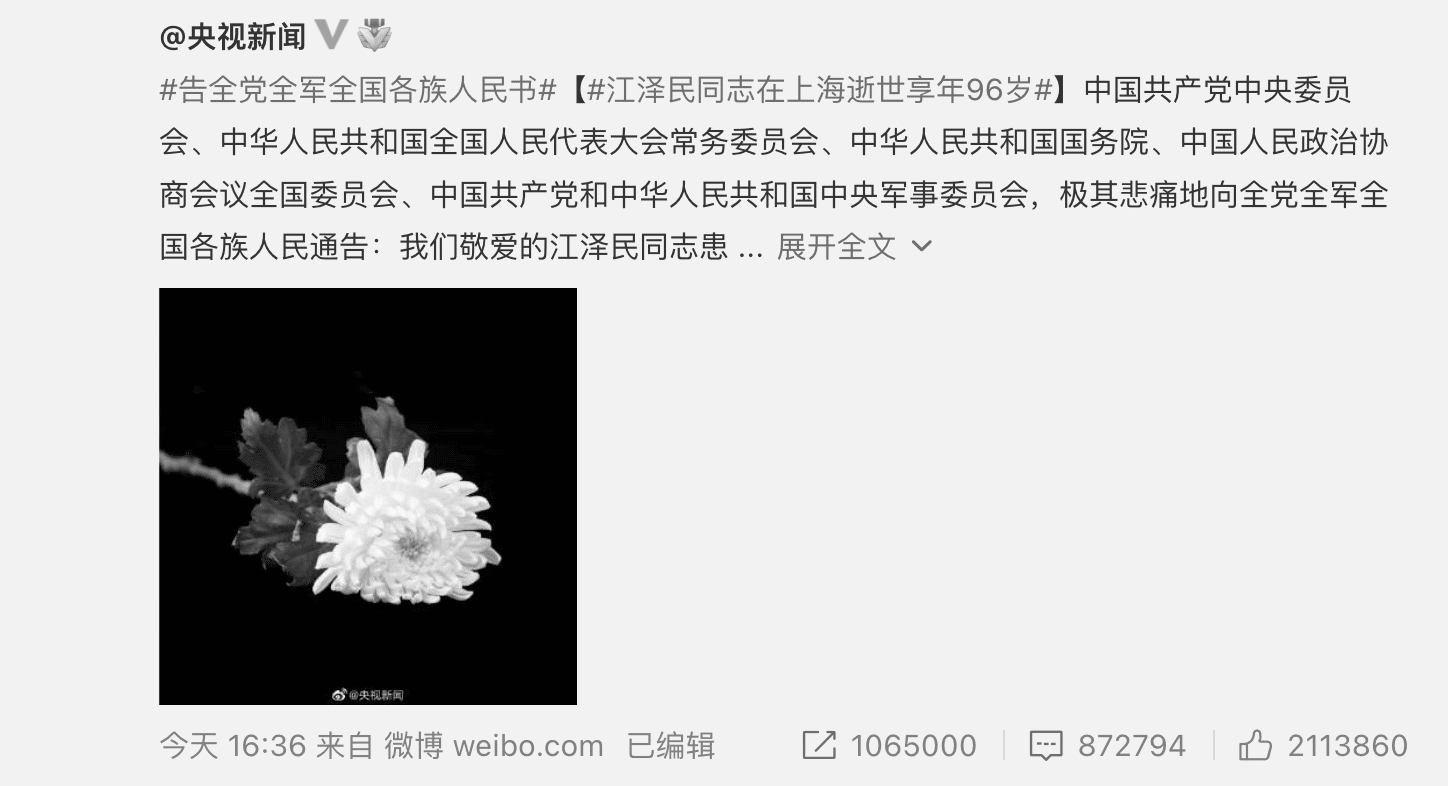 Jiang Zemin was appointed as President of the People's Republic of China in 1993. In the years before, the former Shanghai Party chief already held official positions as the chairman of the Central Military Affairs Commission and general secretary of the Party. In 2003, Jiang Zemin retired and was replaced by Hu Jintao (Sullivan 2012).
Since the rise of Chinese social media, Jiang became a recurring part of Chinese memes. Jiang had created a wide group of online fans, who are commonly referred to as 'toad worshippers' as the online phenomenon of 'worshipping' Jiang Zemin is called mo ha (膜蛤), 'toad worship' (Fang 2020, 38). The entire phenomenon has become its own subculture that is called 'mo ha culture' (móhá wénhuà, 膜蛤文化).
What started as a joke – nicknaming Jiang a 'toad' due to his big glasses, signature pants, and wide smile, – became an actual online movement of people who were appreciative of Jiang Zemin.
They loved him, not only because the former leader spoke many languages and other talents, and because of his unique appearance, but mainly because he was not scared to show his emotions, was very expressive, and good at telling stories.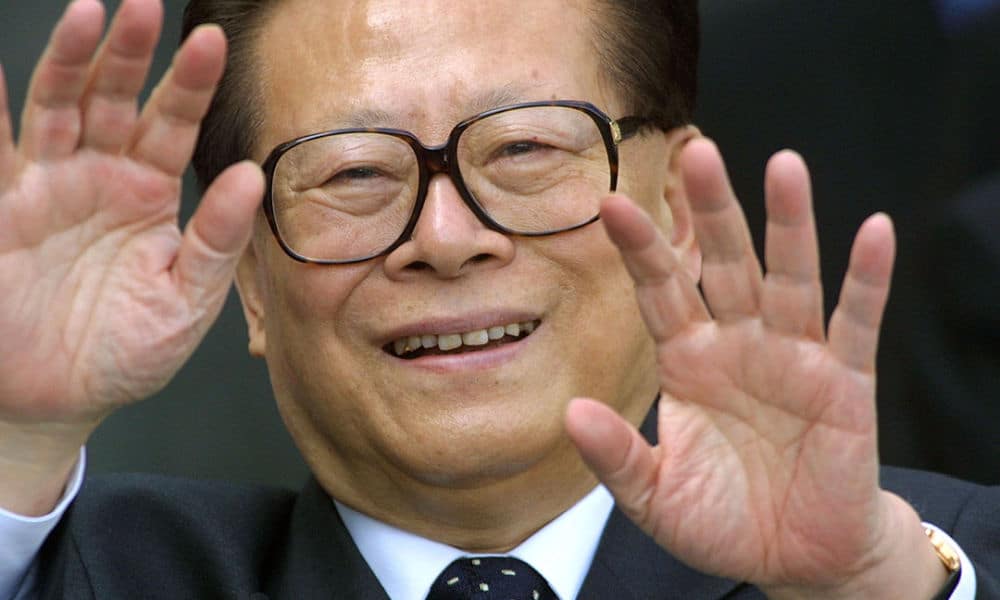 One famous example of this, is when Jiang Zemin got upset with a Hong Kong journalist in 2000 and told them off using three languages (link to video, also here). The much-repeated quote "too young, too simple, sometimes naive" comes from this noteworthy moment as Jiang told journalists that they still had a lot to learn, whereas he had gone through "hundred of battles," saying "I've seen it all." This also led to Jiang later being called 'the Elder' (长者) by netizens.
A famous moment when Jiang did not conceal his personal emotions and told off a HK journalist using three languages https://t.co/kX5Z3e0Goa

— Manya Koetse (@manyapan) November 30, 2022
Another popular Jiang Zemin video is when he met with American journalist Mike Wallace in August of 2000 in Beidaihe. During the interview, the two discussed sensitive topics including the Falun Gong and Tiananmen protests. The interview reportedly was one of the longest ever between an American journalist and a Chinese head of state (watch here).
When Jiang Zemin met Mike Wallace. The interview took place exactly 22 years ago today, August 15 2000, in Beidaihe. Here, Jiang expresses his best wishes to the American people, in English. See part of interview (better quality) here: https://t.co/8NwqYvbzkh pic.twitter.com/V3q3NbrOOJ

— Manya Koetse (@manyapan) August 15, 2022
A study by Kecheng Fang (2020) about 'China's toad worship culture' suggests that for many online fans of Jiang, the cult around him is apolitical, playful, and part of a shared digital cultural tradition.
For some, however, it does hold some political meaning to 'worship' Jiang, who only became a popular online meme around 2014, after Xi Jinping took power as a conservative strongman who is not as emotionally expressive. Fang describes how one meme creator said: "We couldn't express our criticism through normal channels, so we turned to other indrect ways, including lauding Jiang's personality and characteristics in various ways" (2020, 45).
Although Jiang became popular among younger Chinese on online platforms over the past decade, he was not necessarily that popular at the time of his leadership, and opinions vary on the legacy he leaves behind. Jiang continuously pushed for reform and opening-up after Deng Xiaoping's rule.
As summarized by Foreign Policy, Jiang oversaw two crucial transitions that shaped and improved the lives of the people of China: "First, he peacefully guided his country out of the shadow of China's founding revolutionaries, who had spent decades purging one another and at times caused great pain and sorrow for everyone else. Second, although hesitant at first, Jiang came to embrace the market economy."
As various places across China have seen unrest and protests over the past few days, the announcement of Jiang's death comes at a sensitive time.
Many on Chinese social media are burning virtual candles in memory of Jiang Zemin today. "I will fondly recall your style and manners," some say.
By Manya Koetse , with contributions by Miranda Barnes
If you appreciate what we do, please subscribe here or support us by donating.
References:
Fang, Kecheng. 2020. "Turning a communist party leader into an internet meme: the political and apolitical aspects of China's toad worship culture." Information, Communication & Society, 23 (1): 38-58.
Sullivan, Lawrence R. 2012. Historical Dictionary of the Chinese Communist Party. Lanham: The Scarecrow Press. See page: 3-43, 208.
Get the story behind the hashtag. Subscribe to What's on Weibo here to receive our newsletter and get access to our latest articles:
Spotted a mistake or want to add something? Please let us know in comments below or email us. First-time commenters, please be patient – we will have to manually approve your comment before it appears.
©2022 Whatsonweibo. All rights reserved. Do not reproduce our content without permission – you can contact us at info@whatsonweibo.com.