Why Weibo and Chinese Celebrities Are Put into the Naughty Corner by China's Cyberspace Administration
Weibo and online celebrities are punished by Internet regulators for spreading 'vulgar content', but netizens bear the brunt.
China's central Internet regulator has summoned Sina Weibo to keep its information flows under control, punishing the platform by closing down its hot search lists and trending topic lists for the time to come. Sina Weibo has reacted with self-criticism and has exposed Chinese celebrities allegedly buying their way to the top.
There is an empty space on the right sidebar of the Sina Weibo platform this week. Where users of China's biggest microblogging website usually see a 'top trending' list of the most popular topics or the most searched hashtags on the right sidebar, they now see an advertisement with nothing below it.
The change is the result of the reprimands Sina Weibo received this week from the Cyberspace Administration, China's central Internet regulator, over the company's "failure to censor illegal information posted by its users" and spreading of "vulgar content," according to state media outlet Xinhua News.

Weibo Gets Punished

As punishment for Weibo's 'incapability' to keep its information flows under control, the Cyberspace Administration issued a weeklong ban on the site's "most searched hashtags" and "hottest topics" lists, until Saturday, February 3.
Another penalty was also announced: Sina Weibo's hot lists cannot contain dozens of names and topics specified on an issued list for a period of at least three months.
On January 28, Weibo's Administrator (@微博管理员) announced the recent measures and published a list of celebrity names that can no longer hit the 'most popular' charts on Weibo for the time to come.
One of the reasons mentioned for the ban is that these celebrities would allegedly buy their way to the top trending lists on Weibo. Weibo's Administrator writes:
"As the largest social media platform in China, we know that Weibo should have higher standards and greater responsibility. Based on our deep understanding for the notification of the concerning departments, we will carry out a thorough self-examination and self-correction, and will strictly carry out reforming measures to ensure we meet the goal. We will increase the cooperation with the formal media, and upgrade the Quality of Service of our content. With more technology and manpower, we will improve our management of illegal and harmful information, and maintain the order within the online informaton and preserve a good [online] environment."
In August 2016, Chinese authorities already announced that they would strictly guard against hyping private affairs and family conflicts of internet celebrities and the rich and famous. The announcement followed after the divorce of Chinese actor Wang Baoqian became one of the most discussed topics of all time on Weibo and Wechat.

Battling Flawed Algorithms?

On January 28, Weibo's Administrator issued another statement that said that Weibo's hot trending lists should be a reflection of the actual topics gaining most attention amongst netizens, but that companies and entertainment enterprises have found ways to influence these lists.
On Monday, Financial Times also reiterated that Chinese digital agencies are selling fake rankings on Weibo's "hot topics" list.
Besides buying targeted marketing space on Weibo, which is actually clearly marked as third-party advertising, companies and celebrities can get a hashtag of choice into the top trending lists for as little as 8000 yuan (±$1260) by which digital agencies create fake Weibo accounts pushing a topic up the charts.
Other big social media platforms such as Twitter and Facebook are allegedly facing similar problems that falsely affect the top trending lists and platform algorithms.
Weibo administrators promised they would "effectively crackdown on the illicit competition that is harming the [online] community."

Naughty Corner for Celebrities

Based on online data of the past month, Weibo administrators issued a list of 38 celebrity names, topics, and hashtags that were allegedly illegally bought up the trending charts by companies.
These names and topics will not be allowed to appear in the top trending lists for the months to come. Here are eight examples of names provided by Weibo.
1. One of these banned topics is the actress Li Xiaolu (李小璐), who recently made it to the top trending lists for her extramarital affair with hip-hop artist PG One.
2. Another name that won't go 'trending' for the coming months is that of Chinese singer, songwriter, and actress Zhou Bichang aka Bibi Zhou (周笔畅). Bibi Zhou is also accused of paying money to get herself to the top trending lists on Weibo.
However, Bibi Zhou responded to the accusations on January 28, saying that "all the money I have I put into my music videos – I cannot afford [to spend money on] hot search lists."
3. Chinese comedian Song Xiaobao (宋小宝)
The comedian Song Xiaobo, who stars in the TV show Joyful Comedians (欢乐喜剧人), will not be able to promote himself nor the show in the top lists on Weibo for the time to come.
4. Taiwanese singer Lai Guanlin (赖冠霖)
Lai Guanlin, who is part of the popular South Korean boy band Wanna One, was reported to participate in upcoming TV programme "Idol Star Athletics Championships." Further promotions for this appearance are unlikely to come through on the trending lists now.
5. Chinese actress Zhang Xueying (张雪迎) aka Sophie Zhang
Actress Zhang Xueying reached the hot lists earlier this month for her pretty bald head look for her role in Go Away Mr. Tumor, a play that revolves around a woman who copes with cancer.
6. Wang Lele (王乐乐)
Internet celebrity Wang LeLe is a grassroots celebrity from live-streaming app Kuaishou who has attracted much (negative) attention over recent times for the rocky and drama-filled relationship with Yang Qingning (杨清柠).
7. 'Brother Martial Arts' (散打哥)
'Brother Martial Arts' aka Chen Weijie (陈伟杰) is an internet celebrity that emerged from the live-streaming platform Kuaishou.
8. Shawn Wei (魏千翔)
Shawn Wei (Wei Qianxiang) is a Chinese post-80s actor who is currently starring in the popular urban drama 'My Youth Meets You' (我的青春遇见你).
Although he is not a significantly big influential on Weibo, rumors of his company 'buying his popularity' on Weibo are long-standing.

Weibo Responses

The topic of the recent ban on Weibo hot lists itself became a much-discussed issue on Chinese social media. Many netizens dislike the fact that so many celebrities buy their way into the top trending lists, but also express their dissatisfaction with the list of names exposed by Sina Weibo: "There are so many people who frequently buy themselves into the hot lists, yet why are they not on this list?", many said.
Others jumped in to defend their idols: "Why would Lai Guanlin be on this list?!" They say that people such as Lai Guanlin and Zhang Xueyin have been unjustly targeted by Chinese censors.
There are also people who wonder why they can no longer access the hot search and trending lists, because it is not so much the Sina Weibo company and the celebrities who are now punished, but the Weibo-loving netizens.
"How boring life is without the hot lists," some say.
By Manya Koetse
Follow @whatsonweibo
Spotted a mistake or want to add something? Please let us know in comments below or email us.
©2018 Whatsonweibo. All rights reserved. Do not reproduce our content without permission – you can contact us at info@whatsonweibo.com.
Chinese Movie 'Home Coming' Becomes National Day Box Office Hit
China's latest patriotic blockbuster 'Home Coming' focuses on Chinese diplomats as the saviours of overseas Chinese in times of trouble.
China has got another patriotic box office hit this National Day holiday. 'Home Coming' (万里归途) is inspired by China's overseas citizens protection response during the 2011 Libya crisis, and is sparking waves of nationalistic sentiments.
On October 1st, China's National Day, the Chinese movie Home Coming (万里归途) became a trending topic on Chinese social media after its cinema debut on September 30. On Saturday, the movie's box office sales hit 200 million yuan ($28 million) (#万里归途票房破2亿#).
The National Day holiday, which started on Saturday, is a common time for Chinese domestic movies – often patriotic ones – to hit the theaters. It is one of the most profitable times of the year for Chinese cinemas and also the time when the biggest domestically-produced films are boosted while Hollywood movies are limited.
The 2022 Home Coming war drama was directed by Rao Xiaozhi (饶晓志) and features major Chinese actors such as Zhang Yi (张译), Wang Junkai (王俊凯) and Yin Tao (殷桃).
The film tells the story of Chinese diplomats Zong Dawei (大伟与) and Cheng Lang (成朗), who are ordered to assist in the evacuation of overseas Chinese when war breaks out in North Africa in 2011. Just when they think they've successfully completed their mission, they learn they have to return to save a group of 125 compatriots who are still left behind.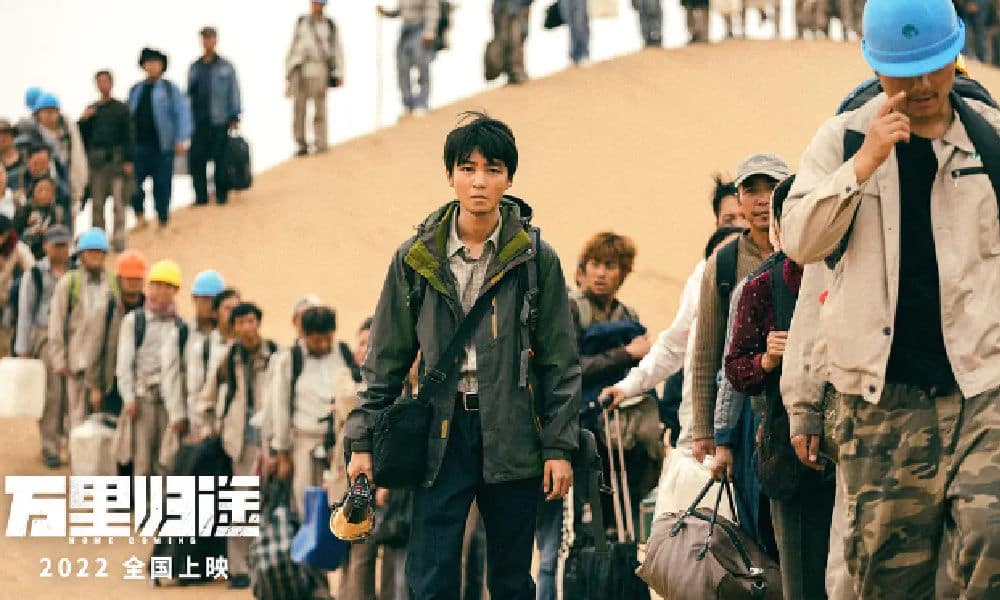 The movie is said to be based on real events but it is set in the fictional Numia Republic (努米亚共和国). According to Chinese state media outlet China.org, Home Coming is inspired by an evacuation event in Libya in 2011, when the Chinese embassy reportedly evacuated more than 30,000 Chinese nationals in a time frame of 12 days.
At the time, Chinese official media called it "the largest such operation China had mounted abroad since the Nationalists fled in 1949" and Chinese nationals were evacuated from the war-torn Libya via land, sea, and air (Zerba 2015, 107).
On Weibo, there are many reviewers giving Home Coming a five-star rating, with some saying the movie moved them to tears. "I needed four tissues," one movie-goer said, while another person complained that they forgot to bring any tissues to dry their tears. In light of the movie's premiere, photos of people crying while watching the film also circulated online.
Although there were also a lot of fans who especially loved the role played by the super popular Wang Junkai, many movie-goers expressed pride in China after watching the movie, which revolves around the idea of finding one's way back home – back to China.
Although Home Coming is said to be the first film about a Chinese foreign evacuation from a diplomat's perspective, there have been multiple domestic movies over the past decade focusing on Chinese civilians needing to be rescued from chaos erupting abroad.
In Operation Red Sea (红海行动, 2018), which also stars Zhang Yi, a Chinese special task force sets out on a risky mission to evacuate civilians amid civil war in the fictional 'Republic of Ihwea' – loosely based on the evacuation of Chinese citizens from Yemen in 2015.
At the end of the Home Coming movie, a text showed up on the screen to remind Chinese viewers to always get in touch with the Foreign Ministry hotline for assistance if they find themselves in an emergency situation while abroad.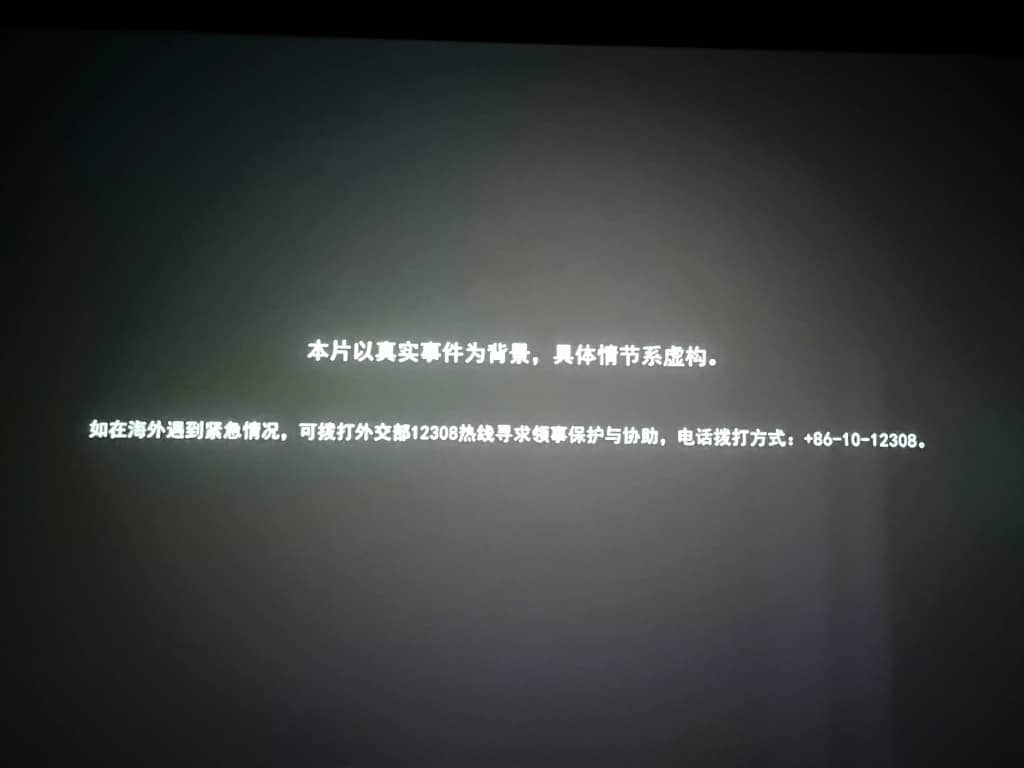 Chinese movie star Wu Jing (吴京) also makes a cameo appearance in this film. Wu is most famous for his role in Wolf Warrior 2, in which he plays a special forces soldier who battles foreign mercenaries and helps Chinese and African citizens during a local war in Africa.
"My love for my country reached a new height after seeing this film," one person wrote, with others applauding the efforts of Chinese diplomats and saying they were so happy be a Chinese national.
While Home Coming was trending on Chinese social media, last year's patriotic hit film also went trending at the same time (#长津湖首播收视率第一#): Battle at Lake Changjin was aired on TV for the first time by CCTV-6 on the evening of October 1st. To read more about why that movie became such a major success, check out our article here.
By Manya Koetse 
References
Zerba, Shaio H. 2015. "China's Libya Evacuation Operation: a new diplomatic imperative – overseas citizen protection." In Suisheng Zhao (ed), China in Africa: Strategic Motives and Economic Interests, p 100-120.
Get the story behind the hashtag. Subscribe to What's on Weibo here to receive our weekly newsletter and get access to our latest articles:
Spotted a mistake or want to add something? Please let us know in comments below or email us. First-time commenters, please be patient – we will have to manually approve your comment before it appears.
©2022 Whatsonweibo. All rights reserved. Do not reproduce our content without permission – you can contact us at info@whatsonweibo.com.
About Lipstick King's Comeback and His 'Mysterious' Disappearance
After Li Jiaqi's return to livestreaming, the 'tank cake incident' has become the elephant in the room on social media.
Earlier this week, the return of China's famous livestreamer Li Jiaqi, also known as the 'Lipstick King', became a hot topic on Chinese social media where his three-month 'disappearance' from the social commerce scene triggered online discussions.
He is known as Austin Li, Lipstick King, or Lipstick Brother, but most of all he is known as one of China's most successful e-commerce livestreaming hosts.
After being offline for over 100 days, Li Jiaqi (李佳琦) finally came back and did a livestreaming session on September 20th, attracting over 60 million viewers and selling over $17 million in products.
The 30-year-old beauty influencer, a former L'Oreal beauty consultant, rose to fame in 2017 after he became a successful livestreamer focusing on lipstick and other beauty products.
Li broke several records during his live streaming career. In 2018, he broke the Guinness World Record for "the most lipstick applications in 30 seconds." He once sold 15000 lipsticks in 5 minutes, and also managed to apply 380 different lipsticks in another seven-hour live stream session. Li made international headlines in 2021 when he sold $1.9 billion in goods during a 12-hour-long promotion livestream for Alibaba's shopping festival.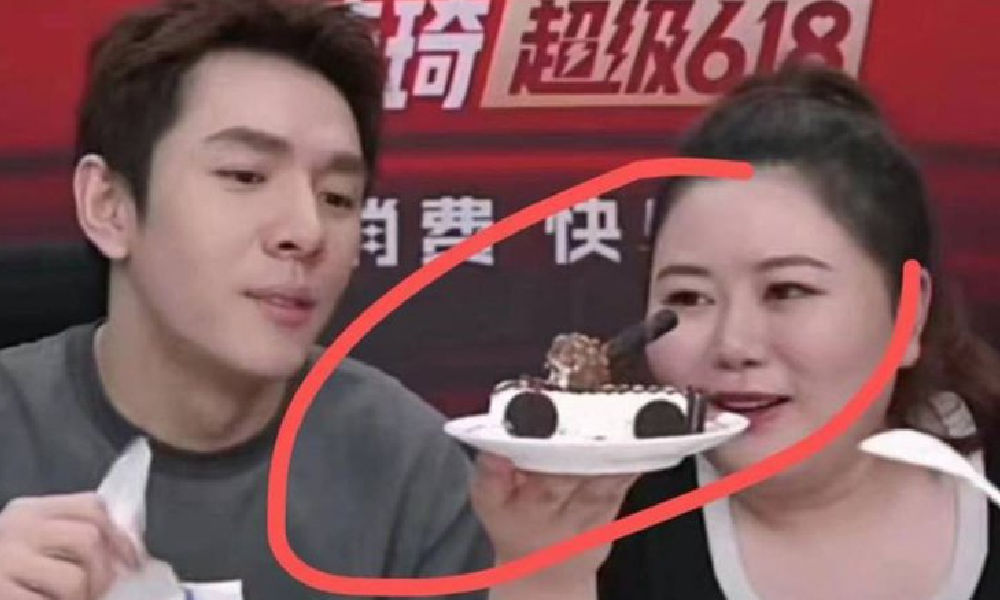 But during a Taobao livestream on June 3rd of this year, something peculiar happened. After Li Jiaqi and his co-host introduced an interestingly shaped chocolate cake – which seemed to resemble a tank, – a male assistant in the back mentioned something about the sound of shooting coming from a tank ("坦克突突").
Although Li Jiaqi and the others laughed about the comment, Li also seemed a bit unsure and the woman next to him then said: "Stay tuned for 23:00 to see if Li Jiaqi and I will still be in this position."
The session then suddenly stopped, and at 23:38 that night Li wrote on Weibo that the channel was experiencing some "technical problems."
But those "technical problems" lasted, and Li did not come back. His June 3rd post about the technical problems would be the last one on his Weibo account for the months to come.
The 'cake tank incident' (坦克蛋糕事件) occurred on the night before June 4, the 33rd anniversary of the violent crackdown of the Tiananmen student demonstrations. The iconic image of the so-called 'tank man' blocking the tanks at Tiananmen has become world famous and is censored on China's internet. The control of information flows is especially strict before and on June 4, making Li's 'tank cake incident' all the more controversial.
But no official media nor the official Li Jiaqi accounts acknowledged the tank cake incident, and his absence remained unexplained. Meanwhile, there was a silent acknowledgment among netizens that the reason Li was not coming online anymore was related to the 'tank cake incident.'
During Li's long hiatus, fans flocked to his Weibo page where they left thousands of messages.
"I'm afraid people have been plotting against you," many commenters wrote, suggesting that the cake was deliberately introduced by someone else during the livestream as a way to commemorate June 4.
Many fans also expressed their appreciation of Li, saying how watching his streams helped them cope with depression or cheered them up during hard times. "What would we do without you?" some wrote. Even after 80 days without Li Jiaqi's livestreams, people still commented: "I am waiting for you every day."
On September 21st, Li Jiaqi finally – and somewhat quietly – returned and some people said they were moved to see their lipstick hero return to the livestream scene.
Although many were overjoyed with Li's return, it also triggered more conversations on why he had disappeared and what happened to him during the 3+ months of absence. "He talked about a sensitive topic," one commenter said when a Weibo user asked about Li's disappearance.
One self-media accountpublished a video titled "Li Jiaqi has returned." The voiceover repeatedly asks why Li would have disappeared and even speculates about what might have caused it, without once mentioning the tank cake.
"This cracks me up," one commenter wrote: "On the outside we all know what's going on, on the inside there's no information whatsoever."
"It's tacit mutual understanding," some wrote. "It's the elephant in the room," others said.
Some people, however, did not care about discussing Li's disappearance at all anymore and just expressed joy about seeing him again: "It's like seeing a good friend after being apart for a long time."
By Manya Koetse 
Elements in the featured image by @karishea and @kaffeebart.
Get the story behind the hashtag. Subscribe to What's on Weibo here to receive our weekly newsletter and get access to our latest articles:
Spotted a mistake or want to add something? Please let us know in comments below or email us. First-time commenters, please be patient – we will have to manually approve your comment before it appears.
©2022 Whatsonweibo. All rights reserved. Do not reproduce our content without permission – you can contact us at info@whatsonweibo.com.