Chinese Woman Films Herself Eating Unbelievable Things, Netizens Call The Police
A series of videos showing a middle-aged woman eating unbelievable things from goldfish to light-bulbs has caused much concern on Sina Weibo, where netizens were so worried that they called the police.
A series of videos showing a middle-aged woman eating unbelievable things from goldfish to lightbulbs has caused so much concern on Sina Weibo that netizens decided to call the police.
A woman who calls herself Foodie Fengjie (吃货凤姐) has attracted much attention on Chinese social media. Multiple videos showing the middle-aged woman eating various strange things, from cigarettes to pure wasabi, has got Chinese netizens worried about her health condition, with some people suspecting that she might be filmed under threat. Netizen's phone calls to the local police have led to an investigation into the matter.
Foodie Fengjie: "Let's eat something normal people cannot eat"
Kuaishou user Foodie Fengjie has become a trending topic on China's social media. Kuaishou (快手) is an online platform where users can broadcast about their life via photos and short videos. According to her profile, Foodie Fengjie is a 48-year-old retired single woman with no kids. Her personal description reads: "Let's eat something normal people cannot eat!"
Fengjie named herself after online celebrity "Sister Feng" who gained fame in late 2009 for her outrageous actions and comments.
So what does Foodie Fengjie eat? The selection ranges from the disgusting to the scary: raw ginger, a bowl of instant noodles with 6 packs of wasabi, a whole plate of mealworms, goldfish, cactus, a living eel, light-bulbs… and the list goes on.
The spectacle is broadcasted live every day at 20:00. By now, Foodie Fengjie has gained more than 1.5 million followers on the platform.
Netizens: "Could she be under threat? Police should investigate!"
While eating weird food might just be unusual, eating lightbulbs is a health hazard. Two of Foodie Fengjie's photos also feature her with fireworks around her neck or in her hands, with a caption reading: "Oh my hand bled!"
The woman's videos and these images stirred netizens' concern about the woman's mental and physical condition. It also brought suspicion on the motives behind these videos. Many suspected that the young man shooting the video, presumably a family member of the woman, was threatening her.
One user of Kuaishou messaged the woman during the live broadcasting: "If you are under threat, please let us know by blinking three times". In the screen shot of this message, the woman looked serious and had just taken off her glasses.
The issue turned many Chinese netizens into 'Sherlock Holmes', paying close attention to the woman's every move and expression – analyzing the curling of her lips and the movement of her eyes to detect whether or not the woman was being forced.
On Sina Weibo, the issue immediately received 100 million viewers under the topic "#middle-aged woman suspected to film herself against her own will#" (#大妈疑似被迫录视频#).
Some netizens decided to do more than just discuss the issue, and contacted the police. On June 3rd the local police in Handan (Hebei province), where Foodie Fengjie resides, received multiple reports from netizens, after which they immediately launched an investigation.
Police: "Plot to gain online attention"
Handan police turned out to be very efficient in their work; just 6 hours after announcing investigation, an initial report was released:
"… according to primary investigation of Handan police, the middle-aged woman in the video (Chen, age 45, Congtai region) and the suspected young man (Wu, age 24, Congtai region) are mother and son. Chen is found to be in good health; there are no visible injuries. The two people told the police that they planned, shot and published many videos of "eating strange food" on the Kuaishou platform to attract netizen's attention and increase their viewer ratings. The police has gathered props like 'processed cactus' and pepper powder. Further investigation will be conducted. "
Foodie Fengjie herself also released a video to clarify the matter. In her video, she thanked netizens for their concern, but clarified that she was not being kidnapped or threatened. She introduced her older nephew who made the videos for her. Later in the video, Foodie Fengjie turned the camera to herself, and announced to netizens, "I am a free person. Thank you for your concerns. I will continue broadcasting funny videos tonight".
Chinese netizens still skeptical   
After the police report and Foodie Fengjie's clarification, some netizens appear to be reassured that the videos were just for attention, that no one was being threatened, and that the cactus she ate was fake.
But not everybody is satisfied. Above all, many netizens notice that although police declared the young man to be the woman's son, the woman in her own video introduced him as "older nephew" (大外甥). For now, there is no theory to explain this discrepancy.
[rp4wp]
Some netizens also suspect the clarification video to be a coerced one: "In the last scenes of herself, she keeps looking upwards. She must be looking at her nephew. She didn't make this voluntarily", remarked one netizen.
There are many people requesting further police investigation. One netizen says: "Please investigate them separately. A simple visit won't reveal anything. What's more, even if they are mother and son, I hope the police can give the son some good education, and take the woman to a hospital for a thorough check-up. Videos of this nature should be prohibited!"
The fact that people are willing to go to extremes to attract online attention is also criticized. "(Individual) online videos are growing like crazy", remarked a lawyer on Sina Weibo: "People will do everything to increase viewer ratings".
"Kuaishou simply is for a bunch of mindless online celebrities with twisted values", said another netizen.
Although the matter is not entirely cleared up yet, this issue at least shows that netizens are willing to go from the virtual world to the real world to take action if they feel that things are not right.
It is unclear what the local police will do with the case now – but China's netizens surely are hungry for more information.
Update: During June 4th, most of Foodie Fengjie's video's were deleted and her Kuaishou account now seems to have been closed.
– By Diandian Guo
Follow @WhatsOnWeibo
©2016 Whatsonweibo. All rights reserved. Do not reproduce our content without permission – you can contact us at info@whatsonweibo.com.
Adapted to the Desert: This Yurt-Style KFC Opened in Inner Mongolia
Special KFC in Inner-Mongolia: "Is home delivery done by camelback?"
A KFC restaurant that has opened up in Ordos Prefecture, Inner-Mongolia, is attracting online attention in China for its yurt-style building.
The KFC restaurant is located in Xiangshawan, also known as Whistling Dune Bay, a tourist area – China's first desert-themed tourism resort – in the Kubuqi Desert.
Some web users praise the fast-food giant for "following local customs" ("入乡随俗"). Others jokingly wonder if their home delivery services are also done by camelback.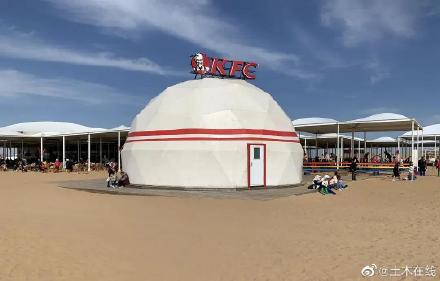 Although KFC is not China's first fast-food restaurant, it is one of the most popular ones. Nowhere else outside of the US has KFC expanded so quickly as in China. Since the first KFC opened in Beijing in 1987, the chain had an average of 50% growth per year.
With thousands of locations across the country, KFC often adapts its restaurants' style to the local environment. On Weibo, web users share various examples of local KFCs.
One Weibo user (@阳山花非花) points out that KFC is not the only chain to adapt to the local environment in Ordos. Chinese fast-food chain Dicos (德克士) apparently also has a special restaurant in the area.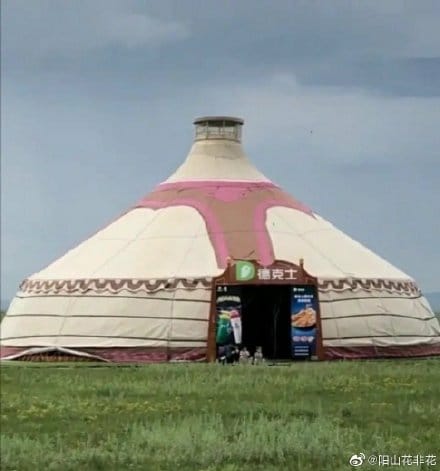 Besides adapting its buildings, KFC is also known to be quite localized in its product offerings. KFC China offers products such as Chinese-style porridge, Beijing chicken roll, and youtiao (deep-fried strip of dough commonly eaten for breakfast).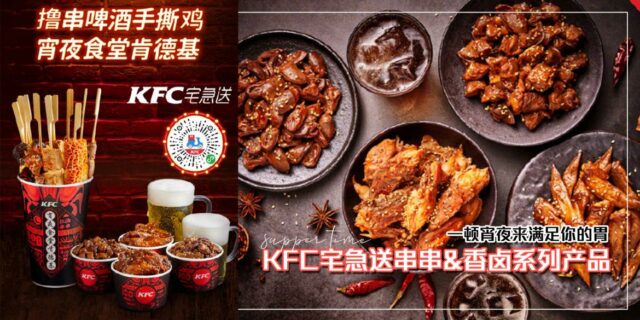 In 2019, KFC also made headlines in China for adding, among other things, hot and spicy skewers (麻辣串串) to its menu.
For now, the KFC yurt-style location is bound to gain more visitors who are coming to check it out. Already, various Weibo users are sharing their own pics of their KFC visit.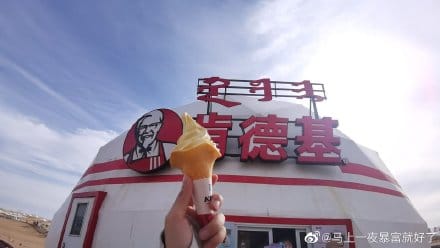 You might also like to read:
By Manya Koetse (@manyapan)
With contributions by Miranda Barnes
Spotted a mistake or want to add something? Please let us know in comments below or email us. First-time commenters, please be patient – we will have to manually approve your comment before it appears.
©2021 Whatsonweibo. All rights reserved. Do not reproduce our content without permission – you can contact us at info@whatsonweibo.com.
"There's a Cockroach in My Hotpot" – 'Pengci' Tries to Scam Haidilao Restaurant
Two hotpot cockroaches in one day, but the real cockroach didn't get away.
A man in Shenzhen has been arrested after trying to pull a scam in Haidilao hotpot restaurants twice in one day.
The man, Mr Cai (蔡), visited two different locations of China's Haidilao chain of hotpot restaurants within twenty-four hours, and both times he managed to 'discover' a cockroach in his hotpot.
Cai complained to the staff about the roach in his food. According to Sohu.com, in order to keep the peace, both Haidilao stores compensated their unhappy guest; they gave him a free meal and 1000 yuan ($156) and 800 yuan ($124) respectively.
When the restaurants later inspected their security camera footage, they suspected they had been scammed and reported the incident to the police. Further investigation of the security videos revealed that the man actually held the cockroach in his hand, behind his phone, and dropped it on the table, after which he put it in the hotpot together with the vegetables.
When the man scooped the insect out of the hotpot, he immediately called the waiter to show the cockroach in his food.
After being exposed as a 'pengci' (碰瓷), a scammer focused on pretending to a victim in order to get compensation, Cai was detained by the local police.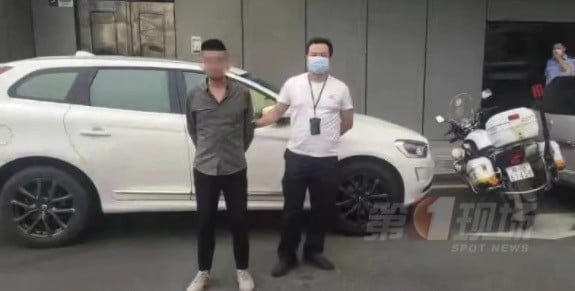 A similar incident occurred in 2018, when a man named Guo (郭) dropped a dead rat in the hotpot at a Haidilao restaurant, and then demanded a compensation of 5 million yuan ($780,000). That incident also went viral on Chinese social media at the time.
Guo was later sentenced to three years in prison for his scam, for damaging Haidilao's reputation, and for filing a false report with regulatory authorities.
Also in 2018, a woman claimed she had found a sanitary pad in her Haidilao hotpot. This incident later also turned out to be a scam – the woman had placed the item there herself.
Haidilao is one of China's most famous hotpot brands, and its restaurants have been in business for over 25 years. The restaurant is known for its good service, quality, and cleanliness.
On Weibo, the Haidilao 'cockroach incident' is attracting a lot of attention today, with one hashtag page regarding the issue receiving over 230 million views (#男子在海底捞自导自演吃出蟑螂#).
Although scams such as these are not uncommon, many people are surprised that someone would still attempt to fraud Haidilao in this way in 2021, when there are cameras set up everywhere in the restaurant.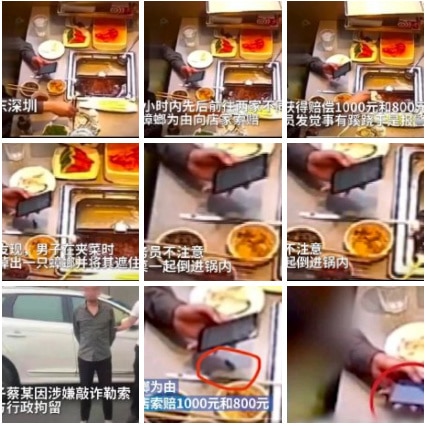 Haidilao's surveillance cameras have become a topic of discussion on social media before. The restaurant's alleged reason for putting up so many cameras is in order to take better care of their customers, to monitor employee service standards, and to rely on their security footage when personal belongings go missing. The cameras also register the entire hotpot dining process; if something comes up in the hotpot that is not supposed to be there, the cameras will have captured how it ended up there.
"In this case, it's good that there are so many security cameras," one commenter writes.
Many others scold Cai for trying to scam Haidilao like this: "They should really make him eat cockroaches."
– By Manya Koetse (@manyapan)
Spotted a mistake or want to add something? Please let us know in comments below or email us. First-time commenters, please be patient – we will have to manually approve your comment before it appears.
©2021 Whatsonweibo. All rights reserved. Do not reproduce our content without permission – you can contact us at info@whatsonweibo.com.