Young Man Buys Small Dog, Turns Out Not to Be a Dog at All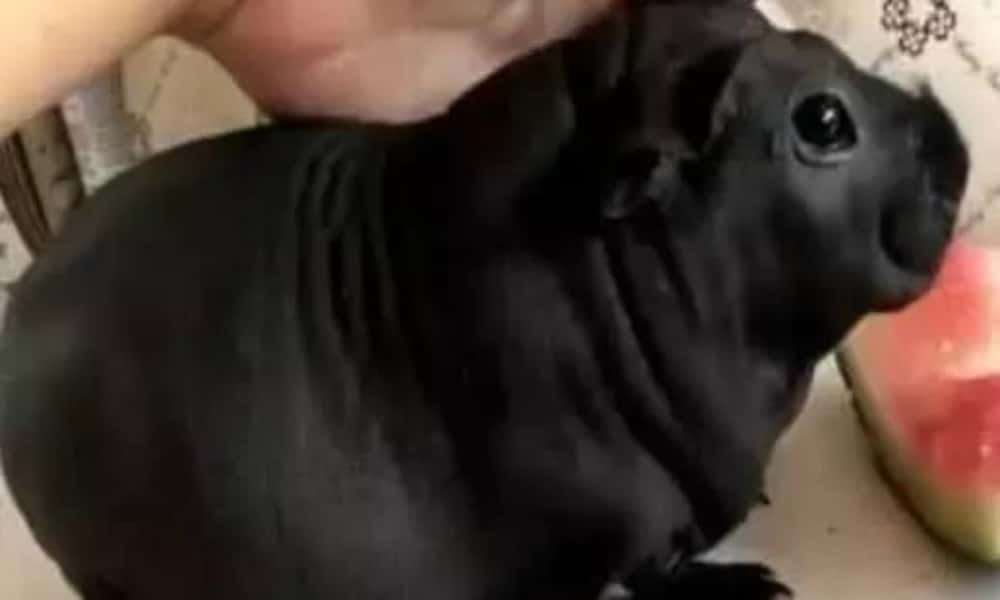 A strange story is currently making its rounds on Wechat, involving a small black dog that turned out not to be a dog at all.
Beijing News reports that a young Chinese man wanted a pet, and, on his limited budget, decided to purchase a small dog from a local dog seller.
At the beginning, the article says, the man found the small animal to be chubby and cute, but the longer he had it, the more he found the dog's appearance very strange. Besides the fact the dog did not grow any hair, it also did not run like a dog.
With some help of the internet, where photos of the creature were posted, the man then discovered he was not the proud owner of a small black dog. This blog from late September is asking its readers to identify the animal ("Do you know what this creature is?").
By now, it seems to be clear that the animal is a bamboo rat. In some parts of southern China, the bamboo rat is farmed and eaten.
According to Beijing News, the man has since decided to give the animal away; he was not sure how to raise a bamboo rat.
By Manya Koetse
Follow @whatsonweibo
(图文来源于网络,如有侵权请联系删除)​
Spotted a mistake or want to add something? Please let us know in comments below or email us.
©2018 Whatsonweibo. All rights reserved. Do not reproduce our content without permission – you can contact us at info@whatsonweibo.com
Meet China's Latest Internet Celebrity: The "Vagrant Shanghai Professor" (上海流浪大师)
He is the latest online sensation in China, but what is this hype really about?
Over the past month, the popular short-video app Douyin flooded with videos of the so-called "Vagrant Shanghai Professor" (上海流浪大师), who has conquered the hearts of millions of Chinese netizens. His fans are determined to make the Shanghai drifter more famous, regardless of his own wishes.
It has been nine years since "Brother Sharp" (犀利哥), a homeless man from Ningbo, became an online hit in China for his fashionable and handsome appearance. Now, another homeless man, this time from Shanghai, has become an internet sensation for his poise, wisdom, and modesty.
It all started about three weeks ago when an online video of a homeless man who eloquently discusses literature and philosophy went viral on Chinese social media, receiving millions of views within a time span of just three days. The man was nicknamed the "Vagrant Shanghai Professor" (上海流浪大师).
Soon, more information about the man's identity started making its rounds on the internet. The "Vagrant Professor" is named Shen Wei (沈巍), a 52-year-old who was born and raised in Shanghai. Shen reportedly once worked as a civil servant at the Shanghai's Xuhui District Audit Bureau, before he took sick leave and started roaming the streets anonymously for more than twenty years.
Persistent rumors started circulating the internet, suggesting that Shen once graduated from the prestigious Fudan University in Shanghai and that he became a vagrant after his wife and daughter had died in a car crash. Despite Shen himself repeatedly denying these claims, the rumors kept appearing in articles and on social media.
Whether he likes it or not, Shen's quiet days of reading books and collecting garbage are now seemingly over. Within a few days after the first video of Shen went viral, hundreds of people began searching for him near Shanghai's Gaoke West Road, the place where he usually stays, hoping to catch a glimpse of the 'Vagrant Professor' and take a selfie with him.
Hundreds of photos and videos of Chen started flooding the internet, all showing the same image: Shen surrounded by people, holding their phones in his face.
Shen became a true social media phenomenon, even receiving attention outside of China, with both BBC and Washington Post reporting about this man's sudden rise to fame.
For Shen, his online celebrity status has come at a price. When the crowds became too big, the Shanghai police had to intervene and escort him out of his shelter. While the police were trying to bring Shen to safety, people were still taking his picture and tried touching him. One woman even held up a cardboard sign saying: "Vagrant Professor, I want to marry you."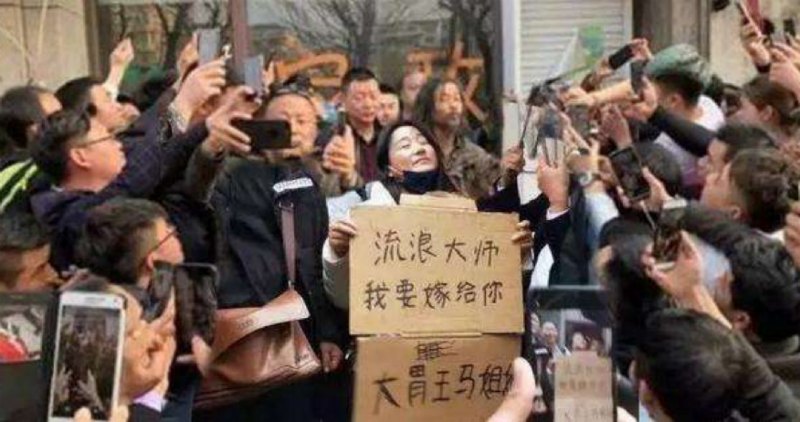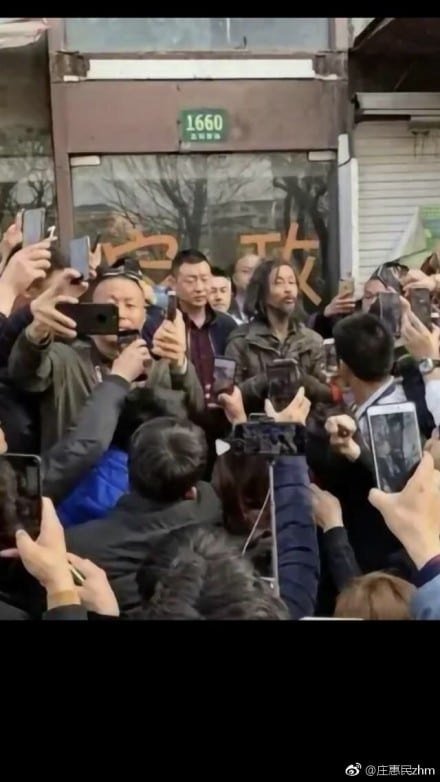 Over the past week, Shen hasn't been seen out in public. Some recent photos of Chen show that he had an apparent makeover when attending a class reunion that was specially organized for him by his former classmates.
As the hype around the 'Vagrant Professor' is slowly quieting down, more critical responses to Chen's sudden fame are surfacing on Chinese social media, asking who this hype really is about in the end.
Many netizens question the invasion of Chen's privacy, saying that this craze was not so much about Chen himself but more about people's needs for a dramatic and touching story, and social media users' greed for more clicks and likes for themselves through Chen. These so-called "like hunters" will try to get as many 'likes' as possible to make them feel good about themselves.
Commenters also point out that if it would have been about Chen himself, his 'fans' should have left him alone as he requested. Instead, they disrupted his life so drastically that he had to leave the streets he once called home.
On Weibo, one person wrote: "This is how I see it: all these people who took his photo are the real beggars, begging for likes."
Other people wrote: "Society has gone mad," and: "Even if you don't want to be famous, they will just make you famous."
The fashionable beggar 'Brother Sharp' who rose to fame in 2009 initially benefited from his overnight stardom. He received help from social workers, but once he looked like a 'regular person' again, people lost interest in him.
According to a recent media report, 'Brother Sharp' has, again, lost contact with his family and might be back on the street, anonymous this time. Perhaps the story of the 'Vagrant Professor' will see a similar ending once the hype has blown over.
By Gabi Verberg, edited by Manya Koetse
Spotted a mistake or want to add something? Please let us know in comments below or email us.
©2019 Whatsonweibo. All rights reserved. Do not reproduce our content without permission – you can contact us at info@whatsonweibo.com
98-Year-Old Hotpot and Coca Cola Lover Becomes Online Hit
Are hotpot and cola the key to longevity?
This week, a 98-year-old Chengdu resident has become an online hit on Chinese social media, after videos of her and her granddaughter went viral. The popular grandmother loves to drink Coca Cola, eat hamburgers, and is crazy about hotpot – but only if it's really spicy.
The 98-year-old became an overnight hit because of the videos posted by granddaughter Cai on China's popular video app Douyin (TikTok), that show the grandmother's great appetite for spicy food, alcohol, and sweet sodas.
When the granddaughter tries to persuade her grandma to drink less alcohol ("You've already had five!") she'll pour herself another cup; while dozing off, she'll still talk about her favorite hotpot with beef tripe; when eating her hamburgers, she'll eat so fast that her dentures fall out – all moments that were caught on video by Cai.
The woman, who has been nicknamed "grandma foodie" (吃货奶奶), has been starring in her granddaughter's Douyin videos since August of last year. Since then, she has accumulated a social media following of some 410K fans and has now risen to nationwide fame, with dozens of Chinese news outlets writing about her. On March 4, she became the number one trending topic on Weibo.
On social media, most netizens praise the grandma for her positive attitude. "I hope I can do all the things I love, too, when I reach her age," some say: "Eat whatever you want, whenever you want, and drink whatever you like, whenever you like." "Eating good food is the key to happiness," others write.
Some also see a lucrative opportunity in the grandma's sudden rise to fame: "She should become a brand ambassador for Coca Cola."
Granddaughter Cai told Chinese reporters: "I think it's the contrast that makes her so popular. She drinks Coke, eats hamburgers, loves spicy food, and all that greasy food. She's leading the life of a young person, and it appears to be very unhealthy. But she still has longevity."
Because Cai's grandma does not know much about social media, Cai tried to explain to her that "many, many people" like her a lot. "Why on earth would they like me for?" she replied: "I'm old!"
Want to know more about hotpot, all the reasons to love it, and how to make it at home? Visit our sister site Hotpotambassador.com here.
By Manya Koetse
Spotted a mistake or want to add something? Please email us.
©2019 Whatsonweibo. All rights reserved. Do not reproduce our content without permission – you can contact us at info@whatsonweibo.com.