15-Year-Old Fatally Stabs Classmate over Better Exam Scores
A 15-year-old middle school student recently stabbed his classmate to death. His reasons for the brutal stabbing allegedly relate to the fact that his classmate received better exam scores than him.
A shocking incident that occurred in Zibo, Shandong, has attracted the attention of Chinese netizens. WeVideo, a video platform affiliated with 'The Beijing News', reported the incident in a video earlier this week.
According to the video report, a 9th-grade student named Ma was stabbed to death by one of his classmates in the district of Linzi in Zibo on June 5th.
The victim's father told reporters that his son's classmate, Qin, was hiding in one of the units in Ma's neighborhood that day, waiting for Ma to come outside. He had brought knives and a hammer with him.
The crime scene, featured in the WeMedia report, shows that the confrontation between Ma and Qin was a bloody one – leaving blood stains across the area which were later covered by sand. Ma died from a fatal stabbing wound in his neck.
The victim's family told that Qin had previously threatened Ma, who was a star student, in late May of this year. According to Ma's uncle, his nephew had relayed to him that Qin had said he would kill him if he would score better than him during the exams. The school did not intervene when Ma's parents warned staff about the threats. Ma was killed the second day after the exams.
The principal of the local school told Chinese media that the stabbing came as a total shock, especially because the two boys were known to be good friends. The boys, both in their final year of junior high school, we preparing to enter secondary school in September.
According to Ma's mother, her son won numerous awards and certificates during his studies. Earlier this week, some Weibo posts suggested that Ma was always the top student of his class, with Qin coming in second.
Many Chinese students are strained because of the country's test-oriented and competitive education system. Students in Shandong province face even more pressure than their peers from other provinces. According to Financial Times (Chinese), students from Shandong are among the least likely to get into top institutions such as Tsinghua.
Shandong has a high population but a relatively low number of educational institutes and university entrance opportunities.
A post on the official Weibo account of Linzi Zibo police (@临淄警方) confirmed that Qin was taken into custody on June 9th. The case is currently still under investigation.
By now, various posts on Weibo discussing the incident, including the WeMedia video, have been censored, although reasons for the scrutiny are yet unclear. Searches on 'Zibo 15-year-old stabbing' no longer returned relevant results on Sina Weibo at time of writing.
The WeMedia video report (in Chinese) available for viewing here:
By Chauncey Jung
Follow @whatsonweibo
Spotted a mistake or want to add something? Please let us know in comments below or email us.
©2018 Whatsonweibo. All rights reserved. Do not reproduce our content without permission – you can contact us at info@whatsonweibo.com.
The End to Zero Covid: China's New 10 Covid Rules Are Here
"Everyone is really happy but there is a black cloud heading our way."
Over the past few weeks, China's Covid measures have seen gradual changes, and various places across China have eased local rules regarding nucleic acid testing and the accessibility of public transport and venues. Now, central authorities have announced more measures that basically end the 'zero Covid' policy as we knew it. The 'ten new rules' became top trending on Weibo.
Just a month ago, on November 11, Chinese central authorities released a set of twenty new rules to "further optimize" China's approach to Covid.
At the time, Chinese media emphasized that the new rules did not mean that China was letting go of its dynamic Zero Covid policy. Now, another ten new rules have been introduced that do indicate that the country is clearly no longer sticking to its 'zero Covid' goals.
After a central meeting that took place on December 6, authorities released a 10-point plan addressing changes in Covid measures. National Health Commission spokesman Mi Feng (米锋) announced the measures during a live-streamed press conference of the Joint Prevention and Control Mechanism of the State Council (#国务院联防联控机制发布会#).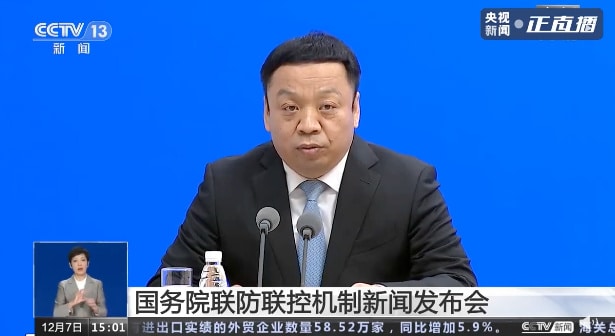 On Wednesday, several hashtags related to the new measures went trending on Chinese social media, including "Health Code" (#健康码#), over 450 million views), and "Ten New Rules" (#新十条#, over 440 million views).

These Are the 10 Changes:

1: Lockdown Changes
Risk areas should be assessed and divided according to science and it should be done precisely. We should no longer see the lockdown of an entire community or residential area; instead, it will be assessed by looking at household units, buildings, and apartment floors. The (temporary) closure of areas will no longer be allowed.
2: Testing Changes
The scope of nucleic acid testing was already limited in the previous adjusted rules, but will now be further limited. Instead of RT-PCR tests, rapid PCR tests will be used more often in accordance with local requirements. Nucleic acid testing will remain in place for high-risk positions and high-risk area personnel in accordance with relevant regulations, and some places including nursing homes, schools, and medical care institutions will still require negative tests, but negative nucleic acid test certificates and health code checks will no longer be necessary for traveling from place to place.
3: Quarantine Changes
People who tested positive but are asymptomatic or only show mild symptoms can isolate at home if they meet local requirements. Centralized isolation centers will still be in operation for more severe cases or those opting in for centralized quarantine. If nucleic acid tests are negative after the fifth day, the isolation period can end.
4: 'High-Risk Area' Changes
If no new cases have been detected for five consecutive days, local lockdowns should be lifted.
5: Medicine Availability Changes
Pharmacies should operate normally and cannot be arbitrarily closed. Over-the-counter (OTC) medicines for cough, fever, etc should not be restricted.
6: Vaccination Strategy Changes
The promotion of the Covid vaccination should be stepped up for Chinese seniors, especially in the 60-79 age group, with a clear focus on making sure they get all the vaccinations they need as quickly as possible. In order to boost the vaccination rates, temporary vaccination sites will need to be set up and they will need to be local incentives to get the seniors to vaccinate asap. This was actually also mentioned in the list of twenty optimized Covid measures in November (under rule 12).
7: Medical Classification Clarity
There should be clearer knowledge on the medical status of residents and whether elderly residents have any underlying medical issues and if they have been vaccinated.
8: Focus on the Normal Functioning of Society & Basic Medical Services
If areas are not classified as high-risk areas, people should be allowed to move around freely and have access to basic medical care, and there should be no restrictions on production, work, and business operations.
9: Strengthen Safety Procedures in Epidemic Situations
Buildings [in high-risk areas] cannot block fire exits, unit doors, or community gates under any circumstances. Community management departments should have effective modes of communication systems in place to contact local medical institutions in order to safeguard the medical needs of residents, including seniors living alone, children, pregnant women, and those with underlying conditions.
10: Improved Policies regarding Outbreaks at School Campuses
As also mentioned in the previous updated rules, on-campus epidemic control must be consistent, precise, and in accordance with science. Not only can there be no unnecessarily long lockdowns of campuses, but the risk areas within campuses should be more precisely defined, and normal teaching and living outside these areas should be able to continue as usual. Schools without any outbreaks should carry on normal offline teaching activities, and capus facilities such as supermarkets, cafeterias, libraries, etc. should be open.

Online Responses

One clear online response to China's recent 'optimized' Covid measures is that people are buying a lot of medication, expecting to be infected with Covid soon. Some online stores had already sold out on the Traditional Chinese medicine Lianhua Qingwen (连花清瘟), a herbal pill by Yiling Pharmaceuticals which is used for the treatment of influenza as well as Covid.
One popular Weibo blogger (@咖啡布偶猫) wrote: "I feel as if the propaganda has seen a sudden change in direction. During the first half of the year and the epidemic in Shanghai, everyone would get scared the moment you talked about a positive case, they wanted to fiercely chase it and thoroughly reach zero cases. Now they are propagating that we should not panic, that we should accept the reality and actively respond to it, as if it is nothing alarming. But we should still pay attention to those with underlying medical conditions, those with respiratory issues, asthma, and lung disease. If you haven't bought cold medicine yet, do so. Right now, some places even have a limit on buying Lianhua Qingwen."
During the December 7 press conference, Guo Yanhong (郭燕红), director of the National Health Commission's health emergency division, emphasized that it is not necessary for people to stock up on medication in light of the announced eased Covid measures and that there are sufficient supplies (#卫健委提示没有必要囤积抢购药物#).
"After being sealed for three years, it's all lifted in a morning, all the prices go up for Lianhua Qingwen, rapid antigen tests increase in price, and if your symptoms get serious you're still not able to get help anywhere."
Some jokingly suggest that after messing around for three years, the pandemic is only now really starting.
"Everyone is really happy now but there's a black cloud coming our way, we will know in a month or so if it is going to be light drizzle or a heavy rainstorm."
By Manya Koetse , with contributions by Miranda Barnes
Get the story behind the hashtag. Subscribe to What's on Weibo here to receive our newsletter and get access to our latest articles:
Spotted a mistake or want to add something? Please let us know in the comments below or email us. First-time commenters, please be patient – we will have to manually approve your comment before it appears.
©2022 Whatsonweibo. All rights reserved. Do not reproduce our content without permission – you can contact us at info@whatsonweibo.com.
Chinese Commentator Hu Xijin Expects to "Get Covid Within a Month" (and Why It Matters)
This Hu Xijin commentary can be seen as part of a wider trend of normalizing Covid in the Chinese online media sphere.
Hu Xijin (胡锡进), the Beijing-based retired editor-in-chief of the state-run Global Times, recently published a post on the Chinese social media platform Weibo about him getting mentally ready to be infected with Covid-19 soon.
The former journalist Hu, whose posts and statements often go trending and influence public opinion, also made a few other noteworthy comments.
On Sunday (Dec 4), Hu posted: "Over the past week, China has essentially ended widespread lockdowns, with places like Beijing and others beginning to allow home quarantine for many positive individuals, while reducing the scope of nucleic acid testing. These are amazing changes."
Four weeks ago, right before China introduced its twenty new Covid measures, Hu already argued that strict lockdowns are no longer sustainable and that China should aim for a more relaxed and local approach (which is exactly what happened).
Now, Hu Xijin says that he is "mentally preparing to be infected with Covid within the coming month" ("做好了在一个月之内被感染上的思想准备"), further writing:
"In order for young people to have a colorful young era, in order to save the livelihood of so many service industry workers, in order for people from all walks of life to avoid seeing their wages cut, in order for so many companies to get out of their predicaments, this 62-year-old 'Old Hu' is willing to participate in the risk of getting [a virus that] degenerated to only 2.5 per 10,000 rate of getting seriously ill."
Hu's post was published on December 2nd in the context of Hu Says, a regular video column by Hu Xijin.
A few months ago, such a comment coming from such a big account would have been unthinkable.
In May of this year, those who tested positive still complained about suffering from stigmatization in society.
But Hu's comments come at a time when there are more discussions about getting Covid and sharing the experiences of having Covid.
In the second week of November, shortly after Chinese authorities launched their updated Covid rules, the hashtag "What Is It Like to Catch Covid-19?" (#感染新冠是什么体验#) already went trending on Weibo, along with other hashtags informing Chinese netizens about what it's like to get Covid – a virus that so many in China never experienced first hand.
Since Hu Xijin (1960) ended his career as the editor-in-chief of Global Times in 2021, his role as a political commentator has arguably become even more important and more visible on Weibo than before, especially in China's challenging Covid times of 2021.
Some find him overly nationalistic, for others he is not nationalistic enough; there are those who find him reasonable, and then some say he is repetitive and just dancing to the tune of Party propaganda. But then there have also been some discussions – in light of Pelosi's controversial Taiwan visit – about Hu misleading public opinion by not matching the official stance.
Whichever it is, some things are certain: Hu has some 25 million followers on Weibo, and he is often the first major media account that is allowed to discuss in detail some major sensitive social topics, even if these online discussions are otherwise being tightly controlled (think of the Tangshan BBQ Restaurant incident, the future of zero Covid, the Urumqi fire, and the 11.24 protests across China.)
Hu's comments about 'catching Covid soon' can be seen as part of a wider trend of normalizing Covid in the Chinese online media sphere, preparing people to face a virus they are still unfamiliar with since 'zero Covid' has always been the main goal.
On December 3, Hu further clarified his comments about preparing to getting Covid. He explained he expects to catch the virus because he is active in the media environment, through which he unavoidably is in touch with many different people. He also promised that if he might get infected, he would share his Covid experience with all of his readers.
As the idea of catching Covid is becoming more normalized (there are more and more trending hashtags informing what to expect after getting Covid, e.g. #新冠发病7天内身体会发生什么变化#), people are also exchanging non-scientifical advice on how to prevent catching Covid, such as drinking licorice ginger soup, holding Sichuan peppercorns inside your mouth when going out, or getting silicon covers for the drains in the bathroom to prevent the virus coming through via neighboring apartments.
Some express their worries about catching the virus. "I'm really scared. I've already replaced all of my masks with K95 ones," one Weibo user wrote: "My immune system has been weak since I was little, and I have allergies. I have the feeling that if I get infected I might lose half my life, if I don't die (..) I'm in a state of panic."
Even though China is still far from 'opening up', some people are already preparing to 'live together with the virus,' reminding others that getting vaccinated, keeping social distance, and washing hands are all measures that will help in preventing getting Covid.
"I am worried about getting Covid but I also want to open up," some on Weibo said.
"As much as I wanted it all to end, this feels abrupt," one social media user from Inner Mongolia wrote: "It won't be the same as before. The thorough 'zero Covid' [policy] has gone. The country's protection of our health has gone up to this point. I hope everyone can now take care in prevention themselves, and protect themselves and their families. I hope the epidemic situation will end soon, that the world will be ok, and that we can have our freedom."
Meanwhile, Hu Xijin informed netizens on Saturday that he had some milk, boiled eggs, pastry and pickled mustard greens for breakfast. While working on his condition and nutrition, he says that if his Covid positive time comes, he will not get any VIP treatment. If allowed, he'll either recover from home or go to a centralized Covid location.
He will just have to wait and see what happens, just as millions of other Chinese citizens are waiting to see what this winter is going to bring.
By Manya Koetse , with contributions by Miranda Barnes
The featured images are all images that went viral recently in light of China opening up (including nucleic acid testing booths being taken away).
Get the story behind the hashtag. Subscribe to What's on Weibo here to receive our newsletter and get access to our latest articles:
Spotted a mistake or want to add something? Please let us know in comments below or email us. First-time commenters, please be patient – we will have to manually approve your comment before it appears.
©2022 Whatsonweibo. All rights reserved. Do not reproduce our content without permission – you can contact us at info@whatsonweibo.com.