22-Day-Old Baby Rescued after Abusive Father is Exposed on Weibo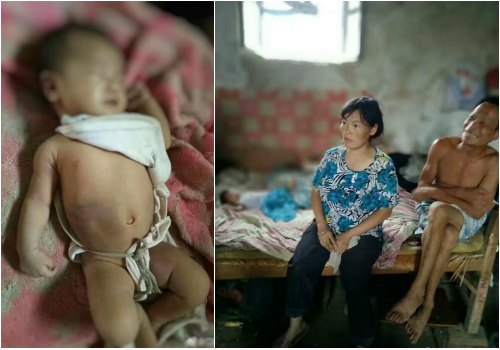 A baby girl from a village in Shandong has been rescued by authorities after netizens exposed the abuse by her father on Weibo.
On August 5, a female netizen from Shandong shared pictures on Weibo that showed the bruises on a newborn baby. The pictures were taken in a village in Shandong's Yinqu county.
The woman, nicknamed 'Honey River' (@江的甜蜜), wrote that the baby girl on the pictures is 22 days old and is being abused by her alcoholic father. She also said that the baby's mother, who is also beaten by her husband, suffers from mental health issues.
"I hope that the relevant departments will come and save this girl's life!", she pleaded, asking other netizens to share her message to attract more attention for the case.
Worried about the baby's safety, many netizens called the police.
Chen Lan (@作家陈岚), author and founder of child care center 'Small Hope House' (小希望之家), later posted an update about the case on her Weibo page:
"This morning, netizen @jiangdetianmi exposed how a 22-day-old baby girl in Shandong's Linyu Wangjiayanyu was beaten by her father, her body purple. Many netizens have already reported this case to the police. The police have responded that the child has currently been brought to the local hospital, where her skin injuries have, for now, been identified as bruising. The abusive father has been summoned. The local women's federation is looking at the possibilities for foster care. We certainly think that there is no way the child can go back, and we will pay close attention to this case."
Chen Lan also said the baby's mother was homeless and mentally ill when the baby's father picked her from the street and brought her home with him before she became pregnant. "How can we make sure this won't happen again?", she wonders: "I've dealt with a similar case in the past, and those people had 5 children."
"How unlucky for this child to be born in such a household," many netizens say.
"Could I take legal steps to adopt this child?" one woman asks.
Another person comments: "There are many people now who want to adopt a child. The child will find a new home and lead a happy life."
By Manya Koetse
Follow @whatsonweibo
©2017 Whatsonweibo. All rights reserved. Do not reproduce our content without permission – you can contact us at info@whatsonweibo.com.
'Sister Blood Points' Controversy: Shanghai Woman's Tibet Blood Donations Ignite Privilege Debate
Dozens of local public officials in Tibet donated blood to rescue a Shanghainese woman. Netizens believe it's a matter of privilege.
The medical rescue of a critically injured Shanghai woman in Tibet has recently triggered major controversy on Chinese social media after netizens suspected that the woman's treatment may have been facilitated through the abuse of power.
What was supposed to be a romantic honeymoon getaway turned into a nightmare for newlyweds Yu Yanyan (27, 余言言) and her husband Tao Li (29, 陶立).
On October 14, just two weeks after their wedding, the couple from Shanghai was driving on China's National Highway 219. Their destination was Ngari Prefecture in Tibet's far west, where the average elevation is 4500 meters.
As they drove by the famous mountain pass Jieshan Daban (界山達阪), situated at an altitude of 5347 meters, they suddenly realized that the altitude was affecting them. Soon, Tao Li, who was driving the car, lost consciousness and crashed the car. Yu Yanyan, on the passenger side, was badly injured in the crash.
What followed was a complicated, time-sensitive, and costly rescue operation. At the Ngari People's Hospital (阿里地区人民医院), Yu was diagnosed with a ruptured liver, abdominal bleeding, hemorrhagic shock, and thoracic trauma. She was losing a lot of blood in a short time and required surgery, but there was not enough blood available for a blood transfusion at the time in the sparsely populated region, as reported by Beijing News.

Tibetan Civil Servants to the Rescue

While the hospital made efforts to secure donations, specifically requiring an adequate supply of A+ type blood, Yu's husband was reportedly advised to reach out to the Shanghai Municipal Health Commission (上海卫健委) to inquire about potential assistance. One of his aunts, or his 'auntie', allegedly helped him to contact them.
These efforts appeared to be fruitful. Between October 16-17, just days following the crash, numerous members of the public and dozens of local civil servants in Tibet, including firefighters, policemen, and military personnel, stepped forward to donate blood, contributing to over 7000 mL of A-type Rh-positive blood that ultimately saved Yu's life.
Allegedly thanks to the Tibet office of the Shanghai Municipal People's Government, a medical specialist from Shanghai was even sent to assist in the medical treatment of Yu at the Ngari hospital.
As Yu later required more advanced medical care and surgeries, she was advised to go to a bigger hospital. She was then transferred via a specially arranged chartered plane. The total costs of this medical chartered plane flight from Ngari to Sichuan's Huaxi hospital (四川华西医院), arranged by Yu's father, allegedly cost 1,2 million yuan (US$169.230).
After receiving surgery at the Huaxi Hospital, Yu was in stable condition and was transferred to Shanghai.

An Abuse of Power?

Yu's story began drawing notice, eventually garnering nationwide media coverage, after Yu herself posted a video on her social media account (Douyin) in which she recounted her experiences. Yu, who only had a relatively small group of followers, told about her rescue operation and her recovery. But instead of garnering sympathy, it led to many questions from netizens and went viral. The video was later deleted.
Who was the 'auntie' who reached out to the Shanghai Municipal Health Commission? How were Tibet public officials made to donate blood for this Shanghai patient? What power dynamics were in play that facilitated the mobilization of people in this manner by the family?
People became upset, as they suspected Yu's life had only been saved because of an abuse of power, and that ordinary Chinese patients would never have never received a similar treatment.
They started referring to Yu as 'Sister Blood Points.' The Chinese term is xuè cáo jiě 血槽姐, with xuè cáo 血槽 (lit. blood groove) often being used in the world of gaming to refer to the health bar, an image in video games that shows the player how much energy or blood or strength they have left before it's game over.
There were also various digital (AI-generated) images showing Yu surrounded by bags of donated blood, portraying her as a privileged, blood-sucking Shanghai 'princess' in Tibet.
Following the online commotion, the Ngari Propaganda Department issued a statement on November 29 promising to look into the issue. Additionally, in the first week of December, various Chinese media outlets also started to investigate the case.

An Ordinary Patient in Extraordinary Circumstances

On December 6, online newspaper The Paper (澎湃新闻) published an article together with Shangguan News (上观新闻) which answered some of the most pressing questions surrounding the case.
The Paper reported that they found no officially organized mobilization of public officials or members of the public to donate blood. Instead, local workers and individuals donated blood after learning about the woman's situation through various channels, including from the hospital staff. Yu Yanyan's husband Tao called the successful blood donation campaign a result of "multi-party mobilization" ("这是我们多方动员的结果,确实不是有组织的。")
The Shanghai Municipal Health Commission also denied that they had contacted health authorities in Tibet to ask civil servants to donate blood. They claimed their members of staff did not personally know the patient nor any members of her or her husband's family.
Furthermore, the article says that the woman known as 'auntie' is a 60-year-old retired woman who previously worked at a crafts factory. Upon learning about Yu's predicament, she forwarded the information to her daughter-her-law, who works at a bank and also did all she could to spread the news and ask for help. This eventually led to the Tibet office of the Shanghai Municipal People's Government being updated on the situation.
The Tibet office has refuted any suggestion that personal relationships influenced the procedures that resulted in the dispatch of a Shanghai medical expert to assist at Ngari People's Hospital. A Shanghai medical team stationed in Tibet received a request for urgent support at the hospital and, following their ethical work guidelines, dispatched an expert to provide assistance.
The Paper further stated that nor Yu, nor her husband or their family were officials. In order to pay for the medical flight, Yu's parents used family savings and borrowed money from others.
All of the information that was coming out about the entire ordeal seemed to indicate that Yu was just an ordinary patient in extraordinary circumstances.

A Sign of Distrust

While certain commenters believe that the latest information has put an end to weeks of speculation, others continue to harbor suspicions that there might be more to the story – they are not satisfied with the answers provided on December 6.
As some netizens dug up screenshots of online calls for help from Tao, Yu's husband, some commenters responded: "This only makes it clearer that there's no special status (特殊身份) here. Real influential officials wouldn't go so low as to seek help online. A simple phone call would have quickly resolved their issue."
In the end, the entire ordeal, now labeled "The Civil Servant Blood Donation Incident" (公务员献血事件) on Chinese social media, reveals more about public distrust in the transparency of China's healthcare system than it does about Yu, her family, or the situation in Tibet.
While frustrations regarding privilege and power abuse within China's healthcare system have existed for years, this issue has gained significant public attention this year in light of the launch of a top-down anti-corruption campaign targeting the healthcare industry.
This issue is especially important due to China's longstanding struggle with public mistrust in the medical care sector. Some studies even suggest that China's healthcare system has suffered from a "trust crisis among the public" since the 1990s (Chen & Cheng 2022, 2).
Multiple factors contribute to the relatively low trust in the Chinese healthcare system, but access and costs both play major roles. The sentence "Getting medical attention is difficult, getting medical attention is expensive" (Kànbìng nán, kànbìng guì 看病难,看病贵) has become a well-known expression among Chinese patients dissatisfied with the challenges they encounter in both accessibility and affordability when seeking medical treatments.
Most medical providers in China have become increasingly commercialized and profit-driven since the 1980s, leading to problems with crime and corruption within the medical system as medical professionals are expected to balance both a focus on patient well-being and financial gain. With doctors contending with low pay and incentive-based labor, bribery has emerged as a well-known problem, often considered somewhat of an "open secret" (Fun & Yao 2017, 30-31).
The prevalence of such issues has fueled public frustration, making individual cases like Yu Yanyan's a source of intense controversy. In an environment where "getting medical attention is difficult, getting medical attention is expensive," and where corruption is a notorious problem, many people simply do not think it is possible for one young woman to receive so much medical assistance from doctors and civil servants without the involvement of connections, power abuse, and bribery in the process.
Now that more details about the 'blood point sister' story have come to light, most netizens have started to question the truth behind this story and realize that Yu might just be an ordinary citizen, while some bloggers are still demanding more answers. In the end, most agree that it is not really about Miss Yu at all, but about whether or not they could expect similar medical treatment if they would end up in such a terrible situation.
"Is there currently an emergency response system in place that allows ordinary people to seek help in equally urgent crises?" ("当前是否存在一个紧急响应机制,可以让普通人在遇到同样紧急的危机时,能寻求帮助?") one Sina blogger wonders.
"It is actually not important to know if they had special privileges or not," one Weibo commenter writes: "I just hope that if patients need donated blood in the future, they will get the same treatment."
By Manya Koetse, with contributions by Miranda Barnes
Get the story behind the hashtag. Subscribe to What's on Weibo here to receive our newsletter and get access to our latest articles:
References:
Chen, Lu, and Miaoting Cheng. 2022. "Exploring Chinese Elderly's Trust in the Healthcare System: Empirical Evidence from a Population-Based Survey in China." International Journal of Environmental Research and Public Health 19 (24): 16461-.
Fun, Yujing & Zelin Yao. 2017. "A State of Contradiction: Medical Corruption and Strain in Beijing Public Hospitals. In: Børge Bakken (Ed.), Crime and the Chinese Dream, Hong Kong University Press: 20–39.
Spotted a mistake or want to add something? Please let us know in comments below or email us. First-time commenters, please be patient – we will have to manually approve your comment before it appears.
©2023 Whatsonweibo. All rights reserved. Do not reproduce our content without permission – you can contact us at info@whatsonweibo.com.
Weibo Watch: Doing Homework at the Hospital
Much lies behind the image of Chinese kids doing their homework in hospitals. We discuss that powerful image, the latest film about Zhang Guimei, the Three Subject Dance, and the Weibo hashtags to know.
PREMIUM NEWSLETTER | ISSUE #19
This week's newsletter:
◼︎ 1. Editor's Note – Homework at hospitals
◼︎ 2. What's Featured – A closer look at the featured stories
◼︎ 3. What More to Know – Highlighting 8 hot topics
◼︎ 4. What Lies Behind – Observations beyond the headlines, by Miranda Barnes
◼︎ 5. What's Noteworthy – Much ado about fried eggs
◼︎ 6. What's Popular – Shaoxing opera draws in a new kind of audience
◼︎ 7. What's Memorable – One year since the 'White Paper Protests'
◼︎ 8. Weibo Word of the Week – "Subject Three Dance", a viral hit
Dear Reader,
'What is this mysterious illness coming from China?' 'I heard Chinese hospitals are filled with kids?' 'Are face masks mandatory again?' 'Is the Health Code coming back?' Over the past two weeks, while I was lying in bed with a fever of 39 degrees, I received numerous messages from non-Chinese friends expressing concern about images circulating online showing parents and their sick kids lining up in Chinese hospitals. For some, these scenes evoked memories of the early days of the pandemic and worries about an unknown virus.
While attracting global attention, the recent surge in China's respiratory illnesses even prompted the World Health Organization to request more information from China about the clusters of pneumonia in children. Chinese health authorities reported no detection of unusual or novel pathogens. This current wave, occurring as China enters its first full winter season since the end of its 'zero Covid' restrictions, appears to be a mix of Mycoplasma infections, influenza, Covid-19, Norovirus, and Adenovirus. Coughs, colds, and fevers are notably affecting school-aged children.
A particular image that went viral recently showed Chinese school children doing homework while hooked up to an IV in the hospital. To some on the X platform, the image seemed so bizarre that they questioned its authenticity, suggesting it was fake or AI-generated. The English-language state media outlet SHINE (Shanghai Daily) clarified in one of its recent articles that the image was, in fact, real, and that study areas at some hospital infusion centers have been around since at least 2019.
However, that particular article, titled "AI-generated? Photo of Chinese students doing homework in hospital stirs X debate" was later taken offline and now leads to a 404 page.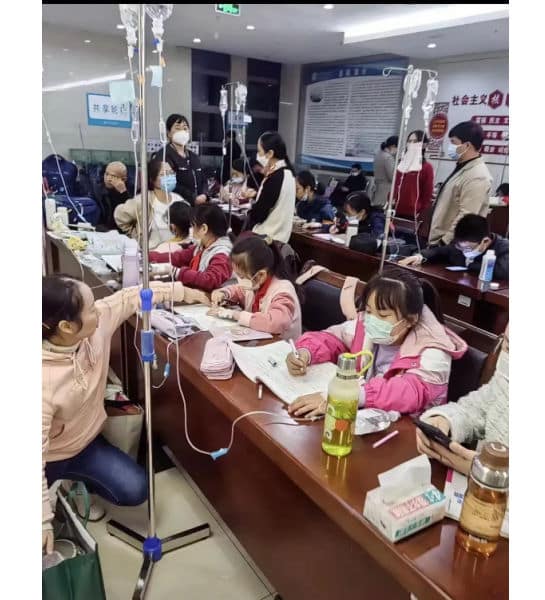 Perhaps the disappearance of the article reflects the discomfort surrounding the scenes of Chinese schoolkids doing homework at hospitals. For many, seeing children in hospitals is already disheartening, but the sight of them doing homework in that setting –gasp– is the most dreadful thing they can imagine while also feeding into prejudiced ideas some foreigners may hold about life in China.
One thing I noticed about those messages I received about the images and videos depicting the surge in respiratory illnesses in China is that many people, especially those speaking from a European perspective, assume that children receiving IV fluids at the hospital must be seriously ill. The idea of letting such children do their homework is simply inconceivable.
In reality, it doesn't necessarily take much to receive IV fluids in many Chinese hospitals or clinics. Unfortunately, part of China's healthcare culture involves a profit-driven approach that can lead to over-prescriptions, excessive antibiotic use, unnecessary admissions, and the administration of intravenous fluids. Coupled with patients' preference for hospital-based services and widespread expectations that IV infusions will make them feel better and speed up recovery, it's not surprising that the practice of administering IV therapy has become routine among Chinese patients, even when their symptoms are mild.
Despite the prevalence of IV use and the many concerned parents who (partly also due to a lack in General Practictioners) are quick to take their sick kids to hospitals and clinics, the image and news articles of children doing their homework in hospitals also triggered discussions on Chinese social media.
The main point of discussion was not that the kids were too ill to do their homework nor that it was bizarre (many people actually praised local hospitals for setting up special study corners); the main focus was how these images embodied the concept of nèijuǎn 内卷, "involution."
This buzzword has been generating discussions on Chinese social media for years now, and represents the competitive circumstances in academic or professional settings in China where individuals are compelled to overwork because of the standard raised by their peers who appear to be even more hardworking. One popular slogan used by a Chinese cram school showed that this societal rat-race already starts at a very young age: "If you come to us, we will train your kids, if you don't come to us, we will train the competitors of your kids."
Chinese clinics and hospitals offering special study rooms or homework corners for kids are actually also part of this 'rat race.' One hospital in Nantong, Jiangsu, recently opened up its brand-new study corner in the IV area (输液区一角"学习区"). A spokesperson argued that the hospital does not encourage parents to let their sick kids do homework at the hospital while hooked onto an IV. Still, without such spaces, kids would end up doing homework on floors and in dimly-lit hallways, creating a messy situation and making them even more uncomfortable.
Similarly, schools in Beijing have clarified that students who are ill are not required to finish their homework. Parents have also voiced their opinions, saying they don't want their kids to do school work when they are ill, but the pressure is simply too much to avoid it.
Much lies behind the image of Chinese kids doing their homework at a hospital, but there's also a lesson in how quickly people jump to conclusions without understanding the context. While that powerful image is interpreted differently in various contexts, one thing most people seem to agree on is that it's never a bad idea to take things slow when feeling ill, especially for kids who could use a break.
As I pour myself another hot water with honey and ginger, I hope you also take care of your health during this cold and flu season and remember to take a pause from the everyday rat race, no matter your age or location.
Best,
Manya
What's Trending
A closer look at the top stories
1: The Challenges of an Ordinary Chinese Couple | Two years after they first started sharing their story on Chinese social media, millions of netizens are engrossed in the struggles of the Chinese young parents Li Jun and Liang Liang, whose journey of starting a family and buying an apartment in the city at a time of economic downturn turned into an emotional rollercoaster.
Read more
2: Overwhelming Success of a Haidian Food Vendor | A Beijing food vendor, affectionately known as 'Auntie Goose Legs,' has become a viral sensation after becoming super popular among the city's student community. However, this beloved 'auntie' has caused quite a commotion recently after relocating her stall, triggering debates among local students over which university she truly 'belongs' to.
Read more
3: Hu Xijin and Others Discuss Dutch Politics | The Dutch general elections on Tuesday, November 2022, resulted in a victory for the right-wing Freedom Party (PVV). The party, established in 2006, is led by the 60-year-old Dutch politician Geert Wilders who is known for his outspoken populist rhetoric and anti-establishment sentiments. On Chinese social media, the Dutch election outcome became a topic discussed by some well-known bloggers.
Read more
4: Hospitals Flooded during Wave of 'Flu' Cases | Recent discussions on Chinese social media platforms have highlighted a notable surge in flu cases. The ongoing flu season is particularly impacting children, with multiple viruses concurrently circulating and contributing to a high incidence of respiratory infections. Among the prevalent respiratory infections affecting children are Mycoplasma pneumoniae infections, influenza, and Adenovirus infection. The spike in flu cases has resulted in overcrowded children's hospitals in Beijing and other Chinese cities. Parents sometimes have to wait in line for hours to get an appointment or pick up medication.
Read more
What More to Know
Highlighting 8 hot topics
◼︎ 1. "OLD FRIEND OF CHINA" KISSINGER DIES AGED 100 | The death of the 100-year-old Henry Kissinger made international headlines this week. In China, the former US Secretary of State is mostly remembered as "an old friend" of the country. His lifelong connection to China started in 1971, when he traveled to Beijing for a private meeting with Premier Zhou Enlai to plan the details of the significant and groundbreaking visit by President Nixon, which eventually took place in February 1972. Kissinger would eventually visit China over a 100 times, even after his retirement. His last visit to China took place in July of 2023, when he attended a meeting with President Xi Jinping. This week, Xi sent a condolence message to President Biden and extended sincere condolences to Kissinger's family. Kissinger's book On China is still a much-read classic in China.
Besides grieving over the death of Kissinger, Chinese netizens also mourned the loss of another American this week, namely Charlie Munger. The legendary investor, who had many fans in China, died at the age of 99. (Weibo hashtag "Kissinger Passes Away" #基辛格逝世#, 680 million views).
◼︎ 2. GETTING FINED IN SICHUAN'S PUGE | In November, the leaders of a village in Puge, a county in southern Sichuan Province, sparked heated debates by introducing new regulations. According to these rules, local residents could potentially face fines for maintaining a 'dirty and disordered' ('脏乱差') living environment. Examples of offenses include leaving spider webs in the home, having an untidy bed, or neglecting to do the dishes. The fines range from 3 yuan to 30 yuan ($0.42-$4.20). While some commenters believe that these regulations reflect the village's attempt to promote cleanliness and order, an online poll revealed that the majority of respondents disagree with the idea of local village leaders imposing fines for personal messiness. (Weibo hastag "Place in Sichuan Gives 10 Yuan Fine for Not Folding Blanket" #四川一地规定不叠被子罚10元#, 140 million views).
◼︎ 3. VISA-FREE CHINA TRAVEL FOR 5 EU COUNTRIES + MALAYSIA | On November 24, China's Foreign Ministry announced that, starting from December 1st 2023, individuals holding ordinary passports from France, Germany, Italy, the Netherlands, Spain, and Malaysia can enjoy visa-free entry to China for business, tourism, family visits, and transit, as long as their stay does not exceed 15 days. This initiative, which aligns with China's broader efforts to boost tourism and promote international exchanges, will continue until November 30, 2024. On Weibo, many netizens expressed disappointment that the visa-free travel regulation was unilateral; Chinese travelers still need a visa to enter these countries. (Weibo hashtag "China Tries Out Visa-Free Policy for France, Germany, Netherlands, Italy, Spain, and Malaysia" #中方将对法德意荷西马六国试行免签政策#, 110 million views.)
◼︎ 4. CIVIL SERVANTS EXAMS | The yearly national public servant exams in China began last Sunday. With over 3 million candidates, this year marks a historically high number of candidates who are vying for the available 39,600 job openings in central government agencies and affiliated institutions – twice the amount of positions that were available in 2019. (Weibo hashtag "Average of 77 People Competing for One Position for 2024 National Exam" #2024国考平均约77人竞争一岗位#, 34 million views).
◼︎ 5. PINDUODUO'S 11-11-6 WORK SCHEDULE | As news circulated on November 29 that Pinduoduo, the Chinese online retailer, was on the verge of surpassing Alibaba as China's most valuable e-commerce firm (spoiler: Alibaba remained the largest by day's end), discussions about the company's demanding work schedule gained traction on Weibo. According to insiders, employees are required to follow an "11-11-6" work system: start work at 11:00 a.m., get off at 11:00 p.m., and work six days a week. Sometimes they allegedly also work overtime until the early hours of the morning, making 70-hour work weeks. The harsh work culture at Pinduoduo already triggered national debates in 2021 after the sudden death of a 22-year-old female employee. (Weibo hashtag "Pinduoduo Work System" ##拼多多 工作制##, 50.9 million views).
◼︎ 6. COTTI COFFEE GOES TEA CAT | Cotti Coffee (库迪咖啡), founded by Charles Lu and Jenny Qian, former Luckin Coffee executives who departed in 2020, has expanded to over 5,000 locations across more than 300 cities in five countries. The brand gained attention last week with the announcement of its entry into the tea market. Starting from January 2024, Cotti is set to unveil its Milk Tea brand "Tea Cat" (茶猫), which is now in its pilot store testing phase. Given Cotti's remarkable growth over the past 2 years, we can anticipate a surge in the number of 'Tea Cat' outlets in Chinese cities in the near future. (Weibo hashtag "Cotti Coffee Marches into the Tea [Industry]" #库迪咖啡进军奶茶#, 42,5 million views).
◼︎ 7. CHINESE BILLIONAIRE BUSINESSMAN REUNITED WITH SON | On December 1st, Jie Kefeng (解克锋), a wealthy Chinese entrepreneur from Hebei who had offered a million yuan reward to find his missing son, Jie Qingshuai (解清帅), finally reunited with him after 25 years. Jie Kefeng and his wife held a thank-you banquet on December 2nd, which attracted considerable attention online. Jie Qingshuai, the couple's second son, was abducted in 1998 when his mother left him at home to run a quick errand. The couple never gave up on finding their son and finally, through the help of anti-child trafficking authorities and technology, they found their son, who was sold by human traffickers as a child. The people responsible for his kidnapping have since been arrested. (Weibo hashtag: "Billionaire Family Throws 26th Birthday Party for Abducted Son" #亿万富翁全家为被拐儿子补过26岁生日#, 32.2 million views).
◼︎ 8. YANG MING'S LOVE STRUGGLES | The renowned Chinese basketball player and head coach of the Liaoning Flying Leopards, Yang Ming (杨鸣), took center stage on Chinese social media this week due to rumors about his divorce from his wife Tang Jialiang, with whom he has two children. Despite Yang Ming being a prominent figure in the sports realm rather than in the Chinese entertainment circle, the private aspects of his life, particularly his romantic relationships, continue to captivate netizens who have been following the gossip surrounding the handsome coach for years. This heightened interest is fueled by past speculations of Yang Ming being involved with a female college student. His current romantic interest supposedly is a 45-year-old music teacher. (Weibo hashtag "Exposed: Yang Ming Divorced" ##杨鸣被曝离婚##, 430 million views).
What Lies Behind
Observations beyond the headlines, by Miranda
Discussions over 'True Feminism'
Beyond the Clouds (我本是高山) is a biographical film that premiered in China on November 24. Directed by Zheng Dasheng (郑大圣) and Yang Jin (杨锦), the film portrays the life of Zhang Guimei (张桂梅, 1957), a nationally renowned female principal who manages a girls' school in the impoverished Huaping County, Lijiang, Yunnan province.
As a teacher in Huaping County, Zhang noticed many girls dropping out of school, forced into marriage or work. In many underprivileged areas of China, where sons are often favored over daughters, girls' education takes a hit when finances are tight. Driven by her commitment to the higher Communist cause and the belief in the pivotal role of female education in shaping the nation's future, Zhang established the first free girls' school in China in 2008 with the help of donations. Over the past 15 years, this school has sent over 2000 girls to universities, setting them on diverse career paths.
Over the past decade, Zhang Guimei's selfless work has been praised by the people and recognised by the authorities. In 2021, she even received a medal from Xi Jinping for her lifelong dedication to girls' education in rural China, precisely where women's emancipation is most crucial. Despite her popularity as a feminist championing girls' education in China, the film has faced criticism for distorting elements of her story.
For instance, the film portrayed Zhang's motivation to sustain the school as a personal response to mourning her husband's early death. Feminist supporters of Zhang argue that this narrative transforms her commitment to a higher cause into a personal and romantic motive: 'Can't she just be doing this because she believes in the importance of female power? Why does everything have to be motivated by a man?' they challenged.
Another point of discussion is how the film portrays female students skipping school to go shopping or hang out at internet cafes. Many commenters argued that this is far from the reality, "do you know how much these girls value their opportunity to continue school? Why do you portray them like that?" Another reason why some argued the movie was actually not supporting the feminist cause is how it changed a real story relating to an abusive alcoholic father into one about an alcoholic mother instead. Outraged, some fans of Zhang's work see these kinds of seemingly trivial changes as an attack on Chinese women, going against the nature of Zhang's lifework.
Although Chinese state media is promoting Beyond the Clouds through online platforms and news articles, the voices criticizing the adaptation will not be silenced. While official channels mostly emphasize how Zhang is a true communist, many of her fans mostly see her as a true feminist – and they vehemently resist any attempts to frame Zhang or her story within a patriarchal narrative.
What's Noteworthy
Small news with big impact
Much Ado About Fried Eggs
Mao Anying, Chinese military officer and the son of Mao Zedong, died on November 25 in 1950. Every year, there are some sensitivities surrounding this date because of fried egg rice. One part of Mao Anying's death that has become an ongoing, urban-legend-kind-of online story is that he supposedly disobeyed army rules and cooked egg fried rice at the Chinese headquarters in the North Korean battlefield. The smoke of the fire supposedly alerted the enemy and led to the bombing in which he would lose his life. The anniversary of Mao Anying's death has therefore come to be mocked and celebrated by some netizens as "Egg Fried Rice Day" (蛋炒饭节) or "Chinese Thanksgiving" (中国感恩节), since it's close to the American Thanksgiving.
A few years ago, the sensitive nature of this meme became clear when Chinese celebrity chef Wang Gang (王刚), with many social media followers, uploaded a video on how to prepare Yangzhou-style fried rice. As described by Dennis E. Yi (2020), the chef was accused of "humiliating China" due to the alleged – and perhaps unintentional – connection to Mao Anying.
This year, Wang Gang once again found himself apologizing for sharing an egg fried rice tutorial around the anniversary of Mao Anying's death, sparking allegations of disrespect towards Mao Zedong's son. As this marked the third instance of Wang Gang facing backlash over fried rice, he has now pledged to refrain from making egg fried rice in the future ("作为厨子,以后再也不做炒饭"). Relevant hashtag pages have since been removed from Weibo.
If you want to know more about a renewed focus on Mao Anying in Chinese online media, where official voices communicate why – and in which way – Mao Anying needs to be remembered by the Chinese people, do read this feature article we published in 2022.
Read more
What's Popular
The latest buzz in arts & pop culture, by Ruixin
Why Shaoxing Opera is Popular Among Chinese Youth
Yue opera (越剧), also known as Shaoxing opera, is a Chinese opera genre that originated in Zhejiang Province and is particularly popular in Shanghai. Although Chinese opera is generally mostly loved by China's older generations, new adaptations of classic plays or films featuring a fresh generation of opera performers have now also generated a buzz among China's younger audiences.
Recently, it's Yue opera New Dragon Gate Inn (新龙门客栈) that has gone viral, featuring six actresses (they also play the roles of men) of the Zhejiang Xiaobaihua (小百花) troupe. The play is actually an adaptation of the 1992 martial arts film. One actress in particular has become popular online for her cross-gender acting (女扮男装), namely Chen Lijun (陈丽君), who plays the role of Jia Ting. She joined the Xiaobaihua troupe in 2013, right after her graduation.
The online succes of this show (and other ones, including Butterfly Lovers 梁祝) and their performers has led to a run on opera tickets and has cultivated a new kind of theater audience. New Dragon Gate Inn is performed at the Butterfly studio theater in Hangzhou (杭州蝴蝶剧场) and uses immersive theater styles to break away from traditional forms of opera performance. If you want to grab a ticket, you'll have to really try since you'll join thousands of others who are eagerly waiting to attend one of the shows in real life.
What's Memorable
Best reads from the archive
One Year Since White Paper Protests
Exactly one year ago, news of protest movements popping up in various cities across China went buzzing around the internet. After enduring months of stringent Covid measures, students in Nanjing and Xi'an gathered around campus and held up blank paper sheets in protest of censorship. Their white papers said what could not be expressed, and so the movement was soon dubbed the "white paper protest" or the "A4 Revolution."
Unrest and protests happened from Urumqi to Nanjing, from Beijing to Shanghai. People sang the 'Farewell' song (送别) to commemorate those who died in the tragic 11.24 Urumqi fire and who spent the last 100 days of their lives in lockdown. Online, people used various hashtags and posted clips of 'Do you Hear the People Sing' from Les Misérables.
But while news of the protests made global headlines, the terms "outside forces" or "external forces" (外部势力) increasingly popped up in Chinese social media discussions. Boosted by nationalistic bloggers, the idea that foreign forces were meddling in China's affairs became more prevalent as a way to explain the sudden wave of protests . Read more in this newsletter's pick from our archive below.
Read more
Weibo Word of the Week
The catchword to know
"Subject Three" | Our Weibo Word of the Week is "Subject Three" (kē mù sān 科目三).
Recently, 'Subject Three' has become a buzzword on Chinese social media in connection with a viral dance, the Subject Three Dance (科目三舞蹈). From Douyin to Bilibili, the dance is super popular online and is performed by various people, from online influencers to virtual vloggers. The dance has become especially big since the renowned Chinese hotpot chain, Haidilao, allowed its staff to perform this viral dance for diners upon request, leading to amusing and occasionally awkward situations. On November 28, one customer even turned violent when he found the Subject Three performance at a local Huai'an restaurant too noisy and annoying.
The term 'Subject Three' allegedly first gained traction in 2022 or early 2023 following a video showcasing the jubilant atmosphere of a Guangxi wedding. Subsequently, 'Guangxi Subject Three' (广西科目三) became a popular reference, originating from a humorous joke. Although traditionally associated with the third part of a driver's license exam, people playfully suggested that Guangxi locals undergo three significant "exams" in their lifetime: one for singing folk songs, one for mastering the art of slurping rice noodles, and the third for dancing ("广西人一生中会经历三场考试,科目一唱山歌,科目二嗦米粉,科目三跳舞").
By now, the dance has transcended its original context of Guangxi weddings and Haidilao staff dances, as it's turned into a true social media hype where people create and share videos of themselves and others performing the Subject Three Dance, which is characterized by playful and exaggerated movements accompanied by the background music of "江湖一笑" (Jianghu Smile), making it entertaining, humorous, and, most of all, meme-worthy.

This is an on-site version of the Weibo Watch newsletter by What's on Weibo. Missed last week's newsletter? Find it here. If you are already subscribed to What's on Weibo but are not yet receiving this newsletter in your inbox, please contact us directly to let us know.
Subscribe to our newsletter
Stay updated on what's trending in China & get the story behind the hashtag
Sign up here to become a premium member of What's on Weibo today and gain access to all of our latest and premium content, as well as receive our exclusive Weibo Watch newsletter. If you prefer to only receive our free newsletter with an overview of the latest articles, you can subscribe for free here.
Would you like to become a contributor, or do you have any tips or suggestions for us? Get in touch with us here.