22-Day-Old Baby Rescued after Abusive Father is Exposed on Weibo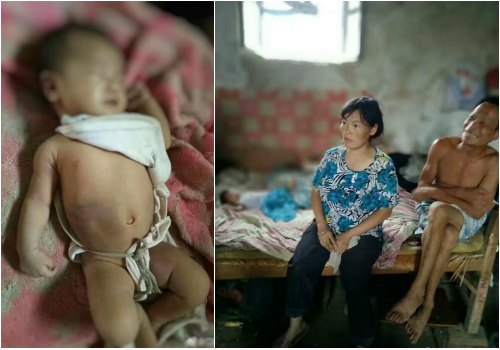 A baby girl from a village in Shandong has been rescued by authorities after netizens exposed the abuse by her father on Weibo.
On August 5, a female netizen from Shandong shared pictures on Weibo that showed the bruises on a newborn baby. The pictures were taken in a village in Shandong's Yinqu county.
The woman, nicknamed 'Honey River' (@江的甜蜜), wrote that the baby girl on the pictures is 22 days old and is being abused by her alcoholic father. She also said that the baby's mother, who is also beaten by her husband, suffers from mental health issues.
"I hope that the relevant departments will come and save this girl's life!", she pleaded, asking other netizens to share her message to attract more attention for the case.
Worried about the baby's safety, many netizens called the police.
Chen Lan (@作家陈岚), author and founder of child care center 'Small Hope House' (小希望之家), later posted an update about the case on her Weibo page:
"This morning, netizen @jiangdetianmi exposed how a 22-day-old baby girl in Shandong's Linyu Wangjiayanyu was beaten by her father, her body purple. Many netizens have already reported this case to the police. The police have responded that the child has currently been brought to the local hospital, where her skin injuries have, for now, been identified as bruising. The abusive father has been summoned. The local women's federation is looking at the possibilities for foster care. We certainly think that there is no way the child can go back, and we will pay close attention to this case."
Chen Lan also said the baby's mother was homeless and mentally ill when the baby's father picked her from the street and brought her home with him before she became pregnant. "How can we make sure this won't happen again?", she wonders: "I've dealt with a similar case in the past, and those people had 5 children."
"How unlucky for this child to be born in such a household," many netizens say.
"Could I take legal steps to adopt this child?" one woman asks.
Another person comments: "There are many people now who want to adopt a child. The child will find a new home and lead a happy life."
By Manya Koetse
Follow @whatsonweibo
©2017 Whatsonweibo. All rights reserved. Do not reproduce our content without permission – you can contact us at info@whatsonweibo.com.
Chinese Netizens Infuriated by "Live Animal Mystery Box" Industry
The business of live animals being sold online as 'reveal pet surprises,' transported through regular courier services, has caused outrage on Weibo.
The cruel business of living pets being transported through regular courier services as 'surprise boxes' has caused outrage on Chinese social media.
"This just makes me furious!" A popular Chinese food blogger posted about China's "live animal mystery box" on May 4th. The blogger, who goes by the name of 'Snake Rose' or 'Snack Girl' (@零食少女), has over seven million followers on social media platform Weibo.
In her post, 'Snack Girl' addresses the problematic industry of 'pet blind boxes' (宠物盲盒) which are for sale on various Chinese e-commerce platforms. "I've seen this since about six months ago on all sorts of platforms from Pinduoduo to Taobao, offered for various prices, including those of 9.9 yuan [$1.5] and 19.9 yuan [$3]," the blogger writes.
'Pet blind boxes' are offered online as surprise deliveries containing an actual pet. Usually advertised with photos showing attractive and expensive breeds of dogs or cats, online shoppers are lured into buying a small and cute pet at an extremely low price. The fact that these customers do not know what pet they are buying is supposed to add to the 'charm' of these blind boxes, since the moment of unboxing is one of anticipation.
In reality, the business is anything but cute or charming. A recent incident exposed the terrible conditions in which these animals are sold and transported as regular goods by standard courier services.
On the evening of May 3, a courier business vehicle containing over 160 small cats and dogs was discovered by local animal rescue volunteers in the city of Chengdu, Sichuan province. The animals were being transported as express delivery goods, with the seller selling them as 'blind box' pets. After alerting the authorities, on-site rescue volunteers found several of the animals in the boxes to already have died. Other animals were taken to a local shelter, where they can later be put up for adoption (video of the rescue operation).
Mystery boxes are especially popular among young people, who enjoy the surprise element of not exactly knowing what they are buying. Mystery boxes usually contain beauty products or candy but have also come to contain other things. In May of last year, when the pandemic lockdowns had boosted the domestic pet market, there was also a trend of mystery boxes for pets – containing various pet snacks and care products for cats or dogs.
Reports on the trend of actual live animal mystery boxes started to come out in January of 2021, when Weibo bloggers discovered the online sale of 35 yuan [$5.5] 'small breed dog' surprise boxes. Other variations include turtle and cat boxes. One blogger called the service, where these pets are sent to customers through standard courier services, a "deadly game." The lack of ventilation, long-distance freight, and the violent handling of packages is called "a torture" for these animals, that can barely survive being squeezed and tossed around in such a confined space with a lack of oxygen – sometimes for days.
According to Weibo blogger 'Snack Girl,' many pets do not make it out alive. If they have not already died by the time they come out of the box, many do not survive for more than a week, which is also called the "week dog / cat" ("星期狗/猫").
A "week dog" (星期狗) is a term that was originally used for dogs sold by roadside dog dealers in busy shopping areas. When people see these little dogs they are lively and cute, but once they take them home, many of these dogs, carrying contagious illnesses, become ill and die within a week. Along with China's rapid digitalization, many roadside vending businesses have shifted to the e-commerce environment. In this process, the phenomenon of "week dogs" has now also become an e-commerce problem.
Another story that was previously shared online is that of a 9.9 yuan [$1.5] package containing a dog that was rejected by the customer and ended up at the post office. Once opened, the small dog was malnourished, shivering, and near to death. An attempt to rescue the pup failed, and it died the same day.
By Tuesday night, the post by 'Snack Girl' and her call on Weibo netizens to never buy these live animal mystery boxes was shared over 47,000 times and liked more than 340,000 times. Many people express their anger and sorrow over this online business.
One artist on Weibo (@ARCS-嘎法) said that in the end, it is humanity that is hurting itself by engaging in these sorts of inhumane practices, sharing a drawing in response (image below).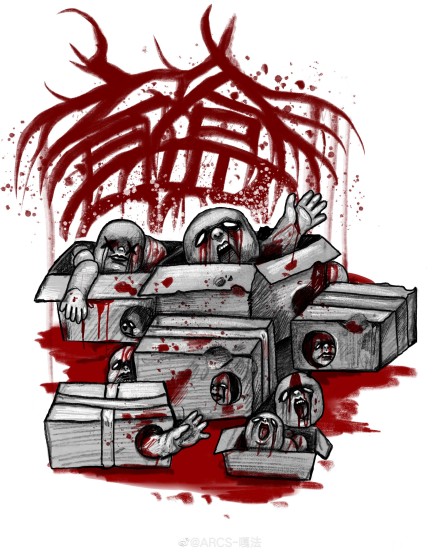 "The buyers and sellers of these boxes don't even regard these little cats and dogs as living creatures," some people say: "When can we finally have an animal protection law?!"
Although China currently has no law against animal cruelty, the live animal blind box industry is still officially illegal since it is not in accordance with Article 33 of the Postal Law in China, which prohibits the posting and delivery in postal materials of various species of live animals.
By Manya Koetse
Spotted a mistake or want to add something? Please let us know in comments below or email us. First-time commenters, please be patient – we will have to manually approve your comment before it appears.
©2021 Whatsonweibo. All rights reserved. Do not reproduce our content without permission – you can contact us at info@whatsonweibo.com.
Official Weibo Account Sends Out Controversial, Insensitive Post on India Covid Crisis
The Weibo post put an image of the Chinese rocket launch besides that of a mass cremation in India.
On May 1st, a Weibo hashtag titled "More than 400,000 new cases diagnosed in India in a single day" (#印度单日新增确诊超40万例#) made its rounds on the Chinese social media platform, discussing India's battle with a devastating second wave of COVID19.
One official Party Weibo account, namely that of the Central Political and Legal Affairs Commission of the Communist Party of China ('China Chang'an Web' 中国长安网), used the hashtag in a post saying: "Lighting a Fire in China VS Lighting a Fire in India" ("中国点火VS印度点火").
The post came with an image that showed a rocket in China on the left side, and the mass cremation of bodies in India on the right side.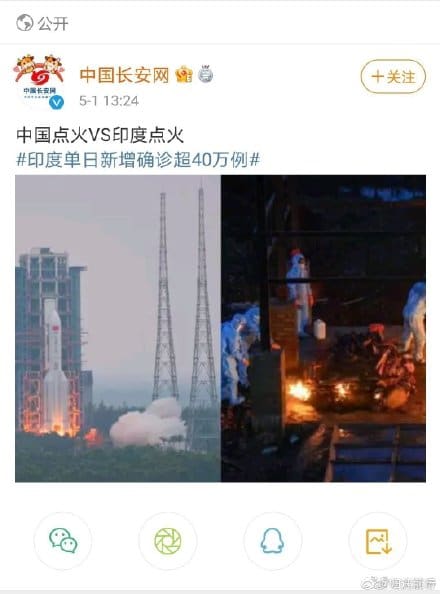 China Chang'an is a Weibo account with over 15 million followers. The post was sent out on Saturday afternoon, and it was shared at least 9000 times before it was deleted.
The post and its image have triggered controversy on Weibo. Although it was deleted, screenshots of the post still circulated on social media on Saturday night local time.
A popular legal account with over 390.000 followers (@王鹏律师) posted: "Such an inappropriate comparison, show some respect for life. Every country encounters disasters! Not to mention that in times of [this] pandemic, every country is involved."
"I don't know what is wrong with the online editor of China Chang'an today, from the propaganda point of view this is a classic case of propaganda failure," one Weibo commenter said.
"This is so inappropriate for an official account," others wrote.
"That post gave me chills. I know some people have a very low bottom line, but I could've never expected it would be so low, so low that they can openly sneer at the passing of life, so low that they are devoid of conscience and proud of it," another blogger wrote.
"It's inhumane," others said.
At the time of writing, the official Chang'an account has not responded to their previous post on their Weibo page yet, but comments condemning their insensitivity keep flooding in, both on their Weibo page and under the hashtag #中国长安网#.
"'China Chang'an Web' does not represent the people of China," one Weibo user wrote: "I hope the people of India can soon break away from the COVID19 epidemic."
By Manya Koetse
Spotted a mistake or want to add something? Please let us know in comments below or email us. First-time commenters, please be patient – we will have to manually approve your comment before it appears.
©2021 Whatsonweibo. All rights reserved. Do not reproduce our content without permission – you can contact us at info@whatsonweibo.com.