35 Facts About Chinese New Year
Chinese New Year has arrived. We are saying goodbye to the year of the Horse, and welcome the year of the Goat. Did you know that New Year was once cancelled by the government? Or that Xinjiang people receive "anti-extremist" New Year's calendars? What's on Weibo brings you 35 facts about Chinese New Year.
Chinese New Year has arrived. It is the most important Chinese festival of the year, and the anticipation starts weeks before it starts. Trending topics on Sina Weibo during this period include "going home", "not able to go home", "meeting the family-in-law" or "red envelope" (hongbao, monetary gifts during festivities). Did you know that Chinese New Year was once cancelled by the government? Or that Xinjiang people receive "anti-extremist" New Year's calendars? What's on Weibo brings you 35 facts about Chinese New Year.
1 * Chinese New Year has been celebrated for over 3000 years (Li 2006, ch.1).
2 * Chinese New Year is based on the lunar calendar, and begins on a different date every year; always in January or February. It lasts for fifteen days, until the night of the full moon. It usually falls near the first day of spring, hence it is also called the Spring Festival (Smith 2000).
3 * 'Spending New Year' in Chinese is 'guo nian' (过年, nian meaning 'year'). According to Chinese legend, the origins of Spring Festival can be found in the battle against the Nian, a fierce and hungry man-eating beast. Except for 'spending New Year', 'guo nian' hence also means the 'passing of the beast'.
4 * Except for the Han (China's greatest ethnic group) Spring Festival is also celebrated by 38 other minorities (Li 2006, ch.1).
5 *Gong Xi Fa Cai (Mandarin) or Kung Hei Fat Choy (Cantonese) are the most common ways to say 'Happy New Year' in Chinese (恭喜发财).
6 * Fireworks are an integral part of Chinese New Year. Traditionally, the noise and fire is supposed to ward off evil spirits and bad luck.
7 * Due to worsening air pollution in China's big cities over the past years, the enthusiasm for fireworks has curbed as the government has started anti-firework campaigns.
8 * 2015 is the Year of the Goat. It starts on February 19th and lasts until February 7th, 2016. Those with birth years 1907, 1919, 1931, 1943, 1955, 1967, 1979, 1991, 2003 and 2015 are said to have been born in the year of the Goat (Sabin 2015).
9 * The Chinese character for goat 羊 (yang) can mean either ram, sheep or goat- leading to much confusion on what kind of year this actually is. According to one Chinese linguist, the only right translation is goat: it is the goat that belongs in the Chinese zodiac, as it was one of the animals that was commonly eaten in ancient China, along with other zodiac signs such as horses, cows, dogs, pigs and chickens.
10 * The Year of the Goat is marked by positive changes. In terms of culture and arts it promises cool fashion, new styles and bright colors. In terms of politics, reconciliation plays an important role in the Year of the Goat. This will be a year for peace, dialogue and understanding (Sommerville 2014).
11 * The dragon dance is a form of traditional performance seen during the Chinese New Year. The dragon is believed to bring good luck. The Beijing Aquarium even holds underwater dragon dances.
12 * Ahead of the festivities, there is a mass exodus within China: 2.8 billion trips are made across the country so that people can go back to their hometowns to see friends and families to celebrate Chinese New Year together (Sabin 2015).
13 * Before the festival, people clean their house. They should not clean their house on the first two days of the New Year, as it is considered bad luck to "sweep away good luck" (Sabin 2015). Similarly, people also should not wash their hair during the first two days of the new year.
14 * The color red is the central color of Spring Festival: red is believed to bring good luck and scare away evil spirits. Red is a dominant color in clothing and paper decoration during the festivities (Smith 2000).
15 * During the festivities, there are many traditional snacks and dishes. Sticky cakes and dumplings are commonly eaten throughout these days. If you're lucky, you might find a coin in your dumpling.
16 * Besides all kinds of delicacies, long noodles are also often eaten during Chinese New Year as they represent longevity.
"Preparing for New Year dinner with the family," says one Weibo user, posting this picture.
17 * Mao Zedong was praised for celebrating Chinese New Year together with the common people (see image).
18 * In 1986,high-ranking official Hu Yaobang celebrated Chinese New Year in the southern province of Yunnan. In the featured image, Hu Yaobang dances traditional ethnic dance together with locals (360doc).
19 * The year-end bonus (年终奖金) is an important issue during Chinese New Year. Some employees receive large amounts of money from their companies, others are disappointed with what they get.
20 * Most text messages are sent during Chinese New Year. The current record stands at 19 billion.
21 * If you mention 'Chinese New Year' on Weixin, small moneybags fall drop down in the screen.
22 * The best-watched television show during New Year's is the Spring Festival Eve television gala by CCTV. With an estimated 800 million viewers, this show has the largest audience for any entertainment show in the world, surpassing the Super Bowl.
23 * The first Spring Festival Eve television gala took place in 1983. The show consists of different acts, including comedy sketches (Bin 1998, 220).
24 * This year, Weibo users can watch the live broadcasting of the television gala while commenting and interacting with other Weibo users without switching screens.
25 * Before New Year's, Hong Kong hospitals filled up with expecting mothers waiting for a caesarean section in order to make sure their babies were still born in the Year of the Horse, as it is considered a good year to have children.
26 * It is tradition to burn paper money or 'ghost money' during the festivities as offerings to the spirits and deceased. The paper money is sometimes made from rice paper, but silver or gold metallic paper is also common.
27 * Doctors have warned people to wear face masks when burning metallic money, as the substances that are produced when burning this money are a potential health risk.
28 * For many young single men and women, Chinese New Year is the period when they receive the most pressure from their parents to get married. Over recent years, a trend has come up where single women rent a date to take home to their parents in order to avoid critical questions on their single status.
29 * The pressure to get married is especially difficult for Chinese gays who have not come out. A Chinese gay rights organisation has therefore launched a video titled 'Coming Home', urging gays to talk to their families and telling parents to be supportive during Spring Festival.
30 * A new year means a new calendar. Giving a calendar is tradition during Chinese New Year.
31 * This year, the government is giving away "anti-extremism" calendars in Urumqi in the northwestern region of Xinjiang, home to China's Muslim Uighur population (also read: Islam in China).
32 * You might see a lot of people eating oranges and pomelo's during New Year. The Chinese words for oranges and tangerines (橘, 桔: ju) sound like 'luck' (吉, ji), while pomelo (柚, you) sounds like 'to have' (有 you). Eating pomelo's and oranges is thus considered to bring good luck.
33 * The Year of the Goat has a 'mascot' this year. Yangyang the Goat was revealed on the Weibo account of CCTV's Spring Festival television gala. It is the first time the Spring Festival gala has a mascot.
34 * Chinese New Year was officially cancelled in 1967 at the time of the Cultural Revolution, as it was believed that the festivities would distract the people from their "revolutionary duties".
35 * Besides all the do's, there are also specific don'ts during Spring Festival: do not give clocks as presents, because they symbolise time running out, avoid the use of sharp objects, as they might cut off good fortune, and do not wear black or tell ghost stories, as it might bring about negative energy (John 2015).
– by Manya Koetse
[button link="http://www.twitter.com/whatsonweibo" type="icon" icon="heart" newwindow="yes"] Follow us on Twitter[/button]
References
Bin, Zhao. 1998. "Popular Family Television and Party Ideology: The Spring Festival Eve Happy Gathering." Journal of Composite Materials 33: 928–40.
Chey, Ong Siew. 2011. China Condensed: 5,000 Years of History & Culture. Singapore: Marshall Cavendish International Asia Pte Ltd.
John, Simi. 2015. "Chinese New Year 2015: Top ten superstitions." International Business Times, February 17 http://www.ibtimes.co.uk/chinese-new-year-2015-top-ten-superstitions-1488173 [18.02.15].
Sabin, Lamiat. 2015. "Chinese New Year 2015: When is it, how is it celebrated – and what does the Goat signify?" The Independent, Feb 17 http://www.independent.co.uk/news/world/asia/chinese-new-year-2015-when-is-it-how-is-it-celebrated–and-what-does-the-goat-signify-10049702.html [17.02.15].
Smith, Christine. 2000. Chinese New Year Activities. Teacher Created Resources. https://books.google.com/books?id=whFBVSNN_ZkC&pgis=1.
Somerville, Neil. 2014. The Goat in 2015: Your Chinese Horoscope. HarperCollins Publishers. https://books.google.com/books?id=lrzpAgAAQBAJ&pgis=1.
Xing, Li. 2006. Festivals of China's Ethnic Minorities. China Intercontinental Press 中信出版社.
©2015 Whatsonweibo. All rights reserved. Do not reproduce our content without permission – you can contact us at info@whatsonweibo.com.
From Hong Kong Protests to 'Bright Future' – The Top 3 Most Popular Posts on Weibo This Week
These are the most-read posts on Weibo this week.
The three most-read posts on Weibo over the past week – an overview by What's on Weibo.
The protests in Hong Kong have been dominating Chinese social media throughout August, and the past week has been no different. Two out of three most-read posts on Weibo, one of China's most popular social media platforms, were about Hong Kong this week.
A wrap-up:
#1 Hundreds of Hong Kong Taxi's Flying Chinese National Flag
While Hong Kong is gearing up for the 13th consecutive weekend of mass anti-government demonstrations, there are no signs of the protests fizzling out any time soon.
The Hong Kong protests started in March and April of this year against an extradition bill that would allow local authorities to detain and extradite people wanted in mainland China, and have intensified over the past weeks.
Although authorities in mainland China initially remained quiet on the topic, the Hong Kong demonstrations have been dominating the trending streams on China's popular social media platforms for all of August.
Through videos, online posters, and slogans, Chinese state media have propagated a clear narrative on the situation in Hong Kong; namely that a group of "separatists" or "bandits" are to blame for the riots that aim to "damage public security" in Hong Kong and are "dividing the nation."
News outlets such as People's Daily and CCTV are sharing many stories that emphasize the One China principle and praise the Hong Kong police force. Those voices in Hong Kong speaking up for the police force and condemning protesters using violence have been amplified in Chinese media.
One story that became the number one trending post on Weibo this week is that of dozens of Hong Kong taxi drivers hanging the Chinese national flag from their cars (video).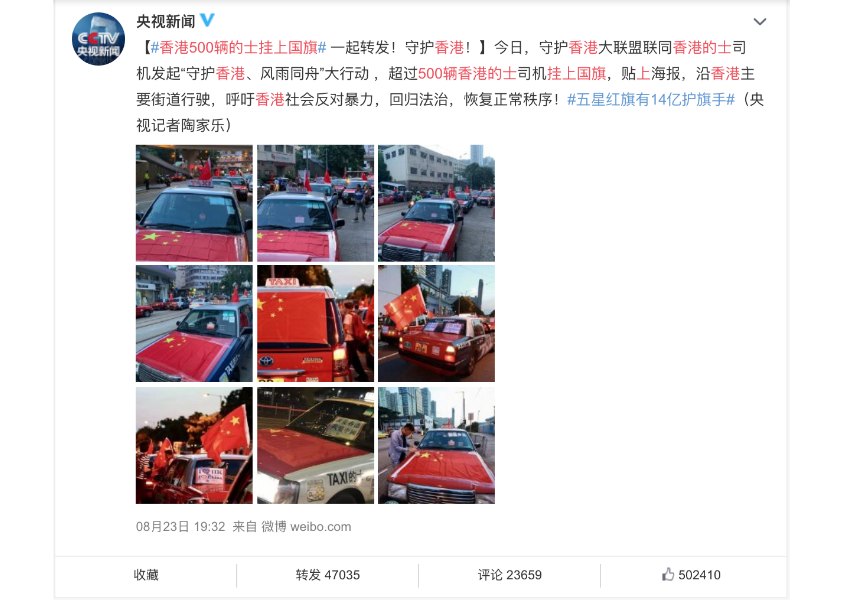 On August 23, the taxi drivers reportedly formed a rally against violence at Tsim Sha Tsui, waving the flags and putting up signs saying "I love HK, I love China."
The hashtag "500 Hong Kong Taxi's Hanging up Chinese National Flags" (#香港500辆的士挂上国旗#), hosted by CCTV, attracted over 700 million views on Weibo. The CCTV post reporting on the event received over half a million likes and 47000 shares.
The commenters mostly praise the Hong Kong taxi drivers for "standing up for Hong Kong" and flying the Chinese flag.
In English-language media, it has mostly been Chinese state media reporting on the rally. Xinhua, Women of China, ECNS, and Global Times all reported on the August 23 peace rally.
CNN only shortly reported how "a number of taxis have been spotted driving around the city displaying Chinese flags — something that has not happened on this scale during previous protests" (link).
#2 'Bright Future' Title Song for Upcoming Movie 'The Moon Remembers All'
Over 266.000 Weibo users have been sharing a post by Chinese actor Li Xian (李现) on the title track for the new Chinese movie The Moon Remembers All or River on a Spring Night (Chinese title: 春江花月夜).
The upcoming movie itself is a very popular topic on Weibo recently, attracting 430 million views on its hashtag page alone. The movie just finished shooting and will be released in 2020.
The song titled "Bright Future" (前程似锦) is sung by Taiwanese singer Chen Linong (陈立农) and Li Xian, who are both the leading actors in the fantasy movie. The song was released on August 29.
The Moon Remembers All is produced by Edko Films and directed by Song Haolin (宋灏霖), also known for Mr. Zhu's Summer (2017) and Fatal Love (2016).
#3 Interview with Hong Kong Pro-Beijing LegCo Member Junius Ho
The third most popular Weibo post of this week comes from Xia Kedao (侠客岛), a popular commentator account for the People's Daily Overseas Edition, and concerns a live broadcasted interview with Hong Kong lawmaker and Legislative Council (LegCo) member Junius Kwan-yiu Ho.
Junius Ho (何君尧) is known as being 'pro-Beijing' and stirred controversy earlier this summer when a viral video showed him shaking hands with men wearing white T-shirts who allegedly were linked to the mob attacking people at the Yuen Long MTR station on July 21.
Xia Kedao describes Junius Ho as a "straightforward" politician who "speaks out for justice" and denounces "reactionaries."
In the August 28 interview, that was live-streamed on Sina Weibo and later also written up, the Hong Kong legislator discussed the background of the protests.
Ho argues that the people with "ulterior motives" used the extradition bill for their own power struggle, distorting and exaggerating the facts behind the regulation.
The politician also partly links the protests to a "weak national consciousness" in Hong Kong due to its education curriculum and says that there have not been enough legal consequences for those participating in illegal activities and riots.
Thousands of commenters on Weibo write that they appreciate Ho for speaking out against the "pro-independence riot youth" and praise him for his "deep understanding" of mainland China.
By now, Junius Ho, who is also active on Weibo with his own account, has gathered more than half a million fans on his page.
By Manya Koetse
Follow @whatsonweibo
Spotted a mistake or want to add something? Please let us know in comments below or email us. Please note that your comment below will need to be manually approved if you're a first-time poster here.
©2019 Whatsonweibo. All rights reserved. Do not reproduce our content without permission – you can contact us at info@whatsonweibo.com
Exchange Student to Be Deported from China for Harassing Young Woman at University
An exchange student studying at the Hebei University of Engineering has been expelled and will soon be deported after harassing a female student.
An exchange student from Pakistan who was studying at the Hebei University of Engineering (河北工程大学) has been expelled and detained after harassing a female student at the same university.
The incident, that is attracting much attention on Chinese social media this week, adds to the wave of recent controversies over the behavior and status of overseas students in mainland China.
On July 31, a female student at the Hebei university filed a police report against a Pakistani student who allegedly harassed her and attempted to forcefully kiss her and touch her breasts.
Screenshots of a supposed WeChat conversation between the exchange student and the female student, in which the man apologizes and claims the interaction is a "requirement for friendship," are being shared on social media.
According to various reports, the police initially tried to mediate between the two students, which the female student refused.
Together with the school principal, the police then further investigated the case and found ample evidence of harassment after examining the university's surveillance system.
On August 1st, the Hebei University of Engineering announced that they had expelled the student and that he will be deported from China. The announcement received more than 14,000 reactions and 150,000 'likes' on Weibo.
The student is now detained at the local Public Security Bureau and is awaiting his deportation.
A photo of two officers together with a man in front of the detention center in Handan is circulating on social media in relation to this incident.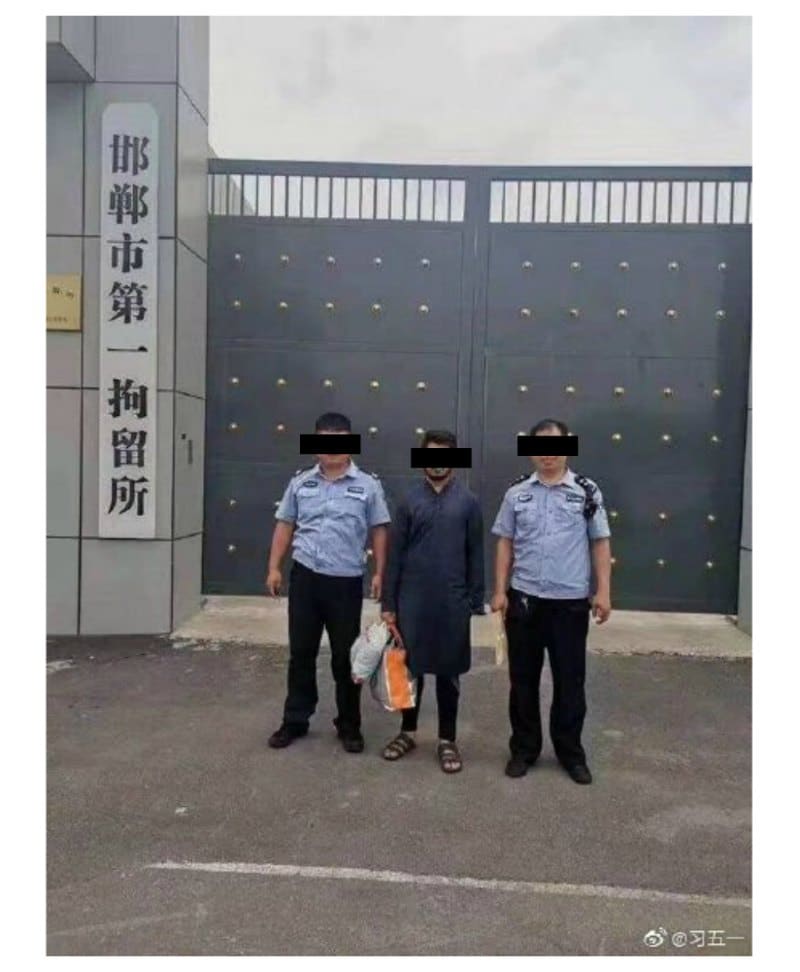 At time of writing, the hashtag page "Exchange Student to Be Deported after Molesting Female Student" (#留学生猥亵女学生将被遣送出境#) has been viewed over 310 million times on Weibo.
Among thousands of reactions, there are many who praise the Hebei university for supporting the female student after she reported the exchange student to the police.
"This may not be the best university, but at least they stand behind their students!", some say, with others calling the university "awesome."
Many say that the Hebei university should serve as an example for other Chinese universities to follow, with Shandong University being specifically mentioned by Weibo users.
Shandong University was widely criticized earlier this summer for its "buddy exchange program," which was accused of being a way to arrange Chinese "girlfriends" for male foreign students.
Another incident that is mentioned in relation to this trending story is that of an exchange student who displayed aggressive behavior towards a Chinese police officer in July of this year. The student was not punished for his actions, which sparked anger on Chinese social media.
By Manya Koetse
Follow @whatsonweibo
Spotted a mistake or want to add something? Please let us know in comments below or email us. Please note that your comment below will need to be manually approved if you're a first-time poster here.
©2019 Whatsonweibo. All rights reserved. Do not reproduce our content without permission – you can contact us at info@whatsonweibo.com