Abandoned Dog 'Deng Deng' Becomes Viral Hit after Being Put up for Auction by Beijing Court
Deng Deng the dog was listed as "movable property" by the Chaoyang courthouse.
First published
Little Deng Deng has become somewhat of a celebrity on Chinese social media this week, since a local Beijing court put the dog up for auction after a pet hotel sued its owner for abandoning Deng Deng years ago.
On the night of October 26th, the peculiar news story that a dog was being put up for auction for by a local Beijing court made its rounds on WeChat and Weibo.
The dog that is being put up for auction is the four-year-old Shiba Inu breed 'Deng Deng' (登登), that was left by its owner at the Beijing 'Happy Pampering Pet Hotel' (北京宠乐会) three years ago, according to Beijing Youth Daily (@北京青年报).
Pet hotels are booming business in cities such as Beijing, where pet owners are often willing to spend pay large amounts of money to give their pet the time of their lives while they are out of town.
When the 'Happy Pampering Pet Hotel' gave up hopes of Deng Deng's owner ever returning, they sued the dog's owner and demanded compensation for the care provided by them over the past few years.
However, as the Beijing Chaoyang court was not able to track down the owner, they instead put Deng Deng up for auction, so that the dog care center could at least retrieve part of the money owed to them.
The online auction, that is to be held on November 10th, will start at a bidding price of 500 RMB ($72).
Although cars or houses are put up for auction by local courts all the time, it is highly unusual, if not unheard of, for dogs to be put up for auction like this. This is why initially, many netizens thought the news was fake – until they saw the actual court ad.
The ad, under the 'movable property' category (动产), describes Deng Deng as being around 40 cm tall, 50 cm long, and weighing about 10 kilograms. The Japanese Inu has been spayed and vaccinated.
At time of writing, the auction ad has been viewed more than 226.000 times, with nearly 2200 people having registered to participate in the upcoming auction.
On Weibo, many people express their sympathies for the little dog, and denounce the owner who never came back for him. "Where is their sense of responsibility?", many wondered, with some saying: "They should be blacklisted and blocked from ever raising pets again."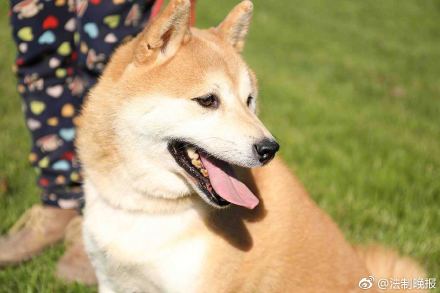 "I really felt sad for the dog," one person on Weibo wrote: "But I couldn't help but laugh when seeing he was labeled as 'movable property'."
"Deng Deng, I really hope you'll find a good owner now," one comment said.
By Manya Koetse and Miranda Barnes
Follow @whatsonweibo
Spotted a mistake or want to add something? Please let us know in comments below or email us.
©2018 Whatsonweibo. All rights reserved. Do not reproduce our content without permission – you can contact us at info@whatsonweibo.com
Photo of Grey-Haired Post-80s Party Official Goes Viral on Weibo
It started as a joke, now the man is praised for his hard work.
A Party official from Chuxiong country, Yunnan, has become the talk of the day on Chinese social media, after his photo was posted online by the local organizational department on November 15. His photo and short biography were posted as part of an introduction of local officials and their responsibilities.
The photo of the man, a local Party committee secretary named Li Zhongkai (李忠凯), would normally have never been noteworthy. The fact that the information with it said that Li was born in August of 1980 is what caught the attention of netizens, with many people thinking the grey-haired man looks much older than 38, and some even doubting his age.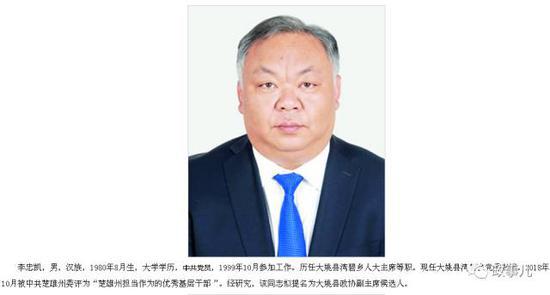 According to his bio description, Li is a Chinese Communist Party member who started working at the end of 1999. He is now a Party secretary in Chuxiong's Wanbi town, various Chinese media sources write, responsible for poverty alleviation, relocation of households, and fulfilling an important role at the time of the landslides in Yunnan. In 2018, he was praised for his service excellence by the local county.
Chinese media outlet The Paper writes that it has been verified that the photo is indeed the 38-year-old Li, and that a co-worker told media that Li's workload is heavy.
A WeChat video in which Li was interviewed earlier this year, in September, shows the man still had black hair at the time.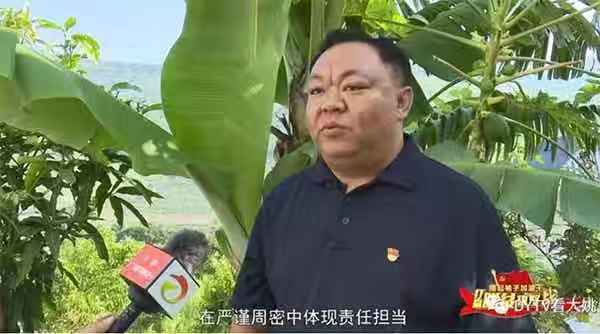 Although many joked about the man, there are now also more serious comments. "Working at the grassroots level is really tough," many commenters write. "If you'd tell me he was 60, I'd believe it."
There are also those giving the man some advice on his appearance: "Just lose some weight and exercise, that will make you look younger."
Li spoke to reporters, saying he was "surprised" about his photo going viral, and also explaining that his work was not easy, as many places in the county are remote and require him to travel long hours.
The Party official has now become popular on Weibo, where some encourage him to open a Weibo account to share more about the work he does in the county.
"Brother, please take care of yourself," some commenters say: "You look like you're over 50."
By Manya Koetse, with contributions from Miranda Barnes
Follow @whatsonweibo
Spotted a mistake or want to add something? Please let us know in comments below or email us.
©2018 Whatsonweibo. All rights reserved. Do not reproduce our content without permission – you can contact us at info@whatsonweibo.com
Chengdu Bans 22 Dog Breeds – Owners Need to Find a "New Home" for Their Pet
What breed is that doggy in the window? Chengdu bans 22 breeds in the city's big districts.
The ban on 22 dog breeds in the city of Chengdu, including the common Chinese rural dog, has sparked anger among many Chinese netizens on social media.
Starting from November 16, the city of Chengdu will ban a total of 22 dog breeds in several restricted areas in the city, which includes major Chengdu districts such as Wuhou, Chenghua, Jinniu, and Jinjiang.
The banned breeds are mostly larger dogs, or those known for their sometimes aggressive nature. The banned dogs breeds include the German Shepherd, Staffordshite Terrier, Mastiff, Bull Terrier and Pitbull Terrier, Akita, Newfoundland, Great Dance, and others (see full list here). The list also includes the common Chinese rural dog.
The hashtag "Chengdu Cleans Up Dogs" (#成都清理禁养犬#) had over 330 million views on Weibo at time of writing, making it the top trending topic of the day.
Earlier this week, Chengdu Expat already wrote about the new measures, which reportedly are implemented to "create a civilized and hygienic environment," and to push pet owners to register their dogs.
GoChengdu also warned pet owners that if they live in a restricted area and their dog belongs to the banned breeds, they need to find a new home for it (in an unrestricted area) before November 16.
Chengdu Expat also recommends pet owners to make sure their dogs have the right vaccinations, and to keep their pet passports with them at all times.
On Weibo, many netizens are dismayed with the recent measures. "They shouldn't ban the dogs, they should educate pet owners," many commenters say.
There are also commenters, however, who say they support the new crackdown on bigger dog breeds, saying it protects people and makes the city a safer place.
The past year has seen many incidents with dogs making headlines in China. In late October, two incident of (unleashed) dogs attacking people in the streets, leading to serious injuries, went viral on Chinese social media – also leading to more people calling for better dog regulations in China.
In the city of Wenshan, dog owners were recently banned from walking their dogs on the street between 7am and 10pm each day, and Hangzhou has also implemented new measures to "clean up uncivilised dog-keeping behaviour"
One of the most discussed things within this topic is the Chengdu ban on the Chinese common dog, that is listed with the other 21 banned breeds. "We're not even allowed to raise our own Chinese dogs!", many say: "What did the common Chinese dog ever do wrong?"
"Today is a sad day," one Weibo user wrote: "Reading about the Chinese rural dog becoming a banned dog makes me cry."
Other netizens are also emotional about the new measures, writing: "They are basically asking us to 'dispose of' our own family members."
By Manya Koetse
Follow @whatsonweibo
Spotted a mistake or want to add something? Please let us know in comments below or email us.
©2018 Whatsonweibo. All rights reserved. Do not reproduce our content without permission – you can contact us at info@whatsonweibo.com