No WeChat, No Access – How China's Digital Revolution is Leaving behind Its Elderly Population
With apps and QR code scanning taking over day-to-day necessities in China, elderly citizens are feeling increasingly alienated from society.
First published
As daily life in China becomes ever more digitally dependent, China's elderly find themselves increasingly excluded from a wide range of services. Here's an overview of this new societal problem by What's on Weibo's Brydon Brancart.
"If you don't take cash then put a sign up!" yelled 67-year old Mr. Xie after trying to use cash to pay for his groceries at a checkout aisle reserved for mobile payments.
Enraged at his treatment, Xie's initial reaction was to cause a ruckus, lunging at the security guards surrounding him. "You shame me, an old guy, for not being able to use WeChat!" Xie explained later on, after regaining his composure.
The video, posted on Weibo in late September of this year, quickly made its way around Chinese social media, renewing a controversy that goes right to the heart of China's fast-paced digital revolution: can the elderly keep up?
No App, No Access: Seniors without Wechat
"Sorry, as you're already over 70, you're not fit to keep on living"
The issue became prominent last year after writer Xiao Ao (小奥) published an article titled: "Sorry, as you're already over 70, you're not fit to keep on living" ["对不起,由于你已经超过70岁,你已经不适合活下去了!"].
In the article, Xiao voiced her frustration over how difficult it was for her 90-year-old grandfather to receive a package she had mailed him.
"I thought it would be a simple delivery," Xiao recalls. "My grandfather would just have to walk to his door, open it, open the package, and then could [retrieve the gift]. But I was wrong."
Packages sent to her grandfather's housing complex are stored for pickup in new delivery lockers – which can only be unlocked by the intended recipient using their Wechat account.
"My grandfather is only able to receive calls and can only make them with his glasses on. He can't text, so Wechat is even more [out of the question]," Xiao explained.
According to her, there is a widespread alienation of China's elderly from the digital economy, evident from countless reports of elderly struggling to use digitalized services that come second nature to younger generations: cab-hailing, queing in a bank or hospital, bike-sharing, the list goes on and on.
"I've realized that the 'convenient life' before my eyes is, in fact, a great disaster impeding our parents' everyday necessities, one they can neither dodge nor escape…", Xiao concluded.
Wang Qipeng, writing for the Beijing Evening Paper, presents a similar viewpoint.
"One can say that we live in a 'scanning' age," Qipeng writes: "Yet (…) there are many elderly people who, because they cannot scan, have no way of using bike-sharing, have no way of getting discounts at the store, and can't even open the smart-boxes that are delivered to them."
Wang's reference to "the scanning age" is no overstatement. Whether unlocking a bicycle through a bike-sharing app such as Mobike or Ofo, or ordering lunch in the office through the meal delivery app Eleme, all transactions are performed through apps that in turn rely on mobile payment apps.
Even public institutions are adapting to the scanning age, for purposes ranging from public announcements to dispensing toilet paper.
QR codes are ubiquitous across China's public and commercial landscapes. They are posted on walls in vegetable stalls, sit beside registers at department stores, and are even used by beggars in first-tier cities.
Their function is simple. In order to access them, one opens up the relevant app and selects 'scan'. The app opens the phone's camera function and scans the QR code. Then, all one has to do is simply select an amount to pay or agree to terms of service. Whether it 's scanning a QR code, or producing one to be scanned, the process takes seconds.
Reliance on mobile payments has been increasing globally, but nowhere has that growth been faster and more extensive than along China's Eastern seaboard. According to the South China Morning Post, in the third quarter of 2017, earnings in the mobile payment sector reached 29.5 trillion RMB (almost 4.25 trillion USD), a three-fold increase in just one year.
For younger urban residents, doing away with cumbersome cash is a welcome change. A 2017 Penguin Intelligence study found that 92% of those polled in China's cities primarily use mobile payments methods. Cash, on the other hand, is preferred by less than 10% of this group.
Handing the elderly a smartphone is in no way a solution. The replacement of the wallet by the smartphone comes with its own set of rules and requirements. Using mobile payments does not solely depend on familiarity with smartphones, it also assumes an eyesight keen enough to read the small print on phone screens.
Operations such as linking a bank account to a phone can be a nightmare for the technologically illiterate. In the absence of easily accessible courses suited to the learning speed of elderly citizens, mobile payment's effect on this age group is precisely the opposite of what it intends, adding rather than alleviating the chores of everyday life.
Viral Stories of Seniors in Digital Trouble Resurface
"To refuse taking on cash is actually a type of discrimination for those who do not understand how mobile payments work."
Besides Xie's viral rant, a plethora of online essays and news reports highlighted just how ill-equipped China's eldery citizens are in today's digital era.
In January of this year, Xin Lan News reported the story of an elderly man who, in what seems like a foreshadowing of Xie, broke down into tears at a train station after having to admit he did not know how buy a ticket online.
Around the same time, another story described the plight of a sweet potato salesman who complained that his son took advantage of his unfamiliarity of scanning to steal a large portion of his salary. And only a few days after Chinese netizens moved on from Xie's rant, news came of an elderly woman who was tricked by a man pretending to help her use scan a QR code.
On Weibo, many commenters support the elderly in these stories. A typical comment said: "To refuse taking on cash is actually a type of discrimination for those who do not understand how mobile payments work."
Unfortunately, despite the frequency of these stories, there is little consensus on how to better prepare the elderly for an increasingly digitalized tomorrow.
Proactive Solutions with Long-Term Consequences
"Society ought to accommodate the needs of the elderly, it ought to consider their necessities."
.

Charities have sought to implement educational programs to tackle this issue. The most proactive of these organizations, See Young (夕阳再晨), a volunteer organization that started in Beijing, is now operating in sixteen Chinese provinces, having already provided individualized support to over 18,000 elderly citizens, and helped educated over a million.
The government has been supportive of See Young, mentioning them in the 13th five-year plan. Li Zhihong, head of the policy research division of the China National Working Commission on Ageing, commented to the People's Daily that, "when it comes to helping the elderly become immersed in the information age, there are already organizations actively working [towards this]."
Yet, many disagree with forcing the elderly to continually learn, including the founder of See Young, Zhang Jiaxin (张佳鑫). In Wang Qipeng's article "Does Scanning Leave the Elderly Without Money to Spend?" ["扫码让老人无钱可花?"], an interview with Zhang is cited where the philanthropist states:
"Society ought to accommodate the needs of the elderly, it ought to consider their necessities. [Society] mustn't force them to expend all their energy in learning this or learning that, forcing them to act in this way. Only through such [a change] will [society] truly help and respect the elderly."
Zhang worries that continued pressure on the elderly to keep up to date on the newest technologies will only make them feel that "at home, and in society, they exist in an inferior position."
By Brydon Brancart, edited by Eduardo Baptista
Follow @whatsonweibo
Spotted a mistake or want to add something? Please let us know in comments below or email us.
©2018 Whatsonweibo. All rights reserved. Do not reproduce our content without permission – you can contact us at info@whatsonweibo.com
From Tea Farmer to Online Influencer: Uncle Huang and China's Rural Live Streamers
'Cunbo' aka 'rural livestreaming' is all the rage. A win-win situation for farmers, viewers, and Alibaba.
This is the "WE…WEI…WHAT?" column by Manya Koetse, originally published in German by Goethe Institut China on Goethe.de: "VOM TEEBAUERN ZUM INFLUENCER: ONKEL HUANG UND CHINAS LÄNDLICHE LIVESTREAMER." 
The past year has been super tumultuous when it comes to the topics that have been dominating Chinese social media. The Coronavirus crisis was preceded by other big issues that were all the talk online, from the US-China trade war to the protests in Hong-Kong, the swine flu, and heightened censorship and surveillance.
Despite the darker side to China's online environment, however, there were also positive developments. One of the online trends that became popular this year comes with a term of its own, namely cūnbō (村播): rural livestreaming.  Chinese farmers using livestreaming as a way to sell their products and promote their business have become a more common occurrence on China's e-commerce and social media platforms. 

The social media + e-commerce mix, also called 'social shopping,' is booming in the PRC. Online platforms where the lines between social media and e-commerce have disappeared are now more popular than ever. There's the thriving Xiaohongshu (小红书Little Red Book) platform, for example, but apps such as TikTok (known as Douyin in China) also integrate shopping in the social media experience.
Over recent years, China's e-commerce giant Alibaba has contributed to the rising popularity of 'social shopping.' Its Taobao Live unit (also a separate app), which falls under the umbrella of China's biggest online marketplace Taobao, is solely dedicated to shopping + social media, mainly mobile-centered. It's a recipe for success: Chinese mobile users spend over six hours online per day, approximately 72% of them shop online, and nearly 65% of mobile internet users watch livestreaming.
Every minute of every day, thousands of online shoppers tune in to dozens of different channels where sellers promote anything from food products to makeup or pet accessories. The sellers, also called 'hosts' or 'presenters,' make their channels attractive by incorporating makeup tutorials, cooking classes, giving tips and tricks, chatting away and joking, and promising their buyers the best deal or extra presents when purchasing their products.                
Sometimes thousands of viewers tune in to one channel at the same. They can 'follow' their favorite hosts and can interact with them directly by leaving comments on the livestreams. They can compliment the hosts ("You're so funny!"), ask questions about products ("Does this also come in red?"), or leave practical advice ("You should zoom in when demonstrating this product!"). The product promoted in the livestreams can be directly purchased through the Taobao system.
Over the past year, Alibaba has increased its focus on rural sellers within the livestreaming e-commerce business. Countryside sellers even have their own category highlighted on the Taobao Live app. Chinese tech giant Alibaba launched its 'cūnbō project' in the spring of 2019 to promote the use of its Taobao Live app amongst farmers. The most influential livestreaming farmers get signed by Alibaba to elevate Taobao Live's rural business to a higher level.
One of these influential Chinese farmers who has made a name for himself through livestreaming is Huang Wensheng, a tea farmer from the mountainous Lichuan area in Hunan Province.
Huang, who is nicknamed 'Uncle Farmer,' sells tea through his channel, where he shows viewers his work and shares stories and songs from his village. He is also known to talk about what he learned throughout his life and will say things such as: "It is important to work hard; not necessarily so much to change the world , but to make sure the world does not change you."
With just three to five livestreaming sessions per week, 'Uncle' Huang reaches up to twenty million viewers per month, and, according to Chinese media reports, has seen a significant increase in his income, earning some 10,000 yuan (€1300) per week.
Huang is not the only farmer from his hometown using Taobao Live to increase their income; there are some hundred rural livestreamers in Lichuan doing the same.
The rural livestreaming category is significantly different from the urban fashionistas selling brand makeup and the latest must-haves: these hosts do not have the polished look, glamorous clothes, or stylish backgrounds. They usually film outside while doing their work or offer a glimpse into their often humble rooms or kitchens.
Viewers get to see the source of the products sold by these rural sellers; they often literally go to the fields to show where their agricultural products grow, or film themselves getting the eggs from their chickens or the oranges from the trees. From fruits to potatoes and flowers, and from fresh tea to home-made chili sauce – a wide range of products is promoted and sold through Taobao Live these days.
Some rural livestreamers are trying to stay ahead of their competition by coming up with novel concepts. A young farmer from Sichuan, for example, recently offered viewers the opportunity to "adopt" a rooster from his farm, allowing them to interact with 'their' rooster through social media and even throwing the occasional birthday party for some lucky roosters.
Examples such as these show that although the countryside livestreamers usually lack glitter and glam, they can be just as entertaining – or perhaps even more so – than their urban counterparts.
Who benefits from the recent 'cūnbō' boom? One could argue that the rising popularity of livestreaming farmers is a win-win situation from which all participants can profit in some way. The commercial interests are big for Alibaba. The company has been targeting China's countryside for years, as it's where China's biggest consumption growth will happen while mobile internet penetration is still on the rise. Alibaba earns profits from an increasing number of rural e-commerce buyers, as well as e-commerce sellers.
Alibaba's early focus on the countryside as a new home for e-commerce has previously also led to the phenomenon of so-called 'Taobao Villages,' where a certain percentage of rural residents are selling local specialties, farm products or other things via the Taobao platform with relatively little transaction costs.
Many Chinese villages and farmers are profiting from the further spread of Taobao in the countryside. Not only does Alibaba invest in logistics and e-commerce trainings in rural areas, these e-commerce channels are also a way to directly boost sales and income for struggling farmers.
Chinese media predict that the rural livestreaming trend will only become more popular in the years to come, bringing forth many more influential farmers like Huang.
But besides the commercial and financial gains that come from the rising popularity of rural livestreamers, there is also a significant and noteworthy social impact.  At  a time in which China's rapidly changing society sees a widening gap between urban and rural areas, these rural channels serve as a digital bridge between countryside sellers and urban consumers, offering netizens a real and unpolished look into the lives of farmers in others parts of the country, and gives online buyers more insight and understanding of where their online products came from.
Taobao Live is actually like a traditional "farmers' market," but now it is digital, open 24/7, and accessible to anyone with a mobile phone. It's the Chinese farmers' market of the 21st century.
By Manya Koetse
Follow @whatsonweibo
Spotted a mistake or want to add something? Please let us know in comments below or email us. First-time commenters, please be patient – we will have to manually approve your comment before it appears.
This text was first published by Goethe-Institut China under a CC-BY-NC-ND-4.0-DE license (Creative Commons) as part of a monthly column in collaboration with What's On Weibo.
WeChat's New Emoji Are Here (Including a Watermelon-Eating and Doge One)
WeChat's new emoji are based on popular memes.
On January 14, Tencent's Wechat introduced new emoji to its existing emoji set. The new emoji include, among others, a watermelon-eating emoji and a smiling Shiba Inu.
On Weibo, the new emoji have become a topic of discussion under the hashtags "WeChat's New Emoji" (#微信上线新表情#), "WeChat's Watermelon Eating Emoji" (#微信上线吃瓜表情#), and "WeChat's Dog Emoji" (#微信上线狗头表情#).
Different from the Unicode emoji (see Emojipedia), WeChat and Weibo have their own sets of emoji, although there is overlap.
The reason why especially the watermelon-eating and dog emoji are being discussed on social media, is because these emoji are based on popular internet memes.
"Eating watermelon" (吃瓜 chī guā) is an online expression that comes from "watermelon-eating masses" (吃瓜群众 chī guā qúnzhòng), which describes a common mentality of Internet users who have no idea what is actually going on but are still commenting or following online stories for their enjoyment – perhaps comparable to the "popcorn memes" that are ubiquitous on Western social media platforms.
The smiling dog has been around since 2013 and is known as the doge meme, based on a photo of a Shiba inu. The meme was originally spread on social media platforms such as Reddit, but then also became hugely popular in China, where it became a symbol of sarcasm (also read this Abacus article on this topic).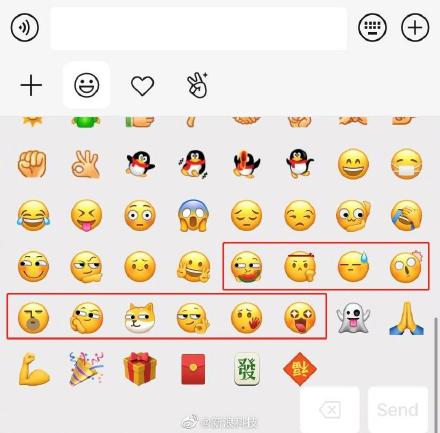 Other new emoji are the "wow" emoji, and others to express "ok," "add oil," "emm," "oh!"
There's also a "shehui shehui" (社会社会, lit. "society society") emoji, which also comes from online culture and is a way among friends to (self-mockingly) talk about being 'gangsters,' 'brothers.' or 'scoundrels.'
As the new emoji are still in their testing phase, not all WeChat users can use the new emoji yet, so you might have to wait a bit before being able to try them out.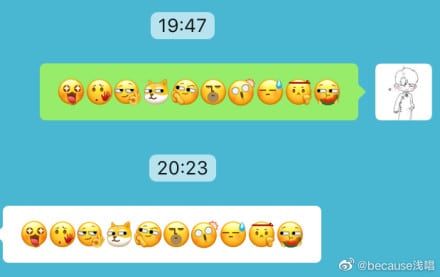 By Manya Koetse, with thanks to @caaatchina
Follow @whatsonweibo
Spotted a mistake or want to add something? Please let us know in comments below or email us. First-time commenters, please be patient – we will have to manually approve your comment before it appears.
©2020 Whatsonweibo. All rights reserved. Do not reproduce our content without permission – you can contact us at info@whatsonweibo.com.