Bad Mom To Be? Pregnant Woman Intentionally Trips 4-Year-Old Boy in Baoji
Footage of a 7-month-pregnant woman in Baoji tackling a 4-year old boy has triggered waves of discussions on Weibo this weekend.
This weekend, footage of a pregnant woman intentionally letting a little boy trip in a restaurant in the city of Baoji, Shaanxi province, has stirred controversy on Chinese social media.
The incident occurred on April 19. A surveillance camera in a local malatang (spicy hot pot) restaurant captured how a young boy runs into the establishment, carelessly pushing aside the transparent wind blockers in the door. They hit the face of the pregnant woman sitting by the door, who then spills some food on herself.
The woman, clearly agitated, waits for the boy to run out of the restaurant again. She then deliberately holds out her foot and makes the boy trip and fall.
According to various Chinese news sources, the boy is the 4-year-old son of local shopkeepers, who ran into the restaurant to grab some chopsticks for his mother. Soon after the fall, his mum rushed into the restaurant, asking the woman for an explanation. The pregnant woman then claimed she had a stomach pain and left with her husband before the police, alerted by the boy's parents, arrived at the scene.
The boy was briefly taken to the hospital for a check-up after his fall, but suffered no serious injuries, as his mother noted on social media (image below).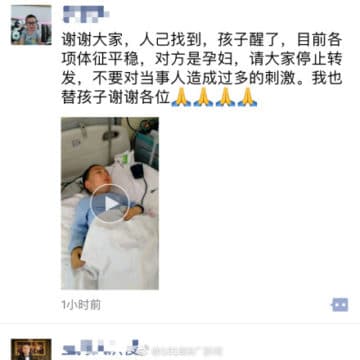 One witness, who was also at the diner when this happened, told China Business News reporters that the boy's action made the pregnant woman spill her food all over herself. According to this witness, the boy's parents stood outside and saw what had happened, but did not apologize.
This incident and its footage have gone viral over Chinese internet since Friday, and has been widely covered by Chinese news outlets over the past 48 hours. On Weibo, the hashtag "Pregnant woman stretches foot to tackle child" (#孕妇伸腿绊倒幼童#) was viewed more than 67 million times by Sunday, attracting thousands of comments.
Although some blame the boy's parents, most netizens agree that the woman's reaction was completely inappropriate, and some are even worried about the woman becoming a mother herself.
"The young boy rushed inside and hit the pregnant woman with the wind curtain," one commenter says: "The pregnant woman has the right to be angry for not getting an apology from the boy's parents. The parents probably did not see their child hit someone, but all the other people did see it happen. (..) However, how the woman reacts is really childish and exaggerated."
Another top commenter says: "I think this pregnant woman is overreacting. The child is still young and ignorant. You can tell him off, but you can't tackle him. He is carrying chopsticks in his hand – what if you'd really hurt him? You'll be a mother soon, aren't you afraid of your own children being harmed? Your aggression is not good for you baby. You're an adult – shame on you!"
"I hate little brats such as this one, but you can't go further than scolding them – this is immoral."
This case has become such a big topic this weekend because both children and pregnant women are vulnerable social groups, and mothers-to-be are especially expected to be loving and kind to little children – this behaviour is not in line with social expectations. One female Weibo netizen said: "I can understand that pregnant women can sometimes react with an irrational temperament, but this cannot be justified." Another person wrote: "Being pregnant
Since the case has blown up on Chinese social media, the pregnant woman has become a target of the so-called 'human flesh search engine', with people looking to reveal her identity and personal details online. Some even say they hope something will be wrong with her baby.
The woman has since turned herself in at the police station, and has apologized for what she has done. Although the woman was initially punished with a 10-day prison sentence and a 1000 yuan fine (±$158), she was pardoned from going to prison because she is 7 months pregnant.
The 4-year-old boy's mother has stepped forward and have asked people not to bother the pregnant woman anymore, and to leave her in peace.
"The boy's parents are really generous," some respond: "They return good for evil."
Check out our latest video on this issue here:
By Manya Koetse, with contribution from Miranda Barnes
Follow @whatsonweibo
Spotted a mistake or want to add something? Please let us know in comments below or email us.
©2018 Whatsonweibo. All rights reserved. Do not reproduce our content without permission – you can contact us at info@whatsonweibo.com.
Boy, 15, Fatally Beaten and Buried by Group of Minors in Shaanxi
The heinous crime has sparked discussions on the problem of campus violence and China's criminal liability age.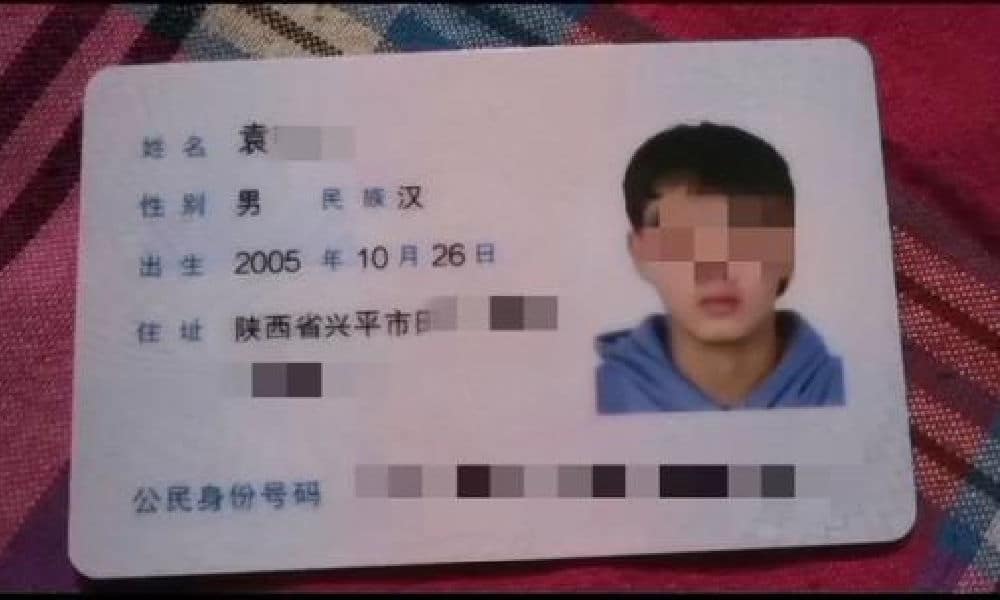 A brutal incident that took place in the city of Xingping in Shaanxi province is top trending on Chinese social media today.
On October 29, a 15-year-old boy by the name of Yuan (袁) was fatally beaten and buried by a group of six people, all minors.
Beijing News reports that Yuan was a second-year student at the Xianyang Xingping Jincheng Middle School. He had taken time off from school and had a temporary job in Xi'an before the incident occurred.
Yuan's father told reporters that his son had returned to Xingping on October 29. A small group of minors, including four students, allegedly demanded money from Yuan, which he refused. It is also reported that a conflict occurred because Yuan added one of the minors to his phone's 'blacklist' (电话拉黑).
According to various news reports, the group of minors attacked the boy with a pickaxe after which he became unconscious. They then brought him over to a nearby hotel and discovered he was dead the next day. They later buried his lifeless body in a pit near the school premises.
On November 2, other students who had heard of the crime reported it to the police. Yuan's body was found in the pit shortly after officers arrived at the scene.
Local authorities released a statement about the case on November 10, in which they stated the suspects have been detained and that the case is still under investigation.
Various sources on Weibo claim that Yuan previously also suffered beatings at school, with severe school bullying being the main reason for the 15-year-old to temporarily drop out of school.
In a video report by Pear Video, Yuan's father says they are still unsure of how their son died, suggesting he might have still been alive when he was buried in the pit.
China has been dealing with an epidemic of school violence for years. In 2016, Chinese netizens already urged authorities to address the problem of extreme bullying in schools, partly because minors under the age of 16 rarely face criminal punishment for their actions.
On social media site Weibo and on the news app Toutiao, many commenters are not just angered about the incident but also focus on China's laws regarding the criminal responsibility of minors.
Some write: "Our criminal laws for minors should protect minors instead of protecting juvenile offenders!"
China's criminal liability age is currently set at 14. Last month, Global Times reported on a proposal to lower the age of criminal liability in China from 14 to 12 in response to concerns about an alleged increase in juvenile violence.
"These minors need to be severely punished," multiple commenters wrote: "Who knows who else they might hurt?"
By Manya Koetse
Follow @WhatsOnWeibo
Spotted a mistake or want to add something? Please let us know in comments below or email us. First-time commenters, please be patient – we will have to manually approve your comment before it appears.
©2020 Whatsonweibo. All rights reserved. Do not reproduce our content without permission – you can contact us at info@whatsonweibo.com.
Viral Video Exposes Wuhan Canteen Kitchen Food Malpractices
Boots in the food bowl, meat from the floor: this Wuhan college canteen is making a food safety mess.
A video that exposes the poor food hygiene inside the kitchen of a Wuhan college canteen has been making its rounds on Chinese social media these days.
The video shows how a kitchen staff member picks up meat from the floor to put back in the tray, and how another kitchen worker uses rain boots to 'wash' vegetables in a big bowl on the ground, while another person is smoking.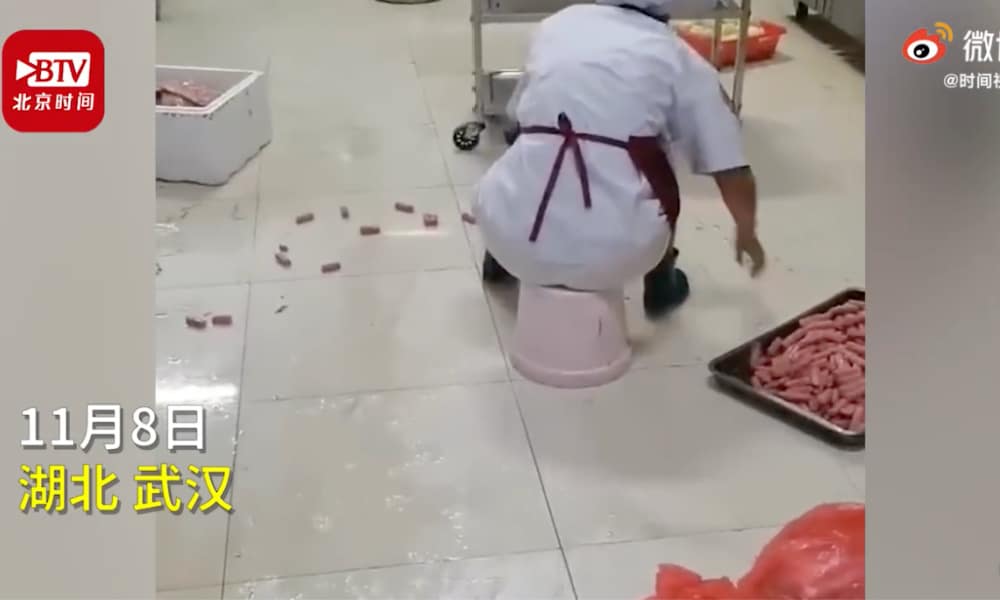 The video was reportedly shot by someone visiting the canteen of the Wuhan Donghu University (武汉东湖学院) and was posted on social media on November 7.
According to various news sources, including Toutiao News, the school has confirmed that the video was filmed in their canteen, stating that those responsible for the improper food handling practices have now been fired.
Can imagine the students at Wuhan Donghu University were not happy to see this behind the scenes footage from their canteen – kitchen staff smoking, picking up food from the floor and putting it back in the tray, and using their boots to mix vegetables in the bowl 😵 pic.twitter.com/vV9NnsQX6v

— Manya Koetse (@manyapan) November 8, 2020
The Wuhan Donghu University also posted a statement on their Weibo account on November 8, saying it will strengthen the supervision of its canteen food handling practices.
"The students at this school will probably vomit once they see this footage," some commenters on Weibo wrote.
Wuhan Donghu University is an undergraduate private higher education institution established in 2000. The school has approximately 16,000 full-time undergraduate students.
"I'm afraid that this is just the tip of the iceberg," one popular comment said, receiving over 25,000 likes.
Students from other universities also expressed concerns over the food handling practices in their own canteens, while some said they felt nauseous for having had lunch at the Wuhan canteen in question.
By Manya Koetse
Follow @WhatsOnWeibo
Spotted a mistake or want to add something? Please let us know in comments below or email us. First-time commenters, please be patient – we will have to manually approve your comment before it appears.
©2020 Whatsonweibo. All rights reserved. Do not reproduce our content without permission – you can contact us at info@whatsonweibo.com.