Bad Mom To Be? Pregnant Woman Intentionally Trips 4-Year-Old Boy in Baoji
Footage of a 7-month-pregnant woman in Baoji tackling a 4-year old boy has triggered waves of discussions on Weibo this weekend.
This weekend, footage of a pregnant woman intentionally letting a little boy trip in a restaurant in the city of Baoji, Shaanxi province, has stirred controversy on Chinese social media.
The incident occurred on April 19. A surveillance camera in a local malatang (spicy hot pot) restaurant captured how a young boy runs into the establishment, carelessly pushing aside the transparent wind blockers in the door. They hit the face of the pregnant woman sitting by the door, who then spills some food on herself.
The woman, clearly agitated, waits for the boy to run out of the restaurant again. She then deliberately holds out her foot and makes the boy trip and fall.
According to various Chinese news sources, the boy is the 4-year-old son of local shopkeepers, who ran into the restaurant to grab some chopsticks for his mother. Soon after the fall, his mum rushed into the restaurant, asking the woman for an explanation. The pregnant woman then claimed she had a stomach pain and left with her husband before the police, alerted by the boy's parents, arrived at the scene.
The boy was briefly taken to the hospital for a check-up after his fall, but suffered no serious injuries, as his mother noted on social media (image below).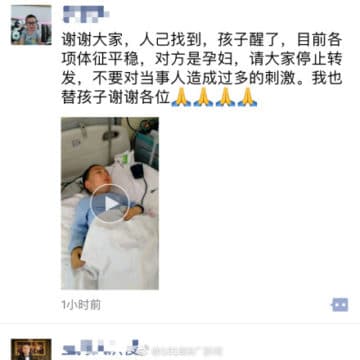 One witness, who was also at the diner when this happened, told China Business News reporters that the boy's action made the pregnant woman spill her food all over herself. According to this witness, the boy's parents stood outside and saw what had happened, but did not apologize.
This incident and its footage have gone viral over Chinese internet since Friday, and has been widely covered by Chinese news outlets over the past 48 hours. On Weibo, the hashtag "Pregnant woman stretches foot to tackle child" (#孕妇伸腿绊倒幼童#) was viewed more than 67 million times by Sunday, attracting thousands of comments.
Although some blame the boy's parents, most netizens agree that the woman's reaction was completely inappropriate, and some are even worried about the woman becoming a mother herself.
"The young boy rushed inside and hit the pregnant woman with the wind curtain," one commenter says: "The pregnant woman has the right to be angry for not getting an apology from the boy's parents. The parents probably did not see their child hit someone, but all the other people did see it happen. (..) However, how the woman reacts is really childish and exaggerated."
Another top commenter says: "I think this pregnant woman is overreacting. The child is still young and ignorant. You can tell him off, but you can't tackle him. He is carrying chopsticks in his hand – what if you'd really hurt him? You'll be a mother soon, aren't you afraid of your own children being harmed? Your aggression is not good for you baby. You're an adult – shame on you!"
"I hate little brats such as this one, but you can't go further than scolding them – this is immoral."
This case has become such a big topic this weekend because both children and pregnant women are vulnerable social groups, and mothers-to-be are especially expected to be loving and kind to little children – this behaviour is not in line with social expectations. One female Weibo netizen said: "I can understand that pregnant women can sometimes react with an irrational temperament, but this cannot be justified." Another person wrote: "Being pregnant
Since the case has blown up on Chinese social media, the pregnant woman has become a target of the so-called 'human flesh search engine', with people looking to reveal her identity and personal details online. Some even say they hope something will be wrong with her baby.
The woman has since turned herself in at the police station, and has apologized for what she has done. Although the woman was initially punished with a 10-day prison sentence and a 1000 yuan fine (±$158), she was pardoned from going to prison because she is 7 months pregnant.
The 4-year-old boy's mother has stepped forward and have asked people not to bother the pregnant woman anymore, and to leave her in peace.
"The boy's parents are really generous," some respond: "They return good for evil."
Check out our latest video on this issue here:
By Manya Koetse, with contribution from Miranda Barnes
Follow @whatsonweibo
Spotted a mistake or want to add something? Please let us know in comments below or email us.
©2018 Whatsonweibo. All rights reserved. Do not reproduce our content without permission – you can contact us at info@whatsonweibo.com.
Horrific Dalian Attack Dominates Discussions on Weibo: Suspect Arrested
People's Daily writes the attacker suffered from "mood swings" after a fight with his girlfriend.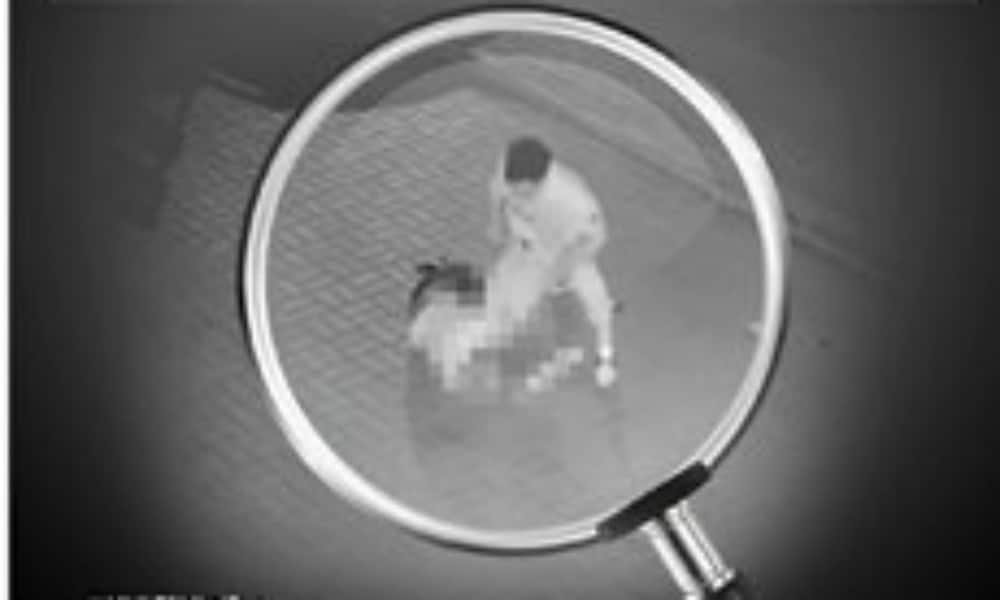 First published
A gruesome attack on a woman walking the streets alone was caught on surveillance cameras this weekend. The violent assault has been a major topic of discussion on Chinese social media for the past two days. After a manhunt for the attacker, state media now report that he has been arrested.
A shocking surveillance video capturing a female pedestrian being attacked and severely beaten by a man is dominating discussions on Chinese social media these days.
The surveillance video started making its rounds on WeChat and Weibo on Monday. The extremely disturbing footage shows how a woman is walking by herself and is then approached by a man who beats her to the ground, severely kicks her head and body some twenty times, tears her clothing, and then drags the woman away by her hair (warning graphic).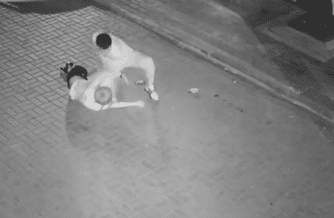 Chinese authorities and social media companies could not seem to find the source of the video right away.
Since the footage was captured at night, it did not clearly show the surroundings, leading to police all across China launching an investigation to find out more about where this took place. On Tuesday morning, the Ministry of Public Security asked the public to provide leads on the incident.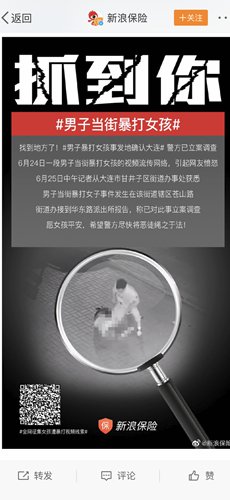 It now turns out that the horrific attack occurred on June 22 at 0:44 AM in the Ganjingzu district in the city of Dalian, where police received a report that night that matches the incident on the video.
The victim has been identified as the 29-year-old Wu, who is reported to have suffered "soft tissue damage to her face" due to the attack, and who has since been discharged from the hospital following treatment.
Although some netizens questioned how it would be possible for the victim to only suffer "soft tissue damage," further details were not disclosed.
The security company which the surveillance camera belonged to stated they did not know how the video had leaked online in the first place.
On Tuesday afternoon, some reports claimed the attacker had not been arrested nor identified yet. Other reports said that Dalian police were investigating a suspect by late afternoon.
"He suffered from mood swings after a fight with his girlfriend."
On Tuesday night at 23:45, state media outlet People's Daily reported on Weibo that the suspect had been detained.
The newspaper stated that the suspect is a 31-year-old man from Dalian named Wang. According to People's Daily, he suffered from "mood swings" after a "fight with his girlfriend," and randomly attacked and molested the victim "after a night of drinking." He has now confessed to his crime.
Photos of the alleged suspect are making their rounds on social media, although official sources have not confirmed that these photos are indeed of the 31-year-old Wang.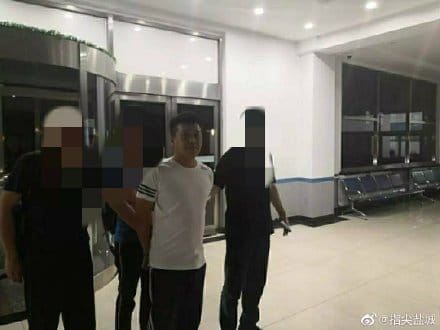 By now, the Weibo hashtags "Man Beats up Girl in the Middle of the Street" (#男子当街暴打女孩#) and "Woman Viciously Beaten and Dragged Away by Man Late at Night" (#女子深夜遭男子暴打拖行#) received a staggering 1,35 billion and 120 million views, showing that this case is closely followed by Chinese netizens – comparable to the Didi murder cases that also received major attention in 2018.
Many comments on Tuesday night criticized Chinese state media for reporting on the suspect's alleged "mood swings."
"This brings a whole new meaning to the term 'mood swings'," one commenter noted. "Let's hope his prison cell mates will beat him every day he has a 'mood swing.'"
"I don't want to know anything about his feelings before he used this kind of violence! I don't want to know anything about his experience! It's never a reason to do this to a stranger!"
"So mood swings lead to people randomly attacking and molesting an innocent passer-by?!" Others wrote: "He broke up with his girlfriend and wanted revenge on all women."
In late May of this year, a young woman was stabbed to death in the city of Nanchang, in what appeared to have been a random attack; the attacker, a 32-year-old man, was unable to find a wife and suffered from a mental illness.
In 2015, a man with a sword stabbed a woman to death in front of the Uniqlo store in Beijing's Sanlitun area. That same year, another Chinese man stabbed five random women who resembled his ex-girlfriend.
About the Dalian case, one commenter says: "This degree of violence just makes my blood run cold. For the police, it might just be another case, and they're not making a big fuss about it, and that saddens me."
Another Weibo user writes: "The evil for women in society is just too much. To be violently attacked like this on your way home – it's just inexplicable. I hope the victim will get well soon."
By Manya Koetse and Miranda Barnes
Follow @whatsonweibo
Spotted a mistake or want to add something? Please let us know in comments below or email us. Please note that your comment below will need to be manually approved if you're a first-time poster here.
©2019 Whatsonweibo. All rights reserved. Do not reproduce our content without permission – you can contact us at info@whatsonweibo.com
Pregnant Woman Throws Scalding Soup over Baby Girl in Malatang Restaurant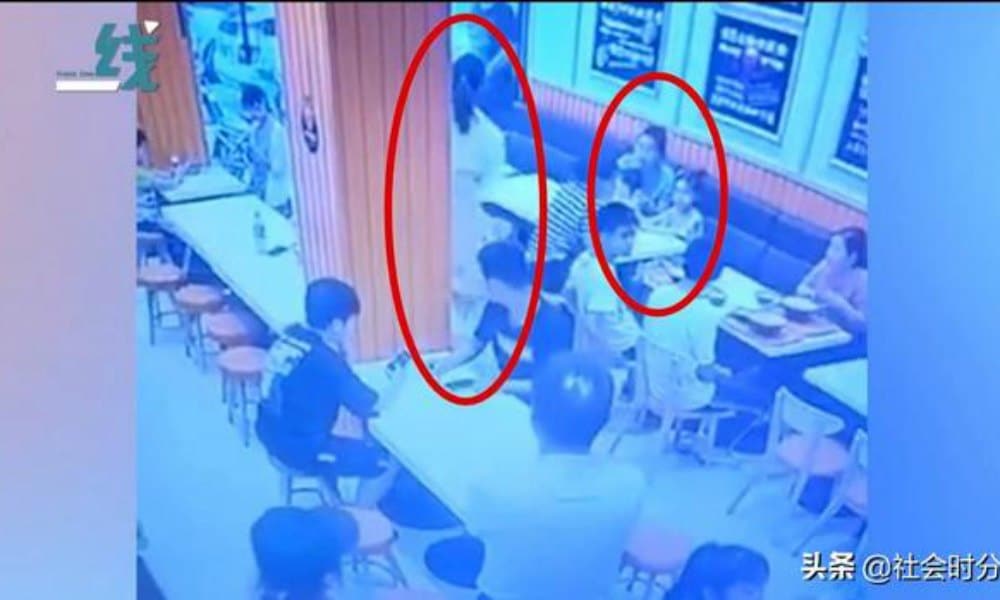 An incident that occurred in Zhoukou city in China's Henan province on the night of June 11 has gone viral on Chinese social media today.
Security cameras in a malatang (hot spicy soup) restaurant captured the moment a pregnant woman throws a bowl of hot soup at an 11-month-old girl.
The woman was allegedly annoyed because the baby was making noise by banging on the table with a spoon.
Footage making its rounds on social media shows how other customers in the restaurant stand up after witnessing the incident, with some going after the woman.
The baby girl reportedly sustained burn injuries on her back and buttocks.
According to various Chinese media reports, the culprit is a 28-year-old woman by the name of Ren. She received a 15-day prison sentence and a fine of 500 yuan ($72), but will not be detained at this point because she is pregnant.
See the video of the incident here:
The local public security bureau issued a statement on Weibo today, writing that the incident had occurred when Ren was dining at the restaurant together with her husband. She got into an argument with the other diners when their 11-month-old baby would not stop banging on the table.
Shortly after leaving the restaurant with her husband, the pregnant Ren then suddenly returned and threw the hot soup at the family, hurting the baby girl.
On social media, outraged commenters write that they think the woman will not be a good mother: "How can a woman like this raise a child?"
"This makes my hair stand up in anger! It's just a baby!" others write.
The story is somewhat similar to another incident that went viral on Chinese social media last year, when a pregnant woman intentionally tripped a 4-year-old boy in a malatang restaurant in Baoji (watch video below for the full story).
By Manya Koetse
Follow @whatsonweibo
Spotted a mistake or want to add something? Please let us know in comments below or email us. Please note that your comment below will need to be manually approved if you're a first-time poster here.
©2019 Whatsonweibo. All rights reserved. Do not reproduce our content without permission – you can contact us at info@whatsonweibo.com