Bad Mom To Be? Pregnant Woman Intentionally Trips 4-Year-Old Boy in Baoji
Footage of a 7-month-pregnant woman in Baoji tackling a 4-year old boy has triggered waves of discussions on Weibo this weekend.
This weekend, footage of a pregnant woman intentionally letting a little boy trip in a restaurant in the city of Baoji, Shaanxi province, has stirred controversy on Chinese social media.
The incident occurred on April 19. A surveillance camera in a local malatang (spicy hot pot) restaurant captured how a young boy runs into the establishment, carelessly pushing aside the transparent wind blockers in the door. They hit the face of the pregnant woman sitting by the door, who then spills some food on herself.
The woman, clearly agitated, waits for the boy to run out of the restaurant again. She then deliberately holds out her foot and makes the boy trip and fall.
According to various Chinese news sources, the boy is the 4-year-old son of local shopkeepers, who ran into the restaurant to grab some chopsticks for his mother. Soon after the fall, his mum rushed into the restaurant, asking the woman for an explanation. The pregnant woman then claimed she had a stomach pain and left with her husband before the police, alerted by the boy's parents, arrived at the scene.
The boy was briefly taken to the hospital for a check-up after his fall, but suffered no serious injuries, as his mother noted on social media (image below).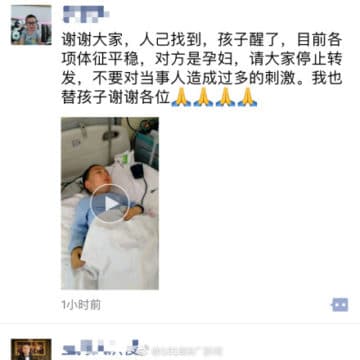 One witness, who was also at the diner when this happened, told China Business News reporters that the boy's action made the pregnant woman spill her food all over herself. According to this witness, the boy's parents stood outside and saw what had happened, but did not apologize.
This incident and its footage have gone viral over Chinese internet since Friday, and has been widely covered by Chinese news outlets over the past 48 hours. On Weibo, the hashtag "Pregnant woman stretches foot to tackle child" (#孕妇伸腿绊倒幼童#) was viewed more than 67 million times by Sunday, attracting thousands of comments.
Although some blame the boy's parents, most netizens agree that the woman's reaction was completely inappropriate, and some are even worried about the woman becoming a mother herself.
"The young boy rushed inside and hit the pregnant woman with the wind curtain," one commenter says: "The pregnant woman has the right to be angry for not getting an apology from the boy's parents. The parents probably did not see their child hit someone, but all the other people did see it happen. (..) However, how the woman reacts is really childish and exaggerated."
Another top commenter says: "I think this pregnant woman is overreacting. The child is still young and ignorant. You can tell him off, but you can't tackle him. He is carrying chopsticks in his hand – what if you'd really hurt him? You'll be a mother soon, aren't you afraid of your own children being harmed? Your aggression is not good for you baby. You're an adult – shame on you!"
"I hate little brats such as this one, but you can't go further than scolding them – this is immoral."
This case has become such a big topic this weekend because both children and pregnant women are vulnerable social groups, and mothers-to-be are especially expected to be loving and kind to little children – this behaviour is not in line with social expectations. One female Weibo netizen said: "I can understand that pregnant women can sometimes react with an irrational temperament, but this cannot be justified." Another person wrote: "Being pregnant
Since the case has blown up on Chinese social media, the pregnant woman has become a target of the so-called 'human flesh search engine', with people looking to reveal her identity and personal details online. Some even say they hope something will be wrong with her baby.
The woman has since turned herself in at the police station, and has apologized for what she has done. Although the woman was initially punished with a 10-day prison sentence and a 1000 yuan fine (±$158), she was pardoned from going to prison because she is 7 months pregnant.
The 4-year-old boy's mother has stepped forward and have asked people not to bother the pregnant woman anymore, and to leave her in peace.
"The boy's parents are really generous," some respond: "They return good for evil."
Check out our latest video on this issue here:
By Manya Koetse, with contribution from Miranda Barnes
Follow @whatsonweibo
Spotted a mistake or want to add something? Please let us know in comments below or email us.
©2018 Whatsonweibo. All rights reserved. Do not reproduce our content without permission – you can contact us at info@whatsonweibo.com.
Massive Fire Breaks Out Near Qipan Mountain in Shenyang
In the afternoon of April 17, local time, a massive fire broke out near Qipan Mountain in the city of Shenyang in China's northeast Liaoning Province.
Videos circulating on Chinese social media show how thick clouds of black smoke could be seen from a distance.
Thick clouds of smoke due to a blaze at Qipan Mountain in Shenyang today – pic.twitter.com/Jci65ruHwp

— Manya Koetse (@manyapan) 17 april 2019
News sources on Weibo say the fire broke out earlier in the afternoon and was soon spreading due to strong winds in the area.
People's Daily reports that over 1300 people are currently involved in a major operation to clear the area and fight the fire, including some 300 people from the fire department and 500 military staff.
The hashtag "Shenyang Qipan Mountain on Fire" (#沈阳棋盘山着火#) was one of the top trending topics on Chinese social media by Wednesday night.
Qipan Mountain is the biggest natural scenic zone in Shenyang, covering 190 square kilometers. According to China Daily, the zone includes plant and animal reserves, a water sports area, a ski area, a hunting area, and a villa area.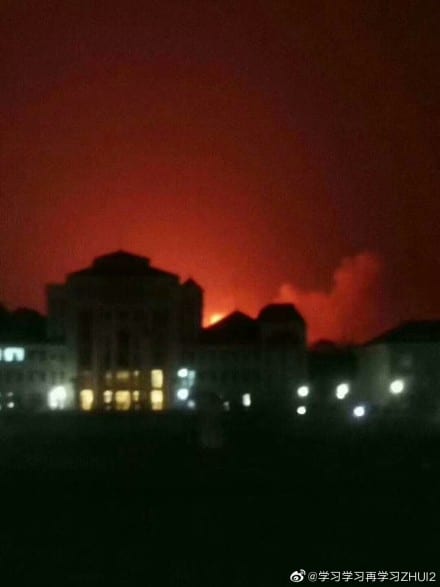 At time of writing, there are no sources confirming what caused the fire and if it is under control yet.
The nearby Shenyang Zoo, however, did confirm on Weibo that the fire had not spread to its area and that the necessary emergency measures were taken to protect the wellbeing of their animals.
Many netizens expressed their concerns over the safety of the animals earlier in the day. Photos of animals being burnt in the fire were refuted and labeled as 'fake news.'
Over 1300 people are involved in a major operation to get the fire under control. #沈阳棋盘山着火 (Also see: https://t.co/MvSb1swewJ) pic.twitter.com/mx4C4rHRc9

— Manya Koetse (@manyapan) 17 april 2019
By Manya Koetse
Spotted a mistake or want to add something? Please email us.
©2019 Whatsonweibo. All rights reserved. Do not reproduce our content without permission – you can contact us at info@whatsonweibo.com.
Online Controversy over Mandatory GPS Tracking Smartwatches for Chinese Street Cleaners
Being a street cleaner in 2019 China now involves wearing a mandatory smartwatch with GPS tracking.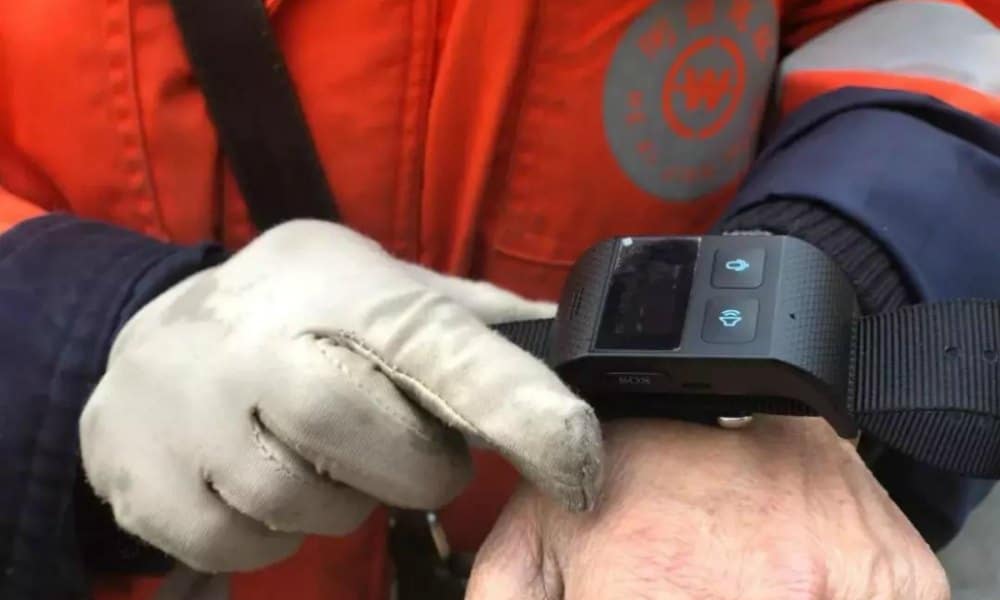 The times of chatting with the neighbors, taking a break, or doing some shopping during work hours are seemingly over for Nanjing's street cleaners now that their every move is monitored through a special smartwatch. News of the mandatory GPS tracking bracelets for sanitary workers triggered public outcry earlier this month. But it's not just Nanjing street cleaners that are subjected to this policy.
Earlier this month, the introduction of smartwatches tracking the movements of street cleaners in Nanjing attracted the attention of Chinese netizens and international media after the new policy was made public on April 3rd.
In March of this year, the sanitation department in the Hexi area of Nanjing, Jiangsu, started a pilot with a smartwatch that sanitation workers are obliged to wear. The watch has a built-in real-time GPS tracking system, allowing the Nanjing Hexi Smart Sanitation Center to monitor workers' movements.
In a short video published by Toutiao News, a spokesperson of the Smart Sanitation Command Center* explained that the smartwatch currently allows the company to assess the workers in three ways: they can register workers' attendance, collect statistics of workers leaving their designated work area, and report on workers that remain in the same position exceeding the allowed amount of time.
Sanitation workers also commented on their new working system. One person interviewed said: "Why wouldn't I be allowed to have a half-an-hour break? Look, the street is all clean, there is nothing to be cleaned up. They are crazy for making us move up and down the street for no reason."
Street cleaners also said that the system would automatically report them if they had been in the same spot for more than twenty minutes. The smartwatch would then subsequently encourage them to move, calling out "Jiayou! Jiayou!" ("Come on! Come on!").
That particular function was reportedly removed shortly after public outcry on the policy.
On Weibo, the hashtag "Smartwatch Automatically Yells 'Jiayou'" (#智能手表自动喊加油#) received over 2,5 million views, with the majority of commenters strongly rejecting the new approach.
Most commenters on this issue argued that the implementation of the smartwatch is "immoral" and that the Nanjing workers are "treated as criminals." Many others also pointed out that the workers, often senior citizens, should be able to rest for more than 20 minutes.
In light of the new policy, many people on social media also referred to the infamous fictional character Zhou "Bapi" (周扒皮). In the novel The Killing Wind, this landlord Zhou would stick his head into the henhouse stirring up the roosters to wake his laborers up earlier, so they would start working.
Some netizens came with an alternative solution, suggesting that the leaders of the company should wear the smartwatches themselves instead.
While the controversial function was eliminated, the GPS tracking function still stands.
Nanjing is not the first city to introduce GPS tracking smartwatches for its sanitary workers. Other cities where the same policy has been introduced are, for example, Chengdu, Hangzhou, Guangzhou, and Qingdao, according to Chinese media outlet Global Times.
In the summer of 2018, various Chinese media outlets already reported about the introduction of smartwatches for street cleaners in Guangzhou. At the time, the smartwatch policy was described as an innovative way to solve staff deployment and management problems, giving team leaders more insights into the real-time position of the street cleaners.
Whether or not the smartwatches do indeed improve work efficiency of street cleaners is still unclear, but there are no indications that the smartwatch policy will be changed at this point.
The tough work conditions of Chinese street cleaners, who work long hours and receive minimal pay, regularly become an issue of debate on Chinese social media. Besides praising the hard work of China's public cleaners, Chinese netizens often express their sympathy for the bad circumstances under which street sweepers have to work.
By Gabi Verberg
* (南京河西建环"智能环卫"综合调度监控指挥中心 Nanjing Hexi Jianhuan "Intelligent Sanitation" Integrated Dispatching Monitoring Command Center)
Spotted a mistake or want to add something? Please let us know in comments below or email us.
©2019 Whatsonweibo. All rights reserved. Do not reproduce our content without permission – you can contact us at info@whatsonweibo.com