Bad Mom To Be? Pregnant Woman Intentionally Trips 4-Year-Old Boy in Baoji
Footage of a 7-month-pregnant woman in Baoji tackling a 4-year old boy has triggered waves of discussions on Weibo this weekend.
This weekend, footage of a pregnant woman intentionally letting a little boy trip in a restaurant in the city of Baoji, Shaanxi province, has stirred controversy on Chinese social media.
The incident occurred on April 19. A surveillance camera in a local malatang (spicy hot pot) restaurant captured how a young boy runs into the establishment, carelessly pushing aside the transparent wind blockers in the door. They hit the face of the pregnant woman sitting by the door, who then spills some food on herself.
The woman, clearly agitated, waits for the boy to run out of the restaurant again. She then deliberately holds out her foot and makes the boy trip and fall.
According to various Chinese news sources, the boy is the 4-year-old son of local shopkeepers, who ran into the restaurant to grab some chopsticks for his mother. Soon after the fall, his mum rushed into the restaurant, asking the woman for an explanation. The pregnant woman then claimed she had a stomach pain and left with her husband before the police, alerted by the boy's parents, arrived at the scene.
The boy was briefly taken to the hospital for a check-up after his fall, but suffered no serious injuries, as his mother noted on social media (image below).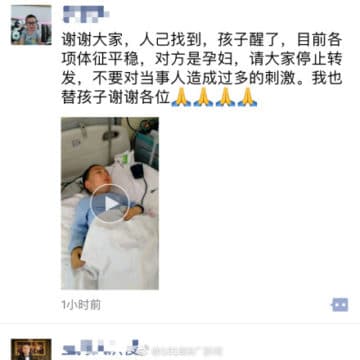 One witness, who was also at the diner when this happened, told China Business News reporters that the boy's action made the pregnant woman spill her food all over herself. According to this witness, the boy's parents stood outside and saw what had happened, but did not apologize.
This incident and its footage have gone viral over Chinese internet since Friday, and has been widely covered by Chinese news outlets over the past 48 hours. On Weibo, the hashtag "Pregnant woman stretches foot to tackle child" (#孕妇伸腿绊倒幼童#) was viewed more than 67 million times by Sunday, attracting thousands of comments.
Although some blame the boy's parents, most netizens agree that the woman's reaction was completely inappropriate, and some are even worried about the woman becoming a mother herself.
"The young boy rushed inside and hit the pregnant woman with the wind curtain," one commenter says: "The pregnant woman has the right to be angry for not getting an apology from the boy's parents. The parents probably did not see their child hit someone, but all the other people did see it happen. (..) However, how the woman reacts is really childish and exaggerated."
Another top commenter says: "I think this pregnant woman is overreacting. The child is still young and ignorant. You can tell him off, but you can't tackle him. He is carrying chopsticks in his hand – what if you'd really hurt him? You'll be a mother soon, aren't you afraid of your own children being harmed? Your aggression is not good for you baby. You're an adult – shame on you!"
"I hate little brats such as this one, but you can't go further than scolding them – this is immoral."
This case has become such a big topic this weekend because both children and pregnant women are vulnerable social groups, and mothers-to-be are especially expected to be loving and kind to little children – this behaviour is not in line with social expectations. One female Weibo netizen said: "I can understand that pregnant women can sometimes react with an irrational temperament, but this cannot be justified." Another person wrote: "Being pregnant
Since the case has blown up on Chinese social media, the pregnant woman has become a target of the so-called 'human flesh search engine', with people looking to reveal her identity and personal details online. Some even say they hope something will be wrong with her baby.
The woman has since turned herself in at the police station, and has apologized for what she has done. Although the woman was initially punished with a 10-day prison sentence and a 1000 yuan fine (±$158), she was pardoned from going to prison because she is 7 months pregnant.
The 4-year-old boy's mother has stepped forward and have asked people not to bother the pregnant woman anymore, and to leave her in peace.
"The boy's parents are really generous," some respond: "They return good for evil."
Check out our latest video on this issue here:
By Manya Koetse, with contribution from Miranda Barnes
Follow @whatsonweibo
Spotted a mistake or want to add something? Please let us know in comments below or email us.
©2018 Whatsonweibo. All rights reserved. Do not reproduce our content without permission – you can contact us at info@whatsonweibo.com.
Yangzhou Man Found Dead after Drinking, Friends Pay 1 Million RMB Settlement
Is Chinese drinking culture to blame for deaths related to alcohol?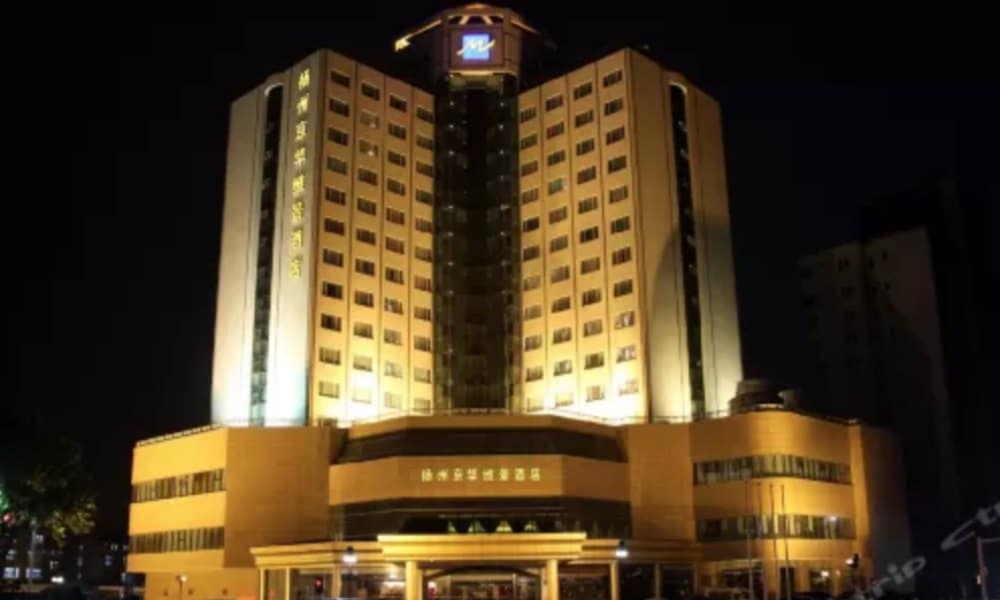 The recent death of a 30-year-old Chinese man at the Jing Hua Metropark Hotel (京华维景酒店) in Yangzhou, Jiangsu province, has triggered discussions on Weibo.
On Friday, May 19, the man was discovered in his hotel room bathtub by his friends. The following day, Yangzhou Police officially confirmed the man's death, China News reports.
The man, who was from the nearby Gaoyou County, allegedly died of a heart attack after drinking during a formal dinner with friends at the hotel.
Local media later reported that the friends present during the night reached a 1 million yuan (±US$157,000) settlement with the man's family. The cost of the settlement will be shared among the friends who were drinking that night.
In February of this year, two similar stories made headlines in China. In one case, a young migrant worker died after excessive drinking at a company lunch and dinner in southern China.
The man, according to SCMP, drank the equivalent of 600ml of baijiu (白酒), a popular spirit that contains around 50% alcohol.
The other case involved a man who died when he was left by his friends at a hotel in Jinhua, Zhejiang province, after heavily drinking at a banquet.
Those friends also paid a compensation together of 610,000 yuan (US$96,000) to the man's family.
Earlier this month, organisers of an alcohol drinking contest in Henan province were also ordered to pay a compensation of over US$70,000 after one participant died due to excessive alcohol intake in July of last year.
"We'd better bring our medical records before drinking with friends."
The most recent 1 million yuan settlement became a heated topic on Weibo, where one commenter stated that perhaps it is time to sign a legal waiver with all friends who drink together before they become legally responsible for potential settlement costs.
Another commenter suggested that alcohol manufacturers should be responsible for such deaths. The majority of the commenters, however, blamed Chinese drinking culture (中国酒桌文化) for these incidents.
In the Chinese traditional drinking culture, people are usually encouraged to drink as much as they can, or to exceed their limits; the goal sometimes is to literally "take someone to the ground by drinking."
When someone proposes a toast, everyone at the table is required to finish their glasses, sometimes at a very high pace.
Since Chinese drinking culture usually involves drinks with a high alcohol percentage, such as the aforementioned baijiu, heavy drinkers have a higher risk of alcohol poisoning.
Despite some claiming that the 'long, traditional' drinking culture is meant to strengthen people's relations, critics argue that China's coercive drinking culture is a toxic practice that is harmful to people's health.
The pressure to drink sometimes goes beyond friendly relations, as those who decline a drink can be verbally attacked or looked down on by others participating in the event.
Especially during formal business dinners, the amount of alcohol one can drink is taken as a sign of their strength of character or abilities; those who can consume the most are regarded as the best candidates and may receive financial benefits or better business relations with others because of it.
"It would be better for us to bring medical records with us before we started drinking with friends," one Weibo netizen jokingly comments.
"It's good they have to pay compensation [to the family]," another person writes: "This might put an end to the Chinese drinking culture where people are basically forced to drink alcohol."
By Chauncey Jung
Follow @whatsonweibo
Spotted a mistake or want to add something? Please let us know in comments below or email us.
©2018 Whatsonweibo. All rights reserved. Do not reproduce our content without permission – you can contact us at info@whatsonweibo.com.
Suspect in Chinese Stewardess Didi Chuxing Murder Case "Jumped into River"
The murder on the 21-year-old flight attendant has raised concerns among netizens on the safety of car-hailing app Didi.
The number one trending topic on Chinese social media on Thursday night (Beijing time) is the murder of a Chinese stewardess by a driver of the Didi Chuxing car-hailing app. The hashtag "Stewardess Didi Murder" (#空姐滴滴打车遇害#) received 110 million views at time of writing.
The 21-year-old Lucky Air flight attendant Li Mingzhu (李明珠) was killed in the early morning of May 6th after she had arranged a ride through Didi, China's popular Uber-like car-hailing app, and was on her way home from Zhengzhou Airport in Henan province.
Unable to contact their daughter, Li's family reported her missing on the afternoon of May 7. Her body was discovered by local police the following day.
According to Global Times (report since removed), police confirmed that the woman was killed by the driver with a weapon, but was still at large. Didi Chuxing issued an apology for Li's death, and said they had "incumbent responsibility."
Chinese news site Sixth Tone reports that a friend of Li had received messages from her while she was on her way home, saying that her driver was "acting strange" and was telling her that he was "tempted to kiss her."
The car-hailing company also offered a reward of up to 1 million yuan [US$160,000] for people providing tips on the suspect's whereabouts. The company issued a photo of the suspect, a 27-year-old male named Liu Zhenhua, on social media platform Weibo.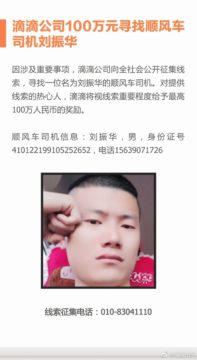 In a Beijing News interview with the victim's father on May 10, it was disclosed that Li's body was found half naked, with over 20 stab wounds.
According to new reports on Thursday night, research teams have found that Didi driver Liu abandoned his car shortly after the murder and then jumped into a nearby river. Police is now searching the area.
For many people in China, the Didi car-hailing app is part of their everyday travel life. In 2017, the company completed 7.43 billion rides for approximately 450 million users in more than 400 cities.
Li Mingzhu's death has raised public concerns over the safety of the company. Although drivers need to have real-name registration, they can also register an account with another person's car, as long as the car owner agrees.
"Didi, you need to increase the security level over your drivers!", some commenters say on Weibo, while others say they are now "afraid to hail a Didi car."
"I hope that tomorrow's news will tell me the driver has drowned," one netizen wrote.
Update: Netease reports on May 11 that a body has been recovered from the water. Further investigation will have to confirm if it is indeed the suspect.
By Manya Koetse, with contributions from Chauncey Jung
Follow @whatsonweibo
Spotted a mistake or want to add something? Please let us know in comments below or email us.
Directly support Manya Koetse. By supporting this author you make future articles possible and help the maintenance and independence of this site. Donate directly through Paypal here. Also check out the What's on Weibo donations page for donations through creditcard & WeChat and for more information.
©2018 Whatsonweibo. All rights reserved. Do not reproduce our content without permission – you can contact us at info@whatsonweibo.com.