Bad Mom To Be? Pregnant Woman Intentionally Trips 4-Year-Old Boy in Baoji
Footage of a 7-month-pregnant woman in Baoji tackling a 4-year old boy has triggered waves of discussions on Weibo this weekend.
This weekend, footage of a pregnant woman intentionally letting a little boy trip in a restaurant in the city of Baoji, Shaanxi province, has stirred controversy on Chinese social media.
The incident occurred on April 19. A surveillance camera in a local malatang (spicy hot pot) restaurant captured how a young boy runs into the establishment, carelessly pushing aside the transparent wind blockers in the door. They hit the face of the pregnant woman sitting by the door, who then spills some food on herself.
The woman, clearly agitated, waits for the boy to run out of the restaurant again. She then deliberately holds out her foot and makes the boy trip and fall.
According to various Chinese news sources, the boy is the 4-year-old son of local shopkeepers, who ran into the restaurant to grab some chopsticks for his mother. Soon after the fall, his mum rushed into the restaurant, asking the woman for an explanation. The pregnant woman then claimed she had a stomach pain and left with her husband before the police, alerted by the boy's parents, arrived at the scene.
The boy was briefly taken to the hospital for a check-up after his fall, but suffered no serious injuries, as his mother noted on social media (image below).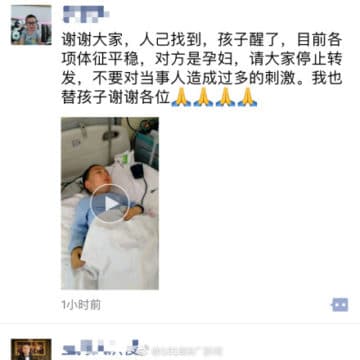 One witness, who was also at the diner when this happened, told China Business News reporters that the boy's action made the pregnant woman spill her food all over herself. According to this witness, the boy's parents stood outside and saw what had happened, but did not apologize.
This incident and its footage have gone viral over Chinese internet since Friday, and has been widely covered by Chinese news outlets over the past 48 hours. On Weibo, the hashtag "Pregnant woman stretches foot to tackle child" (#孕妇伸腿绊倒幼童#) was viewed more than 67 million times by Sunday, attracting thousands of comments.
Although some blame the boy's parents, most netizens agree that the woman's reaction was completely inappropriate, and some are even worried about the woman becoming a mother herself.
"The young boy rushed inside and hit the pregnant woman with the wind curtain," one commenter says: "The pregnant woman has the right to be angry for not getting an apology from the boy's parents. The parents probably did not see their child hit someone, but all the other people did see it happen. (..) However, how the woman reacts is really childish and exaggerated."
Another top commenter says: "I think this pregnant woman is overreacting. The child is still young and ignorant. You can tell him off, but you can't tackle him. He is carrying chopsticks in his hand – what if you'd really hurt him? You'll be a mother soon, aren't you afraid of your own children being harmed? Your aggression is not good for you baby. You're an adult – shame on you!"
"I hate little brats such as this one, but you can't go further than scolding them – this is immoral."
This case has become such a big topic this weekend because both children and pregnant women are vulnerable social groups, and mothers-to-be are especially expected to be loving and kind to little children – this behaviour is not in line with social expectations. One female Weibo netizen said: "I can understand that pregnant women can sometimes react with an irrational temperament, but this cannot be justified." Another person wrote: "Being pregnant
Since the case has blown up on Chinese social media, the pregnant woman has become a target of the so-called 'human flesh search engine', with people looking to reveal her identity and personal details online. Some even say they hope something will be wrong with her baby.
The woman has since turned herself in at the police station, and has apologized for what she has done. Although the woman was initially punished with a 10-day prison sentence and a 1000 yuan fine (±$158), she was pardoned from going to prison because she is 7 months pregnant.
The 4-year-old boy's mother has stepped forward and have asked people not to bother the pregnant woman anymore, and to leave her in peace.
"The boy's parents are really generous," some respond: "They return good for evil."
Check out our latest video on this issue here:
By Manya Koetse, with contribution from Miranda Barnes
Follow @whatsonweibo
Spotted a mistake or want to add something? Please let us know in comments below or email us.
©2018 Whatsonweibo. All rights reserved. Do not reproduce our content without permission – you can contact us at info@whatsonweibo.com.
World's Largest Terminal: Spectacular Photos of Beijing's New Airport
The city's new international airport will be the biggest one in the world.
Its opening is more than a year from now, but Beijing's new international airport is already a spectacular sight.
Beijing's new airport, that is expected to open in fall of 2019, is attracting some attention on Chinese social media lately as construction work on the major airport is speeding up.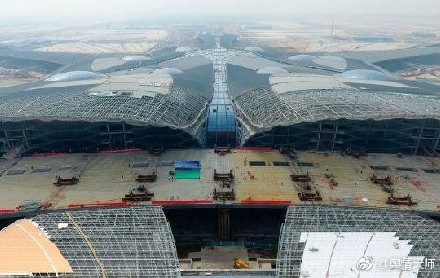 A 7,200 tons and 404.5-meter-long roof was placed on the airport's no.1 hangar earlier this week.
The airport is located in southern Beijing in Daxing (大兴区), and is expected to welcome some 72 million travelers per year in the future. The terminal area will cover some 700,000 square meter.
According to Sina News, at most 8000 builders are working on the construction site at the same time.
The terminal building was designed by ADPI in collaboration with, amongst other consultants, Zaha Hadid Architects, who are known for their futuristic structures.
The airport is also called the "alien base" (外星人基地) by some netizens due to its extraordinary size and design.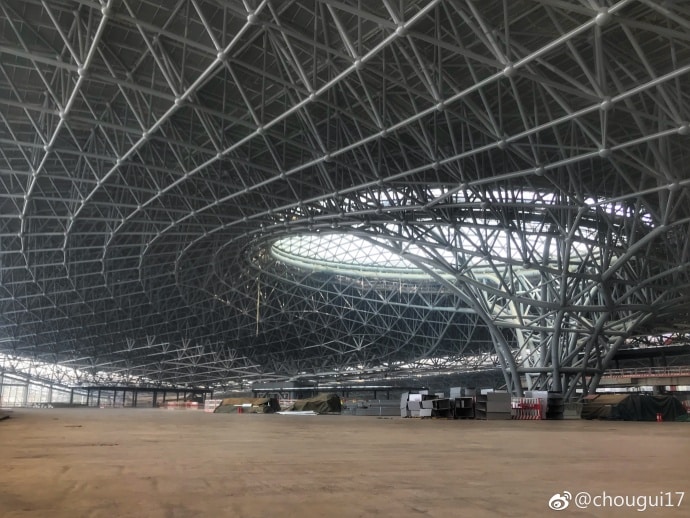 Dozens of photos of the airport construction site are circulating on Weibo.
Photographer Chou Gui (@chougui17) posted a collection of various photos of the upcoming airport on their Weibo account.
Chinese state media propagate Beijing's Daxing International Airport as being "100% China-made." Located in the Daxing district of southern Beijing, it will become an important part of the Beijing-Tianjin-Hebei city cluster.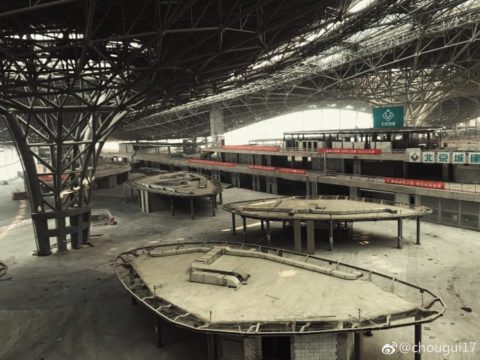 You might also like to read: Real-Life Fairy Tale Landscape: Abandoned Fishing Village Houtouwan.
By Manya Koetse
Follow @whatsonweibo
Spotted a mistake or want to add something? Please let us know in comments below or email us.
©2018 Whatsonweibo. All rights reserved. Do not reproduce our content without permission – you can contact us at info@whatsonweibo.com.
Chongqing Man Throws Golden Retriever and Cat from 21st Floor
A brutal case of pet killing has shocked Chinese social media users this week. On September 6, a man from the Shapingba district of Chongqing threw his golden retriever and a pregnant cat from the 21st floor of an apartment building. Both animals died.
Various Chinese media report that the man supposedly committed the cruel act after learning his wife was pregnant and not wanting her to keep pets in the house while expecting. After an argument with his wife, he allegedly threw the pets out of the window.
Shocked neighbors told reporters that the incident occurred around five o'clock on Thursday, when they heard a loud thump and found the animals on the pavement.
Some neighbours recognized the animals, as their own dog would play with the golden retriever. They called the pet owner, who said he no longer wanted anything to do with the dog and the cat. The neighbors, some crying, later gave the dog and cat a respectful burial.
On Weibo, the hashtag "Man Throws Dog and Cat from 21st Floor" (#男子21楼扔下一猫一狗#) was viewed almost three million times.
Animal cruelty often becomes a topic of debate on Weibo. One of the biggest social media trending cases of animal abuse of the past years is that of the dog Lion, who went missing in December of 2017 and was found by a woman named He Hengli who then blackmailed the dog's owner over its release.
When the 'hostage negotiations' reached a deadlock, the dog's owner finally went to He's apartment to fetch her dog together with police offers and reporters. While they knocked the door, Lion was thrown to his death from He's sixth story apartment.
As in many cases in which animal cruelty has been exposed on social media, Lion's killer became a target of the so-called 'human flesh search engine,' with people leaking her personal information online and threatening her at her workplace and home.
Such cases have previously even led to mob justice, with people dragging abusers out of their homes and beating them.
People often resort to this kind of 'jungle justice' because China currently has no laws preventing animal abuse. The voices calling for legal protection of animals in China have gotten louder over the past years.
"I just cannot understand these kinds of people's way of thinking," one commenter said: "They now throw a dog, what will they throw next time?"
"[If you no longer want your pets], you could just give them away, instead of cruelly throwing them to their death. Also – if someone would've walked there, they might have died, too," others wrote.
Some write: "If someone mistreats an animal it's a clear sign they're abnormal maniacs," with many others worrying about the future child of the pet killer: "He's surely not fit to be a father."
By Manya Koetse
Follow @whatsonweibo
Spotted a mistake or want to add something? Please let us know in comments below or email us.
©2018 Whatsonweibo. All rights reserved. Do not reproduce our content without permission – you can contact us at info@whatsonweibo.com.