BBC's 'Racism for Sale' Documentary Triggers Discussions and Censorship on Chinese Social Media 
Weibo discussions on 'Racism for Sale' documentary: "BBC is maliciously hyping up the issue."
A video in which a group of African children dressed in red are happily chanting Chinese slogans made international headlines back in early 2020. Although the video might have seemed cheerful at first to those who don't know Chinese, it is actually racist and exploitative.
The children are energetically repeating what someone else is telling them to say, while holding up a blackboard with the phrase they are chanting written out: "I am a black devil. My IQ is low" ("我是黑鬼, 智商低").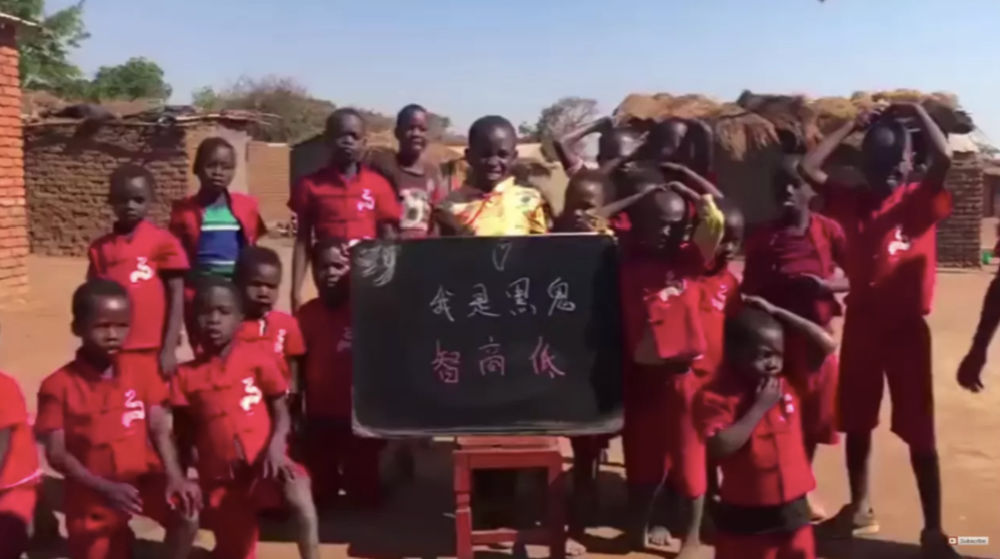 The video was initially posted on Chinese social media on February 10th, 2020, sparking some controversy within China. It later started to attract international attention after Ghanaian vlogger Wode Maya, who studied in China, spoke out about it on his YouTube channel in a video on February 16th which has since been viewed nearly 200,000 times.
The video featuring the African children shocked people from all over the world and led to some media outlets looking further into the context. In April of 2020, France 24 Observers reporters investigated the video and shed light on a wider Chinese market for videos recorded in Africa with locals.
These type of videos are reportedly made by Africa-based Chinese nationals who give the children some money or food in return to perform for personalized videos, which are then sold via Chinese online platforms.
The videos often include birthday greetings or other personalized messages, but as the aforementioned example shows, sometimes also contains far more sinister content. In another video, the children were made to say they promised they'd never go to China.
There had been controversy over these kinds of videos before. As reported by France 24 Observers, such videos have been circulating on Chinese social media since 2015. In 2017, Chinese e-commerce platform Taobao already closed a few accounts selling such content.
This month, the racist video issue has been brought back to the forefront again due to BBC Africa Eye releasing its "Racism for Sale" documentary, in which reporters Runako Celina and Henry Mhango further investigate and expose the Chinese video-making industry that exploits vulnerable children across Africa. They traced the Weibo video and dozens of others back to one Chinese national living in Malawi, and then confronted him (watch the BBC documentary here).
On Weibo, the 'Racism for Sale' documentary also triggered discussions, but instead of focusing on the racist videos, they were generally more focused on the BBC documentary's narrative and its intentions, and about anti-Black racism within China.
The influential Weibo channel Diba Guanwei (@帝吧官微), which has over 1,5 million followers, called out the documentary in a Weibo post for purposely wanting to meddle in China-Africa relations. It said that the Chinese man recording such videos and insulting African people was indeed a problem, but that it was too much to suggest that this is all about Chinese people exploiting Africans.
Other Weibo users denounced the Chinese man for making such videos, with one popular account suggesting that this person might have intentionally shot these videos to "hurt the friendship between Africa and China," and that he should be severely punished for it.
One thing that some people jumped on is how a racist Weibo account named "Black People Joke Club" (黑人笑话社) is featured in the documentary for being the first Weibo account to post the video of the African children. Popular nationalist blogging account Guaguashuashi (@呱呱傻事) suggested that BBC Africa used the supposedly insignificant account to make a big story and stir up anger among Africans. Moreover, the account also claimed that the man identified as 'Lu Ke' (卢克) who was making the children chant and dance for the video actually had a Taiwanese accent. Guahuashashi's post received over 2000 likes and more than 300 comments.
The "Black People Joke Club" (黑人笑话社) Weibo account was previously shut down. In light of the recent BBC documentary, other accounts publishing racist content have also been removed, including an account titled "That Guangzhou Guy" (那个广州人). Words such as 'black devil' have also been censored and come up with zero results on Weibo now. Images included in discussions of the BBC documentary have also been censored.
At time of writing, some content related to the "Black People Joke Club" or other racist accounts is still available on Weibo due to other social media users previously tagging these accounts when posting their own content. There are also still many Weibo groups, topics, and hashtags where people share racist jokes and memes. Many of these posts feature racist jokes about the N-word, blackface, or other stereotyping and derogatory content.
Although some Weibo bloggers blame the BBC for attracting more attention to the old racist video, there are also those who point out that there is indeed a problem with anti-Black racism among Chinese: "Some people in China are really discriminating against black people. Whenever there are women online who post about their happy life with their black husband, they are often cursed on by some men. I think there are really a lot of racist people in our country," one Weibo commenter wrote.
Another popular comment by a Weibo account from Jiangxi said that some Chinese are hypocritical to deny their own racist rhetoric against black people and are loudly calling out America for anti-Black racism, while also being quick to call something 'discrimination of Chinese people' whenever they feel something is insulting to China.
The issue of anti-Black racism on Chinese social media has often popped up, turning into trending discussions, especially when it is about foreign media reporting on it. In 2021, a Chinese influencer came under fire after a video of her doing a blackface makeup tutorial resurfaced online. A Chinese Vtuber (virtual influencer) on Bilibili also stirred controversy for being blatantly racist and forcing her (virtual) 'slave' to go and pick cotton.
In 2016, social media exploded in light of a Chinese ad campaign for washing detergent brand Qiaobi (俏比) which featured a black man turning into a Chinese man after being 'washed.' Although the commercial initially did not receive much attention in China, the international media coverage eventually sparked major discussions on Chinese social media for being racist.
An Africa-themed skit performed during the 2018 CCTV Gala was meant to promote China-African relations, but instead it received backlash for featuring a Chinese actress wearing blackface and being accompanied by someone costumed as a monkey.
The 'Racism for Sale' video has not just triggered discussions on Weibo, it has also become a diplomatic issue. On June 13, Malawi's Foreign Minister Nancy Tembo shared a video via Twitter addressing the matter, adding that she felt "disgusted, disrespected and deeply pained" because of the video industry exposed by BBC Africa.
The Chinese Embassy in Malawi condemned the videos in a Twitter post on June 13. Wu Peng, China's Director-General of the Foreign Ministry Department of African Affairs, met with Minister Nancy Tembo a day later, and stated on Twitter that both China and Malawi have "zero tolerance for racism" and that China will continue to crack down on such racial discrimination videos in the future.
A Weibo account dedicated to the overseas Chinese community in Malawi has not posted anything about the BBC documentary nor the videos discussed in it.
Also read: Chinese social media responses to the Western anti-racism movement after Floyd's death.
By Federica Giampaolo and Manya Koetse
Get the story behind the hashtag. Subscribe to What's on Weibo here to receive our weekly newsletter and get access to our latest articles:
Spotted a mistake or want to add something? Please let us know in comments below or email us. First-time commenters, please be patient – we will have to manually approve your comment before it appears.
©2022 Whatsonweibo. All rights reserved. Do not reproduce our content without permission – you can contact us at info@whatsonweibo.com.
"The Frog in the Well": China's Condemnation of the G7 Summit
The most noteworthy criticism of the G7 summit came from Foreign Ministry Spokesperson Hua Chunying, who started the frog analogy.
There has been a lot of talk about frogs in Chinese online discussions following the G7 summit. Over the past week, the G7 summit, that was held in Hiroshima from 19 to 21 May, was criticized in Chinese newspaper headlines and by official media accounts, while China's ministry of foreign affairs accused the G7 of "smearing" and "attacking" China.
The G7 was called a "failure" on the China Daily front page of May 22. On the same day, Global Times called the summit "manipulative" in its front page headline and suggested the Group of Seven had descended into an "anti-China workshop" in its op-ed, which featured an illustration by Liu Rui that showed the seven nations in a boat, not cooperating and barely moving.
But perhaps the most noteworthy criticism on the G7 summit came from Foreign Ministry Spokesperson Hua Chunying (华春莹).
On her official Twitter account (@SpokespersonCHN) Hua lashed out against the G7 and its participating nations in a series of tweets in which she condemned the summit as hypocritical, deceptive, and biased, while highlighting China's contributions to global economic growth.
The Chinese condemnation of the G7 is a direct response to the G7 Communiqué and to the summit's supposed "hype around China-related issues."
During the G7 summit in Hiroshima, the participating nations expressed growing concerns about China's expanding global influence. The summit's official statement emphasized the need to "de-risk" rather than "de-couple" from China in their relationship. The statement mentioned China 20 times, a significant increase from the 14 mentions in 2022.
The discussions focused on various aspects related to China, including its relations with Taiwan, human rights issues in Xinjiang and Tibet, interference in democratic institutions, and responses to Russia's military aggression.
Prior to the summit, President Emmanuel Macron of France made it clear through one of his advisers that the G7 was not an 'anti-Chinese' coalition. However, Chancellor of the Exchequer Rishi Sunak of the United Kingdom went beyond the official statement, emphasizing the significant threat posed by China to global security. Speaking to reporters at the G7 meeting, Sunak stated that "China poses the biggest challenge of our age to global security and prosperity. They are increasingly authoritarian at home and assertive abroad."
From China's perspective, the Group of Seven is unwilling to go beyond their own distorted world view in which China is labeled a threat. And so, in one of Hua's tweets, she posted an image showing a frog on the bottom a well, looking up to the sky and wondering: "G7 = world?"
The depiction of a frog in the well is a direct reference to the well-known fable by philosopher Zhuangzi about a frog in a well who does not believe it when a turtle tells him that the world is bigger than the view from the well. The frog stubbornly denies the existence of the wider world and asserts that nothing lies beyond what he can see. The fable has given rise to Chinese idioms such as "the frog at the bottom of the well" (井底之蛙) and "looking at the sky from the bottom of the well" (坐井观天). These idioms are commonly used to describe those who exhibit ignorance and resist broadening their understanding beyond their limited perspective.
Hua's frog-tweet and others were also shared on Weibo by state media outlet China Daily, which initiated the hashtags "Hua Chunying Fires Back with Series of Tweets to Counter G7's Smear Campaign Against China" (#华春莹连发多条推特回击G7抹黑中国言论#) and "Hua Chunying Uses Frog at Bottom of Well to Hit Back at G7's Smearing Remarks" (#华春莹用井底之蛙回击G7抹黑言论#).
One nationalistic Weibo blogging account (@大大大餅乾丶) shared additional images of frogs, including one with a frog adorned with an American flag and the word "independence" written on its forehead. The blogger pointed out that some groups in Taiwan believed that Hua's frog tweet was directed at Taiwan, stating: "It seems like their self-awareness is right on point."
The connection between the frog idiom and Taiwan is not unfounded. In August 2022, during Pelosi's controversial visit to Taiwan, an illustration depicting a frog leisurely relaxing in a hotpot while the US increased the heat and mainland China held the lid also went viral online.
Meanwhile, on Weibo, many praised Hua's sharp criticism of the way in which China was targeted during the G7 talks and embraced the frog analogy. "One a frog, always a frog," some wrote.
Other state media outlets, including Global Times, also reported about Hua's tweets and argued that that the G7 is purposely hyping the "China treat" theory (中国威胁论). The louder their anti-China rhetoric is, the less impact it has, the article argues.
Other commenters, however, seemed to note some irony in the frog analogy. One blogger argued that since the frog in the image himself wonders if the G7 is really the entire world, he actually already does not have such a limited worldview. Several Weibo users wondered who the frog actually represented, suggesting it could either be the G7, Taiwan, or mainland China itself.
Within this context, some individuals expressed curiosity about Hua Chunying's choice to post the original message on the American Twitter platform, which is inaccessible within mainland China. They humorously remarked, "Twitter? What is Twitter?"
By Manya Koetse & Zilan Qian
Get the story behind the hashtag. Subscribe to What's on Weibo here to receive our newsletter and get access to our latest articles:
Spotted a mistake or want to add something? Please let us know in comments below or email us. First-time commenters, please be patient – we will have to manually approve your comment before it appears.
©2023 Whatsonweibo. All rights reserved. Do not reproduce our content without permission – you can contact us at info@whatsonweibo.com.
"Can't Watch the Fire Burn Across the River" – Xi's Phone Call with Zelensky
China won't "watch the fire from the other side of the river," but it also will not "pour oil on the fire" of the Russia-Ukraine war.
On April 26th, Chinese state media outlet CCTV posted a lengthy post on Weibo about the much-anticipated phone call between Chinese leader Xi Jinping and Ukrainian President Volodymyr Zelensky.
According to CCTV, the main point of the conversation was to exchange views on China-Ukrainian relations – based on "mutual respect for sovereignty and territorial integrity" – and the war in Ukraine.
The phone call is especially noteworthy because it is the first Xi-Zelensky conversation since the Russian invasion of Ukraine in 2022.
The phone call came after a number of noteworthy international developments, including Xi's visit to Moscow in late March, French President Macron's China visit in April, and that of Von der Leyen, President of the European Commission.
The momentous conversation also took place shortly after comments made by Lu Shaye (卢沙野), the Chinese ambassador to France, caused controversy. Last week, Lu questioned the independence of former Soviet countries like Ukraine in an interview with French television network LCI. He commented on Crimea being Russian and suggested that former Soviet countries have no "effective status" in international law. The interview sparked controversy and anger among former Soviet countries Estonia, Lithuania and Latvia, and other European countries.
Meanwhile, on the Chinese side, the Foreign Ministry stated it respects the sovereignty of ex-Soviet states. Various voices argued that Lu Shaye's words were taken out of context and were the effect of a certain Western media strategy (see the take by Chinese scholar Zheng Ruolin here and that of commentator Hu Xijin here). However, Lu Shaye's remarks regarding post-Soviet nations could have increased the urgency for Xi to reach out to Zelensky via phone.
Putting Out the Fire
One sentence from the phone call that was highlighted by Chinese state media and which was turned into a social media hashtag was that of how China "will neither watch the fire from across the river nor pour oil on the fire" (#我们既不会隔岸观火也不会拱火浇油#).
While the sentence reiterates China's supposed neutrality in the Russia-Ukraine conflict, the conversation between Xi and Zelensky also signalled China's desire to take on the role as a responsible global power and international peacemaker.
CCTV reported that China will insist on urging for peace and make its own efforts to stop the war. China reportedly will send an envoy (Special Representative of the Chinese Government for Eurasian Affairs/中国政府欧亚事务特别代表) to Ukraine and "other countries" to help seek a political settlement in the crisis through in-depth discussions with all parties.
Chinese official reports on the call also emphasized how Zelenskiy congratulated President Xi Jinping on his re-election and that Ukraine adheres to the one-China policy, hoping to "open a new chapter in Sino-Ukrainian relations and work together to maintain world peace and stability."
News of the call was posted and promoted on Chinese social media by various media accounts. Direct News (直新闻) by Shenzhen Media Group even called the Xi-Zelensky call "the most significant international news of the entire week."
The same media outlet also said that the U.S. response to the Xi-Zelensky call was "somewhat sour." White House spokesman John Kirby called it "a good thing" but also said it was too early to know whether it would lead to "some sort of meaningful peace movement, or plan or proposal".
Although most Chinese media accounts reporting on the phone call on Weibo had their comment sections turned off – leaving no room for online discussions, – pundit and former Global Times chief editor Hu Xijin also posted a lengthy commentary on Weibo about the issue on April 27th, which received over 900 (selected) replies.
Hu stressed the important role China has in a world where it is the only major country that maintains friendly relations with both Russia and Ukraine, with both leaders willing to listen to China's views. Neverthless, Hu wrote that there is still a long road ahead for peace to be achieved.
Hu also suggested that Washington is playing a negative role in reaching a political settlement of the Russia-Ukraine crisis. The US has not shown "true willingness to push for a ceasefire" and moreover is also "utilizing the war for its own strategic objectives," according to Hu.
In the comment section, many discussions were also focused on the role of the US. "They don't want a ceasefire," some wrote.
There were also other commenters who suggested that the key to solving the war in Ukraine eventually is not up to the US, nor to China, but to Russia and Ukraine alone.
Some still have the hope that China can make a difference in achieving peace: "China can do what other countries cannot. When it comes to it [reaching peace], we can do it."
By Manya Koetse
Get the story behind the hashtag. Subscribe to What's on Weibo here to receive our newsletter and get access to our latest articles:
Spotted a mistake or want to add something? Please let us know in comments below or email us. First-time commenters, please be patient – we will have to manually approve your comment before it appears.
©2023 Whatsonweibo. All rights reserved. Do not reproduce our content without permission – you can contact us at info@whatsonweibo.com.
Subscribe to our newsletter
Stay updated on what's trending in China & get the story behind the hashtag
Sign up here to become a premium member of What's on Weibo today and gain access to all of our latest and premium content, as well as receive our exclusive newsletter. If you prefer to receive just our weekly newsletter with an overview of the latest, you can subscribe for free here.
Would you like to become a contributor, or do you have any tips or suggestions for us? Get in touch with us here.