BBC's 'Racism for Sale' Documentary Triggers Discussions and Censorship on Chinese Social Media 
Weibo discussions on 'Racism for Sale' documentary: "BBC is maliciously hyping up the issue."
A video in which a group of African children dressed in red are happily chanting Chinese slogans made international headlines back in early 2020. Although the video might have seemed cheerful at first to those who don't know Chinese, it is actually racist and exploitative.
The children are energetically repeating what someone else is telling them to say, while holding up a blackboard with the phrase they are chanting written out: "I am a black devil. My IQ is low" ("我是黑鬼, 智商低").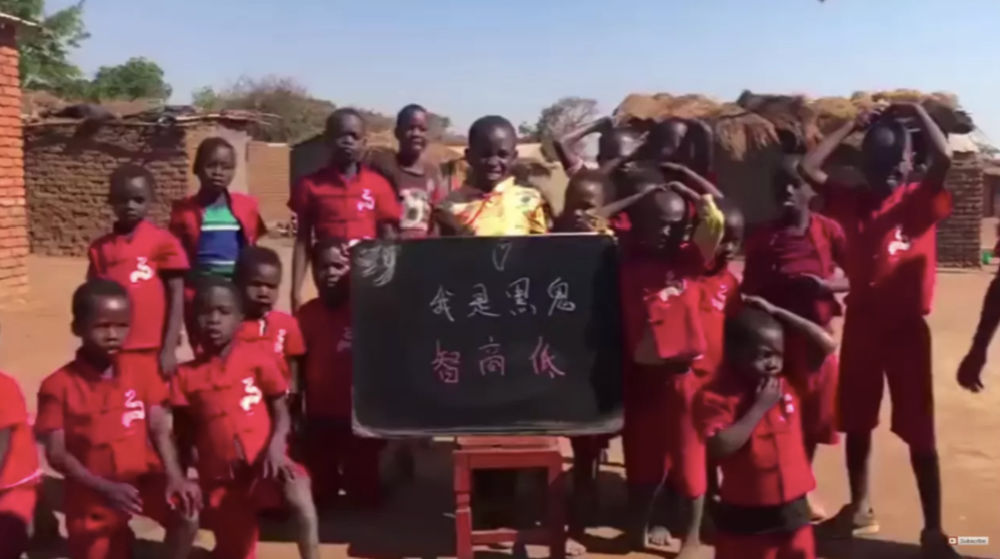 The video was initially posted on Chinese social media on February 10th, 2020, sparking some controversy within China. It later started to attract international attention after Ghanaian vlogger Wode Maya, who studied in China, spoke out about it on his YouTube channel in a video on February 16th which has since been viewed nearly 200,000 times.
The video featuring the African children shocked people from all over the world and led to some media outlets looking further into the context. In April of 2020, France 24 Observers reporters investigated the video and shed light on a wider Chinese market for videos recorded in Africa with locals.
These type of videos are reportedly made by Africa-based Chinese nationals who give the children some money or food in return to perform for personalized videos, which are then sold via Chinese online platforms.
The videos often include birthday greetings or other personalized messages, but as the aforementioned example shows, sometimes also contains far more sinister content. In another video, the children were made to say they promised they'd never go to China.
There had been controversy over these kinds of videos before. As reported by France 24 Observers, such videos have been circulating on Chinese social media since 2015. In 2017, Chinese e-commerce platform Taobao already closed a few accounts selling such content.
This month, the racist video issue has been brought back to the forefront again due to BBC Africa Eye releasing its "Racism for Sale" documentary, in which reporters Runako Celina and Henry Mhango further investigate and expose the Chinese video-making industry that exploits vulnerable children across Africa. They traced the Weibo video and dozens of others back to one Chinese national living in Malawi, and then confronted him (watch the BBC documentary here).
On Weibo, the 'Racism for Sale' documentary also triggered discussions, but instead of focusing on the racist videos, they were generally more focused on the BBC documentary's narrative and its intentions, and about anti-Black racism within China.
The influential Weibo channel Diba Guanwei (@帝吧官微), which has over 1,5 million followers, called out the documentary in a Weibo post for purposely wanting to meddle in China-Africa relations. It said that the Chinese man recording such videos and insulting African people was indeed a problem, but that it was too much to suggest that this is all about Chinese people exploiting Africans.
Other Weibo users denounced the Chinese man for making such videos, with one popular account suggesting that this person might have intentionally shot these videos to "hurt the friendship between Africa and China," and that he should be severely punished for it.
One thing that some people jumped on is how a racist Weibo account named "Black People Joke Club" (黑人笑话社) is featured in the documentary for being the first Weibo account to post the video of the African children. Popular nationalist blogging account Guaguashuashi (@呱呱傻事) suggested that BBC Africa used the supposedly insignificant account to make a big story and stir up anger among Africans. Moreover, the account also claimed that the man identified as 'Lu Ke' (卢克) who was making the children chant and dance for the video actually had a Taiwanese accent. Guahuashashi's post received over 2000 likes and more than 300 comments.
The "Black People Joke Club" (黑人笑话社) Weibo account was previously shut down. In light of the recent BBC documentary, other accounts publishing racist content have also been removed, including an account titled "That Guangzhou Guy" (那个广州人). Words such as 'black devil' have also been censored and come up with zero results on Weibo now. Images included in discussions of the BBC documentary have also been censored.
At time of writing, some content related to the "Black People Joke Club" or other racist accounts is still available on Weibo due to other social media users previously tagging these accounts when posting their own content. There are also still many Weibo groups, topics, and hashtags where people share racist jokes and memes. Many of these posts feature racist jokes about the N-word, blackface, or other stereotyping and derogatory content.
Although some Weibo bloggers blame the BBC for attracting more attention to the old racist video, there are also those who point out that there is indeed a problem with anti-Black racism among Chinese: "Some people in China are really discriminating against black people. Whenever there are women online who post about their happy life with their black husband, they are often cursed on by some men. I think there are really a lot of racist people in our country," one Weibo commenter wrote.
Another popular comment by a Weibo account from Jiangxi said that some Chinese are hypocritical to deny their own racist rhetoric against black people and are loudly calling out America for anti-Black racism, while also being quick to call something 'discrimination of Chinese people' whenever they feel something is insulting to China.
The issue of anti-Black racism on Chinese social media has often popped up, turning into trending discussions, especially when it is about foreign media reporting on it. In 2021, a Chinese influencer came under fire after a video of her doing a blackface makeup tutorial resurfaced online. A Chinese Vtuber (virtual influencer) on Bilibili also stirred controversy for being blatantly racist and forcing her (virtual) 'slave' to go and pick cotton.
In 2016, social media exploded in light of a Chinese ad campaign for washing detergent brand Qiaobi (俏比) which featured a black man turning into a Chinese man after being 'washed.' Although the commercial initially did not receive much attention in China, the international media coverage eventually sparked major discussions on Chinese social media for being racist.
An Africa-themed skit performed during the 2018 CCTV Gala was meant to promote China-African relations, but instead it received backlash for featuring a Chinese actress wearing blackface and being accompanied by someone costumed as a monkey.
The 'Racism for Sale' video has not just triggered discussions on Weibo, it has also become a diplomatic issue. On June 13, Malawi's Foreign Minister Nancy Tembo shared a video via Twitter addressing the matter, adding that she felt "disgusted, disrespected and deeply pained" because of the video industry exposed by BBC Africa.
The Chinese Embassy in Malawi condemned the videos in a Twitter post on June 13. Wu Peng, China's Director-General of the Foreign Ministry Department of African Affairs, met with Minister Nancy Tembo a day later, and stated on Twitter that both China and Malawi have "zero tolerance for racism" and that China will continue to crack down on such racial discrimination videos in the future.
A Weibo account dedicated to the overseas Chinese community in Malawi has not posted anything about the BBC documentary nor the videos discussed in it.
Also read: Chinese social media responses to the Western anti-racism movement after Floyd's death.
By Federica Giampaolo and Manya Koetse
Get the story behind the hashtag. Subscribe to What's on Weibo here to receive our weekly newsletter and get access to our latest articles:
Spotted a mistake or want to add something? Please let us know in comments below or email us. First-time commenters, please be patient – we will have to manually approve your comment before it appears.
©2022 Whatsonweibo. All rights reserved. Do not reproduce our content without permission – you can contact us at info@whatsonweibo.com.
U.S. Embassy Launches WeChat Stickers Featuring Cartoon Eagle
A Weibo hashtag about the eagle stickers, that feature some phrases previously used by China's Foreign Ministry, has now been taken offline.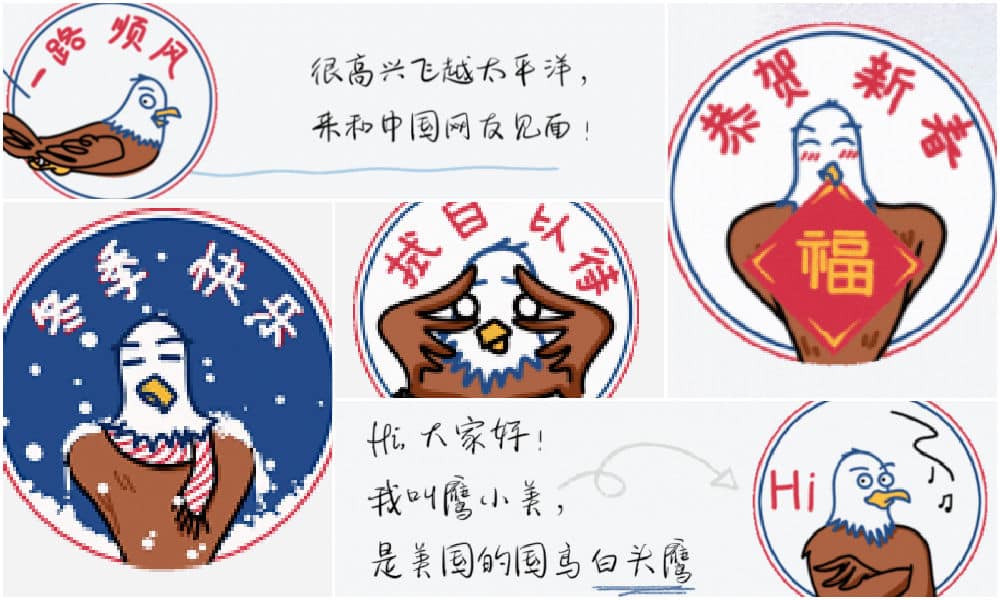 On January 30, the American Embassy in China announced the launch of its very own series of social media gifs, a special 'emoticon collection' (表情包), featuring a little, somewhat silly cartoon eagle.
The U.S. Embassy launched the eagle series on WeChat and also announced the series on their Weibo account, writing that the eagle made its first public appearance in light of the festivities surrounding the Chinese New Year.
The eagle is called "Xiaomei" or "Little Mei" (鹰小美). The 'mei' is part of 美国 Měiguó, Chinese for the 'United States,' but měi also means beautiful and pretty.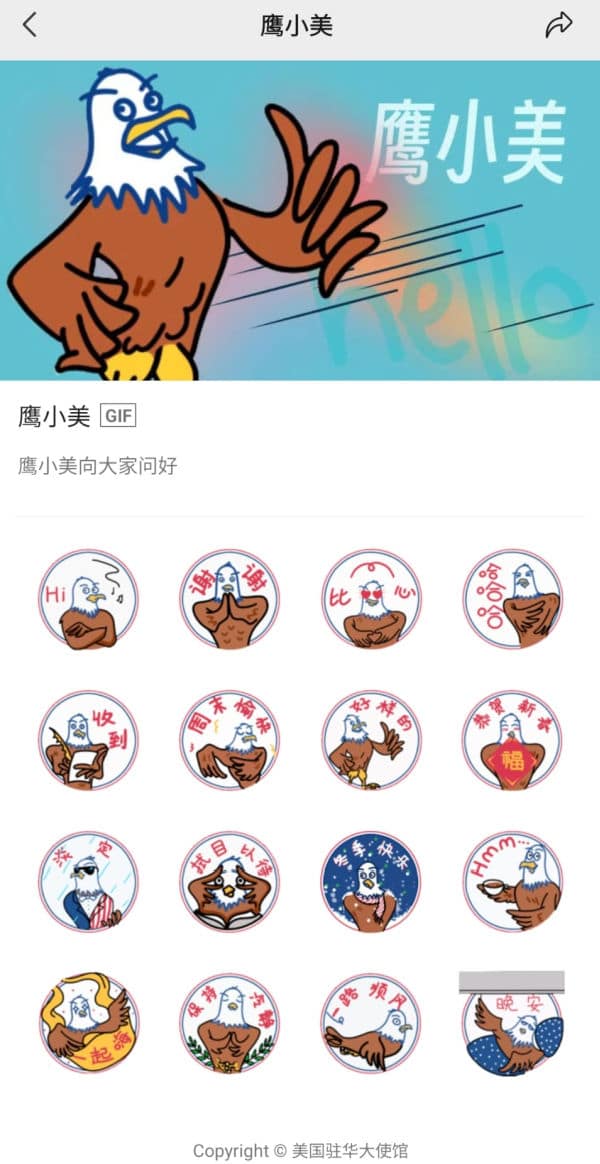 The American embassy issued a total of 16 different animated stickers, and they're intended to be used on Tencent's WeChat, where users can download all kinds of different emoticons or stickers to use in conversations.
WeChat users often use many different animated stickers in conversations to express emotions, make jokes, or increase the festive mood (by sending out celebratory New Year's or birthday etc gifs). Users can download new and preferred sticker packages through the app's sticker section.
One sticker shows Xiaomei with a festive decoration with 福 (fú) for blessing and prosperity, wishing everyone a happy start to the Chinese Lunar New Year. There are also stickers showing the texts "happy winter," "hi," and "thank you."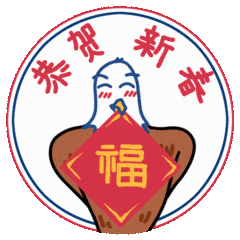 Another sticker in the series that has triggered some online responses is one that shows the eagle with a surprised look, wiping its eyes, with the words "wait and see" written above. The Chinese expression used is 拭目以待 shìmù yǐdài, to eagerly wait for something to happen, literally meaning to wipe one's eyes and wait.
This same expression was often used by the Chinese Foreign Ministry spokesperson Zhao Lijian (赵立坚) during press conferences, and he also used it in 2022 when responding to questions related to Nancy Pelosi's controversial visit to Taiwan and how the Chinese military would respond (e.g. he first used "wait and see" in the context of waiting to see if Pelosi would actually dare to go to Taiwan or not). But Zhao also used "please wait and see" (请大家拭目以待) when foreign reporters asked him how China would respond to the announced U.S. boycott of the Winter Olympics in 2021.
The Little Mei emoji triggered the most responses as some netizens felt it was meant as a sneer to the Chinese Foreign Ministry.
One of Little Mei's quotes is also "remain calm" (保持冷静 bǎochí lěngjìng), which was – perhaps coincidentally – also often used by Zhao in the context of the war in Ukraine and to refer to other international conflicts or tensions ("all parties should remain calm"). The animated sticker also has olive branches growing behind the eagle.
It recently became known that Zhao, who became known as the 'Wolf Warrior' diplomat, was removed as the Foreign Ministry spokesperson and was moved to the Department of Boundary and Ocean Affairs.
Especially in the context of Zhao leaving his post, some wondered why the U.S. Embassy would use phrases related to his press conferences for their new emoticons.
Although some people suggested the WeChat stickers were not launched in China with good intentions, others appreciated the humorous visuals and felt it was funny. Some also joked that America was infiltrating Chinese social media with its cultural export ("文化输出"), and others wondered if they could not also introduce some other stickers with more Chinese Foreign Ministry popular phrases on them.
A hashtag related to the topic made its rounds on Weibo on Tuesday (#美驻华大使馆上线鹰小美表情包#), but the topic suddenly was taken offline on Tuesday evening local time, along with some of the media reports about the remarkable WeChat series.
The WeChat stickers are still available for downloading by scanning the QR code below through WeChat.
By Manya Koetse , with contributions by Miranda Barnes
Get the story behind the hashtag. Subscribe to What's on Weibo here to receive our newsletter and get access to our latest articles:
Spotted a mistake or want to add something? Please let us know in comments below or email us. First-time commenters, please be patient – we will have to manually approve your comment before it appears.
©2023 Whatsonweibo. All rights reserved. Do not reproduce our content without permission – you can contact us at info@whatsonweibo.com.
Chinese Social Media Reactions to The New York Times Bad Review of 'Wandering Earth 2'
A New York Times bad review of 'Wandering Earth II' has triggered online discussions: "China's gonna save the world, the US can't stand it."
This Chinese Spring Festival, it's all about going to the movies. After sluggish years for China's movie market during the pandemic, Chinese cinemas welcomed millions of visitors back to the theaters during the weeklong Spring Festival holiday.
Much-anticipated new movies attracted Chinese moviegoers this festive season, including Full River Red by Zhang Yimou, the suspenseful Hidden Blade, or the animated Deep Sea by Tian Xiaopeng.
But the undisputed Spring Festival box office champion of 2023 is Frant Gwo's Wandering Earth II (流浪地球II), the sequel to China's all-time highest-grossing sci-fi epic Wandering Earth (2019), which also became the fifth highest-grossing non-English film of all time.
The narrative of the follow-up movie Wandering Earth II actually takes place before the events of the first film and focuses on the efforts by the United Earth Government (UEG) to propel the Earth out of the solar system to avoid planetary disaster. This so-called Moving Mountain Project – which later becomes the Wandering Earth Project – is not just met with protest (the majority of Americans don't believe in it), it also bans the Digital Life Project, which supports the idea that the future of humanity can be saved by preserving human consciousness on computers (backed by an American majority). The film is all about hope and resilience, human destiny, and geopolitics at a time of apocalyptic chaos.
Outside of China, the sequel was also released in, among others, North American, Australian, and UK cinemas.
Although the film, featuring movie stars Wu Jing and Andy Lau, received an 8.2 on the Chinese rating & review platform Douban, a 9.4 on movie ticketing app Maoyan, dozens of positive reviews on Bilibili, and was overall very well-received among Chinese viewers, a bad review by The New York Times triggered discussions on Chinese social media this weekend.
Chinese media outlet The Observer (观察者网) initiated a Weibo hashtag about "The New York Times's completely sour review of Wandering Earth II" (#纽约时报酸味拉满差评流浪地球2#, 6.2 million views at time of writing).
The New York Times review of Wandering Earth II, titled "The Wandering Earth II Review: It Wanders Too Far," was written by Brandon Yu and published in print on January 27, 2023.
Yu does not have a lot of good things to say about China's latest blockbuster. Although he calls the 2019 The Wandering Earth "entertaining enough," he writes that the sequel is a movie that is "audaciously messy" and has lost "all of the glee" its predecessor had:
"(..) the movie instead offers nearly three hours of convoluted storylines, undercooked themes and a tangle of confused, glaringly state-approved political subtext."
The topic was discussed on Chinese social media using various hashtags, including "The New York Times Gave Wandering Earth II a 3″ (#纽约时报给流浪地球打30分#, #纽约时报给流浪地球2打30分#).
Instead of triggering anger, the bad review actually instilled a sense of pride among many Chinese, who argued that the review showed the impact the movie has made. Some commenters pointed out that the movie is a new milestone in Chinese cinema, not just threatening America's domination of the movie industry but also setting a narrative in which China leads the way.
"We're gonna save the world, and America just can't stand it," one commenter replied.
That same view was also reiterated by other bloggers. The author and history blogger Zhang Yi'an (@张忆安-龙战于野) argued that The New York Times review was not necessarily bad; it actually shows that Americans feel threatened by the idea of China's important role in a new international world order, and by the fact that China actually will have the capacity to lead the way when it comes to, for example, space technology innovation, robotics, and artificial intelligence.
Zhang argues that if a similar movie had been made by India as a Bollywood blockbuster – including exploding suns and wandering earths – The New York Times would have been more forgiving and might have even called it cute or silly.
But because this is China, the film's success and its narrative plays into existing fears over China's rise, and it clashes with American values about what the international community should look like.
Zhang writes: "The China in the movie doesn't boast itself as the savior of the world, but in reality, China really is capable of saving the world. The United States is no longer able to do so (电影里的中国没有把自己吹嘘成救世主,现实中的中国真的有能力做救世主。而美国却已经不能了)."
One popular Film & TV account (@影视综艺君) also summarized the general online reaction to the bad review in the American newspaper: "Whenever the enemy gets scared, it must mean we're doing it right. Our cultural export has succeeded." That post received over 120,000 likes.
On Zhihu.com, some commenters also attached little value to the review and showed how the overseas reviews of Wandering Earth II widely varied in their verdict.
Meanwhile, a state media-initiated hashtag on Weibo claimed on January 28 that Wandering Earth II has actually "captured the hearts of many overseas audiences" (#流浪地球2海外上映获好评#), and that the film's "imaginative" and "wonderful" visuals combined with its strong storyline were being praised by moviegoers outside of China.
On IMDB, the movie has received 5.9/10; it has gotten a 70% Rotten Tomatoes score. The Guardian gave it 2/5. Meanwhile, on Weibo, one reviewer after the other gives the film 5/5 stars.
Weibo blogger Lang Yanzhi (@郎言志) writes: "Recently, we've seen a lot of attacks and slander directed at the China-made science fiction movie Wandering Earth 2, especially coming from Western media and pro-Western forces, because the film's "Chinese salvation" narrative made them uncomfortable. This was already the case when the first film in the series was released. It is very clear that Wandering Earth is not just a movie: it is a symbol of great influence."
By Manya Koetse , with contributions by Zilan Qian
Get the story behind the hashtag. Subscribe to What's on Weibo here to receive our newsletter and get access to our latest articles:
Spotted a mistake or want to add something? Please let us know in comments below or email us. First-time commenters, please be patient – we will have to manually approve your comment before it appears.
©2022 Whatsonweibo. All rights reserved. Do not reproduce our content without permission – you can contact us at info@whatsonweibo.com.