Bizarre Nanning Incident: Passer-By Throws Resting Girl from Yongjiang Bridge
Video footage of a man throwing a random girl from the bridge in Nanning is making its way on Chinese social media.
Within a time frame of just three seconds, an unsuspecting woman having a rest on a bridge in Nanning gets picked up and thrown off the guardrail. As security footage is going viral, netizens are shocked by the bizarre incident.
Security footage that captures how a man throws a random woman of a bridge in Nanning is quickly spreading on Chinese social media today (video on Weibo here).
In the 38-second-long surveillance video, a man dressed in black can be seen walking on the bridge. In the distance stands a young woman, leaning against the bridge guardrail, seemingly having a rest. Suddenly, the man walks towards her, lifts her up by her leg and buttocks, and throws her over the railing, into the Yong River (邕江).
The entire incident, that took place on the evening of October 2nd, occurred within a time frame of just three seconds. The footage further shows that the man continues his walk as the traffic keeps rushing by.
According to the Guangxi Daily, the local Nanning Qingxiu police station received reports of the incident around seven o'clock on Tuesday night. The police immediately dispatched police officers to the scene.
Arriving at the scene, they found a group of people who had caught the man suspected of throwing the woman off the bridge. He was arrested at the spot.
With the help of bystanders, the woman was rescued and brought to the Second People's Hospital in Nanning. The 19-year-old victim, who surname is Wei (伟), is not in critical condition. However, her high fall did cause her to injure her waist and spine.
According to family and friends, Wei did not know the man who threw her off the bridge. She was just having a rest, looking out over the river after having dinner in town.
A reporter of the local television station of Nanning stated the victim still has trouble to understand what has happened to her.
Wei told the reporter that she recalls using her last breath to scream for help just before she hit the water. It is because of the help of a man by the name of Abo (阿伯), who at that time happened to be swimming nearby, that she is still alive, she says.
"He tried to kill her, but he was unsuccesful," one Weibo commenter said. Others called for the man to get a long prison sentence, and called the incident "absolutely terrifying."
A statement released by the Nanning Qingxiu police department discloses that the suspect is a man named Tang (唐) from outside Nanning. He is still in custody while police further investigates the case.
By Gabi Verberg
Follow @whatsonweibo
Spotted a mistake or want to add something? Please let us know in comments below or email us.
©2018 Whatsonweibo. All rights reserved. Do not reproduce our content without permission – you can contact us at info@whatsonweibo.com.
Disgruntled Woman Cuts Up 32 Wedding Dresses in Chongqing Bridal Salon
The woman ruined 32 wedding dresses – worth at least $11,000 – because she wanted her $550 deposit back.
On January 9, an argument between a female customer and a bridal store staff member escalated when the angry customer took out scissors and ruined more a total of 32 wedding dresses by cutting them up.
A video of the incident went viral on Chinese social media, showing the woman taking out wedding gown after wedding gown and cutting them with scissors. The person filming can be heard saying "Think clearly, these dresses cost thousands [yuan]," with the woman responding: "Thousands? Even it's ten-thousands, it doesn't matter."
This angry customer at a Chongqing bridal salon took out scissors and cut up wedding dress after wedding dress. The video has since gone viral on social media. pic.twitter.com/LSRXoI0OAa

— What's on Weibo (@WhatsOnWeibo) January 13, 2022
The incident happened in the city's Jiangjin District at a store that sells bridal gowns and also offers wedding services. According to Chinese media site Sohu.com, the wedding store manager told reporters that the woman named Jiang first made arrangements with the bridal salon in April 2021 for her October 5th wedding – she booked a wedding package for 8000 yuan ($1260).
Four months later, in August, the woman asked the bridal shop if her wedding arrangements could be postponed. When the woman came to the shop again in November, saying she wanted to cancel all arrangements and get her down payment of 3500 yuan ($550) back, the shop refused due to their policy of not refunding advanced payments. They did offer to instead provide some arrangements for a child's 100th-day celebration, as the woman was allegedly expecting a baby.
Although the woman initially agreed with this, she suddenly returned to the shop on January 9th and started acting out. In her anger, she proceeded to ruin 32 wedding dresses. The woman was taken away by the police after the shop assistant alerted them and was detained. She has since said she is sorry for her behavior.
According to the shop owner, the woman's husband offered to compensate the store for over 60,000 yuan ($9420), but he has not paid a penny yet. The woman allegedly ruined 32 dresses with a total worth of at least 70,000 yuan ($11,000).
On Weibo, thousands of commenters have responded to the incident.
"What on earth was she thinking?" some write, with others saying that the woman should be held criminally liable for her acts and deserves a prison sentence. Others argued that pregnancy hormones could be blamed for the woman's unreasonable behavior, and said the woman should no go to prison but stay home and rest instead. There was one thing virtually all commenters agreed on, which is that the shop should soon be fully compensated for all damages.
By Manya Koetse
Spotted a mistake or want to add something? Please let us know in comments below or email us. First-time commenters, please be patient – we will have to manually approve your comment before it appears.
©2021 Whatsonweibo. All rights reserved. Do not reproduce our content without permission – you can contact us at info@whatsonweibo.com.
Online Outrage after Pet Dog Gets Killed by Anti-Epidemic Workers in Shangrao
An official response to the Shangrao incident that called the killing of the dog "harmless disposal" only added fuel to the fire.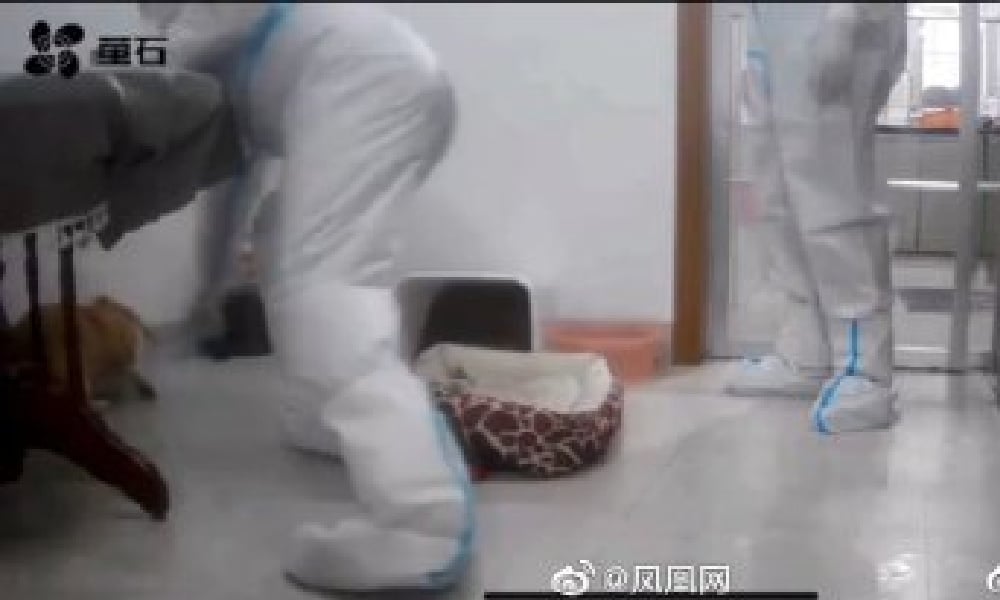 A pet dog was killed by anti-epidemic workers in Shangrao this week while its owner was undergoing quarantine at a nearby hotel. Chinese netizens are outraged, not only about the dog being killed during extreme efforts to contain Covid19, but also about the seemingly cold response of local authorities after it happened.
This weekend, a case in which a pet dog was killed by epidemic prevention workers in the city of Shangrao has sparked outrage on Chinese social media.
The incident occurred in the Golden Phoenix Garden community (金凤花园小区) in the Xinzhou district of Shangrao, a medium-sized prefecture-level city located in the northeast of Jiangxi province. Due to a new confirmed case of Covid19, the community is undergoing a lockdown and its residents are being quarantined while apartments are being disinfected.
On November 12, one of the community residents named Mrs. Fu (傅) shared on Weibo how her pet dog was presumably killed by anti-epidemic workers while she was undergoing quarantine at a local hotel that did not allow pets. She shared security footage recorded inside her residence from Friday around 16:45, showing how two epidemic workers enter her apartment and then begin to beat her pet dog on the head with iron bars.
The story and video sparked anger online, and the official response to the incident only added fuel to the fire.
On Saturday, November 13, Shangrao's Xinzou district released a statement via its official Weibo channel (@信州发布). The statement, posted as late as 23:37, explained that residents of the community were supposed to leave their doors open while being quarantined, but that the door of this particular resident was closed. Anti-epidemic staff then received police assistance in entering the house to disinfect it, which is when they discovered the dog was at the home. The notice writes that the workers then proceeded to deal with the dog through "harmless disposal" (the literal words "无害化处理" could also be translated as 'handling [something] to be made harmless').
The statement also says that the worker has since been removed from his post and has apologized.
Very similar wording can be found in an article addressing the controversy in the English-language version of Chinese state media outlet Global Times, where the incident is described as a staffer who "culled a pet dog during anti-epidemic mission," and that the staffer "gave harmless disposal on a pet dog without having fully communicated with the pet owner."
Other reports in Chinese media about the incidents received criticism from netizens for emphasizing anti-epidemic policies and the otherwise "humane" treatment of animals.
"Don't you think you're laughable? You have some nerve to report on this like this," one top comment said.
By now, the incident has attracted the attention of thousands of netizens using various hashtags, with one of them gaining over 170 million on views on Weibo, becoming one of the top trending topics on Sunday (#居民在外隔离期间家中小狗被扑杀#, #上饶正调查隔离人员宠物狗被扑杀#, #上饶回应隔离宠物狗疑似被扑杀#).

"The government of Shangrao leaves me speechless," one Weibo user (@爱吃火锅的邓邓) writes: "This dog was not even confirmed of having Covid19. Nevertheless, they just beat him to death. How can you be so cruel?!"
In September of this year, three pet cats that tested positive for Covid19 were put down in the Chinese city of Harbin. That incident also led to a social media backlash at what some viewed as overkill in local efforts to contain the virus. This case, however, is still different because the dog involved was allegedly killed before even getting tested for Covid19.
"You just 'dispose' of the dog and that's it? The dog's life is over! We don't even know how many dogs were killed like this," others responded.
"Prying open people's doors, killing people's pets, and then pressuring people to delete their posts on the matter, forcing them to settle (..), – Shangrao government is really putting itself on display here," one commenter said, referring to online rumors that Mrs. Fu was pressured by authorities into deleting her social media post – she posted about being threatened herself.
The dog owner also claims that at least one other cat and dog by residents living in the same community have also been "disposed of." At the time of writing, this claim has not been confirmed by official sources.
Meanwhile, a poster showing a cat saying "I can't transmit covid19, please don't abandon or hurt me" is circulating on social media. The Shanghai Center for Disease Prevention and Control reportedly stated it is unlikely for small pets to get Covid19, and that they therefore should not need to be screened.
The terms "harmless disposal" (无害化处置) and "culling" (扑杀) that have been used by some Chinese state media and local authorities in describing the Shangrao incident are also circulating online, with many people expressing disbelief in the seemingly cold and careless way in which the unnecessary killing of pets is being portrayed.
Global Times editor-in-chief Hu Xijin also posted about the issue, writing: "In my opinion, even from the perspective of crisis communication, this was certainly not a successful notice. It is not surprising to see it trigger controversies online."
At the same time, Hu also called on people not to condemn China's zero-covid19 approach over this controversy, writing: "We cannot deny the overall hard work of the grassroots pandemic prevention workers because of a specific case."
By Manya Koetse
Spotted a mistake or want to add something? Please let us know in comments below or email us. First-time commenters, please be patient – we will have to manually approve your comment before it appears.
©2021 Whatsonweibo. All rights reserved. Do not reproduce our content without permission – you can contact us at info@whatsonweibo.com.