Bizarre Nanning Incident: Passer-By Throws Resting Girl from Yongjiang Bridge
Video footage of a man throwing a random girl from the bridge in Nanning is making its way on Chinese social media.
Within a time frame of just three seconds, an unsuspecting woman having a rest on a bridge in Nanning gets picked up and thrown off the guardrail. As security footage is going viral, netizens are shocked by the bizarre incident.
Security footage that captures how a man throws a random woman of a bridge in Nanning is quickly spreading on Chinese social media today (video on Weibo here).
In the 38-second-long surveillance video, a man dressed in black can be seen walking on the bridge. In the distance stands a young woman, leaning against the bridge guardrail, seemingly having a rest. Suddenly, the man walks towards her, lifts her up by her leg and buttocks, and throws her over the railing, into the Yong River (邕江).
The entire incident, that took place on the evening of October 2nd, occurred within a time frame of just three seconds. The footage further shows that the man continues his walk as the traffic keeps rushing by.
According to the Guangxi Daily, the local Nanning Qingxiu police station received reports of the incident around seven o'clock on Tuesday night. The police immediately dispatched police officers to the scene.
Arriving at the scene, they found a group of people who had caught the man suspected of throwing the woman off the bridge. He was arrested at the spot.
With the help of bystanders, the woman was rescued and brought to the Second People's Hospital in Nanning. The 19-year-old victim, who surname is Wei (伟), is not in critical condition. However, her high fall did cause her to injure her waist and spine.
According to family and friends, Wei did not know the man who threw her off the bridge. She was just having a rest, looking out over the river after having dinner in town.
A reporter of the local television station of Nanning stated the victim still has trouble to understand what has happened to her.
Wei told the reporter that she recalls using her last breath to scream for help just before she hit the water. It is because of the help of a man by the name of Abo (阿伯), who at that time happened to be swimming nearby, that she is still alive, she says.
"He tried to kill her, but he was unsuccesful," one Weibo commenter said. Others called for the man to get a long prison sentence, and called the incident "absolutely terrifying."
A statement released by the Nanning Qingxiu police department discloses that the suspect is a man named Tang (唐) from outside Nanning. He is still in custody while police further investigates the case.
By Gabi Verberg
Follow @whatsonweibo
Spotted a mistake or want to add something? Please let us know in comments below or email us.
©2018 Whatsonweibo. All rights reserved. Do not reproduce our content without permission – you can contact us at info@whatsonweibo.com.
Pregnant Woman Throws Scalding Soup over Baby Girl in Malatang Restaurant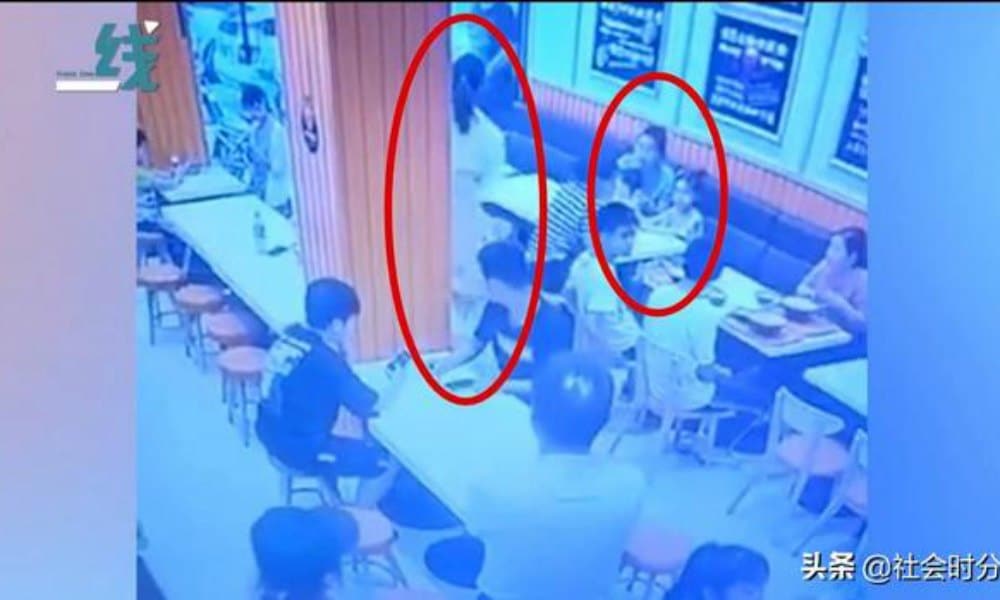 An incident that occurred in Zhoukou city in China's Henan province on the night of June 11 has gone viral on Chinese social media today.
Security cameras in a malatang (hot spicy soup) restaurant captured the moment a pregnant woman throws a bowl of hot soup at an 11-month-old girl.
The woman was allegedly annoyed because the baby was making noise by banging on the table with a spoon.
Footage making its rounds on social media shows how other customers in the restaurant stand up after witnessing the incident, with some going after the woman.
The baby girl reportedly sustained burn injuries on her back and buttocks.
According to various Chinese media reports, the culprit is a 28-year-old woman by the name of Ren. She received a 15-day prison sentence and a fine of 500 yuan ($72), but will not be detained at this point because she is pregnant.
See the video of the incident here:
The local public security bureau issued a statement on Weibo today, writing that the incident had occurred when Ren was dining at the restaurant together with her husband. She got into an argument with the other diners when their 11-month-old baby would not stop banging on the table.
Shortly after leaving the restaurant with her husband, the pregnant Ren then suddenly returned and threw the hot soup at the family, hurting the baby girl.
On social media, outraged commenters write that they think the woman will not be a good mother: "How can a woman like this raise a child?"
"This makes my hair stand up in anger! It's just a baby!" others write.
The story is somewhat similar to another incident that went viral on Chinese social media last year, when a pregnant woman intentionally tripped a 4-year-old boy in a malatang restaurant in Baoji (watch video below for the full story).
By Manya Koetse
Follow @whatsonweibo
Spotted a mistake or want to add something? Please let us know in comments below or email us. Please note that your comment below will need to be manually approved if you're a first-time poster here.
©2019 Whatsonweibo. All rights reserved. Do not reproduce our content without permission – you can contact us at info@whatsonweibo.com
Zhejiang Movie Theatre Displays Blacklisted Individuals in Avengers Movie Preview
A special 'trailer' before the Avengers movie premiere showed the audience blacklisted individuals.
A local movie theatre in the city of Lishui, Zhejiang province, showed a noteworthy 'trailer' before the Avengers: End Game premiere on April 24.
Chinese state tabloid Global Times reports that the sold-out premiere had a 'surprise' moment just before the movie was about to start: a short Public Service Announcement by the Liandu district court of Lishui displayed people who are currently on a 'debt dodging black list.'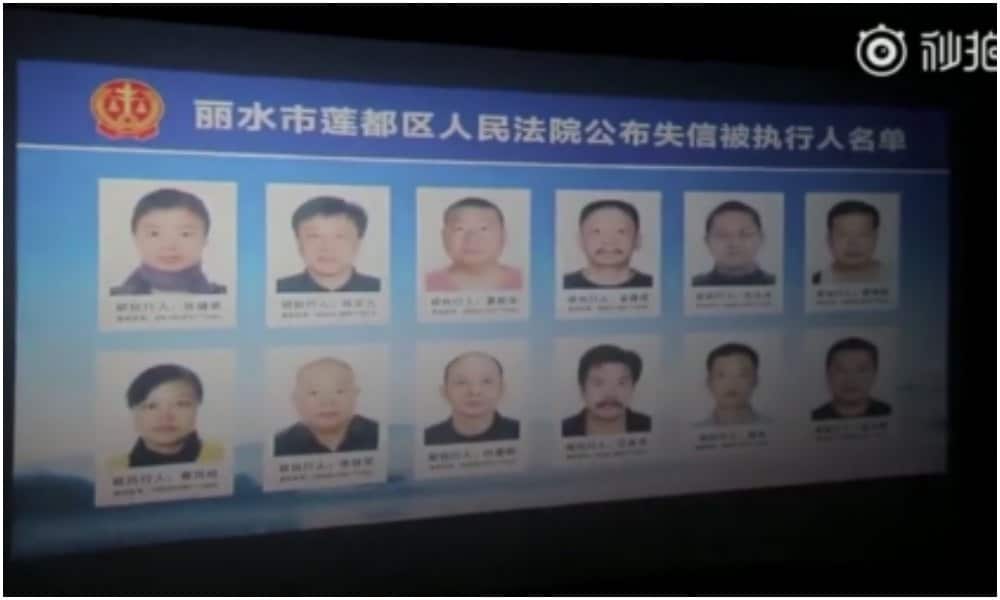 The short film also informed the cinema audience of potential consequences of being on a blacklist, including no traveling abroad, and no traveling by air or on high-speed trains.
According to Global Times, the local district court has registered a total of 5478 people on its blacklist since 2018.
The names and faces of more than 300 people on this list have reportedly been displayed on cinema screens, public LED screens, and on buildings. Allegedly 80 of them have since complied with court orders.
As part of China's emerging Social Credit system project, there are public court-issued lists of 'trust-breaking enforcement subjects' (信被执行人名单), referring to people or companies who have failed to comply with court orders.
Individuals on the judgment defaulter blacklist system run by the court system, whose information is publicized, can risk having their photos and names displayed on local LED screens on courthouses or other buildings (Dai 2018, 26).
Beyond that, they will face restrictions in various ways, from being denied bank credit to being restricted from staying in high-end hotels or traveling by air.
On Weibo, the Global Times post on the noteworthy cinema preview received over 4000 shares. The same news was also reported by CCTV and Phoenix News.
Some commenters joke about the Public Service Announcement, saying: "Blacklisters [can now say]: Mum! I was on TV! On a big IMAX screen! Together with the Avengers!"
Others leave comments in support of the measure, calling it "creative," and saying: "This is good, we should implement this all across the country."
"Blacklisters should be displayed on all kinds of platforms."
"This is for people to lose on their social credit," another commenter writes: "If you don't want to 'socially die' then just fulfill your duties."
But not everyone agrees. "People are buying a movie ticket to see their film," one person says: "They suddenly get exposed to this kind of content that has nothing to do with them, what about their rights as a consumer?"
By Manya Koetse
References
Dai, Xin, Toward a Reputation State: The Social Credit System Project of China (June 10, 2018). Available at SSRN: https://ssrn.com/abstract=3193577 or http://dx.doi.org/10.2139/ssrn.3193577 [5.3.19].
Spotted a mistake or want to add something? Please let us know in comments below or email us.
©2019 Whatsonweibo. All rights reserved. Do not reproduce our content without permission – you can contact us at info@whatsonweibo.com