"No Place Like Italy Innit" – Young Beckham's Instagram Post Sparks Controversy on Weibo
Much ado about nothing? This Instagram post by Beckham has angered Chinese netizens.
A social media post by the young Beckham son commenting on the many Asian tourists in Italy this week did not go down well on Weibo today.
Brooklyn Beckham, the 19-year-old son of celebrity couple David and Victoria Beckham, has triggered controversy on Weibo today for posting photos of Chinese or Asian tourists in Italy.
The young Beckham posted several photos of Asian tourists on his Instagram account, where he has 11,5 million followers, simply writing: "No place like Italy innit" as a caption.
Popular Weibo gossip account Bage Zhuanyong (@ba哥专用), 7+ million fans, published screenshots of the post on Weibo, writing:
"Brooklyn, the Beckhams' young son, has photographed Chinese tourists in Italy without their permission, writing: 'This simply isn't Italy anymore [这里简直不像意大利].' It has been the PRC National Day [holiday] recently, with many people going abroad to travel. As a result, Brooklyn has even secretly photographed Chinese tourists in the supermarket. In the comments below, many people also demand that he should show some tolerance and explain himself, and shouldn't secretly photograph people and use such a disgusted tone."
The Weibo post on Beckham was reposted more than 3000 times today, attracting some angry comments about him 'secretly' photographing Chinese tourists and seemingly sounding discriminatory against Chinese. Similar sentiments could be found under Brooklyn's post.
Other Weibo posts about Beckham also attracted thousands of comments on the platform today, and several Chinese media also covered the 'incident'.
"He has no inner quality," some said: "He is nothing without his dad."
"Before he starts discriminating other people, he'd better finish college first," others wrote.
"He himself is in Italy too, and he's no Italian, innit?" others wrote.
"We welcomed the Beckhams to China to come and make money here," one Weibo user said.
On Weibo, David Beckham has his own official account, where he has over six million fans who nicknamed him 'Little Beck' (小贝). The footballer was previously assigned as a global ambassador for Chinese football.
Many netizens also left messages on David Beckham's account, telling him not to bring his son to China.
The comment that the young Beckham would be a 'baizuo', a Chinese derogatory term refer to Western leftist liberal elites, is also a recurring one. "If I see women with headscarves in Germany everywhere, I'd also say that it doesn't look like Germany to me," some say, writing that Beckham would not dare to say anything about immigrants in Europe, but apparently not finding it problematic to comment on the ubiquity of Asian tourists.
But amidst all criticism, there were also voices encouraging others to show some more tolerance themselves, saying: During the National Holiday, the crowds are flocking to Beijing, or Shanghai, and we also say 'This doesn't look like Shanghai anymore', there's nothing wrong with that."
By Miranda Barnes & Manya Koetse
Follow @whatsonweibo
Spotted a mistake or want to add something? Please let us know in comments below or email us.
©2018 Whatsonweibo. All rights reserved. Do not reproduce our content without permission – you can contact us at info@whatsonweibo.com
Angelababy, Huang Xiaoming, Li Fei'er: Love Triangle Rumors From Decade Ago Revisited
Weibo explodes after Angelababy addresses rumors that have been going on for over ten years.
On Wednesday afternoon, Beijing time, Weibo exploded when Chinese celebrity couple Huang Xiaoming and Angelababy addressed some strong rumors about the start of their relationship.
Their posts resulted in various hashtags and search terms going viral, including the phrases "When Angelababy Met Huang Xiaoming, He Said He Was Single" and "Angelababy Was Not My Mistress." At least three out of today's top trending Weibo topics are related to Angelababy and Huang Xiaoming.
Angelababy (nickname for Yang Ying 杨颖) is practically a household name in China. The famous actress and model married actor Huang Xiaoming (黄晓明) in 2015, and ever since, their marriage and relationship status is a popular gossip topic on social media. The two have a son together.
With Angelababy having over 100 million fans on her Weibo page (@angelababy) and Huang Xiaoming having over 61 million followers on his (@黄晓明), the two are practically Weibo's most followed couple. Their $31 million wedding is probably the most-discussed Chinese weddings of the past decade.
Chinese actress Li Fei'er (李菲儿) previously dated Huang Xiaoming after working with him in the 2008 television series Royal Tramp (鹿鼎记). The two are said to have started a relationship in 2007, and to have broken up in 2010 – the same year when Huang got together with Angelababy. The ending of the relationship with Li and the start of the new love affair with Angelababy has been a source of gossip for over a decade.
In a 2011 interview with a Hong Kong magazine, Li had hinted that Angelababy was previously 'the other woman' during her relationship with Huang.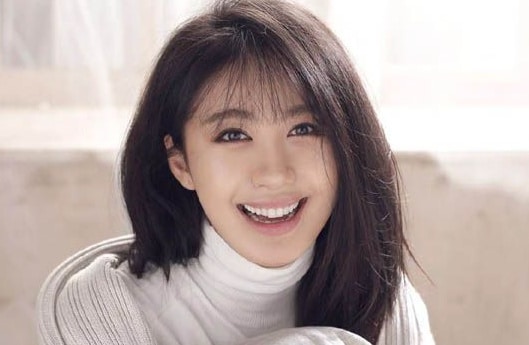 The rumors surrounding that alleged love triangle between Angelababy, Li, and Huang reached a new peak this week when Huang Xiaoming and Li Fei'er shared a stage on the super popular reality series Sisters Who Make Waves 2, which features 30 female celebrities over the age of 30. Huang hosts the show.
Apparently, Angelababy felt that the waves of rumors became too strong for her not to speak out. In the late afternoon of January 6, she posted a Weibo post in which she stated that Huang Xiaoming told her he was single when they first met. When Li made 'groundless' comments about Angelababy in a magazine interview, she asked Huang about it, and "he told me they had broken up."
"A decade has passed by. Today, I've chosen to stand up for myself and to explain the entire thing clearly. I don't want to take the blame anymore," Angelababy writes.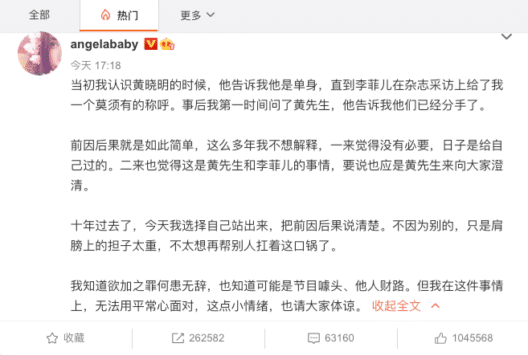 She also added that she felt this is "a matter between Mister Huang and Li Fei'er," suggesting that Huang is the person who needs to clarify the matter to the public.
Angelababy's post was followed up by a post by Huang just an hour later, in which he stated the success of the Sister Who Make Waves tv show lies in the values it conveys to respect women, suggesting that the recent flood of rumors is harmful to the show's central theme, the women participating in it, as well as to his own family.
He further clarifies that Angelababy "was not a mistress," refuting ongoing rumors about the start of their relationship.
The huge attention for this matter seemed to temporarily put a strain on Weibo's servers, with the site momentarily showing a notification that its servers were too busy. In 2017, Weibo servers could no longer handle the peak in traffic after Chinese singer ad actor Lu Han announced his new relationship.
For now, the statements by Angelababy and Huang have only brought about more speculation. The fact that Angelababy refers to her husband as "Mr. Huang" in her post intensifies ongoing rumors that Huang and Angelababy might already be separated.
Meanwhile, Li Fei'er, who has over 11 million followers on her Weibo page (@李菲儿love) has not posted anything about the recent developments. In her last post on January 1st, she wished her followers a happy new year.
By Wednesday night, Beijing time, Angelababy's post had received over 1,3 million likes and 100,000 comments; Huang's post got over 850,000 likes, already making this celebrity news one of the most talked-about topics this week.
By Manya Koetse, with contributions from Miranda Barnes
Follow @WhatsOnWeibo
Spotted a mistake or want to add something? Please let us know in comments below or email us. First-time commenters, please be patient – we will have to manually approve your comment before it appears.
©2021 Whatsonweibo. All rights reserved. Do not reproduce our content without permission – you can contact us at info@whatsonweibo.com.
What's on Weibo Podcast #4: Horse Prince, Ambassador, Money Maker – Ding Zhen is China's 2020 Viral Hit
The rise of Ding Zhen: it started with one Douyin clip and triggered a social media storm.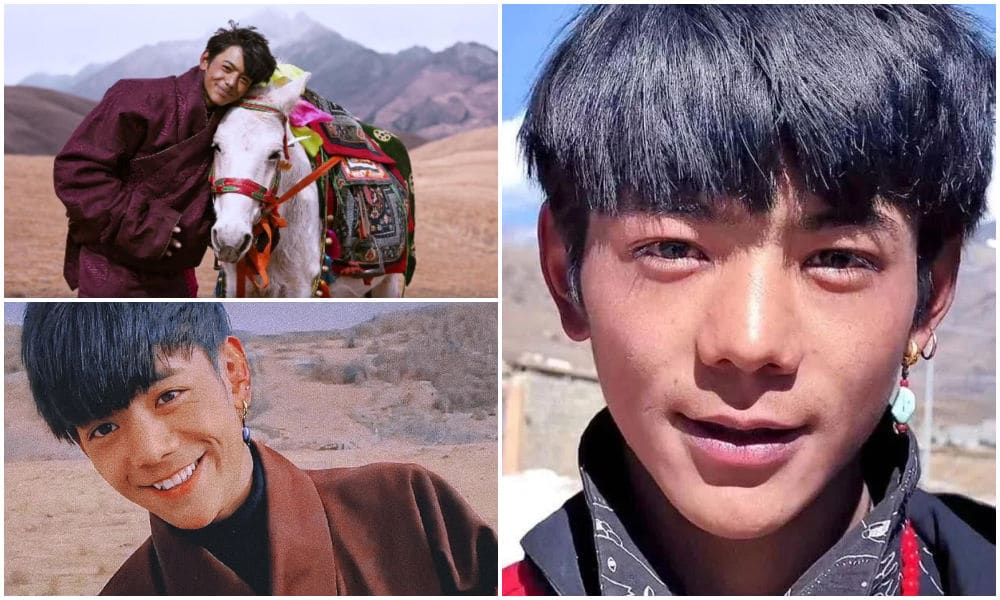 His name is Tenzin, now known as Ding Zhen, and this Khampa Tibetan young man is China's online sensation of the year. Within a matter of days, the 20-year-old from Litang has taken Chinese social media by storm.
In this latest What's on Weibo podcast, we explain Ding Zhen's fame from the very beginning, showing how one video clip snowballed into something much bigger than Ding Zhen alone.
Listen to our latest podcast here!
Spotted a mistake or want to add something? Please let us know in comments below or email us. First-time commenters, please be patient – we will have to manually approve your comment before it appears.
©2020 Whatsonweibo. All rights reserved. Do not reproduce our content without permission – you can contact us at info@whatsonweibo.com.