"No Place Like Italy Innit" – Young Beckham's Instagram Post Sparks Controversy on Weibo
Much ado about nothing? This Instagram post by Beckham has angered Chinese netizens.
A social media post by the young Beckham son commenting on the many Asian tourists in Italy this week did not go down well on Weibo today.
Brooklyn Beckham, the 19-year-old son of celebrity couple David and Victoria Beckham, has triggered controversy on Weibo today for posting photos of Chinese or Asian tourists in Italy.
The young Beckham posted several photos of Asian tourists on his Instagram account, where he has 11,5 million followers, simply writing: "No place like Italy innit" as a caption.
Popular Weibo gossip account Bage Zhuanyong (@ba哥专用), 7+ million fans, published screenshots of the post on Weibo, writing:
"Brooklyn, the Beckhams' young son, has photographed Chinese tourists in Italy without their permission, writing: 'This simply isn't Italy anymore [这里简直不像意大利].' It has been the PRC National Day [holiday] recently, with many people going abroad to travel. As a result, Brooklyn has even secretly photographed Chinese tourists in the supermarket. In the comments below, many people also demand that he should show some tolerance and explain himself, and shouldn't secretly photograph people and use such a disgusted tone."
The Weibo post on Beckham was reposted more than 3000 times today, attracting some angry comments about him 'secretly' photographing Chinese tourists and seemingly sounding discriminatory against Chinese. Similar sentiments could be found under Brooklyn's post.
Other Weibo posts about Beckham also attracted thousands of comments on the platform today, and several Chinese media also covered the 'incident'.
"He has no inner quality," some said: "He is nothing without his dad."
"Before he starts discriminating other people, he'd better finish college first," others wrote.
"He himself is in Italy too, and he's no Italian, innit?" others wrote.
"We welcomed the Beckhams to China to come and make money here," one Weibo user said.
On Weibo, David Beckham has his own official account, where he has over six million fans who nicknamed him 'Little Beck' (小贝). The footballer was previously assigned as a global ambassador for Chinese football.
Many netizens also left messages on David Beckham's account, telling him not to bring his son to China.
The comment that the young Beckham would be a 'baizuo', a Chinese derogatory term refer to Western leftist liberal elites, is also a recurring one. "If I see women with headscarves in Germany everywhere, I'd also say that it doesn't look like Germany to me," some say, writing that Beckham would not dare to say anything about immigrants in Europe, but apparently not finding it problematic to comment on the ubiquity of Asian tourists.
But amidst all criticism, there were also voices encouraging others to show some more tolerance themselves, saying: During the National Holiday, the crowds are flocking to Beijing, or Shanghai, and we also say 'This doesn't look like Shanghai anymore', there's nothing wrong with that."
By Miranda Barnes & Manya Koetse
Follow @whatsonweibo
Spotted a mistake or want to add something? Please let us know in comments below or email us.
©2018 Whatsonweibo. All rights reserved. Do not reproduce our content without permission – you can contact us at info@whatsonweibo.com
Alleged Accuser in Richard Liu Case: "This Has Nothing to Do with Me"
The woman became an overnight celebrity when dozens of her private photos went viral in connection to the Richard Liu case.
Jiang Pingting became an overnight celebrity when dozens of her glamorous private photos went viral on Weibo, with strong rumors suggesting she was the woman accusing Chinese billionaire businessman Richard Liu of rape. She has now come forward denying these claims.
Ever since news has come out on the brief arrest of JD.com CEO Richard Liu (刘强东) in Minneapolis last weekend, the mug shot and arrest of the Chinese tech mogul have been a major topic of discussion on Chinese social media.
Liu was arrested on August 31st in connection to a suspected rape, after he had dinner with a group of people at a Japanese restaurant during his business trip in the USA.
Photos of the night show that a woman is seated next to Liu, with Chinese netizens and media alleging that this woman is the Chinese exchange student who accused Liu of assaulting her after the banquet.
Although Liu was released without charges the next day (status: "released pending complaint") with JD.com officially stating that all accusations were "false," the case continued to ignite rumors. Many netizens sided with Liu and claimed that he had been "trapped."
One particularly strong rumor concerned the identity of the female student accusing Liu, with dozens of photos of a young, curvy woman going viral in connection to this case.
One person spreading photos of the supposed accuser is the internet celebrity Luo Yufeng (@罗玉凤), better known as Sister Feng, who has a fanbase of more than 9 million Weibo users.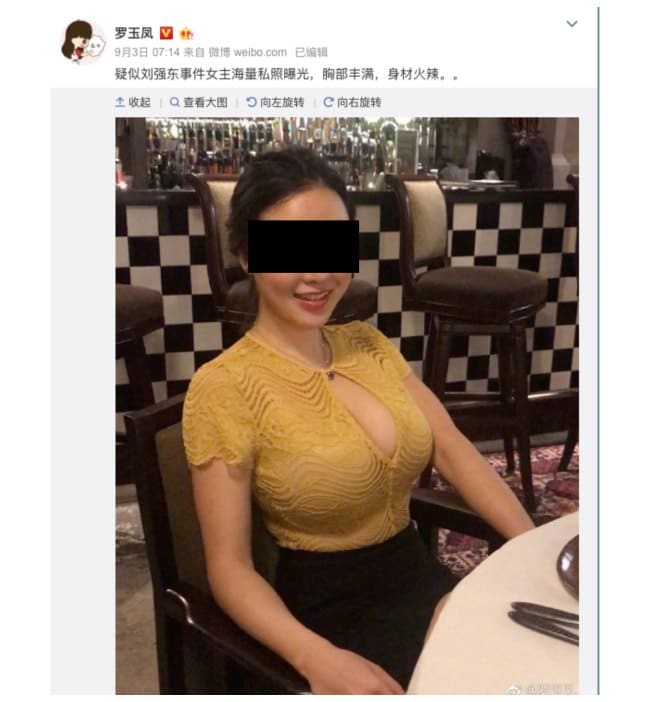 "Many private photos have been exposed of the woman involved in the Richard Liu case," she posted: "She has a big bosom and she looks hot."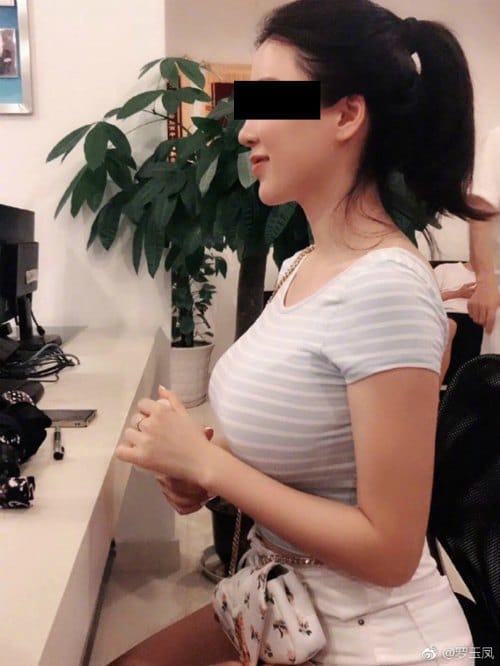 The many photos making their rounds on Chinese social media for the past days show the woman going out for dinners, relaxing on the beach, or posing while golfing.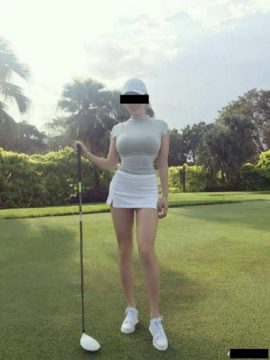 The photos soon became popular on Weibo, with people comparing the woman with Richard Liu's wife Zhang Zetian (章泽天).
Rather than discussing the alleged rape case, many netizens seemed more concerned with the appearance and life-style of the woman, and how her body shape compares to Liu's wife.
The female, a yoga fanatic named Jiang Pingting (蒋娉婷), became an overnight celebrity.
But now, days after her name and photos were first connected to the case, she has issued a statement on her Weibo account saying:
"I am Jiang Pinting! The fact that several large media websites, without verifying, have distributed my personal details and photos assuming I am the female involved in the Richard Liu Minneapolis arrest case, has greatly impacted my reputation and has invaded on my personality rights."
She further states that her personal life has been turned upside down by the incident.
Since 2010, Jiang writes, she has been residing in Singapore and only recently returned to mainland China. Jiang states:
"I do not know Richard Liu at all. We have never met. I've not even been to the US recently. This incident has absolutely no connection to me."
It is not clear why Jiang was brought in connection with the case in the first place.
Some people are critical as to why Jiang only responded to the rumors days after they first went viral. "You first waited to become famous before refuting the rumors," one person wrote.
"I still think you're hot," some among thousands of commenters wrote.
By Manya Koetse
Follow @whatsonweibo
Spotted a mistake or want to add something? Please let us know in comments below or email us.
©2018 Whatsonweibo. All rights reserved. Do not reproduce our content without permission – you can contact us at info@whatsonweibo.com.
Richard Liu's Minnesota Mug Shots Go Viral on Weibo
The tech mogul's arrest is a major topic of discussion, many netizens side with Richard Liu.
The arrest of JD.com CEO Richard Liu, of China's most powerful tech moguls, has made international headlines and is dominating trending topics lists on Chinese social media.
With over 370 million reads, the hashtag 'Liu Qiandong Mugshot' (#刘强东被捕照片#) is a major hot topic on Weibo this week.
On Friday night, August 31, Richard Liu (刘强东), was arrested in Minneapolis for alleged sexual misconduct case involving a university student.
Liu is the founder, chairman, and executive of JD.com (京东). With more than 300 million active users, it is China's second-largest e-commerce firm after Alibaba.
According to Forbes, Liu has a net worth of approximately $7.9 billion, making him the 18th wealthiest person in China in 2017.
A day after his arrest, Liu was reportedly released without bail. John Elder, the spokesman for the Minneapolis Police Department, stated they are treating the case as an active investigation, but that no formal complaint was filed.
A statement released on JD.com's official Weibo account on September 2nd said:
"During the US business activities, Mr. Liu Qiangdong has been falsely accused. The local police investigation has found no substance to the claim and Liu will continue his business activities as originally planned."
As Liu's mugshot has gone viral around the world, he has become a number one topic of conversation. Despite the major international attention for the billionaire's arrest, many Chinese netizens do not believe Liu is guilty.
"I feel like brother Liu has been set up! I don't believe any of it!", one Weibo comment said, receiving nearly three million likes.
"I don't buy it! My first reaction is; somebody who can control such a big company surely can control his lower body. I think it is more likely that he has been set up," another typical comment read.
As online discussions run wild, there are strong online rumors on who the woman is who allegedly 'falsely' accused Liu for sexual misconduct, with netizens spreading photos of the supposed "instigator."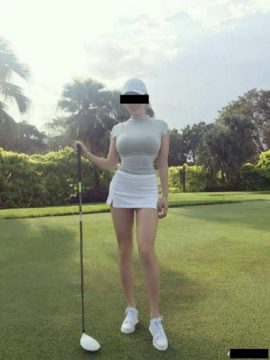 It is not the first time Liu's name comes up in an incident involving sexual misconduct. In 2015, the billionaire tried to distance himself from a sexual assault case that had taken place during a party in his penthouse in Australia.
The New York Times reports that a guest at his party, named Longwei Xu (徐龙威), was found guilty for having sex with a woman without her consent. Liu was not charged in the case, but the tech mogul still tried to have his name removed from the official documents regarding the matter.
By Gabi Verberg
Follow @whatsonweibo
Spotted a mistake or want to add something? Please let us know in comments below or email us.
©2018 Whatsonweibo. All rights reserved. Do not reproduce our content without permission – you can contact us at info@whatsonweibo.com.