"No Place Like Italy Innit" – Young Beckham's Instagram Post Sparks Controversy on Weibo
Much ado about nothing? This Instagram post by Beckham has angered Chinese netizens.
A social media post by the young Beckham son commenting on the many Asian tourists in Italy this week did not go down well on Weibo today.
Brooklyn Beckham, the 19-year-old son of celebrity couple David and Victoria Beckham, has triggered controversy on Weibo today for posting photos of Chinese or Asian tourists in Italy.
The young Beckham posted several photos of Asian tourists on his Instagram account, where he has 11,5 million followers, simply writing: "No place like Italy innit" as a caption.
Popular Weibo gossip account Bage Zhuanyong (@ba哥专用), 7+ million fans, published screenshots of the post on Weibo, writing:
"Brooklyn, the Beckhams' young son, has photographed Chinese tourists in Italy without their permission, writing: 'This simply isn't Italy anymore [这里简直不像意大利].' It has been the PRC National Day [holiday] recently, with many people going abroad to travel. As a result, Brooklyn has even secretly photographed Chinese tourists in the supermarket. In the comments below, many people also demand that he should show some tolerance and explain himself, and shouldn't secretly photograph people and use such a disgusted tone."
The Weibo post on Beckham was reposted more than 3000 times today, attracting some angry comments about him 'secretly' photographing Chinese tourists and seemingly sounding discriminatory against Chinese. Similar sentiments could be found under Brooklyn's post.
Other Weibo posts about Beckham also attracted thousands of comments on the platform today, and several Chinese media also covered the 'incident'.
"He has no inner quality," some said: "He is nothing without his dad."
"Before he starts discriminating other people, he'd better finish college first," others wrote.
"He himself is in Italy too, and he's no Italian, innit?" others wrote.
"We welcomed the Beckhams to China to come and make money here," one Weibo user said.
On Weibo, David Beckham has his own official account, where he has over six million fans who nicknamed him 'Little Beck' (小贝). The footballer was previously assigned as a global ambassador for Chinese football.
Many netizens also left messages on David Beckham's account, telling him not to bring his son to China.
The comment that the young Beckham would be a 'baizuo', a Chinese derogatory term refer to Western leftist liberal elites, is also a recurring one. "If I see women with headscarves in Germany everywhere, I'd also say that it doesn't look like Germany to me," some say, writing that Beckham would not dare to say anything about immigrants in Europe, but apparently not finding it problematic to comment on the ubiquity of Asian tourists.
But amidst all criticism, there were also voices encouraging others to show some more tolerance themselves, saying: During the National Holiday, the crowds are flocking to Beijing, or Shanghai, and we also say 'This doesn't look like Shanghai anymore', there's nothing wrong with that."
By Miranda Barnes & Manya Koetse
Follow @whatsonweibo
Spotted a mistake or want to add something? Please let us know in comments below or email us.
©2018 Whatsonweibo. All rights reserved. Do not reproduce our content without permission – you can contact us at info@whatsonweibo.com
Weibo Blows Up after Fan Bingbing Announces Breakup
It's been a tough year for Chinese celebrity Fan Bingbing.
First published
Two years after their engagement, Chinese actress Fan Bingbing and actor Chen Li have announced their breakup.
On the night of June 27 (China Standard Time), news came out that Chinese actress Fan Bing Bing is breaking up with her partner, Chinese actor Chen Li.
It was Fan herself who announced the separation through a post on social media, writing:
"We go through all kinds of farewells during our lifetime. The love and warmth we gain throughout our encounters become everlasting forces. I want to thank you for all the love and support you've given me. Thank you for your care and love in the future. We are no longer 'we', but we are still ourselves."
The post soon received over 180,000 comments and more than 650,000 likes.
Chen Li also posted a message on his Weibo account, saying:
"From friends to lovers, and now back to friends. Emotions can change, but the purest feeling between you and me will not change. The trust and support we have for each other will always be there. We are no longer 'we', but we are still ourselves."
This breakup comes after a difficult year in Fan's career. In summer of 2018, the 37-year-old actress was at the center of a social media storm due to a tax evasion scandal.
She disappeared from the public eye for months, and then returned with an emotional apology on Weibo.
The announcement of the split has triggered thousands of reactions on Weibo, where the hashtag "Fan Bingbing and Li Chen Split Up" (#范冰冰李晨分手#) had received 380 million views by Thursday night.
At time of writing, the breakup is dominating Weibo's top trending topics, with many netizens commenting that Weibo is 'exploding' and that Weibo servers must be overheating due to the celebrity news.
It is often celebrity news that causes Weibo to blow up. A recent incident of Chinese teen idol smoking inside a Beijing restaurant also triggered millions of views and comments.
When Chinese singer and actor Lu Han announced his relationship with actress Guan Xiaotong in 2017, it even led to a rare temporary breakdown of Weibo's servers.
By Manya Koetse
Spotted a mistake or want to add something? Please let us know in comments below or email us. Please note that your comment below will need to be manually approved if you're a first-time poster here.
©2019 Whatsonweibo. All rights reserved. Do not reproduce our content without permission – you can contact us at info@whatsonweibo.com
Faking Street Photography: Why Staged "Street Snaps" Are All the Rage in China
Staged street photography is the latest "15 minutes of fame" trend on Chinese social media.
It looks as if they are spontaneously photographed or filmed by one of China's many street photographers, but it is actually staged. Chinese online influencers – or the companies behind them – are using street photography as part of their social media strategy. And then there are those who are mocking them.
Recently a new trend has popped up on Chinese social media: people posting short videos on their accounts that create the impression that they are being spotted by street fashion photographers. Some look at the camera in a shy way, others turn away, then there are those who smile and cheekily stick out their tongue at the camera.
Although it may appear to be all spontaneous, these people – mostly women – are actually not randomly being caught on camera by one of China's many street fashion photographers in trendy neighborhoods. They have organized this 'fashion shoot' themselves, often showing off their funny poses and special moves, from backward flips to splits, to attract more attention (see example in video embedded below).
These are some examples of the "pretending to be spontaneously spotted by street fashion photographer so gotta do something funny" phenomenon: pic.twitter.com/OUMhGaFG6W

— Manya Koetse (@manyapan) 25 juni 2019
In doing so, these self-made models are gaining more fans on their Weibo, Douyin, Xiaohongshu, or WeChat accounts, and are turning their social media apps into their very own stage.
Street Photography in Sanlitun
The real street photography trend has been ongoing in China for years, near trendy areas such as Hangzhou's Yintai shopping mall, or Chengdu's Taikoo Li.
One place that is especially known for its many street photographers is Beijing's see-and-be-seen Sanlitun area, where photographers have since long been gathering around the Apple or Uniqlo stores with their big lens cameras to capture people walking by and their trendy fashion.
A few years ago, Thatsmag featured an article discussing this phenomenon, asking: "Who are these guys and what are they doing with their photos?"
Author Dominique Wong found that many of these people are older men, amateur photographers, who are simply snapping photos of attractive, fashionable, and unique-looking people as their hobby.
But there are also those who are working for street fashion blogs or style magazines such as P1, and are actually making money with their street snaps capturing China's latest fashion trends.
People featured in these street snaps can sometimes go viral and become internet celebrities (网红). One of China's most famous examples of a street photographed internet celebrity is "Brother Sharp."
It's been ten years since "Brother Sharp" (犀利哥), a homeless man from Ningbo, became an online hit in China for his fashionable and handsome appearance, after his street snap went trending on the Chinese internet.
Staged Street Scenes
But what if nobody's snapping your pics and you want to go viral with your "Oh, I am being spotted by street fashion photographers" video? By setting up their own "street snap" shoots, online influencers take matters into their own hands.
It is not just individuals who are setting up these shoots; there are also companies and brands that do so in order to make their (fashion) products more famous. According to People's Daily, in Hangzhou alone, there are over 200 photographers for such "street snaps" and hundreds of thousands of models for such "performances."
The photographers can, supposedly, earn about 20,000 to 30,000 yuan ($2,890-$4,335) per day and the models are well paid.
In this way, the "street snap performance" phenomenon is somewhat similar to another trend that especially became apparent in China around 2015-2016, namely that of 'bystander videos' capturing a public scene. Although these videos seem to be real, there are actually staged.
One such example happened in 2017 when a video went viral of a young woman being scolded on a Beijing subway for wearing a revealing cosplay outfit.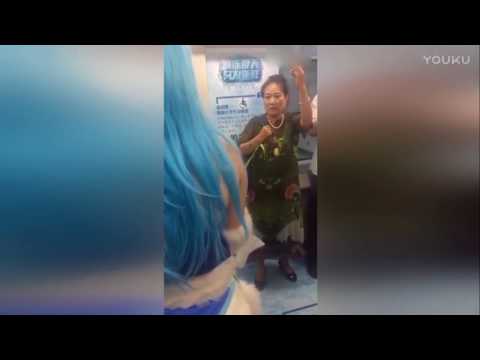 The story attracted much attention on social media at the time, with many netizens siding with the young woman and praising her for responding coolly although the woman was attacking her. Later, the whole scene turned out to be staged with the purpose of generating more attention for the ad of a "cool" food delivery platform behind the older lady.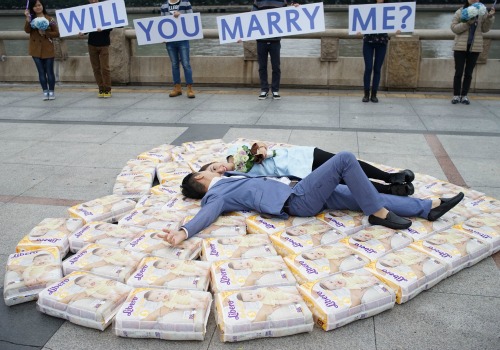 In 2015, photos of a 'romantic proposal' made its rounds on social media when a young man asked his pregnant girlfriend to marry him using over 50 packs of diapers in the shape of a giant heart. One bag of diapers carried a diamond ring inside. It was later said the scene was sponsored by Libero Diapers.
Wanghong Economy
Both the latest street snap trend and the staged video trend are all part of China's so-called "Wanghong economy." Wǎnghóng (网红) is the Chinese term for internet celebrities, KOL (Key Opinion Leader) or 'influencer.' Influencer marketing is hot and booming in China: in 2018, the industry was estimated to be worth some $17.16 billion.
Being a wanghong is lucrative business: the more views, clicks, and fans one has, the more profit they can make through e-commerce and online advertising.
Using Chinese KOLs to boost brands can be an attractive option for advertisers, since their social media accounts have a huge fanbase. Prices vary on the amount of fans the 'influencer' has. In 2015, for example, the Chinese stylist Xiao P already charged RMB 76,000 ($11,060) for a one-time product mention on his Weibo account (36 million fans).
According to the "KOL budget Calculator" by marketing platform PARKLU, a single sponsored post on the Weibo account of a famous influencer will cost around RMB 60,000 ($8730).
The current staged street snap hype is interesting for various online media businesses in multiple ways. On short video app Douyin, for example, the hugely popular street snap videos come with a link that allows app users to purchase the exact same outfits as the girls in the videos.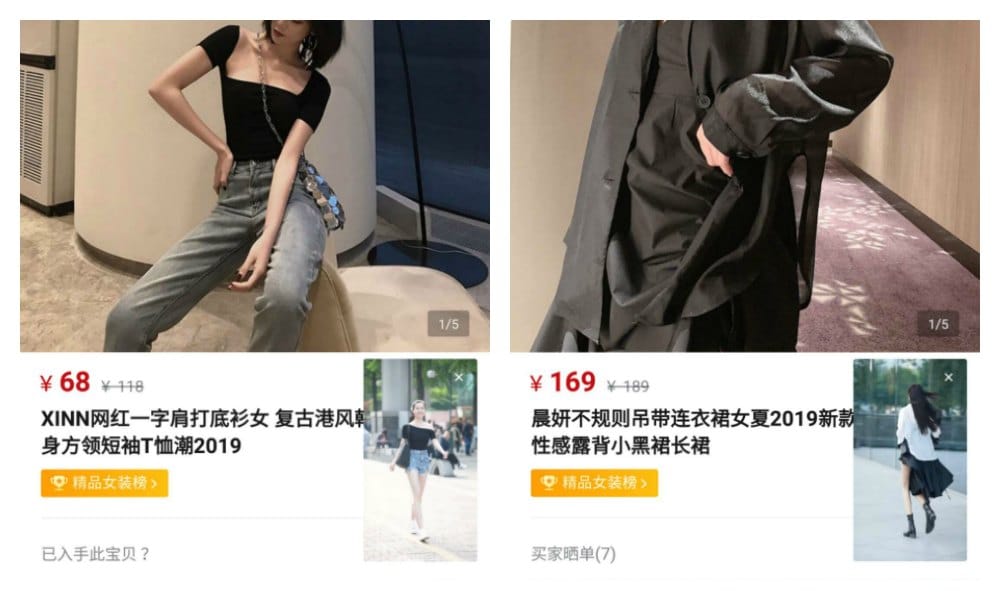 Perhaps unsurprisingly, an online survey by Tencent found that 54% of college-age respondents had the ambition to become an "online celebrity."
Making Non-Fashion Fashion: The Farm Field as a Catwalk
Although becoming an actual online celebrity used to be a far-fetched dream for many Chinese netizens, the latest staged-street-snap trend creates the possibility for people to experience their "15 minutes of fame" online.
Just as in previous online trends such as the Flaunt Your Wealth Challenge or A4 Waist Challenge, you see that many people soon participate in them, and that they are then followed by an "anti-movement" of people making fun of the trend or using it to promote a different social point-of-view.
The 2018 "Flaunt Your Wealth" challenge, for example, in which Chinese influencers shared pictures of themselves falling out of their cars with their expensive possessions all around them, was followed by an Anti-Flaunt Your Wealth movement, in which ordinary people mocked the challenge by showing themselves on the floor with their diplomas, military credentials, painting tools, or study books around them.
In case of the (staged) "Fashion Street Photography" movement, that now has over 103 million views on Weibo (#全国时尚街拍大赏# and #街拍艺术行为大赏#), you can also see that many people have started to mock it.
"I find [this trend] so embarrassing that I want to toss my phone away, yet I can't help but watch it," one Weibo user (@十一点半关手机) writes, with others agreeing, saying: "This is all so awkward, it just makes my skin crawl."
The anti-trend answer to the staged street shoot hype now is that people are also pretending to be doing such a street snap, but ridiculing it by making over-the-top movements, doing it in 'uncool' places, wearing basic clothing, or setting up a funny situation (see embedded tweet below).
And then this is other example (there are many) of people mocking this pretending-to-be-spotted-by-street-photographers trend pic.twitter.com/2WBP3F326l

— Manya Koetse (@manyapan) 25 juni 2019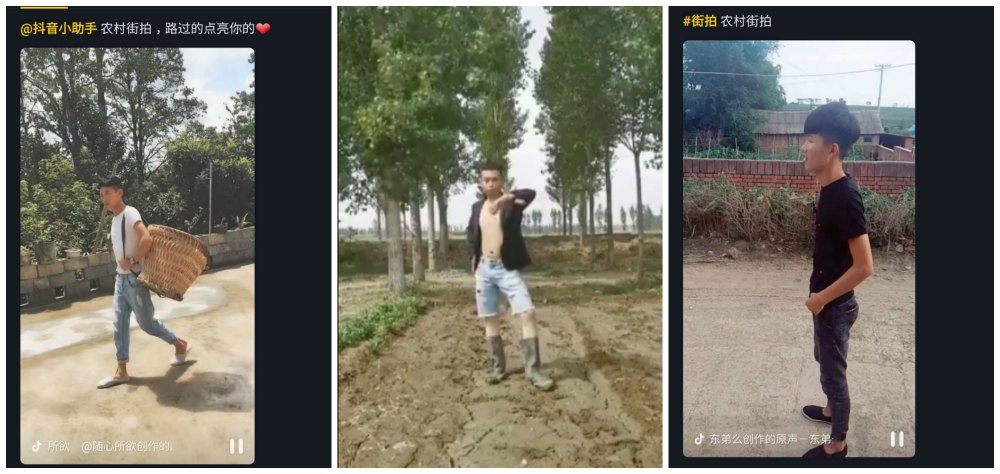 Some of these short videos show 'models' walking in a rural area, pretending to be photographed by a 'street fashion photographer' – it's an anti-trend that's become a trend in itself (see videos in embedded tweets below).
There's a recent Chinese social media trend of people mocking the wannabe cool Sanlitun rich kids who are walking the streets like it's their catwalk while pretending to be spotted by street photographers. It's always the anti-cool people who are actually the coolest..👇👏 pic.twitter.com/LnEOEdyzRE

— Manya Koetse (@manyapan) 24 juni 2019
Although this 'anti-trend' is meant in a mocking way, it is sometimes also a form of self-expression for young people for whom the Sanlitun-wannabe-models life is an extravagant and sometimes unattainable one.
More: pic.twitter.com/WpcDepTcYe

— Manya Koetse (@manyapan) 24 juni 2019
They don't need trendy streets and Chanel bags to pretend to be models: even the farm field can be their catwalk.
In the end, the anti-trend "models" on Chinese social media are arguably much cooler than the influencers pretending to be photographed. Not only do they convey a sense of authenticity, they also have something else that matters the most in order to be truly cool and attractive: a sense of humor.
Also read: From Mountains of Taishan to Faces of Amsterdam – Interview with Street Photographer Jimmy on the Run
Also read: Beijing Close-Up: Photographer Tom Selmon Crosses the Borders of Gender in China
By Manya Koetse
Follow @whatsonweibo
Spotted a mistake or want to add something? Please let us know in comments below or email us. Please note that your comment below will need to be manually approved if you're a first-time poster here.
©2019 Whatsonweibo. All rights reserved. Do not reproduce our content without permission – you can contact us at info@whatsonweibo.com