Blazing Memories: About the Comparison of the Notre Dame Fire to the Burning of the Old Summer Palace (Op-Ed)
Understanding why the Yuan Ming Yuan went trending in China after the Notre Dame fire.
First published
A What's on Weibo news article on Chinese online responses to the Notre Dame fire attracted very mixed reactions on English-language social media this week.
After the fire at the Notre Dame in Paris earlier this week, What's on Weibo published an article describing Chinese online responses to the devastating blaze, and the ubiquitous comments that compared the destruction of the iconic French cathedral to the burning of the Chinese Old Summer Palace (Yuan Ming Yuan) in Beijing by the Anglo-French army in 1860.
There have been many reactions to this story on various social media platforms. From one side, there were those who questioned why we would even publish an article like that, suggesting that our position in covering this trend was biased. On the other side, there were those who jumped into the discussion, blaming Chinese for playing the victim and ignoring the destruction of old historical buildings or Mosques within their own country over recent years.
The reactions to this article and overall trend show the polarized stances on social issues and media in China, and how to cover them. Some suggested that it was not fair to write down the "negative social media opinions of a few Chinese commenters," saying that it "reflected badly" on China overall, or that they were "irrelevant."
Covering the voices of a few dozen 'trolls' and presenting them as an 'overall sentiment' is not what we do at What's on Weibo.
Some people pointed out that the comparison of the Notre Dame blaze to the burning of the Old Summer Palace was not something that most Chinese agreed with. As also covered in our article, there were indeed many commenters, including historians and Key Opinion Leaders, who opposed to the Yuan Ming Yuan trend in light of the Notre Dame fire.
The fact of the matter still is that the Old Summer Palace became a massive topic of online debate following the Notre Dame fire. Ignoring such a trend in covering Weibo responses to the tragic Paris incident would be a huge blind spot problem.
Instead of condemning these Chinese online responses, ignoring they are there, or trivializing their relevance, it is perhaps more constructive to consider where they come from, and understanding that the history of the Old Summer Palace is still deeply ingrained in the collective memory of the Chinese people and nation.
Before further elaborating on this, let's first go back to the trend itself.
From Notre Dame to Yuan Ming Yuan
As news of the catastrophic fire that engulfed the Notre Dame Cathedral (巴黎圣母院) in Paris on Monday made headlines across the world, the Old Summer Palace (Yuan Ming Yuan 圆明园) suddenly became a trending topic on Chinese social media.
Besides all the people who mourned the destruction of the historic cathedral, and those who posted photos of their previous visits to the scenic spot, there were many Chinese netizens who started addressing the plundering and burning down of the Yuan Ming Yuan ("Garden of Perfect Brightness") in 1860, leading to the Notre Dame and the Old Summer Palace becoming top trending topics on Weibo at the same time.
On April 18, WeChat self-media account Fang Zhouzi (方舟子) wrote about the reaction: "On Chinese internet, a peculiar response started to emerge, as many people suddenly started remembering the burning of the Yuan Ming Yuan by the Anglo-French forces 159 years ago, and thereupon saying that the Notre Dame deserved to be burned."
It is unclear who first drew a comparison between the Notre Dame and the Yuan Ming Yuan, but on April 16, actor Zhou Libo (周立波) wrote on Weibo that "compared to the Yuan Ming Yuan, the Notre Dame is just a garden." A former editor at the Phoenix News Military Channel, Jin Hao (金昊), also published an article on WeChat titled "Mourning it, my ass! I'm pleased with the big fire at Notre Dame" ("哀悼个屁!巴黎圣母院大火,我很欣慰!") (since deleted).
On other social media sites, such as Douban, people also started posting blogs with titles such as "the Notre Dame collapse makes me think of the Old Summer Palace" ("巴黎圣母院的倒塌让我想起了圆明园").
An exploration of search queries on Chinese search engine Baidu shows that at the time when 'Notre Dame' peaks as a query on April 16, so does the term 'Yuan Ming Yuan.' Similarly, on Google Trends, the Chinese query 'Notre Dame' shows the Yuan Ming Yuan Park as the number two related topic in its overview of the past week.
At time of writing, there are dozens of pages on Weibo filled with comments relating to the Notre Dame/Old Summer Palace comparison. We won't list many of them here, but some of the comments include reactions such as: "Now you can also experience how it feels when art and culture are burned," "I might have a narrow sense of patriotism, but seeing the Notre Dame burn makes me happy inside," and "even a hundred Notre Dames still don't make the Old Summer Palace," with many netizens claiming that the loss of the Old Summer Palace was just as bad, or rather worse, than the destruction of the Notre Dame.
These collective responses to the Notre Dame fire also drew much criticism. State media outlet CCTV published an article that condemned the comparison of the Notre Dame and the Old Summer Palace, stating that people "should not vent their emotions in the name of history" (Li Xuefei 2019).
Various other news channels also published critique, including one article titled "The Notre Dame fire as retribution for the burning of Yuanmingyuan? Please stop this inhumane line of reasoning" ("巴黎圣母院大火是烧圆明园的报应?快停下反人类思维").
As covered in our previous write-up, there were also many voices on Weibo denouncing the trend. One of them was Yan Feng (严锋), a professor at Fudan University, who posted:
"The Notre Dame cathedral was constructed in 1163, the Yuan Ming Yuan was destroyed in 1860. The people who burned the Yuan Ming Yuan were not the people who built the Notre Dame of Paris. They were separated by 700 years. The French feudal separatists were in no way French according to modern-day standards. Every injustice has its perpetrator and every debt its debtor, why should you let the Notre Dame bear the responsibility of burning down the Yuan Ming Yuan?"
"First of all, we are people, then we are Chinese," another popular comment said: "The loss of such a historical cultural gem is a loss for all mankind."
Collective Memories of Yuan Ming Yuan
In October of 1860, British and French troops sacked and burned the Old Summer Palace, which was once a massive complex consisting of more than a hundred buildings, pavilions, and scenic spots, built since the 17th century for the Qing emperors.
The event took place at the end of the Second Opium War. Unsatisfied with the Treaty of Nanjing and, among others, demanding more Chinese cities and ports to open for trade, the Anglo-French army invaded Beijing in 1860. They plundered the Yuan Ming Yuan, which was filled with books and art treasures. The burning came afterward, to destroy the evidence of their looting. The fire blazed for three days and three nights, leaving the enormous palace grounds in ruins (Chey 2009, 79).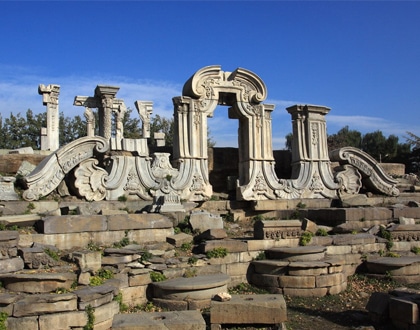 The site of the once magnificent Old Summer Palace is now the Yuanmingyuan Ruins Park, an initiative that was set up in the 1980s after decades of neglect. In "The Ruins of Yuanmingyuan," Haiyan Lee calls the site a "national wound" (2009). It is a symbolic space, where the ruins remind visitors of the injustice China once suffered at the hands of Western powers.
This injustice is an important incident in China's so-called "Century of Humiliation," the time from the mid-1800s to the mid-1900s during which China was attacked, weakened, and torn by foreign forces.
The "Century of Humiliation" still plays an important role in China today, as young people are also taught that this historical consciousness is important. The four character slogan "Wù wàng guóchǐ" (勿忘国耻), "Never forget national humiliation", is frequently repeated in Chinese media, museums, schools, documentaries, and in popular culture.
As described in the insightful work by Zheng Wang, Never Forget National Humiliation, the historical memory of China's era of humiliation has become part of Chinese national identity, promoted in official discourse, and often unconsciously yet profoundly influencing people's perceptions and actions. This is also what collective memory is: an accumulation of memory-forming processes that take place on both conscious and non-conscious levels (Koetse 2012, 10).
The Yuan Ming Yuan Park is a particularly significant cultural heritage site where the remembrance of the humiliations and injuries China suffered at the hands of foreign imperialists comes to life through the ruins (Lee 2008, 169).
Blazing Memories
Collective memory and nations are tied together in many ways, as historical memories serve as an important vehicle to unify the nation. They also play an important part in how people from different communities, societies, or nations will interpret big or important events that happen in the world today.
When certain news makes headlines, it is not uncommon for people to reflect on it speaking from their own experiences and the collective memory of their own nation or bigger community – especially when the place where it happens is far removed from them.
This is not unique to China. To grasp, process, and comment on faraway incidents, it is sometimes easier to relate it to something that is closer to you.
Former American first lady Michelle Obama visited Paris earlier this week for her book tour, and told the audience about how shocked she was about the Notre Dame blaze, briefly comparing the incident to the devastating American 9/11 attacks.* Does it make sense to compare the burning of the Notre Dame to the 9/11 attacks? Perhaps not. Yet Obama was not the only one to raise the 9/11 events; some on Twitter even called the burning of the Notre Dame "a cultural 9/11" disaster.
Seeing the overwhelming responses to the Notre Dame fire on Chinese social media, where so many people linked it to Chinese history, the reaction perhaps should not be whether these online responses and media discussions were either 'good' or 'bad' – instead, it is important to understand where they come from, and how people from various backgrounds, cultures, or religions, often use their own cultural or social frameworks, historical narratives, and dominating ideas to make sense of what is happening around them.
As the Notre Dame trend on Chinese social media shows, but what's beyond the scope of this article, is that the mechanisms of online nationalism and anti-foreign sentiments often also come into play once these memory-machines start running.
In the end, the Notre Dame fire actually has nothing to do with the history of the Old Summer Palace. But the news of the Notre Dame blaze was enough reason for many Chinese netizens to trigger and bring up this memory of Chinese suffering that still exists in the minds of the people today.
Instead of condemning that, or trivializing news reports on these trends, one could try to understand it, and then see it as a completely separate issue from the Notre Dame fire – as many people on Weibo also do.
By Manya Koetse
Recommended reading:
References
Fang Zhouzi 方舟子. 2019. "巴黎圣母院和圆明园有什么关系?" April 18, Fang Zhouzi / Self-Media WeChat link[4.18.19].
Koetse, Manya. 2012. "The 'Magic' of Memory. Chinese and Japanese Re-Remembrances of the Sino-Japanese War (1937-1945)." Research Master thesis, Leiden University.
Lee, Haiyuan. 2009. "The Ruins of Yuanmingyuan – Or, How to Enjoy a National Wound." Modern China 35 (2): 155-190.
Li Xuefei 李雪菲. 2019. "巴黎圣母院火灾怎能与火烧圆明园混为一谈 狭隘的民族主义可休矣." April 16, CCTV,Sina News https://finance.sina.com.cn/roll/2019-04-16/doc-ihvhiqax3118848.shtml [4.18.19].
Ong, Siew Chey. 2009. China Condensed: 5, 000 Years of History & Culture. Singapore: Marshall Cavendish International.
Weatherley, Robert D., and Ariane Rosen. 2013. "Fanning the Flames of Popular Nationalism: The Debate in China over the Burning of the Old Summer Palace." Asian perspective 37(1):53-76.
Zheng Wang. 2012. Never Forget National Humiliation: Historical Memory in Chinese Politics and Foreign Relations. New York: Columbia University Press.
* Segment on Michelle Obama in Paris from Dutch "Talkshow M" of April 17th, 36.00 min.
Spotted a mistake or want to add something? Please email us.
©2019 Whatsonweibo. All rights reserved. Do not reproduce our content without permission – you can contact us at info@whatsonweibo.com.
China's 'Three Child Era' Announcement Is Met with Banter and Backlash on Weibo
"The three-child policy is here, and it's terrifying!"
Four decades after the introduction of the one-child policy and five years after the start of a two-child policy, the Communist Party of China has now issued a statement on May 31 that all Chinese couples are allowed to have three children.
On May 31, after a meeting by the Politburo, Chinese authorities announced that all married couples would be allowed to have three children. The announcement comes over five years after an earlier law came into effect allowing Chinese couples to have a second child.
On Weibo, the topic immediately became top trending, with the Xinhua News hashtag page on the issue (#三孩生育政策来了#) going from 800 million views to 2.2 billion views within just an hour on Monday afternoon local time.
An illustrated image showing three small children was shared on social media by Xinhua, saying: "The three-child policy is here! Actively responding to the aging population, the Central Committee of the Communist Party of China convened a meeting on May 31 on the implementation of a policy allowing couples to have a third child and interrelated support measures."
State media outlet China Youth Daily also published an image depicting two children playing on the floor, the text saying: "The three-child policy has come. They will have a brother or sister."
Loosening policies and plummeting birth rates
Facing a rapidly aging population, China has been loosening its previous 'one-child policy' for years.
China initiated the one-child policy in 1979 with an aim to control the nation's rapid population growth. It was successful in doing so: the government estimates that it prevented over 400 million extra births. The policy has also been blamed for innumerable cases of forced abortions and mandatory sterilizations.
Ethnic minorities or couples in rural areas were already allowed to have more than one child if their firstborn was a girl. Since 2013, couples were entitled to have a second child if they themselves were an only child. Richer families could also choose to have a second child and simply pay the high fine they would get for having another baby.
In October of 2015, the Communist Party of China (CPC) issued an official statement that all couples would be allowed to have two children. That law went into effect on 1 January 2016. Although the new policy led to a brief 'baby boom' – birth rates in China rose to their highest level since 2000 – the number still fell short of government estimation's and the birth rates soon dropped again. In 2019, the birth rate of 10.48 per thousand marked the lowest number since 1949.
More kids, more stress?
When the shift from the one-child policy to a 'two-child policy' was announced in 2015, the expected change created a major buzz on social media. Although many people applauded the change in policy, there were also those who thought the end of the one-child policy came too late to counter the slow growth in population.
'Many Chinese families cannot afford to have a second child,' was one of the most recurring online comments at the time. For many Chinese couples, as only children, the everyday pressure of taking care of their elderly parents and carrying the financial burden for their own household was already very high. "We need more financial support from the government so that we can actually consider having a second child," Chinese Weibo users said in 2015.
The introduction of a possible 'three-child policy' first became a trending topic on Chinese social media in 2018. In that year, Chinese bloggers and netizens denounced the potential measure in saying that an extension from a 'two-child policy' to a 'three-child policy' would add to the burden of Chinese women. Such a policy, they argued, would lead to Chinese women facing social expectations to birth a third child. And with supposed longer maternity leaves, they would also face unequal opportunities in the employment market.
But it is not just about the financial burden and economic pressure. In a 2018 column for What's on Weibo, writer Frankie Huang emphasized that China's declining birth rates are often explained through an economic lens, while the social and historical background that has shaped the ways Chinese young parents think about family life today is perhaps more crucial in understanding people's decision to postpone a second child or eschew one entirely. "We must take into account how the One Child Policy made the single child family normative by erasing the experience of having siblings from the lives of millions," Huang wrote.
The 'terrifying' three child era
Looking back at the online sentiments that dominated Chinese social media before, it is perhaps unsurprising that many commenters on social media platforms in China today are somewhat skeptical about the introduction of a 'three child policy' (三孩生育政策).
A Weibo poll by Chinese state media outlet Xinhua asking "Are You Ready for the Three Child Policy?" was ridiculed by some when nearly 30,000 people replied "I am not considering it [three kids] at all", with only a few hundred people indicating a more positive stance on the policy. The poll was apparently soon deleted.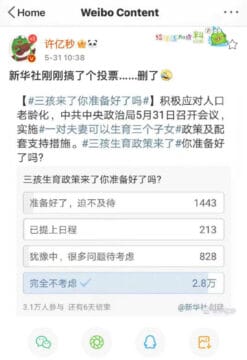 Many people raise issues and concerns that come with having multiple children, including those related to the position of women in the employment market, the high cost of daycare, and children's education.
One popular comment even suggested that China's post-80s and post-90s generations deserve to get a medal if they actually had three children, which would mean that – as only children themselves – they would need to look after four elderly parents, three young children, and then continue working while facing a gradually delayed legal retirement age.
"The three-child policy is here, and it's terrifying!" one popular female Weibo blogger (@Alex绝对是个妞儿) writes: "Many girls around me are already afraid to have one child, and I personally think having one is the limit – I didn't expect the policy to be so ahead of its time! No kidding, if other supporting policies and guarantees are not in place, it will be very difficult to change women's willingness to have children. It's not that we don't want to have children, it's not that the policy doesn't allow us to have children, it's that once we have children, women's lives will collapse and fall apart, and that's what makes women not want to have children."
"This just gives my parents more reasons to pressure me to find a partner," others complained.
"This cracks me up. My monthly income is already barely enough to cover for me alone."
Besides those expressing concerns, there are also many jokes circulating online, such as a supposed Durex ad saying: "I'll go, you guys have fun."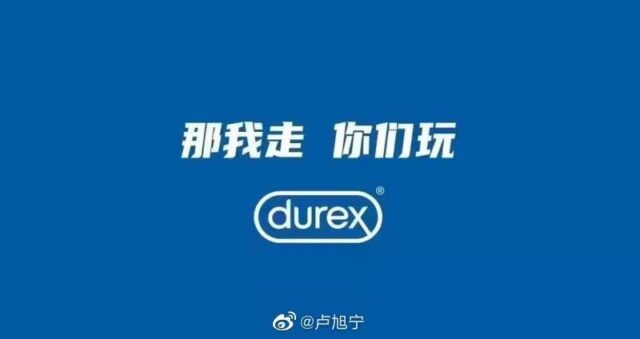 In light of the new announcement, an older interview with Chinese businessman Shih Wing-ching (施永青), chairman of the Centaline Group, caused some controversy online when he suggested that Chinese couples should only be allowed to use contraception after having two children. According to the real estate mogul, it would be an effective way to solve China's declining fertility rates.
"It would be better for him to wear a condom around his brain to protect him from these bewildering thoughts," one Weibo commenter suggested.
Another topic of public ridicule was the image announcing the 'three child policy' by Chinese state media outlet Xinhua for containing a typo, with the wrong character being used in the word 生育, "give birth to" (using 肓 instead of 育).
"Shouldn't we eliminate illiteracy first before letting people have three kids?" one Weibo user jokingly commented.
Despite all the criticism and online jokes, there are also those who are genuinely happy that having three children is now allowed for all couples. Recurring comments praise the freedom that comes with the loosening of family planning policies: "If you want to have more children, you can. If you don't want to, you don't have to."
One woman on Weibo wrote: "When the two-child policy was introduced, I soon became pregnant with my second child. Yesterday I was thinking if we could try to have a baby girl, and just like that, the 'three-child policy' is here!"
By Manya Koetse, with contributions by Miranda Barnes
Spotted a mistake or want to add something? Please let us know in comments below or email us. First-time commenters, please be patient – we will have to manually approve your comment before it appears.
©2021 Whatsonweibo. All rights reserved. Do not reproduce our content without permission – you can contact us at info@whatsonweibo.com.
The Gansu Marathon Tragedy: Chinese Netizens Are Looking for Answers
The Gansu ultramarathon tragedy has sent shock waves on social media: "The organization needs to be held accountable."
What was supposed to be an exciting ultramarathon race turned into a terrible tragedy. In Gansu's Baiyin, 21 runners died this weekend in the mountainous high-altitude track under extreme weather conditions. On Chinese social media, people are shocked and are left with many unanswered questions.
Twenty-one people participating in a mountain marathon race have died in Gansu, China, after extreme weather hit the high-altitude track. The 100-kilometer race, which started on May 22, took place at the Yellow River Stone Forest tourist site in Baiyin city.
In the morning of Sunday, May 23, a total of 151 participants were rescued in a major rescue operation. Eight people had minor injuries and were sent to the hospital. Twenty-one people were already lifeless when they were found. Among those killed were top cross-country runner Liang Jing (梁晶) and the Paralympic champion Huang Guanjun (黄关军).
On Weibo, the hashtag "21 People Killed in Gansu Mountain Marathon Accident" (#甘肃山地马拉松事故21人遇难#) received over 930 million views by Sunday afternoon. Another hashtag "Is the Gansu Marathon Accident is a Natural Disaster or Man-made Disaster?" (#甘肃马拉松事故是天灾还是人祸#) became top trending on Sunday afternoon, with netizens wondering if the organization of the race was up to standard and if the necessary safety guarantees were taken.
The daughter of a participant who was killed during the ultramarathon wanted to know why her family was only informed of his death on the morning of May 23 and why the organizing committee did not make sure the participants were better prepared following the local weather forecasts.
The Gansu provincial government has set up an incident investigation team to further investigate the cause of the incident. On the morning of May 23, the mayor of Baiyin Zhang Xuchen (张旭晨) spoke at a local press conference, where he called the incident a "public safety incident" due to sudden changes in local weather conditions.
The Huanghe Shilin Mountain Marathon (黄河石林山地马拉松) was first held in 2018, and this was its fourth edition. The event, hosted by Jingtai County, was sponsored by the Baiyin Municipal Party Committee and the municipal government. The ultramarathon was organized by a local company, Gansu Shengjing Sports, which had also organized the previous marathons.
According to The Paper, participants must be between the ages of 18-60 and must submit proof that they have completed a similar level race within the last year. The long-distance ultramarathon race is known as a difficult one, with its steep tracks, high altitudes, and a great part of the route being in no man's land.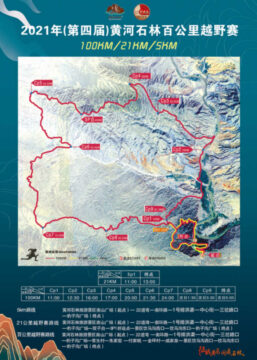 The race started at 9.00 in the morning on Saturday the 22nd, with many of the 172 participating runners wearing shorts and short-sleeve running shirts. The extreme weather – including local hail, freezing rain, and strong wind – hit the mountain race in the afternoon. One participant shared their story of what happened during the marathon in a blog article.
The participant describes the weather conditions at the start of the race as "breezy and sunny," but that soon changed as the wind picked up and the temperatures dropped.
When it started to rain and hail, various runners who had been going up the mountains already withdrew from the race and returned as the conditions became harsher. The runner describes how the gloves and insulation blanket that they carried were insufficient to protect them from the cold, and that he finally decided to withdraw from the race when his hands were frozen and his body temperature dropped.
By that time, according to the account, there were already approximately fifty runners who had withdrawn from the race and had gathered in a hut to warm up and wait for rescue. As more participants came down from the mountain to the hut, there were already some who had seen people lying motionless on the ground. The rescue team could not reach the area by car. The first group of people, including the person writing the account, came down and were able to get on a bus and get back to the race finish line around 16:00 on Saturday afternoon.
In a video shared by Fengmian News, several runners can be seen sharing their experiences as they go on the bus returning from the scene, with some saying they had already seen various people lying on the ground shivering. Others called the drop of body temperature "terrible," saying that even experiencing the cold for a few minutes was already unbearable.
The race was stopped immediately and local forces organized to search and rescue the runners who were left behind. People's Daily shared photos of rescue operations continuing in the mountainous area at night. More than 700 people were involved in the rescue.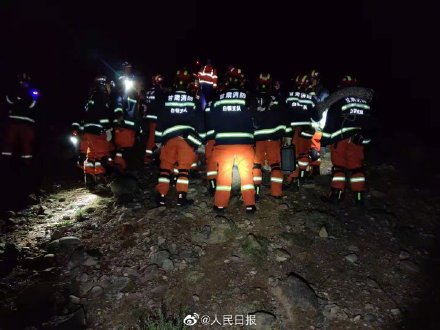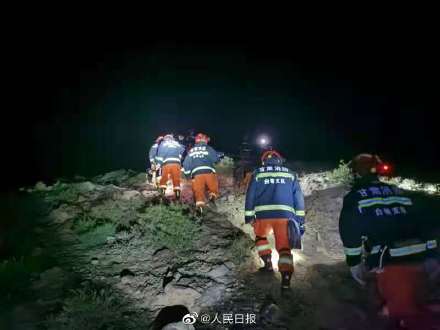 On Sunday, the news that multiple runners had been rescued by local villagers and shepherds who offered them shelter and warmth also went trending on social media.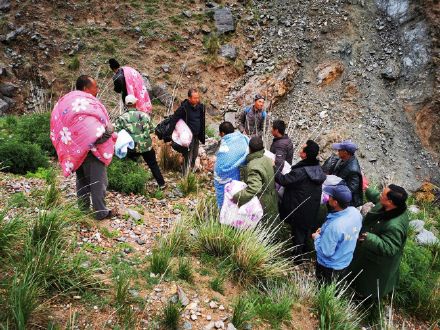 Another runner who participated in the ultramarathon shared his story on Weibo, writing that he was among the six top runners when the extreme weather conditions started, and the only one of the top runners who survived because he was rescued by local villagers after falling and passing out.
The rescue operation was concluded at 12:00 in the afternoon on Sunday. Xinhua News reported that the remains of all 21 victims were recovered from the marathon site.
"Is this a natural disaster or a human-made one?" many netizens on Weibo ask, with a majority saying that although the weather conditions were particularly bad, the tragedy was mostly caused by human errors.
Why were the runners not required to carry better equipment and warmer clothes with them? Why was there no security along the track of this off-the-beaten-path race? Why were there no logistics and rescue teams set up along the tracks? Why was there no detailed security and rescue plan in place for emergency situations? These questions and many more are circulating on social media.
"The organization needs to be held accountable," many people say, while official investigations into the incident are still ongoing. "I can't believe the organization would make these kinds of errors in 2021," one person wrote.
"This is unbelievable, 21 people died," another commenter wrote: "So many families have been broken."
By Manya Koetse, with contributions by Miranda Barnes
Spotted a mistake or want to add something? Please let us know in comments below or email us. First-time commenters, please be patient – we will have to manually approve your comment before it appears.
©2021 Whatsonweibo. All rights reserved. Do not reproduce our content without permission – you can contact us at info@whatsonweibo.com.