Blazing Memories: About the Comparison of the Notre Dame Fire to the Burning of the Old Summer Palace (Op-Ed)
Understanding why the Yuan Ming Yuan went trending in China after the Notre Dame fire.
First published
A What's on Weibo news article on Chinese online responses to the Notre Dame fire attracted very mixed reactions on English-language social media this week.
After the fire at the Notre Dame in Paris earlier this week, What's on Weibo published an article describing Chinese online responses to the devastating blaze, and the ubiquitous comments that compared the destruction of the iconic French cathedral to the burning of the Chinese Old Summer Palace (Yuan Ming Yuan) in Beijing by the Anglo-French army in 1860.
There have been many reactions to this story on various social media platforms. From one side, there were those who questioned why we would even publish an article like that, suggesting that our position in covering this trend was biased. On the other side, there were those who jumped into the discussion, blaming Chinese for playing the victim and ignoring the destruction of old historical buildings or Mosques within their own country over recent years.
The reactions to this article and overall trend show the polarized stances on social issues and media in China, and how to cover them. Some suggested that it was not fair to write down the "negative social media opinions of a few Chinese commenters," saying that it "reflected badly" on China overall, or that they were "irrelevant."
Covering the voices of a few dozen 'trolls' and presenting them as an 'overall sentiment' is not what we do at What's on Weibo.
Some people pointed out that the comparison of the Notre Dame blaze to the burning of the Old Summer Palace was not something that most Chinese agreed with. As also covered in our article, there were indeed many commenters, including historians and Key Opinion Leaders, who opposed to the Yuan Ming Yuan trend in light of the Notre Dame fire.
The fact of the matter still is that the Old Summer Palace became a massive topic of online debate following the Notre Dame fire. Ignoring such a trend in covering Weibo responses to the tragic Paris incident would be a huge blind spot problem.
Instead of condemning these Chinese online responses, ignoring they are there, or trivializing their relevance, it is perhaps more constructive to consider where they come from, and understanding that the history of the Old Summer Palace is still deeply ingrained in the collective memory of the Chinese people and nation.
Before further elaborating on this, let's first go back to the trend itself.
From Notre Dame to Yuan Ming Yuan
As news of the catastrophic fire that engulfed the Notre Dame Cathedral (巴黎圣母院) in Paris on Monday made headlines across the world, the Old Summer Palace (Yuan Ming Yuan 圆明园) suddenly became a trending topic on Chinese social media.
Besides all the people who mourned the destruction of the historic cathedral, and those who posted photos of their previous visits to the scenic spot, there were many Chinese netizens who started addressing the plundering and burning down of the Yuan Ming Yuan ("Garden of Perfect Brightness") in 1860, leading to the Notre Dame and the Old Summer Palace becoming top trending topics on Weibo at the same time.
On April 18, WeChat self-media account Fang Zhouzi (方舟子) wrote about the reaction: "On Chinese internet, a peculiar response started to emerge, as many people suddenly started remembering the burning of the Yuan Ming Yuan by the Anglo-French forces 159 years ago, and thereupon saying that the Notre Dame deserved to be burned."
It is unclear who first drew a comparison between the Notre Dame and the Yuan Ming Yuan, but on April 16, actor Zhou Libo (周立波) wrote on Weibo that "compared to the Yuan Ming Yuan, the Notre Dame is just a garden." A former editor at the Phoenix News Military Channel, Jin Hao (金昊), also published an article on WeChat titled "Mourning it, my ass! I'm pleased with the big fire at Notre Dame" ("哀悼个屁!巴黎圣母院大火,我很欣慰!") (since deleted).
On other social media sites, such as Douban, people also started posting blogs with titles such as "the Notre Dame collapse makes me think of the Old Summer Palace" ("巴黎圣母院的倒塌让我想起了圆明园").
An exploration of search queries on Chinese search engine Baidu shows that at the time when 'Notre Dame' peaks as a query on April 16, so does the term 'Yuan Ming Yuan.' Similarly, on Google Trends, the Chinese query 'Notre Dame' shows the Yuan Ming Yuan Park as the number two related topic in its overview of the past week.
At time of writing, there are dozens of pages on Weibo filled with comments relating to the Notre Dame/Old Summer Palace comparison. We won't list many of them here, but some of the comments include reactions such as: "Now you can also experience how it feels when art and culture are burned," "I might have a narrow sense of patriotism, but seeing the Notre Dame burn makes me happy inside," and "even a hundred Notre Dames still don't make the Old Summer Palace," with many netizens claiming that the loss of the Old Summer Palace was just as bad, or rather worse, than the destruction of the Notre Dame.
These collective responses to the Notre Dame fire also drew much criticism. State media outlet CCTV published an article that condemned the comparison of the Notre Dame and the Old Summer Palace, stating that people "should not vent their emotions in the name of history" (Li Xuefei 2019).
Various other news channels also published critique, including one article titled "The Notre Dame fire as retribution for the burning of Yuanmingyuan? Please stop this inhumane line of reasoning" ("巴黎圣母院大火是烧圆明园的报应?快停下反人类思维").
As covered in our previous write-up, there were also many voices on Weibo denouncing the trend. One of them was Yan Feng (严锋), a professor at Fudan University, who posted:
"The Notre Dame cathedral was constructed in 1163, the Yuan Ming Yuan was destroyed in 1860. The people who burned the Yuan Ming Yuan were not the people who built the Notre Dame of Paris. They were separated by 700 years. The French feudal separatists were in no way French according to modern-day standards. Every injustice has its perpetrator and every debt its debtor, why should you let the Notre Dame bear the responsibility of burning down the Yuan Ming Yuan?"
"First of all, we are people, then we are Chinese," another popular comment said: "The loss of such a historical cultural gem is a loss for all mankind."
Collective Memories of Yuan Ming Yuan
In October of 1860, British and French troops sacked and burned the Old Summer Palace, which was once a massive complex consisting of more than a hundred buildings, pavilions, and scenic spots, built since the 17th century for the Qing emperors.
The event took place at the end of the Second Opium War. Unsatisfied with the Treaty of Nanjing and, among others, demanding more Chinese cities and ports to open for trade, the Anglo-French army invaded Beijing in 1860. They plundered the Yuan Ming Yuan, which was filled with books and art treasures. The burning came afterward, to destroy the evidence of their looting. The fire blazed for three days and three nights, leaving the enormous palace grounds in ruins (Chey 2009, 79).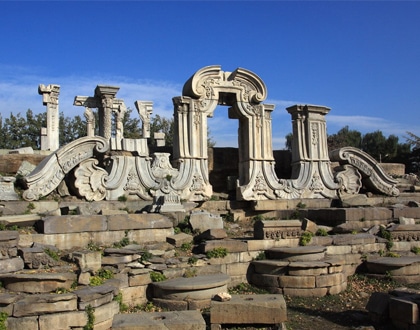 The site of the once magnificent Old Summer Palace is now the Yuanmingyuan Ruins Park, an initiative that was set up in the 1980s after decades of neglect. In "The Ruins of Yuanmingyuan," Haiyan Lee calls the site a "national wound" (2009). It is a symbolic space, where the ruins remind visitors of the injustice China once suffered at the hands of Western powers.
This injustice is an important incident in China's so-called "Century of Humiliation," the time from the mid-1800s to the mid-1900s during which China was attacked, weakened, and torn by foreign forces.
The "Century of Humiliation" still plays an important role in China today, as young people are also taught that this historical consciousness is important. The four character slogan "Wù wàng guóchǐ" (勿忘国耻), "Never forget national humiliation", is frequently repeated in Chinese media, museums, schools, documentaries, and in popular culture.
As described in the insightful work by Zheng Wang, Never Forget National Humiliation, the historical memory of China's era of humiliation has become part of Chinese national identity, promoted in official discourse, and often unconsciously yet profoundly influencing people's perceptions and actions. This is also what collective memory is: an accumulation of memory-forming processes that take place on both conscious and non-conscious levels (Koetse 2012, 10).
The Yuan Ming Yuan Park is a particularly significant cultural heritage site where the remembrance of the humiliations and injuries China suffered at the hands of foreign imperialists comes to life through the ruins (Lee 2008, 169).
Blazing Memories
Collective memory and nations are tied together in many ways, as historical memories serve as an important vehicle to unify the nation. They also play an important part in how people from different communities, societies, or nations will interpret big or important events that happen in the world today.
When certain news makes headlines, it is not uncommon for people to reflect on it speaking from their own experiences and the collective memory of their own nation or bigger community – especially when the place where it happens is far removed from them.
This is not unique to China. To grasp, process, and comment on faraway incidents, it is sometimes easier to relate it to something that is closer to you.
Former American first lady Michelle Obama visited Paris earlier this week for her book tour, and told the audience about how shocked she was about the Notre Dame blaze, briefly comparing the incident to the devastating American 9/11 attacks.* Does it make sense to compare the burning of the Notre Dame to the 9/11 attacks? Perhaps not. Yet Obama was not the only one to raise the 9/11 events; some on Twitter even called the burning of the Notre Dame "a cultural 9/11" disaster.
Seeing the overwhelming responses to the Notre Dame fire on Chinese social media, where so many people linked it to Chinese history, the reaction perhaps should not be whether these online responses and media discussions were either 'good' or 'bad' – instead, it is important to understand where they come from, and how people from various backgrounds, cultures, or religions, often use their own cultural or social frameworks, historical narratives, and dominating ideas to make sense of what is happening around them.
As the Notre Dame trend on Chinese social media shows, but what's beyond the scope of this article, is that the mechanisms of online nationalism and anti-foreign sentiments often also come into play once these memory-machines start running.
In the end, the Notre Dame fire actually has nothing to do with the history of the Old Summer Palace. But the news of the Notre Dame blaze was enough reason for many Chinese netizens to trigger and bring up this memory of Chinese suffering that still exists in the minds of the people today.
Instead of condemning that, or trivializing news reports on these trends, one could try to understand it, and then see it as a completely separate issue from the Notre Dame fire – as many people on Weibo also do.
By Manya Koetse
Recommended reading:
References
Fang Zhouzi 方舟子. 2019. "巴黎圣母院和圆明园有什么关系?" April 18, Fang Zhouzi / Self-Media WeChat link[4.18.19].
Koetse, Manya. 2012. "The 'Magic' of Memory. Chinese and Japanese Re-Remembrances of the Sino-Japanese War (1937-1945)." Research Master thesis, Leiden University.
Lee, Haiyuan. 2009. "The Ruins of Yuanmingyuan – Or, How to Enjoy a National Wound." Modern China 35 (2): 155-190.
Li Xuefei 李雪菲. 2019. "巴黎圣母院火灾怎能与火烧圆明园混为一谈 狭隘的民族主义可休矣." April 16, CCTV,Sina News https://finance.sina.com.cn/roll/2019-04-16/doc-ihvhiqax3118848.shtml [4.18.19].
Ong, Siew Chey. 2009. China Condensed: 5, 000 Years of History & Culture. Singapore: Marshall Cavendish International.
Weatherley, Robert D., and Ariane Rosen. 2013. "Fanning the Flames of Popular Nationalism: The Debate in China over the Burning of the Old Summer Palace." Asian perspective 37(1):53-76.
Zheng Wang. 2012. Never Forget National Humiliation: Historical Memory in Chinese Politics and Foreign Relations. New York: Columbia University Press.
* Segment on Michelle Obama in Paris from Dutch "Talkshow M" of April 17th, 36.00 min.
Spotted a mistake or want to add something? Please email us.
©2019 Whatsonweibo. All rights reserved. Do not reproduce our content without permission – you can contact us at info@whatsonweibo.com.
Pelosi in Taiwan: "1.4 Billion People Do Not Agree with Interference in China's Sovereignty Issues"
"The Old Witch has landed!", many commenters wrote on Weibo when Pelosi arrived in Taiwan.
August 2nd was a tumultuous day on Chinese social media, with millions of netizens closely following how Pelosi's plane landed in Taiwan. Chinese state media propagate the message that not only Chinese authorities condemn the move, but that the Chinese people denounce it just as much.
Pelosi's visit to Taiwan is all the talk on Weibo, where netizens are closely following the latest developments and what they might mean for the near future of Taiwan and Sino-American relations.
"Today is a sensitive time, as it is said that Pelosi will fly into Taiwan tonight, challenging the one-China principle," Global Times political commentator Hu Xijin wrote on Weibo on Tuesday afternoon, while Pelosi's plane was still en route:
"At this time I'd like to tell everyone, that I firmly believe the Chinese government will definitely take a series of countermeasures, which include military actions. The Ministry of National Defense and the Ministry of National Defense have repeatedly said they are "on the alert and combat-ready" and will not "sit and watch." This is the country's prestige, how could they not hit back? So let's wait and see what will happen next."
Tuesday was an extremely tumultuous day on Chinese social media as Taiwan- and Pelosi-related hashtags popped up one after the other, and news and videos kept flooding the platform, sometimes leading to a temporary overload of Weibo's servers.
Around 20.30, an hour before Pelosi was expected to land in Taiwan at that time, more than half of all the trending search topics on Weibo related to Pelosi and Taiwan as virtually everyone was following the plane's route and when it would land.
Not long before the expected landing of Pelosi's plane, footage circulated on Weibo showing the iconic Taipei 101 building with a display of greetings to Pelosi, welcoming her to Taiwan and thanking her for her support.
This video of this building in Taiwan projecting messages welcoming Pelosi and thanking her for support is circulating online right now (they say it's Taipei 101 but not sure if it really is). pic.twitter.com/Vid02Orkp1

— Manya Koetse (@manyapan) August 2, 2022
By Tuesday night, Chinese official channels promoted the hashtags "The United States Plays With Fire & Will Burn Itself by Taiwan Involvement Provocation" (#美台勾连挑衅玩火必自焚#) along with the hashtag "1.4 Billion People Do Not Agree with Interference in China's Sovereignty Issues" (​​#干涉中国主权问题14亿人不答应#).
Millions of Chinese netizens followed flight radar livestreams, with one livestream by China.org receiving over 70 million viewers at one point.
On Tuesday night at 22:44 local time, after taking a detour, Pelosi's plane finally landed in Taipei. About eight minutes later, Nancy Pelosi, wearing a pink suit, stepped out of the plane together with her delegation.
"The Old Witch has landed!", many commenters wrote on Weibo, where Nancy Pelosi has been nicknamed 'Old Witch' recently.
Not long after, Hu Xijin posted on both on Twitter (in English) and on Weibo (in Chinese), writing that Pelosi's landing in Taiwan opened an "era of high-intensity competition between China and US over Taiwan Strait." Hu wrote that the PLA is announcing a series of actions, including military drill operations and live-fire exercises in zones surrounding Taiwan from August 4 to 7.
Foreign Ministry spokesperson Hua Chunying (华春莹) also posted a series of tweets condemning the "wrong and dangerous path" the U.S. is allegedly heading down, reiterating the same '1.4 billion people do not agree' narrative that was previously propagated on Weibo by official channels: "Making themselves an enemy of the 1.4 billion Chinese people will not end up well. Acting like a bully in front of the whole world will only make everyone see that the US is the biggest danger to world peace."
Many netizens expressed frustrations over how seemingly easy it was for Pelosi to land in Taiwan despite repeated warnings. "It's not like I want us to go to war," one person wrote on Weibo: "But they are getting off too easy. For days we shouted about countermeasures, what kind of countermeasure is this?"
"Even our community guard who makes 1500 a month [$220] does a better job; if he says you can't come in, you can't come in," another blogger wrote.
The majority of commenters do express their dissatisfaction and anger about Pelosi coming to Taiwan, some even writing: "I hope that Taiwan is liberated when I wake up" or "We must unify again, once the Old Witch is gone, we can do so."
Passed midnight the hashtag "There Is But One China" (#只有一个中国#), initiated by CCTV, picked up on Weibo and received over 320 million views. The post by CCTV that only said "there is but one China" was forwarded on Weibo over 1,3 million times.
"Taiwan is China's Taiwan," many people commented.
"I don't think I can sleep tonight," some wrote.
Meanwhile, on FreeWeibo, a website monitoring censored posts on Chinese social media platform Weibo, there are some posts casting another light on the Taiwan issue.
"Regarding 'Taiwan is China's Taiwan.' Every person can vote, there's multi-party rule, and there can be democratic elections. Only then can we talk about a reunification," one comment said. It was censored shortly after.
For our other articles relating to Pelosi and her Taiwan visit, click here.
By Manya Koetse
With contributions by Miranda Barnes
Get the story behind the hashtag. Subscribe to What's on Weibo here to receive our weekly newsletter and get access to our latest articles:
Spotted a mistake or want to add something? Please let us know in comments below or email us. First-time commenters, please be patient – we will have to manually approve your comment before it appears.
©2022 Whatsonweibo. All rights reserved. Do not reproduce our content without permission – you can contact us at info@whatsonweibo.com.
Viral Bilibili Video Featuring Rural Carpenter: Disabled & Determined 'Uncle' Becomes Chinese Internet Sensation
Yige Caixiang's touching portrait of his disabled Uncle shows that it's not about the cards you're dealt but about how you play them.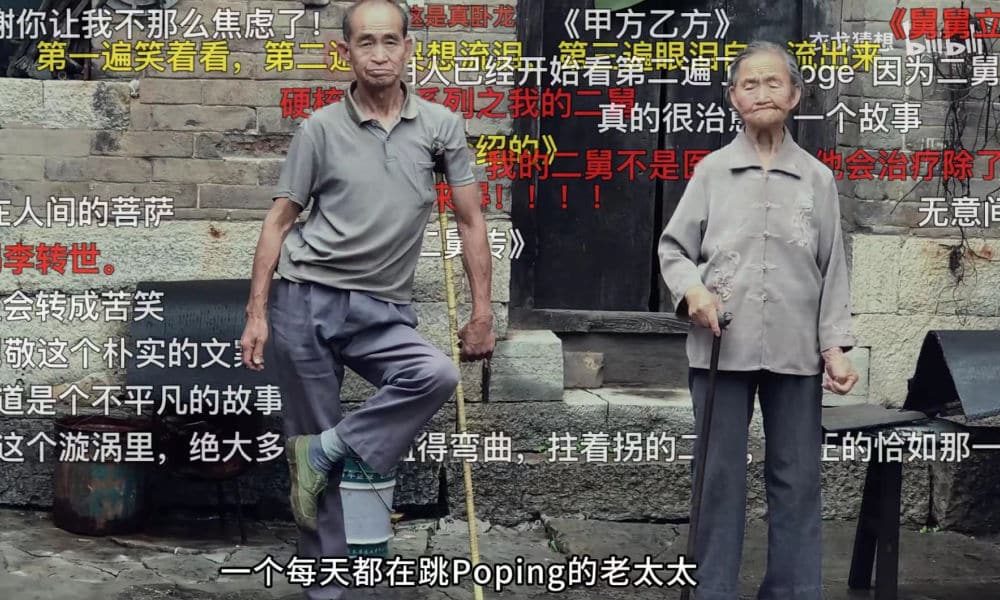 Chinese vlogger Yige Caixiang (衣戈猜想) posted a short film on Bilibili about his disabled uncle living in a poor rural area in China. This portrait of his resilient and resourceful 'Uncle' has touched the hearts of many netizens, and went viral overnight.
A video that was posted on the Chinese video platform Bilibili on Monday, July 25, has gone viral on social media for the inspiring story it tells about a resilient villager who became disabled as a teenager. The video was uploaded by vlogger 'Yige Caixiang' (@衣戈猜想) and received over ten million views in a day, becoming the number one video on the Bilibili platform.

"This is my uncle," the vlogger can be heard saying at the start of the 11:30-minute video, titled "How Uncle Cured My Mental Friction after Being Back in the Village for Three Days" (回村三天,二舅治好了我的精神内耗), introducing his old uncle and grandma standing in front of their home "built at a time when the U.S. didn't even exist yet."
While showing footage of family and village life, Yige Caixiang tells about his uncle through a voice-over, recording his own trip to his family's village by detailing the life of his mother's brother.
His uncle used to be the brightest kid in school, he tells, always getting top grades. One day, as a teenager, he got sick with a high fever. A doctor in a neighboring village 'treated' Uncle with various injections in his backside, after which Uncle could no longer use his leg and ended up being permanently disabled. Feeling depressed and hopeless, he did not return to school and spent weeks lying in bed. The village teachers were unable to convince him to come back to class.
After three years, Uncle stepped outside of the home courtyard for the first time with his crutches. He was inspired to become a carpenter after seeing one at work in the family courtyard, and so he also started doing the same work, and was able to make a living by going around and doing carpentry jobs for villagers. Never formally diagnosed, he was unable to get a disability certificate.
Wanting to visit Tiananmen Square's Mao memorial hall, Uncle traveled to Beijing one time and ended up staying with a cousin who worked in the military, doing carpentry work for the soldiers, with whom he soon became friends. A military chief even rubbed his back in the public bath house ("people in Beijing are good at rubbing backs," he'd later say).
But Uncle eventually returned to his village, and was able to attend his sisters' wedding send-offs and gave them complete furniture sets personally made by him – a rare possession to have for a young rural bride in the 1980s.
Besides taking care of his sisters, Uncle also took care of an abandoned village girl named Ning Ning, whom he adopted. By the time she got married, he was able to help the young couple with the down-payment for their new family home, for which he invested half of his life savings.

"It is only when they are near the end of their lives that people come to realize that the biggest regret in life is always regretting the past."

When Uncle was in his thirties, he became acquainted with a married lady from a nearby village. Although she had a husband and two daughters, she spent a lot of time with Uncle and even cooked and cleaned for him. Treating her as if she was his own wife, he handed over his weekly pay to her and was happy to have a bowl of rice and a warm house waiting for him after a hard day of work.
But as time went on, she never divorced her husband and other family members started seeing her as an intruder who was just out for his money to support her own family. The young Ning Ning even called her an "old fox."
The ending of this peculiar love story remains somewhat of a mystery up to this day, Yige Caixiang says. The woman and her husband passed away in a shed due to carbon monoxide poisoning. Uncle never spoke of it again and also never married another woman.
As the decades passed, Uncle took care of his aging mother while still doing carpentry work, often taking him with her around the area. Years before, he once encountered the doctor who tried to 'cure' him. If this had happened now, the doctor had said, I would've been sued and lost lots of money. But that never would have happened at that time, and it never happened later either.
Grandmother, at 88, is now struggling with her health and does not have the energy to go on living anymore. "In aging and sickness we find a necessary exercise between life and death," the vlogger reflects ("老病是生死之间的必要演习"), suggesting that the pain of growing old also makes it easier to be at peace when having to part with life.
By now, taking care of his old mother has become a full-time job for Uncle, who cooks for her and washes her face in the morning and bathes her feet at night. Besides that, he is also more than just a carpenter; he is the village handyman, repairing electronic devices, door locks, radios, stoves, and even fixing broken toys of the neighborhood children. When it is necessary, he can be an acupuncturist and a painter, too.
Whenever there is a problem, Uncle will find a way to solve it. There's just three things he can't repair, Yige Caixang says: smartphones, cars, and computers – because Uncle never owned any. Although the villagers sometimes jokingly call Uncle "crooked" because of his leg and crutches, they all know how much they care for him and how much the entire village depends on him.
In the final part of the 11-minute video, Yige Caixiang reflects on what life might have looked like for his Uncle if he had not received those injections in the 1970s. He probably would have taken the national exams, would have gone to study at university, and maybe would have become an engineer with a good income and secure financial future. But Uncle does not want to think like that. Refusing to look back, he is happy with his life in the village.
It is only when they are near the end of their lives that people come to realize that the biggest regret in life is always regretting the past, Yige Caixiang says. The main thing that matters in life is not the cards you were dealt, but how you play them. Uncle was dealt a bad card, but played it beautifully through his continuous self-improvement and perseverance.
In an old notebook underneath Uncle's bed, a line of text scribbled on the first page shows a Mao Zedong quote: "Be determined, fear no sacrifice, and surmount every difficulty to win victory" ("下定决心,不怕牺牲,排除万难,去争取胜利").

"Let Uncle quietly live together with grandma in the small mountain village – that is the most beautiful ending this story could have."

A day after it was posted, the resilient Uncle is a much-discussed topic on Chinese social media. The overall tone and setting of the video is so spirit-lifting and humbling, that it is not surprising for both netizens and state media outlets to jump on it, just as they did before with stories shared by Ding Zhen, Fan Yusu, or Zhong Jitao.
One hashtag for the short film – "How Uncle Cured My Mental Friction after Being Back in the Village for Three Days" #二舅治好了我的精神内耗# – received a staggering 630 million clicks by Tuesday. The hashtag "Why Did Uncle Blow Up Like That" (#二舅为什么突然火了#) received over 140 million views on Weibo.
The vlogger who made and posted the video is mostly known by his social media handle, Yige Caixiang (衣戈猜想). The maker himself did not release his own real name nor that of his Uncle. The vlogger apparently used to be an instructor, as multiple netizens claim that he was their previous history teacher.
Yige Caixiang is not a Bilibili newcomer. As a creator, he previously uploaded over thirty videos. They are mostly related to popular science and none of them have blown up like this one has.
After the video flooded the internet, Yige Caixiang responded to the hype on Tuesday and posted the following on Weibo:
"Hi Weibo friends, many of you messaged me after seeing Uncle's video, suggesting I'd let him go livestream on a big streaming site. Thanks to everyone for caring, but now that Uncle is getting some online attention, you want to persuade him to livestream to do what? Repeating his suffering like Xianglin's Wife (t/n: this is a reference to an old woman in one of Lu Xun's famous stories), then playing games with a bunch of people who don't know anything, kneeling and begging them for support, and then suddenly starting to talk them into buying tissue paper? Uncle seriously lived half of his life already, I shared his story now, you heard it and it touched you, this makes a beautiful little story, and it should have a beautiful ending. Didn't we see enough beautiful stories with a rotten ending over the past few years? Let Uncle quietly live together with grandma in the small mountain village – that is the most beautiful ending this story could have."
Addressing rumors that the video was not authentic, Yige Caixiang said about the video that "every single word is true" and that none of the details surrounding Uncle's life had been edited or altered in any way.
The video speaks to netizens for different reasons. Many are inspired due to the life lessons it contains regarding perseverance and not looking back on the things that might have been different. Others praise how Uncle was still able to save so much money for his daughter's down-payment on her new home despite struggling himself. Many just applaud Uncle's unparalleled strength despite their disability. Others appreciate the perspective the video gives on Chinese rural life.
There are also those who are concerned about enthusiastic netizens visiting Uncle in his sleepy hometown. Let's hope the creator's wish to let Uncle and his grandmother continue their quiet life together is the happy ending this viral story will get.
To view the video (no subtitles yet), state media outlet China Daily posted it to YouTube on Tuesday (embedded below):
By Manya Koetse
With contributions by Miranda Barnes
Get the story behind the hashtag. Subscribe to What's on Weibo here to receive our weekly newsletter and get access to our latest articles:
Spotted a mistake or want to add something? Please let us know in comments below or email us. First-time commenters, please be patient – we will have to manually approve your comment before it appears.
©2022 Whatsonweibo. All rights reserved. Do not reproduce our content without permission – you can contact us at info@whatsonweibo.com.