CCTV New Year's Gala 2017 Live Blog
It's time for the CCTV Gala 2017: the special annual evening variety show that captures millions of viewers on Chinese New Year's Eve.
The biggest live television event in the world is about to start. Spring Festival is here and that means it is time for the CCTV New Year's Gala 2017: the special annual evening variety show that captures millions of viewers on Chinese New Year's Eve. What's on Weibo provides you with the ins & outs of the 2017 Gala and its social media frenzy, with updates before, during and after the show. [Premium content]
Are you ready for the Year of the Rooster? Like every year, the start of Chinese New Year is celebrated with Chunwan, the CCTV Spring Festival Night Gala (中国中央电视台春节联欢晚会), better known as CCTV New Year's Gala.
With an average viewership of 700/800 million, or 90% audience share, the event is the world's most-watched TV show. The four-hour long spectacle, that starts at 8 pm Chinese time, is a both an entertainment show and propaganda platform – it features China's biggest stars and best performers while also including the current Party propaganda outlines.
Stay with us to watch the gala and to get to know its ins & outs (also see our liveblog of 2016).
Live stream of the Gala on Youtube and on CCTV Gala official website.
Liveblog (now closed) :
27/01 18:34
Are you ready?
A little over three hours to go before the start of the CCTV Spring Festival Gala (央视春晚), the variety show that will entertain families all over China in the last hours of the Year of the Monkey with an evening full of music and performances. This year is the 35th edition of the Spring Festival Gala, which has been broadcasted since 1983. With a viewership of 700 to 800 million people, is the world's most-watched TV show – bigger than the Oscars or the Super Bowl.
27/01 19:04
What to expect?
What can we expect at this year's show? Like last year, the show will be broadcasted from various places besides its main venue in Beijing's CCTV's No.1 Studio. In 2016, the Gala was aired from Quanzhou, Xi'an, Guangzhou and Hulun Buir.
This year, it will be aired from Harbin, Guilin, Shanghai and Liangshan. Every city has its own hosts, who often welcome the audiences in their own local dialect or language, with performances that are related to the region. Last year the spectacular performance of singer Sun Nan (孙楠) who danced with 540 moving robots reinforced the image of Guangdong as the home of China's tech startups.
27/01 18:49
The show people love to hate
Just one hour to go! The CCTV Gala will feature a total of 34 different acts tonight, including singing, dancing, and comedy, in a time frame of around 4 hours.
It is a tradition for families to gather around the TV to watch the Gala before the New Year comes at midnight. The Gala usually is as much about entertainment as it is about political propaganda, and it is somewhat of a tradition to comment on the show and complain about it; criticism on the Gala is actually so commonplace that the sentence "there'll never be a 'worst', just 'worse than last year'" ("央视春晚,没有最烂,只有更烂") has become a popular saying over the years.
Unsurprisingly, the show also drew much criticism in 2016 when some called the show a "propaganda disaster." According to many viewers, the spectacle was "way too political" with its display of communist nostalgia, including the performance of different revolutionary songs such as 'Without the Communist Party, There is No New China' (没有共产党就没有新中国)… we can probably expect the same complaints on Chinese social media tonight.
27/01 12:31
Tonight's hosts
This year, the main show of the CCTV Spring Festival Gala will be hosted by familiar faces: the presenters Zhu Jun (朱军), Dong Qing (董卿), Zhu Xun (朱迅) , Kang Hui (康辉) and Nëghmet Raxman.
The 52-year-old Chinese host and actor Zhu Jun is one of the most well-known CCTV faces. He has presented the CCTV New Year Gala since 1997. Dong Qing (43 years old) is also an annual host: she has hosted the Gala since 2005. Zhou Xun is a Chinese actress and singer, who will be on the show for the fifth time. Kang Hui is an influential CCTV news anchor and Nëghmet is a Chinese television host of Uyghur heritage.
Tonight there will be many stars appearing on the show, from kungfu star Jackie Chen to skit actor Pan Changjiang, Olympic star Fu Yuanhui, actress Yan Xuejing, comedian Jiang Kun, and many, many others.
27/01 12:44
The Mascot
It's almost time to start! In the meantime, a little update on the CCTV mascot. In 2015, the CCTV Gala introduced an annual new mascot for its New Year's Show. Last year's mascot Kang Kang drew so much controversy with its unconventional appearance, that CCTV decided to play it safe this year with a traditional Rooster. The rooster will reappear throughout the show in the Gala's logo. Besides this rooster there is also a more humorous one that appeared in the promotion video of the Gala.
27/01 19:09
Here We Go!
Here we go! This year's CCTV New Year's Gala first starts with intertextual references to all the past "hits" of the gala, which has been aired since 1983. This opening act is a much-anticipated one, as the very popular boy group the TFBoys are performing together with beautiful Chinese actresses Liu Tao, Jiang Xin, Wang Ziwen, Yang Zi and Qiao Xin.
They are performing the song "Beautiful China Year" (美丽中国年).
The TFBoys have been very successful in China over the past years. They also appeared at last year's Gala, and recently won the Weibo Awards for being the most popular on Chinese social media, for which they received nearly 63 million votes. Their performance here tonight might make it more appealing for younger audiences to watch the New Year's Gala, which generally has a somewhat stuffy image.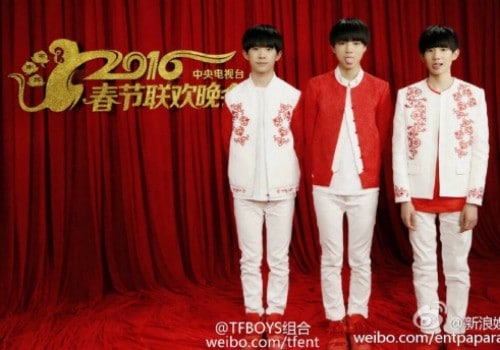 27/01 13:28
Theme: National Unity
Tonight's hosts have welcomed us to this year's Spring Gala and are introducing us to the other sub-venues from Harbin to Guilin, from Shanghai to Hong Kong. All the while the various ethnicities of China are emphasized. An important theme of this year (and previous years) is national unity, traditional culture and family affection. Previous year there was a special emphasis on the "Chinese Dream."
27/01 13:32
First Sketch
During tonight's show there will be various performances, of which nine will be comical sketches. After we have just witnessed dozens of chickens dancing in a somewhat hysterical performance by the "Air Force BLue Sky Children's Art Troupe", it is now time for a comical sketch. These sketches often contain some political messages; previous year there was a special emphasis on corrupt officials.
This sketch called "Big City, Little Love" is performed by Liu Liang, Bai Ge and Guo Jinjie. It is about a young man, a migrant worker, who lied to his wife saying he has gone to work in the city where he had a "high position." In fact, he is a window cleaner for high buildings.
27/01 13:40
"In This Moment"
This is the older song "In this moment" (在此刻) performed by singers Hu Ge and Wang Kai (胡歌, 王凯). (Watch the show live here https://youtu.be/8Tnna8odMvA).
27/01 13:52
"Older Couple"
This second sketch of tonight has some big stars. Cai Ming (蔡明) is a singer, actress, and sketch performer notable for performing sketch comedy in CCTV New Year's Gala since 1991 – she is known for her sharp language. Pan Changjiang also is a Chinese skit actor and sitcom actor. In his early years, he appeared regularly in the CCTV New Year's Gala.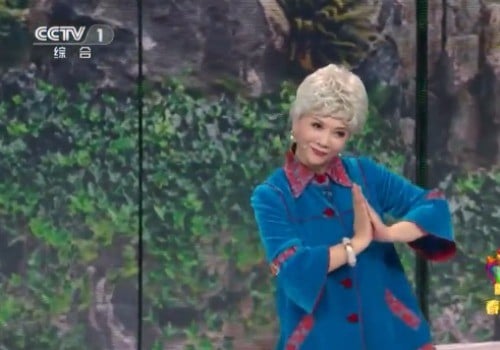 This sketch is called "Older Couple" and is about a man who forgot what his wife looked like until Cai comes along and pretends to be his wife. In the end it turns out that it is not him, but her who lost her memory. When she remembers – in a The Notebook kind of scene – the couple falls into each other's arms.
27/01 13:59
Over to Liangshan
We are now moving over from Beijing's studio to the venue in Liangshan (凉山), Sichuan province. We first see the dance 'fire of celebration', followed by a song titled "Deep Feelings, Long Friendship" (情深谊长). The Chinese singer performing here is named Jike Junyi or simply 'Summer'. She is a 28-year-old singer who was born and raised in Liangshan. She is wearing traditional Yizu (彝族) minority clothing and sings about the Long March.
Summer's performance is followed by a catchy tune by singers Li Keqin and Cai Zuoyan, who sing with some Sichuanese touch to it. The fire torches in the background are also an Yi minority tradition.
27/01 14:11
Crosstalk
We're back in Beijing for this crosstalk (相声) scene by Gao Xiaopan and You Xiancha (高晓攀、尤宪超). Different from the other sketches (小品), crosstalk usually involves two actors with one being the "joker" and the other being the "teaser".
Other than the other sketches, crosstalk is about word jokes and playing with rhythm and language. This particular scene is about two men looking back on their childhood, and the nostalgic things about being brought up by their grandmother. This scene, that represents some sort of collective memory, will be especially appealing to China's post-1980s generations who were often raised by their grandparents. Apart from national unity and traditional culture, family affection is one of this year's themes for the Spring Festival Gala. It touches a sensitive nerve for many, as it makes them think back of their own grandmother.
27/01 14:17
Wow, Li Yanchao
The next performance is a pretty stunning underwater-kind-of-scene with Chinese dancer Li Yanchao (李艳超) stealing the show. The female host says: "Let's express the hope that in the new year, there will be more patches of grass under our feet, and more blue sky above our head."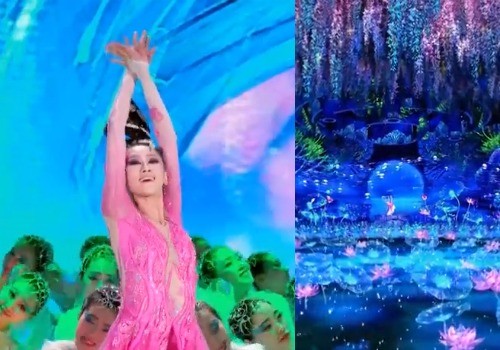 27/01 14:32
The Match-Making Show
This funny sketch imitates one of China's most popular dating shows If You Are The One 非诚勿扰. They get succesfully matched, but then it turns out that they are actually a divorced couple. This is the 3rd of a total of 6 comical sketches that will be performed tonight.
The main conflict of this sketch is that the woman wants her husband's attention, while he thinks making money is more important than being his wife's side – a common conflict in middle-aged families in China today. Since tonight's theme is family affection, the sketch ofcourse has a happy end with both husband and wife expressing their love for each other.
27/01 14:31
Is this show really live?
Is this really live? Yes it is. But although the Gala is a live broadcast from CCTV's No.1 Studio, and its other venues across China, every year's show has a taped version of the full dress rehearsal. The tape of the official rehearsal runs together with the live broadcast, so that in the event of a problem or disruption, the producers can seamlessly switch to the taped version without TV audiences noticing anything.
27/01 19:53
Two stars, different generations
Here are are teen idol Jason Zhang (张杰) and Mao Amin, one of China's most famous and female pop stars of the mid-1990s. You might notice that Mao Amin's voice is much firmer and fuller than Zhang Jie's. In Mao Amin's generation, most singer got popular because of their skills, not for their looks..
The set of this song is so extravagant and spectacular, that some netizens think that this year's CCTV gala director, Yang Dongsheng, must be a big fan of Avatar the Movie.
27/01 14:48
Here's Guilin!
We're now moving from Beijing to Guilin in Guangxi. The event is performed near Guilin's famous Elephant Trunk Hill, where various Taiwan and Hongkong singers are invited to sing folk songs. The first song is a well-known traditional Chinese song: the Mountain Song from the famous Chinese movie Third Sister Liu 刘三姐. The scene here seems to include fragments of Zhang Yimou's Impressions Liu San Jie show.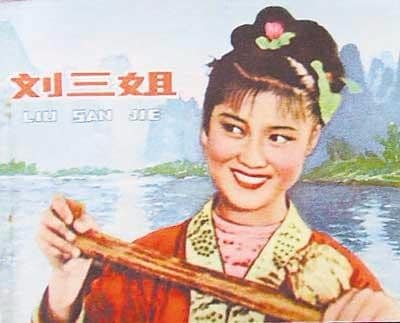 27/01 14:58
Nostalgia
This year's CCTV Gala is looking back on previous years. This is the 35th year the Gala is broadcasted, and this edition started with a look back on top hits over the past three decades. This sketch also reflects on the past of the Gala, as the actors have previously performed a sketch here in 1987. Its message is that the society today is not the same as the society of 30 years ago. It reflects on how many people are bystanders, and that few people are helping each other out.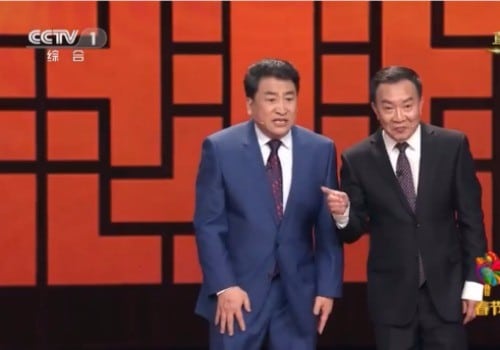 27/01 15:04
Heroes of the Red Army
Time to honour some communist heroes – a recurring part of the CCTV New Year Gala. One of the elderlies honored here is aged 104 was around 22 years old during the Long March.
27/01 15:11
Propaganda Platform?
The Communist and military songs of last year's Gala annoyed many netizens, who thought the Gala was merely a propaganda platform rather than a variety show. But it is a recurring part in virtually every show.
27/01 15:16
Hashtag #CCTVGALA
On Weibo, the views and comments on the hashtag #CCTVGala (#春晚#) have by now exploded, with over 13 billion views and 52 million comments.
One popular post is that from a netizen who tells she was watching the Gala and the TFBoys with her grandma on an old TV set when her grandmother asked: "Is that boy on the left not feeling well?"
27/01 15:22
Family First
It is clear that family affection is one of this year's main topics, as all sketches revolve around family relations. This sketch deals with the relationship between children and parents in law. Instead of talking about the well-known daughter and mother in law conflicts, it talks about the relations between son and father in law. Although the father does not like his son in law, the young man is really trying to help him either way.
27/01 15:28
90 Minutes to go!
There's still 90 minutes to go before the New Year! Main themes of the night up to now: national unity (dancing minorities!) and family affection (marriage and family harmony!).
We have already seen Liangshan and Guilin subvenues, and will still see performances from the venues in Shanghai and Harbin in the coming 1,5 hours.
Meanwhile, Weibo netizens are wondering why the actress from a sketch earlier tonight, the renowned Cai Ming, was copying Elsa from Frozen.
27/01 15:35
Chinese Opera
This is a compilation of songs, such as "One Generation to Another" (薪火相传), by various Chinese Opera performers and troupes.
27/01 19:19
Look at China
This song titled "Look at the mountains, look at the water, look at China" (看山看水看中国) by Lu Jihong and Zhang Ye (吕继宏, 张也) is an ode to China's different landscapes. It is accompanied by a clip that shows different places in China, from the nature in the south to the big cities in the north.
27/01 16:31
Minority Sketch
This sketch called "A Tianshan Situation" (天山情) focuses on the people of the mountainous area on the border between Xinjiang and Mongolia. The act is mostly spoken in north-eastern dialect, with a slight Shanghai dialect. The sketch is about a train track project in their region that has shocked the cows due the noise, affecting their milk production. When all goes well in the narrative, the Uyghur people finally thank the Chinese Han people for saving their life and everything they have done and for saving their lives – perhaps a somewhat controversial angle…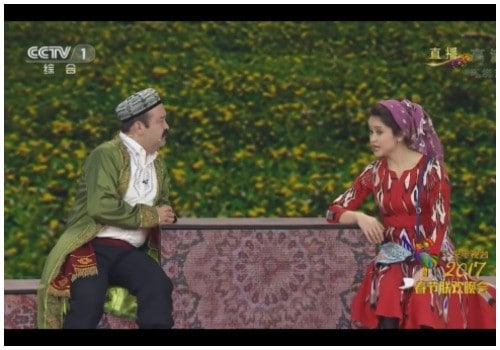 27/01 16:05
Switching to Harbin
One of today's subvenues is Harbin, in northern province of Heilongjiang, home to the famous Harbin Ice World. The park has dozens of enormous buildings and sculptures completely made from ice. The city is currently about -20 celcius; perfect weather for acrobatics on ice!
27/01 16:09
These are the Champions
The National Martial Arts team has arrived to the stage. These are all China's top martial art champions. More than 60 of them, both men and women, are performing together here tonight.
27/01 16:11
Public Announcement
Every year's CCTV Gala has a "public advertisement" (公益广告) , a movie that is often emblematic of the morals or the guidelines the Party leadership wants to emphasize for the Chinese New Year. With an audience of 700 to 800 people, the show is the perfect propaganda platform.
27/01 19:35
Dancing Pineapples
Yes. We are now watching dancing pineapples and watermelons. Always when you think it cannot get worse, it always does – as many netizens say. This is a song that encourages people to do sports and eat healthy; one of this year's themes is also to promote good (mental and physical) health.
27/01 19:17
Trusting people
In one the night's last comical sketches called 'Trust' (信任), we see famous comedian Lin Yongjian in a narrative about trusting people. On New Year's Eve, a taxi customer wants to go upstairs to pick something up – but the taxi driver is afraid they will walk off. The customer is also afraid the driver will drive off. It is during this sketch that Olympic swimmer Fu Yuanhui, one of the most popular social media figures of 2016, pops up for a short role. She performs some tongue twisting sentences in Anhui dialect.
27/01 16:39
Honouring the Astronauts
Time to honour 11 Chinese astronauts.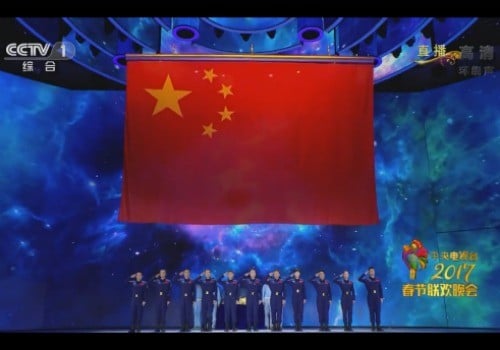 27/01 19:14
Here's Jackie Chan! But what on earth is he doing?
In this song that is simply titled "Country" (国家), Jackie Chan steps out with students from Peking University to sing about his love for China ("I love my home") while doing a dance that entails what looks like sign language. Perhaps not really what you would expect the "kungfu master" to do.
28/01 09:23
Shanghai Dream City
Now over to Shanghai for a song by Chinese singers Coco Lee and JJ Lin about "Dream City" Shanghai. We see a futuristic scene with motors going round in a big metal round set-up in front of the iconic Pearl Tower. It is one of the most spectacular scenes of the night, comparable to that of the dancing robots in 2016.
27/01 16:56
Almost time!
It is almost time for the 12 o'clock moment! Just before we will hear a song by singers Han Lei and Tan Weiwei with what looks like a somewhat cringeworthy company of farmers, migrant workers, hospital staff and soldiers to represent "all the Chinese people."
27/01 17:01
HAPPY NEW YEAR!
The hosts of tonight's Gala are wishing everybody a happy Chinese New Year. And of course we at What's on Weibo are also wishing you a happy Year of the Rooster.
27/01 19:11
"Mother China"
Just immediately after the New Year countdown, here comes a song called "Mother China" (母亲是中华).
27/01 17:11
Interlude
A little interlude clip shows Chinese abroad singing about the "Chinese feeling" (中国心). The CCTV festival is watched by millions of Chinese within the PRC, but there is also a huge viewership outside of China.
27/01 17:19
The last sketch of the night stresses national unity
The last sketch of the night is a typically southern sketch, set during the peak of the G20 Summit in Hangzhou. The story takes place in a community park, where the four protagonists have a misunderstanding. The narrative focuses on people's good morals, and is full of Jiangsu and Zhejiang dialect.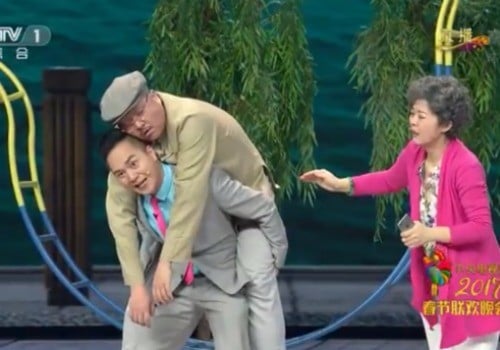 This sketch, like the one of the "Tianshan Mountains" and the story of the Uighur herdsmen, again shows the theme of national unity.
27/01 18:16
More Family Love
"Leave the Grasslands" (离别草原) is sung by famous singer Yun Fei and the female singer Yun Duo. It is followed by another short film that stresses family affinity.
27/01 17:34
"Stop!"
In one of the last acts of the night with a foreign acrobat, the hosts speak some very clearly pronounced English sentences: "Here are the flowers!" and "Stop!" In a game where a Chinese and a foreign acrobat compete to collect as many flowers within 60 seconds, the Chinese woman wins with 16 flowers versus 15 of the foreign acrobat.
27/01 19:13
Dancing Troupe
Chinese singer Wu Tong sings the song "Deep Feelings" (一片深情) accompanied by a group of male dancers.
27/01 17:48
Unforgettable Night
The last songs of this night are "Magnificent Journey" (壮丽航程, by Yan Weiwen and Yin Xiumei) and "Unforgettable Night" (难忘今宵). The latter is sung by the 72-year-old singer and dancer Li Guyi and the 64-year-old mezzo-soprano singer Guan Mucun. Li Guyi sings the same song every year at the end of this show.
During these songs, the screen behind the dancers show images of the G20, new glass bridges, windmills, and all kinds of big projects that have been established or organized in China over the past year.
The last song ends with all performers of the Beijing venue on stage. The hosts wish everyone a happy newyear. "See you next year!", they say.
27/01 19:10
Trending after the Gala: "Brother Smile"
Directly after the ending of the CCTV Gala, many Weibo netizens are talking about one person in the audience as observant viewers have spotted the very same man in the audience of the CCTV Gala every year since 1999. The man, who is now nicknamed 'CCTV Gala Brother Smile' (#春晚笑脸哥#), was again spotted in the audience tonight.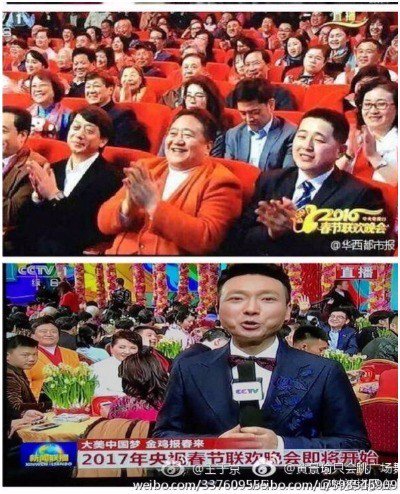 The man has gone viral over Chinese social media now. Many netizens are extremely curious about the man, wondering how he came to sit from the back of the audience to the front crowd throughout the years. Some also compliment him for not having changed much over the past 18 years.
27/01 18:13
That's a Wrap!
This liveblog will be closing now. We hope you enjoyed the night!
– By Manya Koetse
Follow on Twitter or Like on Facebook
What's on Weibo is an independent blog. Want to donate? You can do so here.
Sources on Chunwan
Kang, Liu. 2010. "Searching for a New Cultural Identity: China's soft power and media culture today." In Suijian Guo and Baogang Guo (eds), Thirty Years of China-U.S. Relations: Analytical Approaches and Contemporary Issues, 197-253. Lanham: Rowman & Littlefield Publishers.
Scocca, Tom. 2011. Beijing Welcomes You: Unveiling the Capital City of the Future. New York: Riverhead Books.
Wang Ge. 2015. "Popular Spring Festival Gala language: Sociocultural Observations." In Linda Tsung and Wei Wang, Contemporary Chinese Discourse and Social Practice in China, 185-200. Amsterdam/Philadelpia: John Benjamins Publishing Company.
Ying Zhu. 2012. Two Billion Eyes: The Story of China Central Television. New York: The New Press.
©2016 Whatsonweibo. All rights reserved. Do not reproduce our content without permission – you can contact us at info@whatsonweibo.com.
Rock 'n' Troll Chaos: The Controversy Surrounding Thefts at China's Central Midi Festival
A theft scandal rocked China's Midi Festival, which took place in Nanyang this week. Midi, however, blames online trolls for hyping the case.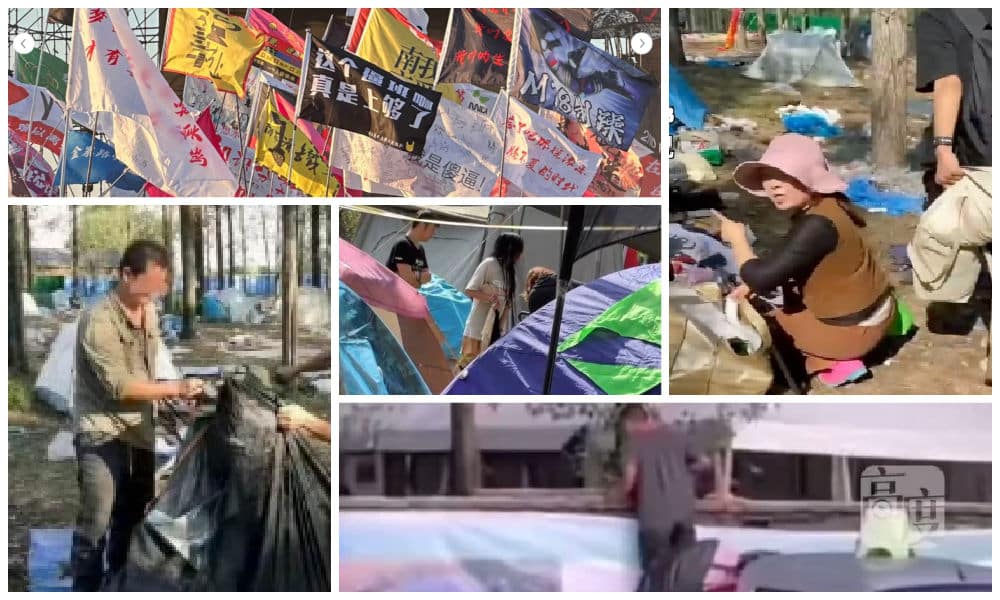 What was supposed to be celebration of music, mud, and Midi freedom turned into a controversy that captured widespread attention on Chinese social media this week, as reports of looting surfaced online. As online discussions continue, people do not agree on who is to blame for the incident and the widespread attention for it.
The city of Nanyang in Henan has been all the talk on Chinese social media over the past few days due to large amounts of personal belongings getting stolen during the Central Midi Festival (中原迷笛音乐节).
The Midi Festival, founded by the Beijing Midi School of Music, is among China's largest and most influential rock music festivals. Midi has been around for some thirty years, with variations in themes and taking place in different locations.
The most recent edition was held in Nanyang from September 29 to October 2nd. It drew approximately 150,000 visitors who flocked to Henan to have a good time, enjoy the music, dance in the mud, and stay at the camp site throughout the multi-day festival.
The local government had hoped that hosting the festival would help promote the city and make it more popular among young people. To create a positive impression, the entire city, including a remarkable 40,000 volunteers, local authorities, hotels, and transportation companies, dedicated their efforts to ensure the success of the Midi Festival. The mayor even personally welcomed festival-goers at the train station.

Free-for-all Festival

However, it seems that some locals had different intentions. They watched the festivities from behind the fences, and then started coming in and entering the camp sites. When they found unattended tents, as the owners were enjoying the music, they started stealing items from inside.
What began as isolated incidents soon escalated. More people joined in, more items were stolen, and the thieves grew bolder, sometimes even stealing from tents while their owners were present and trying to stop them.
There's a video circulating showing an older lady rummaging through a festivalgoer's tent while he filmed the scene. The lady casually stated, "I'll take your camp light, dear," and informed him of her theft.
Even sponsors and official vendors at the festival site fell victim to theft, as people entered their areas and stole their products and merchandise to resell later. There were reports of chairs and cables being stolen – essential items for a smooth-running festival.
Although security guards and police did intervene when the looting began, they allegedly just sent the thieves away at first without apprehending them. Some festivalgoers claimed to have lost personal items valued at over 10,000 RMB ($1,388).
By now, as the incident has gained national attention via social media, the case is being thorougly researched. The local police have received a total of 73 reports and they have confirmed 65 cases of theft. Some of the thieves have been arrested, and some of the stolen items have been recovered.

It Started with a Rumor

How could the festival looting get so out of control? According to local authorities in Nanyang, the incident began when a short video platform user known as "Wuyu" (无语) posted a video on October 2nd, falsely claiming that all the tents at the festival were available for taking as the event had ended and the premises needed to be cleared.
This rumor soon widely circulated, and prompted nearby villagers to come to the site to see what they could get.
The person behind the "Wuyu" account, identified as Chen Feng (陈峰), has since been identified and was taken into custody by the police.
On October 5, the Midi Festival released a statement on Weibo, reassuring the public that the festival and the local government are working together to try their best and recover all stolen items.
Midi also lashed out against online 'trolls' who were hyping up the situation at Midi to smear the festival and the city's reputation. The festival condemned both the small group of thieves and the larger group of online trolls.

Provincial Prejudice

The controversy has generated a lot of anger, not just among visitors and the festival organization staff, but also among local Nanyang authorities who had invested considerable effort into making the festival a success.
The incident has cast a shadow over Midi. In an online poll conducted by Fengmian Redian (@封面热点), a majority of respondents indicated that they would not want to attend the festival after this happened, expressing their disappointment over the looting.
The controversy also reflects badly on Henan, where people already face provincial prejudice. Henan is often characterized as a poor and unrefined province, associated with phone scammers or people who would even steal manhole covers to sell them for scrap metal, causing dangerous situations.
The Midi Festival controversy has perpetuated these stereotypes about the people of Henan, much to the dismay of local residents who have been actively working to challenge and dispel public biases against the province.

Rock 'n' Roll Chaos

While many Weibo users come to Nanyang's defense, there are also those who stress that the local authorities should have taken more steps to improve security around the festival site.
Others, however, do not agree. They argue that the Midi Festival, in Woodstock style, is about chaos, rock 'n' roll, and freedom. They think that the festival should not be overly controlled and that people should not blame the organization or local governments for not looking after their stuff.
Festival attendees and dedicated rock music enthusiasts argue that Midi, Nanyang, and the Chinese fans and musicians turned the festival into a great success.
They suggest that the theft incident should not be attributed to them nor reflect badly on China's thriving music scene; it was simply the result of immoral behavior from a few individuals who failed to grasp the spirit of the event.
Meanwhile, the entire incident has not just triggered anger; it has also become a source of banter and online jokes.
Some Henan natives are not exactly helping to promote their home province. One widely-shared comment referred to the Henan bank protests, stating: "If even the money we deposit in the bank can disappear, it's no surprise that things can go missing at a music festival."
By Manya Koetse and Miranda Barnes
with contributions by Miranda Barnes
Get the story behind the hashtag. Subscribe to What's on Weibo here to receive our newsletter and get access to our latest articles:
Spotted a mistake or want to add something? Please let us know in comments below or email us. First-time commenters, please be patient – we will have to manually approve your comment before it appears.
©2023 Whatsonweibo. All rights reserved. Do not reproduce our content without permission – you can contact us at info@whatsonweibo.com.
Three Reasons Why Lipstick King's 'Eyebrow Pencil Gate' Has Blown Up
From beauty guru to betrayal: why one livestream moment is shaking China's internet.
PREMIUM CONTENT
Li Jiaqi, also known as Austin Li the 'Lipstick King,' has become the focus of intense media attention in China over the past days.
The controversy began when the popular beauty influencer responded with apparent annoyance to a viewer's comment about the high price of an eyebrow pencil. As a result, his fans began unfollowing him, netizens started scolding him, Chinese state criticized him, and the memes started flooding in.
Li Jiaqi's tearful apology did not fix anything.
We reported about the incident here shortly after it went trending, and you can see the translated video of the moment here:
China's famous make-up influencer #LiJiaqi is in hot water due to an e-commerce livestream he did on Sunday. When viewers complained about an eyebrow pencil being too expensive (79 RMB/$10.9), he got annoyed, insisting that the product was not expensive at all. Translated video: pic.twitter.com/JDKGMKovDX

— Manya Koetse (@manyapan) September 11, 2023
The incident may seem minor at first glance. Li was merely promoting Florasis brand (花西子) eyebrow pencils, and some viewers expressed their opinion that the pencils, priced at 79 yuan ($11), had become more expensive.
In response, Li displayed irritation, questioning, "Expensive how?" He went on to suggest that viewers should also reflect on their own efforts and whether they were working hard enough to get a salary increase.
But there is more to this incident than just an $11 pencil and an unsympathetic response.
#1 The King Who Forgot the People Who Crowned Him
The initial reaction of netizens to Li Jiaqi's remarks during the September 10th livestream was characterized by a strong sense of anger and disappointment.
Although celebrities often face scrutiny when displaying signs of arrogance after their rise to fame, the position of Li Jiaqi in the wanghong (internet celebrity) scene has been especially unique. He initially worked as a beauty consultant for L'Oreal within a shopping mall before embarking on his livestreaming career through Alibaba's Taobao platform.
In a time when consumers have access to thousands of makeup products across various price ranges, Li Jiaqi established himself as a trusted cosmetics expert. People relied on his expertise to recommend the right products at the right prices, and his practice of personally applying and showcasing various lipstick colors made him all the more popular. He soon garnered millions of online fans who started calling him the Lipstick King.
By 2018, he had already amassed a significant fortune of 10 million yuan ($1.53 million). Fast forward three years, and his wealth had ballooned to an astonishing 18.5 billion yuan ($2.5 billion).
Despite his growing wealth, Li continued to enjoy the support of his fans, who appreciated his honest assessments of products during live testing sessions. He was known for candidly informing viewers when a product wasn't worth buying, and the story of his humble beginnings as a shop assistant played a major role in why people trusted him and wanted him to succeed.
However, his recent change in tone, where he no longer seemed considerate of viewers who might find an $11 brow pencil to be expensive, suggests that he may have lost touch with his own customer base. Some individuals perceive this shift as a form of actual "betrayal" (背叛), as if a close friend has turned their back on them.
One cartoon shared on social media shows Li Jiaqi, with mouse ears, as he initially begs his online viewers for money. However, as he becomes more prosperous, the cartoon portrays him gradually growing arrogant and eventually scolding those who helped him rise to fame.
Many people accuse Li of being insincere, suggesting that he revealed his true colors during that short livestream moment. This is also one of the reasons why most commenters say they do not believe his tears during his apology video.
"He betrayed China's working class," one popular vlog suggested.
#2 Internet Celebrity Crossing the Lines
Another reason why the incident involving Li Jiaqi is causing such a storm is related to the media context in which Chinese (internet) celebrities operate and what is expected of them.
Whether you are an actor, singer, comedian, or a famous livestreamer/e-commerce influencer, Chinese celebrities and performers are seen as fulfilling an exemplary role in society, serving the people and the nation (Jeffrey & Xu 2023). This is why, as explained in the 2019 research report by Jonathan Sullivan and Séagh Kehoe, moral components play such a significant role in Chinese celebrity culture.
In today's age of social media, the role of celebrities in society has evolved to become even more significant as they have a vast reach and profound influence that extends to countless people and industries.
Their powerful influence makes celebrities important tools for authorities to convey messages that align with their goals – and definitely not contradict them. Through the media and cultural industries, the state can exert a certain level of control within the symbolic economy in which celebrities operate, as discussed by Sullivan and Kehoe in their 2019 work (p. 242).
This control over celebrities' actions became particularly evident in the case of Li Jiaqi in 2022, following the 'cake tank incident' (坦克蛋糕事件). This incident unfolded during one of his livestreams when Li Jiaqi and his co-host introduced a chocolate cake in the shape of a tank, with an assistant in the back mentioning something about the sound of shooting coming from a tank ("坦克突突"). This livestream took place on June 3rd, on the night before the 33rd anniversary of the crackdown on the Tiananmen protests.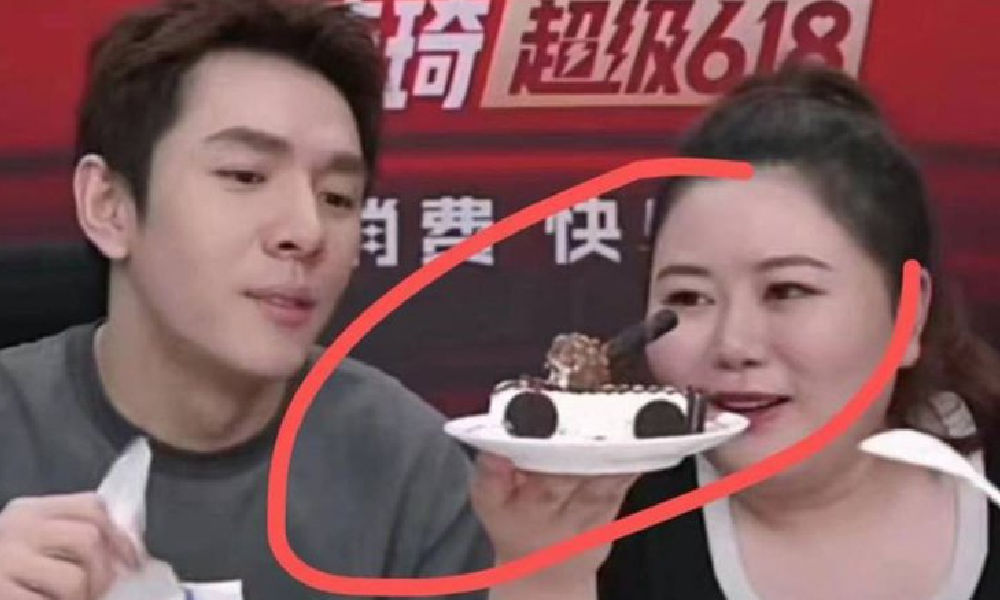 While Li Jiaqi did not directly touch upon a politically sensitive issue with his controversial livestream, his actions were perceived as a disregard for customer loyalty and displayed an arrogance inconsistent with socialist core values. This behavior garnered criticism in a recent post by the state media outlet CCTV.
Other state media outlets and official channels have joined in responding to the issue, amplifying the narrative of a conflict between the 'common people' and the 'arrogant influencer.'
#3 Striking a Wrong Chord in Challenging Times
Lastly, Li Jiaqi's controversial livestream moment also became especially big due to the specific words he said about people needing to reflect on their own work efforts if they cannot afford a $11 eyebrow pencil.
Various online discussions and some media, including CNN, are tying the backlash to young unemployment, tepid consumer spending, and the ongoing economic challenges faced by workers in China.
Since recent years, the term nèijuǎn ('involution', 内卷) has gained prominence when discussing the frustrations experienced by many young people in China. It serves as a concept to explain the social dynamics of China's growing middle class who often find themselves stuck in a "rat race"; a highly competitive education and work environment, where everyone is continually intensifying their efforts to outperform one another, leading to this catch 22 situation where everyone appears to be caught in an unending cycle of exertion without substantial progress (read more here).
Weibo commenters note that, given China's current employment situation and wage levels, hard work is not necessarily awarded with higher income. This context makes Li Jiaqi's comments seem even more unnecessary and disconnected from the realities faced by his customers. One Shanghai surgeon responded to Li's comments, saying that the fact that his salary has not increased over the last few year certainly is not because he is not working hard enough (#上海胸外科医生回应李佳琦言论#).
Some observers also recognize that Li, as an e-commerce professional, is, in a way, trapped in the same cycle of "inversion" where brands are continuously driving prices down to such low levels that consumers perceive it as the new normal. However, this pricing strategy may not be sustainable in the long run. (Ironically, some brands currently profiting from the controversy by promoting their own 79 yuan deals, suggesting their deal is much better than Li's. Among them is the domestic brand Bee & Flower 蜂花, which is offering special skin care products sets for 79 yuan in light of the controversy.)
Many discussions therefore also revolve around the question of whether 79 yuan or $11 can be considered expensive for an eyebrow pencil, and opinions are divided. Some argue that people pay much more for skincare products, while others point out that if you were to weigh the actual quantity of pencil color, its price would surpass that of gold.
The incident has sparked discussions about the significance of 79 yuan in today's times, under the hashtag "What is 79 yuan to normal people" (#79元对于普通人来说意味着什么#).
People have shared their perspectives, highlighting what this amount means in their daily lives. For some, it represents an entire day's worth of home-cooked meals for a family. It exceeds the daily wages of certain workers, like street cleaners. Others equate it to the cost of 15 office lunches.
Amid all these discussions, it also becomes clear that many people are trying to live a frugal live in a time when their wages are not increasing, and that Li's comments are just one reason to vent their frustrations about the situation they are in, In those regards, Li's remarks really come at a wrong time, especially coming from a billionaire.
Will Li be able to continue his career after this?
Some are suggesting that it is time for Li to take some rest, speculating that Li's behavior might stem from burn-out and mental issues. Others think that Li's hardcore fans will remain loyal to their e-commerce idol.
For now, Li Jiaqi must tread carefully. He has already lost 1.3 million followers on his Weibo account. What's even more challenging than regaining those one million followers is rebuilding the trust of his viewers.
Update: On September 19, the Florasis/Huaxizi brand finally apologized for its late response to the controversy, and the brand stated that the controversy provided an opportunity for them to listen to "the voice of their consumers." Their decision to release a statement seemed fruitful: they gained 20,000 new followers in a night.
By Manya Koetse
with contributions by Miranda Barnes
Jeffreys, Elaine, and Jian Xu. 2023. "Governing China's Celebrities." Australian Institute of International Affairs, 18 May https://www.internationalaffairs.org.au/australianoutlook/governing-chinas-celebrities/ [12 Sep 2023].
Sullivan, Jonathan, and Séagh Kehoe. 2019. "Truth, Good and Beauty: The Politics of Celebrity in China." The China Quarterly 237 (March): 241–256.
Spotted a mistake or want to add something? Please let us know in comments below or email us. First-time commenters, please be patient – we will have to manually approve your comment before it appears.
©2023 Whatsonweibo. All rights reserved. Do not reproduce our content without permission – you can contact us at info@whatsonweibo.com.
Subscribe to our newsletter
Stay updated on what's trending in China & get the story behind the hashtag
Sign up here to become a premium member of What's on Weibo today and gain access to all of our latest and premium content, as well as receive our exclusive Weibo Watch newsletter. If you prefer to only receive our free newsletter with an overview of the latest articles, you can subscribe for free here.
Would you like to become a contributor, or do you have any tips or suggestions for us? Get in touch with us here.