CCTV New Year's Gala 2017 Live Blog
It's time for the CCTV Gala 2017: the special annual evening variety show that captures millions of viewers on Chinese New Year's Eve.
The biggest live television event in the world is about to start. Spring Festival is here and that means it is time for the CCTV New Year's Gala 2017: the special annual evening variety show that captures millions of viewers on Chinese New Year's Eve. What's on Weibo provides you with the ins & outs of the 2017 Gala and its social media frenzy, with updates before, during and after the show.
Are you ready for the Year of the Rooster? Like every year, the start of Chinese New Year is celebrated with Chunwan, the CCTV Spring Festival Night Gala (中国中央电视台春节联欢晚会), better known as CCTV New Year's Gala.
With an average viewership of 700/800 million, or 90% audience share, the event is the world's most-watched TV show. The four-hour long spectacle, that starts at 8 pm Chinese time, is a both an entertainment show and propaganda platform – it features China's biggest stars and best performers while also including the current Party propaganda outlines.
Stay with us to watch the gala and to get to know its ins & outs (also see our liveblog of 2016).
Live stream of the Gala on Youtube and on CCTV Gala official website.
Liveblog (now closed) :
27/01 18:34
Are you ready?
A little over three hours to go before the start of the CCTV Spring Festival Gala (央视春晚), the variety show that will entertain families all over China in the last hours of the Year of the Monkey with an evening full of music and performances. This year is the 35th edition of the Spring Festival Gala, which has been broadcasted since 1983. With a viewership of 700 to 800 million people, is the world's most-watched TV show – bigger than the Oscars or the Super Bowl.
27/01 19:04
What to expect?
What can we expect at this year's show? Like last year, the show will be broadcasted from various places besides its main venue in Beijing's CCTV's No.1 Studio. In 2016, the Gala was aired from Quanzhou, Xi'an, Guangzhou and Hulun Buir.
This year, it will be aired from Harbin, Guilin, Shanghai and Liangshan. Every city has its own hosts, who often welcome the audiences in their own local dialect or language, with performances that are related to the region. Last year the spectacular performance of singer Sun Nan (孙楠) who danced with 540 moving robots reinforced the image of Guangdong as the home of China's tech startups.
27/01 18:49
The show people love to hate
Just one hour to go! The CCTV Gala will feature a total of 34 different acts tonight, including singing, dancing, and comedy, in a time frame of around 4 hours.
It is a tradition for families to gather around the TV to watch the Gala before the New Year comes at midnight. The Gala usually is as much about entertainment as it is about political propaganda, and it is somewhat of a tradition to comment on the show and complain about it; criticism on the Gala is actually so commonplace that the sentence "there'll never be a 'worst', just 'worse than last year'" ("央视春晚,没有最烂,只有更烂") has become a popular saying over the years.
Unsurprisingly, the show also drew much criticism in 2016 when some called the show a "propaganda disaster." According to many viewers, the spectacle was "way too political" with its display of communist nostalgia, including the performance of different revolutionary songs such as 'Without the Communist Party, There is No New China' (没有共产党就没有新中国)… we can probably expect the same complaints on Chinese social media tonight.
27/01 12:31
Tonight's hosts
This year, the main show of the CCTV Spring Festival Gala will be hosted by familiar faces: the presenters Zhu Jun (朱军), Dong Qing (董卿), Zhu Xun (朱迅) , Kang Hui (康辉) and Nëghmet Raxman.
The 52-year-old Chinese host and actor Zhu Jun is one of the most well-known CCTV faces. He has presented the CCTV New Year Gala since 1997. Dong Qing (43 years old) is also an annual host: she has hosted the Gala since 2005. Zhou Xun is a Chinese actress and singer, who will be on the show for the fifth time. Kang Hui is an influential CCTV news anchor and Nëghmet is a Chinese television host of Uyghur heritage.
Tonight there will be many stars appearing on the show, from kungfu star Jackie Chen to skit actor Pan Changjiang, Olympic star Fu Yuanhui, actress Yan Xuejing, comedian Jiang Kun, and many, many others.
27/01 12:44
The Mascot
It's almost time to start! In the meantime, a little update on the CCTV mascot. In 2015, the CCTV Gala introduced an annual new mascot for its New Year's Show. Last year's mascot Kang Kang drew so much controversy with its unconventional appearance, that CCTV decided to play it safe this year with a traditional Rooster. The rooster will reappear throughout the show in the Gala's logo. Besides this rooster there is also a more humorous one that appeared in the promotion video of the Gala.
27/01 19:09
Here We Go!
Here we go! This year's CCTV New Year's Gala first starts with intertextual references to all the past "hits" of the gala, which has been aired since 1983. This opening act is a much-anticipated one, as the very popular boy group the TFBoys are performing together with beautiful Chinese actresses Liu Tao, Jiang Xin, Wang Ziwen, Yang Zi and Qiao Xin.
They are performing the song "Beautiful China Year" (美丽中国年).
The TFBoys have been very successful in China over the past years. They also appeared at last year's Gala, and recently won the Weibo Awards for being the most popular on Chinese social media, for which they received nearly 63 million votes. Their performance here tonight might make it more appealing for younger audiences to watch the New Year's Gala, which generally has a somewhat stuffy image.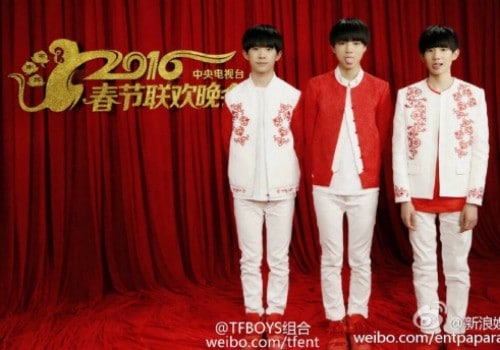 27/01 13:28
Theme: National Unity
Tonight's hosts have welcomed us to this year's Spring Gala and are introducing us to the other sub-venues from Harbin to Guilin, from Shanghai to Hong Kong. All the while the various ethnicities of China are emphasized. An important theme of this year (and previous years) is national unity, traditional culture and family affection. Previous year there was a special emphasis on the "Chinese Dream."
27/01 13:32
First Sketch
During tonight's show there will be various performances, of which nine will be comical sketches. After we have just witnessed dozens of chickens dancing in a somewhat hysterical performance by the "Air Force BLue Sky Children's Art Troupe", it is now time for a comical sketch. These sketches often contain some political messages; previous year there was a special emphasis on corrupt officials.
This sketch called "Big City, Little Love" is performed by Liu Liang, Bai Ge and Guo Jinjie. It is about a young man, a migrant worker, who lied to his wife saying he has gone to work in the city where he had a "high position." In fact, he is a window cleaner for high buildings.
27/01 13:40
"In This Moment"
This is the older song "In this moment" (在此刻) performed by singers Hu Ge and Wang Kai (胡歌, 王凯). (Watch the show live here https://youtu.be/8Tnna8odMvA).
27/01 13:52
"Older Couple"
This second sketch of tonight has some big stars. Cai Ming (蔡明) is a singer, actress, and sketch performer notable for performing sketch comedy in CCTV New Year's Gala since 1991 – she is known for her sharp language. Pan Changjiang also is a Chinese skit actor and sitcom actor. In his early years, he appeared regularly in the CCTV New Year's Gala.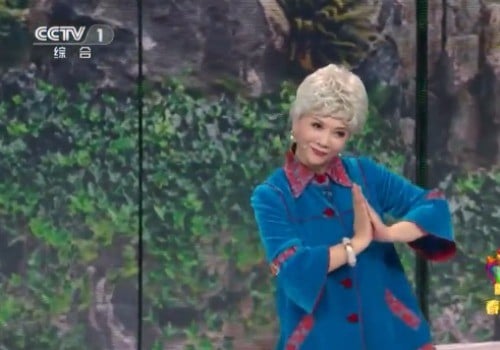 This sketch is called "Older Couple" and is about a man who forgot what his wife looked like until Cai comes along and pretends to be his wife. In the end it turns out that it is not him, but her who lost her memory. When she remembers – in a The Notebook kind of scene – the couple falls into each other's arms.
27/01 13:59
Over to Liangshan
We are now moving over from Beijing's studio to the venue in Liangshan (凉山), Sichuan province. We first see the dance 'fire of celebration', followed by a song titled "Deep Feelings, Long Friendship" (情深谊长). The Chinese singer performing here is named Jike Junyi or simply 'Summer'. She is a 28-year-old singer who was born and raised in Liangshan. She is wearing traditional Yizu (彝族) minority clothing and sings about the Long March.
Summer's performance is followed by a catchy tune by singers Li Keqin and Cai Zuoyan, who sing with some Sichuanese touch to it. The fire torches in the background are also an Yi minority tradition.
27/01 14:11
Crosstalk
We're back in Beijing for this crosstalk (相声) scene by Gao Xiaopan and You Xiancha (高晓攀、尤宪超). Different from the other sketches (小品), crosstalk usually involves two actors with one being the "joker" and the other being the "teaser".
Other than the other sketches, crosstalk is about word jokes and playing with rhythm and language. This particular scene is about two men looking back on their childhood, and the nostalgic things about being brought up by their grandmother. This scene, that represents some sort of collective memory, will be especially appealing to China's post-1980s generations who were often raised by their grandparents. Apart from national unity and traditional culture, family affection is one of this year's themes for the Spring Festival Gala. It touches a sensitive nerve for many, as it makes them think back of their own grandmother.
27/01 14:17
Wow, Li Yanchao
The next performance is a pretty stunning underwater-kind-of-scene with Chinese dancer Li Yanchao (李艳超) stealing the show. The female host says: "Let's express the hope that in the new year, there will be more patches of grass under our feet, and more blue sky above our head."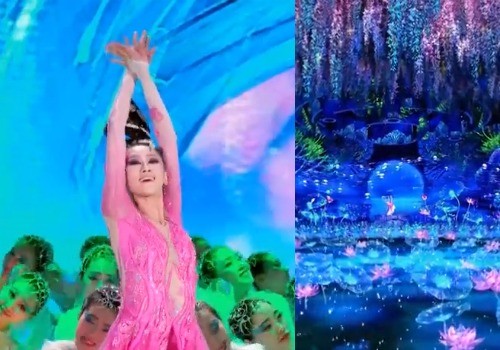 27/01 14:32
The Match-Making Show
This funny sketch imitates one of China's most popular dating shows If You Are The One 非诚勿扰. They get succesfully matched, but then it turns out that they are actually a divorced couple. This is the 3rd of a total of 6 comical sketches that will be performed tonight.
The main conflict of this sketch is that the woman wants her husband's attention, while he thinks making money is more important than being his wife's side – a common conflict in middle-aged families in China today. Since tonight's theme is family affection, the sketch ofcourse has a happy end with both husband and wife expressing their love for each other.
27/01 14:31
Is this show really live?
Is this really live? Yes it is. But although the Gala is a live broadcast from CCTV's No.1 Studio, and its other venues across China, every year's show has a taped version of the full dress rehearsal. The tape of the official rehearsal runs together with the live broadcast, so that in the event of a problem or disruption, the producers can seamlessly switch to the taped version without TV audiences noticing anything.
27/01 19:53
Two stars, different generations
Here are are teen idol Jason Zhang (张杰) and Mao Amin, one of China's most famous and female pop stars of the mid-1990s. You might notice that Mao Amin's voice is much firmer and fuller than Zhang Jie's. In Mao Amin's generation, most singer got popular because of their skills, not for their looks..
The set of this song is so extravagant and spectacular, that some netizens think that this year's CCTV gala director, Yang Dongsheng, must be a big fan of Avatar the Movie.
27/01 14:48
Here's Guilin!
We're now moving from Beijing to Guilin in Guangxi. The event is performed near Guilin's famous Elephant Trunk Hill, where various Taiwan and Hongkong singers are invited to sing folk songs. The first song is a well-known traditional Chinese song: the Mountain Song from the famous Chinese movie Third Sister Liu 刘三姐. The scene here seems to include fragments of Zhang Yimou's Impressions Liu San Jie show.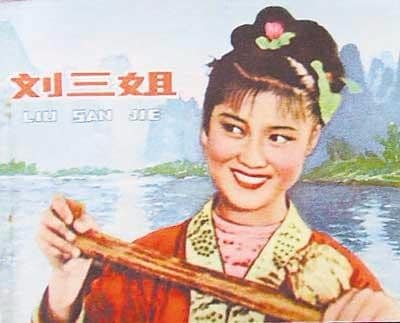 27/01 14:58
Nostalgia
This year's CCTV Gala is looking back on previous years. This is the 35th year the Gala is broadcasted, and this edition started with a look back on top hits over the past three decades. This sketch also reflects on the past of the Gala, as the actors have previously performed a sketch here in 1987. Its message is that the society today is not the same as the society of 30 years ago. It reflects on how many people are bystanders, and that few people are helping each other out.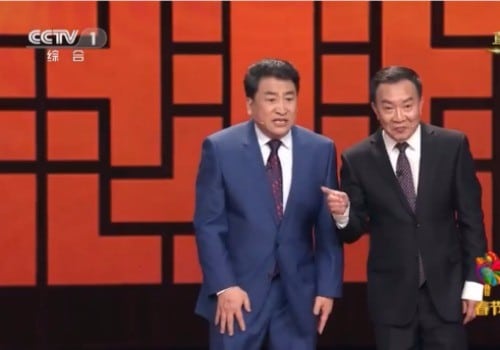 27/01 15:04
Heroes of the Red Army
Time to honour some communist heroes – a recurring part of the CCTV New Year Gala. One of the elderlies honored here is aged 104 was around 22 years old during the Long March.
27/01 15:11
Propaganda Platform?
The Communist and military songs of last year's Gala annoyed many netizens, who thought the Gala was merely a propaganda platform rather than a variety show. But it is a recurring part in virtually every show.
27/01 15:16
Hashtag #CCTVGALA
On Weibo, the views and comments on the hashtag #CCTVGala (#春晚#) have by now exploded, with over 13 billion views and 52 million comments.
One popular post is that from a netizen who tells she was watching the Gala and the TFBoys with her grandma on an old TV set when her grandmother asked: "Is that boy on the left not feeling well?"
27/01 15:22
Family First
It is clear that family affection is one of this year's main topics, as all sketches revolve around family relations. This sketch deals with the relationship between children and parents in law. Instead of talking about the well-known daughter and mother in law conflicts, it talks about the relations between son and father in law. Although the father does not like his son in law, the young man is really trying to help him either way.
27/01 15:28
90 Minutes to go!
There's still 90 minutes to go before the New Year! Main themes of the night up to now: national unity (dancing minorities!) and family affection (marriage and family harmony!).
We have already seen Liangshan and Guilin subvenues, and will still see performances from the venues in Shanghai and Harbin in the coming 1,5 hours.
Meanwhile, Weibo netizens are wondering why the actress from a sketch earlier tonight, the renowned Cai Ming, was copying Elsa from Frozen.
27/01 15:35
Chinese Opera
This is a compilation of songs, such as "One Generation to Another" (薪火相传), by various Chinese Opera performers and troupes.
27/01 19:19
Look at China
This song titled "Look at the mountains, look at the water, look at China" (看山看水看中国) by Lu Jihong and Zhang Ye (吕继宏, 张也) is an ode to China's different landscapes. It is accompanied by a clip that shows different places in China, from the nature in the south to the big cities in the north.
27/01 16:31
Minority Sketch
This sketch called "A Tianshan Situation" (天山情) focuses on the people of the mountainous area on the border between Xinjiang and Mongolia. The act is mostly spoken in north-eastern dialect, with a slight Shanghai dialect. The sketch is about a train track project in their region that has shocked the cows due the noise, affecting their milk production. When all goes well in the narrative, the Uyghur people finally thank the Chinese Han people for saving their life and everything they have done and for saving their lives – perhaps a somewhat controversial angle…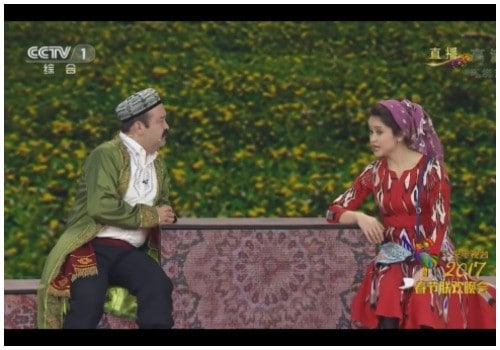 27/01 16:05
Switching to Harbin
One of today's subvenues is Harbin, in northern province of Heilongjiang, home to the famous Harbin Ice World. The park has dozens of enormous buildings and sculptures completely made from ice. The city is currently about -20 celcius; perfect weather for acrobatics on ice!
27/01 16:09
These are the Champions
The National Martial Arts team has arrived to the stage. These are all China's top martial art champions. More than 60 of them, both men and women, are performing together here tonight.
27/01 16:11
Public Announcement
Every year's CCTV Gala has a "public advertisement" (公益广告) , a movie that is often emblematic of the morals or the guidelines the Party leadership wants to emphasize for the Chinese New Year. With an audience of 700 to 800 people, the show is the perfect propaganda platform.
27/01 19:35
Dancing Pineapples
Yes. We are now watching dancing pineapples and watermelons. Always when you think it cannot get worse, it always does – as many netizens say. This is a song that encourages people to do sports and eat healthy; one of this year's themes is also to promote good (mental and physical) health.
27/01 19:17
Trusting people
In one the night's last comical sketches called 'Trust' (信任), we see famous comedian Lin Yongjian in a narrative about trusting people. On New Year's Eve, a taxi customer wants to go upstairs to pick something up – but the taxi driver is afraid they will walk off. The customer is also afraid the driver will drive off. It is during this sketch that Olympic swimmer Fu Yuanhui, one of the most popular social media figures of 2016, pops up for a short role. She performs some tongue twisting sentences in Anhui dialect.
27/01 16:39
Honouring the Astronauts
Time to honour 11 Chinese astronauts.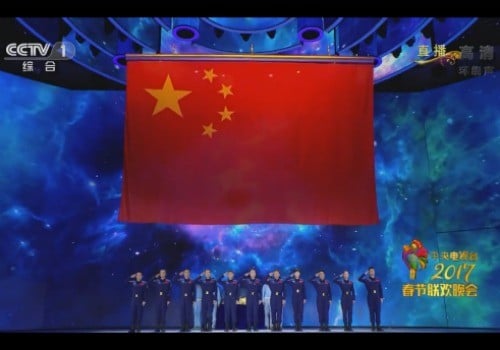 27/01 19:14
Here's Jackie Chan! But what on earth is he doing?
In this song that is simply titled "Country" (国家), Jackie Chan steps out with students from Peking University to sing about his love for China ("I love my home") while doing a dance that entails what looks like sign language. Perhaps not really what you would expect the "kungfu master" to do.
28/01 09:23
Shanghai Dream City
Now over to Shanghai for a song by Chinese singers Coco Lee and JJ Lin about "Dream City" Shanghai. We see a futuristic scene with motors going round in a big metal round set-up in front of the iconic Pearl Tower. It is one of the most spectacular scenes of the night, comparable to that of the dancing robots in 2016.
27/01 16:56
Almost time!
It is almost time for the 12 o'clock moment! Just before we will hear a song by singers Han Lei and Tan Weiwei with what looks like a somewhat cringeworthy company of farmers, migrant workers, hospital staff and soldiers to represent "all the Chinese people."
27/01 17:01
HAPPY NEW YEAR!
The hosts of tonight's Gala are wishing everybody a happy Chinese New Year. And of course we at What's on Weibo are also wishing you a happy Year of the Rooster.
27/01 19:11
"Mother China"
Just immediately after the New Year countdown, here comes a song called "Mother China" (母亲是中华).
27/01 17:11
Interlude
A little interlude clip shows Chinese abroad singing about the "Chinese feeling" (中国心). The CCTV festival is watched by millions of Chinese within the PRC, but there is also a huge viewership outside of China.
27/01 17:19
The last sketch of the night stresses national unity
The last sketch of the night is a typically southern sketch, set during the peak of the G20 Summit in Hangzhou. The story takes place in a community park, where the four protagonists have a misunderstanding. The narrative focuses on people's good morals, and is full of Jiangsu and Zhejiang dialect.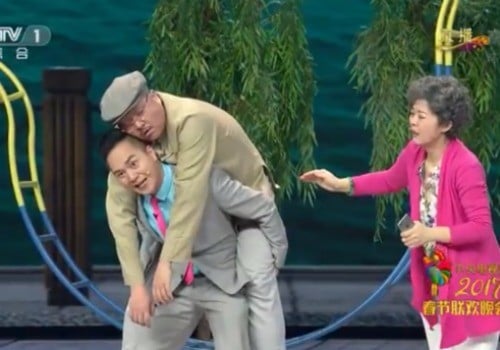 This sketch, like the one of the "Tianshan Mountains" and the story of the Uighur herdsmen, again shows the theme of national unity.
27/01 18:16
More Family Love
"Leave the Grasslands" (离别草原) is sung by famous singer Yun Fei and the female singer Yun Duo. It is followed by another short film that stresses family affinity.
27/01 17:34
"Stop!"
In one of the last acts of the night with a foreign acrobat, the hosts speak some very clearly pronounced English sentences: "Here are the flowers!" and "Stop!" In a game where a Chinese and a foreign acrobat compete to collect as many flowers within 60 seconds, the Chinese woman wins with 16 flowers versus 15 of the foreign acrobat.
27/01 19:13
Dancing Troupe
Chinese singer Wu Tong sings the song "Deep Feelings" (一片深情) accompanied by a group of male dancers.
27/01 17:48
Unforgettable Night
The last songs of this night are "Magnificent Journey" (壮丽航程, by Yan Weiwen and Yin Xiumei) and "Unforgettable Night" (难忘今宵). The latter is sung by the 72-year-old singer and dancer Li Guyi and the 64-year-old mezzo-soprano singer Guan Mucun. Li Guyi sings the same song every year at the end of this show.
During these songs, the screen behind the dancers show images of the G20, new glass bridges, windmills, and all kinds of big projects that have been established or organized in China over the past year.
The last song ends with all performers of the Beijing venue on stage. The hosts wish everyone a happy newyear. "See you next year!", they say.
27/01 19:10
Trending after the Gala: "Brother Smile"
Directly after the ending of the CCTV Gala, many Weibo netizens are talking about one person in the audience as observant viewers have spotted the very same man in the audience of the CCTV Gala every year since 1999. The man, who is now nicknamed 'CCTV Gala Brother Smile' (#春晚笑脸哥#), was again spotted in the audience tonight.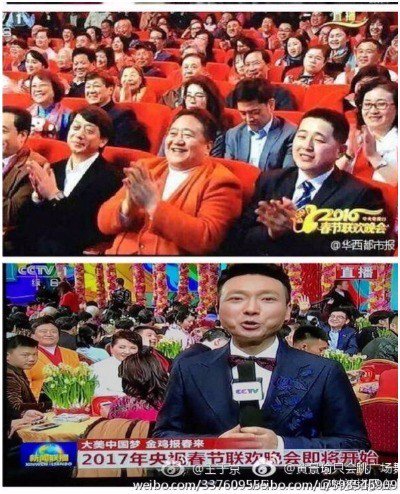 The man has gone viral over Chinese social media now. Many netizens are extremely curious about the man, wondering how he came to sit from the back of the audience to the front crowd throughout the years. Some also compliment him for not having changed much over the past 18 years.
27/01 18:13
That's a Wrap!
This liveblog will be closing now. We hope you enjoyed the night!
– By Manya Koetse
Follow on Twitter or Like on Facebook
What's on Weibo is an independent blog. Want to donate? You can do so here.
Sources on Chunwan
Kang, Liu. 2010. "Searching for a New Cultural Identity: China's soft power and media culture today." In Suijian Guo and Baogang Guo (eds), Thirty Years of China-U.S. Relations: Analytical Approaches and Contemporary Issues, 197-253. Lanham: Rowman & Littlefield Publishers.
Scocca, Tom. 2011. Beijing Welcomes You: Unveiling the Capital City of the Future. New York: Riverhead Books.
Wang Ge. 2015. "Popular Spring Festival Gala language: Sociocultural Observations." In Linda Tsung and Wei Wang, Contemporary Chinese Discourse and Social Practice in China, 185-200. Amsterdam/Philadelpia: John Benjamins Publishing Company.
Ying Zhu. 2012. Two Billion Eyes: The Story of China Central Television. New York: The New Press.
©2016 Whatsonweibo. All rights reserved. Do not reproduce our content without permission – you can contact us at info@whatsonweibo.com.
Famous Chinese Nursery Song "One Penny" Inflates to "One Yuan"
One penny becomes one yuan in this children's song. What's next – changing it to QR codes?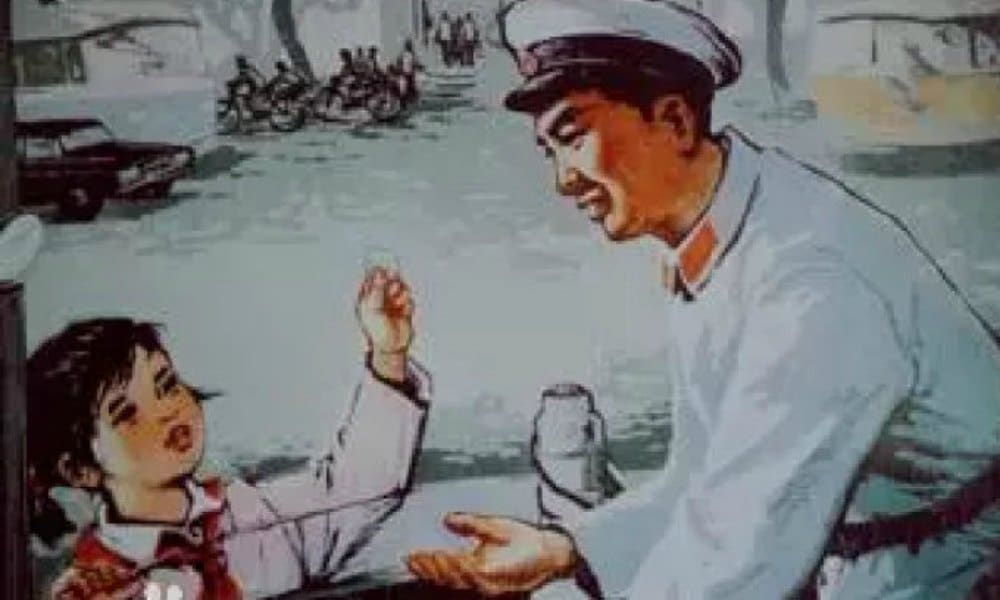 Famous Chinese children's song "One Penny" (一分钱) has changed its penny to a Chinese yuan ($0.15).
The lyrics to the song are now published online and in children's books with the different lyrics, Chinese news platform City Bulletin (@都市快报) reports on Weibo.
The classic song, in translation, says:
"I found a penny on the street,
And handed it over to Uncle Policeman.
The Uncle Policeman took the penny,
And nodded his head at me.
I happily said: "Uncle, goodbye!"
The song, by Chinese composer Pan Zhensheng (潘振声), is known throughout China. It came out in 1963.
Apparently, in present-day China, nobody would go through so much hassle for a penny anymore, and so the text was altered (although it is very doubtful people would go through the trouble for one yuan either).
The penny coin (0.01) in renminbi was first issued in 1957, and is somewhat rare to come across these days. "It's probably even worth more than one yuan now," some netizens argue.
Chinese media report that composer Pan Zhensheng said the song is just an innocent children's song, and that it should not be affected by price inflation. Sina News also quoted the composer in saying that changing the text is "not respectful."
Although some Chinese netizens think the change in the song is just normal modern development, others do not agree at all. In Hangzhou, some say, all you can find on the streets nowadays is QR codes rather than coins. Surely the song should not incorporate those new developments either?
Some commenters on Weibo say the song would never be realistic in China's current cashless society anyway: "Kids nowadays are not finding cash money at all anymore!"
By Manya Koetse
Follow @whatsonweibo
Spotted a mistake or want to add something? Please let us know in comments below or email us. Please note that your comment below will need to be manually approved if you're a first-time poster here.
©2019 Whatsonweibo. All rights reserved. Do not reproduce our content without permission – you can contact us at info@whatsonweibo.com
Controversy over Scene in Anti-Japanese War Drama Featuring Black U.S. Soldier and Chinese Nurse
Some scenes from this anti-Japanese war drama have angered Chinese netizens over 'historical nihilism.'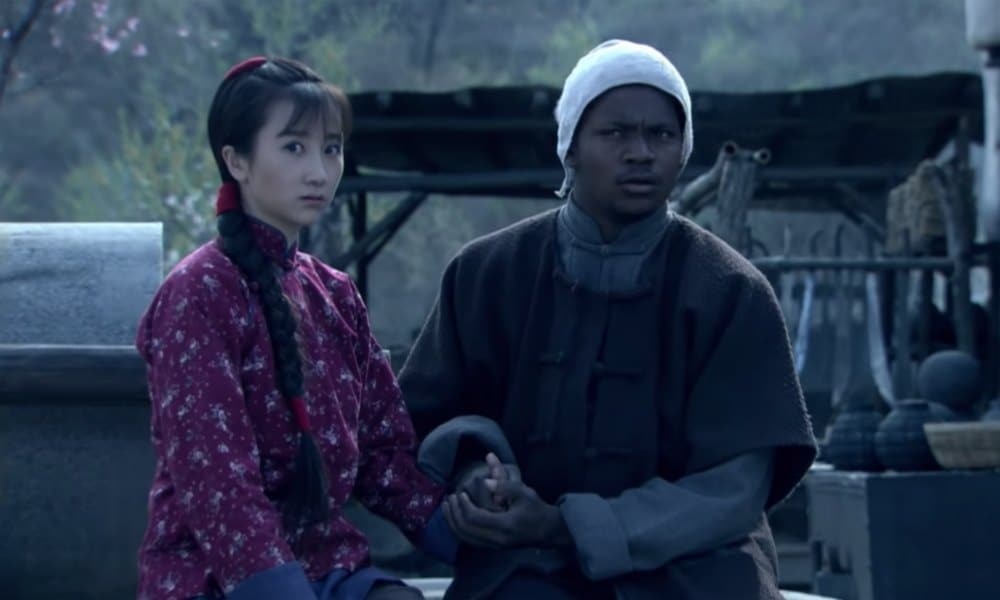 A black soldier comes to China from afar during WWII and falls in love with a Chinese villager who sacrifices her life for him. This war drama is sensationalizing the Sino-Japanese War in the wrong way, many netizens say.
"I love you, I love China," a black man tells a Chinese woman in a clip of an anti-Japanese war drama that has gone viral on Chinese social media over the past few days (watch clip in embedded tweet below).
This scene from a Chinese Anti-Japanese war drama is stirring controversy on Chinese social media this week. "I love you, I love China," the foreigner says. "Love me, love China," the Chinese woman says, before sacrificing her life for him and getting killed by Japanese shooters.

— Manya Koetse (@manyapan) September 5, 2019
The scene is set on a mountain, where the man and woman hold hands when she tells him to flee from the "Japanese devils." She repeats: "Remember: love me, love China."
The love scene takes a dramatic turn when the two get ambushed by the Japanese army. The Chinese woman immediately pushes the man off the mountain to bring him to safety. While she cries out "love me, love China" she is attacked by Japanese soldiers and dies.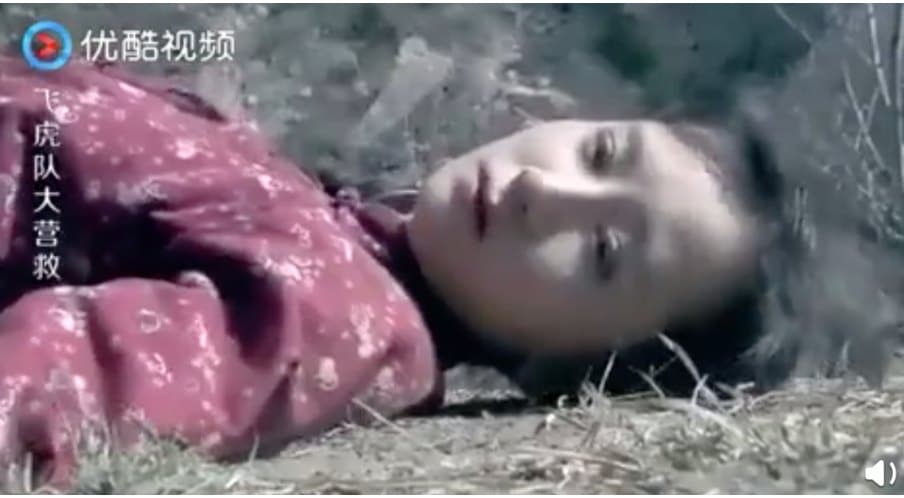 The scene comes from a 2016 TV drama titled The Great Rescue of The Flying Tigers (飞虎队大营救). The drama tells the story of Japanese soldiers chasing surviving members of a Flying Tigers aircraft after they shot it down. Various soldiers and army staff on the Chinese side try to rescue the fighters from the hands of the Japanese.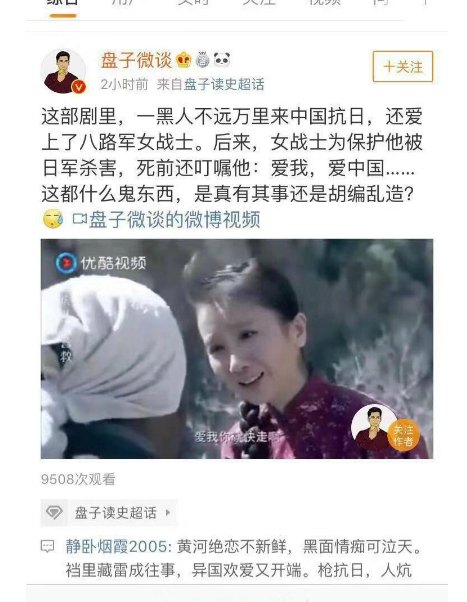 The drama's portrayal of a romance between the foreign soldier and a Chinese woman, on the side of the Communist Eighth Route Army, has stirred controversy on Weibo this week.
"The director is retarded, this is historical nihilism," one Weibo blogger writes.
Hundreds of netizens also criticize the drama's director and screenwriters: "This is not even funny, what kind of scriptwriter comes up with this trash? This should be thoroughly investigated."
The Flying Tigers (飞虎队) were a group of US fighter pilots who went to China during the final three years of the Second Sino-Japanese War to fight the Japanese invaders and defend China.
The people behind the Flying Tigers belonged to the organization of the American Volunteer Group (AVG), who came together in 1941 to strengthen the Chinese Air Force.
In the now controversial TV drama The Great Rescue of The Flying Tigers, the black soldier is 'Carl' (Cedric Beugre), a surviving member of the Flying Tigers aircraft shut down by Japanese forces. The Chinese woman is 'Xinghua,' a female nurse who sacrifices her own life to save Carl.
The dialogues between Carl and Xinghua are pretty simple and at times almost ridiculous. While Xinghua does not speak a word of English and appears clueless, Carl is depicted as a stubborn, crude and somewhat silly character, who also seems to understand very little of what is happening around him and does all he can to be with his Xinghua after a brief meeting in the Chinese base camp (also see this scene or here).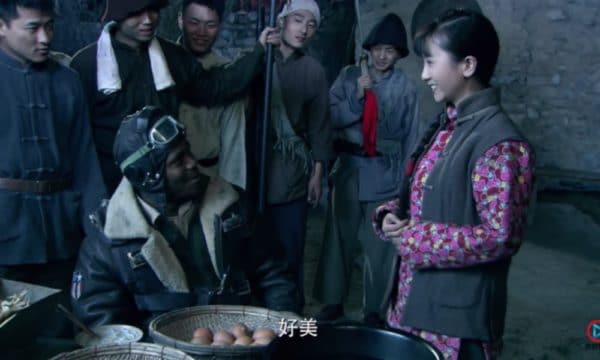 On Chinese social media, the drama is critiqued for being a so-called 'divine Anti-Japanese drama' (抗日神剧): Chinese war dramas that sensationalize the history of the war by making up unrealistic and overly dramatic or funny scenes and storylines.
In 2015, China's State Administration of Press, Publication, Radio, Film, and Television (SAPPRFT) announced a limit on these kinds of TV dramas that sensationalize the history of war, and in doing so 'misrepresent history' and 'disrespect' the Chinese soldiers who fought to defend the nation (read more).
TV series focusing on war are part of China's every day (prime time) TV schedules. These Chinese war dramas are called "Anti-Japanese War Dramas" (抗日电视剧), literally referring to the period of 'resisting Japan' during WWII (in China, the 1937-1945 war is called The War of Resistance against Japanese Aggression 中国抗日战争).
The 40-episode series The Great Rescue of the Flying Tigers was aired by Yunnan City Channel but is also available online. Since there are countless reruns of Anti-Japanese war dramas on Chinese tv, it is possible that some viewers only now viewed the 2016 drama for the first time.
Some netizens call this a "new kind of fantasy war drama", summarizing: "A black man comes from far away to China to fight Japan, falls in love with a Chinese nurse who sacrifices her own life for him and yells 'Love me love China' before she dies."
Many on social media call the script "idiotic," others question if black soldiers ever joined the Flying Tigers in the first place.
There seems to be more to the controversy than sensationalizing history alone though – relationships between foreign men and Chinese women, especially black men and Chinese women, are often met with prejudice and racism on Chinese social media. Mixing such a narrative in a drama about the Second Sino-Japanese war makes it all the more controversial.
Some see the narrative of the love between a foreign soldier and a Chinese woman as a way of 'beautifying' the war and 'adoring everything that's foreign.'
"This is not respecting history at all!", one among hundreds of commenters says.
In the TV drama, the sentence "Love me, Love China" does have some extra meaning in the end. Although Xinghua sacrifices her life for Carl in episode 19, he eventually chooses to fight side by side against the Japanese 'devils' with the Chinese army, keeping his promise to "love China" like he loved Xinghua.
By Manya Koetse , with contributions from Miranda Barnes
Follow @whatsonweibo
Spotted a mistake or want to add something? Please let us know in comments below or email us. Please note that your comment below will need to be manually approved if you're a first-time poster here.
©2019 Whatsonweibo. All rights reserved. Do not reproduce our content without permission – you can contact us at info@whatsonweibo.com