The Best and the Worst of CCTV New Year's Gala 2017
The CCTV New Year's Gala aired on Friday night and triggered thousands of netizens to comment on its best and worst performances. What's on Weibo gives you a summary of the show's highlights and its low points.
First published
The CCTV New Year's Gala aired on Friday night and triggered thousands of netizens to comment on its best and worst performances. What's on Weibo gives you a summary of the show's highlights and its low points.
This year's CCTV New Year's Gala (known as Chunwan) has come to an end. The show, that is both a much-anticipated and a much-dreaded one, became top trending topic on Weibo on Friday night. The hashtag 'Chunwan' (#春晚#) alone drew 56.5 million comments.
As every year, viewers commented on the best and the worst moments in the show. The 'worst' parts often relate to the political aspects of the show; the annual Gala is as much about entertainment as it is about political propaganda.
Whereas it was the 'Chinese Dream' that was last year's main theme, the major themes propagated throughout this edition were 'National Unity' and 'Family Affinity', something that became especially apparent in the different comical sketches that were focused on family relationships and the coming together of people of different (ethnic) backgrounds.
The Worst Message: The Woman as "Breeding Machine"
This year, many people could not appreciate the message constructed in the Gala's sketches that emphasized the woman's role as mother and wife, such as the narratives where a woman depended on her husband's money or the one where a wife wanted to let her husband divorce her because she could not conceive children (in the sketch titled 'Long Last Love' 真情永驻).
Many felt the sketches propagated women to have children, some saying they depicted women as "breeding machines."
Author Chen Jian (@沉佥) wrote on Weibo:
"Every year watching Chunwan I always love the sketches and crosstalk the most, I would've never expected there would be a day that I would dread them the most. China is the country with the highest female employment rate in the world, and since long men are not the only breadwinners anymore. China would not have been able to create the miracle of its rapid economic development without the high employment rate of Chinese women participating in all areas of the economy. That China has become the world's second-largest economy is also thanks to the contribution of Chinese women! But now there is this atmosphere of vigorous propagation for women to return home to have children, to depend on her husband, and to contribute by carrying on the family line. (..) But I hope that every clear-headed Chinese girl will make every effort to think for herself. No matter what people around you say, no matter what the media says, you are (..) an independent woman. Do not be swept away by the tide of feudal thinking. If you don't save yourself, nobody will save you."
Others also expressed their thoughts on the representation of women in the show:
"There was a female Red Army soldier who had walked the Long March, there were female astronauts. But still, there is this idea of women leaning on their husbands for money or this sister who divorces her man for not being able to have a child. It really shows the existing problem. We are already with our head in space, but our feet are sucked into the swamp of feudalism."
The day after the Gala, some netizens feel that the sexism in the New Year's Eve show is so bad that they demand that CCTV apologizes to all Chinese women, with the hashtag "CCTV apologize to the nation's women" making its rounds on Weibo (#央视向全国女性道歉#).
The Worst Performances: Jackie Chan and Dancing Pineapples
As for the dancing and singing performances; Jackie Chan's much-anticipated appearance on the show turned out to be somewhat cringeworthy. The Hong Kong singer and kung fu star showed his love for China through a song that was simply titled "Nation" (国家).
In this act, the Hong Kong celebrity stood in front of an enormous Chinese flag together with students from the mainland, Taiwan, Hong Kong, as well as ethnic minorities. Although the use of sign language by all the performers was praiseworthy, the song came after a night that had already seen many big flags, many dancing minorities, and the message of China's national unity was already – not so subtly – propagated at every possible opportunity.
Many netizens, however, did like the performance; some even claimed it was their "favorite act of the night."
Another remarkable performance was that of the 'Being Healthy Song' (健康动起来) by singers Lay (张艺兴) and Boran Jing (井柏然), in which adult men were jumping around in tiger suits and others were dancing and swinging as pineapples and mushrooms.
The song act that was criticized most on social media, for as much as it was allowed, was the song Millenial Night (千年之约) by Han Hong (韩红), a singer and songwriter of mixed Tibetan and Han ethnicity.
The singer is very popular on Sina Weibo, where she has over 13 million followers. Despite her popularity, her lip-synced performance on Chunwan made her the target of many online jokes.
Also the train projected on the background screen during her song sometimes made it seem as if the singer was standing on the rails with the train coming at her, with netizens saying: "Get off the tracks, Han Hong!"
The Best: Scenes from Harbin and Shanghai
But the Gala of 2017 also had its highlights. This year's Gala was innovative in its use of Virtual Reality (VR) techniques, for example, with viewers being able to watch the show in VR via various mobile apps.
Like the performance with the 540 dancing robots last year, the CCTV Gala seems to become a new platform to promote the image of China as a high-tech nation.
One performance that was popular and quite spectacular was that of Coco Lee and JJ Lin in Shanghai; a catchy pop song (that actually did not seem lip-synced) in Shanghai with motorists performing a bold stunt in a so-called "globe of death."
The extreme motorcycle stunt show let a total of 8 motors spin through a huge metal ball with the iconic Pearl Tower in the background.
Another popular act was that of Mao Amin and Zhang Jie (毛阿敏 & 张杰) amidst a 3D projection full of colors and lights that was somewhat reminiscent of a scene from the Avatars.
The dreamy 'Wind Dance' also deserves a mention, with dancer Li Yanchao (李艳超) stealing the show with her beautiful appearance and graceful appearance. The background of this performance was probably even more Avatar-like than that of Mao Amin and Zhang Jie.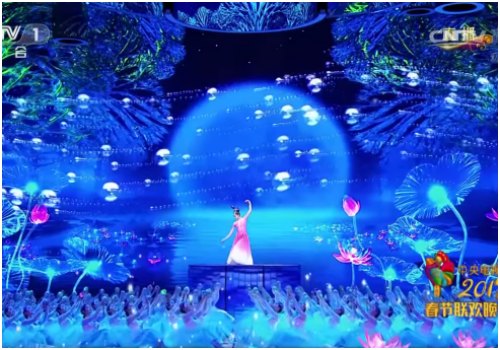 During this performance, dancer Li was accompanied by a group of at least 100 dancers.
The performance called "Snow Dream" (冰雪梦飞扬) from sub-venue Harbin also won the favor of many netizens who said it was their favorite act of the night. Performed by, among others, the Heilongjiang Acrobatics Troupe, the fragment showed dozens of acrobats ice-skating in costumes with led-lights in the middle of Harbin's Snow World – a themepark completely made from ice and snow.
"It might not have been the place with the most celebrities," some netizens said: "But the Harbin part was the most beautiful of all."
Despite all criticism, it is fair to say the 2017 CCTV Gala was a success – it actually is the criticism that makes the evening, as it has become a New Year's tradition to comment on the show and complain about it.
The sentence "there'll never be a 'worst', just 'worse than last year'" ("央视春晚,没有最烂,只有更烂") has become a popular saying about the show throughout the years, and again, was one of the sentences uttered by many on Chinese social media again this year.
"But even if it is bad, we still need to see it," one netizen concluded. With an audience of millions and thousands of people both praising and condemning the show, this year's show really wasn't that bad after all.
– By Manya Koetse
Follow on Twitter or Like on Facebook
What's on Weibo is an independent blog. Want to donate? You can do so here.
©2017 Whatsonweibo. All rights reserved. Do not reproduce our content without permission – you can contact us at info@whatsonweibo.com.
'First Lady of Hong Kong TV' Lily Leung Passes Away at Age 90
Chinese netizens pay their respects to veteran actress Lily Leung Shun-Yin (1929-2019), who passed away on August 13.
While the Hong Kong protests are dominating the headlines, the death of Hong Kong veteran actress Lily Leung Shun-Yin (梁舜燕) has become a top trending topic on social media site Sina Weibo under the hashtag "Hong Kong Actress Liang Shunyan Dies from Illness" (#香港演员梁舜燕病逝#).
The actress was born in Hong Kong in 1929. She starred in dozens of television series, including the first TV drama to be locally broadcasted. She became known as "the first lady of Hong Kong TV."
Leung acted for TVB and other broadcasters. Some of her more well-known roles were those in Kindred Spirit (真情) and Heart of Greed (溏心风暴).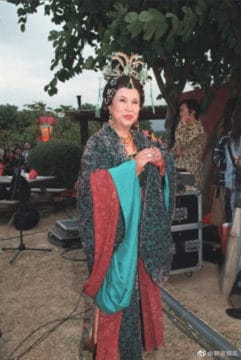 Leung, also nicknamed 'Sister Lily' (Lily姐), passed away on August 13. According to various Chinese media reports, the actress passed peacefully surrounded by family after enduring illness. She was 90 years old.
"I've seen so much of her work," many Weibo netizens say, sharing the favorite roles played by Leung. "I always watched her on TVB while growing up, and will cherish her memory," one commenter wrote.
Another well-known Hong Kong actress, Teresa Ha Ping (夏萍), also passed away this month. She was 81 years old when she died. Her passing away also attracted a lot of attention on Chinese social media (
#演员夏萍去世#).
Many people express their sadness over the fact that not one but two grand ladies from Hong Kong's 20th-century entertainment era have passed away this month.
"Those people from our memories pass away one by one, and it represents the passing of an era," one Weibo user wrote.
"Two familiar faces and old troupers of Hong Kong drama – I hope they rest in peace."
By Manya Koetse
Follow @whatsonweibo
Spotted a mistake or want to add something? Please let us know in comments below or email us. Please note that your comment below will need to be manually approved if you're a first-time poster here.
©2019 Whatsonweibo. All rights reserved. Do not reproduce our content without permission – you can contact us at info@whatsonweibo.com
The Mulan Makeup Challenge: Traditional Chinese Makeup Goes Trending
Recreating the Mulan make-up look was the biggest beauty challenge on Chinese social media this July.
Will traditional Chinese make-up make a comeback because of Disney's Mulan?
Since Disney released the official trailer for its live-action Mulan movie earlier this month, Mulan is recurringly appearing in the top trending lists on Chinese social media.
Among all the different topics relating to the upcoming Mulan movie, the Mulan make-up challenge is one that jumps out this month.
The Disney live-action trailer showed a scene in which Mulan, played by Chinese American actress Crystal Liu Fei (刘亦菲), has a full face of betrothal makeup. The original animated Disney movie also features a full makeup Mulan.
Although there was also online criticism of the 'exaggerated' makeup, there are many people who appreciate Mulan's colorful makeup look.
On Weibo, many showed off their skills in copying Mulan's makeup look this month.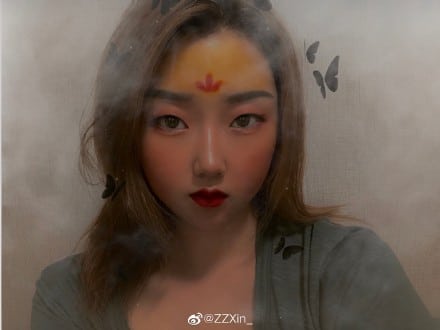 By now, the hashtags "Mulan Makeup Imitation" (#花木兰仿妆#) and "Mulan Makeup Imitation Contest" (#花木兰仿妆大赛#) have attracted over 300 million views.
Makeup such as lipstick has been used in China as far back as two or three thousand years ago.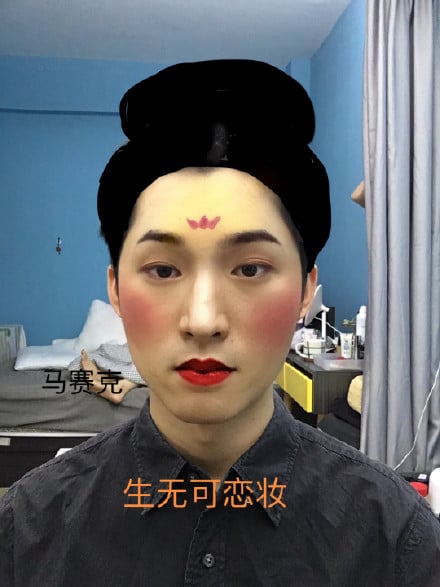 Makeup vlogger Emma Zhou explains more about Tang Dynasty (618-907) makeup customs here; the skin would be whitened with rice flower, followed by the application of 'blush' (pigment of strong-colored flowers) to the cheeks and eyes in a round shape, to emphasize the roundness of the face.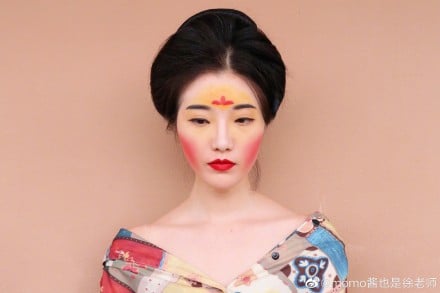 A floral-like decoration would be placed in between the eyebrows.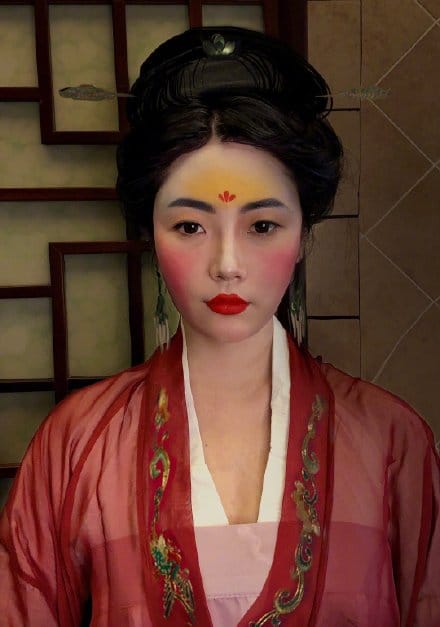 The yellow forehead, as can be seen in the live-action Mulan, is also known as "Buddha's makeup," and was especially popular among ladies during the Tang Dynasty. A yellow aura on the forehead was believed to be auspicious (Schafer 1956, 419).
Although contemporary Chinese makeup trends are much different than those depicted in Mulan, traditional makeup seems to make somewhat of a come-back because of the Disney movie, with hundreds of Chinese netizens imitating the look.
Beauty bloggers such as Nico (@黎千千Nico, image below) receive much praise from Weibo users for their makeup look. Nico wrote: "I even opened the door for the delivery guy this way!"
It is not just girls imitating the look; there are also some boys showing off their Mulan makeup.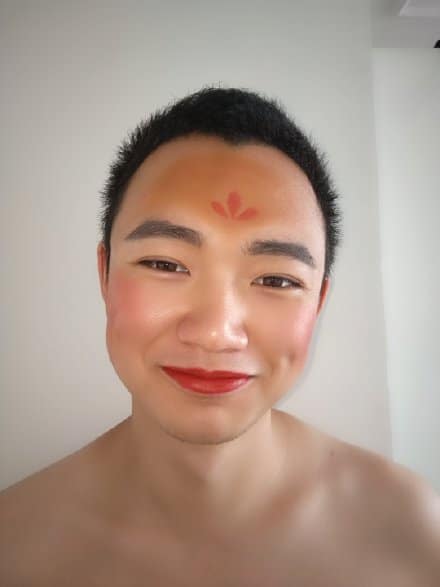 Although many still find the Mulan makeup look exaggerated and even "laughable," there are also those who think it looks really "cool" – of course, depending on whether or not the application is successful.
Want to try it out for yourself? There are various amateur tutorials available on Youtube (in Chinese), such as here, here, or here.
The Mulan make-up hype will probably continue in 2020; the Mulan movie will come out in late March.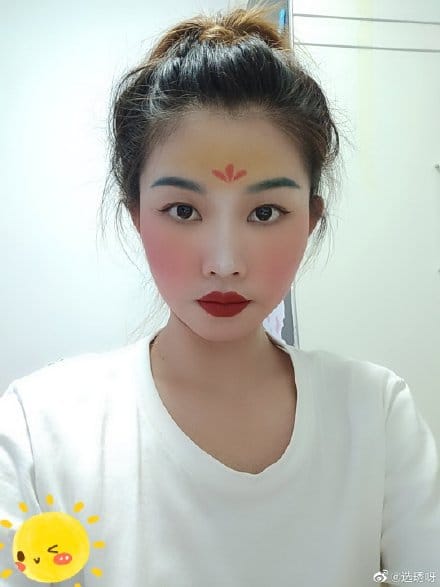 To read more about Mulan, please see our latest feature article on Mulan here.
By Manya Koetse
Follow @whatsonweibo
References
Schafer, Edward H. 1956. "The Early History of Lead Pigments and Cosmetics in China." T'oung Pao, Second Series, 44, no. 4/5: 413-38. http://www.jstor.org/stable/4527434.
Spotted a mistake or want to add something? Please let us know in comments below or email us. Please note that your comment below will need to be manually approved if you're a first-time poster here.
©2019 Whatsonweibo. All rights reserved. Do not reproduce our content without permission – you can contact us at info@whatsonweibo.com