Censorship of Chinese 6B4T & Feminist Groups Prompts Wave of Support for "Douban Sisters"
Even those who don't agree with '6b4t' views condemn Douban's recent crackdown on 6b4t and feminist groups.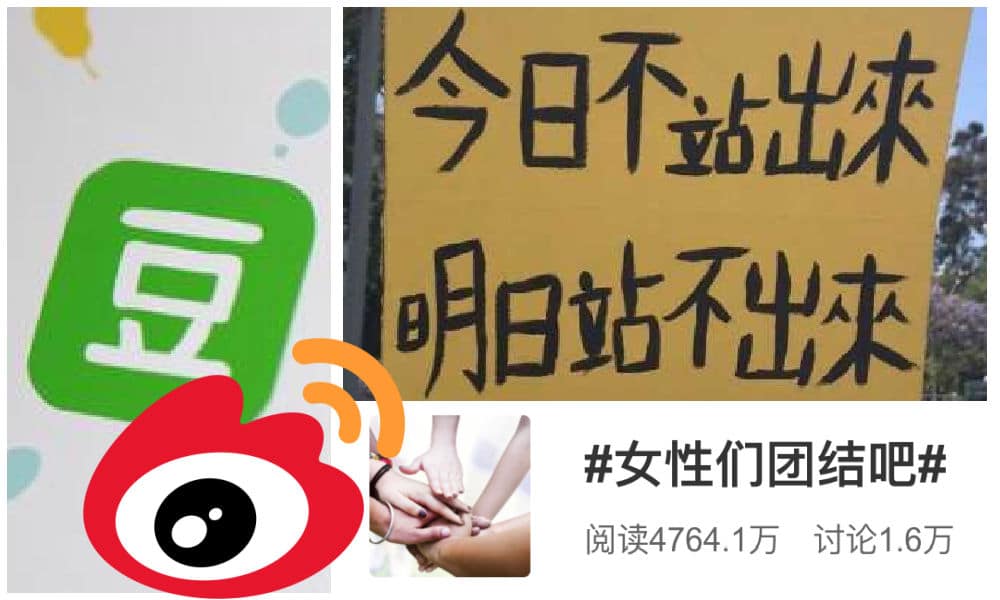 What is 6b4t? That is the question popping up in several places on Chinese social media this week after the popular networking platform Douban closed down several feminist groups and targeted the keyword '6B4T.'
Douban (豆瓣) is an influential Chinese social media platform that allows users to discuss and review books, music, films, and other topics. The platform has a 'group' (小组) function, with groups being like online forums revolving around a particular topic where Douban users can subscribe, post, and interact.
On the night of April 12, Douban closed down more than ten Douban feminist groups, of which some were linked to '6b4t' views.
6b4t is an online movement that originated in South Korea and is about female empowerment and independence that shifts away from patriarchal society and male-dominated fields in popular culture and beyond.
The '6B' stands for no husband, no children, no boyfriend, no male sex partner, not buying any products/brands that are unfriendly to women, and offering support to single women. The movement received some media attention earlier in 2019, when it was still about '4B' or the '4 no's' (no marriage, no kids, no boyfriend, no sex; the 'single women support' and 'refusal of buying misogynistic products' were added later). The '4T' stands for the rejection of shapewear (corsets), religion, otaku culture, and idols.
"A devastating blow for Chinese radical feminists"
The censorship of 6b4t-related groups on Douban sparked sharp criticism and anger online. On Twitter, 'HAL 10000' (@dualvectorfoil) called the crackdown "a devastating blow" for Chinese radical feminists.
Chinese radical feminists just suffered a devastating blow. On April 12, the Chinese government disbanded all radical feminist groups on Douban, a popular social networking website. Those are the only discussion forums that Chinese feminists could find.

— HAL 10000 (@dualvectorfoil) April 13, 2021
The Twitter account FreeChineseFeminists (@FeministChina) posted a screenshot of Douban's notification that the '6B4T' group had been removed, with the platform calling it an "extreme" and "radical" "ideology."
Douban, a social media site used by Chinese urban youth, closed more than 10 feminist groups and banned the keyword 6B4T, a feminist view from South Korea that advocates women not getting married and having no children. Douban calls 6B4T an "extreme" and "radical" "ideology." pic.twitter.com/o9QxhIZoqj

— FreeChineseFeminists (@FeministChina) April 13, 2021
On Weibo, many commenters also spoke out against the removal of the feminist Douban groups.
"I am 6b4t and although it might seem extreme in the eyes of some, I am not harming anyone at all," one person wrote, with another commenter adding: "This is completely limited to myself, I do not influence others."
"I've been 6b4t for years without even realizing," one Weibo user jokingly wrote: "I've been single forever!"
Another person admitted: "I don't really look at Douban, and I don't really understand 6b4t, but blowing up those groups like this goes too far."
"We have to firmly support our Douban sisters"
The account of Xianzi, the woman who became famous for the Xianzi versus Zhu Jun court case, also commented on the Douban censorship on April 13:
"I am not a follower of 6b4t at all, but I firmly support my Douban sisters and oppose how the feminist Douban groups have been shut out. First, 6B4T clearly is an important branch of contemporary online feminism – shutting these groups out is shutting out discussions on female topics. Seconds, the viewpoint of 6B4T is not radical at all, it just asserts that women do not need to enter heterosexual relationships and can break away from masculine control. This is completely up to women themselves and has nothing to do with anyone else. When even such a viewpoint is banned, and women insisting on being single are still seen as rebellious — this is the fundamental reason why we have to firmly support our Douban sisters."
Many people support Xianzi's statement, and meanwhile, the hashtag "Women Let's Unite" (#女性们团结吧#) also took off on Weibo, with many commenters calling on women to let their voices be heard.
"If someone is covering your mouth to try and silence you – scream louder," one person wrote.
The hashtag was also used to address issues of domestic abuse, a topic that has received a lot of attention on Chinese social media over the past year. In October of 2020, the death of the female vlogger Lamu, who was burnt by her ex-husband, also sparked an online movement that called on authorities to do more to protect and legally empower female victims of domestic abuse.
The 'Women Unite' hashtag page had received over 47 million views by late Tuesday night. Another relating hashtag, 'Douban Feminism' (#豆瓣女权#) was viewed over 40,000 times.
"You can disagree, but you can't silence them"
While the search for '6b4t' gave few new results on the Douban site at the time of writing, there were still some older posts on the topic.
One noteworthy one is that by user *Blossom*, who took the time earlier this year to explain what 6b4t means to her, saying "6b4t is an act of struggle, it is not a discipline."
In the post of February 2nd of this year, 'Blossom' explains that 6b4t is a way of resistance where the keyword is "sovereignty," namely the female sovereignty over her own body. 6b4t is a way to fight for radical feminism, Blossom claims:
"In the context of patriarchal society, women are sexually objectified while male sexuality equals power. Under this premise, marriage, childbearing, romantic love, and sexual activity are all about reinforcing the power of men and benefiting them. So we advocate 4b, which essentially is a non-violent and non-cooperative struggle mode, with the same characteristics as workers' and slaves' strikes."
Although there are also people expressing disagreement with the 6b4t movement, many defend their right to have online discussion groups about their ideas.
"You can disagree, you can call them into question, but you can't cover their mouths to silence them," one Weibo user wrote.
"We can have groups advocating marriage and childbirth, why can't we have groups advocating being single and childfree?", another person asked, with one commenter stating: "I do not advocate 6B4T, but I will defend to the death the right of these women to advocate 6B4T."
Throughout the years, feminist movements have often become a target of censorship on Chinese social media. Douban previously also censored content relating to the Zhu Jun sexual harassment case, and in the case of demanding justice for Lamu, some hasthag pages were also removed from Weibo. The renowned feminist Weibo account 'Feminist Voices' (@女权之声) was permanently banned in 2018, along with other feminist accounts.
"A new era of witch-hunting has started," one top comment in a thread of 2200 comments said: "Get ready to fight, let your voice be heard!"
A somewhat ironic consequence of Douban's latest censorship is that many people who had never heard about this 'radical feminism' now know what 6b4t is because it became a 'banned term.' "I've learnt a new word today," some commenters say, with others vowing to support their silenced 'Douban sisters.'
By Manya Koetse
Spotted a mistake or want to add something? Please let us know in comments below or email us. First-time commenters, please be patient – we will have to manually approve your comment before it appears.
©2021 Whatsonweibo. All rights reserved. Do not reproduce our content without permission – you can contact us at info@whatsonweibo.com.
Residents in Locked Down Lhasa Say Local Epidemic Situation is a "Giant Mess"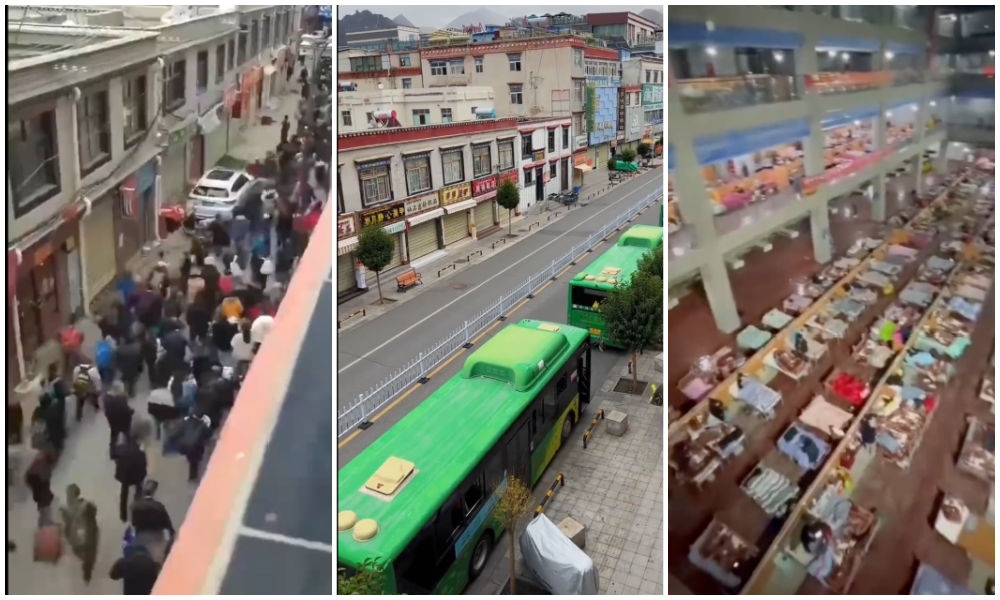 They've been in lockdown for 42 days already, but according to some Lhasa-based bloggers, there have been no improvements in the local epidemic situation. They say there is a stark difference between what officials are reporting and the daily reality they are dealing with in Tibet.
"The epidemic situation is bad in Lhasa, please pay attention," one netizen wrote on Weibo on September 15, pointing to many new posts surfacing on Chinese social media about the difficulties people are facing in Lhasa city in Tibet.
Over the past week, many Tibet-based bloggers have posted on social media about the local circumstances, and hundreds of Chinese social media posts talk about similar problems in the region. Despite the ongoing lockdown, they say, there are still a growing number of positive cases within Lhasa communities; buses are allegedly going back and forth to bring people to quarantine sites where those testing positive and negative are mixed; they claim that there is an absolute lack of management and control; and many locals suggest that the official reports do not reflect the actual number of Covid cases at all.
According to the official numbers, Tibet saw its peak in Covid cases on August 17 and has since reported fewer new cases, reporting a total of 118 new cases on Thursday.
"I am a bit shocked!" one local social media user wrote: "What I saw was a total of 28 buses lined up outside Lhasa Nagqu No. 2 Senior High School, and then still more [buses] were coming. One bus can fit around 50 people, so there must have been around 1400 positive cases. There was a blind man, there were elderly people in wheelchairs, there were swaddled-up babies, from getting on the bus at 9.30 pm up to now, we've been waiting for 5 hours and we're still waiting now. It's just pure chaos at the school entrance, there is no order. I won't sleep tonight."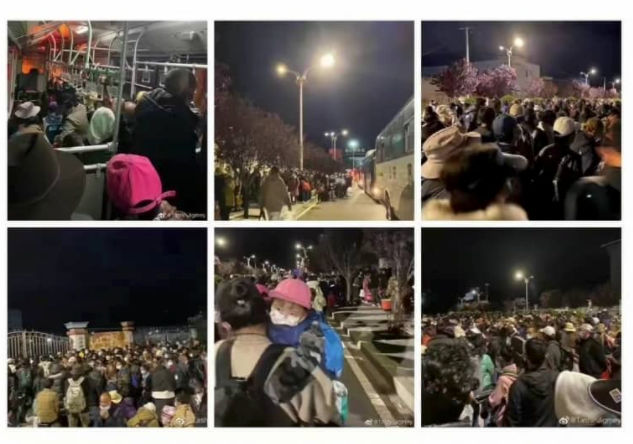 On the 14th of September, another netizen wrote:
"In order to welcome central government leaders to Lhasa and to demonstrate the "excellent" epidemic prevention capabilities of the local government & the "outstanding" results of the fight against the epidemic to them, they moved citizens to the rural areas and let them all stay crowded together in unfinished concrete buildings, with all kinds of viruses having free reign."
On a Lhasa community message board, one Weibo user wrote: "Lhasa has already been in lockdown for over a month, yet our little community has so many infected people that I'm wondering how effective a lockdown actually is? Has Tibet been forgotten? When other places in China have a few positive cases it becomes a hot topic. But what about Tibet? And what about Lhasa?"
Another anonymous poster writes: "Regarding the Lhasa epidemic situation, the numbers were already a bit fake before, but I can understand it was also to take the public sentiment into consideration. I personally don't care how you report the data, as long as the epidemic prevention and control work is properly managed, then the lockdown can be lifted soon and nobody will say anything about it. But a month has passed already, and in a town with some hundred thousands of people, the epidemic work is increasingly getting worse. Many people around me have never even left the house and inexplicably turned out to test positive. Meanwhile those who tested positive are quarantined together with people who still tested negative, it's a giant mess."
"Lhasa hasn't had a Covid outbreak for the past three years, the city doesn't have enough experience in controlling the epidemic."
"It's the 42nd day of lockdown," another person wrote on Friday: "People are lining up to go to centralized isolation, Lhasa has been in lockdown longer than Chengdu, but it doesn't make it to the hot topic lists. People who tested negative again and again suddenly turn out to be positive. Lhasa hasn't had a Covid outbreak for the past three years, the city doesn't have enough experience in controlling the epidemic. It's going to be hard to restore tourism here before the end of the year. Before, big crowds would come to visit.
Over the past few days, following a heightened focus on the situation in Xinjiang, there has also been more attention for the epidemic situation in Tibet.
"Please pay more attention to the topic of the Lhasa epidemic," one person wrote, repeating a similar message sent out by many others: "Lhasa doesn't need your prayers, we need exposure."
On Friday, one popular gamer with more than a million followers wrote on Weibo:
"Many have been reaching out to me via private messages, saying that the epidemic situation in Tibet's Lhasa is very serious. If it's really like this, I hope matters can be settled as soon as possible. I don't know if this post can stay up or not, but I want to try my best to speak up and generate more attention to this epidemic trend. I experienced two months of lockdown in Shanghai myself and understand what it feels like. I have faith in our nation, and I believe the country will definitely take action. Everyone in Tibet, jiayou [come on]."
Many of the comments and posts coming from Lhasa are similar to those we saw last week, coming from Yining in Xinjiang. Social media users based in these places complain that many of their posts have been deleted and that it is very difficult for local residents to make their voices heard.
This is different from the previous lockdown situations in, for example, Xi'an, Shanghai, or Chengdu, where people posted videos, photos, and shared their lockdown experiences, either from home, from the Covid testing lines, or from the makeshift hospitals.
A Weibo hashtag on Tibet's covid outbreak (#西藏疫情防控#) has repeatedly surged up Weibo's trending searches only to be batted down again. It purports to show now-familiar but still grim scenes: haphazardly arranged quarantine centers, barely edible food, no potable water

— Alexander Boyd (@alexludoboyd) September 15, 2022
On the one hand, the reason why people in places such as Lhasa or Yining have more difficulties in making their stories heard in China's hectic social media environment relates to the fact that these places have a relatively small population size – while Yining and Lhasa have approximately 542,00 and 465,000 inhabitants respectively, there are 21 million people in Chengdu and some 26 million in Shanghai.
But a bigger barrier to posting about their circumstances is formed by the social media censorship that is extra strict when it comes to Xinjiang and Tibet as these places are considered sensitive political subjects, which is why topics related to these regions see far more aggressive online censorship – even for seemingly innocuous posts.
One Weibo user with over 600,000 followers wrote: "In such a sensitive place as Tibet, I really needn't worry about whether they're gonna see my post or not. I posted to vent my anger and scolded the leadership for a bit and within 24 hours the police came to my hotel and asked me to delete my posts. Now that everyone is asking for help like this, they will definitely see it, but they are determined to do this and do so on purpose, it's clear they don't care about people's lives."
Meanwhile, Chinese official media reporting on the epidemic situation in Tibet stress the collective effort to fight the virus in Lhasa. On September 15, People's Daily reported how 18 sister provinces and cities across China sent their best teams to Tibet to help with local anti-epidemic work and to bring supplies.
The Tibet-based military blogger ZhufengZhengrong (@珠峰峥嵘) writes: "It's been over a month and my comrade-in-arms are still fighting on the front line (..). I just hope the epidemic will end soon, and that I will be able to meet my family and hold my children and weep."
By Manya Koetse 
Get the story behind the hashtag. Subscribe to What's on Weibo here to receive our weekly newsletter and get access to our latest articles:
Spotted a mistake or want to add something? Please let us know in comments below or email us. First-time commenters, please be patient – we will have to manually approve your comment before it appears.
©2022 Whatsonweibo. All rights reserved. Do not reproduce our content without permission – you can contact us at info@whatsonweibo.com.
Chinese Actor and State Security Ambassador Li Yifeng Detained for Soliciting Prostitutes
Li Yifeng is not exactly living up to his role as spokesperson for the Ministry of State Security.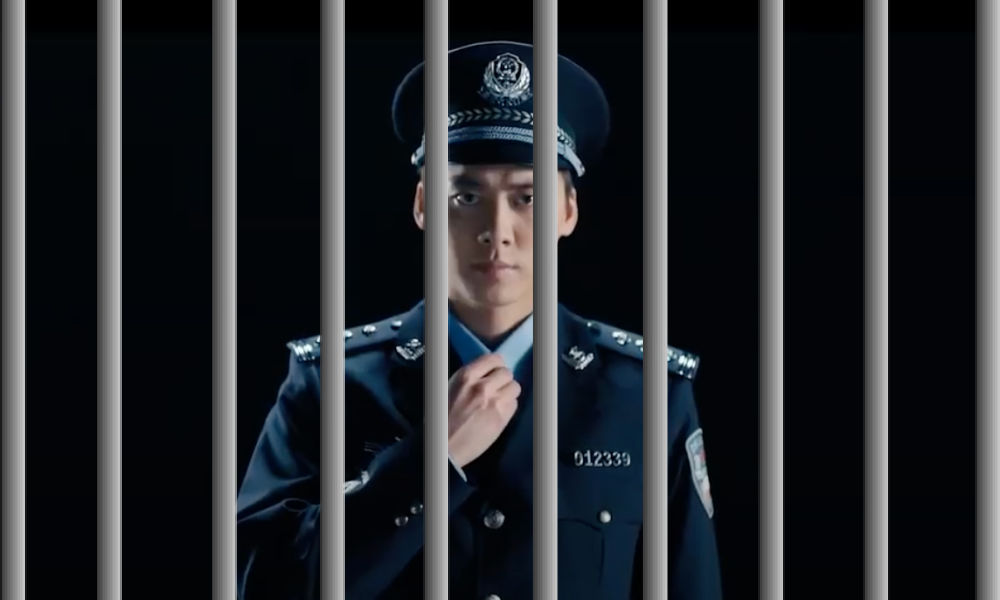 Chinese actor and singer Li Yifeng (李易峰) went top trending on Chinese social media today. The actor, who previously starred as brand ambassador for the Ministry of State Security and played Mao Zedong in The Pioneer, has been detained for visiting prostitutes.
On January 10 of 2021, China celebrated its very first National Police Day to give full recognition to the police and national security staff for their efforts. For this special day, the Ministry of State Security launched a promo video starring Chinese actor Li Yifeng as the National Police Ambassador (#李易峰国安形象传片#). But today, it turned out that Li might not have been the best man for the job.
Chinese official media reported on September 11 that the 35-year-old actor has been detained for soliciting prostitutes. The hashtag "Li Yifeng Detained for Visiting Prostitutes" (#李易峰多次嫖娼被行政拘留#) received nearly two billion views on Weibo on Sunday; the hashtag "Beijing Police Informs that Li Yifeng Solicited Prostitutes" (#北京警方通报李易峰多次嫖娼#) received a staggering three billion views.
Shortly after the news was announced, various brands for which Li served as a brand ambassador announced that they were no longer working with the actor. Lukfook Jewellery, Mengniu Dairy, Honma Golf, Panerai, Prada, Sensodyne, King To Nin Jiom, and other brands declared that they had terminated their contract with Li (#多个品牌终止与李易峰合作#).
Li rose to fame in 2007 when he participated in the Chinese My Hero talent show. He later debuted as a singer and became a successful actor, starring in various Chinese TV dramas and films. Li became especially popular after starring in Swords of Legends and won an award for his role in the 2015 Chinese crime film Mr. Six (老炮儿). He would go on to win many more awards. One of his biggest roles was starring as Mao Zedong in the 2021 blockbuster The Pioneer (革命者).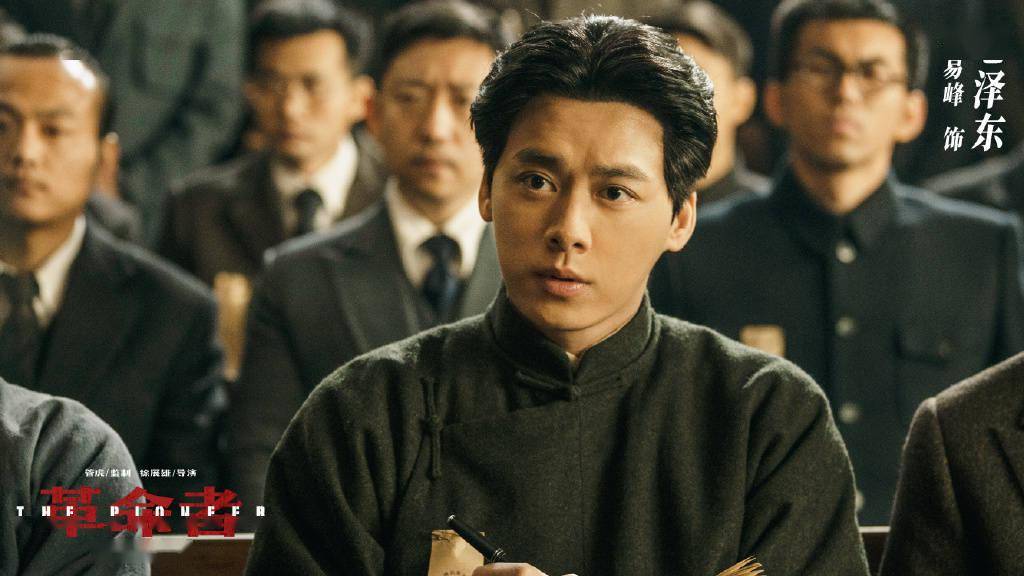 According to Global Times, Li was previously announced as one of the celebrities attending the Mid-Autumn Festival Gala on CCTV on Saturday night, but his name was later deleted from the program.
"I had never expected my idol to collapse like this," some disappointed fans wrote on Weibo.
In a 'super topic' community dedicated to the star, some fans would not give up on their idol yet: "Where is the proof? Besides the Beijing police statement, where is the actual proof?"
On Li Yifeng's Weibo page, where the actor has over 60 million fans, nothing has been posted since September 5.
The Huading Awards, a famous entertainment award in China, announced that they cancelled Li Yifeng's title of "Best Actor in China" (#华鼎奖取消李易峰中国最佳男主角等称号#).
"He lost all he had overnight," some commenters wrote. "Celebrities generally get cancelled for two things: one is evading taxes, the other is sleeping around," one popular comment said: "So in a nutshell, pay your taxes and don't sleep around.*"
"Why do you even need to see a prostitute when you're so good-looking?" others wondered.
One Weibo user (@大漠叔叔) wrote: "Have a good head on your shoulders and just remember one thing. It does not matter how good your reputation is, or how many titles you have, how much the audience loves you, how much the fans embrace you, how many awards you get, it won't protect you. Stay clear-headed, merit does not outweigh faults! You can't cross the moral bottomline nor cross the boundaries of the law. You can be canceled just like that."
By Manya Koetse 
* This comment is loosely translated here, but the Chinese is quite funny because the words 'taxes' and 'sleeping' sound similar. "明星塌房的两个主要原因:一个睡,一个税。 简而言之:该税的税,不该睡的别睡."
Get the story behind the hashtag. Subscribe to What's on Weibo here to receive our weekly newsletter and get access to our latest articles:
Spotted a mistake or want to add something? Please let us know in comments below or email us. First-time commenters, please be patient – we will have to manually approve your comment before it appears.
©2022 Whatsonweibo. All rights reserved. Do not reproduce our content without permission – you can contact us at info@whatsonweibo.com.