Censorship of Chinese 6B4T & Feminist Groups Prompts Wave of Support for "Douban Sisters"
Even those who don't agree with '6b4t' views condemn Douban's recent crackdown on 6b4t and feminist groups.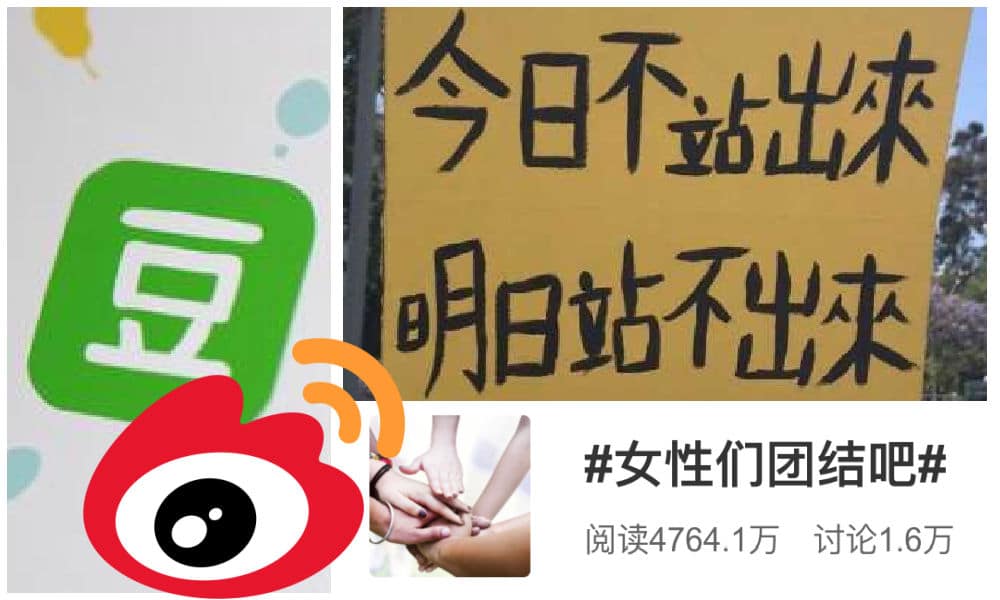 What is 6b4t? That is the question popping up in several places on Chinese social media this week after the popular networking platform Douban closed down several feminist groups and targeted the keyword '6B4T.'
Douban (豆瓣) is an influential Chinese social media platform that allows users to discuss and review books, music, films, and other topics. The platform has a 'group' (小组) function, with groups being like online forums revolving around a particular topic where Douban users can subscribe, post, and interact.
On the night of April 12, Douban closed down more than ten Douban feminist groups, of which some were linked to '6b4t' views.
6b4t is an online movement that originated in South Korea and is about female empowerment and independence that shifts away from patriarchal society and male-dominated fields in popular culture and beyond.
The '6B' stands for no husband, no children, no boyfriend, no male sex partner, not buying any products/brands that are unfriendly to women, and offering support to single women. The movement received some media attention earlier in 2019, when it was still about '4B' or the '4 no's' (no marriage, no kids, no boyfriend, no sex; the 'single women support' and 'refusal of buying misogynistic products' were added later). The '4T' stands for the rejection of shapewear (corsets), religion, otaku culture, and idols.
"A devastating blow for Chinese radical feminists"
The censorship of 6b4t-related groups on Douban sparked sharp criticism and anger online. On Twitter, 'HAL 10000' (@dualvectorfoil) called the crackdown "a devastating blow" for Chinese radical feminists.
Chinese radical feminists just suffered a devastating blow. On April 12, the Chinese government disbanded all radical feminist groups on Douban, a popular social networking website. Those are the only discussion forums that Chinese feminists could find.

— HAL 10000 (@dualvectorfoil) April 13, 2021
The Twitter account FreeChineseFeminists (@FeministChina) posted a screenshot of Douban's notification that the '6B4T' group had been removed, with the platform calling it an "extreme" and "radical" "ideology."
Douban, a social media site used by Chinese urban youth, closed more than 10 feminist groups and banned the keyword 6B4T, a feminist view from South Korea that advocates women not getting married and having no children. Douban calls 6B4T an "extreme" and "radical" "ideology." pic.twitter.com/o9QxhIZoqj

— FreeChineseFeminists (@FeministChina) April 13, 2021
On Weibo, many commenters also spoke out against the removal of the feminist Douban groups.
"I am 6b4t and although it might seem extreme in the eyes of some, I am not harming anyone at all," one person wrote, with another commenter adding: "This is completely limited to myself, I do not influence others."
"I've been 6b4t for years without even realizing," one Weibo user jokingly wrote: "I've been single forever!"
Another person admitted: "I don't really look at Douban, and I don't really understand 6b4t, but blowing up those groups like this goes too far."
"We have to firmly support our Douban sisters"
The account of Xianzi, the woman who became famous for the Xianzi versus Zhu Jun court case, also commented on the Douban censorship on April 13:
"I am not a follower of 6b4t at all, but I firmly support my Douban sisters and oppose how the feminist Douban groups have been shut out. First, 6B4T clearly is an important branch of contemporary online feminism – shutting these groups out is shutting out discussions on female topics. Seconds, the viewpoint of 6B4T is not radical at all, it just asserts that women do not need to enter heterosexual relationships and can break away from masculine control. This is completely up to women themselves and has nothing to do with anyone else. When even such a viewpoint is banned, and women insisting on being single are still seen as rebellious — this is the fundamental reason why we have to firmly support our Douban sisters."
Many people support Xianzi's statement, and meanwhile, the hashtag "Women Let's Unite" (#女性们团结吧#) also took off on Weibo, with many commenters calling on women to let their voices be heard.
"If someone is covering your mouth to try and silence you – scream louder," one person wrote.
The hashtag was also used to address issues of domestic abuse, a topic that has received a lot of attention on Chinese social media over the past year. In October of 2020, the death of the female vlogger Lamu, who was burnt by her ex-husband, also sparked an online movement that called on authorities to do more to protect and legally empower female victims of domestic abuse.
The 'Women Unite' hashtag page had received over 47 million views by late Tuesday night. Another relating hashtag, 'Douban Feminism' (#豆瓣女权#) was viewed over 40,000 times.
"You can disagree, but you can't silence them"
While the search for '6b4t' gave few new results on the Douban site at the time of writing, there were still some older posts on the topic.
One noteworthy one is that by user *Blossom*, who took the time earlier this year to explain what 6b4t means to her, saying "6b4t is an act of struggle, it is not a discipline."
In the post of February 2nd of this year, 'Blossom' explains that 6b4t is a way of resistance where the keyword is "sovereignty," namely the female sovereignty over her own body. 6b4t is a way to fight for radical feminism, Blossom claims:
"In the context of patriarchal society, women are sexually objectified while male sexuality equals power. Under this premise, marriage, childbearing, romantic love, and sexual activity are all about reinforcing the power of men and benefiting them. So we advocate 4b, which essentially is a non-violent and non-cooperative struggle mode, with the same characteristics as workers' and slaves' strikes."
Although there are also people expressing disagreement with the 6b4t movement, many defend their right to have online discussion groups about their ideas.
"You can disagree, you can call them into question, but you can't cover their mouths to silence them," one Weibo user wrote.
"We can have groups advocating marriage and childbirth, why can't we have groups advocating being single and childfree?", another person asked, with one commenter stating: "I do not advocate 6B4T, but I will defend to the death the right of these women to advocate 6B4T."
Throughout the years, feminist movements have often become a target of censorship on Chinese social media. Douban previously also censored content relating to the Zhu Jun sexual harassment case, and in the case of demanding justice for Lamu, some hasthag pages were also removed from Weibo. The renowned feminist Weibo account 'Feminist Voices' (@女权之声) was permanently banned in 2018, along with other feminist accounts.
"A new era of witch-hunting has started," one top comment in a thread of 2200 comments said: "Get ready to fight, let your voice be heard!"
A somewhat ironic consequence of Douban's latest censorship is that many people who had never heard about this 'radical feminism' now know what 6b4t is because it became a 'banned term.' "I've learnt a new word today," some commenters say, with others vowing to support their silenced 'Douban sisters.'
By Manya Koetse
Spotted a mistake or want to add something? Please let us know in comments below or email us. First-time commenters, please be patient – we will have to manually approve your comment before it appears.
©2021 Whatsonweibo. All rights reserved. Do not reproduce our content without permission – you can contact us at info@whatsonweibo.com.
Let's Plant: China's Variety Show "Become a Farmer" Is Harvesting Success Online
As iQIYI's 'Become a Farmer' gains momentum, it highlights China's growing trend of embracing rural themes in mainstream entertainment.
With its focus on hard farm work and meeting actual targets, Become a Farmer is a fresh breeze of air for China's variety show business, especially among young Chinese viewers who appreciate the show's authenticity and the calmness of the rural scenes that pose a stark contrast with stressful urban life.
The Chinese variety show Become A Farmer has achieved tremendous popularity in China recently through the iQIYI platform, which is often hailed as the Chinese equivalent of Netflix. Become A Farmer recently gained over 4.6 billion (!) views on Weibo through the hashtag #种地吧# (Zhǒng dì ba), which translates to "Let's Plant" or "Let's Farm" in English and also happens to be the show's name in Chinese.
Produced by iQIYI and Blue Sky Media Group (BSMG), Become A Farmer (Young Men edition) is a documentary-style interactive reality show that revolves around the theme of farming, with actual farm work as its central focus.
The show handpicked ten young men out of 300 candidates to assemble a "farming team." With unwavering dedication, they toiled for over 190 days, diligently cultivating 142.8 mu (approximately 95,200 square meters) of land. They actively engaged in every aspect of farm work, starting from planting a single seed and guiding the audience through the complete journey of rice germination, growth, flowering, and ultimately reaping the harvest.
Chinese netizens have drawn comparisons between the show and the British television documentary series Clarkson's Farm. Playfully, they remarked that if Clarkson's Farm were to be introduced in the Chinese market, it could aptly be renamed "Become A Farmer (Old Men Edition)."
Become A Farmer released its first episode on February 4 of this year, initially receiving limited attention. However, as subsequent episodes were released, the show started garnering increased interest, with the audience discovering the genuine dedication of the ten young men towards their farming endeavors – and that it was not just for show.
Its rating on Douban, China's IMDB, has climbed up to 8.9 out of 10. Meanwhile, the series has been nominated for the prestigious Magnolia Award for Best Variety Program at the 28th Shanghai TV Festival.
A Fresh Take on Chinese Idol Survival Shows
Become A Farmer initially caught the attention of many Chinese netizens through the humorous jokes of veteran comedian Pang Bo during the fifth season of the stand-up comedy competition Rock & Roast.
At that time, the show had not yet been aired but its format had already been introduced during a media conference, and Pang Bo (庞博) had heard about it.
In Pang's joke, he compared the show to a farmer version of idol survival shows, proposing that the four individuals who made the greatest contributions to the final harvest could come together as a group, forming a new generation of F4 (referring to the popular Asian boy band), playfully dubbed "Farmer 4."
While Chinese netizens were initially amused by this joke, little did they realize that iQIYI was actually turning it into a reality, albeit without the comedic intent.
"Food is not something we can take lightly with jokes and banter, especially considering the size of our farmland, which spans approximately 140 mu and has the potential to provide sustenance for many people. This is a matter of responsibility and morality," stated Yang Changling (杨长岭), the show's director.
Normally, Chinese entertainers are compensated for their involvement in reality or variety shows, as they play a crucial role in generating engaging content. Such shows often seek out celebrities with a large online fan base to ensure a favorable viewership.
But Become A Farmer is different. Among the ten young men, no one is a typical celebrity that has a huge fan base online. Moreover, they are not paid for filming the show but have to earn from the land rented from local farmers through their own hard work.
To legally sell the products grown on their farmland, the ten young men took the step of registering an official company. This registration allowed Chinese netizens to verify the company's information on the government website, providing evidence of the project's authenticity. As the information about the company circulated, the related hashtag (#种地吧 开公司#) gained traction on Weibo, eventually trending when the ten young men received their official company certificate.
Become A Farmer leans more towards being a documentary rather than a traditional entertainment program. To underscore its authenticity, a novel approach has been adopted in China's variety show landscape. It airs live for one hour every day, beginning at 9:30 am, synchronizing with the young men's start of work. This timing allows netizens, who typically commence their own workday around that time, to actively participate as 'online supervisors,' overseeing the ten young men's daily tasks while starting on their own tasks of the day.
Through livestreaming on both Weibo and Douyin (the Chinese version of TikTok), the show creates a natural teaser for the edited reality series while embodying its interactive nature.
As an additional element, the ten young men occasionally share vlogs on Weibo and Douyin during the filming process. This unique combination of long-form reality show footage + livestreaming + vlogs allows the audience to closely follow and stay updated on the progress of the ten young men's work over the span of more than 190 days.
The show's concept of gathering relatively unknown young men aspiring to make a breakthrough in the entertainment industry bears resemblance to popular shows like Youth With You, also produced by iQIYI. However, Youth With You's third season was suspended in 2021 for wasting large amounts of milk amid the China's strengthened efforts in eradicating wasting food; viewers were ecouraged to buy bottled Mengniu milk and scan QR codes inside the caps to vote for their favorite trainees, which led to fans buying tons of bottles only to vote and getting rid of the milk.
Clearly, iQIYI has learned from the past and taken a different approach with Become A Farmer. In this show, there are no milk-wasting competitions or cutthroat rivalries. Instead, the ten young men are united in their goal to complete the farm work together and to run the company and get rid of its debt.
Focus on Vital China Topics: Empowering Youth, Food Security, and Rural Revitalization
Various topics that are relevant in today's China come together in Become a Farmer. The show also explicitly addressed its objectives in producing this diverse variety show and released a pre-episode to emphasize the importance of food security and shed light on the challenges faced by Chinese youth upon entering the workforce.
In recent years, China has placed significant emphasis on food security, with leaders repeatedly stressing the need to ensure that "the Chinese rice bowl is firmly held in our own hands."
The China Agricultural Outlook Report (2023-2032), released on April 20, outlined the ongoing consolidation of China's food security foundation for the next decade. Notably, all 103 million hectares of permanent farmland will be transformed into high-standard farmland. The report also highlighted plans to diversify import channels for agricultural products, improve the trade structure, and reduce grain imports by 19.7 percent over the next decade.
During the pre-episode of the show, an expert who provided training courses to ten young men emphasized the need to address the aging agricultural workforce in China's agricultural development.
Simultaneously, in 2023, China witnessed a record-breaking number of graduates, reaching 11.58 million.
Given the increasing digitalization in agriculture, encouraging young people to pursue farming careers emerges as a viable solution. By becoming New Era Farmers (新农人) and actively participating in the nine tasks outlined in China's "No. 1 central document" for 2023, which promotes rural vitalization comprehensively, young talent can contribute to the development of rural areas instead of solely pursuing white-collar jobs in urban areas.
A Rural Trend in Chinese Entertainment
The increasing appeal of rural life among young people in China is reflected in a survey conducted by the Social Survey Center of China Youth Daily (中国青年报社社会调查中心) in September 2022. The survey revealed that 70.9% of the respondents believed that the countryside has become more attractive to young individuals. Factors such as a slower pace of life, lower pressure, and reduced costs were cited as the main reasons why young people find rural areas appealing.
As transportation and internet connectivity have gradually improved, rural life in China is no longer seen as isolated and cut off from the rest of the world. This transformation has sparked a growing interest in living in the countryside, particularly among young people. The countryside's allure lies in its simplicity, natural beauty, and the chance to escape the fast-paced and hectic city life.
This growing interest in rural life may explain the popularity of shows like Become a Farmer. The commitment demonstrated by the ten young men to their farm work has garnered applause from Chinese netizens. Overcoming challenges such as working in adverse weather conditions, assisting with difficult births for animals, and engaging in physically demanding tasks have showcased their dedication and hard work. These aspects have resonated with the audience and contributed to the show's success.
Originally planned to conclude after 39 episodes, the show's production team has decided to extend it to 50 episodes due to the abundance of material gathered from over 190 days of farm work and the increasing interest and positive feedback from viewers. This extended episode count goes beyond the typical duration for a variety show, highlighting its exceptional popularity.
It is evident that iQIYI, the broadcasting platform behind the show, is keen on fulfilling its alleged social responsibility to promote the importance of food security and sustainable food production, farming, and showing that young individuals that they can thrive in rural areas.
Capitalizing on the success of the reality show, iQIYI has also released a teaser for an upcoming drama called Romance on the Farm (田耕纪), which also revolves around farming. This drama portrays a contemporary woman unexpectedly finding herself in the countryside during the Song Dynasty and embarking on a journey of farming, prosperity, and love alongside the enigmatic Shen Nuo.
In the last couple of years, there were several countryside-themed dramas that showcased China's rural revitalization efforts and highlighted the involvement of younger generations in supporting their rural hometowns, such as On The Way to Hope (在希望的田野上) or The Story of Xing Fu (幸福到万家) which starred the renowned Chinese actress Zhao Liying.
The success of Become a Farmer, the upcoming Romance on the Farm, and the overwhelming enthusiasm among Chinese viewers for these shows suggest that farming has become the latest 'hip' trend in China's entertainment industry. It seems that plowing fields and tending to crops have now found their place in the limelight. With the growing interest and excitement surrounding these shows, it's safe to say that we can expect a blooming harvest of more Chinese productions focused on farm work and rural life in the near future.
Watch "Become a Farmer" on Youtube here (including English subtitles).
By Wendy Huang
Follow @whatsonweibo
Spotted a mistake or want to add something? Please let us know in comments below or email us. Please note that your comment below will need to be manually approved if you're a first-time poster here.
©2023 Whatsonweibo. All rights reserved. Do not reproduce our content without permission – you can contact us at info@whatsonweibo.com
'Carpet Pacific': A Timeline of the Cathay Pacific Scandal Through Weibo Hashtags
Cathay Pacific flight attendants mocking non-English speaking passengers by saying, "If you can't say blanket, you can't have it," has sparked a major controversy and caused a marketing catastrophe.
Last week, Xiamen Airlines was the focus of attention on Chinese social media after one of their pilots was caught secretly filming a female staff members in the ladies room. This week, the focus has shifted to Cathay Pacific, as the Hong Kong-based airline faced accusations of discrimination against travelers from mainland China.
The incident gained significant attention on May 22 when a user of the Xiaohongshu (Little Red Book) app shared a public complaint about the Hong Kong airline. In the post, the author, who claimed to have resided in Hong Kong for eleven years, expressed their inability to remain silent after witnessing overt discrimination on a Cathay Pacific CX987 flight from Chengdu to Hong Kong.
The passenger said they were seated near the area where the flight attendants rest and prepare meals, and that they could hear the cabin crew making fun of passengers who could not speak English. Passengers who tried to ask them for help in English about filling out immigration cards allegedly also received impatient responses. The passenger recorded some of their conversation, and later posted the audio clip online.
In one clip, you can hear the staff laughing about a passenger who wanted a blanket but could not properly say it in English. "If you cannot say blanket, you cannot have it," they joked. Since some passengers allegedly had used the word 'carpet' instead of 'blanket', the cabin crew can be heard saying: "A carpet is on the floor."
The biggest China social story of the past few days started with one passenger exposing Cathay cabin crew mocking & discriminating against non-English speaking (Mainland) passengers. His complaint and this 30 second audio snippet led to them being fired, and a social media storm. pic.twitter.com/BDuabQcm0S

— Manya Koetse (@manyapan) May 27, 2023
Since the incident was first exposed on social media, it turned into a major controversy and a marketing crisis for the Cathay Pacific company. As Cathay was condemned by million of netizens, many also vowed to boycott the airline.
Cathay Pacific has been hit hard by the pandemic, and was seeing an increased demand for travel into the Chinese Mainland since quarantine-free travel between Hong Kong the Mainland was finally resumed on January 8 of this year. Cathay is heavily dependent on the Chinese market, and approximately 70% of its revue reportedly comes from China (#国泰航空近七成营收来自中国#).
The incident has ignited anger due to the discriminatory treatment of mainland customers by a Hong Kong company, leading to further discussions on anti-Chinese sentiments in Hong Kong and the role of language in fostering (or hindering) national unity between mainland China and Hong Kong.
This is a timeline of the incident through Weibo hashtags that have gone trending over the past few days.
▶︎ The Cathay Discrimination Audio Leaked Online #国泰空乘歧视乘客录音曝光# (260 million views)
After a netizen posted about supposed discrimination against non-English speaking passengers by cabin crew members on the Cathay Pacific CX987 flight, the incident soon garnered widespread attention on Chinese social media, especially when the 30-second audio was also shared online (hear the audio snippet here).
▶︎ Cathay Pacific Apologizes #国泰航空致歉# (210 million views)
On May 22, Cathay Pacific soon issued a response apologizing for the passenger's experience and promised a thorough investigation. However, their initial apology was considered inadequate by many netizens, and only sparked more debates about the discrimination against mainland Chinese passengers within Cathay's work environment.
On May 23, Cathay Pacific issued a second apology via social channels, mentioning that they had contacted the passenger and that they had suspended the flight attendants involved.
▶︎ Cathay Pacific Uses Standard Mandarin to Apologize #国泰航空行政总裁用普通话道歉# (10 million views)
During a media briefing in Guangzhou on May 24, Cathay Pacific CEO Lin Shaobo (林绍波) once again expressed his sincere apologies on behalf of Cathay for the incident. In doing so, he used Standard Mandarin, the national language of mainland China.
▶︎ Three Employers Fired for Discriminating Against Passengers #国泰航空3名歧视乘客空乘被解聘# (460 million views)
At this time, it was also announced that Cathay had completed their investigation into the matter and, in accordance with the company's regulations, had dismissed the three involved cabin crew members. Lin Shaobo clarified that the airline maintains a "zero tolerance" approach towards any employees who violate the company's rules and ethical standards.
▶︎ Cathay Pacific's Flight Attendant Union Regrets the Incident #国泰空乘工会对空姐被解聘感到遗憾# (180 million views)
On May 24, there was some online turmoil over a statement issued by Cathay Pacific's Flight Attendant Union (FAU). In the statement, the union expressed that Cathay is "facing a shortage of both manpower and resources, a significant increase in workload and low salaries." Because these problems are ignored, Cathay is seeing an "extremely low" morale among cabin crew and more complaints regarding cabin service. "Nothing comes from nothing," the statement said. The Union was criticized for "whitewashing" the cabin crew's discrimination against non-English-speakers.
▶︎ No Official Support for The Union #国泰航空称空中服务员工会不代表国泰# (130 million views)
On May 25, Cathay Pacific issued a statement in which they clarified that The Union is an independent labor union and does not represent the company. They also clarified that did not support the union's position nor agreed with it.
▶︎ Hu Xijin Recommends Mainland Passengers to Speak Mandarin #胡锡进建议乘国泰航空只讲普通话# (910,000 views)
Chinese political & social commentator Hu Xijin (@胡锡进) also responded to the Cathay incident in multiple posts. In one of them, he suggested that mainland passengers should primarily speak Mandarin when they fly Cathay in the future. Since so much of their customer base is from mainland, Cathay should have enough cabin crew speaking Mandarin, he argued. Hu also reflected on how Cathay also caused controversy in 2019, when it would not stop staff from joining the Kong Kong pro-democracy protests. According to Hu, the company should pay attention to "correcting the values" of their employees.
▶︎"Leaked" Internal Email Labeled as Fake News #国泰航空称网传英文内部信件为伪造# (77 million views)
In the meantime, some images circulated online that allegedly showed an internal Cathay Pacific memo by the company's HK Express CEO Mandy Ng in which a warning was issued to be "cautious when engaging with customers from China and be aware of their media culture." That memo was labeled as being false by Cathay Pacific.
▶︎ Hong Kong Perfomer Condemns Cathay for Incident #香港演员怒斥国泰空乘歧视乘客# (170 million views)
Hong Kong celebrity Maria Cordero, nicknamed 'Fat Mama' (肥妈) went trending on Weibo for condemning the Cathay Pacific crew members in a recent interview. "Is speaking English that important?" she wondered: "The whole world is learning Chinese!" She also expressed that the primary duty of flight attendants is to look after passengers and help solve their problems. If they are incapable of fulfilling their duty, they should be sacked.
▶︎ Blankets for Everyone #旅客称现在国泰的航班挨个发毛毯# (6.5 million views)
According to passengers flying Cathay after the 'blanket incident,' the cabin crew went around explicitly asking all passengers if they needed any blankets, making announcements in English, Mandarin, and Cantonese.
▶︎ Follow-up to the Incident #国泰航空空乘歧视乘客后续# (26 million views)
As the Cathay scandal keeps fermenting online, one commenter expressed a common viewpoint by stating: "If Cathay Pacific is so unwilling to serve Chinese people and they refuse to speak Mandarin, why don't they clearly state that they don't welcome Chinese passengers? They can't have it both ways by earning money from Chinese tickets without providing the same level of service."
Meanwhile, an online meme has gained popularity, depicting 'Cathay Pacific' as 'Carpet Pacific' in reference to the controversial comments made by the cabin crew.
Other memes include the quote: "If you cannot say blanket, you cannot have it," or include the phrase "no zuo no die" – a popular internet meme that basically means 'what goes around comes around.'
Those flying China Southern Airlines or Eastern Airlines are posting about their warm on-board blankets, joking: "I didn't even have to say 'blanket' and still got it!"
By Manya Koetse
Get the story behind the hashtag. Subscribe to What's on Weibo here to receive our newsletter and get access to our latest articles:
Spotted a mistake or want to add something? Please let us know in comments below or email us. First-time commenters, please be patient – we will have to manually approve your comment before it appears.
©2023 Whatsonweibo. All rights reserved. Do not reproduce our content without permission – you can contact us at info@whatsonweibo.com.
Subscribe to our newsletter
Stay updated on what's trending in China & get the story behind the hashtag
Sign up here to become a premium member of What's on Weibo today and gain access to all of our latest and premium content, as well as receive our exclusive newsletter. If you prefer to receive just our weekly newsletter with an overview of the latest, you can subscribe for free here.
Would you like to become a contributor, or do you have any tips or suggestions for us? Get in touch with us here.