Mesut Ozil Announces Exit from the German National Team on Weibo
Ozil's exit from the German team has stirred discussions from Twitter to Weibo.
Mesut Ozil's withdrawal from the German national team has not just sparked debates across Europe, but also in China, where Ozil announced his resignation on Sina Weibo.
On July 22, German football player Mesut Ozil issued a lengthy statement on his personal Twitter account, in which he announced his resignation from the national team.
According to his Twitter statement, which was retweeted more than 100,000 times within two days, his resignation comes after the massive renouncement of Ozil after he posted a photo of himself with Turkish President Erdogan, along with him receiving blame for Germany's disappointing World Cup.
Ozil accused the German football federation, fans, and media, of racism and double standards in the treatment of him as a German soccer player with Turkish roots, writing he would "no longer be playing for Germany at international level whilst I have this feeling of racism and disrespect."
Ozil, who is of Turkish descent, said he will never wear the German team's jersey again.
The controversial photo of Erdogan and Mesut was taken at a London event in May earlier this year. Ozil stated that he had met Erdogan previously in 2010, and that the picture was taken with "no political intentions."
The football player said that he has "two hearts," "one German and one Turkish," and that taking a photo with Erdogan was about "respecting the highest office of my family's country."
The German football association (DFB) has since responded to Ozil's allegations of racism, saying they "emphatically reject the DFB being linked to racism."
"Taking a picture with Erdogan will always have political implications."
Besides Ozil's 23+ million followers on Twitter, the popular footballer also has more than 850,000 fans on his official Weibo account, where he also published his recent statement. After a day, it received some thousands of likes, responses and shares, and also became a much-discussed topic on various news accounts on Weibo.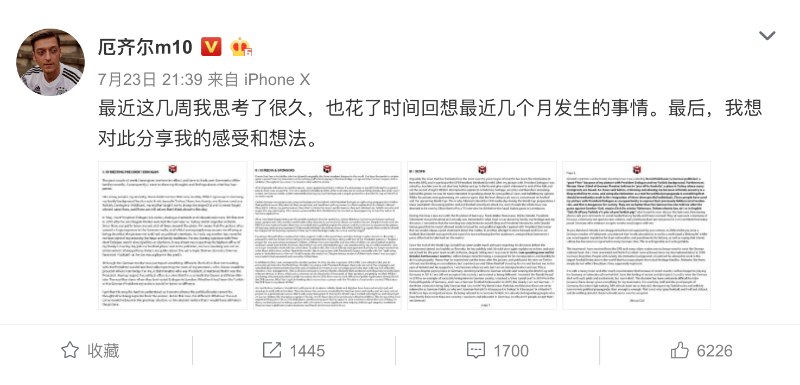 Weibo responses to Ozil's statement have been mixed: while many Weibo users side with the football player and blamed the Germans for being "racist," others call Ozil a player who is "not loyal" to Germany and the national team.
"I will always be with you and support you. I hope you can be happy and free from worry," some Ozil fans commented.
"Stand with Özil❤️❤️❤️Say no to racism," others wrote.
However, not all Weibo users support Ozil's position: "This is purely an act of stupidity. Turkey was interfering with the German elections. Taking a picture with Erdogan will always have political implications. Ozil refused to sing the German anthem in the games. He is stepping on two boats. He deserves to be kicked out of the team. That has nothing to do with winning or losing," a Weibo user named @PlanetDaily wrote, along with other netizens who called out Ozil's lack of loyalty to the team and country he played for.
"Let's think about it in the Chinese context: suppose Ozil is a football player from Xinjiang and plays for the Chinese national team. And then all of a sudden he meets Erdogan and takes a picture. He now says that he is proud to be a Turkish rather than a Chinese. What would you think?", a Weibo user nicknamed "Mao Zedong excerpt always in my hand" wrote.
"Erdogan is the enemy of Europe. He is a dictator purging oppositions in the name of religion. Ozil is wrong in meeting him already. As there are many Turks in Germany there is a deeper political implication for Erdogan to meet with Ozil. As a German national team player, Ozil should recognize this," a popular comment said.
"He was a hero in 2014, he's the bad guy in 2018," another top commenter wrote, referencing to Mesut Ozil's great success during the 2014 World Cup.
But besides those who support and attack Ozil, there are also many Chinese commenters who feel that there eventually is only one person who profits from Ozil's football exit, and that it is President Erdogan. Many say that he used the star footballer for his own political strategies.
"Of course it has great impact when a celebrity footballer poses with Erdogan. Football is football, and politics are politics, but this all creates much confusion when a footballer like Ozil poses with a dictatorial ruler," Weibo user @Kined wrote.
For hundreds of Chinese Ozil fans, however, their love for him has nothing to do with politics: "I will support you no matter what. I will support your decision. Wherever you are, I hope you will be happy."
By Chauncey Jung and Manya Koetse
Follow @whatsonweibo
Spotted a mistake or want to add something? Please let us know in comments below or email us.
©2018 Whatsonweibo. All rights reserved. Do not reproduce our content without permission – you can contact us at info@whatsonweibo.com.
Chairman Rabbit vs Hu Xijin: Divided Nationalists on Weibo
Hu's personal opinions should not be mistaken for China's official stance nor guide Chinese online public opinion, Chairman Rabbit argues.
Political commentator Hu Xijin was an influential online voice in the days surrounding Pelosi's visit to Taiwan. Chinese blogging account Chairman Rabbit lashed out against Hu, saying he misled public opinion at a time when his statements should have matched the official stance.
On August 3rd, a day after Nancy Pelosi's visit to Taiwan, Chinese blogger Chairman Rabbit (兔主席) posted a long piece of text on Weibo rebuking political commentator Hu Xijin (胡锡进) for his overdosed hawkish claims leading up to Pelosi's controversial visit.
Following the post by Chairman Rabbit, grandson of a former CCP leader, Chinese social media saw many discussions and a wave of criticism against Hu and his overaggressive position.
In his since-deleted post, Chairman Rabbit demanded stricter regulation of Hu's public statements due to his perceived ties with the Chinese government.
Hu Xijin is a Chinese journalist and the former editor-in-chief and party secretary of Global Times, a Chinese and English-language media outlet under the auspices of the Chinese Communist Party's official People's Daily newspaper.
Although he retired from his job, Hu is still a very active commentator on political affairs via social media. With nearly 25 million fans on Weibo and over half a million followers on Twitter, his posts and statements often go trending and influence public opinions.
Chairman Rabbit argued that Hu has built a credible reputation in his field, both within China and abroad, where he is generally perceived as having certain authority to speak about China's political affairs – with some foreign media almost regarding him as some sort of spokesman for the Chinese government. Meanwhile, according to Chairman Rabbit, Hu uses this credibility to promote his own personal views.
"He was too loud. It would make the people think that [China's] actions are not enough, bringing about disappointment and distrust. This is damaging to the morale of the people and also to the credibility of the government," Chairman Rabbit wrote.
Two Political Commentators "Protecting China's National Interests"
Chairman Rabbit is the alias of Ren Yi (任意), a Harvard-educated Chinese blogger who currently has over 1.8 million followers on Weibo, where he calls himself a 'history blogger.' He is also the grandson of former Chinese politician Ren Zhongyi (任仲夷), who was a leader in China's reform period since the late 1970s. 'Chairman Rabbit' is known as a nationalist, conservative political commentator who often comments on US-related issues and current affairs (for more on his background, check out this article by Tianyi Xu).
The Chinese blogger's post came after a week in which Hu Xijin recurringly went trending for his strong condemnation of a potential visit to Taiwan by U.S. House Speaker Pelosi.
Hu suggested that a Taiwan visit by Pelosi would be a clear provocation of China, giving the PLA "good reason" for "waging a war." One of Hu's tweets, in which he voiced the view that U.S. military planes escorting Pelosi to Taiwan could potentially be shot down, was deleted by Twitter on July 30. Afterward, Hu reiterated his views on Weibo and criticized Western censorship.
Chairman Rabbit wrote about Hu:
"(..) as we can see time and again, he lacks judgment and accurate sources of information on some major issues (..), and he represents only his personal views, which may be misdirected. If his views were perceived as being purely personal, they would not receive nearly as much attention – his "authority figure" status is the key to everything, and he is perceived as having a special channel to represent authorities."
In the post, Chairman Rabbit accuses Hu of using his status to promote his own views and to influence the public debate and the international view of China to gain clout.
Hu Xijin responded to the post himself on his Weibo account, suggesting he felt betrayed and "deeply puzzled" to be attacked by someone he considered a "friend who worked together [with me] to defend China's national interests," writing: "I originally saw them as allies, yet right in the heat of the moment, I was surprised to find that that they suddenly turned their guns to aim it at me."
In the same post, Hu still defended his own words, arguing that despite his "limited power" he still does what he can to "protect China's national interests."
"Frisbee Hu"
The Chairman Rabbit vs Hu Xijin dispute caught the attention of Chinese netizens, including the liberals and conservatives on Chinese social media.
With his muscle-flexing language, Hu seemingly regained popularity amongst die-hard nationalists on Weibo after long being suspected of being a "gongzhi" (公知), a derogatory use of the term "public intellectual." The latest controversy shows that the interests of online nationalists do not always align with the official government stances.
It also shows a division between populist nationalists and the more elite or 'establishment' nationalists on Chinese social media. The former operate independently and are willing to pressure the government toward a more hostile foreign policy, while the latter follow the decisions of the government and respond to them.
Hu is known for commenting on political issues and tuning into official narratives, which even led to him being nicknamed "Frisbee Hu" (胡叼盘), suggesting he can catch the 'frisbees' thrown by the Communist Party like a dog catches his toy.
However, it seems he did not catch their 'frisbee' this time. For the CCP, it arguably would be not a wise choice to engage in any kind of military conflict at this time, knowing the unpredictable societal changes it may bring to its regime, especially ahead of Xi Jinping's bid for a third term in office at the 20th party congress later this year.
Authorities did emphasize that China would not "idly sit by" if Pelosi would visit Taiwan. Chinese Ministry of Foreign Affairs spokesperson Zhao Lijian warned the U.S. on August 1st that if the U.S. House speaker would visit Taipei, "the Chinese side will respond resolutely and take strong countermeasures to defend our sovereignty and territorial integrity."
But the aggressiveness of Hu Xijin's posts perhaps went beyond what the authorities had in mind. According to Chairman Rabbit, Hu "influenced public opinion, and China's international image as well. What he got in the end was traffic for his own account."
Instruments to Govern the Public Sphere
On social media, Hu still received a lot of support while others agreed with Chairman Rabbit that Hu was chasing clout and that his words have consequences. Although that is not necessarily bad – as his influence can mobilize and channel public rage in a time of strict Covid measures and a declining economy, – it can also backfire and reflect negatively on the government when they fail to meet the public's expectations.
Chairman Rabbit suggests that it might be better for Hu to put a disclaimer and clarification at the top of any statement to make it clear that his views are personal and do not represent the official view.
This is not the first time Hu gets caught up in a conflict between Chinese populist and establishment nationalists. In 2021, Hu had a public spat with Shen Yi, a professor at Fudan University. When Shen Yi defended a controversial post by the CCP Central Political and Legal Affairs Commission which put an image of the Chinese rocket launch besides that of a mass cremation in India, Hu argued that official accounts should not ridicule India's Covid deaths but "express sympathy for India, and place Chinese society firmly on the moral high ground" (read here).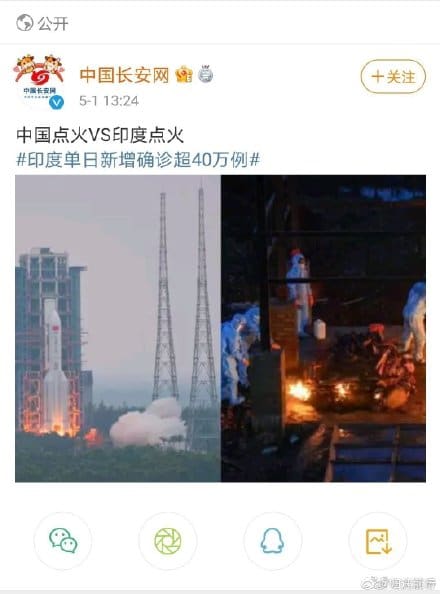 At that time, however, Hu sided with the so-called 'establishment nationalists' advocating for more decent public expressions from an official government account at a time when their neighboring country was mourning the victims of their Covid outbreak.
Disputes such as 'Hu vs Shen' and 'Hu vs Chairman Rabbit' could be seen as instruments to govern the public sphere, shifting the focus of attention amid online storms. The 'Hu vs Shen' public spat shifted the subject from whether it is moral to ridicule a neighboring country for its tragedy to whether it is good for an official government account to ridicule a neighboring country for its tragedy.
Similarly, the 'Hu vs. Chairman Rabbit' dispute shifted the subject from whether it is moral to wage a war over Pelosi's visit to whether it would be in China's best national interests to wage a war and to the influence of online public commentators within this matter.
Chairman Rabbit posted a second lengthy post regarding the dispute on August 4th, in which he again reiterated his stance that Hu Xijin's tone on social media did not match the official stance, and that Hu, with limited diplomatic and military knowledge, miscalculated his response to the Pelosi issue and guided public opinion in the wrong direction.
The dispute between the two influential commentators triggered discussions, with some bloggers wondering when the next round of bickering is going to take place. In doing so, Chairman Rabbit has also been instrumental in channeling nationalist sentiments and creating some calm after the online storm following Pelosi's visit.
"I think the Propaganda Department needs take responsibility, as they tacitly accepted Hu Xijin's influence on public opinion. They can't later shift all the blame to a person who's already retired," one popular comment said: "Those who are responsible should take responsibility! Our propaganda has always seen some problems, both internally as well as externally."
Other commenters think Hu Xijin is getting too much credit for being held responsible for shifting public opinion. "My friends don't even know who Hu Xijin is, yet they had also shifted in the 'prepare for war' direction," one Weibo user writes, with another person adding: "He's just saying out loud what I was thinking already. If everyone said it, it might be blocked, but he can speak for us."
"Hindsight is 20/20," others say: "And we might need hawkish expressions such as those published by Hu. I still support him."
By Xiuyu Lian and Manya Koetse
Get the story behind the hashtag. Subscribe to What's on Weibo here to receive our weekly newsletter and get access to our latest articles:
Spotted a mistake or want to add something? Please let us know in comments below or email us. First-time commenters, please be patient – we will have to manually approve your comment before it appears.
©2022 Whatsonweibo. All rights reserved. Do not reproduce our content without permission – you can contact us at info@whatsonweibo.com.
China 'Strikes Back': Taiwan Military Drills, Countermeasures, and Waves of Nationalism on Weibo
One poster by China Daily on Pelosi's visit to Taiwan said: "The Chinese people will fight back twice as hard."
During this tension-filled and eventful week, the general mood on Chinese social media went from angry to frustrated. With the start of China's military drills around Taiwan and the announcement of countermeasures in response to Pelosi's Taiwan visit, there's been a new wave of national pride and expressions of nationalism.
When Nancy Pelosi's plane landed in Taipei on Tuesday, August 2nd, many Chinese netizens expressed frustration and anger that she had "gotten away too easy" with visiting Taiwan despite repeated warnings by Beijing. Things had not turned out the way many had hoped, and the U.S. House Speaker's visit to Taiwan – which Beijing considers to be a province of China, – was seen as a provocation at a time when the China-US relationship was already strained.
On Thursday, however, the mood on Chinese social media turned around when China began its announced live-fire military drills around Taiwan. State media channels, official accounts, military bloggers, and regular netizens shared the sometimes movie-like videos showing large-scale military exercises, including ballistic missiles fired into waters.
From Fujian's Pingtan Island, one of mainland China's closest points to Taiwan, tourists and day trippers had a front-row view of some projectiles launched by the Chinese military and helicopters flying past (see Twitter thread embedded below).
China's military drills around Taiwan are a Chinese social media 'spectacle', besides raw footage there are also edited videos with cinematic music flying all around Weibo. Some by state media, also many by netizens. pic.twitter.com/xAypkhg6lB

— Manya Koetse (@manyapan) August 4, 2022
On Friday, August 5th, during which military drills continued, China's Ministry of Foreign Affairs also announced sanctions on Pelosi and her immediate family members, along with a string of countermeasures against the U.S., which are the following:

"1. Canceling China-US Theater Commanders Talk.
2. Canceling China-US Defense Policy Coordination Talks (DPCT).
3. Canceling China-US Military Maritime Consultative Agreement (MMCA) meetings.
4. Suspending China-US cooperation on the repatriation of illegal immigrants.
5. Suspending China-US cooperation on legal assistance in criminal matters.
6. Suspending China-US cooperation against transnational crimes.
7. Suspending China-US counternarcotics cooperation.
8. Suspending China-US talks on climate change."

By Friday evening, one CCTV-initiated Weibo hashtag regarding the countermeasures (#针对佩洛西窜台反制措施#) had received over 280 million views, and another one regarding sanctions on Pelosi (#外交部宣布制裁佩洛西#) had received over 780 million views.
On the same day, news that lightning struck outside the White House, critically injuring four people, also went trending on Chinese social media. Many people responded to the remarkable news with sayings about how this was "Pelosi's curse" and that "evil doings will rebound onto the evildoer."
The White House lightning strike is trending on Weibo (150M views), where many respond with idioms and proverbs about how "evil doings will rebound onto the evildoer." pic.twitter.com/20qXKcV0jn

— Manya Koetse (@manyapan) August 5, 2022
State media outlet China Daily posted an online poster with both Chinese and English text, writing: "Let me be serious and clear: we will not fight if they don't fight us. For any act in violation of China's sovereignty and territorial integrity, the Chinese people will fight back twice as hard," referring to the words of the spokesperson of the Chinese mission to the EU.
When news came out on Friday that Japanese authorities condemned China's firing of ballistic missiles during the ongoing military drills around Taiwan, claiming Chinese missiles fell into Japan's exclusive economic zone, Chinese state media outlet Global Times dismissed Tokyo's concerns, calling the complaints "unprofessional" and "baseless" since Japan was referring to an overlapping area it allegedly has no exclusive rights to (#日本碰瓷中国导弹毫无道理#).
In response to the issue, Xu Ji (@徐记观察), a blogger with over 3 million followers, posted a gif on Weibo showing Chinese actor Wu Jing in the iconic action film Wolf Warrior II with both middle fingers up. Wu Jing stars in the movie as Leng Feng, a Chinese veteran who travels around the globe and punishes those who offend China (Sun 2021, 128).
The image set the tone for the overall mood on social media regarding the recent international developments.
"Beautifully played!" many commenters said.
"First steps of striking back! Countermeasures! Hitting back! Sooner or later the national flag will rise on Taiwan!", Chinese actor Huang Haibo wrote on his Weibo account (@real黄海波).
"I trust in the motherland, I trust in PLA," was another recurring comment.
"We gave you a choice, you didn't want it, now you have to deal with the consequences," one Weibo commenter said.
When news came out on Friday night that a mountain fire broke out on an outer island during an artillery exercise held by the Taiwanese military, a streak of schadenfreude shot through Weibo, with some netizens wondering if the PLA had helped Taiwan to extinguish the fire they started themselves.
"It's probably better if our troops climb up the hill and put out the fire," multiple people suggested, and others writing: "I feel embarrassed for them."
"The PLA will come to the rescue," others also said, repeating the same trust and pride in the People's Liberation Army that was echoed across Chinese social media the entire day.
Also read:
*From 'Starting a War' to 'Just for Show': Chinese Social Media Views on Pelosi's Potential Taiwan Visit
* Pelosi in Taiwan: "1.4 Billion People Do Not Agree with Interference in China's Sovereignty Issues"
By Manya Koetse
Get the story behind the hashtag. Subscribe to What's on Weibo here to receive our weekly newsletter and get access to our latest articles:
Featured image is an edited picture showing an image from Wolf Warrior 2 as posted on Weibo today.
References
Sun, Jing. 2021. Red Chamber, World Dream – Actors, Audience, and Agendas in Chinese Foreign Policy and Beyond. United States: University of Michigan Press.
Spotted a mistake or want to add something? Please let us know in comments below or email us. First-time commenters, please be patient – we will have to manually approve your comment before it appears.
©2022 Whatsonweibo. All rights reserved. Do not reproduce our content without permission – you can contact us at info@whatsonweibo.com.