Mesut Ozil Announces Exit from the German National Team on Weibo
Ozil's exit from the German team has stirred discussions from Twitter to Weibo.
Mesut Ozil's withdrawal from the German national team has not just sparked debates across Europe, but also in China, where Ozil announced his resignation on Sina Weibo.
On July 22, German football player Mesut Ozil issued a lengthy statement on his personal Twitter account, in which he announced his resignation from the national team.
According to his Twitter statement, which was retweeted more than 100,000 times within two days, his resignation comes after the massive renouncement of Ozil after he posted a photo of himself with Turkish President Erdogan, along with him receiving blame for Germany's disappointing World Cup.
Ozil accused the German football federation, fans, and media, of racism and double standards in the treatment of him as a German soccer player with Turkish roots, writing he would "no longer be playing for Germany at international level whilst I have this feeling of racism and disrespect."
Ozil, who is of Turkish descent, said he will never wear the German team's jersey again.
The controversial photo of Erdogan and Mesut was taken at a London event in May earlier this year. Ozil stated that he had met Erdogan previously in 2010, and that the picture was taken with "no political intentions."
The football player said that he has "two hearts," "one German and one Turkish," and that taking a photo with Erdogan was about "respecting the highest office of my family's country."
The German football association (DFB) has since responded to Ozil's allegations of racism, saying they "emphatically reject the DFB being linked to racism."
"Taking a picture with Erdogan will always have political implications."
Besides Ozil's 23+ million followers on Twitter, the popular footballer also has more than 850,000 fans on his official Weibo account, where he also published his recent statement. After a day, it received some thousands of likes, responses and shares, and also became a much-discussed topic on various news accounts on Weibo.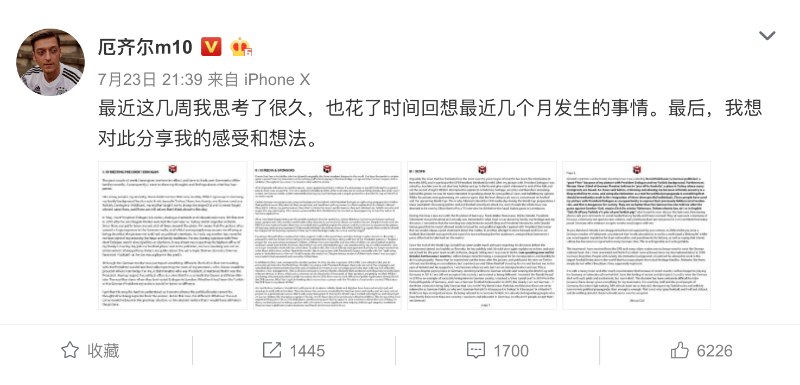 Weibo responses to Ozil's statement have been mixed: while many Weibo users side with the football player and blamed the Germans for being "racist," others call Ozil a player who is "not loyal" to Germany and the national team.
"I will always be with you and support you. I hope you can be happy and free from worry," some Ozil fans commented.
"Stand with Özil❤️❤️❤️Say no to racism," others wrote.
However, not all Weibo users support Ozil's position: "This is purely an act of stupidity. Turkey was interfering with the German elections. Taking a picture with Erdogan will always have political implications. Ozil refused to sing the German anthem in the games. He is stepping on two boats. He deserves to be kicked out of the team. That has nothing to do with winning or losing," a Weibo user named @PlanetDaily wrote, along with other netizens who called out Ozil's lack of loyalty to the team and country he played for.
"Let's think about it in the Chinese context: suppose Ozil is a football player from Xinjiang and plays for the Chinese national team. And then all of a sudden he meets Erdogan and takes a picture. He now says that he is proud to be a Turkish rather than a Chinese. What would you think?", a Weibo user nicknamed "Mao Zedong excerpt always in my hand" wrote.
"Erdogan is the enemy of Europe. He is a dictator purging oppositions in the name of religion. Ozil is wrong in meeting him already. As there are many Turks in Germany there is a deeper political implication for Erdogan to meet with Ozil. As a German national team player, Ozil should recognize this," a popular comment said.
"He was a hero in 2014, he's the bad guy in 2018," another top commenter wrote, referencing to Mesut Ozil's great success during the 2014 World Cup.
But besides those who support and attack Ozil, there are also many Chinese commenters who feel that there eventually is only one person who profits from Ozil's football exit, and that it is President Erdogan. Many say that he used the star footballer for his own political strategies.
"Of course it has great impact when a celebrity footballer poses with Erdogan. Football is football, and politics are politics, but this all creates much confusion when a footballer like Ozil poses with a dictatorial ruler," Weibo user @Kined wrote.
For hundreds of Chinese Ozil fans, however, their love for him has nothing to do with politics: "I will support you no matter what. I will support your decision. Wherever you are, I hope you will be happy."
By Chauncey Jung and Manya Koetse
Follow @whatsonweibo
Spotted a mistake or want to add something? Please let us know in comments below or email us.
©2018 Whatsonweibo. All rights reserved. Do not reproduce our content without permission – you can contact us at info@whatsonweibo.com.
Train Fight Between Chinese and Foreign Passenger over Mask-Wearing Goes Viral on Douyin
A video that shows a foreign man yelling at a Chinese woman on the high-speed train has gone viral on Chinese social media.
"She is not the owner of the train! Shut up!" A short video of a quarrel on a train between a foreign man and a Chinese woman has gone viral on Chinese social media.
In the video, a Chinese woman can be heard yelling to a foreign man, saying: "Why can he go without a face mask?! Does he have special privilege? What is he doing in China if he doesn't follow the rules?" The man then says: "She needs to shut up, she is harassing me!" A train attendant standing in between the passenger seats tries to calm down both passengers.
The incident reportedly took place on the G7530 high-speed train from Ninghai to Shanghai on May 5, where a dispute started over the man allegedly refusing to wear a face mask. The man does wear a face mask in the video.
The video went viral on Douyin, the Chinese TikTok, and also made its rounds on Kuaishou and Weibo (#阿姨怒怼不戴口罩外籍乘客#, #外籍男子未戴口罩还狂怼邻座阿姨#, #官方回应老外乘高铁拒戴口罩#).
The video sparked some anti-foreign sentiments on Weibo, where some commenters called the man a "foreign devil" or "foreign trash," with others condemning his aggressive behavior and telling him to get out of China.
Shanghai Railways addressed the incident on its social media channel, confirming that the train conductor on the G7530 train indeed came across two passengers arguing because the foreign man was not wearing his mask correctly. In the post, the railways reminded all passengers to properly wear their masks while on the train.
Among the hundreds of people commenting on the statement, there are many who feel the train staff have been too lenient with the passenger.
This is not the first incident where foreigners make it to the (local) news in China for not wearing a mask. In April of 2020, a foreign man was detained in Beijing after he attempted to walk into a neighborhood community without a mask and then became aggressive with local security guards who wanted him to wear a face mask.
In December of 2020, another foreign man was filmed and triggered online anger as he walked around Wenzhou station not wearing a face mask, without anyone reminding him to wear one.
Over the past two days, a video showing an argument between a Chinese woman and a foreigner who allegedly did not wear a face mask on the high-speed train to Shanghai went viral on social media. (link: https://t.co/yPDutuzNCX ) pic.twitter.com/LvAySlSgPR

— Manya Koetse (@manyapan) May 8, 2021
When it comes to train fights, the most famous ones are that of the 'high speed train tyrant' and the 'train tyrant women.' Both passengers went viral in 2018 for refusing to give up their seats although they were assigned to other passengers. At the time, both passengers were fined for their unruly behavior.
By Manya Koetse
Spotted a mistake or want to add something? Please let us know in comments below or email us. First-time commenters, please be patient – we will have to manually approve your comment before it appears.
©2021 Whatsonweibo. All rights reserved. Do not reproduce our content without permission – you can contact us at info@whatsonweibo.com.
Guangzhou Metro Security Guard Posts X-ray Images of Passengers' Adult Toys
Chinese netizens are annoyed by a Guangzhou Metro security guard posting the X-ray images of the private contents of passenger bags.
Gender issues, privacy awareness, and complaints by commuters about time-consuming regular security checks at Chinese subway stations – on May 7, these widely-discussed issues in today's China all came together in a Weibo post that soon went viral.
A screenshot posted to a group chat by a security guard nicknamed 'Crush' showed X-ray images of bags and suitcases of commuters, in which adult toys can be discerned.
"There are many beautiful girls in Guangzhou," the security guard said: "..but the problem is that they are not serious." He added: "My purity is tarnished as I see more and more adult toys."
These remarks, circulating around social media, prompted privacy concerns. As Weibo blogger @三千院雨Official wrote: "Why can you play with your smartphone while you're at work? How can these kinds of bad-mannered individuals be qualified as security guards? What gives you the right to take photos of passengers' personal belongings, spread them to other platforms, and make personal comments?"
The Weibo post regarding the X-ray images has received over 280.000 likes and more than 21.000 reposts so far. The blogger stated that the incident has now been reported to the authorities.
Many netizens voice their concerns over privacy rights violations under the post: "Every citizen hands over their privacy to the security guard out of trust. If the security guard not only fails to work for the people, but even violates their privacy, then public trust will be lost in the long run."
Some commenters are more emotional: "Is there something wrong with this guy? This is equivalent to disclosing personal information!"
The post thread has seemingly also become a battleground for gender issues. Recently, the feminist movement in China has been pressing for the destigmatization of sexual desire and adult toys. The remarks of the security guard that link adult toys to 'impurity' became a target of criticism. "Sexual fetishes that don't harm anyone are not wrong," one comment said, receiving over 2000 likes.
Discussions on sexism and gender discrimination, which have seen a rise on Chinese social media recently, also flared up again over this incident.
The last time these kinds of discussions flooded Weibo was in March, when Intel severed ties with its ambassador Yang Li, a female stand-up comedian. Yang Li is controversial for her jokes mocking men ("men are adorable, but mysterious. After all, they can look so average and yet be so full of confidence"), with some blaming her for being "sexist" and "promoting hatred against all men." Many women rallied behind Yang Li, promoting a more inclusive and safe environment for females.
Under the post on the Guangzhou metro incident, a comment that received two thousand likes said: "This is why girls feel disgusted with men. They want to interfere with everything, not just limited to their own duty." Some commenters, however, question how the security guard's gender can be determined simply based on the screenshot, and whether this in itself is a gender bias.
According to the Counterterrorism Law of China, which went into effect in 2016, the subways are required to do security checks on passengers entering the stations. Guangzhou Metro has rolled out comprehensive security checks since late 2017. The policy was met with opposition from residents, especially from commuters who believed these security checks were useless and time-wasting. Also, since railway companies typically outsource security tasks to external firms, the lack of professionalism on the part of security guards and the lack of accountability became a source of discontent ever since.
The ongoing dissatisfaction towards these mandatory checks might have heightened current discussions on the Guangzhou security guard, leading some people to question the efficiency of the checks in general: "If they wanted to, terrorists could simply target the long line of passengers awaiting security check outside the subway station."
Others complained about the time wasted waiting in line: "People's patience is limited. I'll wait and see when the tension [between passengers and security guards] will deteriorate into physical conflicts." Then there are those who are dissatisfied with the attitudes exhibited by the security guards: "I saw some security guards who looked like they were middle school students, but they were super arrogant. They should really thank Guangzhou Metro for creating jobs for them."
Yet there are also people who defend this practice of security checks at stations: "Security checks indeed are unable to eliminate the occurrence of accidents, but just like locking your door, they can pose an obstacle to those who are looking to break the law."
Following the online controversy, Guangzhou Metro issued a statement in the afternoon of May 7, stating the security guard involved, who worked at the Guangfo Line within Foshan's jurisdiction, has been identified. The company claimed to have terminated the contract with the guard and reported him to the police.
Later, the blogger posted a few screenshots that showed the security guard apologizing to her, saying that this incident has "created tremendous pressure" for him. The authenticity of the screenshots has not yet been verified at the time of writing.
This isn't the first time security guards working for Guangzhou Metro are involved in a controversy. Previously, Guangzhou Metro had apologized for asking a girl to remove her Gothic makeup before entering the station. Another security guard was previously dismissed for taking upskirt photos of a woman.
By Bobby Fung (@bobbyfungmr)
Spotted a mistake or want to add something? Please let us know in comments below or email us. First-time commenters, please be patient – we will have to manually approve your comment before it appears.
©2021 Whatsonweibo. All rights reserved. Do not reproduce our content without permission – you can contact us at info@whatsonweibo.com.