Kidnap in Broad Daylight – Shocking Footage Shows Child Snatched Away From Back of Bike
A video that shows a man snatching away a boy from the back of a bike is circulating on Chinese social media. [Disturing footage, viewer discretion advised].
A video that shows a man snatching away a boy from the back of a bike is circulating on Chinese social media. [Viewer discretion advised].
On August 27, one Weibo netizen posted footage that shows a boy sitting on the back of a bike, when he is suddenly snatched away by a man. The accompanying text only said "how brutal!", without any further explanation on the video's context.
The footage has now been reported as being real by Hunan Economic TV (据湖南经视电视) and Shanghai Daily, although further details about the incident have not been given out yet.
The footage shows a woman is riding her bike with two children on it, one in front and one in the back, when a man runs towards her and takes the boy on the back away. The mother halts the bike and grabs her other child before she chases the man, but he has already left.
Although many netizens comment that the man is probably a child trafficker, there are also those who have remarked it might be the child's own father. Hunan Economic TV has not reported further details about the case, but did identify the man as being a "stranger" to the child. This story was also reiterated and broadcasted by Beijing Time (北京时间).
Child abduction is a serious problem in China, where around 70,000 children are kidnapped and sold on the black market every year. Some provinces, such as Fujian, are more seriously affected than others.
According to other sources, there are about 200,000 lost children in China every year of which only 0.1% are found by their parents.
It is not the first time footage like this has made its rounds on Chinese video platforms. The video below shows other instances in which people were caught on camera attempting to take a child away.
"Child trafficking needs to be punished more severely!", many Weibo netizens say.
According to China's criminal laws, the punishment for child abduction is a prison sentence from 5-10 years, together with financial compensation. In severe cases, sentences can be over 10 years, or even lead to the death penalty; a principal offender of a 2015 child trafficking case in Yunnan was sentenced to death.
Anhui TV also reported on the case of the boy on the bike. Like the other Chinese (state) media reporting this story, they did not report details on where or when this incident occurred. They did, however, emphasize that it "dangerous" for parents to take their child on the back of their bikes, not only for any risk of child abduction but also because children might fall off their bike, as Anhui TV says.
– By Manya Koetse
Follow @WhatsOnWeibo
©2016 Whatsonweibo. All rights reserved. Do not reproduce our content without permission – you can contact us at info@whatsonweibo.com.
[showad block=1]
What Happened to Hu Xinyu? Disappearance and Death of 15-Year-Old Student Attracts Widespread Attention in China
Although Hu Xinyu's school had 119 cameras, his disappearance remained a mystery for 106 days. Near Hu's remains, a voice recorder was found.
After 106 days of searching, Hu Xinyu's parents now know their son has passed away. The student's remains were found at a grain warehouse near his school, but questions still linger on what happened to the 15-year-old and why it took so long to find him.
The case of a Chinese 15-year-old student named Hu Xinyu (胡鑫宇) has been trending on Chinese social media over the past few days. Ever since October of 2022, Hu Xinyu's case has been a much-discussed topic.
The young man from Jiangxi was missing for 106 days before his body was discovered, leaving many unanswered questions surrounding his death and why search teams were unable to find Hu in the months before.
One of the reasons why Hu Xinyu's disappearance has been attracting widespread attention is because many people believe there are some details or occurrences surrounding Hu's case that are purposely being hidden or not revealed to the public.

Hu Goes Missing: A Timeline
The story begins on Oct. 14, 2022, when Hu Xinyu, a student at the Zhiyuan Middle School (致远中学), first went missing in Yanshan County, Shangrao City. The Zhiyuan Middle School is a private school where students live in the dorms, only going home to their families on days off. Hu allegedly had good grades as a student at Zhiyuan.
The incident attracted attention due to the peculiar circumstances surrounding it. It was first reported that security cameras allegedly had not recorded the student leaving the school's premises and that Hu's family suspected that the security camera system had been tampered with. The school reportedly has a total of 119 cameras installed on its premises.
Later reports claimed that security cameras did in fact capture how Hu left the dorms at 17:51 that day, but there was no footage of him actually leaving the school premises.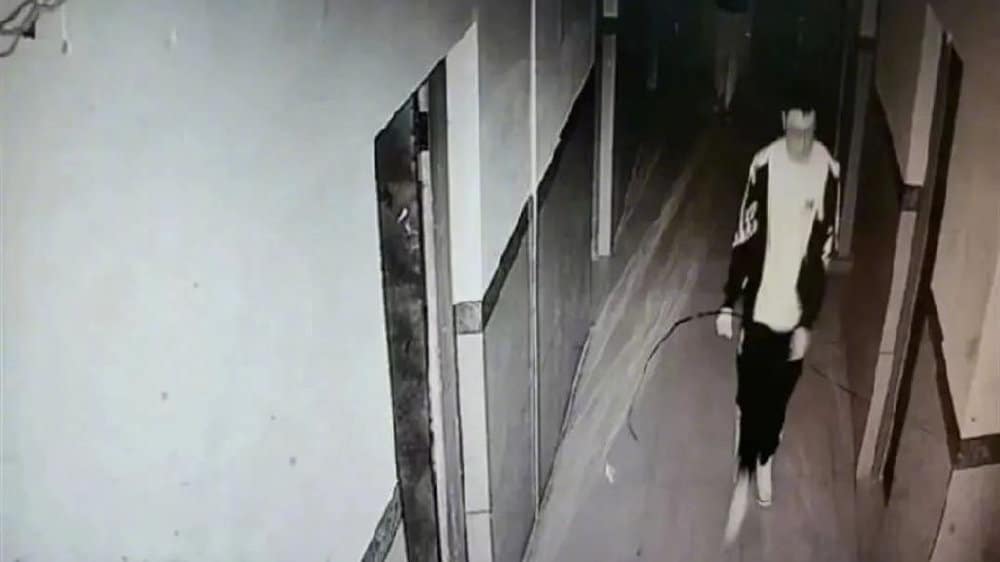 On Oct. 15, after unsuccessful attempts by friends and family to locate Hu Xinyu, he was reported as a missing person at the local police office.
On Nov. 20, when Hu had already been missing for over a month, local authorities set up a joint task force to try and speed up efforts to find Hu and further investigate his disappearance. Hu's social media and bank accounts reportedly had zero activity since he went missing.
On Nov. 22, 2022, Chinese media reported that rescue and search teams still had not found a single clue about where Hu might be. Meanwhile, his parents were gradually losing hope of finding their son back alive.
On Nov. 29, 2022, 46 days since Hu went missing, a chemistry teacher by the name of Wang was called in for questioning but he was later released. Weeks later, on Jan. 1, the police informed Hu's relatives that – despite rumors – they ruled out the possibility of school staff being involved in Hu's disappearance.
On Dec. 25, 2022, Hu Xinyu's mother shared some more information via social media about some contents in her son's old notebooks, in which Hu allegedly had noted how he felt that it was not easy for him to adapt to his living environment at the school and that he felt hindered by his introvert personality. These contents were later deleted again.
After Jan. 7, 2023, the search for Hu continued, including teams with search dogs, and thousands of people volunteered to join.
On Jan. 28, 2023, a body was found hanging near the woods in the Jinji mountain area in the town of Hekou. A voice recorder was also found at the scene.
The body was reportedly found by a local guard who was near the premises with his dog to look for a chicken that had wandered off. The dog started barking at something, and the guard then discovered the remains, which were not immediately clearly visible.
One day later, on Jan. 29, Chinese media reported that DNA research confirmed that the remains belonged to Hu Xinyu. He was wearing his school uniform when his remains were found. Hu's parents decided to have a post-mortem examination of the body to determine the cause of death. The voice recorder found near Hu's body was sent for analysis.
The hashtag "Hu Xinyu's Remains Found" (#胡鑫宇遗体被发现#) was viewed over two billion times on Weibo.

The Latest Details Surrounding Hu Xinyu's Death
Chinese news outlet The Paper reported that the location where Hu's remains were discovered is a large grain warehouse just about 300 meters or a 5-minute walk southeast of the Zhiyuan Middle School.
According to a spokesperson of the search & rescue team, the area where Hu was found had been previously included in search efforts (#搜救队曾去胡鑫宇被发现地周围搜寻#).
The biggest questions that remain and that are asked by so many on Chinese social media are: how is it possible that search teams previously did not find Hu if this is where he was all along? Is the place where Hu was found a crime scene or not? How is it possible that security cameras did not capture Hu beyond the dorms?
Some details that surfaced over the past few days provide further information on the case.
On Jan. 31, Chinese media reported that one of Hu's teachers had discovered something written down by Hu Xinyu on the last page of his notebook: "What would it be like if I'm not longer here?" (#胡鑫宇曾写如果我不活了将会变得怎么样#).
It has also become known that Hu Xinyu purchased the voice recorder that was found with his remains. He purchased the 4GB-capacity recorder on October 4, 2022.
At the time of writing, the data on the recorder was not able to be retrieved (#胡鑫宇购买录音笔数据删除后无法恢复#). A recording device such as the one found near Hu's body might become damaged due very low or high temperatures or by moist and liquid (#胡鑫宇录音笔已送深圳检测#).
If the original manufacturer would be able to get the data on the recorder, Hu's relatives finally might get some of the answers they have been waiting for for so long.
According to Hu Xinyu's father, search and rescue staff previously had in fact been inside the grain warehouse, but apparently did not come to the exact location within the warehouse where Hu was later found (#胡鑫宇父亲称未到达遗体发现点#).
On February 2nd, 2023, a press conference on the latest developments is planned to take place in Yanshan county in Shangrao at 10:00 AM.

Societal Distrust, Armchair Detectives, and Social Media
There are multiple reasons why the Hu Xinyu case is attracting such wide attention, and in some ways, the case is similar to the 2021 'Chengdu 49 Middle School Incident.'
At the time, the death of 16-year-old Lin Weiqi (林唯麒) also attracted nationwide attention and led to a wave of online rumors and theories on what might have happened to him.
Although Lin never went missing – he fell to his death from the school building, – there was also online speculation about corporal punishment and abuse taking place in the school, with one theory suggesting Lin had been hurt by a chemistry teacher. Just as in the Hu Xinyu case, netizens speculated that the school was trying to cover up the incident.
According to a joint statement later issued by the local propaganda department, police, and the Education Bureau said that they had come to the conclusion that the student had taken his own life due to personal problems.
The Lin Weiqi story sparked concerns at a time when security cameras had become a part of everyday lives. The fact that there were blind spots in the surveillance footage and that cameras never captured how and if Lin actually took his own life triggered doubts among Lin's relatives and netizens alike.
Many reasoned that since there are security cameras all over the school, there must be a cover-up going on if the incident was not captured on camera. A similar thing happened in the case of the Tangshan BBQ Restaurant Incident in which female customers were assaulted and beaten by a group of men. Although the beating incident was captured by security cameras, the last part of the incident occurred at a nearby alley and was not captured by the outdoor security cameras. This led to a lot of speculation on what happened there and if local government officials were covering something up.
Another factor that plays a role is that there have actually been stories about schools or other institutes covering up scandals in recent years, such as in the RYB Education incident of 2017 that shocked the nation and did not help in improving trust in educational institutes.
Social media also plays an important role in how and why the Hu Xinyu case received so much attention. For some online communities of armchair detectives, identifying suspects and uncovering clues becomes like solving a puzzle, while following the latest details in these high-profile cases also becomes like a form of infotainment for others – comparable to the online sleuthing and major attention for the case of Gabby Petito in the U.S.
Furthermore, those who are closely related to the case also use social media to attract more attention. In Hu Xinyu's case, his family members personally turned to social media and media reporters to ask for help or update with information. This also makes social media users more involved since they get the feeling they know the family, and sympathize with them. Very different from just reading a headline in the local newspaper, social media users feel involved and get involved.
For now, many social media users would like to see some clarity in this case and a conclusion so that Hu's family can finally get some of their questions answered.
While many think it is highly likely that local authorities will soon come out with a statement that Hu committed suicide, others think there might still be other outcomes.
"It's lasted long enough now," some Weibo commenters write: "What is most important now is to finally know the truth."
By Manya Koetse 
with contributions by Miranda Barnes
Get the story behind the hashtag. Subscribe to What's on Weibo here to receive our newsletter and get access to our latest articles:

For information and support on mental health and suicide, international helplines can be found at www.befrienders.org.

Spotted a mistake or want to add something? Please let us know in comments below or email us. First-time commenters, please be patient – we will have to manually approve your comment before it appears.
©2023 Whatsonweibo. All rights reserved. Do not reproduce our content without permission – you can contact us at info@whatsonweibo.com.
Chinese Social Media Reactions to The New York Times Bad Review of 'Wandering Earth 2'
A New York Times bad review of 'Wandering Earth II' has triggered online discussions: "China's gonna save the world, the US can't stand it."
This Chinese Spring Festival, it's all about going to the movies. After sluggish years for China's movie market during the pandemic, Chinese cinemas welcomed millions of visitors back to the theaters during the weeklong Spring Festival holiday.
Much-anticipated new movies attracted Chinese moviegoers this festive season, including Full River Red by Zhang Yimou, the suspenseful Hidden Blade, or the animated Deep Sea by Tian Xiaopeng.
But the undisputed Spring Festival box office champion of 2023 is Frant Gwo's Wandering Earth II (流浪地球II), the sequel to China's all-time highest-grossing sci-fi epic Wandering Earth (2019), which also became the fifth highest-grossing non-English film of all time.
The narrative of the follow-up movie Wandering Earth II actually takes place before the events of the first film and focuses on the efforts by the United Earth Government (UEG) to propel the Earth out of the solar system to avoid planetary disaster. This so-called Moving Mountain Project – which later becomes the Wandering Earth Project – is not just met with protest (the majority of Americans don't believe in it), it also bans the Digital Life Project, which supports the idea that the future of humanity can be saved by preserving human consciousness on computers (backed by an American majority). The film is all about hope and resilience, human destiny, and geopolitics at a time of apocalyptic chaos.
Outside of China, the sequel was also released in, among others, North American, Australian, and UK cinemas.
Although the film, featuring movie stars Wu Jing and Andy Lau, received an 8.2 on the Chinese rating & review platform Douban, a 9.4 on movie ticketing app Maoyan, dozens of positive reviews on Bilibili, and was overall very well-received among Chinese viewers, a bad review by The New York Times triggered discussions on Chinese social media this weekend.
Chinese media outlet The Observer (观察者网) initiated a Weibo hashtag about "The New York Times's completely sour review of Wandering Earth II" (#纽约时报酸味拉满差评流浪地球2#, 6.2 million views at time of writing).
The New York Times review of Wandering Earth II, titled "The Wandering Earth II Review: It Wanders Too Far," was written by Brandon Yu and published in print on January 27, 2023.
Yu does not have a lot of good things to say about China's latest blockbuster. Although he calls the 2019 The Wandering Earth "entertaining enough," he writes that the sequel is a movie that is "audaciously messy" and has lost "all of the glee" its predecessor had:
"(..) the movie instead offers nearly three hours of convoluted storylines, undercooked themes and a tangle of confused, glaringly state-approved political subtext."
The topic was discussed on Chinese social media using various hashtags, including "The New York Times Gave Wandering Earth II a 3″ (#纽约时报给流浪地球打30分#, #纽约时报给流浪地球2打30分#).
Instead of triggering anger, the bad review actually instilled a sense of pride among many Chinese, who argued that the review showed the impact the movie has made. Some commenters pointed out that the movie is a new milestone in Chinese cinema, not just threatening America's domination of the movie industry but also setting a narrative in which China leads the way.
"We're gonna save the world, and America just can't stand it," one commenter replied.
That same view was also reiterated by other bloggers. The author and history blogger Zhang Yi'an (@张忆安-龙战于野) argued that The New York Times review was not necessarily bad; it actually shows that Americans feel threatened by the idea of China's important role in a new international world order, and by the fact that China actually will have the capacity to lead the way when it comes to, for example, space technology innovation, robotics, and artificial intelligence.
Zhang argues that if a similar movie had been made by India as a Bollywood blockbuster – including exploding suns and wandering earths – The New York Times would have been more forgiving and might have even called it cute or silly.
But because this is China, the film's success and its narrative plays into existing fears over China's rise, and it clashes with American values about what the international community should look like.
Zhang writes: "The China in the movie doesn't boast itself as the savior of the world, but in reality, China really is capable of saving the world. The United States is no longer able to do so (电影里的中国没有把自己吹嘘成救世主,现实中的中国真的有能力做救世主。而美国却已经不能了)."
One popular Film & TV account (@影视综艺君) also summarized the general online reaction to the bad review in the American newspaper: "Whenever the enemy gets scared, it must mean we're doing it right. Our cultural export has succeeded." That post received over 120,000 likes.
On Zhihu.com, some commenters also attached little value to the review and showed how the overseas reviews of Wandering Earth II widely varied in their verdict.
Meanwhile, a state media-initiated hashtag on Weibo claimed on January 28 that Wandering Earth II has actually "captured the hearts of many overseas audiences" (#流浪地球2海外上映获好评#), and that the film's "imaginative" and "wonderful" visuals combined with its strong storyline were being praised by moviegoers outside of China.
On IMDB, the movie has received 5.9/10; it has gotten a 70% Rotten Tomatoes score. The Guardian gave it 2/5. Meanwhile, on Weibo, one reviewer after the other gives the film 5/5 stars.
Weibo blogger Lang Yanzhi (@郎言志) writes: "Recently, we've seen a lot of attacks and slander directed at the China-made science fiction movie Wandering Earth 2, especially coming from Western media and pro-Western forces, because the film's "Chinese salvation" narrative made them uncomfortable. This was already the case when the first film in the series was released. It is very clear that Wandering Earth is not just a movie: it is a symbol of great influence."
By Manya Koetse , with contributions by Zilan Qian
Get the story behind the hashtag. Subscribe to What's on Weibo here to receive our newsletter and get access to our latest articles:
Spotted a mistake or want to add something? Please let us know in comments below or email us. First-time commenters, please be patient – we will have to manually approve your comment before it appears.
©2022 Whatsonweibo. All rights reserved. Do not reproduce our content without permission – you can contact us at info@whatsonweibo.com.