The End of an Ally: China is 'not North Korea's savior'
As China's patience with North Korea is growing thin, China is questioning the ties with its 65-year long ally. "We have wiped North Korea's ass for too long," says General Wang Hongguang.
As China's patience with North Korea is growing thin, China is questioning the ties with its 65-year long ally. "We have wiped North Korea's ass for too long," says General Wang Hongguang.
How should China deal with North Korea? It is a central question in Chinese media this week, as two prominent figures in the China-North Korea debate publicly announced their perspectives on the future of the bilateral relationship. China has been the most important ally and friend to North Korea since the separation of the two Korea's by the end of WWII. China supported the North during the Korean War (1950-1953) and has lent political and economic backing to its leaders since. China is not only North Korea's  main trading partner, it also is its main source of food, energy and weapons (Xu & Bajoria 2014). Although the cost of subsidizing North Korea is high, the fear of a crumbling North Korean regime has been higher; North Korea's implosion could lead to a stream of refugees into China and a security vacuum that would be filled by South Korea, Japan and the United States (Kornberg&Faust 2005, 165). But since North Korea has carried out its third nuclear test since 2006, the alliance between Beijing and Pyongyang has weakened. Instead, China's relations to South Korea are gradually warming. It is at this time that Chinese media focus on China-North Korea ties. Over the past week, Chinese Korea specialist Li Dunqiu and retired People's Liberation Army (PLA) lieutenant Wang Hongguang have both shared their views on the future of the China-North Korea alliance. Lieutenant Wang's view is straightforward: "China is not North Korea's savior."
Recently, several Chinese scholars have suggested that China should renounce its relations with North Korea. On November 27th, Professor Li Dunqiu from Zhejiang University stated in the Chinese Global Times that China cannot simply give up its special 65-year long friendship to Pyongyang, since it is important to China in many ways. Not only is North Korea important to China as a strategic partner, it also is a communist ally that shares the same interests. Li states that giving up on North Korea could also pose a security threat to China: if North Korea crumbles, the United States might benefit from its weakness by gaining the strategic advantages it has been pursuing since the Korean War (Guancha 2014).
"China has wiped North Korea's ass for too long," says General Wang.
General Wang Hongguang disagrees with Li. He responded to the article on December 1st with his essay "China's Non-Existent "Abandoning North Korea" Problem" ("中国不存在"放弃朝鲜"的问题" ). According to Wang, the entire debate boils down to one thing: North Korea was never really China's true ally to begin with, so their 'non-existent' alliance cannot be renounced. Wang denies that Pyongyang and Beijing have the same interests. If that were the case, Wang argues, then North Korea would not possess nuclear weapons. These weapons are damaging Chinese territories through pollution and are posing a serious threat to the people of China. They also jeopardize the peace of the region. Beijing fears that North Korea's possession of a nuclear bomb will trigger Japan to get its own nuclear weapons. A regional war could erupt, involving Russia, South Korea, Japan, North Korea, China, and the US. If these powerful nations all get involved in a Northeast Asian conflict, regional security is in serious danger. From this perspective, Wang wonders how Li could maintain that North Korea and China have the same interests: North Korean does not take China's interests into account at all. "China has to think from its own perspective and has take a stance against North Korea harming our interests ," says Wang: "We should not even think of it as 'abandoning' North Korea. China has wiped North Korea's ass for too long."  China should not go to war for North Korea, adds Wang: "China's younger generations should not fight a battle for a country that is not theirs" (Guancha 2014).
General Wang Hongguang (Guancha 2014)
North Korea is not China's communist or socialist ally, according to Wang. Any ideological similarities North Korea and China once had, have disappeared since long. North Korea has developed in a vastly different direction than China has, and all of its political Marxist thoughts and principles have been replaced by those of Kim Il Sung. "It is not a real socialist country," says Wang.
"China will not go to war for North Korea."
Wang also denies North Korea's significance as a strategic military partner to China because of its location, since the nature of war has changed due to globalization and the Information Age. Other factors, more important than location, have become crucial in building strategic relations.   
China should not get involved if North Korea crumbles, Wang concludes. If a regime is not supported by the people, it's only a matter of time before it falls. China's role in this issue should not be overestimated, says Wang: "China is not North Korea's savior" (Guancha 2014).
Xi Jinping and Kim Jong-Il meeting in Pyongyang, June 18, 2008 (Xinhua/Lan Hongguang)
References
Guancha. 2014. "解放军中将:朝鲜若崩溃中国救不了 中国人不必为朝打仗" Guancha [The Observer] 1 Dec http://www.guancha.cn/internation/2014_12_01_302090.shtml (Accessed Dec 1, 2014).   
Kornberg, Judith F. and John R. Faust. 2005. China World Politics: Policies, Processes, Prospects. Vancouver: UBC Press.
Xu, Beina and Jayshree Bajoria. 2014. "The China-North Korea Relationship." Council on Foreign Relations, 22 Aug  http://www.cfr.org/china/china-north-korea-relationship/p11097 (Accessed Dec 2, 2014).
Featured image: Chinese propaganda poster from 1952: "Long live the North Korean People's Army and the Chinese People's Liberation Army!", via http://www.163w.co/html/xch/cxrm.html
Appreciate this article and want to help us pay for the upkeep costs of What's on Weibo or donate a cup of (green) tea? You can do so here!
[box type="bio"]
About the Author: Manya Koetse is the editor of What's on Weibo. She's a Sinologist who splits her time between the Netherlands and China. She earned her bachelor's degrees in Literary Studies, Japanese & China Studies and completed her MPhil in Asian Studies. Contact: manya@whatsonweibo.com, or follow on Twitter.[/box]
©2014 Whatsonweibo. All rights reserved. Do not reproduce our content without permission – you can contact us at info@whatsonweibo.com.
Exchange Student to Be Deported from China for Harassing Young Woman at University
An exchange student studying at the Hebei University of Engineering has been expelled and will soon be deported after harassing a female student.
An exchange student from Pakistan who was studying at the Hebei University of Engineering (河北工程大学) has been expelled and detained after harassing a female student at the same university.
The incident, that is attracting much attention on Chinese social media this week, adds to the wave of recent controversies over the behavior and status of overseas students in mainland China.
On July 31, a female student at the Hebei university filed a police report against a Pakistani student who allegedly harassed her and attempted to forcefully kiss her and touch her breasts.
Screenshots of a supposed WeChat conversation between the exchange student and the female student, in which the man apologizes and claims the interaction is a "requirement for friendship," are being shared on social media.
According to various reports, the police initially tried to mediate between the two students, which the female student refused.
Together with the school principal, the police then further investigated the case and found ample evidence of harassment after examining the university's surveillance system.
On August 1st, the Hebei University of Engineering announced that they had expelled the student and that he will be deported from China. The announcement received more than 14,000 reactions and 150,000 'likes' on Weibo.
The student is now detained at the local Public Security Bureau and is awaiting his deportation.
A photo of two officers together with a man in front of the detention center in Handan is circulating on social media in relation to this incident.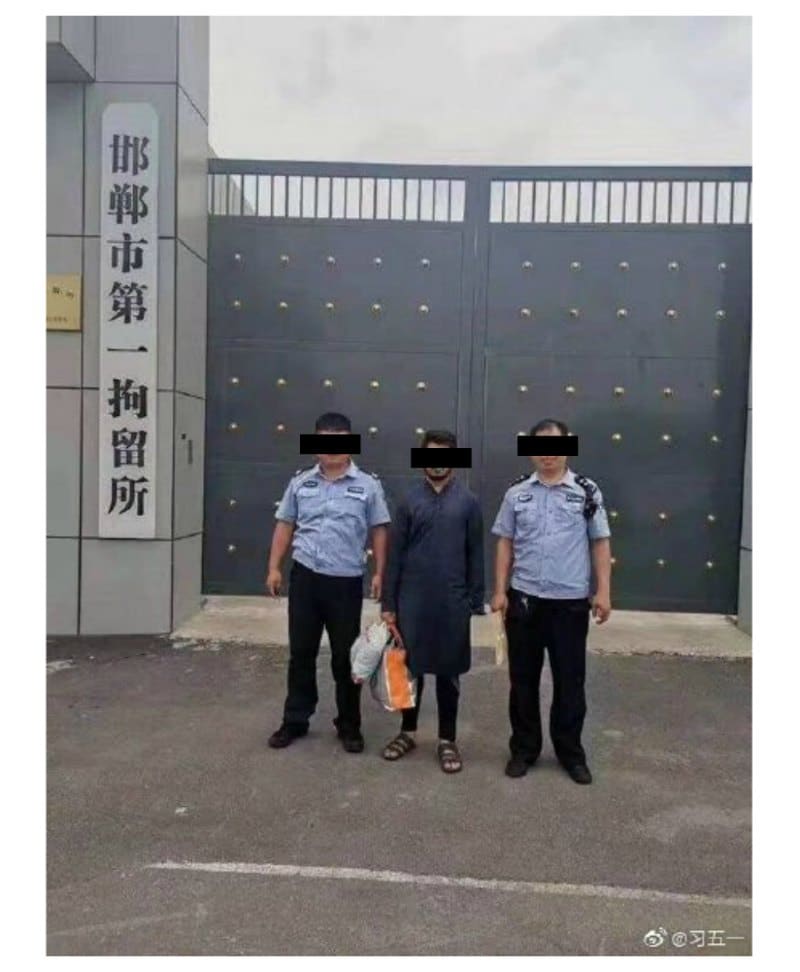 At time of writing, the hashtag page "Exchange Student to Be Deported after Molesting Female Student" (#留学生猥亵女学生将被遣送出境#) has been viewed over 310 million times on Weibo.
Among thousands of reactions, there are many who praise the Hebei university for supporting the female student after she reported the exchange student to the police.
"This may not be the best university, but at least they stand behind their students!", some say, with others calling the university "awesome."
Many say that the Hebei university should serve as an example for other Chinese universities to follow, with Shandong University being specifically mentioned by Weibo users.
Shandong University was widely criticized earlier this summer for its "buddy exchange program," which was accused of being a way to arrange Chinese "girlfriends" for male foreign students.
Another incident that is mentioned in relation to this trending story is that of an exchange student who displayed aggressive behavior towards a Chinese police officer in July of this year. The student was not punished for his actions, which sparked anger on Chinese social media.
By Manya Koetse
Follow @whatsonweibo
Spotted a mistake or want to add something? Please let us know in comments below or email us. Please note that your comment below will need to be manually approved if you're a first-time poster here.
©2019 Whatsonweibo. All rights reserved. Do not reproduce our content without permission – you can contact us at info@whatsonweibo.com
"Bolt from the Blue": Mainland Tourists Can No Longer Independently Travel to Taiwan
Chinese tourists who were planning a solo trip to Taiwan are out of luck.
Starting from August 1st, 2019, mainland residents can no longer individually travel to Taiwan for tourism purposes, and can only visit the island with a pre-approved travel group until further notice. The news has become top trending on Chinese social media.
After Chinese authorities announced on July 31st that China will stop issuing individual travel permits for mainland residents visiting Taiwan, the topic became one of the most-discussed topics on social media this week.
China's Ministry of Culture and Tourism stated on its website that independent travel to Taiwan will be suspended from August 1st "in view of the current cross-strait situation."
State media outlet Global Times writes that the individual travel suspension is a result of "repeated provocative actions by the Tsai Ing-wen administration and secessionist forces on the island."
Taipei Times explained the move as "another attempt to isolate Taiwan in the hope of spoiling President Tsai Ing-wen's re-election chances." Taiwan will hold its presidential elections in January 2020.
On Wednesday night local time, hashtags relating to the individual travel ban had gathered millions of views and comments on Sina Weibo.
ROC Restrictions for Mainland Travelers
Tourists from mainland China face restrictions when traveling to Taiwan, Republic of China (ROC), and must hold a travel permit to visit.
In July of 2008, PRC passport holders were first legally allowed to visit Taiwan for tourism purposes, but only if they joined a pre-approved group tour organized by a selected travel agency.
In 2011, these rules were relaxed after Taiwanese and mainland authorities agreed on a trial to allow mainland residents visiting Taiwan as individual tourists.
Under the terms of that 'trial,' mainland residents from 47 cities could apply for individual entry permits to Taiwan. These cities included places such as Beijing, Tianjin, Shanghai, Harbin, Xiamen, and others.
With Wednesday's statement, that program is currently put on hold. According to Focus Taiwan, this is the first time Beijing authorities have banned individual travelers from visiting Taiwan since June 2011.
Mainland tourists who want to visit Taiwan will now have to go back to joining tour groups again.
The Taiwanese tourism industry relies heavily on Chinese tourists. In 2015, the year before Taiwan President Tsai Ing-wen was elected, 4.2 million mainlanders visited the island, making up 40 percent of all tourists.
"A Bolt From the Blue"
On Weibo, the "Taiwan Individual Travel" account, an information channel for tourists, called the ban "a bolt from the blue" and said that it is unclear how long the restrictions will last: "We just hope that it is temporary."
The post received over 11,500 comments from netizens, many of whom are confused about the ban and concerned on how it will affect their personal travel plans.
"I already received my permit, can I still go?" many wondered.
According to the China International Travel Service, mainland travelers with permits issued before August 1st can still go on their planned individual trips.
In a Weibo poll answered by more than 210,000 social media users, state media outlet China Daily asked people if they would still consider visiting Taiwan after the restrictions on individual travel permits.
While more than 10 percent indicated they would be willing to join a tour group and still visit, a staggering 89,5 percent indicated they preferred free traveling and would not go at all.
"I will go once [the mainland and Taiwan are] unified," some popular comments said.
Discussions over the ongoing Taiwan Strait Issue often flare up on Chinese social media. In August of 2018 for example, Taipei-born actress Vivian Sung ignited a storm of criticism on Weibo for a comment she made about Taiwan being her "favorite country."
Last November, Taipei's Golden Horse Film Festival was overclouded by controversy due to a speech about Taiwan independence (read here). Chinese state media responded to the issue by promoting the hashtags "China Can't Become Smaller" and "Not Even a Bit Can Be Removed from China" (#中国一点都不能少#).
Earlier this year, many Chinese netizens were furious to discover that the super popular Taiwanese online game Devotion contained secret insults toward President Xi Jinping.
Although big discussions on the current Taiwan travel ban are filtered on Chinese social media, there are still some smaller threads where Weibo users are speculating about the reasons behind the move.
Some blame Taiwan leader Tsai Ing-wen, and see the latest travel measures as a way for Beijing to economically impact the island's tourism industry to influence upcoming elections.
Others argue that the current ban is more of a "protective measure," to make sure Chinese travelers who individually roam Taiwan will not be influenced by its election campaigns and media.
Then there are also those who think the entire issue is all about the ongoing Hong Kong protests.
Responses are overall very mixed. Although there are netizens supporting the solo travel ban, there are also those who think the measure will have an 'opposite effect' of that desired.
Although Weibo is mostly popular in mainland China, the social media platform is also used by Taiwanese netizens.
"I heard many of our Taiwanese online friends are happy to hear the news [about the travel restrictions]. Finally, this is something that cross-strait netizens can agree on!" one popular Beijing blogger (@地瓜熊老六) writes, sharing an online meme that shows Taiwanese scenery with the line 'Welcome to Taiwan, without Chinese.'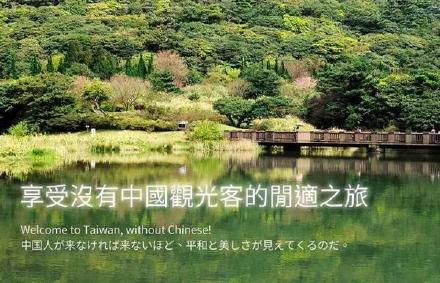 Still, there are also many Weibo users who want to visit Taiwan by themselves and are just concerned about the practicalities: "So, when do you think I will be able to visit again?"
"I was just preparing to go and visit Taiwan," one commenter writes, posting a crying emoji: "Nevertheless, I will still support China in this."
By Manya Koetse , with contributions from Miranda Barnes
Follow @whatsonweibo
Featured image: Photo by Vernon Raineil Cenzon
Spotted a mistake or want to add something? Please let us know in comments below or email us. Please note that your comment below will need to be manually approved if you're a first-time poster here.
©2019 Whatsonweibo. All rights reserved. Do not reproduce our content without permission – you can contact us at info@whatsonweibo.com