China Railway Changes Reservation Policy
Starting from December 3rd 2014, China Railway is implementing some important new rules on buying and reserving train tickets.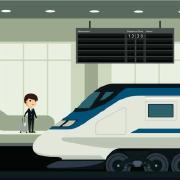 Trending on Sina Weibo today is the changing reservation policy for train tickets within Mainland China (#铁路退改签新政#). Those who have traveled by train in China will know that reserving seats is not always easy, especially for foreigners. The procedures for making reservations have changed several times over the past few years. Starting from December 3rd 2014, China Railway is implementing some new rules.
With these new rules, passengers can return their tickets without paying booking fees up to 15 days before departure. If they change their reservation up to 48 hours in advance, they can also switch trains and change to any other train running on same day of reserved ticket until 24:00. After the train's departure, passengers can change their reservation to any other train running on the same day. This new rule also means that passengers can no longer change their ticket within 48 hours. Although many netizens are pleased with the new rules, not all netizens are happy since it also means that if one buys a train ticket for the next day, it cannot be changed again until the reserved train has departed.
Starting from December 1, 2014, the pre-sale period for train tickets will gradually be extended to 60 days prior to departure (previously, this was 20 days prior). Notice for foreigners: passports are required when buying tickets at the ticket counter. For more information, check Travel Guide China.
[box] This is Weiblog: the What's on Weibo short-blog section. Brief daily updates on our blog and what is currently trending on China's biggest social medium, Sina Weibo.[/box]
No Hashtags for Mahsa Amini on Chinese Social Media
"Why is that every time Mahsa Amini is mentioned, it somehow gets linked to America?"
While the death of Mahsa Amini and the unrest in Iran is a major news story worldwide, the incident and its aftermath received relatively little attention in Chinese media, where the narrative is more focused on how Western responses to the issue are intensifying anti-American sentiments within Iran.
Her name in Chinese is written as 玛莎·阿米尼, Mǎshā Āmǐní. Mahsa Amini is the young Iranian woman whose death made international headlines this month and triggered social unrest and fierce protests across Iran for the past ten days, killing at least 41 people.
The 22-year-old Amini was arrested by morality police in Tehran on 16 September for allegedly not wearing her hijab according to the mandatory dress code for women while she was visiting the city together with her family. According to eyewitness accounts, Amini was severely beaten by officers before she collapsed and was taken to the hospital where she died three days later.
The protests following Amani's death were visible in the streets, but also on social media where Iranian women posted videos of themselves cutting off their hair as a sign of mourning and protest, asking others to help raise awareness on Amini's death and violence against women amid internet shutdowns in the country.
There were also protests outside of Iran in other places across the world. In London, protesters clashed with police officers during a demonstration outside the Iranian embassy on Monday.
On Chinese social media platform Weibo, Chinese news site The Observer (观察者网) reported Amini's death and the ensuing protests on September 22, but the hashtag selected to highlight the post did not focus on Amini.
Instead, it emphasized the reaction of the Iranian Foreign Ministry, which accused the United States and other Western countries of using the unrest as an opportunity to interfere in Iran's internal affairs (hashtag: "Iran Denounces the US and other Western Countries #伊朗谴责美西方#).
The hashtag decision is noteworthy and also telling of how the developments in Iran have been reported by Chinese (online) media sources, which evade the topic of anti-government protests and instead focus on pro-regime marches and anti-American sentiments.
On China's Tiktok, Douyin, as well as on Weibo, the Chinese media outlet iFeng News posted a video showing Iranian pro-government, anti-American protests on September 25, featuring interviews with veiled women speaking out in support of their country and showing "down with America" slogans and people burning the American flag.
In the comment sections, however, people were critical. One of the most popular comments said: "It must have been difficult organizing all these people." Another person wrote: "Ah now I am starting to understand that it must have been Americans who beat the girl to death for not properly wearing her hijab."
But there were also Chinese netizens who said that Iran was seeing a "color revolution" (颜色革命) initiated by the West, suggesting that foreign forces, mainly the U.S., are trying to get local people to cause unrest through riots or demonstrations to undermine the stability of the government.
China Daily also published a video on Douyin in which they featured Iranian political analyst Foad Izadi who said that the demonstrators in Iran could be divided into two groups: one group cared about "a young woman losing her life," but a second group are people "linked to terrorist organisations based outside Iran."
Chinese media commentator Zhao Lingmin (赵灵敏) posted a video in which she spoke about the situation in Iran and provided more background information on the history of the country, during which she noted how one Iranian official had supposedly said that "the only two civilizations in Asia worth mentioning are Iran and China."
Zhao explained how Iran officially became the Islamic Republic in April of 1979 as 98.2% of the Iranian voters voted for the establishment of the republic system in a national referendum.
Videos using the Douyin hashtag "Iran's Amini" (#伊朗阿米尼) were seemingly taken offline while various images included in Weibo posts about Mahsa Amini and the unrest in Iran were also censored.
"It's good that we can follow the situation here [on this account], because it's been removed at others," one commenter said in response to one post about the many protests following the young woman's death.
Searches for Amini's name came up with zero results on the website of Chinese state media outlets CCTV and Xinhua, where the last article about Iran was about how Iranian people think "America can't be trusted."
The official Weibo account of the Iranian Embassy in China did post a statement about Amini on September 23, writing that Iranian authorities have ordered an investigation into her tragic death and that the protection of human rights is an intrinsic value to Iran, "unlike those who use 'human rights' as a tool to suppress others." "America must end its economic terrorism instead of shedding crocodile tears," the last line said. That post received over 11,000 likes.
"Why is that everytime the Mahsa incident is mentioned, it somehow gets linked to America?!" one popular comment said, with another person also responding: "Sure enough, the U.S. gets blamed for everything."
"So it was the Americans who killed her?" some Chinese netizens sarcastically wrote in response to the post by The Observer, which also mentioned the U.S. in their report of Mahsa's death.
"I don't know the exact circumstances, but I support the right of women not to wear a veil," others said. "Men and women are equal, women should have the freedom to wear what they want and have education and get a job and have some fun," another Weibo commenter wrote.
One Zhejiang-based Weibo user wrote: "The courage of people marching in the streets for freedom is moving. I wish that women will no longer have their freedom restricted through a hijab. What will the 21st century look like? The answer is still blowing in the wind."
By Manya Koetse 
Get the story behind the hashtag. Subscribe to What's on Weibo here to receive our weekly newsletter and get access to our latest articles:
Spotted a mistake or want to add something? Please let us know in comments below or email us. First-time commenters, please be patient – we will have to manually approve your comment before it appears.
©2022 Whatsonweibo. All rights reserved. Do not reproduce our content without permission – you can contact us at info@whatsonweibo.com.
About Lipstick King's Comeback and His 'Mysterious' Disappearance
After Li Jiaqi's return to livestreaming, the 'tank cake incident' has become the elephant in the room on social media.
Earlier this week, the return of China's famous livestreamer Li Jiaqi, also known as the 'Lipstick King', became a hot topic on Chinese social media where his three-month 'disappearance' from the social commerce scene triggered online discussions.
He is known as Austin Li, Lipstick King, or Lipstick Brother, but most of all he is known as one of China's most successful e-commerce livestreaming hosts.
After being offline for over 100 days, Li Jiaqi (李佳琦) finally came back and did a livestreaming session on September 20th, attracting over 60 million viewers and selling over $17 million in products.
The 30-year-old beauty influencer, a former L'Oreal beauty consultant, rose to fame in 2017 after he became a successful livestreamer focusing on lipstick and other beauty products.
Li broke several records during his live streaming career. In 2018, he broke the Guinness World Record for "the most lipstick applications in 30 seconds." He once sold 15000 lipsticks in 5 minutes, and also managed to apply 380 different lipsticks in another seven-hour live stream session. Li made international headlines in 2021 when he sold $1.9 billion in goods during a 12-hour-long promotion livestream for Alibaba's shopping festival.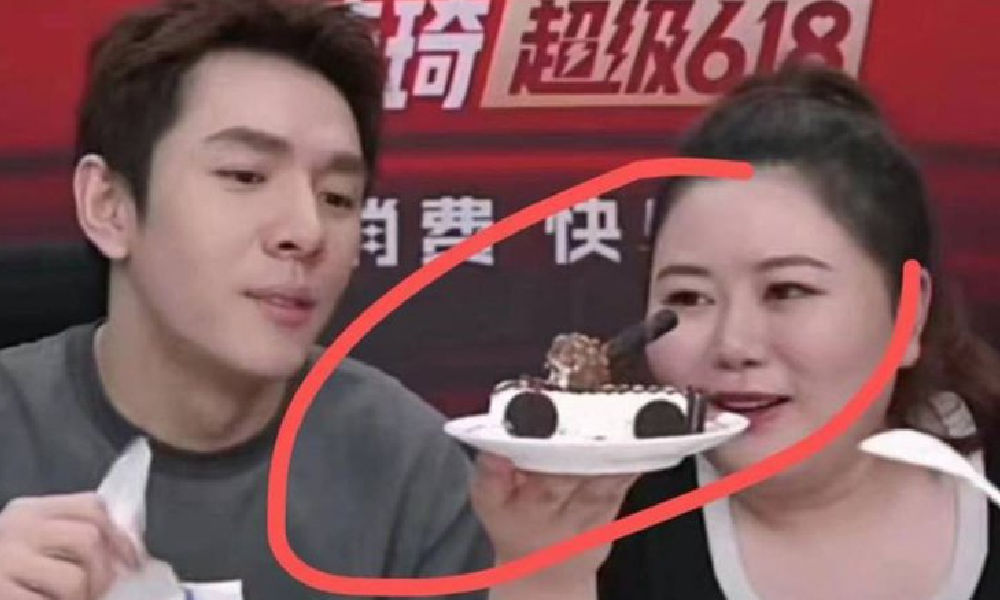 But during a Taobao livestream on June 3rd of this year, something peculiar happened. After Li Jiaqi and his co-host introduced an interestingly shaped chocolate cake – which seemed to resemble a tank, – a male assistant in the back mentioned something about the sound of shooting coming from a tank ("坦克突突").
Although Li Jiaqi and the others laughed about the comment, Li also seemed a bit unsure and the woman next to him then said: "Stay tuned for 23:00 to see if Li Jiaqi and I will still be in this position."
The session then suddenly stopped, and at 23:38 that night Li wrote on Weibo that the channel was experiencing some "technical problems."
But those "technical problems" lasted, and Li did not come back. His June 3rd post about the technical problems would be the last one on his Weibo account for the months to come.
The 'cake tank incident' (坦克蛋糕事件) occurred on the night before June 4, the 33rd anniversary of the violent crackdown of the Tiananmen student demonstrations. The iconic image of the so-called 'tank man' blocking the tanks at Tiananmen has become world famous and is censored on China's internet. The control of information flows is especially strict before and on June 4, making Li's 'tank cake incident' all the more controversial.
But no official media nor the official Li Jiaqi accounts acknowledged the tank cake incident, and his absence remained unexplained. Meanwhile, there was a silent acknowledgment among netizens that the reason Li was not coming online anymore was related to the 'tank cake incident.'
During Li's long hiatus, fans flocked to his Weibo page where they left thousands of messages.
"I'm afraid people have been plotting against you," many commenters wrote, suggesting that the cake was deliberately introduced by someone else during the livestream as a way to commemorate June 4.
Many fans also expressed their appreciation of Li, saying how watching his streams helped them cope with depression or cheered them up during hard times. "What would we do without you?" some wrote. Even after 80 days without Li Jiaqi's livestreams, people still commented: "I am waiting for you every day."
On September 21st, Li Jiaqi finally – and somewhat quietly – returned and some people said they were moved to see their lipstick hero return to the livestream scene.
Although many were overjoyed with Li's return, it also triggered more conversations on why he had disappeared and what happened to him during the 3+ months of absence. "He talked about a sensitive topic," one commenter said when a Weibo user asked about Li's disappearance.
One self-media accountpublished a video titled "Li Jiaqi has returned." The voiceover repeatedly asks why Li would have disappeared and even speculates about what might have caused it, without once mentioning the tank cake.
"This cracks me up," one commenter wrote: "On the outside we all know what's going on, on the inside there's no information whatsoever."
"It's tacit mutual understanding," some wrote. "It's the elephant in the room," others said.
Some people, however, did not care about discussing Li's disappearance at all anymore and just expressed joy about seeing him again: "It's like seeing a good friend after being apart for a long time."
By Manya Koetse 
Elements in the featured image by @karishea and @kaffeebart.
Get the story behind the hashtag. Subscribe to What's on Weibo here to receive our weekly newsletter and get access to our latest articles:
Spotted a mistake or want to add something? Please let us know in comments below or email us. First-time commenters, please be patient – we will have to manually approve your comment before it appears.
©2022 Whatsonweibo. All rights reserved. Do not reproduce our content without permission – you can contact us at info@whatsonweibo.com.