China Railway Changes Reservation Policy
Starting from December 3rd 2014, China Railway is implementing some important new rules on buying and reserving train tickets.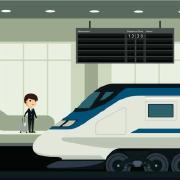 Trending on Sina Weibo today is the changing reservation policy for train tickets within Mainland China (#铁路退改签新政#). Those who have traveled by train in China will know that reserving seats is not always easy, especially for foreigners. The procedures for making reservations have changed several times over the past few years. Starting from December 3rd 2014, China Railway is implementing some new rules.
With these new rules, passengers can return their tickets without paying booking fees up to 15 days before departure. If they change their reservation up to 48 hours in advance, they can also switch trains and change to any other train running on same day of reserved ticket until 24:00. After the train's departure, passengers can change their reservation to any other train running on the same day. This new rule also means that passengers can no longer change their ticket within 48 hours. Although many netizens are pleased with the new rules, not all netizens are happy since it also means that if one buys a train ticket for the next day, it cannot be changed again until the reserved train has departed.
Starting from December 1, 2014, the pre-sale period for train tickets will gradually be extended to 60 days prior to departure (previously, this was 20 days prior). Notice for foreigners: passports are required when buying tickets at the ticket counter. For more information, check Travel Guide China.
[box] This is Weiblog: the What's on Weibo short-blog section. Brief daily updates on our blog and what is currently trending on China's biggest social medium, Sina Weibo.[/box]
'Divorce Day': Queuing Up to Get Divorced after Chinese Spring Festival Holiday
The first day after the Spring Festival holiday is a busy one at the Bureau of Civil Affairs as couples are lining up to register a divorce.
On the first day after the Chinese Spring Festival holiday (Jan. 21-27), there are long lines at the Civil Affairs Bureau in several places across China.
In Jiangxi, one resident shared how couples were queuing up to file for divorce on the first day the local Bureau of Civil Affairs reopened its doors. The lines were allegedly so long that people had to wait outside. Another video showed similar scenes at a local bureau in Anhui province. A third video showed crowded scenes of people lining up to register a divorce in Henan.
Chinese media accounts such as Toutiao News (@头条新闻), Vista (@Vista看天下), and Phoenix News (@凤凰周刊) all posted about the long divorce lines on Jan. 29, with one post about the topic receiving 70,000 likes.
"I thought they were lining up to get married, then I watched the news and saw they were actually lining up to get divorced..," one commenter wrote. Others wondered if the busy lines for the divorce registration office might have something to do with the Covid outbreak over the past weeks, with some couples finding out that their partner actually is not very sympathetic when they are sick (also read this article).
The Chinese media outlets posting about the divorce registration lines mentioned how the ones who suffer the most in a divorce are the children, but many commenters did not agree with this statement, arguing that children suffer the most when parents stay together for the sake of the children and then continue fighting.
The divorce trend after the Chinese Lunar New Year has also been discussed in Chinese media and on social media in previous years ("春节后离婚潮").
In Western countries, it is a known fact that divorce rates increase after Christmas time; the Monday after Christmas break is also dubbed "Divorce Day." Some sources claim this is often due to quarrels that occur during Christmas and the financial pressures that come with the festive season.
It is arguably not much different for the Chinese New Year, when incidents taking place during family gatherings could be the straw that broke the camel's back.
"The Spring Festival is like a big marriage minefield," one commenter wrote: "When you return to your family home, it doesn't just mean reuniting with your close relatives, there are also various tests of human relations and etiquette. A careless moment can cause conflicts between a married couple, leading to quarrels or even divorce. Is your marriage good or not? You will know during the Chinese New Year. After the New Year, there will be a wave of divorces."
But the pandemic situation of the past years, in including the lockdowns, mental stress and financial difficulties, inescapably also play a role in the recent divorce wave.
In December of 2022, this Chinese blog article already predicted that more people would file for divorce after the Chinese New Year since the end of the holiday would coincide with the end of the Covid peak. In times of lockdown, and especially in times of sickness, couples easily get annoyed with each other and their love is put to the test.
Earlier this month, some Chinese media also reported that three years after the pandemic began, cities were already seeing a "divorce wave" (#疫情后一线城市离婚预约爆满#).
Some netizens comment that the 'cool-off' period that was introduced to allow couples a month's time to think and revoke their divorce does not seem to have much effect.
Some people sympathize with those standing in line: "Celebrating the New Year can bring about a war in some families. The divorce season has started."
By Manya Koetse 
Get the story behind the hashtag. Subscribe to What's on Weibo here to receive our newsletter and get access to our latest articles:
Spotted a mistake or want to add something? Please let us know in comments below or email us. First-time commenters, please be patient – we will have to manually approve your comment before it appears.
©2023 Whatsonweibo. All rights reserved. Do not reproduce our content without permission – you can contact us at info@whatsonweibo.com.
Chinese Social Media Reactions to The New York Times Bad Review of 'Wandering Earth 2'
A New York Times bad review of 'Wandering Earth II' has triggered online discussions: "China's gonna save the world, the US can't stand it."
This Chinese Spring Festival, it's all about going to the movies. After sluggish years for China's movie market during the pandemic, Chinese cinemas welcomed millions of visitors back to the theaters during the weeklong Spring Festival holiday.
Much-anticipated new movies attracted Chinese moviegoers this festive season, including Full River Red by Zhang Yimou, the suspenseful Hidden Blade, or the animated Deep Sea by Tian Xiaopeng.
But the undisputed Spring Festival box office champion of 2023 is Frant Gwo's Wandering Earth II (流浪地球II), the sequel to China's all-time highest-grossing sci-fi epic Wandering Earth (2019), which also became the fifth highest-grossing non-English film of all time.
The narrative of the follow-up movie Wandering Earth II actually takes place before the events of the first film and focuses on the efforts by the United Earth Government (UEG) to propel the Earth out of the solar system to avoid planetary disaster. This so-called Moving Mountain Project – which later becomes the Wandering Earth Project – is not just met with protest (the majority of Americans don't believe in it), it also bans the Digital Life Project, which supports the idea that the future of humanity can be saved by preserving human consciousness on computers (backed by an American majority). The film is all about hope and resilience, human destiny, and geopolitics at a time of apocalyptic chaos.
Outside of China, the sequel was also released in, among others, North American, Australian, and UK cinemas.
Although the film, featuring movie stars Wu Jing and Andy Lau, received an 8.2 on the Chinese rating & review platform Douban, a 9.4 on movie ticketing app Maoyan, dozens of positive reviews on Bilibili, and was overall very well-received among Chinese viewers, a bad review by The New York Times triggered discussions on Chinese social media this weekend.
Chinese media outlet The Observer (观察者网) initiated a Weibo hashtag about "The New York Times's completely sour review of Wandering Earth II" (#纽约时报酸味拉满差评流浪地球2#, 6.2 million views at time of writing).
The New York Times review of Wandering Earth II, titled "The Wandering Earth II Review: It Wanders Too Far," was written by Brandon Yu and published in print on January 27, 2023.
Yu does not have a lot of good things to say about China's latest blockbuster. Although he calls the 2019 The Wandering Earth "entertaining enough," he writes that the sequel is a movie that is "audaciously messy" and has lost "all of the glee" its predecessor had:
"(..) the movie instead offers nearly three hours of convoluted storylines, undercooked themes and a tangle of confused, glaringly state-approved political subtext."
The topic was discussed on Chinese social media using various hashtags, including "The New York Times Gave Wandering Earth II a 3″ (#纽约时报给流浪地球打30分#, #纽约时报给流浪地球2打30分#).
Instead of triggering anger, the bad review actually instilled a sense of pride among many Chinese, who argued that the review showed the impact the movie has made. Some commenters pointed out that the movie is a new milestone in Chinese cinema, not just threatening America's domination of the movie industry but also setting a narrative in which China leads the way.
"We're gonna save the world, and America just can't stand it," one commenter replied.
That same view was also reiterated by other bloggers. The author and history blogger Zhang Yi'an (@张忆安-龙战于野) argued that The New York Times review was not necessarily bad; it actually shows that Americans feel threatened by the idea of China's important role in a new international world order, and by the fact that China actually will have the capacity to lead the way when it comes to, for example, space technology innovation, robotics, and artificial intelligence.
Zhang argues that if a similar movie had been made by India as a Bollywood blockbuster – including exploding suns and wandering earths – The New York Times would have been more forgiving and might have even called it cute or silly.
But because this is China, the film's success and its narrative plays into existing fears over China's rise, and it clashes with American values about what the international community should look like.
Zhang writes: "The China in the movie doesn't boast itself as the savior of the world, but in reality, China really is capable of saving the world. The United States is no longer able to do so (电影里的中国没有把自己吹嘘成救世主,现实中的中国真的有能力做救世主。而美国却已经不能了)."
One popular Film & TV account (@影视综艺君) also summarized the general online reaction to the bad review in the American newspaper: "Whenever the enemy gets scared, it must mean we're doing it right. Our cultural export has succeeded." That post received over 120,000 likes.
On Zhihu.com, some commenters also attached little value to the review and showed how the overseas reviews of Wandering Earth II widely varied in their verdict.
Meanwhile, a state media-initiated hashtag on Weibo claimed on January 28 that Wandering Earth II has actually "captured the hearts of many overseas audiences" (#流浪地球2海外上映获好评#), and that the film's "imaginative" and "wonderful" visuals combined with its strong storyline were being praised by moviegoers outside of China.
On IMDB, the movie has received 5.9/10; it has gotten a 70% Rotten Tomatoes score. The Guardian gave it 2/5. Meanwhile, on Weibo, one reviewer after the other gives the film 5/5 stars.
Weibo blogger Lang Yanzhi (@郎言志) writes: "Recently, we've seen a lot of attacks and slander directed at the China-made science fiction movie Wandering Earth 2, especially coming from Western media and pro-Western forces, because the film's "Chinese salvation" narrative made them uncomfortable. This was already the case when the first film in the series was released. It is very clear that Wandering Earth is not just a movie: it is a symbol of great influence."
By Manya Koetse , with contributions by Zilan Qian
Get the story behind the hashtag. Subscribe to What's on Weibo here to receive our newsletter and get access to our latest articles:
Spotted a mistake or want to add something? Please let us know in comments below or email us. First-time commenters, please be patient – we will have to manually approve your comment before it appears.
©2022 Whatsonweibo. All rights reserved. Do not reproduce our content without permission – you can contact us at info@whatsonweibo.com.