China's First Fast Food Restaurant
Not KFC or McDonald's, but Yili was China's very first fast food restaurant.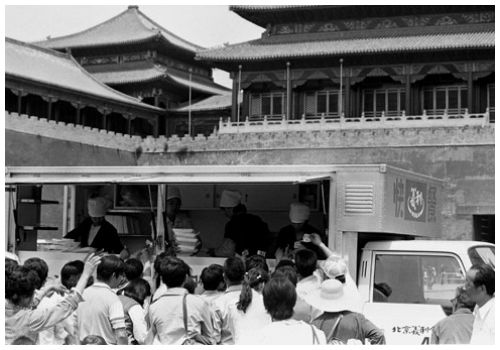 Not KFC or McDonald's, but Yili was China's very first fast food restaurant. Its opening in 1984 became the talk of the day.
It was April 20 1984, when China's first western-style fast food restaurant opened its doors in Beijing's Xidan central area. Beijing vice mayor Zhang Baifa personally came to cut the ribbon of 'Yili's Fast Food Shop' (义利快餐厅).
It was the news of the day. Beijing Evening News reported that "China's first western fast food restaurant" was now officially opened, and foreign journalists wrote that this was "the next step in China's reform and open-door policy". The 150 square metre restaurant was soon full with people coming from all places who wanted to try hamburgers, ham sandwiches and coffee – and experience something 'foreign' in Beijing.
The Yili brand was already established in 1906 by Scottish businessman James Neil. The management was taken over by China in the 1940s. Amongst other products they made the famous Yili Bread, which has now become a time-honored Beijing brand.
Although the 1984 restaurant was the first in China, there had already been a fast food truck in Beijing in 1982, as pictured above.
About the day that he first visited Yili, Xinhua-affiliated media researcher Zheng Dejin is quoted in 'China Remembers' (2014): "It was the day after the opening, and soft music played while the air-conditioning blew in cool air (..) On the right side, there was a big mirror that made the place seem even bigger." He also remembers the toilet: "There was a hot-air-blower that would dry your hands within a minute." The staff used electronic calculators to quickly process customer's orders (Chen 2014, 159).
Although Yili was successful, it was soon overshadowed by the arrival of Kentucky Fried Chicken in 1987 and McDonald's in 1990. The Yili restaurant was demolished in 2002.
China's first McDonald's, that opened in Shenzhen on October 8, 1990.
Fast Food in China, an overview:
1984 – Yili Fast Food: the first western-style fast food restaurant opens in Beijing.
1987 – The first Kentucky Fried Chicken opens its doors in Qianmen, Beijing.
1990 – The first McDonald's of China begins business in Shenzhen.
1992 – Beijing's Wangfujing shopping area sees the opening of the biggest McDonald's in the world.
1996 – Kentucky Fried Chicken celebrates the opening of its 100th store.
2000 – McDonald's sees its 340th store in mainland China, KFC its 400th.
2014 – McDonalds has over 2000 stores in China, whereas KFC has more than 4000.
The inside of the Wangfujing McDonald's in 1992.
Sources:
– Chen Boyuan. "Century-old bread mill confident in differentiation strategy." China.org, September 29. http://china.org.cn/business/2014-09/29/content_33648336.htm [16.9.15].
– Chen Yu (ed). 2014. 中国生活记忆 ['China Remembers', 'Memories From Chinese Lives']. Beijing: Zhongguo Qinggongye Chubanshe.
– Jinan Times."麦当劳肯德基深陷过期肉事件 中式快餐欲逆袭." 2014. Jinan Times, August 3. http://www.hibor.com.cn/ecodetail_2377883.html [16.9.15].
Images:
http://www.jingcity.com/food/news/201303/70432.html
– By Manya Koetse
Follow @WhatsOnWeibo
©2015 Whatsonweibo. All rights reserved. Do not reproduce our content without permission – you can contact us at info@whatsonweibo.com.
98-Year-Old Hotpot and Coca Cola Lover Becomes Online Hit
Are hotpot and cola the key to longevity?
This week, a 98-year-old Chengdu resident has become an online hit on Chinese social media, after videos of her and her granddaughter went viral. The popular grandmother loves to drink Coca Cola, eat hamburgers, and is crazy about hotpot – but only if it's really spicy.
The 98-year-old became an overnight hit because of the videos posted by granddaughter Cai on China's popular video app Douyin (TikTok), that show the grandmother's great appetite for spicy food, alcohol, and sweet sodas.
When the granddaughter tries to persuade her grandma to drink less alcohol ("You've already had five!") she'll pour herself another cup; while dozing off, she'll still talk about her favorite hotpot with beef tripe; when eating her hamburgers, she'll eat so fast that her dentures fall out – all moments that were caught on video by Cai.
The woman, who has been nicknamed "grandma foodie" (吃货奶奶), has been starring in her granddaughter's Douyin videos since August of last year. Since then, she has accumulated a social media following of some 410K fans and has now risen to nationwide fame, with dozens of Chinese news outlets writing about her. On March 4, she became the number one trending topic on Weibo.
On social media, most netizens praise the grandma for her positive attitude. "I hope I can do all the things I love, too, when I reach her age," some say: "Eat whatever you want, whenever you want, and drink whatever you like, whenever you like." "Eating good food is the key to happiness," others write.
Some also see a lucrative opportunity in the grandma's sudden rise to fame: "She should become a brand ambassador for Coca Cola."
Granddaughter Cai told Chinese reporters: "I think it's the contrast that makes her so popular. She drinks Coke, eats hamburgers, loves spicy food, and all that greasy food. She's leading the life of a young person, and it appears to be very unhealthy. But she still has longevity."
Because Cai's grandma does not know much about social media, Cai tried to explain to her that "many, many people" like her a lot. "Why on earth would they like me for?" she replied: "I'm old!"
Want to know more about hotpot, all the reasons to love it, and how to make it at home? Visit our sister site Hotpotambassador.com here.
By Manya Koetse
Spotted a mistake or want to add something? Please email us.
©2019 Whatsonweibo. All rights reserved. Do not reproduce our content without permission – you can contact us at info@whatsonweibo.com.
These Chinese School Are Awarding Excellent Students with Pork Meat Gifts
Awarding excellent students with raw meat or even fresh fish seems to be a new trend in Chinese schools.
First published
A number of schools in China have recently introduced a new gift for outstanding students at the end of term ceremony: no books, no pens, but a chunk of meat that can be shared with the entire family.
A remarkable award ceremony at a middle school in Fuyang, Anhui province, has attracted the attention of Chinese netizens this week for the meat gifts the school offered to its outstanding students.
The award ceremony was held on January 26 at the Anhui Fuyang No. 1 Middle School. The five best students of every class were each rewarded with 2,5 kilogram (5.5 pounds) of pork meat.
At the end of the ceremony, a total of 600 students took home a staggering 1500 kilogram (3306 pounds) of pork meat in total.
Chinese media outlets Pear Video and We Video posted video reports of the noteworthy event on their channels (link and link) on January 28.
Although the initiative of this particular school came as a surprise to many netizens, more schools across China are introducing these kinds of food gifts to their students lately.
"Nowadays, every household has enough stationery. So we came up with the idea to award our students with pork meat instead."
The director of the Anhui school, Mister Sun (孙), told reporters: "In the past, the school always awarded its best students with pencils and notebooks. But nowadays, every household has enough stationery. So we came up with the idea to award our students with pork meat instead."
The pork meat, gifted in a bag with a pig on it, was given just in time for the upcoming Chinese Spring Festival, which celebrates the start of the Year of the Pig this year.
Sun further added: "The students' hard work is rewarded with something they can take home and share with their family members and other people they love. In this way, they can also experience the gratefulness of others."
The Fuyang middle school is not the first school that awards its students by offering them fresh meat products. Recently, several stories of Chinese schools awarding their students with meat gifts made their rounds on Chinese social media.
A primary school in Liuzhou, in a mountainous and impoverished area of Guangxi province, received the praise of many netizens when they awarded their 71 most outstanding students with 1,5 kilogram of unwrapped pork meat on a string. It is the second year in a row that the school chose to present its students with a meat gift.
At another school in Dongguan, Guangdong province, the 90 most outstanding students were each rewarded with a fresh fish earlier this month. The fish were caught from the Humen Wharton School's own pond, The Paper reports.
In a recent interview, director Wu (吴) of the Dongguan Humen Wharton School told The Paper that the fish are usually fed with the leftovers from the school canteen. By rewarding the students with these fish, Wu said, the school not only hopes to make the pupils happy, but also hopes to increase their awareness on the ecological environment.
"This is the reality. When you work hard, you'll have meat to eat."
Last year, a school in Fujian's Nan'an awarded 30 of its highest-scoring students with a pork leg, something that also attracted the attention online at the time. More schools, including one in Shanwei, then followed their example.
On Weibo, various hashtags relating to the new 'trend' are making their rounds. "Middle School Awards Its Students with 1500 Kilogram of Pork Meat" (#中学用3000斤猪肉表彰学生#) received over 5.5 million views this week. "School in Mountainous Area Awards Students with Pork at the End of the Year" (#山区小学期末发猪肉奖状#) had over 3 million views on Weibo.
Chinese netizens applaud the schools for giving these food products to reward students, mainly seeing it as a way to boost the children's confidence.
"This is great!" one commenter wrote: "The students can really experience how it feels to earn something and what it feels like to contribute. And at the same time, they can share and enjoy their achievements with their family."
"What a great award," others say: "They'll feel so proud to bring this back home."
"This is the reality. When you work hard, you'll have meat to eat. Why weren't there such good schools around when I was a kid?", a Weibo user says.
It is a tradition in China to hold an award ceremony at the end of the semester. During the ceremony, that is attended by the school's students, teachers, and sometimes (grand)parents, the best students are praised for their accomplishments. The purpose of the award ceremony and the public praise is to let the excellent students set an example for their fellow classmates, and to motivate the students.
But not everyone is equally positive about the initiative. "The intention is good, but how attractive is it for a child to receive a pork leg nowadays?" one man from Guangdong wonders: "Isn't it more and more uncommon for people to perceive meat as something that's rare to eat?"
"It's not about the meat itself," others argue: "It's about bringing home something and making them feel accomplished."
Among the few voices criticizing the idea, there are also those who advocate vegetarianism and think it would be more valuable to teach children the value of living creatures rather than to give them pork.
Others argue that the pork meat gift is not 'halal.'
But the vast majority of commenters still praise the initiative, saying it is honest, nutritious, and lets the whole family benefit from their child's accomplishments. For some, the idea is simple and straightforward: "Those who study hard get to eat meat."
By Gabi Verberg and Manya Koetse
Spotted a mistake or want to add something? Please let us know in comments below or email us.
©2019 Whatsonweibo. All rights reserved. Do not reproduce our content without permission – you can contact us at info@whatsonweibo.com