China's Latest Online Viral Game Makes You Clap for Xi Jinping
Smart propaganda – now clapping for Xi Jinping has become a competition.
In a new online game that has come out during the 19th National Congress in Beijing, Chinese netizens can compete in applauding for Xi Jinping. The game has become an online hit.
The major 19th CPC National Congress started on Wednesday in Beijing with a speech by Chinese President Xi Jinping that took nearly 3,5 hours.
The speech, that focused on China's future and its rise in the world today, was repeatedly paused for the appropriate applause from the party members in the audience.
With the introduction of a new game by Tencent, people can now also clap along to Xi Jinping's speech from their own living room. The game became an online hit on October 18. It was already played over 400 million times by 9 pm Beijing time.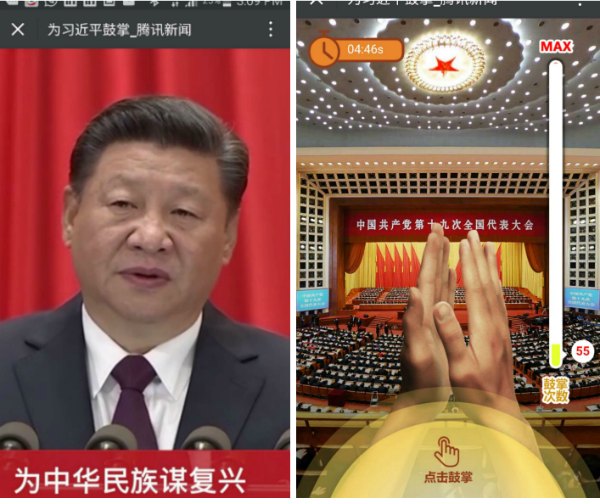 The mobile game can be opened through a link that takes you to a short segment of the lengthy speech by Xi Jinping. In the short segment, President Xi mentions that it is the mission of the Communist Party of China to strive for the happiness and the rise of the Chinese people.
The app then allows you "clap" for Xi by tapping the screen of your phone as many times as you can within a time frame of 18 seconds. After completing, you can invite your friends to play along and compete with them.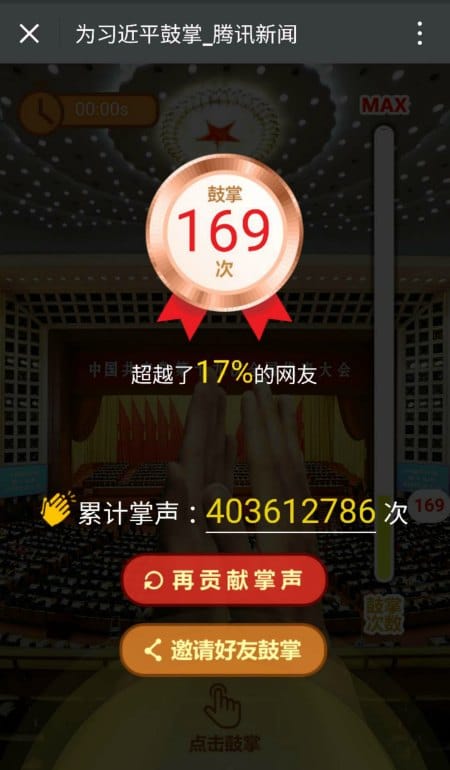 The game has become especially popular on WeChat, where some users boast that they have scored a 'clap rate' of 1695.
If you're up to it, you can try to clap as much as you can for Xi Jinping here (mobile only).
(Update Friday, October 20: the game link now redirects to the Tencent News site themed around the 19th Party Congress through desktop. On mobile, the game still works, and has been played over 1,2 billion times.)
By Manya Koetse and Diandian Guo
Follow @whatsonweibo
Spotted a mistake or want to add something? Please let us know in comments below or email us.
©2017 Whatsonweibo. All rights reserved. Do not reproduce our content without permission – you can contact us at info@whatsonweibo.com.
This Is the Weibo Post with the Most Comments Ever (Well, Almost)
One of Weibo's hottest posts ever is all about the money.
It's all about the money? When billionaire Wang Sicong announced he would be giving away more than $160,000 to Weibo users, his post generated over 63 million reactions.
The victory of Chinese esports team Invictus Gaming (IG) was one of the biggest trending topics on Weibo the past week, with the joy among China's younger generations over winning the League of Legends World Championship being noticeable both online and offline.
Amid cheering crowds on campuses and celebratory posts flooding WeChat and Weibo, there was one post that especially stood out this week: that of Chinese billionaire Wang Sicong (王思聪).
Wang Sicong, who now has over 41 million followers on his Weibo account (@王思聪), is one of China's most famous fu'erdai (富二代), the term that refers to the 'second generation rich': the children of the nouveau riche in China. Wang is the son of Chinese tycoon Wang Jianlin (王健林), who is known as one of the richest persons in Asia.
On November 6, three days after Invictus Gaming's League of Legends victory, Wang posted on Weibo:
"To celebrate IG's championship, I will do a championship month event; this month, I will draw prizes in four waves. Today is the first one, and out of everyone who comments/likes/forwards this post, I'll draw 113 people (to celebrate the awesome day of 11.3 [when IG won]), and those people will all get 10,000 yuan [±$1437] in cash.
At the time of writing, the post has received more than 24 million shares, over 20 million comments, and 19 million likes.
On November 11, Single's Day, Wang announced that the winners had been picked through Weibo's lottery picking system (@微博抽奖平台).
Besides that it is likely that Wang's post is a collaboration with Sina Weibo, Wang has more reasons for this noteworthy prize drawing. Wang himself is the founder of the current 'Invictus Gaming' team; he acquired the top Chinese gaming club 'Catastrophic Cruel Memories' in 2011, in order to promote professional esports in China.
The 'lottery' has also boosted Wang's online fanbase, which grew by two million fans within several days time.
Biggest Posts on Weibo
Although it is very rare to see this big of a number of reactions and shares for one post on Weibo, Wang's post officially is not the 'number one' popular post of all times on Weibo.
In 2016, Guinness World Records actually announced a world record for "Most comments on a Weibo™ post." The record holder is the Chinese singer and actor Lu Han (鹿晗), whose 2012 post about his favourite soccer team, Manchester United, had received 100,899,012 comments.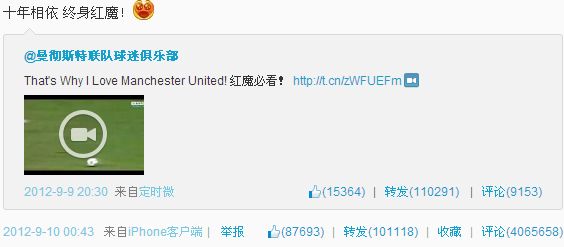 What is a bit misleading about the record, however, is that the comments were accumulated over a period of multiple years.
To put into perspective how popular Wang Sicong's recent post really is, we will line up some examples of posts that became booming on Weibo.
Last year, one post by Lu Han in which he announced his new relationship actually led to a temporary breakdown of Weibo's servers. A day later, the post had received 2,4 million comments – far less than the amount of comments Wang's post received over the past week.
Another noteworthy post that made social media blow up was that of Chinese actor Wang Baoqiang, who announced on Weibo in 2016 that he was divorcing his wife and firing his agent because of their secret love affair. That post received over 1,5 million comments within 24 hours.
The apology post by Chinese actress Fan Bingbing, who was caught up in what has become the most controversial tax scandal of 2018, had its comments disabled, but received over 340,000 shares and some two million likes.
According to Time, the most popular post on Twitter of 2017 was that of Carter Wilkinson who asked American fast food chain Wendy's "how many retweets for a year of free chicken nuggets?", which received a reply from the chain saying "18 million."
By now, Carter's tweet "HELP ME PLEASE. A MAN NEEDS HIS NUGGS" has received more than 3,5 million retweets. (Although he did not make it to 18 million, he still got his year-long supply of nuggets.)
It is clear that by accumulating more than 60 million reactions (shares, comments, likes) within seven days, Wang Sicong's post is now among the top scoring posts of all time on Weibo. (Do you know of other posts that set Weibo booming, please let us know in the comment section below – we might make a list later).
To find out who the most popular Weibo celebrities are, check our recent top 10 here.
By Manya Koetse
Follow @whatsonweibo
Spotted a mistake or want to add something? Please let us know in comments below or email us.
©2018 Whatsonweibo. All rights reserved. Do not reproduce our content without permission – you can contact us at info@whatsonweibo.com
China's eSports Craze Reaches New Heights with the Victory of "Invictus Gaming" (IG)
The hashtag "IG are the Champions" received over a billion million views on Weibo over the past week.
Over the past week, hotlists of Baidu and Weibo were dominated by the news of China's IG team winning the League of Legends (英雄联盟) World Championship for the first time in world history. Following China's success at the previous Asian Games, China's electronic-sports (esports) craze has now reached new heights.
In early November, 'Invictus Gaming' (IG) became the first Chinese team to win the League of Legends World Champions.
In a sold-out Munhak Stadium in Incheon, South Korea, the Chinese team took down Europe based FNATIC by 3-0 on November 3rd.
League of Legends is an online multiplayer video game developed and published by Riot Games in 2009 in which a team of players has to battle against the opposing team by gaining more strength through the accumulation of items and experience over the course of the game.
College Craze over IG
During the finals and in the days that followed, the internet flooded with reactions from esports enthusiasts. On Weibo, hashtags such as "IG are the Champions"(#ig冠军#)and "What the championship of IG means" (#IG夺冠的意义#) went viral, together scoring more than 1,5 billion views. IG's World Championship has shown, more than ever, how booming esports actually are in China.
During the finals, many photos and videos of school canteens, sports field and internet café's full of young people watching the final circulated on the internet.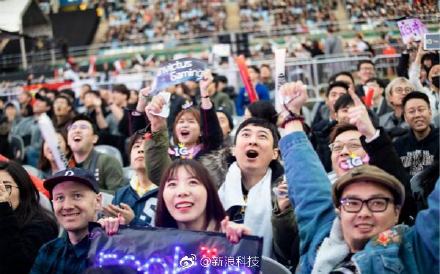 Right after IG defeated FNATIC, videos posted online by students of the Nanchang Institute of Technology, Tianjin Institute of Technology, and many other universities showed countless dormitory rooms with students celebrating, cheering and chanting "IG are the Champions!" (IG冠军!).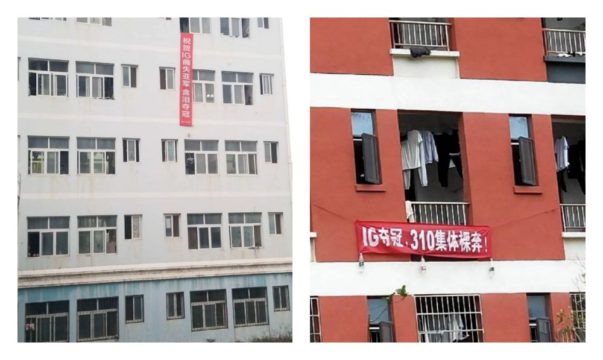 At one university, several students even put up a banner reading: "If IG wins the championship, Unit 310 goes naked" ("IG夺冠!310集体裸奔"). Photos and videos later confirmed that some people partly held themselves to the agreement, showing young men wearing nothing but their underwear running around holding the IG's flag.
Over the past week, photos of banners hanging from university dormitories, congratulating IG, also spread online – showing a craze that is similar to that over football fever in some other countries.
The IG Fever Meme Machine
The craze over the IG victory has triggered dozens of memes on Chinese social media over the past week.
One of these memes involved Chinese businessman Wang Sicong (王思聪), son of billionaire Wang Jianlin. With more than 38 million Weibo followers, Wang Sicong @王思聪 is not only a popular Weibo blogger – he is also the founder of the current 'Invictus Gaming' team by acquiring top Chinese gaming club 'Catastrophic Cruel Memories' in 2011, in order to promote professional eSports in China.
Wang was spotted eating a large hot-dog during the games, in somewhat uncharming way, sparking a range of memes.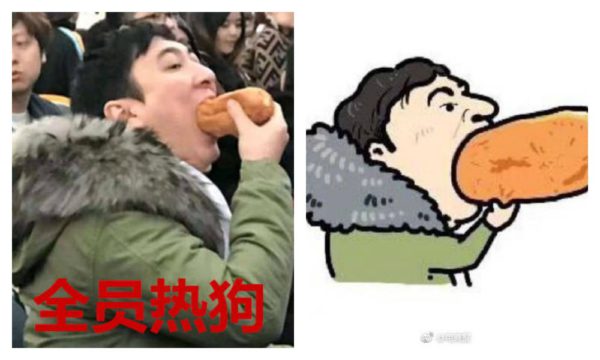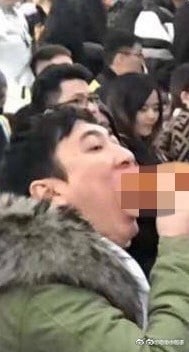 Some copied the image of Wang eating the hotdog in art..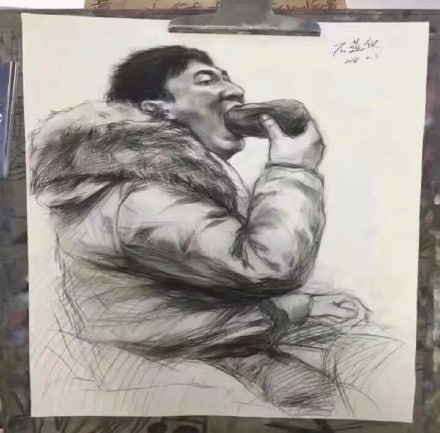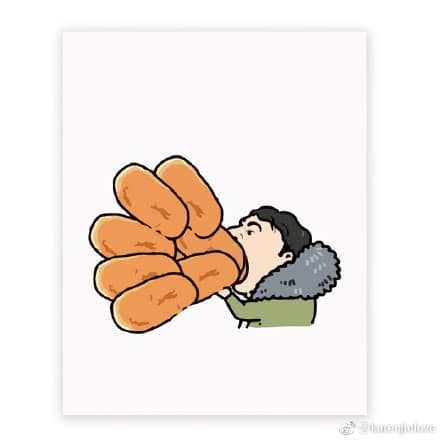 …but the meme also went from online to offline as some companies used it to promote their food or products.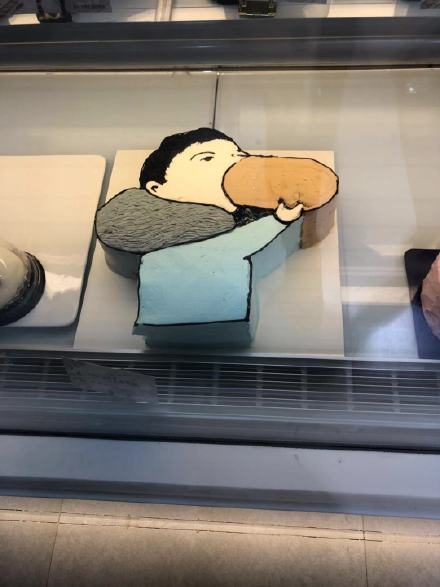 The trend went so far that the hashtag "Wang Sicong's Hotdog-Eating Image" (#王思聪吃热狗头像#) received over 380 million views, and that the businessman even asked his followers on Weibo to stop sharing his hotdog picture.
As reported by Radii, Wang Sicong also went viral for revealing that he would be selecting 113 fans (11.3 is the date IG won) to receive 10,000RMB ($1440) each, choosing the winners on 11.11 Single's Day.
At time of writing, that post had attracted a staggering 17 million comments.
But there were also other types of memes on Weibo this week, namely, those making of fun of the many people who had never heard of IG before and were surprised with the online craze surrounding the championship.
Netizens used self-irony in depicting themselves feeling like some kind of Neanderthal when hearing people discussing the IG championship…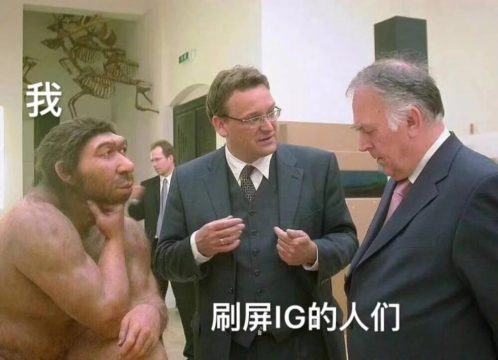 Or by depicting two monkeys with a big "Congratulations IG" above them and one wondering "What is IG?!", and the other telling him just to follow the rest in congratulating them anyway.
This response also shows that China's post-70s and post-80s are not as familiar with the latest esports craze as China's younger (post-90s, post-00s) generations are.
A Momentous Victory
The enormous hype over the World Championship of the Chinese team shows that there is more to the topic than the victory the five IG players alone. Many esports fanatics see the Chinese teams' success as a crucial moment of recognition of esports in the PRC.
After IG was crowned world champion, the hashtag "What the Championship of IG Means" (#IG夺冠的意义#) received over 530 million views, with many Weibo users liking and sharing the following text:
"Perhaps middle-aged and elderly people don't know what just happened, but the Chinese team won the LPL world championship. After seven unsuccessful years, the Chinese teams have been under tremendous pressure from the public. […] But now IG is the world champion. Why do people hear the cheers of young people outside? Because we are the teenagers that were never understood, but now at this very moment, we got our recognition."
In conclusion, some facts & numbers:
● The first professional League of Legends world competition was held in 2011 in Sweden.
● League of Legends is considered to be the largest electronic sport in the world, being the most played game in the world for three consecutive years since 2016.
● In 2018, an estimated 81 million people worldwide played League of Legends each month.
● During the 2018 world final, a record was set with 205,348,063 viewers watching the game at the same time. 203.389.444 of these viewers were Chinese.
● The total prize money of the 2018 LPL world championship was $2,250,000.
● The 12 Chinese competing players altogether earned $556,875 prize money.
● Invictus Gaming won $843,750 prize money. The money was divided equally amongst a total of six players, meaning every player earned $140,625. (Note: the team also received bonuses from other third parties).
By Gabi Verberg and Manya Koetse, with contributions from Miranda Barnes
Follow @whatsonweibo
Spotted a mistake or want to add something? Please let us know in comments below or email us.
©2018 Whatsonweibo. All rights reserved. Do not reproduce our content without permission – you can contact us at info@whatsonweibo.com.