100 Terms the Communist Party Wants You to Know for the 19th National Congress
100 "must-know" terms for the 19th National Congress, propagated by People's Daily.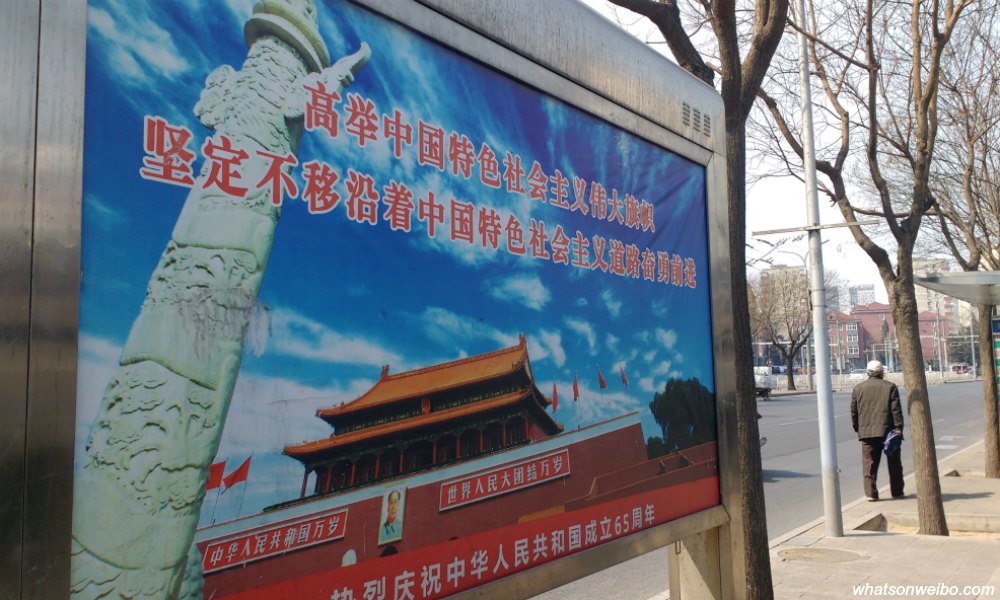 These are the 100 terms to know for the 19th CPC National Congress – propagated by People's Daily, the mouthpiece of China's ruling Communist Party, on Weibo.
It is the week of the 19th National Congress of the Communist Party of China (CPC), better known as the "19th Party Congress." This meeting, that takes place from October 18 to October 24, is a major event that takes place every five years.
On Chinese social media, Communist Party newspaper People's Daily (@人民日报) presented a vocabulary list for people to know before the huge political event.
During the 19th Party Congress approximately 2280 delegates from across the nation officially come together to select the party's top leadership for the next five years. The event is also called a "celebration of decisions that have already been taken," as the key points of the meeting have mostly already been settled behind closed doors.
It is these key decisions for China that will be discussed during the CPC National Congress and then officially announced, representing "new governance concepts, thoughts and strategies proposed by the CPC Central Committee with Xi Jinping at its core" (Xinhua).
In a recent report by APCO Worldwide, Gary Li summarizes what to look out for during the 19th National Congress, writing that it is likely for President Xi Jinping to "consolidate his power further by making changes to the party apparatus," influencing regulators in various sectors from finance to trade and cybersecurity.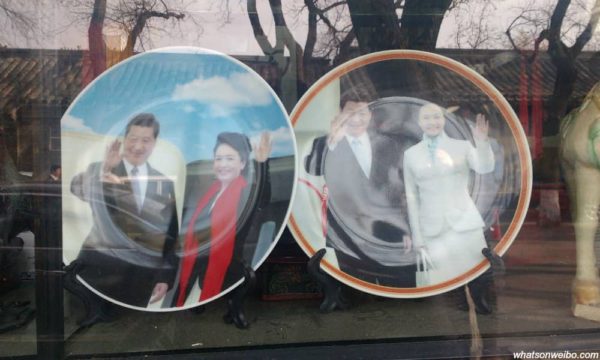 Posting the 9-page list of a total of 100 terms on Weibo, People's Daily (@人民日报) writes:
"Study time! We want to teach you the translation of 100 hot terms for the 19th CPC National Congress (..) Do you know how to say these things in English? This is how to avoid using Chinglish and to express [these terms] in a more authentic way. They are all useful for CET-4 & CET-6 [national English level tests in China] and other exams. Let's learn these!"
By October 18, the list was shared 19000 times on Weibo and received many comments.
One netizen said: "With these 100 words you can understand a new China." Others complained that they still think the English translation of these Chinese terms "sounds like Chinglish."
Relevant Words: Policy Trends & Digital Focus
The vocabulary list, which was selected from China Daily's "Little Red Book of Hot Words" (热词红宝书), is an interesting combination of terms that says a lot about the focal points of the National Congress and the trends that are emphasized for the coming five years.
In the recent APCO report, Gary Li mentions Ideological Tightening as a crucial policy trend. This promotion of "Chinese values" is clearly visible in the vocabularly list, that includes terms such as "the Chinese Dream" (中国梦), "Stay true to the mission" (不忘初心), and "cultural confidence" (文化自信).
Another important policy trend on the government agenda is Anti-Corruption, which is represented by the term "anti-corruption TV series" (反腐剧).
The list also includes some Internet slang terms such as "give a like" (点赞) or "phubber"/"bowed head clan" (低头族), referring to people who constantly look down to their smartphone.
It also includes a catchphrase that became especially popular on Chinese social media in 2016 when it was used by Chinese swimming champion Fu Yuanhui during an interview about her winning medal during the Olympics – ("用了洪荒之力"), which can be translated as "I've used my primeval powers!", basically meaning "to give one's full play."
The inclusion of some typical internet catchphrases is especially noteworthy because in 2014, Chinese state media published that programs and commercials should not use Internet language to preserve traditional expressions.
The entire list has a clear Digital Focus when it comes to different industries, including government, media, finance, and traveling, introducing words such as "in-flight Wifi services" (空中上网服务), "face scan payment" (扫脸支付), 5G era (5G时代), and taxi-hailing app (打车软件).
The list also includes words that emphasize the Belt and Road Initiative and China-centric Relations for Economy and Trade, such as the "New type of major-power relationship" (新型大国关系).
The List: 100 Hot Words for the 19th National Congress
This is the full list of the 100 terms as shared by the People's Daily through screenshots, typed out by What's on Weibo. The pinyin and tones are also provided by What's on Weibo.
1. 中国梦
Zhōngguó mèng
China dream
2. 不忘初心
Bù wàng chūxīn
Stay true to the mission
3. 两个一百年
Liǎng gè yībǎi nián
Two centenary goals
4. 新常态
Xīn chángtài
New normal
5. 中国制造2025
Zhōngguó zhìzào 2025
Made in China 2025
6. "双一流"
Shuāng yīliú
Double First-Class initiative
7. 工匠精神
Gōngjiàng jīngshén
Craftsmanship spirit
8. 中国天眼:500米口径球面射电望远镜(FAST)
Zhōngguó tiānyǎn:500 Mǐ kǒujìng qiúmiàn shèdiàn wàngyuǎnjìng (FAST)
China's Eye of Heaven: The 500-meter Aperture Spherical Telescope
9. 歼-20战斗机
Jiān-20 zhàndòujī
J-20 Stealth Fighter
10. 国产航母
Guóchǎn hángmǔ
Domestically built aircraft carrier
11. 国产客机
Guóchǎn kèjī
Homemade passenger jet
12. 可燃冰试采
Kěrán bīng shì cǎi
Sampling of combustible ice
13. 量子卫星"墨子号"
Liàngzǐ wèixīng "mò zi hào"
Quantum satellite "Micius"
14. 北斗卫星导航系统
Běidǒu wèixīng dǎoháng xìtǒng
Beidou navigation system
15. 风云四号A星卫星
Fēngyún sì hào A xīng wèixīng
Fengyun-4A satellite
16. 重型运载火箭
Zhòngxíng yùnzài huǒjiàn
Heavy-lift Carrier Rocket
17. 沪港通
Hù gǎng tōng
Shanghai-Hong Kong Stock Connect
18. 深港通
Shēn gǎng tōng
Shenzhen-Hong Kong Stock Connect
19. 京津冀一体化
Jīng jīn jì yītǐ huà
Beijing-Tianjin-Hebei integration
20. 雄安新区
Xióng ān xīnqū
Xiong'an New Area
21. 自贸实验区
Zì mào shíyàn qū
Pilot Free Trade Zones
22. 医疗改革
Yīliáo gǎigé
Medical Reform
23. 供给侧改革
Gōngjǐ cè gǎigé
Supply-side reform
24. 扫脸支付
Sǎo liǎn zhīfù
Face scan payment
25. 二维码支付
Èr wéi mǎ zhīfù
Two-dimensional barcode payment
26. 人工智能
Réngōng zhìnéng
Artificial intelligence
27. 虚拟现实
Xūnǐ xiànshí
Virtual reality
28. 5G时代
5G shídài
5G era
29. 分享经济
Fēnxiǎng jīngjì
Sharing economy
30. 互联网金融
Hùliánwǎng jīnróng
Online finance
31. 亚投行
Yà tóuháng
Asia Infrastructure Investment Bank
32. 低碳城市
Dī tàn chéngshì
Low-carbon cities
33. 一小时通通勤圈
Yī xiǎoshí tōng tōngqín quān
One-hour commuting circle
34. 蓝色经济
Lán sè jīngjì
Blue economy
35. 纵向横向经济轴带
Zòngxiàng héngxiàng jīngjì zhóu dài
North-south and east-west intersecting economic belts
36. 众创、众包、众扶、众筹
Zhòng chuàng, zhòng bāo, zhòng fú, zhòng chóu
Crowd innovation, crowdsourcing,crowd support and crowdfunding.
37. 战略性新兴产业
Zhànlüè xìng xīnxīng chǎnyè
Emerging sectors of strategic importance
38. 香港回归祖国20周年
Xiānggǎng huíguī zǔguó 20 zhōunián
The 20th anniversary of Hong-Kong's return to China
39. 点赞
Diǎn zàn
Give a like
40.自媒体
Zì méitǐ
We-Media
41. 实名认证
Shímíng rènzhèng
Real name authentication
42. 精准扶贫
Jīngzhǔn fúpín
Targeted poverty reduction
43. 精准医疗
Jīngzhǔn yīliáo
Precision medicine
44. 利益共同体
Lìyì gòngtóngtǐ
Community of shared interests
45. 轨道交通
Guǐdào jiāotōng
Rail traffic
46. 动车
Dòngchē
Bullet train
47. 城际列车
Chéng jì lièchē
Inter-city transport
48. "一带一路"倡议
"Yīdài yīlù"chàngyì
Belt and Road Initiative
49. "丝绸之路经济带"
"Sīchóu zhī lù jīngjì dài"
The Silk Road Economic Belt
50. 21世纪海上丝绸之路
21 Shìjì hǎishàng sīchóu zhī lù
21st- Century Maritime Silk Road
51. 古丝绸之路
Gǔ sīchóu zhī lù
The Ancient Silk Road
52. 互联互通
Hùlián hùtōng
Establish and Strengthen Partnerships/Connectivity
53. 文化自信
Wénhuà zìxìn
Cultural confidence
54. 新型大国关系
Xīnxíng dàguó guānxì
New type of major-power relationship
55. 可替代能源汽车
Kě tìdài néngyuán qìchē
Alternative energy vehicle
56. 可载人无人机
Kě zài rén wú rén jī
Passenger-carrying drone
57. 空中上网服务
Kōngzhōng shàngwǎng fúwù
In-flight Wifi services
58. 海外购外
Hǎiwài gòu wài
Overseas shopping representative
59. 海淘
Hǎi táo
Cross-border online shopping
60. 多次往返签证
Duō cì wǎngfǎn qiānzhèng
Multiple entry visa
61. 散客
Sǎn kè
Individual traveler
62. 自由行
Zìyóu xíng
Independent travel
63. 跟团游
Gēn tuán yóu
Package tour
64.深度游
Shēndù yóu
In-depth travel
65. 自驾游
Zìjià yóu
Self-driving tours
66. 免税店
Miǎnshuì diàn
Duty-free store
67. 无现金支付
Wú xiànjīn zhīfù
Cashless payment
68. 旺季
Wàngjì
Peak season
69. 淡季
Dànjì
Offseason
70. 反腐剧
Fǎnfǔ jù
Anti-corruption TV series
71. 合拍片
Hépāi piàn
Co-production
72. 打车软件
Dǎchē ruǎnjiàn
Taxi-hailing app
73. 代驾服务业
Dài jià fúwù yè
Designated driver business
74. 单双号银行
Dān shuāng hào yínháng
Traffic restrictions based on even- and odd-numbered license plates
75. 共享汽车
Gòngxiǎng qìchē
Car-sharing
76. 绿色金融改革新试验区
Lǜsè jīnróng gǎigé xīn shìyàn qū
Pilot zones for green finance reform and innovations
77. 超国民待遇
Chāo guómín dàiyù
Super-national treatment
78. 现代医院管理制度
Xiàndài yīyuàn guǎnlǐ zhìdù
Modern hospital management system
79. 机遇之城
Jīyù zhī chéng
Cities of opportunities
80.直播经济
Zhíbò jīngjì
Live stream economy
81. 互联网+政府服务
Hùliánwǎng +zhèngfǔ fúwù
Internet Plus government services
82. 创新型政府
Chuàngxīn xíng zhèngfǔ
Pro-innovation government
83. 无人机紧急救援队
Wú rén jī jǐnjí jiùyuán duì
UAV (unmanned aerial vehicle) emergency rescue team
84. 二孩经济
Èr hái jīngjì
Second-child economy
85.父亲假;陪产假
Fùqīn jià; péi chǎnjià
Paternity leave
86. 带薪休假
Dài xīn xiūjià
Paid leave
87. 低头族
Dītóu zú
Phubber
88. 副中心
Fù zhōngxīn
Subcenter
89. 用了洪荒之力
Yòngle hónghuāng zhī lì
Give one's full play
90. 营改增
Yíng gǎi zēng
Replace business tax with value-add tax (VAT)
91. 创新型人才
Chuàngxīn xíng réncái
Innovative talent
92. 积分落户制度
Jīfēn luòhù zhìdù
Points-based hukou system
93. 混合所有制改革
Hùnhé suǒyǒuzhì gǎigé
Mixed-ownership reform
94. 税收减免
Shuìshōu jiǎnmiǎn
Tax reduction and exemption
95. 生态保护红线
Shēngtài bǎohù hóngxiàn
Ecological wealth
96. 网约车
Wǎng yuē chē
Online car-hailing
97. 宜居城市
Yí jū chéngshì
Habitable city
98. 移动支付
Yídòng zhīfù
Mobile payment
99. 电子竞技
Diànzǐ jìngjì
E-sports
100. 双创人才
Shuāng chuàng réncái
Innovative and entrepreneutrial talent
By Manya Koetse
Follow @whatsonweibo
Spotted a mistake or want to add something? Please let us know in comments below or email us.
©2017 Whatsonweibo. All rights reserved. Do not reproduce our content without permission – you can contact us at info@whatsonweibo.com.
Xi'an Outbreak Largely Under Control, But Weibo is Grieving the Death of an Unborn Baby
On the 15th day of lockdown, Xi'an has largely brought the Covid19 outbreak under control, but at what cost?
"Are we really fighting this epidemic to save lives?", some wonder after Xi'an enters its 16th day of a very strict and sometimes messy lockdown. The story of a pregnant woman having a miscarriage in front of the hospital gate has brought the public's anger to a boiling point.
On January 4th at around 4.30 pm, a Weibo user nicknamed 'Don't Make It Rain Ok' posted a heartbreaking story on social media about her pregnant aunt, who lost her baby on January 1st when she did not receive medical care in time and was left waiting outside of the hospital. It was one among multiple stories showcasing the struggles faced by thousands of citizens during the Xi'an lockdown, the biggest one in China since Wuhan was shut down in 2020.
While the story about the pregnant woman was top trending on Weibo on Wednesday and Thursday, the Xi'an city government declared that the Covid19 situation in the city of 13 million inhabitants was reaching the phase of "zero in society" ("社会面清零"), meaning that the outbreak was largely contained in the city's main communities after two weeks of lockdown, during which over 42,000 people were quarantined and brought to other locations.
But rather than cheers of joy, Weibo was dominated by sad stories of people whose lives have been seriously impacted by the restrictions and hurdles they face in times of a lockdown that was mismanaged by local authorities, according to many.
The woman losing her unborn baby because of severely delayed emergency services struck a chord with a lot of netizens. This is a translation of the original post, which was removed from social media without given reason on January 6:
"My aunt said on January 1st 2022 at around 7:00 pm that her stomach hurt, so she called 120 [emergency telephone number]. But 120 was constantly busy and there was no way to get through. Only when she called 110 [police] she was taken to Xi'an Gaoxin Hospital (高新医院). After all this, it was already past 8 pm before she arrived, but she eventually was at the entrance and still wasn't allowed to get in, the delay lasting until after 10 pm – she was told her nucleic acid [test] had exceeded the four-hour time frame. My aunt sat down at the entrance for a while, and because the delay was lasting so long, she was starting to bleed. I saw the video sent by my aunt's husband, seeing my aunt struggling to support her body with both hands sitting on the chair, blood flowing down the chair and down her pants, the floor was full of blood! Also because of the excessive bleeding, the hospital staff saw it really wasn't going well and only then was she admitted and taken into the surgery room. As a result of the untimely medical treatment, my aunt had a miscarriage after carrying the baby for eight months. At eight months, the baby died in the womb without a pulse because of wasted time. Originally I was thinking of telling this story on another platform, but I actually just saw in my Moments [WeChat timeline] that a friend posted a screenshot of another story told by someone and I discovered we are not the only ones to go through something like this at this hospital. I just wept. My aunt also has an 11-year old son who is alone by himself, looking after himself, he still doesn't know what happened to my aunt – he just knows her belly hurt."
The incident sparked outrage on social media, where one hashtag dedicated to the topic received 780 million views on Thursday alone (#西安孕妇流产事件相关责任人被处理#) after it was publicly announced that the hospital's general manager Fu Yuhui (范郁会) would be suspended and that the staff responsible for the incident at the outpatient department were fired.
The hospital was ordered to publicly apologize for the incident, and the local Health Commission director also made an apology.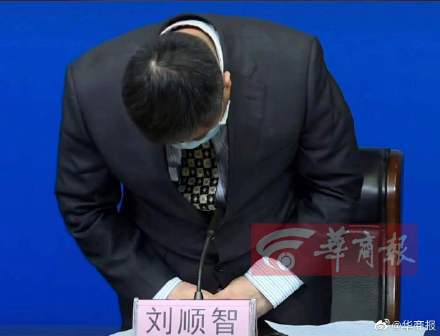 But the apologies did not seem to reduce the anger many expressed online.
"Are we fighting the epidemic to save lives?", one popular blogger wondered in an article dedicated to the incident ("西安孕妇医院门口流产:抗疫,是为了救命啊") published on January 6th. The author argues that the ultimate purpose of China's epidemic prevention and control is to save lives and that a hospital and its staff should do everything in their power to save people's lives rather than letting them suffer outside of their door with the excuse of 'epidemic prevention and control.' In the end, a person's life is more important than their Health Code and the last time they did a Covid test.
The story of the miscarriage was not the only one going viral these days relating to people not being able to get the medical help they need. One story to go viral on January 3rd was that of one Xi'an resident (@太阳花花花00000) reaching out for help via social media platform Xiaohongshu because her father suffered from chest pains and they could not get through to emergency telephone lines fast enough. The original poster later updated their post to share that he had passed away.
Such a sad post on social media by this Xi'an resident whose father suffered a heart attack – the covid situation and strict lockdown in the city made it difficult to get help fast enough. They finally did get help, with much delay, but the father unfortunately didn't make it. 💔 pic.twitter.com/vL3rTWqqS9

— Manya Koetse (@manyapan) January 3, 2022
The man's daughter later clarified in the media that her father was refused access to medical services at multiple hospitals before he also encountered issues at Gaoxin Hospital where he did receive treatment at 10pm – an astonishing eight hours after reaching out to emergency services. He reportedly passed away due to the severe delay in this treatment (#西安网友称父亲被多家医院拒诊后离世#).
Then there was another pregnant woman (@A有雨有晴天) who allegedly suffered a miscarriage after being refused to be taken to the hospital (#西安又一孕妇流产 警察护送被拒诊#). She came out with her story on January 5th, but it happened on December 29th. The woman claims that she sought help but that various hospitals refused to take her in during the extreme lockdown circumstances.
On January 5th and 6th, the death of a 39-year-old man also sparked online anger. According to online reports, the man could not get through to emergency services on December 31st while suffering from severe chest pains. He was refused to be taken in by two hospitals because he supposedly did not have a current negative Covid19 test result. He died shortly after being taken in by a third hospital. A hashtag dedicated to the incident received over 150 million views on January 6 (#西安一男子连续被3家医院拒诊最终猝死#).
"Help the helpless!", some on Weibo wrote: "What would you do if these were your loved ones?!"
"How many people have passed away due to this kind of 'prevention and control'?", other commenters wondered: "What is wrong with the Xi'an authorities?"
Besides the staff fired at the Gaoxin Hospital, the Municipal Discipline Inspection Commission reportedly also gave official warnings to the local deputy secretary and Xi'an Emergency Center director Li Qiang (李强) and local Health Commission director Liu Shunzhi (刘顺智) for not properly fulfilling their duties regarding emergency work during the lockdown.
By Manya Koetse
With contributions by Miranda Barnes.
Spotted a mistake or want to add something? Please let us know in comments below or email us. First-time commenters, please be patient – we will have to manually approve your comment before it appears.
©2021 Whatsonweibo. All rights reserved. Do not reproduce our content without permission – you can contact us at info@whatsonweibo.com.
Will Weibo Become 30% State-Media Owned?
Alibaba is allegedly ready to give up its Weibo shares to SMG.
Bloomberg recently reported that Chinese e-commerce giant Alibaba is preparing to sell its 30% stake in social media platform Weibo. According to people familiar with the matter, Alibaba is negotiating with the state-owned Shanghai Media Group (SMG).
News about Alibaba planning to sell all of its Weibo shares has triggered some online discussions on the Chinese social media platform. Bloomberg was the first to report that the Chinese e-commerce and IT enterprise is talking to the state-owned Shanghai Media Group (SMG) to sell all of its 30% stake in Weibo.
According to Bloomberg, the move relates to regulators wanting to curb the influence of Chinese tech giants in the media sphere. The Bloomberg article claims that SMG, as one of China's largest state-owned media and cultural conglomerates, stands a higher chance of gaining the approval of Chinese authorities than a private acquirer.
SMG is a large state-owned enterprise with over a dozen TV and radio stations, many newspapers and magazines, various drama & film production and distribution businesses, and more. The company has a major media influence, not only in Shanghai but throughout the country.
According to Weibo's 2020 annual reports, New Wave held a 45% stake in Weibo, followed by Alibaba with its 30%. New Wave is the holding company by Weibo chairman Charles Chao.
"Weibo will change into another channel for SMG," some Weibo users predict, with others also sharing their fear that Weibo would become more and more like a platform for official media ("微博现在越来越官方化").
"This would be a big milestone in the crumbling of Alibaba's media empire," another commenter wrote. Some wonder if the developments have more to do with Weibo as a platform, or with Alibaba and its media influence.
In March of 2021, the Wall Street Journal already reported that the Chinese government asked the Alibaba Group to dispose of its media assets due to concerns over the company's influence in the sensitive media sphere.
"When Alibaba exits and state-owned capital enters, Weibo is expected to magnificently transform into a 'state-owned enterprise'," another Weibo user wrote.
Although some commenters worry that Weibo will change for the worse and that there will be more censorship, others see a sunnier future for the social media platform: "It would be good for Weibo to be 'state-owned' so that it won't be controlled by capital to influence public opinion anymore."
Chinese tech site 36kr also reported about the issue on January 1st, but neither Weibo nor Alibaba or SGM have officially responded yet.
By Manya Koetse
With contributions by Miranda Barnes.
Spotted a mistake or want to add something? Please let us know in comments below or email us. First-time commenters, please be patient – we will have to manually approve your comment before it appears.
©2021 Whatsonweibo. All rights reserved. Do not reproduce our content without permission – you can contact us at info@whatsonweibo.com.