100 Terms the Communist Party Wants You to Know for the 19th National Congress
100 "must-know" terms for the 19th National Congress, propagated by People's Daily.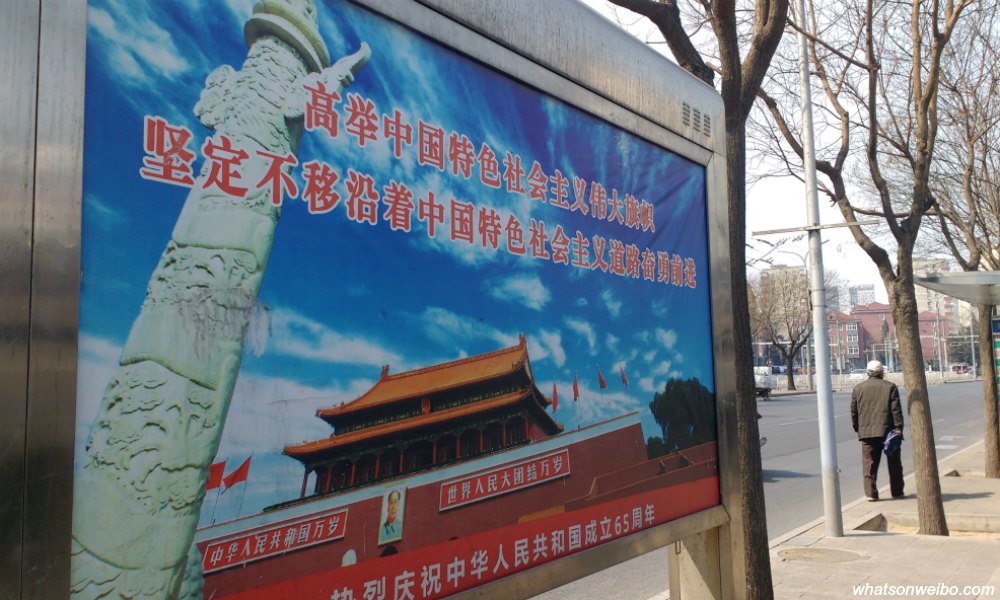 These are the 100 terms to know for the 19th CPC National Congress – propagated by People's Daily, the mouthpiece of China's ruling Communist Party, on Weibo.
It is the week of the 19th National Congress of the Communist Party of China (CPC), better known as the "19th Party Congress." This meeting, that takes place from October 18 to October 24, is a major event that takes place every five years.
On Chinese social media, Communist Party newspaper People's Daily (@人民日报) presented a vocabulary list for people to know before the huge political event.
During the 19th Party Congress approximately 2280 delegates from across the nation officially come together to select the party's top leadership for the next five years. The event is also called a "celebration of decisions that have already been taken," as the key points of the meeting have mostly already been settled behind closed doors.
It is these key decisions for China that will be discussed during the CPC National Congress and then officially announced, representing "new governance concepts, thoughts and strategies proposed by the CPC Central Committee with Xi Jinping at its core" (Xinhua).
In a recent report by APCO Worldwide, Gary Li summarizes what to look out for during the 19th National Congress, writing that it is likely for President Xi Jinping to "consolidate his power further by making changes to the party apparatus," influencing regulators in various sectors from finance to trade and cybersecurity.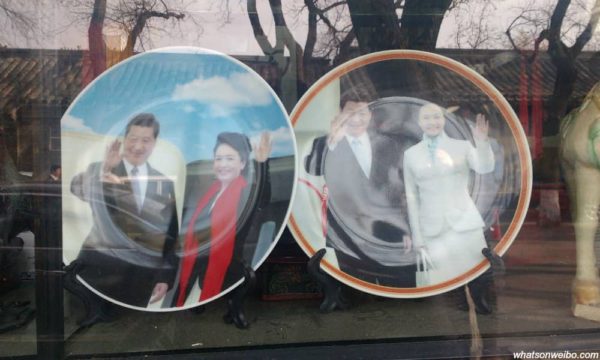 Posting the 9-page list of a total of 100 terms on Weibo, People's Daily (@人民日报) writes:
"Study time! We want to teach you the translation of 100 hot terms for the 19th CPC National Congress (..) Do you know how to say these things in English? This is how to avoid using Chinglish and to express [these terms] in a more authentic way. They are all useful for CET-4 & CET-6 [national English level tests in China] and other exams. Let's learn these!"
By October 18, the list was shared 19000 times on Weibo and received many comments.
One netizen said: "With these 100 words you can understand a new China." Others complained that they still think the English translation of these Chinese terms "sounds like Chinglish."
Relevant Words: Policy Trends & Digital Focus
The vocabulary list, which was selected from China Daily's "Little Red Book of Hot Words" (热词红宝书), is an interesting combination of terms that says a lot about the focal points of the National Congress and the trends that are emphasized for the coming five years.
In the recent APCO report, Gary Li mentions Ideological Tightening as a crucial policy trend. This promotion of "Chinese values" is clearly visible in the vocabularly list, that includes terms such as "the Chinese Dream" (中国梦), "Stay true to the mission" (不忘初心), and "cultural confidence" (文化自信).
Another important policy trend on the government agenda is Anti-Corruption, which is represented by the term "anti-corruption TV series" (反腐剧).
The list also includes some Internet slang terms such as "give a like" (点赞) or "phubber"/"bowed head clan" (低头族), referring to people who constantly look down to their smartphone.
It also includes a catchphrase that became especially popular on Chinese social media in 2016 when it was used by Chinese swimming champion Fu Yuanhui during an interview about her winning medal during the Olympics – ("用了洪荒之力"), which can be translated as "I've used my primeval powers!", basically meaning "to give one's full play."
The inclusion of some typical internet catchphrases is especially noteworthy because in 2014, Chinese state media published that programs and commercials should not use Internet language to preserve traditional expressions.
The entire list has a clear Digital Focus when it comes to different industries, including government, media, finance, and traveling, introducing words such as "in-flight Wifi services" (空中上网服务), "face scan payment" (扫脸支付), 5G era (5G时代), and taxi-hailing app (打车软件).
The list also includes words that emphasize the Belt and Road Initiative and China-centric Relations for Economy and Trade, such as the "New type of major-power relationship" (新型大国关系).
The List: 100 Hot Words for the 19th National Congress
This is the full list of the 100 terms as shared by the People's Daily through screenshots, typed out by What's on Weibo. The pinyin and tones are also provided by What's on Weibo.
1. 中国梦
Zhōngguó mèng
China dream
2. 不忘初心
Bù wàng chūxīn
Stay true to the mission
3. 两个一百年
Liǎng gè yībǎi nián
Two centenary goals
4. 新常态
Xīn chángtài
New normal
5. 中国制造2025
Zhōngguó zhìzào 2025
Made in China 2025
6. "双一流"
Shuāng yīliú
Double First-Class initiative
7. 工匠精神
Gōngjiàng jīngshén
Craftsmanship spirit
8. 中国天眼:500米口径球面射电望远镜(FAST)
Zhōngguó tiānyǎn:500 Mǐ kǒujìng qiúmiàn shèdiàn wàngyuǎnjìng (FAST)
China's Eye of Heaven: The 500-meter Aperture Spherical Telescope
9. 歼-20战斗机
Jiān-20 zhàndòujī
J-20 Stealth Fighter
10. 国产航母
Guóchǎn hángmǔ
Domestically built aircraft carrier
11. 国产客机
Guóchǎn kèjī
Homemade passenger jet
12. 可燃冰试采
Kěrán bīng shì cǎi
Sampling of combustible ice
13. 量子卫星"墨子号"
Liàngzǐ wèixīng "mò zi hào"
Quantum satellite "Micius"
14. 北斗卫星导航系统
Běidǒu wèixīng dǎoháng xìtǒng
Beidou navigation system
15. 风云四号A星卫星
Fēngyún sì hào A xīng wèixīng
Fengyun-4A satellite
16. 重型运载火箭
Zhòngxíng yùnzài huǒjiàn
Heavy-lift Carrier Rocket
17. 沪港通
Hù gǎng tōng
Shanghai-Hong Kong Stock Connect
18. 深港通
Shēn gǎng tōng
Shenzhen-Hong Kong Stock Connect
19. 京津冀一体化
Jīng jīn jì yītǐ huà
Beijing-Tianjin-Hebei integration
20. 雄安新区
Xióng ān xīnqū
Xiong'an New Area
21. 自贸实验区
Zì mào shíyàn qū
Pilot Free Trade Zones
22. 医疗改革
Yīliáo gǎigé
Medical Reform
23. 供给侧改革
Gōngjǐ cè gǎigé
Supply-side reform
24. 扫脸支付
Sǎo liǎn zhīfù
Face scan payment
25. 二维码支付
Èr wéi mǎ zhīfù
Two-dimensional barcode payment
26. 人工智能
Réngōng zhìnéng
Artificial intelligence
27. 虚拟现实
Xūnǐ xiànshí
Virtual reality
28. 5G时代
5G shídài
5G era
29. 分享经济
Fēnxiǎng jīngjì
Sharing economy
30. 互联网金融
Hùliánwǎng jīnróng
Online finance
31. 亚投行
Yà tóuháng
Asia Infrastructure Investment Bank
32. 低碳城市
Dī tàn chéngshì
Low-carbon cities
33. 一小时通通勤圈
Yī xiǎoshí tōng tōngqín quān
One-hour commuting circle
34. 蓝色经济
Lán sè jīngjì
Blue economy
35. 纵向横向经济轴带
Zòngxiàng héngxiàng jīngjì zhóu dài
North-south and east-west intersecting economic belts
36. 众创、众包、众扶、众筹
Zhòng chuàng, zhòng bāo, zhòng fú, zhòng chóu
Crowd innovation, crowdsourcing,crowd support and crowdfunding.
37. 战略性新兴产业
Zhànlüè xìng xīnxīng chǎnyè
Emerging sectors of strategic importance
38. 香港回归祖国20周年
Xiānggǎng huíguī zǔguó 20 zhōunián
The 20th anniversary of Hong-Kong's return to China
39. 点赞
Diǎn zàn
Give a like
40.自媒体
Zì méitǐ
We-Media
41. 实名认证
Shímíng rènzhèng
Real name authentication
42. 精准扶贫
Jīngzhǔn fúpín
Targeted poverty reduction
43. 精准医疗
Jīngzhǔn yīliáo
Precision medicine
44. 利益共同体
Lìyì gòngtóngtǐ
Community of shared interests
45. 轨道交通
Guǐdào jiāotōng
Rail traffic
46. 动车
Dòngchē
Bullet train
47. 城际列车
Chéng jì lièchē
Inter-city transport
48. "一带一路"倡议
"Yīdài yīlù"chàngyì
Belt and Road Initiative
49. "丝绸之路经济带"
"Sīchóu zhī lù jīngjì dài"
The Silk Road Economic Belt
50. 21世纪海上丝绸之路
21 Shìjì hǎishàng sīchóu zhī lù
21st- Century Maritime Silk Road
51. 古丝绸之路
Gǔ sīchóu zhī lù
The Ancient Silk Road
52. 互联互通
Hùlián hùtōng
Establish and Strengthen Partnerships/Connectivity
53. 文化自信
Wénhuà zìxìn
Cultural confidence
54. 新型大国关系
Xīnxíng dàguó guānxì
New type of major-power relationship
55. 可替代能源汽车
Kě tìdài néngyuán qìchē
Alternative energy vehicle
56. 可载人无人机
Kě zài rén wú rén jī
Passenger-carrying drone
57. 空中上网服务
Kōngzhōng shàngwǎng fúwù
In-flight Wifi services
58. 海外购外
Hǎiwài gòu wài
Overseas shopping representative
59. 海淘
Hǎi táo
Cross-border online shopping
60. 多次往返签证
Duō cì wǎngfǎn qiānzhèng
Multiple entry visa
61. 散客
Sǎn kè
Individual traveler
62. 自由行
Zìyóu xíng
Independent travel
63. 跟团游
Gēn tuán yóu
Package tour
64.深度游
Shēndù yóu
In-depth travel
65. 自驾游
Zìjià yóu
Self-driving tours
66. 免税店
Miǎnshuì diàn
Duty-free store
67. 无现金支付
Wú xiànjīn zhīfù
Cashless payment
68. 旺季
Wàngjì
Peak season
69. 淡季
Dànjì
Offseason
70. 反腐剧
Fǎnfǔ jù
Anti-corruption TV series
71. 合拍片
Hépāi piàn
Co-production
72. 打车软件
Dǎchē ruǎnjiàn
Taxi-hailing app
73. 代驾服务业
Dài jià fúwù yè
Designated driver business
74. 单双号银行
Dān shuāng hào yínháng
Traffic restrictions based on even- and odd-numbered license plates
75. 共享汽车
Gòngxiǎng qìchē
Car-sharing
76. 绿色金融改革新试验区
Lǜsè jīnróng gǎigé xīn shìyàn qū
Pilot zones for green finance reform and innovations
77. 超国民待遇
Chāo guómín dàiyù
Super-national treatment
78. 现代医院管理制度
Xiàndài yīyuàn guǎnlǐ zhìdù
Modern hospital management system
79. 机遇之城
Jīyù zhī chéng
Cities of opportunities
80.直播经济
Zhíbò jīngjì
Live stream economy
81. 互联网+政府服务
Hùliánwǎng +zhèngfǔ fúwù
Internet Plus government services
82. 创新型政府
Chuàngxīn xíng zhèngfǔ
Pro-innovation government
83. 无人机紧急救援队
Wú rén jī jǐnjí jiùyuán duì
UAV (unmanned aerial vehicle) emergency rescue team
84. 二孩经济
Èr hái jīngjì
Second-child economy
85.父亲假;陪产假
Fùqīn jià; péi chǎnjià
Paternity leave
86. 带薪休假
Dài xīn xiūjià
Paid leave
87. 低头族
Dītóu zú
Phubber
88. 副中心
Fù zhōngxīn
Subcenter
89. 用了洪荒之力
Yòngle hónghuāng zhī lì
Give one's full play
90. 营改增
Yíng gǎi zēng
Replace business tax with value-add tax (VAT)
91. 创新型人才
Chuàngxīn xíng réncái
Innovative talent
92. 积分落户制度
Jīfēn luòhù zhìdù
Points-based hukou system
93. 混合所有制改革
Hùnhé suǒyǒuzhì gǎigé
Mixed-ownership reform
94. 税收减免
Shuìshōu jiǎnmiǎn
Tax reduction and exemption
95. 生态保护红线
Shēngtài bǎohù hóngxiàn
Ecological wealth
96. 网约车
Wǎng yuē chē
Online car-hailing
97. 宜居城市
Yí jū chéngshì
Habitable city
98. 移动支付
Yídòng zhīfù
Mobile payment
99. 电子竞技
Diànzǐ jìngjì
E-sports
100. 双创人才
Shuāng chuàng réncái
Innovative and entrepreneutrial talent
By Manya Koetse
Follow @whatsonweibo
Spotted a mistake or want to add something? Please let us know in comments below or email us.
©2017 Whatsonweibo. All rights reserved. Do not reproduce our content without permission – you can contact us at info@whatsonweibo.com.
Devastating Rain and Floods in Henan – A Hashtag Timeline
The torrential rainfall and floodings in China's Henan Province have completely overwhelmed the region, with dozens of cities and villages seeing massive disruption to everyday life. What's on Weibo lists the main Chinese social media hashtags to go trending over the past week during the deadly floods.
Disastrous rain and floodings continue to plague China's Henan province, where Zhengzhou city and surrounding towns and villages have been dealing with the strongest rainfall ever recorded.
Henan, home to 99 million residents, has seen extreme rain since Friday, July 16, leading to floods and critical situations in the region on July 20, when the city of Zhengzhou was hit especially hard.
According to reports on July 24, the death toll from the torrential rains has risen to 56. More than a million of people were relocated and over 7,5 million people are affected.
In this blog, we will list some of the main stories relating to the floods in Henan that have gone trending on the Chinese social media platform Weibo over the past week. (Note: Still being updated).
TRENDING TIMELINE
July 20
PASSENGERS TRAPPED IN ZHENGZHOU SUBWAY (Hashtag: #郑州地铁5号线一车厢多人被困#)
On the late afternoon of July 20, a terrible flood occurred around the Wulongkou parking lot of Zhengzhou Metro Line 5. On Tuesday night, around 18:00, the water burst into the underground area between Shakou Road station and Haitansi station, trapping a train with approximately 500 passengers in it. The critical situation led to terrifying images and videos of passengers caught in the carriage, the water reaching up to their necks. Due to the lack oxygen in the carriage, many people fainted.
After several hours, rescuers were able to get people out through the roof of the carriage. Although hundreds of people were saved, at least twelve did not survive. Footage that circulated on social media showed lifeless bodies lying on the floor of the station during the rescue operation.
The incident is one that kept generating online discussions after it happened, with survivors telling their stories and saying it felt "like the Titanic sinking."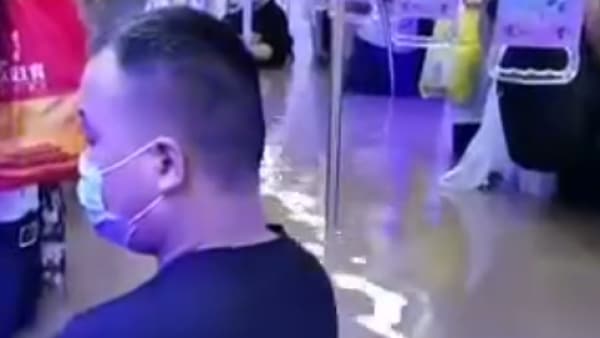 Around 20:00, twelve people were trapped in at the subway line 14 Olympic Sports Center station, with the water running up to two meters high. The fire department was able to rescue all twelve.
ZHENGZHOU HOSPITAL POWER OUTAGE (Hashtag: #暴雨中的郑州医院#)
The First Affiliated Hospital of Zhengzhou University, one of the biggest hospitals in the world, ran into major problems on July 20 when there was a power outage due to major flooding.
On social media, Weibo users cried out to request help for resources to rescue patients. This led to city residents coming in to bring electricity generators. The next day, on July 21st, the hospital's critical patients were all evacuated to other medical facilities.
July 21
STRANDED PASSENGERS AT ZHENGZHOU EAST STATION (Hashtag: #郑州东站 音乐是有力量的#)

Hundreds of passengers were stranded at Zhengzhou East Station when all services were suspended after 2:00 AM on July 21st. A youth orchestra group decided to pull out their instruments and perform in the station's main hall.
7月20日,因郑州暴雨,途径郑州的多列高铁停运,部分乘客被困郑州东站,一个学生交响乐团也在其中,学生们就地现场演奏了《我和我的祖国》和《歌唱祖国》

# zhengzhou#郑州洪水 pic.twitter.com/JSYSQ8jCjC

— venicema (@venicemala) July 21, 2021
The kind gesture moved many Chinese social media users to tears.
CONTROVERSY OVER HENAN REAL ESTATE COMPANY 'HIGHLAND' ADVERTISEMENT (Hashtag: #康桥地产致歉#)

An ad by the local real estate company Kangqiao Real Estate promoting its 'high lands' properties led to online controversy. The Kangqiao Group poster highlighted the height advantage to its real estate locations, using the slogan: "Highland – live in the highland and only let the wind and rain be your scenery."
The ad started making its rounds while Henan was in the midst of a huge rainstorm and flooding. Many deemed the timing of the ad insensitive, as well its wording. "Let the wind and rain just be your scenery" could also be understood as staying away from the hardships experienced by so many in Henan. Many felt the company was taking advantage of the disaster in Henan to promote its own real estate.

On July 21, Kangqiao Real Estate issued a statement of apology, saying that the advertising was canceled and that those responsible for its content would be removed from their position.
BABY RESCUED FROM DEBRIS (Hashtag: #三个月大婴儿被埋废墟一天一夜获救#)
A 3-month old baby was pulled from the ruins of a collapsed house in Xingyang, Zhengzhou. The infant reportedly was rescued a day after the building collapsed to landslides caused by the heavy rainfall. The child was sent to the hospital. The child's mother was initially said to be still missing. BBC later reported that the mother died after bringing her baby to safety. The child is unharmed.
It's hard to grasp just how many tragedies have unfolded (and still are) over the past days in Henan. This 3 month old baby was rescued from the rubble of a collapsed house in Xingyang after an entire day and night. His mother is still missing. pic.twitter.com/UaFOs8pRa5

— Manya Koetse (@manyapan) July 22, 2021
FIREFIGHTER COLLAPSES AFTER RESCUE (Hashtag: #郑州消防员救出最后一个孩子后累瘫#)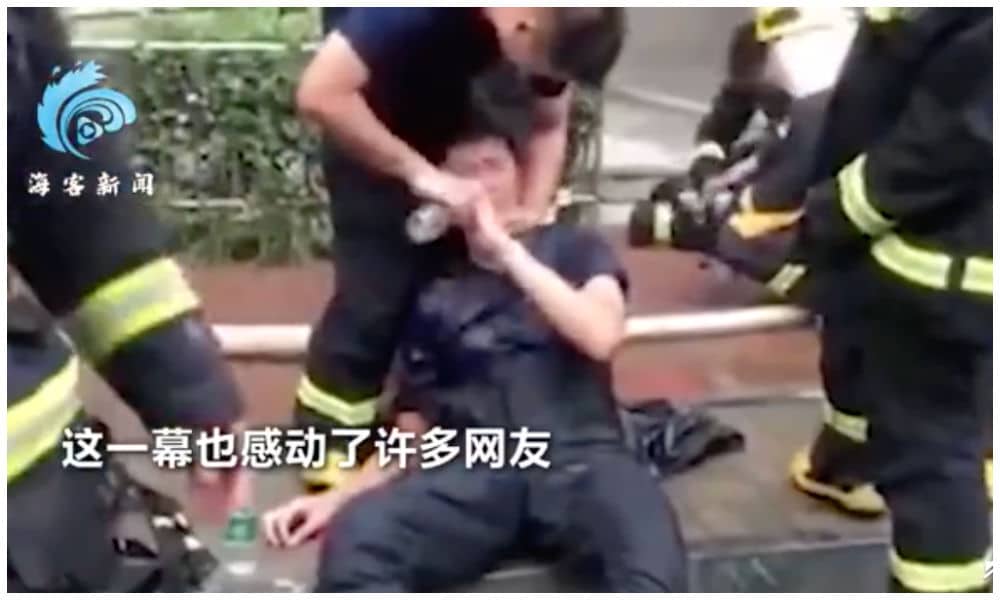 Around 14:30 in the afternoon, a fire erupted in a residential building in Zhengzhou, leaving 23 residents in a dangerous situation. Local firefighters managed to carry out all residents, mainly elderly and children. Due to the extreme weather conditions and high temperatures in the building, one firefighter collapsed at the scene. His colleagues immediately provided medical assistance.
ZHENGZHOU INSTALLS TEMPORARY PUBLIC WATER TAPS (Hashtag: #暴雨后郑州街头安装临时水龙头#)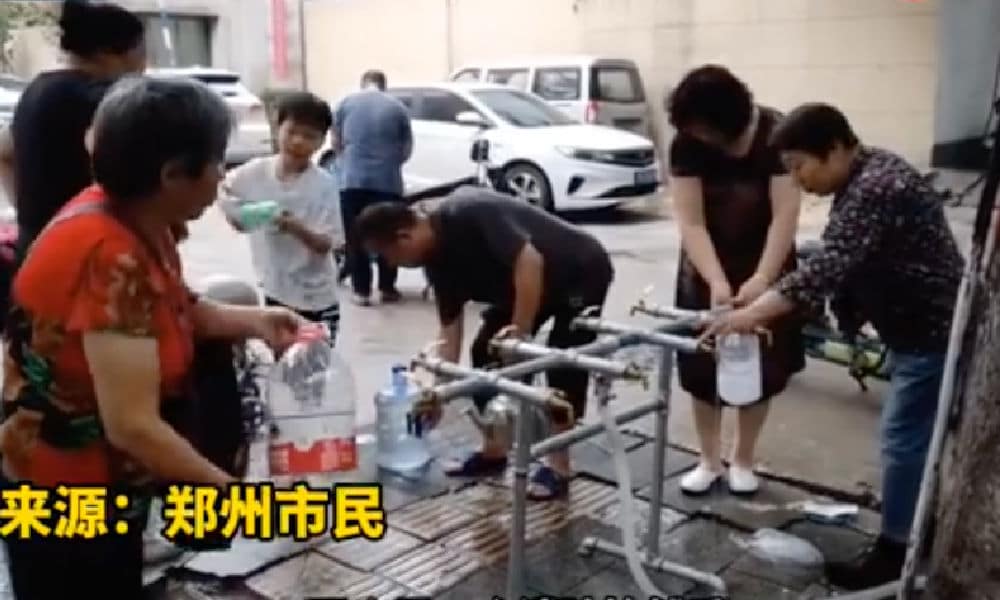 As the majority of residential buildings in the city of Zhengzhou were cut off from water after the torrential rains and floodings, the city installed temporary water taps on July 21st.
July 22
WEIHUI AND HUIXIAN EMERGENCY SITUATION (Hashtag: #卫辉暴雨#, #辉县暴雨#)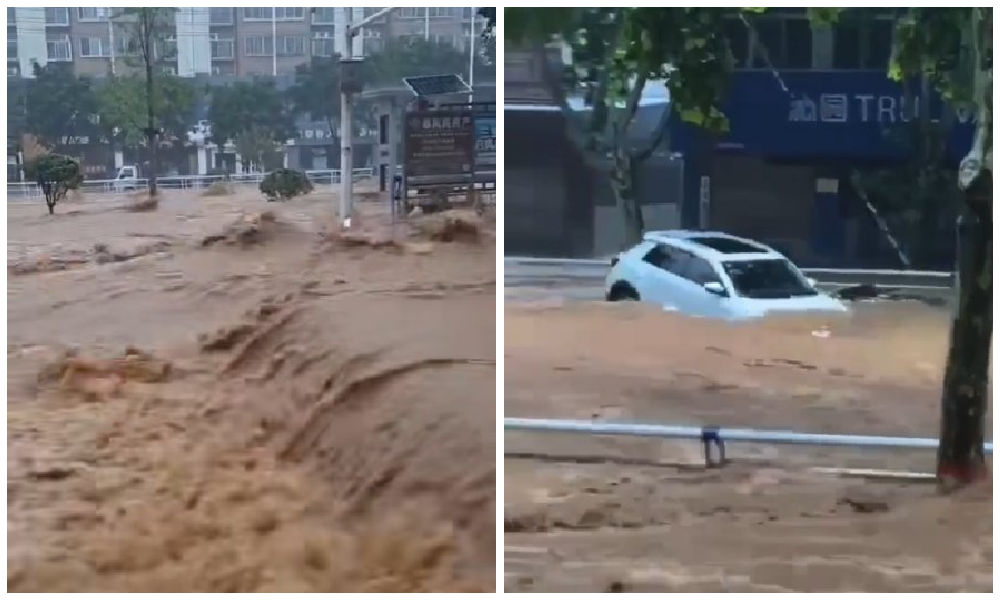 In the early morning of July 22, the people in Weihui sounded the alarm over the situation in their town. Around 4.00 AM, water started flooding into people's homes due to excessive rain and overflowing reservoirs.
Sleepless night for so many people in Henan as the rain keeps falling and northern areas are increasingly facing major problems. Many people are calling out for help for the smaller city of Weihui, where water levels are rising up to waist level and sandbags are needed. pic.twitter.com/LKp3pW3Jto

— Manya Koetse (@manyapan) July 21, 2021
As the rain still continued, water levels kept rising up to waist level and there was a lack of sandbags. A similar situation unfolded in the Huixian area.
Weihui is a county-level city with about 480,000 inhabitants, Huixian has approximately 790,000.
HUIXIAN HOSPITAL FLOODED (Hashtag:#辉县暴雨#)

Some 300 patients and staff at the local Gongji Hospital (辉县市共济医院) were trapped by the water. With power being cut off, not enough food available, and not enough manpower, the staff started reaching out for help via social media.
ELECTRICITY TO BE RESTORED IN ZHENGZHOU (Hashtag: #郑州力争今晚恢复高层居民小区供电#)

The Zhengzhou local government held a press conference on the afternoon of July 22 that they expected electricity in the city to be partially restored on Thursday night.
ONLINE ANGER OVER COMPANIES USING "HENAN FLOOD MARKETING" (Hashtag: #多家地产公司借暴雨营销#)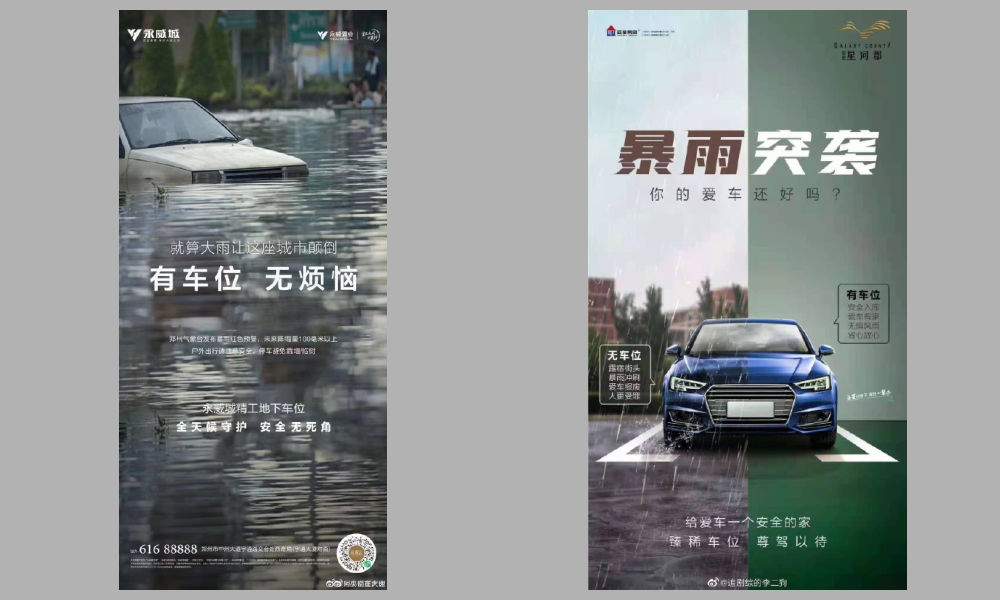 After the online outrage over a local real estate company promoting its 'highland' property in light of the floodings, other companies also sparked controversy for using the Henan floods as a marketing strategy.
Two local companies selling parking space used the devastating floods, in which countless cars were flooded, as a way to promote their supposedly safe parking lot. The companies, Yongwei (永威) and Yaxing (亚星), were denounced for promoting their company in this way at a time when the entire country was still praying for Henan and going out to help those in need.
July 23
CRITICAL DAY FOR XINXIANG FLOODS (Hashtag: #新乡大块镇上万村民被洪水围困#)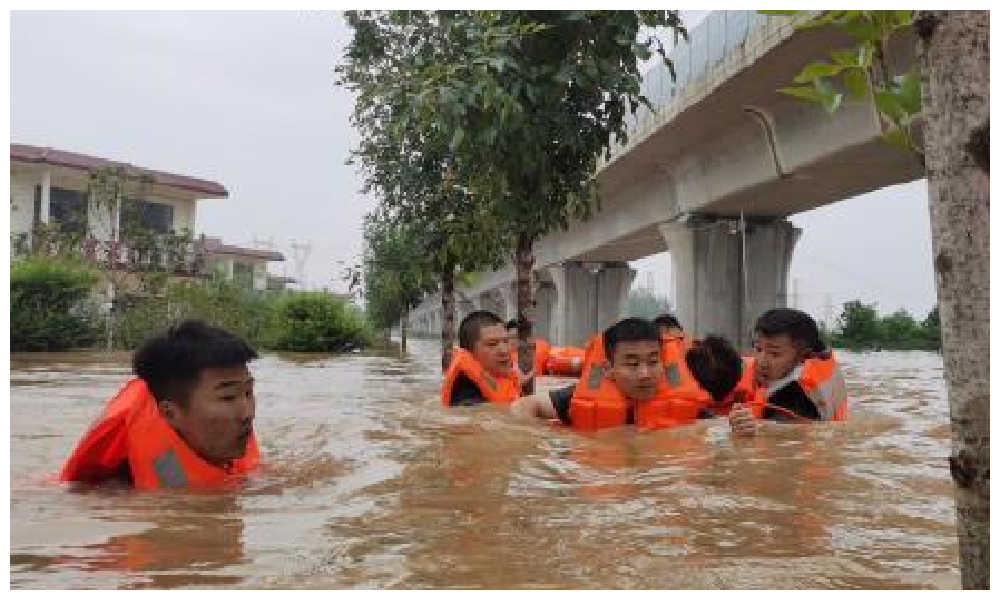 Xinxiang, a city of 5.8 million people just 70 km north of Zhengzhou, also saw extreme rain and floods this week, leading to a critical situation on July 23. Efforts to block the Wei river from flooding villages near Hebi failed. Thousands of locals were trapped without water and electricity.
Global Times reported that reporters tried to get to the hardest-hit counties in Xinxiang on Thursday morning, but were informed that the situation was so severe that teams without boats could no longer get in. Firefighters and rescuers used forklift trucks and rubber boats to evacuate the residents from the flooded villages in Xinxiang.
CHINESE SPORTSWEAR BRAND ERKE BECOMES ONLINE HIT AFTER DONATING 50 MILLION (Hashtag: #鸿星尔克的微博评论好心酸#)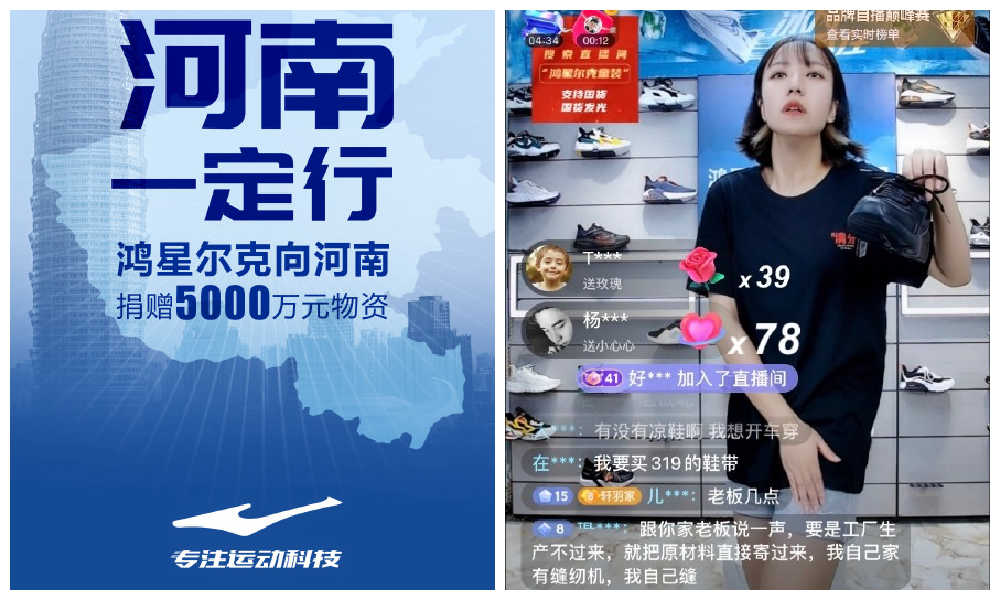 The domestic sportswear brand named Erke (鸿星尔克) donated 50 million yuan ($7.7 million) to the Henan flood. This attracted a lot of attention on Chinese social media, since Erke is a relatively small and low-profile brand that seemingly has not been doing too well over the past years.
After people found out that the company donated such a high amount of money to help the people in Henan despite its own losses, its online sales went through the roof – everyone wanted to support this generous 'patriotic brand.' While netizens rushed to the online shops selling Erke, the brand's physical shops also ran out of products with so many people coming to buy their sportswear. One female sales assistant was moved to tears when the store suddenly filled up with so many customers.
ONE-LEGGED MAN COMES TO THE RESCUE IN XINXIANG (Hashtag: #独腿小哥自发驰援新乡转运老人孩子#)

A man with one leg attracted attention on Chinese social media when footage and images came out of the Puyang resident helping the elderly and children in Xinxiang get away from the water. The young man pulled a boat and made many trips to get people across the water. The man's hometown of Puyang is about two to three hours from Xinxiang – he came down to Xinxiang to help locals out.
July 24
ENORMOUS LOSS OF CROPS AND LIVESTOCK (Hashtag: #暴雨后百余只羊仅找回一只#)

With ongoing rescue efforts in the region, more 'after the rainstorm' videos and social media posts came out on Saturday showing the devastating consequences of the heavy rainfall and floods. Many villagers have lost their homes, crops, livestock, and belongings.
People's Daily reported that one family in Xingyang county that had more than a hundred sheep, only had one animal left after the floods.
THE FLOODS IN HEBI (Hashtag: #鹤壁暴雨#)
The Olympics have started, and many of the trending topics on Weibo were no longer related to the floods on Saturday. Many Weibo commenters were therefore calling out to generate more attention for the situations in Henan's rural areas, particularly in Anyang, Xinxiang, and Hebi, which are still underwater and are seriously affected by the floods.
Current situation in Hebi, Henan. pic.twitter.com/iIJ7wJP7Qf

— Manya Koetse (@manyapan) July 24, 2021
"We've been doing online volunteer work in the disaster area in Henan, and the reality is far more serious than we can even imagine," one Weibo user commented.
This article will be updated later.
By Manya Koetse (@manyapan)
With contributions by Miranda Barnes
Spotted a mistake or want to add something? Please let us know in comments below or email us. First-time commenters, please be patient – we will have to manually approve your comment before it appears.
©2021 Whatsonweibo. All rights reserved. Do not reproduce our content without permission – you can contact us at info@whatsonweibo.com.
How Social Media Is Speeding Up Zhengzhou Flooding Rescue Efforts
Chinese social media are speeding up local rescue efforts after Zhengzhou saw the heaviest rain in 1,000 years.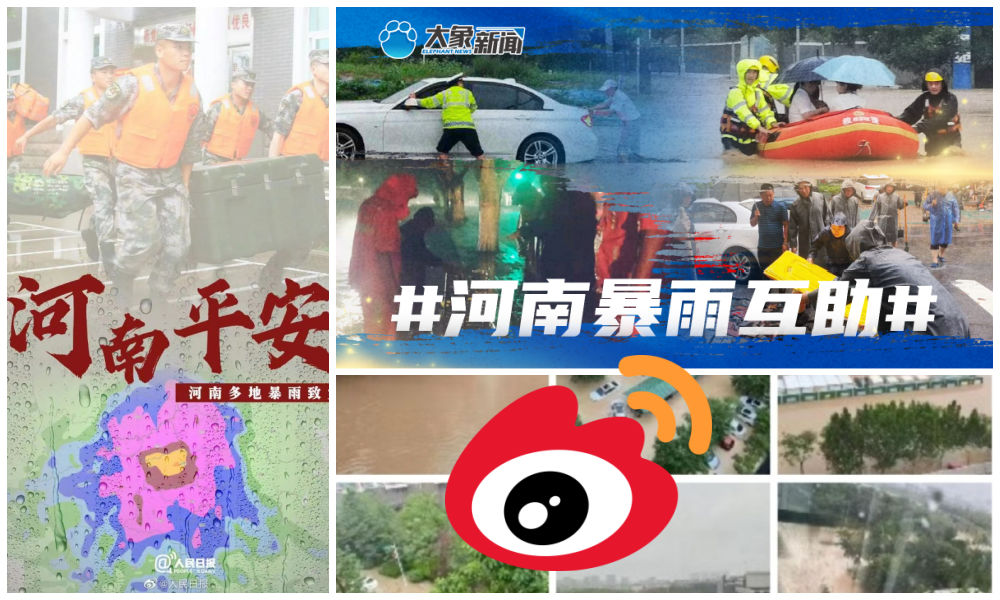 Social media is utilized as a tool in the response to the floodings in Henan province. Once again, Weibo facilitates active public participation to provide immediate assistance to the people facing this natural disaster. 
On Tuesday, July 20, heavy rainfall caused major disruptions in the central province of Henan. The amount of rain over the last three days in Zhengzhou is reported to be the same as what it would usually receive in an entire year.
It is reported that Henan Province has initiated the highest-level emergency response to floods, and China's State Flood Control and Drought Relief Bureau has dispatched a workgroup to Henan, initiating level III emergency response rescue work.
Since the evening of July 20, news and information streams on the heavy rains and floods have been dominating Chinese social media. In the midst of the disastrous events, Weibo has become an online space for people seeking help, those disseminating information on available resources, and for other related activities that help netizens engage in emergency management and accessing information.
The volume of such messages is huge, with thousands of netizens seeking ways to help speed up rescue work and actively contribute to the emergency relief efforts.
The organically improvised response protocol on social media includes the following guidelines:
Verify, summarize, highlight, and spread online help requests posted by people from different locations
Remind people to delete help-seeking posts once they have been rescued or have found assistance.
Disseminate relevant knowledge relating to emergency care and response, and public health information, such as how to deal with different disaster scenarios, warning people about the safety of drinking water during floods, etc.
Share information regarding mental health and psychosocial support during the different phases of the disaster.
When posts of people trapped by the heavy rain started to be published on Weibo, many online influencers, no matter what subject they usually focus on, participated in spreading help-request posts that were not getting a lot of online attention.
Erdi 耳帝, a music influencer with nearly 15 million fans on Weibo, has been retweeting the online posts of people asking for help since the night of July 20.
An example of such an online emergency help request (求助贴) is the following post of July 21st, 17:15 local time:
"Our entire neighborhood is cut off from water and electricity, the water level is rising to chest level, and we currently have no drinking water at the moment. Need help urgently.
Status: Verified, pending rescue.
Seeking help: Wu M**, phone 13*****27
Number of people to be rescued: five or six thousand
Location: Zhengzhou City, Henan Province, Zhengdong New District, Shangdu / Xuzhuang Street intersection, east courtyard of Shangdu Jiayuan Muzhuang district (we can't exit the building, there is no water, no electricity, no supplies, and it's been 24 hours)"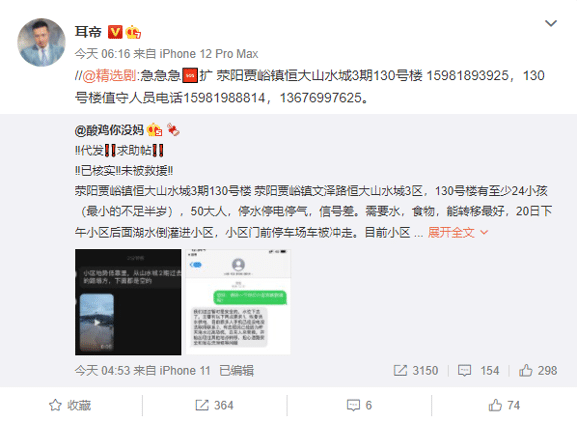 Some Weibo users engage in organizing scattered online information in one single post, e.g. posts regarding local electricity leakage, making this information more accessible and easier to understand.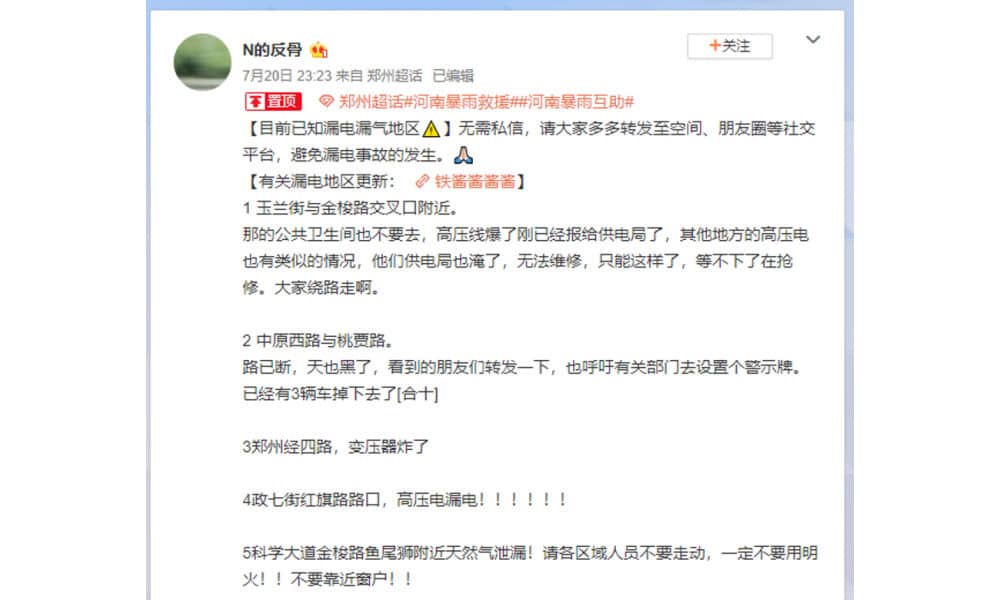 One post that was among the top-shared ones this week, is a picture that includes contact information of rescue teams of both officials and civilians. When realizing that some people were unable to upload the picture due to poor internet connections caused by the heavy rain, an up-to-date and full-text version was quickly shared by netizens.
Some Weibo users listed various methods to get assistance for hearing-impaired and deaf-mute people affected by the floods, advising people to download various apps to help to communicate and translate.
Besides the more general practical advice and emergency action plans shared by Chinese social media users, there are also those who pay attention to the importance of personal hygiene during these times. Some are sending out information about menstrual hygiene needs during floods, reminding women to frequently change sanitary pads and try to keep the genital area clean and dry due to the risk of infection. A hashtag related to menstruation during the flooding momentarily ranked fifth in the top search lists (#河南暴雨 如果你出在经期<).

Information on mental health support is disseminated all across social media.
People also try to provide mental support in other ways. A student orchestra spontaneously performed at the Zhengzhou station, where dozens of passengers were left stranded in the night. The video clips of the performance went viral, with the young musicians playing two widely-known songs, "My People, My Country" (我和我的祖国) and "Ode to the Motherland" (歌唱祖国). Many social media users shared the clips and expressed how the performance moved them to tears.
A kind gesture in these terrible times. This youth orchestra pulled out their instruments and performed for all those other passengers who are stranded at the Zhengzhou East Station tonight ❤️ All trains were suspended after 2am on the 21st. pic.twitter.com/50THGOhy6O

— Manya Koetse (@manyapan) July 20, 2021
Some video clips that show how ordinary people save ordinary people amid such a natural disaster have also been widely shared. One video shows citizens of Zhengzhou standing in a line and use a rope to pull people from an underground floor where they were trapped by the water flooded.
Earlier in this thread there was a video of people helping those trapped in lower levels. There is more footage showing other places in Zhengzhou where citizens also joined forces to help those trapped by the water to get out safely. pic.twitter.com/1R9q1JcUtY

— Manya Koetse (@manyapan) July 20, 2021
In all the aforementioned ways and many more, Weibo has become a public platform for Chinese people to respond to the Henan disaster, efficiently communicate and keep track of help requests, organize and disseminate related information, and provide access to timely knowledge and relevant advice.
With so many online influencers and ordinary netizens voluntarily joining in, the online information flows are quickly circulating, allowing for necessary public communication channels while other resources and communication methods are still overwhelmed or in the making. The last time Weibo was used as an efficient emergency communication tool was during the early days of the COVID19 outbreak in Wuhan.
"Please stand strong, Zhengzhou" and "Hang on, Henan," many commenters write: "Help is underway!"
Also see our previous article on the situation in Zhengzhou here.
By Wendy Huang
Follow @whatsonweibo
Spotted a mistake or want to add something? Please let us know in comments below or email us. Please note that your comment below will need to be manually approved if you're a first-time poster here.
©2021 Whatsonweibo. All rights reserved. Do not reproduce our content without permission – you can contact us at info@whatsonweibo.com