"What's Modernisation?" – Chinese State Media Explain China's 'New Era' With a Rap
No three-and-a-half-hour speech, but a three-and-a-half minute video explains China's new strategies in this latest propaganda clip on social media.
No three-and-a-half-hour speech, but a three-and-a-half minute video – Chinese state media explain China's new strategies through catchy rap music and trendy graphics.
The much-anticipated 19th Party Congress opened last Wednesday in Beijing with Xi Jinping's three-and-a-half-hour speech on "Thoughts on Socialism with Chinese Characteristics for a New Era" (新时代中国特色社会主义思想), which presented the Party's new concepts, thoughts and strategies – with Xi himself at its core.
Shi-jiu-da (十九大, 'big 19') is the popular abbreviation for the 19th Congress of the Communist Party of China. This Plenum is held once every five years and is the highest level political meeting in the Chinese calendar. The meeting is also a big topic on Chinese social media; the Weibo hashtag for the 'big 19' event #十九大# was viewed over 3,6 billion times on Friday.
As with previous major political gatherings, speeches and rhetoric are not the only means by which the Party and state media seek to convey their message to the wider population. A video titled "What is modernization? Let us tell you in a rap!" ("现代化"是什么化?一段嘻哈告诉你!) is the latest in a series produced by state broadcaster CCTV. The video is being spread through social media.
The clip (click link or see embedded video below), that lays out the government's stategies for China's 'new era' through rap music with bright graphics, was widely distributed on Chinese social media this week by various media platforms and institutions, from the Economic Observer (@经济观察报) to the Ministry of Public Security.
The translation of the video's full text* is as follows:
Let's go!
This October in Beijing
…will all be arriving!
The time has come for 十九大(shi-jiu-da)
Listen out for the important voices
十九大 (shi-jiu-da) let's say a little about it
There is a lot of information here
So, listen out carefully and I'll speak slowly
In the past, China has always advanced courageously
As we have said before,
When difficult problems are solved then great things can be established!
Our nation is full of vigor and vitality!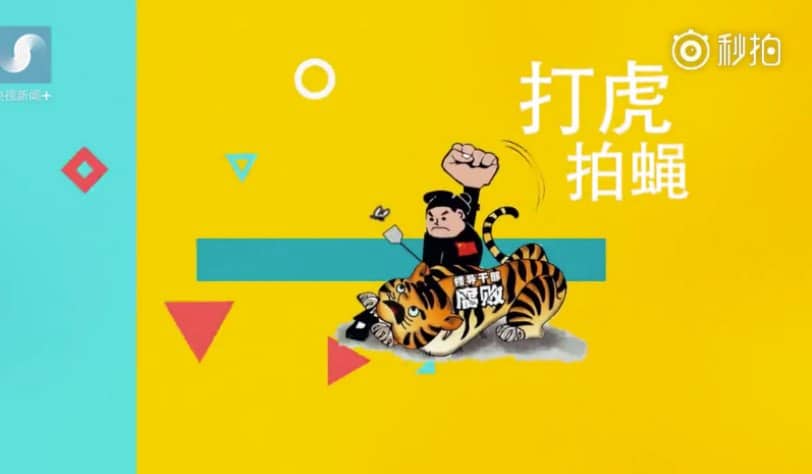 Anti-corruption efforts are strong
Many tigers have been taken down
From rocket lift-offs to submarine exercises,
Technology is changing our lives
Haha, Haha, Haha,
As I'm going to show up next, we have plans going forward…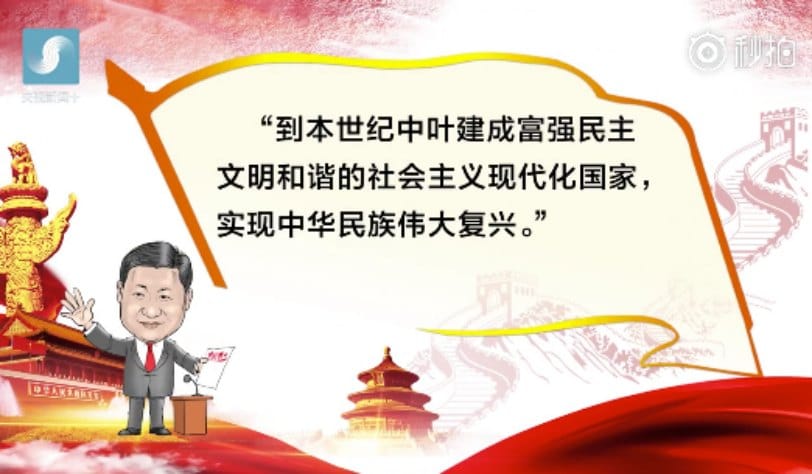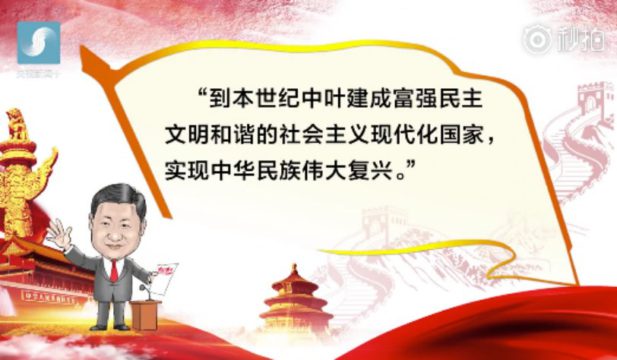 [Xi Jinping's voice speaking:]
By the time we reach the middle period of this century, we will have built a modern socialist state which is rich and powerful, democratic, civilised, and harmonious. In this way, we will have realized the great rejuvenation of the Chinese people.
[Rap continues:]
But, building in accordance with the needs of modernization
What even is modernization?
Let me tell you:
[End of rap, start of explanation by lecturer:]
100 years ago, Sun Yat-sen set out a blueprint for modernization in 'Strategy for Building a Nation': build train tracks, repair the roads, construct large ports. At that time, this was still considered fantastical and unrealistic.
But today, train lines criss-cross the whole nation! They run N-S between Beijing-Guangdong-Shanghai, as well as across the well-trodden route of Lanzhou-Chengdu-Chongqing. The length of the journey on the bullet trains just keeps reducing!
Again, at the time the People's Republic was founded, not even a tractor could be built! Thus, building a modern, industrial socialist nation became our aim.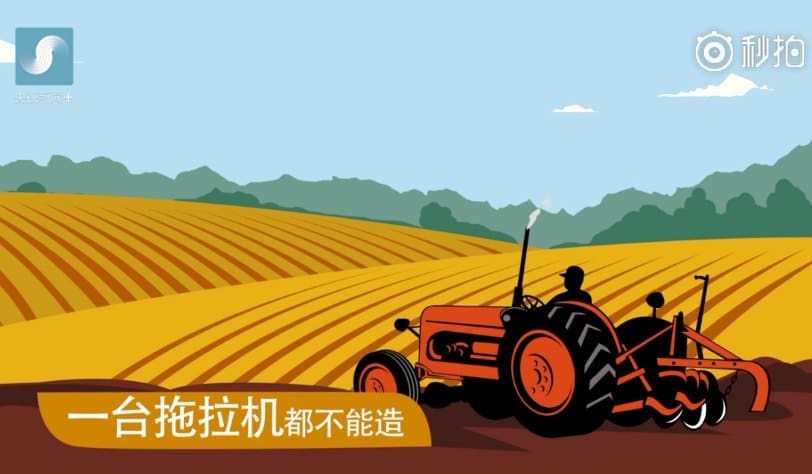 In 1954, the first National People's Congress was held.  This was the first time the aim of achieving the Four Modernizations was clearly referenced. In just the next few years, factory after factory was built, including those of Anshan Steel works and Changchun car manufacturers.
Our workers are powerful!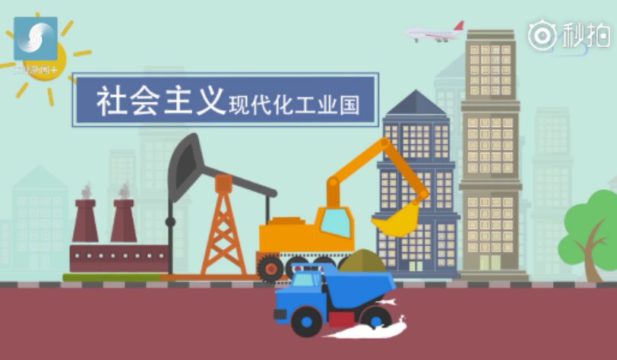 This was a song I would listen to when I was young, and hearing it I would know my dad would soon finish work for the day and so I would quickly pack away all my marbles. Entering the period of opening and reform, Deng Xiaoping named the Four Modernizations as the way to 'Chinese Modernization', as well as wanting to become a middle-income nation.
In the 1970s, when people married, the three major durable consumer goods were still watches, bicycles and sewing machines. In the 80s, this became fridges, color TVs, and washing machines, and by the 90s changed again into air conditioning, cameras, and camcorders.
[Xi Jinping's voice:]
Now, information technologies such as the internet are changing with each passing day. This is leading a new revolution in society and bringing new dimensions into human lives.
[Presenter continues:]
A report from the 18th Party Congress, published on 8th November 2012, mentioned the '4 New Modernisations.' This has led to the implementation of an innovation-driven development strategy. Over the last 5 years, the major technological developments we have made have accumulated further and further. The computing in the Sunway Taihu Light is the most advanced in the world.
The quantum satellite Mozi Hao is unparalleled. The Tiangong 2 satellite has been sent off smoothly. Each of these wondrous engineering projects is a feat of its own! What a country!
In 2013, General Secretary Xi Jinping then added one more modernization into the fold, that being to 'continue to advance the nation's governing system, and to modernize our governing capabilities.'
Modernisation as a whole is very impressive. Frankly speaking, only this modernization of the inner qualities of officials and organizations will enable them to govern the country and change the civilized norms.We don't take a break from modernization!
[Rap continues:]
Yeah, now that we have become a middle-class society
We have reached the most important section of our reform agenda
What are the issues that affect the lives of the middle class?
At this stage in the development of Socialism with Chinese Characteristics,
People are heading in the direction of a better life
The Party must remember
This is a new beginning!
In what direction is the bullet train heading?
After 200 years, will the Chinese dream have been realized?
What expectations do Chinese families have for their future?
Will the 十九大 (shi-jiu-da) answer these questions for you?
Of course!
Both the design and the genre of the new clip show some resemblance to clips launched during the Belt and Road Summit earlier this year.
On Weibo, a platform that is heavily controlled during the 19th National Congress, the video was shared hundreds of times. Although discussions on the video are limited due to current restrictions, one surprised netizen just posted: "Can I actually comment on this?!"
By Alice Mingay
Follow @whatsonweibo
* Full Text:
Let's go!
在十月里的北京
。。。。都到这里 (3-4)
十九大要来了
听听到重要的声音
十九大,说点嘛?
这里信息有点多
你听我慢慢说
过去砥砺奋进
也我们互相说过
难提解决大事办成
祖国朝气蓬勃
反腐力度很大
打掉的老虎很多
胖五升空,蛟龙下水
科技改变生活
哈哈,哈哈,哈哈
接下来,我们还有个目标
[习近平的声音:]
到本世纪中叶建成富强民主
文明和谐的社会主义现代化国家,
实现中华民族伟大复兴。
–中共中烟总书记、国家主席、中央军委主席习近平
建设现代化
那现代化是什么?
来,听我跟你说
百年前,孙中山在[建国方略]里描绘了现代化的蓝图
建铁路、修公路、建造水平大海港
这些的当时,还被认为是'空想'
而如今,京广、京沪穿南北
兰渝铁路通蜀道
复兴号路途时间再修短
再说,新中国刚成立时
一台拖拉机都不能造
建成社会主义现代化工业国就是我们的目标
1954年,第一届全国人民代表大会
第一次明确提出要实现四个现代化
随后的几年里,鞍山无缝钢管厂、长春第一汽车制造厂一个厂接一个厂
咱们工人有力量
'咱们工人有力量'
小时候一听到这首歌就知道爸爸要下班了,赶紧把玻璃球收起来
迈入改革开放新时期,邓小平把实现四个现代化的目标称为'中国式的现代化',也就是'小康之家'。
70年代,人们结婚, '三大件'还是手表自行车缝纫机
80年代,冰箱、彩电、洗衣机
90年代变成空调、音像、录像机
现在以互联网为代表的信息技术日新月异
引领了社会生产新变革
创造了人类生活新空间
2012年11月8号的中共十八大报告提出了 '新四化'
实施创新驱动发展战略
这五年,祖国的科技发展硕果累累
超级计算机"神威-太湖之光"世界第一
量子卫星'墨子号'世界独一无二
'天宫二号'顺利发射
奇迹工程一个个,厉害了,我的国
2013年习近平总书记又给这新四化加了一化
不断推进国家治理体系和治理能力现代化
整个现代化,有点厉害了
说白了,就是国家机构官员素质的现代化是治理国家变得文明规范
建设现代化,我们不放假
Yeah, 如今全面建成小康社会
到最关键的议程
小康心内还是什么事关你我的生活
中国特色社会主义进行的发展阶段
人民群众向往的美好生活
党中要记得
这是一个新的起点
复兴号驶向哪儿?
两个一百年后,中国梦实现了吗?
对于祖国家庭未来,还有那些期待?
来过这十九大,还为你来解答?
必须的
Edited by Manya Koetse
Spotted a mistake or want to add something? Please let us know in comments below or email us.
©2017 Whatsonweibo. All rights reserved. Do not reproduce our content without permission – you can contact us at info@whatsonweibo.com.
Devastating Rain and Floods in Henan – A Hashtag Timeline
The torrential rainfall and floodings in China's Henan Province have completely overwhelmed the region, with dozens of cities and villages seeing massive disruption to everyday life. What's on Weibo lists the main Chinese social media hashtags to go trending over the past week during the deadly floods.
Disastrous rain and floodings continue to plague China's Henan province, where Zhengzhou city and surrounding towns and villages have been dealing with the strongest rainfall ever recorded.
Henan, home to 99 million residents, has seen extreme rain since Friday, July 16, leading to floods and critical situations in the region on July 20, when the city of Zhengzhou was hit especially hard.
According to reports on July 24, the death toll from the torrential rains has risen to 56. More than a million of people were relocated and over 7,5 million people are affected.
In this blog, we will list some of the main stories relating to the floods in Henan that have gone trending on the Chinese social media platform Weibo over the past week. (Note: Still being updated).
TRENDING TIMELINE
July 20
PASSENGERS TRAPPED IN ZHENGZHOU SUBWAY (Hashtag: #郑州地铁5号线一车厢多人被困#)
On the late afternoon of July 20, a terrible flood occurred around the Wulongkou parking lot of Zhengzhou Metro Line 5. On Tuesday night, around 18:00, the water burst into the underground area between Shakou Road station and Haitansi station, trapping a train with approximately 500 passengers in it. The critical situation led to terrifying images and videos of passengers caught in the carriage, the water reaching up to their necks. Due to the lack oxygen in the carriage, many people fainted.
After several hours, rescuers were able to get people out through the roof of the carriage. Although hundreds of people were saved, at least twelve did not survive. Footage that circulated on social media showed lifeless bodies lying on the floor of the station during the rescue operation.
The incident is one that kept generating online discussions after it happened, with survivors telling their stories and saying it felt "like the Titanic sinking."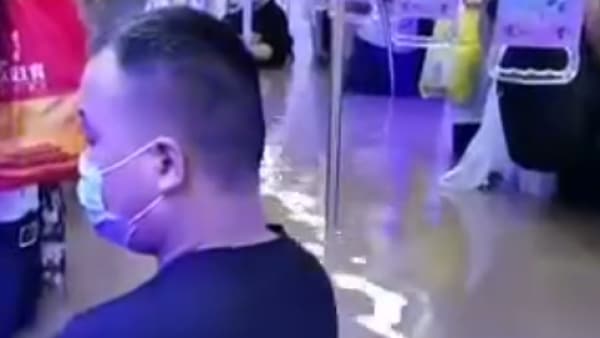 Around 20:00, twelve people were trapped in at the subway line 14 Olympic Sports Center station, with the water running up to two meters high. The fire department was able to rescue all twelve.
ZHENGZHOU HOSPITAL POWER OUTAGE (Hashtag: #暴雨中的郑州医院#)
The First Affiliated Hospital of Zhengzhou University, one of the biggest hospitals in the world, ran into major problems on July 20 when there was a power outage due to major flooding.
On social media, Weibo users cried out to request help for resources to rescue patients. This led to city residents coming in to bring electricity generators. The next day, on July 21st, the hospital's critical patients were all evacuated to other medical facilities.
July 21
STRANDED PASSENGERS AT ZHENGZHOU EAST STATION (Hashtag: #郑州东站 音乐是有力量的#)

Hundreds of passengers were stranded at Zhengzhou East Station when all services were suspended after 2:00 AM on July 21st. A youth orchestra group decided to pull out their instruments and perform in the station's main hall.
7月20日,因郑州暴雨,途径郑州的多列高铁停运,部分乘客被困郑州东站,一个学生交响乐团也在其中,学生们就地现场演奏了《我和我的祖国》和《歌唱祖国》

# zhengzhou#郑州洪水 pic.twitter.com/JSYSQ8jCjC

— venicema (@venicemala) July 21, 2021
The kind gesture moved many Chinese social media users to tears.
CONTROVERSY OVER HENAN REAL ESTATE COMPANY 'HIGHLAND' ADVERTISEMENT (Hashtag: #康桥地产致歉#)

An ad by the local real estate company Kangqiao Real Estate promoting its 'high lands' properties led to online controversy. The Kangqiao Group poster highlighted the height advantage to its real estate locations, using the slogan: "Highland – live in the highland and only let the wind and rain be your scenery."
The ad started making its rounds while Henan was in the midst of a huge rainstorm and flooding. Many deemed the timing of the ad insensitive, as well its wording. "Let the wind and rain just be your scenery" could also be understood as staying away from the hardships experienced by so many in Henan. Many felt the company was taking advantage of the disaster in Henan to promote its own real estate.

On July 21, Kangqiao Real Estate issued a statement of apology, saying that the advertising was canceled and that those responsible for its content would be removed from their position.
BABY RESCUED FROM DEBRIS (Hashtag: #三个月大婴儿被埋废墟一天一夜获救#)
A 3-month old baby was pulled from the ruins of a collapsed house in Xingyang, Zhengzhou. The infant reportedly was rescued a day after the building collapsed to landslides caused by the heavy rainfall. The child was sent to the hospital. The child's mother was initially said to be still missing. BBC later reported that the mother died after bringing her baby to safety. The child is unharmed.
It's hard to grasp just how many tragedies have unfolded (and still are) over the past days in Henan. This 3 month old baby was rescued from the rubble of a collapsed house in Xingyang after an entire day and night. His mother is still missing. pic.twitter.com/UaFOs8pRa5

— Manya Koetse (@manyapan) July 22, 2021
FIREFIGHTER COLLAPSES AFTER RESCUE (Hashtag: #郑州消防员救出最后一个孩子后累瘫#)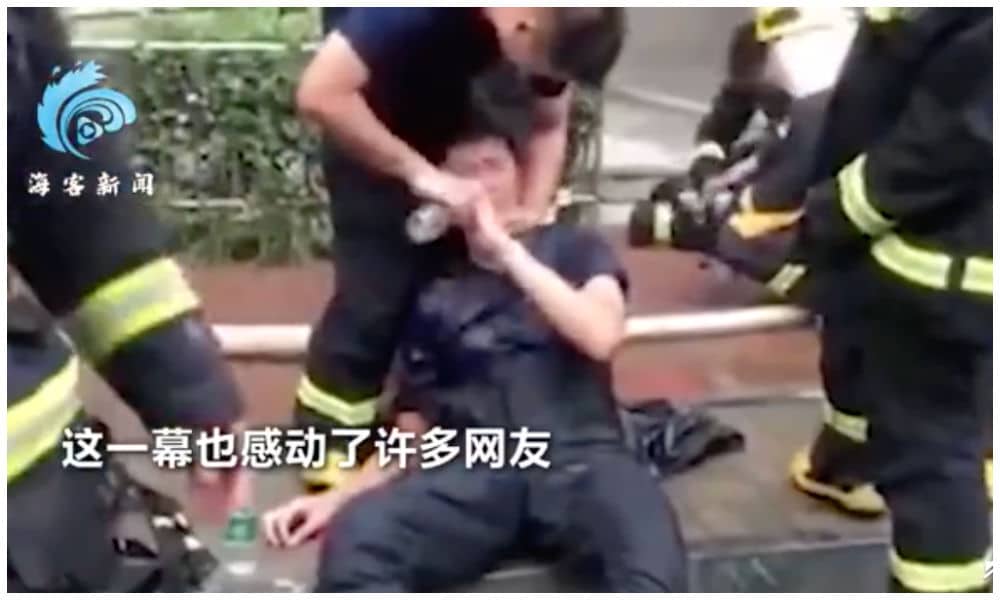 Around 14:30 in the afternoon, a fire erupted in a residential building in Zhengzhou, leaving 23 residents in a dangerous situation. Local firefighters managed to carry out all residents, mainly elderly and children. Due to the extreme weather conditions and high temperatures in the building, one firefighter collapsed at the scene. His colleagues immediately provided medical assistance.
ZHENGZHOU INSTALLS TEMPORARY PUBLIC WATER TAPS (Hashtag: #暴雨后郑州街头安装临时水龙头#)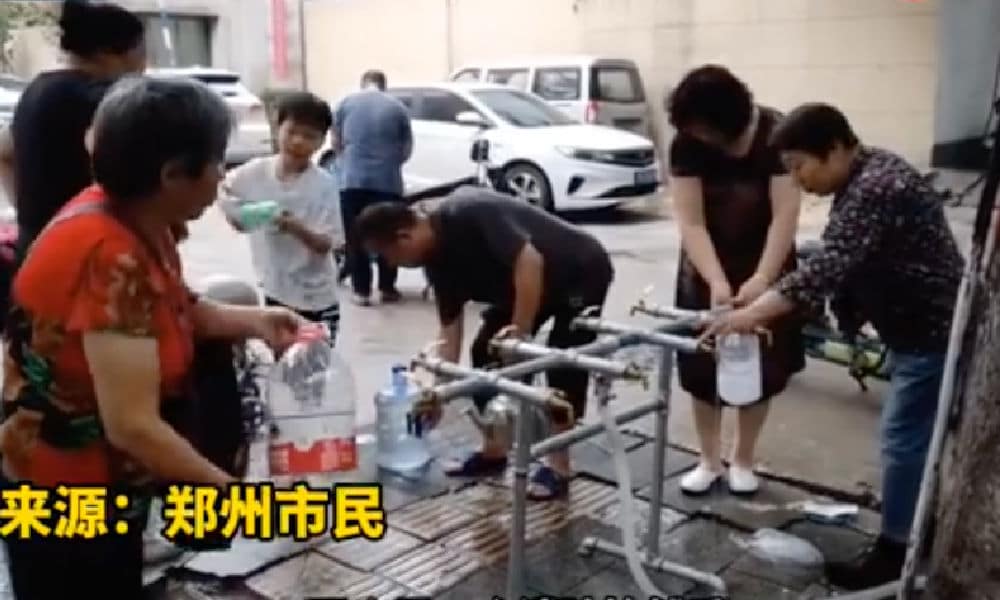 As the majority of residential buildings in the city of Zhengzhou were cut off from water after the torrential rains and floodings, the city installed temporary water taps on July 21st.
July 22
WEIHUI AND HUIXIAN EMERGENCY SITUATION (Hashtag: #卫辉暴雨#, #辉县暴雨#)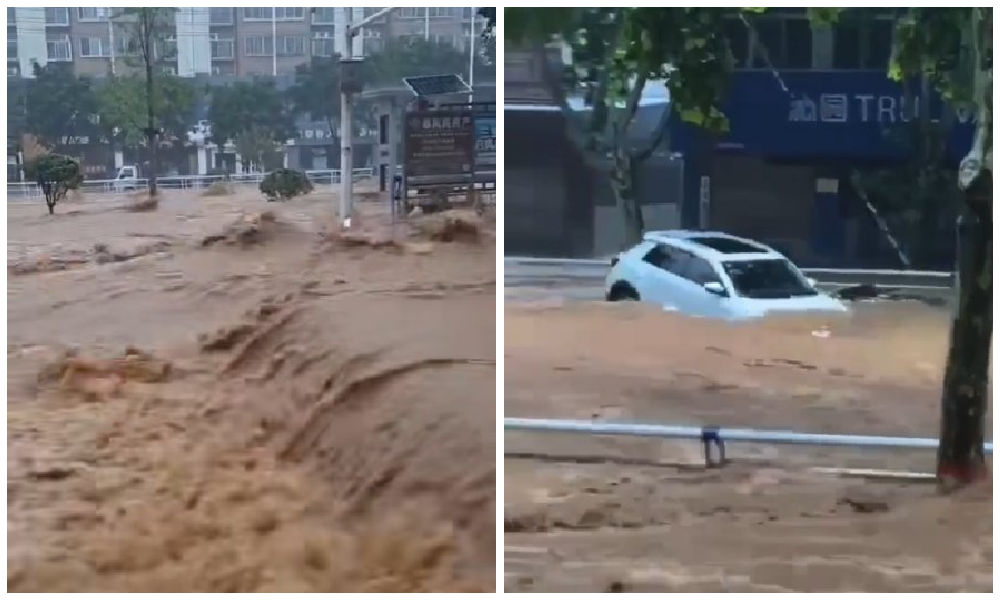 In the early morning of July 22, the people in Weihui sounded the alarm over the situation in their town. Around 4.00 AM, water started flooding into people's homes due to excessive rain and overflowing reservoirs.
Sleepless night for so many people in Henan as the rain keeps falling and northern areas are increasingly facing major problems. Many people are calling out for help for the smaller city of Weihui, where water levels are rising up to waist level and sandbags are needed. pic.twitter.com/LKp3pW3Jto

— Manya Koetse (@manyapan) July 21, 2021
As the rain still continued, water levels kept rising up to waist level and there was a lack of sandbags. A similar situation unfolded in the Huixian area.
Weihui is a county-level city with about 480,000 inhabitants, Huixian has approximately 790,000.
HUIXIAN HOSPITAL FLOODED (Hashtag:#辉县暴雨#)

Some 300 patients and staff at the local Gongji Hospital (辉县市共济医院) were trapped by the water. With power being cut off, not enough food available, and not enough manpower, the staff started reaching out for help via social media.
ELECTRICITY TO BE RESTORED IN ZHENGZHOU (Hashtag: #郑州力争今晚恢复高层居民小区供电#)

The Zhengzhou local government held a press conference on the afternoon of July 22 that they expected electricity in the city to be partially restored on Thursday night.
ONLINE ANGER OVER COMPANIES USING "HENAN FLOOD MARKETING" (Hashtag: #多家地产公司借暴雨营销#)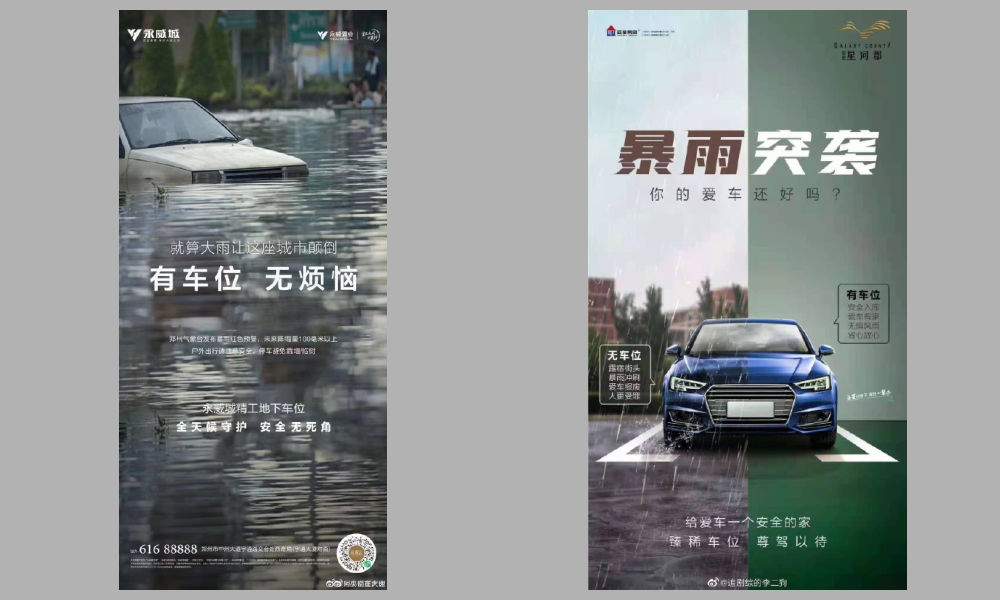 After the online outrage over a local real estate company promoting its 'highland' property in light of the floodings, other companies also sparked controversy for using the Henan floods as a marketing strategy.
Two local companies selling parking space used the devastating floods, in which countless cars were flooded, as a way to promote their supposedly safe parking lot. The companies, Yongwei (永威) and Yaxing (亚星), were denounced for promoting their company in this way at a time when the entire country was still praying for Henan and going out to help those in need.
July 23
CRITICAL DAY FOR XINXIANG FLOODS (Hashtag: #新乡大块镇上万村民被洪水围困#)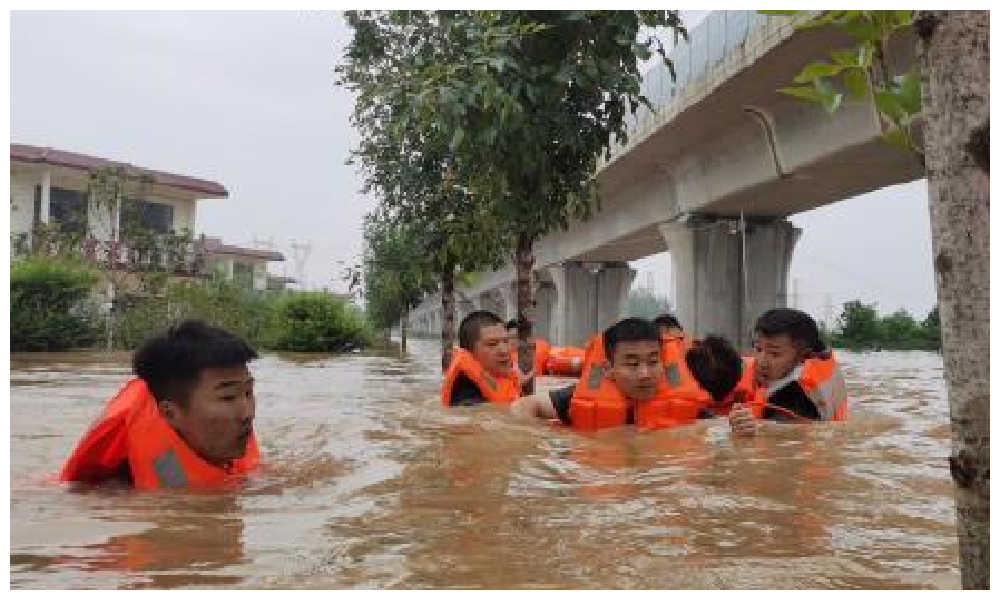 Xinxiang, a city of 5.8 million people just 70 km north of Zhengzhou, also saw extreme rain and floods this week, leading to a critical situation on July 23. Efforts to block the Wei river from flooding villages near Hebi failed. Thousands of locals were trapped without water and electricity.
Global Times reported that reporters tried to get to the hardest-hit counties in Xinxiang on Thursday morning, but were informed that the situation was so severe that teams without boats could no longer get in. Firefighters and rescuers used forklift trucks and rubber boats to evacuate the residents from the flooded villages in Xinxiang.
CHINESE SPORTSWEAR BRAND ERKE BECOMES ONLINE HIT AFTER DONATING 50 MILLION (Hashtag: #鸿星尔克的微博评论好心酸#)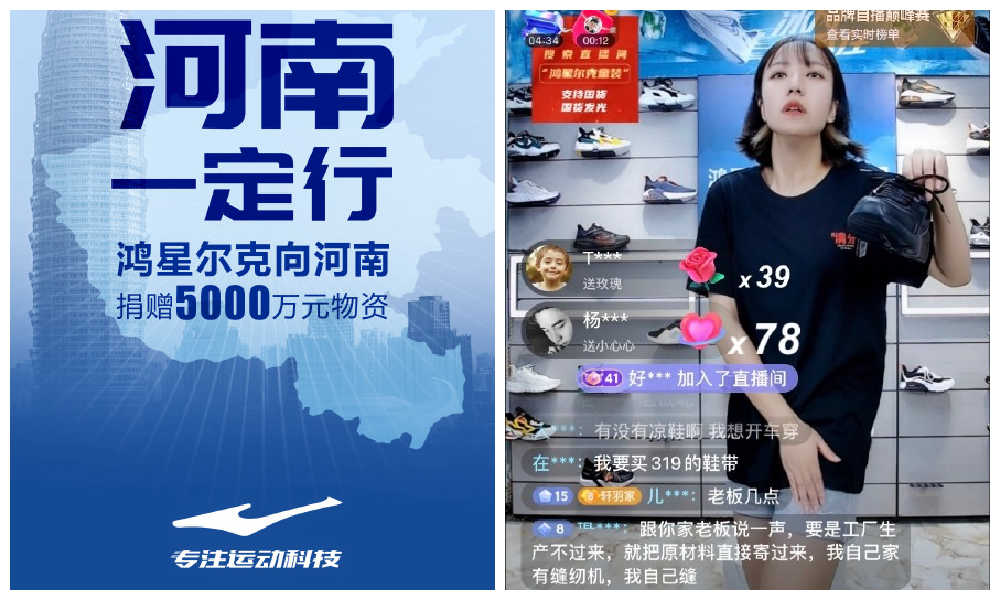 The domestic sportswear brand named Erke (鸿星尔克) donated 50 million yuan ($7.7 million) to the Henan flood. This attracted a lot of attention on Chinese social media, since Erke is a relatively small and low-profile brand that seemingly has not been doing too well over the past years.
After people found out that the company donated such a high amount of money to help the people in Henan despite its own losses, its online sales went through the roof – everyone wanted to support this generous 'patriotic brand.' While netizens rushed to the online shops selling Erke, the brand's physical shops also ran out of products with so many people coming to buy their sportswear. One female sales assistant was moved to tears when the store suddenly filled up with so many customers.
ONE-LEGGED MAN COMES TO THE RESCUE IN XINXIANG (Hashtag: #独腿小哥自发驰援新乡转运老人孩子#)

A man with one leg attracted attention on Chinese social media when footage and images came out of the Puyang resident helping the elderly and children in Xinxiang get away from the water. The young man pulled a boat and made many trips to get people across the water. The man's hometown of Puyang is about two to three hours from Xinxiang – he came down to Xinxiang to help locals out.
July 24
ENORMOUS LOSS OF CROPS AND LIVESTOCK (Hashtag: #暴雨后百余只羊仅找回一只#)

With ongoing rescue efforts in the region, more 'after the rainstorm' videos and social media posts came out on Saturday showing the devastating consequences of the heavy rainfall and floods. Many villagers have lost their homes, crops, livestock, and belongings.
People's Daily reported that one family in Xingyang county that had more than a hundred sheep, only had one animal left after the floods.
THE FLOODS IN HEBI (Hashtag: #鹤壁暴雨#)
The Olympics have started, and many of the trending topics on Weibo were no longer related to the floods on Saturday. Many Weibo commenters were therefore calling out to generate more attention for the situations in Henan's rural areas, particularly in Anyang, Xinxiang, and Hebi, which are still underwater and are seriously affected by the floods.
Current situation in Hebi, Henan. pic.twitter.com/iIJ7wJP7Qf

— Manya Koetse (@manyapan) July 24, 2021
"We've been doing online volunteer work in the disaster area in Henan, and the reality is far more serious than we can even imagine," one Weibo user commented.
This article will be updated later.
By Manya Koetse (@manyapan)
With contributions by Miranda Barnes
Spotted a mistake or want to add something? Please let us know in comments below or email us. First-time commenters, please be patient – we will have to manually approve your comment before it appears.
©2021 Whatsonweibo. All rights reserved. Do not reproduce our content without permission – you can contact us at info@whatsonweibo.com.
How Social Media Is Speeding Up Zhengzhou Flooding Rescue Efforts
Chinese social media are speeding up local rescue efforts after Zhengzhou saw the heaviest rain in 1,000 years.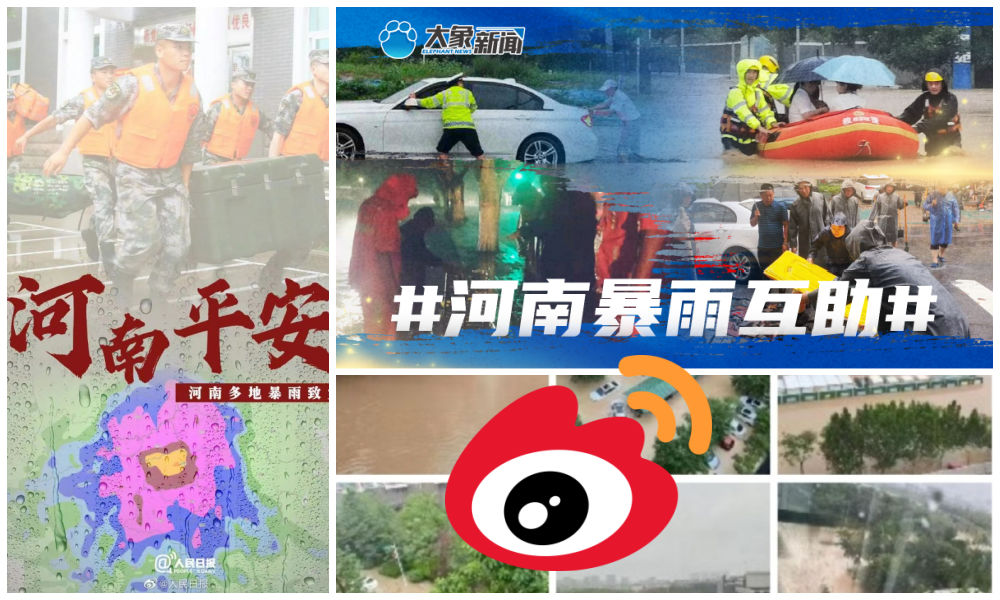 Social media is utilized as a tool in the response to the floodings in Henan province. Once again, Weibo facilitates active public participation to provide immediate assistance to the people facing this natural disaster. 
On Tuesday, July 20, heavy rainfall caused major disruptions in the central province of Henan. The amount of rain over the last three days in Zhengzhou is reported to be the same as what it would usually receive in an entire year.
It is reported that Henan Province has initiated the highest-level emergency response to floods, and China's State Flood Control and Drought Relief Bureau has dispatched a workgroup to Henan, initiating level III emergency response rescue work.
Since the evening of July 20, news and information streams on the heavy rains and floods have been dominating Chinese social media. In the midst of the disastrous events, Weibo has become an online space for people seeking help, those disseminating information on available resources, and for other related activities that help netizens engage in emergency management and accessing information.
The volume of such messages is huge, with thousands of netizens seeking ways to help speed up rescue work and actively contribute to the emergency relief efforts.
The organically improvised response protocol on social media includes the following guidelines:
Verify, summarize, highlight, and spread online help requests posted by people from different locations
Remind people to delete help-seeking posts once they have been rescued or have found assistance.
Disseminate relevant knowledge relating to emergency care and response, and public health information, such as how to deal with different disaster scenarios, warning people about the safety of drinking water during floods, etc.
Share information regarding mental health and psychosocial support during the different phases of the disaster.
When posts of people trapped by the heavy rain started to be published on Weibo, many online influencers, no matter what subject they usually focus on, participated in spreading help-request posts that were not getting a lot of online attention.
Erdi 耳帝, a music influencer with nearly 15 million fans on Weibo, has been retweeting the online posts of people asking for help since the night of July 20.
An example of such an online emergency help request (求助贴) is the following post of July 21st, 17:15 local time:
"Our entire neighborhood is cut off from water and electricity, the water level is rising to chest level, and we currently have no drinking water at the moment. Need help urgently.
Status: Verified, pending rescue.
Seeking help: Wu M**, phone 13*****27
Number of people to be rescued: five or six thousand
Location: Zhengzhou City, Henan Province, Zhengdong New District, Shangdu / Xuzhuang Street intersection, east courtyard of Shangdu Jiayuan Muzhuang district (we can't exit the building, there is no water, no electricity, no supplies, and it's been 24 hours)"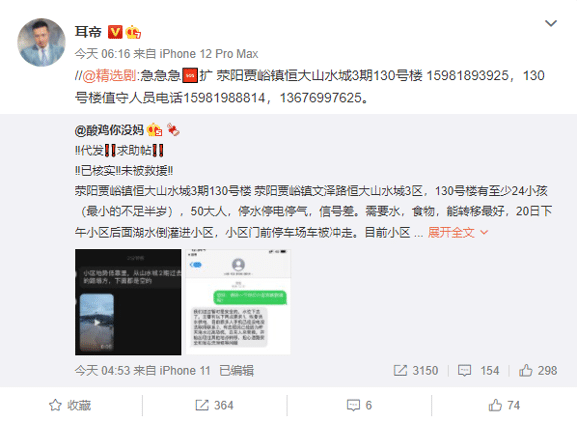 Some Weibo users engage in organizing scattered online information in one single post, e.g. posts regarding local electricity leakage, making this information more accessible and easier to understand.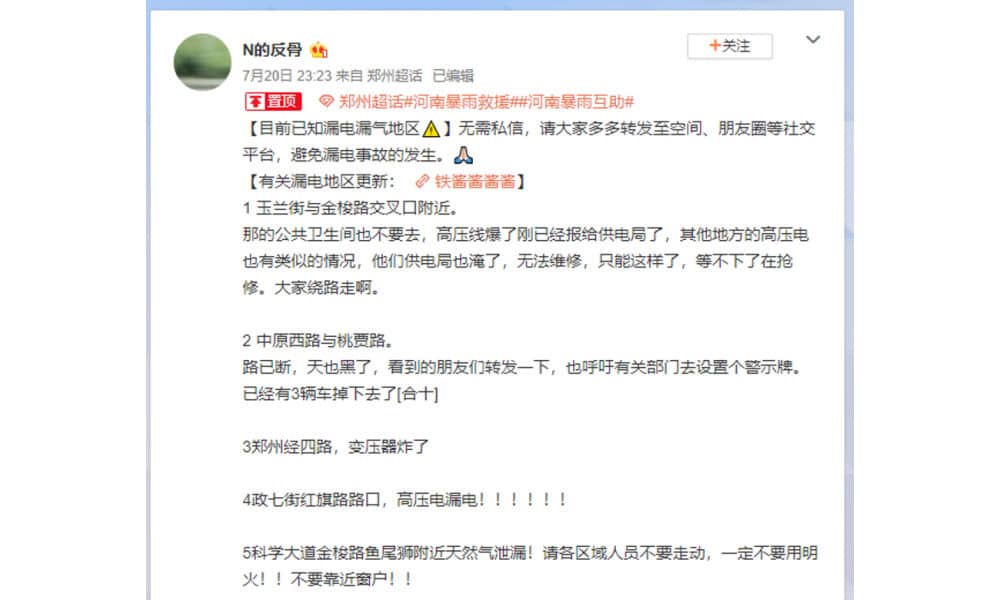 One post that was among the top-shared ones this week, is a picture that includes contact information of rescue teams of both officials and civilians. When realizing that some people were unable to upload the picture due to poor internet connections caused by the heavy rain, an up-to-date and full-text version was quickly shared by netizens.
Some Weibo users listed various methods to get assistance for hearing-impaired and deaf-mute people affected by the floods, advising people to download various apps to help to communicate and translate.
Besides the more general practical advice and emergency action plans shared by Chinese social media users, there are also those who pay attention to the importance of personal hygiene during these times. Some are sending out information about menstrual hygiene needs during floods, reminding women to frequently change sanitary pads and try to keep the genital area clean and dry due to the risk of infection. A hashtag related to menstruation during the flooding momentarily ranked fifth in the top search lists (#河南暴雨 如果你出在经期<).

Information on mental health support is disseminated all across social media.
People also try to provide mental support in other ways. A student orchestra spontaneously performed at the Zhengzhou station, where dozens of passengers were left stranded in the night. The video clips of the performance went viral, with the young musicians playing two widely-known songs, "My People, My Country" (我和我的祖国) and "Ode to the Motherland" (歌唱祖国). Many social media users shared the clips and expressed how the performance moved them to tears.
A kind gesture in these terrible times. This youth orchestra pulled out their instruments and performed for all those other passengers who are stranded at the Zhengzhou East Station tonight ❤️ All trains were suspended after 2am on the 21st. pic.twitter.com/50THGOhy6O

— Manya Koetse (@manyapan) July 20, 2021
Some video clips that show how ordinary people save ordinary people amid such a natural disaster have also been widely shared. One video shows citizens of Zhengzhou standing in a line and use a rope to pull people from an underground floor where they were trapped by the water flooded.
Earlier in this thread there was a video of people helping those trapped in lower levels. There is more footage showing other places in Zhengzhou where citizens also joined forces to help those trapped by the water to get out safely. pic.twitter.com/1R9q1JcUtY

— Manya Koetse (@manyapan) July 20, 2021
In all the aforementioned ways and many more, Weibo has become a public platform for Chinese people to respond to the Henan disaster, efficiently communicate and keep track of help requests, organize and disseminate related information, and provide access to timely knowledge and relevant advice.
With so many online influencers and ordinary netizens voluntarily joining in, the online information flows are quickly circulating, allowing for necessary public communication channels while other resources and communication methods are still overwhelmed or in the making. The last time Weibo was used as an efficient emergency communication tool was during the early days of the COVID19 outbreak in Wuhan.
"Please stand strong, Zhengzhou" and "Hang on, Henan," many commenters write: "Help is underway!"
Also see our previous article on the situation in Zhengzhou here.
By Wendy Huang
Follow @whatsonweibo
Spotted a mistake or want to add something? Please let us know in comments below or email us. Please note that your comment below will need to be manually approved if you're a first-time poster here.
©2021 Whatsonweibo. All rights reserved. Do not reproduce our content without permission – you can contact us at info@whatsonweibo.com