China's New Hit Drama 'Nothing But Thirty' Thrives in the "She Era"
Chinese latest hit drama 'Nothing but Thirty' has 20 billion views on its Weibo hashtag page.
China's latest TV drama hit Nothing But Thirty is flooding Weibo discussions. With over 20 billion views on its hashtag page, the show is one of the most popular shows of the season and demonstrates that China's 'she era' (ta shidai 她时代) dramas are all the rage. What's on Weibo's Yin Lin Tan explains.
"Have you heard of 'independent at the age of thirty' (sān shí ér lì 三十而立)?" Wang Manni asks, her hair pulled back neatly and white shirt cleanly pressed. "I hope that, before I'm thirty, I'll be promoted to supervisor."
Riding on the wave of female protagonist ('heroine' 大女主) shows that have been taking over China's entertainment scene, Nothing But Thirty (三十而已) is a 43-episode drama by Dragon Television that follows the challenges of three different women who have reached the ever-important age of thirty.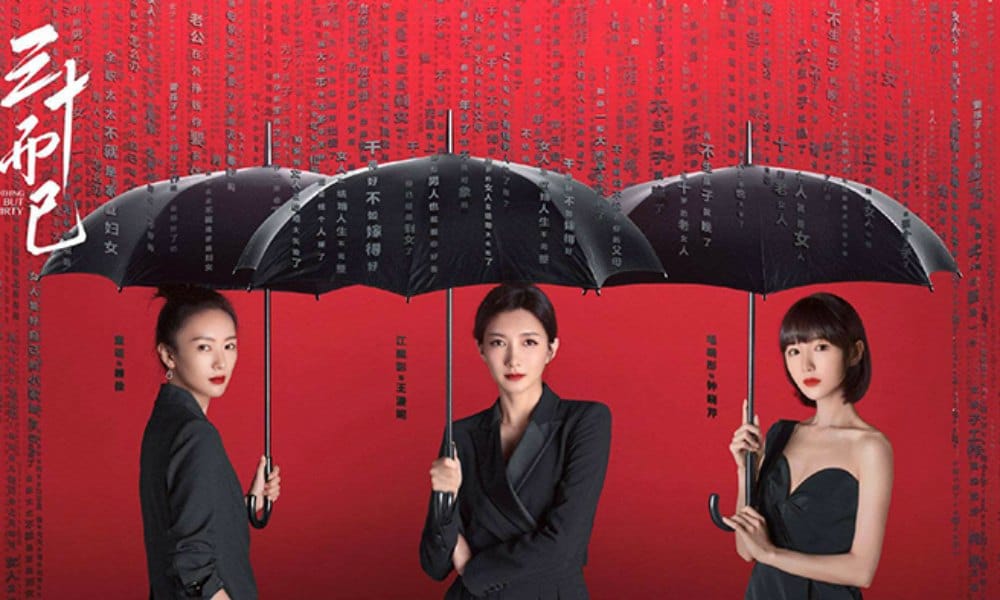 In a society where women are often expected to be married by their late twenties, a show like this, which tackles women's present-day struggles, both in their personal and professional lives, has resonated with many.
In fact, the show is so popular that at the time of writing, the show's hashtag ("Nothing But Thirty", #三十而已#) has over 20 billion (!) views on Weibo.
Depicting the struggles of China's thirty-something women
Nothing But Thirty revolves around the lives of three female leads from different walks of life. Gu Jia (Tong Yao) is a capable businesswoman turned full-time housewife; Wang Manni (Jiang Shuying) is an independent, career-oriented sales assistant; and Zhong Xiaoqin (Mao Xiaotong) is your run-of-the-mill office lady.
For Gu Jia, the birth of her son was what truly transformed her into a full-fledged housewife. In many ways, she seems like a perfect wife and mother: well-educated, capable, and thoughtful. But, eventually, she too has to face life's challenges.
Driven and hardworking, Wang Manni is confident in both her looks and abilities. Her immediate goal, at least at the start of the show, is to achieve professional success. Throughout the show, her resilience is put to the test, personally and professionally.
Zhong Xiaoqin is described by many netizens as the most "average" or "normal" character. She is kind-hearted -sometimes to the point of being a pushover -, and has spent years at the same company without rising the ranks. Though her story might seem mundane at first, this peace is disrupted when her marriage takes a turn for the worse.
A story that resonates with the masses
"The show attracted wide attention, and it strongly resonated with female audiences. Many thirty-something working women saw their own lives reflected in the show," Xinhua recently wrote about the show.
Nothing but Thirty currently carries a 7.6 out of 10 rating on Douban, an online reviewing platform.
Though some reviewers criticized how the later episodes of the show were unnecessarily draggy, most praised it for its portrayal of strong female characters, good acting, and largely realistic depiction of women above the age of thirty.
"I saw myself, and also saw the friends beside me," a reviewer notes.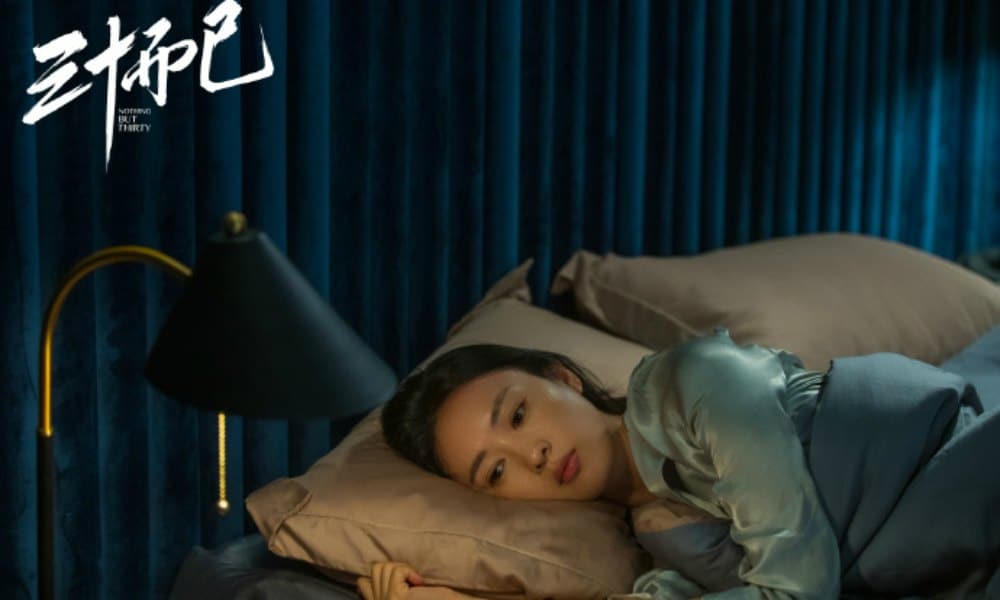 In China, women are, more often than not, burdened with expectations of getting married and settling down by the time they are in their late twenties. If you're single and thirty, that's made even worse.
Those who fall into this category carry the derogatory label of "leftover women" (剩女), a term that reflects how single women above the age of thirty are seen as consolation prizes or even unwanted goods.
Thirty is thus an incredibly important number, especially for women — something that's clearly reflected in the show's concept trailer.
Aside from societal expectations of starting a family, some women now also take it upon themselves to build their careers. In fact, you can chase after professional success without burdening yourself with the idea that you must be married – a notion exemplified by the character of Wang Manni.
Nothing But Thirty also showcases the sheer diversity of experiences for women above thirty: you don't have to be married, you don't have to be super capable, and you don't have to be thinking about having children. Each woman goes through her own unique struggles and isn't necessarily endowed with the so-called "protagonist's halo."
Ultimately, the popularity of the show is driven by the three female leads and the actresses who bring these strong characters to life.
By telling a story that is relatable and touches on relevant social issues, namely on expectations of women in society, Nothing But Thirty was able to achieve widespread popularity and is adding another notch on the trend of China's ta shidai (她时代) dramas. 
The rise of ta shidai shows
Ta shidai literally translates to "her era" or "the 'she' era."
Ta shidai shows explore what it's like to be a woman in China today. The female characters are diverse when it comes to both their backgrounds and character arcs; they might have different jobs, different levels of education, or different personalities. These shows mostly center around a strong female lead and/or a main cast that is primarily female.
More importantly, they often feature capable women and how these women overcame the odds to achieve success.
Recent shows like The Romance of Tiger and Rose (传闻中的陈芊芊) and Sisters Who Make Waves (乘风破浪的姐姐) also fall under this category, as do somewhat older hit shows such as Ode to Joy (欢乐颂) and Women in Beijing (北京女子图鉴).
The Romance of Tiger and Rose is set in a society in which women are in charge and men are subordinate, in a daring reversal of gender roles. Though the show has been criticized for using social issues to attract attention, it gained a decent following for tackling topics like gender inequality and women's rights.
A reality TV competition that swept the Chinese entertainment scene, Sisters Who Make Waves attempted to rebuke stereotypes of women over 30 as "leftover women."
The show brought together female celebrities above the age of 30 (the oldest competitor was 52), and had them go through a series of challenges, culminating in a girl group formed by the final competitors.
Nothing But Thirty is just another example of a show that's attempted to depict the realistic struggles of women in modern-day China.
More Chinese dramas that feature women — specifically, their struggles and the expectations that society places on them — are slated to be released in 2020.
Over the past few years, more attention has been focused on women's rights in China. As feminism becomes an increasingly important topic of discussion in China, strongly facilitated by social media and not without controversy, companies are likely to hop on the bandwagon and continue producing shows that fall squarely in the ta shidai category, given the genre's rising popularity.
Though we can't expect every single show to perfectly, accurately, and realistically portray women's struggles, the fact that more stories like these are being produced already helps bring such conversations into the mainstream. 
Hopefully, the trend of ta shidai shows is a sign that these issues won't just be tackled on camera, but in real life as well. 

Read more about Chinese TV dramas here.

By Yin Lin Tan
Follow @WhatsOnWeibo
 Spotted a mistake or want to add something? Please let us know in comments below or email us. First-time commenters, please be patient – we will have to manually approve your comment before it appears.
©2020 Whatsonweibo. All rights reserved. Do not reproduce our content without permission – you can contact us at info@whatsonweibo.com.
Wandering Earth 2 Production Costs: Why Director Frant Gwo is Nicknamed 'Master in Begging for Alms'
Contributing to the Wandering Earth 2 production without getting paid? It's "powering up Chinese sci-fi with love."
Wandering Earth director Frant Gwo (Guo Fan) is also nicknamed the 'Master in Begging for Alms' (化缘大师) on social media. His efforts to convince actors and companies to contribute to the movie has kept production costs relatively low.
With the sci-fi blockbuster The Wandering Earth II, directed by Guo Fan (郭帆 aka Frant Gwo) taking center stage during this Spring Festival movie season, there have been many social media discussions about the film and how it has been reviewed (read here), as well as about the production of the film, or more particularly, about the total production costs for this film.
Based on a story written by Liu Cixin, author of the award-winning sci-fi novel The Three-Body Problem, The Wandering Earth II is the prequel to the 2019 blockbuster hit The Wandering Earth, China's all-time highest-grossing sci-fi film and the fifth highest-grossing non-English film of all time.
It is reported that the production investment costs for The Wandering Earth II reached approximately 600 million yuan ($88.5 million). Compared to the production budget of American sci-fi hit films such as Interstellar ($165 million) or Inception ($160 million), Chinese audiences had expected The Wandering Earth II to have much higher production costs than the reported budget, especially considering the spectacular scenes featured in the film.
The relatively lower production costs sparked discussions on Chinese social media, where the hashtag "Guo Fan – the Master in Begging for Alms" (#郭帆 化缘大师#) went trending, gaining in popularity as multiple insiders shared more stories about the production of the movie.
The hashtag, which suggests that Director Guo is a 'Fundraising Master' for keeping production costs low, has received over 70 million views at the time of writing. The Chinese 化缘 huàyuán means to raise funds for something or to 'beg alms' (like Buddhist monks or Taoist priests do).
Guo's strict budget control already became a hot topic after the 2019 release of The Wandering Earth. One of the most famous stories is that of the movie's main star Wu Jing (吴京), as he allegedly began as a guest celebrity and ended up as the leading actor without getting paid, while investing approximately 60 million yuan ($8.85 million) in the film's production.
A female presenter recently also shared her story on Weibo about her free participation in the production of The Wandering Earth in 2019, which apparently showed the film's tight production budget. In her post, she wrote: "They didn't fool me, instead, they just told me directly that I wouldn't get paid." Considering the rare opportunity to act in a Chinese sci-fi production, she went to the set at her own expense and filmed scenes, including outdoor scenes in the snow and freezing cold, only to end up being featured less than a second in the finished film. Nonetheless, she said she was still proud to be a part of the landmark Chinese sci-fi film.
Perhaps the idea of taking part in a groundbreaking Chinese science fiction film has made many individuals, companies, and organizations willing to work with Guo's team, even if no additional compensation or payment was provided.
XCMG Machinery (Xuzhou Construction Machinery Group Co, Ltd), China's premier company in industrial design, is also one of these companies. The company set up a team of a total of 319 XCMG staff members to support the project and provided a wide range of operational and transformable machinery equipment for the UEG (United Earth Government) in the film. They called this "powering up Chinese Sci-fi with love."
Chinese netizens already nicknamed Wandering Earth (流浪地球) "Little Broken Ball" (小破球) back in 2019. The "Ball" refers to the Earth – the second character (球) of Earth in Chinese (地球) literally means ball. It was the director himself who initially referred to his film this way, and this nickname was then popularized among netizens to describe how the Earth is in crisis in the film, but it also refers to how difficult it was for Guo to produce the film.
The fact that Guo managed to produce Wandering Earth II with a relatively limited budget compared to other big international sci-fi movies has instilled some pride among netizens. One popular blogger (@秦祎墨) suggested the actual production value of the movie went far beyond the quoted $88.5 million thanks to the collective spirit of Chinese companies who did all they could to turn this film into a mega hit.
Others praised Guo for being able to get so many people and companies involved, claiming that if it wasn't for him, the movie would have ended up costing at least twice as much.
Some are already looking forward to a potential Wandering Earth III, saying that the 'Little Broken Ball' series has already managed to gather such a strong team of companies, technical support, post-production innovation and experts, that the 'Wandering Earth universe' should not stop after two films.
Reflecting on being nicknamed the 'Master of Begging for Alms,' director Guo himself reportedly expressed his gratitude toward everyone who worked on the film who was "tricked" by him, saying it is their generosity that eventually made the production of The Wandering Earth II possible.
By Wendy Huang, with contributions by Manya Koetse
Follow @whatsonweibo
Spotted a mistake or want to add something? Please let us know in comments below or email us. Please note that your comment below will need to be manually approved if you're a first-time poster here.
©2023 Whatsonweibo. All rights reserved. Do not reproduce our content without permission – you can contact us at info@whatsonweibo.com
Chinese Social Media Reactions to The New York Times Bad Review of 'Wandering Earth 2'
A New York Times bad review of 'Wandering Earth II' has triggered online discussions: "China's gonna save the world, the US can't stand it."
This Chinese Spring Festival, it's all about going to the movies. After sluggish years for China's movie market during the pandemic, Chinese cinemas welcomed millions of visitors back to the theaters during the weeklong Spring Festival holiday.
Much-anticipated new movies attracted Chinese moviegoers this festive season, including Full River Red by Zhang Yimou, the suspenseful Hidden Blade, or the animated Deep Sea by Tian Xiaopeng.
But the undisputed Spring Festival box office champion of 2023 is Frant Gwo's Wandering Earth II (流浪地球II), the sequel to China's all-time highest-grossing sci-fi epic Wandering Earth (2019), which also became the fifth highest-grossing non-English film of all time.
The narrative of the follow-up movie Wandering Earth II actually takes place before the events of the first film and focuses on the efforts by the United Earth Government (UEG) to propel the Earth out of the solar system to avoid planetary disaster. This so-called Moving Mountain Project – which later becomes the Wandering Earth Project – is not just met with protest (the majority of Americans don't believe in it), it also bans the Digital Life Project, which supports the idea that the future of humanity can be saved by preserving human consciousness on computers (backed by an American majority). The film is all about hope and resilience, human destiny, and geopolitics at a time of apocalyptic chaos.
Outside of China, the sequel was also released in, among others, North American, Australian, and UK cinemas.
Although the film, featuring movie stars Wu Jing and Andy Lau, received an 8.2 on the Chinese rating & review platform Douban, a 9.4 on movie ticketing app Maoyan, dozens of positive reviews on Bilibili, and was overall very well-received among Chinese viewers, a bad review by The New York Times triggered discussions on Chinese social media this weekend.
Chinese media outlet The Observer (观察者网) initiated a Weibo hashtag about "The New York Times's completely sour review of Wandering Earth II" (#纽约时报酸味拉满差评流浪地球2#, 6.2 million views at time of writing).
The New York Times review of Wandering Earth II, titled "The Wandering Earth II Review: It Wanders Too Far," was written by Brandon Yu and published in print on January 27, 2023.
Yu does not have a lot of good things to say about China's latest blockbuster. Although he calls the 2019 The Wandering Earth "entertaining enough," he writes that the sequel is a movie that is "audaciously messy" and has lost "all of the glee" its predecessor had:
"(..) the movie instead offers nearly three hours of convoluted storylines, undercooked themes and a tangle of confused, glaringly state-approved political subtext."
The topic was discussed on Chinese social media using various hashtags, including "The New York Times Gave Wandering Earth II a 3″ (#纽约时报给流浪地球打30分#, #纽约时报给流浪地球2打30分#).
Instead of triggering anger, the bad review actually instilled a sense of pride among many Chinese, who argued that the review showed the impact the movie has made. Some commenters pointed out that the movie is a new milestone in Chinese cinema, not just threatening America's domination of the movie industry but also setting a narrative in which China leads the way.
"We're gonna save the world, and America just can't stand it," one commenter replied.
That same view was also reiterated by other bloggers. The author and history blogger Zhang Yi'an (@张忆安-龙战于野) argued that The New York Times review was not necessarily bad; it actually shows that Americans feel threatened by the idea of China's important role in a new international world order, and by the fact that China actually will have the capacity to lead the way when it comes to, for example, space technology innovation, robotics, and artificial intelligence.
Zhang argues that if a similar movie had been made by India as a Bollywood blockbuster – including exploding suns and wandering earths – The New York Times would have been more forgiving and might have even called it cute or silly.
But because this is China, the film's success and its narrative plays into existing fears over China's rise, and it clashes with American values about what the international community should look like.
Zhang writes: "The China in the movie doesn't boast itself as the savior of the world, but in reality, China really is capable of saving the world. The United States is no longer able to do so (电影里的中国没有把自己吹嘘成救世主,现实中的中国真的有能力做救世主。而美国却已经不能了)."
One popular Film & TV account (@影视综艺君) also summarized the general online reaction to the bad review in the American newspaper: "Whenever the enemy gets scared, it must mean we're doing it right. Our cultural export has succeeded." That post received over 120,000 likes.
On Zhihu.com, some commenters also attached little value to the review and showed how the overseas reviews of Wandering Earth II widely varied in their verdict.
Meanwhile, a state media-initiated hashtag on Weibo claimed on January 28 that Wandering Earth II has actually "captured the hearts of many overseas audiences" (#流浪地球2海外上映获好评#), and that the film's "imaginative" and "wonderful" visuals combined with its strong storyline were being praised by moviegoers outside of China.
On IMDB, the movie has received 5.9/10; it has gotten a 70% Rotten Tomatoes score. The Guardian gave it 2/5. Meanwhile, on Weibo, one reviewer after the other gives the film 5/5 stars.
Weibo blogger Lang Yanzhi (@郎言志) writes: "Recently, we've seen a lot of attacks and slander directed at the China-made science fiction movie Wandering Earth 2, especially coming from Western media and pro-Western forces, because the film's "Chinese salvation" narrative made them uncomfortable. This was already the case when the first film in the series was released. It is very clear that Wandering Earth is not just a movie: it is a symbol of great influence."
By Manya Koetse , with contributions by Zilan Qian
Get the story behind the hashtag. Subscribe to What's on Weibo here to receive our newsletter and get access to our latest articles:
Spotted a mistake or want to add something? Please let us know in comments below or email us. First-time commenters, please be patient – we will have to manually approve your comment before it appears.
©2022 Whatsonweibo. All rights reserved. Do not reproduce our content without permission – you can contact us at info@whatsonweibo.com.