China's New Hit Drama 'Nothing But Thirty' Thrives in the "She Era"
Chinese latest hit drama 'Nothing but Thirty' has 20 billion views on its Weibo hashtag page.
China's latest TV drama hit Nothing But Thirty is flooding Weibo discussions. With over 20 billion views on its hashtag page, the show is one of the most popular shows of the season and demonstrates that China's 'she era' (ta shidai 她时代) dramas are all the rage. What's on Weibo's Yin Lin Tan explains.
"Have you heard of 'independent at the age of thirty' (sān shí ér lì 三十而立)?" Wang Manni asks, her hair pulled back neatly and white shirt cleanly pressed. "I hope that, before I'm thirty, I'll be promoted to supervisor."
Riding on the wave of female protagonist ('heroine' 大女主) shows that have been taking over China's entertainment scene, Nothing But Thirty (三十而已) is a 43-episode drama by Dragon Television that follows the challenges of three different women who have reached the ever-important age of thirty.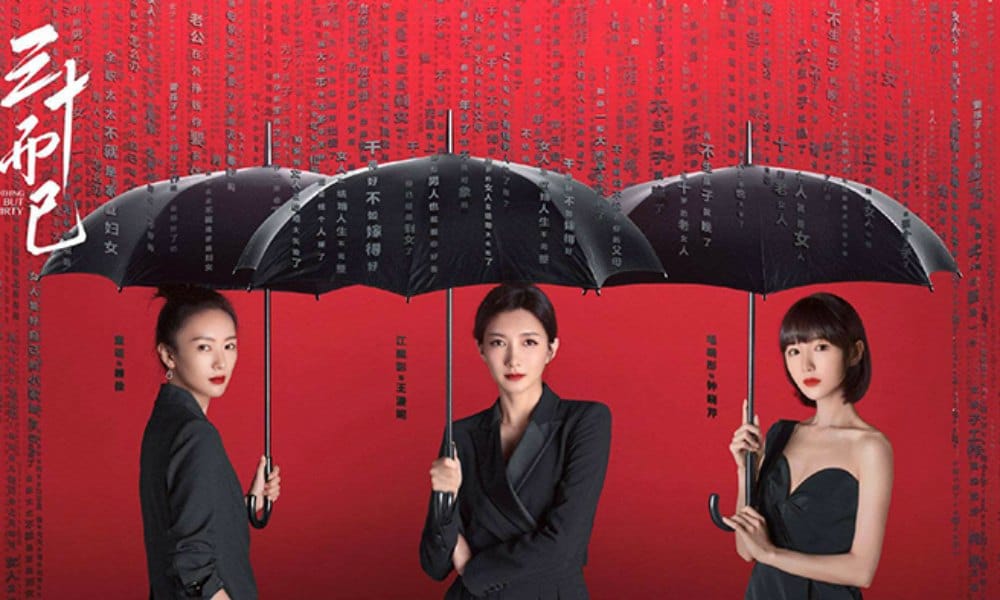 In a society where women are often expected to be married by their late twenties, a show like this, which tackles women's present-day struggles, both in their personal and professional lives, has resonated with many.
In fact, the show is so popular that at the time of writing, the show's hashtag ("Nothing But Thirty", #三十而已#) has over 20 billion (!) views on Weibo.
Depicting the struggles of China's thirty-something women
Nothing But Thirty revolves around the lives of three female leads from different walks of life. Gu Jia (Tong Yao) is a capable businesswoman turned full-time housewife; Wang Manni (Jiang Shuying) is an independent, career-oriented sales assistant; and Zhong Xiaoqin (Mao Xiaotong) is your run-of-the-mill office lady.
For Gu Jia, the birth of her son was what truly transformed her into a full-fledged housewife. In many ways, she seems like a perfect wife and mother: well-educated, capable, and thoughtful. But, eventually, she too has to face life's challenges.
Driven and hardworking, Wang Manni is confident in both her looks and abilities. Her immediate goal, at least at the start of the show, is to achieve professional success. Throughout the show, her resilience is put to the test, personally and professionally.
Zhong Xiaoqin is described by many netizens as the most "average" or "normal" character. She is kind-hearted -sometimes to the point of being a pushover -, and has spent years at the same company without rising the ranks. Though her story might seem mundane at first, this peace is disrupted when her marriage takes a turn for the worse.
A story that resonates with the masses
"The show attracted wide attention, and it strongly resonated with female audiences. Many thirty-something working women saw their own lives reflected in the show," Xinhua recently wrote about the show.
Nothing but Thirty currently carries a 7.6 out of 10 rating on Douban, an online reviewing platform.
Though some reviewers criticized how the later episodes of the show were unnecessarily draggy, most praised it for its portrayal of strong female characters, good acting, and largely realistic depiction of women above the age of thirty.
"I saw myself, and also saw the friends beside me," a reviewer notes.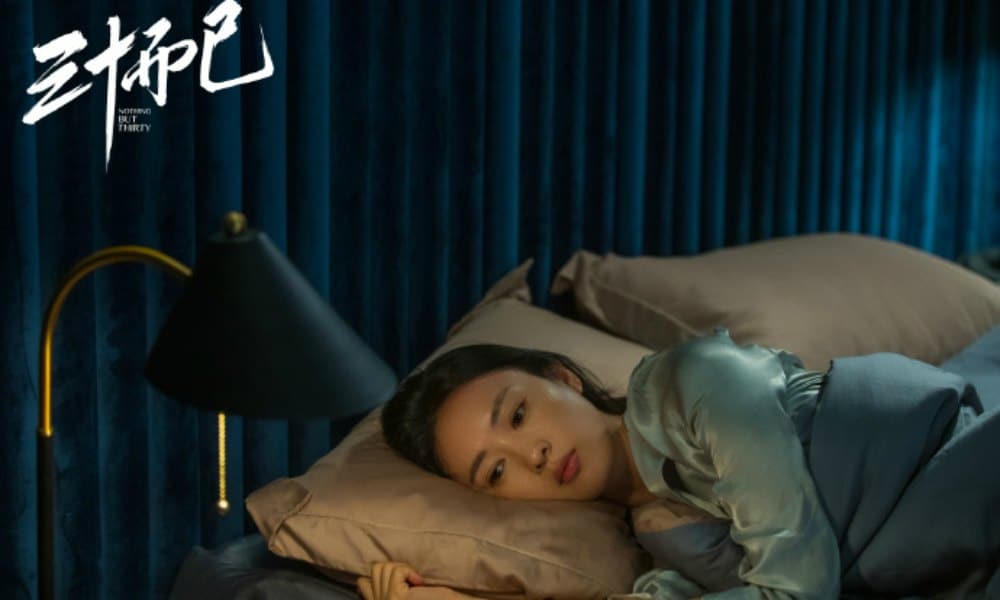 In China, women are, more often than not, burdened with expectations of getting married and settling down by the time they are in their late twenties. If you're single and thirty, that's made even worse.
Those who fall into this category carry the derogatory label of "leftover women" (剩女), a term that reflects how single women above the age of thirty are seen as consolation prizes or even unwanted goods.
Thirty is thus an incredibly important number, especially for women — something that's clearly reflected in the show's concept trailer.
Aside from societal expectations of starting a family, some women now also take it upon themselves to build their careers. In fact, you can chase after professional success without burdening yourself with the idea that you must be married – a notion exemplified by the character of Wang Manni.
Nothing But Thirty also showcases the sheer diversity of experiences for women above thirty: you don't have to be married, you don't have to be super capable, and you don't have to be thinking about having children. Each woman goes through her own unique struggles and isn't necessarily endowed with the so-called "protagonist's halo."
Ultimately, the popularity of the show is driven by the three female leads and the actresses who bring these strong characters to life.
By telling a story that is relatable and touches on relevant social issues, namely on expectations of women in society, Nothing But Thirty was able to achieve widespread popularity and is adding another notch on the trend of China's ta shidai (她时代) dramas. 
The rise of ta shidai shows
Ta shidai literally translates to "her era" or "the 'she' era."
Ta shidai shows explore what it's like to be a woman in China today. The female characters are diverse when it comes to both their backgrounds and character arcs; they might have different jobs, different levels of education, or different personalities. These shows mostly center around a strong female lead and/or a main cast that is primarily female.
More importantly, they often feature capable women and how these women overcame the odds to achieve success.
Recent shows like The Romance of Tiger and Rose (传闻中的陈芊芊) and Sisters Who Make Waves (乘风破浪的姐姐) also fall under this category, as do somewhat older hit shows such as Ode to Joy (欢乐颂) and Women in Beijing (北京女子图鉴).
The Romance of Tiger and Rose is set in a society in which women are in charge and men are subordinate, in a daring reversal of gender roles. Though the show has been criticized for using social issues to attract attention, it gained a decent following for tackling topics like gender inequality and women's rights.
A reality TV competition that swept the Chinese entertainment scene, Sisters Who Make Waves attempted to rebuke stereotypes of women over 30 as "leftover women."
The show brought together female celebrities above the age of 30 (the oldest competitor was 52), and had them go through a series of challenges, culminating in a girl group formed by the final competitors.
Nothing But Thirty is just another example of a show that's attempted to depict the realistic struggles of women in modern-day China.
More Chinese dramas that feature women — specifically, their struggles and the expectations that society places on them — are slated to be released in 2020.
Over the past few years, more attention has been focused on women's rights in China. As feminism becomes an increasingly important topic of discussion in China, strongly facilitated by social media and not without controversy, companies are likely to hop on the bandwagon and continue producing shows that fall squarely in the ta shidai category, given the genre's rising popularity.
Though we can't expect every single show to perfectly, accurately, and realistically portray women's struggles, the fact that more stories like these are being produced already helps bring such conversations into the mainstream. 
Hopefully, the trend of ta shidai shows is a sign that these issues won't just be tackled on camera, but in real life as well. 

Read more about Chinese TV dramas here.

By Yin Lin Tan
Follow @WhatsOnWeibo
 Spotted a mistake or want to add something? Please let us know in comments below or email us. First-time commenters, please be patient – we will have to manually approve your comment before it appears.
©2020 Whatsonweibo. All rights reserved. Do not reproduce our content without permission – you can contact us at info@whatsonweibo.com.
Three Reasons Why Lipstick King's 'Eyebrow Pencil Gate' Has Blown Up
From beauty guru to betrayal: why one livestream moment is shaking China's internet.
PREMIUM CONTENT
Li Jiaqi, also known as Austin Li the 'Lipstick King,' has become the focus of intense media attention in China over the past days.
The controversy began when the popular beauty influencer responded with apparent annoyance to a viewer's comment about the high price of an eyebrow pencil. As a result, his fans began unfollowing him, netizens started scolding him, Chinese state criticized him, and the memes started flooding in.
Li Jiaqi's tearful apology did not fix anything.
We reported about the incident here shortly after it went trending, and you can see the translated video of the moment here:
China's famous make-up influencer #LiJiaqi is in hot water due to an e-commerce livestream he did on Sunday. When viewers complained about an eyebrow pencil being too expensive (79 RMB/$10.9), he got annoyed, insisting that the product was not expensive at all. Translated video: pic.twitter.com/JDKGMKovDX

— Manya Koetse (@manyapan) September 11, 2023
The incident may seem minor at first glance. Li was merely promoting Florasis brand (花西子) eyebrow pencils, and some viewers expressed their opinion that the pencils, priced at 79 yuan ($11), had become more expensive.
In response, Li displayed irritation, questioning, "Expensive how?" He went on to suggest that viewers should also reflect on their own efforts and whether they were working hard enough to get a salary increase.
But there is more to this incident than just an $11 pencil and an unsympathetic response.
#1 The King Who Forgot the People Who Crowned Him
The initial reaction of netizens to Li Jiaqi's remarks during the September 10th livestream was characterized by a strong sense of anger and disappointment.
Although celebrities often face scrutiny when displaying signs of arrogance after their rise to fame, the position of Li Jiaqi in the wanghong (internet celebrity) scene has been especially unique. He initially worked as a beauty consultant for L'Oreal within a shopping mall before embarking on his livestreaming career through Alibaba's Taobao platform.
In a time when consumers have access to thousands of makeup products across various price ranges, Li Jiaqi established himself as a trusted cosmetics expert. People relied on his expertise to recommend the right products at the right prices, and his practice of personally applying and showcasing various lipstick colors made him all the more popular. He soon garnered millions of online fans who started calling him the Lipstick King.
By 2018, he had already amassed a significant fortune of 10 million yuan ($1.53 million). Fast forward three years, and his wealth had ballooned to an astonishing 18.5 billion yuan ($2.5 billion).
Despite his growing wealth, Li continued to enjoy the support of his fans, who appreciated his honest assessments of products during live testing sessions. He was known for candidly informing viewers when a product wasn't worth buying, and the story of his humble beginnings as a shop assistant played a major role in why people trusted him and wanted him to succeed.
However, his recent change in tone, where he no longer seemed considerate of viewers who might find an $11 brow pencil to be expensive, suggests that he may have lost touch with his own customer base. Some individuals perceive this shift as a form of actual "betrayal" (背叛), as if a close friend has turned their back on them.
One cartoon shared on social media shows Li Jiaqi, with mouse ears, as he initially begs his online viewers for money. However, as he becomes more prosperous, the cartoon portrays him gradually growing arrogant and eventually scolding those who helped him rise to fame.
Many people accuse Li of being insincere, suggesting that he revealed his true colors during that short livestream moment. This is also one of the reasons why most commenters say they do not believe his tears during his apology video.
"He betrayed China's working class," one popular vlog suggested.
#2 Internet Celebrity Crossing the Lines
Another reason why the incident involving Li Jiaqi is causing such a storm is related to the media context in which Chinese (internet) celebrities operate and what is expected of them.
Whether you are an actor, singer, comedian, or a famous livestreamer/e-commerce influencer, Chinese celebrities and performers are seen as fulfilling an exemplary role in society, serving the people and the nation (Jeffrey & Xu 2023). This is why, as explained in the 2019 research report by Jonathan Sullivan and Séagh Kehoe, moral components play such a significant role in Chinese celebrity culture.
In today's age of social media, the role of celebrities in society has evolved to become even more significant as they have a vast reach and profound influence that extends to countless people and industries.
Their powerful influence makes celebrities important tools for authorities to convey messages that align with their goals – and definitely not contradict them. Through the media and cultural industries, the state can exert a certain level of control within the symbolic economy in which celebrities operate, as discussed by Sullivan and Kehoe in their 2019 work (p. 242).
This control over celebrities' actions became particularly evident in the case of Li Jiaqi in 2022, following the 'cake tank incident' (坦克蛋糕事件). This incident unfolded during one of his livestreams when Li Jiaqi and his co-host introduced a chocolate cake in the shape of a tank, with an assistant in the back mentioning something about the sound of shooting coming from a tank ("坦克突突"). This livestream took place on June 3rd, on the night before the 33rd anniversary of the crackdown on the Tiananmen protests.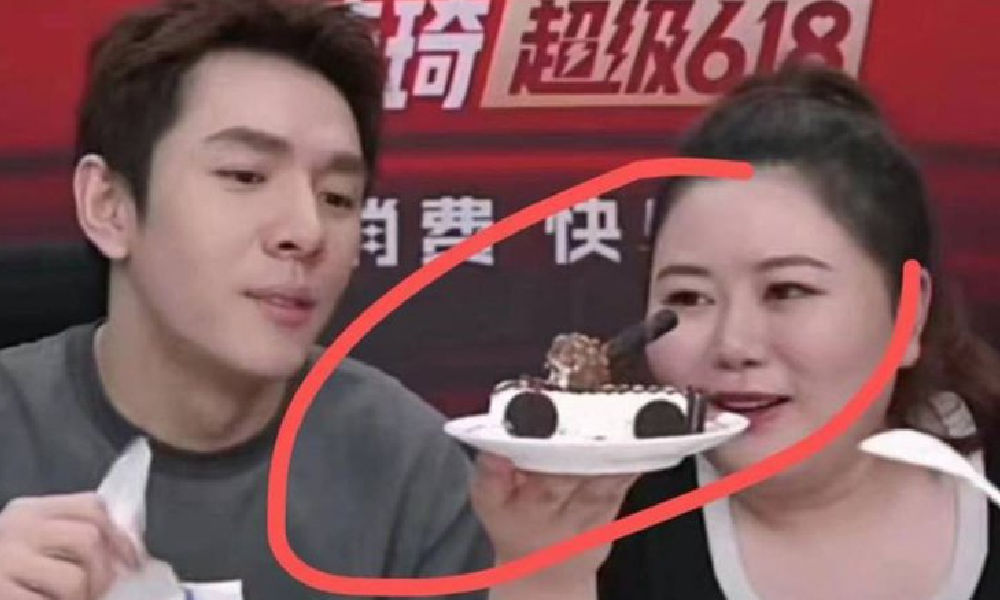 While Li Jiaqi did not directly touch upon a politically sensitive issue with his controversial livestream, his actions were perceived as a disregard for customer loyalty and displayed an arrogance inconsistent with socialist core values. This behavior garnered criticism in a recent post by the state media outlet CCTV.
Other state media outlets and official channels have joined in responding to the issue, amplifying the narrative of a conflict between the 'common people' and the 'arrogant influencer.'
#3 Striking a Wrong Chord in Challenging Times
Lastly, Li Jiaqi's controversial livestream moment also became especially big due to the specific words he said about people needing to reflect on their own work efforts if they cannot afford a $11 eyebrow pencil.
Various online discussions and some media, including CNN, are tying the backlash to young unemployment, tepid consumer spending, and the ongoing economic challenges faced by workers in China.
Since recent years, the term nèijuǎn ('involution', 内卷) has gained prominence when discussing the frustrations experienced by many young people in China. It serves as a concept to explain the social dynamics of China's growing middle class who often find themselves stuck in a "rat race"; a highly competitive education and work environment, where everyone is continually intensifying their efforts to outperform one another, leading to this catch 22 situation where everyone appears to be caught in an unending cycle of exertion without substantial progress (read more here).
Weibo commenters note that, given China's current employment situation and wage levels, hard work is not necessarily awarded with higher income. This context makes Li Jiaqi's comments seem even more unnecessary and disconnected from the realities faced by his customers. One Shanghai surgeon responded to Li's comments, saying that the fact that his salary has not increased over the last few year certainly is not because he is not working hard enough (#上海胸外科医生回应李佳琦言论#).
Some observers also recognize that Li, as an e-commerce professional, is, in a way, trapped in the same cycle of "inversion" where brands are continuously driving prices down to such low levels that consumers perceive it as the new normal. However, this pricing strategy may not be sustainable in the long run. (Ironically, some brands currently profiting from the controversy by promoting their own 79 yuan deals, suggesting their deal is much better than Li's. Among them is the domestic brand Bee & Flower 蜂花, which is offering special skin care products sets for 79 yuan in light of the controversy.)
Many discussions therefore also revolve around the question of whether 79 yuan or $11 can be considered expensive for an eyebrow pencil, and opinions are divided. Some argue that people pay much more for skincare products, while others point out that if you were to weigh the actual quantity of pencil color, its price would surpass that of gold.
The incident has sparked discussions about the significance of 79 yuan in today's times, under the hashtag "What is 79 yuan to normal people" (#79元对于普通人来说意味着什么#).
People have shared their perspectives, highlighting what this amount means in their daily lives. For some, it represents an entire day's worth of home-cooked meals for a family. It exceeds the daily wages of certain workers, like street cleaners. Others equate it to the cost of 15 office lunches.
Amid all these discussions, it also becomes clear that many people are trying to live a frugal live in a time when their wages are not increasing, and that Li's comments are just one reason to vent their frustrations about the situation they are in, In those regards, Li's remarks really come at a wrong time, especially coming from a billionaire.
Will Li be able to continue his career after this?
Some are suggesting that it is time for Li to take some rest, speculating that Li's behavior might stem from burn-out and mental issues. Others think that Li's hardcore fans will remain loyal to their e-commerce idol.
For now, Li Jiaqi must tread carefully. He has already lost 1.3 million followers on his Weibo account. What's even more challenging than regaining those one million followers is rebuilding the trust of his viewers.
Update: On September 19, the Florasis/Huaxizi brand finally apologized for its late response to the controversy, and the brand stated that the controversy provided an opportunity for them to listen to "the voice of their consumers." Their decision to release a statement seemed fruitful: they gained 20,000 new followers in a night.
By Manya Koetse
with contributions by Miranda Barnes
Jeffreys, Elaine, and Jian Xu. 2023. "Governing China's Celebrities." Australian Institute of International Affairs, 18 May https://www.internationalaffairs.org.au/australianoutlook/governing-chinas-celebrities/ [12 Sep 2023].
Sullivan, Jonathan, and Séagh Kehoe. 2019. "Truth, Good and Beauty: The Politics of Celebrity in China." The China Quarterly 237 (March): 241–256.
Spotted a mistake or want to add something? Please let us know in comments below or email us. First-time commenters, please be patient – we will have to manually approve your comment before it appears.
©2023 Whatsonweibo. All rights reserved. Do not reproduce our content without permission – you can contact us at info@whatsonweibo.com.
Eyebrow Pencil Gate: "Lipstick King" Li Jiaqi Loses 630,000 Fans In One Night
China's famous beauty livestreamer Li Jiaqi is in hot water after his annoyed response about an $11 eyebrow pencil.
Li Jiaqi is facing controversy for remarks he made during his recent e-commerce livestream. When viewers made comments about an eyebrow pencil being expensive, he lashed out and asked them if they worked hard enough. Due to his cold attitude and arrogant comments, the 'lipstick king' seems to have lost his crown.
Li Jiaqi is losing fans. That is according to a Weibo hashtag that went trending today (#李佳琦掉粉#), which highlights a significant drop of 630,000 Weibo followers in just 24 hours.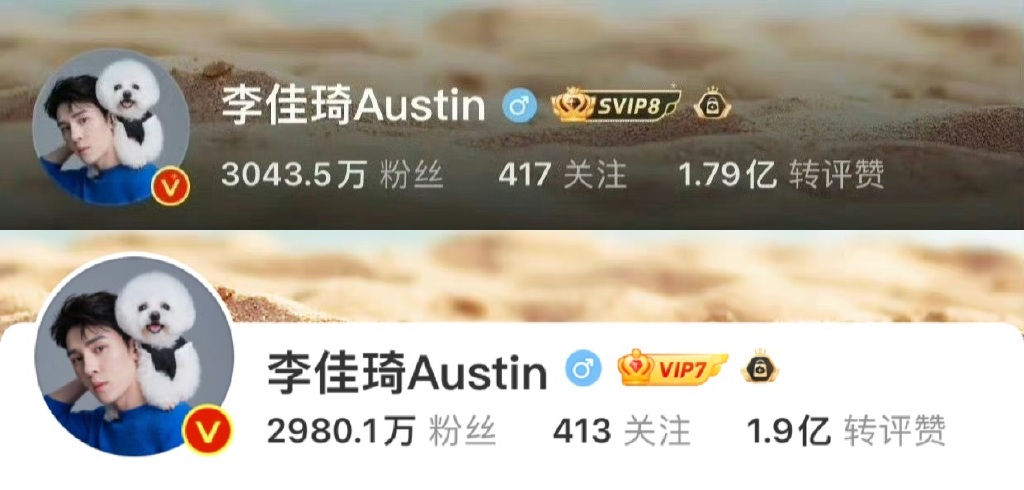 For those unfamiliar with Li Jiaqi (1992, English name Austin Li), he is one of China's most renowned make-up influencers, also known as the "Lipstick King." Previously a cosmetics salesman, Li has since risen to become one of China's most celebrated livestreamers, setting numerous records along the way.
In 2018, he broke the Guinness World Record for "the most lipstick applications in 30 seconds." He once sold 15000 lipsticks in 5 minutes, and also managed to apply 380 different lipsticks in another seven-hour live stream session. Li made international headlines in 2021 when he sold $1.9 billion in goods during a 12-hour-long promotion livestream for Alibaba's shopping festival.
But now Li is in hot water because of an e-commerce livestream he did on Sunday, September 10th. When some viewers complained that the eyebrow pencil by Huaxi Zi (花西子), Florasis, seems to be getting more expensive (79 RMB, $10.9), Li vehemently defended the cosmetic brand. Seemingly annoyed with his viewers, he insisted that the product was reasonably priced, highlighting the brand's use of high-quality ingredients and claiming it had not increased its prices for years.
In addition to this, Li began to lecture his audience, questioning whether they had made significant efforts to have received salary raises over the years (Literally: "Sometimes it's because of yourself, if you haven't seen a raise in so many years, did you work hard enough?" ["有的时候自己原因好吧。怎么多年了工资张没涨有没有认真工作"]). Even his assistant, next to him, seemed visibly uncomfortable when Li lashed out. We added some subtitled to this short fragment here.
China's famous make-up influencer #LiJiaqi is in hot water due to an e-commerce livestream he did on Sunday. When viewers complained about an eyebrow pencil being too expensive (79 RMB/$10.9), he got annoyed, insisting that the product was not expensive at all.raTnslated video: pic.twitter.com/JDKGMKovDX

— Manya Koetse (@manyapan) September 11, 2023
Later on, Li appeared to recognize his mistake and suggested that people weren't obligated to purchase the Florasis brand; instead, they could opt for a more affordable eyebrow pencil that he would be promoting later on.
This incident sparked major backlash from fans who voices their anger and disappointment, accusing Li of losing sight of his humble origins and owing everything to his viewers. Starting out by selling Maybelline makeup behind a shop counter, Li rose to prominence alongside the live e-commerce trend, amassing immense wealth thanks to his dedicated fans and viewers.
Why would he now alienate his viewers in such a way? Furthermore, many argued that the Florasis eyebrow pencil is undeniably expensive, with some even making comparisons to the cost of gold when measured by weight.
In the early morning of September 11, Li apologized on his Weibo account. He wrote that he felt disappointed in himself for responding the way he did. "As a livestream host I should send out positive energy, and learn to control my emotions," he wrote.
Later on, he issued an on-camera apology during a livestream. With tears in his eyes, he expressed heartfelt remorse for letting down so many people and acknowledged his mistakes. A related hashtag on Weibo soon got over 430 million clicks (#李佳琦哭着道歉#).
But many people do not appreciate his apologies. The top comment under his written apology post says: "You are making money out of ordinary people and now you turned around saying ordinary people are too poor," while the most popular comment under the livestream apology said: "If I would earn 5 million yuan a day ($685k), my tears would be much more sincere than yours."
There are more angles to this story. Besides alienating his audience, others also feel he is not being completely transparant. As Li Jiaqi hinted during the livestream, he seems to have a very close relationship with the Florasis brand. Some reports even suggest that the commission rate for his endorsement of the Florasis brand, which was established in Hangzhou six years ago, may have been as high as 80%.
It is not the first time Li gets caught up in controversy. Last year, Li disappeared from China's e-commerce channels for three months after one of his livestreams made references to shooting tanks. The 'cake tank incident' (坦克蛋糕事件) occurred on the night before June 4, the 33rd anniversary of the violent crackdown of the Tiananmen student demonstrations.
However, a notable distinction between that controversy and the current one lies in how his fans reacted. Despite the prior controversy, the majority of his supporters remained loyal to the beauty influencer, extending a warm welcome when he returned in September of 2022.
This time, many followers feel personally attacked by him. While Li Jiaqi defended the brow pencil price by suggesting that "domestic brands are struggling," some commenters ask: "If domestic brands are struggling, don't you think the people are also struggling?" ("国货难,国民难道就不难了吗?")
Earlier this year, a casual remark made by Chinese actress Zhang Yuqi during a livestream also ignited discussions surrounding the stark disparity between the perspectives of celebrities and the financial realities experienced by ordinary individuals. During that promotional livestream, Zhang suggested that 699 yuan ($100) for a cashmere blanket was so cheap, saying: "I don't even think I can buy a pair of socks with that amount."
In response to this incident, some commenters mentioned that they could cover their food expenses for an entire month with that money. Many netizens remarked that some Chinese celebrities seem to not only live in a world where everything costs more, but they also seem to reside in a place where "poverty" is defined differently.
By Monday night, Li Jiaqi still had 29,8 million followers on Weibo, although some wondered how many of them were active and authentic Weibo users. Will Li be able to win back the favor of his fans? The numbers will tell.
By Manya Koetse and Miranda Barnes
Get the story behind the hashtag. Subscribe to What's on Weibo here to receive our newsletter and get access to our latest articles:
Spotted a mistake or want to add something? Please let us know in comments below or email us. First-time commenters, please be patient – we will have to manually approve your comment before it appears.
©2023 Whatsonweibo. All rights reserved. Do not reproduce our content without permission – you can contact us at info@whatsonweibo.com.
Subscribe to our newsletter
Stay updated on what's trending in China & get the story behind the hashtag
Sign up
here
to become a premium member of What's on Weibo today and gain access to all of our latest and premium content, as well as receive our exclusive Weibo Watch newsletter. If you prefer to only receive our free newsletter with an overview of the latest articles, you can
subscribe for free
here.
Would you like to become a contributor, or do you have any tips or suggestions for us? Get in touch with us here.