Trump's TikTok Ban Goes Trending on Weibo (and on TikTok)
"Did Trump buy up the trending lists?", some Chinese web users wonder.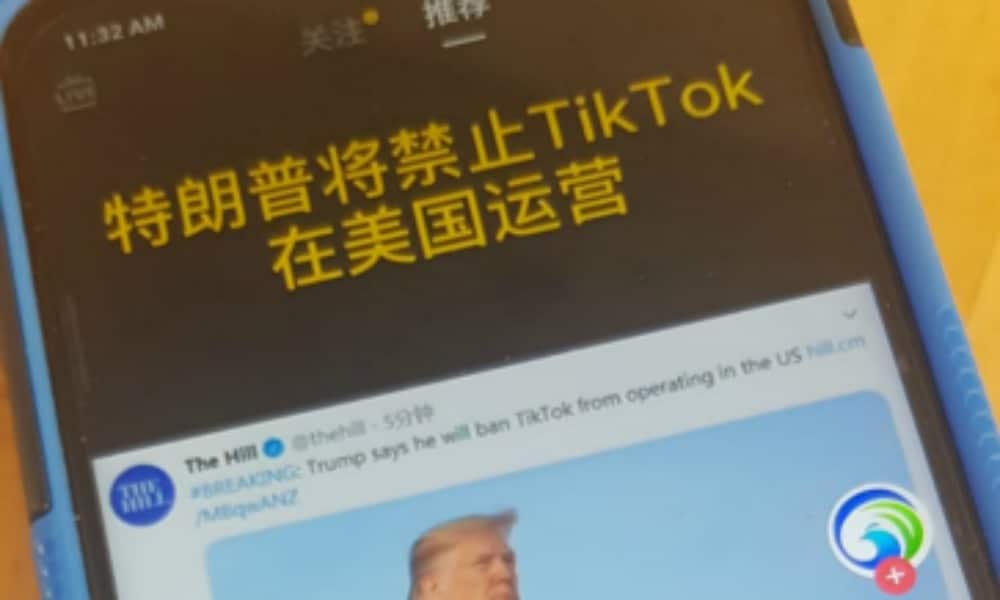 First published
Just days after TikTok released a statement saying it would open its algorithms, President Trump announced that the app would be "banned from the United States."
Trump reportedly said he would take action as soon as Saturday, August 1st, using emergency economic power or an executive order. The move comes at a time of China-US escalating tensions.
TikTok has recently fallen under scrutiny in the U.S. over security and data concerns, but also raised concerns in Australia, India, Japan, and Europe.
TikTok is the international version of Douyin (抖音), a short video media app owned by China's young tech giant Bytedance (字节跳动). The app allows users to create, edit, and share short videos as well as live streams, often featuring music in the background.
Earlier this week, TikTok CEO Kevin Mayer released a statement addressing recent security concerns regarding the popular short video app due to its Chinese origins.
"We are not political, we do not accept political advertising and have no agenda – our only objective is to remain a vibrant, dynamic platform for everyone to enjoy," Mayer wrote.
In the statement, titled "Fair competition and transparency benefits us all," Mayer announced the launch of a Transparency and Accountability Center for TikTok's moderation and data practices where, as he wrote, "experts can observe our moderation policies in real-time, as well as examine the actual code that drives our algorithms."
Since its launch in 2016, Douyin has grown to be one of China's most popular apps. In early 2020, the Chinese version of the app had amassed some 400 million daily active users.
The app also became an international success shortly after launching its overseas version, and especially after it acquired popular video app Musical.ly, merging the app with its own platform in 2018 under the TikTok brand name. In the first quarter of this year, Tik Tok became the most-downloaded app worldwide. In the US, the app has some 80 million users.
Various media previously reported that Microsoft was exploring to purchase the video-sharing app from its parent company.
Both news items, the alleged selling of TikTok and the newly announced ban, entered Weibo's top trending list on Saturday afternoon, Chinese local time, under the hashtags "Trump Will Order ByteDance to Sell TikTok's U.S. Business" (#特朗普将命令字节跳动出售TikTok美国业务#) and "Trump Will Ban TikTok' from Operating in America" (#特朗普将禁止TikTok在美国运营#).
The American ban on TikTok also went trending on Douyin, the Chinese TikTok, where state media accounts such as China Daily posted a video of Trump talking about the possible Tik Tok ban accompanied by ominous music.
"Did Trump buy up the trending lists?", one commenter wondered.
"Perhaps he doesn't know he became trending on China's TikTok himself now," one TikTok user wrote.
On Weibo, responses to the American TikTok news developments are mixed, but a majority of web users express amazement that a possible ban on the Chinese app could occur in the world's premier free-market economy.
"Haha, a free market economy?!", many Weibo users wrote: "It's time to revise Western economic textbooks."
"Political interference in markets, it's what Trump does best," others wrote.
Many web users comment that by banning TikTok, Trump would do what China did years ago. American social media platforms such as Facebook and Twitter have been blocked in China since 2009.
Some users suggest that it would be better for TikTok to be banned in the U.S. than being sold ("If it's banned, the ban could always be lifted again"), while others think selling is the better option ("Bytedance could at least still earn money by selling").
Weibo blogger Lin Huijie (蔺会杰) – founder of the Aigupiao app – also posted about the recent developments, writing:
"Today, Trump has officially launched an attack on TikTok, which will either be banned or be forced to sell to Microsoft. We can't actually say anything about this; after all, we already blocked several American software a decade ago. But as part of their "contain China" strategy, America banning Tik Tok is similar to how it encircles and suppresses Huawei. As a 5G leader, Huawei has broken through the U.S.-controlled technological highlands, while Tik-Tok has broken through the American monopoly on global social networks."
Lin further writes that in the mobile internet era, social media platforms are powerful tools to shape public opinion and are a way for the US to "rule the world." With China gaining more influence in the English-language social media world, American soft power would be reduced. Lin suggests that the banning of TikTok is merely a strategic move to limit China's power.
Some commenters compare the banning of TikTok to what recently happened to the closure of the Chinese consulate in America and the American consulate in China; if the American Facebook and Twitter are blocked in China, then the Chinese TikTok gets blocked in the US.
"[But] it's not that China doesn't allow these platforms to be used," one person responds: "It's that they require these services to be based in China and to accept government supervision."
Despite the major interest in the recent developments concerning TikTok in America on Weibo, there are also those who hope for less eventful days: "Would it be possible for Trump to not go trending every single day?"

This story is still developing.
Read more about articles about Sino-US relations here.
By Manya Koetse
Follow @WhatsOnWeibo
Spotted a mistake or want to add something? Please let us know in comments below or email us. First-time commenters, please be patient – we will have to manually approve your comment before it appears.
©2020 Whatsonweibo. All rights reserved. Do not reproduce our content without permission – you can contact us at info@whatsonweibo.com.
Meet Ren Xiaorong, People's Daily AI Virtual News Anchor
Although their functions are still limited, AI news anchors such as Ren Xiaorong are a sign of the future.
Ren Xiaorong (任小融) joined the Chinese state media outlet People's Daily as a virtual presenter/news anchor this week.
Ren Xiaorong is the AI-powered host of an app allowing users to ask questions related to the Two Sessions, the annual plenary sessions of the National People's Congress and of the Chinese People's Political Consultative Conference that have been taking place this week.
Through the People's Daily app, you can ask Ren Xiaorong to tell you more about various topics covered during the Two Sessions, including education, epidemic prevention, housing, employment, environmental protection, and many other issues.
According to the introduction video launched by People's Daily, Ren is also available to discuss other news topics people would like to know more about.
Ren Xiaorong is interactive to a certain (very limited) extent; users can select the topics they want to learn more about, but the app does not yet allow to ask specific questions.
A related hashtag went viral on Weibo on Sunday (#人民日报AI虚拟主播#), triggering discussions on the use of virtual news presenters.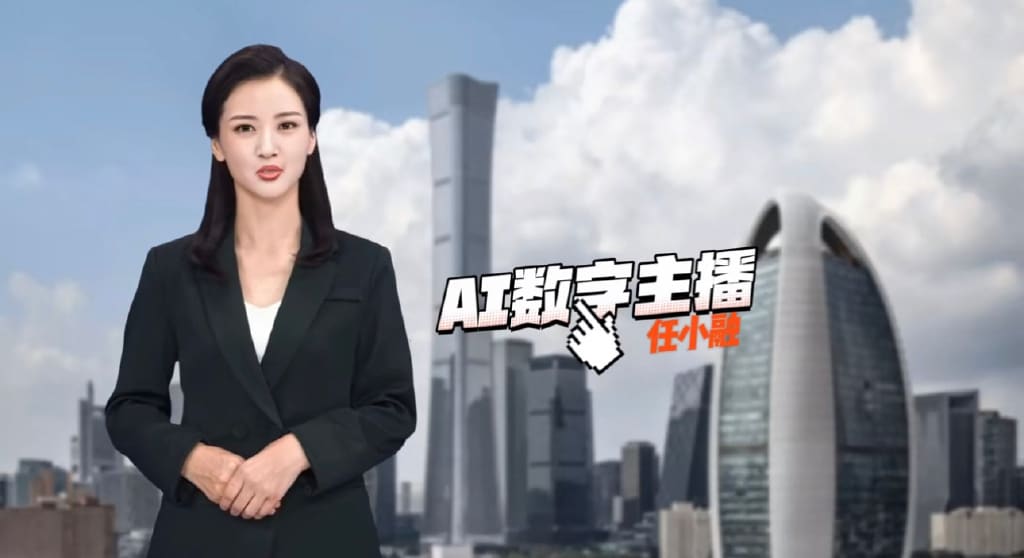 Ren Xiaorong is not the first People's Daily virtual news anchor. In 2019, the very first AI-powered presenter was unveiled at the 2019 Big Data Expo (#人民日报首位AI虚拟主播#). Guo Guo (果果), aka Little Guo Guo (小果果), was based on the real-life Chinese reporter Guo Xinyu (果欣禹).
China's state media outlets Xinhua, Beijing TV, Hunan TV, and CCTV previously also unveiled their own AI-powered virtual news anchors at a time when China's virtual idol market started to explode.
During the 2022 Winter Olympics in Beijing, there was also a virtual host and China's first AI sign language presenter.
Although news media outlets have started experimenting with virtual presenters for some time now, some netizens are still not convinced about the actual purpose of having virtual TV hosts and news anchors, especially when their AI-driven interactive functions are still limited.
Weibo blogging account 'Media People Online' (@传媒人在线) writes: "I've never really understood this, is there a shortage of broadcasting talent, or are AI anchors better at it? Why would you use a robot to broadcast the news? Are you spending so much money on an AI presenter just to show technological progress?"
But other bloggers (@夏日之阳新闻传播考研) think that virtual anchors could improve the quality and availability of news, since they could broadcast around the clock while saving on manpower, alleviating the pressure on newsrooms.
Whether people approve of virtual news readers or not, most agree Ren Xiaorong, along with her virtual colleagues, is a harbinger of the digitalization of the media at a time when artificial intelligence has already come to play a pivotal role in everyday activities.
Want to see Ren Xiaorong at work? Click this link on mobile.
By Manya Koetse 
Get the story behind the hashtag. Subscribe to What's on Weibo here to receive our newsletter and get access to our latest articles:
Spotted a mistake or want to add something? Please let us know in comments below or email us. First-time commenters, please be patient – we will have to manually approve your comment before it appears.
©2023 Whatsonweibo. All rights reserved. Do not reproduce our content without permission – you can contact us at info@whatsonweibo.com.
U.S. Embassy Launches WeChat Stickers Featuring Cartoon Eagle
A Weibo hashtag about the eagle stickers, that feature some phrases previously used by China's Foreign Ministry, has now been taken offline.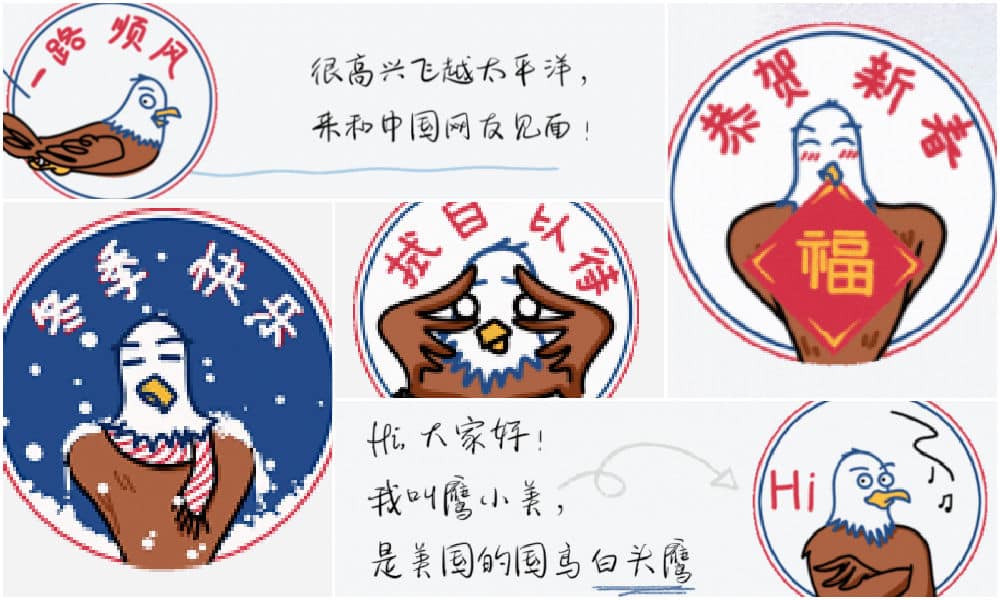 On January 30, the American Embassy in China announced the launch of its very own series of social media gifs, a special 'emoticon collection' (表情包), featuring a little, somewhat silly cartoon eagle.
The U.S. Embassy launched the eagle series on WeChat and also announced the series on their Weibo account, writing that the eagle made its first public appearance in light of the festivities surrounding the Chinese New Year.
The eagle is called "Xiaomei" or "Little Mei" (鹰小美). The 'mei' is part of 美国 Měiguó, Chinese for the 'United States,' but měi also means beautiful and pretty.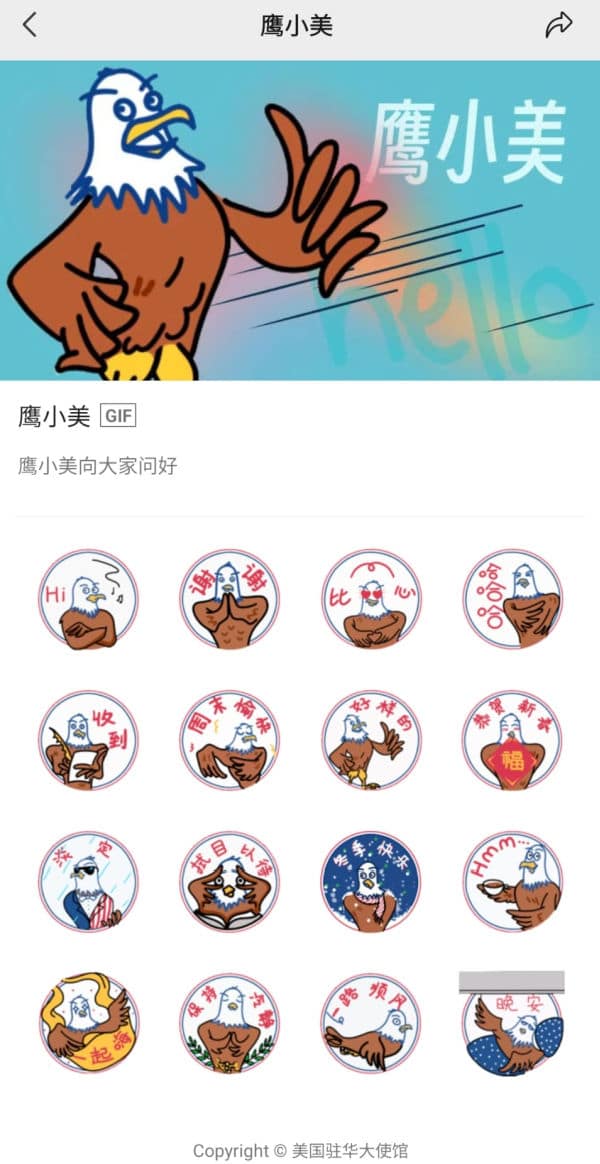 The American embassy issued a total of 16 different animated stickers, and they're intended to be used on Tencent's WeChat, where users can download all kinds of different emoticons or stickers to use in conversations.
WeChat users often use many different animated stickers in conversations to express emotions, make jokes, or increase the festive mood (by sending out celebratory New Year's or birthday etc gifs). Users can download new and preferred sticker packages through the app's sticker section.
One sticker shows Xiaomei with a festive decoration with 福 (fú) for blessing and prosperity, wishing everyone a happy start to the Chinese Lunar New Year. There are also stickers showing the texts "happy winter," "hi," and "thank you."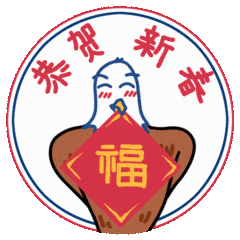 Another sticker in the series that has triggered some online responses is one that shows the eagle with a surprised look, wiping its eyes, with the words "wait and see" written above. The Chinese expression used is 拭目以待 shìmù yǐdài, to eagerly wait for something to happen, literally meaning to wipe one's eyes and wait.
This same expression was often used by the Chinese Foreign Ministry spokesperson Zhao Lijian (赵立坚) during press conferences, and he also used it in 2022 when responding to questions related to Nancy Pelosi's controversial visit to Taiwan and how the Chinese military would respond (e.g. he first used "wait and see" in the context of waiting to see if Pelosi would actually dare to go to Taiwan or not). But Zhao also used "please wait and see" (请大家拭目以待) when foreign reporters asked him how China would respond to the announced U.S. boycott of the Winter Olympics in 2021.
The Little Mei emoji triggered the most responses as some netizens felt it was meant as a sneer to the Chinese Foreign Ministry.
One of Little Mei's quotes is also "remain calm" (保持冷静 bǎochí lěngjìng), which was – perhaps coincidentally – also often used by Zhao in the context of the war in Ukraine and to refer to other international conflicts or tensions ("all parties should remain calm"). The animated sticker also has olive branches growing behind the eagle.
It recently became known that Zhao, who became known as the 'Wolf Warrior' diplomat, was removed as the Foreign Ministry spokesperson and was moved to the Department of Boundary and Ocean Affairs.
Especially in the context of Zhao leaving his post, some wondered why the U.S. Embassy would use phrases related to his press conferences for their new emoticons.
Although some people suggested the WeChat stickers were not launched in China with good intentions, others appreciated the humorous visuals and felt it was funny. Some also joked that America was infiltrating Chinese social media with its cultural export ("文化输出"), and others wondered if they could not also introduce some other stickers with more Chinese Foreign Ministry popular phrases on them.
A hashtag related to the topic made its rounds on Weibo on Tuesday (#美驻华大使馆上线鹰小美表情包#), but the topic suddenly was taken offline on Tuesday evening local time, along with some of the media reports about the remarkable WeChat series.
The WeChat stickers are still available for downloading by scanning the QR code below through WeChat.
By Manya Koetse , with contributions by Miranda Barnes
Get the story behind the hashtag. Subscribe to What's on Weibo here to receive our newsletter and get access to our latest articles:
Spotted a mistake or want to add something? Please let us know in comments below or email us. First-time commenters, please be patient – we will have to manually approve your comment before it appears.
©2023 Whatsonweibo. All rights reserved. Do not reproduce our content without permission – you can contact us at info@whatsonweibo.com.