Trump's TikTok Ban Goes Trending on Weibo (and on TikTok)
"Did Trump buy up the trending lists?", some Chinese web users wonder.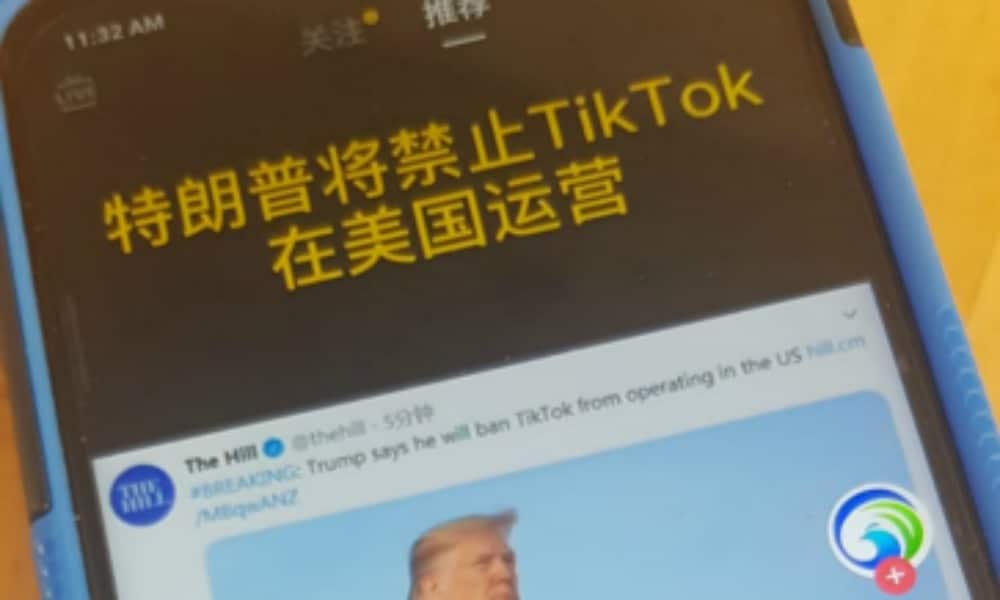 First published
Just days after TikTok released a statement saying it would open its algorithms, President Trump announced that the app would be "banned from the United States."
Trump reportedly said he would take action as soon as Saturday, August 1st, using emergency economic power or an executive order. The move comes at a time of China-US escalating tensions.
TikTok has recently fallen under scrutiny in the U.S. over security and data concerns, but also raised concerns in Australia, India, Japan, and Europe.
TikTok is the international version of Douyin (抖音), a short video media app owned by China's young tech giant Bytedance (字节跳动). The app allows users to create, edit, and share short videos as well as live streams, often featuring music in the background.
Earlier this week, TikTok CEO Kevin Mayer released a statement addressing recent security concerns regarding the popular short video app due to its Chinese origins.
"We are not political, we do not accept political advertising and have no agenda – our only objective is to remain a vibrant, dynamic platform for everyone to enjoy," Mayer wrote.
In the statement, titled "Fair competition and transparency benefits us all," Mayer announced the launch of a Transparency and Accountability Center for TikTok's moderation and data practices where, as he wrote, "experts can observe our moderation policies in real-time, as well as examine the actual code that drives our algorithms."
Since its launch in 2016, Douyin has grown to be one of China's most popular apps. In early 2020, the Chinese version of the app had amassed some 400 million daily active users.
The app also became an international success shortly after launching its overseas version, and especially after it acquired popular video app Musical.ly, merging the app with its own platform in 2018 under the TikTok brand name. In the first quarter of this year, Tik Tok became the most-downloaded app worldwide. In the US, the app has some 80 million users.
Various media previously reported that Microsoft was exploring to purchase the video-sharing app from its parent company.
Both news items, the alleged selling of TikTok and the newly announced ban, entered Weibo's top trending list on Saturday afternoon, Chinese local time, under the hashtags "Trump Will Order ByteDance to Sell TikTok's U.S. Business" (#特朗普将命令字节跳动出售TikTok美国业务#) and "Trump Will Ban TikTok' from Operating in America" (#特朗普将禁止TikTok在美国运营#).
The American ban on TikTok also went trending on Douyin, the Chinese TikTok, where state media accounts such as China Daily posted a video of Trump talking about the possible Tik Tok ban accompanied by ominous music.
"Did Trump buy up the trending lists?", one commenter wondered.
"Perhaps he doesn't know he became trending on China's TikTok himself now," one TikTok user wrote.
On Weibo, responses to the American TikTok news developments are mixed, but a majority of web users express amazement that a possible ban on the Chinese app could occur in the world's premier free-market economy.
"Haha, a free market economy?!", many Weibo users wrote: "It's time to revise Western economic textbooks."
"Political interference in markets, it's what Trump does best," others wrote.
Many web users comment that by banning TikTok, Trump would do what China did years ago. American social media platforms such as Facebook and Twitter have been blocked in China since 2009.
Some users suggest that it would be better for TikTok to be banned in the U.S. than being sold ("If it's banned, the ban could always be lifted again"), while others think selling is the better option ("Bytedance could at least still earn money by selling").
Weibo blogger Lin Huijie (蔺会杰) – founder of the Aigupiao app – also posted about the recent developments, writing:
"Today, Trump has officially launched an attack on TikTok, which will either be banned or be forced to sell to Microsoft. We can't actually say anything about this; after all, we already blocked several American software a decade ago. But as part of their "contain China" strategy, America banning Tik Tok is similar to how it encircles and suppresses Huawei. As a 5G leader, Huawei has broken through the U.S.-controlled technological highlands, while Tik-Tok has broken through the American monopoly on global social networks."
Lin further writes that in the mobile internet era, social media platforms are powerful tools to shape public opinion and are a way for the US to "rule the world." With China gaining more influence in the English-language social media world, American soft power would be reduced. Lin suggests that the banning of TikTok is merely a strategic move to limit China's power.
Some commenters compare the banning of TikTok to what recently happened to the closure of the Chinese consulate in America and the American consulate in China; if the American Facebook and Twitter are blocked in China, then the Chinese TikTok gets blocked in the US.
"[But] it's not that China doesn't allow these platforms to be used," one person responds: "It's that they require these services to be based in China and to accept government supervision."
Despite the major interest in the recent developments concerning TikTok in America on Weibo, there are also those who hope for less eventful days: "Would it be possible for Trump to not go trending every single day?"

This story is still developing.
Read more about articles about Sino-US relations here.
By Manya Koetse
Follow @WhatsOnWeibo
Spotted a mistake or want to add something? Please let us know in comments below or email us. First-time commenters, please be patient – we will have to manually approve your comment before it appears.
©2020 Whatsonweibo. All rights reserved. Do not reproduce our content without permission – you can contact us at info@whatsonweibo.com.
Will Weibo Become 30% State-Media Owned?
Alibaba is allegedly ready to give up its Weibo shares to SMG.
Bloomberg recently reported that Chinese e-commerce giant Alibaba is preparing to sell its 30% stake in social media platform Weibo. According to people familiar with the matter, Alibaba is negotiating with the state-owned Shanghai Media Group (SMG).
News about Alibaba planning to sell all of its Weibo shares has triggered some online discussions on the Chinese social media platform. Bloomberg was the first to report that the Chinese e-commerce and IT enterprise is talking to the state-owned Shanghai Media Group (SMG) to sell all of its 30% stake in Weibo.
According to Bloomberg, the move relates to regulators wanting to curb the influence of Chinese tech giants in the media sphere. The Bloomberg article claims that SMG, as one of China's largest state-owned media and cultural conglomerates, stands a higher chance of gaining the approval of Chinese authorities than a private acquirer.
SMG is a large state-owned enterprise with over a dozen TV and radio stations, many newspapers and magazines, various drama & film production and distribution businesses, and more. The company has a major media influence, not only in Shanghai but throughout the country.
According to Weibo's 2020 annual reports, New Wave held a 45% stake in Weibo, followed by Alibaba with its 30%. New Wave is the holding company by Weibo chairman Charles Chao.
"Weibo will change into another channel for SMG," some Weibo users predict, with others also sharing their fear that Weibo would become more and more like a platform for official media ("微博现在越来越官方化").
"This would be a big milestone in the crumbling of Alibaba's media empire," another commenter wrote. Some wonder if the developments have more to do with Weibo as a platform, or with Alibaba and its media influence.
In March of 2021, the Wall Street Journal already reported that the Chinese government asked the Alibaba Group to dispose of its media assets due to concerns over the company's influence in the sensitive media sphere.
"When Alibaba exits and state-owned capital enters, Weibo is expected to magnificently transform into a 'state-owned enterprise'," another Weibo user wrote.
Although some commenters worry that Weibo will change for the worse and that there will be more censorship, others see a sunnier future for the social media platform: "It would be good for Weibo to be 'state-owned' so that it won't be controlled by capital to influence public opinion anymore."
Chinese tech site 36kr also reported about the issue on January 1st, but neither Weibo nor Alibaba or SGM have officially responded yet.
By Manya Koetse
With contributions by Miranda Barnes.
Spotted a mistake or want to add something? Please let us know in comments below or email us. First-time commenters, please be patient – we will have to manually approve your comment before it appears.
©2021 Whatsonweibo. All rights reserved. Do not reproduce our content without permission – you can contact us at info@whatsonweibo.com.
China's Livestreaming Queen Viya Goes Viral for Fraud and Fines, Ordered to Pay $210 Million
Viya, the Queen of Taobao, is under fire for tax evasion.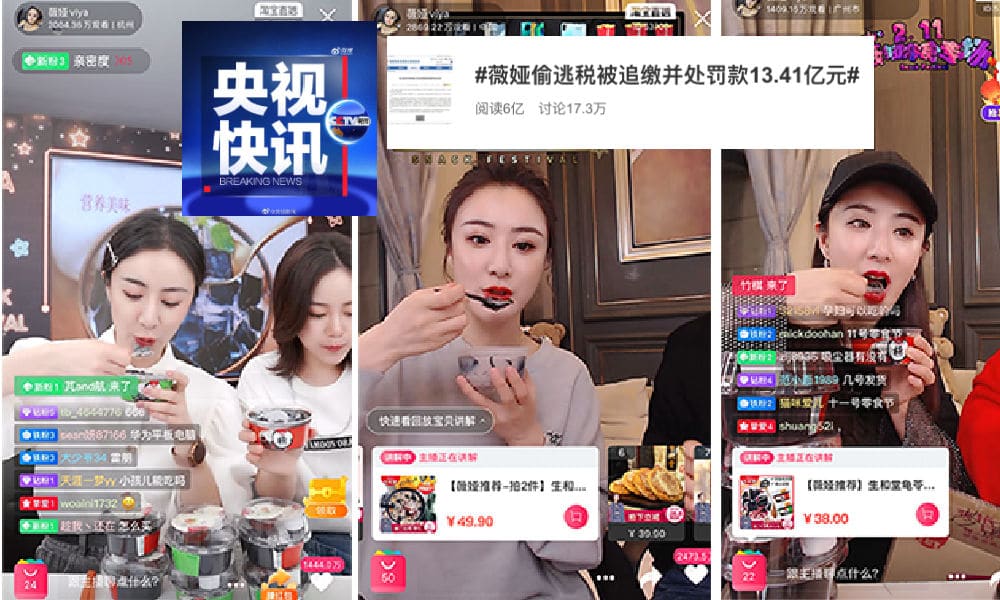 Viya, one of China's most well-known and successful live streamers, is trending today for allegedly committing tax fraud by deliberately providing false information and concealing personal income.
The 'Taobao queen' Viya (薇娅, real name Huang Wei 黄薇) reportedly committed tax fraud from 2019 to 2020, during which she evaded some 643 million yuan ($100 million) in taxes and also failed to pay an additional 60 million yuan ($9.4 million) in taxes.
The Hangzhou Tax Administration Office reportedly ordered Viya to pay an amount of over 1.3 billion yuan ($210 million) in taxes, late payment fees, and other fines. On Monday, a hashtag related to the issue had garnered over 600 million views on Weibo (#薇娅偷逃税被追缴并处罚款13.41亿元#).
Viya made headlines in English-language media earlier this year when she participated in a promotional event for Single's Day on October 20th and managed to sell 20 billion yuan ($3.1 billion) in merchandise in just one live streaming session together with e-commerce superstar Lipstick King.
China has a booming livestreaming e-commerce market, and Viya is one of the top influencers to have joined the thriving online sales industry years ago. When the e-commerce platform Taobao started their Taobao Live initiative (mixing online sales with livestreams), Viya became one of their top sellers as millions of viewers starting joining her channel every single day (she livestreams daily at 7.30 pm).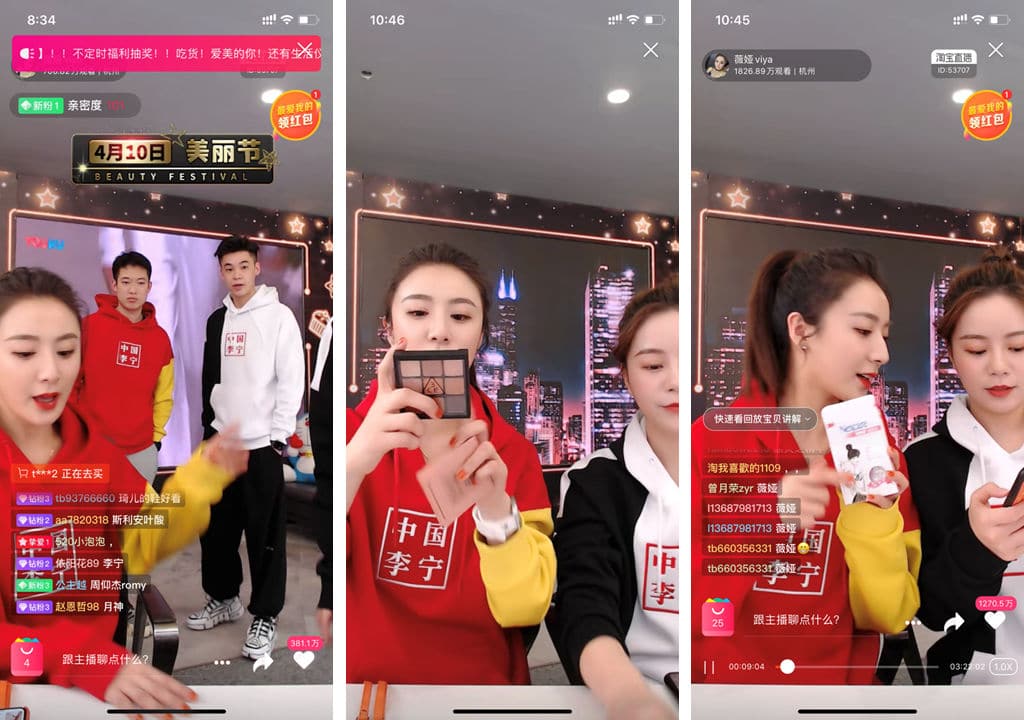 With news about Viya's tax fraud practices and enormous fines going viral on Chinese social media, many are attacking the top influencer, as her tax fraud case seems to be even bigger than that of Chinese actress Fan Bingbing (范冰冰).
Chinese actress Fan Bingbing went "missing" for months back in 2018 when she was at the center of a tax evasion scandal. The actress was ordered to pay taxes and fines worth hundreds of millions of yuan over tax evasion. The famous actress eventually paid approximately $128,5 million in taxes and fines, less than Viya was ordered to pay this month.
Like Fan Bingbing, Viya will also not be held criminally liable if the total amount is paid in time. This was the first time for the e-commerce star to be "administratively punished" for tax evasion.
Around 5pm on Monday, Viya posted a public apology on her Weibo account, saying she takes on full responsibility for the errors she made: "I was wrong, and I will bear all the consequences for my mistakes. I'm so sorry!"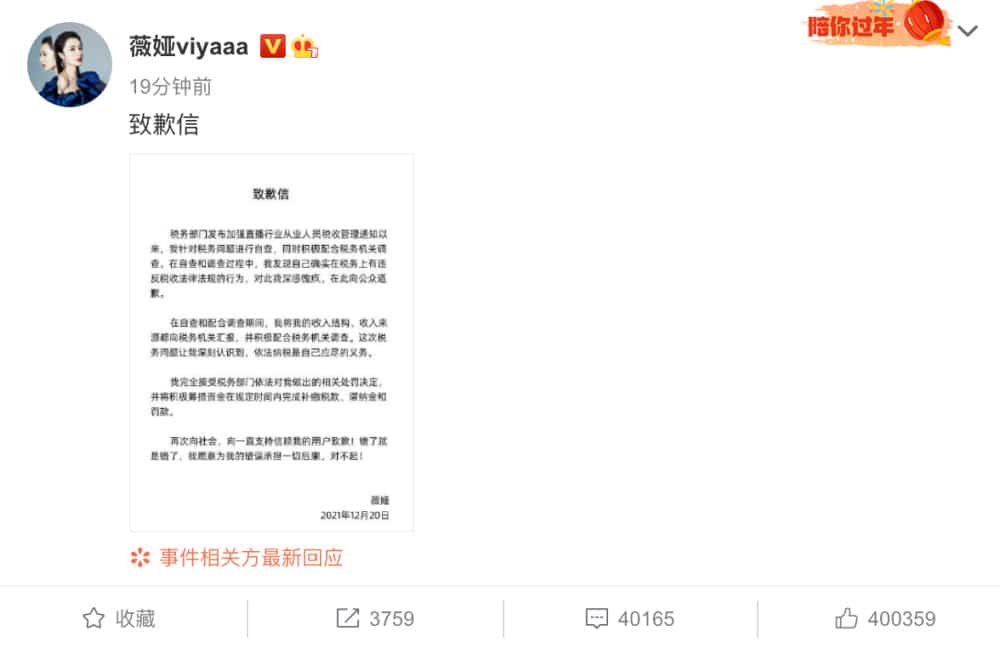 It is not clear if she will still do her daily live stream later today and how this news will impact Viya's future career.
Update: Vaya's live stream was canceled.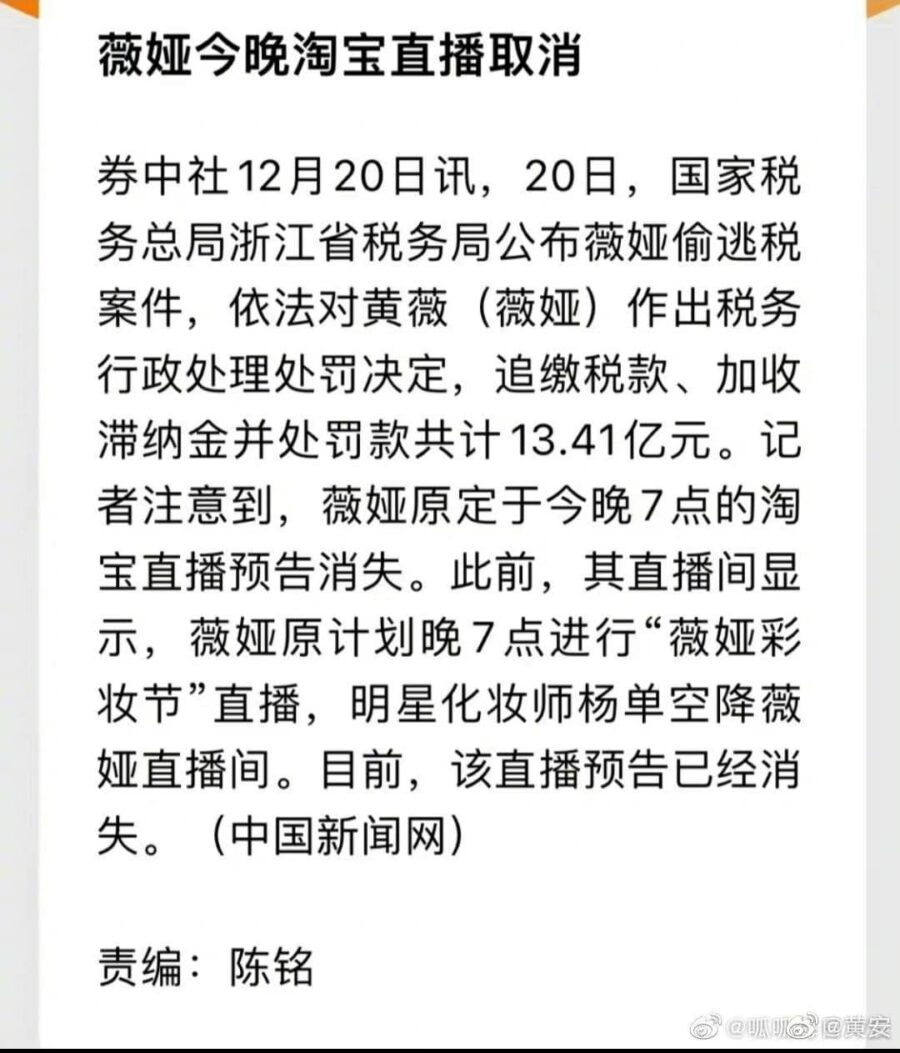 Update 2: Vaya's husband also issued an apology on Weibo.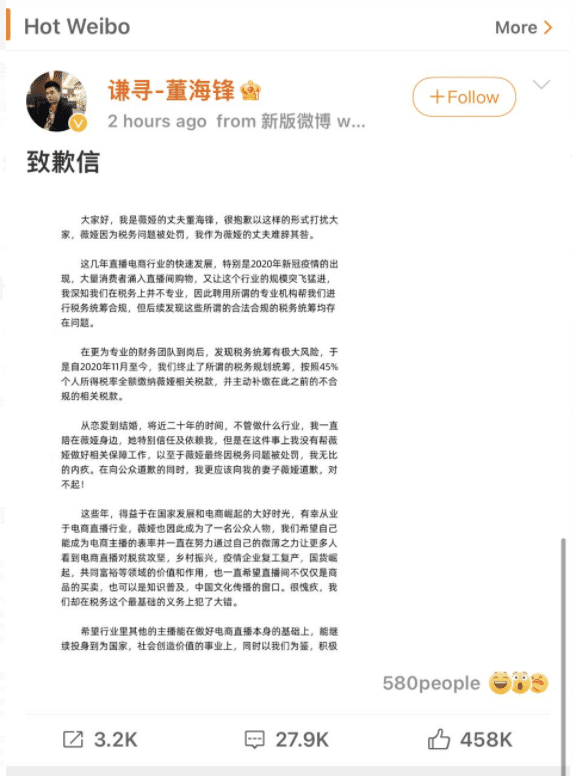 Update 3: Taobao has suspended or 'frozen' ("冻结") Vaya's livestreaming channel. Her Taobao store is still online.
By Manya Koetse
With contributions by Miranda Barnes.
Spotted a mistake or want to add something? Please let us know in comments below or email us. First-time commenters, please be patient – we will have to manually approve your comment before it appears.
©2021 Whatsonweibo. All rights reserved. Do not reproduce our content without permission – you can contact us at info@whatsonweibo.com.