"What's Next?" – Trump's Executive Orders to Ban TikTok and WeChat from Operating in the US
The announced US sanctions on WeChat cause concern on Weibo, where the question "Apple or Wechat?" is trending.
At a time of escalating tensions between the US and China, President Trump has signed executive orders to ban Chinese apps TikTok and WeChat from operating in the US in 45 days, if they are not sold by their parent companies Bytedance and Tencent.
The latest Wechat and TikTok sanctions are trending on Twitter, and also on Chinese social media.
On Weibo, the hashtag "Trump Declares that Bytedance and WeChat Will Be Banned from Operating after 45 Days" (#特朗普宣布45天后禁止与字节跳动及微信交易#) attracted a total of 250 million views on Weibo by Friday afternoon, Beijing time.
"WeChat" also became the number one search term on Weibo's hot search lists.
The executive orders issued on August 6 address the "threat posed by WeChat" and the "threat posed by TikTok," and "the national emergency with respect to the information and communications technology and service supply chain." The orders prohibit American companies and individuals from conducting transactions with TikTok and WeChat.
The order on TikTok, which is practically the same as that on WeChat, states that "the spread in the United States of mobile applications developed and owned by companies in the People's Republic of China (China) continues to threaten the national security, foreign policy, and economy of the United States."
It states that "the United States must take aggressive action against the owners of TikTok to protect our national security" and that..
– ..TikTok has been downloaded over 175 million times in the US.
– ..TikTok collects large amounts of data from its users, including location data and browsing history.
– ..TikTok use in the USA potentially gives the Chinese Communist Party access to Americans' personal and proprietary information.
– ..Tiktok use heightens the risk of potential espionage and blackmailing practices.
– ..TikTok engages in disinformation campaigns and censors content deemed politically sensitive to the Chinese Communist Party.
The order prohibits any transaction by any person subject to the US jurisdiction with Bytedance. The WeChat order, similarly, also prohibits, from September 20 on, "any transaction that is related to WeChat by any person, or with respect to any property, subject to the jurisdiction of the United States, with Tencent Holdings Ltd. (a.k.a. Téngxùn Kònggǔ Yǒuxiàn Gōngsī), Shenzhen, China, or any subsidiary of that entity."
Tencent stocks plummeted on Friday following the release of the executive orders.
On Weibo, there are mixed reactions to the executive orders, with many questioning what a ban on Tencent and Bytedance operations in the US would actually mean. The position of Apple in China frequently pops up in online discussions, with some claiming the order also means that Apple will ban WeChat from iOS, and suggesting that Apple should then also be boycotted in mainland China.
One online poll asked netizens: "What would you choose if iPhones were to ban WeChat, Apple or WeChat?" A great majority indicated they would choose Tencent's WeChat over Apple products.
The question "Apple or WeChat" received so much attention that it soon also went trending.

"For me personally, WeChat is indispensable. There's nothing that could replace it," one commenter wrote.
More than a messaging app, WeChat is China's superapp that functions as a messaging tool, a social media platform, a payment platform, an e-commerce app, a news source, and more. The app is also the main communication tool for many overseas Chinese to stay in touch with their families in the PRC.
"What are we gonna do now, write letters to each other?" one comment in a popular thread said.
China's Ministry of Foreign Affairs responded to the recent developments, saying that America will ultimately "suffer the consequences of its own actions" ("最终将自食其果").
There are also people on WeChat and Weibo commenting on the fact that China has already banned so many American products, from Google to Facebook and Twitter, that "there is nothing left to ban."
"We have few countermeasures left to take," multiple web users write about the recent developments, also noting that the US targeting TikTok and WeChat is not much different from China blocking American sites and apps.
"World War III takes place in cyberspace," according to one Weibo commenter.
Some Weibo users are just concerned about their new iPhone: "I just wanna know how this will affect the use of WeChat on my iPhone," one person writes. "I just bought a new Apple phone, and suddenly it doesn't seem so appealing to me anymore."
"I'll just wait 45 days to see what happens next," another Weibo user says.
By Manya Koetse
Follow @WhatsOnWeibo
Spotted a mistake or want to add something? Please let us know in comments below or email us. First-time commenters, please be patient – we will have to manually approve your comment before it appears.
©2020 Whatsonweibo. All rights reserved. Do not reproduce our content without permission – you can contact us at info@whatsonweibo.com.
Wilders' Win on Weibo: Hu Xijin and Others Discuss the "Dutch Trump"
Chinese netizens on Weibo have placed Wilders' victory in a broader geopolitical context.
The Dutch general elections on Tuesday, November 2022, resulted in a victory for the right-wing Freedom Party (PVV). The party, established in 2006, is led by the 60-year-old Dutch politician Geert Wilders who is known for his outspoken populist rhetoric and anti-establishment sentiments.
On Chinese social media, the Dutch election outcome became a topic discussed by some well-known bloggers.
The PVV secured 37 of the 150 seats in the Second Chamber, making it the largest party by a significant margin, followed by the left-wing Groen Links-PvdA (25 seats), center-right liberal VVD (24), and the brand-new centrist party NSC (20). The remaining seats were distributed among eleven other parties, each claiming between 9 and 1 seat in the Second Chamber.
Wilders' triumph garnered international attention. As reported in 2017, the PVV's popularity had been steadily increasing for years, drawing particular notice in Chinese media and other international publications in the wake of Trump's victory and Brexit.
Dutch politician Wilders, referred to as Wéi'ěrdésī (维尔德斯 or 威尔德斯) in Chinese, became a recurring subject in Chinese media, with his success viewed as a harbinger for other elections across Continental Europe.
Wilders and his PVV are known for their strong anti-Islam stance, Euroskepticism, aspirations to significantly limit immigration, and populist commitment to "put the Dutch first."
On Weibo, the well-known Chinese political commentator Hu Xijin (@胡锡进) wrote a column about Wilders' win on November 23. Here's a translation of Hu's post:
"It shocked Europe, it shocked the West! The Freedom Party led by Wilders, the 'Dutch version of Trump,' received the most votes on Wednesday. His slogans and labels are anti-immigrant, anti-Europe, anti-Islam. The leader of the French extreme right-wing political party Le Pen immediately extended his congratulations through social media."
"The results of the Dutch elections again show that xenophobic and intolerant political retrogressions are like cancer cells spreading across Europe and the West. However, the far-right line will not become the overwhelming new political choice in the West, as many Western societies are painfully going from side to side. Wilders also proposes that the Netherlands should stop providing weapons to the Ukraine, which goes against the mainstream European line. This is something that should be quite popular among Chinese."
"It's not clear yet if Wilders will actually become the premier of the Netherlands. Although his party received the most votes he only took about 37 seats of the 150 seats in the Dutch House of Representatives and will need to form a coalition government. Because it's an extreme rightwing party, whether or not he will be able to pull allies in is hard to say. If Wilders fails, the Netherlands will not rule out a minority government."
"Regardless, the victory of the Freedom Party is a heavy blow to Europe. There are concerns that it will become a model, that it will boost the rise of other extreme right-wing parties on the stage. In short, the West is becoming more and more chaotic and is becoming more lost."
On Weibo, Hu Xijin's post about Wilders received hundreds of replies, but many netizens did not agree with his stance on the victory of the Dutch right-wing party.
"You don't represent the Chinese people," one commenter wrote: "You just represent yourself. Don't overstep your boundaries."
"You're actually so leftist underneath," another reply said.
"Why did we witness a UK 'Trump,' a Brazilian 'Trump,' an Argentinian 'Trump,' a Dutch 'Trump'?"
Among the numerous comments below Hu's post, quite a few expressed sympathy for the populist stance advocated by PVV and Wilders. One popular comment reads, "Anti-immigration, anti-EU, anti-Islamic—sounds about right?" "Europe is waking up."
Another person commented: "Over the past couple of years, the population of Muslim immigrants in Europe and the United States has been rapidly expanding, bringing about serious social problems when it comes to public security, employment, fertility rates, and religious beliefs etc., which has since long been a source of distress for the local population."
Apart from Hu's post, Chinese netizens elsewhere on Weibo have also placed Wilders' victory in a broader geopolitical context. Blogger Xiaosunchu (@小笋初) writes, "Why did America have Trump? Why did we witness a UK 'Trump,' a Brazilian 'Trump,' an Argentinian 'Trump,' a Dutch 'Trump,' and so on – all these non-traditional, anti-establishment 'crazy' candidates?"
According to Xiaochunchu, the election of these kinds of political figures is a result of a so-called 'democratic illusion' ("民主幻觉") in the West, in which voters are perpetually disappointed in politicians as they end up getting "a different broth but the same old medicine" ("换汤不换药"): the names may change, but the system does not, leading voters to blame themselves for picking the wrong candidates when, in reality, it's actually deep-rooted political structures that prevent actual change from happening.
Regardless of whether others agree with Xiaochunchu's idea that voters' preference for unconventional political figures is linked to a 'democratic illusion,' many do acknowledge that 'Trump-style' politics represents a broader political trend that began with the election of Donald Trump in 2016.
Other bloggers called the election of different 'Trumps' a "new change in global democratic politics" and even labeled the current international political arena the "Trump era" ("特朗普时代"). "Who's next?" one Weibo user wonders.
"Let's wait and see," other people write, "It might not be easy for him to form a cabinet."
While the Dutch formation has begun, the world will be watching to see which parties will govern together and whether Wilders might become the next Dutch Prime Minister, and the so-called 'next Trump.'
Also read: Chinese Reactions on Wilders and "The Rise of the Right"
By Manya Koetse
Get the story behind the hashtag. Subscribe to What's on Weibo here to receive our newsletter and get access to our latest articles:
Spotted a mistake or want to add something? Please let us know in comments below or email us. First-time commenters, please be patient – we will have to manually approve your comment before it appears.
©2023 Whatsonweibo. All rights reserved. Do not reproduce our content without permission – you can contact us at info@whatsonweibo.com.
Xi and Biden's "Beautiful" Hongqi Moment: National Pride and Shifting Dynamics in Sino-American Relations
The recognition of the decades-old Chinese Hongqi brand by a U.S. president was a promotion-worthy moment for Chinese official channels, resonating with netizens.
After the much anticipated Xi-Biden meeting in California on November 15, one noteworthy detail quickly hit Weibo's top trending topics, namely Biden's apparent admiration for Xi Jinping's Hongqi car. The hashtag "Biden Points at Hongqi Car, Calls it Beautiful" #拜登指着红旗车说beautiful#) had racked up over 300 million views on Weibo by Thursday night.
The short moment happened as Biden accompanied Xi to his car following their meeting. "It's a beautiful vehicle," Biden remarked. "It's a Hongqi car, made in China," Xi replied. Biden then quickly peek inside before comparing the Hongqi car to his own American Cadillac "beast."
Biden accompanied Xi to his car following their meeting. "It's a beautiful vehicle," he remarked. "It's a Hongqi car, made in China," Xi replied. This brief moment became top trending on Weibo today, where it received over 270 million views. pic.twitter.com/piyhUlCxr6

— Manya Koetse (@manyapan) November 16, 2023
On Chinese social media, the Hongqi car compliment was prominently featured and amplified by various official channels, framing it not only as a testament to the friendly relations between the U.S. and China but also as a triumph for Chinese-made brands.
The recognition of this decades-old Chinese brand by a U.S. president (similarly vintage) added an extra layer of significance, making it a noteworthy promotion-worthy moment that resonated with netizens.
Hongqi holds special significance in China and serves as a symbol of national pride, being the first car and limousine independently produced by the country in 1958 by FAW Group under the guidance of Chairman Mao Zedong. At the front of the car, you find a red flag, while the emblem on the back features Chinese characters for Red Flag in Mao Zedong's calligraphy. Hóngqí (红旗) literally translates to 'red flag.'
In the book Development of a Society on Wheels (2018), the Hongqi car is described as "carrying strong political symbols with a strong socialist flavor" as it stands for the success of China's socialist system and the country's self-reliance (p. 187). The car first premiered during the military parade in 1959, which celebrated the tenth anniversary of the People's Republic of China (Hong 2013, 191).
China's car industry has come a long way since then. China is now the largest automobile market and its car industry has quadrupled exports in just three years, surpassing Japan as the world leader.
Various Chinese media outlet used the context of Biden's remarks to hold polls on the popularity of Chinese brand cars among netizens, asking them if they'd rather purchase a foreign car or a domestically produced brand. A majority of respondents indicated a preference for made-in-China brands.
But the way this incident is showcased on Chinese social media through official channels goes beyond Chinese national pride of esteemed brands and the success of China's car industry. It also serves as a means to highlight the positive relations between Xi and Biden, as well as between China and the U.S., without delving too deeply into the political aspects of the meeting itself.
Recently, there has been a noticeable shift in Chinese official narratives regarding Washington and Biden, a change reflected in the top-down management of social media discussions on these topics and the guidelines on what is permitted or restricted. As is always the case with bigger high-level events and meetings involving leader Xi Jinping, there is stringent control and limited space for open online discussions when it comes to political content. But it is evident that the comments that now do make it to the front pages of Weibo or Douyin are primarily positive and supportive—this, despite the overall surge in anti-American sentiments on Chinese social media (also see our other recent article here).
The brief exchange between Biden and Xi about their cars is not merely positive, non-political, and non-sensitive; it also possesses another layer that makes it the ideal moment to highlight. It portrays a moment of changing power dynamics in bilateral relations, with the American president appreciating the Chinese leader's car as much as he does his own Cadillac. Despite their differences, both are equally powerful and "beautiful." This narrative precisely mirrors the current discourse about Sino-American relations that is especially visible in China's online media sphere.
On X, China's Foreign Ministry spokesperson Hua Chunying (华春莹) dedicated two tweets to the Hongqi moment. One of them showed a picture of the two cars next to eachother at the Filoli estate in Woodside, California, with Hua writing: "🇨🇳Chinese Hongqi and 🇺🇸American Cadillac Beast."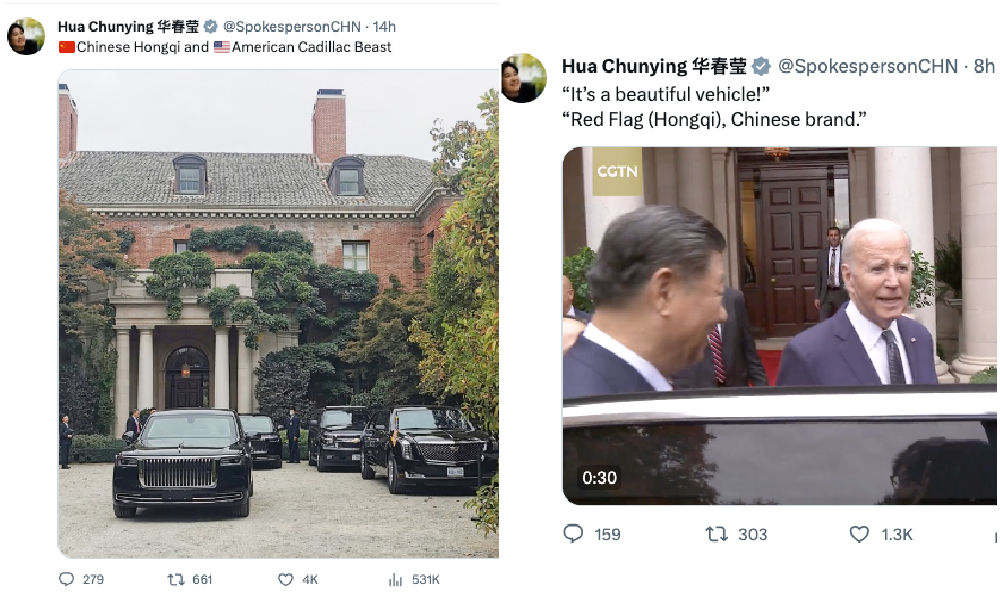 On Weibo, a few commenters playfully suggested that Biden should consider swapping his Cadillac for a Hongqi. "Hey Old Joe, why not opt for a Hongqi, too?" Others humorously proposed that Biden could become an outstanding new spokesperson for the iconic Chinese car brand.
Meanwhile, the Hongqi brand shared the video of the moment on its own social media page with a caption inspired by a quote from Xi: "Staying true to our original aspiration, living up to expectations" ("不忘初心,不负期待").
One Weibo user (@林妹妹有话说) from Guangdong writes:
"Times have really changed. Once, it was us [Chinese] who looked in admiration at the towering skyscrapers and bustling cars and traffic in the United States. Now, the whole situation has turned around and it's America's turn to admire China's infrastructure, Chinese manufacturing, and especially the Chinese automotive industry (..) Our current power has earned us equality, respect, and admiration from the U.S. and the West. This reality is a powerful blow to those 'intellectuals' in the past who wanted us to kneel down in return for "friendship" with the West. It's such a happy moment!"
By Manya Koetse
Get the story behind the hashtag. Subscribe to What's on Weibo here to receive our newsletter and get access to our latest articles:
References
Hong, Song. 2013. "National Patent Regime and Indigenous Innovations in compliance with TRIPS: A Case Study of China." In: Sunil Mani and Richard R Nelson (eds), TRIPS Compliance, National Patent Regimes and Innovation, 172-222. Cheltenham: Edward Elgar Publishing Limited.
Wang, Junxiu. 2018. Development of a Society on Wheels: Understanding the Rise of Automobile-dependency in China Springer Nature Singapore.
Spotted a mistake or want to add something? Please let us know in comments below or email us. First-time commenters, please be patient – we will have to manually approve your comment before it appears.
©2023 Whatsonweibo. All rights reserved. Do not reproduce our content without permission – you can contact us at info@whatsonweibo.com.
Subscribe to our newsletter
Stay updated on what's trending in China & get the story behind the hashtag
Sign up here to become a premium member of What's on Weibo today and gain access to all of our latest and premium content, as well as receive our exclusive Weibo Watch newsletter. If you prefer to only receive our free newsletter with an overview of the latest articles, you can subscribe for free here.
Would you like to become a contributor, or do you have any tips or suggestions for us? Get in touch with us here.