Not a day goes by without television dramas becoming a trending topic on Chinese social media. Some Chinese hit TV drama's took over 17 years of preparation, others have over a billion views. This is an overview of the five dramas that are trending this summer by What's on Weibo.
The popularity of Chinese television dramas continues to grow – not just within China, but also internationally.
Xinhua News recently featured a story about Vietnamese youth getting hooked on dramas from the PRC. But many people from other countries outside of China are also getting more addicted to Chinese television dramas. On various online video platforms, such as Viki.com, thousands of drama fans volunteer to subtitle dramas to make them accessible to people who don't understand the language.
A continuing trend over the last decade is the huge popularity of Chinese costume dramas. What is noticeable is that TV dramas relating to the Sino-Japanese war, previously one of the most popular historical genres, now seem to have become less popular.
Based on the popularity charts on Weibo, Sohu TV, and Baidu, these are the five hottest Chinese TV drama this summer.
#1. Princess Agents 楚乔传
Drama origin: Mainland China
Genre: Historical drama, romance, action
Broadcast start: 27 December 2016, Hunan TV
Episodes: 58
Starring: Zhao Liying aka Zanilia Zhao 赵丽颖/ Lin Genxin aka Kenny Lin 林更新 / Dou Xiao aka Shawn Dou 窦骁 / Li Qin 李沁 / Wang Yanlin 王彦霖 / Niu Junfeng 牛骏峰
The recent popularity of Princess Agents in China is enormous. Not only is the series constantly in the top trending lists on Sina Weibo, it also received over 2 billion views on Youku alone this month.
Princess Agents (楚乔传 Chu Qiao Chuan) is adapted from a novel written by Xiao Xiang Donger (潇湘冬儿). The story takes place during the time of the Western Wei (535-557), a period of chaos, where ordinary citizens are kidnapped and turned into slaves.
One of these slaves is the young and rebellious girl Chu Qiao, played by the pretty Zanilia Zhao. The story starts with Chu Qiao, suffering from amnesia, finding herself in a group of young female slaves who are used for entertainment for the rich lords. Dropped on a field exposed to a group of wolves, they become hunting targets in a rich man's game.
After a bloody battlefield, in which she puts up a fight against wolves and arrows, the fierce Chu Qiao is the only one to survive. She is brought into the powerful family of Yu Wenyue (Lin Gengxin) as a maid. Her sister already serves in this household, and Chu vows to rescue her sister and flee from the situation.
The story follows Chu throughout her brave journey to keep herself and the people she loves safe from harm, and to destroy the injustice that is taking place in the world around her. She will do anything to reach her goals – even if it means becoming a spy.
Princess Agents has everything fans of Chinese dramas usually like; it is a story full of love, action, and conspiracies, in a historical setting with lush costumes and a lavish set, along with plenty of special effects that make the scenes more spectacular.
On Weibo, the topic of Princess Agents has received over 4.8 billion views. Many netizens praise Zanilia Zhao for her acting skills, and the fact that a fierce woman has the main role in this drama is something that many drama lovers seem to appreciate.
Available for viewing on YouTube with English Subtitles.
#2. Midnight Diner 深夜食堂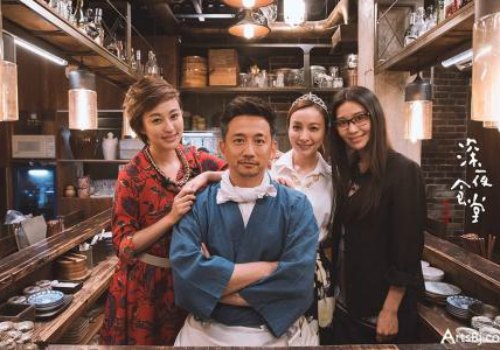 Drama Origin: Mainland China, previously also released in Japan and South-Korea.
Genre: Human drama, comedy, food
Broadcast start: 12 June 2017 (network Beijing TV, Zhejiang TV)
Episodes: 40
Starring: Huang Lei 黄磊 / Zhao Youting aka Mark Chao 赵又廷 / Hai Qing 海清
Midnight Diner previously came out as a Japanese TV drama in 2009 (Shinya Shokudo), and later was remade in South-Korea. Now it is time for China's adaptation of the drama, which revolves around the happenings at a special restaurant that is only open in between midnight and 7am. The restaurant owner, played by famous actor Huang Lei, does not like to talk much – but he does love to cook while his customers share their personal stories.
The series is a popular topic on Sina Weibo, where netizens have heated debates about it. They compare the drama to the previous adaptations, and share their own restaurant stories and recipes from the Midnight Diner kitchen.
Despite its popularity, the drama is also receiving a lot of criticism for its "exaggerated acting" and "awkward lines." Many fans say that the restaurant owner in the Chinese version is making weird food choices and they also complain that the show is not 'Chinese' enough.
#3. Rush to the Dead Summer 夏至未至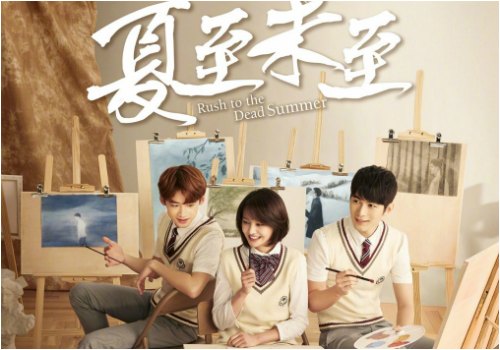 Drama origin: Mainland China
Genre: Romance, Youth drama
Broadcast start: 11 June 2017
Episodes: 46
Starring: Chen Xuedong aka Cheney Chen 陈学冬 / Zheng Shuang 郑爽 / Bai Jingting 白敬亭 / Xia Zitong 夏梓桐 / Chai Biyun 柴碧云 / Pang Hangchen 庞瀚辰 / Wang Yuwen 王玉雯 / Chao Zhang 张超 / Zhengge Huizi 郑合惠子
Rush to the Dead Summer (夏至未至) is a TV drama based on the novel by Guo Jingming (郭敬明) that follows a group friends during a time span of ten years as they go from their highschool life and each start their own life in society.
Many fans have been waiting a long time for this TV drama to come out, as its airing was already announced in the summer of 2016. By now, its official Weibo account has well over 1.6 million followers.
The theme song of the TV drama (video above) is also very popular. The song, titled "First Memory" (最初的记忆) is by Taiwanese singer Lala Hsu.
#4. White Deer Plain 白鹿原
Drama origin: Mainland China
Genre: Contemporary historical drama
Broadcast start: May 10 2017, Anhui TV, Zhejiang TV
Episodes: 85
Starring: Zhang Jiayi, He Bing, Qin Hailu, Liu Peiqi, Li Hongtao, and more.
The preparation and production of White Deer Plain was certainly not rushed; it reportedly took 17 years before this TV drama finally went on air. The drama plot is based on the award-winning Chinese literary classic by Chen Zhongshi (陈忠实) of the same name from 1993.
This work's success in China has previously been compared to that of One Hundred Years of Solitude by Gabriel García Márquez. White Deer Plain was previously also turned into a movie (2011).
The historic epic follows the stories of people from several generations living on the 'White Deer Plain,' or North China Plain in Shanxi province, during the first half of the 20th century. This tumultuous period sees the Republican Period, the Japanese invasion, and the early days of the People's Republic of China.
The drama has received an 8.9 star review from netizens on Douban.
#5. The Legend of Dragon Pearl 龙珠传奇
Drama origin: Mainland China
Genre: Costume, romance, idol drama
Broadcast start: 5 May 2017, Anhui TV
Episodes: 90
Starring: Yang Zi aka Andy Yang 杨紫/ Qin Junjie 秦俊杰/Shu Chang aka Jennifer Shu 舒畅
The Legend of Dragon Pearl (龙珠传奇) is the second palace drama in this top 5, which shows that the genre of traditional drama, particularly costume drama, is still very popular – arguably even more popular than before.
This Chinese television drama tells the story of the unlikely romance between the Princess Zhu Yihuan (Yang Zi), a martial arts talent and the last princess of the Ming dynasty, and Emperor Kangxi (Qin Junjie), who is the young emperor of the Qing dynasty. Their love story is not without hurdles, because the Kangxi court is actually hated by Zhu's family as the Ming dynasty, by the Han people, was overthrown by the Manchurians who established the Qing Dynasty.
This love story gets even sweeter when you know that main players Andy Yang (Yang Zi) and Qin Junjie are also a couple in real life.
On Youku, the drama has received a total of over 2.2 billion views by now. Many fans on Weibo share their favorite scenes and share their drawings and other art works based on this successful drama.
By Manya Koetse
Follow @whatsonweibo
©2017 Whatsonweibo. All rights reserved. Do not reproduce our content without permission – you can contact us at info@whatsonweibo.com.