Top 5 Chinese TV Dramas Summer 2017
Not a day goes by without television dramas becoming a trending topic on Chinese social media. Some Chinese hit TV drama's took over 17 years of preparation, others have over a billion views – this is an overview of the five dramas that are trending this summer.
Not a day goes by without television dramas becoming a trending topic on Chinese social media. Some Chinese hit TV drama's took over 17 years of preparation, others have over a billion views. This is an overview of the five dramas that are trending this summer by What's on Weibo.
The popularity of Chinese television dramas continues to grow – not just within China, but also internationally.
Xinhua News recently featured a story about Vietnamese youth getting hooked on dramas from the PRC. But many people from other countries outside of China are also getting more addicted to Chinese television dramas. On various online video platforms, such as Viki.com, thousands of drama fans volunteer to subtitle dramas to make them accessible to people who don't understand the language.
A continuing trend over the last decade is the huge popularity of Chinese costume dramas. What is noticeable is that TV dramas relating to the Sino-Japanese war, previously one of the most popular historical genres, now seem to have become less popular.
Based on the popularity charts on Weibo, Sohu TV, and Baidu, these are the five hottest Chinese TV drama this summer.
#1. Princess Agents 楚乔传
Drama origin: Mainland China
Genre: Historical drama, romance, action
Broadcast start: 27 December 2016, Hunan TV
Episodes: 58
Starring: Zhao Liying aka Zanilia Zhao 赵丽颖/ Lin Genxin aka Kenny Lin 林更新 / Dou Xiao aka Shawn Dou 窦骁 / Li Qin 李沁 / Wang Yanlin 王彦霖 / Niu Junfeng 牛骏峰
The recent popularity of Princess Agents in China is enormous. Not only is the series constantly in the top trending lists on Sina Weibo, it also received over 2 billion views on Youku alone this month.
Princess Agents (楚乔传 Chu Qiao Chuan) is adapted from a novel written by Xiao Xiang Donger (潇湘冬儿). The story takes place during the time of the Western Wei (535-557), a period of chaos, where ordinary citizens are kidnapped and turned into slaves.
One of these slaves is the young and rebellious girl Chu Qiao, played by the pretty Zanilia Zhao. The story starts with Chu Qiao, suffering from amnesia, finding herself in a group of young female slaves who are used for entertainment for the rich lords. Dropped on a field exposed to a group of wolves, they become hunting targets in a rich man's game.
After a bloody battlefield, in which she puts up a fight against wolves and arrows, the fierce Chu Qiao is the only one to survive. She is brought into the powerful family of Yu Wenyue (Lin Gengxin) as a maid. Her sister already serves in this household, and Chu vows to rescue her sister and flee from the situation.
The story follows Chu throughout her brave journey to keep herself and the people she loves safe from harm, and to destroy the injustice that is taking place in the world around her. She will do anything to reach her goals – even if it means becoming a spy.
Princess Agents has everything fans of Chinese dramas usually like; it is a story full of love, action, and conspiracies, in a historical setting with lush costumes and a lavish set, along with plenty of special effects that make the scenes more spectacular.
On Weibo, the topic of Princess Agents has received over 4.8 billion views. Many netizens praise Zanilia Zhao for her acting skills, and the fact that a fierce woman has the main role in this drama is something that many drama lovers seem to appreciate.
Available for viewing on YouTube with English Subtitles.
#2. Midnight Diner 深夜食堂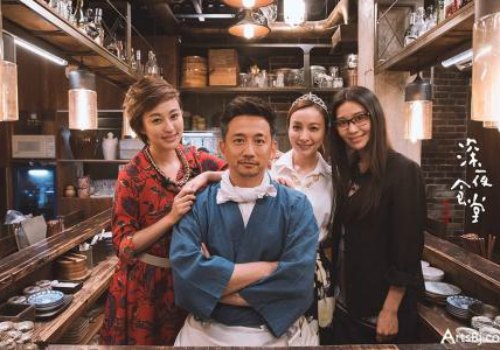 Drama Origin: Mainland China, previously also released in Japan and South-Korea.
Genre: Human drama, comedy, food
Broadcast start: 12 June 2017 (network Beijing TV, Zhejiang TV)
Episodes: 40
Starring: Huang Lei 黄磊 / Zhao Youting aka Mark Chao 赵又廷 / Hai Qing 海清
Midnight Diner previously came out as a Japanese TV drama in 2009 (Shinya Shokudo), and later was remade in South-Korea. Now it is time for China's adaptation of the drama, which revolves around the happenings at a special restaurant that is only open in between midnight and 7am. The restaurant owner, played by famous actor Huang Lei, does not like to talk much – but he does love to cook while his customers share their personal stories.
The series is a popular topic on Sina Weibo, where netizens have heated debates about it. They compare the drama to the previous adaptations, and share their own restaurant stories and recipes from the Midnight Diner kitchen.
Despite its popularity, the drama is also receiving a lot of criticism for its "exaggerated acting" and "awkward lines." Many fans say that the restaurant owner in the Chinese version is making weird food choices and they also complain that the show is not 'Chinese' enough.
#3. Rush to the Dead Summer 夏至未至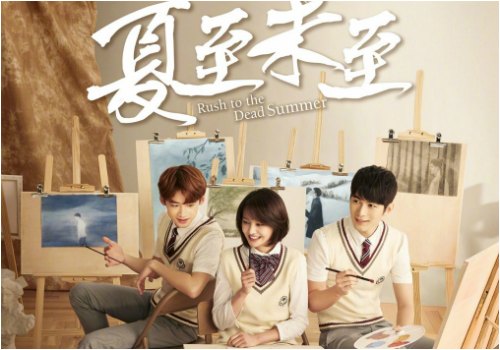 Drama origin: Mainland China
Genre: Romance, Youth drama
Broadcast start: 11 June 2017
Episodes: 46
Starring: Chen Xuedong aka Cheney Chen 陈学冬 / Zheng Shuang 郑爽 / Bai Jingting 白敬亭 / Xia Zitong 夏梓桐 / Chai Biyun 柴碧云 / Pang Hangchen 庞瀚辰 / Wang Yuwen 王玉雯 / Chao Zhang 张超 / Zhengge Huizi 郑合惠子
Rush to the Dead Summer (夏至未至) is a TV drama based on the novel by Guo Jingming (郭敬明) that follows a group friends during a time span of ten years as they go from their highschool life and each start their own life in society.
Many fans have been waiting a long time for this TV drama to come out, as its airing was already announced in the summer of 2016. By now, its official Weibo account has well over 1.6 million followers.
The theme song of the TV drama (video above) is also very popular. The song, titled "First Memory" (最初的记忆) is by Taiwanese singer Lala Hsu.
#4. White Deer Plain 白鹿原
Drama origin: Mainland China
Genre: Contemporary historical drama
Broadcast start: May 10 2017, Anhui TV, Zhejiang TV
Episodes: 85
Starring: Zhang Jiayi, He Bing, Qin Hailu, Liu Peiqi, Li Hongtao, and more.
The preparation and production of White Deer Plain was certainly not rushed; it reportedly took 17 years before this TV drama finally went on air. The drama plot is based on the award-winning Chinese literary classic by Chen Zhongshi (陈忠实) of the same name from 1993.
This work's success in China has previously been compared to that of One Hundred Years of Solitude by Gabriel García Márquez. White Deer Plain was previously also turned into a movie (2011).
The historic epic follows the stories of people from several generations living on the 'White Deer Plain,' or North China Plain in Shanxi province, during the first half of the 20th century. This tumultuous period sees the Republican Period, the Japanese invasion, and the early days of the People's Republic of China.
The drama has received an 8.9 star review from netizens on Douban.
#5. The Legend of Dragon Pearl 龙珠传奇
Drama origin: Mainland China
Genre: Costume, romance, idol drama
Broadcast start: 5 May 2017, Anhui TV
Episodes: 90
Starring: Yang Zi aka Andy Yang 杨紫/ Qin Junjie 秦俊杰/Shu Chang aka Jennifer Shu 舒畅
The Legend of Dragon Pearl (龙珠传奇) is the second palace drama in this top 5, which shows that the genre of traditional drama, particularly costume drama, is still very popular – arguably even more popular than before.
This Chinese television drama tells the story of the unlikely romance between the Princess Zhu Yihuan (Yang Zi), a martial arts talent and the last princess of the Ming dynasty, and Emperor Kangxi (Qin Junjie), who is the young emperor of the Qing dynasty. Their love story is not without hurdles, because the Kangxi court is actually hated by Zhu's family as the Ming dynasty, by the Han people, was overthrown by the Manchurians who established the Qing Dynasty.
This love story gets even sweeter when you know that main players Andy Yang (Yang Zi) and Qin Junjie are also a couple in real life.
On Youku, the drama has received a total of over 2.2 billion views by now. Many fans on Weibo share their favorite scenes and share their drawings and other art works based on this successful drama.
By Manya Koetse
Follow @whatsonweibo
©2017 Whatsonweibo. All rights reserved. Do not reproduce our content without permission – you can contact us at info@whatsonweibo.com.
Surprise Attack: CCTV6 Unexpectedly Airs Anti-American Movies as China-US Trade War Intensifies
"They have no new anti-American films, so they're showing us the old ones instead."
First published
CCTV 6, the movie channel of China's main state television broadcaster, has gone trending on Chinese social media today for changing its schedule and playing three anti-American movies for three days in a row.
Some suggest the selection for the movies is no coincidence, and that it's sending out a clear anti-US message while the trade war is heating up.
The three movies are the Korean war movies Heroic Sons and Daughters (英雄儿女, 1964), Battle on Shangganling Mountain (上甘岭, 1954), and Surprise Attack (奇袭, 1960), airing from May 17-19 during prime time at 20:15.
Ongoing trade tensions between China and the United States heightened when Trump raised an existing 10 percent tax on many Chinese imports to 25 percent earlier this month. Chinese authorities responded by raising taxes on many American imports.
Over the past week, anti-American propaganda has intensified in Chinese state media, with the slogan "Wanna talk? Let's talk. Wanna fight? Let's do it. Wanna bully us? Dream on!"* ("谈,可以!打,奉陪!欺,妄想!") going viral on Chinese social media.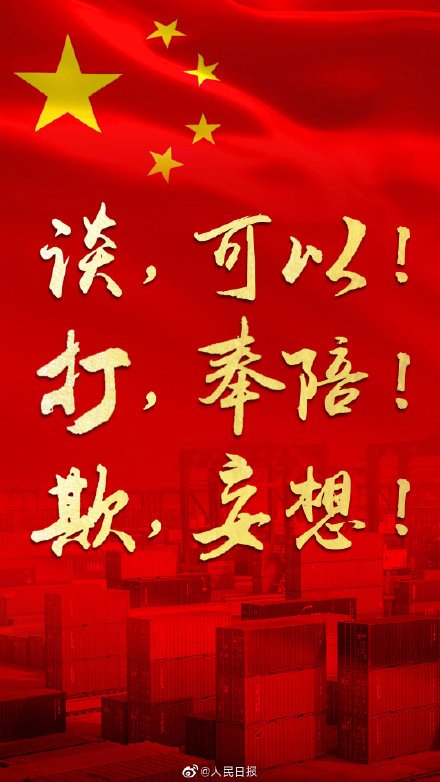 The movies broadcasted by CCTV these days are so-called "Resist America, Help North Korea" movies ("抗美援朝影片").
The 'Resist the USA, Help North Korea' (or: "Resist American Aggression and Aid North Korea") was a propaganda slogan launched in October 1950 during the Korean War (1950-1953). China came to the assistance of North Korea after the war with the South had broken out in June that year and the UN forces intervened in September.
The government, led by Mao Zedong, sent troops to fight in the war. Mao's own son, Mao Anying, was killed in action by an air strike a month after the start of this 3-year war against US aggression in support of North Korea. The war ended with the armistice of July 1953.
All three movies aired on CCTV6 are set during the "War to Resist US Aggression and Aid Korea."
Battle on Shangganling Mountain focuses on a group of Chinese People's Volunteer Army soldiers who are holding Triangle Hill for several days against US forces.
Heroic Sons and Daughters tells the story of a political commissar in China's volunteer army who finds his missing daughter on the Korean battlefield.
Surprise Attack revolves around the mission of the Chinese army to blow up the strategic Kangping Bridge, cutting off supplies to the American army and allowing the Chinese to engage in a full attack.
On Chinese social media, the unexpected decision of the CCTV to change its original schedule and to air the three historical films has become a much-discussed topic, with many people praising CCTV6 for showing these movies.
The issue was also widely reported on by Chinese media, from Sohu News to Global Times, which called the broadcast programming itself a "Surprise Attack."
Not all netizens praise the initiative, however, with some commenting: "It seems that there are no new anti-American TV series or movies now, so they've come up with these old films to brainwash us." Others said: "This kind of brainwashing is not useful."
Many Weibo users, however, just enjoy seeing classic movies, saying "They don't make movies like this anymore," and "It's good for the younger generation to also see these classics."
If you're reading this article on Saturday night China Central Time, you're still in time to watch the airing of Battle on Shangganling Mountain on CCTV6 here.
Update 18th May CST: It seems that a fourth movie has been added to the series now. This might just become the CCTV6 Anti-American movies month! We'll keep you updated.
By Manya Koetse and Miranda Barnes
*Translation suggested by @kaiserkuo.
Spotted a mistake or want to add something? Please let us know in comments below or email us.
©2019 Whatsonweibo. All rights reserved. Do not reproduce our content without permission – you can contact us at info@whatsonweibo.com
The Lawyers Are Here: Chinese State Media Popularize 'Rule of Law'
The Chinese TV show 'The Lawyers are Here' is "helping the people through the rule of law."
First published
The Lawyers are Here (律师来了) is a weekly television program by state broadcaster CCTV that focuses on the legal struggles of ordinary Chinese citizens. The program educates through entertainment, and in doing so, propagates core socialist values such as equality, justice, and rule of law.
You just bought a new house when you discover its locks have been changed and you're denied access. Together with five colleagues, you've been working in a factory when your boss suddenly lays you off without explanation. You won a lawsuit but still have not received the settled compensation. What to do? What kind of rights do you have as a Chinese citizen?
These kinds of legal cases are at the center of a weekly Chinese TV show called The Lawyers Are Here (律师来了), which was first aired on CCTV's Legal Channel in 2017 as a follow-up to the 2016 I am a Barrister (我是大律师).
The Lawyers Are Here introduces a different legal issue every week. The problems range from the aforementioned examples to people wanting custody over their child or a former patient fighting a negligent hospital for financial compensation.
Besides the TV host (Cao Xuanyi 曹煊一) and the people involved in the case, every 45-minute episode features various topic experts and four lawyers who offer their views and advice on the matter.
Each show begins with a short video explaining the story behind the case, after which the participants analyze the different legal aspects. One person provides further clarification at certain moments throughout the show by reading from Chinese legal texts.
Once everybody has a clear picture of the current situation, the show enters its most thrilling stage. Background music heightens the tension as the lawyers have to answer the most crucial question of the night: are they willing to take this case? It is then up to the party involved in the case to choose the lawyer they trust the most to win their case.
The Lawyers Are Here describes itself as "China's first legal media public service platform." It does not only offer help to the common people on the show who are caught up in legal issues, but it also informs viewers on how to handle certain problems, and educates people on China's legal system.
One 2018 episode featured a female nurse from Beijing who was seeking help in getting divorced from her abusive husband. The woman only wanted a divorce if she could get full custody over her 15-month-old son. The lawyers on the show explained that if the woman could prove she suffered from abuse at the hands of her husband, she had a stronger case in getting full custody.
The woman, visibly upset, tells that she has never reported the abuse to the police, but that she did go to the hospital and took photos of her injuries. Although the lawyers on the show predicted that the pictures and hospital records would be sufficient evidence for the court, they also strongly advised all viewers to always report these incidents to the police.
Legal advice on the show goes beyond family-related issues. In another episode, a victim of a fraudulent car dealer was reprimanded by the lawyers for signing a contract before thoroughly reading it. "Never sign a contract before reading it completely", the show warned, also telling viewers never to be pressured into signing a contract.
The Lawyers Are Here also often shows how the people featured on the show receive help from their lawyer after filming, and how a dispute is finally settled in court.
Popularizing Rule of Law
Every episode of The Lawyers Are Here starts with the slogan "The law is the rule, help is the intention" or "Helping the people through the rule of law" ("法为绳墨, 助为初心").
By clearly reinforcing the message of 'live by the law and justice will prevail,' The Lawyers Are Here serves as a media tool to propagate the idea of 'Governing China with Rule of Law,' which is emphasized by the Party leadership.
"Rule of law" is one of the 14 principles of 'Xi Jinping Thought' and one of the 12 Core Socialist Values. This idea is clearly promoted throughout the show, along with other socialist values such as equality, justice, and integrity.
An important aspect of promoting the idea of a nation that is ruled by law is educating people on Chinese law, and, perhaps more importantly, creating more trust in legal institutions among the people.
Besides news media and other forms of propaganda, TV shows such as The Lawyers Are Here are effective tools for doing so. Not only does it present legal cases in a popular and modern way, even adding a game factor to it, it also personalizes it by letting the people tell their emotional stories – sometimes even moving the TV host to tears – and showing that the law can resolve complex family or business problems in an efficient matter.
On social media, people compliment the CCTV show for "bringing justice to ordinary people" and "standing up for the weak."
"I hope we can have more programs such as these," one Weibo commenter writes.
The Lawyers are Here is broadcasted every Saturday on 18:00 at CCTV12.
Spotted a mistake or want to add something? Please let us know in comments below or email us.
©2019 Whatsonweibo. All rights reserved. Do not reproduce our content without permission – you can contact us at info@whatsonweibo.com