Top 5 Chinese TV Dramas Summer 2017
Not a day goes by without television dramas becoming a trending topic on Chinese social media. Some Chinese hit TV drama's took over 17 years of preparation, others have over a billion views – this is an overview of the five dramas that are trending this summer.
Not a day goes by without television dramas becoming a trending topic on Chinese social media. Some Chinese hit TV drama's took over 17 years of preparation, others have over a billion views. This is an overview of the five dramas that are trending this summer by What's on Weibo.
The popularity of Chinese television dramas continues to grow – not just within China, but also internationally.
Xinhua News recently featured a story about Vietnamese youth getting hooked on dramas from the PRC. But many people from other countries outside of China are also getting more addicted to Chinese television dramas. On various online video platforms, such as Viki.com, thousands of drama fans volunteer to subtitle dramas to make them accessible to people who don't understand the language.
A continuing trend over the last decade is the huge popularity of Chinese costume dramas. What is noticeable is that TV dramas relating to the Sino-Japanese war, previously one of the most popular historical genres, now seem to have become less popular.
Based on the popularity charts on Weibo, Sohu TV, and Baidu, these are the five hottest Chinese TV drama this summer.
#1. Princess Agents 楚乔传
Drama origin: Mainland China
Genre: Historical drama, romance, action
Broadcast start: 27 December 2016, Hunan TV
Episodes: 58
Starring: Zhao Liying aka Zanilia Zhao 赵丽颖/ Lin Genxin aka Kenny Lin 林更新 / Dou Xiao aka Shawn Dou 窦骁 / Li Qin 李沁 / Wang Yanlin 王彦霖 / Niu Junfeng 牛骏峰
The recent popularity of Princess Agents in China is enormous. Not only is the series constantly in the top trending lists on Sina Weibo, it also received over 2 billion views on Youku alone this month.
Princess Agents (楚乔传 Chu Qiao Chuan) is adapted from a novel written by Xiao Xiang Donger (潇湘冬儿). The story takes place during the time of the Western Wei (535-557), a period of chaos, where ordinary citizens are kidnapped and turned into slaves.
One of these slaves is the young and rebellious girl Chu Qiao, played by the pretty Zanilia Zhao. The story starts with Chu Qiao, suffering from amnesia, finding herself in a group of young female slaves who are used for entertainment for the rich lords. Dropped on a field exposed to a group of wolves, they become hunting targets in a rich man's game.
After a bloody battlefield, in which she puts up a fight against wolves and arrows, the fierce Chu Qiao is the only one to survive. She is brought into the powerful family of Yu Wenyue (Lin Gengxin) as a maid. Her sister already serves in this household, and Chu vows to rescue her sister and flee from the situation.
The story follows Chu throughout her brave journey to keep herself and the people she loves safe from harm, and to destroy the injustice that is taking place in the world around her. She will do anything to reach her goals – even if it means becoming a spy.
Princess Agents has everything fans of Chinese dramas usually like; it is a story full of love, action, and conspiracies, in a historical setting with lush costumes and a lavish set, along with plenty of special effects that make the scenes more spectacular.
On Weibo, the topic of Princess Agents has received over 4.8 billion views. Many netizens praise Zanilia Zhao for her acting skills, and the fact that a fierce woman has the main role in this drama is something that many drama lovers seem to appreciate.
Available for viewing on YouTube with English Subtitles.
#2. Midnight Diner 深夜食堂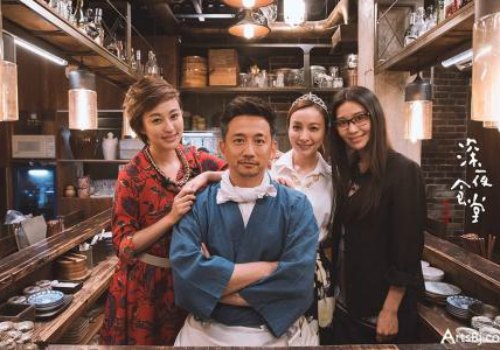 Drama Origin: Mainland China, previously also released in Japan and South-Korea.
Genre: Human drama, comedy, food
Broadcast start: 12 June 2017 (network Beijing TV, Zhejiang TV)
Episodes: 40
Starring: Huang Lei 黄磊 / Zhao Youting aka Mark Chao 赵又廷 / Hai Qing 海清
Midnight Diner previously came out as a Japanese TV drama in 2009 (Shinya Shokudo), and later was remade in South-Korea. Now it is time for China's adaptation of the drama, which revolves around the happenings at a special restaurant that is only open in between midnight and 7am. The restaurant owner, played by famous actor Huang Lei, does not like to talk much – but he does love to cook while his customers share their personal stories.
The series is a popular topic on Sina Weibo, where netizens have heated debates about it. They compare the drama to the previous adaptations, and share their own restaurant stories and recipes from the Midnight Diner kitchen.
Despite its popularity, the drama is also receiving a lot of criticism for its "exaggerated acting" and "awkward lines." Many fans say that the restaurant owner in the Chinese version is making weird food choices and they also complain that the show is not 'Chinese' enough.
#3. Rush to the Dead Summer 夏至未至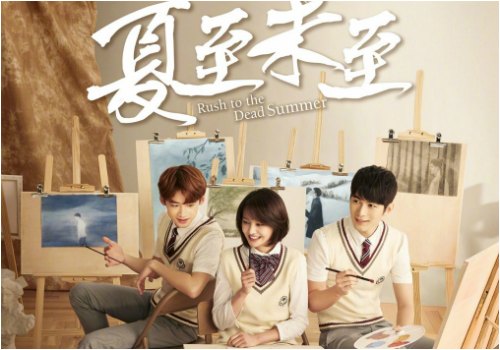 Drama origin: Mainland China
Genre: Romance, Youth drama
Broadcast start: 11 June 2017
Episodes: 46
Starring: Chen Xuedong aka Cheney Chen 陈学冬 / Zheng Shuang 郑爽 / Bai Jingting 白敬亭 / Xia Zitong 夏梓桐 / Chai Biyun 柴碧云 / Pang Hangchen 庞瀚辰 / Wang Yuwen 王玉雯 / Chao Zhang 张超 / Zhengge Huizi 郑合惠子
Rush to the Dead Summer (夏至未至) is a TV drama based on the novel by Guo Jingming (郭敬明) that follows a group friends during a time span of ten years as they go from their highschool life and each start their own life in society.
Many fans have been waiting a long time for this TV drama to come out, as its airing was already announced in the summer of 2016. By now, its official Weibo account has well over 1.6 million followers.
The theme song of the TV drama (video above) is also very popular. The song, titled "First Memory" (最初的记忆) is by Taiwanese singer Lala Hsu.
#4. White Deer Plain 白鹿原
Drama origin: Mainland China
Genre: Contemporary historical drama
Broadcast start: May 10 2017, Anhui TV, Zhejiang TV
Episodes: 85
Starring: Zhang Jiayi, He Bing, Qin Hailu, Liu Peiqi, Li Hongtao, and more.
The preparation and production of White Deer Plain was certainly not rushed; it reportedly took 17 years before this TV drama finally went on air. The drama plot is based on the award-winning Chinese literary classic by Chen Zhongshi (陈忠实) of the same name from 1993.
This work's success in China has previously been compared to that of One Hundred Years of Solitude by Gabriel García Márquez. White Deer Plain was previously also turned into a movie (2011).
The historic epic follows the stories of people from several generations living on the 'White Deer Plain,' or North China Plain in Shanxi province, during the first half of the 20th century. This tumultuous period sees the Republican Period, the Japanese invasion, and the early days of the People's Republic of China.
The drama has received an 8.9 star review from netizens on Douban.
#5. The Legend of Dragon Pearl 龙珠传奇
Drama origin: Mainland China
Genre: Costume, romance, idol drama
Broadcast start: 5 May 2017, Anhui TV
Episodes: 90
Starring: Yang Zi aka Andy Yang 杨紫/ Qin Junjie 秦俊杰/Shu Chang aka Jennifer Shu 舒畅
The Legend of Dragon Pearl (龙珠传奇) is the second palace drama in this top 5, which shows that the genre of traditional drama, particularly costume drama, is still very popular – arguably even more popular than before.
This Chinese television drama tells the story of the unlikely romance between the Princess Zhu Yihuan (Yang Zi), a martial arts talent and the last princess of the Ming dynasty, and Emperor Kangxi (Qin Junjie), who is the young emperor of the Qing dynasty. Their love story is not without hurdles, because the Kangxi court is actually hated by Zhu's family as the Ming dynasty, by the Han people, was overthrown by the Manchurians who established the Qing Dynasty.
This love story gets even sweeter when you know that main players Andy Yang (Yang Zi) and Qin Junjie are also a couple in real life.
On Youku, the drama has received a total of over 2.2 billion views by now. Many fans on Weibo share their favorite scenes and share their drawings and other art works based on this successful drama.
By Manya Koetse
Follow @whatsonweibo
©2017 Whatsonweibo. All rights reserved. Do not reproduce our content without permission – you can contact us at info@whatsonweibo.com.
King of Workout Livestream: Liu Genghong Has Become an Online Hit During Shanghai Lockdown
Liu Genghong (Will Liu) is leading his best lockdown life.
With their exercise livestreams, Liu and his wife are bringing some positive vibes to Shanghai and the rest of China in Covid times, getting thousands of social media users to jump along with them.
On Friday, April 22, the hashtag "Why Has Liu Genghong Become An Online Hit" (#为什么刘畊宏突然爆火#) was top trending on Chinese social media platform Weibo.
Liu Genghong (刘畊宏, 1972), who is also known as Will Liu, is a Taiwanese singer and actor who is known for playing in dramas (Pandamen 熊貓人), films (True Legend 苏乞儿), and releasing various music albums (Rainbow Heaven 彩虹天堂). He is a devout Christian.
Besides all of his work in the entertainment business, Liu is also a fitness expert. In 2013, Liu participated in the CCTV2 weight loss programme Super Diet King (超级减肥王, aka The Biggest Loser) as a motivational coach, and later also became a fitness instructor for the Jiangsu TV show Changing My Life (减出我人生), in which he also helped overweight people to become fit. After that, more fitness programs followed, including the 2017 Challenge the Limit (全能极限王) show.
During the Covid outbreak in Shanghai, the 50-year-old Liu Genghong has unexpectedly become an online hit for livestreaming fitness routines from his home. Together with his wife Vivi Wang, he streams exercise and dance videos five days of the week via the Xiaohongshu app and Douyin.
In his livestreams, Liu and his wife appear energetic, friendly, happy and super fit. They exercise and dance to up-beat songs while explaining and showing their moves, often encouraging those participating from their own living rooms ("Yeah, very good, you're doing well!"). Some of their livestreams attract up to 400,000 viewers tuning in at the same time.
The couple, both in lockdown at their Shanghai home, try to motivate other Shanghai residents and social media users to stay fit. Sometimes, Liu's 66-year-old mother in law also exercises with them, along with the children.
"I've been exercising watching Liu and his wife for half an hour, they're so energetic and familiar, they've already become my only family in Shanghai," one Weibo user says.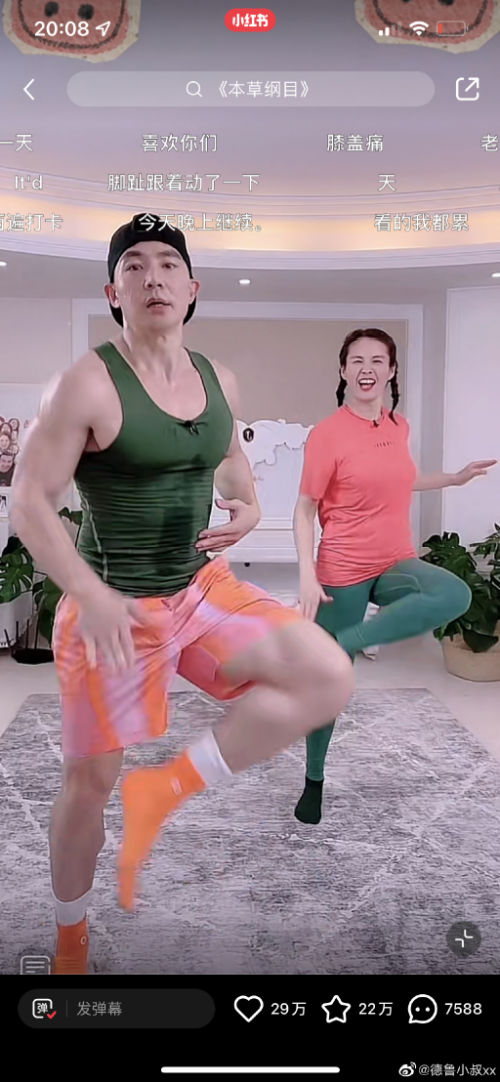 "I never expected Liu Genghong to be a 'winner' during this Covid epidemic in Shanghai," another person writes.
Along with Liu's online success, there's also a renewed interest in the Jay Chou song Herbalist's Manual (本草纲目), which is used as a workout tune, combined with a specific dance routine. Liu is also a good friend and fitness pal to Taiwanese superstar Jay Chou.
This week, various Chinese news outlets such as Fengmian News and The Paper have reported on Liu's sudden lockdown success. Livestreaming workout classes in general have become more popular in China since the start of Covid-19, but there reportedly has been no channel as popular as that of Liu Genghong.
The channel's success is partly because of Liu's fame and contagious enthusiasm, but it is also because of Vivi Wang, whose comical expressions during the workouts have also become an online hit.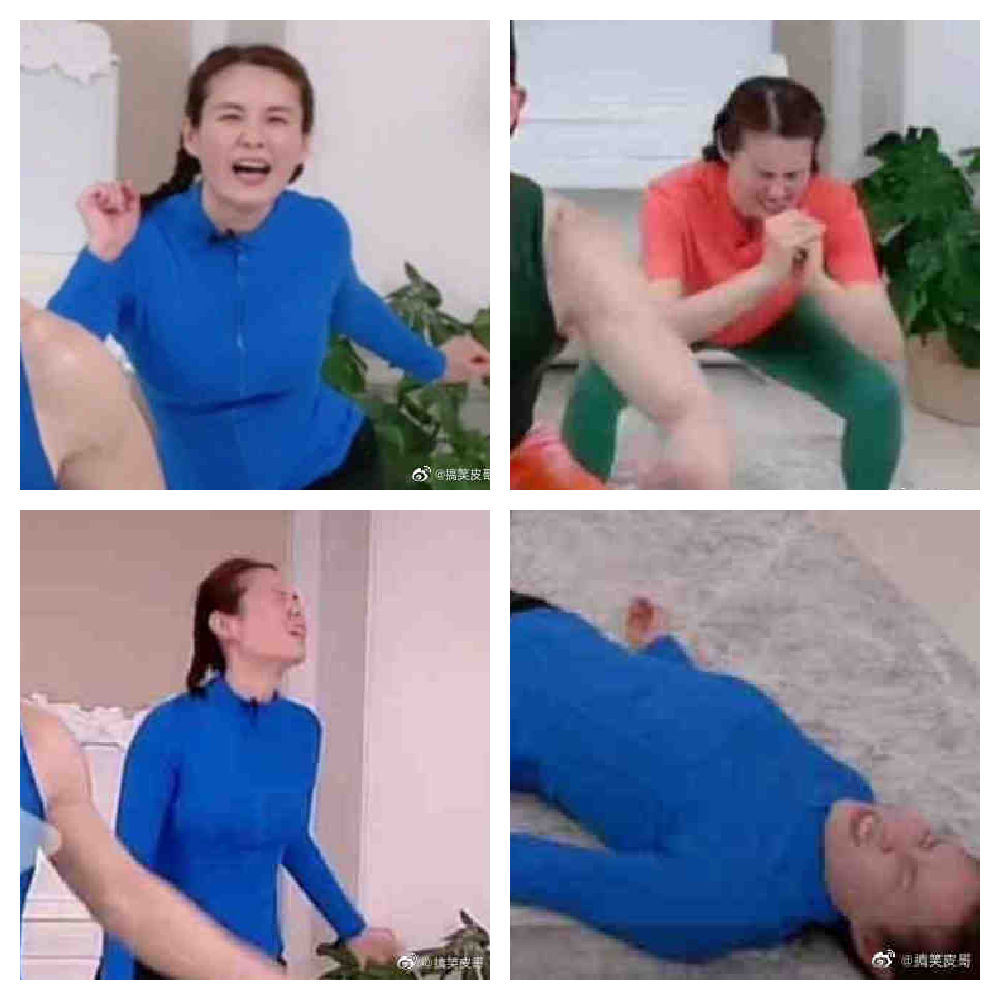 While many netizens are sharing their own videos of exercizing to Liu's videos, there are also some who warn others not to strain themselves too quickly.
"I've been inside for over 40 days with no exercise" one person writes: "I did one of the workouts yesterday and my heart nearly exploded." "I feel fine just watching," others say: "I just can't keep up."
Will Liu (刘畊宏) has become an online sensation in China together with his wife for their livestreamed workout sessions from Shanghai, especially inspiring those in lockdown to break a sweat. This routine to Jay Chou's song Herbalist's Manual (本草纲目) is the hit of the moment. pic.twitter.com/X4VvEBWvFU

— Manya Koetse (@manyapan) April 22, 2022
Watch one of Liu's routines via Youtube here, or here, or here.
For more articles on the Covid-19 topics on Chinese social media, check here.
By Manya Koetse
Get the story behind the hashtag. Subscribe to What's on Weibo here to receive our weekly newsletter and get access to our latest articles:
Spotted a mistake or want to add something? Please let us know in comments below or email us. First-time commenters, please be patient – we will have to manually approve your comment before it appears.
©2022 Whatsonweibo. All rights reserved. Do not reproduce our content without permission – you can contact us at info@whatsonweibo.com.
Weibo is Watching the DJs & Sports Presentation Team at the Winter Olympics Venues
Chinese netizens are not just closely following the athletes, they are also paying more attention to the "atmosphere enliveners" at the 2022 Beijing Winter Olympics.
Chinese netizens are not just closely watching the athletes at the 2022 Winter Olympics – the DJs who are performing at the various venues and their noteworthy song selections have also become a popular topic on social media.
On Feb 8th, the US-born freestyle skier Eileen Gu (谷爱凌, Gu Aling) became the youngest ever gold medalist in freestyle skiing, winning the big air event for China. The American-born Gu has become a superstar in China, and everything related to her is going viral these days, including the songs that were playing when Gu had won gold.
The hashtag "When Gu Ailing Won the Gold, Jay Chou's Song Huo Yuan Jia is Played" (#谷爱凌夺冠现场放周杰伦的霍元甲#) has received more than 29 million on Weibo. Chinese netizens praised the DJs for the song selection, saying it perfectly captured the scene as the song has a strong rhythm, and is also known as 'Fearless.'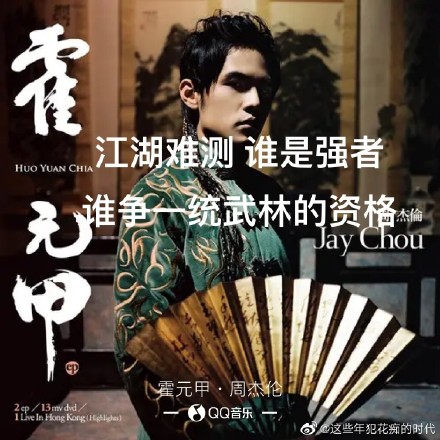 Before the hashtag about Gu went trending, the DJ team already attracted attention on Chinese social media for the interesting and noteworthy music selection at various events.
During the Ice Hockey Women's Preliminary Round Group A, when Team US competed against Team ROC, there was a conflict between the two teams and the DJ played a remixed version of Katyusha, a Russian song that became famous during World War II. The dramatic effect of the scene and wartime song pairing made the song's name (#喀秋莎#) and a video of the DJ trying to 'make some noise' on the venue go trending on Weibo with over 53 million views. Many netizens thought the music selection was humorous, with some joking that the DJ was adding oil to a burning fire.
Xie Xiao (@篮球DJ小牛), the ice hockey stadium music director for the 2022 Beijing Winter Olympics who played the song that day, later clarified on Douyin that the selection of Katyusha was not a response to the conflict. Before that game, he allegedly had already planned to use it because it is a famous song in Russia, and he already played a lot of well-known American songs.
Another creative song choice by this DJ team that resonated with Chinese netizens occurred during another ice hockey match between Team China and Team Japan, when an American DJ performed Defending the Yellow River on a keyboard. In China, Defending the Yellow River is a famous patriotic song. It was the seventh chapter of the classic Yellow River Cantata, written in 1939 to praise the fighting spirit of the Chinese people (#美国DJ现学后现场弹奏保卫黄河#).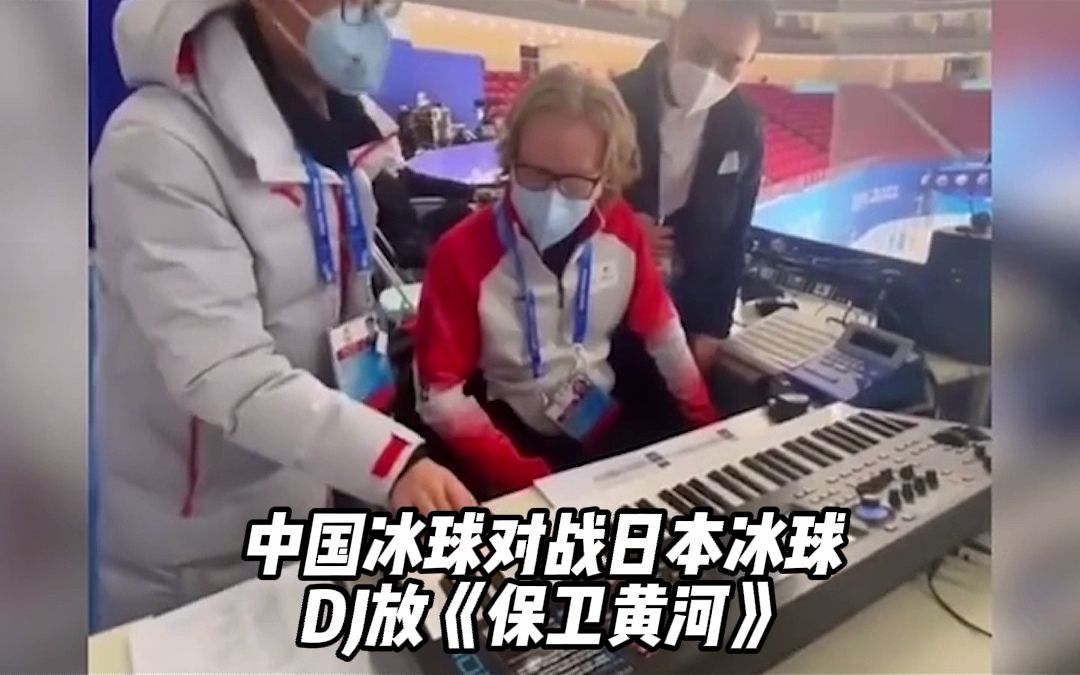 A list of popular hashtags on Weibo relating to which songs are played at the venue of the Winter Olympics also demonstrates that music has become a more relevant and popular part of the Olympics, and is also an attractive component of the event that is encouraging more people, especially younger generations, to watch and participate in the Games.
Xie also said that the team is only allowed to select songs from a specific Winter Olympics music library due to copyright and licensing. The library includes 16000 musical tracks divided into various (sub)categories based on music styles, language, and themes, covering many hit songs and different music from all across the world. On the first event day of speed skating, for example, Adele's Rolling in the Deep blasted through the speakers.
The pandemic has made the role of so-called 'atmosphere enliveners' or 'vibe teams' (气氛组, 氛围组) more important. This already became clear during the Tokyo Olympics, where we saw empty stadiums due to coronavirus measures, with DJs creating playlists to motivate athletes in the absence of cheering fans. This shift has also brought more online attention for DJs and other crew members, who would usually stay behind the scenes.
On the venues, the atmosphere is raised by Olympic mascots walking, jumping, and running around the venues interacting with smaller audiences. Meanwhile, the DJs are playing energetic tracks or are creating remixes and mash-ups while producers use different elements at the venue to enhance the audience's experience.
Li Helin, the deputy manager of the venue operations team at Beijing National Speed Skating Oval, takes care of the event presentation at the venue. He also worked as an MC at the volleyball stadium during the 2020 Tokyo Olympics. Li has also been in charge of some popular music selections played by the DJs during events involving the China team, including Calorie (卡路里) by the Chinese idol girl group Rocket Girls 101 and Immortal Sound Above Cloud Palace (云宫迅音), the opening theme of Journey to the West, a 1986 TV series that is still considered one of China's most popular TV dramas. These song selections also were popular on Weibo.
Li previously said he believed that using DJs to connect with the audiences and to enliven the atmosphere at the venues will become a bigger trend for big sports events in the future. As the standard of sports presentation and fan engagement rises, more new elements, such as spectacular lighting, drones, 3D projects, etc. will also be included: "Sports presentation serves the game, but also adds fresh elements to it."
Meanwhile, many social media users praise the music crew: "This time, the DJs at the Olympics are really awesome and their song selection is on point."  "If you don't know what kind of work you want to do, becoming an Olympic DJ is a good choice," one Weibo user writes, with others agreeing: "Seriously, if I cannot be an Olympic athlete, then I'll strive to be an Olympic DJ."
By Wendy Huang
Follow @whatsonweibo
Spotted a mistake or want to add something? Please let us know in comments below or email us. Please note that your comment below will need to be manually approved if you're a first-time poster here.
©2022 Whatsonweibo. All rights reserved. Do not reproduce our content without permission – you can contact us at info@whatsonweibo.com