Chinese Consumers Indifferent to Diplomatic Spat Between China and Canada as "Canada Goose Boycott" Backlashes
Despite Canada-China tensions, the Canada Goose store in Beijing is faring well.
Chinese consumers and netizens appear indifferent to the diplomatic tensions between China and Canada, a surprising reaction in light of the previous vitriol these two groups threw at governments, celebrities, or brands that offended or defied their country.
On December 28, Canada Goose opened its very first store in mainland China at a renowned Beijing shopping district, Sanlitun (三里屯), two weeks later than originally scheduled due to "ongoing construction." The announcement of the delay came amidst growing tensions between China and Canada following the arrest of Huawei chief financial officer Meng Wanzhou in Vancouver on December 1.
The Canadian brand, known for its luxury winter jackets and parkas, has been facing great difficulties since the arrest, with its shares dropping 37 percent in value according to Reuters.
The company's struggles have also received extensive coverage on Chinese social media. On Weibo, the hashtags "Canada Goose Value Crashing" (加拿大鹅暴跌) and "Canada Goose Mainland store opening canceled"(加拿大鹅内地开业取消) registered over 230 million and 170 million views, respectively, with some netizens calling for a boycott of the Canadian brand. The nationalist tabloid Global Times quoted 'experts' and 'consumers' in suggesting that "if Canada keeps detaining a senior Huawei executive in a complicit move to woo the US, the repudiation of Canadian goods will expand."
However, no boycott materialized as the brand's first Mainland store was packed with Chinese consumers on its opening day, to the point where store employees had to restrict entry, forcing many to wait over thirty minutes in -12oC temperatures.
The same Reuters article also revealed the store's popularity was no one-day fad; three days after the opening, consumers were still having to queue for an hour.
"Why would I boycott an enterprise that didn't do anything wrong?"
Such  "unpatriotic" consumerism has not been ignored by Chinese netizens, prompting many to ask about the much-trumpeted boycott. This time, however, calls for a boycott were by and large dismissed, with some defending the unassailable right of consumption ("why would I boycott Canada Goose? If Meng Wanzhou can buy houses and a Canadian residence permit, why can't I buy some Canadian clothes?") while others questioned the validity of making a Canadian company responsible for the Canadian government's action. ("Why would I boycott an enterprise that didn't do anything wrong?").
Unintended side-effects of patriotic shrilling for a boycott, namely increasing Canada Goose's brand awareness among Chinese consumers, were also mocked by netizens. As one Weibo user wrote: "Before the boycott, my colleague had never heard of the brand. Now my colleague is rushing to the new store to buy something. The irony."
More comic relief was provided by the self-mockery of some netizens who observed, tongue planted firmly in cheek, that they didn't boycott the brand but neither did they go to the store – long queues hide the fact that luxury products remain unaffordable to the vast majority of the Chinese people.
"Young people driven by fashion tastes, not politics."
All this accords with the prediction made by some pundits that the boycott would quickly blow over as the biggest buyers of the products in China are young people "driven by fashion tastes, not politics".
The numbers also show the slump in share value preceding the store opening was not fatal: On Monday 31, Canada Goose's stocks registered a 6 percent increase from the previous week.
Are Chinese consumers less patriotic than in the past? After all, Canada Goose's success is a marked contrast to the concerted effort Chinese consumers made to boycott South Korean products during the THAAD dispute between China and South Korea that began in September 2017 and lasted a whole year before a truce was called.
Perhaps luxury is patriotism's kryptonite; perhaps Canadian ambassadors of Chinese culture like entertainer Mark Rowswell, the first foreigner to ever perform comedy for a Chinese audience in Mandarin, have made netizens subconsciously more tolerant of the Canadian government. Whatever the reason, this whole episode shows that Chinese public opinion is not always boringly predictable and subservient to the Chinese state.
By Gabi Verberg, edited by Eduardo Baptista
Contributions by Miranda Barnes
Spotted a mistake or want to add something? Please let us know in comments below or email us.
©2019 Whatsonweibo. All rights reserved. Do not reproduce our content without permission – you can contact us at info@whatsonweibo.com
Turning Drinks into Fashion – Chinese Designer Yang Yang Personifies Popular Beverages
Personified beverage fashion – trending because it's cool.
Every now and then there are posts on Weibo that just seem to keep on making their rounds. The 'beverage fashion' drawings collection by Yang Yang (杨杨) is one of these posts, first popping up on Chinese social media in June of this year.
Yang Yang is a 28-year-old designer from Anhui, who started drawing when she was 13 years old. She has been active in the fashion business for eight years now and has become popular on Kuaishou, China's popular short video and live-streaming app.
If Coca Cola were a fashionista, what would she look like? In the eyes of Yang Yang, this would be her:
Wahaha (哇哈哈) purified water, produced by the largest beverage company in China, is personified here:
Energy drink brand Red Bull China, a Sino-foreign joint venture company, uses different colors than cans in the US or Europe.
One particularly striking illustration by Yang Yang is that of Nongfu icea tea drink Cha π (茶兀).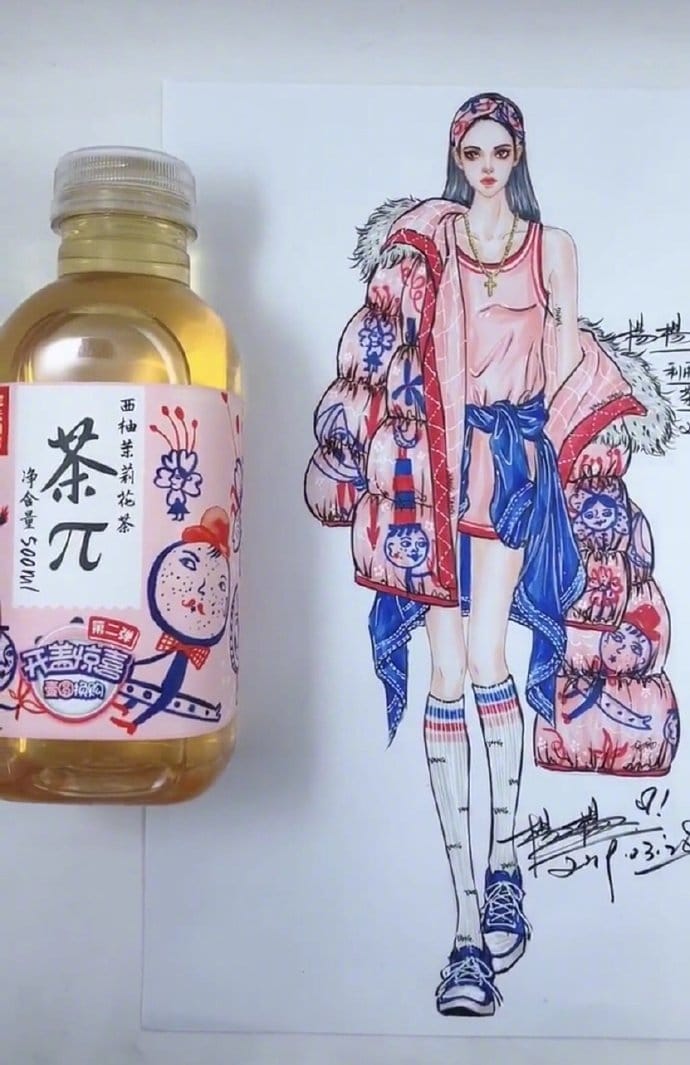 Nongfu Spring, one of the most common brands of bottled water in China, suddenly seems very trendy now.
This is the fashion version of Sea Crystal Lemon, known for its bright blue and yellow.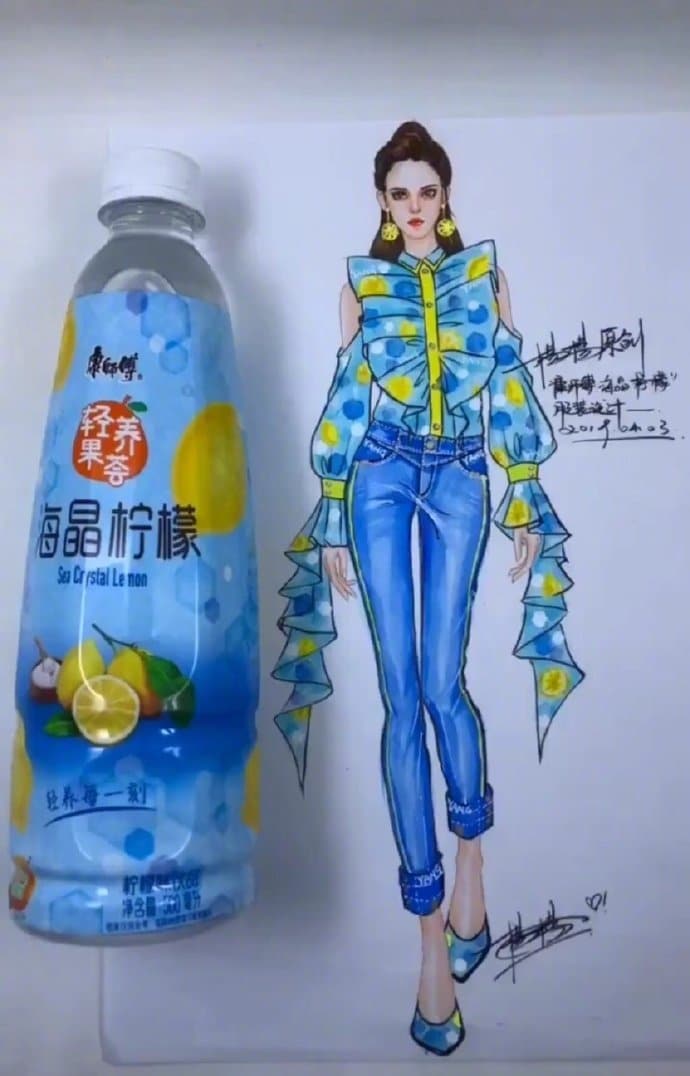 Following the various Weibo posts that are making their rounds with the illustrations by Yang Yang, more drawings seem to have been added later via other channels, including that of Pepsi, Wong Lo Kat, and Snow Beer.
Although Yang Yang's designs have gone viral this year, it is not known if they will have a chance to be turned into wearable fashion. As for Yang, she says she was just "playing around" to keep a creative mind.
Also read: From Stay-at-Home Dad to Fashion Designer – 'Super Dad' Rises to Fame
By Manya Koetse
Sources:
https://k.sina.com.cn/article_1872762823_p6fa017c702700xosj.html
https://new.qq.com/rain/a/20190619A0POST
Spotted a mistake or want to add something? Please let us know in comments below or email us. First time commenters, please be patient – we will have to manually approve your comment before it appears.
©2019 Whatsonweibo. All rights reserved. Do not reproduce our content without permission – you can contact us at info@whatsonweibo.com
The Mulan Makeup Challenge: Traditional Chinese Makeup Goes Trending
Recreating the Mulan make-up look was the biggest beauty challenge on Chinese social media this July.
Will traditional Chinese make-up make a comeback because of Disney's Mulan?
Since Disney released the official trailer for its live-action Mulan movie earlier this month, Mulan is recurringly appearing in the top trending lists on Chinese social media.
Among all the different topics relating to the upcoming Mulan movie, the Mulan make-up challenge is one that jumps out this month.
The Disney live-action trailer showed a scene in which Mulan, played by Chinese American actress Crystal Liu Fei (刘亦菲), has a full face of betrothal makeup. The original animated Disney movie also features a full makeup Mulan.
Although there was also online criticism of the 'exaggerated' makeup, there are many people who appreciate Mulan's colorful makeup look.
On Weibo, many showed off their skills in copying Mulan's makeup look this month.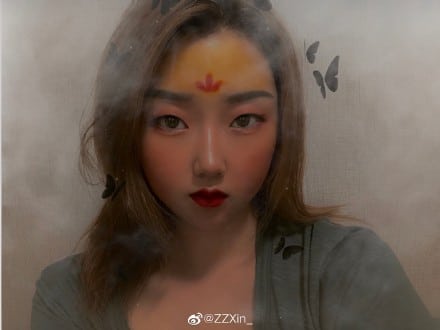 By now, the hashtags "Mulan Makeup Imitation" (#花木兰仿妆#) and "Mulan Makeup Imitation Contest" (#花木兰仿妆大赛#) have attracted over 300 million views.
Makeup such as lipstick has been used in China as far back as two or three thousand years ago.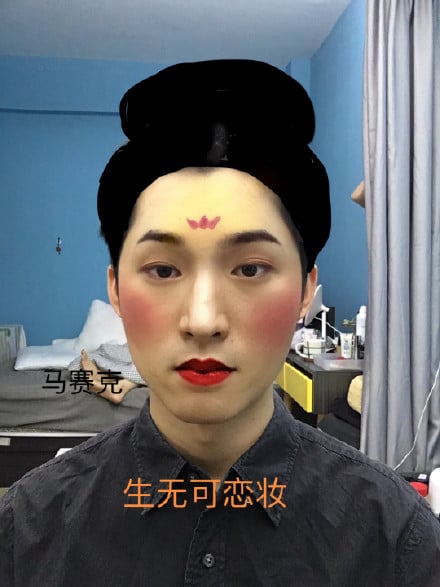 Makeup vlogger Emma Zhou explains more about Tang Dynasty (618-907) makeup customs here; the skin would be whitened with rice flower, followed by the application of 'blush' (pigment of strong-colored flowers) to the cheeks and eyes in a round shape, to emphasize the roundness of the face.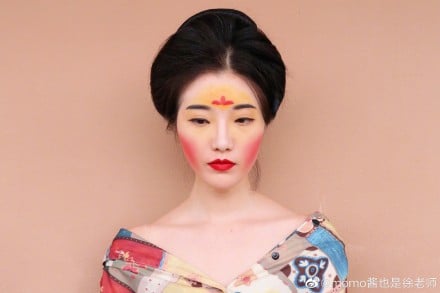 A floral-like decoration would be placed in between the eyebrows.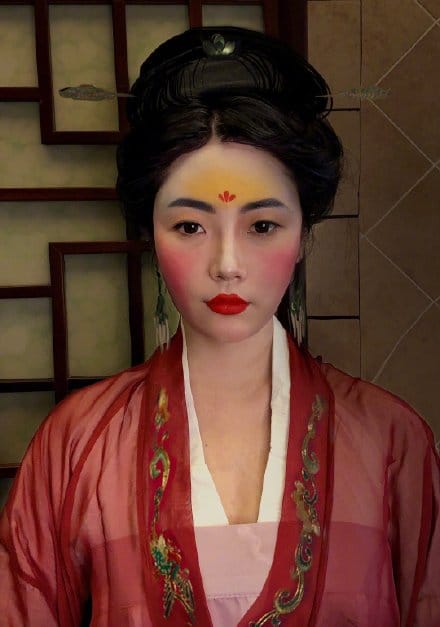 The yellow forehead, as can be seen in the live-action Mulan, is also known as "Buddha's makeup," and was especially popular among ladies during the Tang Dynasty. A yellow aura on the forehead was believed to be auspicious (Schafer 1956, 419).
Although contemporary Chinese makeup trends are much different than those depicted in Mulan, traditional makeup seems to make somewhat of a come-back because of the Disney movie, with hundreds of Chinese netizens imitating the look.
Beauty bloggers such as Nico (@黎千千Nico, image below) receive much praise from Weibo users for their makeup look. Nico wrote: "I even opened the door for the delivery guy this way!"
It is not just girls imitating the look; there are also some boys showing off their Mulan makeup.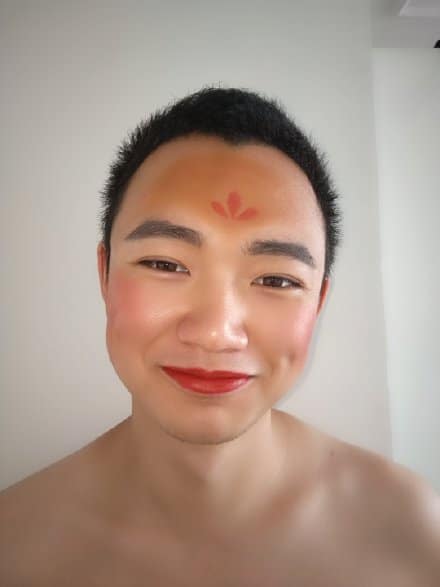 Although many still find the Mulan makeup look exaggerated and even "laughable," there are also those who think it looks really "cool" – of course, depending on whether or not the application is successful.
Want to try it out for yourself? There are various amateur tutorials available on Youtube (in Chinese), such as here, here, or here.
The Mulan make-up hype will probably continue in 2020; the Mulan movie will come out in late March.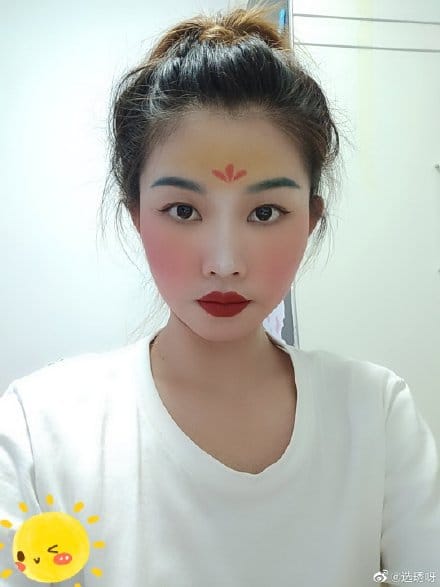 To read more about Mulan, please see our latest feature article on Mulan here.
By Manya Koetse
Follow @whatsonweibo
References
Schafer, Edward H. 1956. "The Early History of Lead Pigments and Cosmetics in China." T'oung Pao, Second Series, 44, no. 4/5: 413-38. http://www.jstor.org/stable/4527434.
Spotted a mistake or want to add something? Please let us know in comments below or email us. Please note that your comment below will need to be manually approved if you're a first-time poster here.
©2019 Whatsonweibo. All rights reserved. Do not reproduce our content without permission – you can contact us at info@whatsonweibo.com