Annual List of China's Best Hospitals: Ranking the Top 10 Hospitals of the Year
These are China's best hospitals according to the Fudan University annual ranking list.
A new list with the 50 highest rated hospitals in China of the year 2019 has been released earlier this month.
A hospital list, ranking the best hospitals in China, was released earlier this month. The list is independently issued annually since 2010 by the Hospital Management Institute of Shanghai's Fudan University. It ranks the top 100 hospitals in China and the top 10 hospitals over various clinical specialties. In doing so, it has become one of the most important hospital rankings in China.
The topic became trending on Weibo with over 110 million views (#复旦版中国医院排行榜#). Although there is a major interest in this topic, there are also those questioning what makes a hospital the 'best' hospital. This list, among other things, is based on the hospital's reputation and its capacity to conduct scientific research.
"What is fame and reputation? What I care about when seeing a doctor is their success rate in curing patients," one social media user wrote – a sentiment shared by many. Others also say it is best to look for the right hospital depending on the patient's personal needs.
Although it is true that these rankings do not include any rates on treatment results, they are relevant to patients for their reputation and size nonetheless.
China currently has a significant shortage of doctors, and the most qualified doctors are more prone to go to the hospitals with the best reputation. It is an ongoing cycle that has left many of the more rural and smaller hospitals lacking qualified staff. (For more about the problems facing China's healthcare system, also see this article.)
We will list the top 10 of China's best hospitals according to the report here, including some basic info.
#1 Peking Union Medical College Hospital
中国医学科学院北京协和医院
Peking Union Medical College Hospital (PUMCH) has topped these rankings consecutively for 11 years. The hospital was founded in 1921 by Rockefeller Foundation and is affiliated to both Peking Union Medical College (PUMC) and the Chinese Academy of Medical Sciences (CAMS).
PUMCH offers 2000 beds, has more than 4000 employees, and 57 clinical and medical departments. The hospital recently also launched its online services, including consultation, prescribing medicine, and electronic medical recording, which reportedly will expand to all clinical sections of the hospital.
Weibo: @北京协和医院 (960906 followers)
Website: link
Address: #9 Dongdan 3rd Alley, Dongcheng, Beijing, China
#2 West China Hospital Sichuan University
四川大学华西医院
Founded in 1872, the West China Medical Center is China's biggest hospital in terms of size, and also ranks number two in the list of the world's largest hospitals (no 1 being the Chang Gung Memorial Hospital in Taiwan). The hospital has a capacity of 4300 beds and there are 46 clinical departments.
West China Hospital has recently been in the news a lot due to the development of its own experimental COVID19 vaccine.
Weibo: @四川大学华西医院 (483829 followers)
Website: link
Address: #37 Guoxue Alley, Wuhou District, Chengdu, Sichuan Province
#3 People's Liberation Army General Hospital / 301 Hospital
中国人民解放军总医院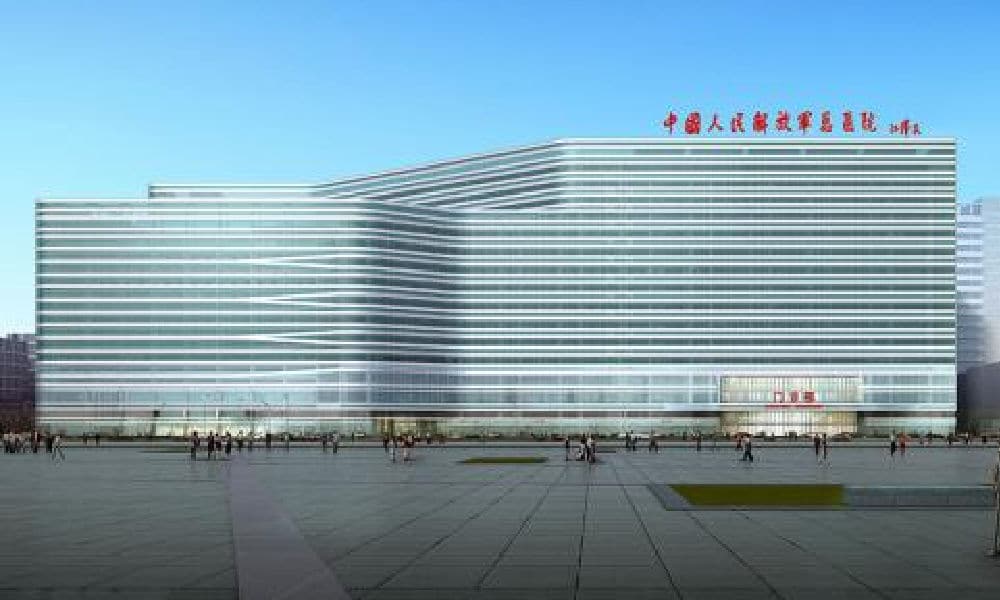 The General Hospital of the People's Liberation Army (PLAGH), also known as 301 Hospital or PLA General Hospital, is the largest general hospital under the auspices of the People's Liberation Army. The military hospital, used by the top leadership, was founded in 1953 and has a capacity of 4000 beds.
Earlier this year, the hospital made headlines for being the first center in Asia to provide newly advanced (ZAP) non-invasive technologies to treat brain tumors.
Website: link
Address: No. 28 Fuxing Road, Haidian District, Beijing
#4 Ruijin Hospital
上海交通大学医学院附属瑞金医院
Ruijin Hospital, formally known as Guangci Hospital, was founded in 1907. The hospital has 34 clinical departments, with a capacity of 1774 beds and a staff of over 3300.
The hospital is known for the rescue of burn victim Qiu Caikang, an iron worker of Shanghai Steel Factory who was burnt by molten steel in 1958. Although he suffered extensive burns to 89% of his body – and was thought unlikely to survive -, the staff at the hospital were able to successfully treat him. The hospital's technologies in treatment of deep burns has since been renowned throughout the country.
Website: link
Address: 197, Rui Jin Er Road,Shanghai 
#5 Zhongshan Hospital Fudan University
复旦大学附属中山医院
This Shanghai hospital, which opened in 1937, is a major teaching hospital affiliated with the Shanghai Medical College of Fudan University. It was the first large-scale general hospital managed by Chinese people at its time of opening.
Zhongshan Hospital is leading in China when it comes to the treatment of heart, kidney, and diseases, and liver cancer. The hospital has over 1900 beds and more than 4000 hospital staff.
Website: link
Address: 180 Fenglin Road, Shanghai
#6 The First Affiliated Hospital, Sun Yat-sen University
中山大学附属第一医院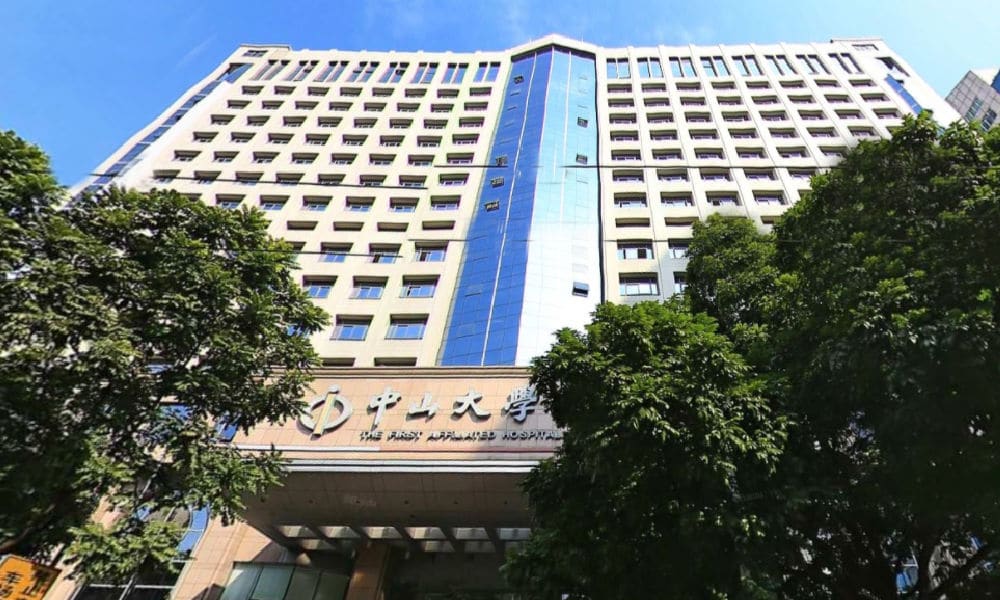 The First Affiliated Hospital of Sun Yat-Sen University is celebrating its 110th anniversary this year. Founded in 1910, the hospital was initially called the Affiliated Hospital of Guangdong Public Institution of Medicine. It is one of the largest hospitals in China.
The hospital is renowned for various medical specialties, including liver and kidney transplantion. The hospital has 72 clinical departments, 3523 beds, and over 6000 staff.
Website: link
Address: 58 Zhongshan 2nd Rd, Yuexiu District, Guangzhou, Guangdong Province
#7 Tongji Hospital, Huazhong University of Science and Technology
华中科技大学同济医学院附属同济医院
Tongji Hospital was officially founded by German doctor Erich Paulun in 1900, located in Shanghai, and did not move the Medical College to Wuhan until 1950. The hospital, which now has some 4000 beds and 7000 staff members, has 52 clinical and paramedical departments.
During the new coronavirus outbreak in Wuhan, the hospital provided 800 beds for severe cases.
Website: link
Address: No.1095 Jie Fang Avenue, Hankou, Wuhan
#8 Xijing Hospital
空军军医大学西京医院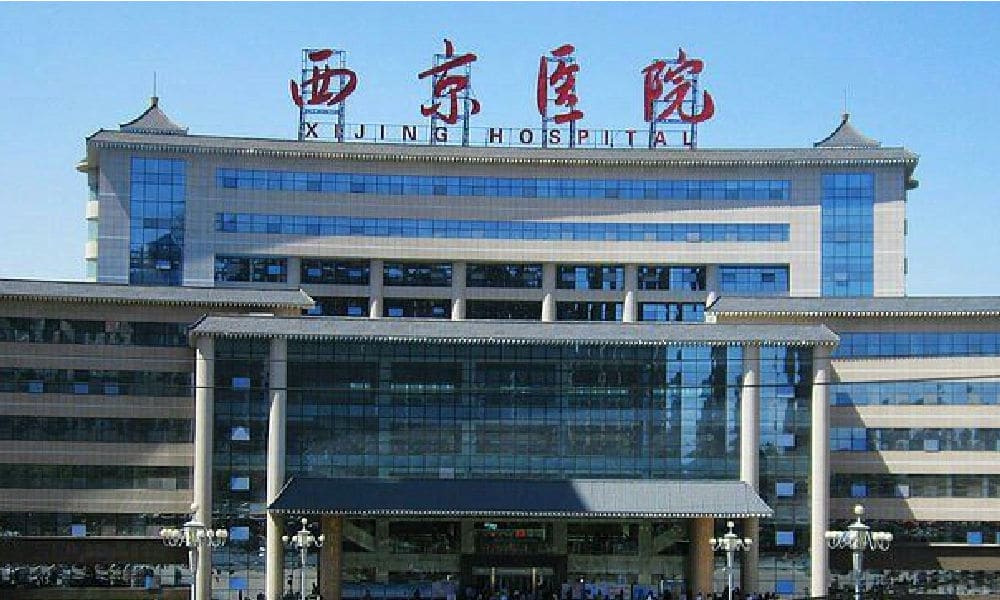 Xijing Hospital was founded in 1939 and has since been a hospital of several 'world's firsts', including being world's first hospital to recreate a '4D'-printed breast for a cancer patient who underwent a mastectomy. The hospital also saw China's first baby born from a transplanted womb.
Xijing Hospital houses 3218 beds.
Website: link
Adress: No. 127 Changle West Road, Xincheng District, Xi'an
#9 Huashan Hospital
复旦大学附属华山医院
Huashan Hospital's main branch is located in the city center of Shanghai, in the former French Concession. The hospital was founded in 1907 as the Chinese Red Cross General Hospital by Governor Shen Dunhe, the founder of the Red Cross Society of China. The hospital opened for business in 1909.
Besides being a general hospital with around 3000 staff members and over 1215 beds at the main branch, it is also Fudan University's major and renowned teaching hospital. Huashan is one of the best-known hospitals in China.
Website: link
Address: 12 Wulumuqi Middle Rd, Jing'an District, Shanghai
#10 Wuhan Union Hospital
华中科技大学同济医学院附属协和医院
Wuhan Union Hospital has a long history; it was founded in 1866 by Griffith John, a Welsh Christian missionary and translator in China. The hospital is an active general hospital, as well as focusing on teaching and scientific research.
The hospital has a total of 5000 beds and more than 8000 staff members. In 2020, the hospital became one of the designated hospitals to treat patients from the COVID-19 pandemic.
Website: link
Address: 1277 Jiefang Avenue, Wuhan, Hubei Province
By Manya Koetse
Follow @WhatsOnWeibo
Original photo used in featured image by Adhy Savala
Spotted a mistake or want to add something? Please let us know in comments below or email us. First-time commenters, please be patient – we will have to manually approve your comment before it appears.
©2020 Whatsonweibo. All rights reserved. Do not reproduce our content without permission – you can contact us at info@whatsonweibo.com.
Footage Shows Mysterious Flashes Before Qinghai Earthquake
The flashes of light seen in the sky right before the Qinghai earthquake have become a trending topic on Weibo.
Videos of the January 8th quake, which occurred in Qinghai's Menyuan county, appear to show several intense flashes of light filling the night sky immediately preceding the quake. The videos have sparked debate among Chinese internet users as to the explanation for the brilliant lights, with some referencing the little-understood phenomenon of "Earthquake Lights."
On January 8 at approximately 1:45 AM, Menyuan County in the Haibei Tibetan Autonomous Prefecture in China's Qinghai Province was struck by a magnitude 6.9 earthquake, damaging several homes and causing minor injuries to four people.
Photos of buildings in the area show shattered wall tiling and window glass, a partial ceiling collapse, and other minor structural damage. The area around the quake's epicenter is sparsely populated, but tremors could be felt in numerous nearby cities including Zhangye, Wuwei, Jinchang, Lanzhou, and Linxia Autonomous Prefecture in Gansu, as well as causing railway closures along the Qinghai-Tibet and Lanzhou-Qinghai high-speed rail lines, Jiangxi Daily reports.
The earthquake was followed by several subsequent quakes, including 5 quakes of lesser magnitude all within the hour.
According to the China Earthquake Administration, the quakes continued into the 9th, with a magnitude 3.2 earthquake recorded in Menyuan county at 0:44 on January 9th.
CCTV footage shot moments before the quake and shared widely on Weibo captured a bright, explosive flash of light, which quickly disappears before a second, shorter flash lights up the night sky, followed immediately by tremors.
This video went viral on Chinese social media this weekend, showing an intense flash of light right before the Qinghai earthquake happened. pic.twitter.com/MtibhGiTSl

— What's on Weibo (@WhatsOnWeibo) January 9, 2022
The footage intrigued Chinese netizens, with the hashtag "Intense Flash of Light on the Horizon Before the Qinghai Earthquake" (#青海地震前地平线出现耀眼强光#) accumulating over 100 million views by Sunday and giving rise to debate over the cause of the strange lights. Other videos capturing the flash from different angles show only one flash, or several smaller flashes along the horizon.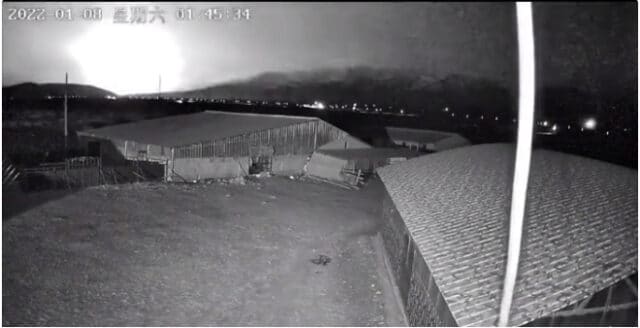 Much of the debate centered around whether this was a case of "Earthquake Lights" (地光/地震光, also EQLs), a controversial phenomenon among scientists which is sometimes reported before high-magnitude earthquakes, such as Italy's 2009 L'Aquila quake.
Just before and after quakes begin, witnesses have reported seeing unexplainable light phenomena in a range of colors, ranging from brilliant white flashes as bright as daylight to a blue, flame-like glow hovering above the earth.
Explanations range from the ionization of oxygen in rocks under intense stress, piezoelectric or triboluminescent phenomena, and leaks of radioactive ionizing gas into the atmosphere to more mundane sources, such as the flailing of damaged power lines. Sometimes the lights were also said to come from UFOs or explained them in religious terms, but a 2014 study refuted this and linked the phenomenon to rift environments.
Interestingly, this is not the first time the phenomenon has been reported to precede a major earthquake in China. Some Weibo users remarked that "Earthquake Lights" had been seen before the disastrous 1976 Tangshan earthquake, which damaged or destroyed vast swathes of that city and killed over 240,000 people. Two movies depicting the quake, After the Blue Light Flashes.. (蓝光闪过之后..) and The Great Tangshan Earthquake (唐山大地震) both feature scenes of mysterious bright lights illuminating the night sky moments before tremors began.
Strange lights were also reported in the sky in Tianshui, Gansu province, preceding the 2008 Sichuan earthquake.

Other Weibo users remained unconvinced about the strange lights being mysterious Earthquake Lights. "Don't freak out over it," one user wrote: "It's just a downed power line."
Another online video features commentary from seismologist Chen Huizhong (陈会忠) of the China Earthquake Administration, who explains the flashes as an electrical transformer exploding, noting that footage from another angle shows the tremors damaging electrical lines in the distance, which begin sparking and showing obvious signs of damage. This damage, however, occurs after the tremors have already started, and does not seem to explain the bright flashes which lit up the sky immediately preceding the tremors.
Still others suggested that radon gas leaking from underground as the earth shifted could have caused the flash.
While the debate rages on between proponents and skeptics of "Earthquake Lights," a third group of online commenters has already made up their minds: the Weibo fans of prominent Chinese science fiction writer and The Three-Body Problem author Liu Cixin (刘慈欣), wasted no time in heralding the coming of extraterrestrial invaders.
"Looking forward to a scientific explanation," wrote one user: "As for me, I think it's the first step in an alien attack." The user's post ended with the hashtag, "The Sophon from Three-Body Problem has arrived!"

By Luke Jacobus
Follow @whatsonweibo
Spotted a mistake or want to add something? Please let us know in comments below or email us. First-time commenters, please be patient – we will have to manually approve your comment before it appears.
©2022 Whatsonweibo. All rights reserved. Do not reproduce our content without permission – you can contact us at info@whatsonweibo.com.
Chinese Student Forced to Undergo "Fake Surgery" and Borrow Money While Lying on the Operating Table
The 17-year-old girl from Shaanxi underwent surgery for no reason at all, without her parents' consent.
The story of a 17-year-old girl who was forced to undergo a "fake surgery" at Shaanxi's Ankang Xing'an Hospital has gone viral on Chinese social media.
One of the netizens to break the story on social media is the Weibo user @QinguanSihai (@秦观四海, 90,000+ followers), who posted about the incident on October 6.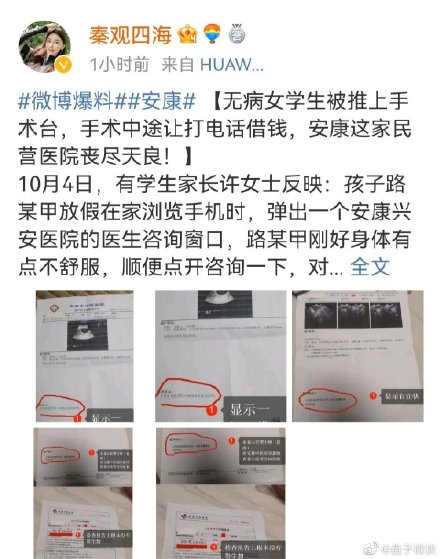 According to the post, the incident occurred on October 4 when a young woman named Lu went online to seek medical attention because she was not feeling well. Since there was an available spot for a medical consultation at the private Ankang Xing'an Hospital, Lu went to see a doctor there.
While she was at the hospital in the city of Ankang, the woman allegedly was directly taken to the operating room and placed on the operating table after a short consultation; not for a medical examination, but for surgery.
The girl initially thought she was undergoing a routine medical check. As the surgery was already underway, the doctor stopped to let Lu sign some papers and then asked her if she could gather the money to pay for her medical procedure. When Lu protested and demanded to get off the surgery table, the doctor warned her that she was losing blood and that interrupting the procedure would be life-threatening.
Lying on the operating table, Lu called some of her friends to gather the money, all the while being pressured by the doctor that the money she had (1200 yuan/$185) was not enough to cover for the costs of surgery – which was still ongoing. The doctor allegedly even told Lu to get more money via the Alipay 'Huabei' loaning app.
Lu's parents, who were contacted by concerned friends, soon showed up at the hospital as the doctor hastily ended the surgery. The parents, who were furious to discover their underage daughter had undergone a medical procedure without their consent, became even more upset when they later found out that Lu had undergone surgery to remove cervical polyps, while Lu's medical reports showed that she actually had no cervical polyps at all. No reason could be found for their healthy daughter to have been operated on her cervix.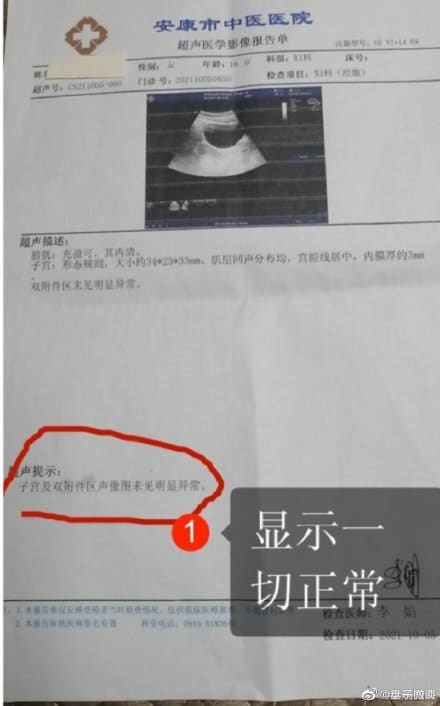 After Lu's story went viral on social media, local authorities quickly started an investigation into the matter and soon confirmed that the story was real. An initial statement said that Angkang Xing'an Hospital is at fault for performing surgery on a minor without the consent of a guardian or parent. It was also recognized that the hospital has committed serious ethical violations. The hospital, located on 78 Bashan Middle Road (巴山中路), is now temporarily closed, and the doctor in question has since been fired.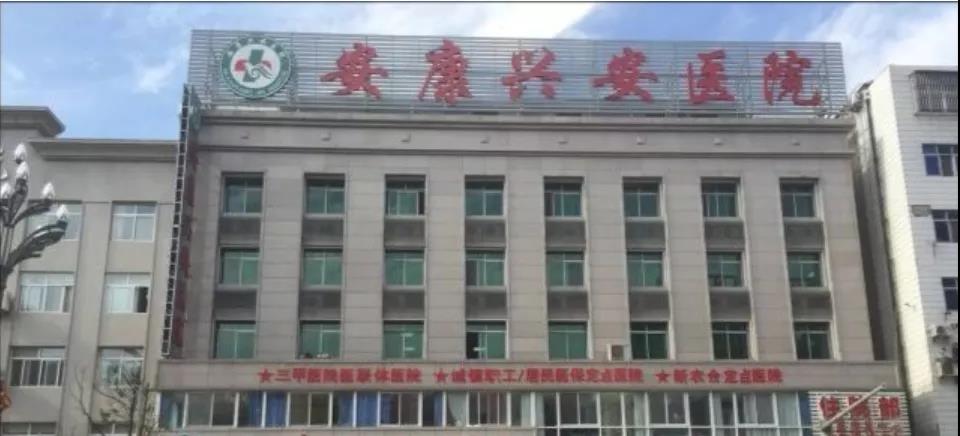 Many Chinese netizens are angered about the incident, calling private hospitals such as Ankang Xing'an a "disgrace" to China's healthcare industry.
This is by no means the first time that malpractices at Chinese local hospitals or clinics trigger online controversy. Various incidents that previously went viral show how some clinics put commercial interests above the health of their patients, and how some doctors think they can get away with abusing and scamming their patients.
In 2016, the death of the 21-year-old cancer patient Wei Zexi (魏则西) sparked online outrage. Wei Zexi, who shared his medical experiences on social media, spent 200,000 RMB to receive contested form of immunotherapy at the Beijing Armed Police Corps No. 2 Hospital (武警二院). The treatment, that was promoted on China's leading search engine Baidu, was actually completely ineffective and the advertising for it was false.
By now, one hashtag relating to the Ankang incident has received over 270 million views on Weibo (#官方通报无病女生被推上手术台#), with other relating hashtags also circulating on social media (#家属回应无病女学生被迫手术#, #无病女学生被推上手术台涉事医院停业整顿#).
"This can't be a real hospital, right?!" some worried netizens write, with others expressing the hopes that the medical institution will be severely punished for their wrongdoings.
By Manya Koetse
Spotted a mistake or want to add something? Please let us know in comments below or email us. First-time commenters, please be patient – we will have to manually approve your comment before it appears.
©2021 Whatsonweibo. All rights reserved. Do not reproduce our content without permission – you can contact us at info@whatsonweibo.com.