Annual List of China's Best Hospitals: Ranking the Top 10 Hospitals of the Year
These are China's best hospitals according to the Fudan University annual ranking list.
A new list with the 50 highest rated hospitals in China of the year 2019 has been released earlier this month.
A hospital list, ranking the best hospitals in China, was released earlier this month. The list is independently issued annually since 2010 by the Hospital Management Institute of Shanghai's Fudan University. It ranks the top 100 hospitals in China and the top 10 hospitals over various clinical specialties. In doing so, it has become one of the most important hospital rankings in China.
The topic became trending on Weibo with over 110 million views (#复旦版中国医院排行榜#). Although there is a major interest in this topic, there are also those questioning what makes a hospital the 'best' hospital. This list, among other things, is based on the hospital's reputation and its capacity to conduct scientific research.
"What is fame and reputation? What I care about when seeing a doctor is their success rate in curing patients," one social media user wrote – a sentiment shared by many. Others also say it is best to look for the right hospital depending on the patient's personal needs.
Although it is true that these rankings do not include any rates on treatment results, they are relevant to patients for their reputation and size nonetheless.
China currently has a significant shortage of doctors, and the most qualified doctors are more prone to go to the hospitals with the best reputation. It is an ongoing cycle that has left many of the more rural and smaller hospitals lacking qualified staff. (For more about the problems facing China's healthcare system, also see this article.)
We will list the top 10 of China's best hospitals according to the report here, including some basic info.
#1 Peking Union Medical College Hospital
中国医学科学院北京协和医院
Peking Union Medical College Hospital (PUMCH) has topped these rankings consecutively for 11 years. The hospital was founded in 1921 by Rockefeller Foundation and is affiliated to both Peking Union Medical College (PUMC) and the Chinese Academy of Medical Sciences (CAMS).
PUMCH offers 2000 beds, has more than 4000 employees, and 57 clinical and medical departments. The hospital recently also launched its online services, including consultation, prescribing medicine, and electronic medical recording, which reportedly will expand to all clinical sections of the hospital.
Weibo: @北京协和医院 (960906 followers)
Website: link
Address: #9 Dongdan 3rd Alley, Dongcheng, Beijing, China
#2 West China Hospital Sichuan University
四川大学华西医院
Founded in 1872, the West China Medical Center is China's biggest hospital in terms of size, and also ranks number two in the list of the world's largest hospitals (no 1 being the Chang Gung Memorial Hospital in Taiwan). The hospital has a capacity of 4300 beds and there are 46 clinical departments.
West China Hospital has recently been in the news a lot due to the development of its own experimental COVID19 vaccine.
Weibo: @四川大学华西医院 (483829 followers)
Website: link
Address: #37 Guoxue Alley, Wuhou District, Chengdu, Sichuan Province
#3 People's Liberation Army General Hospital / 301 Hospital
中国人民解放军总医院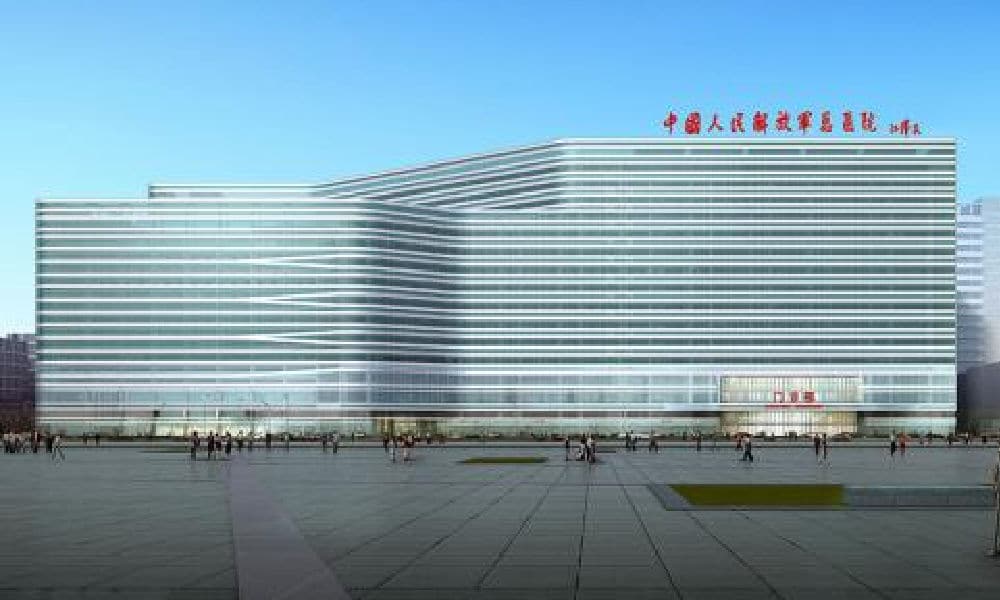 The General Hospital of the People's Liberation Army (PLAGH), also known as 301 Hospital or PLA General Hospital, is the largest general hospital under the auspices of the People's Liberation Army. The military hospital, used by the top leadership, was founded in 1953 and has a capacity of 4000 beds.
Earlier this year, the hospital made headlines for being the first center in Asia to provide newly advanced (ZAP) non-invasive technologies to treat brain tumors.
Website: link
Address: No. 28 Fuxing Road, Haidian District, Beijing
#4 Ruijin Hospital
上海交通大学医学院附属瑞金医院
Ruijin Hospital, formally known as Guangci Hospital, was founded in 1907. The hospital has 34 clinical departments, with a capacity of 1774 beds and a staff of over 3300.
The hospital is known for the rescue of burn victim Qiu Caikang, an iron worker of Shanghai Steel Factory who was burnt by molten steel in 1958. Although he suffered extensive burns to 89% of his body – and was thought unlikely to survive -, the staff at the hospital were able to successfully treat him. The hospital's technologies in treatment of deep burns has since been renowned throughout the country.
Website: link
Address: 197, Rui Jin Er Road,Shanghai 
#5 Zhongshan Hospital Fudan University
复旦大学附属中山医院
This Shanghai hospital, which opened in 1937, is a major teaching hospital affiliated with the Shanghai Medical College of Fudan University. It was the first large-scale general hospital managed by Chinese people at its time of opening.
Zhongshan Hospital is leading in China when it comes to the treatment of heart, kidney, and diseases, and liver cancer. The hospital has over 1900 beds and more than 4000 hospital staff.
Website: link
Address: 180 Fenglin Road, Shanghai
#6 The First Affiliated Hospital, Sun Yat-sen University
中山大学附属第一医院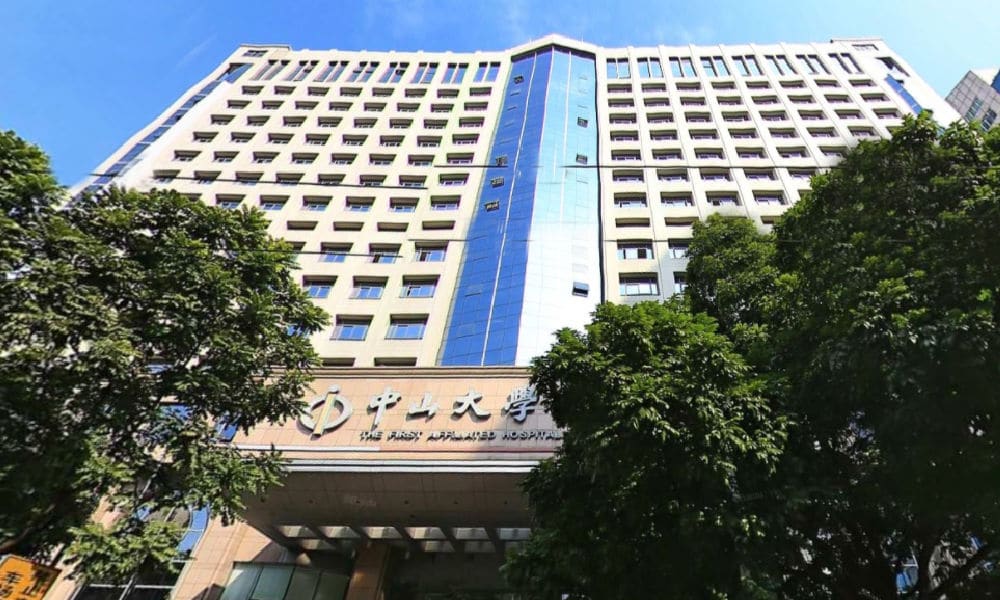 The First Affiliated Hospital of Sun Yat-Sen University is celebrating its 110th anniversary this year. Founded in 1910, the hospital was initially called the Affiliated Hospital of Guangdong Public Institution of Medicine. It is one of the largest hospitals in China.
The hospital is renowned for various medical specialties, including liver and kidney transplantion. The hospital has 72 clinical departments, 3523 beds, and over 6000 staff.
Website: link
Address: 58 Zhongshan 2nd Rd, Yuexiu District, Guangzhou, Guangdong Province
#7 Tongji Hospital, Huazhong University of Science and Technology
华中科技大学同济医学院附属同济医院
Tongji Hospital was officially founded by German doctor Erich Paulun in 1900, located in Shanghai, and did not move the Medical College to Wuhan until 1950. The hospital, which now has some 4000 beds and 7000 staff members, has 52 clinical and paramedical departments.
During the new coronavirus outbreak in Wuhan, the hospital provided 800 beds for severe cases.
Website: link
Address: No.1095 Jie Fang Avenue, Hankou, Wuhan
#8 Xijing Hospital
空军军医大学西京医院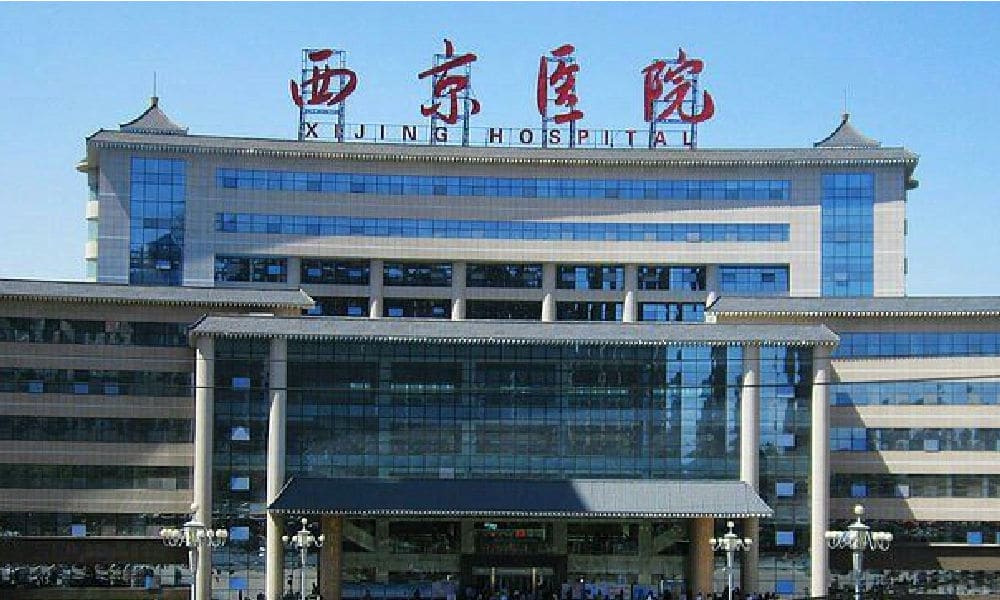 Xijing Hospital was founded in 1939 and has since been a hospital of several 'world's firsts', including being world's first hospital to recreate a '4D'-printed breast for a cancer patient who underwent a mastectomy. The hospital also saw China's first baby born from a transplanted womb.
Xijing Hospital houses 3218 beds.
Website: link
Adress: No. 127 Changle West Road, Xincheng District, Xi'an
#9 Huashan Hospital
复旦大学附属华山医院
Huashan Hospital's main branch is located in the city center of Shanghai, in the former French Concession. The hospital was founded in 1907 as the Chinese Red Cross General Hospital by Governor Shen Dunhe, the founder of the Red Cross Society of China. The hospital opened for business in 1909.
Besides being a general hospital with around 3000 staff members and over 1215 beds at the main branch, it is also Fudan University's major and renowned teaching hospital. Huashan is one of the best-known hospitals in China.
Website: link
Address: 12 Wulumuqi Middle Rd, Jing'an District, Shanghai
#10 Wuhan Union Hospital
华中科技大学同济医学院附属协和医院
Wuhan Union Hospital has a long history; it was founded in 1866 by Griffith John, a Welsh Christian missionary and translator in China. The hospital is an active general hospital, as well as focusing on teaching and scientific research.
The hospital has a total of 5000 beds and more than 8000 staff members. In 2020, the hospital became one of the designated hospitals to treat patients from the COVID-19 pandemic.
Website: link
Address: 1277 Jiefang Avenue, Wuhan, Hubei Province
By Manya Koetse
Follow @WhatsOnWeibo
Original photo used in featured image by Adhy Savala
Spotted a mistake or want to add something? Please let us know in comments below or email us. First-time commenters, please be patient – we will have to manually approve your comment before it appears.
©2020 Whatsonweibo. All rights reserved. Do not reproduce our content without permission – you can contact us at info@whatsonweibo.com.
Chinese Online Discussions on the Origins of Covid-19 after FBI Statement on Wuhan Lab Leak
After the FBI suggested it is likely that Covid-19 originated in a Wuhan lab, commentator Hu Xijin posted about "the United States of Rumors."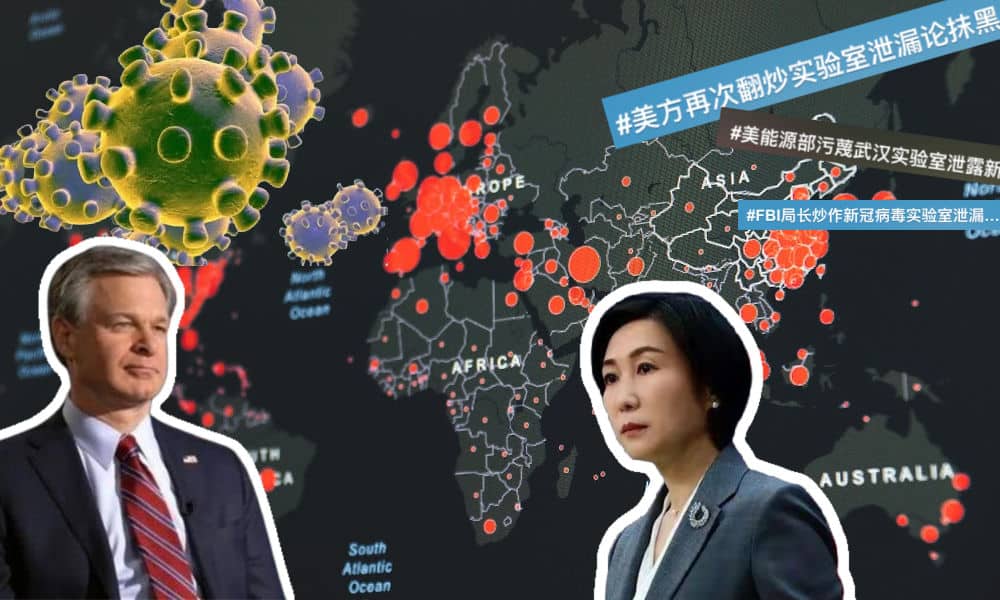 Is it a political issue or a scientific problem? The recent FBI statements on the origin of Covid-19 have brought the lab leak theory back on the table and, once again, triggered political blameshifting and online discussions about the roots of the pandemic.
Over three years since Covid-19 was first discovered in Wuhan and was linked to the local Huanan Seafood Market, the debate on the roots of the Covid-19 pandemic is still ongoing and has again made headlines this week as FBI director Christopher Wray endorsed a theory that the Covid pandemic was a result of a laboratory leak in China.
Wray's remarks came after a Wall Street Journal report about an updated classified intelligence report from the United States Department of Energy. That report concluded that the pandemic probably – with "low-confidence" assessment – started with an unintentional lab leak in Wuhan.
China's Foreign Ministry responded to the issue during a regular press conference earlier this week, blaming the Americans for using the problem regarding the origins of SARS‑CoV‑2 (the strain of coronavirus that causes Covid-19) for "political manipulation" ("政治操弄"). Spokesperson Mao Ning (毛宁) also said that the claims lacked credibility and were simply politicizing the issue instead of taking a scientific approach.

LAB LEAK THEORIES
"Although many lab leak conspiracy theories started in the U.S., some also began on the Chinese internet."
Over the past years, discussions over the origins of SARS-CoV-2 have become increasingly politicized and both American and Chinese sides have pointed the finger at each other and shifted blame for the spread of the virus and the pandemic response on both sides.
Speculations, rumors, and theories that Covid-19 may have emerged from a laboratory in Wuhan were first raised in early 2020. Although many of these lab leak conspiracy theories started in the U.S., some also began on the Chinese internet.
In February of 2020, a rumor circulated on Chinese social media that a postgraduate named Yanling Huang from the high-security lab Wuhan Institute of Virology was the "Patient Zero" of Covid-19 (Wang et al 2021, 73). This was determined to be false, and other similar rumors making their rounds were also refuted and sidelined as a "conspiracy theory" by many scientists.1
A statement in The Lancet published in February of 2020 condemned any rumors on the virus origins, claiming that scientific research "overwhelmingly" concludes that the new coronavirus originated in wildlife.
The World Health Organization (WHO) research team investigating the origins of Covid-19, and which visited China in January of 2021, also called it "extremely unlikely" that the virus leaked from a lab in China. At the same time, all hypotheses on the origin of the virus remained on the table, and later on in 2021, the debate intensified after American President Biden called for a next phase study into the origins of the virus.
Dr. Fauci, director of the American National Institute of Allergy and Infectious Diseases, had been among scientists who originally refuted the 'lab leak' theory, but in May of 2021, he changed his tune and said he was "no longer convinced" that the Covid-19 pandemic originated naturally.
The Chinese official side has consistently refuted claims that Covid-19 might have come from a Chinese laboratory leak, saying it is all about "political manipulation" and "blame shifting."
China's Foreign Ministry has turned the tables on the U.S. multiple times, demanding a thorough investigation into the source of the epidemic in the United States and a further probe into safety concerns at Fort Detrick and other American biological labs.

COVID-19 ORIGINS: HARDER TO TRACE
"The Covid-19 origin debate remains to be both a political and a scientific conundrum."
Important keys to the SARS-CoV-2 origin question seem caught in a web of strategic narratives, political games, and colored perspectives.
Despite the recent U.S. Department of Energy report, there is still consensus among scientists – supported by a substantial body of research – that SARS-CoV-2 is of zoonotic origin, although the specific animal host has not been identified.
A study published in Science in July of 2022 concludes that SARS-Cov-2 most likely jumped from animals to humans at the Huanan Seafood Wholesale Market back in December 2019 (Worobey et al 2022).
Other recent studies that have come out on the research surrounding the origins of the Covid-19 pandemic argue that the complexity of the virus and the lack of harmonious international cooperation are making it harder to draw definite conclusions. Since the research requires international data from 2019 and is time-sensitive, the delays are also making it more tricky to identify the source of SARS-CoV-2 (see Hao et al 2022, 3189-3190).
The official Chinese stance (August 2021) is that the virus is of zoonotic origin and that China supports scientific research into the sources of the virus, as long as this does not become a political tool. The Chinese side also stresses that the fact that the virus was first discovered in Wuhan does not mean that the "Patient Zero" was also in Wuhan, as some studies indicate that there were positive Covid-19 cases before December 2019 in America, Brazil, and Italy (Hao et al 2022, 3185-3186).
In May of 2022, Chinese researchers published a blood-donors study analyzing samples supplied to the Wuhan Blood Center before December 2019, researching if there were SARS-Cov-2 antibodies in the blood provided between Sept-Dec of that year. That study reportedly did not find antibodies amid over 88,000 samples, showing the virus was not widespread in Wuhan in late 2019 (Chang et al 2023; Mallapaty 2023).
With so many questions left unanswered, a second phase study by the WHO into the origins of Covid-19 was much-anticipated. But it recently became known that the WHO shelved this investigation. According to Nature, the stalling of the research relates to ongoing challenges over attempts to conduct crucial studies in China.
And so the Covid-19 origin debate remains to be both a political and a scientific conundrum. Some scientists have voiced concerns that the FBI statement could lead to a renewed wave of harassment against scientists, with such statements only further clouding the debate instead of contributing to it (Euronews).

WEIBO DISCUSSIONS
"As long as politics and science cannot operate independently of each other, there is no conclusion in sight."
Although the Chinese side supposedly condemns blame-shifting and finger-pointing in the Covid-19 origins issue, the media-led and official online discourse regarding the 'origins problem' is mostly accusing the U.S. of hyping the issue and making China the scapegoat. Various Weibo hashtags that are used in posts about the topic literally include the words "hyping" and "politicizing" (#美方应该停止搞政治溯源情报溯源#, #美方再次翻炒实验室泄漏论抹黑不了中国#, #有关方面应停止对新冠溯源政治化#, #FBI局长炒作新冠病毒实验室泄漏论#).
Well-known political commentator Sima Nan (@司马南) accused the American side of dredging up and repeating the same old issues again and that the U.S. is "increasingly becoming the world's laughingstock" for spreading rumors via its official and media channels.
On March 3rd, another Chinese political commentator, Hu Xijin (@胡锡进) also published about the issue, again raising the issue of how Fort Detrick and a lab leak may be connected to the roots of the pandemic:
"In China, there are also many people who think that Covid-19 could come from a laboratory, but that it is America's Fort Detrick lab. The WHO experts have already visited the Wuhan lab, but the expert group still has not visited the Fort Detrick lab despite the serious doubts about a Covid lab leak there. If the U.S. has nothing to hide, then it should do what China did in 2021 and open the doors of Fort Detrick to the WHO. The biggest lie in human history is that of former U.S. Secretary of State Colin Powell holding a bottle of washing powder at the United Nations and saying it was an Iraqi chemical weapon. That lie was used as pretext to launch a bloody war. The United States should change its name to "the United States of Rumors" ("谣言合众国")."
One of the top replies on Hu's post mentioned the American "vaping disease" that broke out in 2019 and peaked in September of that year. "It must have been the Yankees," another commenter wrote.
The claim that Fort Detrick is related to the start of the pandemic or that the U.S. army brought Covid-19 to Wuhan has already been circulating since 2020, and these speculations were strengthened by Chinese official sources, including Foreign Ministry spokesperson Zhao Lijian, that pointed the finger at the U.S.
Many online discussions on Chinese social media, including those on Q&A platform Zhihu.com, still accuse the United States for covering up Covid-related facts and for putting the blame on China to cover their own tracks.
In light of the recent balloon controversy, some called the latest statements "another balloon." By now, it seems impossible to separate the problem of Covid-19 origins from the bilateral relationships between China and the U.S. anymore.
In this regard, the online discussions surrounding the origins of Covid-19 have not changed a lot since 2020. It is a bit of a Catch-22, since these discussions are politicized as they are focused on how the U.S. is politicizing the issue. As long as (international) politics and science cannot operate independently of each other, there is no conclusion in sight that will bring the discussion on the exact origin of Covid-19 to a definitive end.
By Manya Koetse 
1 Besides the Wuhan Institute of Virology, the Wuhan-based Chinese Center for Disease Control has also been considered a possible source of a lab leak – the latter is also the one mentioned in the U.S. Department of Energy report.
References
Chang, Le, Lei Zhao, Yan Xiao, Tingting Xu, Lan Chen, Yan Cai, Xiaojing Dong et al. 2023. "Serosurvey for SARS-CoV-2 among blood donors in Wuhan, China from September to December 2019." Protein & Cell 14 (1): 28-36.
Hao, Ying-Jian, and Yu-Lan Wang. 2022. "The origins of COVID-19 pandemic: A brief overview." Transboundary and Emerging Diseases (69): 3181–3197.
Khatsenkova, Sophia. 2023. "China COVID lab leak: What we know and what we don't know about the origins of the virus." Euronews, # March https://www.euronews.com/next/2023/03/02/china-covid-lab-leak-what-we-know-and-what-we-dont-know-about-the-origins-of-the-virus [4 March 2023].
Mallapaty, Smriti. 2023. "WHO abandons plans for crucial second phase of COVID-origins investigation." Nature, 14 February (Updated 3 March) https://www.nature.com/articles/d41586-023-00283-y#ref-CR1 [4 March 2023].
Wang, Xin, Fan Chao, Guang Yu. 2021. "Evaluating Rumor Debunking Effectiveness During the Covid-19 Pandemic Crisis: Utilizing User Stance in Comments on Sina Weibo." Frontiers in Public Health (9): 70-87.
Worobey, Michael, Joshua Levy, Lorena Serrano, Alexander Crits-Christoph, Jonathan Pekar, Stephen Goldstein, Angela Rasmussen, Moritz Kraemer, Chris Newman, Marion Koopmans, Marc Suchard, Joel Wertheim, Philippe Lemey, David Robertson, Robert Garry, Edward Holmes, Andrew Rambaut, Kristian Andersen. 2022. "The Huanan Seafood Wholesale Market in Wuhan was the early epicenter of the COVID-19 pandemic." Science 377 (6609): 951-959.
Featured image:
Background image by Martin Sanchez.
Get the story behind the hashtag. Subscribe to What's on Weibo here to receive our newsletter and get access to our latest articles:
Spotted a mistake or want to add something? Please let us know in comments below or email us. First-time commenters, please be patient – we will have to manually approve your comment before it appears.
©2023 Whatsonweibo. All rights reserved. Do not reproduce our content without permission – you can contact us at info@whatsonweibo.com.
Video Shows Real-Time "Departure" Information Board at Chinese Crematorium
From "cremation in process" to "cooling down," the digital display shows the progress of the cremation to provide information to those waiting in the lobby. The crematorium 'departure' board strikes a chord with many.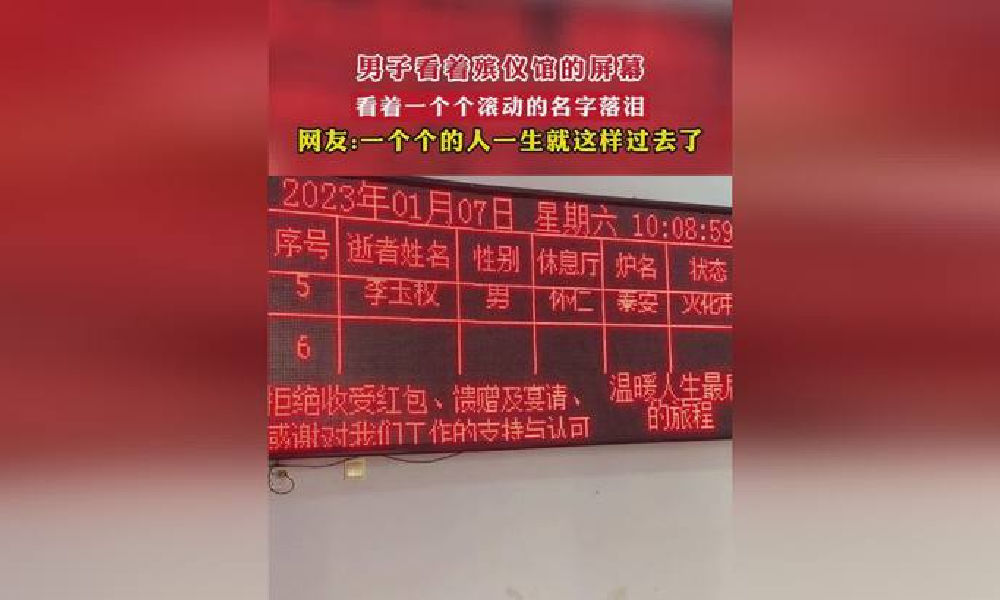 A video showing a live display screen announcing the names and status of the deceased at a Yunnan crematorium has been making its rounds on Chinese social media, from WeChat to Weibo, where one version of the video received over 1,7 million views.
Somewhat similar to a real-time platform departure display on train stations, the screen shows the waiting number of the deceased person, their name, gender, the name of the lounge/room (if any) for families, the name of the crematorium chamber, and the status of the cremation process. Below in the screen, it says "the final journey of a warm life" (温暖人生的最后旅程).
For example, the screen displays the names of a Mr. Chen and a Mr. Li; their bodies were in the process of being cremated (火化中), while other cremations were marked as "completed" (完成) or "cooling down" (降温中).
This video of a real-time "departure" information board in the lobby of a Chinese crematorium is making its rounds on Weibo/Wechat these days. The display shows the name and gender of deceased, which cremation chamber, and the cremation status to inform families of the progress. pic.twitter.com/EA94OWGwdk

— Manya Koetse (@manyapan) January 16, 2023
Through such a screen, located in the crematorium lobby, family members and loved ones can learn about the progress of the cremation of the deceased.
The video, recorded by a local on Jan. 7, received many comments. Among them, some people commented on the information board itself, while others simply expressed grief over those who died and the fragility of life. Many felt the display was confronting and it made them emotional.
"It makes me really sad that this how people's lives end," one commenter said, with another person replying that the display also shows you still need to wait in line even when you're dead.
"I didn't expect the screens [in the crematorium] to be like those in hospitals, where patients are waiting for their turn," another Weibo user wrote. "It would be better if the names were hidden, like in the hospitals, to protect the privacy of the deceased," another person replied.
Others shared their own experiences at funeral parlors also using such information screens.
"My grandfather passed away last September, and when we were at the undertaker's, the display was also jumping from one name to the other and we could only comfort ourselves knowing that he was among those who lived a relatively long life."
"Such a screen, it really makes me sad," another commenter from Guangxi wrote, with others writing: "It's distressing technology."
Although the information screen at the crematorium is a novelty for many commenters, the phenomenon itself is not necessarily related to the Covid outbreak and the number of Covid-related deaths; some people share how they have seen them in crematoriums before, and funeral parlor businesses have used them to provide information to families since at least 2018.
According to an article published by Sohu News, more people – especially younger ones – have visited a funeral home for the first time in their lives recently due to the current Covid wave, also making it the first time for them to come across such a digital display.
The online video of such an information board has made an impact at a time when crematoriums are crowded and families report waiting for days to bury or cremate their loved ones, with especially a large number of elderly people dying due to Covid.
On Jan. 4, one social media user from Liaoning wrote:
"I really suggest that the experts go to the crematoriums to take a look. There is no place to put the deceased, they're parked outside in temporary containers, there's no time left to hold a farewell ceremony and you can only directly cremate, and for those who were able to have a ceremony, they need to finish within ten minutes (..) At the funeral parlor's big screen, there were eight names on every page, and there were ten pages for all the people in line that day, I stood there for half an hour and didn't see the name of the person I was waiting for pop up anymore."
As the video of the display in the crematorium travels around the internet, many commenters suggest that it is not necessarily the real-time 'departure' board itself that bothers them, but how it shows the harsh reality of death by listing the names of the deceased and their cremation status behind it. Perhaps it is the contrast between the technology of the digital display boards and the reality of the human vulnerability that it represents that strikes a chord with people.
One blogger who reposted the video on Jan. 13 wrote: "Life is short, cherish the present, let's cherish what we have and love yourself, love your family, and love this world." Among dozens of replies, some indicate that the video makes them feel uncomfortable.
Another commenter also wrote:
"I just saw a video that showed an electronic display at a crematorium, rolling out the names of the deceased and the stage of the cremation. One name represents the ending of a life. And it just hit me, and my tears started flowing. I'm afraid of parting, I'm afraid of loss, I just want the people I love and who love me to stay by my side forever. I don't want to leave. I'm afraid I'll be alone one day, and that nobody will ever make me feel warm again."
One person captured why the information board perhaps causes such unease: "The final moments that people still spent on this earth take place on the electronic screen in the memorial hall of the funeral home. Then, they are gone without a sound."
Get the story behind the hashtag. Subscribe to What's on Weibo here to receive our newsletter and get unlimited access to all of our articles:
By Manya Koetse 
with contributions by Zilan Qian
Spotted a mistake or want to add something? Please let us know in comments below or email us. First-time commenters, please be patient – we will have to manually approve your comment before it appears.
©2023 Whatsonweibo. All rights reserved. Do not reproduce our content without permission – you can contact us at info@whatsonweibo.com.