Chinese Netizens' Response to New Zealand Mosque Attacks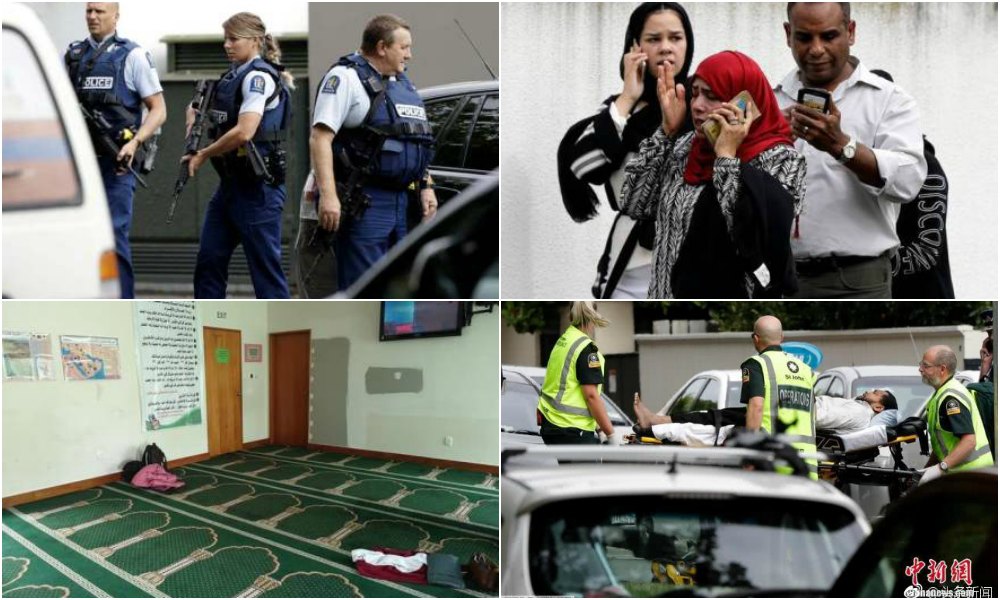 The shocking New Zealand mosque attack, killing at least 49 people, is making headlines worldwide. On Weibo, it is the top trending topic today. A short overview of some of the reactions on Chinese social media.
At least 49 people were killed and 20 wounded when an attacker opened fire at two mosques in Christchurch, New Zealand, on Friday. According to various media reports, one man in his late 20s had been arrested and charged with murder. Three other people, two men and one woman, have also been arrested in relation to the attack.
Footage of the brutal shootings, which was live-streamed by the gunman, has been making its rounds on social media. Although the videos are being taken down from Facebook and Twitter, people are still sharing the shocking images and footage on Weibo at time of writing.
The gunman, who has been named as the 28-year-old Brenton Tarrant, reportedly also posted a 70-page manifesto online expressing white supremacist views.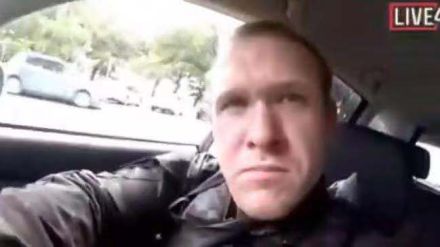 On Chinese social media platform Sina Weibo, the New Zealand mosque attack became a number one trending topic on Friday night, local time, with the hashtag "New Zealand Shootings" (#新西兰枪击案#) receiving at least 130 million views, and thousands of reactions.
"It takes the collaborate efforts of all people to work on a beautiful world, it just takes a few people to destroy it," one Weibo user wrote.
"Extremism is incredibly scary," others said. "I saw the livestreaming video and it's too cruel – like a massacre from a shooter video game." "I'm so shaken, I don't even want to think of the panic these people must have felt."
"I've seen the footage, and this is so horrible. It makes me want to cry. It's a massacre." Other commenters also write: "This is just so inhumane."
One aspect that especially attracted attention on Chinese social media is that, according to many people posting on Weibo and Wechat, the main suspect expressed in his manifesto that the nation he felt closest to in terms of his "political and social values" is "that of the People's Republic of China."
Journalist Matthew Keys reportedly uploaded the main suspect's manifesto, which was published on January 21, 2019. This article says that to the question about whether he was a fascist, Tarrant indeed wrote that "the nation with the closest political and social values to my own is the People's Republic of China."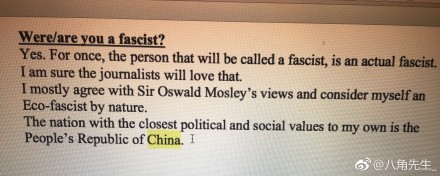 Some netizens wrote that, in mentioning the PRC, the shooter "also vilified China." Others also said that the shootings definitely "do not correspond to the values of China."
There are also dozens of Weibo users who blame Western media for the attacker's comments on China corresponding to his own values. "What he appreciated is what Western media is propagating about our management of Muslims in Xinjiang," some say: "He was influenced by the foreign media disseminating that we're anti-Muslim."
"He sympathized with the China portrayed by foreign media, not with the real China."
"Western governments and media have demonized China for a long time, what they are making Western people believe about what China is, this is what the New Zealand shooter felt closest to in terms of his values," one person wrote.
"These kinds of extreme-right terrorists would be destroyed in China," others wrote.
Among all people expressing their disgust and horror at the Christchurch shootings, there are also those expressing anti-Muslim views and hatred, with some comment sections having turned into threads full of vicious remarks.
Then there are those criticizing the Muslims that are also commenting on Weibo: "The Muslims in China were quiet when it was about the [islamist extremist] attacks in Kunshan, but now that this massacre happened at the pig-hating mosque, they are all bemoaning the state of the universe and are denouncing terrorism."
Among the thousands of reactions flooding in on Weibo, there are countless comments condemning those who turn the shocking attack into an occasion for making anti-Muslim or political remarks. "This is a terrorist attack. The victims are ordinary people. Why would you make malicious comments?"
One Weibo user simply writes: "The world has gone crazy." "A tragic event. I hope the victims will rest in peace."
By Manya Koetse 
Spotted a mistake or want to add something? Please email us.
©2019 Whatsonweibo. All rights reserved. Do not reproduce our content without permission – you can contact us at info@whatsonweibo.com.
The Day After the "3•21" Devastating Yancheng Explosion: 47 Dead, 640 Injured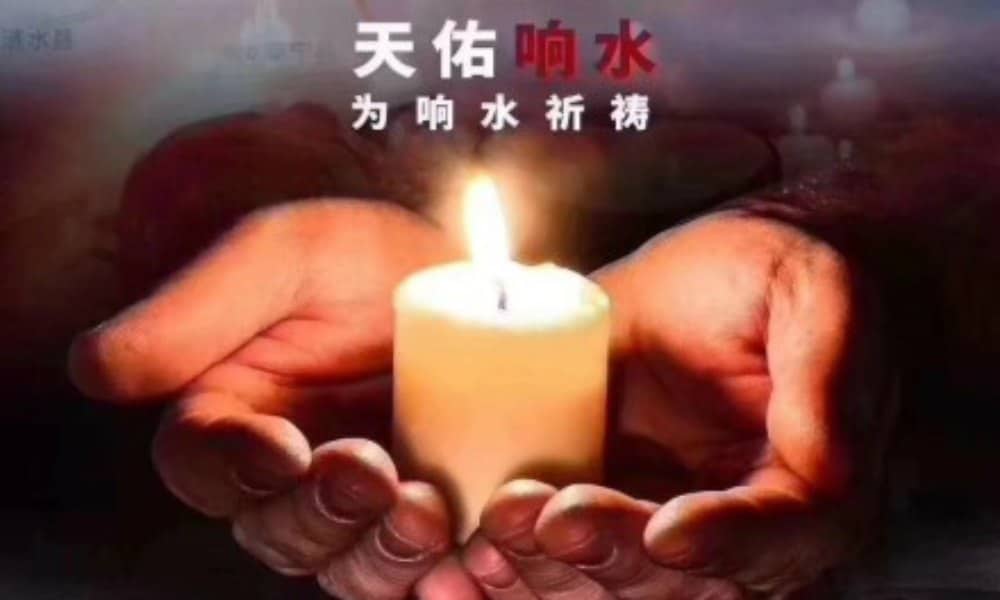 Last updated
The enormous explosion at a chemical plant in Jiangsu's Yancheng on March 21st has sent shockwaves through the country. While state media are focusing on the efforts of rescue workers, Chinese social media users are mourning the lives lost and are searching for those still missing.
One day after a devastating explosion occurred at a chemical plant in Yancheng city in Jiangsu, at the Xiangshui Eco-chemical Industrial Zone, the number of confirmed casualties and injured has now gone up to 47 dead, 90 critically injured, with around 640 requiring hospital treatment (issued Friday 19.00 local time).
The explosion happened on Thursday around 14.48 local time at the Jiangsu Tianjiayi Chemical Plant (天嘉宜化工厂). Images and videos of the explosion and its aftermath quickly spread on Weibo and other social media, showing the huge impact of the blast.
Footage showed shattered windows from buildings in the area and injured persons lying on the streets. Other videos showed children crying and blood on the pavements. There are residential areas and at least seven schools located in the vicinity of the chemical plant, leading to injuries among residents and students due to glass that was allegedly "flying around."
Footage published by WeMedia show the impact of the Jiangsu Yancheng chemical plant explosion that occurred around 14.00 local time – https://t.co/pXM7Eg6Jf6 pic.twitter.com/LEL36M30z5

— Manya Koetse (@manyapan) 21 maart 2019
It is reported that there are residential areas and 7 schools in the vicinity of where the Yancheng explosion happened, people have been injured because of glass that was "flying around," eyewitnesses said. pic.twitter.com/LYYNQgwLl4

— Manya Koetse (@manyapan) 21 maart 2019
According to official sources on Weibo, a total of 930 firefighters worked side by side to control the fire.
The hashtag "Lining Up to Donate Blood in Xiangshui" (#响水市民自发排队献血#) also attracted some attention on Weibo, with state media reporting that dozens of local residents have donated blood to help the injured. On Thursday night, there were long lines at a local mobile blood donation bus.
What is quite clear from the Chinese media reports on the incident and the social media posts coming from official (authorities) accounts, is that there is an emphasis on the number of people who are helping out, rather than a focus on the number of people that were killed: there are at least 930 firefighters, 192 fire trucks, 9 heavy construction machinery, 200 police officers, 88 people rescued, 3500 medical staff, 200 people donating blood, etc. – the number of people joining forces to provide assistance in the area is overwhelming.
A man is rescued from the site of the devastating Yancheng explosion, and firefighters give him a phone to call home to let them know he's come out alive. He's visibly emotional and shocked, yet the conversation seems so casual: "I was out of battery", "Where are you going?".. pic.twitter.com/f4RBU33AbN

— Manya Koetse (@manyapan) 22 maart 2019
Meanwhile, there are desperate family members who are turning to social media in search of loved ones, posting their photos and asking people if they know anything about their whereabouts since the explosion.
While dozens of Weibo users are airing their grievances on what happened, there are also more personal stories coming out. The wife of the local factory worker Jiang is devastated; her husband of four years, father of one son, celebrated his 30th birthday on Thursday. She received a message from her husband twenty minutes before the explosion occurred. He was one of the many people who lost their lives.
On Thursday, Chinese netizens complained that their posts about the Yancheng explosion were being taken offline, suggesting that information flows relating to the incident are being strictly controlled. "This is just too big to conceal," one commenter said.
This is not the first time such an explosion makes headlines in China. In 2015, an enormous explosion at a petrol storage station in Tianjin killed 173 people and caused hundreds of people to be injured. Two years ago, an explosion at a Shandong petrochemical plant left 13 people dead.
By Manya Koetse 
Spotted a mistake or want to add something? Please email us.
©2019 Whatsonweibo. All rights reserved. Do not reproduce our content without permission – you can contact us at info@whatsonweibo.com.
In China's "Kua Kua" Chat Groups, People Pay to Be Praised [Updated]
Money can't buy you love, but in these 'kua kua' groups, they can buy you praise.
First published
Social media is often called a battlefield, but in these Chinese WeChat 'Kua kua' groups (夸夸群), people will praise you no matter what you do or say.
A new phenomenon has become a hot topic on Chinese social media these days. 'Kua kua' groups (夸夸群) are chat groups where people share some things about themselves – even if they are negative things – and where other people will always tell them how great they are, no matter what.
Kua kua groups (夸 'kuā' literally means 'praise') have become all the rage in China. People seem to love them for the mere fact that it makes them feel good about themselves.
The format is clear. Person A tells about something that is on their minds, and asks people for positive feedback. Person B, C, and D will then come forward and tell them how good or pretty they are, sometimes based on their profile photo.
One could say: "Hi everyone, I've just turned down a job offer, but now my future is full of uncertainty, please compliment me." Then people in the chat group will respond and say things such as: "You look like the type of person who knows exactly what they want."
The Kua kua praise group phenomenon allegedly began within the online community of Xi'an Jiaotong University – although some claim it was Shanghai's Fudan University – when one person asked others in a chat group to compliment them. The idea started to compliment and praise others, and so a trend was born; first, in university (BBS) chat groups, and now on WeChat and beyond the realm of universities.
The phenomenon has been around for at least six years, but only recently started gaining widespread attention on Chinese social media. According to China's Toutiao News, virtually every college now has its own 'praise group.'
But the praise does not always come for free. Although many (college-based) chat groups are free to join, people who want to be complimented and are not yet a member of an existing group can join Kua kua groups when they pay for it. On Chinese e-commerce platform Taobao, there are various online shops that sell a 'Praise group' membership starting from 50 yuan ($7,5) per person, going up to 188 yuan ($28).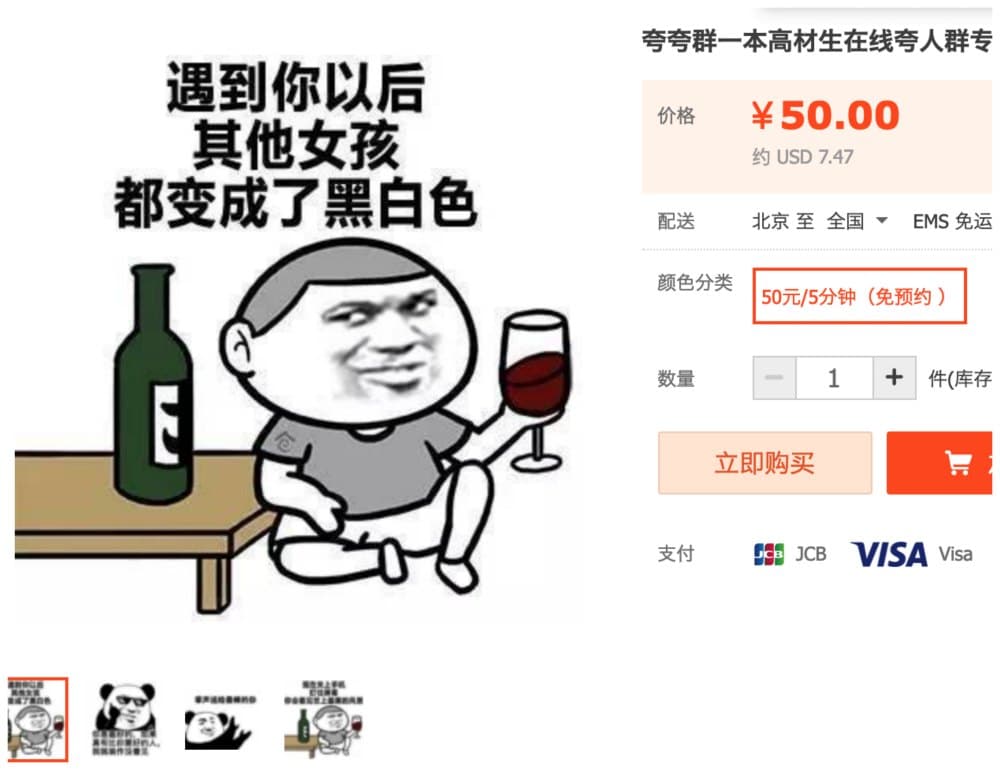 The time of praise is limited to five minutes unless you pay more. The quality of the compliments you'll be getting also depends on how much you pay. Some groups allegedly consist of "students of great talent," and the number of people complimenting one person could reach up to 500 people.
The contents of the praise could literally be anything. A simple "I want to be praised" comment could get a variety of reactions from "your hat looks nice" to "the fact that you're so honest and straightforward about what you want is something that is hard to come across in this day and age," to "you used a period mark [at the end of your sentence], you must be someone who is very persistent in reaching your goals."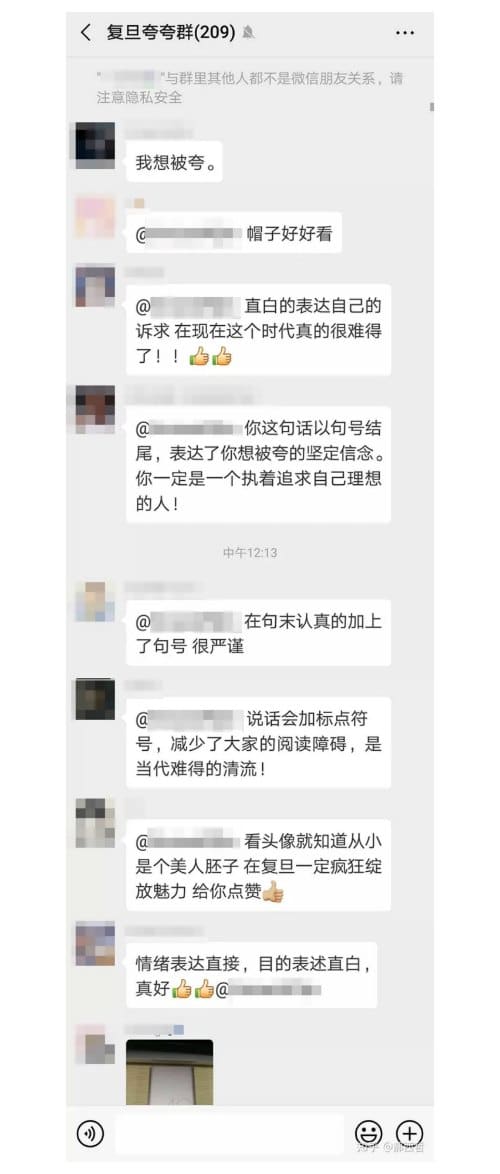 The fact that the "Kua kua" phenomenon is such a success in China might relate to its culture, where humility and modesty are considered ideal in day-to-day communications. When given a compliment, it is common in China to deny it or to suggest that the person giving the compliment is much better than they are (also see Cheng 2003, 30).
These chat groups, however, break away from the dominant cultural interactions: people don't have to be polite in responding to the compliments and can wallow in the praise they paid for.
Although not as big as the "Kua Kua" group phenomenon, these kinds of groups also exist in the English-language social media sphere. On Reddit's "Toast Me" page, for example, there are some 92,000 subscribers participating in asking and giving positive feedback to others, albeit unpaid.
The people giving compliments in the Chinese Kua kua groups are random people, some students, some staff of Taobao stores, who get hongbao, red envelopes with digital money gifts, for contributing to the group. According to some reports, some 'customers' end up staying the group and become a part of the team themselves.
We will follow up on this later: we booked a 'five-minute praise session' ourselves, but are still awaiting admission to the group…
Update: Our Kua Kua Experience
So what is the Kua kua experience like? We decided to try out for ourselves and purchased a 5-minute praise session through Taobao for 50 yuan ($7,5) from a seller that had a good rating.
After the purchase is completed, the seller will contact you with details asking for your WeChat ID. After adding, they will ask you what your 'problem' or issue is, and you will be put in a virtual queue until your turn comes up to be praised.
You'll then be added to a WeChat group that has your name in the headline (ours was something like "Manya you can do it") and that has around 200 participants.
The message posted by us was:
"Hello, I'm Manya (Dutch). I've been studying Chinese for more than ten years. In fact, I'm afraid to say it may even be more than 13 years, but I still often don't understand what Beijing taxi drivers are saying. Even studying every day won't help. I've been learning for so many years, yet I often still don't understand what the old people in Beijing are saying. It's a bit embarrassing. I think my Chinese is still not good enough. I can't understand the 'crosstalk' [comedy sketches] during the Spring Festival Gala at all. It makes me feel a little dispirited."
Within a matter of seconds, the screen then just fills up with positive feedback and emoji. There are dozens of comments, and they almost go too fast to read them all.
Some of the responses:
"You're great, and even I don't understand Beijing taxi drivers."
"Stay confident in yourself!"
"You're so cool."
"You can type so many Chinese characters, who'd say your Chinese is not good enough?!"
"Manya, you're so fantastic."
"None of us understand what old people in Beijing are saying."
"Chinese is just not easy to study, the fact that you've been doing it for so long already shows how great you are."
"It's incredible that you've already come this far."
"A woman who is so motivated about studying really moves me, you're my role model, you make me want to study more English."
During the praise session, the group leader will occasionally post a hongbao [envelope with money] for the participants to receive in return for their compliments.
After five minutes, the session ends, and the people will send out some last words of encouragement. The group leader will personally thank you for being part of the group, and later, you'll be removed from the group as the people will move on to the next person who is waiting in line to be praised.
How does it feel to be praised by some 200 people, receiving hundreds of compliments? It's overwhelming, and even though you know it's all just an online mechanism, and that it doesn't matter who you are or what you say, it still makes you glow a little bit inside.
Although some experts quoted by Chinese state media warn people not to rely on these praise groups too much, there does not seem to be much harm in allowing yourself to be complimented for some minutes from time to time.
Other people reviewing the same Kua kua group apparently feel the same: "I'm super satisfied, the result is amazing."
By Manya Koetse  and Miranda Barnes
Featured image via hexun.com.
References
Cheng, Winnie. 2003. Intercultural Communication. Amsterdam, John Benjamins Publishing.
Spotted a mistake or want to add something? Please email us.
©2019 Whatsonweibo. All rights reserved. Do not reproduce our content without permission – you can contact us at info@whatsonweibo.com.