In China's "Kua Kua" Chat Groups, People Pay to Be Praised [Updated]
Money can't buy you love, but in these 'kua kua' groups, they can buy you praise.
First published
Social media is often called a battlefield, but in these Chinese WeChat 'Kua kua' groups (夸夸群), people will praise you no matter what you do or say.
A new phenomenon has become a hot topic on Chinese social media these days. 'Kua kua' groups (夸夸群) are chat groups where people share some things about themselves – even if they are negative things – and where other people will always tell them how great they are, no matter what.
Kua kua groups (夸 'kuā' literally means 'praise') have become all the rage in China. People seem to love them for the mere fact that it makes them feel good about themselves.
The format is clear. Person A tells about something that is on their minds, and asks people for positive feedback. Person B, C, and D will then come forward and tell them how good or pretty they are, sometimes based on their profile photo.
One could say: "Hi everyone, I've just turned down a job offer, but now my future is full of uncertainty, please compliment me." Then people in the chat group will respond and say things such as: "You look like the type of person who knows exactly what they want."
The Kua kua praise group phenomenon allegedly began within the online community of Xi'an Jiaotong University – although some claim it was Shanghai's Fudan University – when one person asked others in a chat group to compliment them. The idea started to compliment and praise others, and so a trend was born; first, in university (BBS) chat groups, and now on WeChat and beyond the realm of universities.
The phenomenon has been around for at least six years, but only recently started gaining widespread attention on Chinese social media. According to China's Toutiao News, virtually every college now has its own 'praise group.'
But the praise does not always come for free. Although many (college-based) chat groups are free to join, people who want to be complimented and are not yet a member of an existing group can join Kua kua groups when they pay for it. On Chinese e-commerce platform Taobao, there are various online shops that sell a 'Praise group' membership starting from 50 yuan ($7,5) per person, going up to 188 yuan ($28).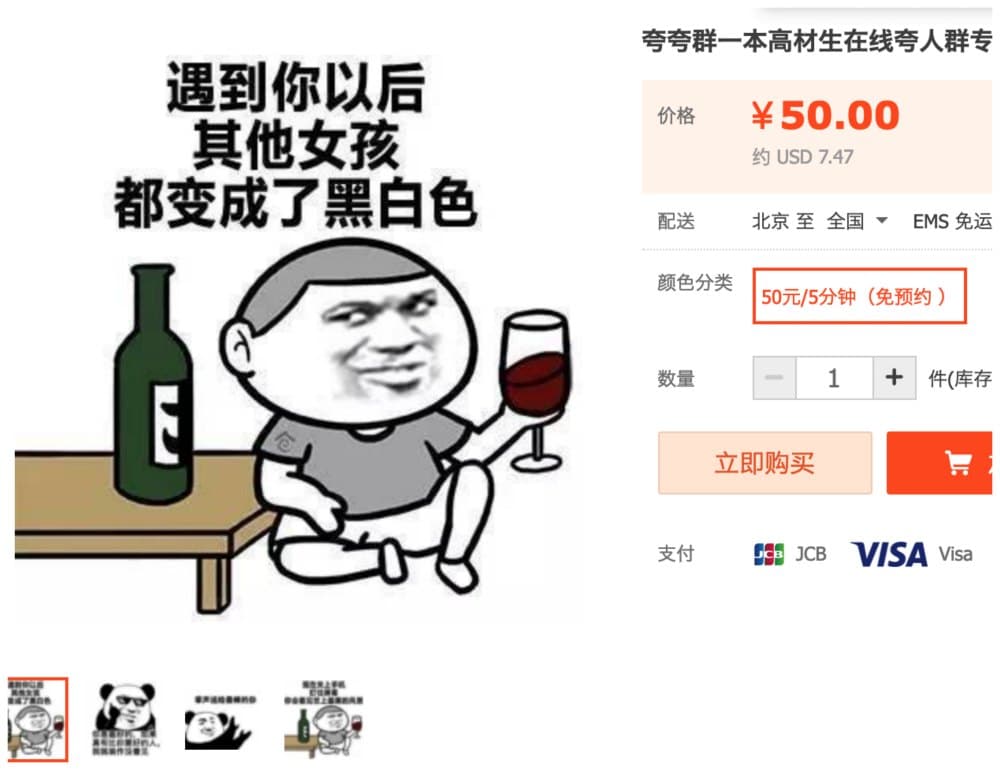 The time of praise is limited to five minutes unless you pay more. The quality of the compliments you'll be getting also depends on how much you pay. Some groups allegedly consist of "students of great talent," and the number of people complimenting one person could reach up to 500 people.
The contents of the praise could literally be anything. A simple "I want to be praised" comment could get a variety of reactions from "your hat looks nice" to "the fact that you're so honest and straightforward about what you want is something that is hard to come across in this day and age," to "you used a period mark [at the end of your sentence], you must be someone who is very persistent in reaching your goals."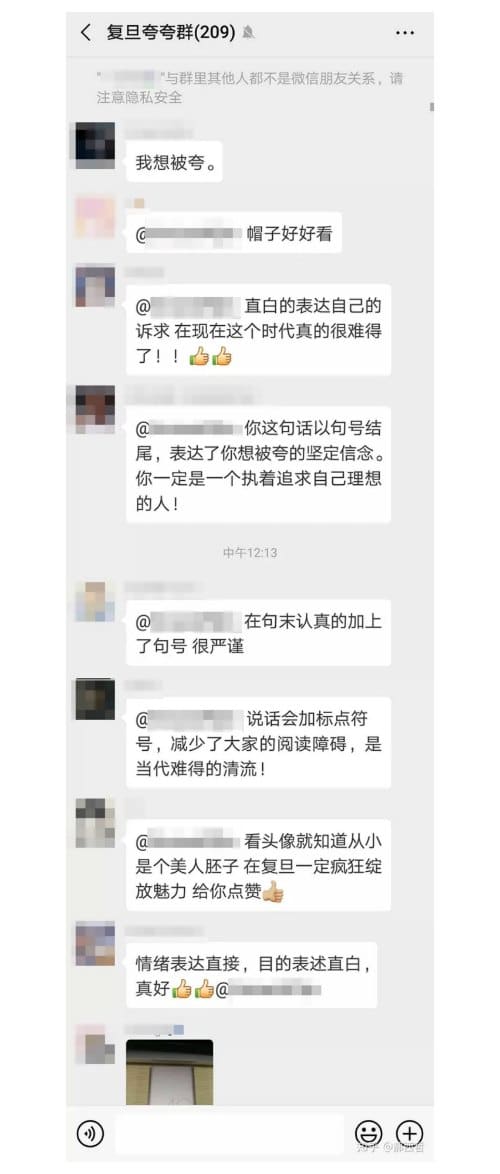 The fact that the "Kua kua" phenomenon is such a success in China might relate to its culture, where humility and modesty are considered ideal in day-to-day communications. When given a compliment, it is common in China to deny it or to suggest that the person giving the compliment is much better than they are (also see Cheng 2003, 30).
These chat groups, however, break away from the dominant cultural interactions: people don't have to be polite in responding to the compliments and can wallow in the praise they paid for.
Although not as big as the "Kua Kua" group phenomenon, these kinds of groups also exist in the English-language social media sphere. On Reddit's "Toast Me" page, for example, there are some 92,000 subscribers participating in asking and giving positive feedback to others, albeit unpaid.
The people giving compliments in the Chinese Kua kua groups are random people, some students, some staff of Taobao stores, who get hongbao, red envelopes with digital money gifts, for contributing to the group. According to some reports, some 'customers' end up staying the group and become a part of the team themselves.
We will follow up on this later: we booked a 'five-minute praise session' ourselves, but are still awaiting admission to the group…
Update: Our Kua Kua Experience
So what is the Kua kua experience like? We decided to try out for ourselves and purchased a 5-minute praise session through Taobao for 50 yuan ($7,5) from a seller that had a good rating.
After the purchase is completed, the seller will contact you with details asking for your WeChat ID. After adding, they will ask you what your 'problem' or issue is, and you will be put in a virtual queue until your turn comes up to be praised.
You'll then be added to a WeChat group that has your name in the headline (ours was something like "Manya you can do it") and that has around 200 participants.
The message posted by us was:
"Hello, I'm Manya (Dutch). I've been studying Chinese for more than ten years. In fact, I'm afraid to say it may even be more than 13 years, but I still often don't understand what Beijing taxi drivers are saying. Even studying every day won't help. I've been learning for so many years, yet I often still don't understand what the old people in Beijing are saying. It's a bit embarrassing. I think my Chinese is still not good enough. I can't understand the 'crosstalk' [comedy sketches] during the Spring Festival Gala at all. It makes me feel a little dispirited."
Within a matter of seconds, the screen then just fills up with positive feedback and emoji. There are dozens of comments, and they almost go too fast to read them all.
Some of the responses:
"You're great, and even I don't understand Beijing taxi drivers."
"Stay confident in yourself!"
"You're so cool."
"You can type so many Chinese characters, who'd say your Chinese is not good enough?!"
"Manya, you're so fantastic."
"None of us understand what old people in Beijing are saying."
"Chinese is just not easy to study, the fact that you've been doing it for so long already shows how great you are."
"It's incredible that you've already come this far."
"A woman who is so motivated about studying really moves me, you're my role model, you make me want to study more English."
During the praise session, the group leader will occasionally post a hongbao [envelope with money] for the participants to receive in return for their compliments.
After five minutes, the session ends, and the people will send out some last words of encouragement. The group leader will personally thank you for being part of the group, and later, you'll be removed from the group as the people will move on to the next person who is waiting in line to be praised.
How does it feel to be praised by some 200 people, receiving hundreds of compliments? It's overwhelming, and even though you know it's all just an online mechanism, and that it doesn't matter who you are or what you say, it still makes you glow a little bit inside.
Although some experts quoted by Chinese state media warn people not to rely on these praise groups too much, there does not seem to be much harm in allowing yourself to be complimented for some minutes from time to time.
Other people reviewing the same Kua kua group apparently feel the same: "I'm super satisfied, the result is amazing."
By Manya Koetse  and Miranda Barnes
Featured image via hexun.com.
References
Cheng, Winnie. 2003. Intercultural Communication. Amsterdam, John Benjamins Publishing.
Spotted a mistake or want to add something? Please email us.
©2019 Whatsonweibo. All rights reserved. Do not reproduce our content without permission – you can contact us at info@whatsonweibo.com.
About Lipstick King's Comeback and His 'Mysterious' Disappearance
After Li Jiaqi's return to livestreaming, the 'tank cake incident' has become the elephant in the room on social media.
Earlier this week, the return of China's famous livestreamer Li Jiaqi, also known as the 'Lipstick King', became a hot topic on Chinese social media where his three-month 'disappearance' from the social commerce scene triggered online discussions.
He is known as Austin Li, Lipstick King, or Lipstick Brother, but most of all he is known as one of China's most successful e-commerce livestreaming hosts.
After being offline for over 100 days, Li Jiaqi (李佳琦) finally came back and did a livestreaming session on September 20th, attracting over 60 million viewers and selling over $17 million in products.
The 30-year-old beauty influencer, a former L'Oreal beauty consultant, rose to fame in 2017 after he became a successful livestreamer focusing on lipstick and other beauty products.
Li broke several records during his live streaming career. In 2018, he broke the Guinness World Record for "the most lipstick applications in 30 seconds." He once sold 15000 lipsticks in 5 minutes, and also managed to apply 380 different lipsticks in another seven-hour live stream session. Li made international headlines in 2021 when he sold $1.9 billion in goods during a 12-hour-long promotion livestream for Alibaba's shopping festival.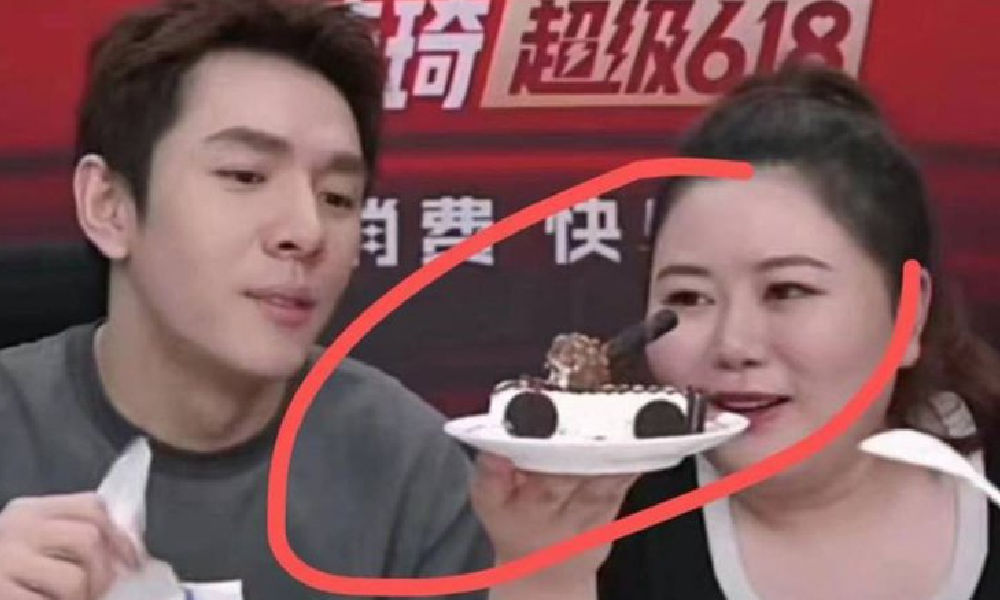 But during a Taobao livestream on June 3rd of this year, something peculiar happened. After Li Jiaqi and his co-host introduced an interestingly shaped chocolate cake – which seemed to resemble a tank, – a male assistant in the back mentioned something about the sound of shooting coming from a tank ("坦克突突").
Although Li Jiaqi and the others laughed about the comment, Li also seemed a bit unsure and the woman next to him then said: "Stay tuned for 23:00 to see if Li Jiaqi and I will still be in this position."
The session then suddenly stopped, and at 23:38 that night Li wrote on Weibo that the channel was experiencing some "technical problems."
But those "technical problems" lasted, and Li did not come back. His June 3rd post about the technical problems would be the last one on his Weibo account for the months to come.
The 'cake tank incident' (坦克蛋糕事件) occurred on the night before June 4, the 33rd anniversary of the violent crackdown of the Tiananmen student demonstrations. The iconic image of the so-called 'tank man' blocking the tanks at Tiananmen has become world famous and is censored on China's internet. The control of information flows is especially strict before and on June 4, making Li's 'tank cake incident' all the more controversial.
But no official media nor the official Li Jiaqi accounts acknowledged the tank cake incident, and his absence remained unexplained. Meanwhile, there was a silent acknowledgment among netizens that the reason Li was not coming online anymore was related to the 'tank cake incident.'
During Li's long hiatus, fans flocked to his Weibo page where they left thousands of messages.
"I'm afraid people have been plotting against you," many commenters wrote, suggesting that the cake was deliberately introduced by someone else during the livestream as a way to commemorate June 4.
Many fans also expressed their appreciation of Li, saying how watching his streams helped them cope with depression or cheered them up during hard times. "What would we do without you?" some wrote. Even after 80 days without Li Jiaqi's livestreams, people still commented: "I am waiting for you every day."
On September 21st, Li Jiaqi finally – and somewhat quietly – returned and some people said they were moved to see their lipstick hero return to the livestream scene.
Although many were overjoyed with Li's return, it also triggered more conversations on why he had disappeared and what happened to him during the 3+ months of absence. "He talked about a sensitive topic," one commenter said when a Weibo user asked about Li's disappearance.
One self-media accountpublished a video titled "Li Jiaqi has returned." The voiceover repeatedly asks why Li would have disappeared and even speculates about what might have caused it, without once mentioning the tank cake.
"This cracks me up," one commenter wrote: "On the outside we all know what's going on, on the inside there's no information whatsoever."
"It's tacit mutual understanding," some wrote. "It's the elephant in the room," others said.
Some people, however, did not care about discussing Li's disappearance at all anymore and just expressed joy about seeing him again: "It's like seeing a good friend after being apart for a long time."
By Manya Koetse 
Elements in the featured image by @karishea and @kaffeebart.
Get the story behind the hashtag. Subscribe to What's on Weibo here to receive our weekly newsletter and get access to our latest articles:
Spotted a mistake or want to add something? Please let us know in comments below or email us. First-time commenters, please be patient – we will have to manually approve your comment before it appears.
©2022 Whatsonweibo. All rights reserved. Do not reproduce our content without permission – you can contact us at info@whatsonweibo.com.
"I Decided Not To Learn English Anymore" Video Goes Viral on Chinese Social Media
"The 'not learning English anymore' part actually means she is no longer pursuing the cultural identity behind the language."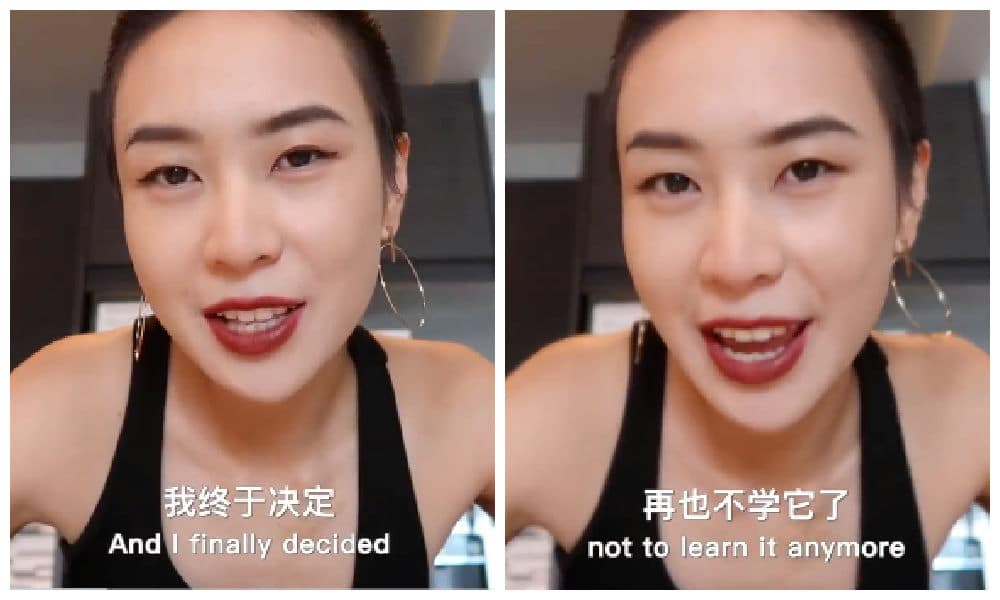 A video in which a Chinese Harvard student shares how she wants to "stop trying to learn English" has gone viral on Chinese social media. While some blame the student for flaunting her privilege, others said the video actually inspires them to study more English.
"Today is September 1st, 2022. The 20th anniversary of me learning English. And I finally decided not to learn it anymore." This is the beginning of a 7-minute video posted on social media by the Chinese vlogger 'Tatala' (@他塔拉).
The video, which Tatala says was submitted as an assignment for a Harvard course on Language & Equality, received over 122,000 likes and the hashtag "When You Decide Not to Learn English Anymore" (#当你决定以后不学英语#) garnered over 110 million views on Weibo over the past few days.
Although the 24-year-old vlogger is critical of how she is perceived as a Chinese non-native English speaker – claiming she will 'stop trying' to learn the language, – she is receiving a lot of backlash from netizens who say she is unaware of her own privilege.
In the video, Tatala says she has always been a good student of English, but that she has never been satisfied throughout her language-learning journey. In the video, she gives multiple examples of how her confidence was affected during the process of studying English.
"I have my name, in my language, that you didn't even try to enunciate."
In primary school, Tatala says, her American teacher randomly gave her the name 'Wency', which she found hard to pronounce due to the northern Chinese dialect she grew up speaking. She ended up pronouncing 'Wency' as 'Vency', after which her teacher corrected her again and again: "You are not Vency. You are Wency!" Tatala says: "But he never realized that I was not even Wency. I have my name, in my language, that you didn't even try to enunciate."
In middle school, Tatala continued to get high grades in English and she traveled to Britain where she was invited for brunch by a friend, who asked if she preferred ham or turkey. When Tatala asked her friend "what's the difference?", she was laughed at by her friend and their mum, who then proceeded to explain the difference between a pig saying 'oink oink' and a turkey saying 'clunk clunk.' Tatala explains: "I just didn't know the vocabulary. It's not that I'm too stupid to recognize animals."
Although Tatala says her confidence in speaking English peaked during high school, it vanished once she became an international student in Australia, where she had great difficulties understanding what local people were talking about. When she struggled to comprehend English-language works by authors such as Bourdieu or Butler, she worked harder and got high grades, but she was still not satisfied and started dreading her studies.
Tatala then explains: "I realized something went wrong when I took a course called 'Women in Chinese Literature' where all the readings were translated from Chinese to English. I read the Chinese version – three chapters per hour – and my Australian classmates read the English version – one chapter a day. Some of them reported the course being too hard and some dropped out, because they did not understand the context behind the words. But that's what I felt for every single class here."
"Even if I am just not perfect at English, so what? This is my second language."
Tatala's 'light bulb' moment was when she realized that it was not necessarily her level of English that determined how difficult or easy her life was, but so many other factors relating to language: "Native speakers found their lives easier not because their English is better than mine, it is because they had the 'good fortune' to be raised in environments where their native language acquisition coincides with the dominant linguistic group," Tatala says, explaining that she blamed everything on language alone while the barriers she faced also had to do with her own confidence level, communication skills, and the prejudices of others.
Tatala suggests that when someone feels attacked on how they use language, they might feel attacked as a person since their language is also a part of their identity. At the same time, people also judge others and draw conclusions about their background, personality, or intentions solely based on language knowledge, dialect, or how they use a single word.
Tatala's conclusion is that her use of English is not a result of her not speaking "perfect English" but just a "plurality of [her] identity." Although she mentions she got into Harvard, she says she is determined to "stop learning English" and to just use language as a "tool" instead.
She says: "Even if I am just not perfect at English, so what? This is my second language. This is the lingua franca I was pushed to learn. No matter how well or how bad I speak English, I will have my voice. Ethic minority, Chinese, Asian, I will have my serpent's tongue, my woman's voice, my international student's voice, my influencer's voice – I will overcome the tradition of silence."
Tatala's video triggered online discussions on Weibo on learning English, but perhaps in a different way than Tatala might have expected it to.
Since Tatala's English level is so high, and she is an Ivy League student, many people do not relate to the struggles she encountered when speaking English at her level. On the contrary, many just hope to reach such a level of English that they would be able to face these kinds of struggles at all.
"Since you decided not to study English in the future, why don't you drop out of Harvard and come back?"
"After watching this video, I decided I want to try my best to study English, improve my vocabulary and speaking skills, and I will try to get 8.5 in the IELTS, so that one day I can help foreigners by giving directions, eat turkey sandwiches in the UK, listen to the small talk of students in Australia, confidently do international work, and use my proficient English to reflect on culture and language hegemony. But I realize it is very unlikely for me to attain that goal in my lifetime."
"I watched her video and gosh, what can I say, it's like those experts suggesting it's better to buy a house than to rent one," another blogger says, suggesting Tatala is too privileged to see that many people do not have the luxury to stop studying English because of linguistic hegemony.
"Since you decided not to study English in the future, why don't you drop out of Harvard and come back?" another Weibo user wrote.
There were also people defending Tatala, suggesting that her point was not to discourage others from studying English: "What she expresses in the video is to use English as 'a tool' and not to reject a person because you reject their language," one commenter wrote, with one netizen adding: "The 'not learning English anymore' part actually means she is no longer pursuing the cultural identity behind the language."
Another person posted: "Some of the people here either have problems understanding or they just have bad intentions. 'Not learning English anymore' was just an opening line, what the vlogger is conveying here is the prejudice and discrimination in linguistics, which is a common phenomenon in the context of American culture. Ofcourse, we can't deny the 'privilege' of the vlogger, but this doesn't change the fact that she has come up with though-provoking content."
"She is saying you should have pride in your mother tongue, she is not really saying you should not learn English. She's at Harvard – ofcourse that's not what she's gonna say."
Other Weibo users said that they felt that Tatala should not have used a 'clickbait' title for a video that discusses cultural confidence. "It's just awkward that this has even become a trending topic," one person wrote.
"Not learning English or another foreign language is just unacceptable, especially for students who are still in school. But since our requirements are different, the levels we reach in speaking a foreign language will be different. Because of different cultures and upbringings, we will inescapably have communication barriers between us and native speakers. But we must try hard, because it is always good to have a greater understanding of other cultures and customs. Just don't be too demanding."
You can watch Tatala's video here.
By Manya Koetse 
Get the story behind the hashtag. Subscribe to What's on Weibo here to receive our weekly newsletter and get access to our latest articles:
Spotted a mistake or want to add something? Please let us know in comments below or email us. First-time commenters, please be patient – we will have to manually approve your comment before it appears.
©2022 Whatsonweibo. All rights reserved. Do not reproduce our content without permission – you can contact us at info@whatsonweibo.com.