In China's "Kua Kua" Chat Groups, People Pay to Be Praised [Updated]
Money can't buy you love, but in these 'kua kua' groups, they can buy you praise.
First published
Social media is often called a battlefield, but in these Chinese WeChat 'Kua kua' groups (夸夸群), people will praise you no matter what you do or say.
A new phenomenon has become a hot topic on Chinese social media these days. 'Kua kua' groups (夸夸群) are chat groups where people share some things about themselves – even if they are negative things – and where other people will always tell them how great they are, no matter what.
Kua kua groups (夸 'kuā' literally means 'praise') have become all the rage in China. People seem to love them for the mere fact that it makes them feel good about themselves.
The format is clear. Person A tells about something that is on their minds, and asks people for positive feedback. Person B, C, and D will then come forward and tell them how good or pretty they are, sometimes based on their profile photo.
One could say: "Hi everyone, I've just turned down a job offer, but now my future is full of uncertainty, please compliment me." Then people in the chat group will respond and say things such as: "You look like the type of person who knows exactly what they want."
The Kua kua praise group phenomenon allegedly began within the online community of Xi'an Jiaotong University – although some claim it was Shanghai's Fudan University – when one person asked others in a chat group to compliment them. The idea started to compliment and praise others, and so a trend was born; first, in university (BBS) chat groups, and now on WeChat and beyond the realm of universities.
The phenomenon has been around for at least six years, but only recently started gaining widespread attention on Chinese social media. According to China's Toutiao News, virtually every college now has its own 'praise group.'
But the praise does not always come for free. Although many (college-based) chat groups are free to join, people who want to be complimented and are not yet a member of an existing group can join Kua kua groups when they pay for it. On Chinese e-commerce platform Taobao, there are various online shops that sell a 'Praise group' membership starting from 50 yuan ($7,5) per person, going up to 188 yuan ($28).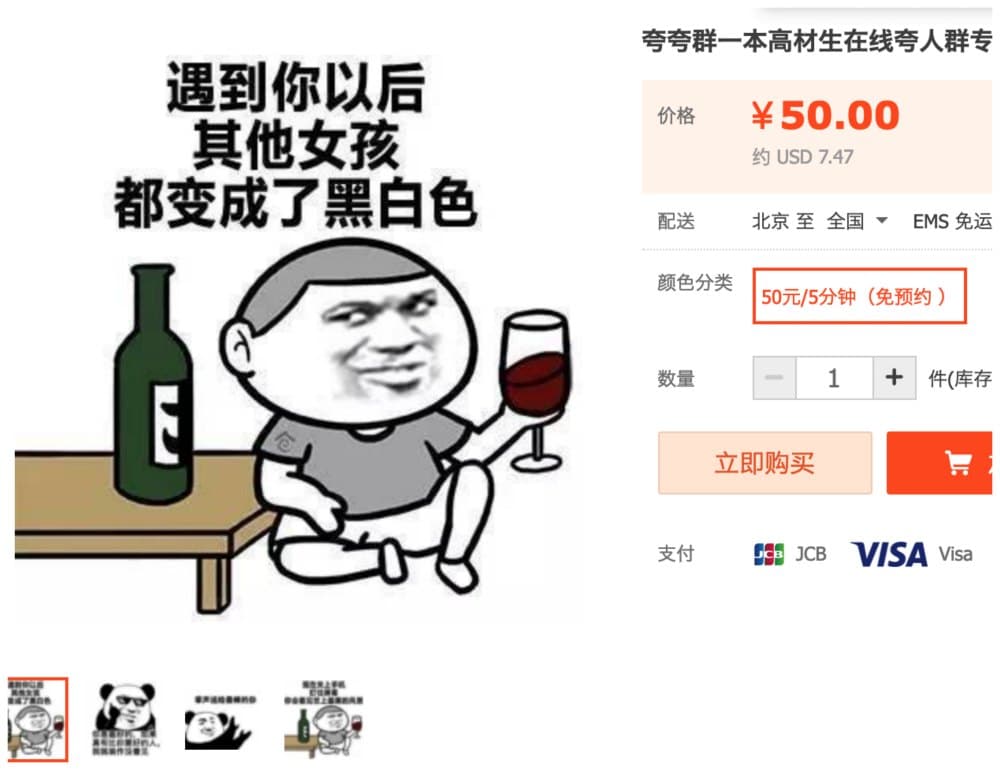 The time of praise is limited to five minutes unless you pay more. The quality of the compliments you'll be getting also depends on how much you pay. Some groups allegedly consist of "students of great talent," and the number of people complimenting one person could reach up to 500 people.
The contents of the praise could literally be anything. A simple "I want to be praised" comment could get a variety of reactions from "your hat looks nice" to "the fact that you're so honest and straightforward about what you want is something that is hard to come across in this day and age," to "you used a period mark [at the end of your sentence], you must be someone who is very persistent in reaching your goals."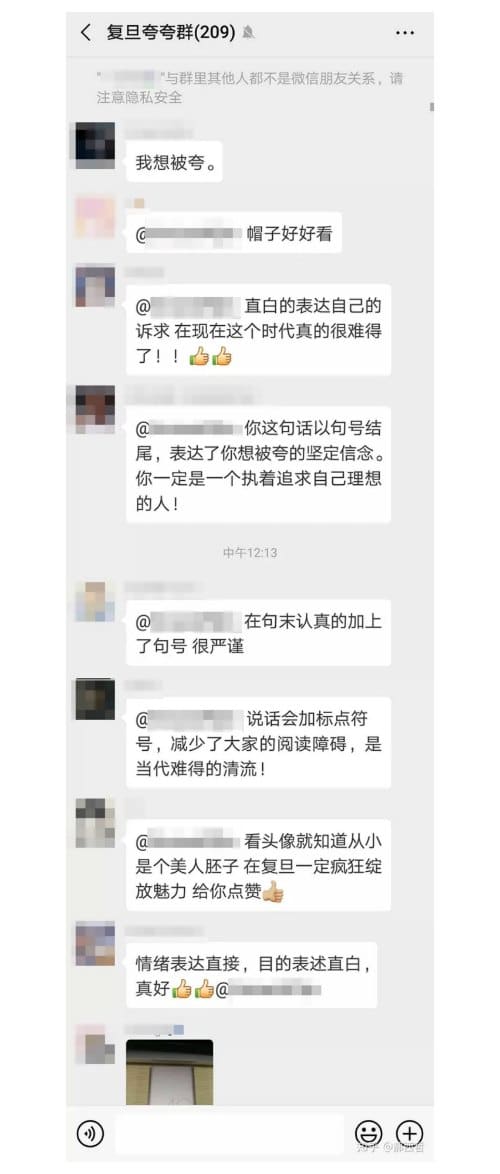 The fact that the "Kua kua" phenomenon is such a success in China might relate to its culture, where humility and modesty are considered ideal in day-to-day communications. When given a compliment, it is common in China to deny it or to suggest that the person giving the compliment is much better than they are (also see Cheng 2003, 30).
These chat groups, however, break away from the dominant cultural interactions: people don't have to be polite in responding to the compliments and can wallow in the praise they paid for.
Although not as big as the "Kua Kua" group phenomenon, these kinds of groups also exist in the English-language social media sphere. On Reddit's "Toast Me" page, for example, there are some 92,000 subscribers participating in asking and giving positive feedback to others, albeit unpaid.
The people giving compliments in the Chinese Kua kua groups are random people, some students, some staff of Taobao stores, who get hongbao, red envelopes with digital money gifts, for contributing to the group. According to some reports, some 'customers' end up staying the group and become a part of the team themselves.
We will follow up on this later: we booked a 'five-minute praise session' ourselves, but are still awaiting admission to the group…
Update: Our Kua Kua Experience
So what is the Kua kua experience like? We decided to try out for ourselves and purchased a 5-minute praise session through Taobao for 50 yuan ($7,5) from a seller that had a good rating.
After the purchase is completed, the seller will contact you with details asking for your WeChat ID. After adding, they will ask you what your 'problem' or issue is, and you will be put in a virtual queue until your turn comes up to be praised.
You'll then be added to a WeChat group that has your name in the headline (ours was something like "Manya you can do it") and that has around 200 participants.
The message posted by us was:
"Hello, I'm Manya (Dutch). I've been studying Chinese for more than ten years. In fact, I'm afraid to say it may even be more than 13 years, but I still often don't understand what Beijing taxi drivers are saying. Even studying every day won't help. I've been learning for so many years, yet I often still don't understand what the old people in Beijing are saying. It's a bit embarrassing. I think my Chinese is still not good enough. I can't understand the 'crosstalk' [comedy sketches] during the Spring Festival Gala at all. It makes me feel a little dispirited."
Within a matter of seconds, the screen then just fills up with positive feedback and emoji. There are dozens of comments, and they almost go too fast to read them all.
Some of the responses:
"You're great, and even I don't understand Beijing taxi drivers."
"Stay confident in yourself!"
"You're so cool."
"You can type so many Chinese characters, who'd say your Chinese is not good enough?!"
"Manya, you're so fantastic."
"None of us understand what old people in Beijing are saying."
"Chinese is just not easy to study, the fact that you've been doing it for so long already shows how great you are."
"It's incredible that you've already come this far."
"A woman who is so motivated about studying really moves me, you're my role model, you make me want to study more English."
During the praise session, the group leader will occasionally post a hongbao [envelope with money] for the participants to receive in return for their compliments.
After five minutes, the session ends, and the people will send out some last words of encouragement. The group leader will personally thank you for being part of the group, and later, you'll be removed from the group as the people will move on to the next person who is waiting in line to be praised.
How does it feel to be praised by some 200 people, receiving hundreds of compliments? It's overwhelming, and even though you know it's all just an online mechanism, and that it doesn't matter who you are or what you say, it still makes you glow a little bit inside.
Although some experts quoted by Chinese state media warn people not to rely on these praise groups too much, there does not seem to be much harm in allowing yourself to be complimented for some minutes from time to time.
Other people reviewing the same Kua kua group apparently feel the same: "I'm super satisfied, the result is amazing."
By Manya Koetse  and Miranda Barnes
Featured image via hexun.com.
References
Cheng, Winnie. 2003. Intercultural Communication. Amsterdam, John Benjamins Publishing.
Spotted a mistake or want to add something? Please email us.
©2019 Whatsonweibo. All rights reserved. Do not reproduce our content without permission – you can contact us at info@whatsonweibo.com.
Chinese E-Readers: The Best E-book Devices in China
Overview of the top 10 e-readers in China in 2021.
From Onyx to Xiaomi, these are the top selling e-readers in China right now.
Ereaders have become booming business over recent years. Some people prefer an e-reader because it is easier on their eyes than reading from phone screens, others want a distraction-free digital reading style, and some just like the idea of carrying their own mini-library with them with a battery that lasts much longer than those of tablets or smartphones.
While Amazon's Kindle is the biggest brand name in the American and European e-book reader market, the Chinese e-reader market also has several domestic brands topping the popularity lists.
Here is an overview of the top 10 brands currently dominating the lists in China. This list is based on the rankings of Zol.com, one of China's leading IT information and business portals.
The devices mentioned in this list are all devices with E Ink ("electronic ink") display technology, which gives them that low-power paper-like display. Devices using E Ink technology are usually in grayscale, but color e-paper technologies are now also available.
1. ONYX BOOX (CHINESE BRAND)
BOOX, also known as Onyx Boox (文石BOOX), currently is China's top e-book reader brand, produced by Onyx International Inc., which mostly produces E Ink (ePaper) devices. Onyx Boox was founded in 2008 by a team from IBM, Google, and Microsoft. It is headquartered in Guangzhou.
What sets Onyx apart from many other e-book reader brands is that they offer devices from 7.8 to 13.3 inches that can also function as digital note-taking tablets, equipped with a pen that allows users to pen down their notes as they would in any paper notebook.
The latest Onyx devices such as the Max Lumi (13.3 inch), Onyx Boox Note Air (10.3 inch), the Note 3 (10.3 inch), and the Nova 3 and Nova 3 Color (7.8 inch) all have a wide variety of functions. Besides the common e-reading functions and digital note-taking possibilities, these devices run Android, handle many different file formats, and allow an install of Google Play, Kindle, OneDrive, and more, which really make them "like a tablet unlike any tablet" (which just happens to be their slogan).
Currently, the Boox Nova 3 is the brand's most popular model in China. Priced at ¥2480 ($377), it is also among the pricier models in the markets due to its multifunctionality. It has 32GB of storage, E Ink Carta Plus (the latest generation of screens made by "electronic paper" technology) and also has a screen front light system, allowing users to keep on reading in the dark.
At ¥2780 ($423), the Onyx Boox Note S, which features a 9.7-inch screen, is also rising in popularity. Then there is also the Nova 3 Color 7.8-inch color E Ink tablet with a new Kaleido (Kaleido Plus) screen.
The Onyx is also sold outside of China, check it out here on Amazon.
2. AMAZON
The American Amazon brand is also popular in China when it comes to its e-reader devices. While compiling this list, the Onyx and Amazon brands actually competed over the number one spot, so there is not much difference there in terms of ranking.
Along with the entry-level Kindle Migu X, the 4th generation (2018) Kindle Paperwhite (6 inches, 1448x1072px) is among the most popular e-reader models in China, priced at ¥998 ($152). Like the Onyx Nova 3, it is also available with 32GB storage, but keep in mind that the screen is smaller.
The Kindle e-book devices are much more affordable than the Onyx ones, and their functionality is more straightforward as an e-book reader. They are known for their great battery life, and since the first Kindle was introduced in 2007 it has become the world's most famous dedicated e-reader. Kindles are designed to interface seamlessly with Amazon's online store, which makes them perfect for Amazon fans and less appealing for those who have no desire to use the Amazon ecosystem.
The Paperwhite model has an extra advantage to it, as it allows to keep on reading while taking a bath or sitting by the pool since it is water-resistant. The Paperwhite is currently the no.2 best-sold e-book reader on Chinese major shopping platform JD. It is sold through Amazon here.
3. iFLYTEK (科大讯飞) (CHINESE BRAND)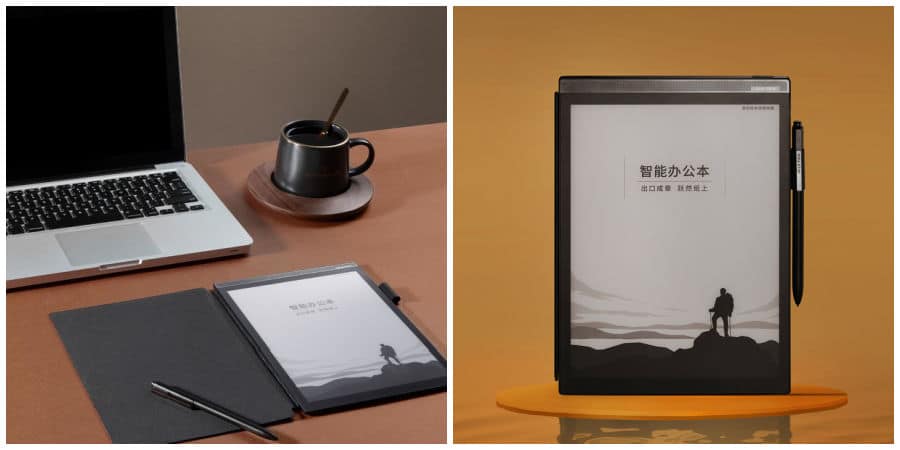 iFlytek is a partially state-owned Chinese AI firm established in 1999 that also produces e-book readers. The company made headlines in 2019-2020 when it was blacklisted in the US for allegedly using its technology for surveillance and human rights abuses in Xinjiang.
Its iFlytek Smart Office X2 (科大讯飞智能办公本X2) is the e-book reader that is currently in the top 5 list of most popular ink screen devices in China (it even scores no 1 on e-commerce platform JD.com at the time of writing), and it is also among the most expensive (¥4999/$762). The X2 is a 10.3-inch E Ink device.
Similar to the Onyx Boox devices, it is much more than an e-reader alone; it is also a note-taking device (comes with the Wacom stylus) and incorporates fingerprint authentication, Wifi/4G, (offline) voice recognition, and transcription functions; it probably is the smartest e-reader around.
The iFlytek also has a whopping 64GB storage, which can be expanded to 128GB. GizTechReview did a review of the Smart Office X2 here.
4. IREADER / ZHANGYUE (掌阅) (CHINESE BRAND)
Ebook reader Zhangyue (掌阅) made headlines in late 2020 when it was announced that Tiktok owner Bytedance would invest $170 million in the company.
Zhangyue, founded in 2008 in Beijing, is not just a producer of e-readers, it is also the online literature publisher behind the iReader platform (掌阅书城). Its most popular ebook reader in China at this time is the 6-inch Zhangyue iReader Light (掌阅iReader Light青春版), which is priced at ¥638 ($97) and comes with 8GB storage.
A much pricier model is the Smart X (¥3499/$539), which has 32GB storage and a 10.3 inch 1872×1404 resolution screen, making it just as big as the Onyx Boox Note Air and the iFlytek Smart Office X2. The iReader Smart X also comes with a Wacom pen for note-taking. There's a review of this device on Gearbest.
The iReader Smart 2 is popular on shopping site JD.com, priced at ¥2299 ($353). It came out in 2020, and also is a note-taking device with 32GB storage and a 10.3 inch screen. The difference with the Smart X device mainly lies in its screen quality.
5. XIAOMI (CHINESE BRAND)
Beijing-brand Xiaomi is mostly known for being one of the world's largest smartphone makers, but the tech company does so much more, from watches to earphones, TVs, scooters, and e-readers.
Priced at ¥599 ($92), the Xiaomi MiReader (小米多看电纸书), released in November 2019, is among the more popular e-reader devices in China at the moment. Mainly marketed for the Chinese market, it is Xiaomi's first ebook reader which comes with a 6-inch e-Ink screen and 16GB storage. With its 1024×768 pixels at 212 PPI screen, it might not be as crisp and fast as other devices in this list, but its price is also much lower. This review at Goodereader was not positive at all, calling it "super slow and plodding."
The MiReader also has a Pro device (小米多看电纸书Pro) available in China, which is ¥1299 ($200) and comes with a 7.8-inch 300 PPI screen and 32GB storage. The Xiaomi e-readers allow access to the WeChat Library, which is a great advantage for Chinese consumers (Kindle doesn't allow access to the WeChat Library).
6. HANVON (汉王) (CHINESE BRAND)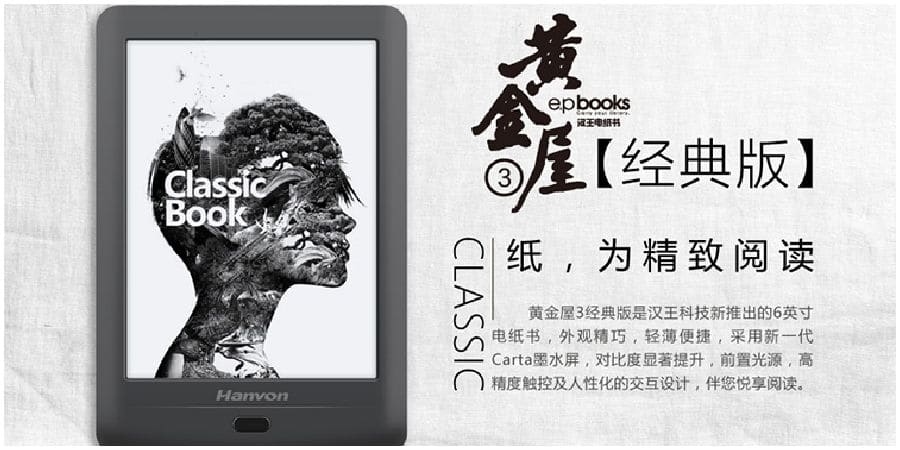 Established in 1998, Hanwang is a pioneering company in character recognition technology and intelligent interactive products.
Although Hanvon is in the top 10 of China's hottest e-book device brands, its Hanvon Gold House 3 model (汉王黄金屋3), priced at ¥799 ($123), is not nearly as popular as other devices in this list. The Hanvon Gold House comes with a 6-inch 1024×758 resolution screen and 4GB in storage. The device is marketed as being simple, stylish, and ergonomic.
7. TENCENT (CHINESE BRAND)
Chinese tech giant Tencent is mostly known for its social media and gaming products, but it also produces e-book devices.
The Tencent Pocket Reader (腾讯口袋阅) is small and lightweight with its 5.2 inches 1280×720 eInk screen, it comes with 8GB storage and is priced at ¥889 ($136). The device is centered around the Tencent ecosystem and provides access to the Tencent Library and bookstore.
Its small size makes this device different from other e-readers. It is the size of a smartphone, which is great if you really want an e-reader in your pocket, but less ideal if you are looking for a more comfortable reading experience. The Pocket Reader supports a 4G mobile card and can also make calls and do text messaging.
8. BOYUE (博阅) (CHINESE BRAND)
Boyue is a digital reading technology company founded in 2009. Throughout the years the company has released different e-book devices as well as digital note-taking devices.
The Boyue T80 model and its Likebook Mars are its best-sold devices in China. The Boyue T80 is priced at ¥1199 ($184) and has 8GB of storage, features an 8-inches 1024×768 screen, and supports SD.
The Likebook Mars is ¥1380 ($212) and comes with 16GB of storage, a 7.8 inch 1872×1404 screen, and it also has SD card support, which allows you to extend the storage capacity to 128GB.
9. OBOOK (国文) (CHINESE BRAND)
Guowen or OBOOK is an e-reader company established in 2010 as what was meant to be the Chinese answer to Kindle.
Its Dangdang E-reader 8 (当当阅读器8) is currently rising in popularity. It features a 6-inch 300 PPI resolution screen and 16GB of storage and is priced at ¥918 ($141).
10. SONY
Sony is perhaps not a name you'd expect in this list, since Sony seems to have exited the e-reader business some time ago.
There are only a few e-book devices by Sony that are still popular in China right now, and one of them is the 10.3-inch 1404×1872 screen Sony DPT-CP1 model that is priced at ¥4888 ($750). For this price, you get a lightweight, thin device that also serves as a digital note-taking tablet that syncs with PC or Mac.
The DPT-RP1/WC model is even pricier at ¥5299 ($815), for which you get a 13.3 inch 1650×2200 screen, which is comparable to the Onyx Boox Max Lumi.
By Manya Koetse
This is not a sponsored post. This article could contain links to online shops, which might allow us to earn a very small affiliate commission at zero extra cost to you – it helps us in maintaining this site. Spotted a mistake or want to add something? Please let us know in comments below or email us. First-time commenters, please be patient – we will have to manually approve your comment before it appears.
©2021 Whatsonweibo. All rights reserved. Do not reproduce our content without permission – you can contact us at info@whatsonweibo.com.
Luo Tianyi and the Booming Virtual Idol Market in China
The virtual entertainment market is exploding in China.
They are featured on China's biggest TV shows and on the covers of fashion magazines: they're virtual idols yet their success is very real.

This is the "WE…WEI…WHAT?" column by Manya Koetse, original publication in German by Goethe Institut China, see Goethe.de: WE…WEI…WHAT? Manya Koetse erklärt das chinesische Internet.

At the Spring Festival Gala of 2021, the Chinese state media's annual televised event that only invites the country's top-notch performers, the virtual idol Luo Tianyi (洛天依) made a guest appearance.
It was a big media moment that showed the growing importance of virtual superstars in Chinese pop culture. Luo's performance was even announced on the show's promo posters, making this the first time ever for a virtual star to be on the show like this.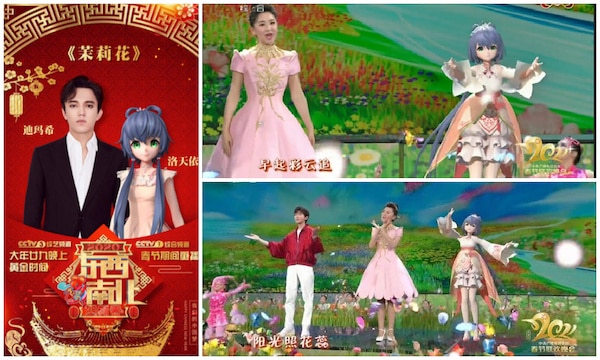 Virtual celebrities such as Luo Tianyi are also called 'vsingers' and often have an enormous fanbase. What is the story behind Luo Tianyi and the boom of virtual superstars in China, leading to the remarkable appearance of a non-human celebrity in the country's biggest mainstream TV show?

Luo Tianyi: The First Chinese Vsinger

Although it was the first time for Luo Tianyi to appear at the Spring Festival Gala, it was not her first big performance. The superstar previously showed up as holograph live at big events such as the Bilibili night, and in 2019 she shared a stage with renowned Chinese pianist Lang Lang.
Such a performance does not come easy. It takes months to design the looks and the moves. The holographic appearance of Luo Tianyi and the spectacular two-hour show took around six months of preparation by around 200 professionals involved in the production of Luo Tianyi.
Luo Tianyi is a so-called 'vocaloid' singer – a Mandarin Chinese language virtual character that was originally featured in the voice synthesizer software called VOCALOID developed by Yamaha, using third parties to create the characters. Vocaloid is a commercial product (released in 2004) with the purpose of enabling users to get a singer for lyrics and melodies without needing to hire an actual human singer.
The Shanghai Henian company collaborated with Tokyo-based Bplats in developing Luo Tianyi. The character was based on the winner of a contest that was organized in support of creating the first Chinese Vocaloid. The real-life singer whose voice was used for the creation of Tianyi is Chinese singer Shan Xin (山新).
Luo Tianyi was officially launched in 2012 as a 15-year-old entertainer and vsinger. By now, she has around five million followers on her Weibo account (@Vsinger_洛天依) where she posts about her performances, with thousands of people liking and sharing these posts.

Virtual Idol Boom: From Japan to China

According to Chinese state media outlet Global Times, 2020 was the year that virtual idols really took off in China, going hand in hand with the growing popularity of livestreaming.
Chinese video-sharing site Bilibili has contributed to the growing success of virtual idols in China. Bilibili is a homebase for many fan communities in China, since it is mainly themed around animation, comic, and games (ACG). It is one of the earliest platforms in China to broadcast virtual idol concerts, and in 2020 it held China's first concert consisting solely of virtual performers under the title 'BML-VR 2020' (link).
The Bilibili concert featured a performance by various virtual entertainers, including the popular Hiseki Erio. Hiseki Erio is not Chinese, but Japanese. So is Hatsune Miki, one of the most famous virtual idols ever.
You could say Japan is the birthplace of virtual idols – a history that goes back to 1996 when Kyoko Date, also known as DK-96 or 'Digital Kid 1996,' made her debut as the first virtual talent.
Virtual idols come in various shapes, forms, and subgenres, and they all have their different background stories. Hatsune Miki was released in 2007 as the embodiment of the Vocolaid software developed by Crypton Future, and then there are the popular virtual Youtubers, 'vtubers', with virtual talent agencies such as Hololive also thriving in Japan.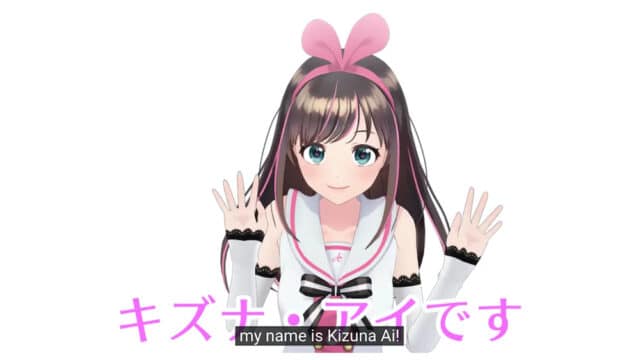 The term 'virtual Youtuber' came with the arrival of Kizuna AI, who posted her first introduction Youtube video in late 2016. Kizuna, who later became a cultural ambassador for the Japan National Tourism Organization, is still considered one of the most popular vtubers on earth.
With the great popularity of Japanese manga and anime on the Chinese market, Japanese virtual idols also gained a strong foothold in the People's Republic since around 2017. Hatsune Miki alone already has over 3,4 million fans on Weibo (@初音未来CryptonFutureMedia).
The virtual entertainment market is now exploding in China, where the online ACG culture is flourishing on Bilibili and beyond.
Since Japanese popular culture products began to gain popularity in China in the early 1990s, there have been various developments that have shown the government's dislike of the 'Japanese cultural invasion' in the country. As a counter-reaction, there has been stronger promotion of the production of made-in-China animations and other ACG products.
While China is seeing a steady release of domestic animated films and series, there is now also a wave of new China-born virtual stars, such as the Bilibili idol Yousa (冷鸢), or Xing Tong (星瞳), a virtual idol from Tencent. Chinese gaming company Papergames made the virtual character Nuan Nuan (暖暖) to also live outside of the gaming world; she is now a singer, a stylist, and a popular fashion ambassador.
There is also Ling (翎), the Chinese virtual influencer who loves Peking opera, tea culture, and calligraphy. Ling, who was created by Next Generation studio and Shanghai AI startup Xmov, appeared on the CCTV show Bravo Youngsters (上线吧华彩少年) and was featured on the cover of Vogue Me in February 2021 alongside actual real-life celebrities.
The number of Chinese virtual celebrities is expected to grow along with the growing market. In October of 2020, the Chinese variety show Dimension Nova (跨次元新星) first aired as a talent show scouting new virtual talent.

Virtual Commercials and Controversies

The growing influence of the virtual entertainment economy and culture in China is becoming more and more noticeable in pop music, commercial culture, and even in the sphere of politics.
Virtual celebrities are so popular that brands are also jumping in on this craze by hiring them as brand ambassadors or by creating their own cyber stars. Tencent's Xing Tong, for example, modeled for Levi's and sportswear brand Li Ning. Nuan Nuan, among others, was featured in a commercial for hair care brand LUX. Luo Tianyi appeared in campaigns for Huawei, Pizza Hut and KFC.
In January of 2021, McDonald's China announced their own virtual idol "Happy Sister" (开心姐姐) as a brand ambassador. They are not the only one: there are over thirty companies in China now using a virtual brand ambassador. The new McDonald's idol was welcomed by Weibo users, where the news of her launch received 200 million views.
The virtual idol influence also became apparent when Japanese 'Hololive' virtual celebrities Akai Haato and Kiryu Coco recently got caught up in a diplomatic row because they referred to Taiwan as a "country" when discussing their YouTube channel analytics during a livestream, leading to controversy among their Chinese fanbase.
In a statement published on Bilibili by Cover (the Japanese company behind the Hololive talent agency that the virtual celebrities in question were under), the agency apologized for what had happened. Nevertheless, both virtual stars involved in the controversy were banned from Bilibili and eventually the entire Chinese Hololive branch was shut down.
This example shows that although virtual idols are generally regarded as a safe option for brands and companies because, unlike real celebrities, they are not likely to get caught up in scandals, it is still possible for them to spark controversy.
Nevertheless, the future looks bright for virtual stars in China with still an enormous market for Luo Tianyi and others to conquer, with plenty of room for growth. From concerts to fashion shows to live streaming channels, from Weibo to Bilibili and beyond, we are bound to see virtual stars increasingly become a part of everyday life in China.
By Manya Koetse
Follow @whatsonweibo
This text was written for Goethe-Institut China under a CC-BY-NC-ND-4.0-DE license (Creative Commons) as part of a monthly column in collaboration with What's On Weibo.
Spotted a mistake or want to add something? Please let us know in comments below or email us. First-time commenters, please be patient – we will have to manually approve your comment before it appears.