In China's "Kua Kua" Chat Groups, People Pay to Be Praised [Updated]
Money can't buy you love, but in these 'kua kua' groups, they can buy you praise.
First published
Social media is often called a battlefield, but in these Chinese WeChat 'Kua kua' groups (夸夸群), people will praise you no matter what you do or say.
A new phenomenon has become a hot topic on Chinese social media these days. 'Kua kua' groups (夸夸群) are chat groups where people share some things about themselves – even if they are negative things – and where other people will always tell them how great they are, no matter what.
Kua kua groups (夸 'kuā' literally means 'praise') have become all the rage in China. People seem to love them for the mere fact that it makes them feel good about themselves.
The format is clear. Person A tells about something that is on their minds, and asks people for positive feedback. Person B, C, and D will then come forward and tell them how good or pretty they are, sometimes based on their profile photo.
One could say: "Hi everyone, I've just turned down a job offer, but now my future is full of uncertainty, please compliment me." Then people in the chat group will respond and say things such as: "You look like the type of person who knows exactly what they want."
The Kua kua praise group phenomenon allegedly began within the online community of Xi'an Jiaotong University – although some claim it was Shanghai's Fudan University – when one person asked others in a chat group to compliment them. The idea started to compliment and praise others, and so a trend was born; first, in university (BBS) chat groups, and now on WeChat and beyond the realm of universities.
The phenomenon has been around for at least six years, but only recently started gaining widespread attention on Chinese social media. According to China's Toutiao News, virtually every college now has its own 'praise group.'
But the praise does not always come for free. Although many (college-based) chat groups are free to join, people who want to be complimented and are not yet a member of an existing group can join Kua kua groups when they pay for it. On Chinese e-commerce platform Taobao, there are various online shops that sell a 'Praise group' membership starting from 50 yuan ($7,5) per person, going up to 188 yuan ($28).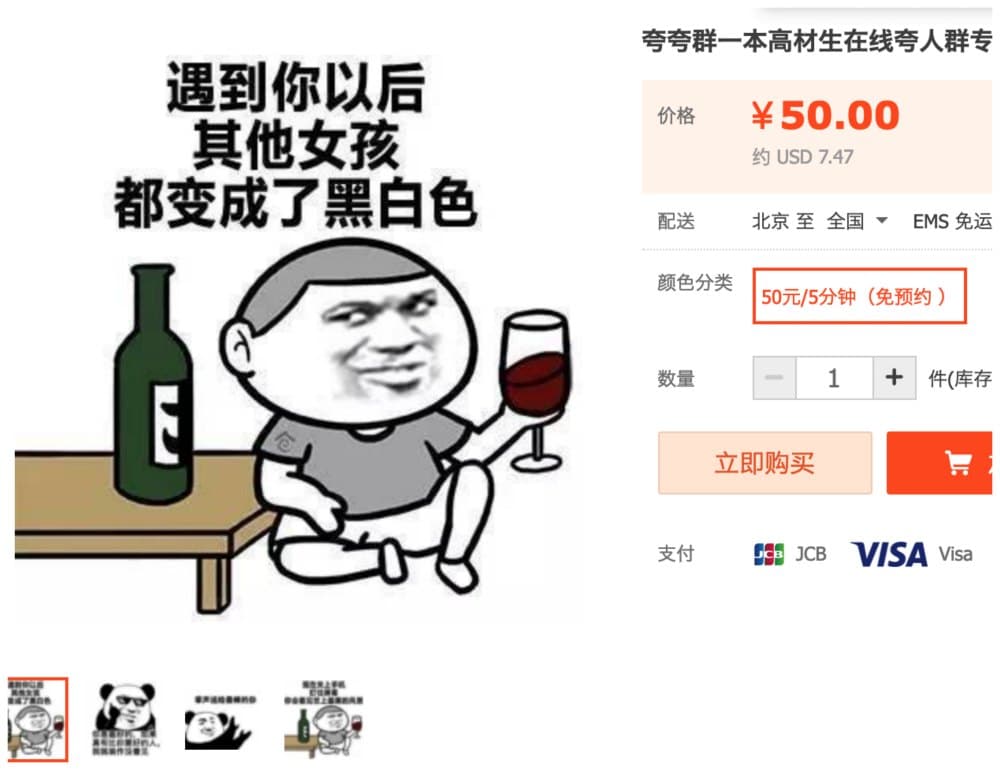 The time of praise is limited to five minutes unless you pay more. The quality of the compliments you'll be getting also depends on how much you pay. Some groups allegedly consist of "students of great talent," and the number of people complimenting one person could reach up to 500 people.
The contents of the praise could literally be anything. A simple "I want to be praised" comment could get a variety of reactions from "your hat looks nice" to "the fact that you're so honest and straightforward about what you want is something that is hard to come across in this day and age," to "you used a period mark [at the end of your sentence], you must be someone who is very persistent in reaching your goals."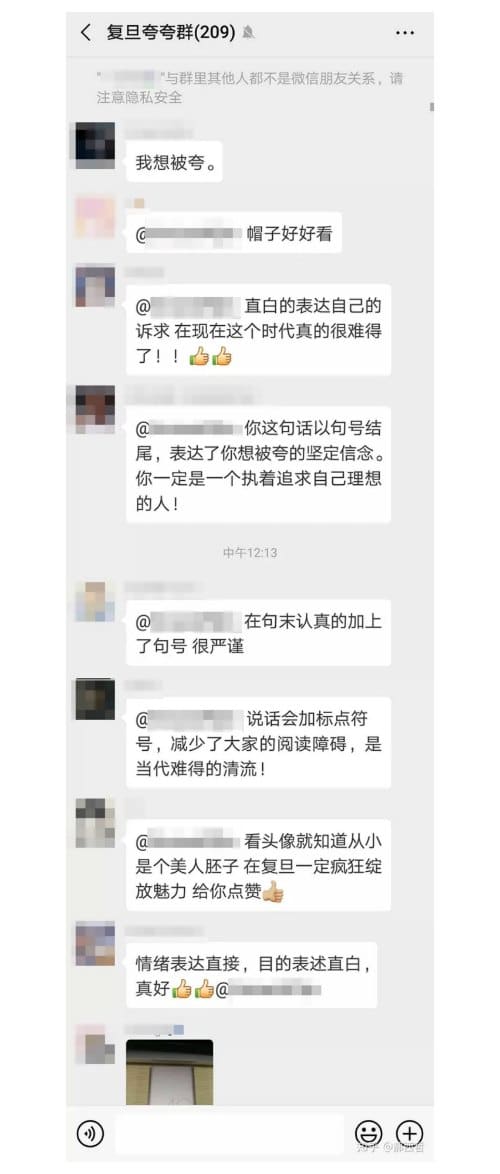 The fact that the "Kua kua" phenomenon is such a success in China might relate to its culture, where humility and modesty are considered ideal in day-to-day communications. When given a compliment, it is common in China to deny it or to suggest that the person giving the compliment is much better than they are (also see Cheng 2003, 30).
These chat groups, however, break away from the dominant cultural interactions: people don't have to be polite in responding to the compliments and can wallow in the praise they paid for.
Although not as big as the "Kua Kua" group phenomenon, these kinds of groups also exist in the English-language social media sphere. On Reddit's "Toast Me" page, for example, there are some 92,000 subscribers participating in asking and giving positive feedback to others, albeit unpaid.
The people giving compliments in the Chinese Kua kua groups are random people, some students, some staff of Taobao stores, who get hongbao, red envelopes with digital money gifts, for contributing to the group. According to some reports, some 'customers' end up staying the group and become a part of the team themselves.
We will follow up on this later: we booked a 'five-minute praise session' ourselves, but are still awaiting admission to the group…
Update: Our Kua Kua Experience
So what is the Kua kua experience like? We decided to try out for ourselves and purchased a 5-minute praise session through Taobao for 50 yuan ($7,5) from a seller that had a good rating.
After the purchase is completed, the seller will contact you with details asking for your WeChat ID. After adding, they will ask you what your 'problem' or issue is, and you will be put in a virtual queue until your turn comes up to be praised.
You'll then be added to a WeChat group that has your name in the headline (ours was something like "Manya you can do it") and that has around 200 participants.
The message posted by us was:
"Hello, I'm Manya (Dutch). I've been studying Chinese for more than ten years. In fact, I'm afraid to say it may even be more than 13 years, but I still often don't understand what Beijing taxi drivers are saying. Even studying every day won't help. I've been learning for so many years, yet I often still don't understand what the old people in Beijing are saying. It's a bit embarrassing. I think my Chinese is still not good enough. I can't understand the 'crosstalk' [comedy sketches] during the Spring Festival Gala at all. It makes me feel a little dispirited."
Within a matter of seconds, the screen then just fills up with positive feedback and emoji. There are dozens of comments, and they almost go too fast to read them all.
Some of the responses:
"You're great, and even I don't understand Beijing taxi drivers."
"Stay confident in yourself!"
"You're so cool."
"You can type so many Chinese characters, who'd say your Chinese is not good enough?!"
"Manya, you're so fantastic."
"None of us understand what old people in Beijing are saying."
"Chinese is just not easy to study, the fact that you've been doing it for so long already shows how great you are."
"It's incredible that you've already come this far."
"A woman who is so motivated about studying really moves me, you're my role model, you make me want to study more English."
During the praise session, the group leader will occasionally post a hongbao [envelope with money] for the participants to receive in return for their compliments.
After five minutes, the session ends, and the people will send out some last words of encouragement. The group leader will personally thank you for being part of the group, and later, you'll be removed from the group as the people will move on to the next person who is waiting in line to be praised.
How does it feel to be praised by some 200 people, receiving hundreds of compliments? It's overwhelming, and even though you know it's all just an online mechanism, and that it doesn't matter who you are or what you say, it still makes you glow a little bit inside.
Although some experts quoted by Chinese state media warn people not to rely on these praise groups too much, there does not seem to be much harm in allowing yourself to be complimented for some minutes from time to time.
Other people reviewing the same Kua kua group apparently feel the same: "I'm super satisfied, the result is amazing."
By Manya Koetse  and Miranda Barnes
Featured image via hexun.com.
References
Cheng, Winnie. 2003. Intercultural Communication. Amsterdam, John Benjamins Publishing.
Spotted a mistake or want to add something? Please email us.
©2019 Whatsonweibo. All rights reserved. Do not reproduce our content without permission – you can contact us at info@whatsonweibo.com.
Summer Censorship: Weibo Launches "Project Sky Blue"
No hot summer on Weibo: the social media network announces extra censorship on 'vulgar content.'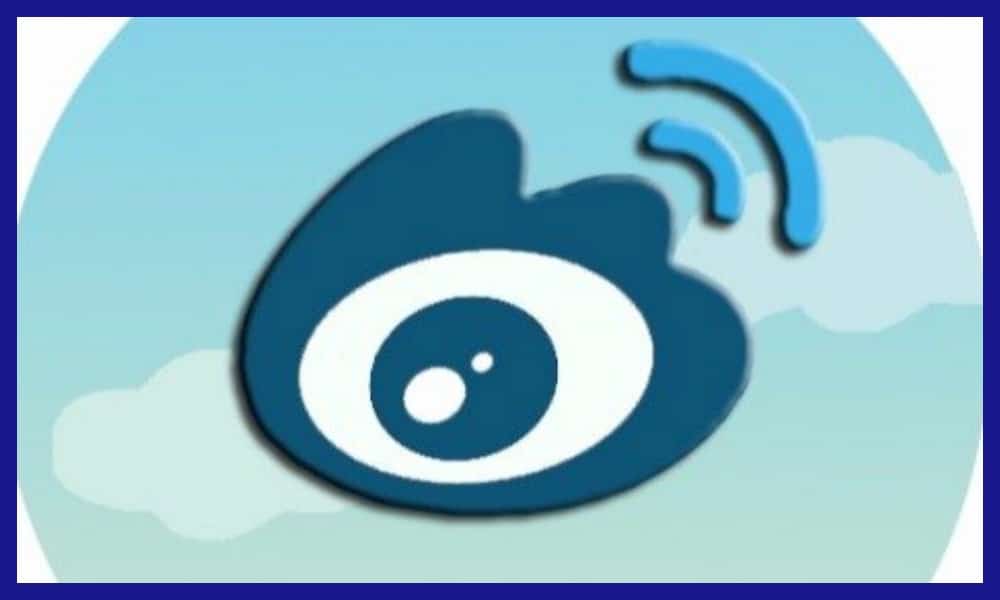 Earlier this week, the administration of Sina Weibo announced a special summer holiday crackdown on "vulgar content," including "pornographic novels, erotic anime, pictures or videos."
In a public announcement that was posted on July 4th, the Weibo administration writes that the primary goal of this campaign is to "create a healthier, more positive environment for underage users" during the summer break period.
The censorship plan is titled "Project Deep Blue" (or: "Project Sky Blue") (蔚蓝计划), and will use filter systems, human moderators and user reports to censor more content for the upcoming two months.
The project even has its own Weibo account now, where Weibo users can ask questions, report inappropriate content, and get more information on the campaign.
Weibo states it will further expand its team of online content supervisors, and also explicitly encourages netizens to flag 'inappropriate' content to make the online community 'more wholesome.'
The hashtag #ProjectDeepBlue (#蔚蓝计划#) topped the hot search lists on Weibo this week; not necessarily because of the topic's popularity, but because it was placed there by the social media site's administration. At time of writing, the hashtag page has attracted more than 180 million views.
Online responses to the summer censorship program are mixed: many commenters voice their support for the latest measure, while others express frustration.
One Weibo user from Hubei calls the latest measure "hypocritical," arguing that minors surf Weibo just as much during school time as during the summer holiday – suggesting that launching a special censorship program for the summer vacation does not make sense at all.
But many popular comments are in favor of the project, saying: "I support Project Deep Blue, the internet needs to be cleaned up," and: "China's young people need to be protected."
This is not the first time Weibo launches a special intensified censorship program. Throughout the years, it has repeatedly carried out 'anti-pornography' campaigns in cooperation with Chinese cyberspace authorities.
Often, the crusade against 'vulgar' content also ends up being used for the purpose of censoring political content rather than to actually eradicate 'obscenities' (read more).
By now, it seems that many Weibo users are quite actively using the Project Deep Blue tag to report on other users who are posting violent or vulgar content.
"If you're not careful, you're hit with vulgar and obscene content the moment you're on the internet," well-known mom blogger Humapanpan (@虎妈潘潘) writes: "Now that the summer holiday is coming, I hope we can join the Project Deep Blue, and clean up the internet environment.  Actively report obscene content the moment you see it – let's protect our future together."
By Skylar Xu & Manya Koetse
Spotted a mistake or want to add something? Please let us know in comments below or email us. Please note that your comment below will need to be manually approved if you're a first-time poster here.
©2019 Whatsonweibo. All rights reserved. Do not reproduce our content without permission – you can contact us at info@whatsonweibo.com
Faking Street Photography: Why Staged "Street Snaps" Are All the Rage in China
Staged street photography is the latest "15 minutes of fame" trend on Chinese social media.
It looks as if they are spontaneously photographed or filmed by one of China's many street photographers, but it is actually staged. Chinese online influencers – or the companies behind them – are using street photography as part of their social media strategy. And then there are those who are mocking them.
Recently a new trend has popped up on Chinese social media: people posting short videos on their accounts that create the impression that they are being spotted by street fashion photographers. Some look at the camera in a shy way, others turn away, then there are those who smile and cheekily stick out their tongue at the camera.
Although it may appear to be all spontaneous, these people – mostly women – are actually not randomly being caught on camera by one of China's many street fashion photographers in trendy neighborhoods. They have organized this 'fashion shoot' themselves, often showing off their funny poses and special moves, from backward flips to splits, to attract more attention (see example in video embedded below).
These are some examples of the "pretending to be spontaneously spotted by street fashion photographer so gotta do something funny" phenomenon: pic.twitter.com/OUMhGaFG6W

— Manya Koetse (@manyapan) 25 juni 2019
In doing so, these self-made models are gaining more fans on their Weibo, Douyin, Xiaohongshu, or WeChat accounts, and are turning their social media apps into their very own stage.
Street Photography in Sanlitun
The real street photography trend has been ongoing in China for years, near trendy areas such as Hangzhou's Yintai shopping mall, or Chengdu's Taikoo Li.
One place that is especially known for its many street photographers is Beijing's see-and-be-seen Sanlitun area, where photographers have since long been gathering around the Apple or Uniqlo stores with their big lens cameras to capture people walking by and their trendy fashion.
A few years ago, Thatsmag featured an article discussing this phenomenon, asking: "Who are these guys and what are they doing with their photos?"
Author Dominique Wong found that many of these people are older men, amateur photographers, who are simply snapping photos of attractive, fashionable, and unique-looking people as their hobby.
But there are also those who are working for street fashion blogs or style magazines such as P1, and are actually making money with their street snaps capturing China's latest fashion trends.
People featured in these street snaps can sometimes go viral and become internet celebrities (网红). One of China's most famous examples of a street photographed internet celebrity is "Brother Sharp."
It's been ten years since "Brother Sharp" (犀利哥), a homeless man from Ningbo, became an online hit in China for his fashionable and handsome appearance, after his street snap went trending on the Chinese internet.
Staged Street Scenes
But what if nobody's snapping your pics and you want to go viral with your "Oh, I am being spotted by street fashion photographers" video? By setting up their own "street snap" shoots, online influencers take matters into their own hands.
It is not just individuals who are setting up these shoots; there are also companies and brands that do so in order to make their (fashion) products more famous. According to People's Daily, in Hangzhou alone, there are over 200 photographers for such "street snaps" and hundreds of thousands of models for such "performances."
The photographers can, supposedly, earn about 20,000 to 30,000 yuan ($2,890-$4,335) per day and the models are well paid.
In this way, the "street snap performance" phenomenon is somewhat similar to another trend that especially became apparent in China around 2015-2016, namely that of 'bystander videos' capturing a public scene. Although these videos seem to be real, there are actually staged.
One such example happened in 2017 when a video went viral of a young woman being scolded on a Beijing subway for wearing a revealing cosplay outfit.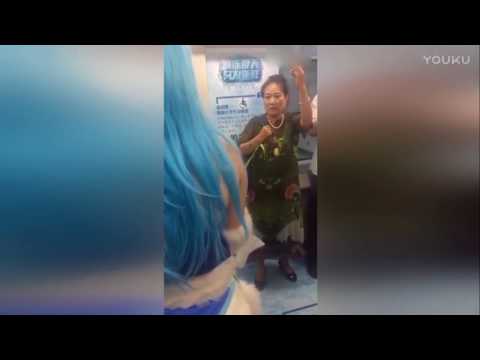 The story attracted much attention on social media at the time, with many netizens siding with the young woman and praising her for responding coolly although the woman was attacking her. Later, the whole scene turned out to be staged with the purpose of generating more attention for the ad of a "cool" food delivery platform behind the older lady.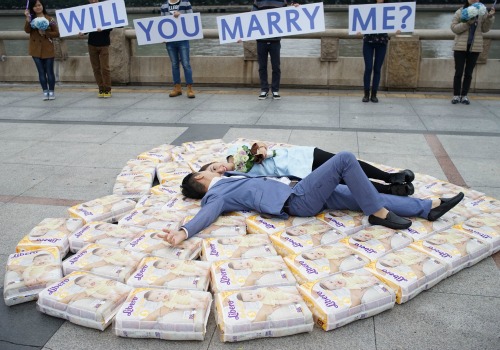 In 2015, photos of a 'romantic proposal' made its rounds on social media when a young man asked his pregnant girlfriend to marry him using over 50 packs of diapers in the shape of a giant heart. One bag of diapers carried a diamond ring inside. It was later said the scene was sponsored by Libero Diapers.
Wanghong Economy
Both the latest street snap trend and the staged video trend are all part of China's so-called "Wanghong economy." Wǎnghóng (网红) is the Chinese term for internet celebrities, KOL (Key Opinion Leader) or 'influencer.' Influencer marketing is hot and booming in China: in 2018, the industry was estimated to be worth some $17.16 billion.
Being a wanghong is lucrative business: the more views, clicks, and fans one has, the more profit they can make through e-commerce and online advertising.
Using Chinese KOLs to boost brands can be an attractive option for advertisers, since their social media accounts have a huge fanbase. Prices vary on the amount of fans the 'influencer' has. In 2015, for example, the Chinese stylist Xiao P already charged RMB 76,000 ($11,060) for a one-time product mention on his Weibo account (36 million fans).
According to the "KOL budget Calculator" by marketing platform PARKLU, a single sponsored post on the Weibo account of a famous influencer will cost around RMB 60,000 ($8730).
The current staged street snap hype is interesting for various online media businesses in multiple ways. On short video app Douyin, for example, the hugely popular street snap videos come with a link that allows app users to purchase the exact same outfits as the girls in the videos.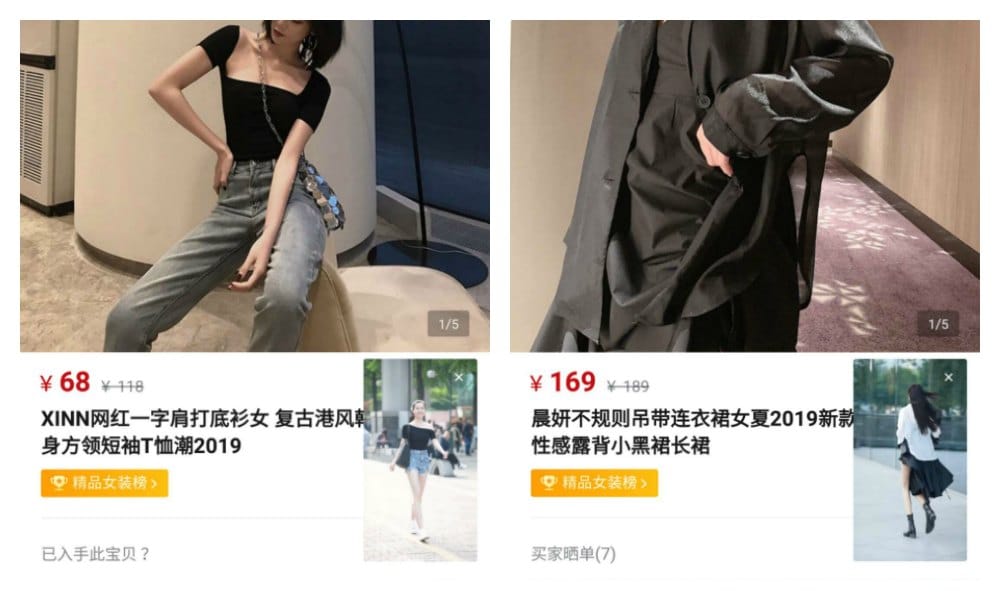 Perhaps unsurprisingly, an online survey by Tencent found that 54% of college-age respondents had the ambition to become an "online celebrity."
Making Non-Fashion Fashion: The Farm Field as a Catwalk
Although becoming an actual online celebrity used to be a far-fetched dream for many Chinese netizens, the latest staged-street-snap trend creates the possibility for people to experience their "15 minutes of fame" online.
Just as in previous online trends such as the Flaunt Your Wealth Challenge or A4 Waist Challenge, you see that many people soon participate in them, and that they are then followed by an "anti-movement" of people making fun of the trend or using it to promote a different social point-of-view.
The 2018 "Flaunt Your Wealth" challenge, for example, in which Chinese influencers shared pictures of themselves falling out of their cars with their expensive possessions all around them, was followed by an Anti-Flaunt Your Wealth movement, in which ordinary people mocked the challenge by showing themselves on the floor with their diplomas, military credentials, painting tools, or study books around them.
In case of the (staged) "Fashion Street Photography" movement, that now has over 103 million views on Weibo (#全国时尚街拍大赏# and #街拍艺术行为大赏#), you can also see that many people have started to mock it.
"I find [this trend] so embarrassing that I want to toss my phone away, yet I can't help but watch it," one Weibo user (@十一点半关手机) writes, with others agreeing, saying: "This is all so awkward, it just makes my skin crawl."
The anti-trend answer to the staged street shoot hype now is that people are also pretending to be doing such a street snap, but ridiculing it by making over-the-top movements, doing it in 'uncool' places, wearing basic clothing, or setting up a funny situation (see embedded tweet below).
And then this is other example (there are many) of people mocking this pretending-to-be-spotted-by-street-photographers trend pic.twitter.com/2WBP3F326l

— Manya Koetse (@manyapan) 25 juni 2019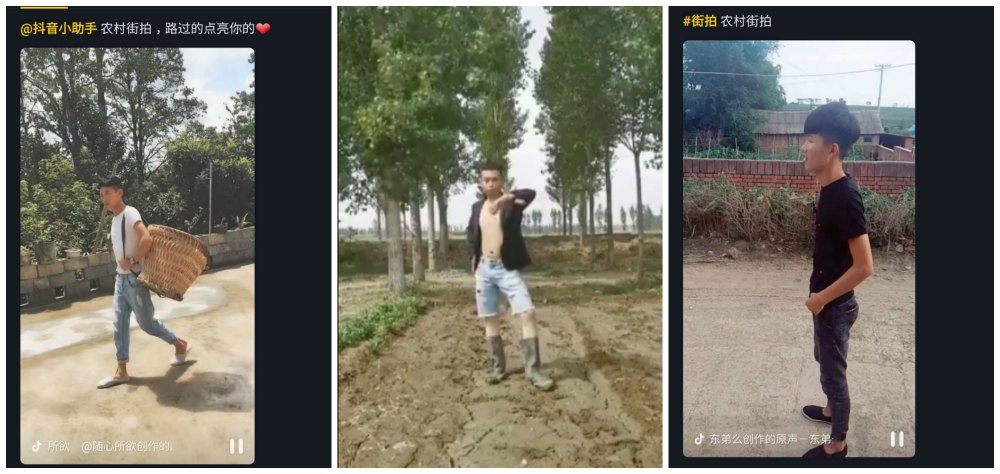 Some of these short videos show 'models' walking in a rural area, pretending to be photographed by a 'street fashion photographer' – it's an anti-trend that's become a trend in itself (see videos in embedded tweets below).
There's a recent Chinese social media trend of people mocking the wannabe cool Sanlitun rich kids who are walking the streets like it's their catwalk while pretending to be spotted by street photographers. It's always the anti-cool people who are actually the coolest..👇👏 pic.twitter.com/LnEOEdyzRE

— Manya Koetse (@manyapan) 24 juni 2019
Although this 'anti-trend' is meant in a mocking way, it is sometimes also a form of self-expression for young people for whom the Sanlitun-wannabe-models life is an extravagant and sometimes unattainable one.
More: pic.twitter.com/WpcDepTcYe

— Manya Koetse (@manyapan) 24 juni 2019
They don't need trendy streets and Chanel bags to pretend to be models: even the farm field can be their catwalk.
In the end, the anti-trend "models" on Chinese social media are arguably much cooler than the influencers pretending to be photographed. Not only do they convey a sense of authenticity, they also have something else that matters the most in order to be truly cool and attractive: a sense of humor.
Also read: From Mountains of Taishan to Faces of Amsterdam – Interview with Street Photographer Jimmy on the Run
Also read: Beijing Close-Up: Photographer Tom Selmon Crosses the Borders of Gender in China
By Manya Koetse
Follow @whatsonweibo
Spotted a mistake or want to add something? Please let us know in comments below or email us. Please note that your comment below will need to be manually approved if you're a first-time poster here.
©2019 Whatsonweibo. All rights reserved. Do not reproduce our content without permission – you can contact us at info@whatsonweibo.com