Chinese Tennis Star Peng Shuai Attends Fila Kids Junior Tennis Finals
Peng Shuai shows up at the Fila Kids Junior Tennis Challenge Finals in Beijing.
Chinese tennis player Peng Shuai (彭帅) has 'reappeared' on Chinese social media for the first time her post of November 2nd (link) sent shockwaves across social media before it was taken offline.
Although her Weibo account has no new posts and searches for her name still do not come up with any recent content, Peng attended the Junior Tennis Challenge Grand Finals event while keeping a relatively low profile. Photos of Peng Shuai attending the Beijing event were shared by various accounts, including that of China Open (@中网ChinaOpen).
The Junior Tennis Finals are meant to cultivate Chinese tennis talent.
The event that Peng attended is the Diamond Cup Junior Tennis Challenge, which is meant for the 6-12 age group.
Peng's appearance is noteworthy; over the past two weeks, international concerns have grown over the whereabouts of the Chinese tennis star. Famous tennis players including Naomi Osaka and Serena Williams used the hashtag #WhereIsPengShuai in joining the calls to locate the "missing" Chinese tennis player Peng Shuai.
Peng had not been seen or heard from publicly she described the affair she allegedly had with former vice-premier Zhang Gaoli (张高丽) in her November 2nd Weibo post, in which she also claimed that Zhang once forced her into having sex.
While the issue was completely silenced in Chinese (social) media, the English-language state media outlet CGTN did address the commotion on Twitter on November 17, when they shared a screenshot of an email allegedly sent by Peng to WTA Chairman Steve Simon, saying she was not missing and not unsafe.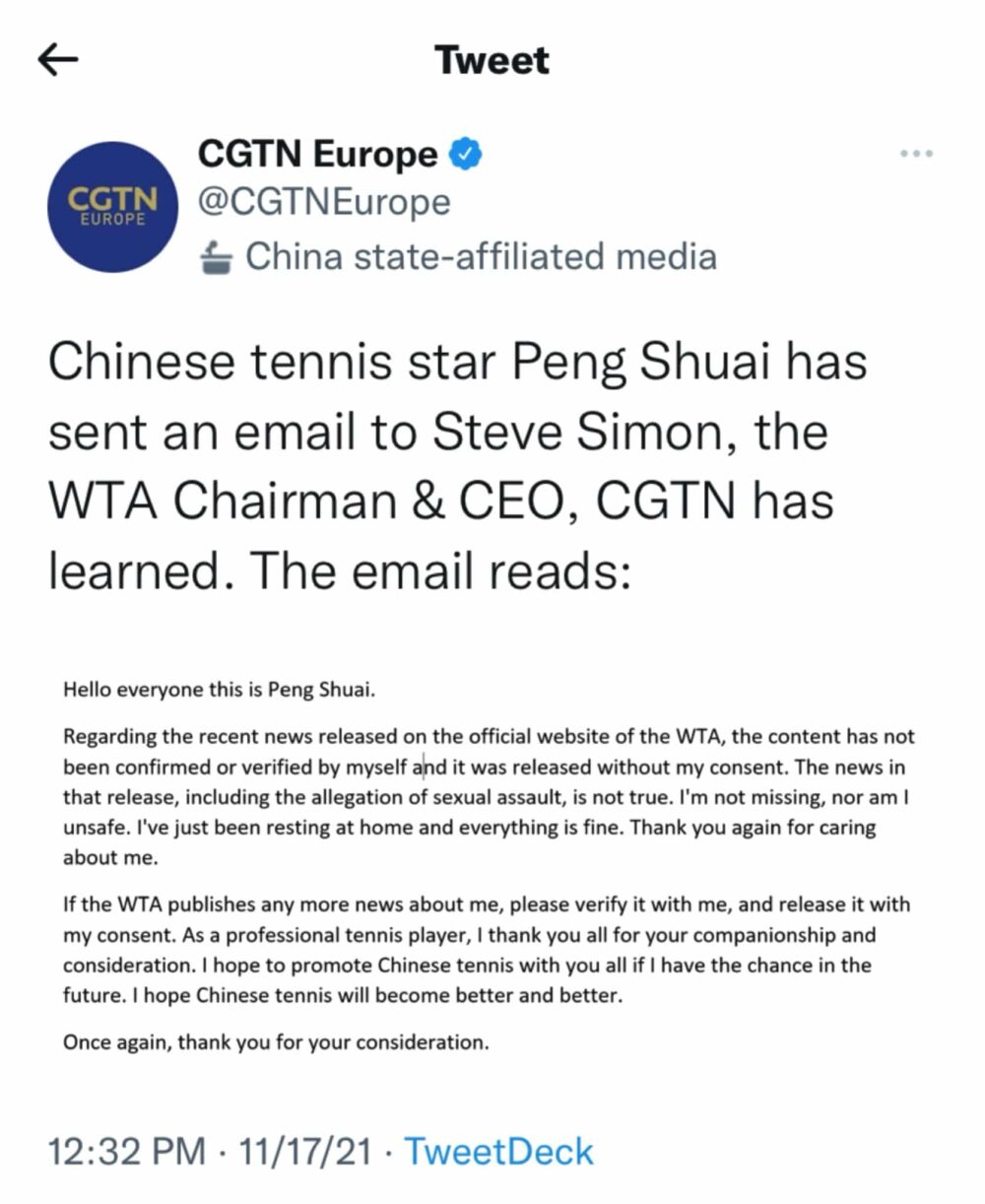 While many people still raised their concerns on Twitter and a White House spokesperson even said the Biden administration was 'deeply concerned' about the reports alleging that Peng Shuai had gone missing, photos of Peng Shuai in her home showed up on Friday (November 19th), posted on Twitter by Chinese journalist
Shen Shiwei (沈诗伟) claiming the tennis star posted them on her WeChat moments.
Peng Shuai's WeChat moments just posted three latest photos and said "Happy weekend".
Her friend shared the three photos and the screenshot of Peng's WeChat moments. pic.twitter.com/tut8CEH6gu

— Shen Shiwei沈诗伟 (@shen_shiwei) November 19, 2021
One day later, a video was also shared on Twitter by Shen, showing Peng having dinner and having conversations in which it was clearly indicated that the date was November 20, 2021.
Peng Shuai had a dinner with her friends. pic.twitter.com/rhZUvYlIxa

— Shen Shiwei沈诗伟 (@shen_shiwei) November 20, 2021
Later, news came out that Peng also attended the Junior Tennis Finals during the weekend. After the email, the home pics, and the dinner, this was the fourth time news of Peng's whereabouts made its rounds on Twitter, but it was the very first time in 19 days that she 'reappeared' in mainland China's online media spheres.
"A familiar face came to the Diamond Cup," one comment said, with others writing "long time no see" and "she showed her face!"
"She lost a lot of weight," others said, not explicitly mentioning Peng Shuai's name.
Some commenters just expressed they were happy to see the tennis champion "doing well" and being "safe and sound."
By Manya Koetse
Spotted a mistake or want to add something? Please let us know in comments below or email us. First-time commenters, please be patient – we will have to manually approve your comment before it appears.
©2021 Whatsonweibo. All rights reserved. Do not reproduce our content without permission – you can contact us at info@whatsonweibo.com.
Hot Air: Chinese Social Media Reactions to the Chinese Balloon Incident
The Chinese balloon incident is also referred to as the "Wandering Balloon" on social media at a time when 'Wandering Earth II' is trending.
The 2023 "China balloon incident" has gotten so big over the past few days that it already has its very own Wikipedia page now.
On Feb. 2, 2023, it was announced that a Chinese "surveillance balloon" was traveling over the northern United States. Later, it was reported that a second Chinese balloon floated over Latin America.
As a consequence, U.S. Secretary of State Antony Blinken called off a scheduled visit to Beijing, calling the presence of the Chinese balloon "an irresponsible act." The balloon has also been dubbed the "Chinese spy balloon."
On Sunday morning after 4 AM China local time, news came out that the U.S. military had shot down the Chinese balloon off the Carolina coast after the coastal area of North and South Carolina had been closed for the national security operation.
In an earlier statement on Friday, Chinese officials referred to the balloon as a civilian "airship" ("飞艇") used for weather monitoring and meteorological research that deviated from its original route due to the wind. The incident, therefore, is also described as the "Chinese Airship Incident" ("中国飞艇事件") by Chinese media outlets.
On Chinese social media, the issue is referred to as "the balloon incident" ("气球事件") or the "balloon problem" ("气球问题"), and many netizens think it is all about "making a big issue over nothing" ("小题大做").
The balloon is also nicknamed "the wandering balloon" (流浪气球) in light of the current Chinese box office hit The Wandering Earth II. One of the hashtags used to discuss the events was "The Wandering Balloon II" (#流浪气球2#).
Chinese political commentator Hu Xijin, who frequently posts on social media, suggested earlier that the U.S. side allegedly is very well aware that the Chinese balloon – which accidentally went "wandering" – actually "poses no threat" and that ongoing reports about the balloon were purposely being used to create an anti-Chinese narrative.
Hu's reasoning is similar to that of Chinese International Relations Professor Li Haidong (李海东), who claims that the balloon story is framed as a threat in order for the U.S. to gain an advantage in bilateral negotiations (#专家称美炒作气球事件对华施压#).
Following news reports about the Chinese balloon getting shot down, some Weibo commenters jokingly lamented that the "poor baby balloon" had been ruthlessly shot down without even getting the time to float around.
"Such a pity," some wrote, with others suggesting it's "just a stray balloon."
One of the hastags used for online discussions of the balloon getting shot down was "The Wandering Balloon Is Shot Down" (#流浪气球被击落#) and "The 'Wandering Balloon' Gets Shot Down by American Military" (#流浪气球被击落#).
There are many online jokes about the incident, such as those saying that the Chinese people thought the sci-fi blockbuster Wandering Earth II was the current film hit and that they had not expected the 'Wandering Balloon' to be the actual hit of the moment.
The fact that the current Chinese balloon developments trigger so many online comparisons and memes related to the sci-fi film Wandering Earth II perhaps doesn't come as a surprise, since the movie has been among the hottest trending topics of the past week, and considering its narrative is all about catastrophic events and the future of international society.
Others comment that since this is the time of the Chinese Lantern Festival (元宵节), celebrated on the fifteenth day of the first month of the Chinese New Year, the incident is just another way of wishing everyone a happy new year.
All jokes aside, there are also bloggers who see the incident as a more serious occurrence at a time of worsening Sino-American relations, suggesting the significance of this matter "can't be underestimated."
There it goes. Footage of the Chinese balloon shot down by US military now also all over Weibo. pic.twitter.com/9jWOTKev7d

— Manya Koetse (@manyapan) February 4, 2023
For more updates on this story, see this article.
By Manya Koetse 
Get the story behind the hashtag. Subscribe to What's on Weibo here to receive our newsletter and get access to our latest articles:
Spotted a mistake or want to add something? Please let us know in comments below or email us. First-time commenters, please be patient – we will have to manually approve your comment before it appears.
©2023 Whatsonweibo. All rights reserved. Do not reproduce our content without permission – you can contact us at info@whatsonweibo.com.
Wandering Earth 2 Production Costs: Why Director Frant Gwo is Nicknamed 'Master in Begging for Alms'
Contributing to the Wandering Earth 2 production without getting paid? It's "powering up Chinese sci-fi with love."
Wandering Earth director Frant Gwo (Guo Fan) is also nicknamed the 'Master in Begging for Alms' (化缘大师) on social media. His efforts to convince actors and companies to contribute to the movie has kept production costs relatively low.
With the sci-fi blockbuster The Wandering Earth II, directed by Guo Fan (郭帆 aka Frant Gwo) taking center stage during this Spring Festival movie season, there have been many social media discussions about the film and how it has been reviewed (read here), as well as about the production of the film, or more particularly, about the total production costs for this film.
Based on a story written by Liu Cixin, author of the award-winning sci-fi novel The Three-Body Problem, The Wandering Earth II is the prequel to the 2019 blockbuster hit The Wandering Earth, China's all-time highest-grossing sci-fi film and the fifth highest-grossing non-English film of all time.
It is reported that the production investment costs for The Wandering Earth II reached approximately 600 million yuan ($88.5 million). Compared to the production budget of American sci-fi hit films such as Interstellar ($165 million) or Inception ($160 million), Chinese audiences had expected The Wandering Earth II to have much higher production costs than the reported budget, especially considering the spectacular scenes featured in the film.
The relatively lower production costs sparked discussions on Chinese social media, where the hashtag "Guo Fan – the Master in Begging for Alms" (#郭帆 化缘大师#) went trending, gaining in popularity as multiple insiders shared more stories about the production of the movie.
The hashtag, which suggests that Director Guo is a 'Fundraising Master' for keeping production costs low, has received over 70 million views at the time of writing. The Chinese 化缘 huàyuán means to raise funds for something or to 'beg alms' (like Buddhist monks or Taoist priests do).
Guo's strict budget control already became a hot topic after the 2019 release of The Wandering Earth. One of the most famous stories is that of the movie's main star Wu Jing (吴京), as he allegedly began as a guest celebrity and ended up as the leading actor without getting paid, while investing approximately 60 million yuan ($8.85 million) in the film's production.
A female presenter recently also shared her story on Weibo about her free participation in the production of The Wandering Earth in 2019, which apparently showed the film's tight production budget. In her post, she wrote: "They didn't fool me, instead, they just told me directly that I wouldn't get paid." Considering the rare opportunity to act in a Chinese sci-fi production, she went to the set at her own expense and filmed scenes, including outdoor scenes in the snow and freezing cold, only to end up being featured less than a second in the finished film. Nonetheless, she said she was still proud to be a part of the landmark Chinese sci-fi film.
Perhaps the idea of taking part in a groundbreaking Chinese science fiction film has made many individuals, companies, and organizations willing to work with Guo's team, even if no additional compensation or payment was provided.
XCMG Machinery (Xuzhou Construction Machinery Group Co, Ltd), China's premier company in industrial design, is also one of these companies. The company set up a team of a total of 319 XCMG staff members to support the project and provided a wide range of operational and transformable machinery equipment for the UEG (United Earth Government) in the film. They called this "powering up Chinese Sci-fi with love."
Chinese netizens already nicknamed Wandering Earth (流浪地球) "Little Broken Ball" (小破球) back in 2019. The "Ball" refers to the Earth – the second character (球) of Earth in Chinese (地球) literally means ball. It was the director himself who initially referred to his film this way, and this nickname was then popularized among netizens to describe how the Earth is in crisis in the film, but it also refers to how difficult it was for Guo to produce the film.
The fact that Guo managed to produce Wandering Earth II with a relatively limited budget compared to other big international sci-fi movies has instilled some pride among netizens. One popular blogger (@秦祎墨) suggested the actual production value of the movie went far beyond the quoted $88.5 million thanks to the collective spirit of Chinese companies who did all they could to turn this film into a mega hit.
Others praised Guo for being able to get so many people and companies involved, claiming that if it wasn't for him, the movie would have ended up costing at least twice as much.
Some are already looking forward to a potential Wandering Earth III, saying that the 'Little Broken Ball' series has already managed to gather such a strong team of companies, technical support, post-production innovation and experts, that the 'Wandering Earth universe' should not stop after two films.
Reflecting on being nicknamed the 'Master of Begging for Alms,' director Guo himself reportedly expressed his gratitude toward everyone who worked on the film who was "tricked" by him, saying it is their generosity that eventually made the production of The Wandering Earth II possible.
By Wendy Huang, with contributions by Manya Koetse
Follow @whatsonweibo
Spotted a mistake or want to add something? Please let us know in comments below or email us. Please note that your comment below will need to be manually approved if you're a first-time poster here.
©2023 Whatsonweibo. All rights reserved. Do not reproduce our content without permission – you can contact us at info@whatsonweibo.com