Chinese Views on Europe's Migrant Crisis: "The Road to Ruin"
The European migrant crisis is dominating headlines and social media posts around the globe, and lead Chinese netizens to discuss the issue on Sina Weibo: "As long as you don't come to China it's fine by me."
The migrant crisis in Europe is dominating headlines and social media posts around the globe. Chinese media are also reporting on Europe's "migrant wave" ("欧洲难民潮"), leading netizens to discuss the issue on Sina Weibo.
It is the biggest influx of migrants the European Union has ever seen. Hundreds of thousands of migrants and asylum seekers are fleeing the turmoil in Africa and the Middle East. They mostly come from Syria, Afghanistan and Iraq. In 2015, Europe has seen more than   350,000 migrants – a sharp increase from the 219,000 people crossing the Mediterranean in 2014 (UNHCR).
The numbers do not include the estimated 6000 people who have died or went missing in their attempt to reach Europe in 2014 and 2015. Over the past week, the picture of the dead body of a 3-year-old boy has become a symbol for all these people never making it to their destination. The picture has also made its rounds on Sina Weibo in all sorts of forms, sometimes as a drawing with angel wings.
Chinese news portal Guancha writes that the UK, Austria, Canada, Argentina and others have indicated that they will allow more refugees to enter their country. Hungary, Czech, Poland and Slovakia have declined to partake in the EU plan to distribute 120,000 immigrants across different European countries. Both the EU and the United Nations have called on other countries to share the burden of hosting refugees. Many Syrians have sought refuge in Lebanon, Jordan, Iraq or Egypt. And, as stated by political economy researcher Dalibor Rohac: "(..) some of the wealthier states of the region, most conspicuously Saudi Arabia and the Gulf states, have shown very little willingness to let refugees in."
"It seems like paradise to Syrian refugees, but how much longer will Germany be able to keep this up?"
As hundreds protested outside Hungary station last week, Austria and Germany have taken in thousands of migrants who crossed the border. Over 4000 arrived in mainland Greece – a country that already saw the arrival of 23,000 migrants in the last week alone. The junior interior minister stated that "the situation is on the verge of explosion."
On September 7, the official Sina News Weibo account reported on Germany: "Thousands of refugees are streaming in, can Merkel handle it? Taking care of accommodation, food, medical care, as well as 300 euros per month for living expenses – Germany seems like paradise to Syrian refugees, but dealing with the largest influx of migrants since WWII, how much longer will Germany be able to keep this up?"
Netizens on Sina Weibo, China's biggest social media platform, discuss the news. Many users are surprised with the high cost of living in Europe, finding 300 euros (±2100 Chinese Yuan) a high amount to give out. In response to this, one joke is making its rounds on Weibo:
"A beggar comes to a house to ask for money, and the man of the house gives him 10 yuan. The next day, the beggar comes again, and the man gives him 10 yuan again. The next day, it is the same, and this goes on for two years. Then, one day, two years later, the man only gives him 5 yuan. Ten days later, the beggar can no longer contain himself and asks: 'You used to give me 10 yuan, why do you give me 5 yuan now?!' The man says: 'Because I got married.' The beggar angrily slaps the man and says: 'Well damn it, you can't just go and give out my money to other people like that!'"
"European countries deprive people of their basic human rights if they do not welcome them."
The overall views on the situation are diverse, with some expressing that Europe should take in all migrants, while others foresee big problems. There are also others with less black-and-white views on the issue: "When Yugoslavia was in war, Europe was also in a difficult position, and had to turn to the US for help. This time, the US does nothing, and Europe is up to one's ears. Blocking the refugees won't help, they can only dispatch troops to their [the refugees'] countries and remove the chaos of war that is at the root of the problem. The refugee problem can only be solved through maintaining peace and stability."
One author from KDnet states that human rights are more important than a nation's sovereignty. European countries deprive people of their basic human rights if they do not welcome them, the author says. Since the Cold War, Europe has posed as a supporter for human rights, criticizing other countries under the banner of human rights – is that not hypocritical?
"In China we can say they have to take in refugees, but that is easier said than done."
Not everybody agrees with him. "Europe is almost completely taken over by muslims, in China we can say they have to take in the refugees, but that is easier said than done", one user says. There are many other users that bring up the subject of religion, with one saying: "I love Germany for this, but it's a pity the refugees will eventually thank Allah instead."
User Bat Bear says: "Germany is so left-wing now, that it is pressuring a rightist revival."
"The immigrant wave is catastrophic to Europe's economical and political climate."
"Europe is becoming a Third World Country!" one Weibo user responds. Others also worry that the immigrant stream is bringing "catastrophic consequences to Europe's economical and political climate." As blogger Red Fox says: "I admire Germany's courage, but the consequences will be bad. How will your economy handle this? How will your people react? What about your safety? Well, never mind, it's your business…"
One blogger called 'Motionless Mountain' says: "To counter Europe's refugee problem: if they are really refugees, they should go to the nearby safety zones, instead of going to the wealthy areas – that makes them illegal immigrants and not refugees. The UN and EU should not give them refugee status."
Weibo user Mona simply gives thumbs up to Germany for taking in the refugees: "This is what a great country does!"
"Coming from a country where you even need a permit to enter Beijing, I suddenly feel quite at ease."
Some netizens use the current migration crisis to reflect on the immigration system in their own country. China's immigration policy has not been set to handle a huge influx of foreigners who come to settle down in China, and the requirements for granting permanent residence are so strict, that China has only given out an estimated 7000 since the rules went into place. Although international migration to China has increased since the early 1980s, the country still has a very low rate of international migrants compared to other countries.
Domestic migration, on the other hand, is an everyday issue in China. Last year, Sina News reported that China's annual urbanization is equivalent to the entire Dutch population; that the yearly migration from rural areas to the the cities equals the Netherlands in terms of people – a migration of 16 million people. These large numbers make Europe's migration problems seem small to some netizens: "These are just 2000 people in one day [at the Hungary train station], in China, over 4 million people go by train every 24 hours."
There are also those who now appreciate China's strict immigration policies or residence permit system: "Coming from a country where you even need a permit to enter Beijing [进京证], I suddenly feel quite at ease", one user says.
Another blogger writes: "Europe is on the road to ruin. But as long as you don't come to China, it's fine by me."
By Manya Koetse
Follow @WhatsOnWeibo
©2015 Whatsonweibo. All rights reserved. Do not reproduce our content without permission – you can contact us at info@whatsonweibo.com.
From Hong Kong Protests to 'Bright Future' – The Top 3 Most Popular Posts on Weibo This Week
These are the most-read posts on Weibo this week.
The three most-read posts on Weibo over the past week – an overview by What's on Weibo.
The protests in Hong Kong have been dominating Chinese social media throughout August, and the past week has been no different. Two out of three most-read posts on Weibo, one of China's most popular social media platforms, were about Hong Kong this week.
A wrap-up:
#1 Hundreds of Hong Kong Taxi's Flying Chinese National Flag
While Hong Kong is gearing up for the 13th consecutive weekend of mass anti-government demonstrations, there are no signs of the protests fizzling out any time soon.
The Hong Kong protests started in March and April of this year against an extradition bill that would allow local authorities to detain and extradite people wanted in mainland China, and have intensified over the past weeks.
Although authorities in mainland China initially remained quiet on the topic, the Hong Kong demonstrations have been dominating the trending streams on China's popular social media platforms for all of August.
Through videos, online posters, and slogans, Chinese state media have propagated a clear narrative on the situation in Hong Kong; namely that a group of "separatists" or "bandits" are to blame for the riots that aim to "damage public security" in Hong Kong and are "dividing the nation."
News outlets such as People's Daily and CCTV are sharing many stories that emphasize the One China principle and praise the Hong Kong police force. Those voices in Hong Kong speaking up for the police force and condemning protesters using violence have been amplified in Chinese media.
One story that became the number one trending post on Weibo this week is that of dozens of Hong Kong taxi drivers hanging the Chinese national flag from their cars (video).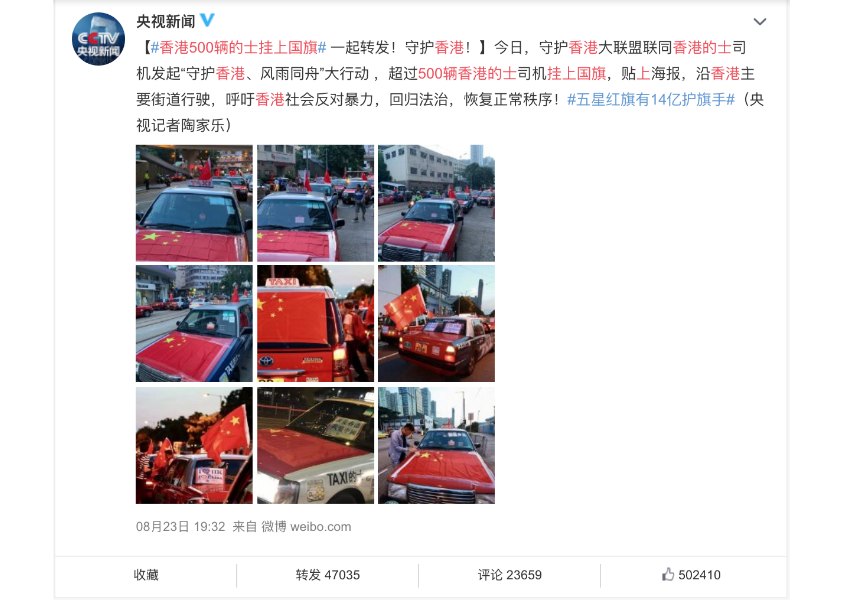 On August 23, the taxi drivers reportedly formed a rally against violence at Tsim Sha Tsui, waving the flags and putting up signs saying "I love HK, I love China."
The hashtag "500 Hong Kong Taxi's Hanging up Chinese National Flags" (#香港500辆的士挂上国旗#), hosted by CCTV, attracted over 700 million views on Weibo. The CCTV post reporting on the event received over half a million likes and 47000 shares.
The commenters mostly praise the Hong Kong taxi drivers for "standing up for Hong Kong" and flying the Chinese flag.
In English-language media, it has mostly been Chinese state media reporting on the rally. Xinhua, Women of China, ECNS, and Global Times all reported on the August 23 peace rally.
CNN only shortly reported how "a number of taxis have been spotted driving around the city displaying Chinese flags — something that has not happened on this scale during previous protests" (link).
#2 'Bright Future' Title Song for Upcoming Movie 'The Moon Remembers All'
Over 266.000 Weibo users have been sharing a post by Chinese actor Li Xian (李现) on the title track for the new Chinese movie The Moon Remembers All or River on a Spring Night (Chinese title: 春江花月夜).
The upcoming movie itself is a very popular topic on Weibo recently, attracting 430 million views on its hashtag page alone. The movie just finished shooting and will be released in 2020.
The song titled "Bright Future" (前程似锦) is sung by Taiwanese singer Chen Linong (陈立农) and Li Xian, who are both the leading actors in the fantasy movie. The song was released on August 29.
The Moon Remembers All is produced by Edko Films and directed by Song Haolin (宋灏霖), also known for Mr. Zhu's Summer (2017) and Fatal Love (2016).
#3 Interview with Hong Kong Pro-Beijing LegCo Member Junius Ho
The third most popular Weibo post of this week comes from Xia Kedao (侠客岛), a popular commentator account for the People's Daily Overseas Edition, and concerns a live broadcasted interview with Hong Kong lawmaker and Legislative Council (LegCo) member Junius Kwan-yiu Ho.
Junius Ho (何君尧) is known as being 'pro-Beijing' and stirred controversy earlier this summer when a viral video showed him shaking hands with men wearing white T-shirts who allegedly were linked to the mob attacking people at the Yuen Long MTR station on July 21.
Xia Kedao describes Junius Ho as a "straightforward" politician who "speaks out for justice" and denounces "reactionaries."
In the August 28 interview, that was live-streamed on Sina Weibo and later also written up, the Hong Kong legislator discussed the background of the protests.
Ho argues that the people with "ulterior motives" used the extradition bill for their own power struggle, distorting and exaggerating the facts behind the regulation.
The politician also partly links the protests to a "weak national consciousness" in Hong Kong due to its education curriculum and says that there have not been enough legal consequences for those participating in illegal activities and riots.
Thousands of commenters on Weibo write that they appreciate Ho for speaking out against the "pro-independence riot youth" and praise him for his "deep understanding" of mainland China.
By now, Junius Ho, who is also active on Weibo with his own account, has gathered more than half a million fans on his page.
By Manya Koetse
Follow @whatsonweibo
Spotted a mistake or want to add something? Please let us know in comments below or email us. Please note that your comment below will need to be manually approved if you're a first-time poster here.
©2019 Whatsonweibo. All rights reserved. Do not reproduce our content without permission – you can contact us at info@whatsonweibo.com
Exchange Student to Be Deported from China for Harassing Young Woman at University
An exchange student studying at the Hebei University of Engineering has been expelled and will soon be deported after harassing a female student.
An exchange student from Pakistan who was studying at the Hebei University of Engineering (河北工程大学) has been expelled and detained after harassing a female student at the same university.
The incident, that is attracting much attention on Chinese social media this week, adds to the wave of recent controversies over the behavior and status of overseas students in mainland China.
On July 31, a female student at the Hebei university filed a police report against a Pakistani student who allegedly harassed her and attempted to forcefully kiss her and touch her breasts.
Screenshots of a supposed WeChat conversation between the exchange student and the female student, in which the man apologizes and claims the interaction is a "requirement for friendship," are being shared on social media.
According to various reports, the police initially tried to mediate between the two students, which the female student refused.
Together with the school principal, the police then further investigated the case and found ample evidence of harassment after examining the university's surveillance system.
On August 1st, the Hebei University of Engineering announced that they had expelled the student and that he will be deported from China. The announcement received more than 14,000 reactions and 150,000 'likes' on Weibo.
The student is now detained at the local Public Security Bureau and is awaiting his deportation.
A photo of two officers together with a man in front of the detention center in Handan is circulating on social media in relation to this incident.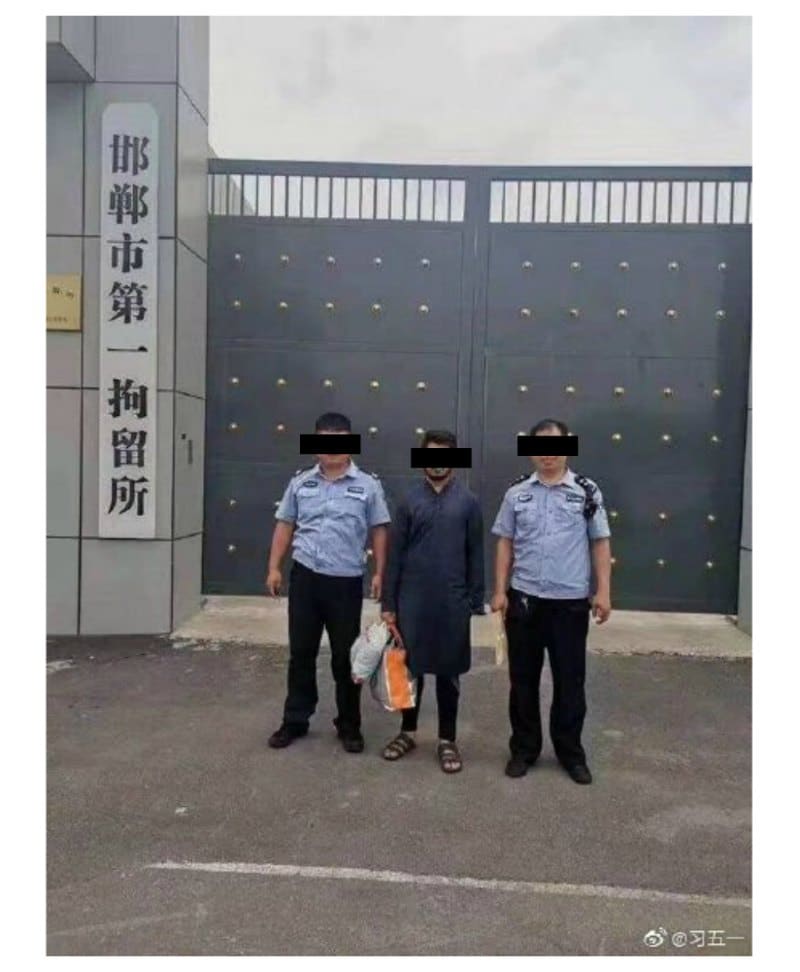 At time of writing, the hashtag page "Exchange Student to Be Deported after Molesting Female Student" (#留学生猥亵女学生将被遣送出境#) has been viewed over 310 million times on Weibo.
Among thousands of reactions, there are many who praise the Hebei university for supporting the female student after she reported the exchange student to the police.
"This may not be the best university, but at least they stand behind their students!", some say, with others calling the university "awesome."
Many say that the Hebei university should serve as an example for other Chinese universities to follow, with Shandong University being specifically mentioned by Weibo users.
Shandong University was widely criticized earlier this summer for its "buddy exchange program," which was accused of being a way to arrange Chinese "girlfriends" for male foreign students.
Another incident that is mentioned in relation to this trending story is that of an exchange student who displayed aggressive behavior towards a Chinese police officer in July of this year. The student was not punished for his actions, which sparked anger on Chinese social media.
By Manya Koetse
Follow @whatsonweibo
Spotted a mistake or want to add something? Please let us know in comments below or email us. Please note that your comment below will need to be manually approved if you're a first-time poster here.
©2019 Whatsonweibo. All rights reserved. Do not reproduce our content without permission – you can contact us at info@whatsonweibo.com