Despite China's 'Broadcast Ban' on eSports, Netizens Go Crazy for National Team's Asian Games Success
Clumsy display of nationalism during China's glorious esports win goes viral.
With 1.8 billion views (#电竞亚军会#) on Weibo, the 2018 Asian Games eSports Demonstration Event has been a big topic on Chinese social media. Despite a broadcast-ban, netizens went crazy for the Chinese team, that – somewhat clumsily – waved the Chinese flag in Jakarta.
The 18th edition of the Asian Games held in Jakarta, Indonesia, has come to an end. With 2,3 billion views on Weibo alone (#2018亚军会#), the Asian Games are a hit on Chinese social media.
The Asian Games marked the first time for esports (electronic sports) to be included in a major international comprehensive sports event.
On the 26th of August, the first day of the esports event, the Chinese team won their first gold medal after winning the game Arena of Valor aka AoV (王者荣耀). The second day, they won the silver medal with the game Clash Royale (皇室战争), ending just behind the Indonesian team.
But the most significant success was celebrated on the 29th of August. After a 3-day battle, the Chinese team won their second gold medal for their performance in the game League of Legends (英雄联盟). Their victory came as a surprise to many, since it was the South Korean team that had defeated China twice during the group phase. But this time it was the Chinese team that celebrated a three-to-one victory over the South Koreans.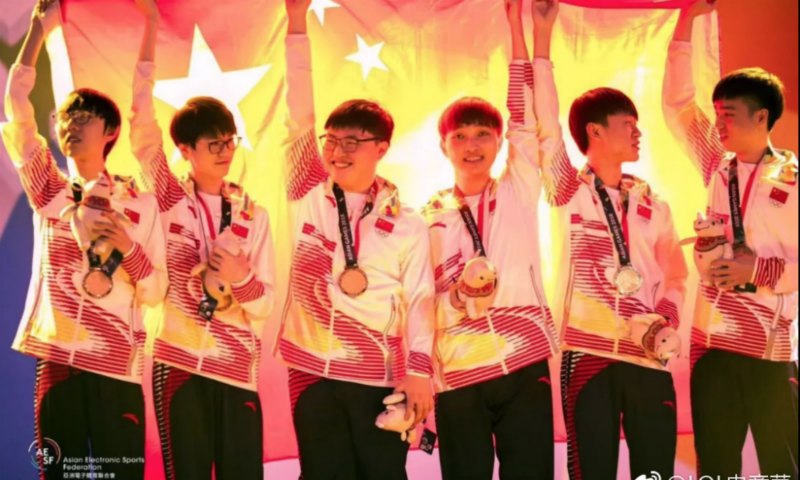 Despite the national teams' successes, TV-watching audiences on mainland China were not able to witness these important moments in sport; CCTV5, the state television's national sports channel, did not broadcast any of the esports events. Much to the annoyance of many netizens, CCTV5 also did not allow any other platform the right to broadcast any esports events.
The reason for CCTV not broadcasting online computer games is because it is banned. In the 'Notice on the prohibition of broadcasting online computer game programs' (关于禁止播出电脑网络游戏类节目的通知) issued by the National Radio and television Administration in 2004, it says that "radio and television broadcasting organizations at all levels shall not open to computer network games, and may not broadcast online computer game programs."
That same notice also states that "online computer games have adversely affected the healthy growth of minors."
On CCTV5's official Weibo account, many netizens called for the broadcasting of the esports games last week, and vented their dissatisfaction towards state media for banning the broadcast.
One Weibo user wrote: "CCTV spends state money to get a monopoly on the broadcasting rights, and then they choose not to broadcast. It is a waste of the state's money and disrespectful to the people who do want to see esports!" Some posts scolding the CCTV received thousands of likes.
Except for CCTV, Party newspaper People's Daily (人民日报), also received many negative social media comments after thy published an article on the victory of the national team. In the comment section, readers wrote comments such as: 'Now you want to congratulate? Weren't you the one that didn't want to broadcast live?' and 'I've been thinking, isn't it time that CCTV gets its own E-sports channel?'.
Clumsy Display of Nationalism: 'Handshake with the National Flag'
Despite China's 'ban' on esports, the country's esports athletes showed much patriotism during the Asian Games.
In an interview with Tencent Sports, one the players of the Chinese team, Jian Zihao (简自豪), who goes by the online-ID 'Uzi,' expressed his love and gratitude for China, saying: "It's the first time the national esports team officially represents the country. We wear the national [sports]uniform from head to toe, with the five-star red flag printed on the left side of our chest and 'CHINA' in capitals on our back. […] we live in the same village as the other athletes. I never thought that this would happen to me.'
The team also had a noteworthy patriotic moment during the so-called 'handshake with national flag incident'. After winning their second gold medal, the Chinese team gained much attention online when they somewhat clumsily kept on holding onto their national flag while shaking hands with the silver and bronze medal winners (video link).
After the award ceremony, the hashtag 'Handshake with the national Flag' (#举着国籍握手#) became a hot search on Weibo, with more than 27 million views.
The athletes later said that nobody dared to put the flag down, so they held it up while shaking hands. They reportedly said: 'The national flag is the most sacred thing, we didn't dare to make any mistakes.'
A Weibo post publishing about the moment titled the incident 'Sorry, It's the first time I won the  Asian Games Championship, [I have] no experience.' ('对不起,第一次拿亚运冠军,没经验.'); it was shared over 98 thousand times and liked more than 124 thousand times. Many netizens found it very amusing, calling the athletes 'clumsy,' 'cute' and 'adorable.'
Whether the positive image of the athletes will be enough to lift the ban on broadcasting online gaming is not clear. Neither the CCTV nor People's Daily have yet officially responded to the complaints. But as the next Asian Games are to be held in Hangzhou, China, in 2022, many are hopeful that the ban will be lifted by then. One thing is sure: their team is ready for it.
By Gabi Verberg
Follow @whatsonweibo
Spotted a mistake or want to add something? Please let us know in comments below or email us.
©2018 Whatsonweibo. All rights reserved. Do not reproduce our content without permission – you can contact us at info@whatsonweibo.com.
Will Weibo Become 30% State-Media Owned?
Alibaba is allegedly ready to give up its Weibo shares to SMG.
Bloomberg recently reported that Chinese e-commerce giant Alibaba is preparing to sell its 30% stake in social media platform Weibo. According to people familiar with the matter, Alibaba is negotiating with the state-owned Shanghai Media Group (SMG).
News about Alibaba planning to sell all of its Weibo shares has triggered some online discussions on the Chinese social media platform. Bloomberg was the first to report that the Chinese e-commerce and IT enterprise is talking to the state-owned Shanghai Media Group (SMG) to sell all of its 30% stake in Weibo.
According to Bloomberg, the move relates to regulators wanting to curb the influence of Chinese tech giants in the media sphere. The Bloomberg article claims that SMG, as one of China's largest state-owned media and cultural conglomerates, stands a higher chance of gaining the approval of Chinese authorities than a private acquirer.
SMG is a large state-owned enterprise with over a dozen TV and radio stations, many newspapers and magazines, various drama & film production and distribution businesses, and more. The company has a major media influence, not only in Shanghai but throughout the country.
According to Weibo's 2020 annual reports, New Wave held a 45% stake in Weibo, followed by Alibaba with its 30%. New Wave is the holding company by Weibo chairman Charles Chao.
"Weibo will change into another channel for SMG," some Weibo users predict, with others also sharing their fear that Weibo would become more and more like a platform for official media ("微博现在越来越官方化").
"This would be a big milestone in the crumbling of Alibaba's media empire," another commenter wrote. Some wonder if the developments have more to do with Weibo as a platform, or with Alibaba and its media influence.
In March of 2021, the Wall Street Journal already reported that the Chinese government asked the Alibaba Group to dispose of its media assets due to concerns over the company's influence in the sensitive media sphere.
"When Alibaba exits and state-owned capital enters, Weibo is expected to magnificently transform into a 'state-owned enterprise'," another Weibo user wrote.
Although some commenters worry that Weibo will change for the worse and that there will be more censorship, others see a sunnier future for the social media platform: "It would be good for Weibo to be 'state-owned' so that it won't be controlled by capital to influence public opinion anymore."
Chinese tech site 36kr also reported about the issue on January 1st, but neither Weibo nor Alibaba or SGM have officially responded yet.
By Manya Koetse
With contributions by Miranda Barnes.
Spotted a mistake or want to add something? Please let us know in comments below or email us. First-time commenters, please be patient – we will have to manually approve your comment before it appears.
©2021 Whatsonweibo. All rights reserved. Do not reproduce our content without permission – you can contact us at info@whatsonweibo.com.
China's Livestreaming Queen Viya Goes Viral for Fraud and Fines, Ordered to Pay $210 Million
Viya, the Queen of Taobao, is under fire for tax evasion.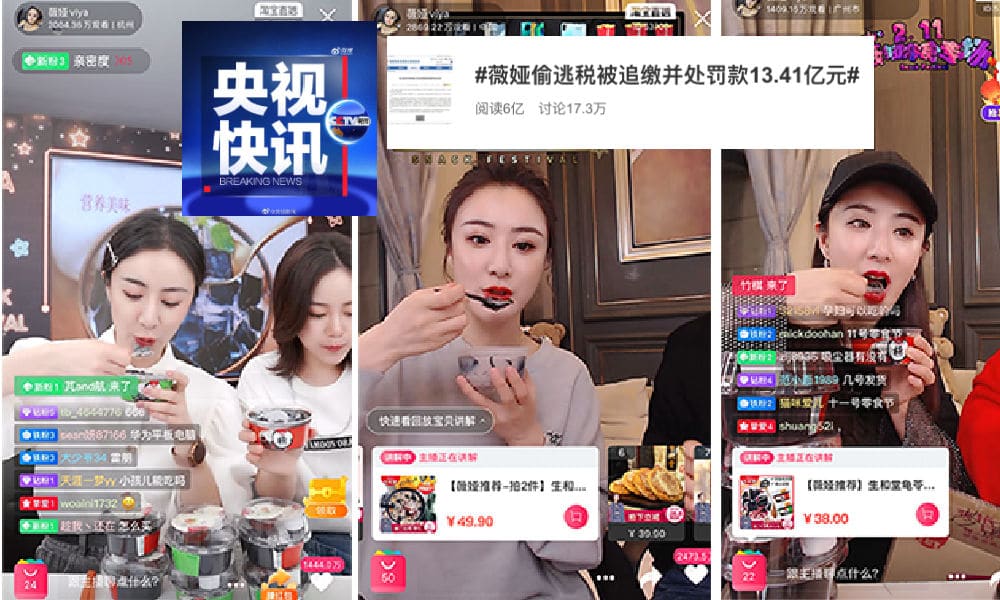 Viya, one of China's most well-known and successful live streamers, is trending today for allegedly committing tax fraud by deliberately providing false information and concealing personal income.
The 'Taobao queen' Viya (薇娅, real name Huang Wei 黄薇) reportedly committed tax fraud from 2019 to 2020, during which she evaded some 643 million yuan ($100 million) in taxes and also failed to pay an additional 60 million yuan ($9.4 million) in taxes.
The Hangzhou Tax Administration Office reportedly ordered Viya to pay an amount of over 1.3 billion yuan ($210 million) in taxes, late payment fees, and other fines. On Monday, a hashtag related to the issue had garnered over 600 million views on Weibo (#薇娅偷逃税被追缴并处罚款13.41亿元#).
Viya made headlines in English-language media earlier this year when she participated in a promotional event for Single's Day on October 20th and managed to sell 20 billion yuan ($3.1 billion) in merchandise in just one live streaming session together with e-commerce superstar Lipstick King.
China has a booming livestreaming e-commerce market, and Viya is one of the top influencers to have joined the thriving online sales industry years ago. When the e-commerce platform Taobao started their Taobao Live initiative (mixing online sales with livestreams), Viya became one of their top sellers as millions of viewers starting joining her channel every single day (she livestreams daily at 7.30 pm).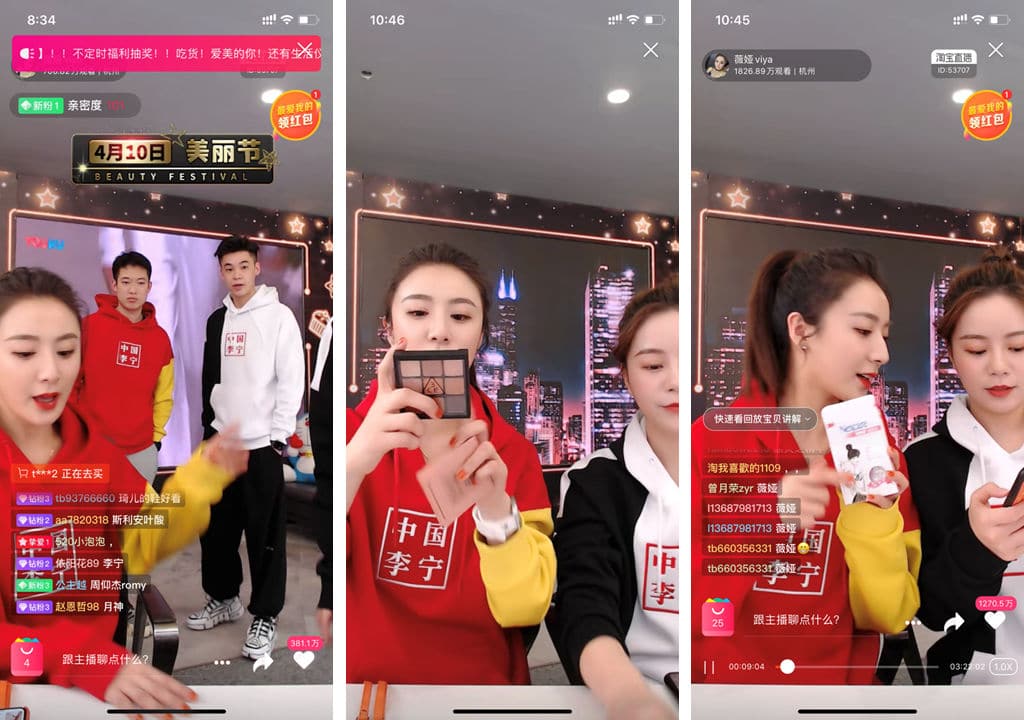 With news about Viya's tax fraud practices and enormous fines going viral on Chinese social media, many are attacking the top influencer, as her tax fraud case seems to be even bigger than that of Chinese actress Fan Bingbing (范冰冰).
Chinese actress Fan Bingbing went "missing" for months back in 2018 when she was at the center of a tax evasion scandal. The actress was ordered to pay taxes and fines worth hundreds of millions of yuan over tax evasion. The famous actress eventually paid approximately $128,5 million in taxes and fines, less than Viya was ordered to pay this month.
Like Fan Bingbing, Viya will also not be held criminally liable if the total amount is paid in time. This was the first time for the e-commerce star to be "administratively punished" for tax evasion.
Around 5pm on Monday, Viya posted a public apology on her Weibo account, saying she takes on full responsibility for the errors she made: "I was wrong, and I will bear all the consequences for my mistakes. I'm so sorry!"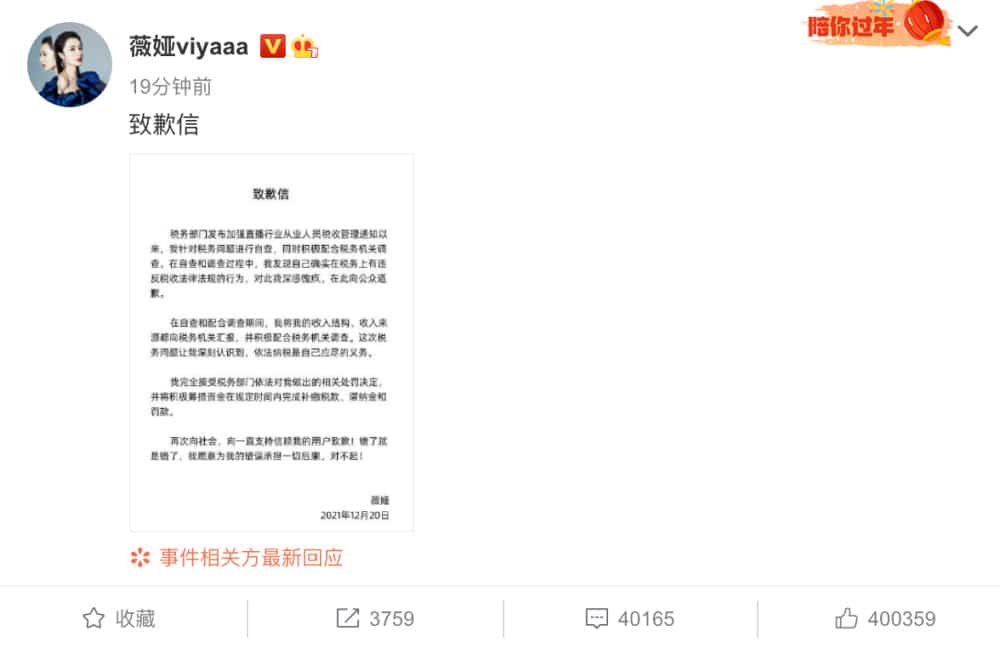 It is not clear if she will still do her daily live stream later today and how this news will impact Viya's future career.
Update: Vaya's live stream was canceled.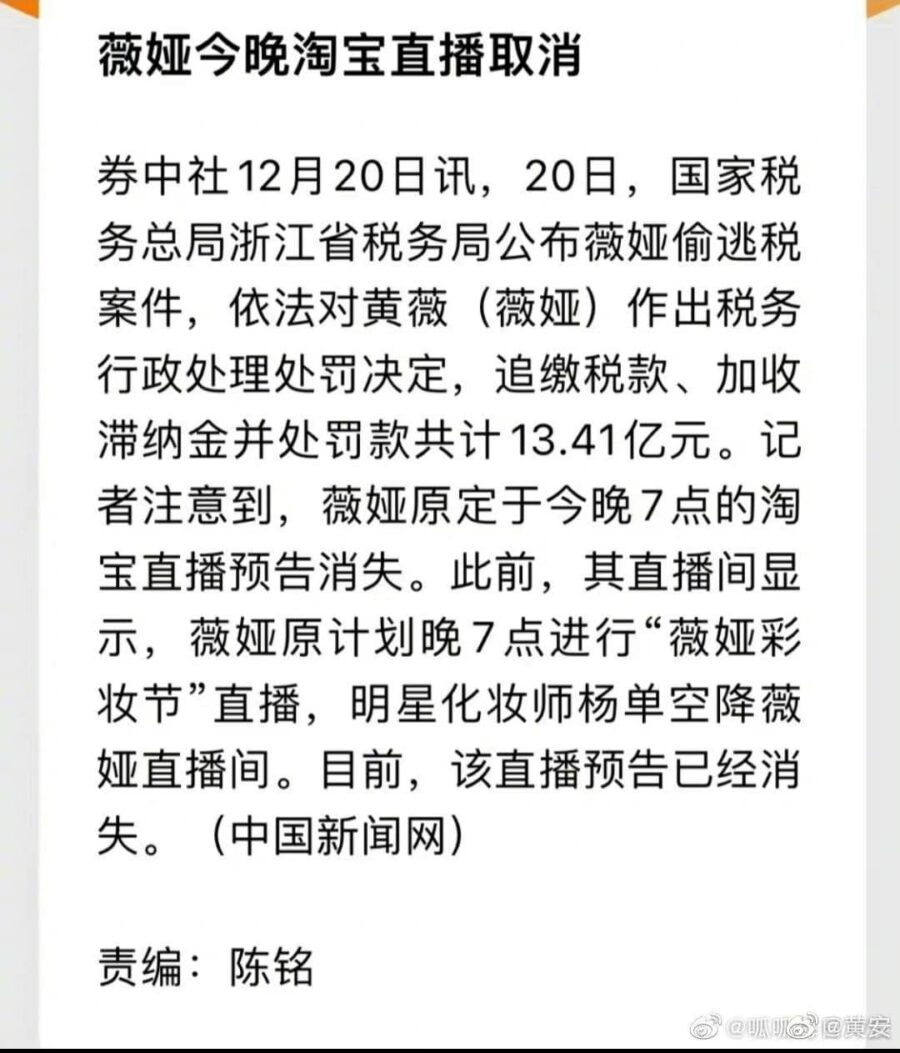 Update 2: Vaya's husband also issued an apology on Weibo.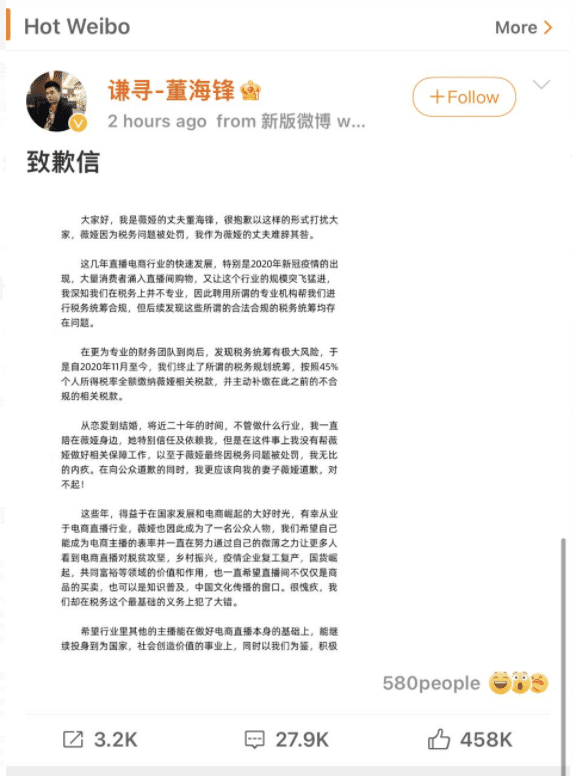 Update 3: Taobao has suspended or 'frozen' ("冻结") Vaya's livestreaming channel. Her Taobao store is still online.
By Manya Koetse
With contributions by Miranda Barnes.
Spotted a mistake or want to add something? Please let us know in comments below or email us. First-time commenters, please be patient – we will have to manually approve your comment before it appears.
©2021 Whatsonweibo. All rights reserved. Do not reproduce our content without permission – you can contact us at info@whatsonweibo.com.