Despite China's 'Broadcast Ban' on eSports, Netizens Go Crazy for National Team's Asian Games Success
Clumsy display of nationalism during China's glorious esports win goes viral.
With 1.8 billion views (#电竞亚军会#) on Weibo, the 2018 Asian Games eSports Demonstration Event has been a big topic on Chinese social media. Despite a broadcast-ban, netizens went crazy for the Chinese team, that – somewhat clumsily – waved the Chinese flag in Jakarta.
The 18th edition of the Asian Games held in Jakarta, Indonesia, has come to an end. With 2,3 billion views on Weibo alone (#2018亚军会#), the Asian Games are a hit on Chinese social media.
The Asian Games marked the first time for esports (electronic sports) to be included in a major international comprehensive sports event.
On the 26th of August, the first day of the esports event, the Chinese team won their first gold medal after winning the game Arena of Valor aka AoV (王者荣耀). The second day, they won the silver medal with the game Clash Royale (皇室战争), ending just behind the Indonesian team.
But the most significant success was celebrated on the 29th of August. After a 3-day battle, the Chinese team won their second gold medal for their performance in the game League of Legends (英雄联盟). Their victory came as a surprise to many, since it was the South Korean team that had defeated China twice during the group phase. But this time it was the Chinese team that celebrated a three-to-one victory over the South Koreans.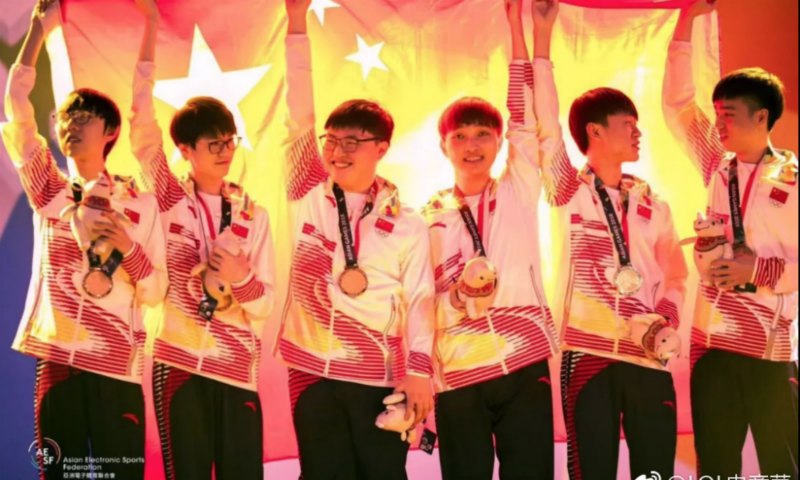 Despite the national teams' successes, TV-watching audiences on mainland China were not able to witness these important moments in sport; CCTV5, the state television's national sports channel, did not broadcast any of the esports events. Much to the annoyance of many netizens, CCTV5 also did not allow any other platform the right to broadcast any esports events.
The reason for CCTV not broadcasting online computer games is because it is banned. In the 'Notice on the prohibition of broadcasting online computer game programs' (关于禁止播出电脑网络游戏类节目的通知) issued by the National Radio and television Administration in 2004, it says that "radio and television broadcasting organizations at all levels shall not open to computer network games, and may not broadcast online computer game programs."
That same notice also states that "online computer games have adversely affected the healthy growth of minors."
On CCTV5's official Weibo account, many netizens called for the broadcasting of the esports games last week, and vented their dissatisfaction towards state media for banning the broadcast.
One Weibo user wrote: "CCTV spends state money to get a monopoly on the broadcasting rights, and then they choose not to broadcast. It is a waste of the state's money and disrespectful to the people who do want to see esports!" Some posts scolding the CCTV received thousands of likes.
Except for CCTV, Party newspaper People's Daily (人民日报), also received many negative social media comments after thy published an article on the victory of the national team. In the comment section, readers wrote comments such as: 'Now you want to congratulate? Weren't you the one that didn't want to broadcast live?' and 'I've been thinking, isn't it time that CCTV gets its own E-sports channel?'.
Clumsy Display of Nationalism: 'Handshake with the National Flag'
Despite China's 'ban' on esports, the country's esports athletes showed much patriotism during the Asian Games.
In an interview with Tencent Sports, one the players of the Chinese team, Jian Zihao (简自豪), who goes by the online-ID 'Uzi,' expressed his love and gratitude for China, saying: "It's the first time the national esports team officially represents the country. We wear the national [sports]uniform from head to toe, with the five-star red flag printed on the left side of our chest and 'CHINA' in capitals on our back. […] we live in the same village as the other athletes. I never thought that this would happen to me.'
The team also had a noteworthy patriotic moment during the so-called 'handshake with national flag incident'. After winning their second gold medal, the Chinese team gained much attention online when they somewhat clumsily kept on holding onto their national flag while shaking hands with the silver and bronze medal winners (video link).
After the award ceremony, the hashtag 'Handshake with the national Flag' (#举着国籍握手#) became a hot search on Weibo, with more than 27 million views.
The athletes later said that nobody dared to put the flag down, so they held it up while shaking hands. They reportedly said: 'The national flag is the most sacred thing, we didn't dare to make any mistakes.'
A Weibo post publishing about the moment titled the incident 'Sorry, It's the first time I won the  Asian Games Championship, [I have] no experience.' ('对不起,第一次拿亚运冠军,没经验.'); it was shared over 98 thousand times and liked more than 124 thousand times. Many netizens found it very amusing, calling the athletes 'clumsy,' 'cute' and 'adorable.'
Whether the positive image of the athletes will be enough to lift the ban on broadcasting online gaming is not clear. Neither the CCTV nor People's Daily have yet officially responded to the complaints. But as the next Asian Games are to be held in Hangzhou, China, in 2022, many are hopeful that the ban will be lifted by then. One thing is sure: their team is ready for it.
By Gabi Verberg
Follow @whatsonweibo
Spotted a mistake or want to add something? Please let us know in comments below or email us.
©2018 Whatsonweibo. All rights reserved. Do not reproduce our content without permission – you can contact us at info@whatsonweibo.com.
Key Players, Digital Trends & Deep Dives: China Internet Report 2021
SCMP just launched its latest China Internet Report. (And What's on Weibo readers can get a 30% discount on the Pro Edition!)
As China's tech sector has been facing an ongoing crackdown by Beijing regulations, a lot has been changing in the country's digital environment over the past year. The new China Internet Report 2021 by SCMP gives an overview of the latest trends and developments.
When it comes to China's online landscape, nothing ever stays the same. Over the past year, political, economic, and social developments and measures have once again changed the Chinese digital environment.
Giving a comprehensive overview of the key leaders and major trends dominating the Chinese online field, South China Morning Post (SCMP) issued its fourth annual China Internet Report.
China's internet population has now risen to 989 million – last year's report indicated an internet population of 904 million. By now, there are 853 million mobile payment users, which indicates that over 86% of the entire mobile internet population uses mobile as a way to pay.
As China's internet population is still growing, and new online startups are still popping up every day, there have been tightening regulations on multiple fronts.
As laid out in SCMP's report, regulations mainly focus on the four areas of antitrust, finance, cybersecurity, and data privacy. Regulatory actions targeting the monopolistic behaviours of China's biggest internet companies are still ongoing, and the new Data Security Law came into effect on September 1st of this year.
While Chinese tech companies are seeing increased scrutiny at home, they have also been facing intensifying geopolitical tensions between China and other countries. Over the past year, the various probes and shutdowns into Chinese companies by countries such as the US and India have meant a serious blow to the market share of Chinese apps.
Meanwhile, the SCMP report highlights the trend of various older and newer Chinese (e-commerce) apps "downplaying" their Chinese origins when entering foreign markets. Shein is a good example of this development, but other players including Zaful, Urbanic, and Cider are also experiencing more success outside of China while not explicitly marketing themselves as Chinese e-commerce apps.
Another noteworthy trend explained in the new report is how China's shifting demographics are creating new niche segments to compete over. The COVID-19 crisis is partially a reason why China has seen an increase in senior internet users, with an increasing number of online products and content catering to the elderly.
China's Ministry of Industry and Information Technology (MIIT) even issued special guidelines earlier this year for web pages and mobile apps to carry out so-called "elderly friendliness modifications." Since this user group is still expected to see significant growth, the "silver economy" is an area that will only become more important in the years to come.
To check out all the main trends for 2021, China's latest internet statistics, its top tech competitors, internet companies, and more, here's a link to the free report.
The free report is 55 pages long and gives an overview of China's latest internet numbers and players, covers the top cross-sector trends for 2021, including the tightening regulations and the bumpy road ahead for China's tech IPOs.
The Pro Edition of China's Internet Report 2021, also launched by SCMP, is 138 pages long and provides a deep-dive into ten relevant sectors – featuring insightful and useful analysis, data, and case studies relating to China's e-commerce market, content & media, gaming, blockchain, fintech, online education, healthtech, smart cars, 5G, and Artificial Intelligence.
The China Internet Report Pro Edition is priced at US$400, but the team at SCMP has kindly reached out and made it possible for us to offer a special 30% discount to What's on Weibo readers.
You'll get the discount by using the discount code: WHATSONWEIBO30, or by clicking this link that will automatically include your discount code.
By Manya Koetse
Spotted a mistake or want to add something? Please let us know in comments below or email us. First-time commenters, please be patient – we will have to manually approve your comment before it appears.
©2021 Whatsonweibo. All rights reserved. Do not reproduce our content without permission – you can contact us at info@whatsonweibo.com.
How Social Media Is Speeding Up Zhengzhou Flooding Rescue Efforts
Chinese social media are speeding up local rescue efforts after Zhengzhou saw the heaviest rain in 1,000 years.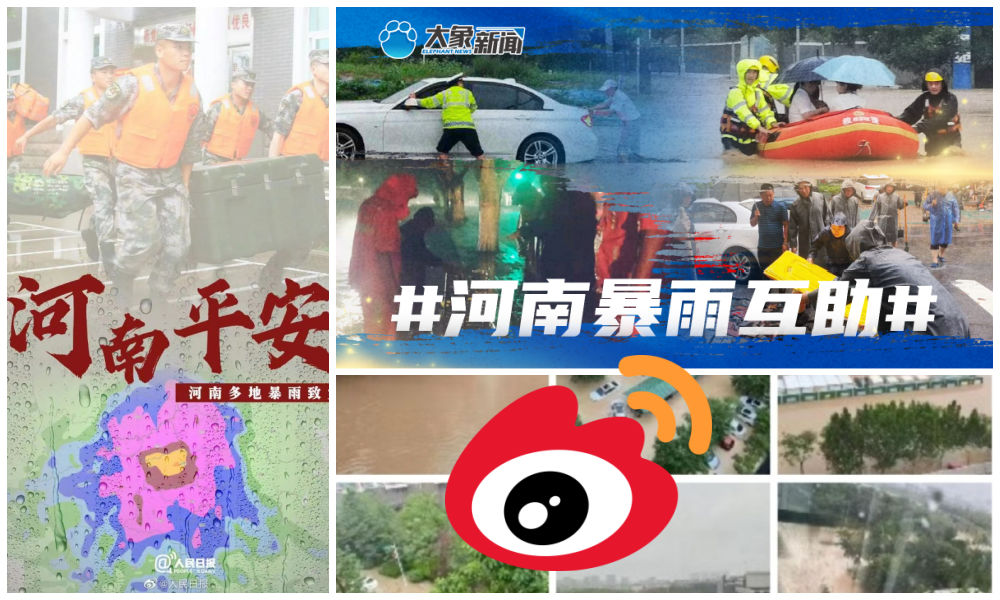 Social media is utilized as a tool in the response to the floodings in Henan province. Once again, Weibo facilitates active public participation to provide immediate assistance to the people facing this natural disaster. 
On Tuesday, July 20, heavy rainfall caused major disruptions in the central province of Henan. The amount of rain over the last three days in Zhengzhou is reported to be the same as what it would usually receive in an entire year.
It is reported that Henan Province has initiated the highest-level emergency response to floods, and China's State Flood Control and Drought Relief Bureau has dispatched a workgroup to Henan, initiating level III emergency response rescue work.
Since the evening of July 20, news and information streams on the heavy rains and floods have been dominating Chinese social media. In the midst of the disastrous events, Weibo has become an online space for people seeking help, those disseminating information on available resources, and for other related activities that help netizens engage in emergency management and accessing information.
The volume of such messages is huge, with thousands of netizens seeking ways to help speed up rescue work and actively contribute to the emergency relief efforts.
The organically improvised response protocol on social media includes the following guidelines:
Verify, summarize, highlight, and spread online help requests posted by people from different locations
Remind people to delete help-seeking posts once they have been rescued or have found assistance.
Disseminate relevant knowledge relating to emergency care and response, and public health information, such as how to deal with different disaster scenarios, warning people about the safety of drinking water during floods, etc.
Share information regarding mental health and psychosocial support during the different phases of the disaster.
When posts of people trapped by the heavy rain started to be published on Weibo, many online influencers, no matter what subject they usually focus on, participated in spreading help-request posts that were not getting a lot of online attention.
Erdi 耳帝, a music influencer with nearly 15 million fans on Weibo, has been retweeting the online posts of people asking for help since the night of July 20.
An example of such an online emergency help request (求助贴) is the following post of July 21st, 17:15 local time:
"Our entire neighborhood is cut off from water and electricity, the water level is rising to chest level, and we currently have no drinking water at the moment. Need help urgently.
Status: Verified, pending rescue.
Seeking help: Wu M**, phone 13*****27
Number of people to be rescued: five or six thousand
Location: Zhengzhou City, Henan Province, Zhengdong New District, Shangdu / Xuzhuang Street intersection, east courtyard of Shangdu Jiayuan Muzhuang district (we can't exit the building, there is no water, no electricity, no supplies, and it's been 24 hours)"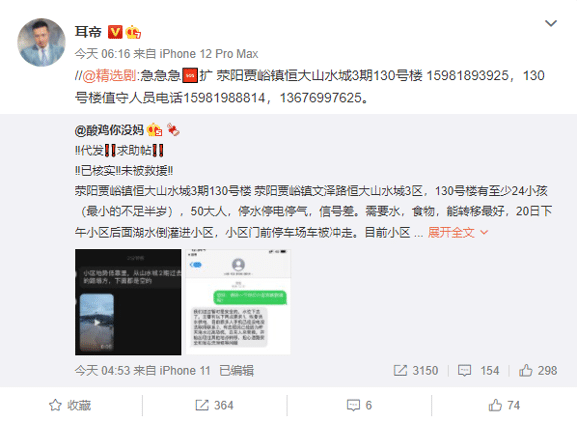 Some Weibo users engage in organizing scattered online information in one single post, e.g. posts regarding local electricity leakage, making this information more accessible and easier to understand.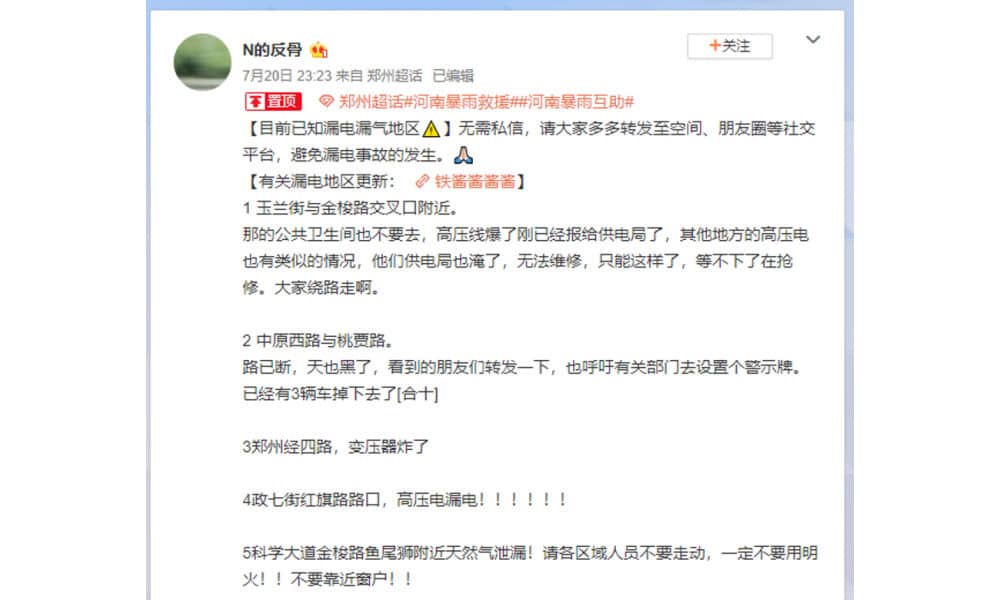 One post that was among the top-shared ones this week, is a picture that includes contact information of rescue teams of both officials and civilians. When realizing that some people were unable to upload the picture due to poor internet connections caused by the heavy rain, an up-to-date and full-text version was quickly shared by netizens.
Some Weibo users listed various methods to get assistance for hearing-impaired and deaf-mute people affected by the floods, advising people to download various apps to help to communicate and translate.
Besides the more general practical advice and emergency action plans shared by Chinese social media users, there are also those who pay attention to the importance of personal hygiene during these times. Some are sending out information about menstrual hygiene needs during floods, reminding women to frequently change sanitary pads and try to keep the genital area clean and dry due to the risk of infection. A hashtag related to menstruation during the flooding momentarily ranked fifth in the top search lists (#河南暴雨 如果你出在经期<).

Information on mental health support is disseminated all across social media.
People also try to provide mental support in other ways. A student orchestra spontaneously performed at the Zhengzhou station, where dozens of passengers were left stranded in the night. The video clips of the performance went viral, with the young musicians playing two widely-known songs, "My People, My Country" (我和我的祖国) and "Ode to the Motherland" (歌唱祖国). Many social media users shared the clips and expressed how the performance moved them to tears.
A kind gesture in these terrible times. This youth orchestra pulled out their instruments and performed for all those other passengers who are stranded at the Zhengzhou East Station tonight ❤️ All trains were suspended after 2am on the 21st. pic.twitter.com/50THGOhy6O

— Manya Koetse (@manyapan) July 20, 2021
Some video clips that show how ordinary people save ordinary people amid such a natural disaster have also been widely shared. One video shows citizens of Zhengzhou standing in a line and use a rope to pull people from an underground floor where they were trapped by the water flooded.
Earlier in this thread there was a video of people helping those trapped in lower levels. There is more footage showing other places in Zhengzhou where citizens also joined forces to help those trapped by the water to get out safely. pic.twitter.com/1R9q1JcUtY

— Manya Koetse (@manyapan) July 20, 2021
In all the aforementioned ways and many more, Weibo has become a public platform for Chinese people to respond to the Henan disaster, efficiently communicate and keep track of help requests, organize and disseminate related information, and provide access to timely knowledge and relevant advice.
With so many online influencers and ordinary netizens voluntarily joining in, the online information flows are quickly circulating, allowing for necessary public communication channels while other resources and communication methods are still overwhelmed or in the making. The last time Weibo was used as an efficient emergency communication tool was during the early days of the COVID19 outbreak in Wuhan.
"Please stand strong, Zhengzhou" and "Hang on, Henan," many commenters write: "Help is underway!"
Also see our previous article on the situation in Zhengzhou here.
By Wendy Huang
Follow @whatsonweibo
Spotted a mistake or want to add something? Please let us know in comments below or email us. Please note that your comment below will need to be manually approved if you're a first-time poster here.
©2021 Whatsonweibo. All rights reserved. Do not reproduce our content without permission – you can contact us at info@whatsonweibo.com