The Essential Balm: How to Use Tiger Balm & Qing Liang You
The best ways to use Tiger Balm according to Chinese social media users.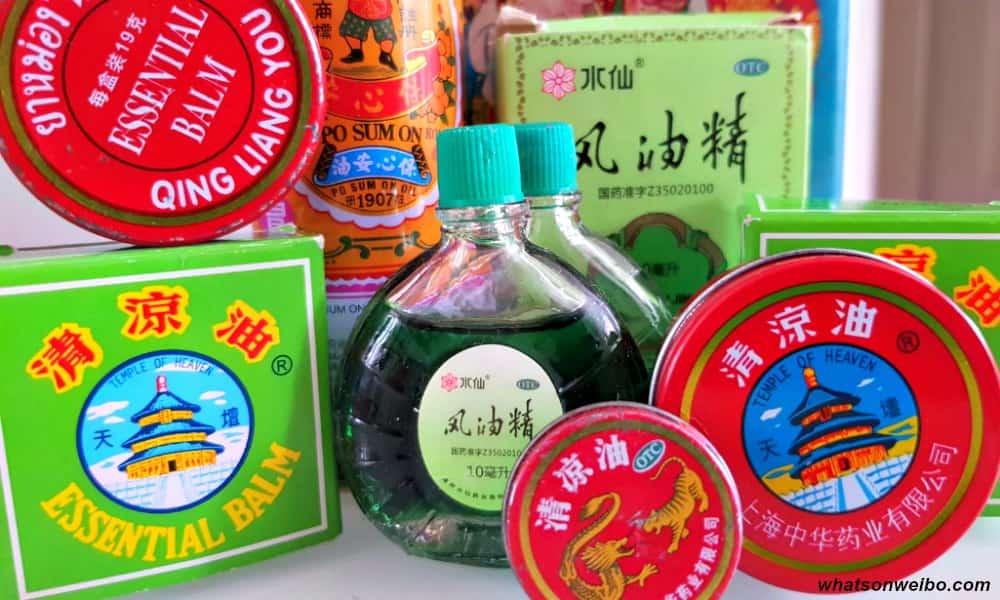 Some Chinese social media users claim Tiger Balm (or 'Essential Balm') is a "cure-all" product (包治百病) – why this century-old product is still popular today: the how-to-use tips from Weibo users.
What is simply known as 'Tiger Balm' in most Western countries, is also known as Fēng yóu jīng (风油精, lit. 'wind oil') or Qīng liáng yóu (清凉油, lit. 'cool oil') in China, usually translated as 'Essential Balm.'
The translation 'essential' is quite literal in the sense that the balm is in fact essential to many Chinese households; virtually all pharmacies, supermarkets, airports shops and convenience stores in the PRC will sell it.
The over-the-counter balm (or oil) is a product that often pops up on Chinese social media. A recent video on streaming platform Billibilli calls it a "cure-all" product (包治百病), while netizens on Weibo share tips on how they use the balm on a daily basis.
The Tiger Balm brand name in Chinese is Hǔbiao Wànjīnyóu (虎標萬金油), which literally means 'tiger-marked jack of all trades.'
All of these balms or oils are practically the same kind of 'heat rubs,' topical preparations for application to the skin, mainly made from menthol, camphor, clove oil, mint oil, and cajuput/eucalyptus oil.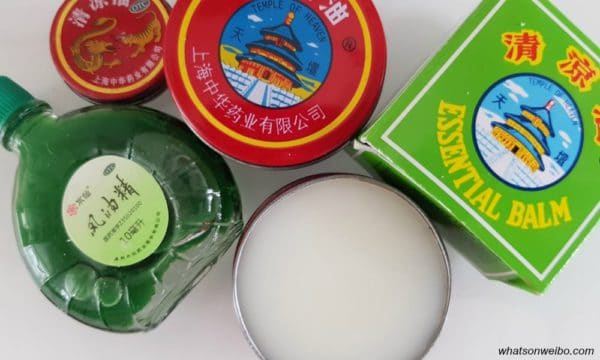 The Chinese fengyoujing is an oily liquid that comes in a small bottle (10ml), while both the Tiger Balm brand and so-called 'Essential Balm' (various brands) come as balsam in a small tin. Because the first-mentioned is more easily applied as liquid, its effects are somewhat stronger than the balm.
A Tiger Balm History
The original Tiger Balm was developed in Birma in the 1870s, by the Fujian-born herbalist Aw Chu Kin (Hu Ziqin 胡子钦). Different to what the name suggests, Tiger Balm does not contain any ingredients related to the tiger, but was named after Aw's son, whose name literally meant 'Gentle Tiger' (Aw Boonhaw or Hu Wenhu 胡文虎).
He was the son who later inherited the recipe of the balm, and turned Tiger Balm into a household name together with his brother (Hu Wenbao 胡文豹).
Aw Chu Kin was born in a small village. His father was also a herbalist, but the family was very poor. In search for a better live, the young Aw later moved to Birma (Myanmar), where he set up his own apothecary in Yangon in 1870 under the name of 'Eng Aun Tong' (永安堂药行).
Aw had three sons and a daughter. When he passed away in 1908, he left his company to the two sons who had helped him with his business. They later moved to Singapore, where they continued their father's business and officially launched Tiger Balm as a brand in 1925, based on their father's recipes.
The brothers used a remarkable promotion method for their balm; from 1926 on, they drove a vehicle that had a big tiger head on its front (see image). The horn of the car sounded like a tiger roar – a good way to attract the attention of people and to give them some free samples of their balm.
How to Use Tiger Balm: General Uses
The century-old product is still wildly popular today, with various companies now producing (nearly) identical products.
Note: not recommended to use for pregnant women, children under the age of 3, avoid contact with eyes, keep out of reach of children, and do not apply to injured skin or burns. If you're in doubt about tiger balm usages and/or allergies, consult a doctor before using.
Among the main purposes of Tiger Balm and Qing Liang You is that it can be used as an anti-itching remedy for mosquito bites and insect stings.
For those with rheumatic pains, tiger balm can be also used as a painkiller by applying it in the lower back area, legs, and directly on sore muscles and bones.
Tiger Balm is also said to be helpful against a cold and have a stuffed nose, by putting some balm right underneath and around the nostrils to let the nose clear up.
To prevent dizziness and carsickness, the balm can be used to slightly moisten the lips or temples to prevent nausea.
Social Media Tips
On Weibo, dozens of people share their use of Tiger Balm and the likes on their accounts every day – especially during the hot summer.
* Some Chinese students simply recommend keeping a small tin of balm nearby for those late study hours; they claim sniffing the balm awakens the mind.
* "I apply some balm before I take a shower," one commenter says: "Now my whole body feels cool as a breeze." By applying some balm to parts of the body, the skin gets cooled – a comfortable feeling in times of hot weather or fever.
* Social media user Xixi (@西西咕噜咕噜) uses Tiger Balm in hot summer days. Opening up the lid of the balm a few times a day in front of the van spreads its cooling breeze throughout the room: "I'm crazy about this fragrance." (Tip! Mosquitos and other insects dislike this smell; this method is also effective as a repellent.)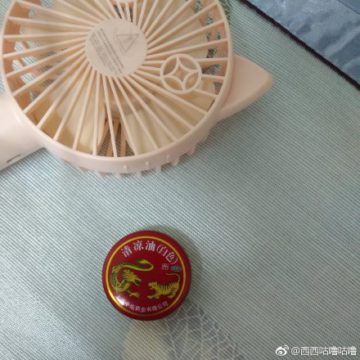 * "I've been suffering from a head-ache for days," a Weibo user named 'I've been studying for hours today' (@今儿学了几个小时) says: "Rubbing some qingliangyou on my temples really helps." Tiger balm is often promoted as a remedy against headache, by rubbing some tiger balm on the forehead or temples (mind your eyes).
* "After cutting red peppers, you can smear some Tiger Balm on your fingers," another Weibo user (@萍了早煤) writes: "also use some plain vinegar to wash it off. It helps."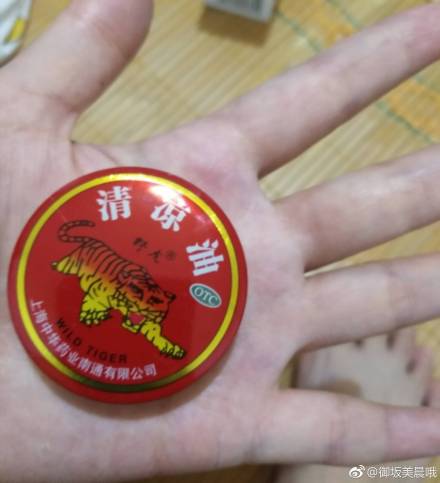 * "You can use Tiger Balm / Qing Liang You to improve blood circulation and decrease swellings," one Guangdong micro-blogger writes. It is indeed said that one of the active ingredients, camphor, dilates the blood vessels and brings blood closer to the skin's surface; increasing circulation and warmth.
* Another popular Weibo account (@好运逗比) recommends rubbing some drops of the fengyoujing (the liquid rub) to the soles of the feet before wearing shoes to prevent smelly feet at the end of the day.
* There are also Weibo accounts recommending Tiger Balm / Qing Liang You as the must-bring item on travels to prevent mosquito bites, car or sea sickness, and for treatment of headaches.
* There are also some people who say they use Tiger Balm on their face as a way to treat acne/pimples, but we'd highly recommend consulting with a doctor before doing so, as the balm is not recommended to be used on irritable skin.
Still not had enough tips? You can check out one of What's on Weibo's earliest articles, titled '20 Ways to Use Tiger Balm,' for more tips on how to use this 'jack for all trades' balm.
By Manya Koetse
Follow @whatsonweibo
Where to Buy
Tiger Balm is practically available everywhere. Check your local pharmacy or convenience store. The brand also has an online shop where their products can be purchased. For small cases of essential balm to carry with you at all times check here.
The Temple of Heaven balm can be purchased at Beijing airport and many other places, but online it is purchasable here.
The classic oil, which is somewhat stronger, is available here.
Spotted a mistake or want to add something? Please let us know in comments below or email us.
©2018 Whatsonweibo. All rights reserved. Do not reproduce our content without permission – you can contact us at info@whatsonweibo.com.
Chengdu City-Wide 'Lockdown' Sparks Panic Buying and Worries
Chengdu's 'lockdown' is called 'staying at home.'
"All Chengdu Residents are to Stay Home from 6pm Today" (#成都今日18时起全体居民原则居家#) is the hashtag that is trending on Weibo today, receiving over 670 million clicks by Thursdaynight.
In light of rising Covid cases in the city of Chengdu, Sichuan Province, the local Epidemic Prevention and Control authorities announced mass testing campaigns in the city starting from 1-4 September and ordered people to stay at home.
Over the past seven days, the city reported a total of 606 new positive cases, almost one-third of all the newly reported cases in mainland China this week.
Local supermarkets saw an increase in shoppers coming to stock up on groceries since August 29, when rumors about an upcoming lockdown started spreading like wildfire.
Although authorities warned people not to "stock up blindly" (#成都官方说不必盲目囤积生活物资#), panic buying was visible across the city, with many images going viral on WeChat showing people stocking up on meat, vegetables, condoms, and even live chickens.
Some scenes from Chengdu before city-wide lockdown. pic.twitter.com/w6pCgK7gPf

— Manya Koetse (@manyapan) September 1, 2022
One of the netizens who first started the rumor of Chengdu locking down on August 29 was detained by Chengdu police the next day for "provoking trouble." The person, whose social media ID was 'Tropical Rainforest' (热带雨林), received a 15-day sentence and a fine of 1000 yuan ($145).
Some memes circulated about the incident, saying that the social media user sparked "the August 29th Tropical Rainforest Shopping Festival."
But just two days later, the rumors seemed to hold truth after all when the authorities announced the 4-day stay-at-home order. Families can still send one person out once per day for groceries.
The word 'lockdown,' however, was not used by authorities and the hashtag "Chengdu Lockdown" (#成都封城#) was also taken offline at the time of writing. "Ah, so it was all just rumors after all! This is not a lockdown, this is just 'staying at home,'" some commenters wrote.
"Stay at home is just another word for lockdown," others wrote, although others suggested that this kind of measure was far more relaxed than an actual strict lockdown.
There were also those who were confused: "On the one hand they're telling us to do mass testing and go outside, on the other hand they're telling us to remain at home and stay inside."
During the night of September 1st, the hashtag "Chengdu Nucleic Acid System Collapses" (#成都核酸系统崩了#) also attracted attention online, as the system registering the nucleic acid tests allegedly could not handle the peak. "I've been standing in line for over two hours," some people wrote, complaining about long testing queues that seemed neverending.
Weibo users also shared their worries about the epidemic situation in Chengdu and how long these measures would last. Previously, the 'phased lockdown' of Shanghai was only supposed to last for five days but ended up lasting two months.
"Great, I don't have any rice, no oil, no noodles, all I have is a bag of nuts and some candies," one commenter wrote.
A recurring comment on Chinese social media said: "Ah, when will this epidemic ever end?" "I just hope the lockdown will be soon lifted."
Also read our update here: Second Day of Lockdown in Chengdu
Read more about China and Covid-19 here.
By Manya Koetse and Miranda Barnes
Get the story behind the hashtag. Subscribe to What's on Weibo here to receive our weekly newsletter and get access to our latest articles:
Spotted a mistake or want to add something? Please let us know in comments below or email us. First-time commenters, please be patient – we will have to manually approve your comment before it appears.
©2022 Whatsonweibo. All rights reserved. Do not reproduce our content without permission – you can contact us at info@whatsonweibo.com.
Fangcang Diaries: China's Makeshift Covid Hospitals, from Wuhan to the Future
Fangcang hospitals are here to stay as long as China sticks to its current zero-Covid path.
By mid 2020, many thought Fangcang, China's Covid-19 makeshift hospitals, had become a thing of the past. Instead, they have become a part of the country's future. Through the course of the pandemic, perceptions of China's 'square cabin' Covid hospitals have drastically changed. Chinese social media users get a glimpse of life inside the Fangcang hospitals thanks to patients' online diaries, videos, and photos.

This is the "WE…WEI…WHAT?" column by Manya Koetse, original publication in German by Goethe Institut China, visit Yi Magazin: Fangcang ohne Ende: Chinas Covid-Krankenhäuser damals und heute.

In February of 2020, the impressive construction of two enormous emergency field hospitals in Covid-stricken Wuhan captured the world's attention. The Huoshenshan and Leishenshan Hospitals were constructed in a matter of days and combined they could take in 2,500 patients. The construction process was live-streamed by state media and sped-up drone footage of a large empty field transforming into a fully functioning hospital received millions of clicks around the internet.
Along with mass-testing and local lockdowns, the so-called 'Fangcang' shelter hospitals are seen as a key solution in 'fighting Covid-19 the Chinese way' to alleviate the pressure on public hospitals and lower Covid-19 mortality rates by quarantining and treating patients with confirmed infections.
Within a matter of 2,5 years, Fangcang emerged as a novel concept on China's coronavirus battleground and then became a part of everyday life in a zero Covid society. Here, we will zoom in on China's Fangcang phenomenon and changes in the public's perceptions of it.
MORE THAN MASH: THE NOVEL FANGCANG CONCEPT
Fāngcāng (方舱) literally means 'square cabin,' referring to a modular or prefabricated mobile cabin hospital. Although the concept of an emergency field hospital or makeshift hospital is not new, Fangcang hospitals are labeled as a "novel public health concept" due to their specific use during China's Covid crisis (Chen et al 2020).
Some studies say that China's Covid-19 Fangcang hospitals were modeled after emergency cabins used during the Wenchuan and Yushu earthquakes in 2008 and 2010 (Wang et al 2020, 2). According to the biggest Chinese-language online encyclopedia, Baidu Baike, the term actually comes from the United States, where the U.S. Army first started developing such cabins – Mobile Army Surgical Hospitals (MASH units) – in the early 1950s and used them during the Korean War. The Chinese Fangcang hospital, however, is not really the same and the concept was implemented for the first time in Wuhan in February 2020.
In China, Fangcang hospitals are large, temporary hospitals for the isolation, treatment, and disease monitoring of Covid-19 patients with mild-to-moderate symptoms. By taking in and quarantining people who have tested positive for Covid-19, they are meant to reduce the transmission of the virus within households and communities, while also providing treatment to patients with mild symptoms (Fang et al 2020, 2). In doing so, they dramatically reduce the pressure on regular hospitals, which need their beds to solely treat patients with severe and critical conditions.
The 1,000-bed Huoshenshan Hospital (火神山医院) was constructed within a matter of days, starting on January 23, 2020, and ending on February 2. The first patients were admitted a day later. The construction of the 1,500 bed Leishenshan Hospital (雷神山医院) started on the 26th of January and was completed on 6 February 2020.
Many other Fangcang hospitals were not constructed like these shelter hospitals but were built by converting large (public) buildings such as exhibition centers, stadiums, or schools into healthcare facilities. In Wuhan, over a dozen more Fangcang hospitals were opened in February of 2020 to provide beds for Covid-19 patients before all being suspended on March 10 of that year when the crisis was under control.
FANGCANG ON SOCIAL MEDIA: A CHANGING IMAGE
In the early stages of the pandemic, Chinese social media users got a glimpse of life inside the Fangcang hospitals through official media videos and through footage and photos posted by people staying there. Up to the present day, patients share their quarantine experiences on social media using hashtags such as "Fangcang Diaries" (#方舱日记#).
In the Wuhan days, there were videos of patients dancing together inside the hospitals, with people cheering on the positivity of patients and the dedication of the healthcare workers.
One photo of a patient reading Francis Fukuyama's The Origins of Political Order even went viral on Weibo. Many admired the patient for reading such heavy literature during his Fangcang stay and the man became famous overnight as 'the invincible Wuhan-er.'
A young woman known as A Nian (阿念) also wrote on social media about her quarantine stay at one of Wuhan's Fangcang hospitals in February of 2020. When her grandmother fell critically ill during her stay at the city's Huoshenshan hospital, A Nian asked to be transferred to the same Fangcang so that she could take care of her. Despite having A Nian by her side, the grandmother passed away. A Nian's experiences at the Wuhan Fangcang hospitals were eventually published in the book Wuhan Girl A Nian Diary (武汉女孩阿念日记). The book paints a picture of the Fangcang where resilience, warmth, and optimism dominate the overall atmosphere.
The Covid-19 outbreak in Wuhan was a national war against the virus, and the Fangcang hospitals were described and represented as a necessary and praised tool within this united fight. The medical staff members working there were the heroes on the frontline, and many social media users honored and thanked them for their efforts.
After the shelter hospitals in Wuhan gradually closed, the social media focus shifted to how the Covid crisis became a pandemic and caused chaos in the rest of the world. By April of 2020, Wuhan had returned to a state of normalcy, and schools across the country reopened. When Huoshenshan and Leishenshan closed their doors, Fangcang soon seemed to become a thing of the past.
Although there were local outbreaks of Covid-19 in China throughout 2020 and 2021, the Fangcang hospitals did not really return to the public spotlight until Xi'an saw cases spike in late 2021 and early 2022, with the city becoming the epicenter of the biggest Covid outbreak and lockdown since Wuhan.
By January of 2022, the city of Xi'an had started to construct large sites for isolation of people who tested positive for Covid-19, in addition to designated hospitals. Besides 'Fangcang,' these were also called 'Centralized Isolation Points' (集中隔离点).
As later explained by Dr. Wu Jinglei, director of Shanghai Municipal Health Commission, Fangcang hospitals can also be used as 'Isolation Points.' The two are the same but using 'Isolation Point' instead of 'Fangcang Hospital' emphasizes the need to also isolate and observe patients who are asymptomatic at these health locations, besides treating those with mild-to-moderate symptoms. Later on, these locations also started to be referred to as 'Fangcang Isolation Points' (方舱隔离点) or 'Isolation Fangcang' (隔离方舱).
One story that attracted major attention on Chinese social media and indicated changing perceptions of the Fangcang phenomenon was the midnight eviction of residents of the Xi'an Mingde 8 Yingli community (明德八英里小区) in Xi'an. Just after midnight on January 1st of 2022, residents received news that they would be transferred by buses, and quarantined away from their compound due to new infections in their proximity.
Residents voiced their concerns on social media about the incident, saying they were unsure of where they were heading, and that they were put in buses together for hours until being driven off to a remote Fangcang without proper supplies. The term 'bèi lāzǒu' (被拉走) was used, 'being dragged away.'
Old people, young children, and pregnant women were among those being taken away for quarantine without being provided with the things they needed, and without any measures to protect them against the dangers of infection. An image of an old man with a walking cane standing in line to be taken away for quarantine went viral online as many worried about his wellbeing. He was seemingly all alone and did not seem to have any luggage or food supplies with him.
Seeing photos of old buildings without proper facilities being turned into Fangcang, many residents wondered what the point of this kind of isolation was. One popular post by a Weibo user nicknamed 'In Between Memories' from January 2nd of 2022 said:
"I don't understand why negative-tested families should be dragged away for isolation? Isn't isolation at home also isolation? The Fangcang hospitals were built to focus on treating the mildly ill, separately from the seriously ill. But nowadays, after discovering one positive case, Xi'an wants to pull away the entire neighborhood to a centralized quarantine with poor conditions – even if everyone has already been in home quarantine for over a week. Is this all just so that Xi'an can say it has zero infections while ignoring the scientific basis that many families tested negative multiple times? While disregarding the special needs of families with elderly, young, sick, disabled, and pregnant people? Before transferring people, you never provided them with a policy basis, nor was there any warning or reminder given to the citizens of Xi'an that you would implement [this policy] on the spot in the middle of the night. Now that everyone is at risk, perhaps some will support this, hoping that there can be zero cases within the community in a time frame of three days. But there are more residents who are only worried that the next one to be dragged away will be them. After all, we will be taken away even if we stay well at home and test negative ten times for the nucleic acid test, what about the elderly and our children, what about our pets? No one cares, they only care about their hard target to clear the city of Covid within three days."
Within three weeks of lockdown, Xi'an was the first city to have so many patients admitted to Isolation Points: nearly 50,000 people were isolated at 443 different Fangcang quarantine locations across Xi'an (Southern Weekend 2022).
The fears of being taken away to Fangcang hospitals and Isolation Points also became a reality for Shanghai residents after an unprecedented Covid-19 spike in the city, starting in March of 2022. As the city entered a phased lockdown, photos and videos of a local quarantine site where babies and small children were kept in isolation – separated from their parents – went viral on Chinese social media.1
Not long after, patients at Fangcang hospitals started posting on social media about their experiences, complaining that there was a lack of basic supplies, that they were not given the medicine they needed, and that vulnerable patients were left to their own devices without proper care.
As the Covid-19 cases continued to spike throughout March and April, videos also started surfacing showing chaotic scenes at some Fangcang sites in Shanghai where patients were fighting over supplies such as blankets, water, and food, some crying when they were unable to get anything but some bottles of water – or nothing at all.
The apparent disorganization at quarantine facilities from the city's Pudong to Minhang Districts triggered discussions on Chinese social media about why asymptomatic patients were taken off to these ill-equipped centralized Fangcang locations at all and why they were not allowed to isolate at home instead.
One Weibo user wrote in April 2022:
"They took us to an isolation site. If the conditions had just been a bit better, we'd be okay with it, but this is just unimaginable. These are the facts. Over 800 people have entered this facility since April 9, their ages varying from seventy or eighty years old to babies just a few months old. 1. Inside the factory building, there are plank beds without mattresses, there are no people to clean. 2. There is no supervisor, we need to fight over our food. 3. There are not enough supplies, not even enough toilet paper. 4. 80% of the toilets are clogged, there's nobody to clean them. 5. There are no doctors and nobody to take care of patients with a fever. 6. There is no one to dispose of the garbage. 7. The weather's hot, but there's no place to shower or change clothes."
Stories also started coming out of patients being taken away to Isolation Points many days after they had first tested positive for Covid. By the time they were finally taken away for quarantine, they had recovered and tested negative for Covid-19, yet still had to go and stay together with patients testing positive.
To create more beds for patients, Shanghai opened China's largest-ever Fangcang hospital on April 8 at the National Exhibition Convention Center. This Fangcang, built by the same people who had helped build Huoshenshan and Leishenshan in Wuhan, had a capacity of 50,000 beds for Covid-19 patients.
These bigger, modern, and central Fangcang locations are generally neat and orderly, providing regular meals and medicine, as well as offering various activities or even setting up classrooms for quarantined students.
But photos, footage, and online diaries posted on social media exposed the stark differences in living conditions between different Fangcang hospitals. By late April of 2022, patients staying at one Fangcang location in the city's Putuo District – an office building converted into a makeshift hospital – complained about the crowded living conditions, the lack of washing rooms and showers, and the inadequate supply of food and drinking water. At other facilities, patients posted videos of water pouring into the building after heavy rain.
From Wuhan in 2020 to Shanghai in 2022, the public perception of the Fangcang phenomenon in China changed dramatically. While it was initially seen as an effective, efficient, and celebrated response to the outbreak of Covid, many Shanghai-based residents, during the peak of the city's Covid crisis, feared the Fangcang more than the virus itself, as stories about overcrowded, disorganized and unequipped facilities kept surfacing online.
THE FUTURE OF FANGCANG
By mid-May of 2022, after seeing over 60,000 confirmed Covid-19 cases in total, Shanghai retired half of its Fangcang locations due to rapidly declining cases. Nevertheless, the restrictions to keep Covid under control are still stringent.
As Chinese leadership remains adamant on sticking with its zero-Covid strategy, state media emphasize the need to uphold the mandatory quarantine system as part of this public health policy, which basically means the country will not opt to 'live with the virus' but instead will continue to implement strict measures to eliminate a Covid outbreak as fast as possible once it emerges.
Fangcang are here to stay as long as China stays on its current zero-Covid path. The country's top epidemiologist Liang Wannian (梁万年) maintains that patients need to be isolated at a centralized location because they can be easily monitored and treated that way, while also minimizing the risks of them spreading the virus to others in their household or community.
In preparation for potential future outbreaks, cities across China are building new Fangcang or are improving existing ones. Authorities are making sure that the country is ready to manage more local outbreaks, avoiding messy Fangcang scenes like the ones in Xi'an or Shanghai.
On May 13, China's National Health Commission called on all provinces to build or renovate city-level Fangcang hospitals, and to make sure they are equipped with electricity, ventilation systems, medical appliances, toilets, and washing facilities.
The country-wide Fangcang preparation plan is now in full swing. In Zhengzhou, for example, construction workers are building a new Fangcang from the ground up. The city of Zhoukou recently issued a promo video on Weibo showing off their local brand-new Fangcang location with 356 private rooms equipped with air disinfection systems, private showers, and free Wi-Fi. Meanwhile, Shanghai even introduced its first Fangcang location for pets.
When it was announced that China would withdraw as the 2023 Asian Cup host due to the pandemic, netizens joked that the stadiums constructed for the sports event could now be turned into Fangcang instead.
"The Fangcang will become a regular facility in the next few years," some social media users commented. Others wrote: "This is good news. It's better to be prepared for what's coming," and: "Better to prepare to build the Fangcang now than to prepare to build our future graves."
Generally, despite worries over a lack of medical care and supplies at facilities, many people do support the idea of their cities being prepared for an immediate Covid response once it's necessary. "I don't get why people are being negative about building new Fangcang," one Weibo user from Hebei Province writes:
"People think that they should stay home if they get infected but want other people to quickly go away to a Fangcang hospital if they're sick. Our little town is now also building a Fangcang, and I think it's a good thing. Before, there were too many infections in the neighboring village, and they took them for isolation to the hotel in our city center and all stores in the vicinity had to close. (..) It was scary, people didn't want to visit the center anymore. Now, they're building a Fangcang at the town border, away from the people, and it's a relief for all of us."
Meanwhile, Fangcang patients keep sharing their journals online. "Today is day seven for me," one Shanghai resident wrote on Weibo: "I finally had an egg for the first time here. I've been constipated all week (..) This morning, I heard I meet the conditions to be discharged [two negative tests in a row], but due to the lack of capacity I'm still waiting, and it might still take two or three more days before I get to go home."
"It's day twelve. I can't wait until I'm released from 'prison'," one person wrote.
"It's my first night at the Fangcang," one Weibo user writes in another online 'Covid journal': "There's too much light and noise, and my dad and I took turns in waking up. Eventually, he decided to get up, thinking it was 5 am, until we discovered it was just past 2 am. I felt light-headed as I headed to the bathroom."
One patient at another Shanghai Fangcang writes: "My stay at the Fangcang is better than I had expected. I am sleeping better than at home and don't have to think about what I am going to eat. But there are many elderly people inside here, and I see them suffering. I'm not sure if this policy really helps them." They also write: "I'd better record all of this. I think this is going to be an experience I'll remember for the rest of my life."
By Manya Koetse
Follow @whatsonweibo
1 On April 6, 2022, Shanghai changed the policy and announced that parents can apply to accompany their children during central quarantine after signing an agreement, regardless of whether they've tested positive for the virus or not.
References (other sources linked to inside the text)
Chen, Simiao Chen, Zongjiu Zhang, Juntao Yang, Jian Wang, Xiaohui Zhai, Till Bärnighausen, Chen Wang. 2020. "Fangcang Shelter Hospitals: A Novel Concept for Responding to Public Health Emergencies." The Lancet, April 2             https://www.thelancet.com/journals/lancet/article/PIIS0140-6736(20)30744-3/fulltext [May 12, 2022].
Fang, Dongpin, Shengjie Pan, Zaishang Li, Ting Yuan, Benran Jiang, Di Gan, Bai Sheng, Jing Han, Tao Wang, Zhongmin Liu. 2020. "Large-Scale Public Venues as Medical  Emergency Sites in Disasters: Lessons from COVID-19 and the Use of Fangcang Shelter Hospitals in Wuhan, China." BMJ Global Health 5:  1-7.
Luo, Hanbin, Jiajing Liu, Chengqian Li, Ke Chen, Ming Zhang. 2020. "Ultra-Rapid Delivery of Specialty Field Hospitals To Combat COVID-19: Lessons Learned from the Leishenshan Hospital Project in Wuhan." Automation in Construction 119 (103345):  1-10.
Southern Weekend 南方周末. 2022. "The Largest Centralized Quarantine: 49,678 People in  nearly One Month, What Has Xi'an Invested 最大规模集中隔离:近一月49678人,西安付出了什么" [In Chinese]. Sina News, January 13  https://news.sina.cn/2022-01-13/detail-ikyamrmz4934227.d.html [May 13].
Wang, Ke-Wei, Jie Gao, Xiao-Xiao Song, Jiang Huang, Hua Wang, Xiao-Long Wu, Qin-Fang Yuan, Xiao-Shan Li, Feng Cheng, Yang Cheng. 2020. "Fangcang Shelters Are a One  Health Approach for Responding to the Covid-19 Outbreak in Wuhan, China." One Health 10 (100167): 1-6.
Featured image by Ama for Yi Magazin.
This text was written for Goethe-Institut China under a CC-BY-NC-ND-4.0-DE license (Creative Commons) as part of a monthly column in collaboration with What's On Weibo.
Spotted a mistake or want to add something? Please let us know in comments below or email us. First-time commenters, please be patient – we will have to manually approve your comment before it appears.