The Essential Balm: How to Use Tiger Balm & Qing Liang You
The best ways to use Tiger Balm according to Chinese social media users.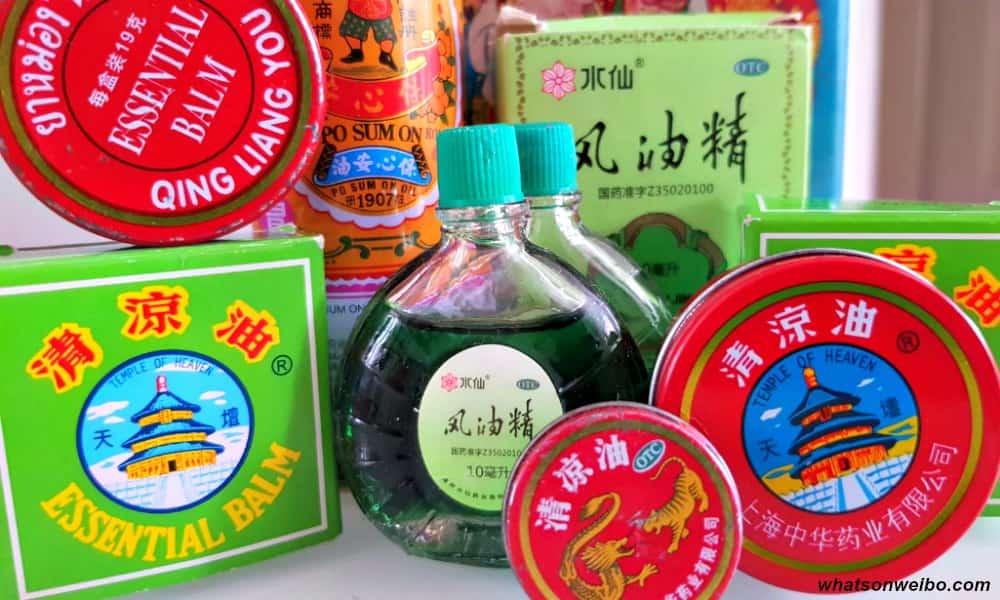 Some Chinese social media users claim Tiger Balm (or 'Essential Balm') is a "cure-all" product (包治百病) – why this century-old product is still popular today: the how-to-use tips from Weibo users.
What is simply known as 'Tiger Balm' in most Western countries, is also known as Fēng yóu jīng (风油精, lit. 'wind oil') or Qīng liáng yóu (清凉油, lit. 'cool oil') in China, usually translated as 'Essential Balm.'
The translation 'essential' is quite literal in the sense that the balm is in fact essential to many Chinese households; virtually all pharmacies, supermarkets, airports shops and convenience stores in the PRC will sell it.
The over-the-counter balm (or oil) is a product that often pops up on Chinese social media. A recent video on streaming platform Billibilli calls it a "cure-all" product (包治百病), while netizens on Weibo share tips on how they use the balm on a daily basis.
The Tiger Balm brand name in Chinese is Hǔbiao Wànjīnyóu (虎標萬金油), which literally means 'tiger-marked jack of all trades.'
All of these balms or oils are practically the same kind of 'heat rubs,' topical preparations for application to the skin, mainly made from menthol, camphor, clove oil, mint oil, and cajuput/eucalyptus oil.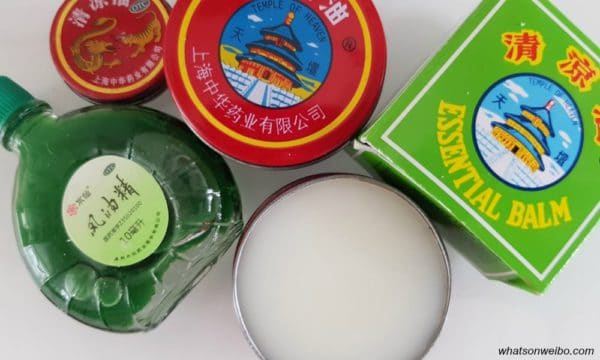 The Chinese fengyoujing is an oily liquid that comes in a small bottle (10ml), while both the Tiger Balm brand and so-called 'Essential Balm' (various brands) come as balsam in a small tin. Because the first-mentioned is more easily applied as liquid, its effects are somewhat stronger than the balm.
A Tiger Balm History
The original Tiger Balm was developed in Birma in the 1870s, by the Fujian-born herbalist Aw Chu Kin (Hu Ziqin 胡子钦). Different to what the name suggests, Tiger Balm does not contain any ingredients related to the tiger, but was named after Aw's son, whose name literally meant 'Gentle Tiger' (Aw Boonhaw or Hu Wenhu 胡文虎).
He was the son who later inherited the recipe of the balm, and turned Tiger Balm into a household name together with his brother (Hu Wenbao 胡文豹).
Aw Chu Kin was born in a small village. His father was also a herbalist, but the family was very poor. In search for a better live, the young Aw later moved to Birma (Myanmar), where he set up his own apothecary in Yangon in 1870 under the name of 'Eng Aun Tong' (永安堂药行).
Aw had three sons and a daughter. When he passed away in 1908, he left his company to the two sons who had helped him with his business. They later moved to Singapore, where they continued their father's business and officially launched Tiger Balm as a brand in 1925, based on their father's recipes.
The brothers used a remarkable promotion method for their balm; from 1926 on, they drove a vehicle that had a big tiger head on its front (see image). The horn of the car sounded like a tiger roar – a good way to attract the attention of people and to give them some free samples of their balm.
How to Use Tiger Balm: General Uses
The century-old product is still wildly popular today, with various companies now producing (nearly) identical products.
Note: not recommended to use for pregnant women, children under the age of 3, avoid contact with eyes, keep out of reach of children, and do not apply to injured skin or burns. If you're in doubt about tiger balm usages and/or allergies, consult a doctor before using.
Among the main purposes of Tiger Balm and Qing Liang You is that it can be used as an anti-itching remedy for mosquito bites and insect stings.
For those with rheumatic pains, tiger balm can be also used as a painkiller by applying it in the lower back area, legs, and directly on sore muscles and bones.
Tiger Balm is also said to be helpful against a cold and have a stuffed nose, by putting some balm right underneath and around the nostrils to let the nose clear up.
To prevent dizziness and carsickness, the balm can be used to slightly moisten the lips or temples to prevent nausea.
Social Media Tips
On Weibo, dozens of people share their use of Tiger Balm and the likes on their accounts every day – especially during the hot summer.
* Some Chinese students simply recommend keeping a small tin of balm nearby for those late study hours; they claim sniffing the balm awakens the mind.
* "I apply some balm before I take a shower," one commenter says: "Now my whole body feels cool as a breeze." By applying some balm to parts of the body, the skin gets cooled – a comfortable feeling in times of hot weather or fever.
* Social media user Xixi (@西西咕噜咕噜) uses Tiger Balm in hot summer days. Opening up the lid of the balm a few times a day in front of the van spreads its cooling breeze throughout the room: "I'm crazy about this fragrance." (Tip! Mosquitos and other insects dislike this smell; this method is also effective as a repellent.)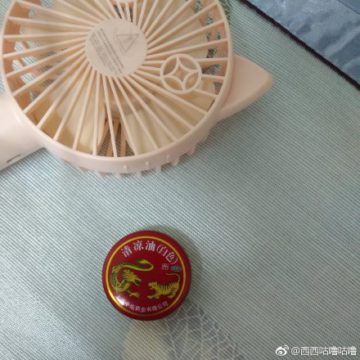 * "I've been suffering from a head-ache for days," a Weibo user named 'I've been studying for hours today' (@今儿学了几个小时) says: "Rubbing some qingliangyou on my temples really helps." Tiger balm is often promoted as a remedy against headache, by rubbing some tiger balm on the forehead or temples (mind your eyes).
* "After cutting red peppers, you can smear some Tiger Balm on your fingers," another Weibo user (@萍了早煤) writes: "also use some plain vinegar to wash it off. It helps."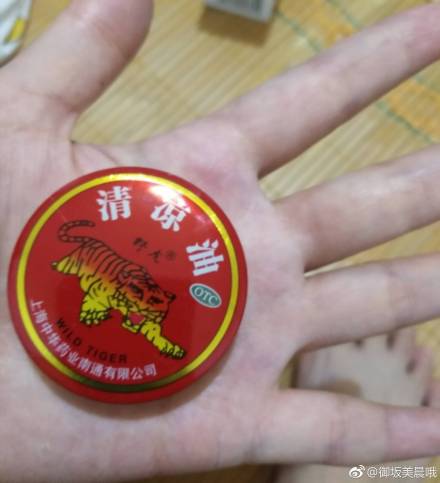 * "You can use Tiger Balm / Qing Liang You to improve blood circulation and decrease swellings," one Guangdong micro-blogger writes. It is indeed said that one of the active ingredients, camphor, dilates the blood vessels and brings blood closer to the skin's surface; increasing circulation and warmth.
* Another popular Weibo account (@好运逗比) recommends rubbing some drops of the fengyoujing (the liquid rub) to the soles of the feet before wearing shoes to prevent smelly feet at the end of the day.
* There are also Weibo accounts recommending Tiger Balm / Qing Liang You as the must-bring item on travels to prevent mosquito bites, car or sea sickness, and for treatment of headaches.
* There are also some people who say they use Tiger Balm on their face as a way to treat acne/pimples, but we'd highly recommend consulting with a doctor before doing so, as the balm is not recommended to be used on irritable skin.
Still not had enough tips? You can check out one of What's on Weibo's earliest articles, titled '20 Ways to Use Tiger Balm,' for more tips on how to use this 'jack for all trades' balm.
By Manya Koetse
Follow @whatsonweibo
Where to Buy
Tiger Balm is practically available everywhere. Check your local pharmacy or convenience store. The brand also has an online shop where their products can be purchased. For small cases of essential balm to carry with you at all times check here.
The Temple of Heaven balm can be purchased at Beijing airport and many other places, but online it is purchasable here.
The classic oil, which is somewhat stronger, is available here.
Spotted a mistake or want to add something? Please let us know in comments below or email us.
©2018 Whatsonweibo. All rights reserved. Do not reproduce our content without permission – you can contact us at info@whatsonweibo.com.
Japanese Restaurant in Shanghai Faces Backlash for Offering "Anti-Radiation" Meals
Amidst the panic surrounding Fukushima, this Shanghai-based Japanese-style restaurant ventured into a new business approach.
Since August 24th, when Japan started the release of treated radioactive water from the damaged Fukushima power plant into the ocean, a myriad of related topics have surged across Chinese social media platforms.
The dissemination of news concerning the Fukushima wastewater discharge, amplified by Chinese media outlets, has sparked considerable unrest in various ways.
Among these is the phenomenon of salt hoarding. There have been dozens of posts on Weibo showing extreme examples of people stockpiling salt. In some places, people queued for up to an hour to buy salt while early-bird shoppers left stores with heavily laden shopping carts.
China also saw instances of salt hoarding in 2011, just after the tsunami and Fukushima disaster. Some people equate 'salt' to 'sea salt' and they are concerned that salt stocks could potentially become contaminated due to the Fukushima wastewater. But there is also a general belief that salt consumption could provide protection against exposure to radioactivity.
Nonetheless, regular table salt does not actually provide protection against radiation, and consuming excessive amounts of iodized salt could potentially pose health risks on its own.
While scientists and critics find the recent panic to be unfounded – emphasizing that Japan's actions fall within the safety limits of the Atomic Energy Agency and that the environmental impact is minimal, – a prevailing skepticism toward Western powers combined with official media boosting news concerning the discharge of radioactive water, ensures that Fukushima-related fears and misconceptions remain pervasive.
The concerns surrounding Fukushima have already had negative consequences for many business owners in China, especially for some Japanese-style restaurant owners who felt the need to change their theme, change their name, or explicitly state that their ingredients are not actually coming from Japan.
Meanwhile, there are also some who are trying to capitalize on the situation for profit.
One Japanese-style restaurant in Shanghai's Hongqiao recently starting offering a so-called "anti radiation" set meal ("防辐射"套餐). The set meal, which was first introduced on online platform Dianping, included ingredients such as tomatoes, edamame, tofu, and spinach.
The Japanese restaurant introduced the menu on the 25th, a day after Japan started discharging the first batch of wastewater into the ocean. While various Chinese media write that there is no scientific basis for the radiation-blocking effects of these foods, the restaurant stated they no longer use any products from Japan and that ingredients used are all sourced locally.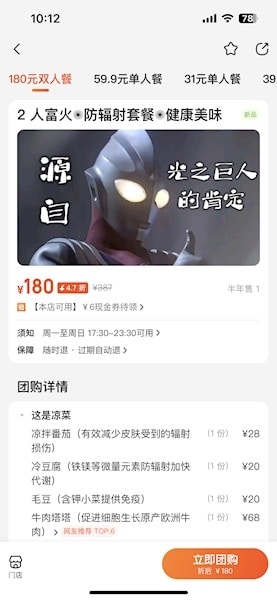 According to various news posts, the restaurant compiled the menu through research and seeking advice from a nutritionist. The restaurant also associated each dish with particular benefits, including claims of "reducing skin damage" or "stimulating cell growth."
But soon after the restaurant had put their anti-radiation menu online, it became a big topic of discussion, with one related hashtag on Weibo getting over 140 million views (#上海一日料店上架防辐射套餐#).
"Of course, the next step is to make a quick buck by pushing anti-radiation products," one popular comment said (using the phrase gē jiǔcài 割韭菜, 'harvesting chives,' also explained in our latest newsletter).
Other people wondered why one would order such a menu if you might as well cook the exact same things at home. "Why would I pay 28 yuan for tomato with seasoning?"
Meanwhile, Chinese media outlets, citing legal experts, focused more on the legal problems surrounding the menu, suggesting that making false claims is against the law.
Following the controversy, the restaurant has now pulled its menu offline.
Nonetheless, the restaurant won't be the first or the last business owner to profit from Fukushima fear and anger. While some are selling anti-radiation tablets, others are selling t-shirts with slogans opposing Japan's decision to discharge the wastewater.
On Weibo, local authorities and media accounts are cautioning consumers against purchasing ineffective products that offer no protection against radiation exposure, reiterating that buying loads of salt will not help either.
By Manya Koetse
Get the story behind the hashtag. Subscribe to What's on Weibo here to receive our newsletter and get access to our latest articles:
Spotted a mistake or want to add something? Please let us know in comments below or email us. First-time commenters, please be patient – we will have to manually approve your comment before it appears.
©2023 Whatsonweibo. All rights reserved. Do not reproduce our content without permission – you can contact us at info@whatsonweibo.com.
Confirmed Case of Monkeypox in Liaoning (Updated: and in Changsha, Tianjin)
After hearing about a reported monkeypox case, some netizens think it's time to dust off their disinfectant again.
A suspected case of Mpox (monkeypox) reported in Shenyang, Liaoning, has become a top trending topic on Chinese social media this week.
The Chinese Center for Disease Control and Prevention confirmed the results of local lab tests, giving a positive result for the monkeypox virus.
The case was first reported on June 29th and official diagnosis with the monkeypox virus was confirmed on July 3rd.
The patient is currently undergoing isolation treatment in a designated medical institution, and their condition is stable.
Monkeypox (Mpox) is an infectious disease caused by the monkeypox virus. It is characterized by symptoms such as a skin rash or ulcers, accompanied by fever, headache, muscle aches, back pain, fatigue, and swollen lymph nodes. Mpox can be transmitted to humans through physical contact with infected individuals, contaminated materials, or infected animals.
On Chinese social media, there is a significant concern expressed by many individuals regarding a possible outbreak of Mpox. People are seeking information on preventive measures to avoid contracting the virus and expressing their strong desire for the virus to remain distant from them. After experiencing the impact of the Covid pandemic for years, another virus outbreak is the last thing people want to encounter or hear about.
"This is still an issue that needs to be taken seriously because once the first case emerges, there may be subsequent cases," one commenters says: "It requires the collective efforts of various local departments to thoroughly control and contain it from spreading any further."
"When I see this kind of news, I silently pick up my face mask, take my Vitamine C, and take out my dusty disinfectant again," another person writes.
During May 2022, an outbreak of monkeypox was identified in the United Kingdom. Two months later, the World Health Organization (WHO) designated the outbreak as a "Public Health Emergency of International Concern." As of March of the current year, over 113 countries had reported a cumulative total of 86,516 confirmed cases. However, in May, the WHO declared the global health emergency to be concluded.
At the time of this global outbreak, there was some controversy when a chief epidemiologist at the Chinese Centre for Disease Control and Prevention warned locals against touching foreigners to avoid getting infected. This happened a day after the first case in China was detected in September of 2022.
Update July 8: Another case of mpox went trending on Chinese social media on Saturday, this time it concerns a case detected in Tianjin.
On July 6th,the suspected case of monkeypox was reported. The Chinese Center for disease Control and Prevention later confirmed the case through testing. The patient is undergoing isolation treatment in a designated medical institution, and their condition is stable.
On Weibo, the hashtag "Case of Monkeypox Detected in Tianjin" (#天津发现一例猴痘#) attracted over 150 million views on Saturday. On Friday, three new cases of monkeypox in Changsha also attracted attention on social media (#长沙发现3例猴痘病例#).
"Why do I feel like this is 2019?" some people write, seemingly concerned about another major outbreak. Nevertheless, the way of contracting monkeypox is vastly different and not comparable to Covid, as it mostly spreads through close, personal, often skin-to-skin contact (or mouth-to-skin, mouth-to-mouth). People who have contact with clothing, bedding, towels, objects, electronics, and other surfaces that have been touched by someone with monkeypox are also at risk.

By Manya Koetse 
Get the story behind the hashtag. Subscribe to What's on Weibo here to receive our newsletter and get access to our latest articles:
Spotted a mistake or want to add something? Please let us know in comments below or email us. First-time commenters, please be patient – we will have to manually approve your comment before it appears.
©2023 Whatsonweibo. All rights reserved. Do not reproduce our content without permission – you can contact us at info@whatsonweibo.com.
Subscribe to our newsletter
Stay updated on what's trending in China & get the story behind the hashtag
Sign up
here
to become a premium member of What's on Weibo today and gain access to all of our latest and premium content, as well as receive our exclusive Weibo Watch newsletter. If you prefer to only receive our free newsletter with an overview of the latest articles, you can
subscribe for free
here.
Would you like to become a contributor, or do you have any tips or suggestions for us? Get in touch with us here.