The Essential Balm: How to Use Tiger Balm & Qing Liang You
The best ways to use Tiger Balm according to Chinese social media users.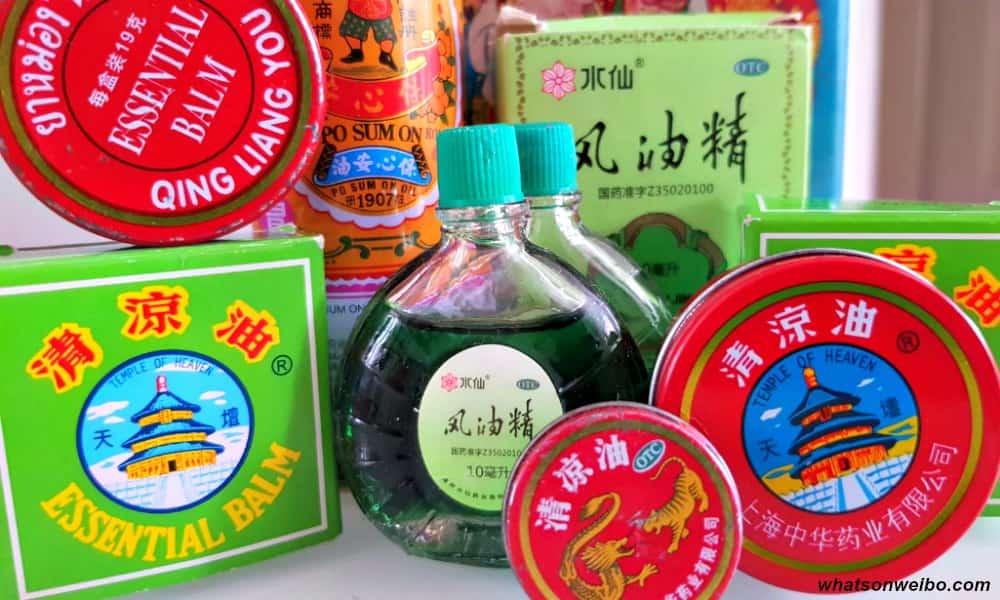 Some Chinese social media users claim Tiger Balm (or 'Essential Balm') is a "cure-all" product (包治百病) – why this century-old product is still popular today: the how-to-use tips from Weibo users.
What is simply known as 'Tiger Balm' in most Western countries, is also known as Fēng yóu jīng (风油精, lit. 'wind oil') or Qīng liáng yóu (清凉油, lit. 'cool oil') in China, usually translated as 'Essential Balm.'
The translation 'essential' is quite literal in the sense that the balm is in fact essential to many Chinese households; virtually all pharmacies, supermarkets, airports shops and convenience stores in the PRC will sell it.
The over-the-counter balm (or oil) is a product that often pops up on Chinese social media. A recent video on streaming platform Billibilli calls it a "cure-all" product (包治百病), while netizens on Weibo share tips on how they use the balm on a daily basis.
The Tiger Balm brand name in Chinese is Hǔbiao Wànjīnyóu (虎標萬金油), which literally means 'tiger-marked jack of all trades.'
All of these balms or oils are practically the same kind of 'heat rubs,' topical preparations for application to the skin, mainly made from menthol, camphor, clove oil, mint oil, and cajuput/eucalyptus oil.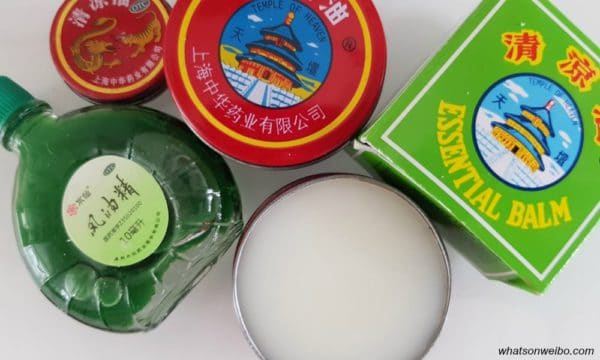 The Chinese fengyoujing is an oily liquid that comes in a small bottle (10ml), while both the Tiger Balm brand and so-called 'Essential Balm' (various brands) come as balsam in a small tin. Because the first-mentioned is more easily applied as liquid, its effects are somewhat stronger than the balm.
A Tiger Balm History
The original Tiger Balm was developed in Birma in the 1870s, by the Fujian-born herbalist Aw Chu Kin (Hu Ziqin 胡子钦). Different to what the name suggests, Tiger Balm does not contain any ingredients related to the tiger, but was named after Aw's son, whose name literally meant 'Gentle Tiger' (Aw Boonhaw or Hu Wenhu 胡文虎).
He was the son who later inherited the recipe of the balm, and turned Tiger Balm into a household name together with his brother (Hu Wenbao 胡文豹).
Aw Chu Kin was born in a small village. His father was also a herbalist, but the family was very poor. In search for a better live, the young Aw later moved to Birma (Myanmar), where he set up his own apothecary in Yangon in 1870 under the name of 'Eng Aun Tong' (永安堂药行).
Aw had three sons and a daughter. When he passed away in 1908, he left his company to the two sons who had helped him with his business. They later moved to Singapore, where they continued their father's business and officially launched Tiger Balm as a brand in 1925, based on their father's recipes.
The brothers used a remarkable promotion method for their balm; from 1926 on, they drove a vehicle that had a big tiger head on its front (see image). The horn of the car sounded like a tiger roar – a good way to attract the attention of people and to give them some free samples of their balm.
How to Use Tiger Balm: General Uses
The century-old product is still wildly popular today, with various companies now producing (nearly) identical products.
Note: not recommended to use for pregnant women, children under the age of 3, avoid contact with eyes, keep out of reach of children, and do not apply to injured skin or burns. If you're in doubt about tiger balm usages and/or allergies, consult a doctor before using.
Among the main purposes of Tiger Balm and Qing Liang You is that it can be used as an anti-itching remedy for mosquito bites and insect stings.
For those with rheumatic pains, tiger balm can be also used as a painkiller by applying it in the lower back area, legs, and directly on sore muscles and bones.
Tiger Balm is also said to be helpful against a cold and have a stuffed nose, by putting some balm right underneath and around the nostrils to let the nose clear up.
To prevent dizziness and carsickness, the balm can be used to slightly moisten the lips or temples to prevent nausea.
Social Media Tips
On Weibo, dozens of people share their use of Tiger Balm and the likes on their accounts every day – especially during the hot summer.
* Some Chinese students simply recommend keeping a small tin of balm nearby for those late study hours; they claim sniffing the balm awakens the mind.
* "I apply some balm before I take a shower," one commenter says: "Now my whole body feels cool as a breeze." By applying some balm to parts of the body, the skin gets cooled – a comfortable feeling in times of hot weather or fever.
* Social media user Xixi (@西西咕噜咕噜) uses Tiger Balm in hot summer days. Opening up the lid of the balm a few times a day in front of the van spreads its cooling breeze throughout the room: "I'm crazy about this fragrance." (Tip! Mosquitos and other insects dislike this smell; this method is also effective as a repellent.)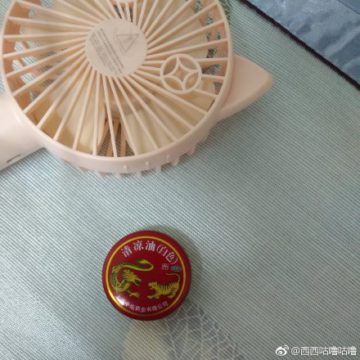 * "I've been suffering from a head-ache for days," a Weibo user named 'I've been studying for hours today' (@今儿学了几个小时) says: "Rubbing some qingliangyou on my temples really helps." Tiger balm is often promoted as a remedy against headache, by rubbing some tiger balm on the forehead or temples (mind your eyes).
* "After cutting red peppers, you can smear some Tiger Balm on your fingers," another Weibo user (@萍了早煤) writes: "also use some plain vinegar to wash it off. It helps."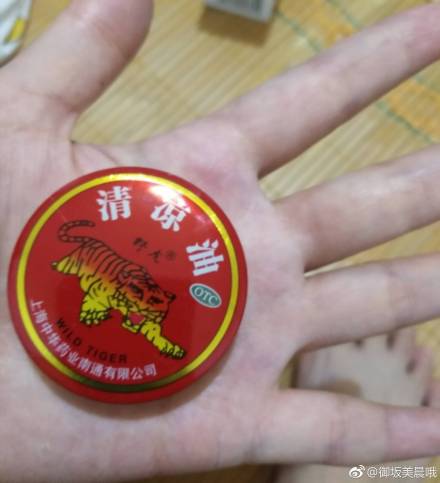 * "You can use Tiger Balm / Qing Liang You to improve blood circulation and decrease swellings," one Guangdong micro-blogger writes. It is indeed said that one of the active ingredients, camphor, dilates the blood vessels and brings blood closer to the skin's surface; increasing circulation and warmth.
* Another popular Weibo account (@好运逗比) recommends rubbing some drops of the fengyoujing (the liquid rub) to the soles of the feet before wearing shoes to prevent smelly feet at the end of the day.
* There are also Weibo accounts recommending Tiger Balm / Qing Liang You as the must-bring item on travels to prevent mosquito bites, car or sea sickness, and for treatment of headaches.
* There are also some people who say they use Tiger Balm on their face as a way to treat acne/pimples, but we'd highly recommend consulting with a doctor before doing so, as the balm is not recommended to be used on irritable skin.
Still not had enough tips? You can check out one of What's on Weibo's earliest articles, titled '20 Ways to Use Tiger Balm,' for more tips on how to use this 'jack for all trades' balm.
By Manya Koetse
Follow @whatsonweibo
Where to Buy
Tiger Balm is practically available everywhere. Check your local pharmacy or convenience store. The brand also has an online shop where their products can be purchased. For small cases of essential balm to carry with you at all times check here.
The Temple of Heaven balm can be purchased at Beijing airport and many other places, but online it is purchasable here.
The classic oil, which is somewhat stronger, is available here.
Spotted a mistake or want to add something? Please let us know in comments below or email us.
©2018 Whatsonweibo. All rights reserved. Do not reproduce our content without permission – you can contact us at info@whatsonweibo.com.
Over a Third of China's Babies Are Delivered via C-Section – The National Health Commission Wants to Change That
Fear of pain is a major reason for nonmedical cesarian deliveries on maternal request.
China's National Health Commission wants to lower the nation's high C-section rates. On Chinese social media, many women argue it should be up to the mother to decide how she wants to give birth.
In 2018 the percentage of deliveries by cesarean was 36.7% in mainland China, according to the latest Report on Women's & Children's Health (中国妇幼健康事业发展报告) that was launched by the National Health Commission on May 27.
This means that together with Hong Kong, Taiwan, Brazil, Egypt, and Turkey, the People's Republic of China (PRC) now has the highest C-section rates in the world.
A World Health Organization report from 2010 estimated that 46% of Chinese babies were delivered via C-section. In 2017, another study found that this percentage was incorrect, although some urban and wealthier regions in China, such as Shanghai, did see C-section (CS) rates as a high as 68% (Black & Bhattacharya 2018, 1; McNeil 2017).
China's CS rates have recently become a hot topic in Chinese newspapers and on social media. On May 27, the National Health Commission of the People's Republic of China held a Beijing news conference in which Qin Geng (秦耕), the director, announced that more actions will be taken to encourage natural childbirth among Chinese women.
These actions will, among others, include stricter regulation of cesarian section operations and the provision of more support and pain relief for laboring women, as well as a higher hospital income for natural births. The National Health Comission hopes to significantly reduce the number of unneccesssary C-sections without medical indication in this way (Beijing News 2019; Caijing 2019).
Since 1985, the international healthcare community has considered 10-15% to be "the ideal rate" for C-sections, of which the highest percentage are those CS deliveries with medical indications that can actually save the lives of mothers and babies.
Although the worldwide rates for CS deliveries have increased throughout the years, there is no evidence for the benefits of nonmedically indicated C-sections for women or children, according to the World Health Organization.
This is not the first time Chinese authorities try to combat the country's high CS rates. After reports by the World Health Organization from 2010 and 2015 pointing out the potential hazards of unnecessary C-sections, there have been various state efforts to reduce the number of nonmedical cesarian surgeries.
Besides the introduction of free prenatal education classes, these efforts included monitoring public hospital CS rates and removing bonuses or cutting portions of a hospital's income once their CS rates reached a certain threshold (e.g. 40%) (Wang 2017, 3). These government initiatives seem to have had effect: the country's C-section growth rates have slowed down, but were not decreasing yet.
Since the Chinese government announced an end to its one-child policy in 2015, lowering cesarean sections rates has become a more urgent matter, as Chinese couples are now allowed to have a second child.
Although various studies from mainland China and beyond challenge the idea that nonmedical C-sections are less 'safe' than vaginal births for single deliveries, this risk changes when a woman who previously had a CS section plans another pregnancy: multiple cesarean sections are associated with additional risks including CS scar rupture and abnormal placental invasion (Biler et al 2017, 1074; Black & Bhattacharya 2018, 2; Liu et al 2015, 817).
Why So Many C-sections in China?
But why does China have such a high cesarian delivery rate at all? Since the early 1990s, mainland China saw a more dramatic rise in CS rates than, for example, the USA; from less than 10% (with only 3.4% in 1988), China went to one of the highest in the world (Hellerstein 2011; Wolf 2018, 13).
The answer to why this is, is not so straightforward and relates to socio-economic changes as well as cultural factors that come into play.
One reason is that there is a general belief in the 'safety' of cesarian births that influence women's choices for a (nonmedical and planned) C-section (Black & Bhattacharya 2017, 2).
An insightful study into this matter is that of researcher Eileen Wang (2017), who found that anxiety about giving birth and fear of pain is also a major reason for nonmedical cesarian deliveries on maternal request, especially considering that only a minority of Chinese women are given any form of pain relief during labor. Besides traditional concepts, this is also because China faces a shortage of anesthetists and because obstetricians are not always well-informed to prescribe other forms of pain medication (2017, 5).
As noted by Wang, epidurals are denied to laboring women not just because anesthesiologists are too busy, but also because of various other factors: different from a scheduled C-section on their agenda, they are not always available during nighttimes and in weekends to administer anesthesia to women in labor, do not have the time to monitor a patient for hours during labor (whereas a cesarean could be done in an hour), or were not even trained to administer epidurals (2017, 5).
According to Wang, the concerns about labor pain result in more requests for C-sections, both before and during labor. With relatively low awareness and availability of labor pain relief methods many Chinese women simply opt for a C-section as a way to control their pain.
But there are also other factors that contribute to the relatively high rate of women requesting C-sections for nonmedical reasons. One of them is the importance placed in the astrological calendar: having a baby on that one 'lucky day' or within that 'lucky year' is considered enough reason to plan a cesarian birth for many Chinese families.
In early 2015, ahead of the Chinese New Year, many women rushed to the hospital to make sure their baby was born in the Year of the Horse (2014) as the Year of the Goat (2015) was coming up. There is an old Chinese saying that nine out of ten people born in the Year of the Goat are incomplete and will suffer from great misfortune throughout their life ("十羊九不全").
Another factor that leads to more cesareans on maternal request relates to the existing concerns among women that vaginal delivery will affect their figure or sex life (Wang 2017, 2).
Responses on Chinese Social Media
Since the Beijing news conference of May 27, the hashtag "Reducing Unnecessary Cesarean Section Surgery" (#减少非必需剖宫产手术#) has taken off on Chinese social media.
On Weibo, the hashtag page received 340 million views at time of writing. One thread about this topic even received over 28400 comments.
"What do you call 'unnecessary cesarian'?" one of the most popular comments said: "Isn't it that so many women in labor choose to have a C-section because natural childbirth is too painful?"
Other commenters also called for a normalization of pain relief in labor, saying that the high percentage of C-sections lies in the fact that Chinese women lack access to "wútòng fēnmiǎn" (无痛分娩) or "painless birth," meaning vaginal delivery with pain relief.
Some Weibo users also stress that women should have the freedom of choice on how they wish to give birth, saying: "C-section or natural should be my own choice" and "If you leave me no choice I might as well not give birth at all."
Multiple commenters write: "The lower the C-section rate, the higher the suicides," referring to an incident that occurred in Shaanxi in 2017 when a pregnant woman committed suicide by jumping from the fifth floor of the hospital after she was allegedly denied a CS delivery.
Other Chinese netizens also complain about the fact that it seems to be men who are promoting the new policies to combat the high C-section rates, writing: "Isn't there a way to have them suffer the pain of labor instead?"
In her study, scholar Eileen Wang also argues that the lack of pain relief is one of the major issues that should be addressed by policymakers who are hoping to reduce the number of C-sections in China. Further improving the childbirth experience by, for example, integrating a midwifery model, is also essential in making natural childbirth more attractive for Chinese women, Wang argues.
For now, many hospitals in China are still offering C-section "packages": some prices start at RMB 5800 ($840) for a C-section, other hospitals have packages that start from RMB 88,000 ($12,741) including a three-day hospital stay in a private room.
"It's a pregnant's woman body, so she should decide how she wants to deliver her baby," one commenter on Weibo writes: "It should be a woman's right to decide."
By Manya Koetse
Follow @whatsonweibo
References
Biler, A., Ekin, A., Ozcan, A., Inan, A. H., Vural, T., & Toz, E. 2017. "Is It Safe to Have Multiple Repeat Cesarean Sections? A High Volume Tertiary Care Center Experience." Pakistan Journal of Medical Sciences 33(5): 1074–1079.
Black, Mairead & Sohinee Bhattacharya. 2018. "Cesarean Section in China, Taiwan, and Hong Kong— A Safe Choice for Women and Clinicians?" PLOS Medicine 15(10): 1-3.
Caijing. 2019. "卫健委:全国剖宫产率为36.7% 积极推广分娩镇痛." Caijing , May 27 http://economy.caijing.com.cn/20190527/4591594.shtml [5.31.19].
Hellerstein, Susan Celia. 2011. "Cesarean Delivery in China Analysis of Cesarean Deliveries Without Indication." The American College of Obstetricians and Gynecologists: 20s.
McNeil, Donald. 2017. "Study Finds Lower, but Still High, Rate of C-Sections in China." New York Times, Jan 9 https://www.nytimes.com/2017/01/09/health/c-section-births-china.html [6.2.19].
Wang, Eileen. 2017. "Requests for Cesarean Deliveries: The Politics of Labor Pain and Pain Relief in Shanghai, China." Social Science and Medicine (173): 1–8.
WHO. 2015. "WHO statement on caesarean section rates." World Health Organization, April https://www.who.int/reproductivehealth/publications/maternal_perinatal_health/cs-statement/en/ [6.2.19].
Wolf, Jacqueline H. 2018. Cesarean Section – An American History of Risk, Technology, and Consequence. Baltimore, Maryland: Johns Hopkins University Press.
Featured image by Sohu News.
Spotted a mistake or want to add something? Please let us know in comments below or email us. Please note that your comment below will need to be manually approved if you're a first-time poster here.
©2019 Whatsonweibo. All rights reserved. Do not reproduce our content without permission – you can contact us at info@whatsonweibo.com
Online Doctors and Counting Steps: Top 5 Chinese Health & Fitness Apps
These are the popular health & fitness apps used by Chinese netizens.
As China's fitness market is seeing rapid growth, these are some of the health & fitness apps that are popular among Chinese mobile users.
Ttracking psychical activities and sharing them with friends on social media is something that has become more popular in China, with other types of apps in the health and fitness categories also gaining in popularity.
In a series of five articles, What's on Weibo is providing some insights into what apps are currently popular in mainland China. After the categories news apps, mobile gaming, and short video & livestreaming, we will now highlight some of the more popular apps in the category of health and fitness.
We made our selection based on the data from the Android app stores Tencent, Baidu, Huawei, and Zhushou360. We tried our best to give you a representative overview of a variety of apps that are currently most used in China, but want to remind you that these lists are by no official "top 5" charts.
Here we go!
#1 Keep 自由运动场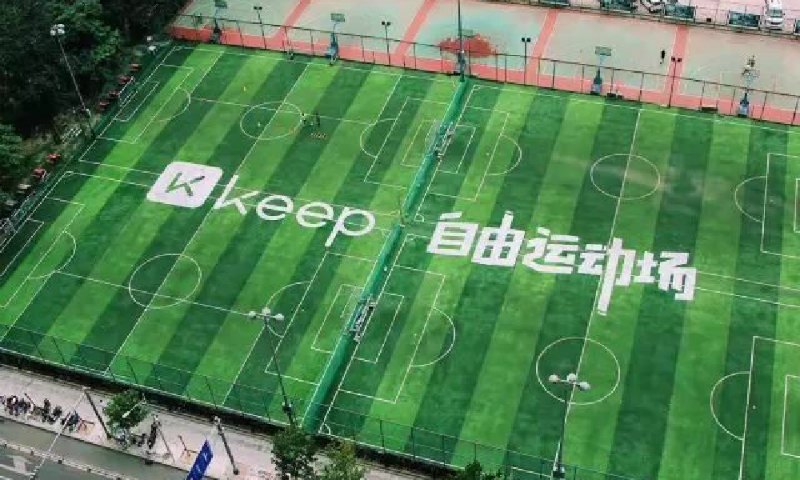 Keep (literally: Free Sportsground 自由运动场) is currently the most popular health and fitness app in the Chinese Apple store. Keep first appeared in 2015, and has since grown to become the country's biggest online sports community. Following their success, Keep has also expanded its businesses outside of the online world and now have their own KeepLand Gyms.
Keep is a very all-round app. When first using the app, users have to answer a number of questions concerning their health, age, motivation to exercise, level of experience, and preferred sports. Once the user has answered all the required questions, the app is ready for use.
The app's main page is called 'workout' and is divided into different workout categories. Per category, the user can find many different exercises, including (video) explanations and duration of the workout sessions. For certain endurance sports such as running and cycling, the app will also track the user's route and speed.
Based on the measured activity, the app will recommend new exercises. Besides workouts, there are also classes you can follow and challenges to take on.
But becoming healthier takes more than exercising alone. Therefore, the app also incorporated a food page, providing its users with diet advice, recipes, and calorie info.
The app also has its own shop selling sports clothes and attributes, food supplements, and other trendy merchandise. For those who share their personal results on social media platforms, such as WeChat, get discounts in the app's webshop.
Last but not least, the app also has a 'community space' where users can share their experiences and find support.
#2 Meet You 美柚月经期助手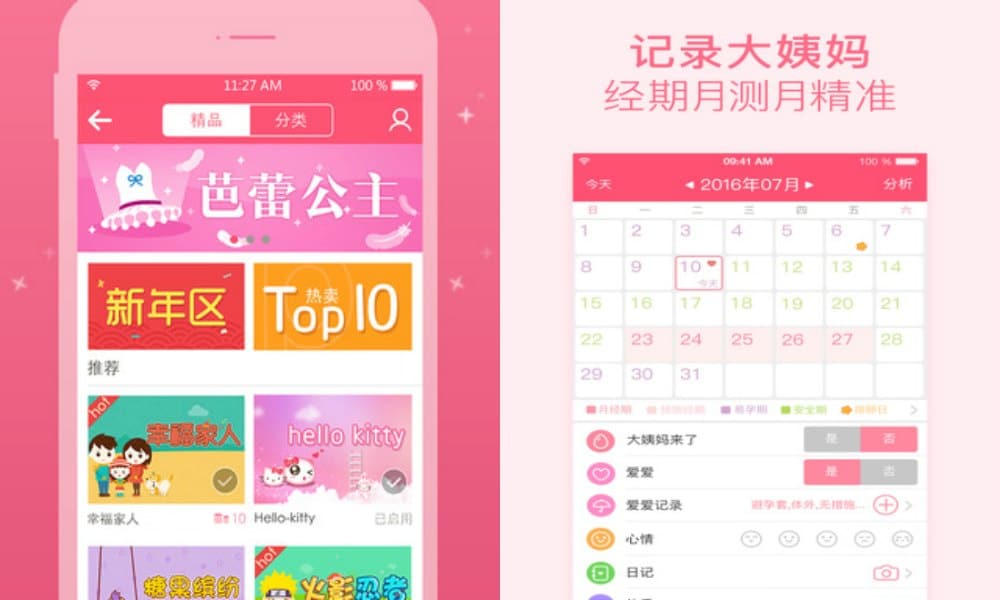 Meet You is the English name of this app, that is literally called 'Beautiful Pomelo Menstruation Tracker' (美柚月经期助手), with the pomelo being a fruit that symbolizes prosperity, good luck, and positivity. The app is a multifunctional period tracker for all women but is mainly focused on women who are trying to get pregnant, who are pregnant, or who already have children. Meet You promotes its app as a way to "make Chinese women even more beautiful and healthier."
The most important page of Meet You is the personal main page. On this page, users can keep a record of their menstruation cycle, their day-to-day mood, weight, possible illnesses, bowel movements, use of anticonception, eating habits, etc.
Based on all this data, the app will analyze their current state of health, and recommend certain news articles and other reads that match the user's preferences.
Additionally, users can also share their experiences and knowledge through the in-app 'communities.' The app has a number of communities focused on specific topics, such as Make-up Time, Love To Travel and Skin Care Beauty Salon.
Of course, there is also a shopping page, which, without doubt, is an important part of the app's revenue model.
Meet You was first launched in 2013 by the Meiyou Information Technology Company, based in Xiamen. Throughout the years, the company launched several other apps all focused on women. Currently, Meet You has over 200 million users, of which 7 million were daily active users according to their own website. And according to a report by Jiguang, Meet You was the second most favored app among female mobile users in 2018.
#3 Qin Baobao 亲宝宝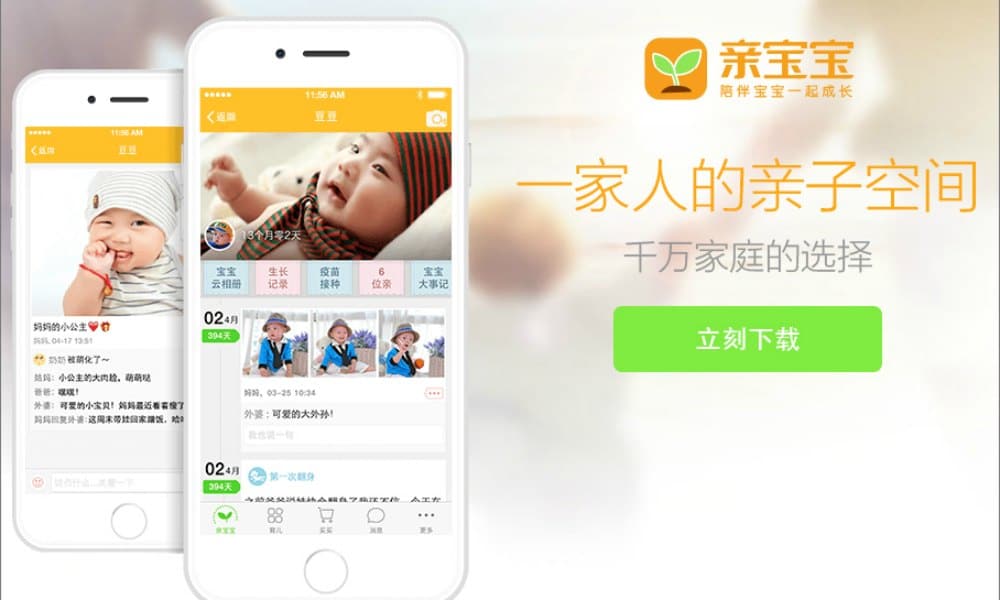 Qin Baobao is an app to provide childcare information for pregnant woman and families with children up to the age of six. The app was first launched in 2013 by Hangzhou Xingwang Technology. Five years later, in 2018, the app had succeeded in reaching more than 100 million registered users, according to the company's website.
In March 2019, the app was the third most popular app in the category Health and Fitness in the Chinese Apple Stores.
Qin Baobao is mainly focused on using technology to help families to better care for their young children. The app's functions can be divided roughly into two parts. One part is focused on the improvement of children's health and general well-being, and the other part is about recording the child's development and sharing joyful moments with friends and family.
To help parents in taking care of their young children, the app provides functions such as soothing music and a knowledge database of age-appropriate foods.
There are also recipes for baby food, tips on how to make your child eat well, advice on what to do when your child is sick, and a Q&A forum.
The other part is all about documenting the growth of the child. Through texts, pictures, and videos, the precious first years of a child's life can be safely stored and shared with friends and family.
What makes the app more attractive than other social media, according to the company's statement, is that the app respects its users' privacy and allegedly won't be using the uploaded data for other purposes.
#4 Ping An Good Doctor 平安好医生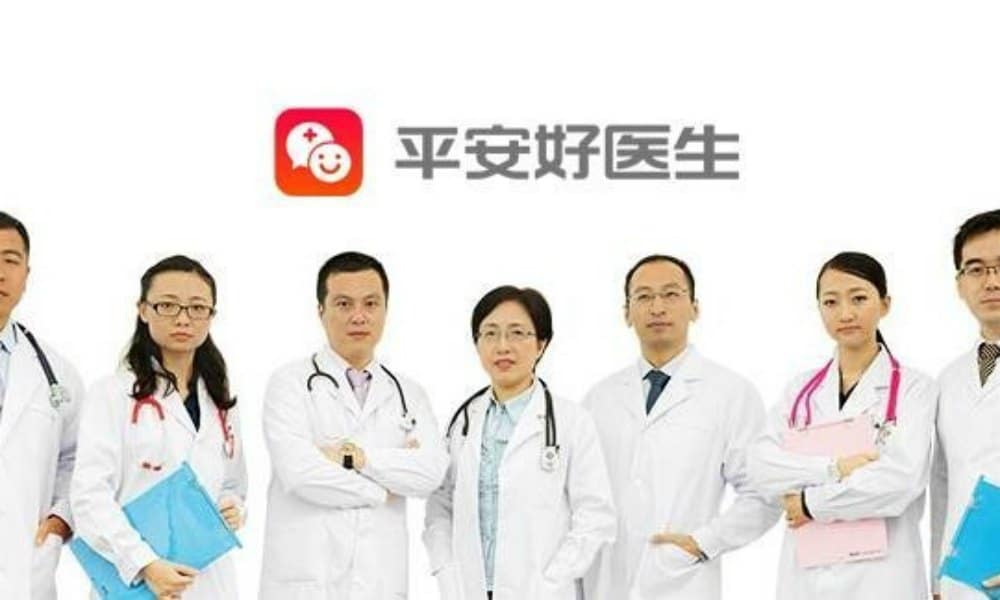 Ping An Good Doctor is a health care and medical consultation platform and part of the Ping An Healthcare and Technology Company.
Ping An Good Doctor was launched in 2015 and has become more popular since. In 2018, the number of registered users reached 265 million, of which nearly 54.7 million were monthly active users, according to their own website.
The app is a portal for medical consultation, something which is not easily available to everyone in China. The app provides four types of services: the family doctor, the consultation hall, medical bibliography of the doctors, and a 'health community.'
The so-called family doctor service provides a one-on-one, private, real-time (paid) consultation between a user and a doctor. Online 'patients' can also talk to doctors in the 'consultation hall,' but this service is not private nor one-on-one.
The app certainly cannot replace an actual doctor's appointment; not only does the virtual environment make it impossible to do a physical checkup, but the doctors also can not give any prescriptions to their 'patients.' The app does allow users to make an appointment with a doctor at an actual hospital through its appointment booking service.
Besides the medical consultation functions, the app also includes a catalog of China's top-notch doctors. Through the app, users can request (offline) consultation or other services from these doctors. The compiled list of doctors is also a way to get insight into the different specialisms of different hospitals and doctors throughout the country.
The last feature of the app is the health community. In this area, all users can read articles about how to keep healthy, how to treat diseases, etc.
To provide all of these services, Ping An Good Doctor allegedly employed 1196 medical personnel in its in-house medical team, signed contracts with an additional 5,203 renowned external doctors, and partnered with over 3000 hospitals and over 15.000 pharmacies by the end of 2018.
#5 Yodo Run 悦动圈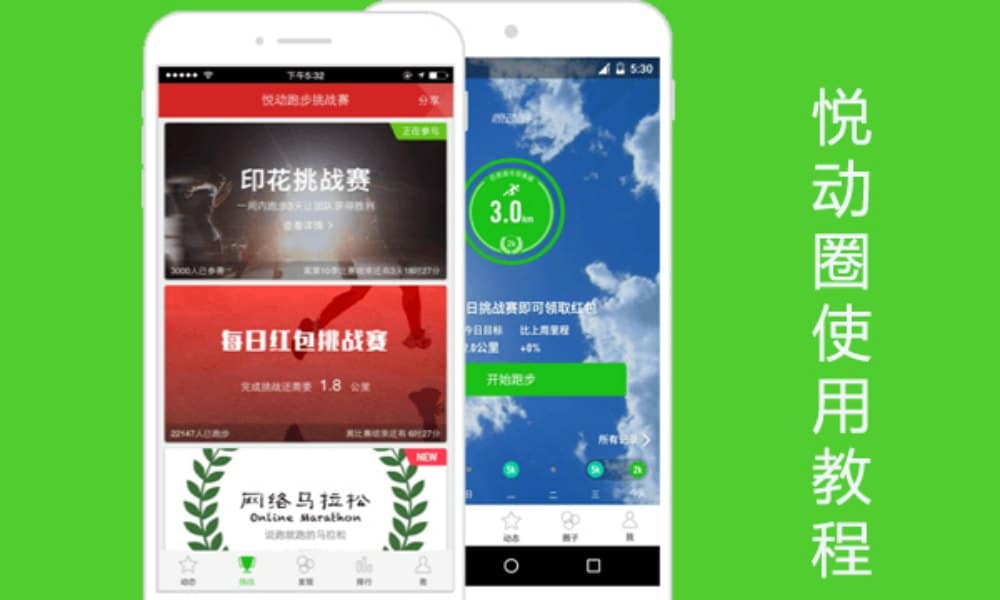 The final app in this list is Yodo Run by the Shenzhen-based Rejoice Sports Tech Company. Yodo Run is one of China's leading social health and fitness recording apps that strives to stimulate users to adopt a healthy lifestyle.
Through Yodo Run's advanced automatic step counting and GPS algorithm, the app can record various exercise patterns such as walking, running, fitness, and cycling. This way, users can keep track of their day-to-day movements. But that is not all that the app provides. The app also includes exercise schedules, video tutorials and a list of music.
To make sure people keep using the app, Yodo Run gives away tens of thousands of money packages every day. There are awards for reaching small goals, such as making 500 steps on your first day as an app user. But there are also awards that are more difficult to earn, such as long-term goals or when you partake in competitions or challenges.
But for those who are not using the app as a way to earn something extra, the app found another way to stimulates its users to exercise. And this is where Yodo Run differentiates itself with many other sports apps.
Yodo Run has a strong focus on bringing people together to exercise. To enable this, Yodo Run has the right tools to actively stimulate people to go out and meet others with a shared passion for exercising. According to their own website, the app has enabled people to unite in more than 500,000 "sports groups", of which 10,000 are actual real-time running groups, spread over more than 300 cities worldwide.
The app is available in both Chinese and English.
Also see:
By Gabi Verberg, edited by Manya Koetse
Spotted a mistake or want to add something? Please let us know in comments below or email us.
©2019 Whatsonweibo. All rights reserved. Do not reproduce our content without permission – you can contact us at info@whatsonweibo.com