The Essential Balm: How to Use Tiger Balm & Qing Liang You
The best ways to use Tiger Balm according to Chinese social media users.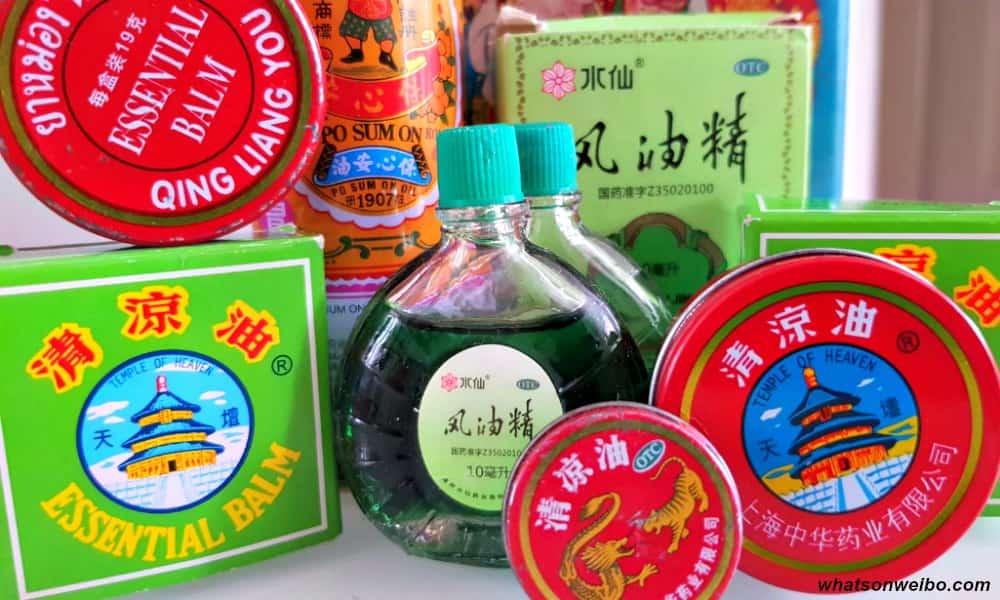 Some Chinese social media users claim Tiger Balm (or 'Essential Balm') is a "cure-all" product (包治百病) – why this century-old product is still popular today: the how-to-use tips from Weibo users.
What is simply known as 'Tiger Balm' in most Western countries, is also known as Fēng yóu jīng (风油精, lit. 'wind oil') or Qīng liáng yóu (清凉油, lit. 'cool oil') in China, usually translated as 'Essential Balm.'
The translation 'essential' is quite literal in the sense that the balm is in fact essential to many Chinese households; virtually all pharmacies, supermarkets, airports shops and convenience stores in the PRC will sell it.
The over-the-counter balm (or oil) is a product that often pops up on Chinese social media. A recent video on streaming platform Billibilli calls it a "cure-all" product (包治百病), while netizens on Weibo share tips on how they use the balm on a daily basis.
The Tiger Balm brand name in Chinese is Hǔbiao Wànjīnyóu (虎標萬金油), which literally means 'tiger-marked jack of all trades.'
All of these balms or oils are practically the same kind of 'heat rubs,' topical preparations for application to the skin, mainly made from menthol, camphor, clove oil, mint oil, and cajuput/eucalyptus oil.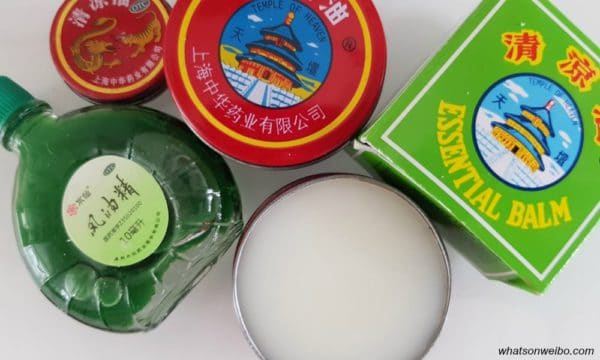 The Chinese fengyoujing is an oily liquid that comes in a small bottle (10ml), while both the Tiger Balm brand and so-called 'Essential Balm' (various brands) come as balsam in a small tin. Because the first-mentioned is more easily applied as liquid, its effects are somewhat stronger than the balm.
A Tiger Balm History
The original Tiger Balm was developed in Birma in the 1870s, by the Fujian-born herbalist Aw Chu Kin (Hu Ziqin 胡子钦). Different to what the name suggests, Tiger Balm does not contain any ingredients related to the tiger, but was named after Aw's son, whose name literally meant 'Gentle Tiger' (Aw Boonhaw or Hu Wenhu 胡文虎).
He was the son who later inherited the recipe of the balm, and turned Tiger Balm into a household name together with his brother (Hu Wenbao 胡文豹).
Aw Chu Kin was born in a small village. His father was also a herbalist, but the family was very poor. In search for a better live, the young Aw later moved to Birma (Myanmar), where he set up his own apothecary in Yangon in 1870 under the name of 'Eng Aun Tong' (永安堂药行).
Aw had three sons and a daughter. When he passed away in 1908, he left his company to the two sons who had helped him with his business. They later moved to Singapore, where they continued their father's business and officially launched Tiger Balm as a brand in 1925, based on their father's recipes.
The brothers used a remarkable promotion method for their balm; from 1926 on, they drove a vehicle that had a big tiger head on its front (see image). The horn of the car sounded like a tiger roar – a good way to attract the attention of people and to give them some free samples of their balm.
How to Use Tiger Balm: General Uses
The century-old product is still wildly popular today, with various companies now producing (nearly) identical products.
Note: not recommended to use for pregnant women, children under the age of 3, avoid contact with eyes, keep out of reach of children, and do not apply to injured skin or burns. If you're in doubt about tiger balm usages and/or allergies, consult a doctor before using.
Among the main purposes of Tiger Balm and Qing Liang You is that it can be used as an anti-itching remedy for mosquito bites and insect stings.
For those with rheumatic pains, tiger balm can be also used as a painkiller by applying it in the lower back area, legs, and directly on sore muscles and bones.
Tiger Balm is also said to be helpful against a cold and have a stuffed nose, by putting some balm right underneath and around the nostrils to let the nose clear up.
To prevent dizziness and carsickness, the balm can be used to slightly moisten the lips or temples to prevent nausea.
Social Media Tips
On Weibo, dozens of people share their use of Tiger Balm and the likes on their accounts every day – especially during the hot summer.
* Some Chinese students simply recommend keeping a small tin of balm nearby for those late study hours; they claim sniffing the balm awakens the mind.
* "I apply some balm before I take a shower," one commenter says: "Now my whole body feels cool as a breeze." By applying some balm to parts of the body, the skin gets cooled – a comfortable feeling in times of hot weather or fever.
* Social media user Xixi (@西西咕噜咕噜) uses Tiger Balm in hot summer days. Opening up the lid of the balm a few times a day in front of the van spreads its cooling breeze throughout the room: "I'm crazy about this fragrance." (Tip! Mosquitos and other insects dislike this smell; this method is also effective as a repellent.)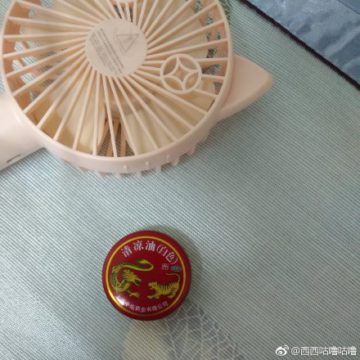 * "I've been suffering from a head-ache for days," a Weibo user named 'I've been studying for hours today' (@今儿学了几个小时) says: "Rubbing some qingliangyou on my temples really helps." Tiger balm is often promoted as a remedy against headache, by rubbing some tiger balm on the forehead or temples (mind your eyes).
* "After cutting red peppers, you can smear some Tiger Balm on your fingers," another Weibo user (@萍了早煤) writes: "also use some plain vinegar to wash it off. It helps."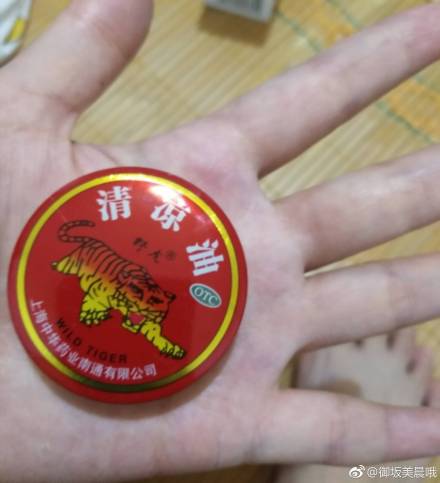 * "You can use Tiger Balm / Qing Liang You to improve blood circulation and decrease swellings," one Guangdong micro-blogger writes. It is indeed said that one of the active ingredients, camphor, dilates the blood vessels and brings blood closer to the skin's surface; increasing circulation and warmth.
* Another popular Weibo account (@好运逗比) recommends rubbing some drops of the fengyoujing (the liquid rub) to the soles of the feet before wearing shoes to prevent smelly feet at the end of the day.
* There are also Weibo accounts recommending Tiger Balm / Qing Liang You as the must-bring item on travels to prevent mosquito bites, car or sea sickness, and for treatment of headaches.
* There are also some people who say they use Tiger Balm on their face as a way to treat acne/pimples, but we'd highly recommend consulting with a doctor before doing so, as the balm is not recommended to be used on irritable skin.
Still not had enough tips? You can check out one of What's on Weibo's earliest articles, titled '20 Ways to Use Tiger Balm,' for more tips on how to use this 'jack for all trades' balm.
By Manya Koetse
Follow @whatsonweibo
Where to Buy
Tiger Balm is practically available everywhere. Check your local pharmacy or convenience store. The brand also has an online shop where their products can be purchased. For small cases of essential balm to carry with you at all times check here.
The Temple of Heaven balm can be purchased at Beijing airport and many other places, but online it is purchasable here.
The classic oil, which is somewhat stronger, is available here.
Spotted a mistake or want to add something? Please let us know in comments below or email us.
©2018 Whatsonweibo. All rights reserved. Do not reproduce our content without permission – you can contact us at info@whatsonweibo.com.
Video Shows Real-Time "Departure" Information Board at Chinese Crematorium
From "cremation in process" to "cooling down," the digital display shows the progress of the cremation to provide information to those waiting in the lobby. The crematorium 'departure' board strikes a chord with many.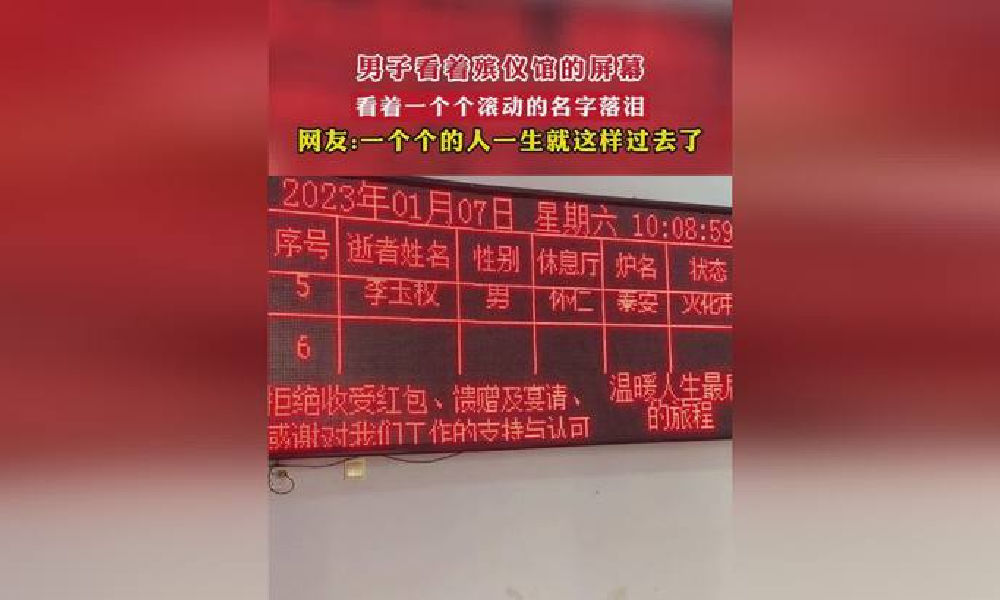 A video showing a live display screen announcing the names and status of the deceased at a Yunnan crematorium has been making its rounds on Chinese social media, from WeChat to Weibo, where one version of the video received over 1,7 million views.
Somewhat similar to a real-time platform departure display on train stations, the screen shows the waiting number of the deceased person, their name, gender, the name of the lounge/room (if any) for families, the name of the crematorium chamber, and the status of the cremation process. Below in the screen, it says "the final journey of a warm life" (温暖人生的最后旅程).
For example, the screen displays the names of a Mr. Chen and a Mr. Li; their bodies were in the process of being cremated (火化中), while other cremations were marked as "completed" (完成) or "cooling down" (降温中).
This video of a real-time "departure" information board in the lobby of a Chinese crematorium is making its rounds on Weibo/Wechat these days. The display shows the name and gender of deceased, which cremation chamber, and the cremation status to inform families of the progress. pic.twitter.com/EA94OWGwdk

— Manya Koetse (@manyapan) January 16, 2023
Through such a screen, located in the crematorium lobby, family members and loved ones can learn about the progress of the cremation of the deceased.
The video, recorded by a local on Jan. 7, received many comments. Among them, some people commented on the information board itself, while others simply expressed grief over those who died and the fragility of life. Many felt the display was confronting and it made them emotional.
"It makes me really sad that this how people's lives end," one commenter said, with another person replying that the display also shows you still need to wait in line even when you're dead.
"I didn't expect the screens [in the crematorium] to be like those in hospitals, where patients are waiting for their turn," another Weibo user wrote. "It would be better if the names were hidden, like in the hospitals, to protect the privacy of the deceased," another person replied.
Others shared their own experiences at funeral parlors also using such information screens.
"My grandfather passed away last September, and when we were at the undertaker's, the display was also jumping from one name to the other and we could only comfort ourselves knowing that he was among those who lived a relatively long life."
"Such a screen, it really makes me sad," another commenter from Guangxi wrote, with others writing: "It's distressing technology."
Although the information screen at the crematorium is a novelty for many commenters, the phenomenon itself is not necessarily related to the Covid outbreak and the number of Covid-related deaths; some people share how they have seen them in crematoriums before, and funeral parlor businesses have used them to provide information to families since at least 2018.
According to an article published by Sohu News, more people – especially younger ones – have visited a funeral home for the first time in their lives recently due to the current Covid wave, also making it the first time for them to come across such a digital display.
The online video of such an information board has made an impact at a time when crematoriums are crowded and families report waiting for days to bury or cremate their loved ones, with especially a large number of elderly people dying due to Covid.
On Jan. 4, one social media user from Liaoning wrote:
"I really suggest that the experts go to the crematoriums to take a look. There is no place to put the deceased, they're parked outside in temporary containers, there's no time left to hold a farewell ceremony and you can only directly cremate, and for those who were able to have a ceremony, they need to finish within ten minutes (..) At the funeral parlor's big screen, there were eight names on every page, and there were ten pages for all the people in line that day, I stood there for half an hour and didn't see the name of the person I was waiting for pop up anymore."
As the video of the display in the crematorium travels around the internet, many commenters suggest that it is not necessarily the real-time 'departure' board itself that bothers them, but how it shows the harsh reality of death by listing the names of the deceased and their cremation status behind it. Perhaps it is the contrast between the technology of the digital display boards and the reality of the human vulnerability that it represents that strikes a chord with people.
One blogger who reposted the video on Jan. 13 wrote: "Life is short, cherish the present, let's cherish what we have and love yourself, love your family, and love this world." Among dozens of replies, some indicate that the video makes them feel uncomfortable.
Another commenter also wrote:
"I just saw a video that showed an electronic display at a crematorium, rolling out the names of the deceased and the stage of the cremation. One name represents the ending of a life. And it just hit me, and my tears started flowing. I'm afraid of parting, I'm afraid of loss, I just want the people I love and who love me to stay by my side forever. I don't want to leave. I'm afraid I'll be alone one day, and that nobody will ever make me feel warm again."
One person captured why the information board perhaps causes such unease: "The final moments that people still spent on this earth take place on the electronic screen in the memorial hall of the funeral home. Then, they are gone without a sound."
Get the story behind the hashtag. Subscribe to What's on Weibo here to receive our newsletter and get unlimited access to all of our articles:
By Manya Koetse 
with contributions by Zilan Qian
Spotted a mistake or want to add something? Please let us know in comments below or email us. First-time commenters, please be patient – we will have to manually approve your comment before it appears.
©2023 Whatsonweibo. All rights reserved. Do not reproduce our content without permission – you can contact us at info@whatsonweibo.com.
Chinese Social Media Users Respond to Covid-Related Death Toll
While many commenters support Chinese authorities for providing data on Covid-related deaths, some questioning the accuracy were censored.
On January 14, 2023, Chinese health authorities officially disclosed the number of Covid-related deaths between 8 December and 12 January. According to Jiao Yahui (焦雅辉), director of the National Health Commission's Bureau of Medical Administration, a total of 59,938 Covid deaths were recorded. This number only covers Covid-related deaths in Chinese hospitals.
This is the first time China has given an exact number on the number of Covid-related deaths since the ending of its 'zero Covid' policy in December.
Earlier this month, Chinese official media stated that it is difficult to accurately assess the death rate during the early stages of an epidemic, and that an accurate assessment would later be made. The last report only recorded 37 deaths between December 7 and January 8.
According to Jiao Yahui, the death toll includes 5503 cases of death due to Covid-related respiratory failure, and 54,435 cases already had underlying medical conditions before getting Covid. The reported average age at the time of death was 80.3 years old, with the overall majority of patients (90.1%) being 65 and older. 56.5% were 80 years or older.
These statements were made during a press conference, where the peak of the current Covid outbreak was also discussed. On January 2, 2023, emergency departments across China saw a peak in visits – over 1,5 million emergency department visits in one day, – after which the number started to decline again. That downward trend was also visible in the number of hospitalizations of Covid patients, which peaked on January 5 of this year with more than 1,6 million patients hospitalized with Covid.
The top comments on Weibo, underneath a post about the death toll by state media outlet Xinhua, all spoke out in support of authorities releasing these numbers.
"It's good to seek truth from facts, I hope the deceased can rest in peace and condolences to those left behind," the most popular comment said, with another saying: "The country really did all they could and paid a high price to protect the largest number of people possible."
"Open and transparent," was another recurring reply within the comment section, which was controlled and only displayed the comments that were selected by Xinhua ("以下为博主精选评论").
On TikTok (Douyin), the topic also attracted online discussions, with some threads less controlled than the Xinhua one, such as one underneath a post by the China Business Newspaper (华商报): "This number only counts hospital [deaths], there's still those who died at home. I hope there's no illness in heaven," one Douyin user wrote, another one adding: "This data is not clear. Going back home to the countryside, the whole journey to the county town, there were really too many funerals."
There were also many commenters sharing their own stories about loved ones they have lost. "This morning, my maternal grandfather passed away because of Covid, I no longer have a grandfather now, it's so hard to bear." "My grandfather died, he passed away at home," others shared.
"Among these deaths is my husband, he was only 32 years old," one woman wrote.
The fact that China's recent data on Covid-related deaths only counts those patients who were hospitalized is something that is mentioned a lot by Chinese netizens, who suggest the actual number of deaths must be much higher if it would include those who died at home. Other comments also suggested that the number of deaths in the hospitals might also be underreported, asking for more clarifications on how these deaths had been counted.
This was something that was also reiterated by the well-known political commentator Hu Xijin (@胡锡进), who published a commentary on the issue on Saturday. He wrote that the recent numbers should be regarded as "incomplete statistics" ("不完全统计") at a time when accurately counting the deaths in the midst of this Covid outbreak is very difficult. Authorities therefore only released the number of Covid-related hospital deaths in a "great effort to be objective."
But the well-known blogger 'Burn Superman Abao' (@烧伤超人阿宝), a burn specialist at a Beijing hospital, suggested that the numbers do not make a lot of sense:
"In 2021, we had a total of 36,570 hospitals in the entire country, including 3275 tertiary hospitals; 10,848 secondary hospitals; 12,649 primary hospitals; 9798 non-classified hospitals. During the epidemic, most hospitals fully opened and all departments treated patients with respiratory problems in order to take on this epidemic wave. What's the concept of 60,000 Covid-related deaths in hospitals in over a month? If we assume all deaths occurred in secondary and tertiary hospitals and other hospitals had no deaths, then in five weeks' time, every secondary or lower-level hospital in China only had an average number of 4 patients dying of Covid. In other words, on average, less than one patient per week per hospital dying of Covid."
Later, the post was no longer online and his account was temporarily locked. On Sunday, the doctor wrote: "I won't say anything else. I feel drained."
Some also refuted Abao's critique, saying that many tertiary hospitals in places such as Suzhou, Hangzhou or Hefei were not nearly as crowded as those in Beijing, Shanghai, or Guangzhou, and that his claims could not be backed up by data.
One Weibo user wondered: "Is it possible, 60,000? Actually, it is not difficult to count the number [of deaths] – the crematoriums have all the data."
Besides the discussions on the accuracy of China's Covid death toll, there are also many commenters who just want to express sympathies and grief over all the lives that are lost: "I just hope they can rest in peace."
Read more about the end of China's 'zero Covid' policy here.
By Manya Koetse, with contributions by Miranda Barnes
Get the story behind the hashtag. Subscribe to What's on Weibo here to receive our newsletter and get access to our latest articles:
Spotted a mistake or want to add something? Please let us know in comments below or email us. First-time commenters, please be patient – we will have to manually approve your comment before it appears.
©2023 Whatsonweibo. All rights reserved. Do not reproduce our content without permission – you can contact us at info@whatsonweibo.com.