Dinner in Pyongyang – North Korea's Government-Run Restaurant in Beijing
Pyongyang is a restaurant chain owned and operated by the North Korean government. Pyongyang Restaurants, all staff from the DPRK's capital, offer a glimpse inside the world's most secretive nation.
Pyongyang is a restaurant chain owned and operated by the North Korean government. The restaurants, all staff from the DPRK's capital, offer a glimpse inside the world's most secretive nation. What's on Weibo went for a North Korean bite in the Beijing branch.
Three waitresses greet us with a short and stern smile when we walk into Beijing's Pyongyang Restaurant (平壤馆). They all have pretty faces, and their clothes and make-up look impeccable. When we are seated and receive the menu, my friend asks our waitress in Korean: "Where are you from?" "Pyongyang," she says (we could have guessed), and her smile is gone. She leaves the table before we can ask another question.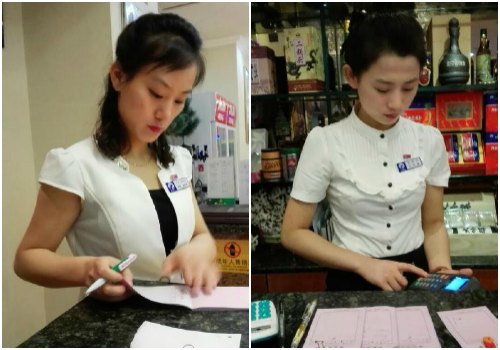 North Korea is one of the most secretive states in the world. The country made international headlines this week when its government announced it had succeeded in testing a hydrogen bomb. Even to China, North Korea's closest economic and diplomatic ally, the country remains unpredictable, and many Chinese seem to find the Democratic People's Republic of Korea (DPRK) an intriguing subject; 'North Korea' (朝鲜) has become a daily recurring topic on Chinese social media.
Since the 1990s, the North Korean government has opened Pyongyang Restaurants in several countries across Asia. Except for the restaurants in China near to the North Korean border and elsewhere (Beijing, Shanghai, Harbin, etc), there are also branches in Jakarta, Vientiane, Phnom Penh, Kuala Lumpur, and other cities. The branch in Cambodia's Siem Reap is one of the oldest and biggest in Southeast Asia, and is very popular amongst locals and tourists. In 2012, a Dutch branch was opened in Amsterdam, but it was permanently closed in 2014.
Outside the North Korean Pyongyang Restaurant in Beijing's Chaoyang District.
Pyongyang Restaurants are set up as an extra source of income for the North Korean regime, according to Korean expert Bertil Linter (author of
Great Leader, Dear Leader
). Restaurants are easy to set up, and do not require a lot of special expertise, scholar
Simon Duncan
writes (2014, 77); they are therefore a relatively uncomplicated way to acquire foreign currency for the leadership. Many foreigners, fascinated with the hermit kingdom, are willing to pay for overpriced food in exchange for a 'North Korean experience'.
An additional reason why restaurants are an interesting business venture for the DPRK leadership, Duncan writes, is that they offer a chance "to spy on South Korean business people and gain knowledge from them when they are drunk" (2014, 77). This claim is confirmed by the
Korea Joongang Daily, that reports how waitresses eavesdrop on their guests' conversations to gather information on public opinion. They are ordered to keep the North Korean authorities posted on a daily basis. According to sources, there are surveillance cameras and wiretapping devices installed in some establishments.
In a way, Pyongyang Restaurants are extensions of the North Korean state, and are controlled just as strictly. Much has been written about the mysterious lives of the restaurant's staff (see Xinhua, BBC, The Atlantic, The Guardian, etc.) Waitresses are carefully selected based on their (privileged) family background, looks and height.
Living in cosmopolitan cities does not bring North Korean waitresses a modern lifestyle; they do not have a phone, nor internet, and live highly regimented lives. They often live above or near the restaurant, and are not allowed to freely roam around the city. They are sent back to their homeland once their period of work abroad is finished. If they escape, their families in North Korea face punishment, DPRK expert Marcus Noland says.
North Korean waitresses in Amsterdam (source: BBC)
Beijing's Pyongyang Restaurant is one of the most well-known and affordable of the city's several North Korean restaurants. According to the first page on the menu, it was established here over 18 years ago. The restaurant frequently pops up on
Sina Weibo
, where netizens share their experiences.
"I drove two friends back to Beijing yesterday. When we got there it was already noon, and we decided to go to Beijing's famous North Korean Pyongyang Restaurant," one netizen writes: "The restaurant food is okay, better than most Korean places. The waitresses all come from North Korea, and apart from us, nobody seemed to speak Chinese. Although the waitresses were helpful, there was certainly some distance."
"From the ink paintings on the wall, via the North Korean songs on their television, to the pretty North Korean waitresses; it all creates such a strange atmosphere", another Weibo netizen writes.
We experience that same strange atmosphere upon our visit to Pyongyang Restaurant. The dining hall is brightly lit with fancy chandeliers, but the rest of the restaurant's decor is surprisingly plain and grey. The North Korean landscape paintings on the wall give an extra Pyongyang feel to the restaurant. The television in the corner of the room shows a music programme on Korean Central Television.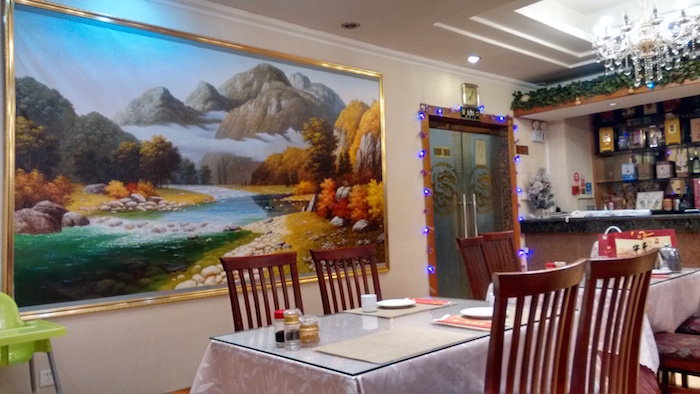 According to the outside sign of the Chinese health inspection, this restaurant is a 'B' – which means that it is advised to "dine in restaurants of higher sanitation ratings". Although the restaurant looks fairly clean, its only toilet looks less immaculate.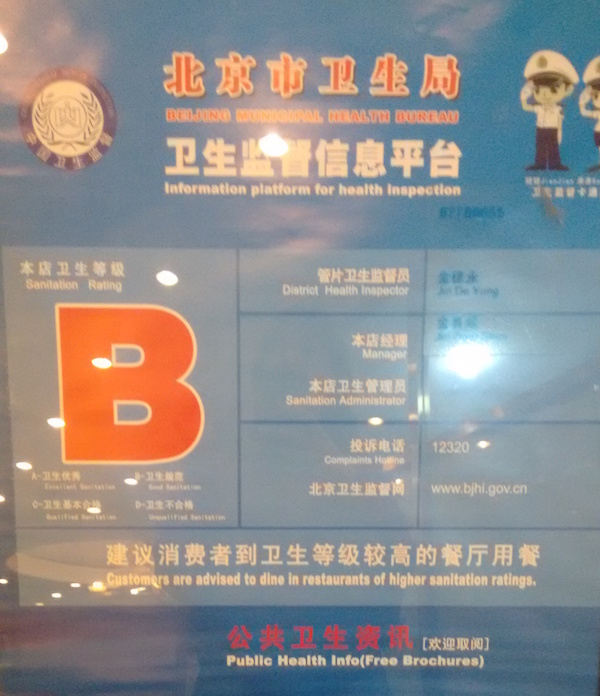 It is a Sunday night, and only about 6 of the restaurant's 16 tables are occupied. The restaurant's guests are mostly South Korean and Chinese.
The menu offers a selection of different dishes, ranging from 20 RMB (3 US$) cold noodles, to 1080 RMB (164 US$) seafood soup. There are several fish dishes priced around 100 RMB (15 US$), or whole chickens of 198 RMB (30 US$). We start off with a cold made-in-DPKR Taedonggang beer, which tastes fresh and hoppy.
The waitresses do speak some Chinese, but with our broken Korean, we succeed in ordering some traditional dishes, such as Kimchi, mixed rice dish Bibimbap, blood sausage (a stew of Sundae), and a tofu soup (Sundubu jjigae).
Made in the DPRK: Taedonggang Beer.
Different items from the menu.
Kimchi dish
Bibimbap
The dishes are plain and somewhat bland. You don't need to come to Pyongyang Restaurant for the food – it's the performances that matter. The waitresses run around after serving the dishes to get changed. At 19.30 sharp, the restaurant's daily music show begins. The waitresses are multi-talented: they can sing, dance, and play the flute. They perform a surreal combination of upbeat North Korean 'pop' songs, opera, brass band, and traditional Chinese songs, dressed in different outfits.
After the performances, the staff's uniforms and serious faces return, and the waitresses go back to their routine duties – clearing the tables and bringing the bill. The fake rose that they brought to our table during one of their performances is taken back; we are not allowed to keep it.
On Weibo, people seem amazed with the fact that all staff is from North Korea. Other aspects of the restaurant also surprises them: "I went to Pyongyang Restaurant with my friend the other day," one netizen writes: "And as usual, I turn on my phone to connect to the wifi. To my surprise, I found none. 'Why is there no wifi?' I mumbled. 'Because you're in Pyongyang,' my friend said."
We are happy to step outside into the smoggy streets after dinner. It is interesting to be in Pyongyang for one night, but we prefer to be in Beijing.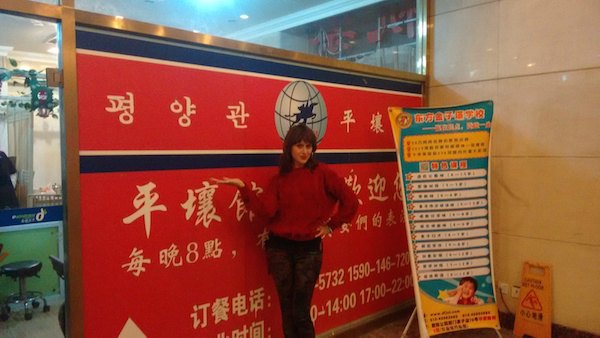 – By Manya Koetse
Follow @WhatsOnWeibo
Pyongyang Restaurant
78 Maizidian St, Chaoyang, Beijing
朝阳区麦子店街华康宾馆1层
References
Duncan, Simon. 2014. "North Korean Government-operated restaurants in Southeast Asia." Second International Conference on Asian Studies, 75-77. Sri Lanka: International Center for Research and Development.
Images: Except for the two images of the waitresses at work (Weibo, BBC) all pictures are the author's own.
©2016 Whatsonweibo. All rights reserved. Do not reproduce our content without permission – you can contact us at info@whatsonweibo.com.
[showad block=1]
The Price is Not Right: Corn Controversy Takes over Chinese Social Media
It's corn! The "6 yuan corn" debate just keeps going.
Recently there have been fierce discussions on Chinese social media about the price of corn after e-commerce platform Oriental Selection (东方甄选) started selling ears of corn for 6 yuan ($0.80) per piece.
The controversy caught the public's attention when the famous Kuaishou livestreamer Simba (辛巴, real name Xin Youzhi), who has labeled himself as a 'farmer's son,' criticized Oriental Selection for their corn prices.
Founded in 2021, Oriental Selection is an agricultural products e-commerce platform under New Oriental Online. In its company mission statement, Oriental Selection says its intention is to "help farmers" by providing the channels to sell their high-quality agricultural goods to online consumers.
Simba suggested that Oriental Selection was being deceitful by promising to help farmers while selling their corn for a relatively high price. According to Simba, they were just scamming ordinary people by selling an ear of corn that is worth 0.70 yuan ($0.10) for 6 yuan ($0.80), and also not really helping the farmers while taking 40% of their profits.
During one of the following livestreams, Oriental Selection's host Dong Yuhui (董宇辉) – who also happens to be a farmer's son – responded to the remarks and said there was a valid reason for their corn to be priced "on the high side." Simba was talking about corn in general, including the kind being fed to animals, while this is high-quality corn that is already worth 2 yuan ($0.30) the moment it is harvested.
Despite the explanation, the issue only triggered more discussions on the right price for corn and about the fuzzy structure of the agricultural e-commerce livestreaming business.
Is it really too expensive to sell corn for 6 yuan via livestreaming?
The corn supplier, the Chinese 'Northeast Peasant Madame' brand (东北农嫂), is actually selling their own product for 3.6 yuan ($0.50) – is that an honest price? What amount of that price actually goes to the farmers themselves?
One person responding to this issue via her Tiktok channel is the young farmer Liu Meina (刘美娜), who explained that Simba's suggested "0.70 yuan per corn" was simply unrealistic, saying since it does not take the entire production process into account, including maintenance, packaging, transportation, and delivery.
Another factor mentioned by netizens is the entertainment value added to e-commerce by livestreaming channels. Earlier this year, Oriental Selection's host Dong Yuhui and his colleagues became an online hit for adding an educational component to their livestreaming sessions.
These hosts were actually previously teachers at New Oriental. Facing a crackdown on China's after-school tutoring, the company ventured into different business industries and let these former teachers go online to sell anything from peaches to shrimp via livestreaming, teaching some English while doing so (read more here). So this additional value of livestream hosts entertaining and educating their viewers should also be taken into account when debating the price of corn. Some call it "Dong Yuhui Premium" ("董宇辉溢价").
In light of all the online discussions and controversy, netizens discovered that Oriental Selection is currently no longer selling corn (#东方甄选回应下架玉米#), which also became a trending topic on Weibo on September 29.
But the corn controversy does not end here. On September 28, Chinese netizens discovered that corn by the 'Northeast Peasant Madame' brand (东北农嫂) was being sold for no less than 8.5 yuan ($1.2) at the Pangdonglai supermarket chain (胖东来), going well beyond the price of Oriental Selection.
Trying to avoid a marketing crisis, the Pangdonglai chain quickly recalled its corn, stating there had been an issue with the supply price that led to its final store price becoming too high. That topic received over 160 million views on Weibo on Friday (#胖东来召回8.5元玉米#).
Behind all these online discussions are consumer frustrations about an untransparent market where the field of agricultural products has become more crowded and with more people taking a share, including retailers, e-commerce platforms, and livestreaming apps. Moreover, they often say they are "helping farmers" while they are actually just making money themselves.
One Weibo user commented: "Currently, 'helping farmers' is completely different from the original intention of 'helping farmers.' Right now, it's not about helping farmers anymore, but about helping the companies who have made agricultural products their business."
"I bought a corn at a street shop today for 4 yuan ($0.55)," one Weibo blogger wrote: "It was big, sweet, and juicy, the quality was good and it was tasty – and people are still making money off of it. So yes, 6 yuan for a corn is certainly too expensive."
By Manya Koetse 
Get the story behind the hashtag. Subscribe to What's on Weibo here to receive our weekly newsletter and get access to our latest articles:
Spotted a mistake or want to add something? Please let us know in comments below or email us. First-time commenters, please be patient – we will have to manually approve your comment before it appears.
©2022 Whatsonweibo. All rights reserved. Do not reproduce our content without permission – you can contact us at info@whatsonweibo.com.
Young Chinese Woman Dies at Haidilao Hotpot Restaurant
The woman allegedly choked while having beef tripe.
On September 8, a woman from Putian in Fujian Province unexpectedly passed away while having hotpot at a Haidilao restaurant in a local mall.
The incident went trending on Chinese social media on Thursday, with the hashtags "Woman Suddenly Passes Away While Having Haidilao Hotpot" (#女孩海底捞吃火锅意外身亡#) and "Haidilao Responds to Female Customer Passing Away During Dinner" (#海底捞回应女顾客就餐时身亡#) receiving 50 million and 300 million views respectively.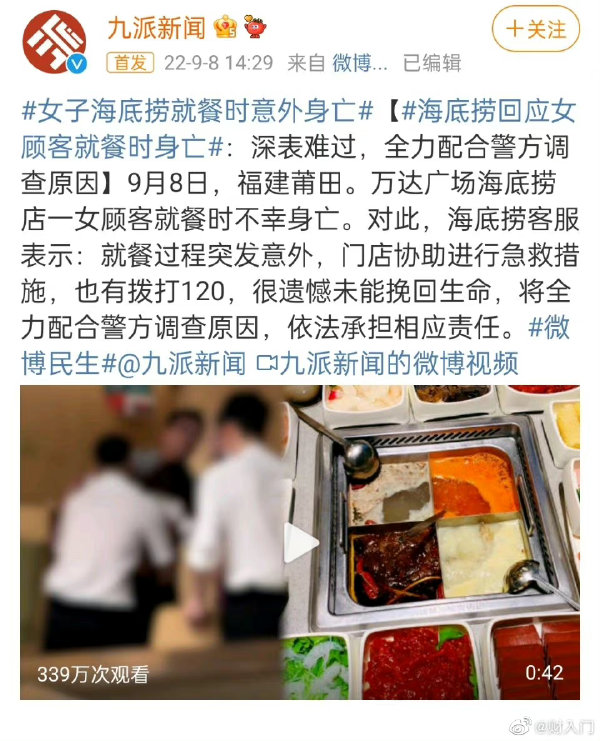 According to various Chinese news reports, the 21-year-old woman had just finished eating beef tripe, the edible lining from the cow stomach, and drank some water after which she suddenly became unwell.
Footage circulating on Chinese social media shows how restaurant staff gave first aid to the woman by performing the Heimlich maneuver while emergency workers were underway.
Although it is rumored the young woman choked on the tripe, this has not yet been confirmed as an investigation into the cause of death is ongoing. The Haidilao restaurant where the incident happened is currently closed, and Haidilao responded that they are deeply saddened and will do all they can to fully cooperate with the police to investigate the case.
Haidilao (海底捞) is one of China's most popular restaurant chains serving authentic Sichuan hotpot, a dining style where fresh meat and vegetables are dipped in simmering broth. Besides its tasty hotpot and wide selection of ingredients and drinks, Haidilao is known for its high-quality service. The staff is thoroughly trained in providing the best customer service, and Haidilao has introduced new concepts throughout the years to enhance the customer experience.
Haidilao is a very reputable company and is known to respond quickly to avert social media crises (example here and here).
As the story goes trending, many Chinese netizens point out the choking hazard of beef tripe. One lung doctor (@呼吸科大夫胡洋) also responded to the incident, suggesting that the Heimlich maneuver might not have been life-saving in this case since beef tripe is long and soft and could block the respiratory tract if the Heimlich maneuver is performed while the person is standing up, since it could potentially cause the tripe to go deeper instead of being pushed out.
The doctor recommends in these kind of emergency situations that if possible, for a chance of survival, the person could then be placed into an upside down, upper body down position for the Heimlich maneuver.
Other doctors on Weibo also use this moment to provide more information about how to perform the Heimlich maneuver.
Many online commenters think Haidilao is not necessarily to blame for what happened. "Judging from the video, the staff was quick and correct in their response. As for why the woman could not have been rescued, we'll have to wait for the final reports."
By Manya Koetse 
Get the story behind the hashtag. Subscribe to What's on Weibo here to receive our weekly newsletter and get access to our latest articles:
Spotted a mistake or want to add something? Please let us know in comments below or email us. First-time commenters, please be patient – we will have to manually approve your comment before it appears.
©2022 Whatsonweibo. All rights reserved. Do not reproduce our content without permission – you can contact us at info@whatsonweibo.com.