Discussions on Weibo over 10-Year-Old Girl Attending School Event with Fever and IV Drip
Is this father doing the best or the worst for his daughter? Views are divided on Weibo.
On May 4th, Chinese reporters captured how a sick 10-year-old girl attended a Hengshui High School Open Day event while hooked to an IV. The video report went viral on Chinese social media, triggering discussions on the parental pressure faced by children to succeed in school.
A 10-year-old girl from Hengshui, Hebei, has attracted the attention on Chinese social media after reporters interviewed her while visiting an Open Day of a local school. The girl was ill and hooked up to an intravenous drip.
On May 4th, the Hengshui High School had its annual Open Day and information event when reporters captured the girl walking together with her father, who was holding her IV drip.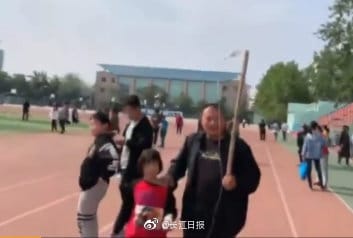 The father told Pear Video that his daughter had a fever of 38 to 39 degrees for four consecutive days, for which she had an IV, but that they still wanted to visit the Open Day to "take in the atmosphere," saying it is the girl's "dream" to get admitted to the school.
The man further said that he himself is "uncultured," but that he hopes his daughter would be an educated person, and that she will "definitely pass" the school's entrance exams.
With over 14 million views, the hashtag "Girl with IV Drip Visits Hengshui Middle School" (#女童边输液边参观衡水中学#) became one of the top trending topics of the day on Weibo.
Many commenters condemn the father for pressuring his daughter to succeed in school and for not prioritizing her health. "At the age of ten, there's still some years before middle school – it's not something to be concerned over at this point," some say, with others calling the father's attitude "scary" and "horrible."
There are those netizens who blame the father for letting his child make up for his own "uncultured" status.
Hengshui High School is a prestigious high school in Hebei Province that was established in 1951, and that is known for its strict regulations and harsh study schemes.
Academic Stress Starts Early
China's educational system has nine years of compulsory education, starting at the age of six. After elementary school and junior high, the majority of children continue studying at a vocational school or (senior) high school, for which they will have to take an entrance exam during their last year in junior high.
The gaokao (literally: 'higher exams') are generally regarded the most important moment in a student's life. They are a prerequisite for entering China's higher education institutions and are usually taken by students in their last year of senior high school. Scoring high grades for this exam can give high school students access to a better college, which enlarges their chances of obtaining a good job after graduation, and are therefore seen as life-changing.
All the schools leading up to the gaokao, from elementary to high school, could potentially give children an academic advantage. Attending the best schools from an early age is a strategic move on the road to educational success. This also means that children as young as ten could already face much pressure to succeed.
In 2017, the suicide of a 10-year-old girl from Jiangsu province made headlines in China. The young girl stated in her farewell message that she wanted to go to heaven because she was "not doing well in school."
In November of 2014, the suicide of a 10-year-old boy from Guangzhou after his mid-term exams also shocked netizens. The boy, who received just 39 points for an English exam, hung himself after writing about his low grade in his diary. A year prior, in 2013, another 10-year-old committed suicide by jumping from a building after being scolded by a teacher after failing to complete an assignment.
Rising out of Poverty through Education?
Despite all the commenters on Weibo who condemn the 10-year-old's father for taking his sick daughter to an Open Day, there also many who jump to his defense.
"What other way to change your poor lower class status than by studying hard?" one person writes: "Our college entrance examination system is really fair (..) As a poor child, you can continue to work hard, and one day, you will stand out from the crowd for it."
"Every time I see news like this it makes me feel bad, but I can also understand," others say.
It is not known if the girl and her parents indeed come from a poor family, nor have their names been disclosed.
"I sympathize with this dad," another Weibo user writes: "He doesn't know what it is to study, but he'd do anything to make his kid [study]. I went through the same thing as a kid. Due to chronic tonsillitis, I'd run a fever three times a month (..) but you can't make your illness stop you from studying. I can only say that our generation will rise and make sure the next generation will grow up happier."
Many commenters contradict those who condemn the father, saying he is just doing what he thinks is best for his child: "It is clear that he really loves her."
But the polarized views on this issue still stand, with some writing: "What scares me the most is all these people who think the father is right."
By Manya Koetse
Spotted a mistake or want to add something? Please let us know in comments below or email us.
©2019 Whatsonweibo. All rights reserved. Do not reproduce our content without permission – you can contact us at info@whatsonweibo.com
Girls' Charity Project Funds Boys Instead: Online Anger over 'Spring Buds Program'
The 'Spring Buds' charity supposedly only focused on helping girls, but it turns out this is not the case.
First published
A charity fund that was supposedly dedicated to girls' education in rural China has been found to fund the education of boys, triggering anger online.
The Chinese charity "Spring Buds Program" (春蕾计划), a project meant to advance girls' education launched by the CCTF (China Children and Teenagers' Fund 中国儿童少年基金) has come under fire for providing financial aid to schoolboys in China.
The "Spring Buds" project, which falls under the All-China Women's Federation, has received the China Charity Award in the past for its efforts to promote girls' education. The program was launched in 1989 to help girls in China's impoverished rural areas to go to school, improve literacy rates among China's young girls and women, and empower girls to strengthen their influence in their local communities.
This week, the charity's focus has come under scrutiny after it became known that of the 1267 students receiving financial aid as part of one of 'Spring Buds' scholarship programs, there were 453 male students.
The topic triggered wider online discussions on Chinese social media on gender inequality in China.
Some commenters argued that boys, even in impoverished areas, are generally still better off than girls due to a persisting gender preference for boy children.
Weibo users also pointed out how there are multiple non-gender specific charity programs in China, and that 'Spring Buds' is one of the few focused on girls only – arguing that it should thus also really be assisting solely girls.
As the news about 'Spring Buds' coincided with this week's launch of the Global Gender Gap Index report, some Weibo users also wondered why Chinese official media would quote this report and mention Japan's worsening gender equality, while not mentioning anything about the status quo of gender equality in China.
The CCTF responded to the controversy via their official Weibo account on December 17th, stating that although its program was initially focused solely on girls, this year's project funding was also allocated to impoverished male students who needed "urgent help."
The organization further noted that they will be more transparent to charity donors in the future about how their funds are allocated.
Although the hashtag "Anger over Spring Bud Project Subsidizing School Boys" (#春蕾计划资助男生引质疑#) was used on social media by several Chinese media outlets to report the issue, the hashtag page is no longer accessible on Weibo at time of writing.
By Manya Koetse and Miranda Barnes
Follow @whatsonweibo
Featured image photo by Ray Chan.
Spotted a mistake or want to add something? Please let us know in comments below or email us. First-time commenters, please be patient – we will have to manually approve your comment before it appears.
©2019 Whatsonweibo. All rights reserved. Do not reproduce our content without permission – you can contact us at info@whatsonweibo.com.
Exchange Student to Be Deported from China for Harassing Young Woman at University
An exchange student studying at the Hebei University of Engineering has been expelled and will soon be deported after harassing a female student.
An exchange student from Pakistan who was studying at the Hebei University of Engineering (河北工程大学) has been expelled and detained after harassing a female student at the same university.
The incident, that is attracting much attention on Chinese social media this week, adds to the wave of recent controversies over the behavior and status of overseas students in mainland China.
On July 31, a female student at the Hebei university filed a police report against a Pakistani student who allegedly harassed her and attempted to forcefully kiss her and touch her breasts.
Screenshots of a supposed WeChat conversation between the exchange student and the female student, in which the man apologizes and claims the interaction is a "requirement for friendship," are being shared on social media.
According to various reports, the police initially tried to mediate between the two students, which the female student refused.
Together with the school principal, the police then further investigated the case and found ample evidence of harassment after examining the university's surveillance system.
On August 1st, the Hebei University of Engineering announced that they had expelled the student and that he will be deported from China. The announcement received more than 14,000 reactions and 150,000 'likes' on Weibo.
The student is now detained at the local Public Security Bureau and is awaiting his deportation.
A photo of two officers together with a man in front of the detention center in Handan is circulating on social media in relation to this incident.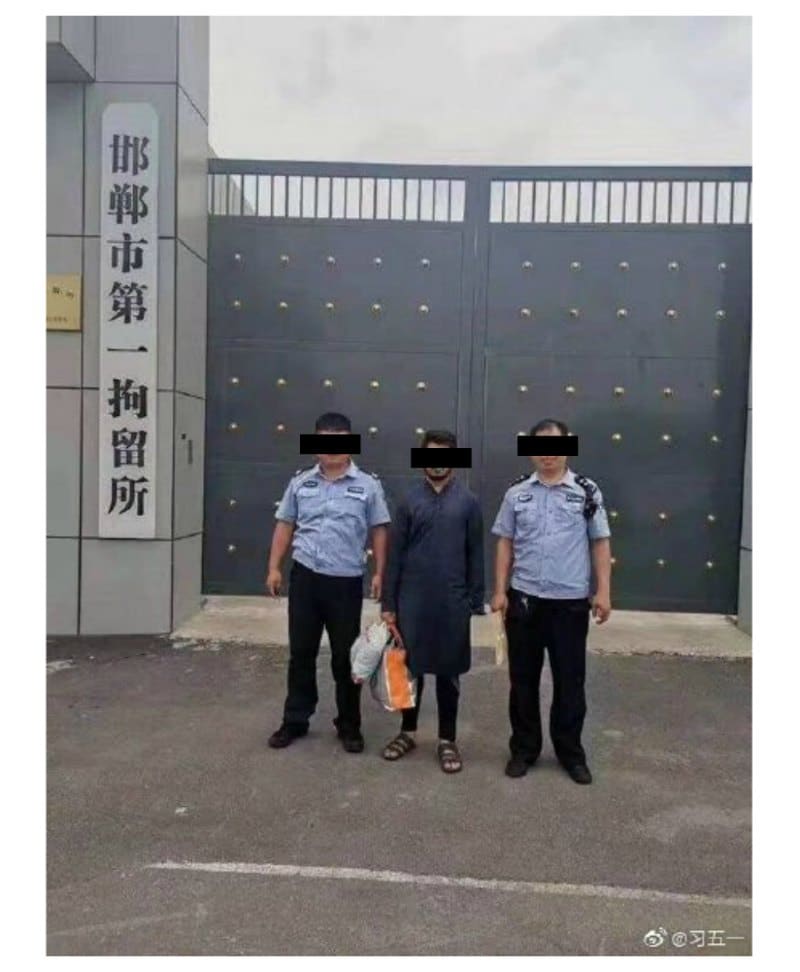 At time of writing, the hashtag page "Exchange Student to Be Deported after Molesting Female Student" (#留学生猥亵女学生将被遣送出境#) has been viewed over 310 million times on Weibo.
Among thousands of reactions, there are many who praise the Hebei university for supporting the female student after she reported the exchange student to the police.
"This may not be the best university, but at least they stand behind their students!", some say, with others calling the university "awesome."
Many say that the Hebei university should serve as an example for other Chinese universities to follow, with Shandong University being specifically mentioned by Weibo users.
Shandong University was widely criticized earlier this summer for its "buddy exchange program," which was accused of being a way to arrange Chinese "girlfriends" for male foreign students.
Another incident that is mentioned in relation to this trending story is that of an exchange student who displayed aggressive behavior towards a Chinese police officer in July of this year. The student was not punished for his actions, which sparked anger on Chinese social media.
By Manya Koetse
Follow @whatsonweibo
Spotted a mistake or want to add something? Please let us know in comments below or email us. Please note that your comment below will need to be manually approved if you're a first-time poster here.
©2019 Whatsonweibo. All rights reserved. Do not reproduce our content without permission – you can contact us at info@whatsonweibo.com