Discussions on Weibo over 10-Year-Old Girl Attending School Event with Fever and IV Drip
Is this father doing the best or the worst for his daughter? Views are divided on Weibo.
On May 4th, Chinese reporters captured how a sick 10-year-old girl attended a Hengshui High School Open Day event while hooked to an IV. The video report went viral on Chinese social media, triggering discussions on the parental pressure faced by children to succeed in school.
A 10-year-old girl from Hengshui, Hebei, has attracted the attention on Chinese social media after reporters interviewed her while visiting an Open Day of a local school. The girl was ill and hooked up to an intravenous drip.
On May 4th, the Hengshui High School had its annual Open Day and information event when reporters captured the girl walking together with her father, who was holding her IV drip.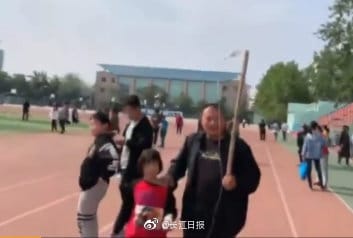 The father told Pear Video that his daughter had a fever of 38 to 39 degrees for four consecutive days, for which she had an IV, but that they still wanted to visit the Open Day to "take in the atmosphere," saying it is the girl's "dream" to get admitted to the school.
The man further said that he himself is "uncultured," but that he hopes his daughter would be an educated person, and that she will "definitely pass" the school's entrance exams.
With over 14 million views, the hashtag "Girl with IV Drip Visits Hengshui Middle School" (#女童边输液边参观衡水中学#) became one of the top trending topics of the day on Weibo.
Many commenters condemn the father for pressuring his daughter to succeed in school and for not prioritizing her health. "At the age of ten, there's still some years before middle school – it's not something to be concerned over at this point," some say, with others calling the father's attitude "scary" and "horrible."
There are those netizens who blame the father for letting his child make up for his own "uncultured" status.
Hengshui High School is a prestigious high school in Hebei Province that was established in 1951, and that is known for its strict regulations and harsh study schemes.
Academic Stress Starts Early
China's educational system has nine years of compulsory education, starting at the age of six. After elementary school and junior high, the majority of children continue studying at a vocational school or (senior) high school, for which they will have to take an entrance exam during their last year in junior high.
The gaokao (literally: 'higher exams') are generally regarded the most important moment in a student's life. They are a prerequisite for entering China's higher education institutions and are usually taken by students in their last year of senior high school. Scoring high grades for this exam can give high school students access to a better college, which enlarges their chances of obtaining a good job after graduation, and are therefore seen as life-changing.
All the schools leading up to the gaokao, from elementary to high school, could potentially give children an academic advantage. Attending the best schools from an early age is a strategic move on the road to educational success. This also means that children as young as ten could already face much pressure to succeed.
In 2017, the suicide of a 10-year-old girl from Jiangsu province made headlines in China. The young girl stated in her farewell message that she wanted to go to heaven because she was "not doing well in school."
In November of 2014, the suicide of a 10-year-old boy from Guangzhou after his mid-term exams also shocked netizens. The boy, who received just 39 points for an English exam, hung himself after writing about his low grade in his diary. A year prior, in 2013, another 10-year-old committed suicide by jumping from a building after being scolded by a teacher after failing to complete an assignment.
Rising out of Poverty through Education?
Despite all the commenters on Weibo who condemn the 10-year-old's father for taking his sick daughter to an Open Day, there also many who jump to his defense.
"What other way to change your poor lower class status than by studying hard?" one person writes: "Our college entrance examination system is really fair (..) As a poor child, you can continue to work hard, and one day, you will stand out from the crowd for it."
"Every time I see news like this it makes me feel bad, but I can also understand," others say.
It is not known if the girl and her parents indeed come from a poor family, nor have their names been disclosed.
"I sympathize with this dad," another Weibo user writes: "He doesn't know what it is to study, but he'd do anything to make his kid [study]. I went through the same thing as a kid. Due to chronic tonsillitis, I'd run a fever three times a month (..) but you can't make your illness stop you from studying. I can only say that our generation will rise and make sure the next generation will grow up happier."
Many commenters contradict those who condemn the father, saying he is just doing what he thinks is best for his child: "It is clear that he really loves her."
But the polarized views on this issue still stand, with some writing: "What scares me the most is all these people who think the father is right."
By Manya Koetse
Spotted a mistake or want to add something? Please let us know in comments below or email us.
©2019 Whatsonweibo. All rights reserved. Do not reproduce our content without permission – you can contact us at info@whatsonweibo.com
Calls for Action against School Violence in China after Group Attack on 12-Year-Old Girl Video Goes Viral
Another incident shows the gravity of China's school bullying problem.
First published
Footage showing a brutal beating of a 12-year-old girl in Yunnan has sparked anger on Chinese social media, leading to widespread calls to step up the fight against school violence in China.
A bystander video showing various boys beating up a girl in Chuxiong, Yunnan, has gone viral on Chinese social media.
The footage (link – viewer discretion advised) shows how at least three different young men kick and beat the girl while laughing, continuing their assault when she is laying on the ground.
One hashtag page relating to the topic received over 500 million views on Weibo today.
According to various Chinese media reports, the incident occurred on May 25 in Lufeng county, Chuxiong, Yunnan Province. Four boys from 14 to 15 years old attacked the 12-year-old girl after they had an argument at school. The beating took place right after schooltime at an off-campus location.
Since May 27, the video started circulated online through chat groups on Chinese messenger app WeChat before it went viral on Weibo.
Yunnan Police stated on social media that the boys' guardians have since apologized to the girl, who has now received medical care. The incident is still under investigation.
Thousands of Weibo commenters have responded to the incident with anger and disbelief. "What's wrong with these boys?! How could they beat a young girl with so many of them?!", a typical comment said.
Many Chinese netizens place the video in a larger framework, expressing outrage over the continuing problem of "campus violence" (校园暴力) in China.
"Stand up against campus violence!", many say: "When will this finally stop?"
An epidemic of school violence
China has been dealing with an epidemic of school violence for years, with so-called 'campus violence videos' (校园暴力视频) being a concerning trend on Chinese social media.
Several factors may explain the emergence of extreme bullying or 'campus violence' (校园暴力) in China over the past years, including peer pressure, broken families, feelings of insecurity and increased time spent online.
In 2016, Chinese netizens already urged authorities to address the problem of bullying in schools. In previous years, the prevention and punishment of this kind of violence have increasingly become a topic of focus for the Chinese government and state media.
Netizens are mainly outraged over the continuing trend of campus violence and the extreme bullying videos for both legal and cultural reasons.
Legally, perpetrators often barely face legal consequences for their actions. Although schools will generally punish perpetrators and make them apologize, minors under the age of 16 rarely face criminal punishment for their actions.
Culturally, school bullying is often not seen as a serious one, with parents downplaying violent incidents as 'small fights' between kids.
With the Yunnan incident being yet another among so many over the past years, many netizens are calling for urgent action and warn that young people who display such violent behavior now, will continue to do so as adults.
"When can campus violence finally end," one Weibo commenter (@草莓配糖) writes: "They are just using their status as minors as a protective umbrella."
It is not yet known if the boys involved in this incident will face legal punishments. It would not be the first time for underage perpetrators in campus violence incidents to be sentenced.
In 2017, a Beijing court sentenced a group of 'school bullies' to prison for assaulting classmates and posting a video of their abuse online. In November of 2016, three female students were also sentenced six to eight months in prison for assaulting classmates and uploading a video of it on the internet.
Read more on school bullying and campus violence in China here:
By Manya Koetse
Follow @WhatsOnWeibo
Spotted a mistake or want to add something? Please let us know in comments below or email us. First-time commenters, please be patient – we will have to manually approve your comment before it appears.
©2020 Whatsonweibo. All rights reserved. Do not reproduce our content without permission – you can contact us at info@whatsonweibo.com.
Schools in China Are Reopening, But Will Lunch Breaks Ever Be the Same Again?
Chinese students are back to school, but school life is not back to normal.
As most schools across China are opening their doors again, social media users are sharing photos of what school life looks like in the post-COVID-19 outbreak era this week.
Some videos and images that are circulating on Weibo and Wechat show somewhat dystopian images of the post-COVID-19 school life at primary and (senior) high schools – students eating while standing outside in straight lines, or pupils wearing face masks taking turns to eat their lunch (supposedly to reduce the chances of contagion via respiratory droplets, see tweeted video below).
Many Chinese students are back to school, but school life is not back to normal. #seenonwechat #covid19 pic.twitter.com/EQqyU4LG4Z

— Manya Koetse (@manyapan) April 10, 2020
Most schools in China have already started or will open later this month. Only Hubei province and Beijing have not yet announced school reopening plans, Caixin reports.
But although China is gradually back to business after its weeks-long coronavirus lockdown, daily life is far from normal as the country remains on high alert for a possible second wave of COVID-19 infections.
Schools are therefore also taking strict precautions to reduce infection risks both in and outside of the classroom.
Lunch break policy and procedures are just one of the many things that have changed at Chinese schools now.
On Weibo, 'Henan Education' is one of many accounts posting about the dramatically different way of eating at China's school canteens in these post-COVID-19-outbreak times.
In Xingyang city, for example, special supervisors have been allocated to high schools to maintain the order and reduce the number of students gathering at the school entrances and assist students with lunch break seatings at the canteen.
At a senior high school in Kaifeng, all students have their lunch breaks in the canteen at one side of the table only, leaving enough space in between the other students.
Other schools have set up their canteens like examination rooms, only allowing one student per table, only facing one direction.
One Weibo user posts how her Tianjin school is preparing for the lunch break arrangements, with indicators on the floor marking the direction students should walk in and the distance they have to keep from each other.
One other school in Jiangsu's Huai'an has put dividers on all lunch tables to separate students while having their lunch break.
"It feels like taking exams," some commenters write about the new lunch break policies. "We can no longer look around and whisper in each other's ear."
One school board in the city of Beihai has decided to make use of its new separating screens to stimulate more studying during lunch breaks; they have printed study material for the upcoming 'gaokao' exams on the dividers.
Some netizens think that other schools will follow this example if it appears to be effective. In that way, the post-COVID-19 lunch break will turn into just another study opportunity.
For more COVID-19 related articles, please click here.
By Manya Koetse (@manyapan)
With contributions from Miranda Barnes
Follow @whatsonweibo
Spotted a mistake or want to add something? Please let us know in comments below or email us. First-time commenters, please be patient – we will have to manually approve your comment before it appears.
©2020 Whatsonweibo. All rights reserved. Do not reproduce our content without permission – you can contact us at info@whatsonweibo.com.