No Animal Harmed in the Making of This Film? Alleged Dog Abuse at Hengdian World Studios Angers Chinese Netizens
Animal abuse or a really good dog actor?
First published
An alleged case of dog abuse went viral on Chinese social media this week, after backstage footage of a violent scene was shared online. Dog actor 'Xiao Huang' is now praised for his hard work.
"No animal was harmed in the making of this film" is a standard message most viewers are used to seeing at the end of many movies, but in the case of this Chinese production, many netizens fear it is not the case.
Entertainment blogger and actor Ren Tao (任涛), who often posts behind-the-scenes videos, posted a clip and some photos on Weibo that allegedly exposed how a dog was purposely harmed during the filming of a costume drama at Hengdian World Studios (横店影视城) (see footage as posted by BJTime in embedded tweet below).
Is this dog abuse or is this just a good dog actor? Chinese TV drama denies trending rumors of dog abuse, but the controversy continues: https://t.co/LlnszRGUQz pic.twitter.com/rxZFEKVSsT

— What's on Weibo (@WhatsOnWeibo) May 9, 2019
The footage shows a Chinese rural dog on a film set. Tied to a chord from two sides, the dog is pulled behind a horse that lashes out with its hooves. The actor on the horse also seems to direct the horse to kick the little dog, which falls down on the floor multiple times.
A second clip shows the dog twitching on the floor, seemingly unable to get up, while various cast members are looking at it without doing anything.
Ren Tao wrote: "The small dog was kicked by the horse several times, and after the scene was shot the director was indifferent and left. How cold*!" *[lit. "Warmth or coldness is the way of the world."]
Hengdian World Studios, founded in 1996, is known as the largest outdoor film and TV studio in the world.
Although the actor later removed his original post of May 7, it had already been reposted and picked up by various Weibo accounts, including that of a popular pet blogger, who wrote that the crew and cast showed "no humanity."
The pet blogger also mentioned the existing agreements of American producers and filmmakers regarding the wellbeing of animals on the set. The American Humane Association is the organization that monitors productions and awards the "No Animals Were Harmed" end credit.
"Film and television works are meant to disseminate culture, not to seek after profits and becoming a slaughterhouse for animals," the blogger wrote. (See the clip they posted in the embedded tweet below).
This is the short clip that went viral on Weibo this week, stirring discussions on alleged animal abuse on a Hengdian Film Studios TV drama set: https://t.co/LlnszRGUQz pic.twitter.com/7l1h3TqOBU

— What's on Weibo (@WhatsOnWeibo) May 9, 2019
The hashtag "Cast and Crew Abuse a Dog" (#剧组虐狗#) soon took off on Weibo, receiving over 15 million views.
Hundreds of commenters responded with anger, calling for a boycott of the production and condemning those involved.
Xiao Huang: Working Like a Dog
On May 8, the official account of the TV drama Held in the Lonely Castle (孤城闭) responded to the controversy with a lengthy statement and video, writing: "Today in our backstage area the news reached us of the online circulation of a video relating to "cast and crew members abusing a dog.""
The account states that the scene that was being filmed that day is from Feng Menglong's "The Book of Horses and Dogs," and that the dog that is featured in this scene is named 'Xiao Huang,' a "much-loved dog" who made a "guest appearance" in the drama.
The statement says that the horse and the dog were both tied to ropes to secure their position for the filming and to prevent them from running away. The staff controlling the ropes are there to make sure that the animals will not be hurt.
"Xiao Huang was not really kicked by the horse," the post says, explaining that the rope was pulled at the same time the horse kicked, to make Xiao Huang trip and make it seem he was kicked. A fake horse leg was allegedly used for close-up scenes.
After the shooting was finished, the staff quickly calmed the horse and Xiao Huang, the post says.
About the video in which the actors look at the dog while it is falling down, seemingly injured, the statement says this scene was "important to the plot." A veterinarian came to the set to put the dog under anesthesia beforehand, and the dog's reaction was because of the after-effects of anesthesia – not because of being kicked by the horse.
The account post further says that the crew took care of the dog after the filming was completed, making sure it was ok until the anesthesia after-effects wore off, and then gave it food and let it play on the set.
"Xiao Huang was never injured and is well cared for," the statement concludes: "Please respect the hard work of our crew and don't spread rumors."
The denial of the abuse became even bigger than the original story; the hashtag "'Held in the Lonely Castle' Cast & Crew Deny Dog Abuse" (#孤城闭剧组否认虐狗#) was viewed nearly 30 million times at the time of writing.
A Dog and Pony Show?
The TV drama production's statement has led to many reactions online. "The horse and the dog are both such good actors, and the crew is very hardworking," a typical comment on Weibo said.
Others praise Xiao Huang for his hard work, and condemn the rumors about animal cruelty, saying the working methods of the crew show great progress in China's treatment of animals.
But some are still skeptical and say they do not believe the provided statement, believing that the denial of rumors was only staged to avert controversy and promote the TV drama.
One Weibo blogger shared slow-motion footage of the backstage video, showing that Xiao Huang was tossed around by the horse's leg during shooting. It also shows redness and baldness in the dog's neck area.
"Abuse is abuse," the Weibo user writes, denouncing the treatment of the dog during shooting, and criticizing the fact that the dog was given anesthesia.
Cases of dog abuse often go viral on Chinese social media. In 2017, the killing of a pet dog by a neighborhood guard triggered many online calls for rapid implementation of animal welfare legislation in China.
In 2016, a group of animal welfare activists in Chengdu took the law into their own hands when they publicly beat up a man who abused his dog. Meanwhile, the annual Yulin Dog Meat festival seems to get more controversial by the year.
On Weibo, the Xiao Huang case is not over yet. While some netizens side with the production team, others refuse to believe the dog was not harmed.
"I think it's sad for the dog either way," some write.  Meanwhile, the official page of the Held in the Lonely Castle TV drama posted another photo of 'Xiao Huang,' writing: "The most conscientious official is our best representative."
By Manya Koetse
Spotted a mistake or want to add something? Please let us know in comments below or email us.
©2019 Whatsonweibo. All rights reserved. Do not reproduce our content without permission – you can contact us at info@whatsonweibo.com
No 'Novoland': This Really Is a Tough Year for Chinese Costume Dramas
After the sudden cancellation of the much-anticipated 'Novoland' premiere, Chinese fantasy costume dramas are facing grim prospects.
First published
With 1,4 billion views on its Weibo page, the Chinese fantasy drama Novoland: Eagle Flag was one of the most-anticipated series of the year. This week, the show was suddenly canceled twenty minutes ahead of its premiere. The incident is indicative of recent tensions within China's TV drama industry, where some costume dramas have apparently failed to win the support of official regulators.
Just a week ago, What's on Weibo reported about the Chinese fantasy drama Novoland: Eagle Flag (九州缥缈录, Jiǔzhōu piāomiǎo lù) being one of the most anticipated TV dramas in China this summer. On June 3rd at 21:40 CST, however, just twenty minutes before the drama's much-awaited premiere on Tencent, Youku, and Zhejiang TV, the show was suddenly canceled.
Novoland: Eagle Flag, which has been called China's answer to Game of Thrones, is a costume drama that tells a story of war, conspiracy, love, and corruption in a fantasy universe called Novoland. It is based on a popular web fantasy novel series by Jiang Nan (江南), and produced by Linmon Pictures. Production costs reportedly were as high as RMB 500 million ($72 million).
Why was the show's premiere suddenly canceled? The only reason given for it on June 3rd was that there was a 'medium problem' ("介质原因").
China's English-language state tabloid Global Times reported on June 4th that their official sources also did not know the reason for the withdrawal, although they did admit to having received an order from "higher level," which would come from China's National Radio and Television Administration (NRTA,国家广播电视总局).
In March of 2018, China's State Administration of Press, Publication, Radio, Film, and Television (SAPPRFT), the former top regulatory body overseeing television productions, was officially abolished and replaced by three different state administrations in the ideological sector.
The NRTA is responsible for media control on radio and TV, and falls directly under the State Council. It is led by Nie Chenxi (聂辰席), who is also the deputy director of the Publicity Department of the Communist Party of China. This appears indicative that the Party now has more direct influence over this industry, as also recently suggested by Global Policy Watch, SupChina, and Variety. Under the NRTA, the regulation and censorship of Chinese TV dramas are as strict, and arguably stricter, than under the SAPPRFT.
Costume dramas: not enough "spiritual guidance"?
The strict control of the NRTA over China's TV industry is especially visible this year. As reported by CCTV News, China's regulatory body started to severely crack down on the rising popularity of Chinese costume dramas (古装剧) in March of 2019.
Regulatory rules were supposedly issued for costume dramas with 'themes' (题材) such as martial arts, fantasy, history, mythology, or palace, stating that they should not air or were to be taken down from online video homepages. The strictest crackdown would allegedly last until July.
From early on in 2019, it was already rumored that Chinese costume dramas would face a tough year.
On January 28 of 2019, Beijing Daily, the official newspaper of the CPC Beijing Municipal Committee, published a critical post on its social media account listing negative influences of court-themed TV dramas (宫廷剧).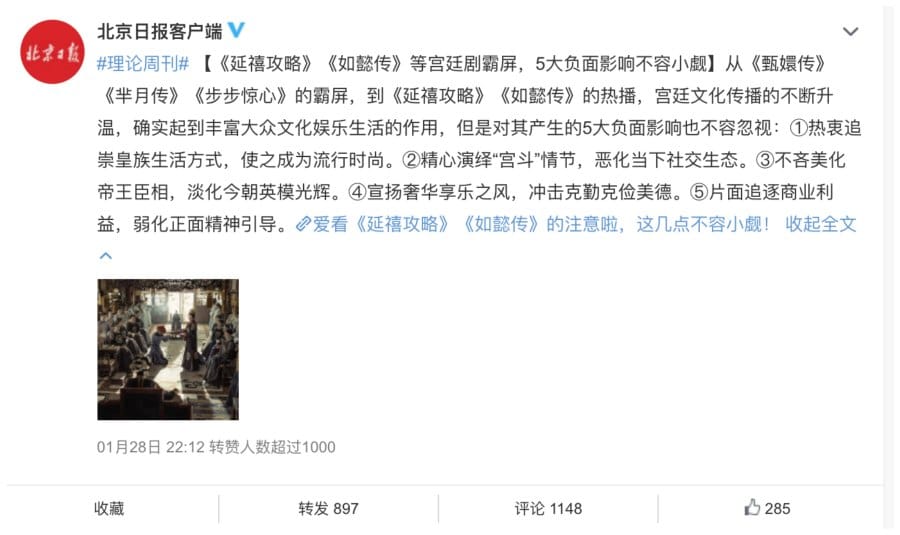 The critique included arguments such as that the imperial lifestyle was being hyped in these dramas, that the social situation of the dynastic era was being negatively dramatized, and that these productions are just aimed at commercial interests while weakening China's "positive spiritual guidance."
In February of this year, two weeks after the Beijing News post, Eduardo Baptista at CNN.com reported on the abrupt cancelation of the planned rebroadcasting of two costume dramas that were also targeted by Beijing News, namely the super TV drama hit Story of Yanxi Palace (延禧攻略) and period drama Ruyi's Royal Love in the Palace (如懿传).
Other costume dramas such as iQiyi's The Legend of White Snake (新白娘子传奇) or The Longest Day in Chang'an (长安十二时辰) were also withdrawn (or postponed) in March. Investiture of the Gods (封神) was replaced by another drama on Hunan TV this month.
"Historical dramas in many cases twisted the narrative of the country's past and the image of historical figures," TV critic Shi Wenxue was quoted by Global Times recently: "[they are] having an adverse effect on teenagers who may regard such fictional stories as real history."
A state and marketplace collusion
With China being the world's largest consumer of TV dramas in the world, the drama industry is a powerful channel for spreading Party ideology.
The political and cultural agenda is especially apparent in those TV dramas that are official propaganda productions. But since the TV drama industry has become increasingly commercialized and TV dramas became more market-oriented in the 1990s, their programming is no longer a mirror reflection of 'Party narratives.'
The number of profit-driven productions has grown over the past 25 years and has skyrocketed with the arrival of video streaming sites such as iQiyi or Tencent Video.
Although non-official productions are ultimately still regulated and overseen by the relevant state departments, they also have to compete for viewer ratings in a highly competitive (online) media environment.
There are many visible trends in China's TV drama industry. There have been peaks of popularity in those TV dramas depicting rural struggles or urban family life, for example, but historical costume dramas (especially dynasty dramas) have consistently been popular and rising since the mid-90s.
One reason for the growing popularity of these historical or fantasy costume dramas is that official censors initially had different standards for them than for more contemporary storylines, resulting in more creative freedom for scriptwriters (see Zhu et al 2008, 7).
There also have been many popular Chinese dynasty dramas that were commercial successes while also serving as propaganda tools.
As pointed out by Shenshen Cai in her work Television Drama in Contemporary China (2017), for example, TV drama serials such as Yongzheng Dynasty (雍正王朝) or The Great Han Emperor Wu (汉武大帝) promoted the ideal of strong central government, harmonious relations between the fatherly ruler and his devoted people, or the exemplary ruler cracking down on corruption – these narratives contributed to the leadership agenda in "stabilizing and re-energizing the dominant moral order" (Cai 3-4; also see Schneider 2012).
But more recent historical dramas have taken a fantasy route that, apparently, resonates with viewers but does not successfully appropriate the official propaganda apparatus.
The sudden withdrawal of new costume dramas is actually not about costume dramas at all. It just shows that although China's TV drama industry is no longer the propaganda machine it once used to be, it still needs to adhere to those narratives that are in line with Party ideology.
Even if their scripts and productions were apparently given the green light in earlier stages, the official supervision bodies still have the power to intervene until the last moment before airing – even if that, apparently, means that moment is twenty minutes ahead of the grand premiere.
"Things don't look too optimistic"
For Chinese drama fans, the recent cancellations have been a real slap in the face. The Novoland: Eagle Flag TV serial was super popular before it even aired: its hashtag page has a staggering 1.4 billion views on Weibo.
"I cried," one 'Novoland' fan comments: "Why such a sudden and abrupt withdrawal?"
"When can we finally see this show?" others wonder.
[Eng Sub] #Novoland: #EagleFlag director's edition – Dir. #ZhangXiaobo talks about his vision for the drama, his understanding of the three main characters (ft. #LiuHaoran, #SongZuer, and #ChenRuoxuan), the harsh conditions during filming, and more

Full – https://t.co/Jqa2z7LMEm pic.twitter.com/2RvsrMcsNW

— NOVOLAND: EAGLE FLAG (@eagleflag_intl) 3 juni 2019
For now, the show's premiere has officially been "postponed" and is "waiting for specific broadcasting time." Whether or not the 55-episode series will be allowed to broadcast after June is still to be seen.
On Twitter, the fan account of Liu Haoran (刘昊然), one of the show's main stars, writes: "You're going to see rumors of tentative dates flying around this week, but note that it's more of a deadline to get things sorted, not an air date. As of right now, things don't look too optimistic. We'll just have to be patient!
More: For an overview of all of our articles on Chinese TV Dramas, please check this list.
By Manya Koetse
Follow @whatsonweibo
References
Cai, Shenshen. 2017. Television Drama in Contemporary China: Political, social and cultural phenomena. London and New York: Routledge Taylor & Francis Group.
Schneider, Florian. 2012. Visual Political Communication in Popular Chinese Television Series. Leiden and Boston: Koninklijke Brill NV.
Zhu, Ying, Michael Keane, Ruoyun Bai (eds). 2008. TV Drama in China. Hong Kong University Press.
Spotted a mistake or want to add something? Please let us know in comments below or email us. Please note that your comment below will need to be manually approved if you're a first-time poster here.
©2019 Whatsonweibo. All rights reserved. Do not reproduce our content without permission – you can contact us at info@whatsonweibo.com
Top 3 Much-Anticipated Chinese TV Dramas (2019)
These are some of the upcoming Chinese TV dramas to keep an eye on this summer!
Featuring talented directors and popular superstars, these are some much-anticipated Chinese TV dramas to keep an eye on this year.
Summer is finally coming! Although for many people, summer is the time of the year to open the doors and windows and spend time outside, it also the Chinese peak season for drama series. This year, according to the 365 TV Series site, a total of 105 Chinese drama series will be released from June to September 2019. This includes new seasons of existing series and the launch of new original series.
Most of us, however, don't have the time or patience to watch all the new releases that are out there. To make it easier for you, What's on Weibo has selected three promising TV dramas that are coming out this summer.
Different from our other "Top Drama Series" articles, this list is not based on audience ratings. Instead, we have scanned various relevant mainland Chinese TV drama blogs and looked at social media to list these much-anticipated releases.
#1 Novoland Eagle Flag
Chinese title: 九州缥缈录 Jiǔzhōu piāomiǎo lù
Genre: Fantasy, Ancient, Martial Arts
Directed by: Zhang Xiaobo (张晓波)
Release date: June 3, 2019 at Zhejiang TV, Youku and Tencent
Update: release has been postponed, read more here.
The heroic epic drama Novolang Eagle Flag is an adapted screenplay from the immensely popular like-named novel by Jiang Nan (江南) and is part of a six-volume collection. The book was released in 2015, and only a few years later it was director Zhang Xiaobo who took up this story to turn it into a drama series.
Despite Zhang's one-time experience with directing a fantasy story in 2005, his most recent successes include To Be A Better Man (好先生) and The Nanny Man (我爱男保姆): all romantic contemporary dramas. Many TV drama lovers are therefore curious to see if Zhang can be as successful with this upcoming drama as he was with his contemporary ones.
Besides the director, the cast of this drama is also quite outstanding. Three of the four main characters are in their early twenties. The leading role is played by the 21-year-old award-winning actor Liu Yuran (刘吴然). Liu gained national fame with his appearance in the popular military propaganda reality series Takes A Real Man (真正男子汉) in 2015, and ever since he has played in numerous TV series, ranging from fantasy to historical, and comedy to contemporary works.
The story of Novolang Eagle Flag revolves around Lu Guichen, the heir of the nomadic Qingyang tribe. When he is sent to the Eastern Land, he meets Ji Ye, an illegitimate son who is training to become a warrior, and princess Yu Ran. In the process of helping each other, the three become friends. The situation gets complicated when both boys start having romantic feelings for Yu Ran. But a bigger challenge is awaiting them when they join forces to fight the powerful warlord Ying Wuyi.
The airing of Novolang Eagle Flag is very much anticipated on Chinese social media, where the drama's hashtag (#九州缥缈录#) has already been viewed over 690 million times.
#2 Wait In Beijing
Chinese title: 我在北京等你 Wǒ zài Běijīng Děng Nǐ
Genre: Coming of Age, Romance
Directed by: Yan Po (鄢颇) and Eddie Tse (解航)
Release date: Expected August 2019 at Youku, Tencent
Wait in Beijing is the only series in our list that is partly filmed outside of China, namely in New York City. The series is a collaboration between the directors Yan Po and Eddie Tse. The latter studied in New Zealand and authored four books which were all published in China. All of his novels revolve around young people dealing with societal problems.
Wait in Beijing is Tse's second series. Netizens are curious to see if the rawness of Tse's previous works will still be visible in this seemingly perfect love story.
The main characters are played by super idols Li Yifen (李易峰) and Jiang Shuying (江疏影), who have 19 million and 55 million followers on Weibo. The series was already filmed and completed in 2018.
Wait in Beijing tells the story of Sheng Xia and Xu Tian. The latter is a Chinese orphan who grew up in Brooklyn, New York, while Sheng was born and raised in China. Xu is a cynical young man striving to become a famous lawyer. Shang is equally ambitious as she seeks to develop her own brand and open a fashion boutique on Fifth Avenue.
Both equally ambitious and eager to pursue their goals, Xu and Sheng one day cross paths. From then on, their feelings and dreams become intertwined. But with Xu's American and Sheng's Chinese upbringing, the cultural differences and contrasting views between the two lovers keep them from coming closer together.
The upcoming drama has received 190 million views on its Weibo hashtag page at time of writing.
#3 City of Desire/Yearning Life
Chinese title: 欲望之城 Yùwàng zhī Chéng, later changed to 渴望生活 Kěwàng Shēnghuó
Genre: Contemporary, Romance, Psychological
Directed by: Liu Jin (刘进)
Release date: Expected September 2019 at Zhejiang TV, Dongfang TV, Youku, iQiyi and Tencent
City of Desire is directed by Liu Jin (刘进), who also produced some of the most successful and largest Chinese TV drama productions in recent years including White Deer Plain (白鹿原). With his new drama series, Liu raises awareness for more contemporary social problems such as anxiety and depression.
This upcoming drama features some of China's biggest superstars. The two main characters are played by Wu Xiubo (吴秀波) and Angelababy (Yang Ying 杨颖). Wu has received several best actor awards. Angelababy is one of China's most popular actresses and fashion icons. She's social media celebrity with more than a staggering 100 million followers on Weibo.
City of Desire follows the life of a man named Jiang Nianhua and the younger woman Lin Li. After a bitter divorce, the childless Jiang gradually builds up his life again and accumulates considerable wealth. To others, it seems as if Jiang got his life all back on track, but in reality, Jiang is battling with severe depression. Just when he decides he cannot take life any longer, he meets the young Lin.
Not long after their encounter, Lin also has to endure emotional hardships and career struggles. When Lin is at the verge of leaving her job because she cannot handle the stress, it is Jiang who motivates her to stay and fight for her position. In the process of Jiang helping Lin getting back on her feet, something changes within him.
Want to see more? Also see our top 10 of February 2019 here, or our list of best Chinese TV dramas of all-time here.
By Gabi Verberg
PS All three series will be available for viewing online, some also with English subtitles. If you need a VPN to circumvent any geo restrictions, we recommend either NordVPN or ExpressVPN to do so.
Spotted a mistake or want to add something? Please let us know in comments below or email us. Please note that your comment below will need to be manually approved if you're a first-time poster here.
©2019 Whatsonweibo. All rights reserved. Do not reproduce our content without permission – you can contact us at info@whatsonweibo.com