10-Year-Old Girl Commits Suicide For 'Not Doing Well at School', Leaves Farewell Video
"This is something I have to do," the 10-year-old told her parents in a video message.
News of the suicide of a young girl by self-poisoning has shocked Chinese netizens. Pressure at school, circumstances at home, and the ease of availability of pesticides in China have all potentially contributed to the girl's death.
A 10-year-old girl from Xuzhou city in Jiangsu province died this week after self-poisoning in her own home. She left behind a 3-minute video and a 2-page farewell letter to her family, Beijing News reports through Weibo.
In the video, the girl calmly says: "Mum, dad, I'm off. I want to tell you I am sorry. I want to go to heaven, and want to bid you all farewell."
"When my birthday comes up, don't forget to place a cake in front of my grave. (..) Thanks mum and dad, for taking care of me all these years."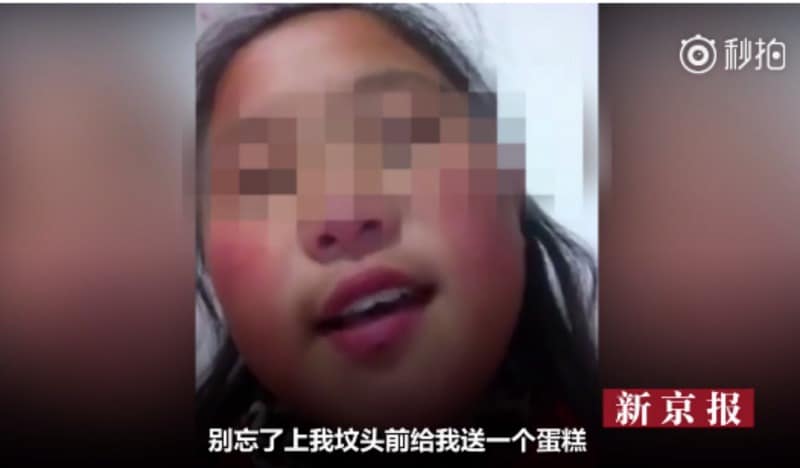 "You beat me and you scold me," the girl added: "But I know it is all for my own good. I will take care of you from heaven. I don't want to let you down. This is something I need to do."
The young girl stated in her farewell message that she wanted to go to heaven because she was "not doing well at school."
Too Much Pressure
According to Sina News, the young girl died after drinking pesticides on November 14 – just 3 days before the mid-term exams would be held at her school.
The girl reportedly was receiving low grades this semester and was punished for it by her teacher, who did not want her to take part in the mid-term exams because she would allegedly bring down the average grade of the whole class.
Her mother told Chinese news outlet The Paper that the pressure at school might have led to the child's suicide.
According to a 2010 study, one third of Chinese primary school children suffer from psychological stress because of the pressure at school and their parents' expectations.
In November of 2014, the suicide of a 10-year-old boy from Guangzhou after his mid-term exams also shocked netizens. The boy, who received just 39 points for an English exam, hung himself after writing about his low grade in his diary.
A year prior, in 2013, another 10-year-old committed suicide by jumping from a building after being scolded by a teacher after failing to complete an assignment.
Pesticide Suicides in China
Suicide is the top cause of death among Chinese youth; school stress is often a major factor. But in the case of the Jiangsu girl, the availability of pesticides might also relate to her death.
"When I was that age, I also thought of committing suicide," one person on Weibo wrote: "I found a person through QQ who could sell me pesticides. He asked 900 for it [±135$] and I thought it was too expensive so I didn't buy it. I don't even know how I'm still alive now."
Suicide by pesticide poisoning is the most common method of suicide in China, both for males and females. Pesticides are readily available, especially in China's rural areas, where the occurrence of self-poisoning are much higher than in urban areas (Page et al 2017).
A recent study published in BMC Public Health this year (Yimaer et al 2017) found that pesticide poisoning for children is a serious problem in China. In the 2006-2015 period, a total of 2952 children were poisoned by pesticides in the province of Zhejiang alone.
Weibo Discussions
On Weibo, the young girl's death has led to many discussions. Some people blame the parents for the girl's death, others say that Chinese children are too pressured by the school system. There are also those who do not believe that such a prepared suicide could really be the work of a 10-year-old alone, and wonder if someone perhaps made her do it.
"At 10 years old, she does not even grasp the what death is," some say.
There are also people who share their own childhood problems. "When I was that age I also had suicidal thought," one commenter writes: "But I never had the courage. She is more courageous than I am."
On November 16, the local education department stated that authorities are currently further investigating the case.
By Manya Koetse
@manyapan
Follow @whatsonweibo
References
Page, A., Liu, S., Gunnell, D., Astell-Burt, T., Feng, X., Wang, L., & Zhou, M. 2017. "Suicide by pesticide poisoning remains a priority for suicide prevention in China: Analysis of national mortality trends 2006–2013." Journal of Affective Disorders, 208(November 2016): 418–423.
Yimaer A., Chen G., Zhang M., Zhou L., Fang X., Jiang W. 2017. "Childhood pesticide poisoning in Zhejiang, China: a retrospective analysis from 2006 to 2015." BMC Public Health 17(1): 602.
Spotted a mistake or want to add something? Please let us know in comments below or email us.
©2017 Whatsonweibo. All rights reserved. Do not reproduce our content without permission – you can contact us at info@whatsonweibo.com.
Part of the Problem: Anger in Lanzhou over Covid-Positive Nucleic Acid Testing Staff
Anger, distrust in Lanzhou after community staff discovered that those coming to test residents had not had a recent Covid test themselves.
When the people who are testing the community for Covid are actually bringing the virus into the area.
There has been unrest in various places across China over the past few days, from students making their voices heard in Nanjing and Xi'an to people locally protesting against stringent Covid measures in Urumqi, Guangzhou, and beyond.
Sunday, November 27, saw the second night of protests in Shanghai. On Saturday, crowds gathered at the city's Wulumqi Road (read here).
Meanwhile, Lanzhou city, Gansu Province, is trending on Chinese social media.
On November 26, people at a residential area (Biguiyuan Community 碧桂园小区) in Lanzhou's Chengguan District found out that the local nucleic acid testing staff did not have a 24-hour period negative nucleic acid test result. The staff had come to run another round of door-to-door tests after the community had been in (semi-) lockdown for eight days.
After demanding that the nucleic acid staff members would get tested themselves, it was found that one of them tested positive for Covid.
One hashtag related to the case received over 400 million Weibo views on Sunday (#兰州通报核酸采样人员阳性#).
A video that went viral on social media showed community management staff talking to a local government official, saying:
"You represent the government, let me tell you something. We have discovered a problem today. The medical staff that has come to do our nucleic acid tests, not a single one of them had a 24-hour nucleic acid certificate. I demand that qualified medical staff comes to test them, and that you come up with his work permit before testing us."
The person testing positive is a 21-year-old staff member working at the Third People's Hospital (第三人民医院) of Chengguan District.
District authorities issued a statement on Sunday saying that they would further investigate how a Covid-positive staff member could be sent into a community without recent test certificates.
But the statement did not help prevent online anger.
The incident is emblematic of China's current Covid troubles, that have led to dissatisfaction, confusion, and frustrations in various places across China when it comes to Covid measures.
A stream of videos on Chinese social media show clashes between local anti-epidemic workers and residents in various places.
In Wuhan, a woman called out a worker who placed fences in front of the residential building. "Where are your credentials?!" she angrily asked.
Another person shouted at a local staff member at a locked down community who was just sitting and playing games on his phone. "Explain us what's going on," the resident said, and the worker replied: "My job is just to sit here."
The lack of clarity on local Covid situations and guidelines mixed with a distrust in those who are managing the current epidemic is a toxic situation that is essentially at the root of the current outbreaks of unrest and protests in various places in China.
Many people commenting on the Lanzhou issue wonder what would have happened if the Biguiyuan Community manager had not detected that the nucleic acid test results of the anti-epidemic workers had not been updated. They might have spread Covid to many other communities.
One commenter from Guangdong wrote: "I don't really get it: I just received a text message from my town asking me to do a nucleic acid, saying that I would be held legally responsible if I would spread [the virus], but I don't even go out. So if I adhere to your request and go do the nucleic acid test and get infected because of it, will you bear the legal responsibility? Will I be compensated for the damage?"
Read more about the "11.24" unrest in China here.
By Manya Koetse 
If you appreciate what we do, please subscribe here or support us by donating.
Featured image by @导筒directube
Get the story behind the hashtag. Subscribe to What's on Weibo here to receive our newsletter and get access to our latest articles:
Spotted a mistake or want to add something? Please let us know in comments below or email us. First-time commenters, please be patient – we will have to manually approve your comment before it appears.
©2022 Whatsonweibo. All rights reserved. Do not reproduce our content without permission – you can contact us at info@whatsonweibo.com.
Victory of Perseverance? Visions of China's 'Dynamic Zero' Covid Future
Many commenters have a less rose-colored view of the future of 'zero Covid' than some of China's opinion makers.
While China is seeing the worst Covid outbreak in months and resentment is rising over strict lockdowns and 'excessive' Covid measures, Chinese political pundits and opinion leaders are painting a rosy picture of the future of China's 'zero Covid' policy.
It is the Start of Winter (立冬) and China is seeing a spike in Covid-19 cases across the country.
There currently are approximately 40,000 confirmed Covid cases in the mainland, with the biggest outbreaks taking place in Guangdong, Inner Mongolia, and Xinjiang.
At the same time, frustrations over strict lockdowns and excessive anti-epidemic measures have been building recently, and there has been a lot of anger over a lack of emergency medical care for people in isolation in, among others, Ruzhou, Lanzhou, and Hohhot.
On Monday, November 7, political commentator Hu Xijin (@胡锡进), who used to be the editor-in-chief of Global Times, commented on China's 'dynamic zero' Covid policy. Hu does so more often – in September 2022 he also published a lengthy post about China's epidemic prevention.
China's zero Covid policy is all about the speedy detection of new cases, followed by a quick response to curb the spread of the virus immediately and bring the epidemic situation under control. Because it is an ongoing process, it is called 'dynamic zero' (动态清零), with cases being extinguished soon after they are detected and with the eventual goal of having zero new infections in society (社会面清零).
The former journalist Hu, whose posts and statements often go trending and influence public opinion, made a few noteworthy comments in his recent post.
Hu suggested that the strict lockdowns in some parts of China are just not sustainable and that cities should stop striving to reach complete elimination of Covid cases. Instead, he advocated for a more relaxed and local approach, but did point out that Chinese cities could perhaps get back to focusing on reaching "zero" cases in the summer of 2023 ("到了明年夏天,也许一些城市可以重新追求零感染").
By adhering to a model where Chinese regions stay in complete control when it's about the spread of the virus, China will have drastically fewer deaths than in the West and its 'dynamic zero' approach will be remembered as a historical, "world-renowned achievement," according to Hu.
"If we can remain in overall control and can keep the number of deaths far lower than in the West (..) then our epidemic prevention will benefit all 1.4 billion Chinese people, and will shine throughout history!"
Early on in his post, Hu Xijin suggests that the goal of 'zero Covid' is not actually to reach zero cases, but to keep the Covid outbreak in China under control:
"The 'dynamic zero' [policy] is not really about pursuing zero infections at all times, it is about continuing to keep the epidemic situation under control. Reaching absolutely zero infections should not be the goal of every city for this winter; by summer of next year, some cities can perhaps again pursue to have zero infections, but it is not realistic for this winter season. Thoroughly eliminating an especially active virus would exceed the basic level management capabilities in the majority of cities and the situation in Urumqi, Zhengzhou, and other cities shows that even if you carry out strict and lengthy lockdowns, the virus still continues to spread throughout the community."
Hu Xijin suggests that Beijing is the number one city in China when it comes to efficiently implementing Covid measures and responding to new cases. Yet, even Beijing is now seeing a spike in new cases, so Hu's reasoning is that if Beijing can't even reach 'zero' Covid, then no other city can.
If 'zero' Covid is impossible, Hu implies, cities might as well be a bit more relaxed in their epidemic approach because the socio-economic cost of doing city-wide or district-wide lockdowns is so high, while the effects might be relatively minimal: Covid will still find a way. Hu writes:
"Beijing hasn't carried out a large-scale lockdown, and the economic and social life in the city has been the most relaxed of the nation. Lockdowns have all been done locally [small-scale], and as everyone saw, Beijing held its first marathon in three years yesterday. That's another step forwards. When there are outbreaks in other cities, especially when cases are scattered, and cities want to reach 'zero Covid,' they can only do that through the method of wide-scale or even total static management. But even if it is done like that, it does not mean they can realize a total elimination of Covid cases this winter while the social and economic costs of pursuing a 'zero Covid' goal are actually too high. The reality across the country is that people are less and less willing to cooperate with area-wide static management [lockdowns]. Regardless of whether you look at it from the standpoint of public opinion or from that of the financial burden, it is not sustainable to go on like that."
Hu suggests that focusing on keeping infection rates low is more effective than maintaining a 'zero' Covid policy. By focusing on lower numbers instead of zero cases, cities can keep the burden on social and economic life low, while also avoiding an epidemic crisis. This basically is what 'dynamic zero' is all about.
In the conclusion of his post, Hu calls China's epidemic prevention a "world-renowned success" that has saved the lives of millions of people over the past three years:
"Facing new circumstances, if we can maintain complete control, and can keep the number of deaths far lower than in the West while also safeguarding our economy and the order of social development, then our epidemic prevention – at every stage and in its entirety – and its achievements will benefit all 1.4 billion Chinese people, and will shine throughout history!"
Hu Xijin's lengthy post and rose-colored outlook on the future of Covid zero received over 11,000 'likes', but clearly did not impress all of his readers. Some replied: "So you're basically just explaining the concept of the zero Covid policy again?" "Beijing the most relaxed?" others wondered.
"Stop wide-scale nucleic acid testing!" some said, with others replying: "We can't continue to blindly follow the zero Covid policy." "Listen to the voices of the people."
Another commenter replied: "If we still want to be practical and realistic, we must admit that zero Covid is impossible, and we can't pay such a high price to go on a mission that will never end. We should revise the general policy and insist on controlling the scale, protecting lives, and preventing hospitalization."
Some who replied did agree with Hu's words, writing: "A world-renowned success: it highlights the necessity of unswervingly insisting on 'dynamic zero'!"
"What must we hold on to? The dynamic Zero Covid policy! Let the West lie flat, because the pandemic will have serious repercussions for them."
Hu Xijin is not the only Chinese opinion maker who is describing the country's zero Covid strategy as one that will go down in history as a glorious victory.
In late October, a short video went viral on Twitter showing a Chinese businessman giving a speech in which he claimed China would come out of the pandemic as the winner since the West would be brought to its knees because of the long-term impact of the pandemic. He explicitly mentioned long Covid and its supposed devastating effects on the labor force in the West.
A Chinese business consultant in a Ted-style talk justified zero-Covid policy by saying that in 10 years the West will be brought to its knees b/c long-Covid, which will decimate most of its labor force. pic.twitter.com/kQRTDYE813

— Yanzhong Huang (@YanzhongHuang) October 30, 2022
"I can only say, you'd have to be stupid if you want to give up [lie flat] now. We definitely cannot give up now. What must we hold on to? The dynamic Zero Covid policy! Understand? Let the West not do anything [lie flat], because the pandemic will have serious repercussions for them. So we definitely cannot let it go. So as an ordinary consumer, an ordinary citizen, we cannot forget national humiliation. The people inside the system are much smarter and more advanced than we are. You do not get the basic picture at all. (..) Just do what you're told. We will win. If the epidemic continues another ten years, we don't need to fight anymore, the whole world will have fallen."
The man speaking is Gu Junhui (顾均辉), a finance, business, and strategic positioning expert with a very small following of 336 fans on his Weibo account.
As Gu's video was widely shared on Twitter, it also started circulating on Chinese social media, where the majority of commenters dismissed Gu Junhui as another self-proclaimed 'expert' riding his high horse: "Nobody is listening to this idiot."
Others ridiculed him for such a stance, writing: "So China can finally win if the West dies out?!" Some even suggested that Gu was a comedian instead of a finance expert.
Despite the online banter, Gu's vision of China's dynamic zero Covid future is a recurring one in China's online media sphere, where other bloggers and authors also measure China's success through U.S. failures.
Blogger/author Lu Xiaozhou (@卢晓周) wrote on Weibo on November 8 that the U.S. will be drained out because it chose to "lie flat" and live together with Covid-19, a virus that is unpredictable and which scientists around the world still have not figured out.
He says that China, on the other hand, is maintaining a balance between social stability and economic development through its dynamic zero Covid policy.
According to Lu, it's simple: dynamic zero Covid is "right" whereas coexisting with the virus is "wrong."
"The dynamic zero Covid policy comes at a high price, and when we give up dynamic zero, we will welcome a big epidemic wave. No matter if it happens this year, next year, in five years' time, in ten years' time, or in fifty years' time, that moment will eventually come."
During a press conference Saturday, Chinese health officials stated that China would "unswervingly" stick to its zero Covid policy. A hashtag about the topic (#坚持动态清零总方针不动摇#) received 220 million views on Weibo.
In October of this year, Chinese Party newspaper People's Daily (人民日报) already published an article titled "Dynamic Zero Is Sustainable and Must Be Adhered To" ("动态清零"可持续而且必须坚持") (read more).
It is clear that many commenters have a less rose-colored view of the future of 'zero Covid' than some of the opinion makers.
One Zhejiang-based doctor named Gong Xiaoming with over 4,6 million followers on Weibo (@龚晓明医生) had a more sober expectation of the future:
"I was prohibited from posting for three months last year after I commented on the epidemic, but I still want to speak my mind. The dynamic zero Covid policy comes at a high price and when we give up dynamic zero Covid, it means we will welcome a big epidemic wave. That moment in time, no matter if it happens this year, next year, in five years' time, or in ten years' time, or in fifty years' time, it will eventually come. So the authorities in every region must ask themselves one question: when then moment comes, are we ready?"
Dr. Gong continues:
"The 1 per 1,000 mortality figure is backed by enough medical resources, and it will probably be higher when there is an instant influx of patients and we don't have enough medical resources. What is even more important in relation to the mortality rate is: do we have enough intensive care beds? If we still have another year, then let us please use this precious time to strengthen the establishment of the ICUs at local hospitals, to set up respiratory intensive care units, and let use this time to purchase good mechanical ventilators and equipment, strengthen the staff team, especially the medical team, which is not something that can be done within a day or not even within a month. A month ago I paid a visit to a county town with 200,000 inhabitants and the county hospital did not have one single IC bed. This made me deeply concerned. Perhaps I'm overly anxious, and the government might already be taking these steps, but if regional leaders have the vision, please strengthen your local hospital's intensive care medical departments. Our timeframe is getting shorter. In addition to the construction of ICU, there is also medication, vaccines and other issues that need to be considered."
Dr. Gong uses graphs with data from Taiwan to support his story, showing an uptick of cases after Taiwan let go of its own 'zero Covid' policy in April of 2022.
Other voices also express similar visions on the future of dynamic zero in China, seeking for science-based prospects and realistic strategies: "I really hope that the authorities can provide timely and accurate information. The main point is not whether or not we should have the dynamic zero policy, but rather how we can go forward with dynamic zero on a scientific basis," another popular blogger (@卢麒元) wrote.
Although Dr. Gong's post was reposted hundreds of times, the comment section was not available at the time of writing ("抱歉,该内容暂时无法查看").
Political commentator Hu Xijin should be able to appreciate Dr. Gong's input. In September of this year, Hu argued that more Chinese experts should come forward with suggestions and views based on science in order for the online discourse to focus more on science and rationality rather than letting "discussions be dominated by loud voices on social media."

By Manya Koetse
Follow @WhatsOnWeibo

-Photo by Xiangkun ZHU on Unsplash
-Photo by Yun XU on Unsplash
– Photo by Guido Hofmann on Unsplash
Get the story behind the hashtag. Subscribe to What's on Weibo here to receive our newsletter and get access to our latest articles:
Spotted a mistake or want to add something? Please let us know in comments below or email us. First-time commenters, please be patient – we will have to manually approve your comment before it appears.
©2022 Whatsonweibo. All rights reserved. Do not reproduce our content without permission – you can contact us at info@whatsonweibo.com.