10-Year-Old Girl Commits Suicide For 'Not Doing Well at School', Leaves Farewell Video
"This is something I have to do," the 10-year-old told her parents in a video message.
News of the suicide of a young girl by self-poisoning has shocked Chinese netizens. Pressure at school, circumstances at home, and the ease of availability of pesticides in China have all potentially contributed to the girl's death.
A 10-year-old girl from Xuzhou city in Jiangsu province died this week after self-poisoning in her own home. She left behind a 3-minute video and a 2-page farewell letter to her family, Beijing News reports through Weibo.
In the video, the girl calmly says: "Mum, dad, I'm off. I want to tell you I am sorry. I want to go to heaven, and want to bid you all farewell."
"When my birthday comes up, don't forget to place a cake in front of my grave. (..) Thanks mum and dad, for taking care of me all these years."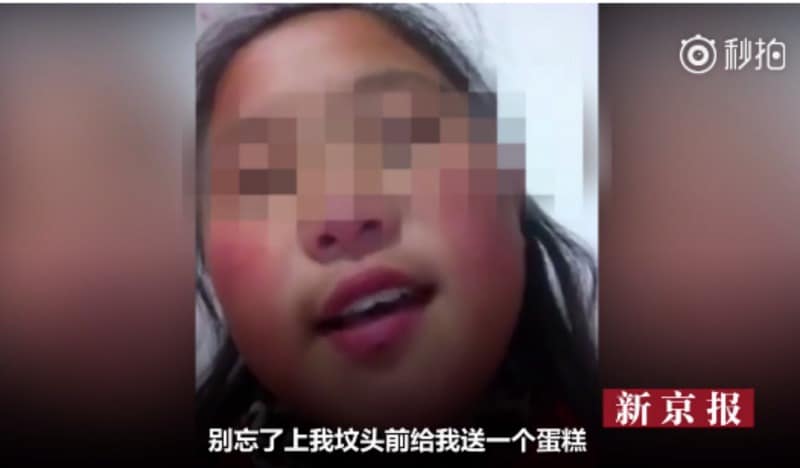 "You beat me and you scold me," the girl added: "But I know it is all for my own good. I will take care of you from heaven. I don't want to let you down. This is something I need to do."
The young girl stated in her farewell message that she wanted to go to heaven because she was "not doing well at school."
Too Much Pressure
According to Sina News, the young girl died after drinking pesticides on November 14 – just 3 days before the mid-term exams would be held at her school.
The girl reportedly was receiving low grades this semester and was punished for it by her teacher, who did not want her to take part in the mid-term exams because she would allegedly bring down the average grade of the whole class.
Her mother told Chinese news outlet The Paper that the pressure at school might have led to the child's suicide.
According to a 2010 study, one third of Chinese primary school children suffer from psychological stress because of the pressure at school and their parents' expectations.
In November of 2014, the suicide of a 10-year-old boy from Guangzhou after his mid-term exams also shocked netizens. The boy, who received just 39 points for an English exam, hung himself after writing about his low grade in his diary.
A year prior, in 2013, another 10-year-old committed suicide by jumping from a building after being scolded by a teacher after failing to complete an assignment.
Pesticide Suicides in China
Suicide is the top cause of death among Chinese youth; school stress is often a major factor. But in the case of the Jiangsu girl, the availability of pesticides might also relate to her death.
"When I was that age, I also thought of committing suicide," one person on Weibo wrote: "I found a person through QQ who could sell me pesticides. He asked 900 for it [±135$] and I thought it was too expensive so I didn't buy it. I don't even know how I'm still alive now."
Suicide by pesticide poisoning is the most common method of suicide in China, both for males and females. Pesticides are readily available, especially in China's rural areas, where the occurrence of self-poisoning are much higher than in urban areas (Page et al 2017).
A recent study published in BMC Public Health this year (Yimaer et al 2017) found that pesticide poisoning for children is a serious problem in China. In the 2006-2015 period, a total of 2952 children were poisoned by pesticides in the province of Zhejiang alone.
Weibo Discussions
On Weibo, the young girl's death has led to many discussions. Some people blame the parents for the girl's death, others say that Chinese children are too pressured by the school system. There are also those who do not believe that such a prepared suicide could really be the work of a 10-year-old alone, and wonder if someone perhaps made her do it.
"At 10 years old, she does not even grasp the what death is," some say.
There are also people who share their own childhood problems. "When I was that age I also had suicidal thought," one commenter writes: "But I never had the courage. She is more courageous than I am."
On November 16, the local education department stated that authorities are currently further investigating the case.
By Manya Koetse
@manyapan
Follow @whatsonweibo
References
Page, A., Liu, S., Gunnell, D., Astell-Burt, T., Feng, X., Wang, L., & Zhou, M. 2017. "Suicide by pesticide poisoning remains a priority for suicide prevention in China: Analysis of national mortality trends 2006–2013." Journal of Affective Disorders, 208(November 2016): 418–423.
Yimaer A., Chen G., Zhang M., Zhou L., Fang X., Jiang W. 2017. "Childhood pesticide poisoning in Zhejiang, China: a retrospective analysis from 2006 to 2015." BMC Public Health 17(1): 602.
Spotted a mistake or want to add something? Please let us know in comments below or email us.
©2017 Whatsonweibo. All rights reserved. Do not reproduce our content without permission – you can contact us at info@whatsonweibo.com.
BBC: Extreme Eating Trends and the Rise of Eating Disorders in China
The Food Chain by the BBC investigates the rise of eating disorders in China.
The Food Chain by the BBC investigates the rise of eating disorders in China. What's on Weibo editor Manya Koetse talks about some of China's disturbing internet food trends in this recent episode.
The rise of eating disorders in China is the topic of a recent BBC online radio documentary episode (27 min) within the Food Chain series.
The Food Chain investigates the rise of eating disorders in China: is this an inevitable consequence of economic development? And if so, why are eating disorders still all too often seen as a rich white woman's problem?
In the first of two episodes to explore the rising prevalence of eating disorders outside of the western world, Emily Thomas speaks to women with the illness in China and Hong Kong, who explain how hard it is to access support for binge-eating disorder, bulimia and anorexia, because of attitudes to food and weight, taboos around mental health, and a lack of treatment options. They describe the pressure on women to be 'small' and 'diminutive', but still take part in the country's deeply entrenched eating culture.
A psychiatrist working in China's only closed ward for eating disorders blames an abundance of food in the country, parental attitudes and the competitiveness of Chinese society. She also warns of the dangers of the uncontrolled diet pill industry. From there BBC delves into the sinister world of 'vomit bars' with Manya Koetse.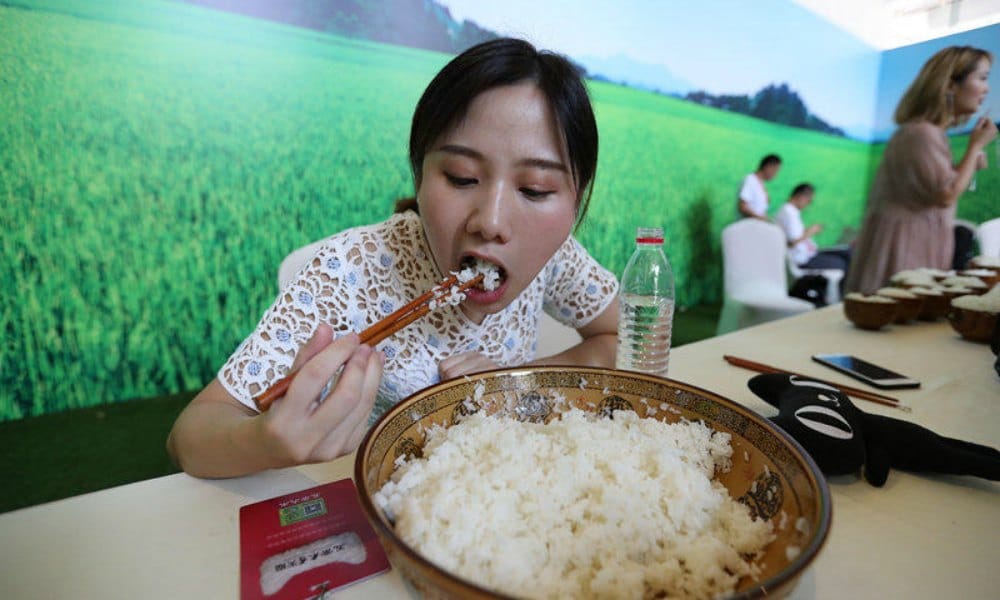 She tells Emily Thomas about the recent craze for live binge-eating among young Chinese women and how some of this is disturbingly followed by 'purging'. Why do they call themselves 'rabbits'? And why does no one use the term 'eating disorder' when talking about these trends?
BBC also explores the link between the rise of eating disorders and economic development. Does there need to be an abundance of food in a society before these problems develop?
To listen to a short fragment on China's binge-eating rabbits by Manya Koetse, click here: https://www.bbc.co.uk/radio/play/p06mw03b .
To listen to the full documentary, please click here: https://www.bbc.co.uk/radio/play/p06mw03b.
Also read: Anorexia in China, and our article on Extreme Eating Trends.
Spotted a mistake or want to add something? Please let us know in comments below or email us.
©2018 Whatsonweibo. All rights reserved. Do not reproduce our content without permission – you can contact us at info@whatsonweibo.com
Over 300 Children Sent to Hospital after Eating Expired Food in Kindergarten, Netizens Express Disbelief
After complaints of 'smelly chicken,' parents went to see for themselves what their children get to eat at school.
After eating expired rice vinegar, rice full of insects, and spoiled chicken legs at kindergarten, more than 300 children were sent to hospitals in Anhui and Jiangsu last week. The latest food scandal has led to disbelief among netizens.
Over the past week, the hashtag "Kindergarten's Use of Expired Food Exposed" (#幼儿园被曝使用过期食品#) received over 39 million views on Chinese social media site Weibo. People are not just angered about yet another food scandal – they are especially shaken because it is young children that have become the victim of contaminated and expired food.
The food scandal occurred at kindergartens Tongxin (童馨) and Dedebei (得得贝) in Wuhu, Anhui province. Both kindergartens were led by the same principal, Mrs. Liang (梁).
During an on-the-spot investigation by several parents, some serious problems were discovered with the food served at the school, which later led to at least 300 children being sent to the hospital. Nine of these children were found to have health problems and were further examined at the Nanjing Children's Hospital.
Parents first started noticing there was something wrong at their children's school just after mid-September, when some children complained of stomach ache and the "smelly chicken legs" they ate at school. Several parents then went to inspect the food at the school canteen themselves, and discovered their children were served substandard food, including expired rice vinegar, refrigerated meat with a 2017 expiry date, and rice full of bugs. They immediately went to the school principal for an explanation and reported the incident to the local police station.
The discovery caused a great uproar among the parents of the kindergarten pupils. Many parents were reportedly unwilling to send their children back to school.
The kindergartens' school board soon issued an apology letter, stating that the school would comply with any investigations. They also sent out a message to parents that the school would continue to stay open, and that they would make sure that the food would meet safety requirements.
Following a news conference on Sunday, Chinese state media reported on Tuesday, September 25, that police had detained the school principal for her role in the use of expired food in the school canteens.
Online, many netizens expressed their disbelief about the umpteenth time children have become the victim of safety scandals in China. "Do we even dare to send our children to kindergartens anymore?", a popular comment said: "Do we even dare to have children at all?"
Besides various food scandals, Chinese parents have been particularly worried after other scandals were exposed over the last year, such as the various vaccine controversies, the RYB kindergarten abuse scandal, and the scandal involving a Ctrip kindergarten where children were force-fed wasabi.
One Weibo user said: "How can people treat children like this? How would they feel if their own children would be treated like this?" Another Weibo user wondered: "How far are people willing to go to make some extra money?"
"This is not the first time children are the victim of food scandals, and it won't be the last time either," one Weibo user wrote: "I just hope that the concerning institutes will try their best to protect our children."
There were also many netizens referring to health safety scandals concerning children in earlier years, writing: "The milk powder scandal, the vaccine scandal, and now infected rice full of insects. Our children must be tired already; it might be better for them to grow up as soon as possible."
According to news reports, investigations by the China Food and Drug Administration into this matter are still ongoing. All children who have been examined at the hospital, including those who have been admitted, are currently in stable condition.
By Gabi Verberg
Follow @whatsonweibo
Spotted a mistake or want to add something? Please let us know in comments below or email us.
©2018 Whatsonweibo. All rights reserved. Do not reproduce our content without permission – you can contact us at info@whatsonweibo.com.