10-Year-Old Girl Commits Suicide For 'Not Doing Well at School', Leaves Farewell Video
"This is something I have to do," the 10-year-old told her parents in a video message.
News of the suicide of a young girl by self-poisoning has shocked Chinese netizens. Pressure at school, circumstances at home, and the ease of availability of pesticides in China have all potentially contributed to the girl's death.
A 10-year-old girl from Xuzhou city in Jiangsu province died this week after self-poisoning in her own home. She left behind a 3-minute video and a 2-page farewell letter to her family, Beijing News reports through Weibo.
In the video, the girl calmly says: "Mum, dad, I'm off. I want to tell you I am sorry. I want to go to heaven, and want to bid you all farewell."
"When my birthday comes up, don't forget to place a cake in front of my grave. (..) Thanks mum and dad, for taking care of me all these years."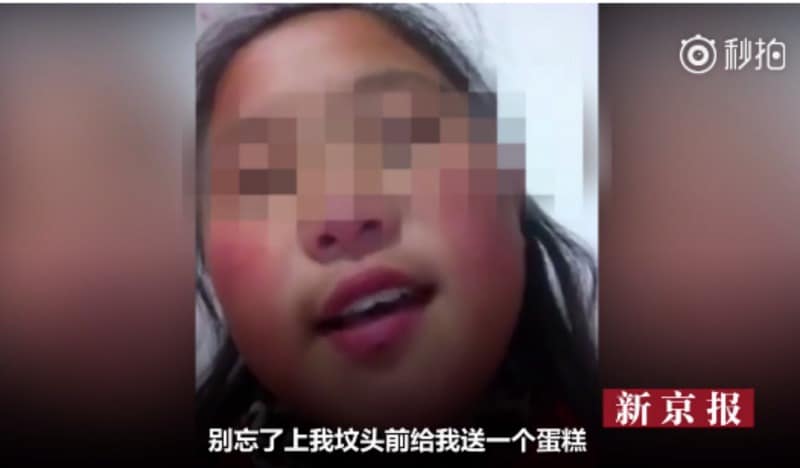 "You beat me and you scold me," the girl added: "But I know it is all for my own good. I will take care of you from heaven. I don't want to let you down. This is something I need to do."
The young girl stated in her farewell message that she wanted to go to heaven because she was "not doing well at school."
Too Much Pressure
According to Sina News, the young girl died after drinking pesticides on November 14 – just 3 days before the mid-term exams would be held at her school.
The girl reportedly was receiving low grades this semester and was punished for it by her teacher, who did not want her to take part in the mid-term exams because she would allegedly bring down the average grade of the whole class.
Her mother told Chinese news outlet The Paper that the pressure at school might have led to the child's suicide.
According to a 2010 study, one third of Chinese primary school children suffer from psychological stress because of the pressure at school and their parents' expectations.
In November of 2014, the suicide of a 10-year-old boy from Guangzhou after his mid-term exams also shocked netizens. The boy, who received just 39 points for an English exam, hung himself after writing about his low grade in his diary.
A year prior, in 2013, another 10-year-old committed suicide by jumping from a building after being scolded by a teacher after failing to complete an assignment.
Pesticide Suicides in China
Suicide is the top cause of death among Chinese youth; school stress is often a major factor. But in the case of the Jiangsu girl, the availability of pesticides might also relate to her death.
"When I was that age, I also thought of committing suicide," one person on Weibo wrote: "I found a person through QQ who could sell me pesticides. He asked 900 for it [±135$] and I thought it was too expensive so I didn't buy it. I don't even know how I'm still alive now."
Suicide by pesticide poisoning is the most common method of suicide in China, both for males and females. Pesticides are readily available, especially in China's rural areas, where the occurrence of self-poisoning are much higher than in urban areas (Page et al 2017).
A recent study published in BMC Public Health this year (Yimaer et al 2017) found that pesticide poisoning for children is a serious problem in China. In the 2006-2015 period, a total of 2952 children were poisoned by pesticides in the province of Zhejiang alone.
Weibo Discussions
On Weibo, the young girl's death has led to many discussions. Some people blame the parents for the girl's death, others say that Chinese children are too pressured by the school system. There are also those who do not believe that such a prepared suicide could really be the work of a 10-year-old alone, and wonder if someone perhaps made her do it.
"At 10 years old, she does not even grasp the what death is," some say.
There are also people who share their own childhood problems. "When I was that age I also had suicidal thought," one commenter writes: "But I never had the courage. She is more courageous than I am."
On November 16, the local education department stated that authorities are currently further investigating the case.
By Manya Koetse
@manyapan
Follow @whatsonweibo
References
Page, A., Liu, S., Gunnell, D., Astell-Burt, T., Feng, X., Wang, L., & Zhou, M. 2017. "Suicide by pesticide poisoning remains a priority for suicide prevention in China: Analysis of national mortality trends 2006–2013." Journal of Affective Disorders, 208(November 2016): 418–423.
Yimaer A., Chen G., Zhang M., Zhou L., Fang X., Jiang W. 2017. "Childhood pesticide poisoning in Zhejiang, China: a retrospective analysis from 2006 to 2015." BMC Public Health 17(1): 602.
Spotted a mistake or want to add something? Please let us know in comments below or email us.
©2017 Whatsonweibo. All rights reserved. Do not reproduce our content without permission – you can contact us at info@whatsonweibo.com.
Changchun Vaccine Scandal Causes Outrage on Weibo
Another vaccine scandal heightens parents' distrust of vaccines.
Within three years time, a third scandal has been exposed in the Chinese vaccine industry, adding to parents' mistrust of vaccines in China.
A new vaccine scandal involving Changchun Changsheng, China's second-largest producer of anti-rabies vaccines, has caused a tsunami of outrage and media coverage in China this week.
China's State Food and Drug Administration found that the Jilin-based Changchun company did not only produce fake anti-rabies vaccines, but also substandard DPT vaccines, Caijing News reports on Weibo.
The news about Changchun's violations already came out on July 15th, but especially led to a social media storm this weekend after reports leaked online exposing that the same company had already violated production laws as early as October of last year.
It is not the first time China faces serious problems in its vaccine programmes. In November of 2017, over 650,000 faulty – uneffective – vaccines were recalled in Shandong, Hebei and Chongqing.
In 2016, another scandal concerning the distribution of illegal and potentially deadly vaccines also became a major trending topic on Chinese social media.
It is mandatory for children to be vaccinated in line with the China National Immunization Programme.
At time of writing, the hashtag "Changchun Changsheng Counterfeit Vaccines" (#长春长生造假疫苗#) has already received over 49 million views on Weibo.
The current scandal adds to parents' mistrust of vaccines in China, with thousands of people on Weibo demanding that those responsible for these violations should be given capital punishment.
On the various Weibo accounts of Chinese state media and local authorities, however, a post has been published that asks people to "not let anger and panic spread," and to trust that "the relevant departments will deal with this issue in a timely manner."
Various essays and comments threads about the faulty vaccines were no longer visible as of Sunday afternoon. While Beijing News reports that the Changchun vaccines were not used in Beijing, many questions still linger for worried parents in many other parts of the country.
By Manya Koetse
Follow @whatsonweibo
Spotted a mistake or want to add something? Please let us know in comments below or email us.
©2018 Whatsonweibo. All rights reserved. Do not reproduce our content without permission – you can contact us at info@whatsonweibo.com.
'Random', 'Shocking', 'Pointless': Female Military Doctor Stabbed to Death in Tianjin Hospital
Another random outburst of violence in a Chinese hospital has shocked Weibo commenters.
A 47-year-old doctor from Tianjin died after a random knife attack in an outpatient clinic. Over recent years, more and more outbursts of violence against doctors make headlines in China.
The fatal stabbing of a female military doctor in Tianjin on July 12th has shocked Chinese netizens.
The Tianjin Affiliated Hospital of The Chinese People's Armed Police Forces, where the stabbing took place, issued a statement on Weibo about the incident (image below), saying that the 47-year-old Zhao Junyan (赵军艳) was violently attacked by three people at the outpatient clinic on Thursday morning.
Zhao died of her injuries later that day. The main suspect and two other suspects were apprehended by the police at the scene of the crime.
One witness told reporters at We Video that the attackers did not try to run away after the stabbing: "The [main] suspect was about 50 years old. He did not run away, perhaps he knew that would be futile. He did not say anything after stabbing the doctor. We called the police and had him arrested."
The same witness also suggests that the main suspect was the husband of a patient at the clinic, although Sina News reports that it did not concern one of Zhao's own patients.
Another person who was there when it happened told Chinese media: "When the suspect was arrested, he said that his target was not Dr. Zhao, but another doctor. Dr. Zhao was just unlucky to be the victim."
Violence against Chinese Medical Staff
Zhao's killing is one of many of such incidents over previous years; violence has become a more and more common occurrence in Chinese hospitals, where the so-called yinao phenomenon (医闹, 'medical disturbance') is a growing problem. Yinao is the organized disturbance and violence in hospitals against medical workers.
In 2012, another female doctor was axed to death by a patient in Tianjin; in 2013, a patient in Wenling fatally stabbed his doctor after he was unhappy with the results of an operation. Just last year, a male doctor in Anhui province was stabbed to death by the father of one of his patients. The list of incidents goes on, and it is extensive.
In response to the recent incident, Weibo users collectively expressed their anger and concern in the comment sections; dozens of threads on the issue received thousands of responses on Weibo this week, with people calling the brutal attack "pointless" and "outrageous."
"If this crime doesn't receive the death penalty, our legal system is a joke," a commenter by the name of '@33daysofsilence' wrote.
Another user wrote: "Even if this was their doctor there's no reason to hurt her. It is tragic to see that doctors end up in dangerous situations nowadays."
"Wouldn't let our kids become doctors"
"My husband is a doctor and I am a nurse. But we wouldn't let our kids become doctors. If this [violence] keeps happening, nobody will be willing to work in the healthcare industry anymore," a user named @Jinyueyao2008 wrote.
Many Chinese face major obstacles in getting access to the healthcare they need. Doctor-patient conflicts in China partly come from the high costs and long waiting times in Chinese hospitals and clinics, triggering frustration among patients. As conflicts become more violent and receive more media attention, more people are starting to perceive the professions of doctors or nurses as a potentially hazardous.
"It is difficult and expensive to see a doctor- this leads to more conflicts between doctors and patients," a top commenter writes on Weibo.
"There was no reason for this at all, these people must be crazy. This society is becoming more and more scary," another person wrote.
Meanwhile, the death of Zhao Junyan, who leaves behind a son and her husband, is mourned on Weibo. Posting virtual candles, many hope that Zhao can "rest in peace."
By Chauncey Jung
Follow @whatsonweibo
This article has been edited and condensed for clarity.
Spotted a mistake or want to add something? Please let us know in comments below or email us.
©2018 Whatsonweibo. All rights reserved. Do not reproduce our content without permission – you can contact us at info@whatsonweibo.com.