10-Year-Old Girl Commits Suicide For 'Not Doing Well at School', Leaves Farewell Video
"This is something I have to do," the 10-year-old told her parents in a video message.
News of the suicide of a young girl by self-poisoning has shocked Chinese netizens. Pressure at school, circumstances at home, and the ease of availability of pesticides in China have all potentially contributed to the girl's death.
A 10-year-old girl from Xuzhou city in Jiangsu province died this week after self-poisoning in her own home. She left behind a 3-minute video and a 2-page farewell letter to her family, Beijing News reports through Weibo.
In the video, the girl calmly says: "Mum, dad, I'm off. I want to tell you I am sorry. I want to go to heaven, and want to bid you all farewell."
"When my birthday comes up, don't forget to place a cake in front of my grave. (..) Thanks mum and dad, for taking care of me all these years."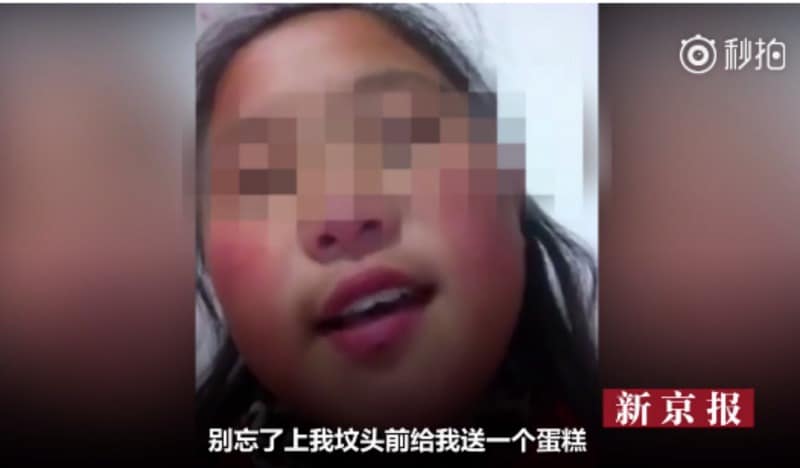 "You beat me and you scold me," the girl added: "But I know it is all for my own good. I will take care of you from heaven. I don't want to let you down. This is something I need to do."
The young girl stated in her farewell message that she wanted to go to heaven because she was "not doing well at school."
Too Much Pressure
According to Sina News, the young girl died after drinking pesticides on November 14 – just 3 days before the mid-term exams would be held at her school.
The girl reportedly was receiving low grades this semester and was punished for it by her teacher, who did not want her to take part in the mid-term exams because she would allegedly bring down the average grade of the whole class.
Her mother told Chinese news outlet The Paper that the pressure at school might have led to the child's suicide.
According to a 2010 study, one third of Chinese primary school children suffer from psychological stress because of the pressure at school and their parents' expectations.
In November of 2014, the suicide of a 10-year-old boy from Guangzhou after his mid-term exams also shocked netizens. The boy, who received just 39 points for an English exam, hung himself after writing about his low grade in his diary.
A year prior, in 2013, another 10-year-old committed suicide by jumping from a building after being scolded by a teacher after failing to complete an assignment.
Pesticide Suicides in China
Suicide is the top cause of death among Chinese youth; school stress is often a major factor. But in the case of the Jiangsu girl, the availability of pesticides might also relate to her death.
"When I was that age, I also thought of committing suicide," one person on Weibo wrote: "I found a person through QQ who could sell me pesticides. He asked 900 for it [±135$] and I thought it was too expensive so I didn't buy it. I don't even know how I'm still alive now."
Suicide by pesticide poisoning is the most common method of suicide in China, both for males and females. Pesticides are readily available, especially in China's rural areas, where the occurrence of self-poisoning are much higher than in urban areas (Page et al 2017).
A recent study published in BMC Public Health this year (Yimaer et al 2017) found that pesticide poisoning for children is a serious problem in China. In the 2006-2015 period, a total of 2952 children were poisoned by pesticides in the province of Zhejiang alone.
Weibo Discussions
On Weibo, the young girl's death has led to many discussions. Some people blame the parents for the girl's death, others say that Chinese children are too pressured by the school system. There are also those who do not believe that such a prepared suicide could really be the work of a 10-year-old alone, and wonder if someone perhaps made her do it.
"At 10 years old, she does not even grasp the what death is," some say.
There are also people who share their own childhood problems. "When I was that age I also had suicidal thought," one commenter writes: "But I never had the courage. She is more courageous than I am."
On November 16, the local education department stated that authorities are currently further investigating the case.
By Manya Koetse
@manyapan
Follow @whatsonweibo
References
Page, A., Liu, S., Gunnell, D., Astell-Burt, T., Feng, X., Wang, L., & Zhou, M. 2017. "Suicide by pesticide poisoning remains a priority for suicide prevention in China: Analysis of national mortality trends 2006–2013." Journal of Affective Disorders, 208(November 2016): 418–423.
Yimaer A., Chen G., Zhang M., Zhou L., Fang X., Jiang W. 2017. "Childhood pesticide poisoning in Zhejiang, China: a retrospective analysis from 2006 to 2015." BMC Public Health 17(1): 602.
Spotted a mistake or want to add something? Please let us know in comments below or email us.
©2017 Whatsonweibo. All rights reserved. Do not reproduce our content without permission – you can contact us at info@whatsonweibo.com.
Fangcang Diaries: China's Makeshift Covid Hospitals, from Wuhan to the Future
Fangcang hospitals are here to stay as long as China sticks to its current zero-Covid path.
By mid 2020, many thought Fangcang, China's Covid-19 makeshift hospitals, had become a thing of the past. Instead, they have become a part of the country's future. Through the course of the pandemic, perceptions of China's 'square cabin' Covid hospitals have drastically changed. Chinese social media users get a glimpse of life inside the Fangcang hospitals thanks to patients' online diaries, videos, and photos.

This is the "WE…WEI…WHAT?" column by Manya Koetse, original publication in German by Goethe Institut China, visit Yi Magazin: Fangcang ohne Ende: Chinas Covid-Krankenhäuser damals und heute.

In February of 2020, the impressive construction of two enormous emergency field hospitals in Covid-stricken Wuhan captured the world's attention. The Huoshenshan and Leishenshan Hospitals were constructed in a matter of days and combined they could take in 2,500 patients. The construction process was live-streamed by state media and sped-up drone footage of a large empty field transforming into a fully functioning hospital received millions of clicks around the internet.
Along with mass-testing and local lockdowns, the so-called 'Fangcang' shelter hospitals are seen as a key solution in 'fighting Covid-19 the Chinese way' to alleviate the pressure on public hospitals and lower Covid-19 mortality rates by quarantining and treating patients with confirmed infections.
Within a matter of 2,5 years, Fangcang emerged as a novel concept on China's coronavirus battleground and then became a part of everyday life in a zero Covid society. Here, we will zoom in on China's Fangcang phenomenon and changes in the public's perceptions of it.
MORE THAN MASH: THE NOVEL FANGCANG CONCEPT
Fāngcāng (方舱) literally means 'square cabin,' referring to a modular or prefabricated mobile cabin hospital. Although the concept of an emergency field hospital or makeshift hospital is not new, Fangcang hospitals are labeled as a "novel public health concept" due to their specific use during China's Covid crisis (Chen et al 2020).
Some studies say that China's Covid-19 Fangcang hospitals were modeled after emergency cabins used during the Wenchuan and Yushu earthquakes in 2008 and 2010 (Wang et al 2020, 2). According to the biggest Chinese-language online encyclopedia, Baidu Baike, the term actually comes from the United States, where the U.S. Army first started developing such cabins – Mobile Army Surgical Hospitals (MASH units) – in the early 1950s and used them during the Korean War. The Chinese Fangcang hospital, however, is not really the same and the concept was implemented for the first time in Wuhan in February 2020.
In China, Fangcang hospitals are large, temporary hospitals for the isolation, treatment, and disease monitoring of Covid-19 patients with mild-to-moderate symptoms. By taking in and quarantining people who have tested positive for Covid-19, they are meant to reduce the transmission of the virus within households and communities, while also providing treatment to patients with mild symptoms (Fang et al 2020, 2). In doing so, they dramatically reduce the pressure on regular hospitals, which need their beds to solely treat patients with severe and critical conditions.
The 1,000-bed Huoshenshan Hospital (火神山医院) was constructed within a matter of days, starting on January 23, 2020, and ending on February 2. The first patients were admitted a day later. The construction of the 1,500 bed Leishenshan Hospital (雷神山医院) started on the 26th of January and was completed on 6 February 2020.
Many other Fangcang hospitals were not constructed like these shelter hospitals but were built by converting large (public) buildings such as exhibition centers, stadiums, or schools into healthcare facilities. In Wuhan, over a dozen more Fangcang hospitals were opened in February of 2020 to provide beds for Covid-19 patients before all being suspended on March 10 of that year when the crisis was under control.
FANGCANG ON SOCIAL MEDIA: A CHANGING IMAGE
In the early stages of the pandemic, Chinese social media users got a glimpse of life inside the Fangcang hospitals through official media videos and through footage and photos posted by people staying there. Up to the present day, patients share their quarantine experiences on social media using hashtags such as "Fangcang Diaries" (#方舱日记#).
In the Wuhan days, there were videos of patients dancing together inside the hospitals, with people cheering on the positivity of patients and the dedication of the healthcare workers.
One photo of a patient reading Francis Fukuyama's The Origins of Political Order even went viral on Weibo. Many admired the patient for reading such heavy literature during his Fangcang stay and the man became famous overnight as 'the invincible Wuhan-er.'
A young woman known as A Nian (阿念) also wrote on social media about her quarantine stay at one of Wuhan's Fangcang hospitals in February of 2020. When her grandmother fell critically ill during her stay at the city's Huoshenshan hospital, A Nian asked to be transferred to the same Fangcang so that she could take care of her. Despite having A Nian by her side, the grandmother passed away. A Nian's experiences at the Wuhan Fangcang hospitals were eventually published in the book Wuhan Girl A Nian Diary (武汉女孩阿念日记). The book paints a picture of the Fangcang where resilience, warmth, and optimism dominate the overall atmosphere.
The Covid-19 outbreak in Wuhan was a national war against the virus, and the Fangcang hospitals were described and represented as a necessary and praised tool within this united fight. The medical staff members working there were the heroes on the frontline, and many social media users honored and thanked them for their efforts.
After the shelter hospitals in Wuhan gradually closed, the social media focus shifted to how the Covid crisis became a pandemic and caused chaos in the rest of the world. By April of 2020, Wuhan had returned to a state of normalcy, and schools across the country reopened. When Huoshenshan and Leishenshan closed their doors, Fangcang soon seemed to become a thing of the past.
Although there were local outbreaks of Covid-19 in China throughout 2020 and 2021, the Fangcang hospitals did not really return to the public spotlight until Xi'an saw cases spike in late 2021 and early 2022, with the city becoming the epicenter of the biggest Covid outbreak and lockdown since Wuhan.
By January of 2022, the city of Xi'an had started to construct large sites for isolation of people who tested positive for Covid-19, in addition to designated hospitals. Besides 'Fangcang,' these were also called 'Centralized Isolation Points' (集中隔离点).
As later explained by Dr. Wu Jinglei, director of Shanghai Municipal Health Commission, Fangcang hospitals can also be used as 'Isolation Points.' The two are the same but using 'Isolation Point' instead of 'Fangcang Hospital' emphasizes the need to also isolate and observe patients who are asymptomatic at these health locations, besides treating those with mild-to-moderate symptoms. Later on, these locations also started to be referred to as 'Fangcang Isolation Points' (方舱隔离点) or 'Isolation Fangcang' (隔离方舱).
One story that attracted major attention on Chinese social media and indicated changing perceptions of the Fangcang phenomenon was the midnight eviction of residents of the Xi'an Mingde 8 Yingli community (明德八英里小区) in Xi'an. Just after midnight on January 1st of 2022, residents received news that they would be transferred by buses, and quarantined away from their compound due to new infections in their proximity.
Residents voiced their concerns on social media about the incident, saying they were unsure of where they were heading, and that they were put in buses together for hours until being driven off to a remote Fangcang without proper supplies. The term 'bèi lāzǒu' (被拉走) was used, 'being dragged away.'
Old people, young children, and pregnant women were among those being taken away for quarantine without being provided with the things they needed, and without any measures to protect them against the dangers of infection. An image of an old man with a walking cane standing in line to be taken away for quarantine went viral online as many worried about his wellbeing. He was seemingly all alone and did not seem to have any luggage or food supplies with him.
Seeing photos of old buildings without proper facilities being turned into Fangcang, many residents wondered what the point of this kind of isolation was. One popular post by a Weibo user nicknamed 'In Between Memories' from January 2nd of 2022 said:
"I don't understand why negative-tested families should be dragged away for isolation? Isn't isolation at home also isolation? The Fangcang hospitals were built to focus on treating the mildly ill, separately from the seriously ill. But nowadays, after discovering one positive case, Xi'an wants to pull away the entire neighborhood to a centralized quarantine with poor conditions – even if everyone has already been in home quarantine for over a week. Is this all just so that Xi'an can say it has zero infections while ignoring the scientific basis that many families tested negative multiple times? While disregarding the special needs of families with elderly, young, sick, disabled, and pregnant people? Before transferring people, you never provided them with a policy basis, nor was there any warning or reminder given to the citizens of Xi'an that you would implement [this policy] on the spot in the middle of the night. Now that everyone is at risk, perhaps some will support this, hoping that there can be zero cases within the community in a time frame of three days. But there are more residents who are only worried that the next one to be dragged away will be them. After all, we will be taken away even if we stay well at home and test negative ten times for the nucleic acid test, what about the elderly and our children, what about our pets? No one cares, they only care about their hard target to clear the city of Covid within three days."
Within three weeks of lockdown, Xi'an was the first city to have so many patients admitted to Isolation Points: nearly 50,000 people were isolated at 443 different Fangcang quarantine locations across Xi'an (Southern Weekend 2022).
The fears of being taken away to Fangcang hospitals and Isolation Points also became a reality for Shanghai residents after an unprecedented Covid-19 spike in the city, starting in March of 2022. As the city entered a phased lockdown, photos and videos of a local quarantine site where babies and small children were kept in isolation – separated from their parents – went viral on Chinese social media.1
Not long after, patients at Fangcang hospitals started posting on social media about their experiences, complaining that there was a lack of basic supplies, that they were not given the medicine they needed, and that vulnerable patients were left to their own devices without proper care.
As the Covid-19 cases continued to spike throughout March and April, videos also started surfacing showing chaotic scenes at some Fangcang sites in Shanghai where patients were fighting over supplies such as blankets, water, and food, some crying when they were unable to get anything but some bottles of water – or nothing at all.
The apparent disorganization at quarantine facilities from the city's Pudong to Minhang Districts triggered discussions on Chinese social media about why asymptomatic patients were taken off to these ill-equipped centralized Fangcang locations at all and why they were not allowed to isolate at home instead.
One Weibo user wrote in April 2022:
"They took us to an isolation site. If the conditions had just been a bit better, we'd be okay with it, but this is just unimaginable. These are the facts. Over 800 people have entered this facility since April 9, their ages varying from seventy or eighty years old to babies just a few months old. 1. Inside the factory building, there are plank beds without mattresses, there are no people to clean. 2. There is no supervisor, we need to fight over our food. 3. There are not enough supplies, not even enough toilet paper. 4. 80% of the toilets are clogged, there's nobody to clean them. 5. There are no doctors and nobody to take care of patients with a fever. 6. There is no one to dispose of the garbage. 7. The weather's hot, but there's no place to shower or change clothes."
Stories also started coming out of patients being taken away to Isolation Points many days after they had first tested positive for Covid. By the time they were finally taken away for quarantine, they had recovered and tested negative for Covid-19, yet still had to go and stay together with patients testing positive.
To create more beds for patients, Shanghai opened China's largest-ever Fangcang hospital on April 8 at the National Exhibition Convention Center. This Fangcang, built by the same people who had helped build Huoshenshan and Leishenshan in Wuhan, had a capacity of 50,000 beds for Covid-19 patients.
These bigger, modern, and central Fangcang locations are generally neat and orderly, providing regular meals and medicine, as well as offering various activities or even setting up classrooms for quarantined students.
But photos, footage, and online diaries posted on social media exposed the stark differences in living conditions between different Fangcang hospitals. By late April of 2022, patients staying at one Fangcang location in the city's Putuo District – an office building converted into a makeshift hospital – complained about the crowded living conditions, the lack of washing rooms and showers, and the inadequate supply of food and drinking water. At other facilities, patients posted videos of water pouring into the building after heavy rain.
From Wuhan in 2020 to Shanghai in 2022, the public perception of the Fangcang phenomenon in China changed dramatically. While it was initially seen as an effective, efficient, and celebrated response to the outbreak of Covid, many Shanghai-based residents, during the peak of the city's Covid crisis, feared the Fangcang more than the virus itself, as stories about overcrowded, disorganized and unequipped facilities kept surfacing online.
THE FUTURE OF FANGCANG
By mid-May of 2022, after seeing over 60,000 confirmed Covid-19 cases in total, Shanghai retired half of its Fangcang locations due to rapidly declining cases. Nevertheless, the restrictions to keep Covid under control are still stringent.
As Chinese leadership remains adamant on sticking with its zero-Covid strategy, state media emphasize the need to uphold the mandatory quarantine system as part of this public health policy, which basically means the country will not opt to 'live with the virus' but instead will continue to implement strict measures to eliminate a Covid outbreak as fast as possible once it emerges.
Fangcang are here to stay as long as China stays on its current zero-Covid path. The country's top epidemiologist Liang Wannian (梁万年) maintains that patients need to be isolated at a centralized location because they can be easily monitored and treated that way, while also minimizing the risks of them spreading the virus to others in their household or community.
In preparation for potential future outbreaks, cities across China are building new Fangcang or are improving existing ones. Authorities are making sure that the country is ready to manage more local outbreaks, avoiding messy Fangcang scenes like the ones in Xi'an or Shanghai.
On May 13, China's National Health Commission called on all provinces to build or renovate city-level Fangcang hospitals, and to make sure they are equipped with electricity, ventilation systems, medical appliances, toilets, and washing facilities.
The country-wide Fangcang preparation plan is now in full swing. In Zhengzhou, for example, construction workers are building a new Fangcang from the ground up. The city of Zhoukou recently issued a promo video on Weibo showing off their local brand-new Fangcang location with 356 private rooms equipped with air disinfection systems, private showers, and free Wi-Fi. Meanwhile, Shanghai even introduced its first Fangcang location for pets.
When it was announced that China would withdraw as the 2023 Asian Cup host due to the pandemic, netizens joked that the stadiums constructed for the sports event could now be turned into Fangcang instead.
"The Fangcang will become a regular facility in the next few years," some social media users commented. Others wrote: "This is good news. It's better to be prepared for what's coming," and: "Better to prepare to build the Fangcang now than to prepare to build our future graves."
Generally, despite worries over a lack of medical care and supplies at facilities, many people do support the idea of their cities being prepared for an immediate Covid response once it's necessary. "I don't get why people are being negative about building new Fangcang," one Weibo user from Hebei Province writes:
"People think that they should stay home if they get infected but want other people to quickly go away to a Fangcang hospital if they're sick. Our little town is now also building a Fangcang, and I think it's a good thing. Before, there were too many infections in the neighboring village, and they took them for isolation to the hotel in our city center and all stores in the vicinity had to close. (..) It was scary, people didn't want to visit the center anymore. Now, they're building a Fangcang at the town border, away from the people, and it's a relief for all of us."
Meanwhile, Fangcang patients keep sharing their journals online. "Today is day seven for me," one Shanghai resident wrote on Weibo: "I finally had an egg for the first time here. I've been constipated all week (..) This morning, I heard I meet the conditions to be discharged [two negative tests in a row], but due to the lack of capacity I'm still waiting, and it might still take two or three more days before I get to go home."
"It's day twelve. I can't wait until I'm released from 'prison'," one person wrote.
"It's my first night at the Fangcang," one Weibo user writes in another online 'Covid journal': "There's too much light and noise, and my dad and I took turns in waking up. Eventually, he decided to get up, thinking it was 5 am, until we discovered it was just past 2 am. I felt light-headed as I headed to the bathroom."
One patient at another Shanghai Fangcang writes: "My stay at the Fangcang is better than I had expected. I am sleeping better than at home and don't have to think about what I am going to eat. But there are many elderly people inside here, and I see them suffering. I'm not sure if this policy really helps them." They also write: "I'd better record all of this. I think this is going to be an experience I'll remember for the rest of my life."
By Manya Koetse
Follow @whatsonweibo
1 On April 6, 2022, Shanghai changed the policy and announced that parents can apply to accompany their children during central quarantine after signing an agreement, regardless of whether they've tested positive for the virus or not.
References (other sources linked to inside the text)
Chen, Simiao Chen, Zongjiu Zhang, Juntao Yang, Jian Wang, Xiaohui Zhai, Till Bärnighausen, Chen Wang. 2020. "Fangcang Shelter Hospitals: A Novel Concept for Responding to Public Health Emergencies." The Lancet, April 2             https://www.thelancet.com/journals/lancet/article/PIIS0140-6736(20)30744-3/fulltext [May 12, 2022].
Fang, Dongpin, Shengjie Pan, Zaishang Li, Ting Yuan, Benran Jiang, Di Gan, Bai Sheng, Jing Han, Tao Wang, Zhongmin Liu. 2020. "Large-Scale Public Venues as Medical  Emergency Sites in Disasters: Lessons from COVID-19 and the Use of Fangcang Shelter Hospitals in Wuhan, China." BMJ Global Health 5:  1-7.
Luo, Hanbin, Jiajing Liu, Chengqian Li, Ke Chen, Ming Zhang. 2020. "Ultra-Rapid Delivery of Specialty Field Hospitals To Combat COVID-19: Lessons Learned from the Leishenshan Hospital Project in Wuhan." Automation in Construction 119 (103345):  1-10.
Southern Weekend 南方周末. 2022. "The Largest Centralized Quarantine: 49,678 People in  nearly One Month, What Has Xi'an Invested 最大规模集中隔离:近一月49678人,西安付出了什么" [In Chinese]. Sina News, January 13  https://news.sina.cn/2022-01-13/detail-ikyamrmz4934227.d.html [May 13].
Wang, Ke-Wei, Jie Gao, Xiao-Xiao Song, Jiang Huang, Hua Wang, Xiao-Long Wu, Qin-Fang Yuan, Xiao-Shan Li, Feng Cheng, Yang Cheng. 2020. "Fangcang Shelters Are a One  Health Approach for Responding to the Covid-19 Outbreak in Wuhan, China." One Health 10 (100167): 1-6.
Featured image by Ama for Yi Magazin.
This text was written for Goethe-Institut China under a CC-BY-NC-ND-4.0-DE license (Creative Commons) as part of a monthly column in collaboration with What's On Weibo.
Spotted a mistake or want to add something? Please let us know in comments below or email us. First-time commenters, please be patient – we will have to manually approve your comment before it appears.
"Experts Are Advised Not to Advise": Why Weibo Users Are Fed Up with 'Expert Advice'
Experts say this, experts say that, but many social media users wish experts would say nothing at all.
Over the past week, the topic of "experts are advised not to advise" (建议专家不要建议) has been trending on Chinese social media. The topic came up after netizens got annoyed over a bunch of news items containing contradicting or ungrounded advice and suggestions from 'experts.'
One column published by Worker's Daily stated that three different expert advice topics went trending on Weibo on the very same day, on May 19: "Experts recommend young people not to spend all of their family money on a downpayment for a house," "Experts advise buying a house is more profitable than renting," and "Experts suggest that from June to October is the best time to buy a house."
'Expert advice' goes trending on Chinese social media on a daily basis in hashtags. The source is mostly Chinese state media quoting an expert's opinion on a certain topic.
Looking at some Weibo hashtags including the 'experts suggest that..' sentence include: "Experts advise to go to bed between 10 and 11 pm", "Experts suggest not to eat too much at night," and "Experts advise not to do new year's resolutions in January," "Experts recommend not to wait to drink water until you're thirsty," "Experts advise to release the 'Three Child Policy' asap", "Experts suggest that eating too many mandarin oranges will turn the skin yellow," "Experts advise single rural men to move to the city," "Experts recommend retirement age to be set to 65," "Experts advise national exam's foreign language subjects to change into a chosen subjects," "Experts advise not to use air fryers too much," and many, many more.
According to this Weibo column, the most common topics that experts give their recommendations about are eating and drinking, sleep, childbearing, education, retirement, women's issues, young people, and housing.
The main reasons why people are getting tired of 'expert advice' headlines are that alleged expert views are often used by (state) media to publicize their own standpoints or views. Others are also concerned that some 'experts' are only speaking out on certain topics because they are getting paid for it, and then many people think that self-proclaimed experts are giving unfounded advice.
Another reason why expert advice is becoming much-dreaded is that experts are often giving contradicting advice. Instead of being helpful, their recommendations are only confusing to readers, and they only lose more trust in experts because of it.
The distrust in "experts advise" news became all the bigger when one 'expert' quoted in a news item by Lizhi News about the risks of using air fryers posted on Weibo herself that she was never interviewed and never even said anything about the topic at all.
By now, the hashtag "Advise Experts Not to Give Advice" (#建议专家不要建议#) has been viewed over 930 million times on Weibo.
"I advise the media not to use one expert after the other just to spread their own views," one commenter says, with another person writing: "First of all, is there an academic degree for being an expert? Or is it a title? Is it based on years of experience, does it require an assessment? (..) Why is it that every time someone opens their mouth you say they're an "expert" without first giving a clear account of the person's life and background?"
"Jus advise experts not to advise anymore," another commenter writes.
But not longer after the online discussions, Chinese media outlets started their 'experts suggest..' posts again, leading to the creation of a whole new hashtag: "Here come the experts again!" (#专家又来建议了#).
By Manya Koetse
With contributions by Miranda Barnes
Get the story behind the hashtag. Subscribe to What's on Weibo here to receive our weekly newsletter and get access to our latest articles:
Spotted a mistake or want to add something? Please let us know in comments below or email us. First-time commenters, please be patient – we will have to manually approve your comment before it appears.
©2022 Whatsonweibo. All rights reserved. Do not reproduce our content without permission – you can contact us at info@whatsonweibo.com.