10-Year-Old Girl Commits Suicide For 'Not Doing Well at School', Leaves Farewell Video
"This is something I have to do," the 10-year-old told her parents in a video message.
News of the suicide of a young girl by self-poisoning has shocked Chinese netizens. Pressure at school, circumstances at home, and the ease of availability of pesticides in China have all potentially contributed to the girl's death.
A 10-year-old girl from Xuzhou city in Jiangsu province died this week after self-poisoning in her own home. She left behind a 3-minute video and a 2-page farewell letter to her family, Beijing News reports through Weibo.
In the video, the girl calmly says: "Mum, dad, I'm off. I want to tell you I am sorry. I want to go to heaven, and want to bid you all farewell."
"When my birthday comes up, don't forget to place a cake in front of my grave. (..) Thanks mum and dad, for taking care of me all these years."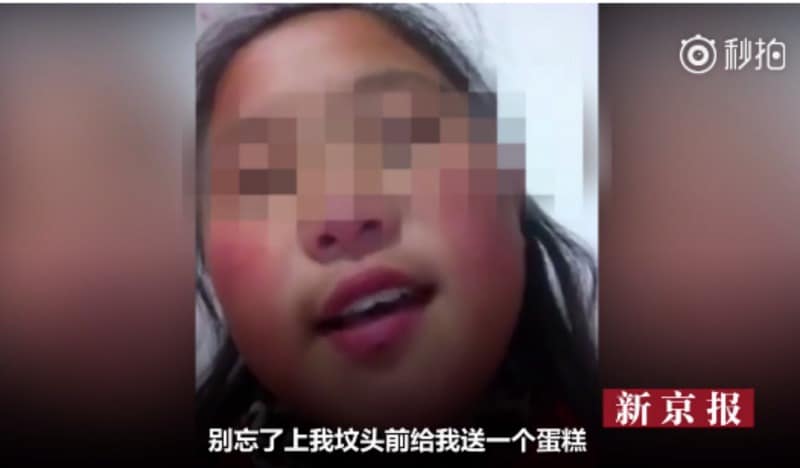 "You beat me and you scold me," the girl added: "But I know it is all for my own good. I will take care of you from heaven. I don't want to let you down. This is something I need to do."
The young girl stated in her farewell message that she wanted to go to heaven because she was "not doing well at school."
Too Much Pressure
According to Sina News, the young girl died after drinking pesticides on November 14 – just 3 days before the mid-term exams would be held at her school.
The girl reportedly was receiving low grades this semester and was punished for it by her teacher, who did not want her to take part in the mid-term exams because she would allegedly bring down the average grade of the whole class.
Her mother told Chinese news outlet The Paper that the pressure at school might have led to the child's suicide.
According to a 2010 study, one third of Chinese primary school children suffer from psychological stress because of the pressure at school and their parents' expectations.
In November of 2014, the suicide of a 10-year-old boy from Guangzhou after his mid-term exams also shocked netizens. The boy, who received just 39 points for an English exam, hung himself after writing about his low grade in his diary.
A year prior, in 2013, another 10-year-old committed suicide by jumping from a building after being scolded by a teacher after failing to complete an assignment.
Pesticide Suicides in China
Suicide is the top cause of death among Chinese youth; school stress is often a major factor. But in the case of the Jiangsu girl, the availability of pesticides might also relate to her death.
"When I was that age, I also thought of committing suicide," one person on Weibo wrote: "I found a person through QQ who could sell me pesticides. He asked 900 for it [±135$] and I thought it was too expensive so I didn't buy it. I don't even know how I'm still alive now."
Suicide by pesticide poisoning is the most common method of suicide in China, both for males and females. Pesticides are readily available, especially in China's rural areas, where the occurrence of self-poisoning are much higher than in urban areas (Page et al 2017).
A recent study published in BMC Public Health this year (Yimaer et al 2017) found that pesticide poisoning for children is a serious problem in China. In the 2006-2015 period, a total of 2952 children were poisoned by pesticides in the province of Zhejiang alone.
Weibo Discussions
On Weibo, the young girl's death has led to many discussions. Some people blame the parents for the girl's death, others say that Chinese children are too pressured by the school system. There are also those who do not believe that such a prepared suicide could really be the work of a 10-year-old alone, and wonder if someone perhaps made her do it.
"At 10 years old, she does not even grasp the what death is," some say.
There are also people who share their own childhood problems. "When I was that age I also had suicidal thought," one commenter writes: "But I never had the courage. She is more courageous than I am."
On November 16, the local education department stated that authorities are currently further investigating the case.
By Manya Koetse
@manyapan
Follow @whatsonweibo
References
Page, A., Liu, S., Gunnell, D., Astell-Burt, T., Feng, X., Wang, L., & Zhou, M. 2017. "Suicide by pesticide poisoning remains a priority for suicide prevention in China: Analysis of national mortality trends 2006–2013." Journal of Affective Disorders, 208(November 2016): 418–423.
Yimaer A., Chen G., Zhang M., Zhou L., Fang X., Jiang W. 2017. "Childhood pesticide poisoning in Zhejiang, China: a retrospective analysis from 2006 to 2015." BMC Public Health 17(1): 602.
Spotted a mistake or want to add something? Please let us know in comments below or email us.
©2017 Whatsonweibo. All rights reserved. Do not reproduce our content without permission – you can contact us at info@whatsonweibo.com.
Man Dies of Heart Attack after Being Told Not to Smoke in Elevator, Now Family Is Suing
A young doctor has ended up in court after objecting to a man's cigarette smoke in a public elevator.
Who is to blame when two men argue because one of them is smoking in the elevator, and then dies of a heart attack moments later? The family of the deceased smoker is now suing the man who told him not to smoke.
In early May of this year, security cameras captured how an elderly man lit a cigarette in the elevator of an apartment building in Zhengzhou, Henan province. When another man also gets into the elevator, he points at the man's cigarette and objects to his smoking.
The two men end up in a dispute over the smoking, which also continues when they exit the building. CCTV cameras from inside the building's lobby and from the other side of the street record how neighbors interfere and separate the two men from each other.
The argument, which remains verbal and does not become physical, stops when the two men each go their own way. Not much later, the elderly man suddenly passes away due to heart failure.
This incident is now at the center of a remarkable court case, in which family members of the man who smoked in the elevator are suing the other man over his death. Although the deceased man was known to have dealt with a heart condition before, his family blame the heated discussion for his sudden death. They are seeking a compensation of CNY 400,000 (±60,000$).
The man they are suing is the 37-year old Yang Jun (alias), who is a doctor by profession.
This week, the court ruled that it can not be fully proven that Yang Jun is responsible for the man's sudden heart failure and that he, therefore, does not need to pay the CNY 400,000 that is demanded by the family.
The court, however, did hold rule that Mr. Yang needs to pay a total of CNY 15,000 (±2260$) as compensation to the family, as a matter of "principle of fairness" (公平原则).
The family is appealing the court decision.
The story, that is reported by The Paper and other Chinese media outlets, has triggered discussions on social media.
Many netizens object to the court's decision. "The old man probably died because of smoking, the doctor cannot be burdened with this," some comment.
There are also people who offer to contribute money for Yang to pay the man's family. "By this decision, the court is actually choosing the side of the evildoers," some say.
"Poor doctor, who could have imagined it would end this way? Can't we even tell people not to smoke now anymore?"
By Manya Koetse
Follow @whatsonweibo
Spotted a mistake or want to add something? Please let us know in comments below or email us.
©2017 Whatsonweibo. All rights reserved. Do not reproduce our content without permission – you can contact us at info@whatsonweibo.com.
Exam Room For HIV-positive Students Sparks Social Media Storm in China
For the first time ever in China, HIV-positive students will take the national college exams in a separate examination room at a special school in Linfen, Shanxi. News of the segregated exam site has triggered intense debate among Weibo netizens over the past few days.
For the first time ever in China, HIV-positive students will take the national college exams in a separate examination room at a special school in Linfen, Shanxi. News of the segregated exam site has triggered intense debate among Weibo netizens over the past few days.
Linfen Red-Ribbon School, the only special school for HIV-infected children in China, sparked a social media storm in early June when Shanxi Daily reported that its students would take their national exams in a special exam room, instead of taking it at the standard local exam site together with other students.
The Red Ribbon School was established in December of 2011, and has since been included in the national education system. The Institute offers free food, dorms, medical services, and psychological treatment for its 33 students, who come from all over China.
China's national college exam, better known as the gaokao (高考), is the National Higher Entrance Examination. For most students, it is the most important exam of their life.
The Red Ribbon School received official authorization to let 16 of its students take the national exam within the school premises. The students have lived and studied at the Institute since 2004. All prerequisites for the official exam, including CCTV and surveillance equipment, have now been installed in two designated gaokao rooms. There are separate rooms for candidates in liberal arts and science.
The idea for the special exam site was originally suggested by Guo Xiaoping, the school's headmaster. People with HIV often still face severe stigma and discrimination in China. "It is unrealistic to prevent all discrimination in modern-day society," Guo said in an interview with the Shanxi Daily: "Some people might object to taking tests together with our students. It was my proposal to set up a separate place for them, and it was then approved by the education and exam council. The establishment of this examination site is of major significance."
But not all netizens agreed on the helpfulness of separate exam rooms, and it triggered wider debates on the existence of the school itself. One Chinese web user objected: "'Red-Ribbon school'? Giving the school this name is like screaming from the rooftops 'these kids are sick!' This institution is unprecedentedly wicked rather than meaningful."
Another person ridiculed the exam arrangements, pointing out that it reinforced discrimination instead of eliminating it.
There are also many people who approve of the school; but also because they are worried about their own 'safety.' On the Weibo page of Chinanews, the comment that received the most 'likes' explained a concerned parent's perspective: "Would you feel safe knowing your kid is playing with those HIV-positive children? They are so little and don't know how to protect themselves. Something might happen that leads to contact with blood."
"I bet that half of the comments here are just out of political correctness. To be honest, I don't want to live with HIV-students in the same college because I'm afraid that I might have some dangerous physical contact with them without even knowing it."
There are also Weibo commenters who support headmaster Guo Xiaoping. "He's a great man who quit his job as the president of the Linfen People's Hospital to devote himself to building this school to help HIV-infected kids receive a proper education. It is really unfair to talk badly about such a kind old man and these poor children."
In 2014, over half a million (501,000) of China's population were reportedly living with HIV. Although the number of HIV cases is relatively low in China, this has also intensified existing stigmas and fear (see this 2009 study on stigma and discrimination among people with HIV in low HIV-prevalence contexts).
HIV-infected children in China are often forced to drop out of school because of poverty, discrimination, and poor health. In 2014, the 8-year-old HIV-infected Kunkun made headlines when he was banished from his village for the 'safety' of his neighbors. He later found a new home at the Red Ribbon school.
Sixth Tone recently reported that many workers with Chinese Hepatitis B seek body doubles to pass health checks in the workplace to avoid discrimination. Similar practices also occur with HIV carriers. Taboos surrounding the disease are so strong that some Chinese doctors still fear treating HIV/Aids patients, despite anti-discrimination rules.
Looking at the many comments on Chinese social media about the facts and falsehoods about HIV/Aids, it is clear that there is still a long road ahead for HIV awareness in China – especially because sexual education is still a controversial topic.
Through an open letter online, one of the students of the Red Ribbon School also gave their view and final say on the matter. They wrote: "I just want to go to college, achieve my dreams and pay back those who love me. The nearer the gaokao is, the heavier my heart feels. So many questions have been troubling me: whether I will be accepted to a university, if the teachers will accept me as a normal student, and whether my classmates will study and live with me."
The students of the Red Ribbon Schools will be taking their exams on June 7 and 8. One 19-year-old Weibo netizen wishes the students the best: "As a Linfen resident, this moves me to tears, and I am proud of Linfen. All these keyboard warriors need to shut up and stop discriminating. You can't deprive these students of their rights. I wish them all the good luck for their exams!"
– By Yue Xin
Follow on Twitter or Like on Facebook
Additional editing by Manya Koetse
©2017 Whatsonweibo. All rights reserved. Do not reproduce our content without permission – you can contact us at info@whatsonweibo.com.