Dorm Violence: Kunming University Student Killed by Roommate for Singing A Song
A dorm murder in Yunnan province has become the focus of public attention. The lethal altercation, that took place at Kunming University, allegedly started over a song. Weibo netizens are increasingly worried about the recurring problem of dorm violence.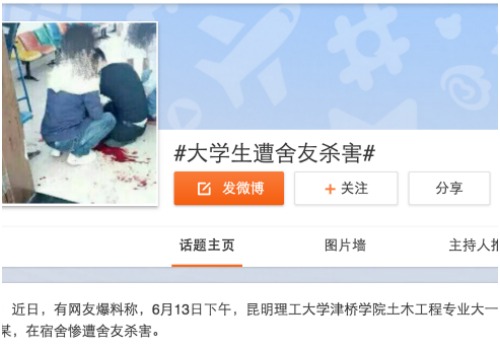 A dorm murder in Yunnan province has become the focus of public attention. The lethal altercation, that took place at Kunming University, allegedly started over a song. Weibo netizens are increasingly worried about the recurring problem of dorm violence.
Weibo netizens recently exposed that a dorm room murder took place on June 13 at the Kunming University of Science and Technology. The topic became trending on June 17 on Sina Weibo under the hashtag of 'University Student Killed by Roommate' (#大学生遭舍友杀害#).
The person who was killed, a young man named Peng, was known to be previously involved in a dispute with another male dormitory student, according to Legal Evening News.
Local police has confirmed the deadly altercation started when Peng was listening to music and singing in the dorm room while others were sleeping, triggering a fight with the suspect, People's Daily writes. Peng first assaulted the suspect with a chair, after which the suspect stabbed and killed him with a knife. The suspect has since been arrested.
News about the case, that is currently under police investigation, leaked online through netizens who shared pictures of the murder scene.
The pictures, that are blurred, show students kneeling down around the place of the murder and another picture allegedly shows the body of Peng wrapped in a bag.
News of the murder has caused much commotion on Weibo, where many netizens worry about living conditions and dorm violence in China's universities: "There seems to be something on the news about universities every day, from roommates killing each other to girls being molested.."
"If China doesn't care more about mental health education, then I am afraid what's next. Our society already is a bit messed up…", one netizen says.
[rp4wp]
What's on Weibo previously reported about China's dorm life problems. In many of China's university dorms, the poor living conditions and full rooms can lead to altercations amongst dorm students. Because there often is a lack of campus counseling and no available alternative housing, there can be extreme tension buildup amongst roommates. Small irritations can lead to deadly arguments.
"In universities nowadays, anything can lead to conflict. For example, in the afternoons, some students want to play a game in their dorm, while others want to sleep, and others want to watch a comedy show. In the evenings, while some people want to sleep, others want to sing. Who can stand this? Everything happens for a reason. But university students shouldn't be so selfish and should learn to respect others. Their dorm is not their house," one netizen writes.
According to China's University Student's Essential Website (大学生必备网), the dorm rooms at Kunming University of Science and Technology are generally shared between 4 or 8 persons, with every person paying 1200 RMB per year (±182US$) for the 4-person rooms, and 400 RMB per year (±60US$) for the 8-person rooms.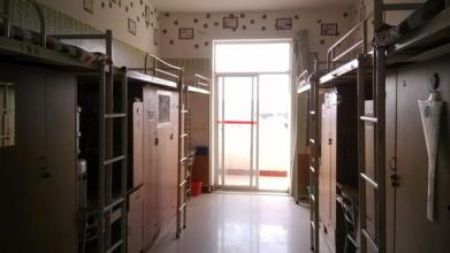 Over the past few years, there have been many incidents in Chinese dorms that ended up with people being killed by their fellow dorm students. A sum-up of a few of these cases:

• 2004: Student Ma Jiajue at Yunnan University kills four roommates with a hammer because he thought "they looked down upon him".
• 2013: Student Huang Yang (黄洋) dies after the common water cooler was purposely poisoned at Fudan University. The student guilty of murdering Huang was sentenced to death in 2015. The two male students shared a dorm room and did not get along.
• 2013: A student is stabbed to death by his dorm roommate at Nanjing Aeronautics and Astronautics University after a quarrel.
• 2013: A Nanhang Jincheng College student is stabbed to death by his roommate with a fruit knife after an argument broke out between the two young men.
• 2016 (March): A student from Sichuan Normal University is killed and beheaded in his dormitory by his roommate.

Many netizens blame the recent Kunming dorm murder on China's education and dorm system, but there are also those saying that it is a global phenomenon: "This incident cannot just be traced back to China's faltering education system, that would be too much. Many say that foreign education is good, yet they also still have campus violence and massacres. It's too simple to say people's personality is formed by education, as there are many factors influencing them, and nobody's perfect. No matter if you live in the West or in the East, our societies all have problems we need to sort out, and this process influences everybody."
News about dorm violence has become so commonplace that the topic "how to avoid getting murdered in your dorm room" (如何避免在宿舍被杀) has now become a point of discussion amongst Chinese netizens.
– By Manya Koetse
Follow @WhatsOnWeibo
©2016 Whatsonweibo. All rights reserved. Do not reproduce our content without permission – you can contact us at info@whatsonweibo.com.
Pregnancy Discrimination in the Workplace: Three Major Problems Faced by Chinese Female Workers
Weibo discussions about a woman from Wuhan who was fired after sharing news of her pregnancy for "inability" to do her job.
Workplace pregnancy and maternity discrimination is a deep-rooted problem that has recently triggered online discussions in China, where netizens highlight common ways in which companies still try to avoid dealing with pregnant workers.
The official Weibo account of Legal Daily (法治日报), a Chinese state-owned newspaper, recently launched a social media hashtag about employers not being allowed to terminate female employees because they are pregnant (#不得因怀孕辞退女职工#).
Legal Daily reported that a female employee in Wuhan was fired from her job due to her pregnancy earlier this year (#武汉一女子怀孕后遭公司辞退#). After returning to work after the Spring Festival break, the woman informed the company about her pregnancy. In early February, the company asked her to accept a demotion and salary reduction, which she declined. Later that month, she received a termination letter from the company, stating that the employee was being terminated due to her "inability to do her job."
Legal Daily's Weibo account cited Article 5 of the "Special Provisions on Labor Protection for Female Employees," which prohibits employers from reducing the wages of female employees or terminating their employment contract due to them being pregnant, giving birth, or breastfeeding. It also stipulates a basic maternity leave of 98 days.
The female employee in question is currently suing the company for terminating her job. While this case may have a positive outcome, the issue of workplace discrimination against female employees due to pregnancy is more complicated than it appears, regardless of the Chinese laws designed to protect female workers.
Despite legal prohibitions against pregnancy discrimination in employment, some employers still circumvent the rules in various ways and in doing so, continue to engage in discrimination against female workers. This topic has recently also generated discussions on Chinese social media about the problems women face in the workplace.

Problem #1: Companies Not Hiring Female Workers At All

"It [the law] is not very useful," one Weibo user wrote under the related hashtag: "Companies do not usually fire female workers who are pregnant. They will solve the problem from the beginning by not hiring female workers at all."
Some smaller private companies do not want to take the risk of dealing with potentially prolonged maternity leave and pregnant workers that they cannot fire nor reduce their wages.
They also fear that workers who are pregnant or are taking care of young children will have reduced energy and might face challenges in the workplace. To avoid the presumed risk that comes with hiring a female worker, Weibo commenters discuss how many companies would "rather hire men directly" to evade the issue of dealing with pregnant workers altogether.
Some voices note how female job-seekers are facing gender discrimination in hiring, regardless of their marital status or the number of children they have.
Another post under the same hashtag (#不得因怀孕辞退女职工#) mentioned:
"It is so hard for females to find jobs. [From the company's perspective:] 1. Unmarried female: they're here for the marriage leave; 2. Married but no children yet: they're here for the pregnancy leave; 3. Married and have one child: here to have their second child (and the maternity leave); 4. Married and have two children: here to have their third child (and the maternity leave); 5. Married and have three children: they have no time for work because need to take care of the family; 6. Do not want to marry: they are having problematic thoughts [思想有问题]."

Problem #2: Going to Extremes to Avoid Paying for Maternity Leave

Despite Chinse labor law prohibiting companies from reducing wages or terminating the contracts of pregnant employees, some companies still attempt to circumvent paying for maternity leave through various means, as was the case with the Wuhan company.
One extreme way to avoid dealing with maternity leave pay is to cancel the company's registration altogether, which is also called "dying together" ("同归于尽", also: "to perish together with one's foe").
A recent news story about a boss who canceled his company's registration overnight due to a female employee's pregnancy received widespread attention on the internet.
According to a March 5 report by Netease (网易), the woman informed her boss that she was three months pregnant right after signing her work contract. The boss was so afraid of the potential costs for maternity leave pay and other benefits that he decided to immediately cancel the company's registration.
While the boss claimed that the cancellation was due to the fact that the company was operating at a loss for the past two years, he reportedly spoke with each employee and compensated them accordingly. However, the pregnant female employee in question refused to leave. After the cancellation, the boss formed a new company including all the former employees – except for the pregnant one.
While some netizens expressed concerns over the extreme actions of the company, others also blamed the woman for "blackmailing" the company into supporting her pregnancy and childbirth. Additionally, many netizens argued that the woman's actions also make it more difficult for other job-seeking females to find employment, especially with small companies that may become more cautious about hiring female workers.

Problem #3: Maternity Harassment on the Workfloor

"Dying together" is not the only way for companies to get rid of "troublesome" pregnant workers. There are many other low-cost ways to avoid dealing with pregnant employees and working mothers, such as making life in the workplace so difficult for them that they will voluntarily resign.
In Chinese, this kind of 'maternity harassment' is also called "chuān xiǎo xié" (穿小鞋), which literally means giving someone tight shoes to wear and making them uncomfortable. The phenomenon is also widespread in Japan, where the word 'matahara' was coined as an abbreviated form of the words 'maternity' and 'harassment' to describe the unfair treatment of pregnant women and young mothers in the workforce.
By pushing employees to resign voluntarily, the company not only saves on the costs of female workers' maternity leave pay but also avoids paying for a severance package.
Under the report by Jingshi Live-Streaming (经视直播) about the woman in Wuhan who was fired from her job due to her pregnancy, one Weibo user commented that many companies fire female workers who are pregnant, but they usually do not state it upfront and instead secretly force them to leave.
This comment received over 1500 likes, with many sharing their own similar experiences. One person wrote: "I was in that situation. The company explicitly persuaded me to resign and covertly marginalized me."
Another person shared: "After I announced my pregnancy, my year-end bonus was reduced by more than half, and my colleagues immediately treated me with coldness." One woman mentioned that "companies overtly use polite language while covertly giving the lowest performance evaluation to force employees to resign."
One Weibo user complained about how female workers first face nagging questions about their future plans to have children, then face criticism from employees and colleagues after announcing their pregnancy and then have to worry about getting fired or seeing their salary reduced after giving birth.

No Way Out?

Despite laws and regulations requiring companies to provide maternity leave for female employees, there are still loopholes that are used by businesses to avoid responsibility. This leaves women in a vulnerable position in the workplace and limits economic opportunities. Weibo users come up with several suggestions in recent online discussions on how to solve the problems female workers face.
Some suggest that women should "just be realistic" and settle for a second-best option ("退而求其次"). One Weibo post argued that since it is difficult for women to secure permanent positions in both government institutions and big private companies, they should consider becoming temporary workers in government departments as a secondary option.
Others disagreed with this hot take, stating that the average wages and benefits for temporary workers in government departments are not enough to make a living.
Another suggestion raised to combat pregnancy discrimination is to offer equal parental leave to both men and women. However, this proposal was also met with resistance from some who argued that it does not solve anything since fathers have the option to forgo paternity leave, but women do not have that choice. They also cited examples of male colleagues who voluntarily waived their 15-day paternity leave.
Some are skeptical about finding a solution to the problem of women facing pregnancy discrimination in the workplace, and also raise the issue of this problem decreasing women's willingness to have babies at all. Some netizens jokingly comment: "Do women need to provide their certificate of sterilization from the hospitals?" or "I suggest females just remove the uterus [as a solution]."
Facing low fertility rates and a large aging population, boosting birthrates is a priority for Chinese authorities. While Chinese experts look for ways to motivate couples to have (more) children at an earlier age, combating pregnancy discrimination in the workplace is also more important than ever.
One Weibo user bitterly joked about the apparent contradiction of boosting national birth rates while also promoting equal positions in the workplace:
"Women say: "If I get pregnant, I will face workplace discrimination."
The government says: "How dare companies discriminate against women? I will fine them."
Companies say: "You're good at playing tricks. I won't hire women anymore."
Women say: "If I have a child, I can't even find a job. I won't have children in the future."
Society says: "China is getting old before it gets rich. What should we do?"
The media says: "There is news every day. It's great!"
By Zilan Qian
Get the story behind the hashtag. Subscribe to What's on Weibo here to receive our newsletter and get access to our latest articles. Follow us on Twitter here.
Relevant Vocabulary
◼︎ 同归于尽 Tóng guī yú jìn
Dying together; suffering a downfall together; perishing together with one's foe
◼︎ 穿小鞋 Chuān xiǎo xié
Giving someone tight shoes to wear; making things hard for someone by abusing one's power
◼︎ 退而求其次 Tuì ér qíu qí cì
To settle for the second best thing
Images in featured image:
http://www.xinqtech.com/startup/201806/291055.html
https://www.maxlaw.cn/n/20220316/10379852097730.shtml
https://www.maxlaw.cn/n/20180823/923419931554.shtml
https://www.sohu.com/a/325722786_120156585
http://k.sina.com.cn/article_2090512390_7c9ab00602000n007.html
Spotted a mistake or want to add something? Please let us know in comments below or email us. First-time commenters, please be patient – we will have to manually approve your comment before it appears.
©2023 Whatsonweibo. All rights reserved. Do not reproduce our content without permission – you can contact us at info@whatsonweibo.com
Lianghui on Weibo: 5 Themes That Stood Out on Chinese Social Media during the Two Sessions
The Two Sessions have been trending on Chinese social media all week, and some topics garnered more attention than others.
Dozens of themes were discussed during China's Two Sessions, with a handful generating significant buzz on social media this week. Here are five themes that were promoted by official accounts and garnered particular interest on Weibo.
The entire week Chinese social media have all been about the 'Two Sessions' (liǎnghuì 两会), China's annual parliamentary meetings. The meetings commenced at the Great Hall of the People in Beijing in the weekend of March 4-5, ending on March 13.
The annual gathering of the National People's Congress (NPC) and the Chinese People's Political Consultative Conference (CPPCP) is a major political happening that is closely followed by domestic and international media, especially because they lay out the policy priorities for the year to come and also because these are the first full sessions since the end of the Covid pandemic and the 20th Party Congress.
The CPPCC is an 'advisory' body of about 2200 delegates that was established by the Communist Party of China in 1949 and consists of both Party members and non-party intellectuals and prominent figures. The first session, addressing various affairs from social to economic realms, began on Saturday, March 4.
The NPC, which first convened in 1954, is China's top legislative body and national legislature, consisting of about 3000 deputies. Throughout the week, they reviewed government reports, engaged in policy debates, and appointed China's leaders for the next five years.
Despite its seemingly extensive power to amend the Constitution and make or change laws, the NPC is sometimes also referred to as a "rubber stamp" since the major authority still lies with the Party. The sessions of the 14th NPC Congress were opened on March 5 by Premier Li Keqiang, who read out the annual government work report (政府工作报告).
This week, a lot has been happening during the Two Sessions. Besides the CPPCP and the NPC daily schedule of meetings and the review of reports, there were also press conferences – some turned into trending topics.
The Two Sessions are attended by China's top leaders, including President Xi Jiping, whose third term was announced on March 10. Li Qiang was confirmed as the country's next Premier a day later.
On Chinese social media, news about the Two Sessions and related interviews were mostly published by state media accounts using various centralized hashtags, such as "Watching Lianghui in 2023" (#2023看两会#), "National Two Sessions" (#全国两会#), or just "Lianghui" (#两会#), a topic that already received over 210 million views on Weibo on the first day of the NPC.
As with any other major political event, the online discussions surrounding the Two Sessions are tightly controlled and state media accounts usually only allow selected comments to be displayed below their posts on the sessions.
On social media, there are a few themes that were particularly propagated and highlighted as hashtags in multiple posts.
Below are some of the most prominent themes on Chinese social media within the context of lianghui media reports that received a lot of shares and comments.
There are dozens of relevant themes mentioned during the Two Sessions, from economy and employment to education and environment, so the themes below are just the ones highlighted by What's on Weibo as we found them to be prominent on social media, propagated by state media accounts and receiving a lot of discussion throughout the week.
This list is not a reflection of the top themes discussed during the Two Sessions. For more about that, we also recommend visiting NPC Observer, an independent website offering original coverage of China's National People's Congress and its Standing Committee.
1. Taiwan Issue
"We Must Advance the Process of Peaceful Reunification with the Motherland" (#我们要推进祖国和平统一进程#) was one of the hashtags that especially garnered online attention earlier this week during the Two Sessions.
The prominent hashtag, published by CCTV on March 5, is about the Taiwan issue and persisting in carrying out the overall strategy of the Party in China's 'New Era' to settle the Taiwan issue and to promote unification and oppose "independence."
The hashtag was published in light of the annual government work report delivered by Chinese Premier Li Keqiang.
China's determination to achieve "peaceful reunification" with Taiwan was also one of the big themes during the 20th Party Congress and Xi Jinping's speech in October of 2022.
The wording used in the report was also not particularly new, as also reported by Global Times, and emphasized adhering to the one-China principle and the 1992 Consensus, firmly opposing Taiwan independence and promoting unification.
Since Pelosi's Taiwan visit in 2022, the Taiwan issue has returned to the forefront of public attention, especially in light of the war in Ukraine and the comparisons drawn between Russia and China.
2. Military Advancement
On March 8, Xi Jinping attended the plenary meeting of the delegation of the People's Liberation Army and People's Armed Police Force, and the hashtag "Accelerate Builing Our Army Into a World-Class Army" (#加快把我军建成世界一流军队#) went trending that day.
During this meeting, Xi emphasized the "strong military, strong country" idea. During the opening speech of the 20th Party congress, China's military development was also one of the most important themes.
The idea of building a strong military is directly related to the idea of the "great rejuvenation of the Chinese nation," as building a world-class military is seen as a prerequisite or building a socialist modernized country "in an all-round way."
3. Technological Self-Reliance
Building on self-reliance in China's science and technology was another key theme that surfaced during social media discussions and reports on the Two Sessions this week. One of the relevant hashtags was "Stimulate the Surging Force of Enterprises to Achieve Self-Reliance and Strength in Science and Tech" (#激发企业科技自立自强澎湃动能#).
The topic came up as part of a speech by Xi Jinping, who stressed the leading role of China's high-level science and technology and the importance of self-reliance.
Perhaps (un)coincidentally, it also came up in the same week when the Dutch government announced plans to restrict exports of pivotal chipmaking technology to "protect national security." This also led to more online discussions on the need for China to be self-reliant when it comes to tech and science.
4. Xi Jinping as Powerful Leader
The biggest topic on Chinese social media over the past week was related to how Xi Jinping secured his third term as president. A related hashtag received over 1.2 billion clicks on Weibo (#习近平当选中华人民共和国主席#).
The official appointment happened after the members of the National People's Congress (NPC) voted unanimously for Xi Jinping. There was no other candidate.
The appointment of Xi Jinping was widely propagated on Weibo, including reports on Xi Jinping putting the "people first," but it also went beyond those straightforward hashtags.
Chinese state media outlet People's Daily also posted a new propaganda video for the People's Republic of China, titled "This Is Me, the People's Republic of China" ("这就是我, 中华人民共和国"), in which Xi Jinping also was featured as the leader who helped China to get where it is today, and who is leading China to get where it wants to be.
5. Chinese Media in 'the New Era'
Another theme that was prominent on Chinese social media during the Two Sessions was one that was not necessarily discussed during the meetings themselves, but one that was featured on Chinese social media.
Chinese state media outlets published many posts about their own work during the Two Sessions, and the innovation and professionalization of their reporting.
One such example is how the broadcasting team issued a video of them directing a live broadcast, showing a rare view of the 'behind the scenes' production of the Two Sessions broadcasting.
Another example is how People's Daily introduced a special AI-driven virtual news anchor announcing all the latest news on the Two Sessions.
These kind of trends signal a new phase in China's mission to "tell China's stories well" as part of changing media strategies since Xi's rise to power.
For more on the Two Sessions, see our other articles here.
By Manya Koetse 
Get the story behind the hashtag. Subscribe to What's on Weibo here to receive our newsletter and get access to our latest articles:
Spotted a mistake or want to add something? Please let us know in comments below or email us. First-time commenters, please be patient – we will have to manually approve your comment before it appears.
©2023 Whatsonweibo. All rights reserved. Do not reproduce our content without permission – you can contact us at info@whatsonweibo.com.