Remarkable Rebranding: Employees Confused and Angry about "58 Transport" Name Change to "Fast Dog Drivers"
Some workers at Fast Dog would've rather seen a cat in their company's remarkable rebranding campaign.
During the dog days of summer, Chinese transport company '58 Suyun' has made a remarkable move: they've rebranded under the name 'Fast Dog Drivers' (快狗打车). But since 'dog' is a derogatory term in Chinese that can mean 'damned' or 'bastard,' employees are reluctant to drive around with the new sign that marks them as 'damned drivers.'
Chinese logistics and delivery company "58 Transport" (58 Suyun/58速运) recently changed its name to "Fast Dog Drivers" or "Fast Dog Pickup [Service]" (loose translation of Kuài gǒu dǎchē 快狗打车), but workers are not happy about the name change.
A Chinese media news report (video) shows how workers in Zhengzhou have gathered at the office to express their anger about the name change. (Video also on Youtube here).
Many drivers feel the name has a double meaning, implying that either the drivers themselves are 'dogs' or that the people they serve are 'dogs,' or that they are actually picking up dogs.
'Dog' in Chinese (狗 gŏu) can be used as an insult, meaning 'damned' or 'cursed.' The words gǒudàn (狗蛋, lit. 'dog egg') or gǒuzǎizi (狗崽子, lit. 'dog bastard'), for example, can be translated as 'loser' or 'son of a b*tch.'
But 'dog' also pops up in many other vulgar or derogatory terms. Gǒupì (狗屁, lit. 'dog fart') meaning 'bullsh*t' and gǒurì (狗日) meaning 'lousy.'
Many Chinese (negative) idioms also use the word 'dog.' Gǒu yǎn kàn rén dī (狗眼看人低, lit. 'dog-eye-look-people-down')means 'to act like a snob.' Or gòu gǎi bù liǎo chī shǐ (狗改不了吃屎), literally 'a dog can't stop himself from eating shit,' meaning 'bad habits are hard to change.'
Some employees at the "Fast Dog Drivers" are afraid their new name might get in trouble, and refuse to have the new name sign on their minivans, asking: "Why can't the main company just change its name, and let us carry the old name on our vans?"
Some drivers have even put up signs on their van, saying: "We are respectful! We are no 'dogs'!"
One employee speaking to reporters (video) said: "If I call up a customer, am I supposed to say, 'Hello, this is 'Fast Dog' ['fast bastard'] speaking? I can't say that! I'd be scolding myself and the company!"
The employee further tells reporters: "Our company told us that JD.com also has a dog in its logo, yeah, but their name is still JD.com!" He says: "Just look at Tmall [e-commerce site 天猫 lit. 'day cat'], they have a 'cat' [in their name] and that's not insulting. Nobody uses 'cat' as a bad word, now do they, telling someone they're a 'cat' doesn't do anything, now does it?"
On Weibo, news about the name change is also causing some surprise: "Is this for real?", some say: "This name is so undignified!"
The name change surely is for real; '58 Transport' has also changed its Weibo account to 'Fast Dog Drivers' (@快狗打车官方微博). But the name introduction on its Weibo page has also attracted some dozen reactions saying: "Are your drivers 'dogs' ['damned']?"
Some people, however, mention the fact that one of China's biggest search engines also has a 'dog' in it: Sougou (搜狗) literally means 'searching dog.'
'58 Transport' or 'Fast Dog Drivers' is a company that operates in more than 25 major cities across China. It offers services in picking up goods, moving services, and other transport services, and especially stresses the speed of delivery and quality customer services as its main company strengths.
For now, according to reports, the workers in Zhengzhou do not need to put the new name on their minivans – if they do not have them yet – until the headquarters release instructions about the future marketing strategy of the 'Fast Dog' company.
By Manya Koetse
Follow @whatsonweibo
Spotted a mistake or want to add something? Please let us know in comments below or email us.
©2018 Whatsonweibo. All rights reserved. Do not reproduce our content without permission – you can contact us at info@whatsonweibo.com.
When Ad Breaks Get Weird: Branded Content in Chinese TV Dramas Is Ruining It For the Viewers
China's ubiquitous inserted ad marketing is alienating viewers from their favorite TV drama characters.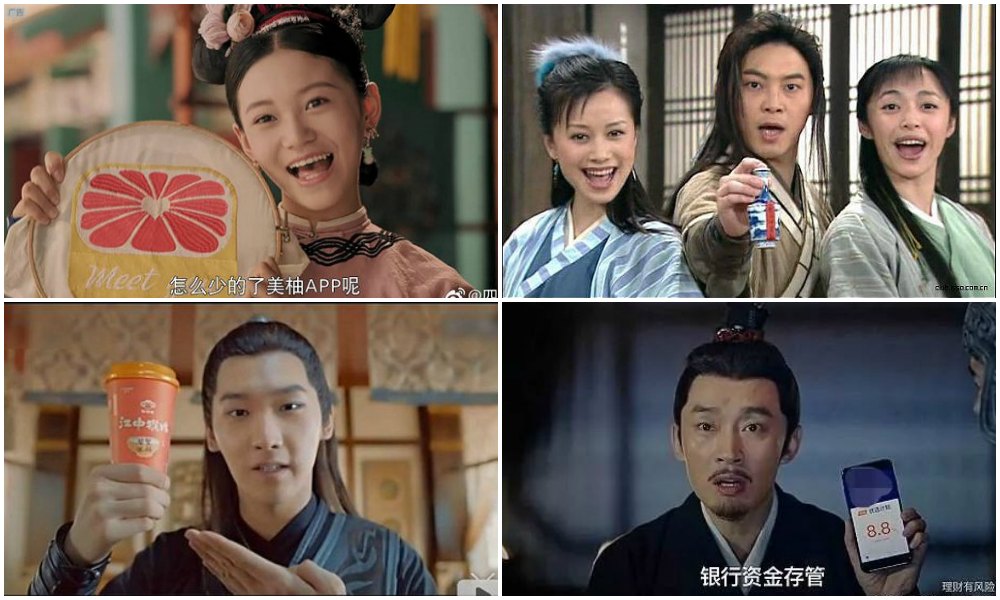 Ad breaks can be annoying, but when it's the main character of your favorite historical drama promoting the latest smartphone, it can actually ruin the viewer experience. In recent online discussions, China's ubiquitous 'Inserted Ad Marketing' (中插广告), that goes beyond product placement, is being attacked by netizens and media.
A 2017 Ad Age article on the high levels of branded content in China's online TV argues that Chinese viewers generally do not mind embedded marketing. They have allegedly become so used to to all kinds of branded distractions in TV shows, dramas, and films, that it is just "another part of the entertainment" (Doland 2017). But recent discussions on Chinese social media signal that the general sentiments regarding inserted sponsored content are changing.
On January 6, Chinese author Ma Boyong (@马伯庸, 4.5 million followers) posted an article on Weibo in which he criticized the phenomenon of inserted ad content in Chinese television series, saying the marketing style often does not suit the characters and is making the actors less credible.
Although Ma does not oppose to embedded marketing per se, he argues it hurts the credibility of TV dramas and the viewer's experience when it does not blend in with the style of the TV drama and its characters.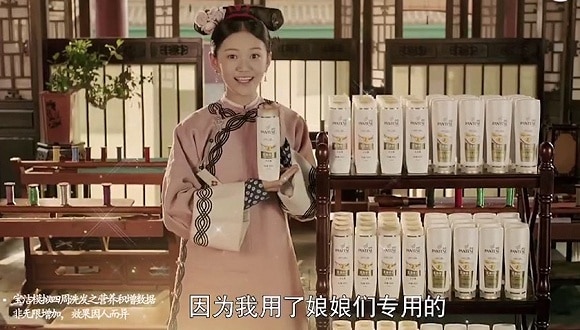 One of the TV dramas where the sponsored segments 'hurt' the show, according to Ma, is Mystery of Antiques (古董局中局, 2018) that is based on one of the author's novels. The actor Qiao Zhenyu (乔振宇), who plays the leading role, allegedly "looks like a fool" because of the inserted ad.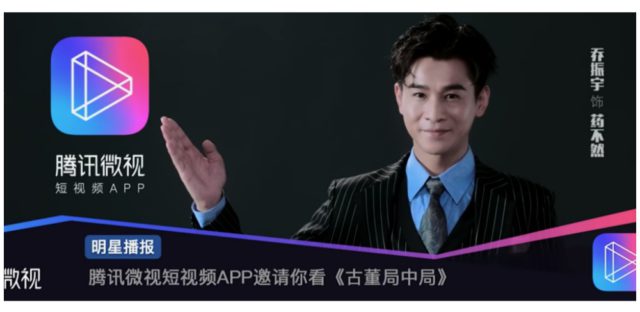 The type of advertising, that is central to this recent discussion, goes beyond product placement; it is the type of ad that appears inside (online) TV shows in which the actors, in character, straightforwardly promote a certain brand and product, sometimes in a scene dialogue ('storyline ads'), but also often while looking directly into the camera (see example here or here, Chinese term: zhōngchā guǎnggào 中插广告).
The hashtag 'Ma Boyong Roasts Inserted Ad Marketing' (#马伯庸吐槽中插广告#) had received more than 50 million views on Weibo by Sunday night, with the overall majority of people supporting the author's stance.
"Finally someone says this," one commenter said: "When it just started out, it was new, and I could endure it, but now it just really annoys me." "It is really disruptive," others agree.
A New Kind of Money-Making Machine
China's history of TV advertisement is not a long one; it wasn't until 1979 that China's first TV commercial was aired. Since then, the industry has blossomed, and branded content has become ubiquitous; the first TV drama incorporating product placement was broadcasted in 1991 (Li 2016).
Product placement is known as a powerful marketing tool since it is inescapable, has a long shelf life, is inexpensive, and unobtrusive (Huan et al 2013, 508). But as China's product placement has been turning into 'branded entertainment' within the settings of the show, it is losing its 'unobtrusiveness.'
Unsurprisingly, this is not the first time this type of advertising receives criticism. In 2017, various Chinese media, such as People's Daily, noted the rise of inserted product ads, stating that TV dramas were "shooting themselves in the foot" with these ad campaigns.
When the protagonist of a dynastic costume drama suddenly promotes a new smartphone app during an inserted ad break, he falls out of character, and the entire drama loses credibility. Do you remember those weird ad breaks in the famous American movie The Truman Show? Even Truman did not fall for that!
In China, this particular type of advertising can be traced back to the 2006 TV drama My Own Swordsman (武林外传), in which the characters suddenly turn to the camera in promoting a "White Camel Mountain" medicinal powder (watch the famous segment here).
Although that scene was for entertainment purposes only (the product was non-existent), it became reality in 2013, when the TV series Longmen Express (龙门镖局) first started using this kind of 'creative' advertising. Many online dramas then followed and started to use these inserted ads, especially since 2015 (Beijing Daily 2017). The promoted products are often new apps or money lending sites.
In the beginning, many people appreciated the novel way of advertising, and as the online video industry rose, so did the price of such advertisements. In a timeframe of roughly two years, their price became ten times higher. These type of 'ad breaks' have become an important and relatively easy money-making machine for drama productions (Beijing Daily 2017). In 2016 alone, Chinese TV drama productions made 800 million rmb (±116 million USD) through this marketing method – a figure that has been on the rise ever since.
The V-Effect: From Vips to Verfremdung
In China's flourishing online streaming environment, one of the problems with inserted ad campaigns is that even 'VIP members' of popular video sites such as iQiyi cannot escape them, nor 'skip' them, even though they pay monthly fees to opt out of commercials (similar to YouTube Premium).
"The reason I signed up for a VIP membership is to avoid ads, and now we get this," many annoyed netizens comment on Weibo.
Although that is one point that many people are dissatisfied with, the biggest complaint on social media regarding the inserted ad phenomenon is that it breaks down audience engagement in the show they are watching, and alienates them from the character, which is also known as verfremdungseffekt, distancing effect, or simply the 'V-effect,'  a performing arts concept coined by German playwright Bertolt Brecht in the 1930s.
The Brechtian "direct address" technique, one of the characteristics that made the American TV series House of Cards so successful, is employed to "break the fourth wall" – the imaginary wall between the actors and audience  – and serves a clear purpose: it makes viewers less emotionally attached to the characters and the narrative, it makes them more conscious and less likely to 'lose themselves' in the show they are watching, and is meant to provoke a social-critical audience response.
But this is exactly the faux pas China's ubiquitous 'creative inserted ads' make in letting popular TV drama characters promote a new app or soda; it is not meant to provoke a social-critical response, it is meant to advertise a product. But by alienating audiences from the show for a commercial and non-meaningful purpose, they actually reach the opposite effect of what their marketing objective is. Audiences become annoyed, less engaged, and 'exit the show' (in Chinese, the term '出戏' [disengage from the performance] is used).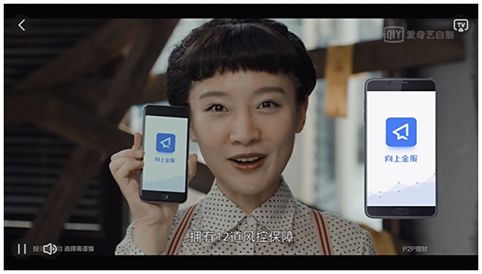 "These kind of ads make the entire drama seem so low," a typical comment on Weibo says. "What can we do? As long as people pay for it, they'll do it," others say.
Despite the recent attack on China's 'branded entertainment,' there is no sign of a change in these marketing techniques. Perhaps, if critique persist, this might change in the future. For now, disgruntled viewers turn to social media to vent their frustrations: "These ads completely make me lose interest in the story, they need to be criticized. I'm happy someone stood up to say it."
By Manya Koetse
Follow @whatsonweibo
References
Beijing Daily (北京日报). 2017. "创意中插广告泛滥,唯独缺了创意" [The Overflow of Creative Inserted Ads, Only They're Lacking Creativity] (in Chinese). Beijing Daily, Oct 18. Available online http://bjrb.bjd.com.cn/html/2017-10/18/content_183998.htm [Jan 6th 2019].
Doland, Angela. 2017. "China's online TV pushes product placement to crazy levels. Even crazier: Viewers don't mind." Ad Age, May 16. Vol.88(10), p.0030.
Huan Chen , En-Ying Lin , Fang Liu & Tingting Dai. 2013. "'See Me or Not, I Am There': Chinese White-Collar Moviegoers' Interpretation of Product Placements in Chinese Commercial Movies." Journal of Promotion Management, 19:5, 507-533.
Li, Hongmei. 2016. Advertising and Consumer Culture in China. Cambridge: Polity Press.
Spotted a mistake or want to add something? Please let us know in comments below or email us.
©2019 Whatsonweibo. All rights reserved. Do not reproduce our content without permission – you can contact us at info@whatsonweibo.com
When Hotpot Gets Really Hot: Haidilao Customers Shocked by Steamy TV
Haidilao is taking its customer service to a whole new level.
First published .
Customers dining at a Haidilao hotpot restaurant in Wuhan on January 5th were shocked when the big television screen in the restaurant, usually used for showing Haidilao ads, suddenly showed an X-rated film.
Haidilao is China's most famous hotpot chain, and is usually known for its excellent service. On busy nights, people stand in line for hours at the Haidilao restaurants, that are always packed full of people enjoying the good food and outstanding hospitality.
The incident, that happened on Saturday afternoon at the restaurant's Great Ocean mall location, has now made its rounds on Chinese social media after one Haidilao customer shared photos of the embarrassing moment on Weibo. At time of writing, the hashtag "Haidilao TV shows vulgar scene" (#海底捞电视播不雅画面#) has received more than 240 million views.
Waiters at the restaurant were fast to turn off the television. According to some online reports, a reporter visited the restaurant a few hours after the incident happened, and confirmed the television was still turned off at night.
On Sunday, January 6, Haidilao issued a statement in which the restaurant apologized to the customers for the "vulgar content" that was displayed on the television, and that police are investigating the case. Online pornography is banned in China, and spreading X-rated films is illegal.
It is yet unsure how the film ended up on the restaurant's screen, and whether it was a Haidilao employee who was watching the video and then made a mistake, or that a customer was using IR or Bluetooth on their smartphone and (purposely) connected it to their screen.
The incident has provoked hilarity on social media, where some netizens suggest that the X-rated film perhaps was a "customer demand" and that "Haidilao's service is beyond expectations," or that people were "eating and getting hard."
The incident, as of now, does not seem to negatively affect people's love for the Haidilao brand. "Please don't close it down, I still want to eat hotpot," some netizens comment, while others simply state: "Haidilao, I'm coming!"
(PS Want to know more about steamy hotpots? Check out What's on Weibo's sister site Hotpot Ambassador!)
By Manya Koetse and Miranda Barnes
Spotted a mistake or want to add something? Please let us know in comments below or email us.
©2019 Whatsonweibo. All rights reserved. Do not reproduce our content without permission – you can contact us at info@whatsonweibo.com