Remarkable Rebranding: Employees Confused and Angry about "58 Transport" Name Change to "Fast Dog Drivers"
Some workers at Fast Dog would've rather seen a cat in their company's remarkable rebranding campaign.
During the dog days of summer, Chinese transport company '58 Suyun' has made a remarkable move: they've rebranded under the name 'Fast Dog Drivers' (快狗打车). But since 'dog' is a derogatory term in Chinese that can mean 'damned' or 'bastard,' employees are reluctant to drive around with the new sign that marks them as 'damned drivers.'
Chinese logistics and delivery company "58 Transport" (58 Suyun/58速运) recently changed its name to "Fast Dog Drivers" or "Fast Dog Pickup [Service]" (loose translation of Kuài gǒu dǎchē 快狗打车), but workers are not happy about the name change.
A Chinese media news report (video) shows how workers in Zhengzhou have gathered at the office to express their anger about the name change. (Video also on Youtube here).
Many drivers feel the name has a double meaning, implying that either the drivers themselves are 'dogs' or that the people they serve are 'dogs,' or that they are actually picking up dogs.
'Dog' in Chinese (狗 gŏu) can be used as an insult, meaning 'damned' or 'cursed.' The words gǒudàn (狗蛋, lit. 'dog egg') or gǒuzǎizi (狗崽子, lit. 'dog bastard'), for example, can be translated as 'loser' or 'son of a b*tch.'
But 'dog' also pops up in many other vulgar or derogatory terms. Gǒupì (狗屁, lit. 'dog fart') meaning 'bullsh*t' and gǒurì (狗日) meaning 'lousy.'
Many Chinese (negative) idioms also use the word 'dog.' Gǒu yǎn kàn rén dī (狗眼看人低, lit. 'dog-eye-look-people-down')means 'to act like a snob.' Or gòu gǎi bù liǎo chī shǐ (狗改不了吃屎), literally 'a dog can't stop himself from eating shit,' meaning 'bad habits are hard to change.'
Some employees at the "Fast Dog Drivers" are afraid their new name might get in trouble, and refuse to have the new name sign on their minivans, asking: "Why can't the main company just change its name, and let us carry the old name on our vans?"
Some drivers have even put up signs on their van, saying: "We are respectful! We are no 'dogs'!"
One employee speaking to reporters (video) said: "If I call up a customer, am I supposed to say, 'Hello, this is 'Fast Dog' ['fast bastard'] speaking? I can't say that! I'd be scolding myself and the company!"
The employee further tells reporters: "Our company told us that JD.com also has a dog in its logo, yeah, but their name is still JD.com!" He says: "Just look at Tmall [e-commerce site 天猫 lit. 'day cat'], they have a 'cat' [in their name] and that's not insulting. Nobody uses 'cat' as a bad word, now do they, telling someone they're a 'cat' doesn't do anything, now does it?"
On Weibo, news about the name change is also causing some surprise: "Is this for real?", some say: "This name is so undignified!"
The name change surely is for real; '58 Transport' has also changed its Weibo account to 'Fast Dog Drivers' (@快狗打车官方微博). But the name introduction on its Weibo page has also attracted some dozen reactions saying: "Are your drivers 'dogs' ['damned']?"
Some people, however, mention the fact that one of China's biggest search engines also has a 'dog' in it: Sougou (搜狗) literally means 'searching dog.'
'58 Transport' or 'Fast Dog Drivers' is a company that operates in more than 25 major cities across China. It offers services in picking up goods, moving services, and other transport services, and especially stresses the speed of delivery and quality customer services as its main company strengths.
For now, according to reports, the workers in Zhengzhou do not need to put the new name on their minivans – if they do not have them yet – until the headquarters release instructions about the future marketing strategy of the 'Fast Dog' company.
By Manya Koetse
Follow @whatsonweibo
Spotted a mistake or want to add something? Please let us know in comments below or email us.
©2018 Whatsonweibo. All rights reserved. Do not reproduce our content without permission – you can contact us at info@whatsonweibo.com.
What Are Weibo's "Super Topics"?
Explaining Weibo's "Super Topics"
What are Weibo's "Super Topics" (超级话题) and what makes them different from normal hashtags?
Over the past year, Weibo's so-called "Super Topics" (超级话题) have become more popular on the social media platform as online spaces for people to connect and share information.
Weibo's "super topic" function has been around since 2016. The function allows Weibo users to create and join interest-based content community pages that are online groups separated from the main Weibo space. One could perhaps compare these Weibo Super Groups to 'mega-threads' or 'subreddits' on Reddit.
These are the most important things to know about Weibo's Super Topics:
#1 A Super Topic is Not the Same as a Hashtag
Similar to Twitter, hashtags make it possible for Weibo users to tag a topic they are addressing in their post so that their content pops up whenever other people search for that hashtag.
Different from Twitter, Weibo hashtags also have their own page where the hashtag is displayed on top, displaying how many people have viewed the hashtag, how many comments the hashtag is tagged in, and allowing users to share the hashtag page with others.
A Super Topic goes beyond the hashtag. It basically is a community account where all sort of information is shared and organized. People can 'follow' (关注) a Super Topic and can also 'sign in' (签到).
On the main page of every Super Topic page, the main subject or purpose of the super topic is briefly explained, and the number of views, followers, and posts are displayed.
A super topic-page can be created by any Weibo user and can have up to three major hosts, and ten sub-hosts. The main host(s) can decide which content will be featured as essential, they can place sticky notes, and post links to suggested topics.
#2 A Super Topic Is a Way to Organize Content
Super Topic pages allow hosts to organize relevant content in the way they want. Besides the comment area, the page consists of multiple tabs.
A tab right underneath the main featured information on the page, for example, shows the "sticky posts" (置顶帖) that the host(s) of the page have placed there, linking to relevant information or trending hashtag pages. Below the sticky notes, all the posts posted in the Super Topic community are displayed.
One of the most important tabs within the Super Topic page is called "essential content" (精花), which only shows the content that is manually selected by the host(s). This is often where opinion pieces, articles, official news, or photos, etc. are collected and separated from all the other posts.
Another tab is the "Hall of Fame" (名人堂), which mainly functions as a reference page. It features links to the personal Weibo pages of the super topic page host(s), links to the Weibo pages of top contributors, and shows a list of the biggest fans of the Super Topic. Who the biggest fan of the page is, is decided by the number of consecutive days a person has "checked-in" on the page.
#3 Super Topics Are a Place for Fans to Gather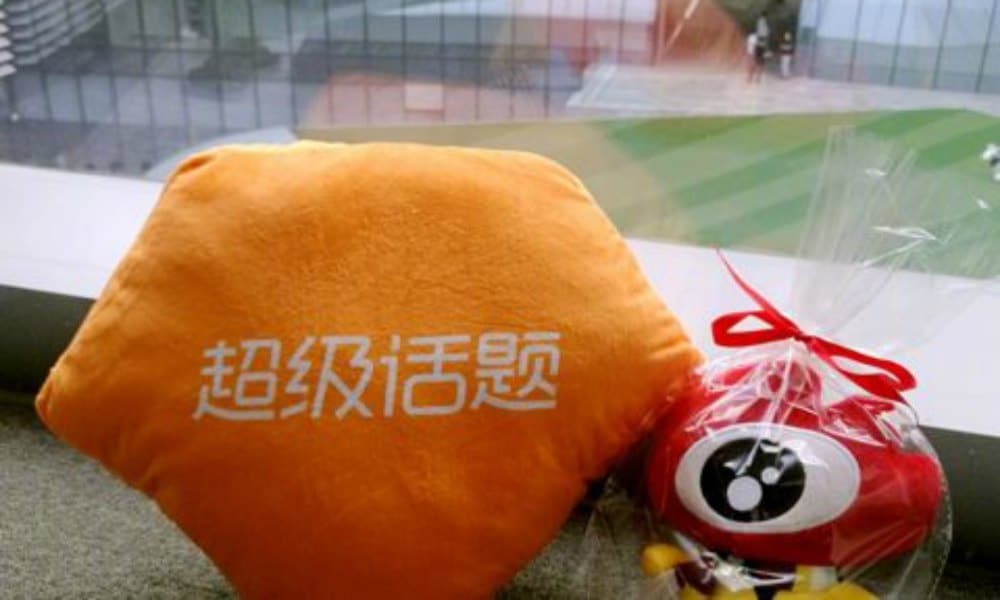 Although a Super Topic could basically be about anything, from cities to products or hobbies, Super Topics are often created for Chinese celebrities, video games, football clubs, or TV dramas.
Through Super Topic pages, a sense of community can be created. People can be ranked for being the most contributive or for checking in daily, and comment on each other's posts, making it a home base for many fan clubs across China.
The host(s) can also help somebody's page (e.g. a celebrity account) grow by proposing them to others within the group.
Super Groups are ranked on Weibo based on their popularity. This also gives fans more reason to stay active in the group, making their Super Topic top ranking within their specific category (TV drama, food, photography, sports, games, etc).
What makes the Super Topic group more 'private' than the common Weibo area, is that people posting within the Super Topic can decide whether or not they also want their comment shared on their own Weibo page or not. If they choose not to, their comments or posts will only be visible within the Super Topic community.
By Manya Koetse & Gabi Verberg, with contributions from Boyu Xiao
Spotted a mistake or want to add something? Please let us know in comments below or email us.
©2019 Whatsonweibo. All rights reserved. Do not reproduce our content without permission – you can contact us at info@whatsonweibo.com
Visual China Group Under Fire for Claiming to Own Copyrights to Black Hole Image, National Flag, and Practically Everything
If the Visual China Group isn't selling the copyrights of your images, you're a nobody.
First published
The Visual China Group's website has been temporarily shut down after controversy over the company claiming the copyrights of the black hole image and the Chinese national flag in its library of stock photos and illustrations. The question "Have you been watermarked by the Visual China Group yet?" has become a hot topic on Weibo.
The Beijing-based photo and media agency Visual China Group (视觉中国) is under fire for claiming they own the copyright in China of the first-ever supermassive black hole photo that has been making international headlines this week.
Screenshots from the Chinese company's website showed that the image, that was captured by the telescope network of Event Horizon Telescope (EHT) through the collective efforts of 200 astronomers around the world, was claimed to belong to the Visual China Group and that it could only be used by others after purchasing copyright for it.
Visual China Group is also dubbed the "Getty of China" by some English-language media. Getty is a leading American supplier of stock images and photography. Noteworthy is that the Weibo page of Visual China Group also has the url "www.weibo.com/gettyimages."
According to Business Times, the image's original copyright belongs to European Southern Observatory (ESO) and is licensed under a Creative Commons license, which means it may be used on a non-exclusive basis to be reproduced without fee if the credit is clear and visible.
Screenshots of a chat conversation with the Visual China Group are making its rounds on Chinese social media, in which a representative of the company suggests the black hole image belongs to them and can only be used after fees are paid.
On Friday, April 12, various Chinese media reported that the Visual China Group's website was temporarily shut down after receiving orders from the Tianjin branch of China's internet watchdog (天津市互联网信息办公室) on Thursday night to rectify its online library.
The controversy over Visual China Group grew bigger when it was discovered that China's national flag, emblem, Mao's portrait, and many other images were also watermarked by the company. The Weibo account of China's Communist Youth League (@共青团中央) was one of the groups calling the company out for this on April 11, writing: "Does the copyright of the national flag and national emblem also belong to your company, @VisualChina?"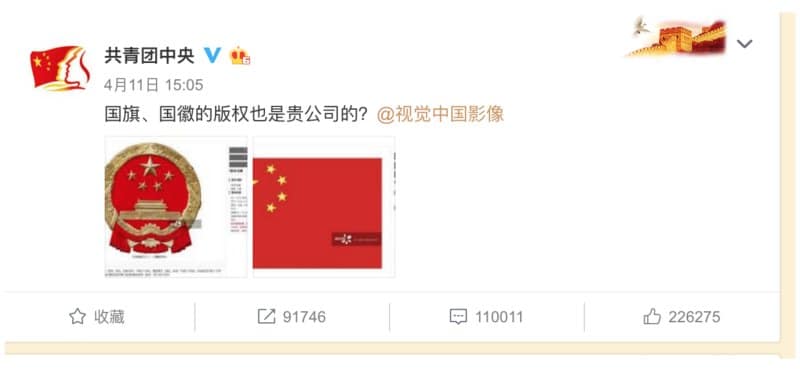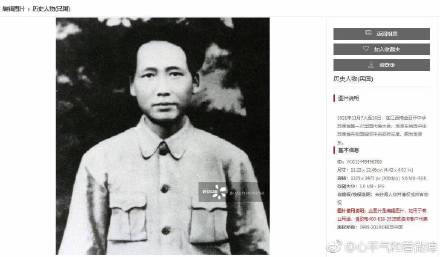 The Communist Youth League's post received more than 110000 comments and was shared over 91700 times at time of writing. Various companies, including Phoenix News, Ctrip, Haier, Xiaomi, and Suning, also joined the discussion in the Communist Youth League's thread, wondering why their logos or images were also listed in the Visual China Group's copyright database.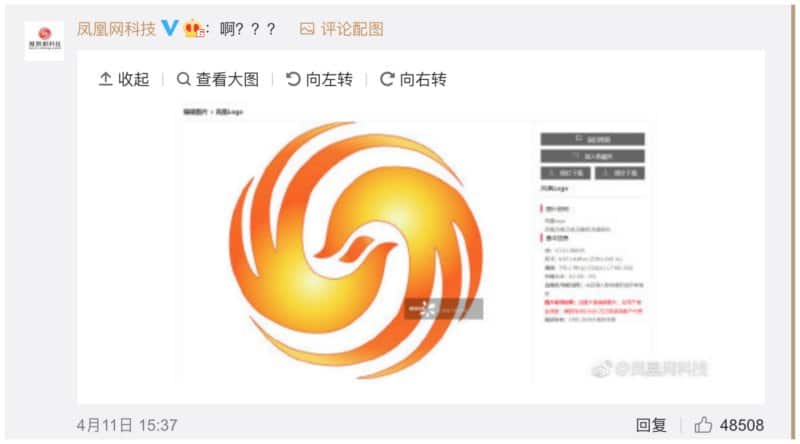 So many companies found their logos and images to be listed in the Visual China Group's library, that the question "Have you been watermarked by the Visual China Group yet?" started making its rounds online, with many netizens joking that practically every image in China had been claimed by the company.
Companies such as China Merchants Bank joked around in the comment sections, wondering why their logo had not been watermarked by the company yet. Alipay also joined the discussion, saying: "Have we come too late?"
Digging up more dirt on the Visual China Group has almost become somewhat of an online challenge for some Chinese netizens over the past two days. One commenter pointed out that photos of Taipei were labeled as photos of the 'capital' on their site, triggering hundreds of reactions on the company's political stance on the Taiwan issue.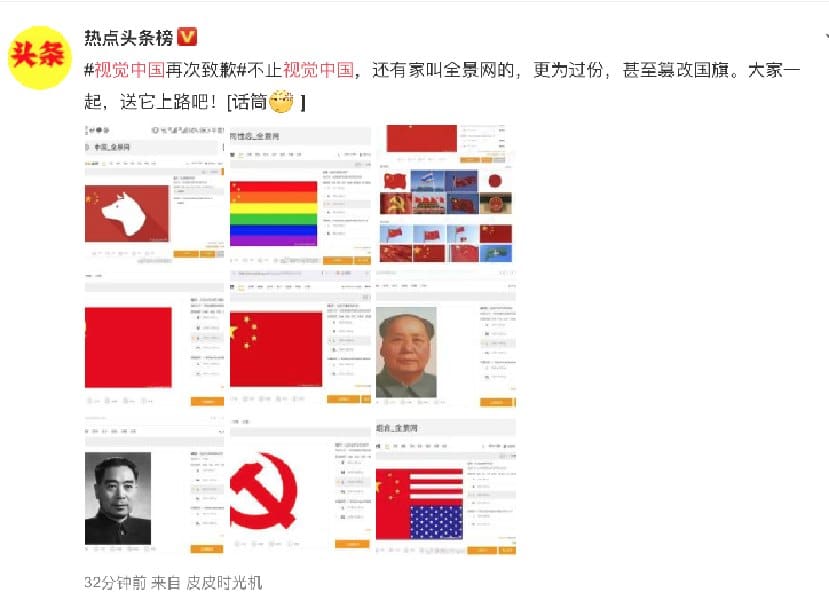 By now, the Visual China Group has apologized on its official Weibo account, stating they would review their online database in accordance with relevant laws and regulations to avoid similar situations in the future.
It is not clear when the site will be back online.
By Manya Koetse and Miranda Barnes
Spotted a mistake or want to add something? Please email us.
©2019 Whatsonweibo. All rights reserved. Do not reproduce our content without permission – you can contact us at info@whatsonweibo.com.