Remarkable Rebranding: Employees Confused and Angry about "58 Transport" Name Change to "Fast Dog Drivers"
Some workers at Fast Dog would've rather seen a cat in their company's remarkable rebranding campaign.
During the dog days of summer, Chinese transport company '58 Suyun' has made a remarkable move: they've rebranded under the name 'Fast Dog Drivers' (快狗打车). But since 'dog' is a derogatory term in Chinese that can mean 'damned' or 'bastard,' employees are reluctant to drive around with the new sign that marks them as 'damned drivers.'
Chinese logistics and delivery company "58 Transport" (58 Suyun/58速运) recently changed its name to "Fast Dog Drivers" or "Fast Dog Pickup [Service]" (loose translation of Kuài gǒu dǎchē 快狗打车), but workers are not happy about the name change.
A Chinese media news report (video) shows how workers in Zhengzhou have gathered at the office to express their anger about the name change. (Video also on Youtube here).
Many drivers feel the name has a double meaning, implying that either the drivers themselves are 'dogs' or that the people they serve are 'dogs,' or that they are actually picking up dogs.
'Dog' in Chinese (狗 gŏu) can be used as an insult, meaning 'damned' or 'cursed.' The words gǒudàn (狗蛋, lit. 'dog egg') or gǒuzǎizi (狗崽子, lit. 'dog bastard'), for example, can be translated as 'loser' or 'son of a b*tch.'
But 'dog' also pops up in many other vulgar or derogatory terms. Gǒupì (狗屁, lit. 'dog fart') meaning 'bullsh*t' and gǒurì (狗日) meaning 'lousy.'
Many Chinese (negative) idioms also use the word 'dog.' Gǒu yǎn kàn rén dī (狗眼看人低, lit. 'dog-eye-look-people-down')means 'to act like a snob.' Or gòu gǎi bù liǎo chī shǐ (狗改不了吃屎), literally 'a dog can't stop himself from eating shit,' meaning 'bad habits are hard to change.'
Some employees at the "Fast Dog Drivers" are afraid their new name might get in trouble, and refuse to have the new name sign on their minivans, asking: "Why can't the main company just change its name, and let us carry the old name on our vans?"
Some drivers have even put up signs on their van, saying: "We are respectful! We are no 'dogs'!"
One employee speaking to reporters (video) said: "If I call up a customer, am I supposed to say, 'Hello, this is 'Fast Dog' ['fast bastard'] speaking? I can't say that! I'd be scolding myself and the company!"
The employee further tells reporters: "Our company told us that JD.com also has a dog in its logo, yeah, but their name is still JD.com!" He says: "Just look at Tmall [e-commerce site 天猫 lit. 'day cat'], they have a 'cat' [in their name] and that's not insulting. Nobody uses 'cat' as a bad word, now do they, telling someone they're a 'cat' doesn't do anything, now does it?"
On Weibo, news about the name change is also causing some surprise: "Is this for real?", some say: "This name is so undignified!"
The name change surely is for real; '58 Transport' has also changed its Weibo account to 'Fast Dog Drivers' (@快狗打车官方微博). But the name introduction on its Weibo page has also attracted some dozen reactions saying: "Are your drivers 'dogs' ['damned']?"
Some people, however, mention the fact that one of China's biggest search engines also has a 'dog' in it: Sougou (搜狗) literally means 'searching dog.'
'58 Transport' or 'Fast Dog Drivers' is a company that operates in more than 25 major cities across China. It offers services in picking up goods, moving services, and other transport services, and especially stresses the speed of delivery and quality customer services as its main company strengths.
For now, according to reports, the workers in Zhengzhou do not need to put the new name on their minivans – if they do not have them yet – until the headquarters release instructions about the future marketing strategy of the 'Fast Dog' company.
By Manya Koetse
Follow @whatsonweibo
Spotted a mistake or want to add something? Please let us know in comments below or email us.
©2018 Whatsonweibo. All rights reserved. Do not reproduce our content without permission – you can contact us at info@whatsonweibo.com.
China's Livestreaming Queen Viya Goes Viral for Fraud and Fines, Ordered to Pay $210 Million
Viya, the Queen of Taobao, is under fire for tax evasion.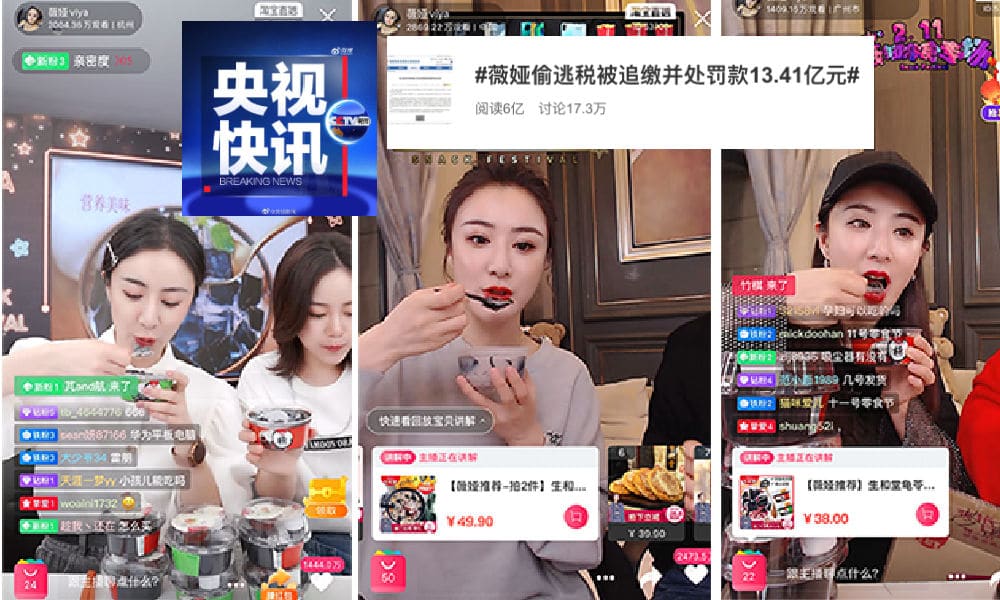 Viya, one of China's most well-known and successful live streamers, is trending today for allegedly committing tax fraud by deliberately providing false information and concealing personal income.
The 'Taobao queen' Viya (薇娅, real name Huang Wei 黄薇) reportedly committed tax fraud from 2019 to 2020, during which she evaded some 643 million yuan ($100 million) in taxes and also failed to pay an additional 60 million yuan ($9.4 million) in taxes.
The Hangzhou Tax Administration Office reportedly ordered Viya to pay an amount of over 1.3 billion yuan ($210 million) in taxes, late payment fees, and other fines. On Monday, a hashtag related to the issue had garnered over 600 million views on Weibo (#薇娅偷逃税被追缴并处罚款13.41亿元#).
Viya made headlines in English-language media earlier this year when she participated in a promotional event for Single's Day on October 20th and managed to sell 20 billion yuan ($3.1 billion) in merchandise in just one live streaming session together with e-commerce superstar Lipstick King.
China has a booming livestreaming e-commerce market, and Viya is one of the top influencers to have joined the thriving online sales industry years ago. When the e-commerce platform Taobao started their Taobao Live initiative (mixing online sales with livestreams), Viya became one of their top sellers as millions of viewers starting joining her channel every single day (she livestreams daily at 7.30 pm).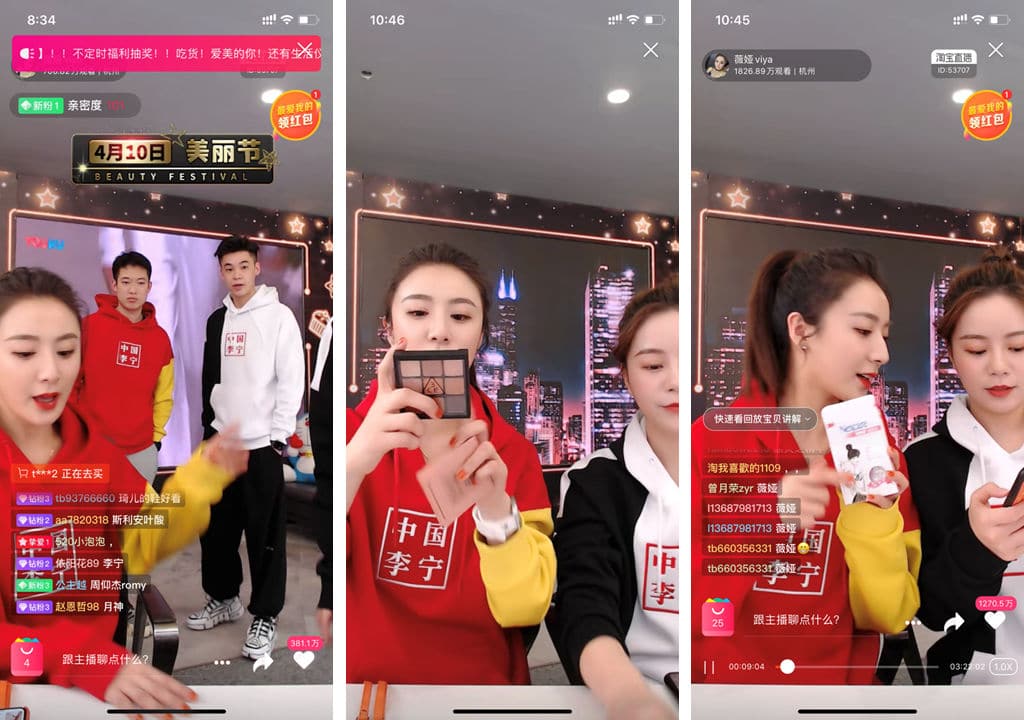 With news about Viya's tax fraud practices and enormous fines going viral on Chinese social media, many are attacking the top influencer, as her tax fraud case seems to be even bigger than that of Chinese actress Fan Bingbing (范冰冰).
Chinese actress Fan Bingbing went "missing" for months back in 2018 when she was at the center of a tax evasion scandal. The actress was ordered to pay taxes and fines worth hundreds of millions of yuan over tax evasion. The famous actress eventually paid approximately $128,5 million in taxes and fines, less than Viya was ordered to pay this month.
Like Fan Bingbing, Viya will also not be held criminally liable if the total amount is paid in time. This was the first time for the e-commerce star to be "administratively punished" for tax evasion.
Around 5pm on Monday, Viya posted a public apology on her Weibo account, saying she takes on full responsibility for the errors she made: "I was wrong, and I will bear all the consequences for my mistakes. I'm so sorry!"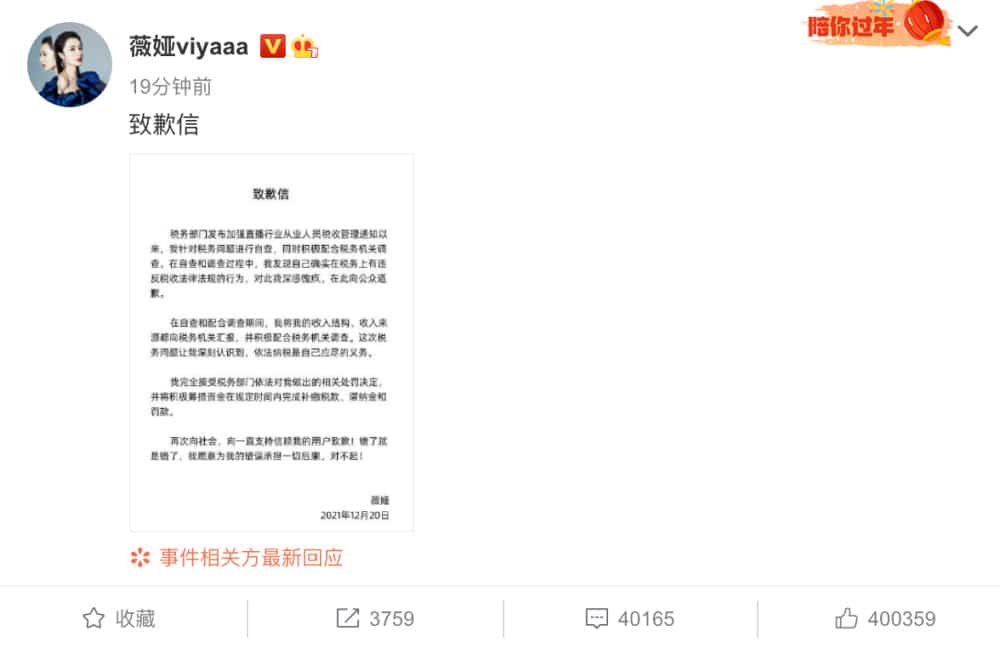 It is not clear if she will still do her daily live stream later today and how this news will impact Viya's future career.
Update: Vaya's live stream was canceled.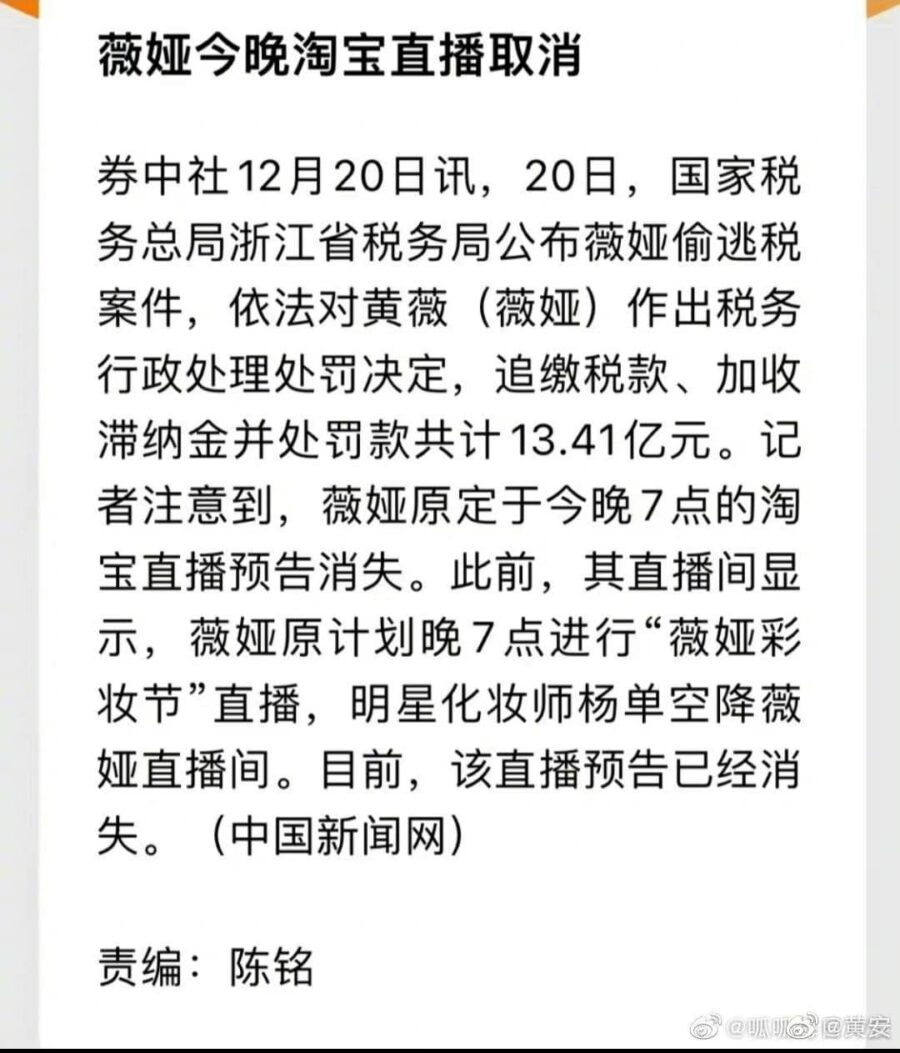 Update 2: Vaya's husband also issued an apology on Weibo.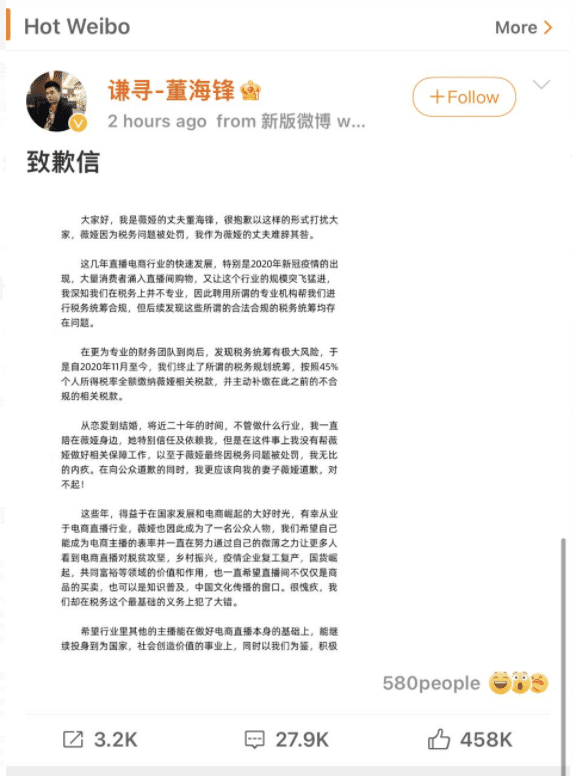 Update 3: Taobao has suspended or 'frozen' ("冻结") Vaya's livestreaming channel. Her Taobao store is still online.
By Manya Koetse
With contributions by Miranda Barnes.
Spotted a mistake or want to add something? Please let us know in comments below or email us. First-time commenters, please be patient – we will have to manually approve your comment before it appears.
©2021 Whatsonweibo. All rights reserved. Do not reproduce our content without permission – you can contact us at info@whatsonweibo.com.
Chinese Fashion Brand Peacebird Accused of Plagiarism (Again!)
The Chinese fashion brand Peacebird turns out to be a copycat.
The Chinese fashion brand Peacebird (太平鸟) is trending on Chinese social media this week for its alleged involvement in various cases of plagiarism. The brand is accused of producing exact copies of garments designed by other labels. Hashtag "Peacebird Repeatedly Accused of Plagiarism" (#太平鸟多次被控抄袭#) drew in over 230 million views on Weibo.
In late October of this year, fashion blogger and small fashion brand @SOS_SEAMSTRESS called out Peacebird on Weibo for plagiarizing one of their designs.
Besides changing the material used for the garment, the Peacebird outfit is an exact copy of the design by SOS Seamstress – even the buttons and pockets and other details are exactly the same. The price, however, is five times higher.
SOS Seamstress condemned Peacebird for claiming to have their own original fashion designs, produced by their in-house design team, while actually stealing from others and completely disregarding the rights of domestic local designers.
It is the fifth time this year that the fashion house is accused of plagiarism. Beijing Business News reported that other brands, including Mostwantedlab and Annomundi, previously also accused Peacebird of stealing their designs. In February of this year, the artist @LOONY_FACE also publicly exposed Peacebird for using his designs without his permission.
Chinese netizens have further researched other clothing brands that Peacebird allegedly plagiarized, including UNALLOYED, Moussy, Off-White, FREI, Maje, and other domestic and international brands.
Various Chinese media outlets, including Beijing Business News, call it noteworthy that Peacebird's response to these plagiarism accusations is not an apology but a simple statement that "original brands can go through legal channels." Meanwhile, the company has allegedly also taken down the designs that have been pointed out as copies.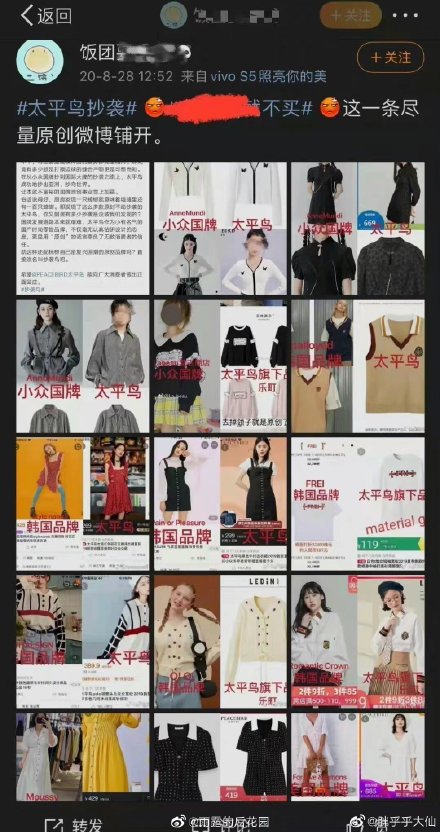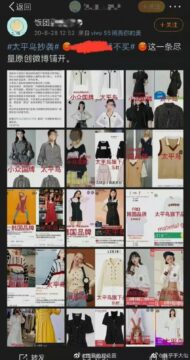 Peacebrand is a fashion retail brand established in Ningbo in 1996. The company also holds various smaller brands such as LEDIN (乐町) and Material Girl. The fashion company claims to have approximately 12,000 employees in its stores, headquarters and factories. In 2018, it made its first debut at New York Fashion Week.
Among all the people commenting on this issue, there are many who think that although 'borrowing' popular designs has always been a part of the fashion industry, doing an exact copy is uncommon and unacceptable – especially for such a large company as Peacebird. "Shameless!", multiple commenters say.
"I once bought an embroidered garment at Peacebird's, and then later saw the same design from a brand I didn't know. I thought it was copied from Peacebird, but now I think it might've been the other way around," one person writes.
"I'm shocked that the national brand Peacebird would plagiarize while waving the flag of originality," another commenter says.
"Plagiarizing one time, ok, but plagiarizing so many times and then even doing one on one copies, how can they run a business?!"
There are also those who hope that the current focus on Peacebird's alleged plagiarism will lead to more attention for smaller, original brands in China.
To read more about the recent surge in popularity of domestic brands in China, see: "Chinese Fashion First: Consumer Nationalism and 'China Chic'."
By Manya Koetse
Spotted a mistake or want to add something? Please let us know in comments below or email us. First-time commenters, please be patient – we will have to manually approve your comment before it appears.
©2021 Whatsonweibo. All rights reserved. Do not reproduce our content without permission – you can contact us at info@whatsonweibo.com.